Out in that bitter waste
Alone with thee,
Thou didst each hero saint
From sorrow free.
No human help around I see.
Nearer to thee.
See angel faces to beckon me,
Nearer to thee.
In the midst of life we are in death.
-Gravestone of Harold Reynolds
April 15, 1912. Aged 21 Yrs
I never knew Harold Reynolds. Or Alma Paulson, or Ernest Price, but their story has haunted me for decades. Their story compelled me to take a journey across Ireland and Canada.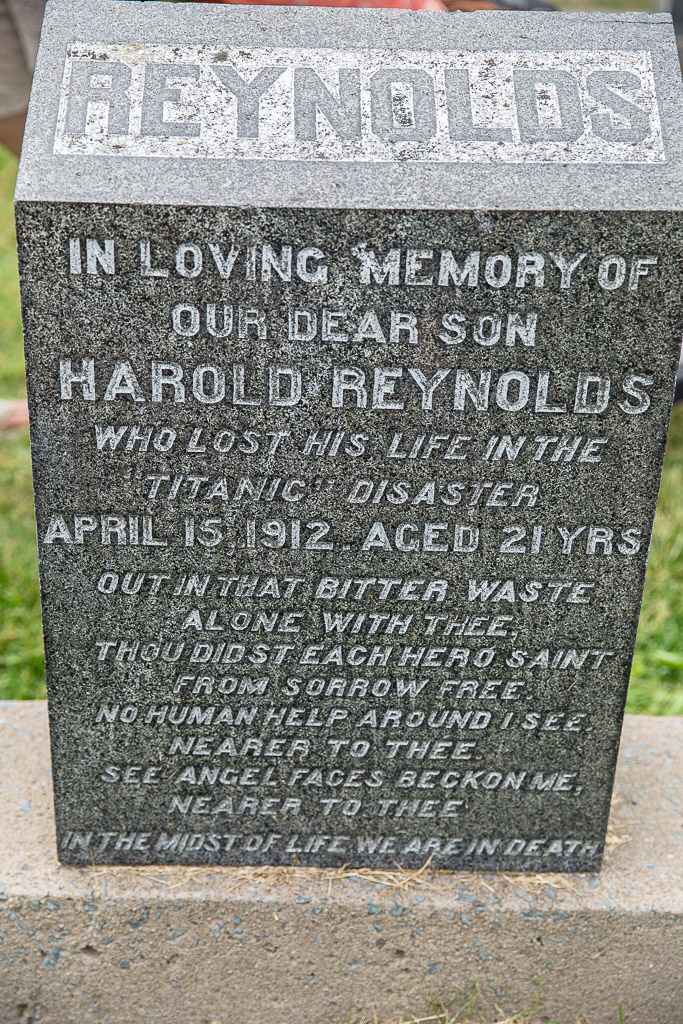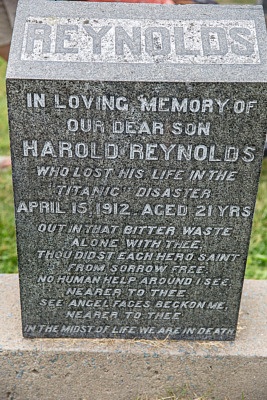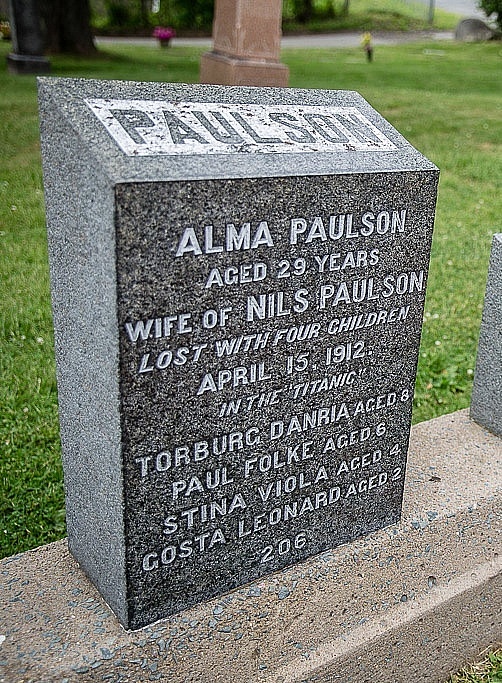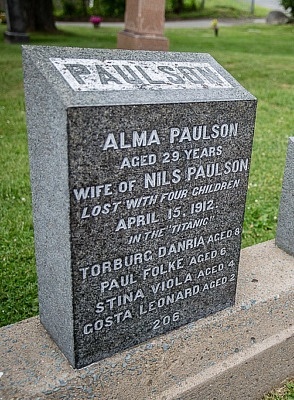 When most kids used their imaginations to conjure something fanciful like, say, a planet filled with unicorns, I fixated on visiting a foggy, somber Nova Scotia.
The driving force behind this desire was the knowledge that my endless fascination, Titanic, sank to her grave 700 nautical miles off the coast of Halifax. Whatever could be fished from the sea was brought here. No other location claims as many casualties of the tragedy.
So of course when I took my road trip across Atlantic Canada last summer, Halifax was the tent pole to which all other travel was planned around. Being compelled to travel is a curious thing. It was never a matter of IF I would ever make it to Halifax, but WHEN would I go.
What was my connection? Why was it necessary to go? Could it be a thread from a previous life? Do I even believe that's possible? Do you?
This has happened to me before. Growing up I knew it was not an option to visit Russia and the Tsar Nicolas II's palaces. Even his vacation spot in the Polish forest pulled me. But since, I have lived for a short time in Moscow, St. Petersburg and visited Białowieża. But why? No logical explanation. Same with Titanic.
Maybe it was simply an intense interest, a travel itch to be scratched. Or maybe destinations that won't let go of me until I visit have a story they desperately need to share. They touch my soul and stay with me in unexpected ways; entrust me to become a steward of history.  It's what continues our urge to be oral historians.
Finally, the Visit to Titanic Halifax
Driving into Halifax proper, I caught my breath. Realizing a dream does funny things to a person. What happened next caught me by surprise.
On a silly lark, I asked my friend Rachel to play "My Heart Will Go On," Celine Dion's Irish flute power ballad that ends Titanic, the movie. Love it or hate it (which I somehow feel in equal measure), it epitomizes the film.
As we drove through a modest neighborhood we passed a cemetery. Rachel (who is also a Titanic enthusiast) and I were well aware that many victims are buried in three of Halifax's cemeteries. At the moment we drove by a random cemetery, Celine belted out "You're here and there's nothing I fear!" We both burst into full-on ugly sobs.
The weight of the tragedy was so visceral in that moment. We felt simultaneously ridiculous and bereft. It's over one hundred years since the accident, why were we crying?
Thus began my Titanic Halifax visit. That night I had dinner at The Five Fisherman restaurant. Built in 1817, the building had been a schoolhouse, an art school (founded by Anna Lenowens of "King and I" fame), and a mortuary. The importance of this being that it was the morgue used during the disaster. Of the approximately 334 recovered bodies, 209 were brought to Halifax, and many were held here as funeral arrangements were made.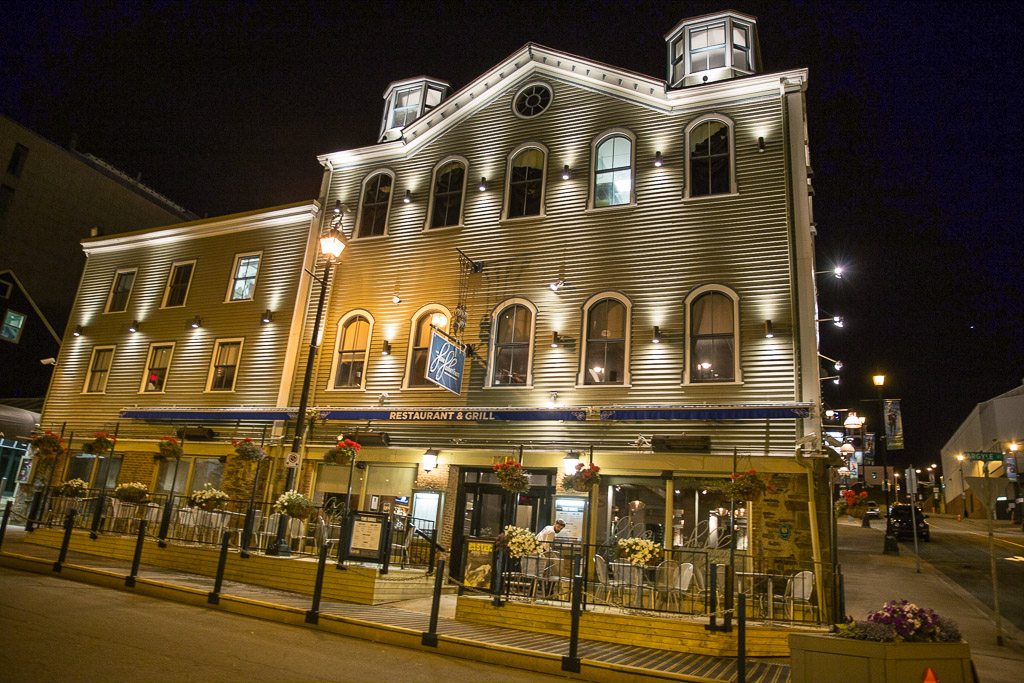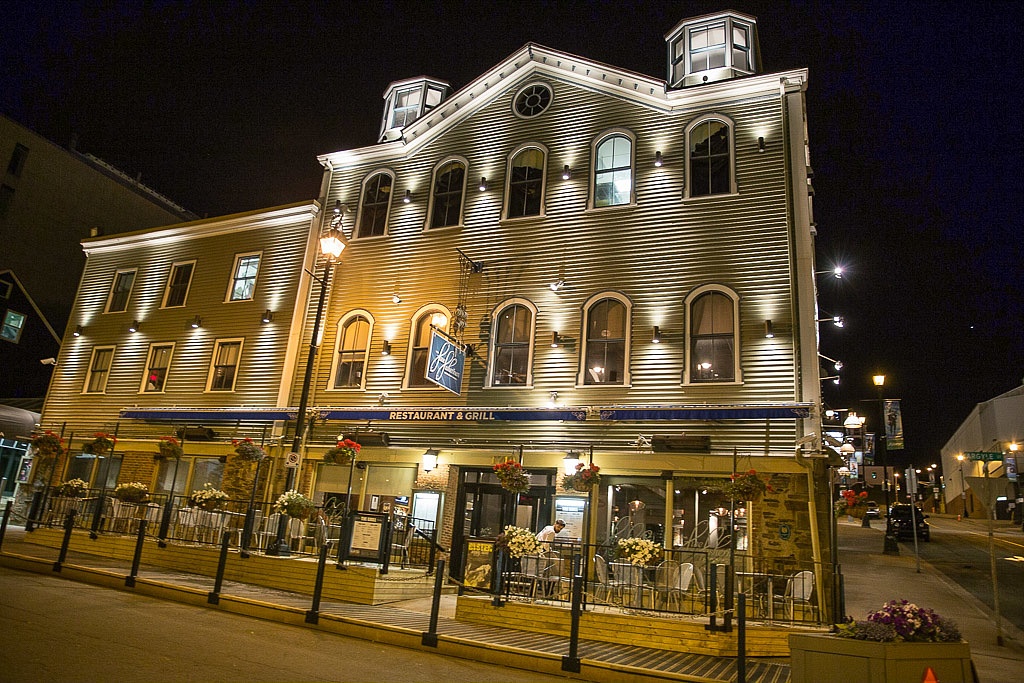 You might think eating in what was once a morgue morbid, yet somehow it felt comforting to be in this historic place. Here I was, almost ASKING to be haunted by the ghosts of the past, trying to connect with those that once had hopes and dreams of a future they never got to fulfill. What was I chasing?
Dark wood and brass details, the dining room resembles an upscale ship's galley. I press Jenn, our server, for more background. Had she ever encountered a ghost?
She led us to a private dining room where staff had heard voices. I sat down at the empty table and immediately imagined people in Edwardian fashion talking over an animated dinner. It was like the end of Titanic when Rose dies and returns to a ship made whole again. In that moment she's surrounded with lost loved ones, as if time had never marched forward.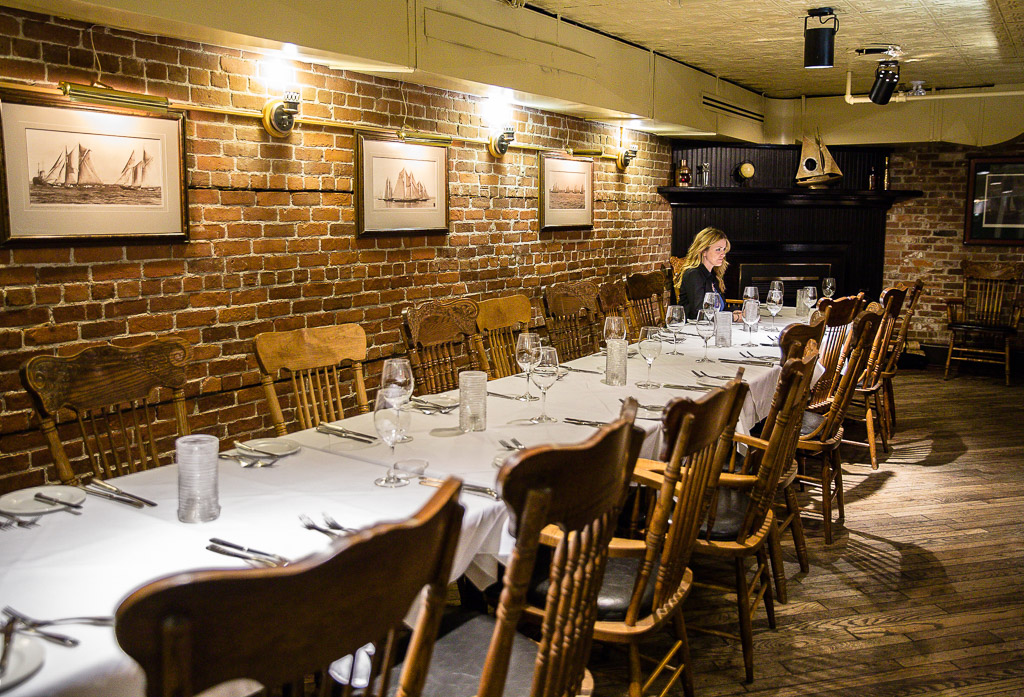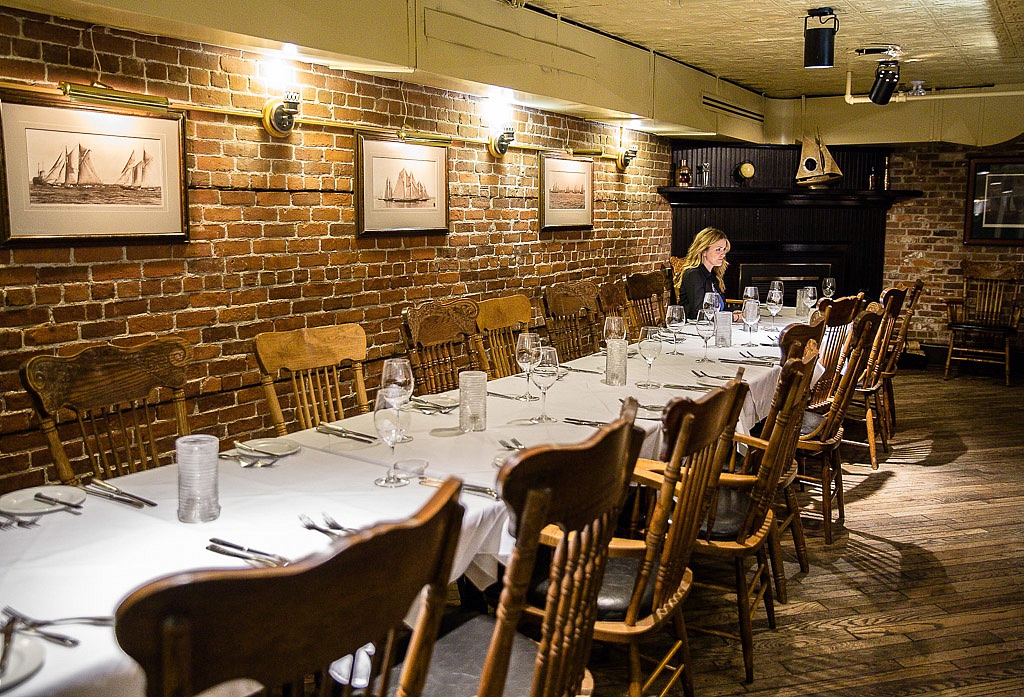 But this wasn't a James Cameron movie. This was a real life location where residents were forced to confront untimely death and a tragedy that shouldn't have happened. Halifax is one of the friendliest places I've ever visited and yet there is heaviness in the fog that closes around you. Or it's projection on my part, but it's what I felt in this city.
The Maritime Museum of the Atlantic
While not dedicated to Titanic, this waterfront museum has the largest amount of wooden artifacts from the ship. I've been to many museums and exhibits memorializing this event, but Halifax's museum is the most sobering.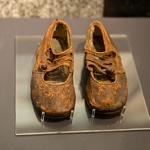 Other museums celebrate the engineering marvels, or the décor, but the Maritime Museum cuts right to the bone. Its story is one of a town forced to take part in the tragedy.
It's almost hard to stomach reading the newspaper clippings from back then.  Gruesome details of young men pulling bodies from the water are explained in the detailed language of an era when life appeared more fragile and death inescapable. They don't shy away in word or in picture; the grim impact on the rescue crews is obvious.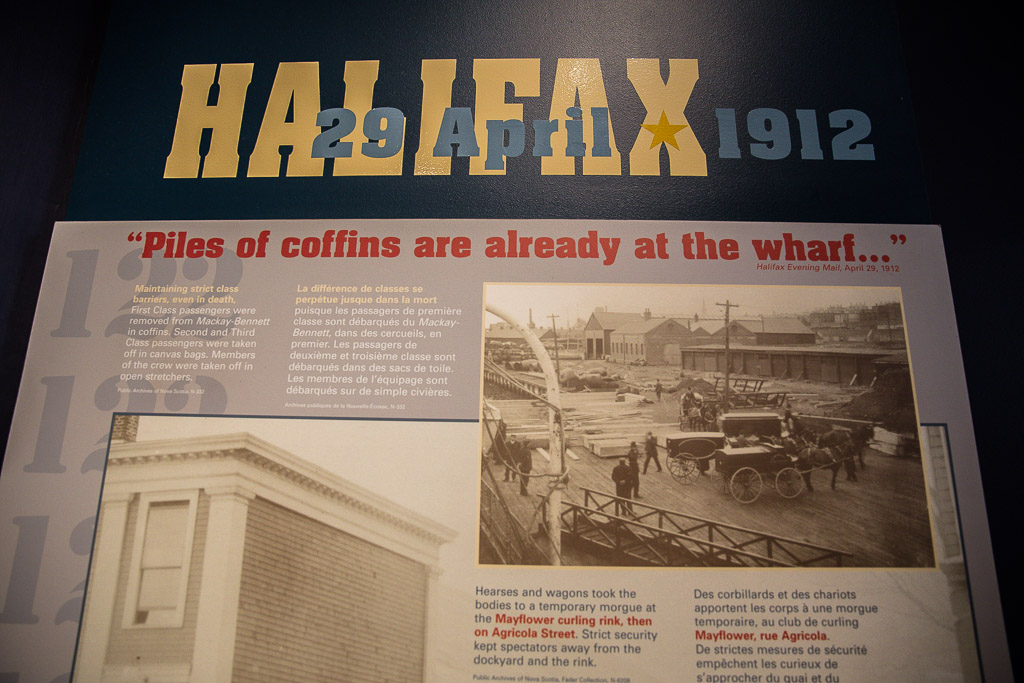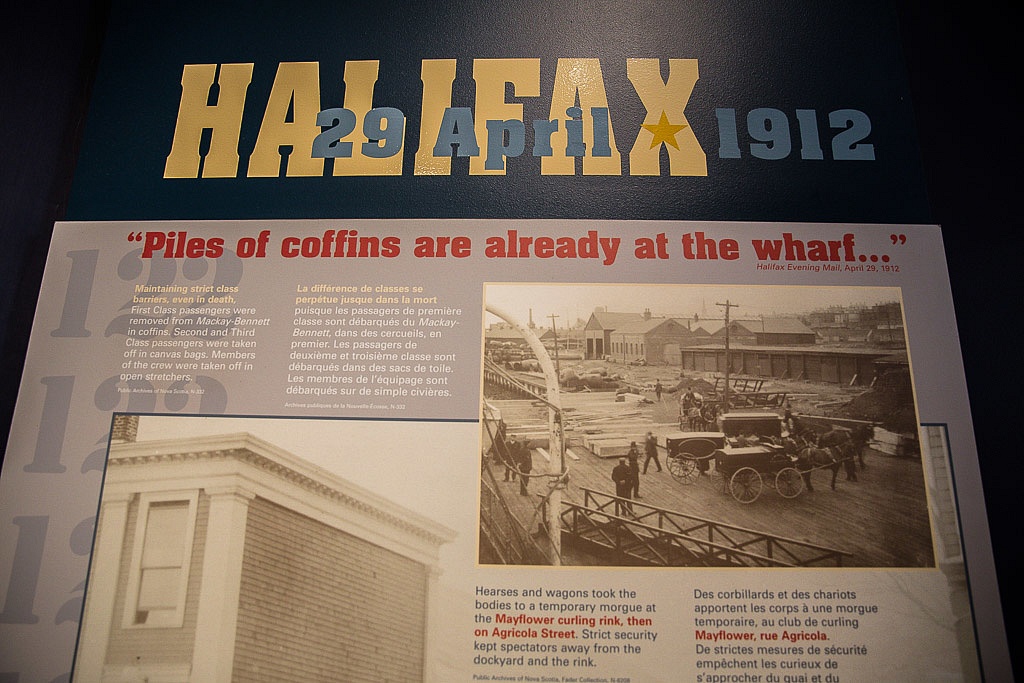 On display were items pulled from the wreckage: a wooden deck chair, a balustrade of the grand staircase, a pair of toddler's shoes.
I stared at the weathered deck chair, and imagined men and women strolling past it, deciding perhaps that it was far too cold to sit outside.  It likely would've been collapsed that night. How did it come to be open? Did an exhibit curator open it for the display? Or did a passenger unfold it to make a life raft before the freezing conditions extinguished her?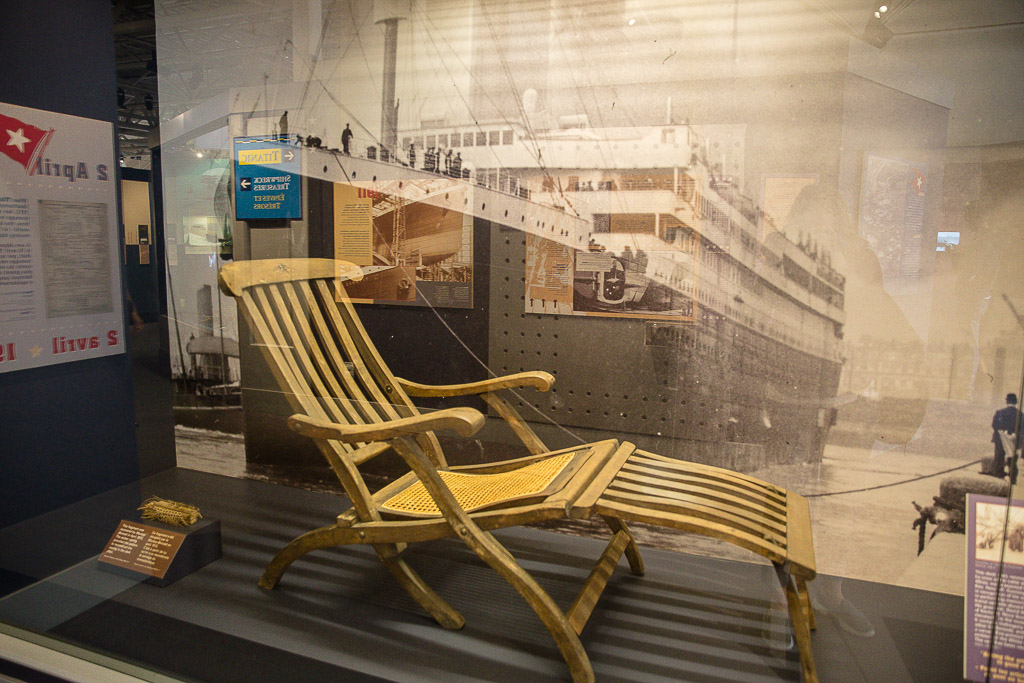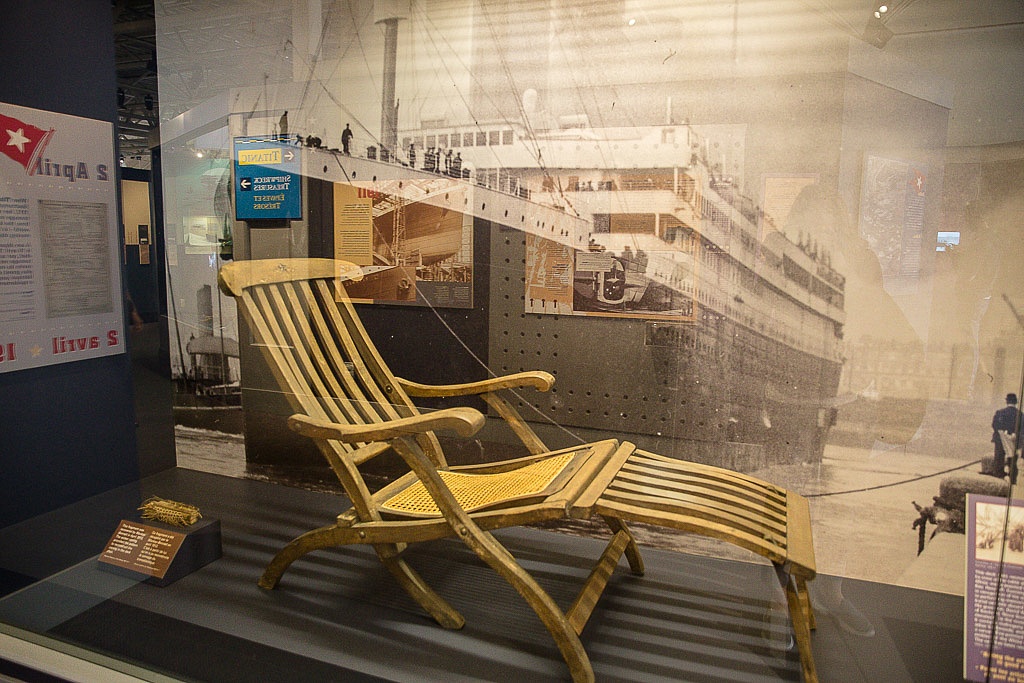 It's crushing. I still can't understand why I am compelled to follow this trail. Every year from April 10th – 15th, I am aware of the ship's sailing. Every year I hope for a different outcome, as if the crossing was happening in real time. I feel powerless and yet I want to scream into the wormhole of history that they "need more lifeboats!" or better, "don't press on into the ice fields!" But I am powerless.
Fairview Cemetery
Absorbing the museum's account of Titanic's dreadful aftermath, it was imperative that I pay my respects to the victims. These ghosts weren't done with me. It's hard to know who's chasing whom at this point.
Fairview Cemetery is right in town, within sight distance of the Atlantic Ocean, where the majority of those that perished remain. Of the 150 bodies laid to rest in Nova Scotia, 121 of them are buried at Fairview Cemetery.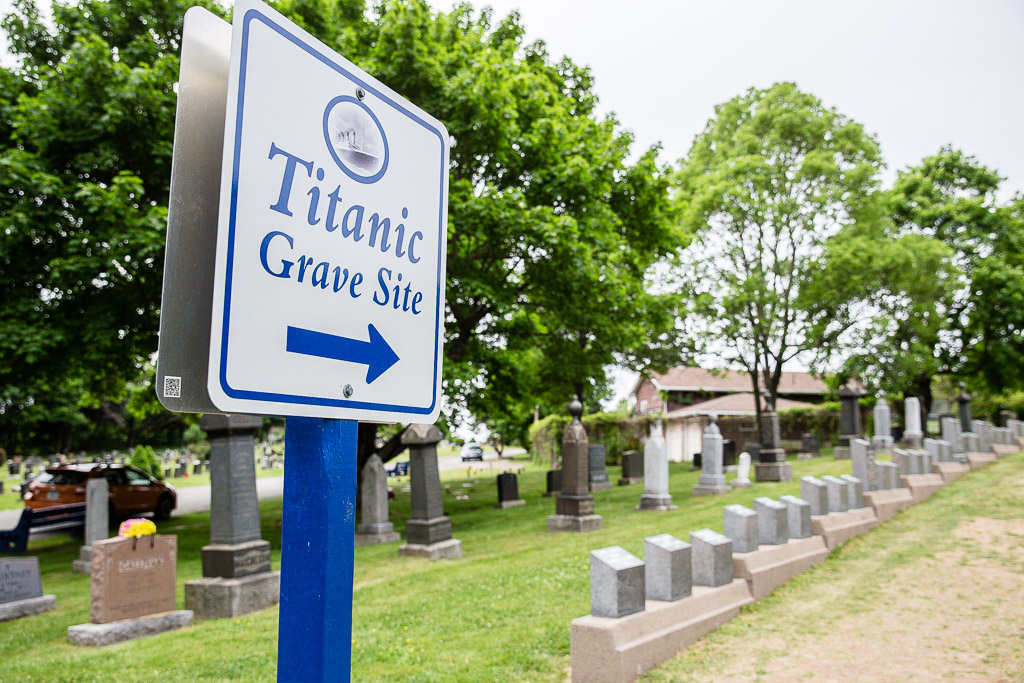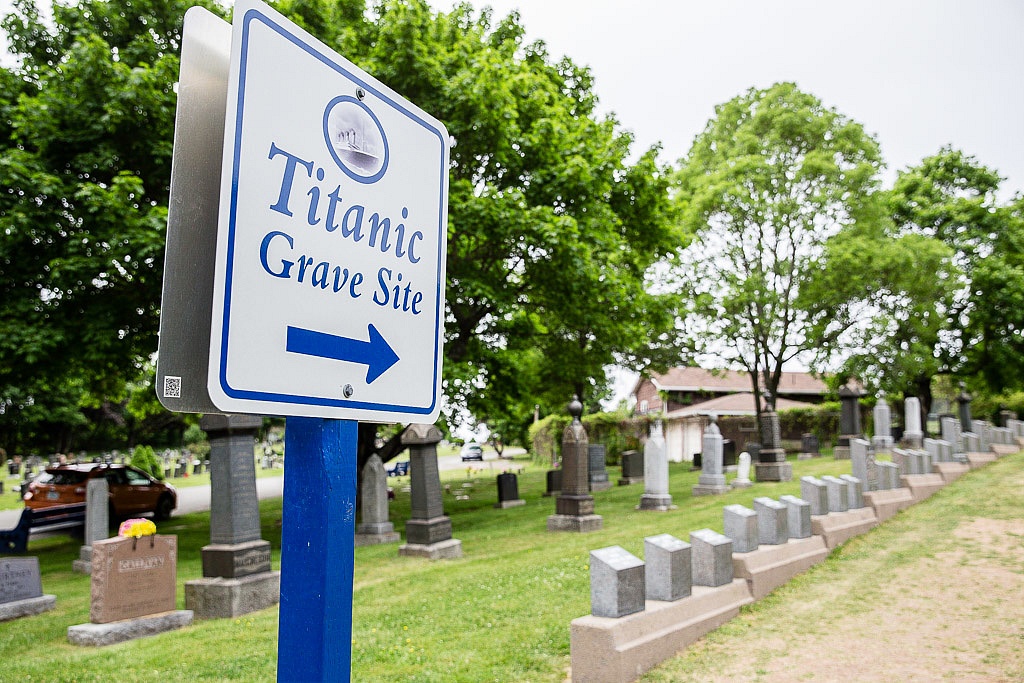 Identical headstones purchased by the White Star Line sit side-by-side here. Many simply acknowledge the unknown person below with the ship's own date of passing, April 15, 1912. Families that later identified their relatives commissioned personalized headstones.
Though the day had begun in a burst of sunshine, an appropriately moody fog blocked it out by the time I arrived. Two buses brought a crowd of tourists that scattered themselves across the grave site. Immediately I wanted to chase them away like a child chases a flock of pigeons in the park. It was too many people at once congregated on top of graves. I wanted them to be quiet, to leave or at least appear more thoughtful.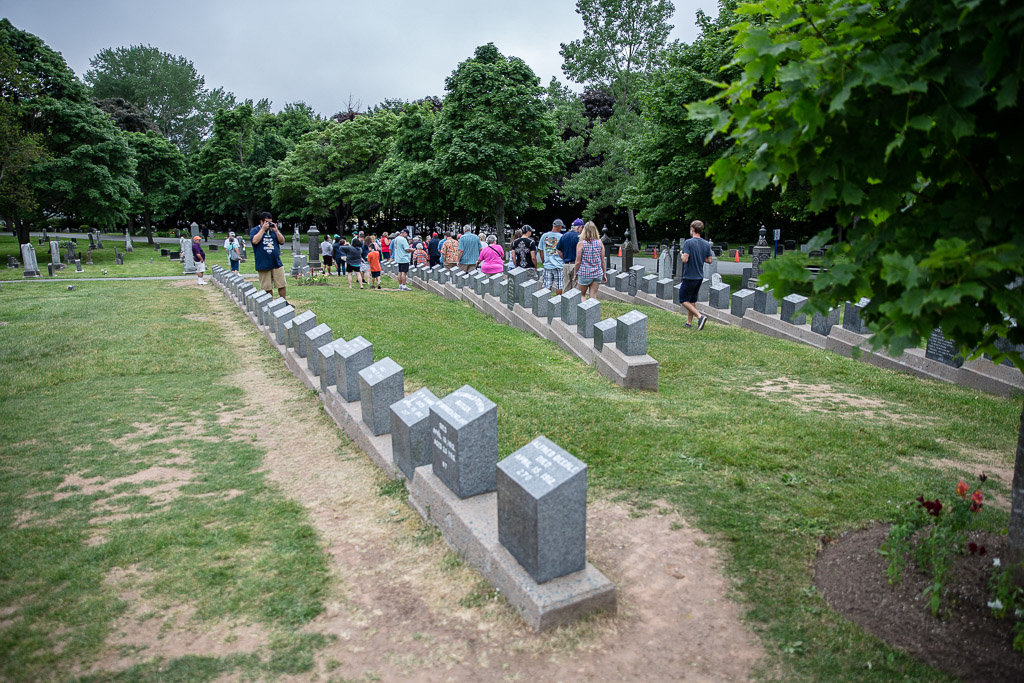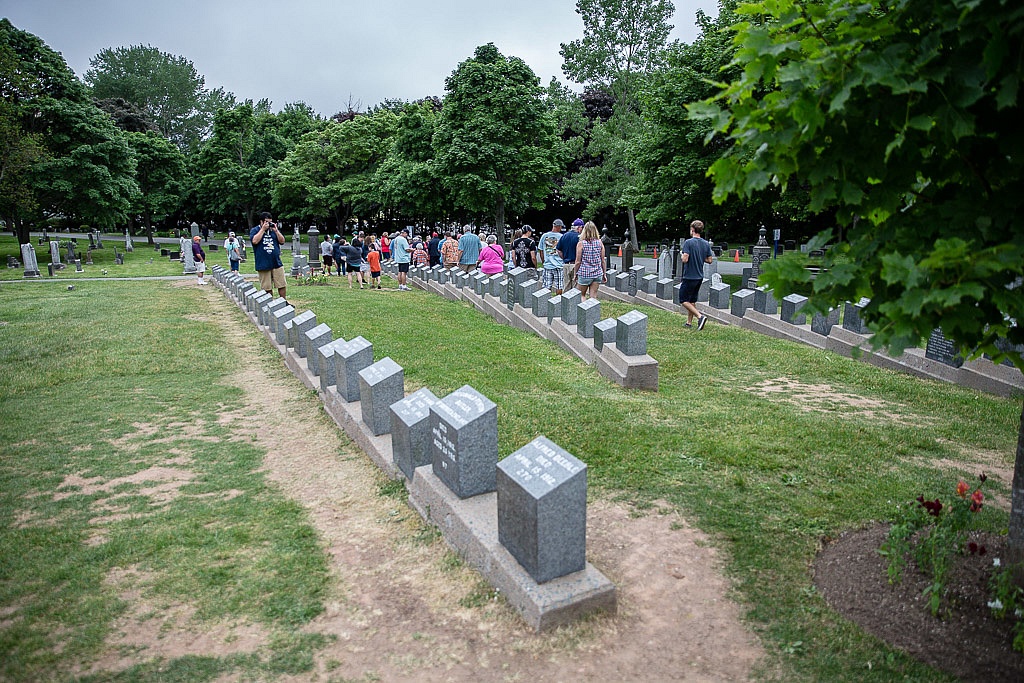 Of course this wasn't fair, for I too, am nothing but a tourist. None of my family were buried here, I have no ownership whatsoever of this tragedy. I just carry this inexplicable draw to visit every port Titanic docked in, see every artifact recovered, and absorb every detail of its story as if it will make a difference.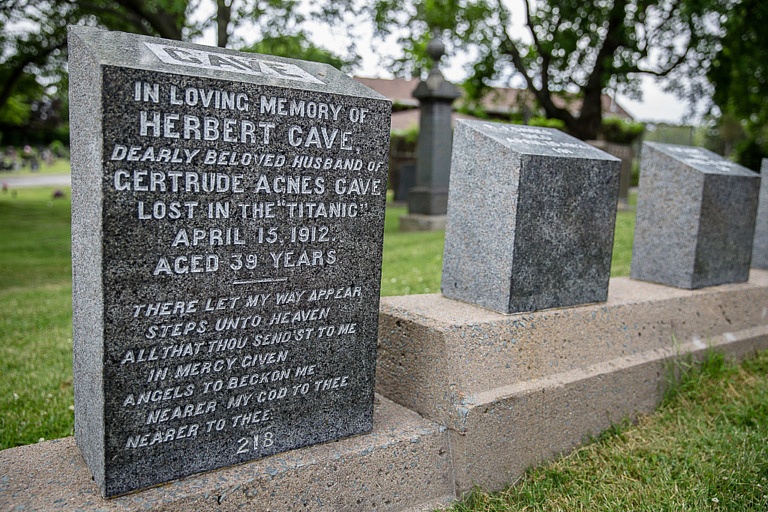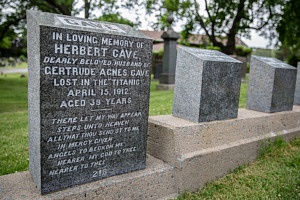 I waited until the last tour group left. I read each monument and tribute. There's beloved husband Herbert Cave and 19 month-old Sidney Leslie Goodwin (whose shoes are in the museum). There's even a J Dawson. In truth, this was not Leonardo DiCaprio's Jack, but a 23-year-old from Dublin who worked on the boat and went down with it.
I see you.
As the memorial of the sinking comes around this year, I once again wonder why on earth I can't let it go without marking it, hour by sinking hour. Coming to Halifax brought me face to face with the final tragic piece of the story. The end of a journey to America for many that had hoped it was just the beginning. But now I know their names, and in that small way, these ghosts are no longer strangers.
Have you ever been compelled to travel somewhere? Why?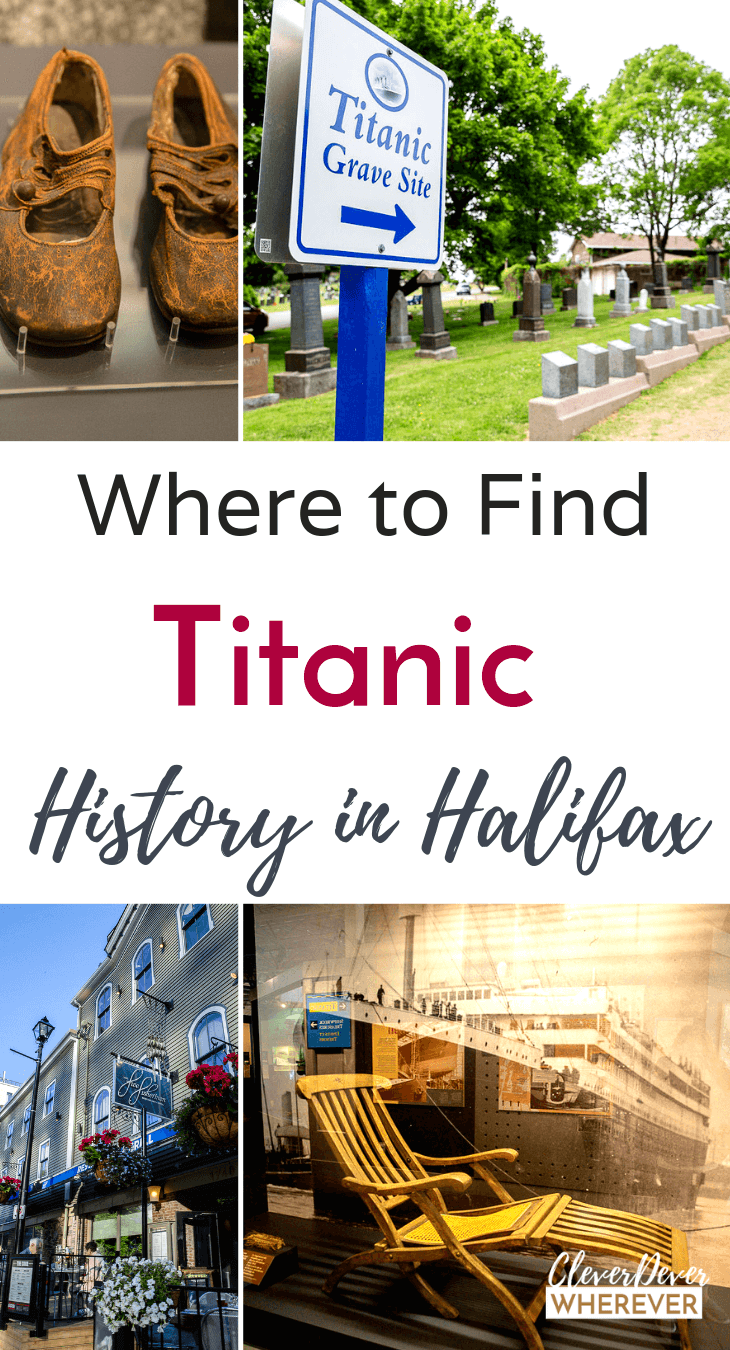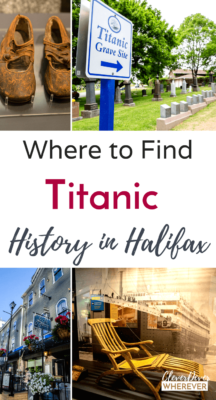 Read More
about Titanic

Read More
Nova Scotia