[FB Live SHOW NOTES]
How do you decide where in the world to travel on your next vacation? If you're up for new experiences it can still be daunting to spend time, energy, and money on a trip to a place you've never even seen before.
Today I'm going to share with you 7 tips on how to find your destination love match to help you decide where to go on your next vacation.
I've been traveling forever and have all of this knowledge and experience that I shouldn't be keeping to myself. But I also don't know what topics you want to learn more about, or what hits with you, so please drop it in the comments, and let's keep the party going.
Who am I? I'm Juliana Dever, an experiential travel expert. I've been traveling the world for over 20 years. I'm an award-winning travel writer and I help adventurers travel somewhere different so that they can have meaningful and fun experiences without having to spend all of their time digging around for recommendations.
Here are my 7 Tips on How to Find Your Destination Love Match for Your Next Vacation
Pull out a piece of paper and answer the questions below brainstorm-style. Write down anything and everything that bubbles up for you. You'll narrow it down later.
BIG PICTURE
1. What is your travel WHY?
Where are you in your life right now? What do you NEED?
Travel is incredible for:
healing
discovering more about other people and ourselves
getting us out of ruts
having fun
shaking up our relationships
opening our world and mind
gaining a change of perspective
igniting radical empathy
meeting new people
learning new things
giving us a break
celebrating something
or maybe even grieving
Write down everything you need right now. What is your travel why that you want to apply towards your next vacation?
2. What season do you want to travel in? 
Sometimes, our environmental needs dictate where we go on our next vacation. Do you need to feel the sun, escape to the silence of a winter wonderland, be part of the earth's rebirth during a blooming season, or enjoy sweater weather and changing leaves?
3. Has a place come up on your radar recently either from articles, photos, videos, or maybe a friend suggested it?
There is a reason you're drawn to it. Why does it speak to you?
Give this a think or a feel and write down everything that has popped into your awareness.
Your brain's reticular activating system (RAS) does you a favor every day by making sure you're not overloaded with all the images and information that flies at you daily. It filters out everything it thinks you don't need and keeps pinging you with bits that it thinks you do want to know about.
It's like that thing where you shop for a yellow car and then suddenly all you see is yellow cars.
Same with images of the beach or a vibrant city or maybe that hot tub overlooking rolling vineyards. What has your subconscious been feeding you lately? Is it a place you're vibing with? Write it down. Write it all down. It's trying to get your attention for a reason.
4. What kind of landscape calls to you? Mountains? Beaches? Forests? Cities? Desert?
This is a great way to narrow down where to plan your next trip. Sometimes you want a variety of those things. Like on my Georgia trip we start in the gorgeous city of Tbilisi, then we head to rustic vineyards in the countryside, we take to a lazy river in a stone canyon with waterfalls, then it's up to the greater Caucasus mountains for some hiking to a glacier, and out to the Black Sea and its subtropical interior.
NOW LET'S ADD SOME PERSONAL CONSTRAINTS
5. What's your budget and how far away from home are you willing to go?
Think about this for a minute. How much does going on your next vacation mean to you? Can you funnel money from somewhere else?
How much do you need to get where you want to go? How far do you want to go?
Flights, trains, rental cars all add up. So do meals, keepsakes, lodging, and activities. Make sure you account for all the things that will make your trip worth taking when you set your budget.
6. What are your interests? 
Research a place that offers things you're interested in, but maybe with a twist. It's always fun to find an experience that takes your next vacation to another level.
Write down things all the things that you love.
Some ideas to get you inspired:
eating or learning to make different cuisines
learn about your family's ancestry
craft beer tasting
mountain hiking
visiting old libraries
classical music (you could find yourself at a Mozart or a Chopin concert, or maybe geeking out a world instrument museum)
river cruising
artisan handicrafts
animal rescues, farms, sanctuaries
kayaking
cycling
exploring ancient sites
strolling seaside towns
festivals and live music
creepy puppet shows
It's endless. But here's where you take it a step further. Once you're done with your list, start circling the items that really feel right, right now. You'll start to have a clearer picture of the type of trip that's beginning to form. When you begin your research you'll be ahead of the game with keywords that will help you find your destination love match for your next vacation.
For instance: Maybe you love horses, you have the budget to travel internationally and you want to do a trip in the summer.
You could do a camping trip across Iceland's interior on their gorgeous horses that have that special 5th gait.
Or maybe you want to be surrounded by gourmet food and wine experiences so you visit the Lipica stallions in Slovenia.
7. Travel companions – do you need to be alone right now? Or do you want to make new friends? 
Sometimes you want to strike out solo, bring a travel buddy or make new friends. These can all be a determining factor in where to go on your next vacation.
You always want to consider safety and who you are surrounding yourself with so don't discount that aspect when thinking about where to travel. If you're traveling with a buddy, it's also good to regard whether or not a destination has something for both of you.
You can even plan on traveling somewhere solo specifically to meet new friends. For example, on my Slovenia trips, almost everyone's a solo traveler. But they also wind up making so many new travel and real-life friends before the trips are over.
WHAT'S NEXT
Brainstorm on all of these lists, write everything that comes up.
Then go back and edit. Circle the answers that pop out to you the most.
Next, use your research as keywords
THEN
This is where your internet stalking skills can be used for good. Put combinations of these words together and search. What comes up? You'd be surprised what you can find when you know how to ask Google the right questions.
Ask someone who's traveled a lot. I've been to over 60 countries, lived in 4, and dug into the cultures and experiences of more regions than I can count. I'm pretty good at diagnosing exactly where people would love traveling to. Do you have a friend like that? Do you know people you can discuss your main interests? They're always a great resource.
Join friendly travel groups. Look at groups such as She's Wanderful. Wanderful is an amazing, kind, inclusive resource made of thousands of women all over the world. They do have different levels of membership, but you can also be a part of their FB group and ask your questions in there. You'll get a wealth of personal recommendations.
Did you enjoy this show? Let me know in the comments what tip resonated with you – or even if you've figured out where you want to go on your next vacation!
And don't forget – I'll be back live next Thursday, December 9th at 11 am PT. I'll be on my Facebook page CleverDever Wherever to talk with you about how to get off the beaten path when you travel.
This is another huge component of planning a trip that you'll love, so don't miss it. Thanks so much for joining me, I always love spending time talking with you.
And if you want someone else to do all the planning on your next vacation…
Next year I have FIVE amazing trips – all insider, authentic experiences. You can go to Poland, Slovenia or the country of Georgia with me – I've already done all of the planning. You can find all the details below.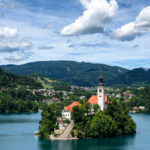 Slovenia (gourmet foodie + stunning nature)
7-Day Alps to Adriatic July 3 – 9th, 2022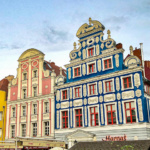 Poland (history + sea-faring Baltic coast)
11-Day Windswept Coast to Cobblestones
August 29th – September 8th, 2022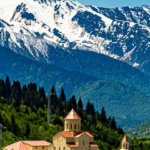 Georgia (800-year-old wine history + monasteries, mountains and CHEESY BREAD)