I never unpack. Not fully. Because I travel so often, this is one of my travel hacks to cut down on preparing for a trip.
Among the bags that stay packed, I have:
A toiletry bag filled with sample-sized lotions, cottons and toothpaste
A hair-care bag containing my favorite small-sized shampoo, conditioner, styling products and a travel brush
My makeup bag, which I work out of even if I'm at home
A clear, vinyl bag with sunscreens, bug repellent and after-bite in case I go somewhere tropical, or sunny, or bug-y, or…you get it.
AND
My medical / first aid kit bag
Which is what I want to talk to you about right now. I never travel without it. Over the time I've been traveling, I've succumbed to a variety of mystery illnesses or gotten sick. While I enjoy waiting outside a closed foreign pharmacy as much as the next person, if I can nip a malady in the bud, I'm on it.
My madness has a few key methods, all of which I'm going to break down now with you. I'm a (possibly annoying) stickler when it comes to organization. I'm seriously all about saving space and weight while also trying my best not to cart around a bag full of unidentifiable, crushed, expired drugs.
My step-by-step guide to building your very own, small, lightweight, travel first aid kit:
Step 1
Grab a bag. I love my Flight 001 canvas pouch. At 7.875in X 6in it's a perfect small size. Another good option is any bag with a vinyl or water resistant liner to protect your other belongings in the event of a Kanka explosion or some other liquid in your pouch. This warning comes from personal experience.
Step 2
Amass your drugs (need a checklist? I've put one together for you – click here to download it!). Travel size is not necessary for most products. I'm going to show you how to bring your own stuff from home in space-saving quantities.
Step 3
Break out the tiny Ziploc bags! I first learned about these the year I needed to dress my beagle like Jesse Pinkman from Breaking Bad. Hey – how else was she gonna be able to carry around blue meth (rock candy) on her little skull jumper? She doesn't have hands!
Step 4
F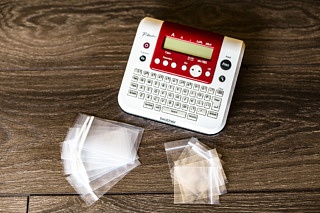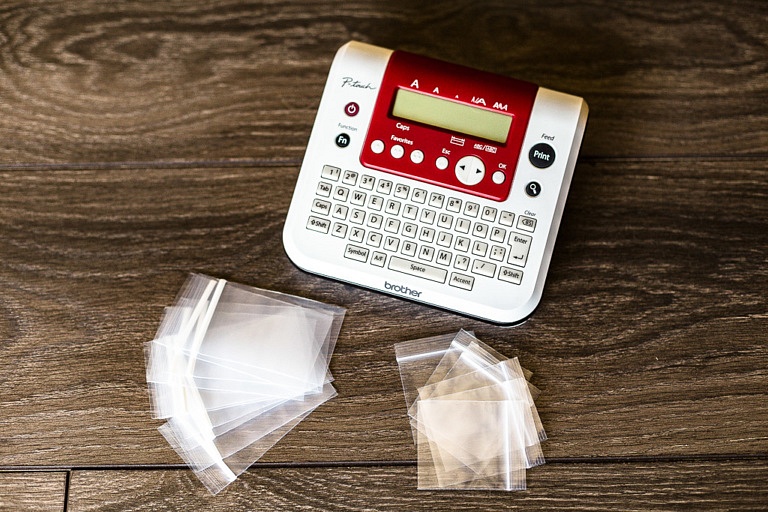 ire up the label maker. My labels include the name of the drug, the expiration date and specific directions if it's not obvious. Okay, I know, on a scale of one to all spices must be alphabetized, how anal-retentive is this?
You can write on the bags with a sharpie, but don't come crying to me when the label is smudged off and you don't know if you're taking an anti-diarrheal or sleeping medication. Note: I don't take all of the drugs out of their packaging, DayQuil, with its big squishy gel caps is an example. Typically it's anything in bulk.
Step 5
Assemble your kit! Fill your first aid bag the rest of the way with remaining necessities like bandages, lozenges, and anything else that you personally find you need out on the road.
While we can't – and shouldn't attempt to – think of everything, I have put together a list of items myself or a traveling companion has needed at some point on the road. Consider this a template of what to pack in a travel first aid kit, and add or subtract as necessary. For example, I don't have contacts, so eye-related care is not on my list, but it might apply to you.
The result is something that looks like this:
What to Pack in a Travel First Aid Kit
Painkillers / Allergies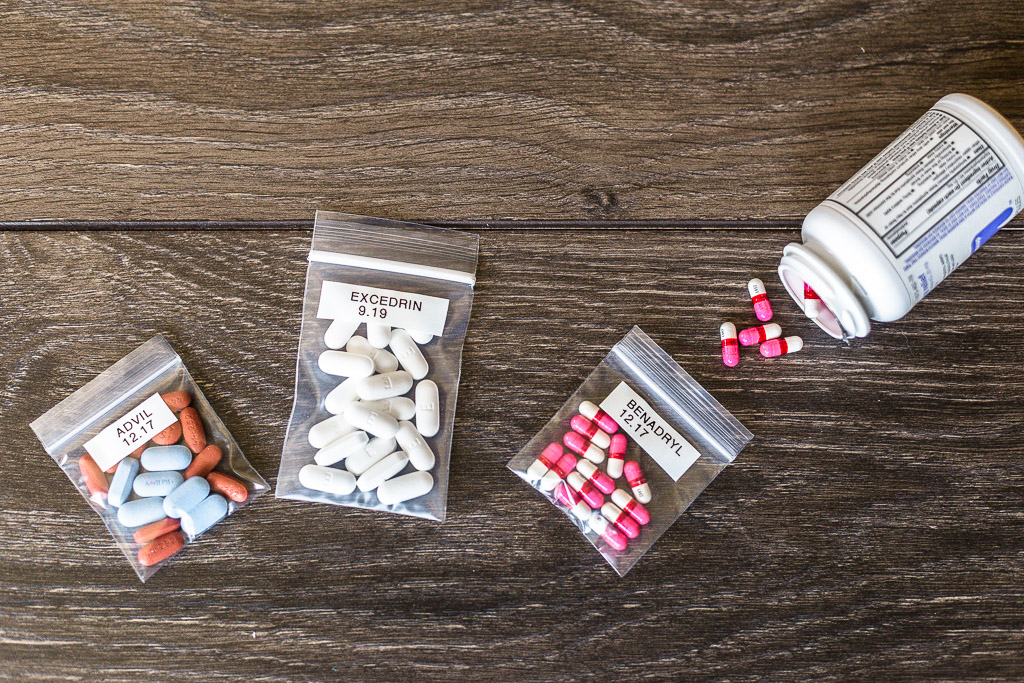 Aspirin, headaches and relief from the occasional Ouzo overindulgence
Ibuprofen, reduces inflammation
Anti-histamine capsules, because for some reason I am allergic to travel
First Aid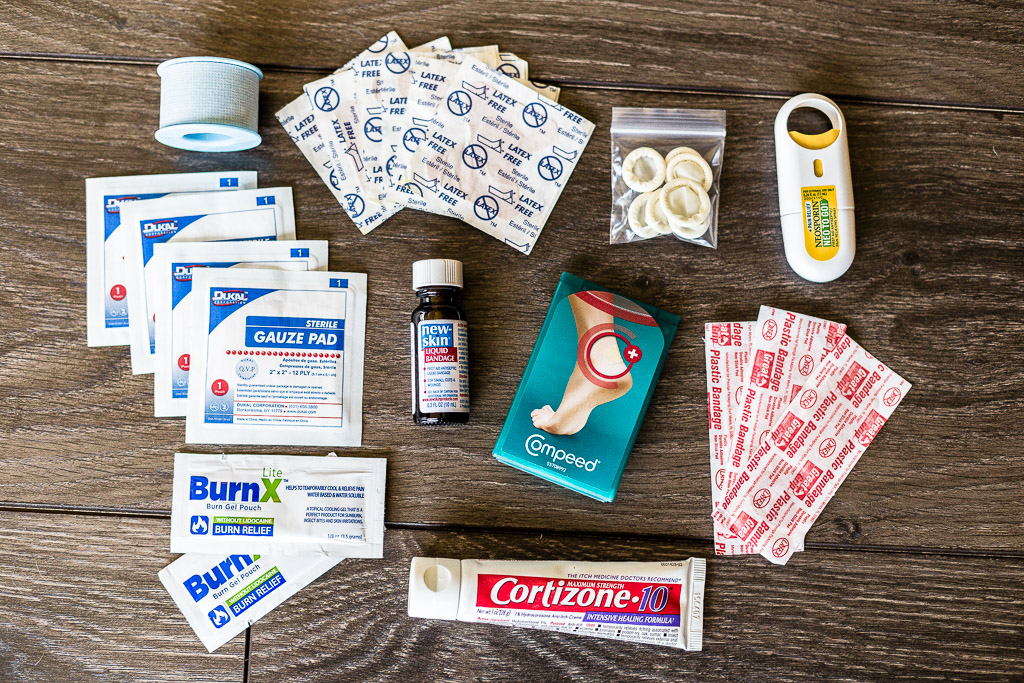 Hydrocortisone, because itching
Tape, it fixes everything
Blister protection, all that walking!
Liquid bandage for that stupid cut on your knuckle that keeps breaking open
Flexible adhesive bandages in regular and butterfly
Antiseptic pain-relieving spray fix it from a distance, amirite?
Gauze squares for larger scrapes
Finger cots for a nasty slice, or if you don't want to touch something gross or if maybe you need to sort a lot of paperwork fast. Hey, I don't know what you do on vacation.
Burn Relief Gel in case of s'mores mishap
Stomach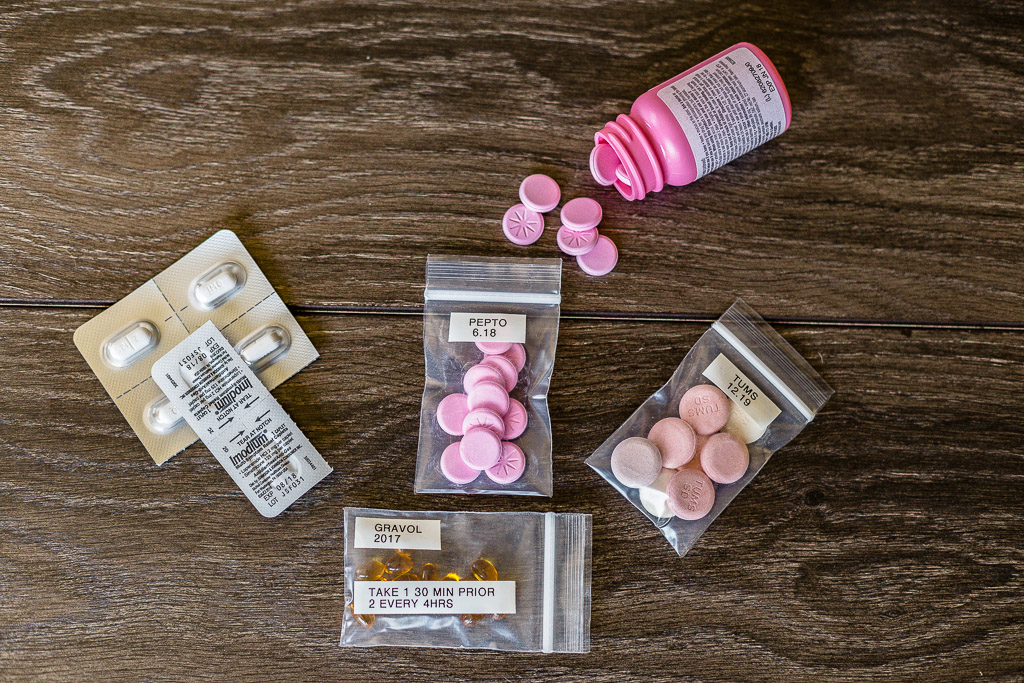 Gravol or your favorite anti-nausea/motion sickness drug
Chewable antacid tablets, you never know how foreign food will affect you
Chewable Bismuth digestive relief, broader scope if you need bigger guns
Anti-diarrheal tablets for the nuclear option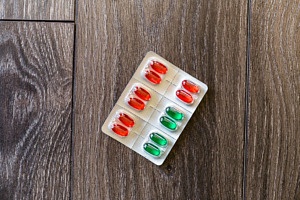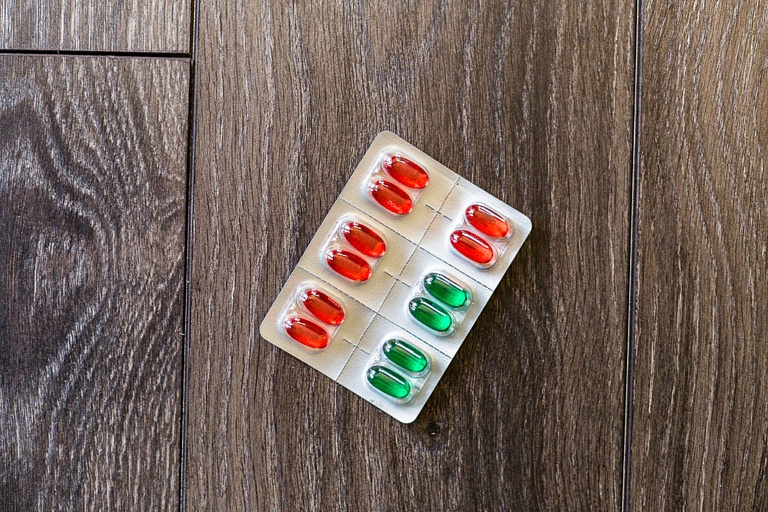 Cold/Flu
Daytime cold medicine, even outside of a cold, sometimes barometric pressure or strange particles in the air cause my sinuses to swell and it's nasty.
Nighttime cold medicine, I get the daytime/nighttime combo pack
Preventative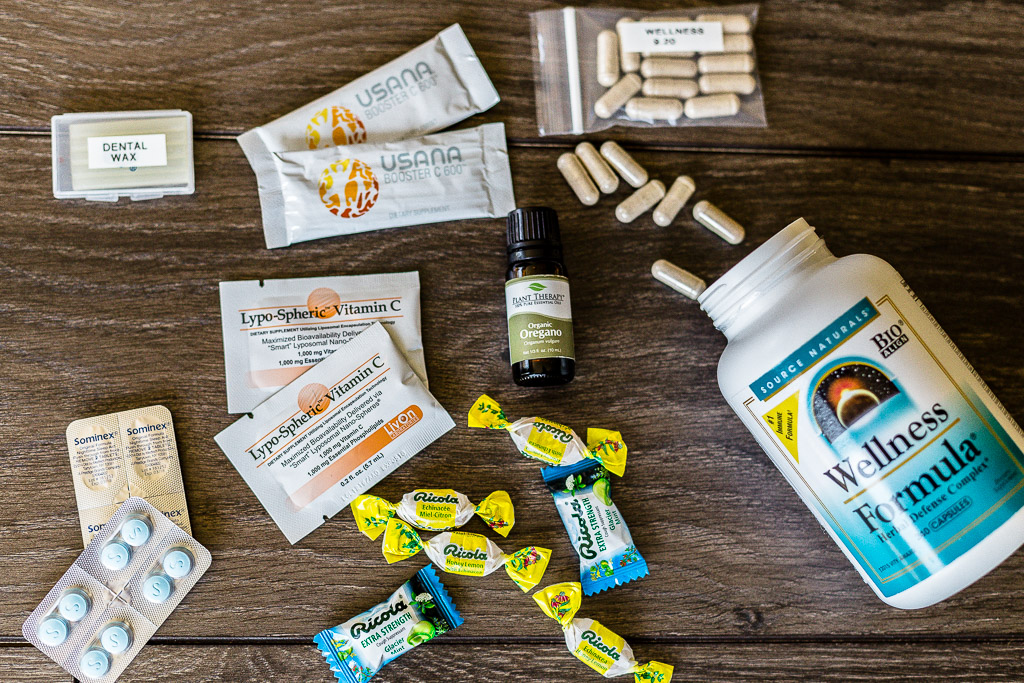 Lozenges, for coughs and throat tickles. Please don't unwrap in a quiet theatre.
Dental Wax, this might be just me (read my post on the time my tongue swelled up here), but this saved me when the side of my tooth started slicing my tongue.
Sleep aid, if you struggle with jet lag, you might want to bring OTC sleeping pills with you. It's annoying to be wide-awake at 2am, when you have to go get in line for that catacomb tour tomorrow at 7am.
Vitamins, bring your favorite multi, or double down on the Vitamin C. Emergen-C helped me stay well when my classmates in Russia went down one by one with a cold.
Wellness Tablets, this is always in my arsenal after I got strep throat last summer in San Francisco and couldn't get to a doctor. I took six everyday, vitamin C, gargled saltwater, and my secret weapon…
Oregano Oil, this stuff is a so strong it'll burn your skin so be careful. Nature's antibiotic, this kicked strep throat's ass in California and knocked a cold on it's knees in the Middle East. I never leave home without this little bottle (put it in its own Ziploc – you do NOT want this to leak, it is crazy strong!). At the first sign of feeling sick, take four droplets along with a teaspoon of "carrier" oil (like olive oil) three times a day.
Disclaimer: As you might be aware, I am NOT a medical professional, so none of the included medications are to be taken as any kind of endorsement or recommendation. You take what's right for you, and ALWAYS consult your doctor or pharmacist when in doubt or mixing medications. I know some people also swear by a "z-pak" antibiotic pack. Talk to your doctor about that, you need a prescription for that one. I prefer to stay away from antibiotics unless absolutely necessary, but that's me. See? We're all making our own choices.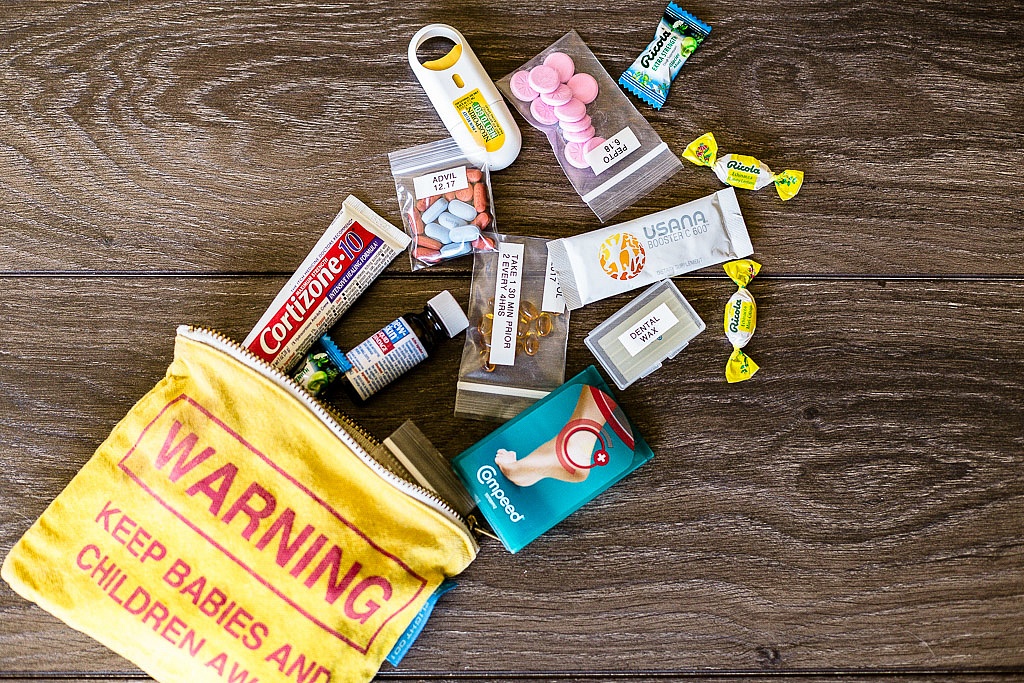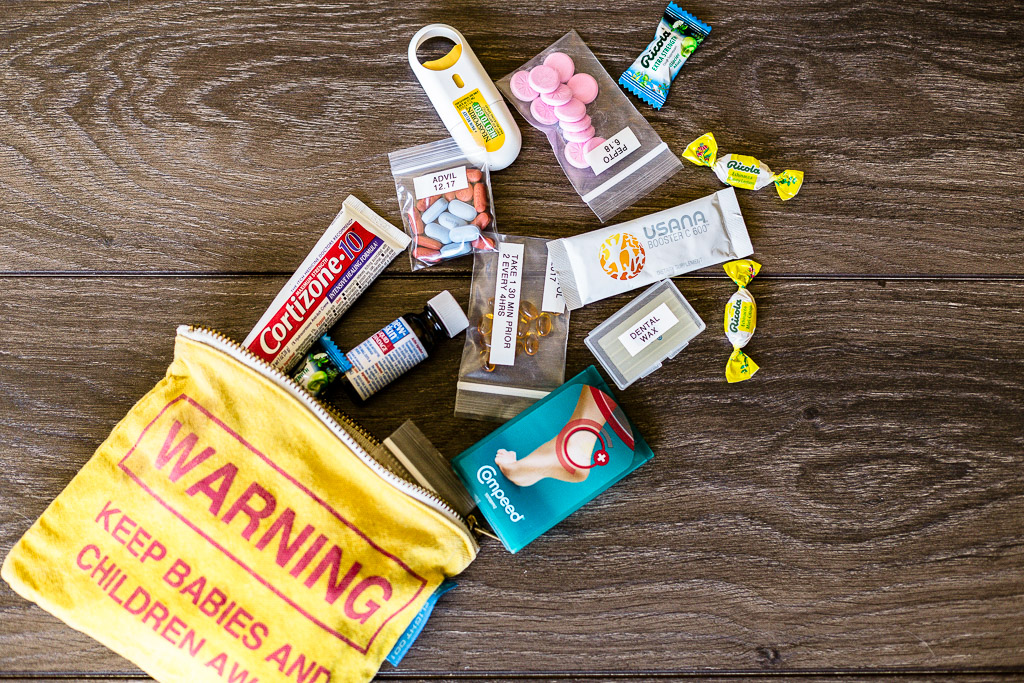 Believe it or not, if you strip it down, you can get all of this into one tiny pouch weighing less than one pound. You set it up once, and it's typically good to drop into your suitcase for at least the next two years. If you're lucky, you might not even have to refill it much. It has kept me healthy in more places than I would prefer to list.
So, what's in your first-aid kit?