I was all over the place this year. Literally. I kicked January off with a trip to the Middle East, wined and dined in France and Georgia (the country not the state), road tripped through Canada (again) and did back to back tours in South America and Japan.
2017 might be my most continent-packed year ever. There's a lot to "unpack" this year (I really kinda hate that buzzword, but it's fitting, so go with me). I traveled so much that at times I felt I didn't have time to absorb it before moving to the next destination.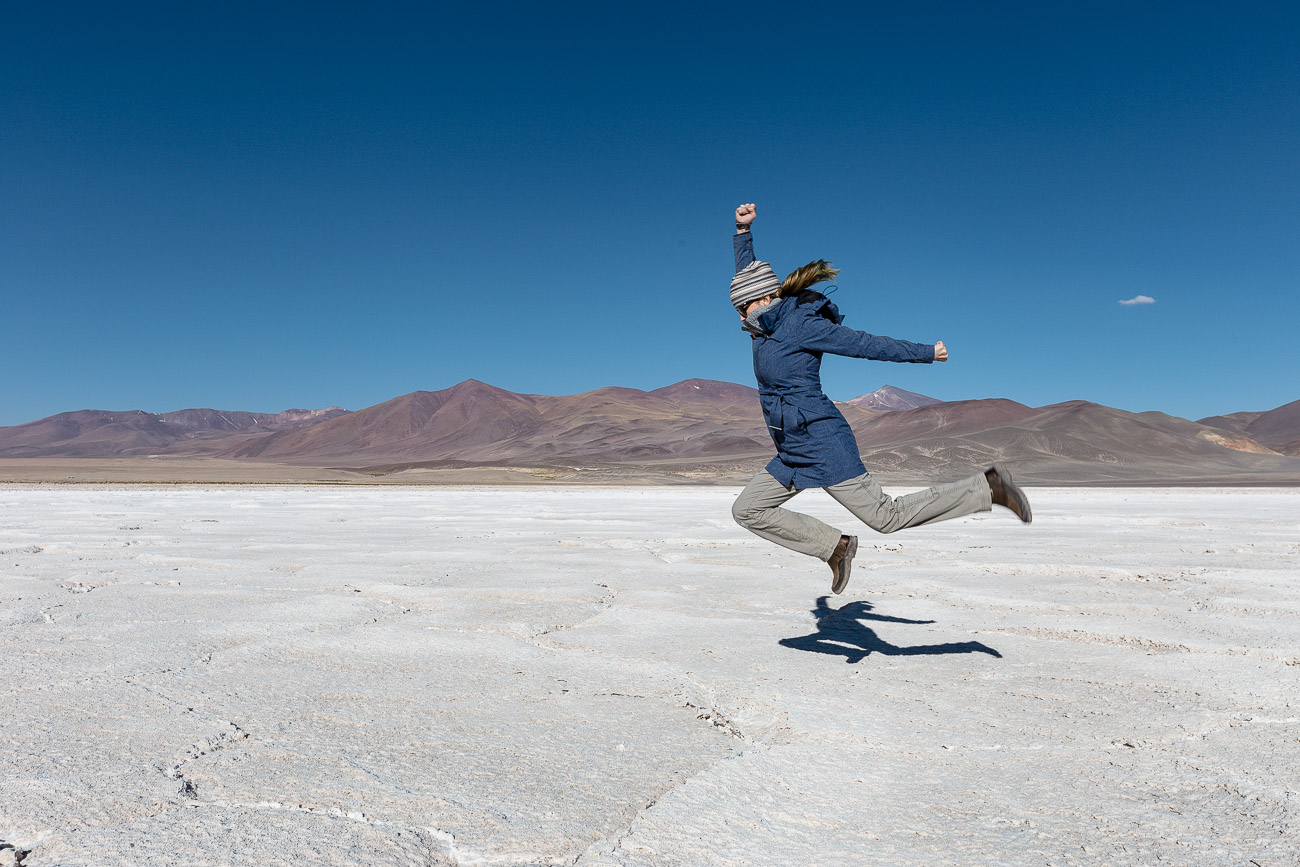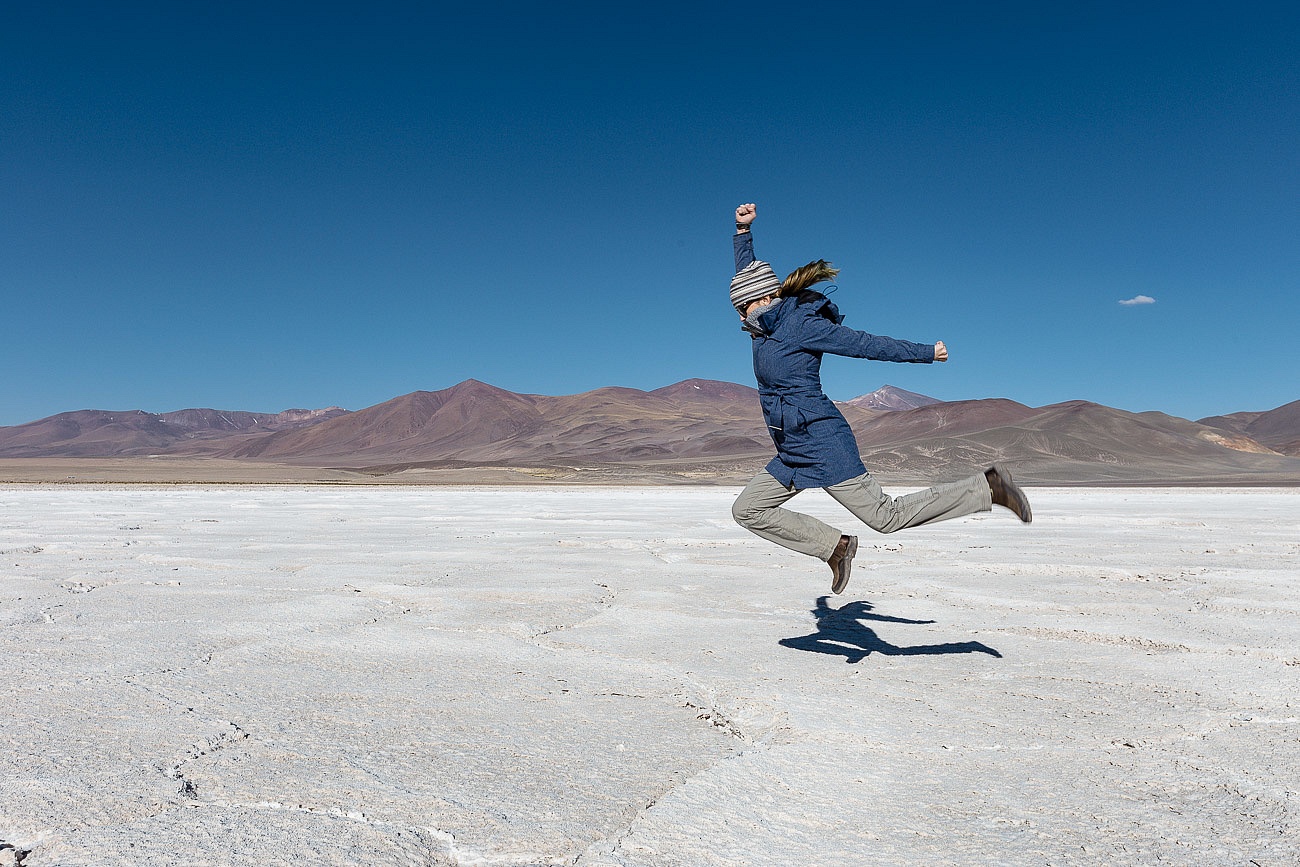 There were highs, like finding a hidden restaurant in Tokyo and standing on salt flats at an altitude of 14,000ft/4,267m in the Andes. There were lows like being in the Middle East during the first announced travel ban and canceling my birthday/Christmas trip to Portugal and Spain because of a family medical emergency.
Reflecting on 112 nights away from home and over 104,000 miles flown, I've gained some perspective and a lot of gratitude. Travel is a privilege. I'm thrilled beyond measure to be lucky enough to see so much of the world and meet so many fascinating people.
Sharing those highlights and recommendations with you is the best way I know to keep this love of travel going. I hope my favorite travel experiences of 2017 inspire you to plan your own trip or maybe just try that new international restaurant down the street.
Notes on how I selected my favorite travel experiences for this year:
I gave a lot of thought to which of my adventures really stood out. I wrote down a lot of category ideas, but if nothing in a particular category was exceptional I scrapped it entirely. Each one of these selections was truly excellent. No filler here.
Some experiences this year were either hosted, offered at a discount, or I entered into a paid partnership. In those cases, I notated it with a [*]. It's important to note that no one is paying to be included on this list, or given any special consideration whatsoever. Only my absolute favorites made the cut. There's nothing recommended here that I didn't genuinely love.
So let's review 2017, shall we?
Favorite Travel Experiences – 2017
Destinations
Favorite Country (New)
Georgia*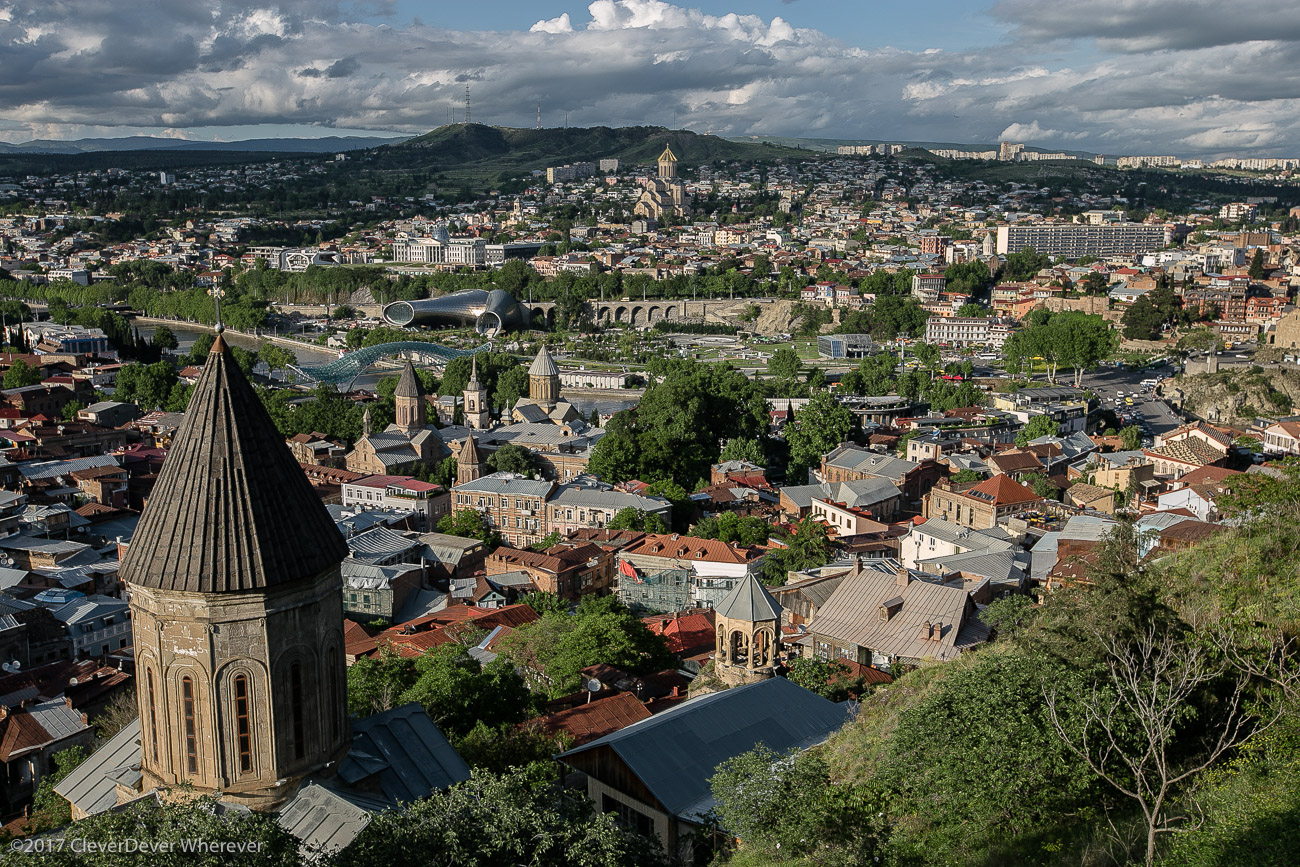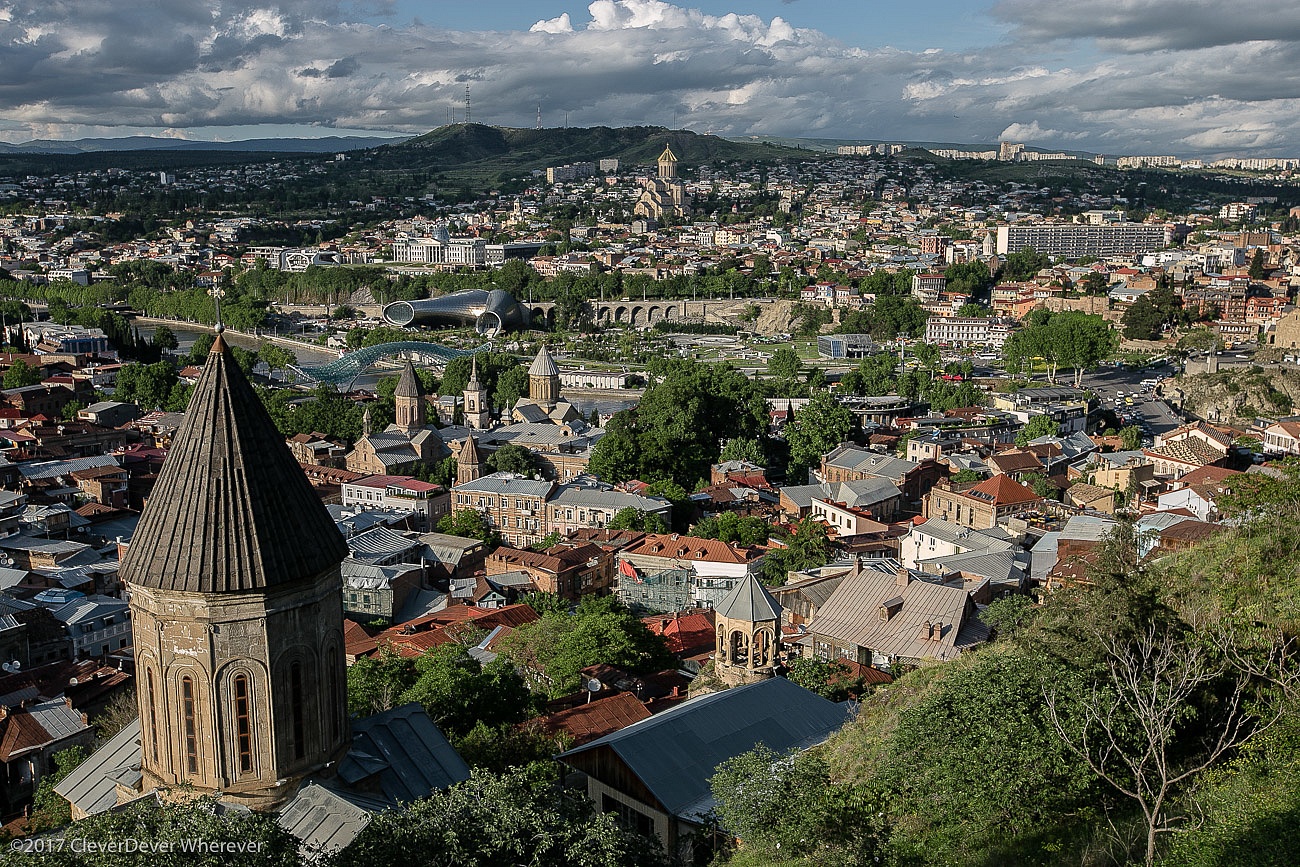 Visiting Georgia had been on my list for no less than ten years. Ever since I lived in Russia (twice) and eaten at every Georgian restaurant I could, I knew that one day I would go there. Beyond the food, though, I had no idea what it held. When I finally made the trip this year I was sincerely enamored.
A rich agricultural country with a cuisine worth flying around the world for, Georgia is so much more than just food. Soaring mountain ranges, wines like you've never tasted, and diverse architecture set this Caucasus country apart from almost everywhere else in the world. Influenced by the Middle East, Asia and Europe, Georgian culture is still completely unique. The people, though invaded often throughout history, tenaciously maintain a resilient grasp on their culture, which is soaked in song and earthy wines.
I loved it so much I plan to go back in 2018 and possibly even organize tours there. It's a country not to be missed – It's gorgeous, it's visceral and it's infectiously fun.
Why you should go: Natural beauty of the Caucasus, meals filled with vibrant veggies, hearty dumplings and music.
Favorite Country (Returning)
Jordan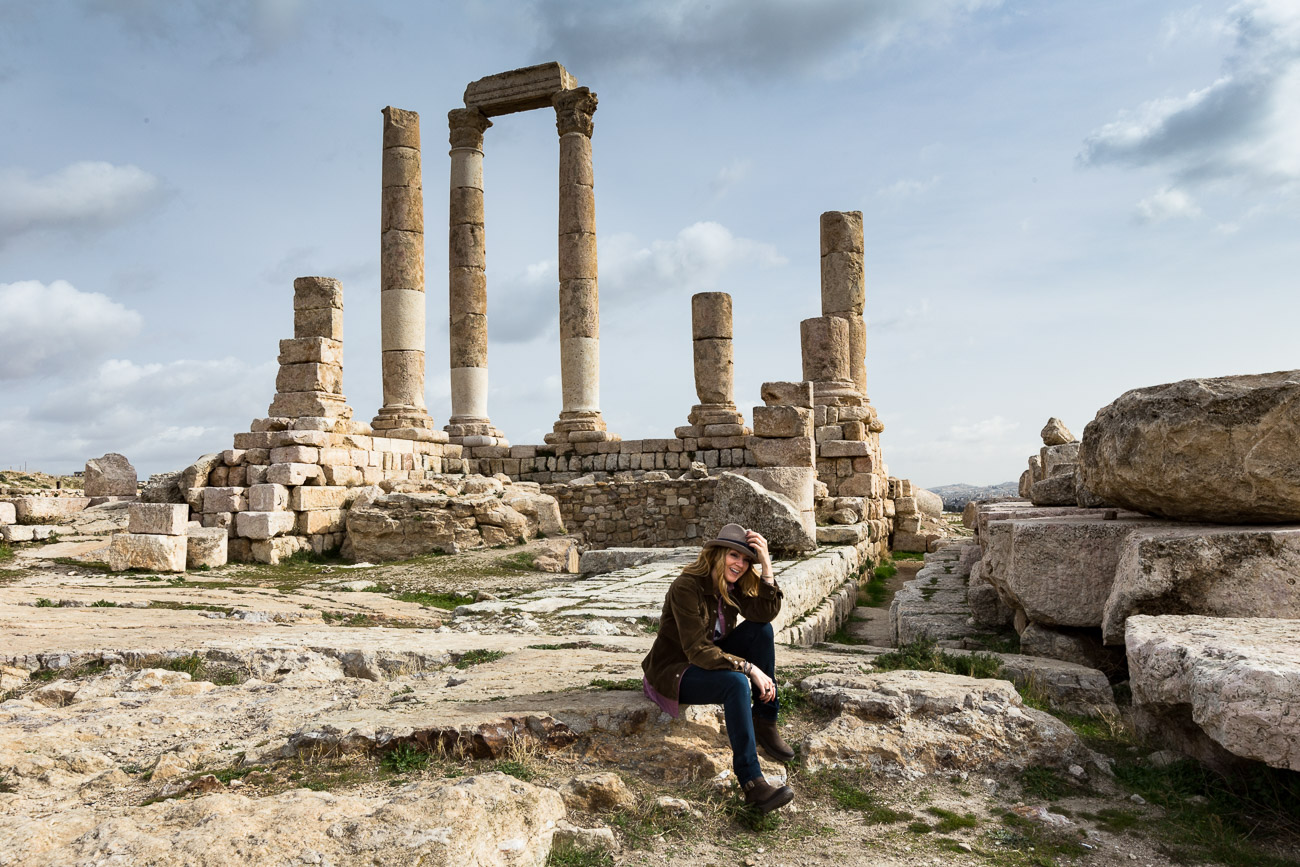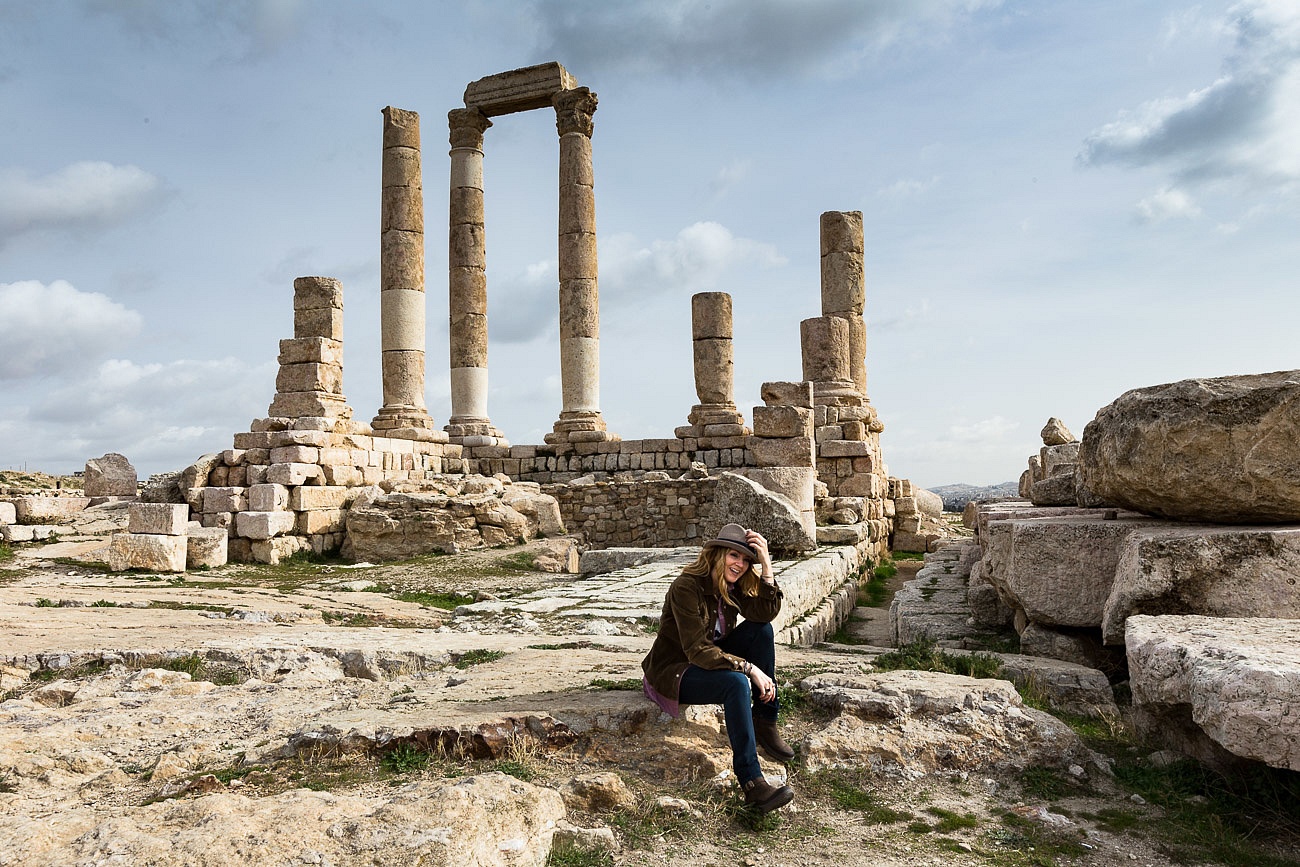 Another country close to my heart, it's on my list of places I love returning to. In 2013, I was brought over by the tourism board to film videos about what to do in Amman. I'll admit, at first I was apprehensive about heading to a country in the Middle East. I'd never been to that part of the world and I didn't know anyone else who had either.
Once I got there, everything I thought I knew was wrong. I made friends for life, and talked to some of the most hospitable people I've ever met. Treasures both in the form of ruins and ancient historical locations astounded me.
In January I went back to relax for a week and spend time with friends. I wanted to dig into local life even more. We went to incredible restaurants, hung out in chic bars and pubs, had hipster coffee, wandered through the artsy neighborhoods and returned to the Dead Sea for a little weekend getaway.
Why you should go: Ancient historical ruins, modern and welcoming Arabian culture.
Favorite New City
Tokyo, Japan
While so many people said I would experience extreme culture shock when I got to Tokyo, I simply felt elation. I'm a city girl and I loved the buzz. It was like being inside of a pinball machine but in a good way. Crowded yet organized, busy but not chaotic, Tokyo for me was filled with excitement. I was more amazed that, despite the deep language barrier, every attempt was made to communicate with tourists. Colorful, safe at every hour and fascinating, I fell in love with Tokyo and all of its quirks as soon as I began exploring the city on foot.
Why you should go: Super safe, a city with endless things to do day or night.
Favorite Neighborhood
Paris's 11th Arrondissement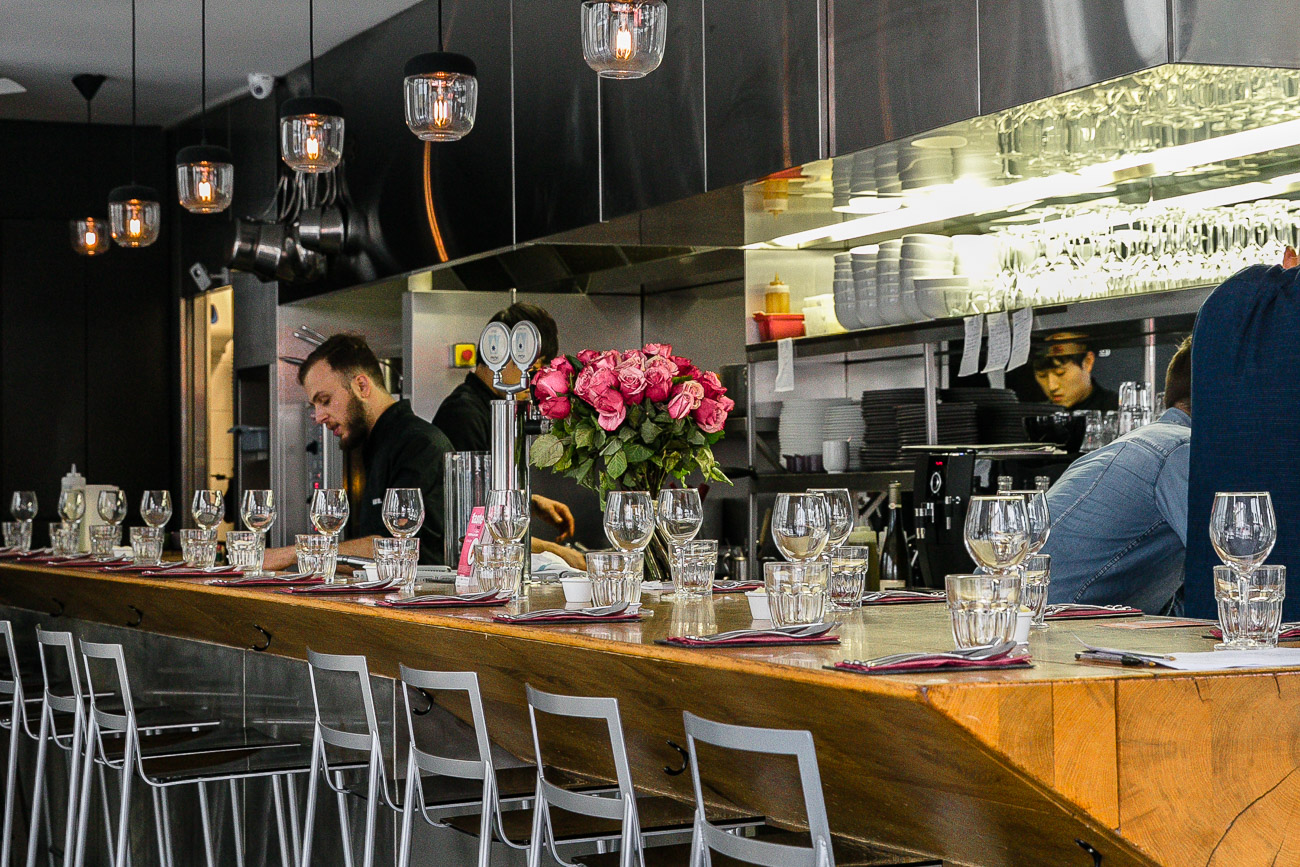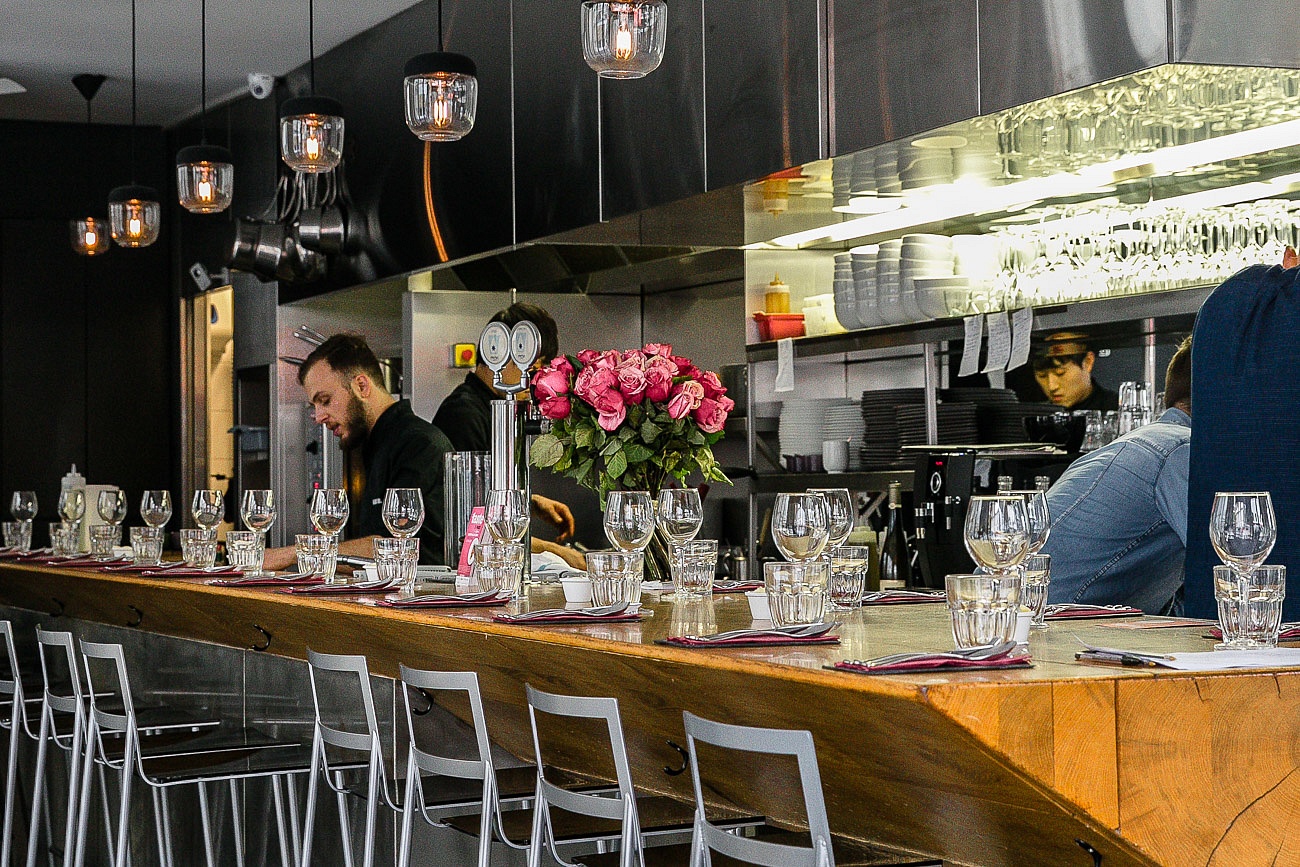 This year I stayed in Paris's 11th and wow was I thrilled that I did. Cozy and less touristic, the 11th has that local feel with less polish than the 5th or 6th.  The selling point for me is that so many up and coming chefs run restaurants here with more affordable prices. It's less aloof and so much tastier than half the places I've eaten in Paris.
Why you should go: For Ober Mamma alone, but also almost every other restaurant in the area. For the complete rundown read my list of the best restaurants here.
Biggest Travel Surprise
Alberta's Canadian Badlands*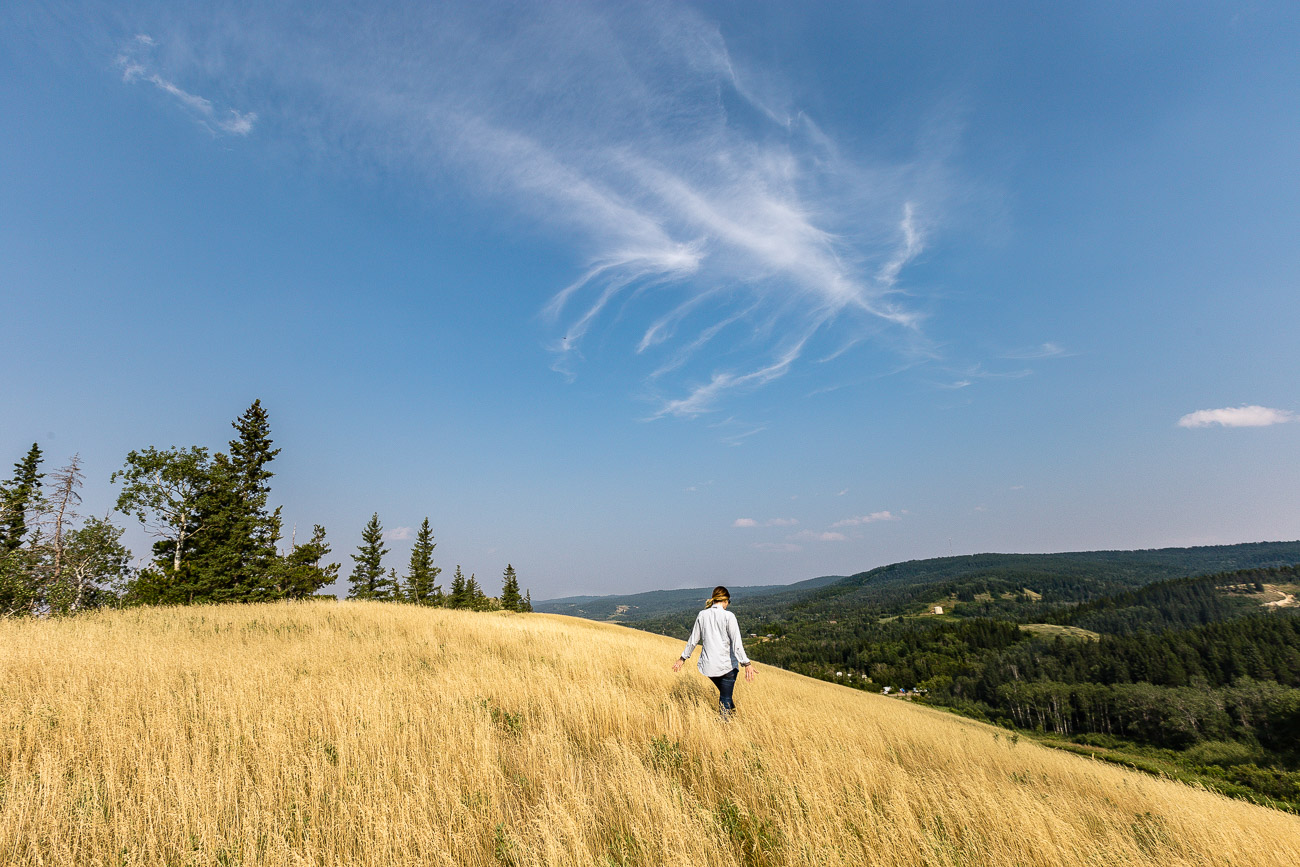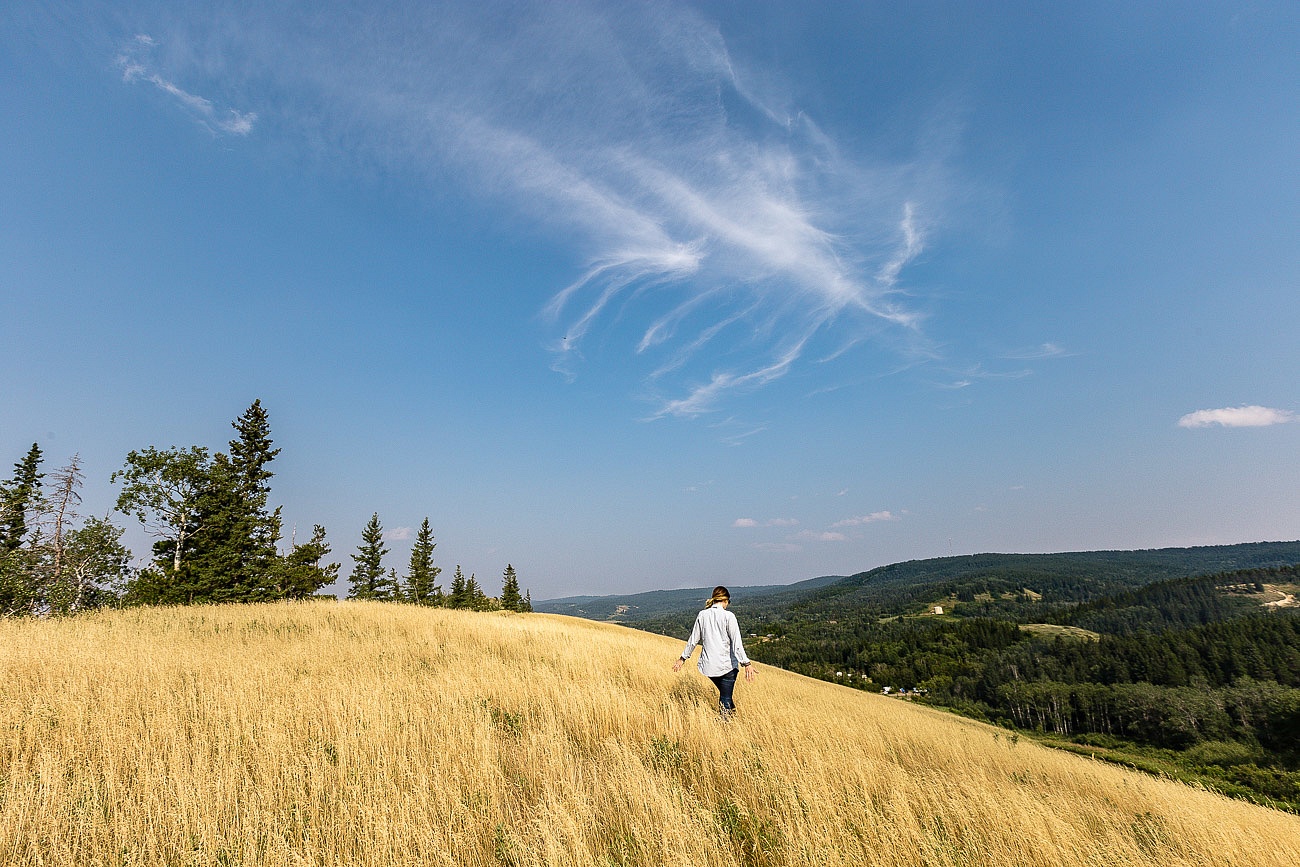 In a province famous for the jaw-dropping beauty of Jasper National Park and Banff, it's easy to think that's the only reason to visit. My road trip through the small towns and expansive parks suggest otherwise. From what I could tell beforehand, seeing dinosaur bones and rural communities were the extent of the Canadian Badlands' offerings. But a deeper dive provided oh so much more.
The Canadian Badlands are vast, I often drove two hours between towns. But the spirit of kindness and hospitality in each place I stopped was restorative. Read more about what to do there and why I loved it here.
Why you should go: Art classes, National Parks and the chance to unplug and connect with real people.
Lodging
Favorite hotel – Large
This was a tie. I was so lucky to stay at some wonderful hotels this year, but these two stood out by a long shot.
Tierra Atacama*
San Pedro de Atacama, Chile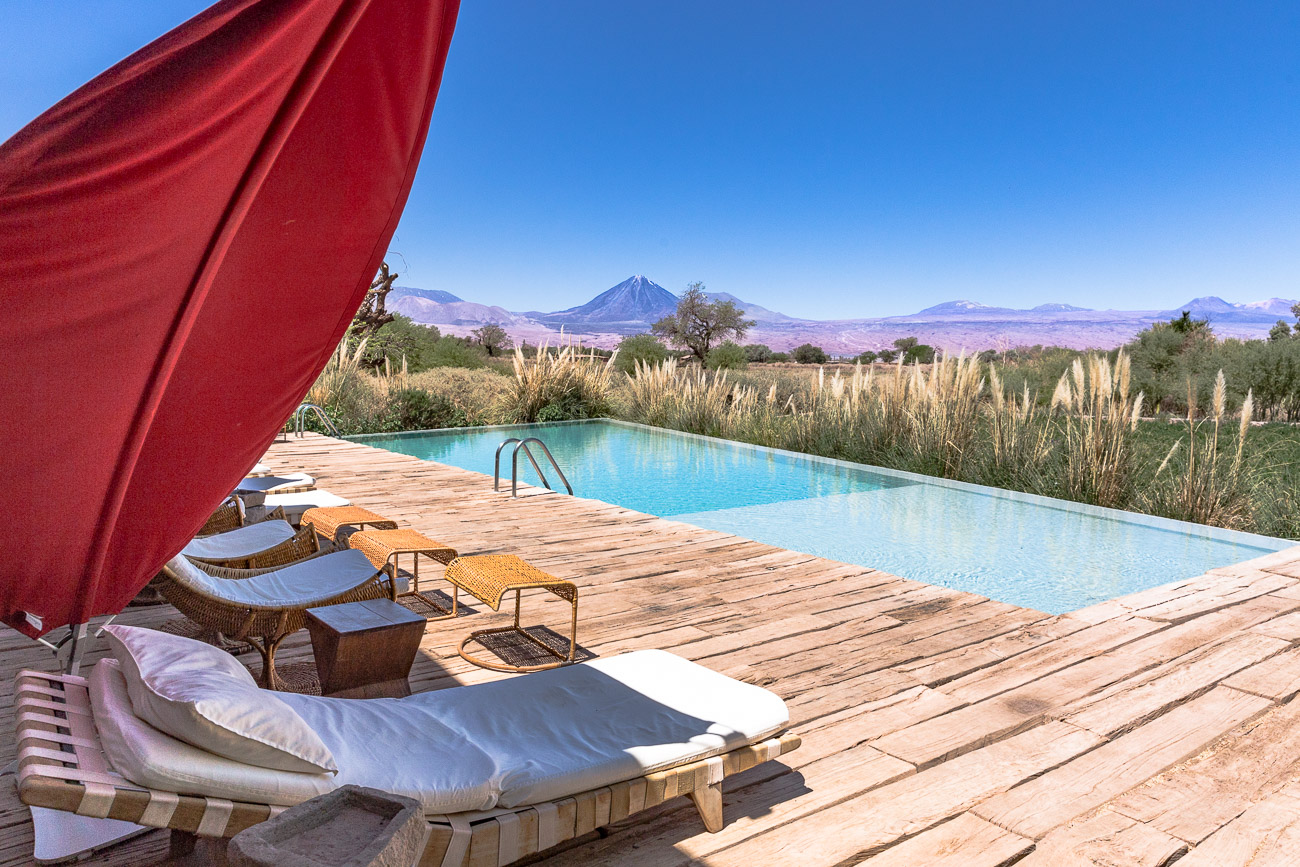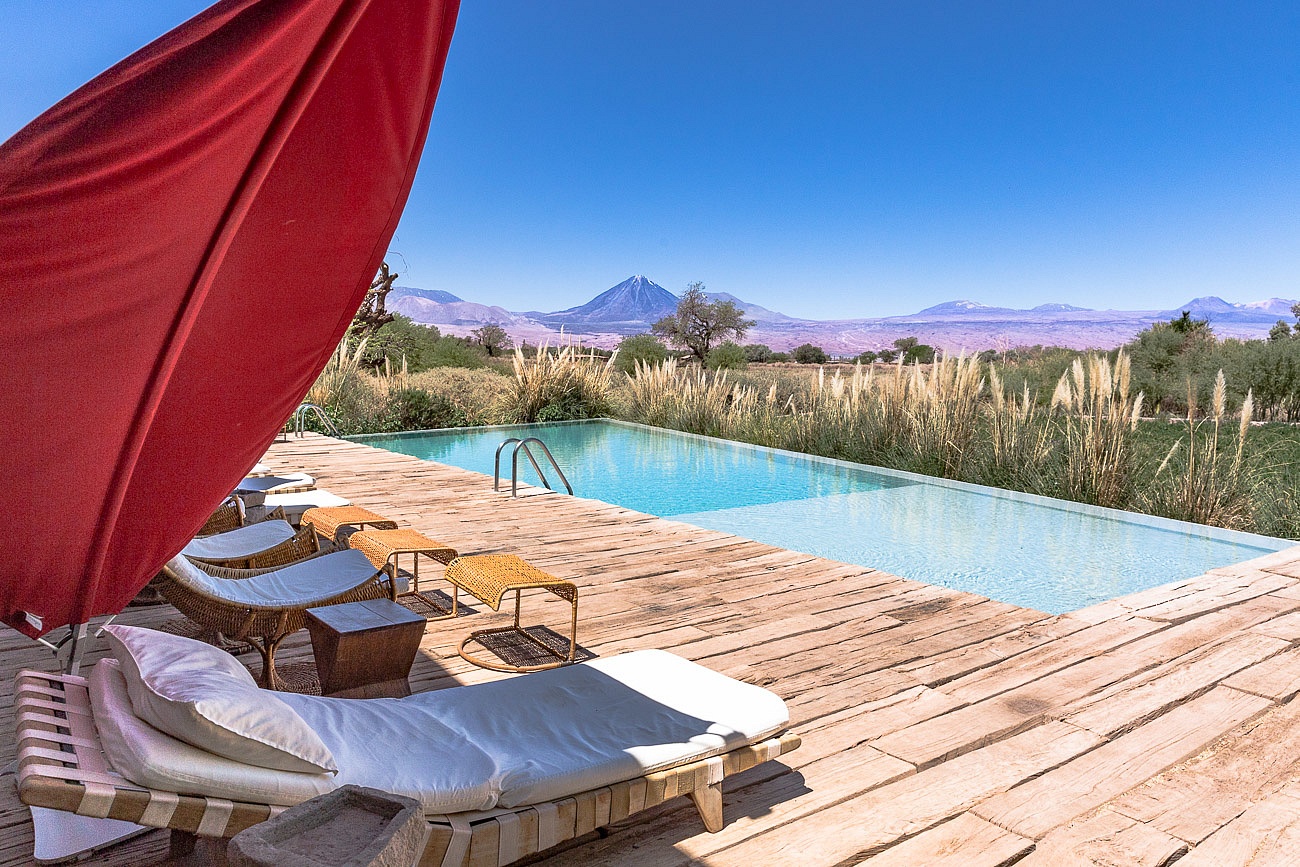 Minimalist and perfectly in tune with the desert landscape, this luxury resort includes excellent gourmet meals, most beverages and exciting tours to the surrounding areas. I spent my days awed by hikes to the Valley of the Moon and sunsets watching flamingoes poke around in shallow water. Rooms are spacious with views of the desert. Major props for all of their sustainability initiatives including running on solar power, reverse osmosis watering stations and hiring local.
Why you should go: First-rate tours of the Atacama Desert, excellent meals and cocktails, leaders in sustainability practices.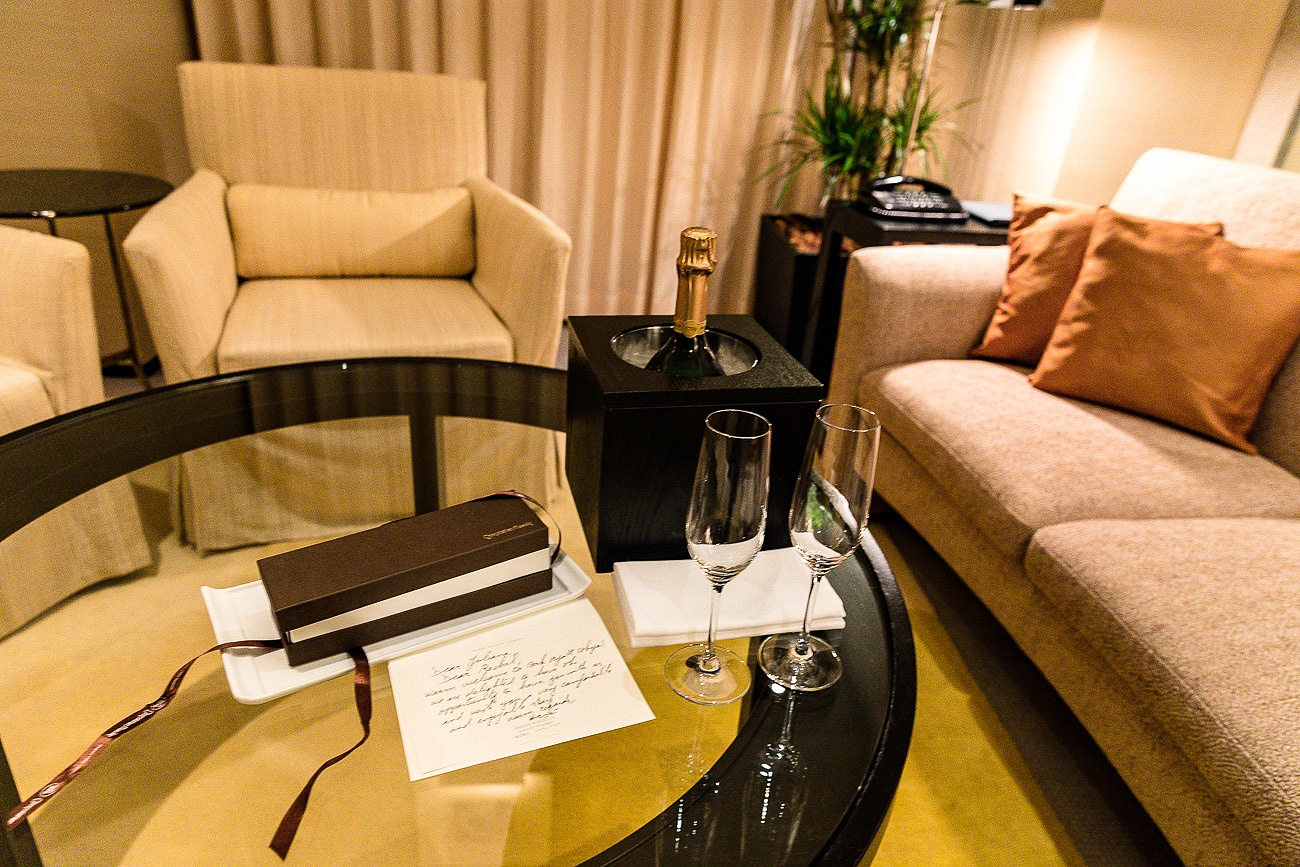 Most famous for being the backdrop of the movie "Lost in Translation," the Park Hyatt Tokyo has been a fixture in Japan's hotel scene since 1994. Some décor does harken to the '90s, but where this penthouse hotel excels is in service. The kind of service that makes you feel like honored guests and best friends of everyone on staff. Few hotels succeed at this kind of care, but Park Hyatt Tokyo sails over the bar all the while making it seem like not an ounce of effort was expended.
Example: When my friend Rachel and I first arrived for check-in, she asked if they could help her with a pair of kicks she had on hold for her brother in Harajuku. Because the store was releasing them within half an hour, not only did they personally call and ask for an extension, but they had the hotel's private car waiting for us outside to drive directly there so we wouldn't have to navigate the tangle of trains to get there. And that was just ONE THING.
Why you should go: The kindest, most extensive service, excellent city views from the 55th floor. But the service!!
Favorite hotel – Boutique
Hotel Fabric
11th Arrondissement, Paris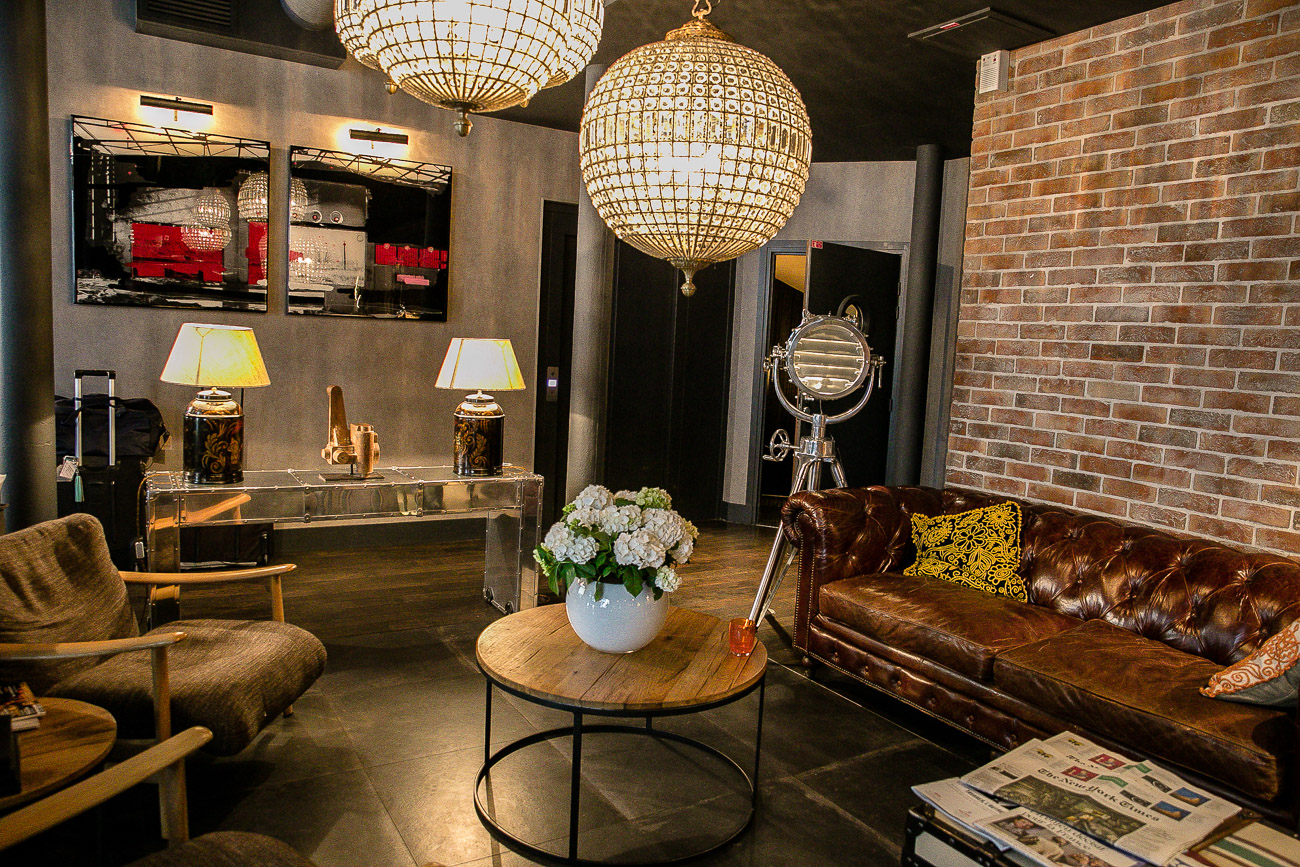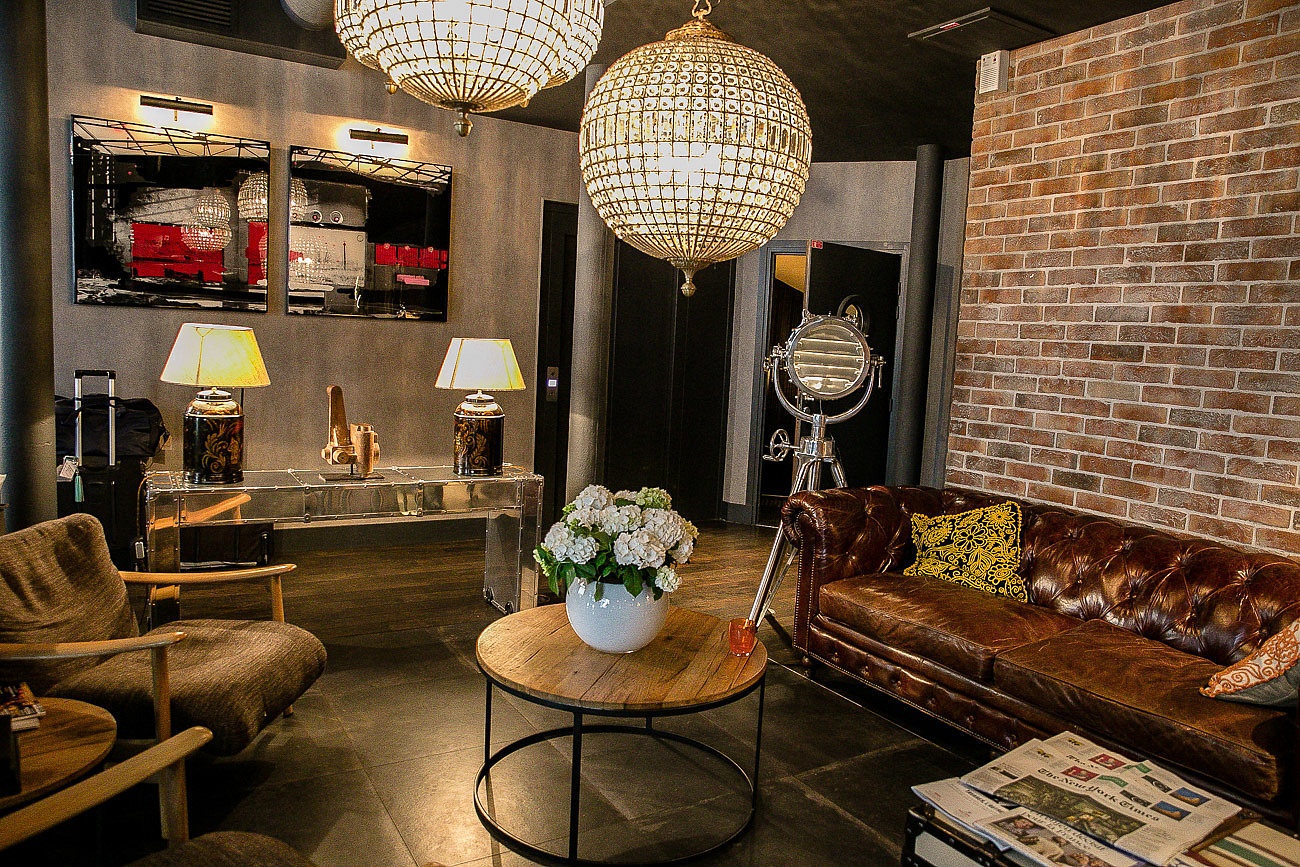 This design hotel was a real gem of a find. A former textile factory, this sleek space has a great breakfast, helpful staff and an honesty bar in the lobby. The rooms are small (no more than a typical European hotel), but well arranged.
Why you should go: Perfect location to eat your way through this foodie neighborhood, super hip.
Favorite Specialty Lodging
Vision Quest Ranch Safari Bed and Breakfast


Monterey, California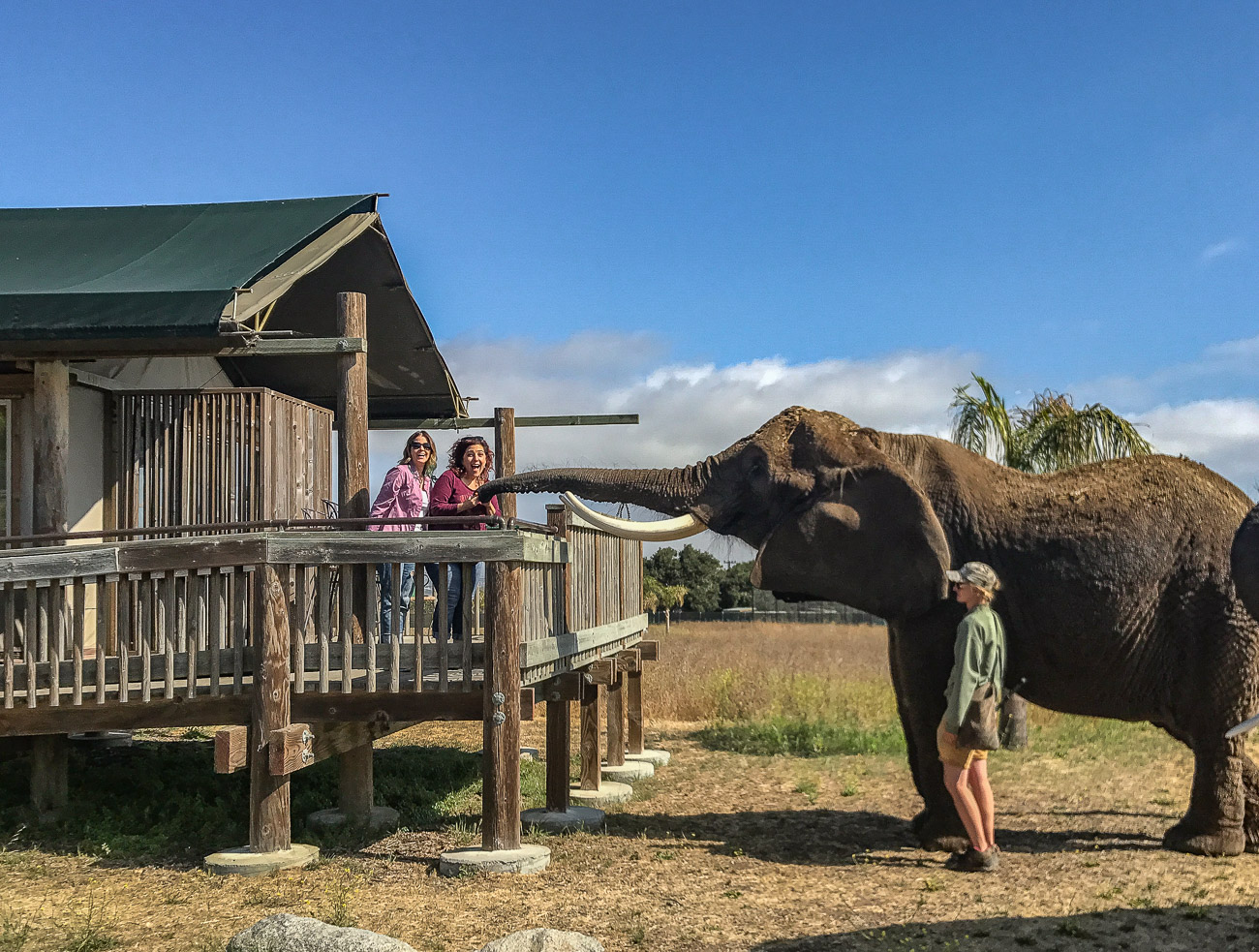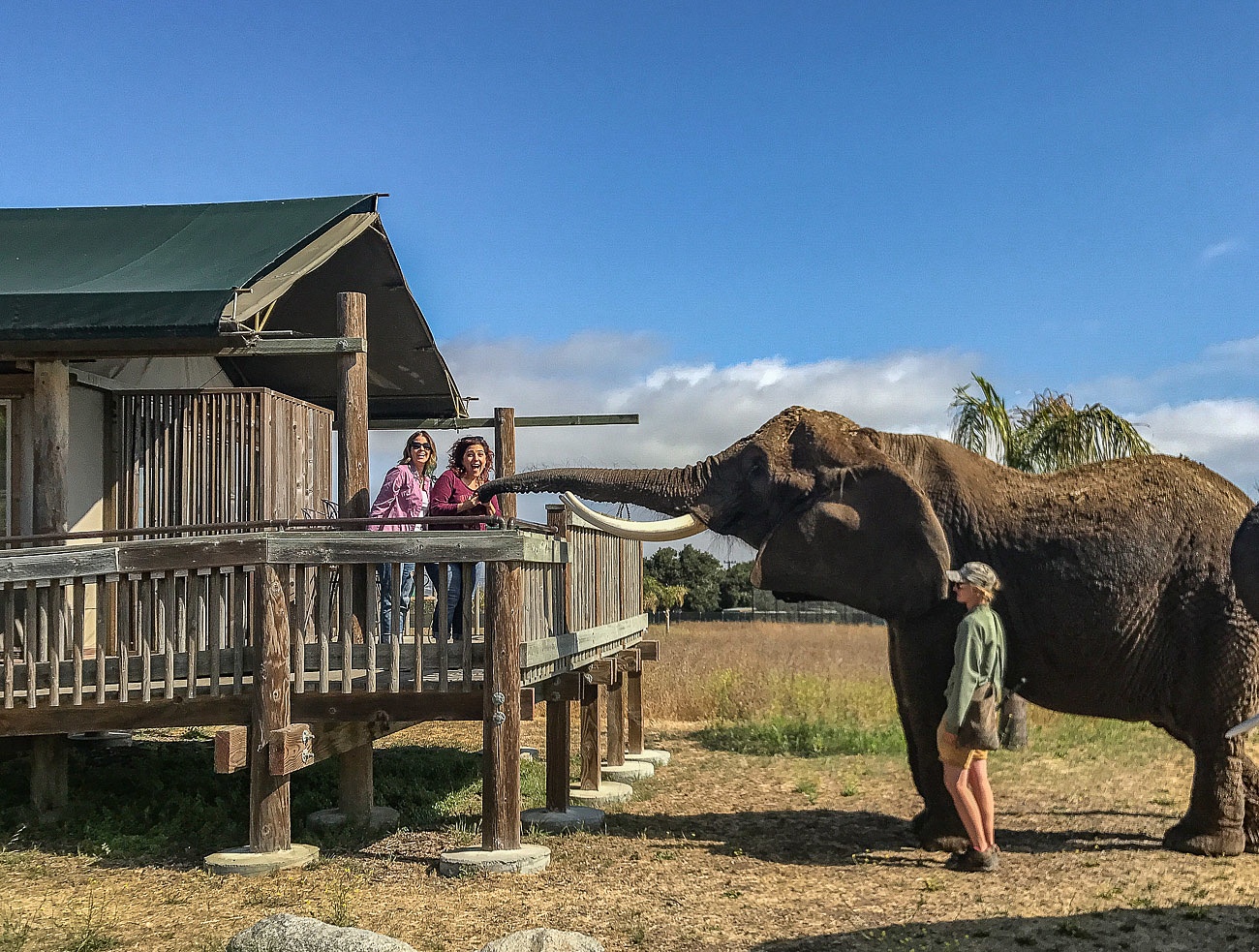 Formerly living quarters for animals that worked in the entertainment business, this small zoo has an elephant refuge for a few lucky pachyderms that have been rescued from the circus. As part of the E.A.R.S. non-profit charity, these seniors live out their golden years thundering around a large play area and bringing guests breakfast.
This B&B stay was a highlight in so many ways. We fed several of the elephants their dinner, and it was adorable to have them eat carrots out of our hands. We also watched them saunter around their playpen at sunset. In the morning my friend and I both burst into tears as the elephants delivered our breakfast.
Why you should go: Elephants, Elephants, Elephants! Plus the roar of the lions and hyenas at night makes you feel like you've traveled to Africa.
Runner-Up –
Good Knight Inn Medieval Encampment*
Three Rivers, Alberta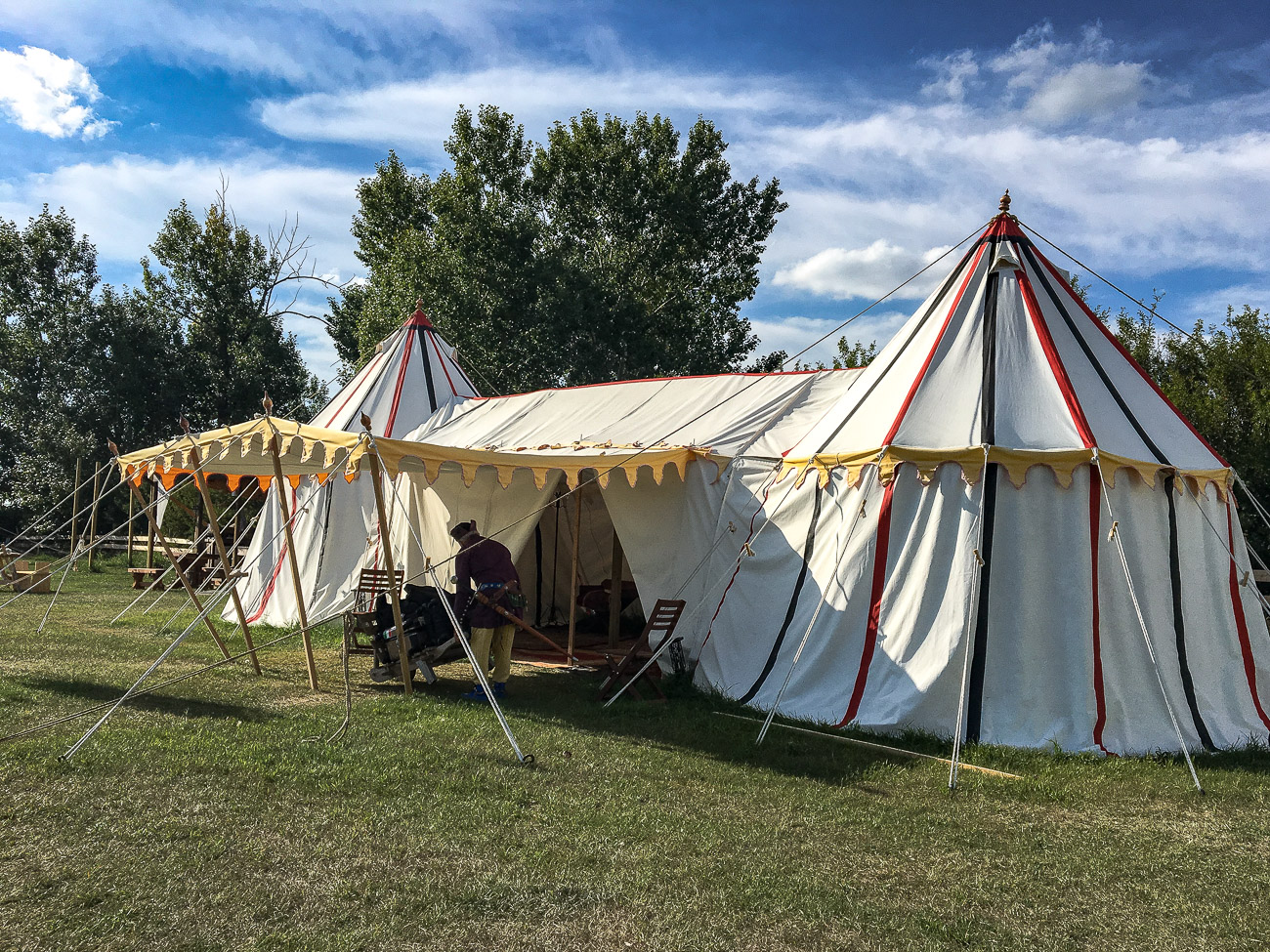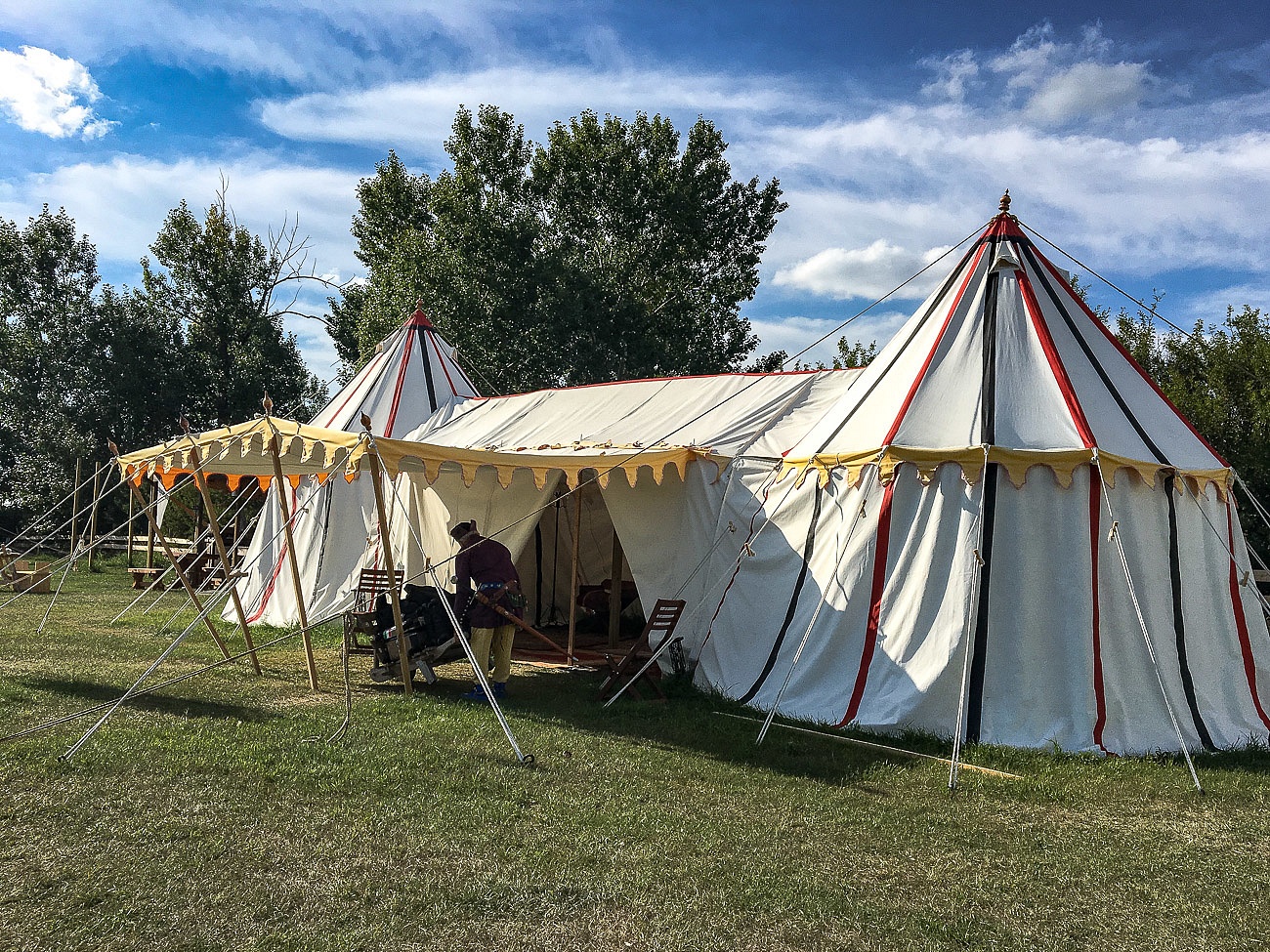 I would be remiss if I didn't mention this quirky glamping spot in the Canadian Badlands. An unexpected surprise, I had fun despite the fact that I never got to catapult anything into the nearby field. You have to read the rest of the story to understand.
Why you should go: Glamping at it's most medieval, it's a fun getaway with costumes for all!
Favorite Alternate Travel Experience
G Adventures*
Cruise through Burgundy, France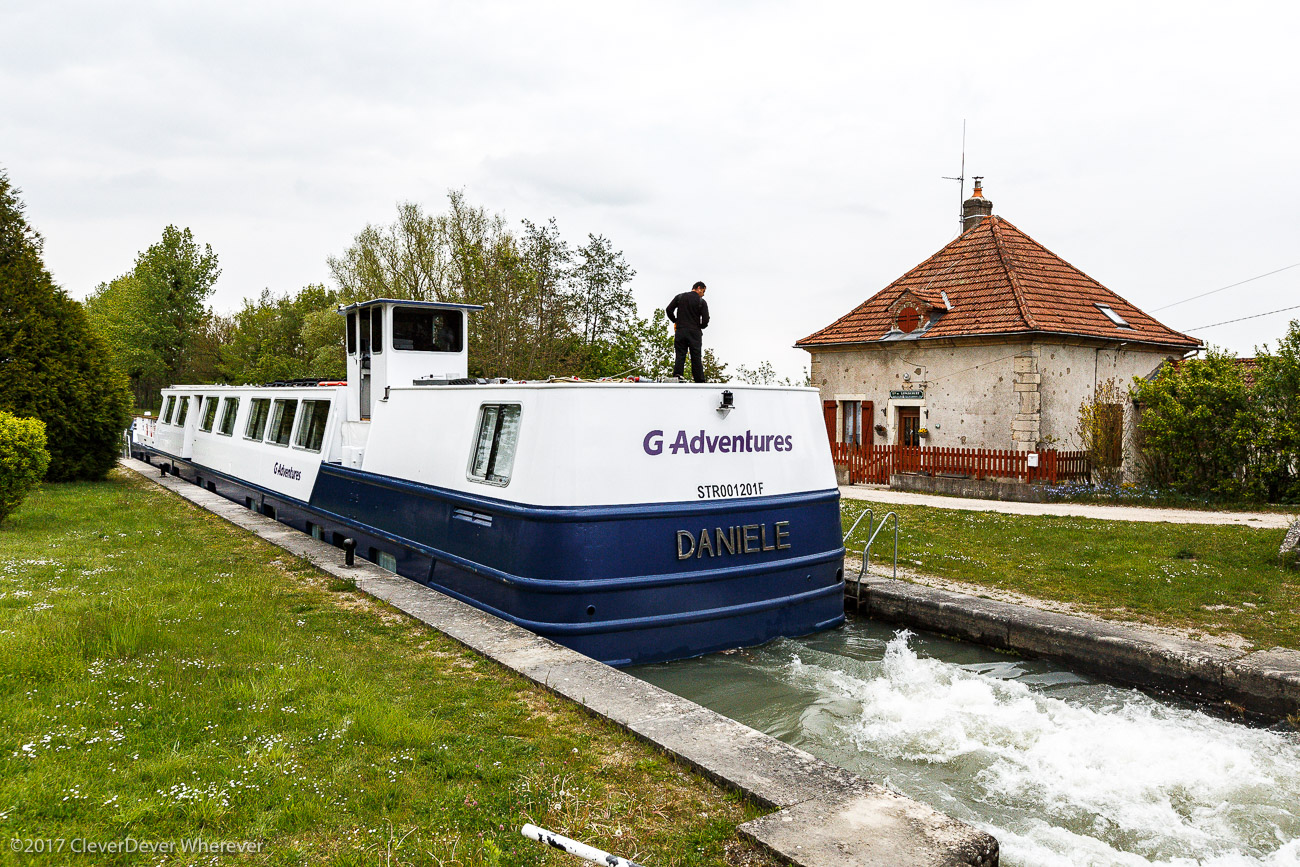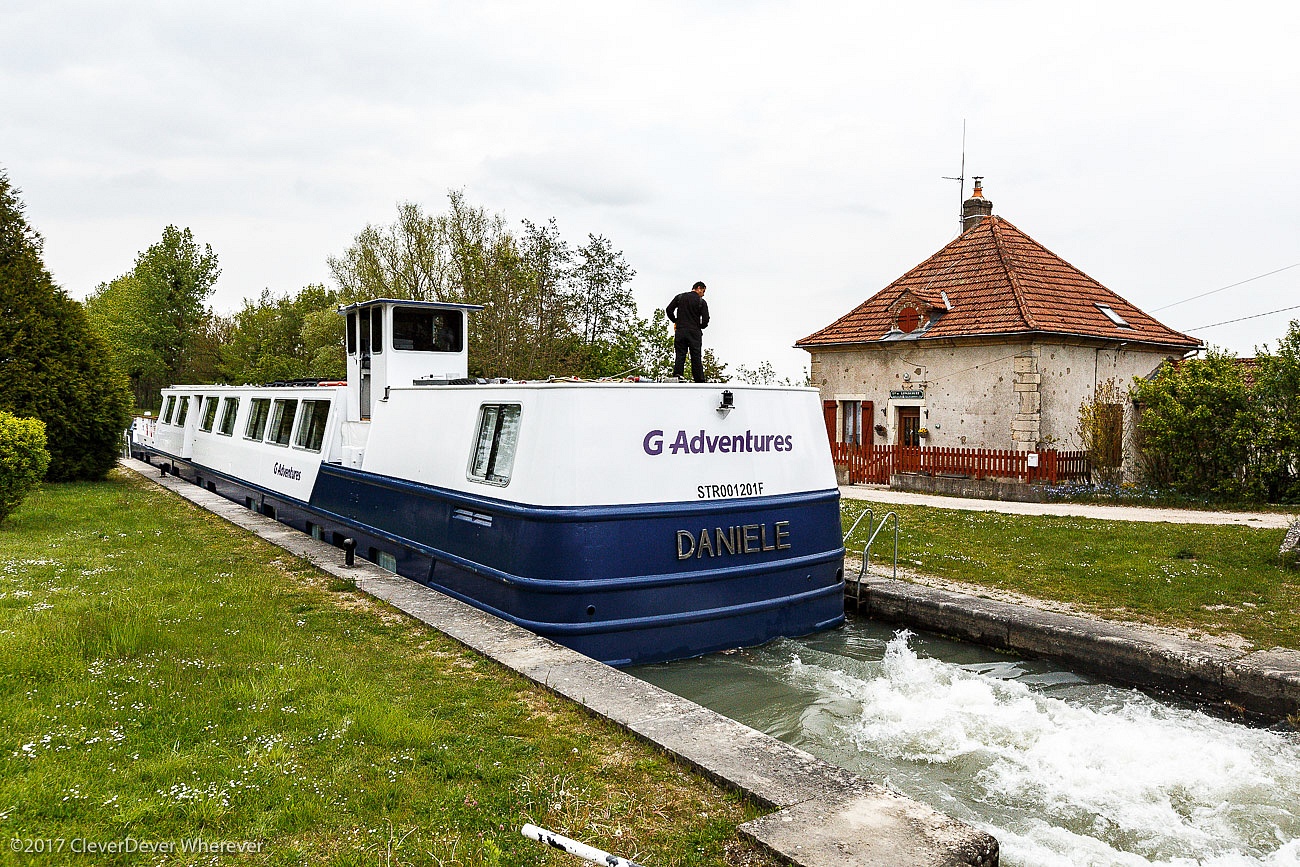 There's something so romantic about gliding through the canals of France on a river barge. The tranquility, the food and wine and the camaraderie added up to a very different experience for me, but one that I enjoyed immensely. Read more about my riverboat adventures here.
Why you should go: Your hotel moves with you. Plus, the food and wine is incredible.
Food and Drink
Favorite Restaurant of 2017
Europe
Ober Mamma
11th Arr., Paris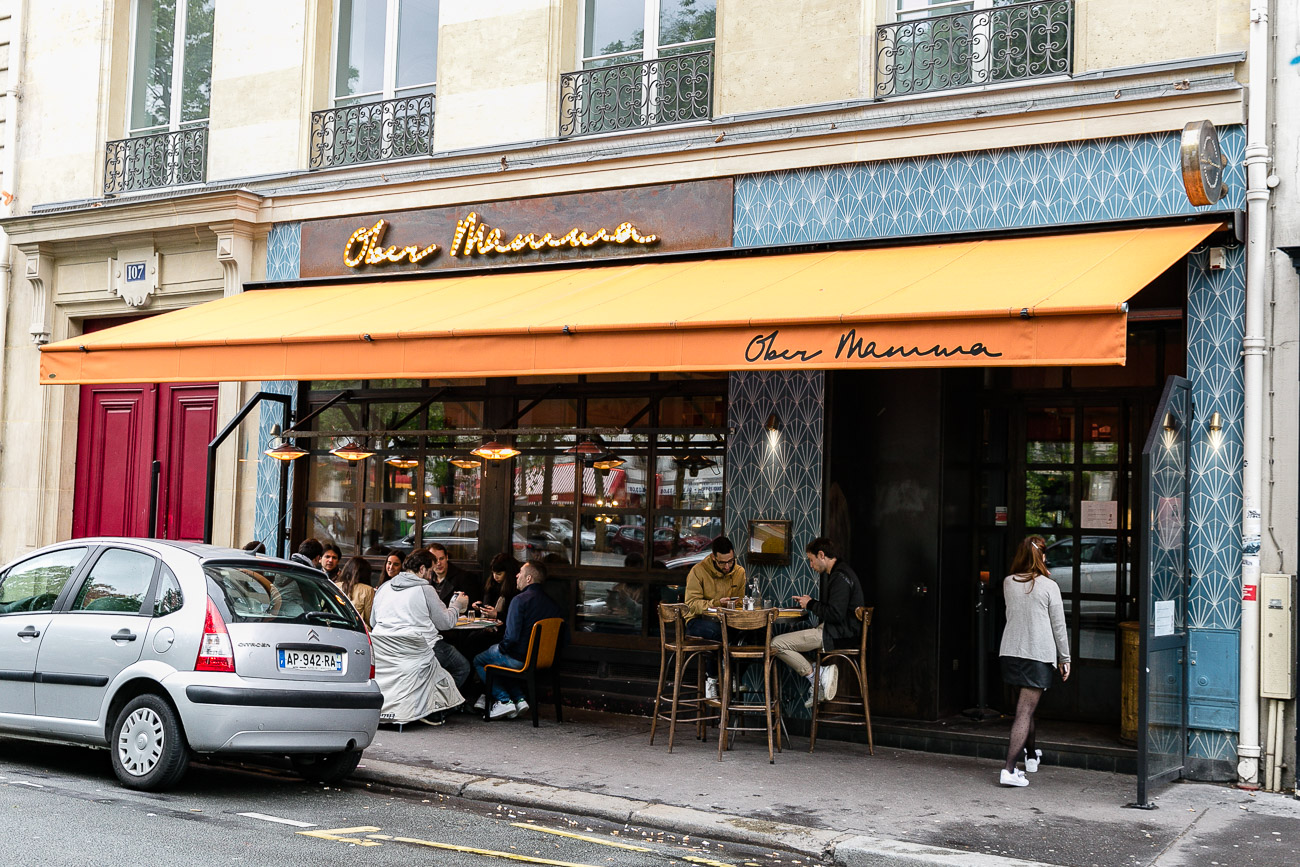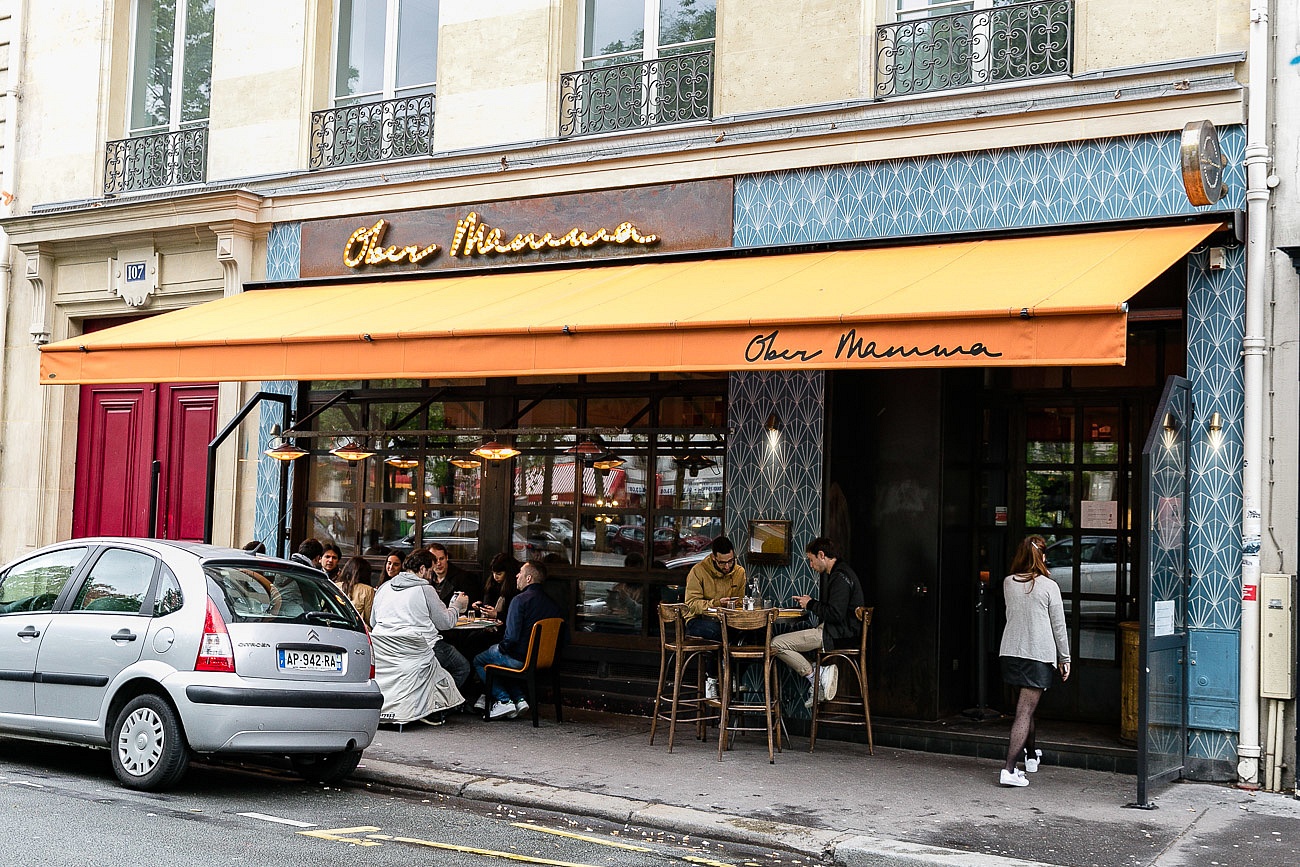 This Italian restaurant was so good that I've been eating eggplant parms everywhere I can to try and relive the flavor explosion. Nothing compares and also my pants no longer fit. The handcrafted cocktails and lively ambiance add to my obsession with this little Paris resto. More about it here.
Why you should go: Fresh pasta, lively sauces and smoked rosemary spritzes.
Middle East
Burj Al Hamam
Amman, Jordan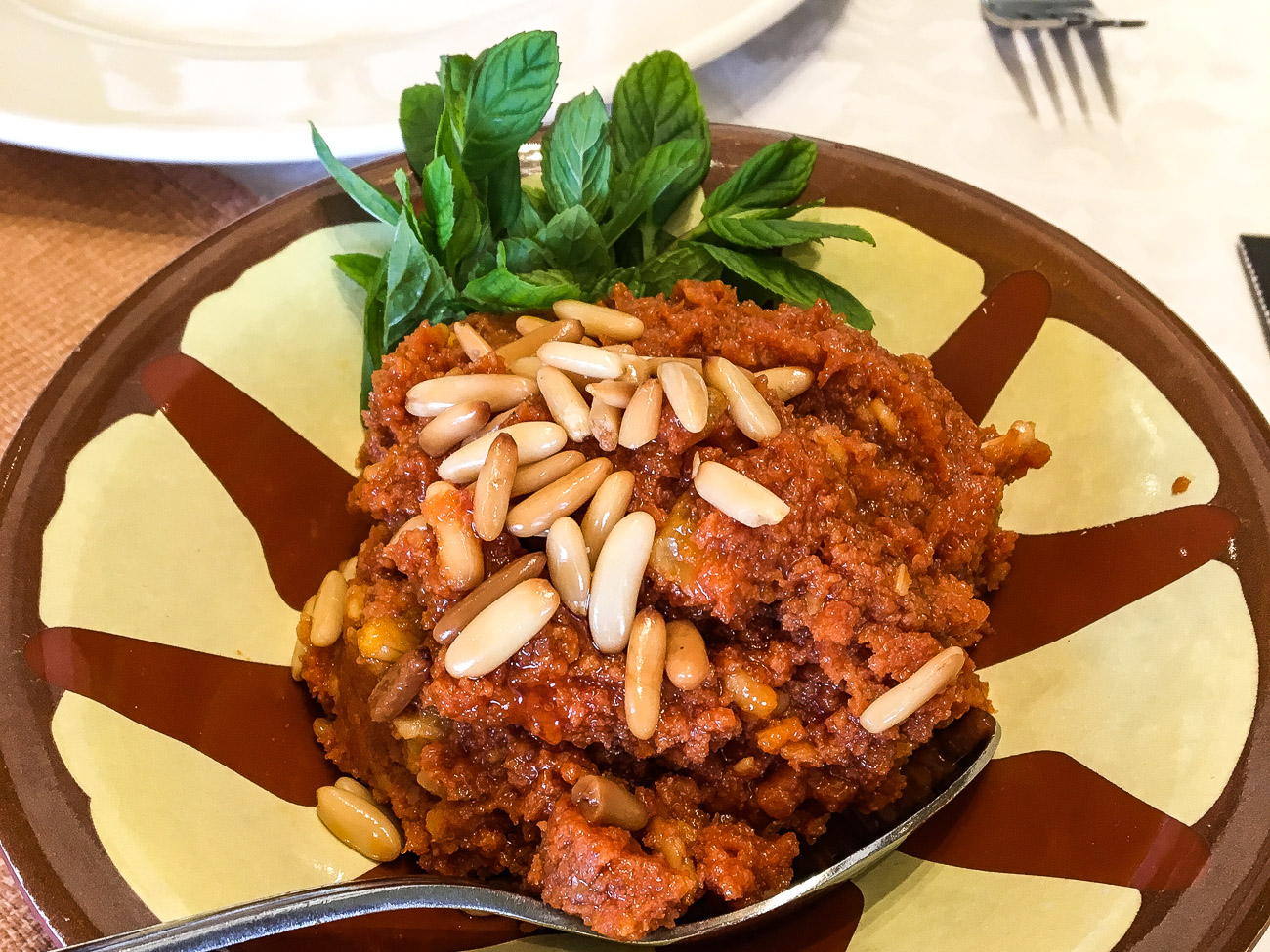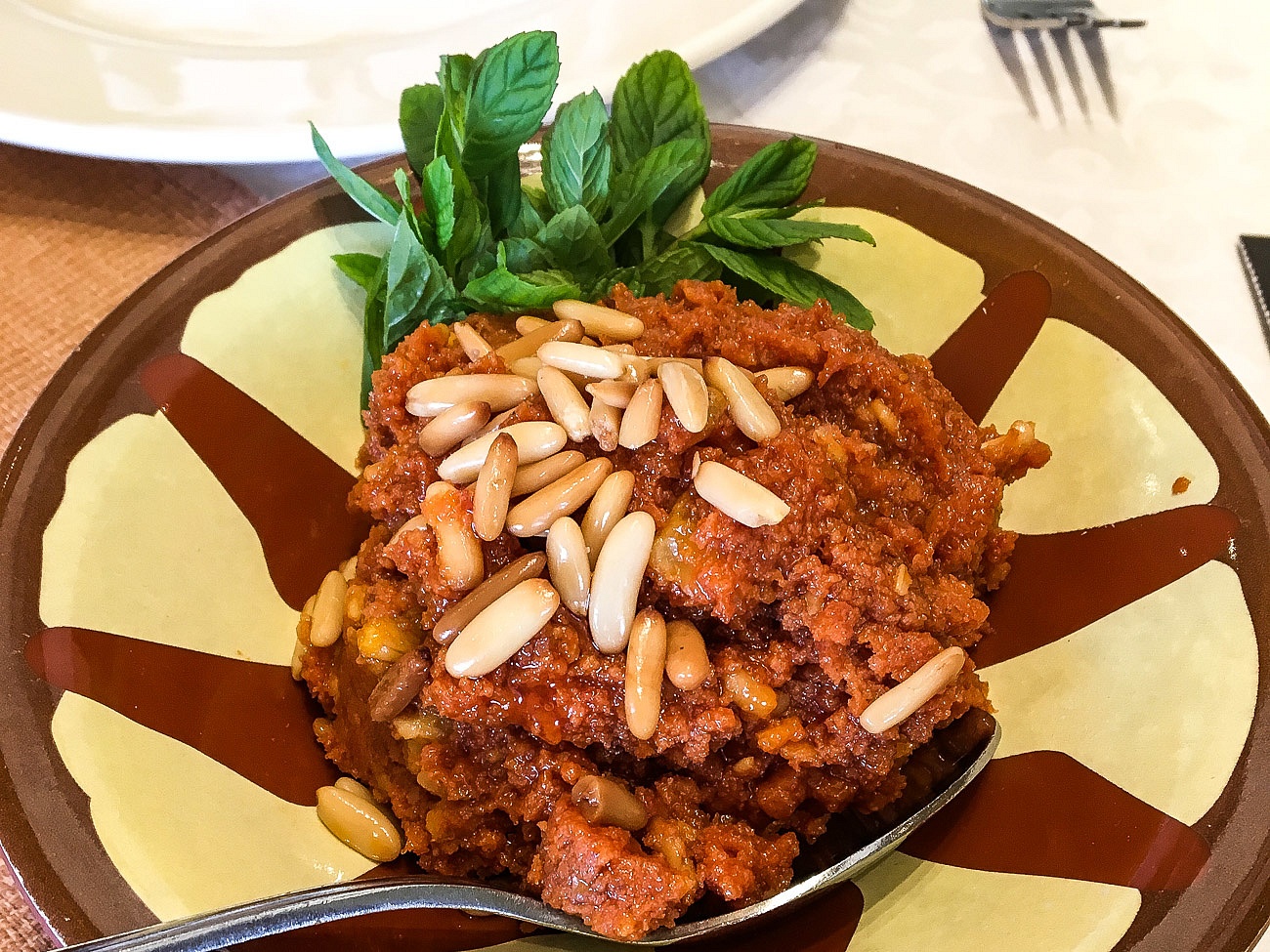 Ugh. This was so hard because Jordan has so many delicious restaurants. I was trying to choose between Shams El Balad and Blue Fig where I had fantastic but casual lunches and Burj Al Hamam at the Intercontinental Hotel. After going back and forth I decided on the place where I had the best hummus and the most sumptuous muhammara of my life. Burj Al Hamam won. Look at this red pepper walnut dip you guys!!
Why you should go: Liberal use of roasted pine nuts, upscale Middle Eastern done to perfection.
Asia
Yasube Pontocho
Kyoto, Japan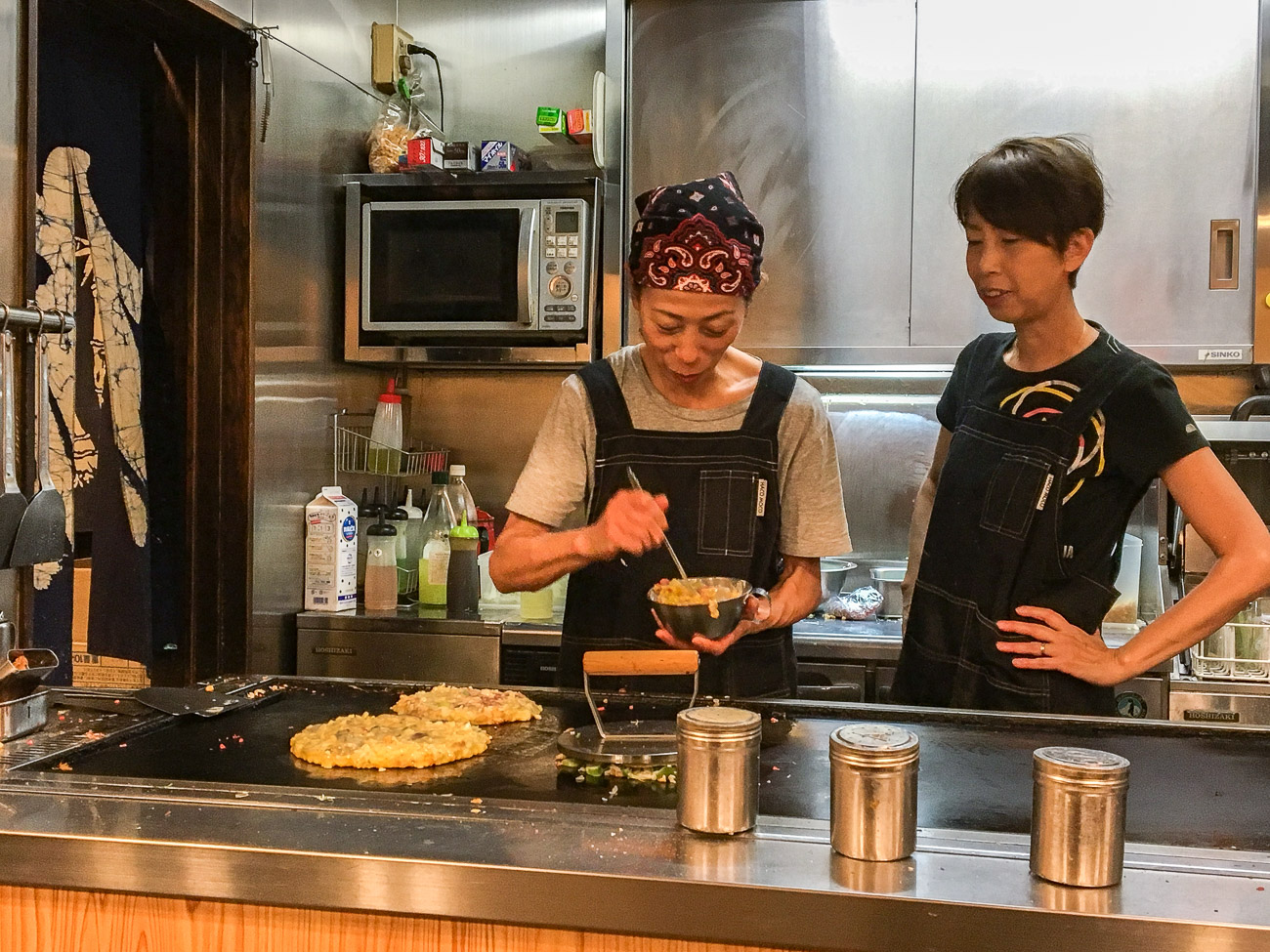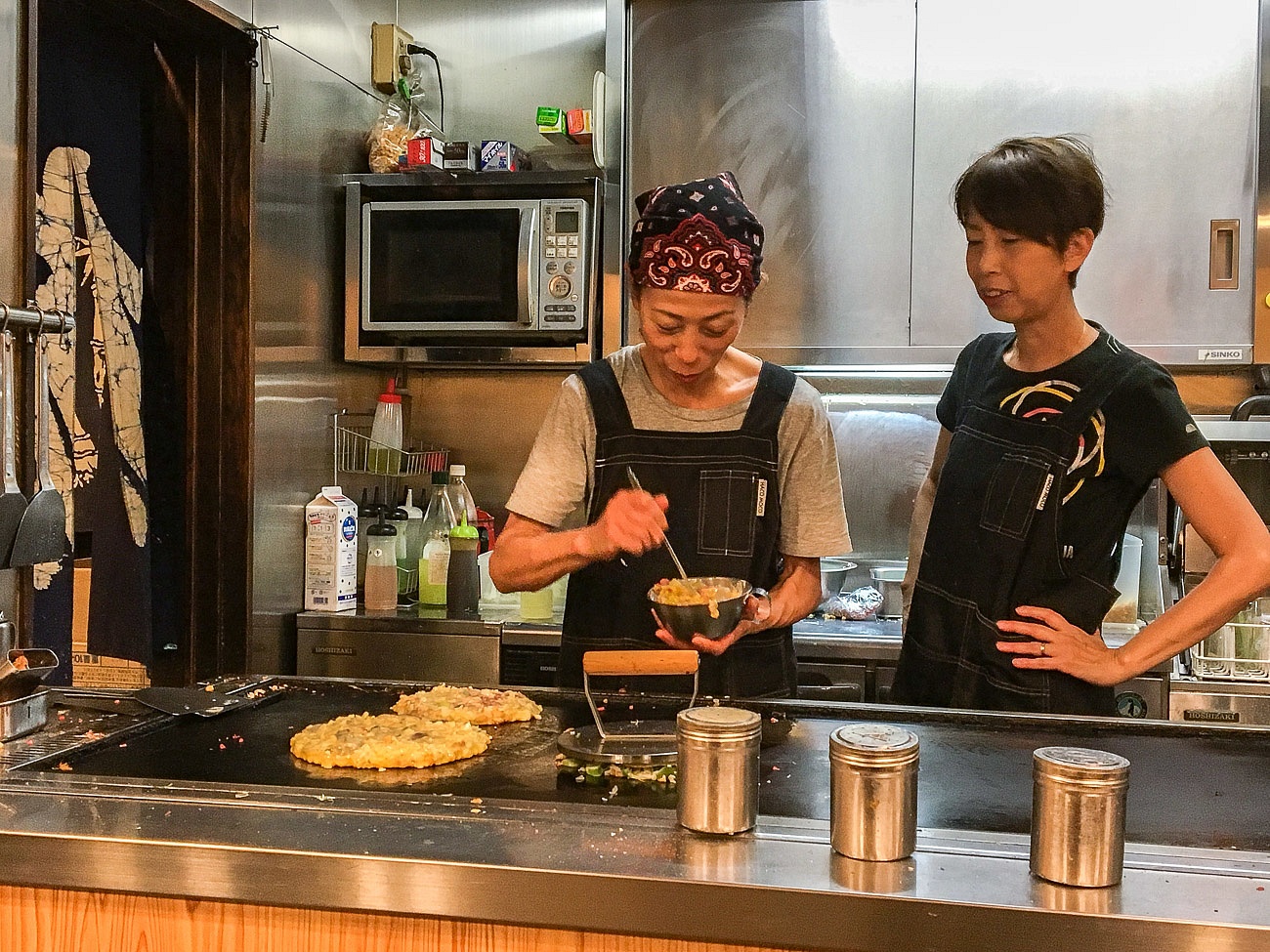 Again, this was tough. Park Hyatt Tokyo's New York Grill served, hands down, the best meal I had in Tokyo. But if I'm recommending something uniquely Japanese I have to go with Yasube. This hole in the wall on Pontocho Alley overfilled my off-the-beaten-path heart with joy.
This tiny family restaurant has been serving up Osaka-style savory pancakes for 34 years. No reservations, no pomp, just incredible home-cooked food served to your personal teppan table. You get to cover it in as much sweet, rich otafuku sauce and mayonnaise as you want. Yes! More Please.
Why you should go: Scrumptious Japanese soul food in a local setting, friends and family prices.
South America
Bocanáriz Vinobar
Santiago, Chile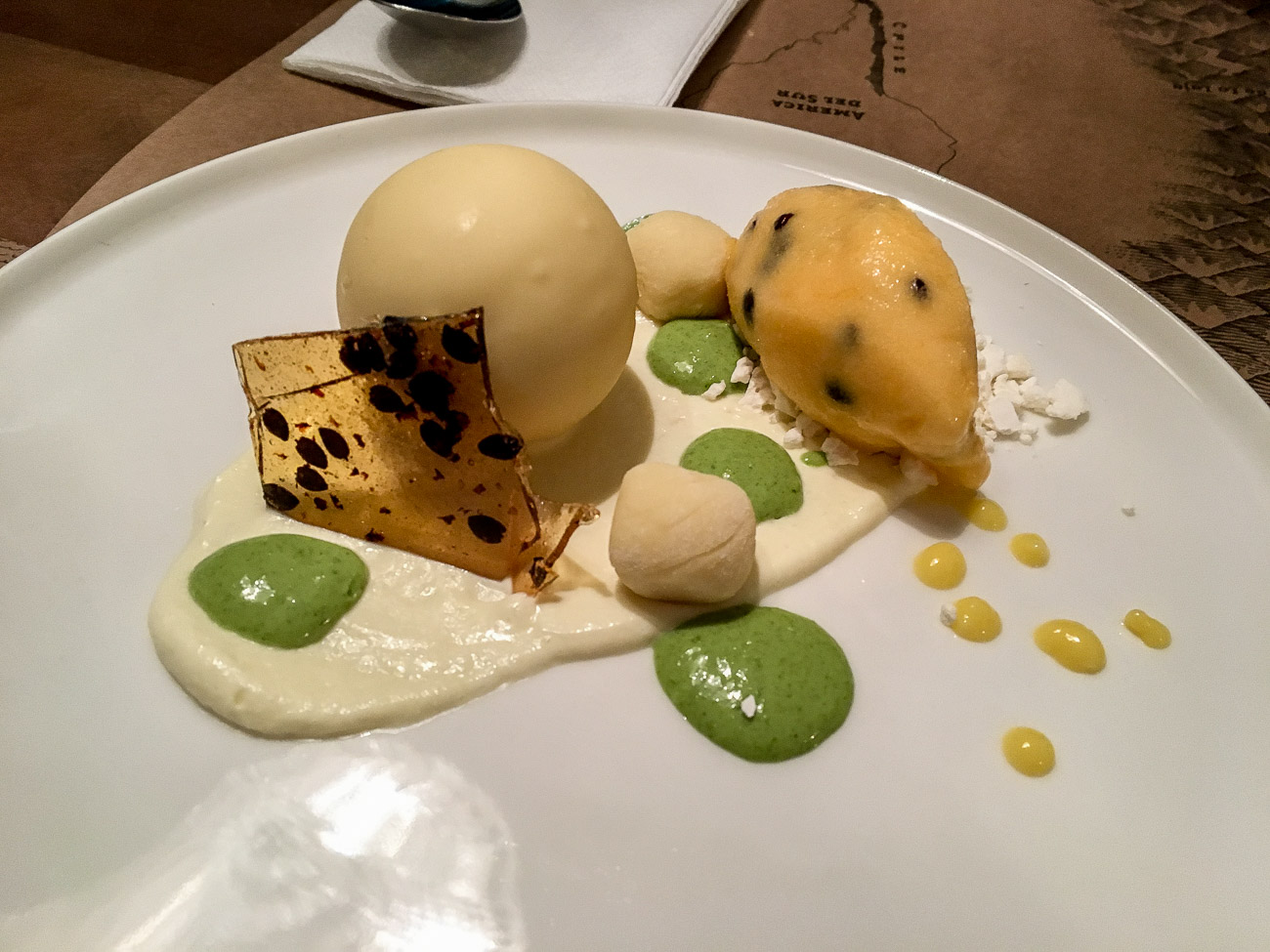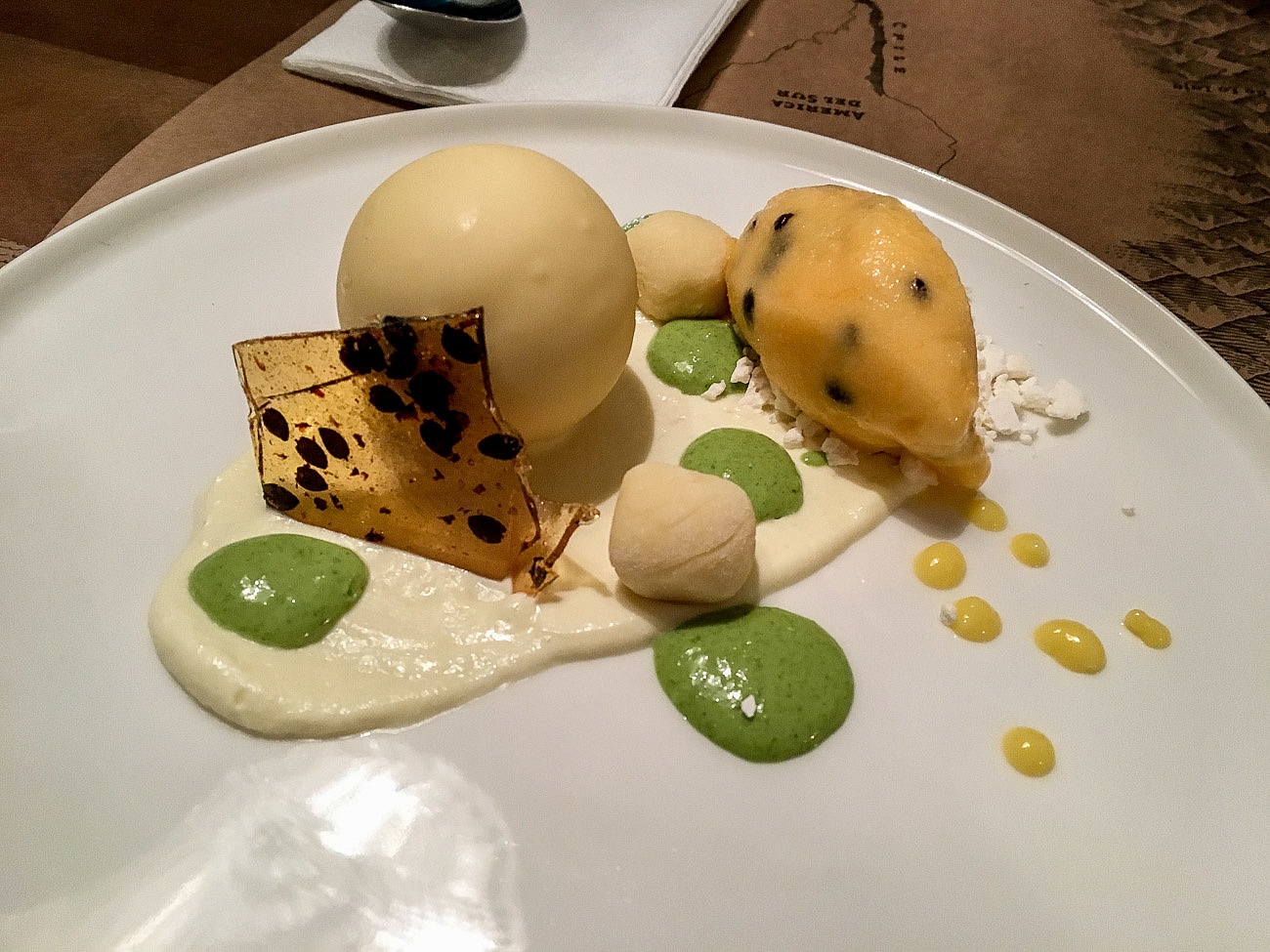 After eating KIND bars and avoiding meat-heavy dishes during my trip to Argentina, this wine bar was heaven-sent. Innovative and fresh, Bocanáriz marries the farm to table movement with regional cuisine to delicious effect. My Mushroom Carpaccio and passion fruit white chocolate cheesecake were fabulous. As for the vino bar part, most wines are available by the ounce via the enoteca, or you can opt for one of twenty or so different South American varietal flights.
Why you should go: Large selection of Chilean and Argentinian wines to sample, fun, farm fresh food.
Favorite Surprise Meal
Honmamon Sushi
Osaka Kansai International Airport
2F Terminal 1 Building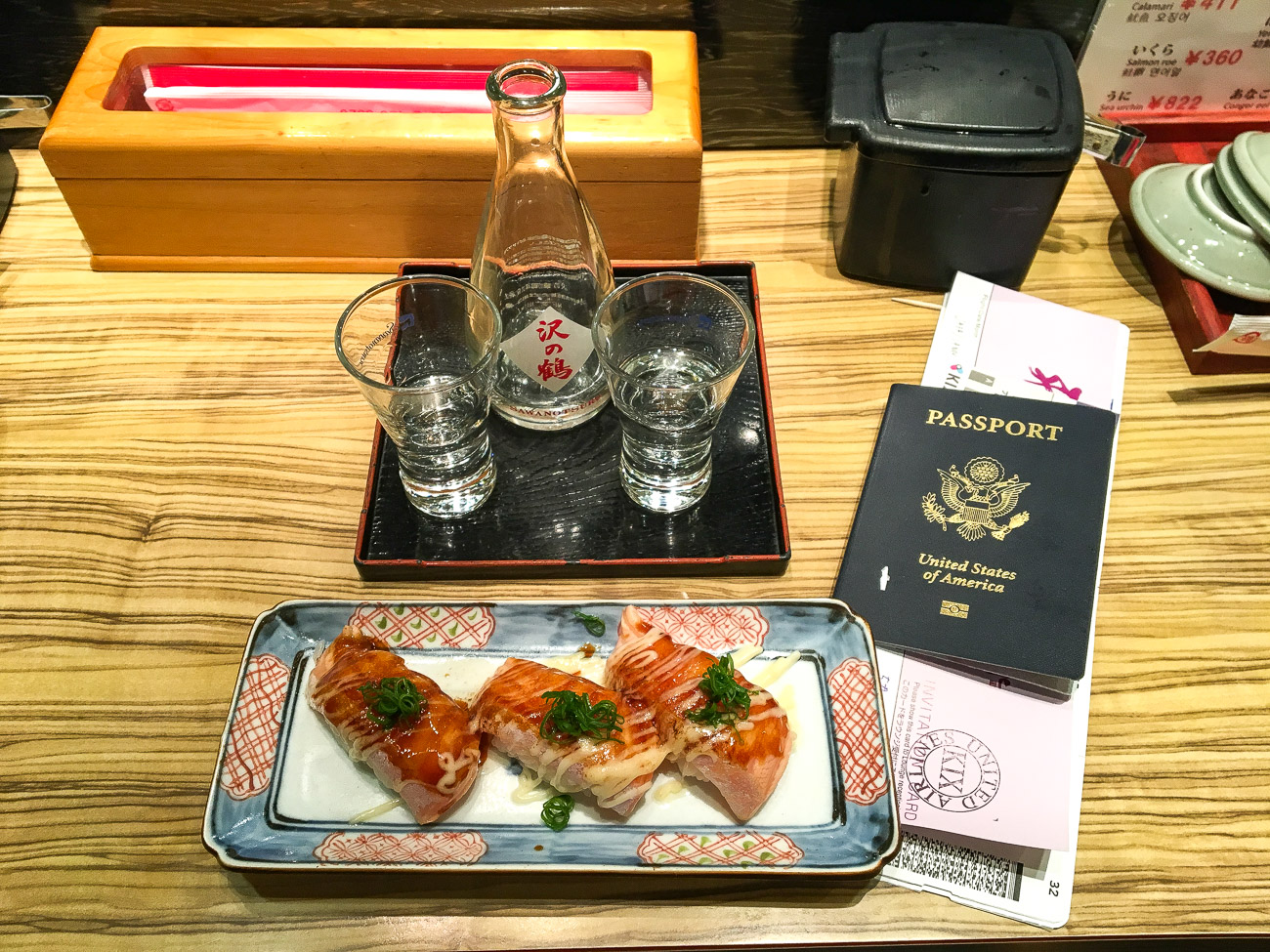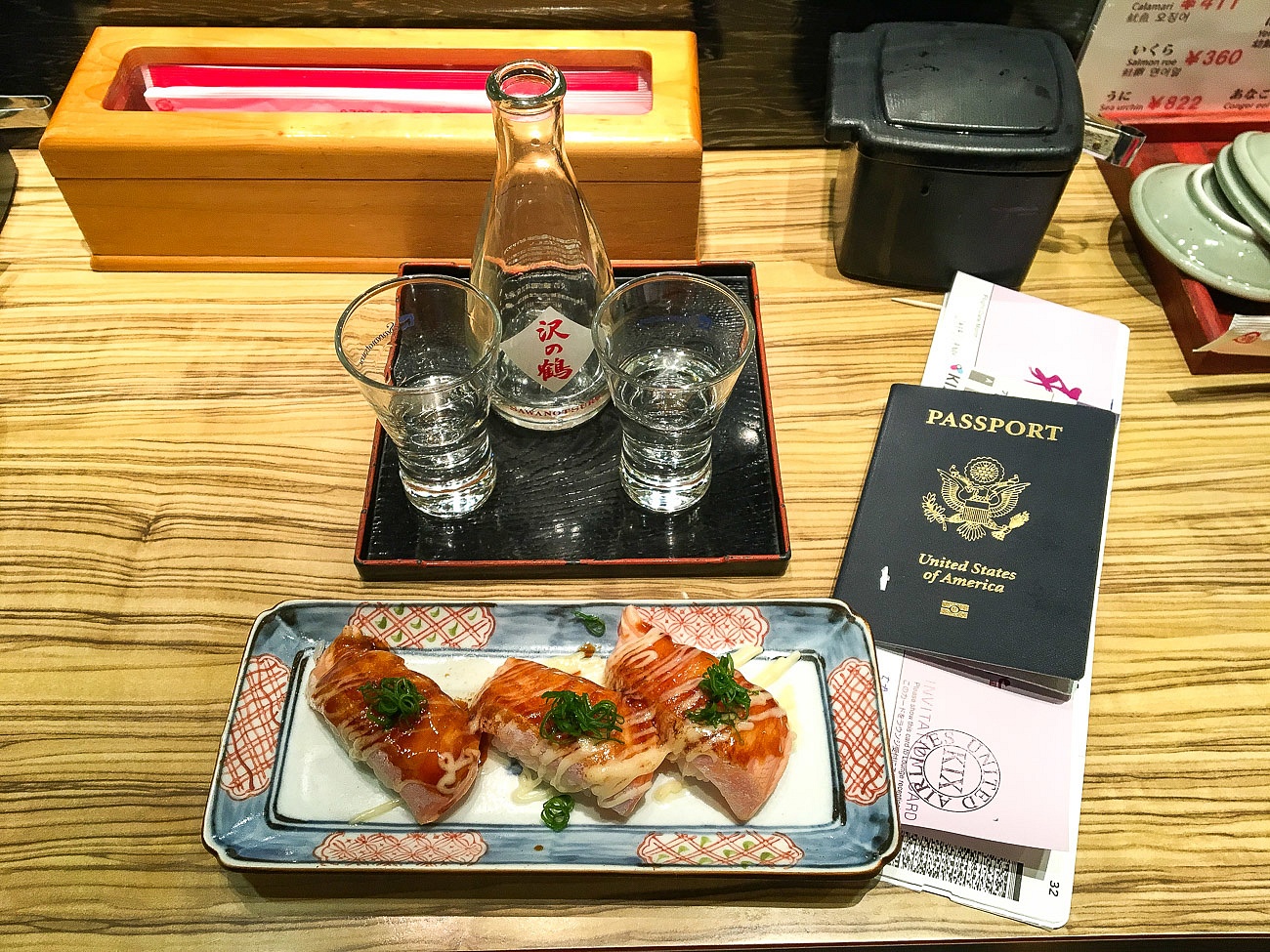 Unbelievably I went through Japan enjoying everything but insanely good sushi. I did several conveyor belt sushi places, which were more for the novelty. But circumstances just kept thwarting me. On the way OUT OF THE COUNTRY, I came upon this tiny stand at the Osaka airport, sat down, started pointing at things on the menu and…and…my knees are weak just remembering how good it was. Good things really do come to those who are willing to eat sushi at an airport. This time at least.
Why you should go: Because you're at Osaka airport and you want to end your trip to Japan on a high note.
Favorite Overall Food Experience
Bina 37
Tbilisi, Georgia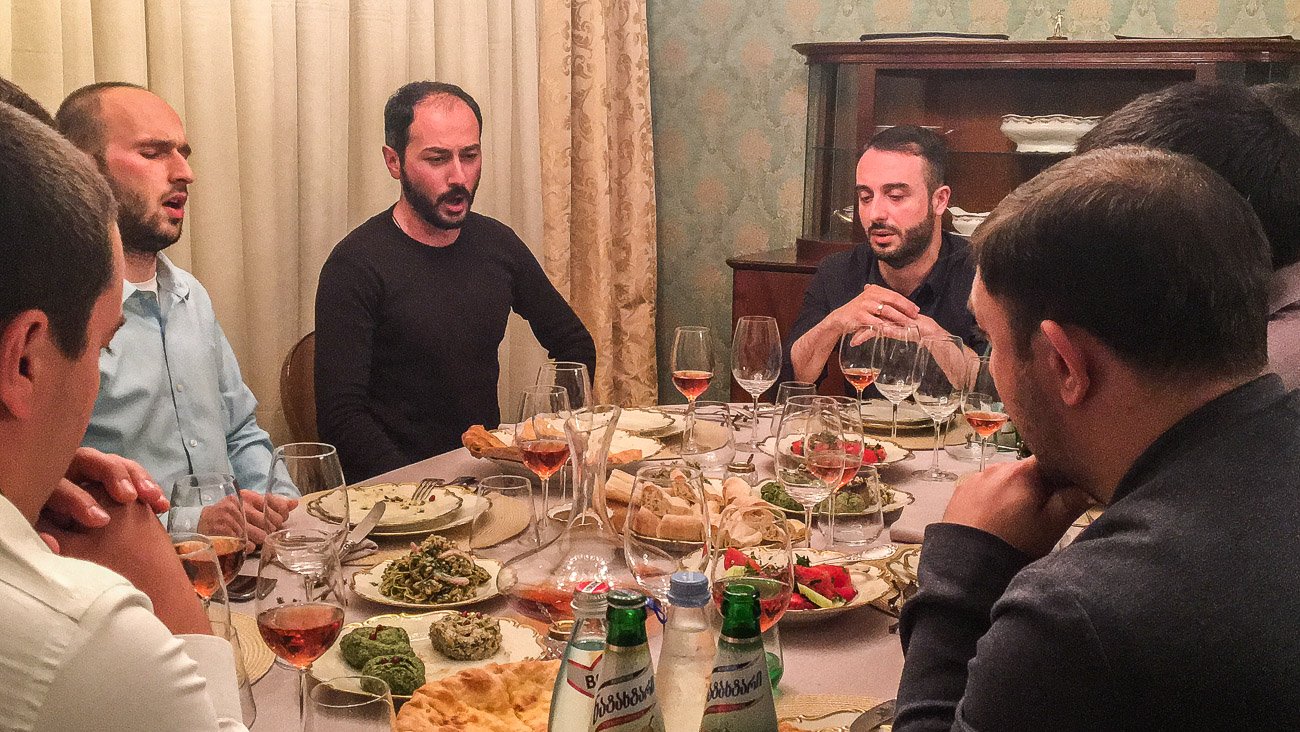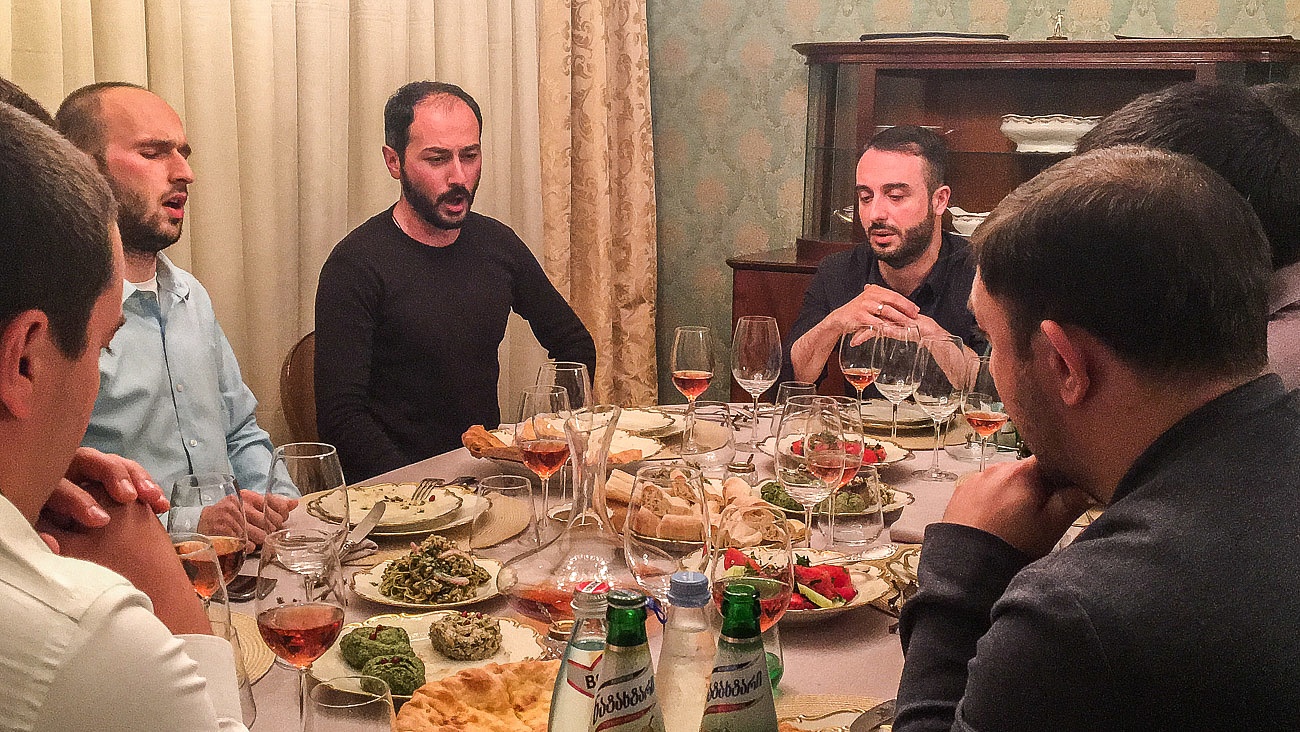 It's something heady to finally be eating one of your favorite cuisines made fresh by the folks living in the country of origin. It's next level when it's in someone's penthouse apartment turned restaurant and the other table is filled with singers rolling out eight-part-harmonies. This family-owned restaurant serves up delicious traditional Georgian cuisine, but it was the setting, the singing and the dancing into the night that transformed this dining experience to a full-on rapture of the senses.
Why you should go: Beautiful rooftop views, Excellent Georgian food in a homey penthouse restaurant.
Favorite National Cuisine
Georgian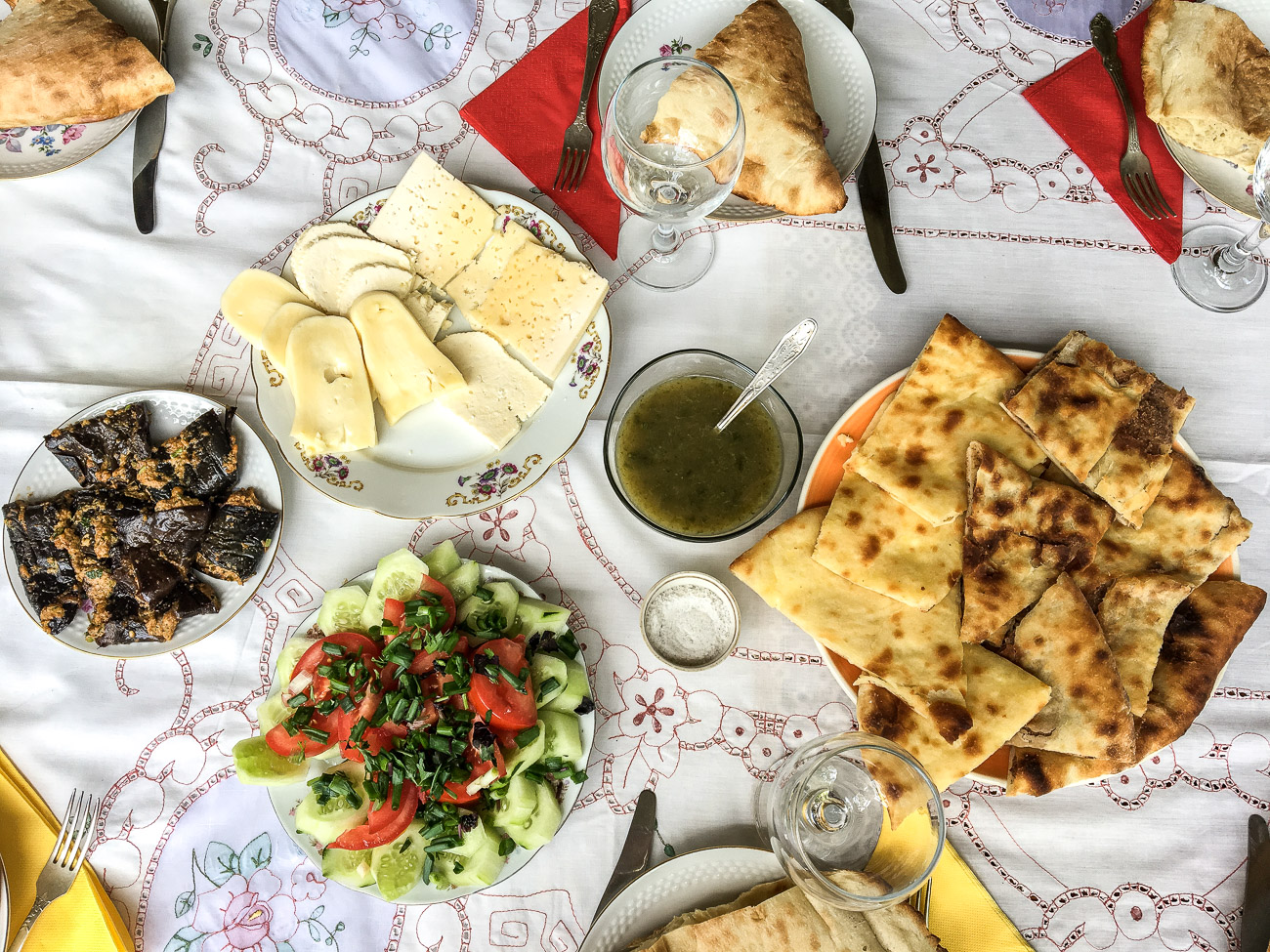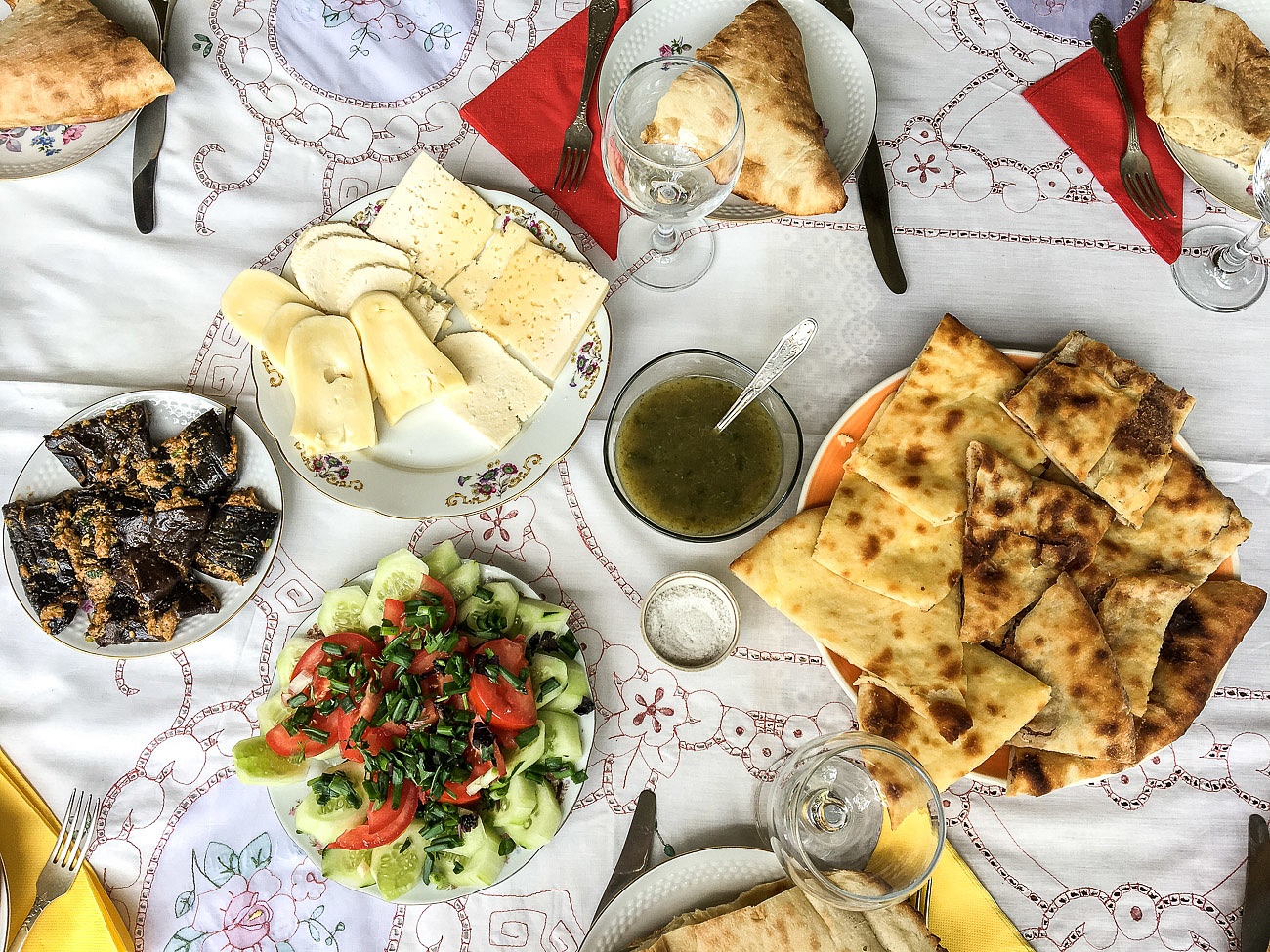 I've gushed like Niagra Falls over my love for Georgian food. From a land of rich soil and golden sun the vegetables are intensely flavorful and hold their own in ways I'm not used to. Influenced by Eastern Europe, Asia and Persia, every Georgian table looks like a rainbow of colors. Read my article about what makes Georgian food so incredible.
Why you should try it: Huge variety of creative vegetable dishes, thick gooey cheesy bread.
Best Street Food
Was I supposed to pick one? Because I cannot pick one. Whatever. This is my blog so I can change the rules when I want.
Chilean Sopaipilla
in Santiago, Chile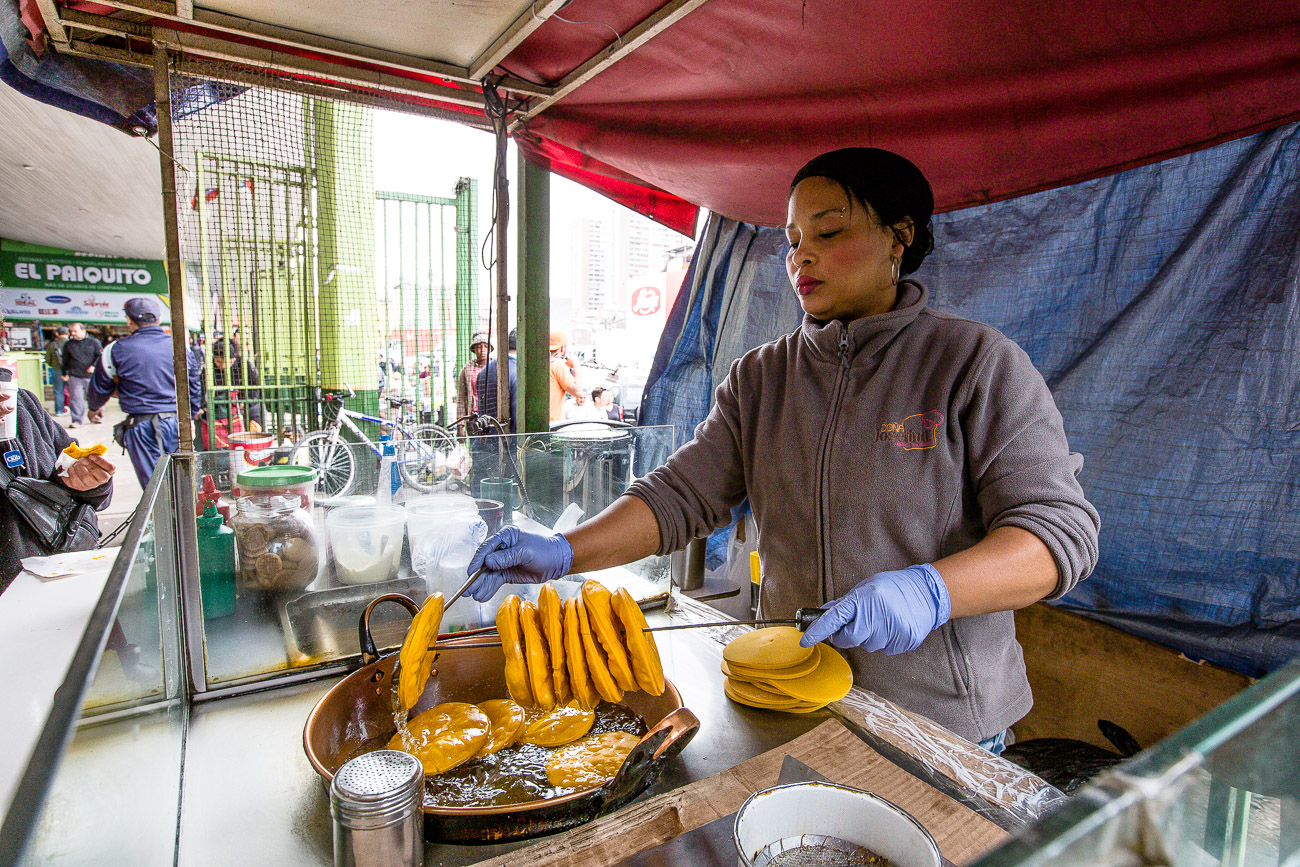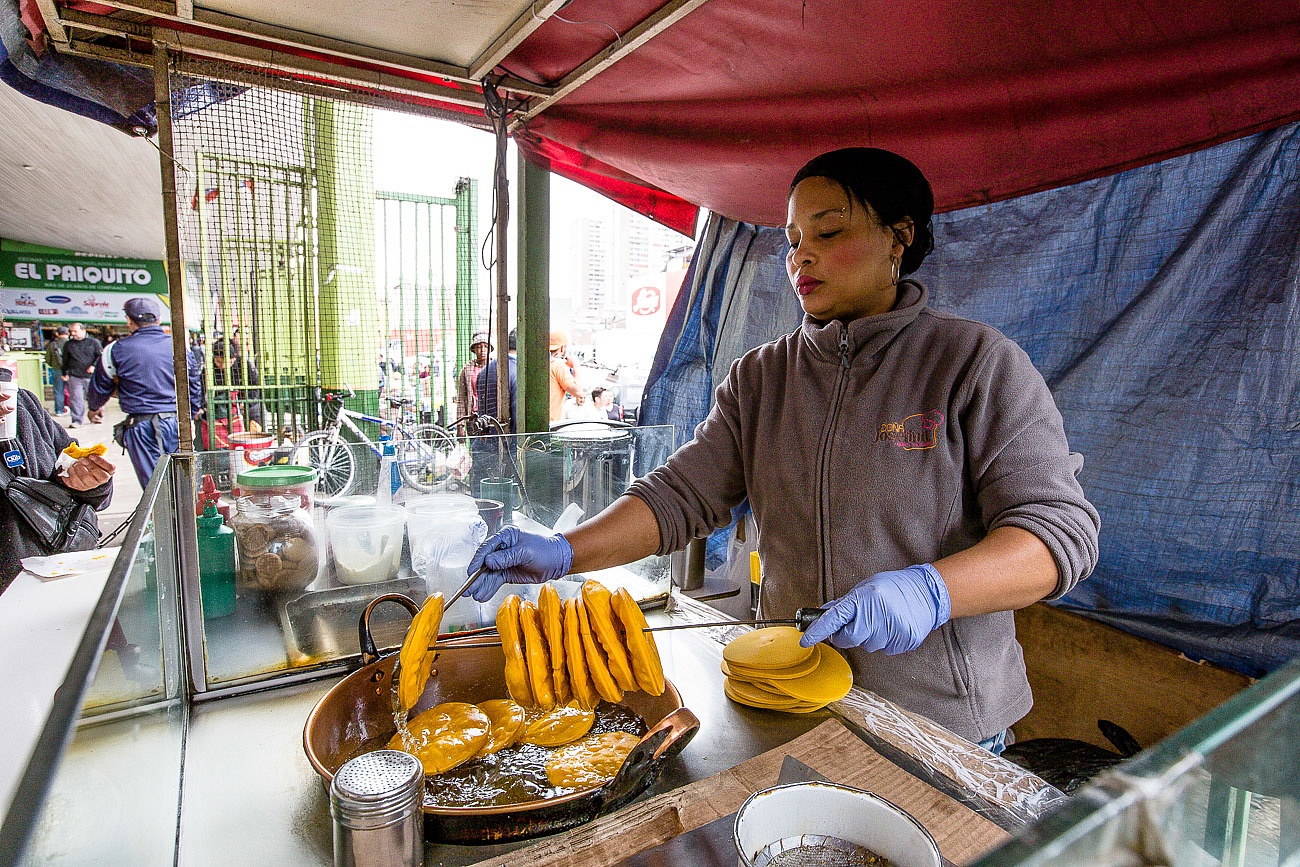 I've had sopaipillas before, but never like this. In Chile they're perfect circles made bright orange by the inclusion of squash or pumpkin. The flaky discs are fried right up on the street in carts. Condiments like sweet mustard and salsa are available and you better use them or you're missing out on the full experience.
Why you should try it: Light and savory veggie bread cooked fresh moments before you eat it.
Hashimaki
in Kyoto, Japan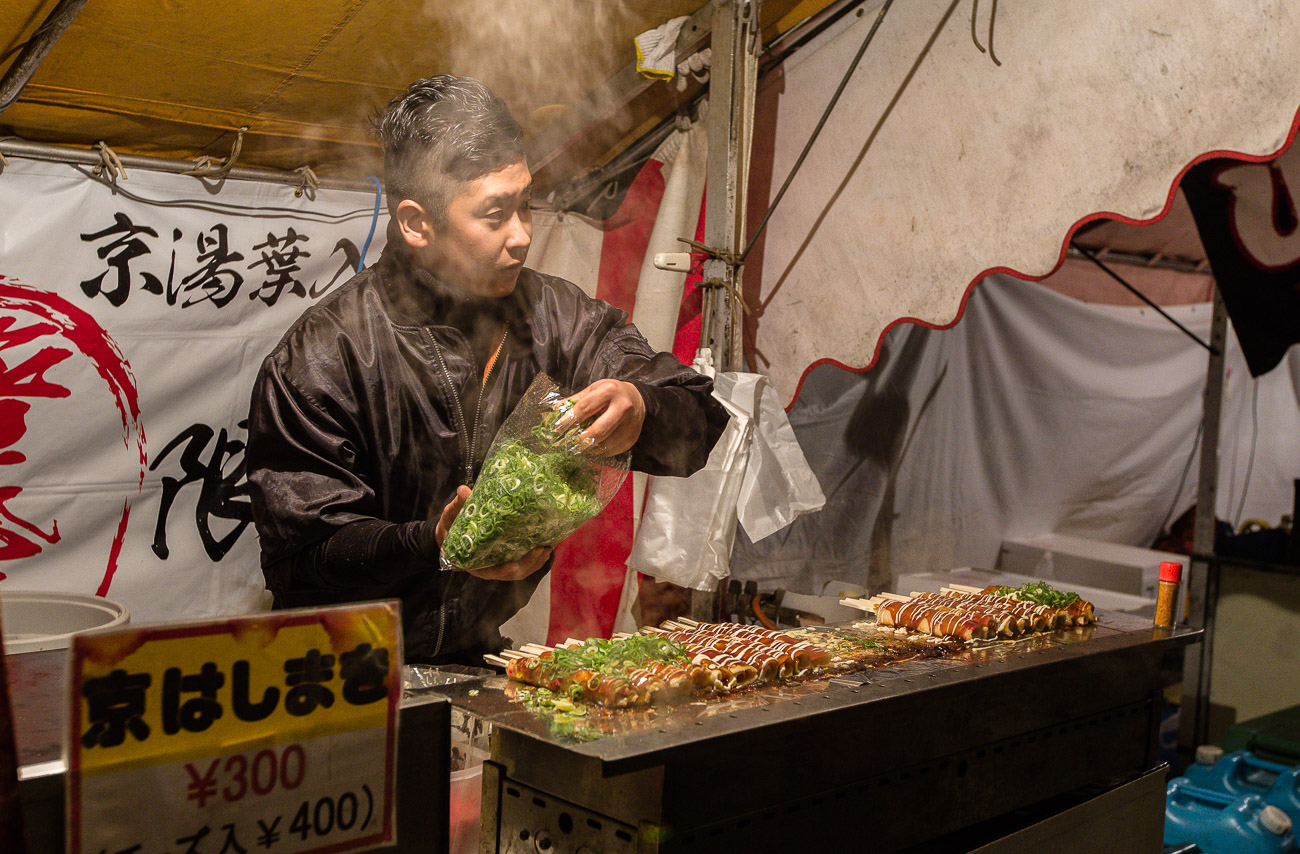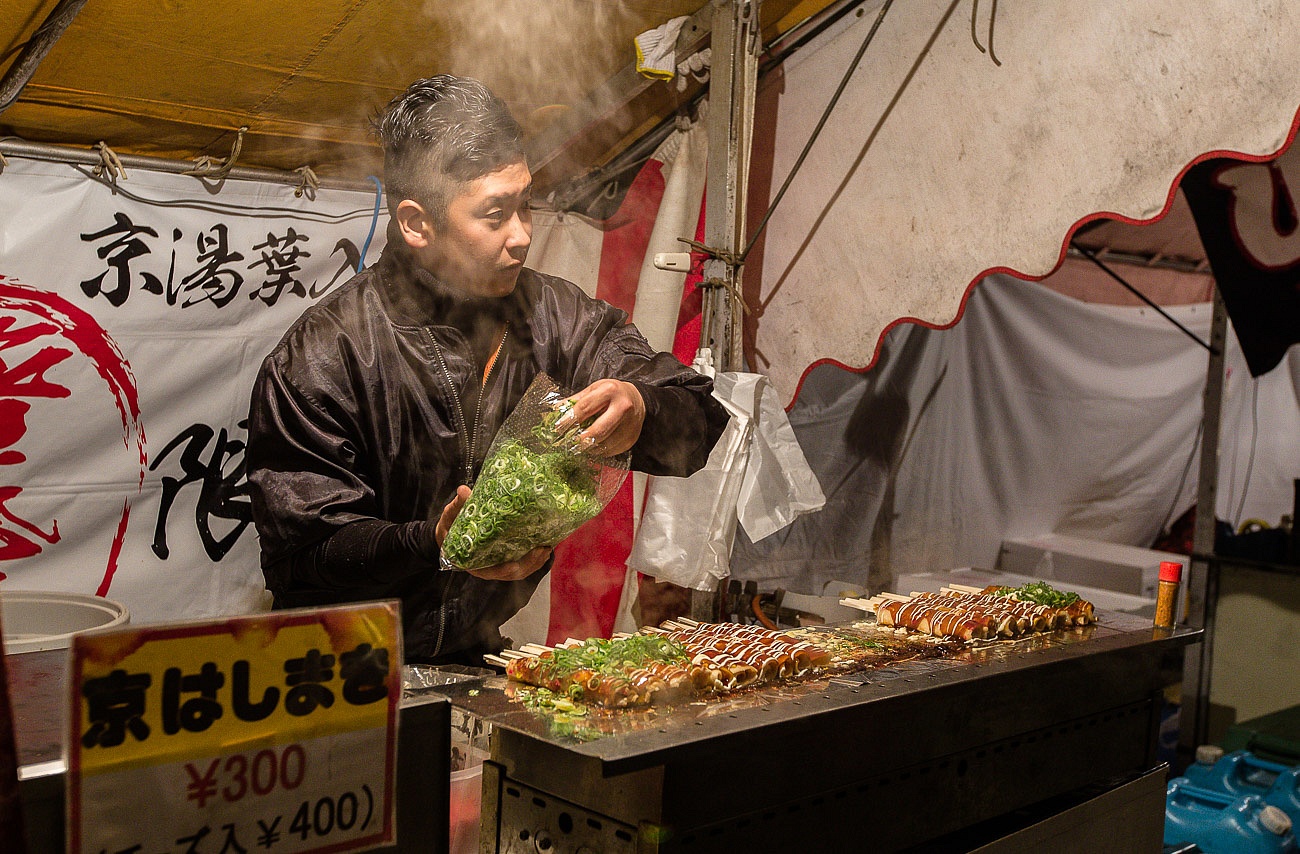 I came by these rolled up pancakes on a stick only once in Kyoto. Kind of like steamy buns, the flour pancake is almost creamy. Filled with tofu skin or "cheese" and covered with a tangy brown sauce and mayonnaise drizzles, it was a perfect combination of sweet and tart. I could seriously eat these every week.
Why you should try it: Juicy, tangy burst of flavor on a stick
Miso Rice Balls
in Kyoto, Japan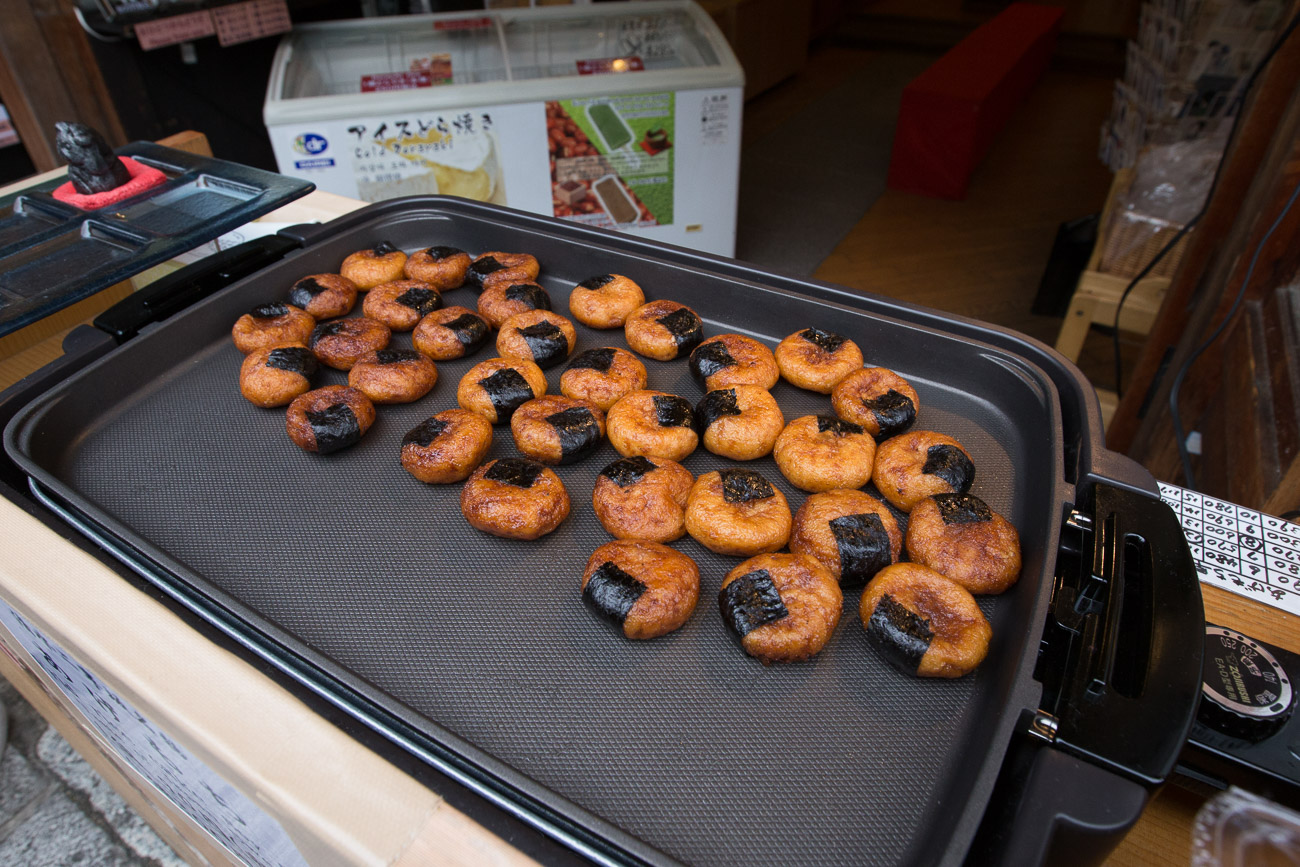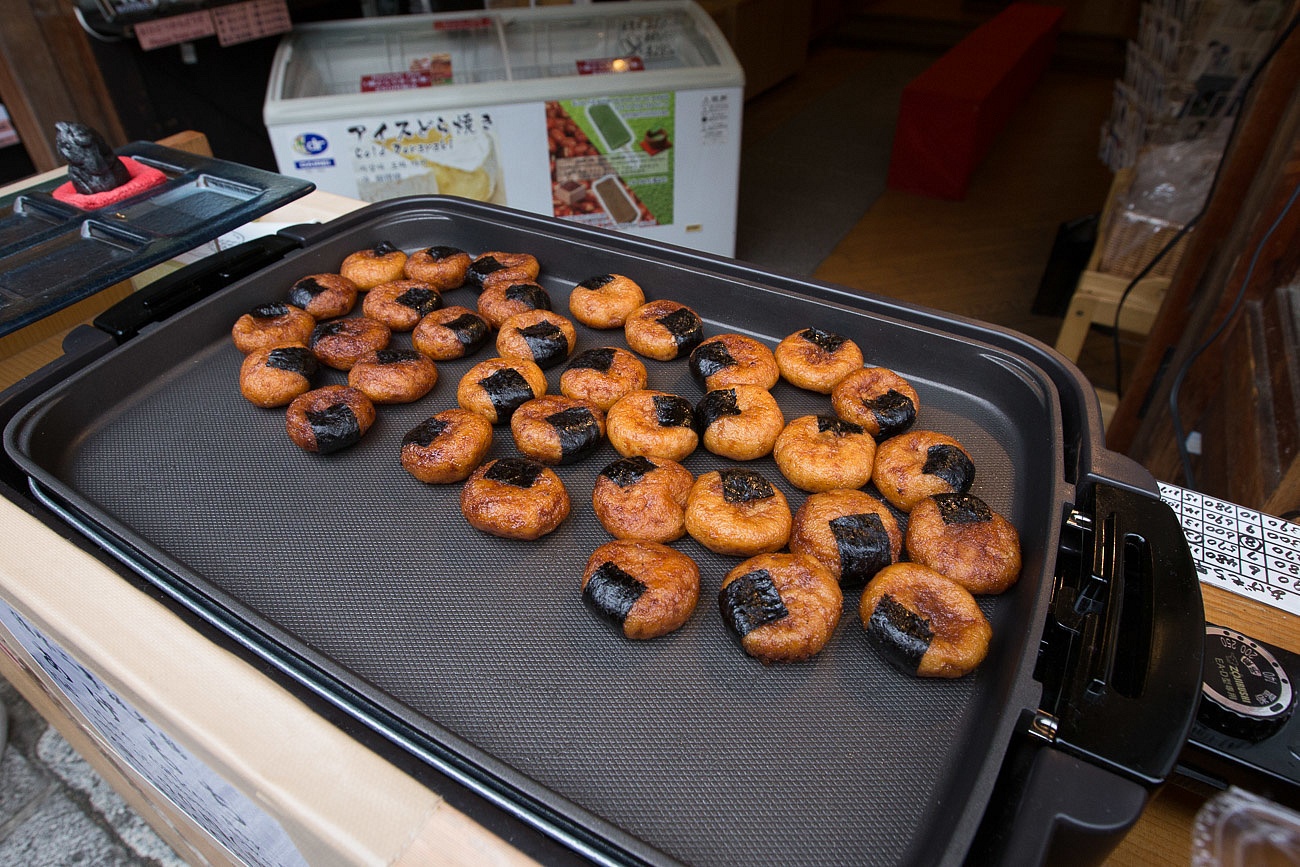 Before I got to Japan I was told you never eat and walk in public. So I was confused when I saw a woman appear to be cooking on the street. Was this edible? Where was I allowed to consume it? My friend Rachel and I each ordered one and backed up against a storefront to eat it. They were amazing. Hot sushi rice covered in a sweet and salty miso sauce, cooked until they were almost crunchy. Then we got yelled at by the shopkeeper. I'm not even sure what etiquette rules we broke (probably all of them), but the rice ball lady started it. We bought two more and walked down the street savoring every last bite.
Bonus: Now I know what this emoji is ????.
Why you should try it: Perfect little salty-sweet snack bites.
Best New Cocktail/Spirit
Rico Sour at Tierra Atacama*
San Pedro de Atacama, Chile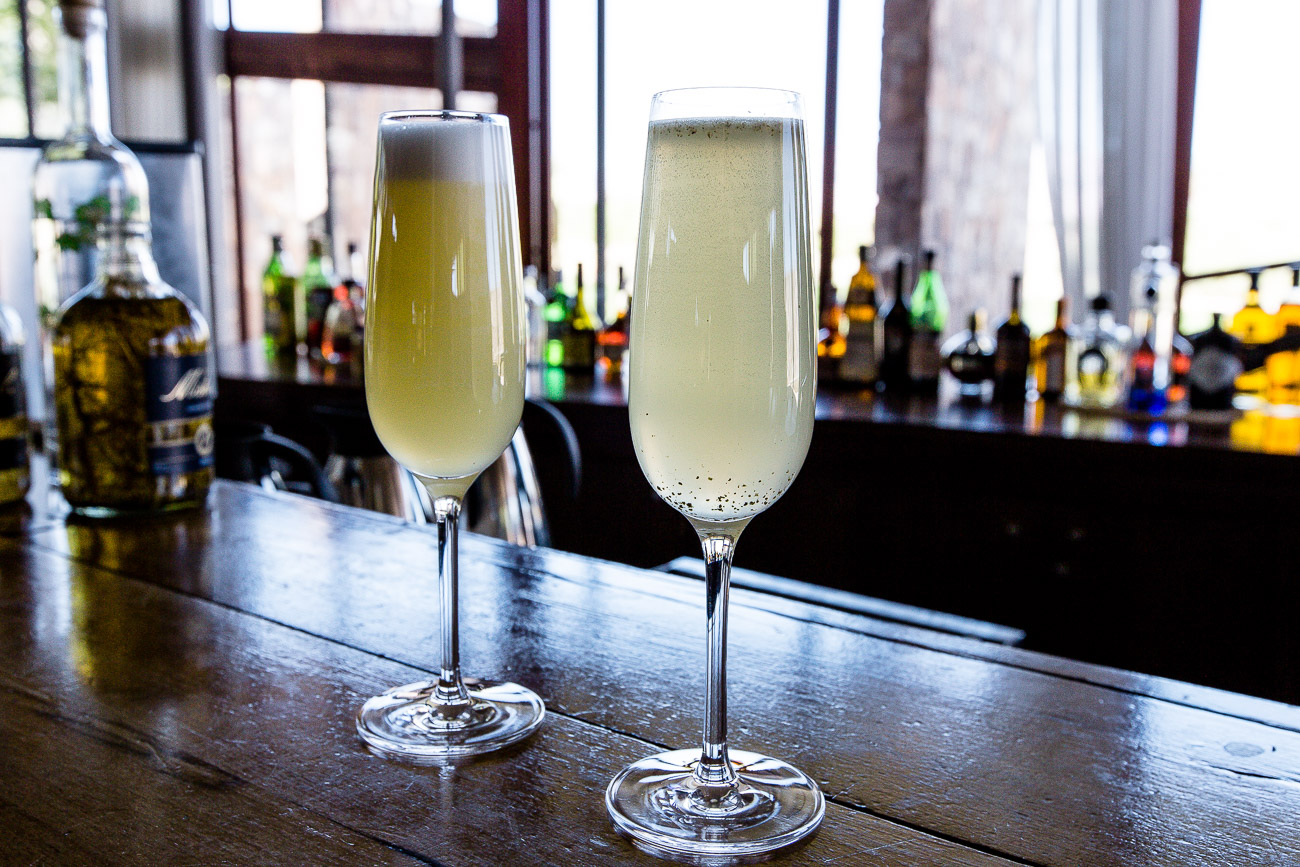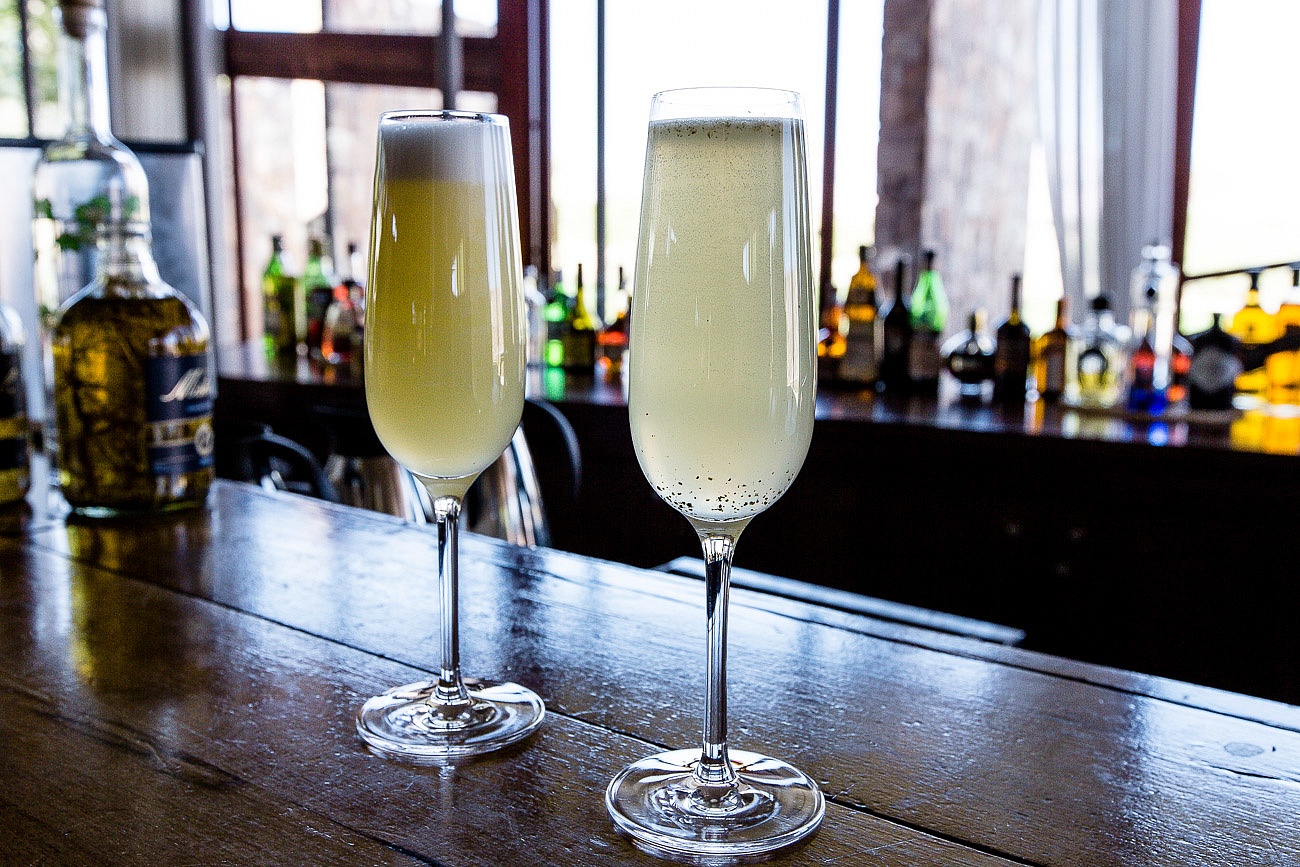 A twist on the national Pisco Sour cocktail, brandy infused with the tiny leaves of the local rica-rica bush creates this herbaceous version. Made as the signature drink at the Tierra Atacama resort, this smoky refreshing cocktail is perfect mid-afternoon, before dinner or, let's face it, for breakfast.
Why you should try it: Smoky and fresh, it's a taste of the Atacama Desert.
Favorite Bar with a View
New York Bar*
Park Hyatt Tokyo, Japan
55 Stories above Shinjuku, the views here go on and on. Arrive before sunset to watch Tokyo go from overwhelming concrete jungle to miles of twinkling lights. A live jazz band performs most nights and staff is friendly and attentive.
Why you should try it: Beautiful views of Tokyo, movie star treatment
Favorite Travel Activities
Favorite Animal Experience
South America
Llama trek*
Tilcara, Salta Region, Argentina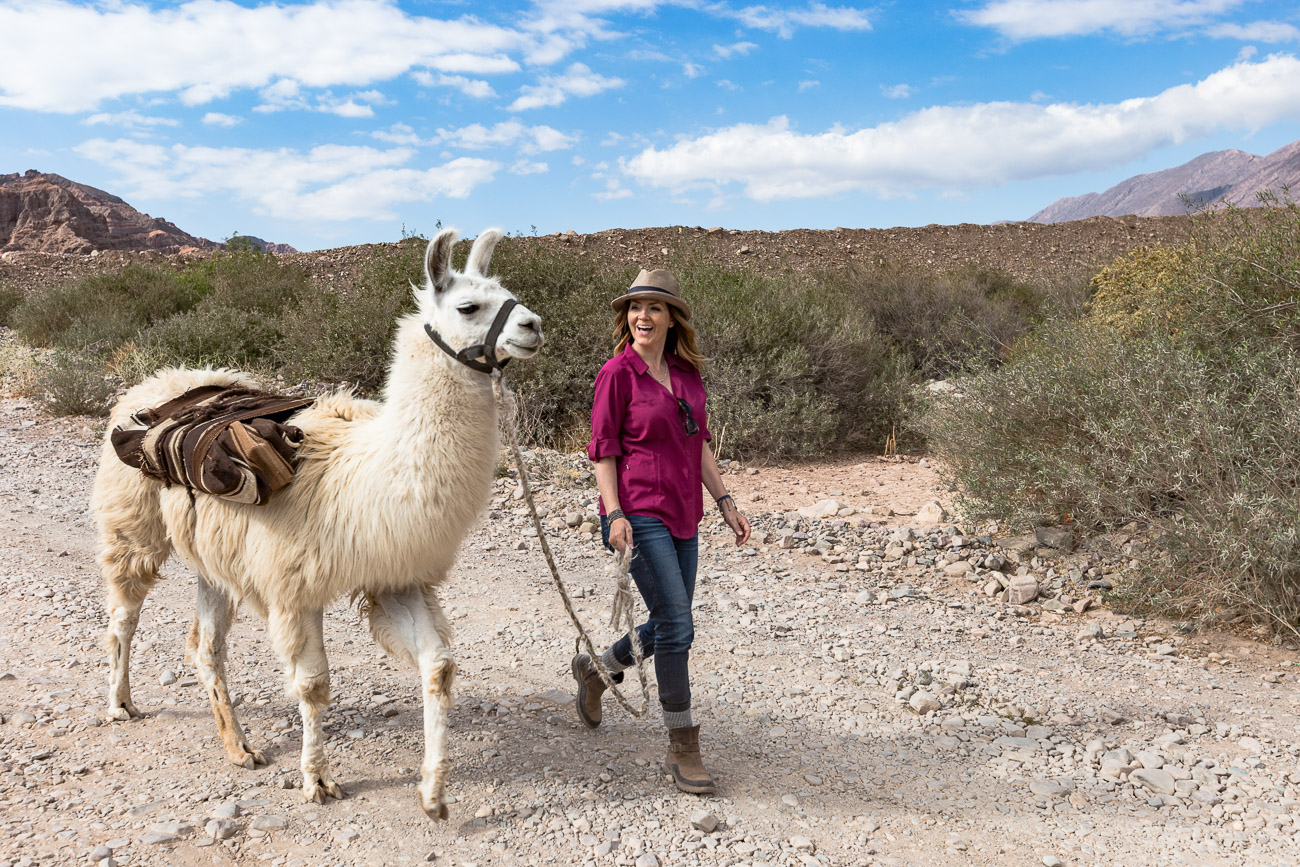 Walking a llama through the Andes felt a little bit like a cliché (if a cliché exists about llama walking in the Andes) but man was it fun. My llama Jura was so sweet, mostly cooperative and a total ham at times.
Big thanks to the folks at Say Hueque tours, for suggesting and arranging the llama trek. They were so awesome for picking up on my love for animals and adding this adventure to my itinerary at the last minute.
Why you should do it: Because it doesn't get more Andean than leading llamas through the mountains.
North America
Alberta Birds of Prey Foundation*
Coaldale, Alberta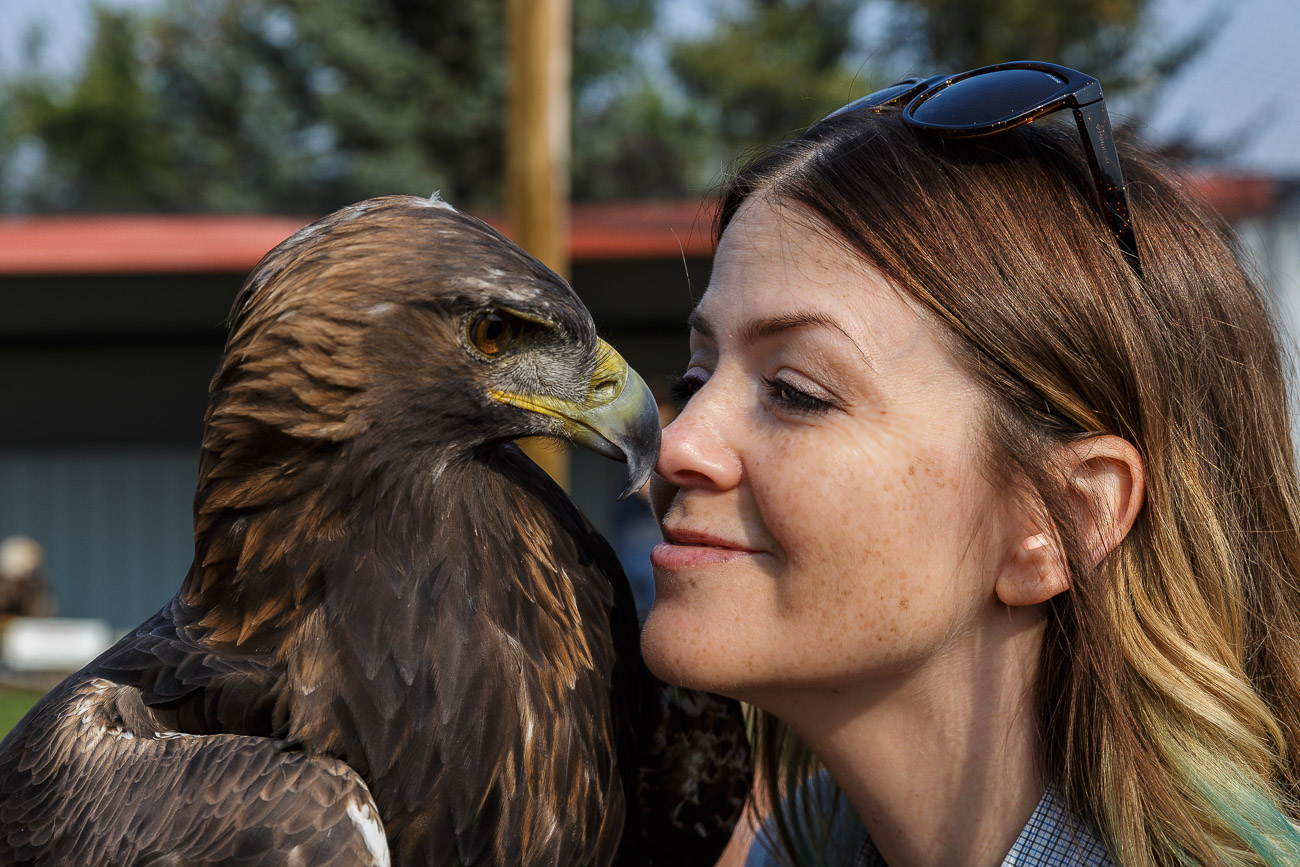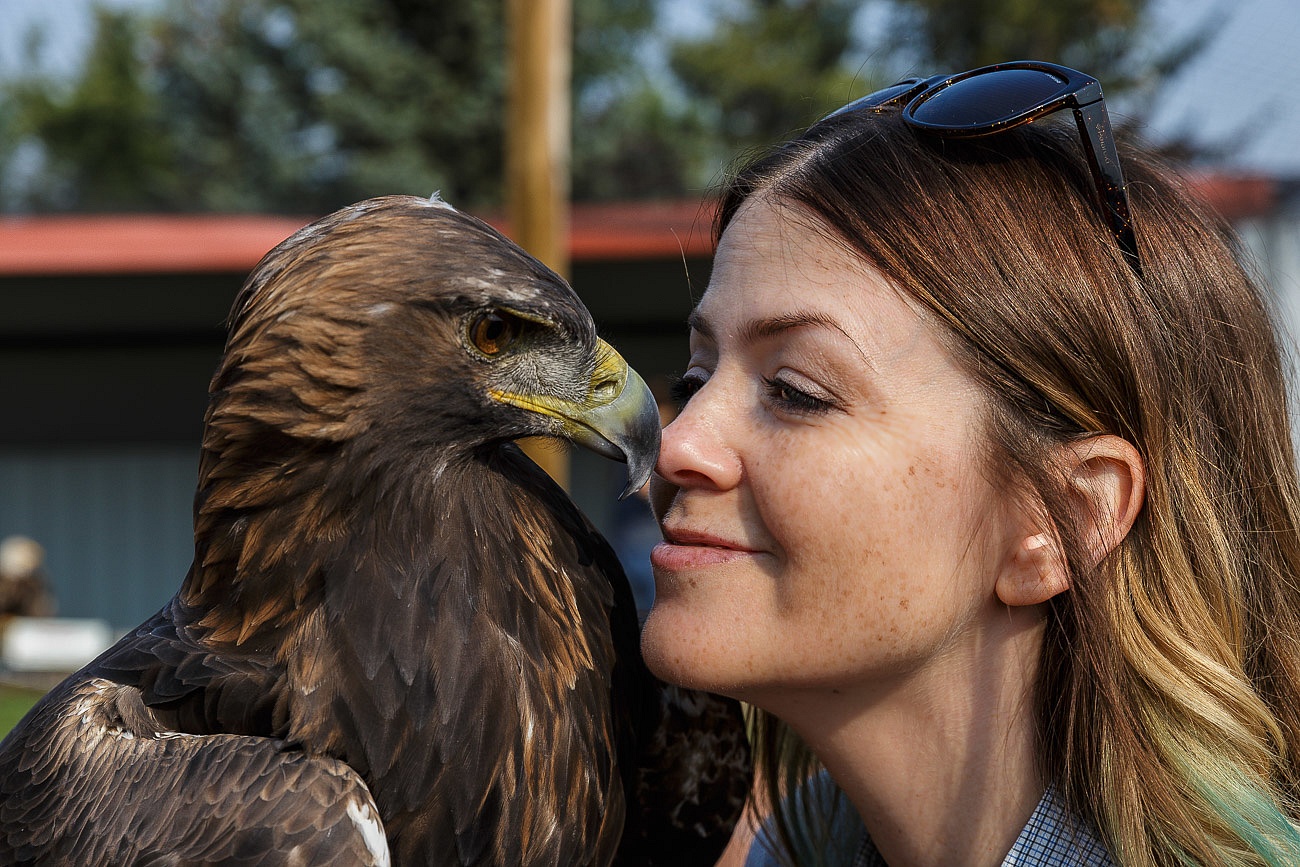 Started by one man rescuing a golden eagle thirty years ago, Alberta Birds of Prey Foundation has turned into a large sanctuary for birds ranging from little burrowing owls all the way up to huge bald eagles. If you're lucky you might even get an opportunity to have one of these lovely creatures perch on your hand. Definitely stay to watch the eagles get exercised and see if you can get in on giving them a shower afterward.
Why you should do it: It's not often you get to snuggle 30-pound birds of prey.
Asia
Bowing Deer
Nara, Japan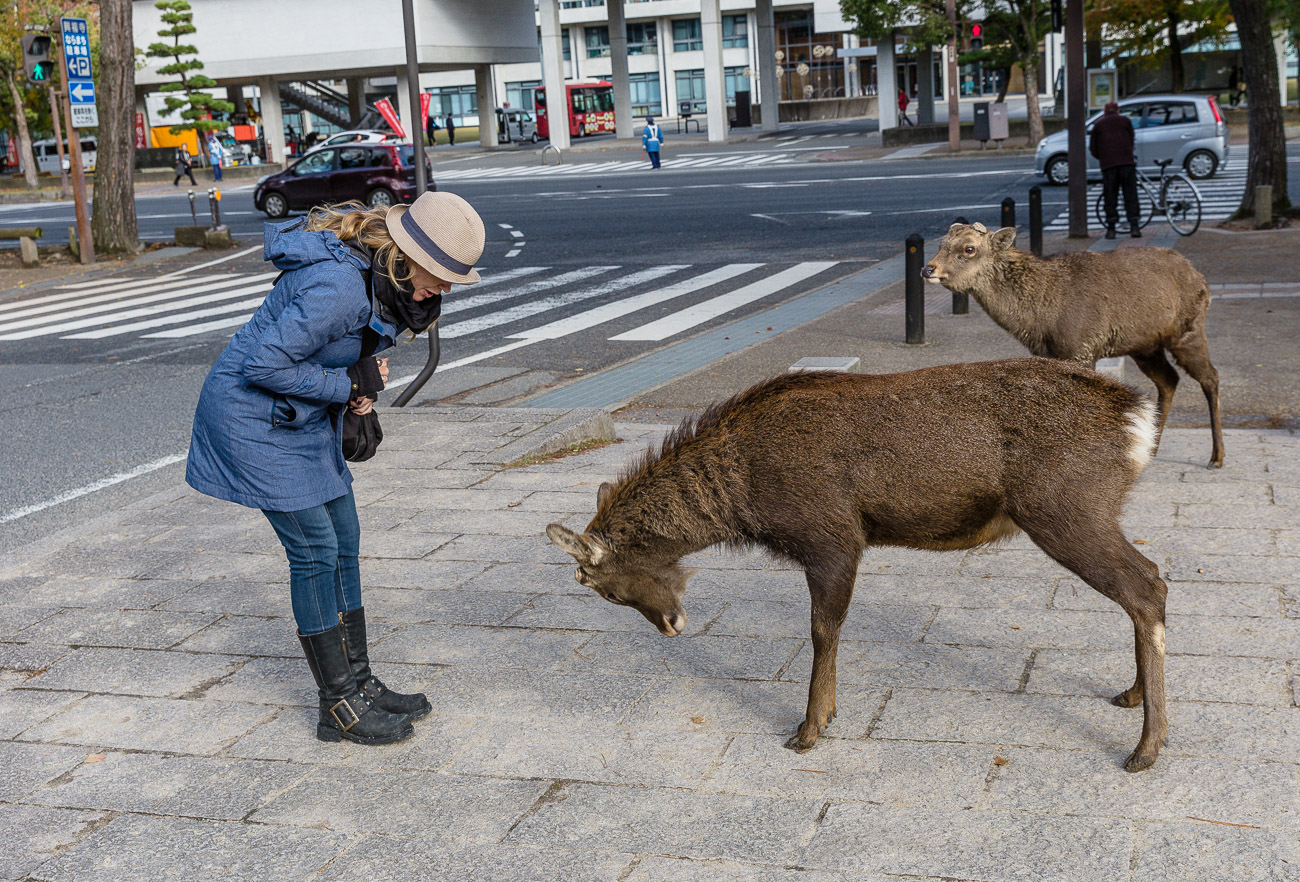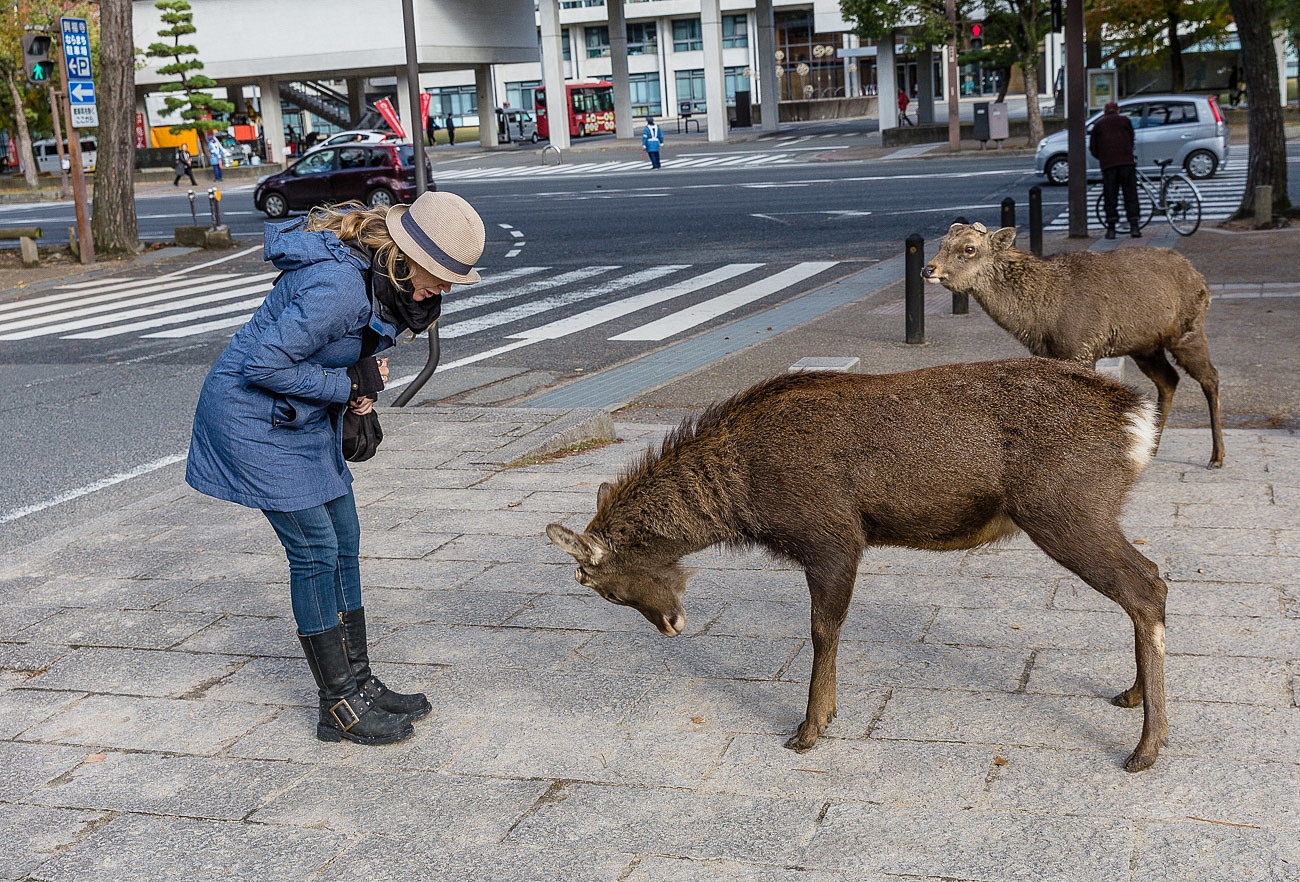 About a 45-minute express train ride from Kyoto, it's totally worth the trip. A block from the train station we saw our first deer and bought food. In fact, the deer (semi) patiently wait for you to buy food and then they start bowing, their gentle way of asking for crackers. Continue walking, towards the Todaji complex. There are so many deer in the park they outnumber the tourists and get a little demanding. Here's where you either hold your ground and ration the food out, or throw your cracker stack and run.
Why you should try it: You get to feed the most polite deer you'll ever meet.
Favorite Popular Tourist Attraction
Sheikh Zayed Grand Mosque
Abu Dhabi, UAE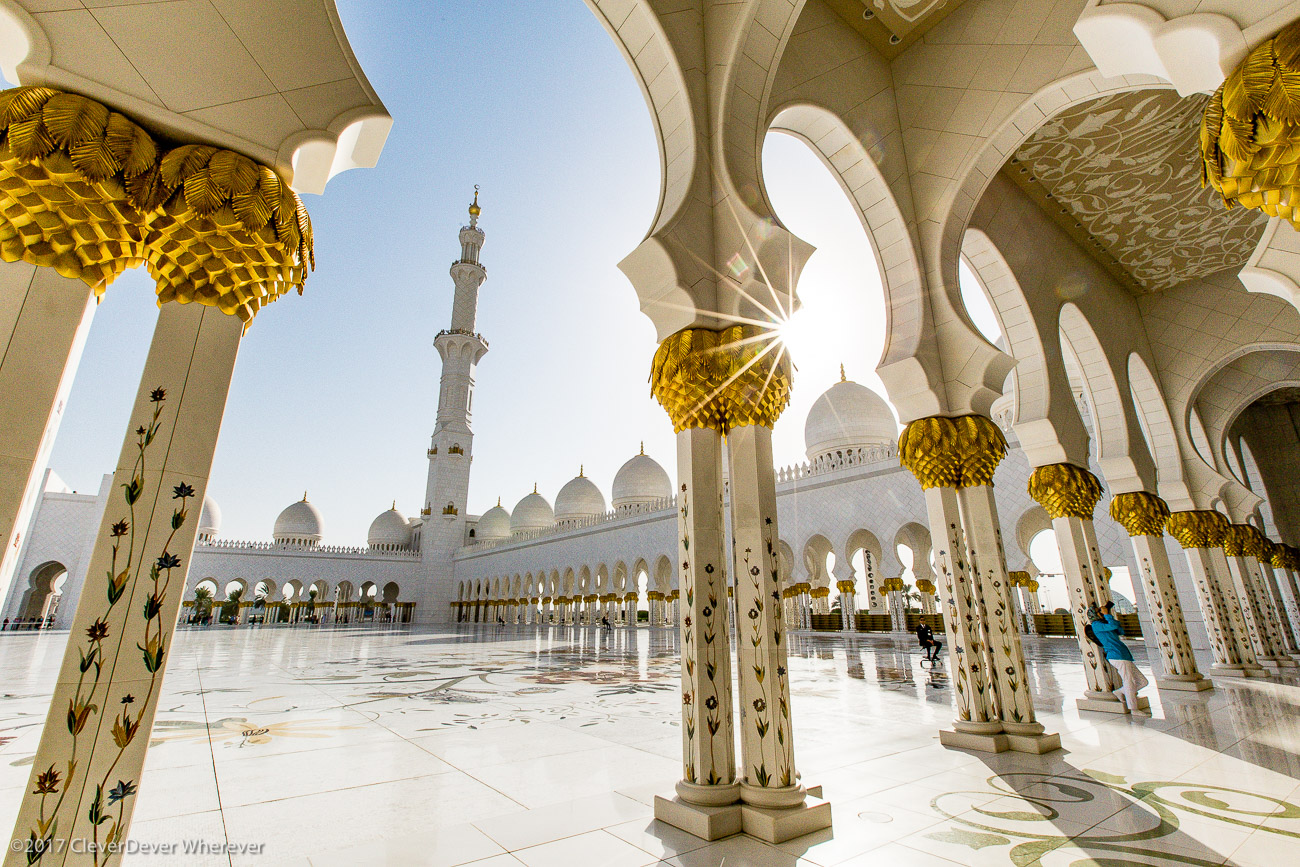 This mosque is absolutely breathtaking. Gleaming in white marble and gold leaf it attracts over 5 million visitors a year and is consistently ranked one of the world's favorite landmarks, right up there with Angkor Wat, St. Peter's Basilica and Taj Mahal. The inlaid marble details and the jeweled interiors are delicately beautiful. The glassy white floors are so clean and white it's a struggle not to want to have sock slide races throughout the complex. Get there when it opens for your best possible chance of getting a few people-free photos.
Why you should go: To see some of the world's most gorgeous architecture.
Organized Tour – Large
National Geographic Photography Tour
"Sands of Time" Middle East with Chris Rainier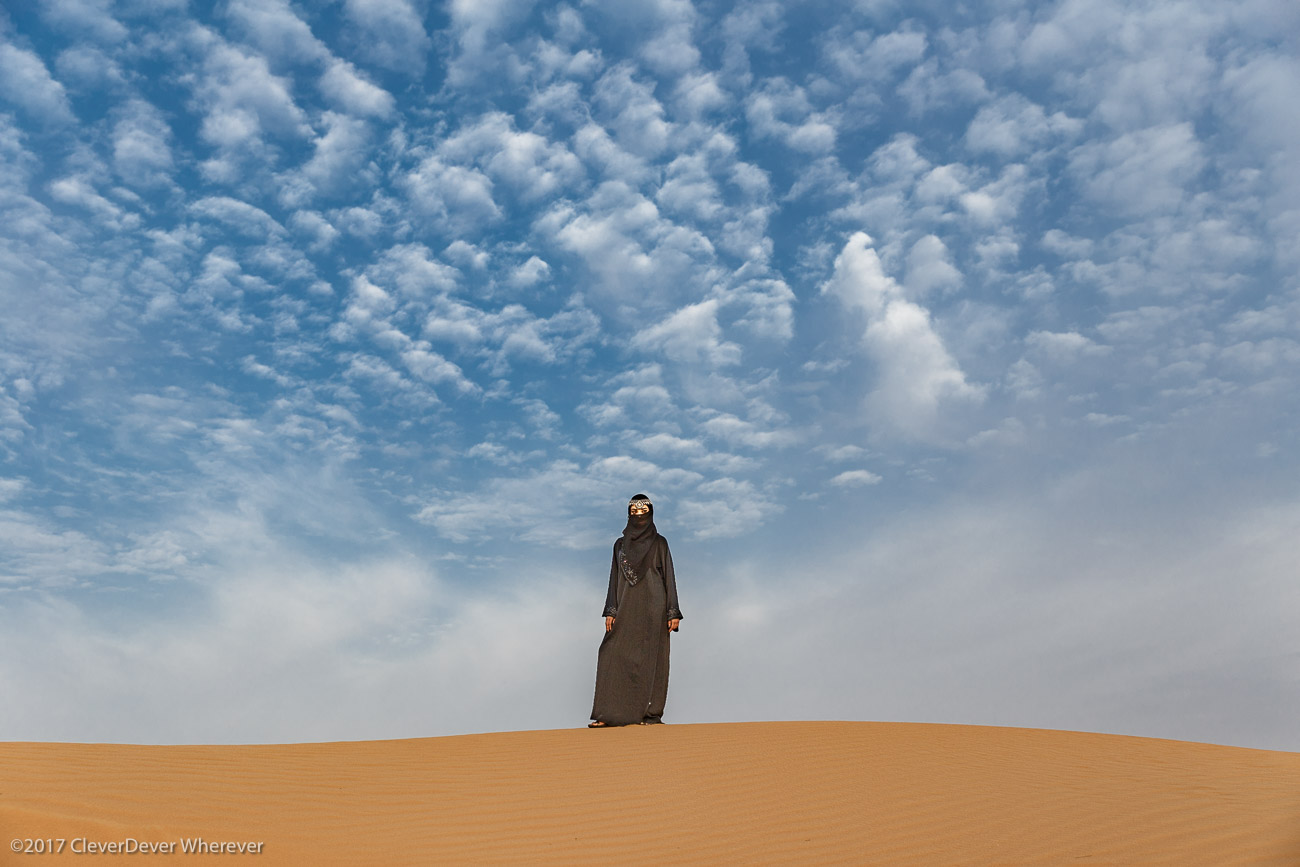 This was my first photography tour. It was well organized from the first-rate hotels and meals to the beguiling Arabian photo shoot settings and models. The small group made it easy to take photos without being in each other's way, and our leader, NatGeo photographer Chris Rainier was patient, kind and an excellent teacher.
Why you should go: If you can get on a photography tour with Chris, you'll up your photo game while having a great time.
Organized Tour – Small
Tolar Grande – Overland to the Earth's Beginnings
Salta Region, Argentina
De Altura Viajes y Turismo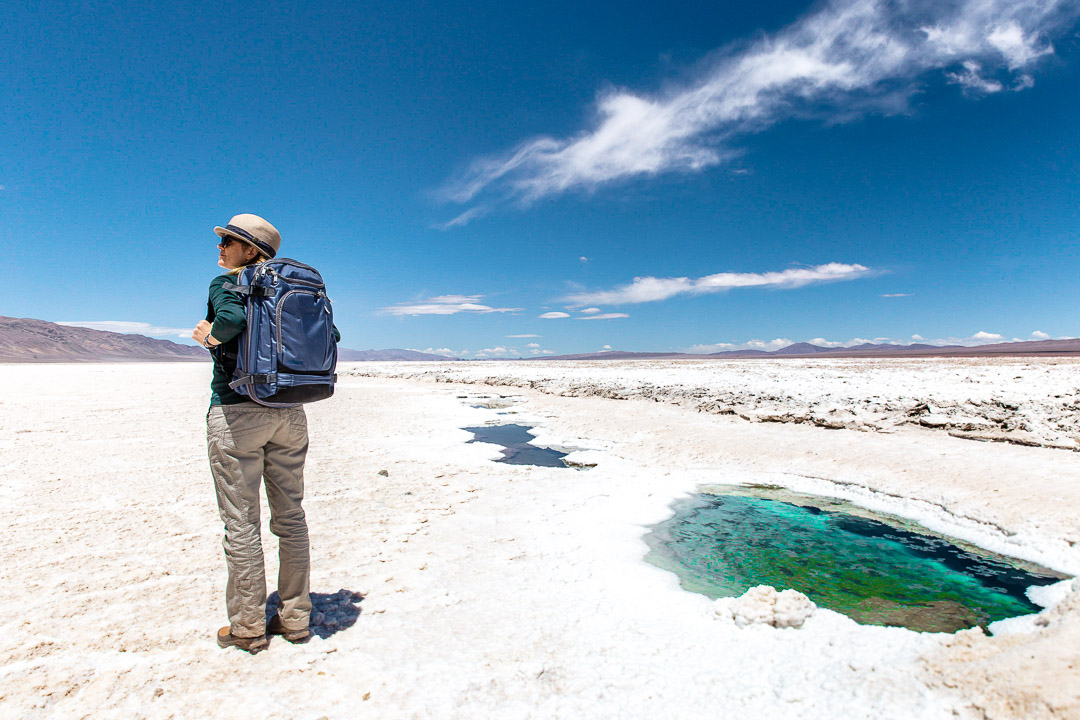 To get to this salty wonderland, four of us and our driver Sebastian drove smushed together in a pickup truck for 10 hours through the Andes. Bouncing overland on gravel and crusty salt sheets we topped out at altitudes of almost 15,000ft/4572m and spent the night in the back of the only restaurant for 125miles/200km. And yet, it was by far one of the most memorable tours I've ever taken.
There were times when it felt like we had the earth to ourselves – we didn't see another soul for hours. At night we'd gather at the little restaurant with a few miners, exchanging pleasantries in Spanish and drinking coca tea. It was like no other experience I've had and yet I loved every minute of it.
Why you should go: If you can give up comfort for the sake of adventure, you'll see uncommon red mountains, green lagoons, pink flamingoes, and brilliant white salt fields in solitude.
Favorite Scenic Drive
Jvari Pass to Kazbegi
Georgia (near the Russian border)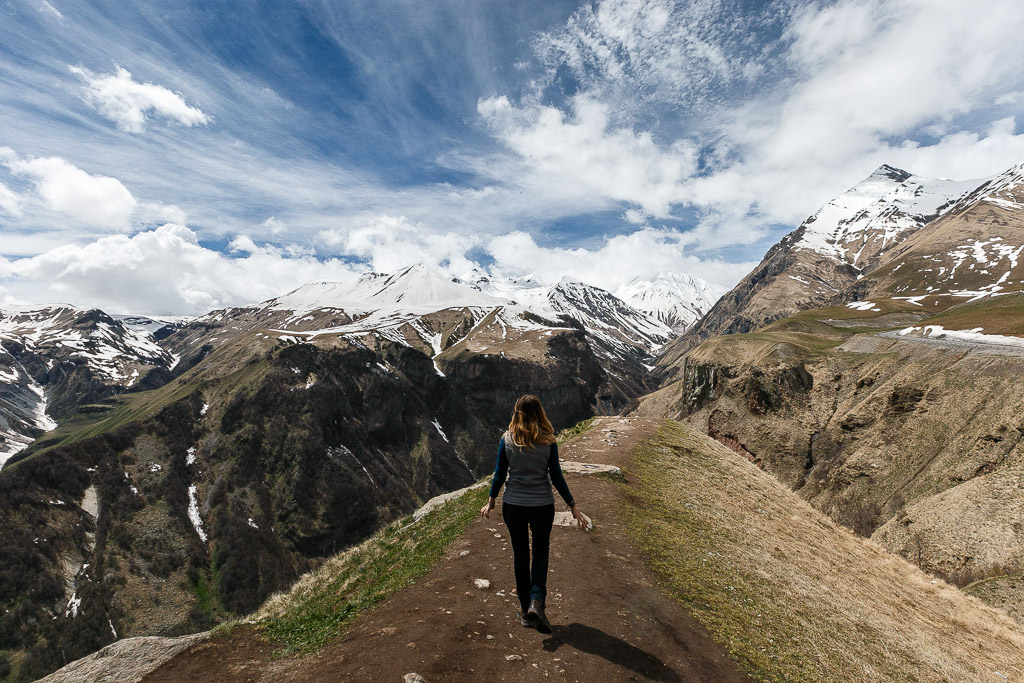 Pretty sure this picture is worth a thousand words, so I'll leave it right here.
Favorite Discoveries
New Obsession Abroad (for which I'm sad I don't live closer)
Green Tea Kit Kats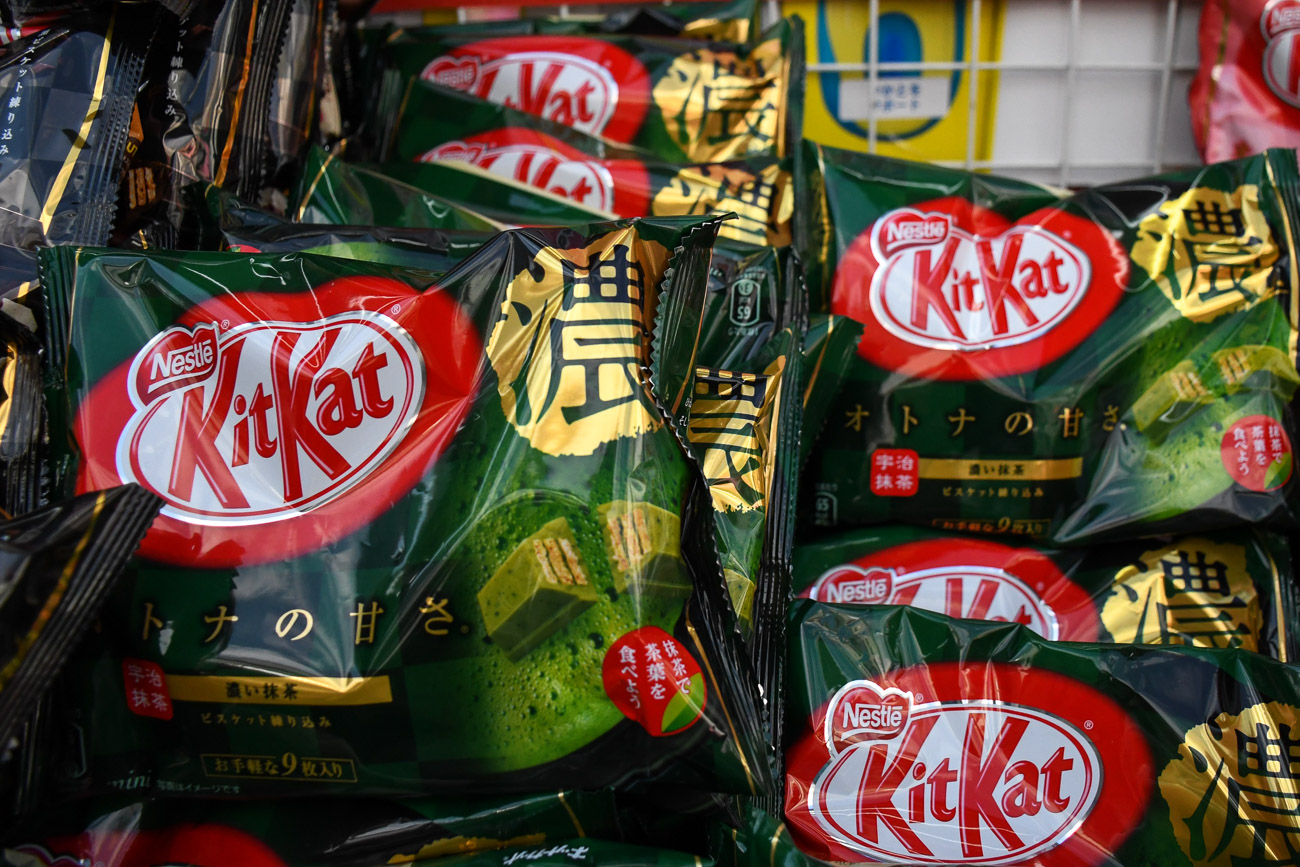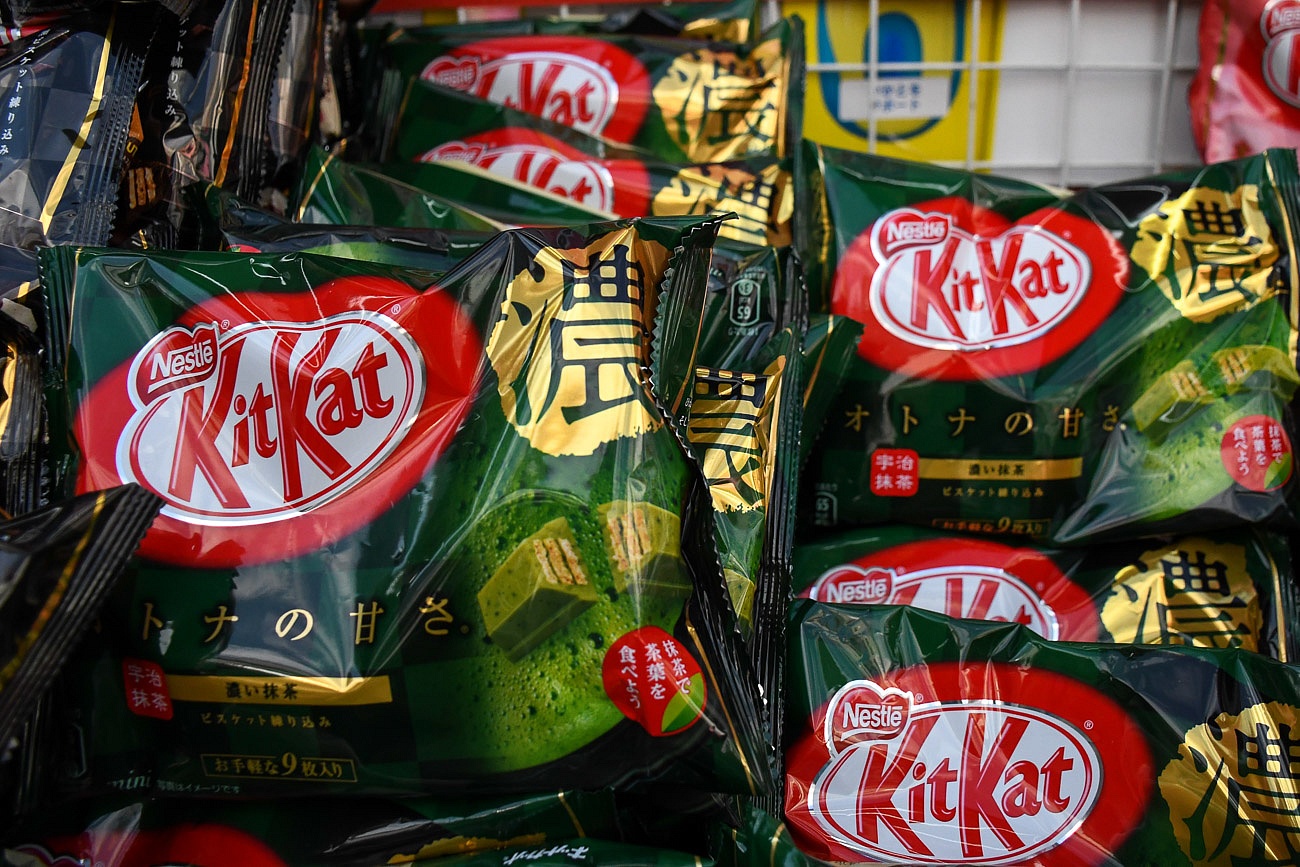 These crunchy little wafers covered in matcha magic are insane. But also I feel slighted. Why are you making all the good Kit Kats in Japan, Nestlé?
I brought home TEN BAGS and no, you cannot have any.
Travel Gadget
Telecom Square Wi-Ho! Mobile wifi hotspot*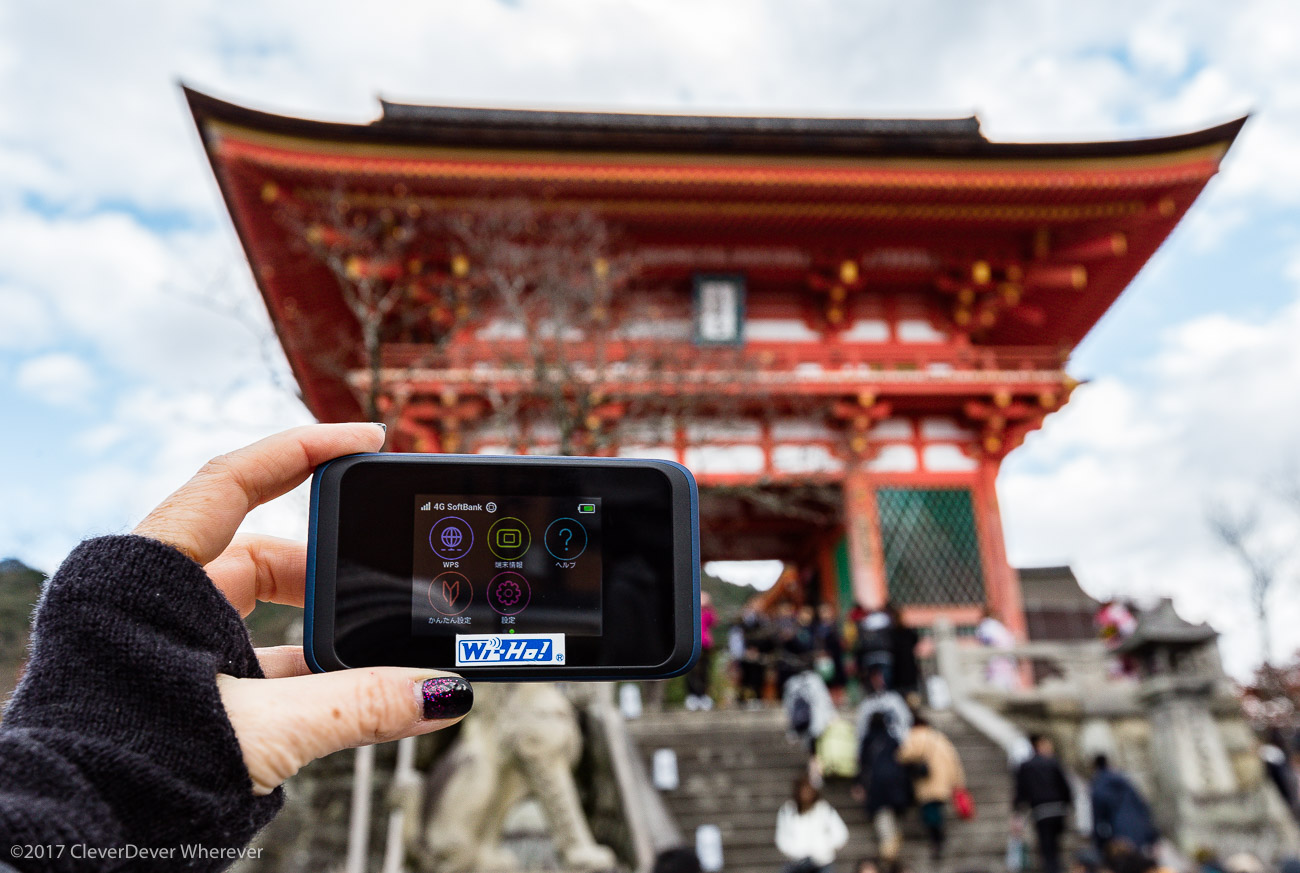 There are so many ways to stay connecting it you want to be. But they're not all created equal. While in Japan I used this device and it was so convenient. It was small I just slipped in into my pocket or purse. It had a strong signal and I was able to get up to ten devices on it so I could share with my laptop, tablet, and best friend. It's available globally, so check out the website to see if it's available where you're traveling.
Why you should try it: No playing language charades to get wifi passwords or SIM cards and depending on your carrier, more cost-effective than turning on your data roaming.
Looking Forward to 2018
I'm launching headfirst into the New Year with travel on January 5th. My friend Rachel won a 15-day cruise on the Price is Right and I'm her plus one. Yes, the real Price is Right. We're taking off from Los Angeles, cruising along the west coast of Mexico and Central America, cutting through the Panama Canal, and heading back up to Florida through the Caribbean.
Another thing I'm considering is curating and offering tours to Georgia (the country not the state). Look for more information on that in the coming months.
Other than that I'm open to the possibilities. I'd love to know what you'd like to see more so let me know in the comments below!
Disclosure: As a Booking.com Associate, I earn a small amount from qualifying purchases. However, I don't recommend anything that I don't personally love.
What do you want to see more of on CleverDever Wherever? Where do you want me to explore?
Wishing you lots of kindness and adventure in the new year!