Updated January 14th, 2020
Twelve years ago in Moscow I sat inside a restaurant that resembled a small village. Slatted bridges curved up over a stream, and wooden awnings protected booths along the wall as if a rainstorm might break out at any moment. Dark-haired servers twirled in traditional costume. They brought food and dance, sometimes at the same time.
My surroundings were meant to resemble a Georgian village, a country to the south of Russia. The kitsch was captivating. Then I took a bite of the food.
Oh
My
God
Not quite like anything I had ever had before, I was instantly in love. Eggplant filled with a silky garlic walnut paste and pomegranate seeds gleamed in the light of the nearby indoor fireplace. Next to that was a bubbling crusty bread boat filled with golden-cooked farmer's cheese.
The ingredients, both rich and tangy with the influence of Eastern Europe and the Middle East, blended in ways I'd never imagined. On that freezing winter's day inside a wooden replica of a Georgian village on a street in Moscow, my love affair with Georgia began.
I wasn't even entirely sure what this "Georgia" country was all about, but I wanted nothing else than to eat their food as often as possible. This was not easy to do if you lived in the United States with precious few Georgian restaurants ANYWHERE in the continental US.
So I went years without eating Georgian food, finding it mostly while living in St. Petersburg and the occasional restaurant in Europe. I dreamt of one day visiting the source of this culinary magic. It only took me over a decade to get there.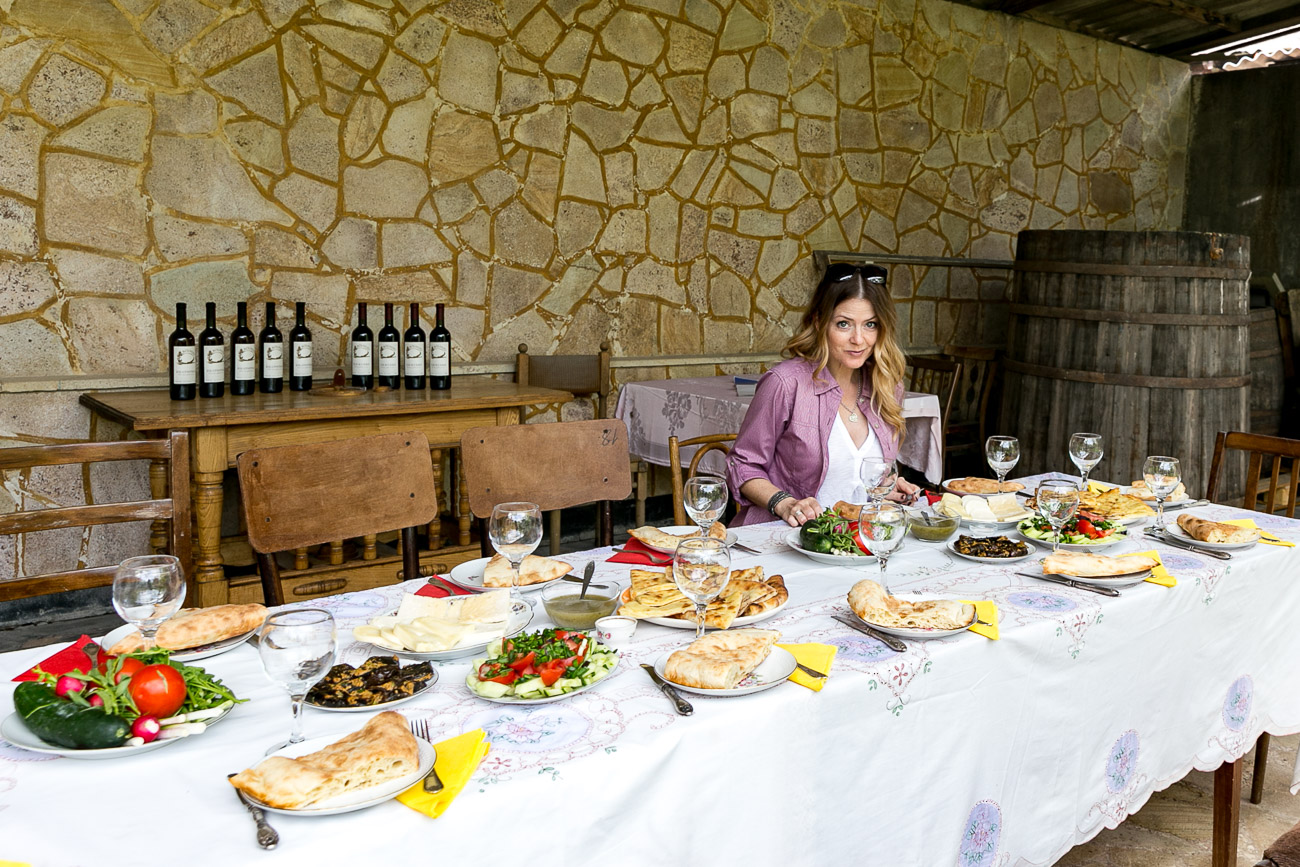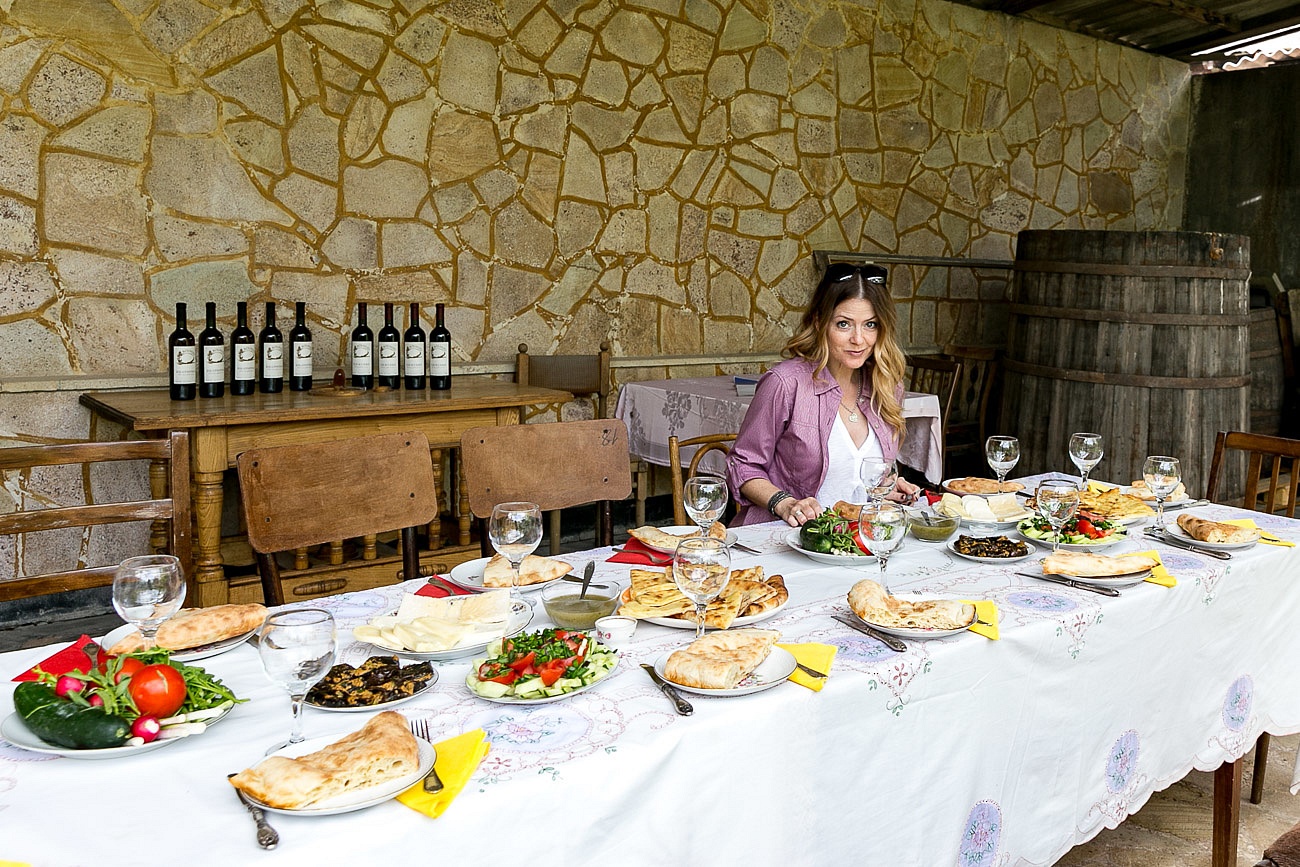 Georgian Food Is A Vegetarian's Dream
"The Russians think about Georgia how we think about Italy" my friend Sarah, who operates the wine and food tour company Taste Georgia, says. "They think of sun and wine and food." I had made it to Tbilisi, and was finally eating my first meals in the country itself.
With its rich soil and favorable climates, Georgia designates over 40% of their total land to agriculture. Soaking up all of that sunshine, rain and dark earth, produce is king here. The tomatoes were intense, deeply red and juicy. Eggplants nutty and fleshy, their flavor a pure expression of what this vegetable (or is it a fruit?) was always meant to be.
Accented with aromatic herbs like licorice-y tarragon, leafy parsley and bittersweet fenugreek Georgian food to me is like the blending of Heaven and Earth.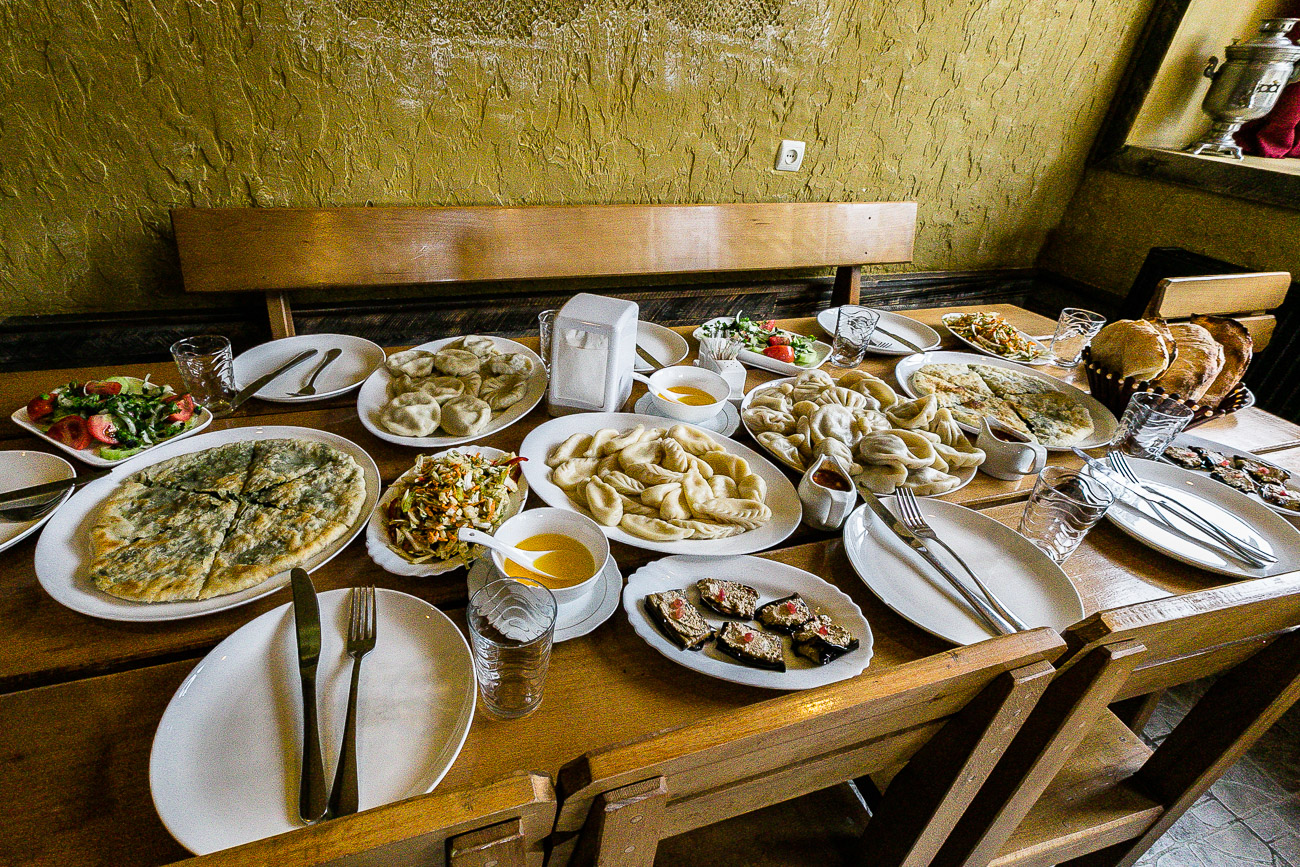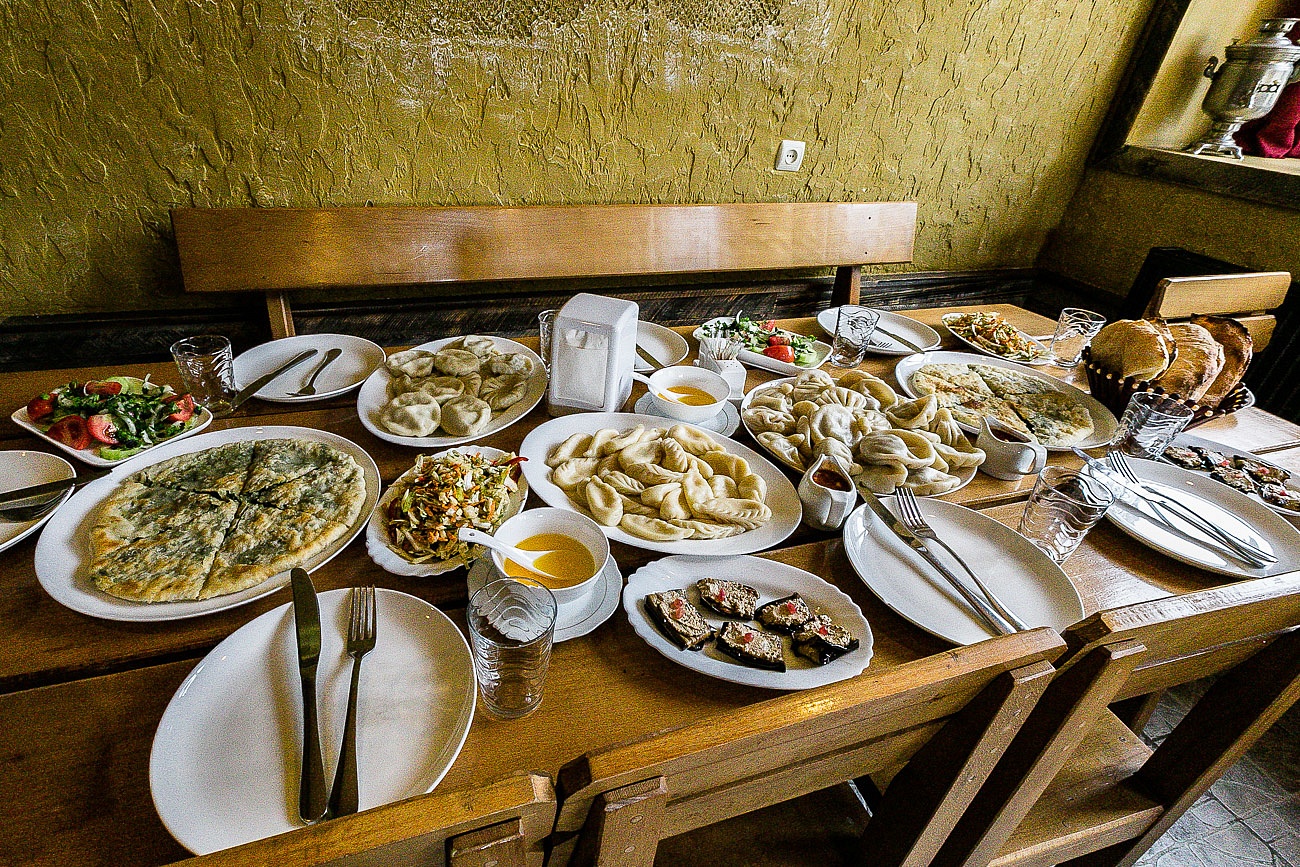 In many ways, being in Georgia feels like the cradle of Mother Earth. Not only does the country grow an abundance of food, but there is a sense of connection to nature that you can feel everywhere, from the seas to the mountains. Even their wine, which has an 8,000 year history, ferments in clay pots buried in the ground.
There is a resilience and indomitable spirit that exudes from everything in this little country in the Caucasus. It's energizing to be a part of. It's in the air, the music, the wine, the food. When I ate there I felt like Popeye on a binge, every bite giving me life.
Georgians are also very religious, with an overwhelming majority of the country a part of the Georgian Orthodox church. What does this have to do with the food? On religious holidays they don't eat meat. There are over 200 religious holidays a year, so you do the math. With that many vegetable dishes a vegetarian will never go hungry (or sad) here.
Georgian Food, an introduction
So what is this divinely delicious cuisine? At the trading crossroads of Europe and Asia, Georgian cuisine has been influenced by Western Asia, the Mediterranean, the Middle East and Eastern Europe. The resulting fare is hearty, vibrant, fresh and unexpected.
Below is a list of some of the most popular vegetarian dishes you will come across at a Georgian restaurant. If you live near one, you are in the lucky minority. If you don't, you need to book a ticket to Georgia because you need to try this cuisine.
Badrijani Nigvzit – Eggplant Rolls with Walnut-Garlic filling
The dish that started it all for me. Grilled or sautéed eggplant slices roll around a paste of ground walnuts and garlic. Often topped with pomegranate seeds or drizzled with a tart sauce, it's a luscious combination of rich nuttiness, fragrant garlic and tangy sweet bursts of fruit. Don't miss it.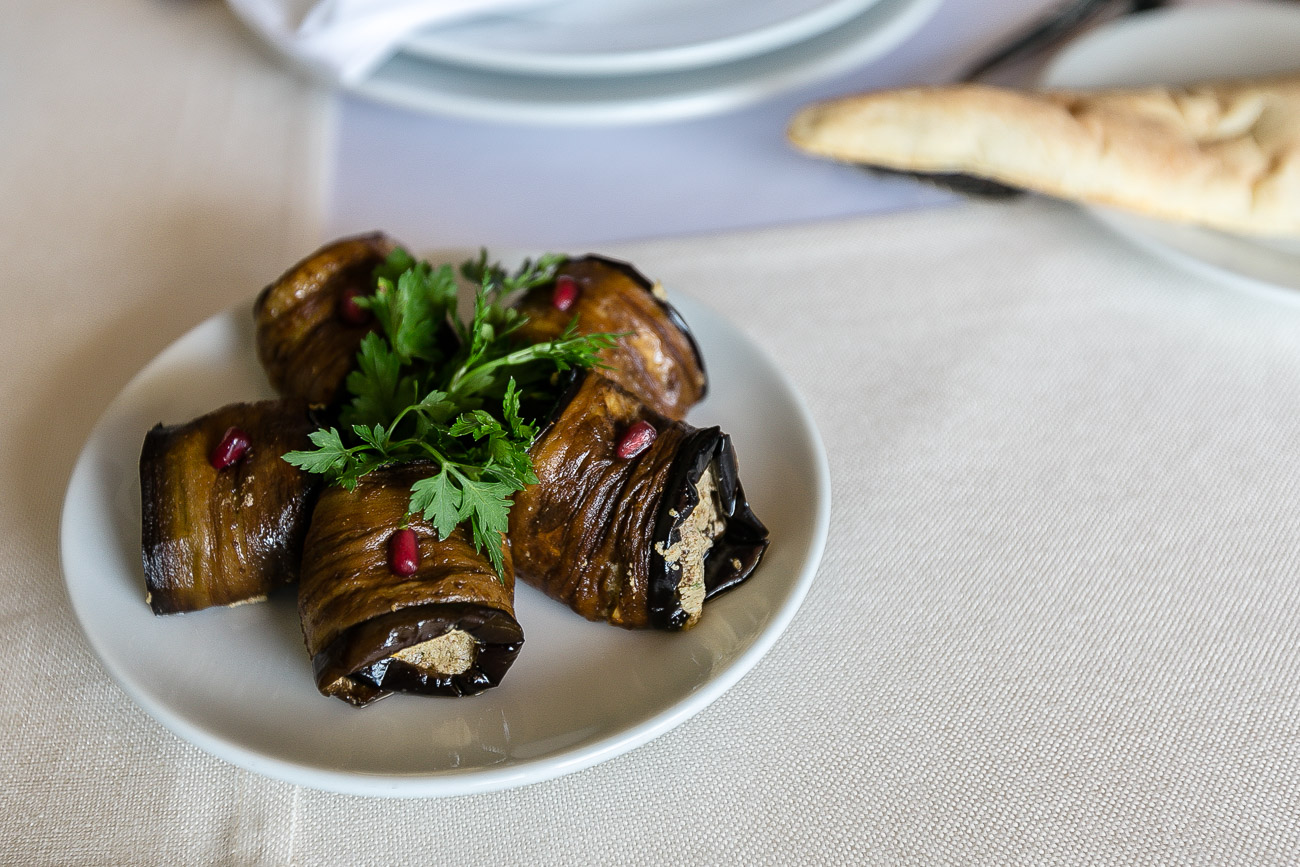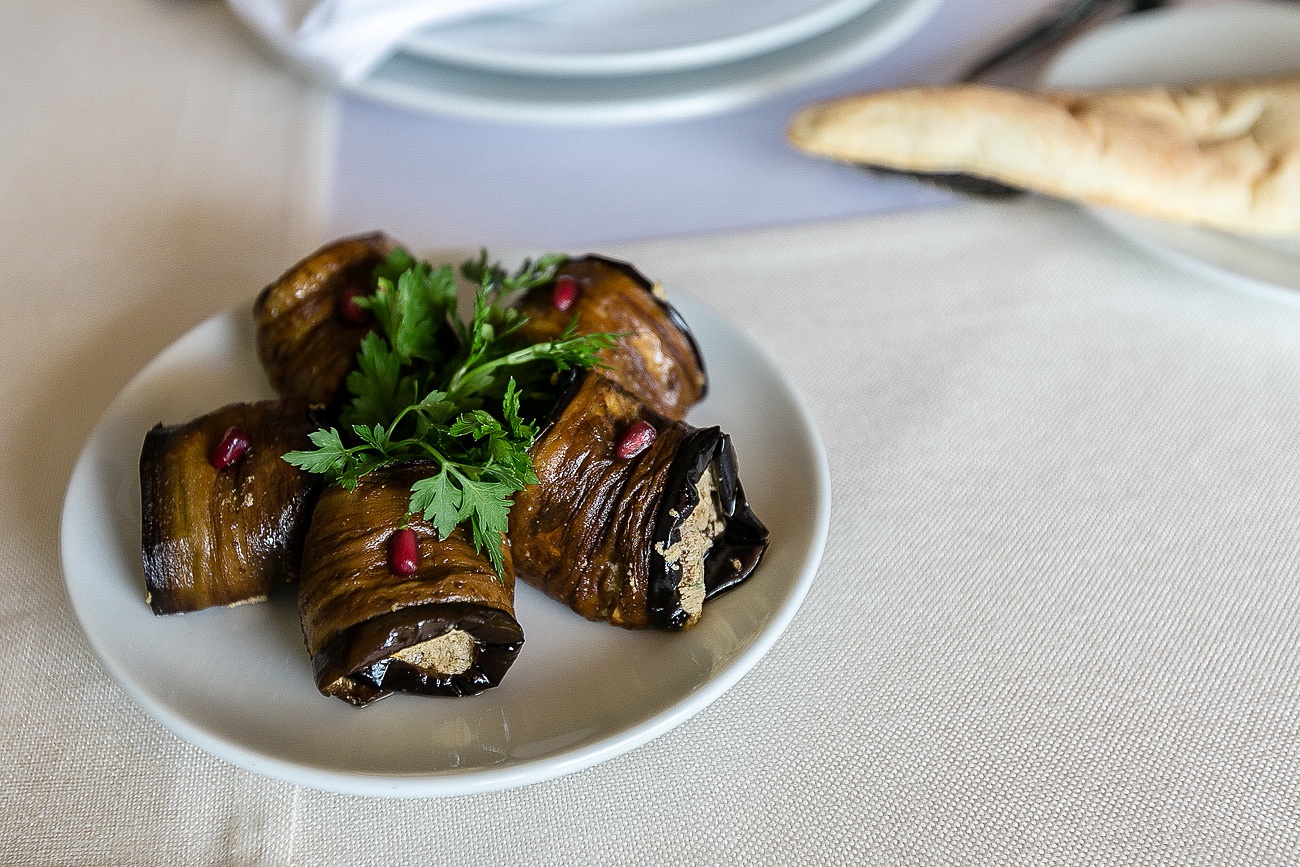 Dill new potatoes
Even though it's a foundational dish found in many different cuisines, eating this IN Georgia is still a treat. Well, really, just being in Georgia is a treat, but still… this Russian-leaning staple has a freshness due to the sweet quality of the dill.  Small new potatoes are fried until the skins are dark gold and crunchy and then blanketed with chopped, just-picked dill. Yummmmm.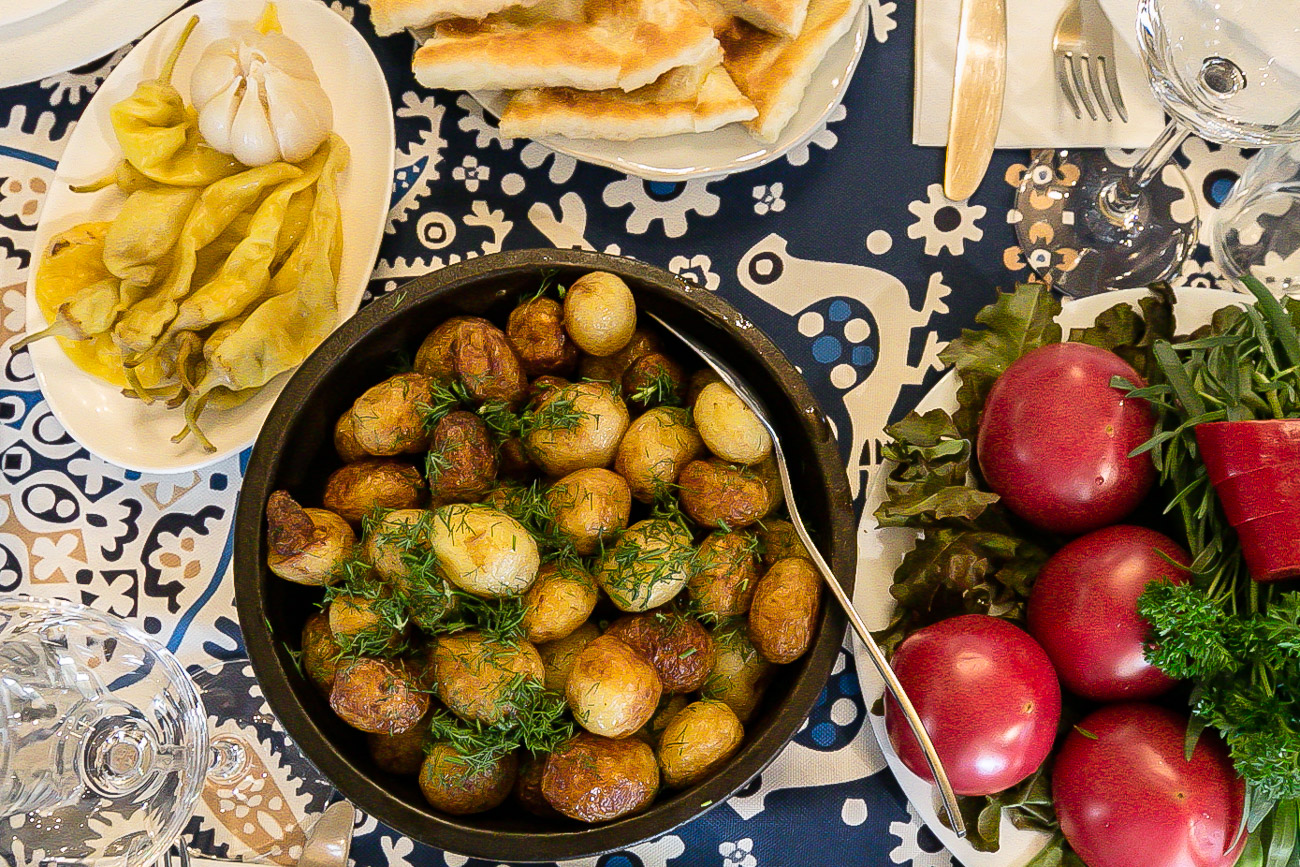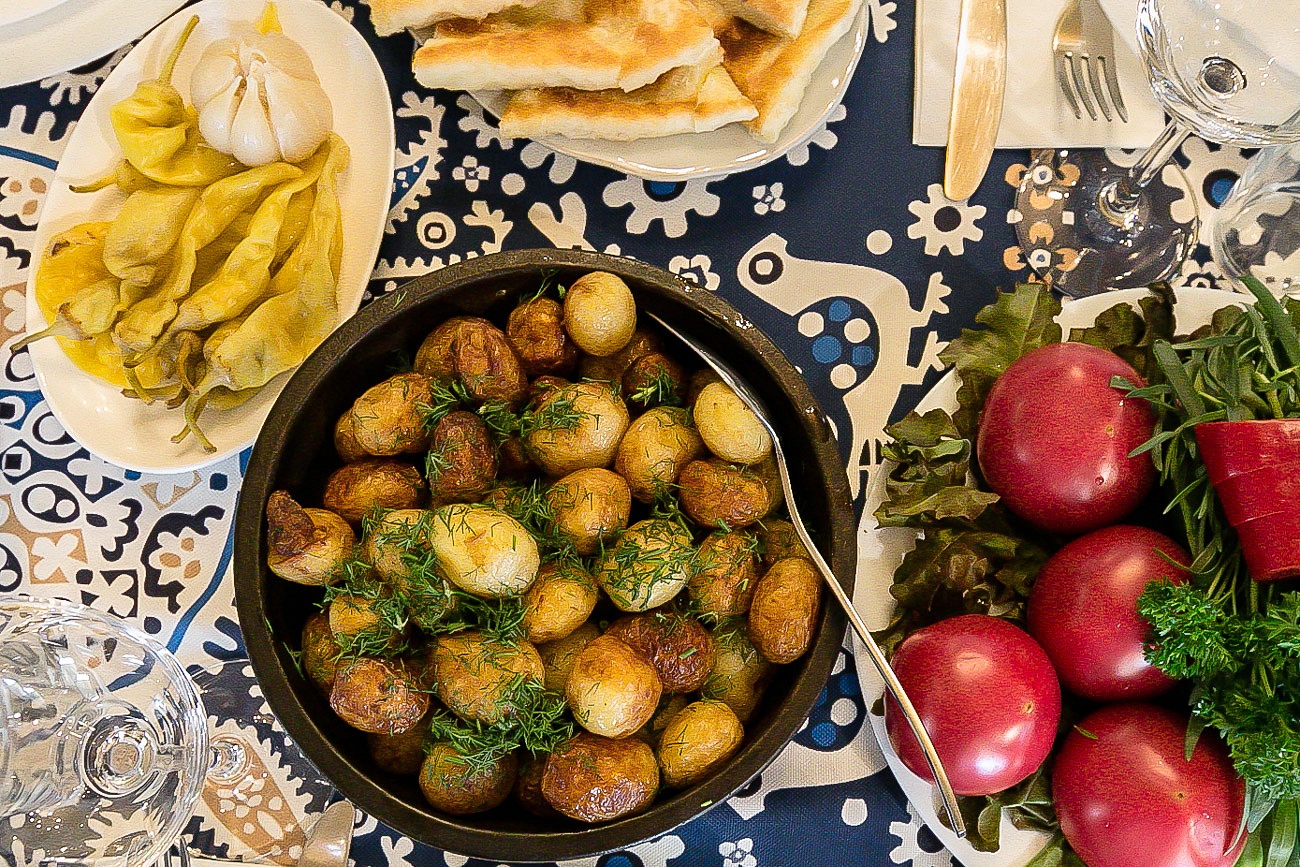 Khachapuri – Cheese bread on Steroids
Perhaps one of the biggest celebrities of Georgian food, khachapuri tends to have a following. Even if you don't know any other dishes, this gondola of wood-fired bread filled with cheese might have made it onto your radar.
Served fresh from the oven, this dish is arguably best (and most fattening) when made in the Adjarian regional style: with a chunk of fresh butter and a raw egg yolk. Once the cauldron of dairy is placed in front of you, you vigorously swirl the orange yolk and butter inside the crunchy/steamy bread bowl until you've created a thick fondue. Break off the outside pieces of your bread to dip up the gooey masterpiece until you can no longer sit upright.
Warning: you may be full the rest of the day. Or week. So dive in sparingly.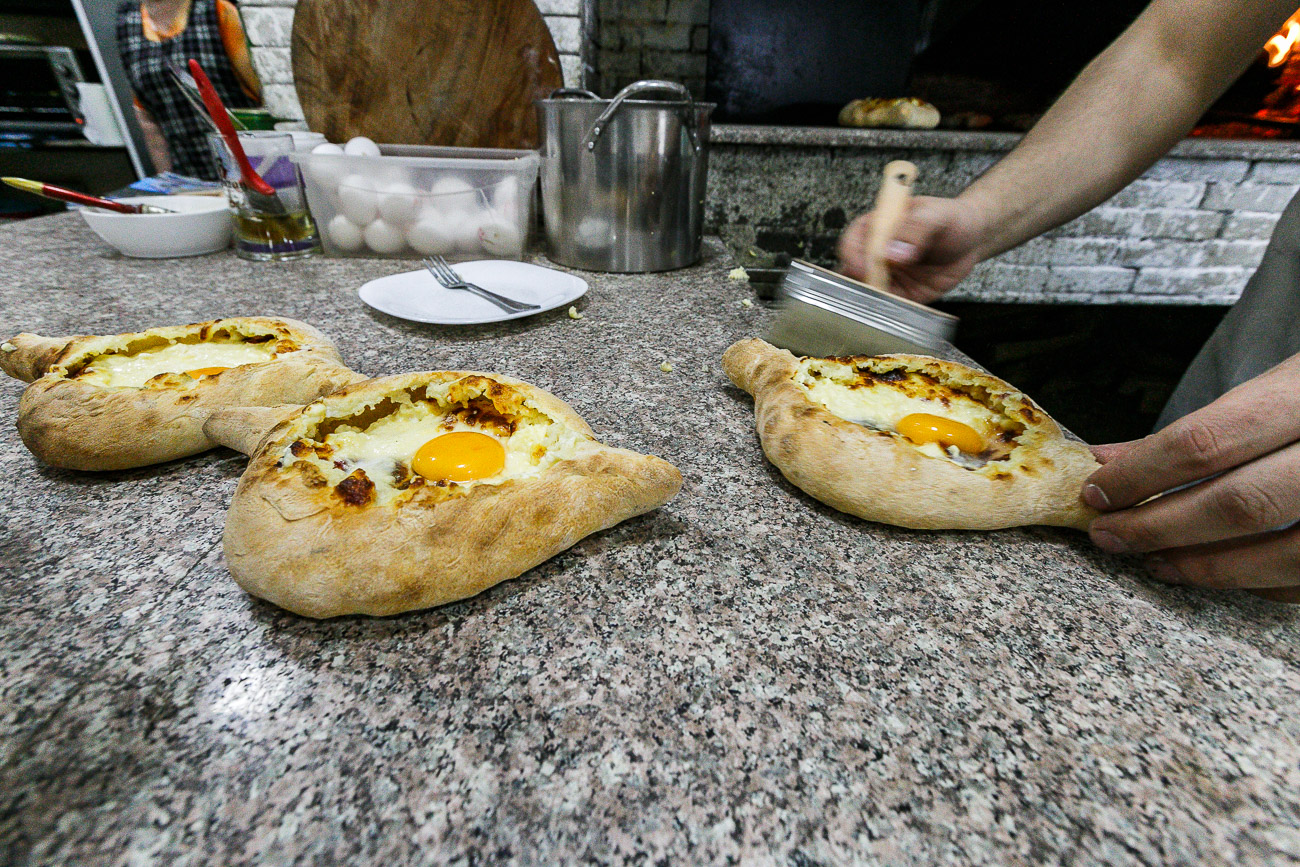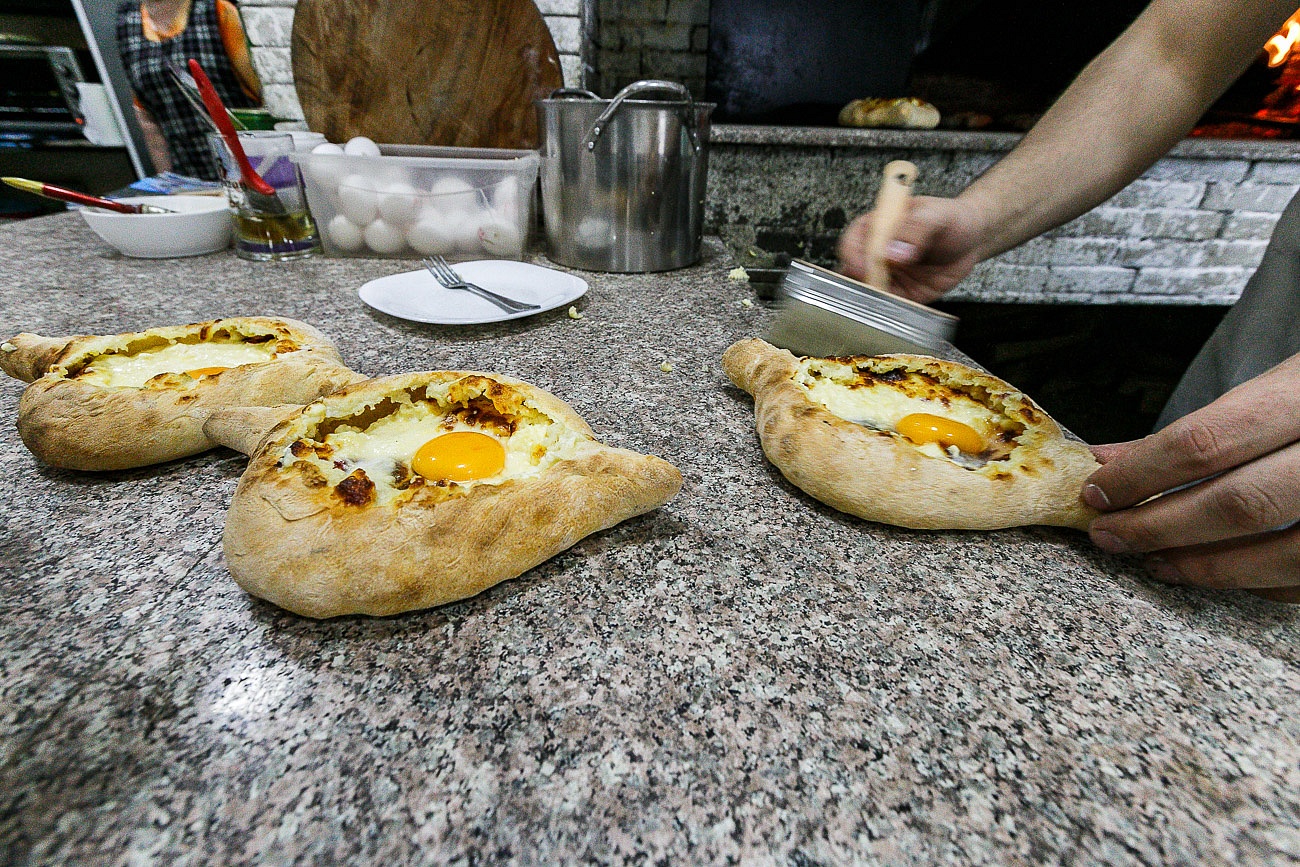 Khinkali – Soup Dumplings
Sourced to the Caucasus mountain regions in the north, the Asian influence is clear. These familiar parcels of steamed dough have their own personality in Georgia, and lucky for everyone who is a fan of fried food, a second life as a crispy dumpling.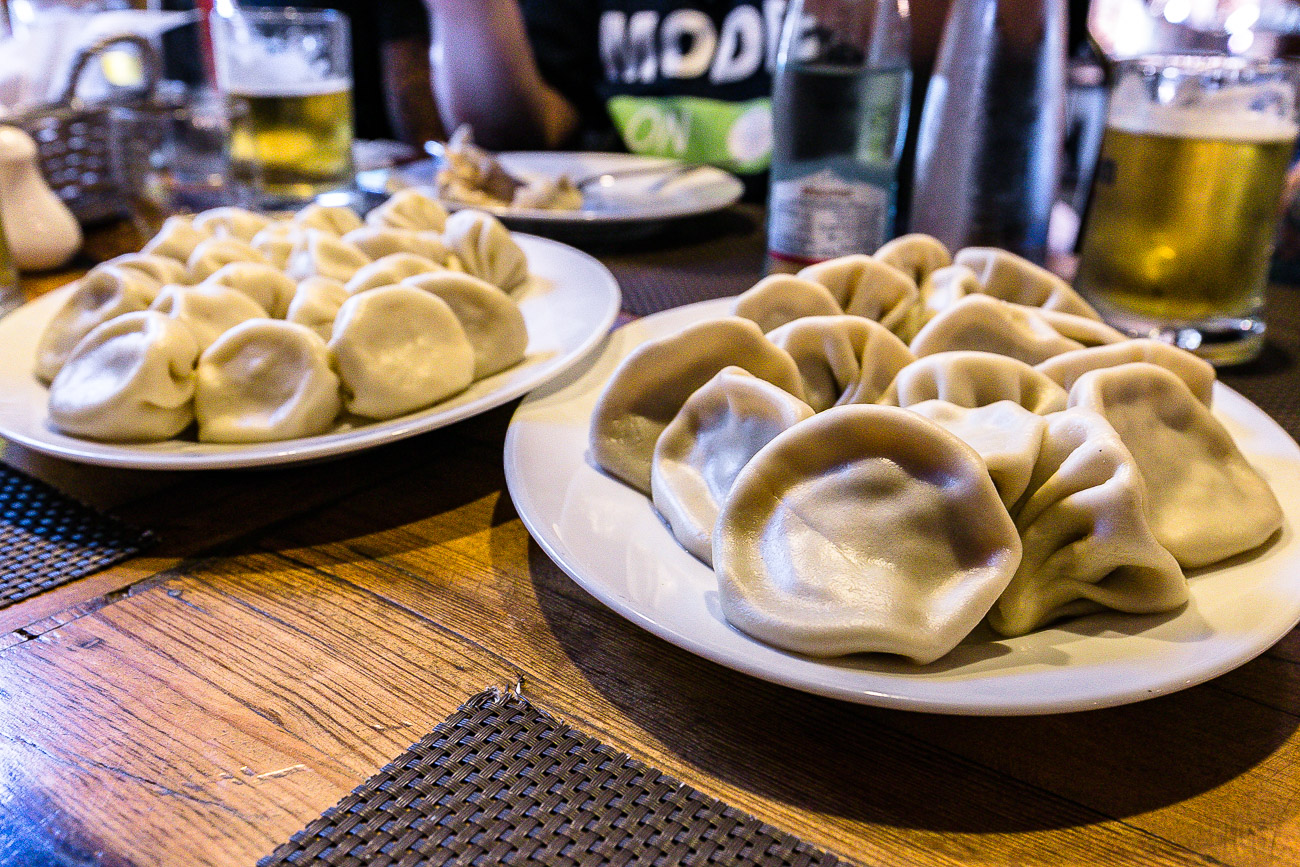 With no less than 19 pleats, these fat, gorgeous bundles are filled with herbed, chopped mushrooms and a sauce that becomes soupy when boiled. You pick them up by the top knob, bite carefully to get the juice out first and then devour it. Meat is actually the most common filling, but vegetarians again luck out since these are often available in the aforementioned mushroom (my fav), mashed potato or cheese.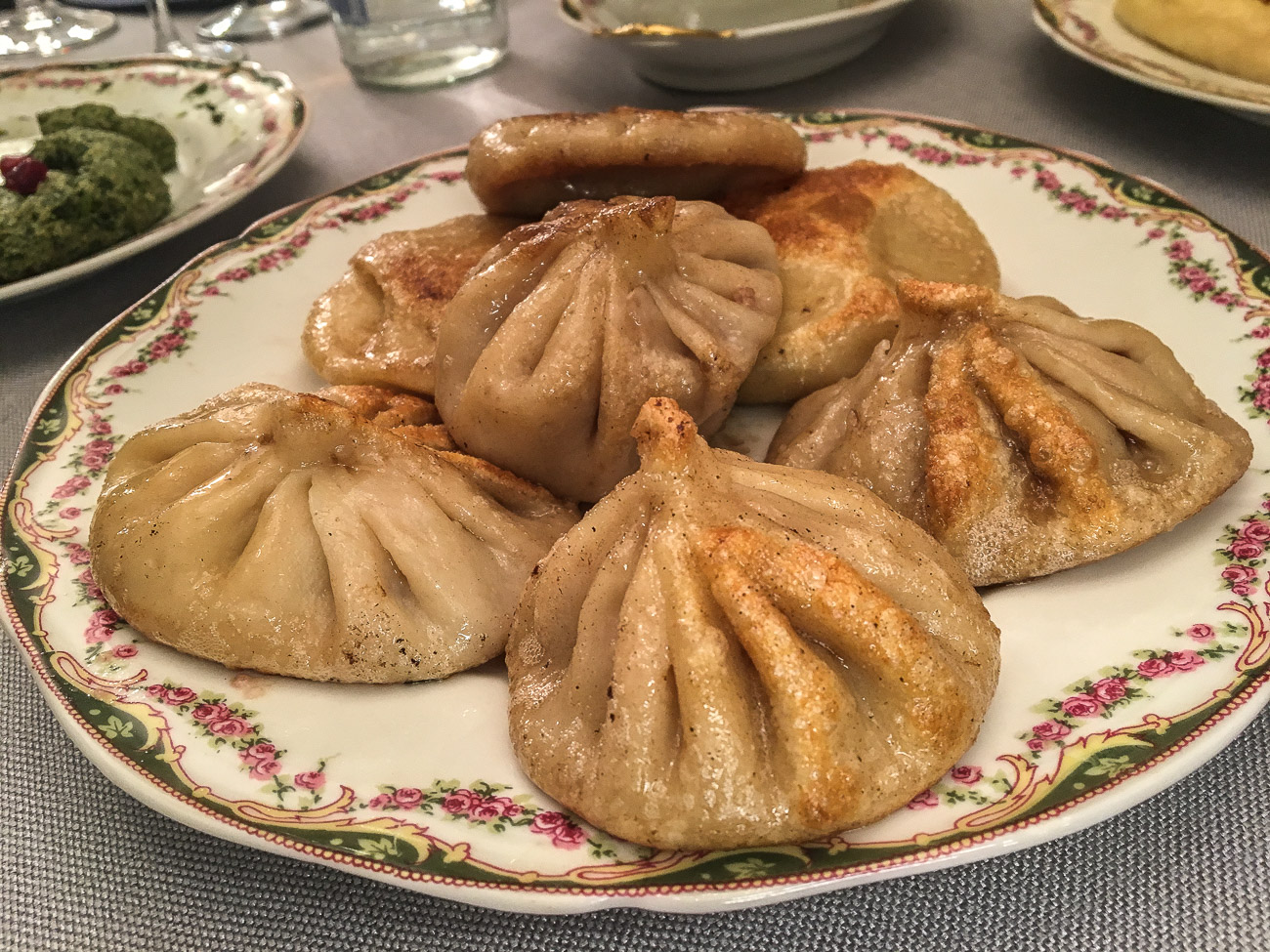 The best part? As the night carries on (as it often does during a Georgian dinner) and the piles of dumplings get cold, they are carried back into the kitchen, fried up in a pan and brought back out for a second life as a hot little crunchy snack bundle.
Lobiani – Bean bread
Made with mashed and seasoned beans, this savory filling is either put into another airy bread gondola or baked inside what looks like two pizza crusts. This dish was new to me when I was in Tbilisi and quickly rose to be one of my favorites. I found myself often wishing it was on every menu when we stopped to eat.
You can also eat it with a variety of sauces like tkemali (a tart plum sauce) or ajika (a spicy sauce made with hot red peppers), or simply eat it with yellow peppers, making the flavors of the bean bread both zing and comfort simultaneously.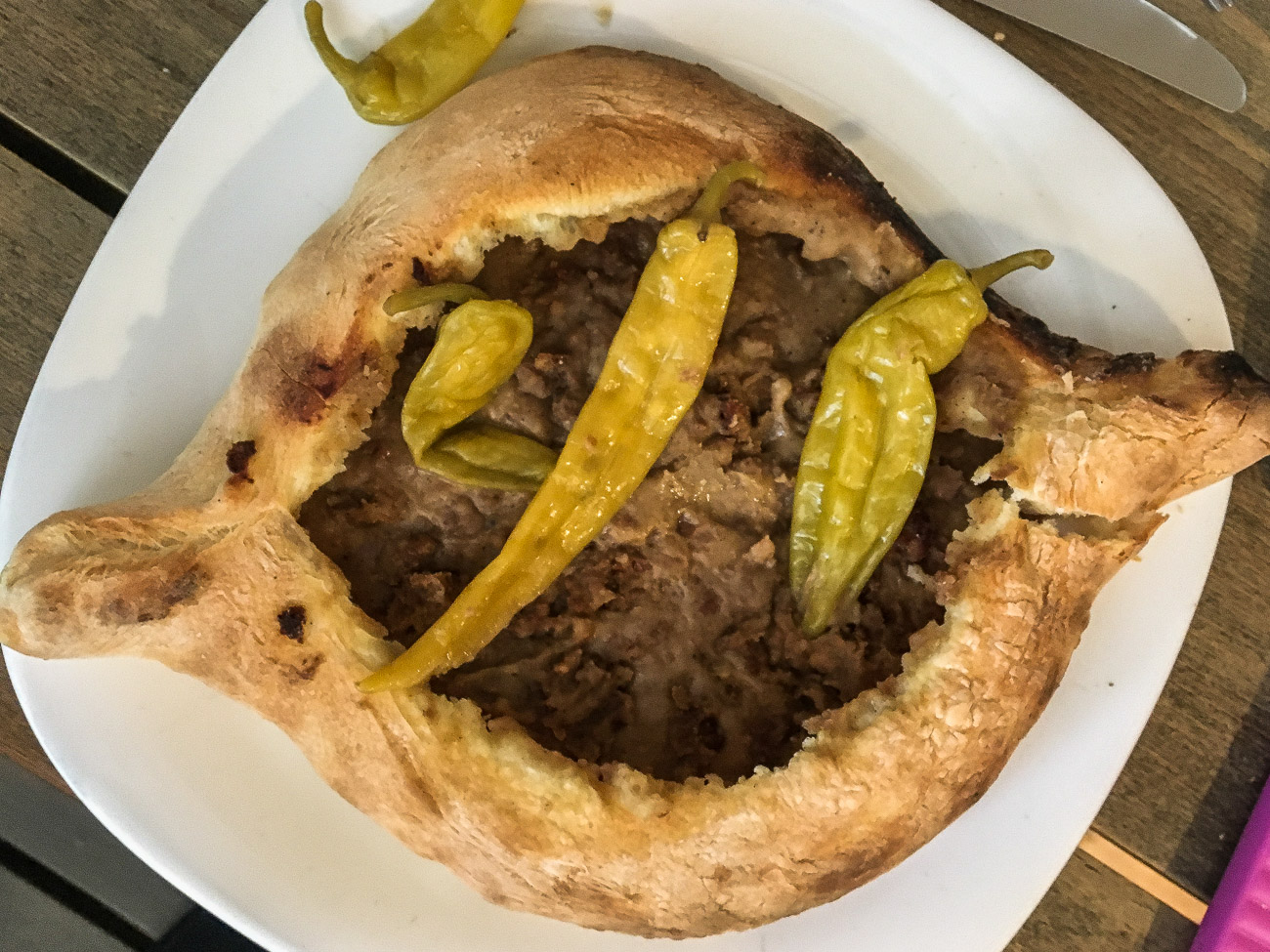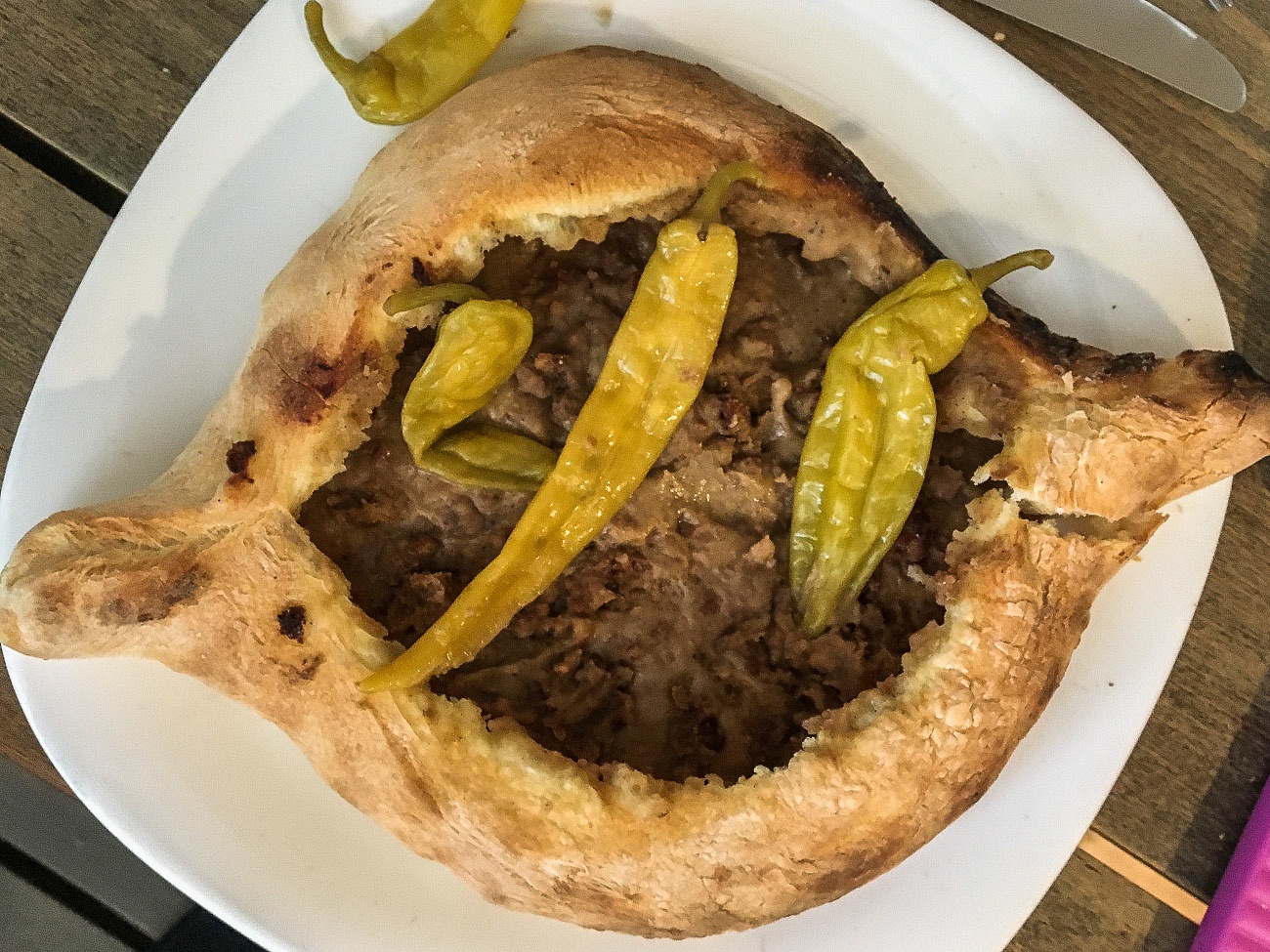 Pkhali – Vegetable Balls
Another delicious way to eat your vegetables, pkhali is served cold, often rolled into bright orange, green or magenta balls. Made from carrots, spinach or beets they are finely chopped and then mixed with ground walnuts and garlic and spiced with fenugreek and coriander. These fragrant spheres are typically topped with pomegranate seeds and look really ornate, which makes them pretty fun to smash.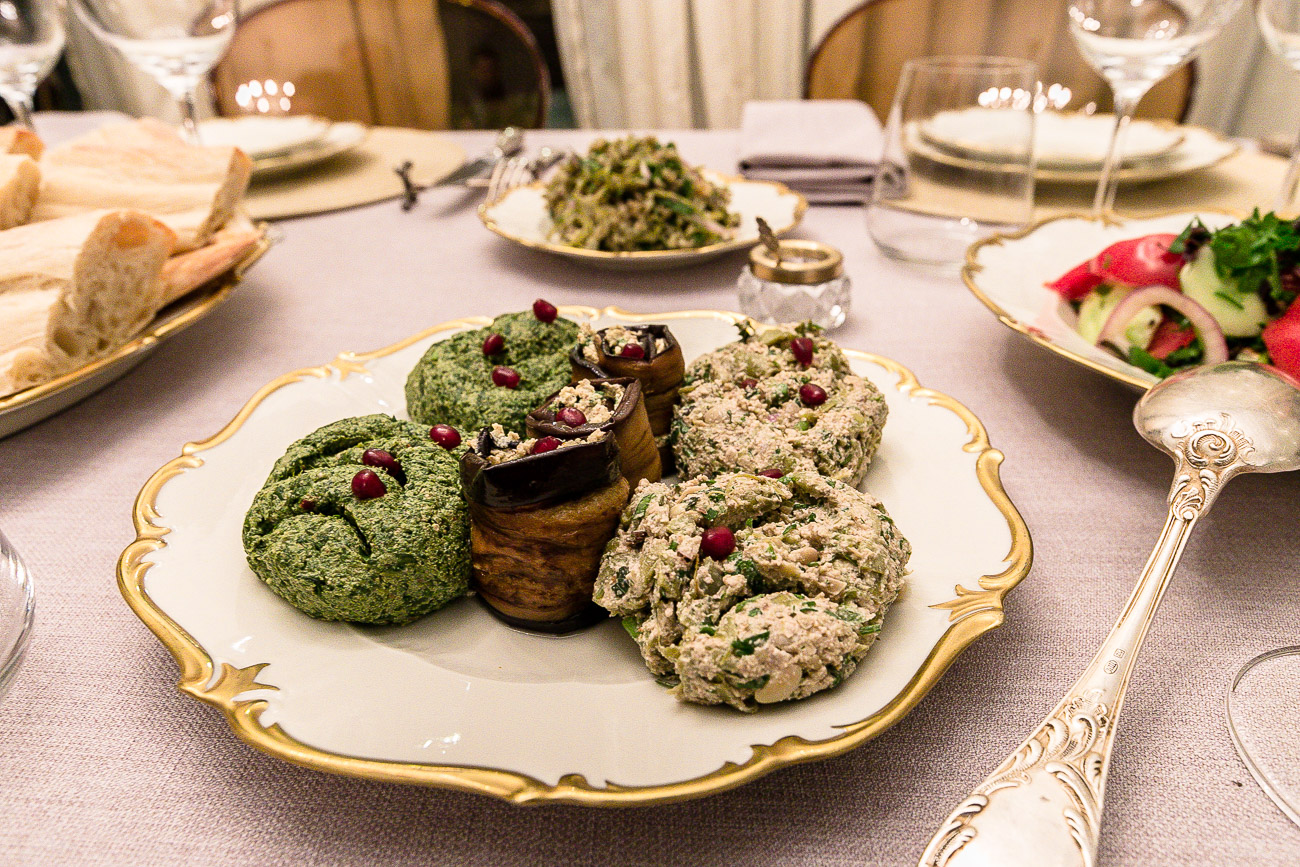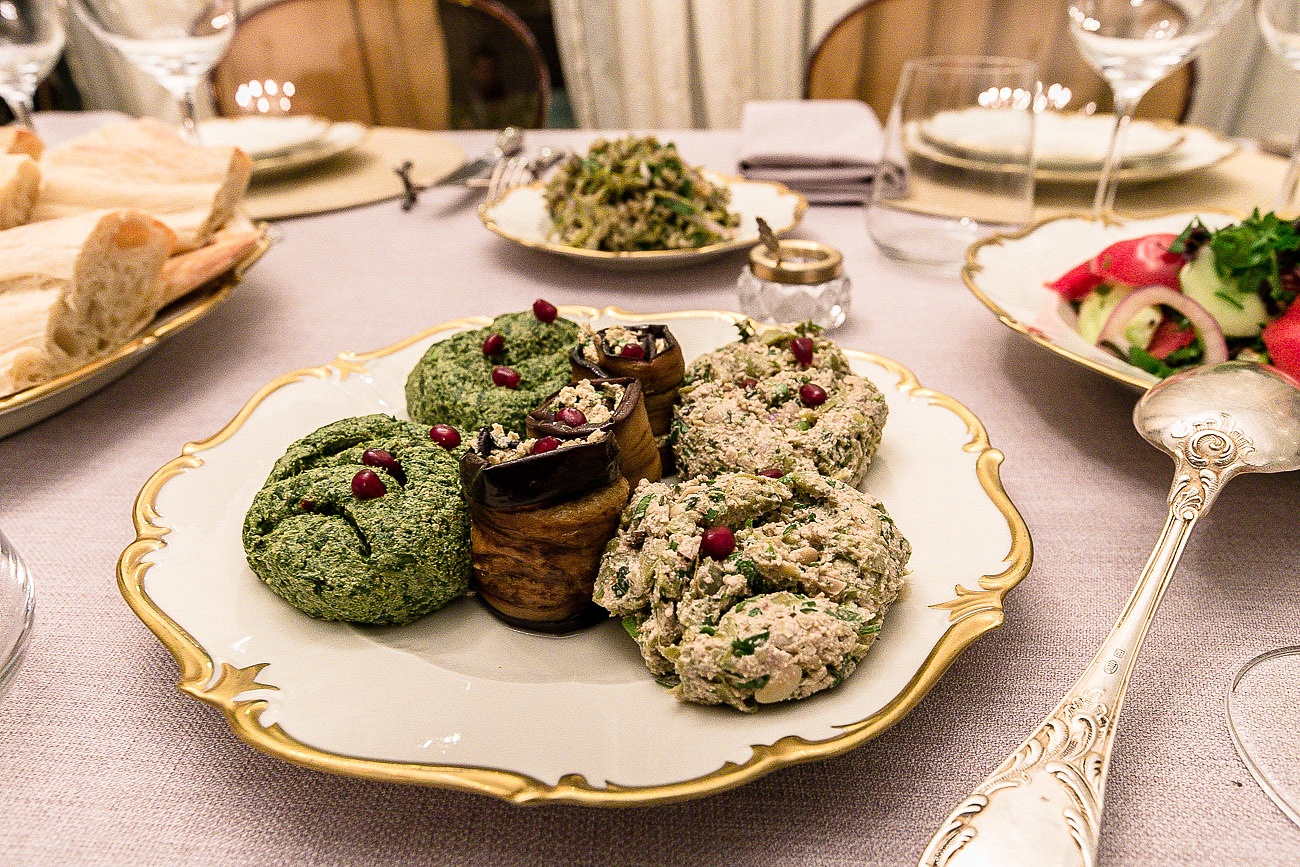 Georgian Salad (with tomatoes and walnuts)
If you have a walnut allergy, Georgia might not be your country. Sorry to say that, but it is in just about everything. The typical salad resembles the Greek version with tomatoes and cucumbers but it's topped with ground walnuts, which makes it a little sweeter.
Dressings of walnut or sunflower oil often slide around the vegetables making them glisten. My favorite was at an incredibly delicious restaurant in Old Town Tbilisi because LOOK at the amount of ground walnuts on top. Wowza.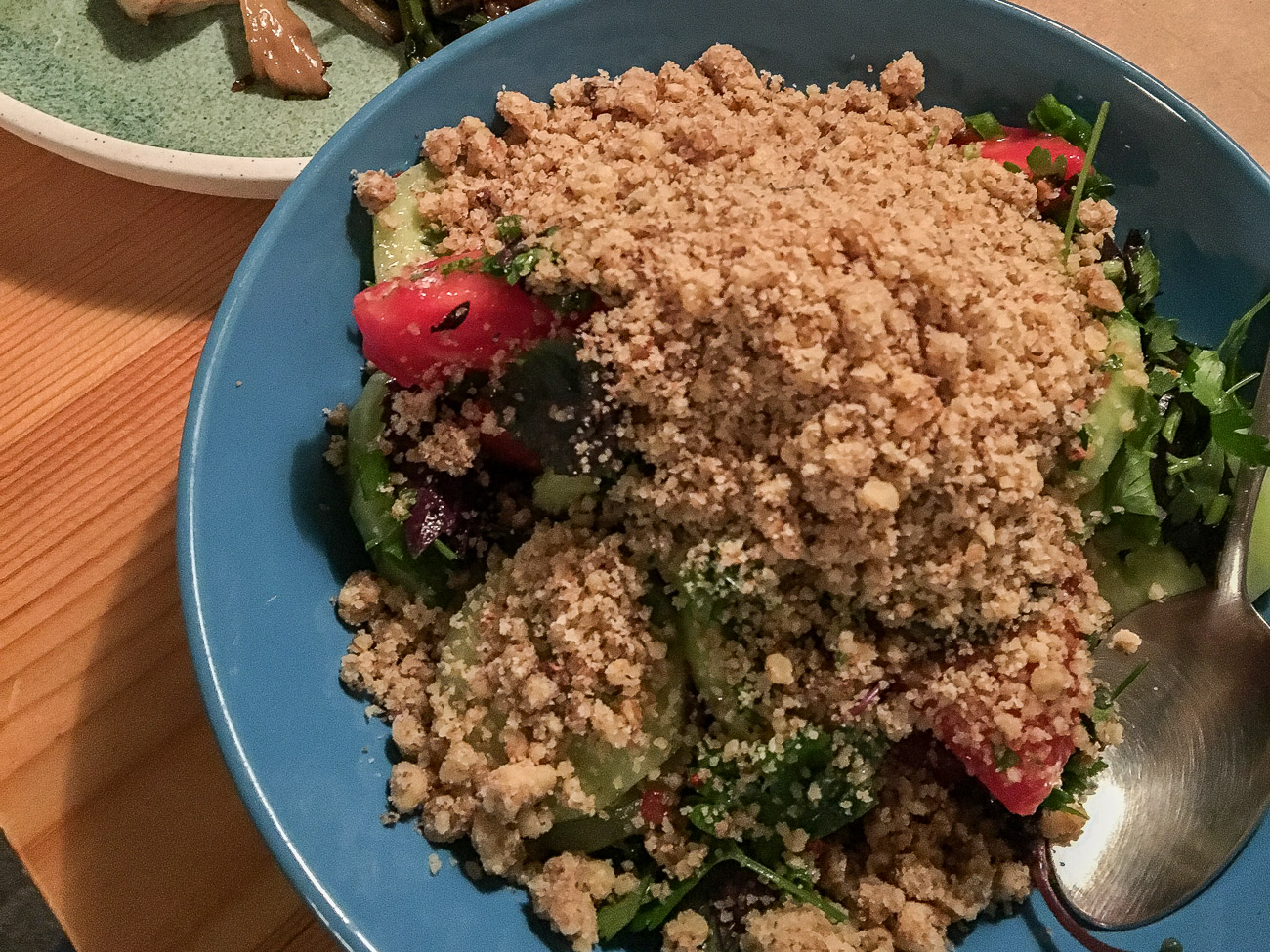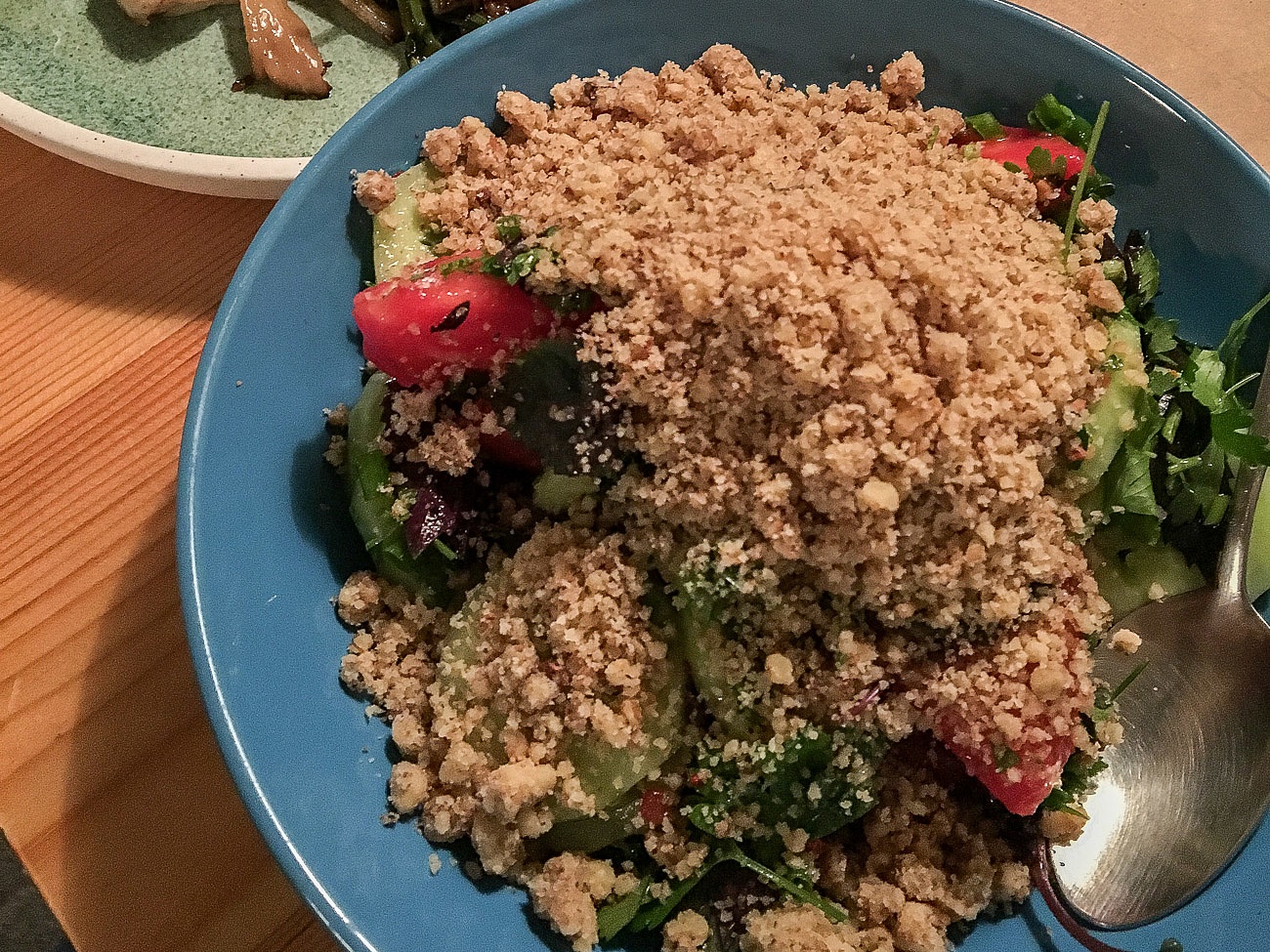 Tarkhunis Ghvezeli – Tarragon Pie
I've loved tarragon since I first tasted it gracing a béarnaise sauce when I was fifteen. It's a pungent herb and often used sparingly. Nowhere have I seen it used in such MASS quantities, as if it were a mild lettuce.
The Georgians take loving tarragon to the next level (they even make a bright green soda from it). This peppery herb is the main attraction of this stuffed-bread dish and, seriously, it demands your taste buds' attention.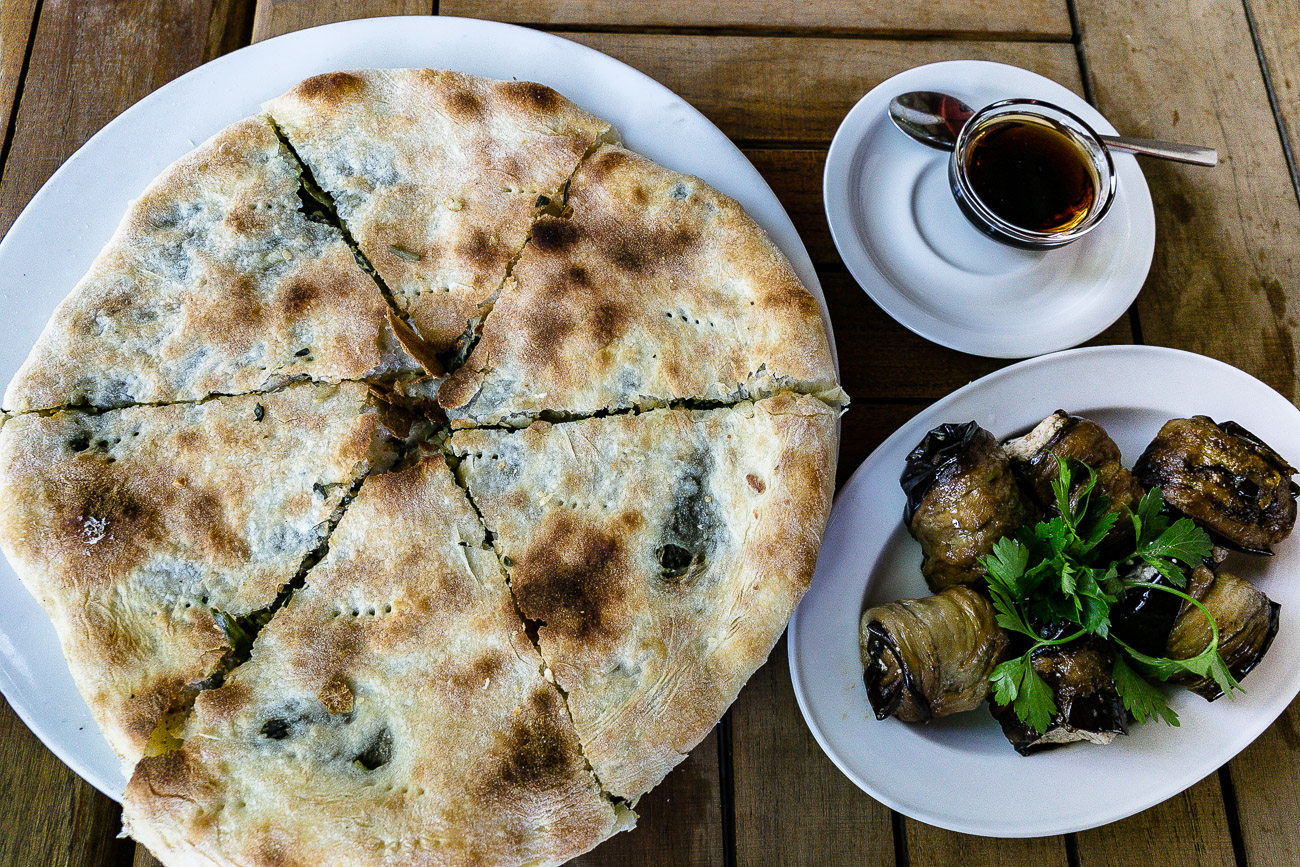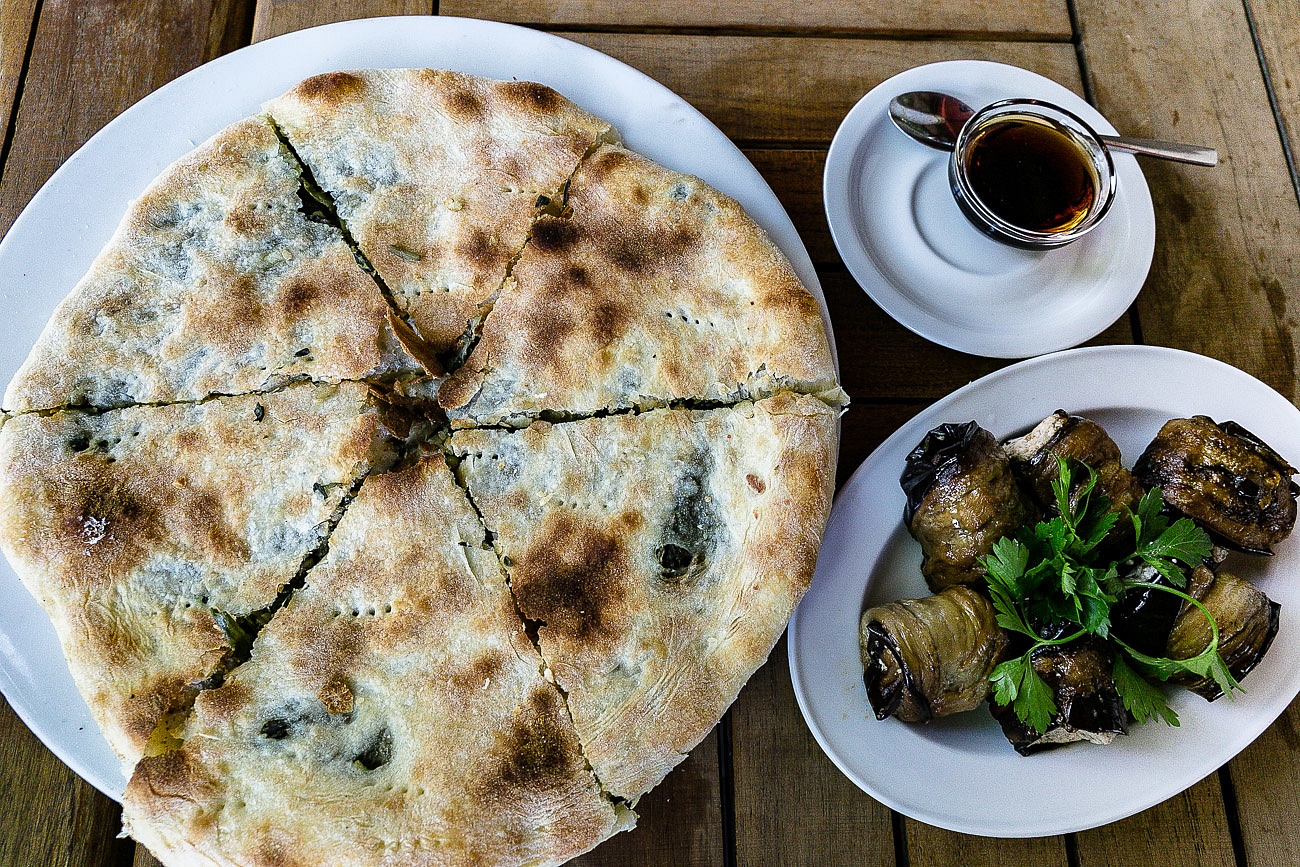 Fresh Raw Vegetables and Herbs
Much like I've seen in restaurants in the Middle East and parts of Europe, every meal is accompanied by a big bowl of green and red raw veggies. Topped with herb branches the size of pom-poms, I used to think it was a table decoration. Then I realized you're supposed to just grab a veg, cut some for yourself and share. Usually fresh from the garden, it's a pretty intense burst of earthy flavors.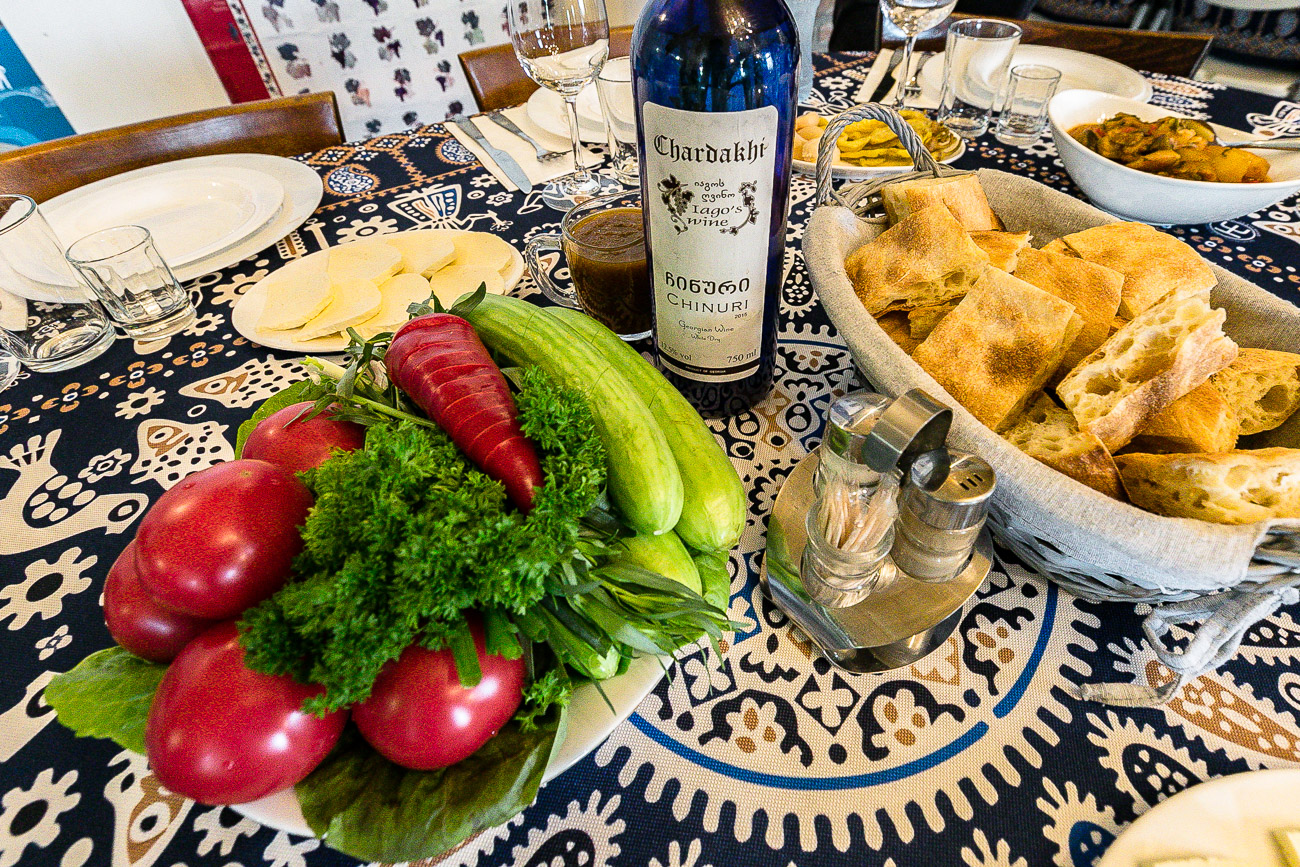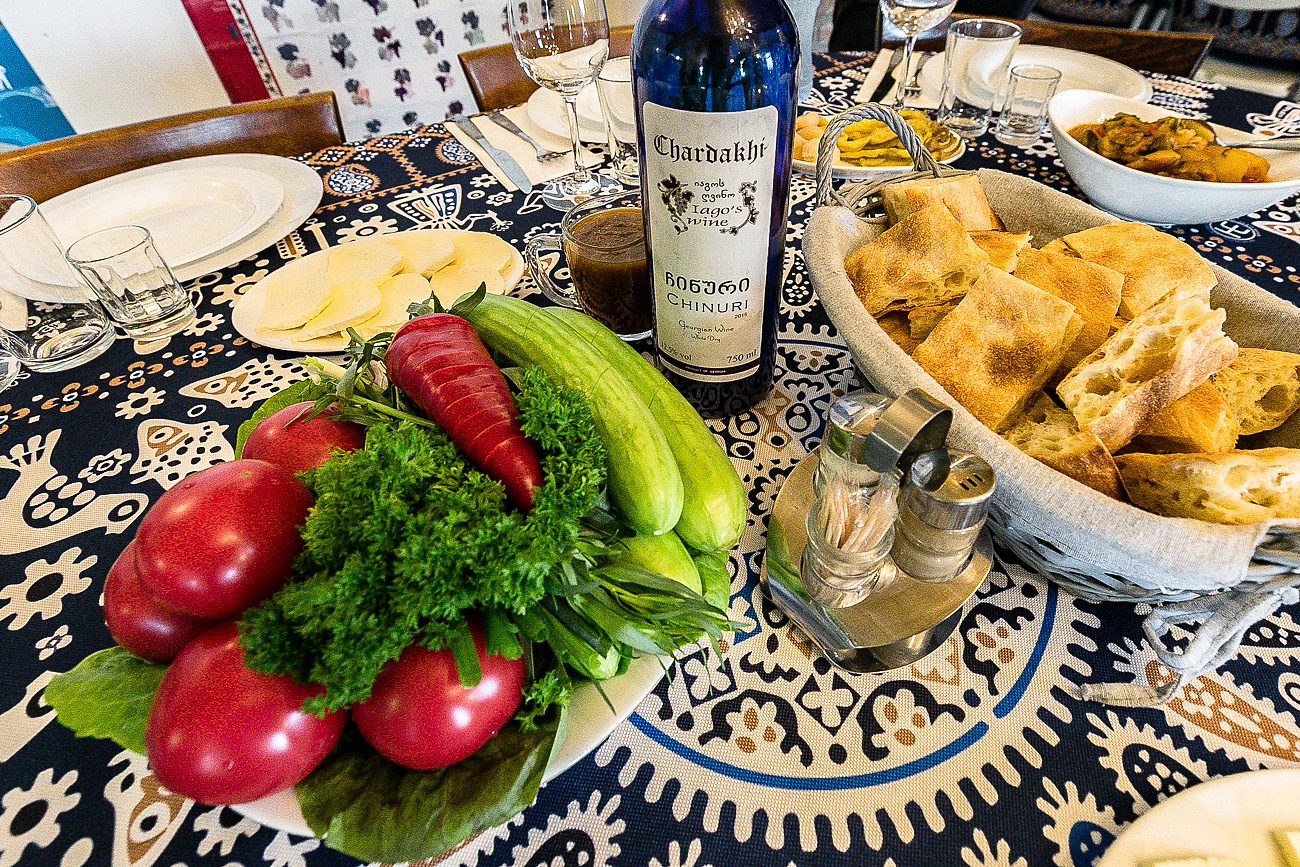 Puri – Bread
Made by slapping dough up against the side of a circular clay oven this airy bread is served at nearly every meal. It's crunch on the outside and light and moist on the inside.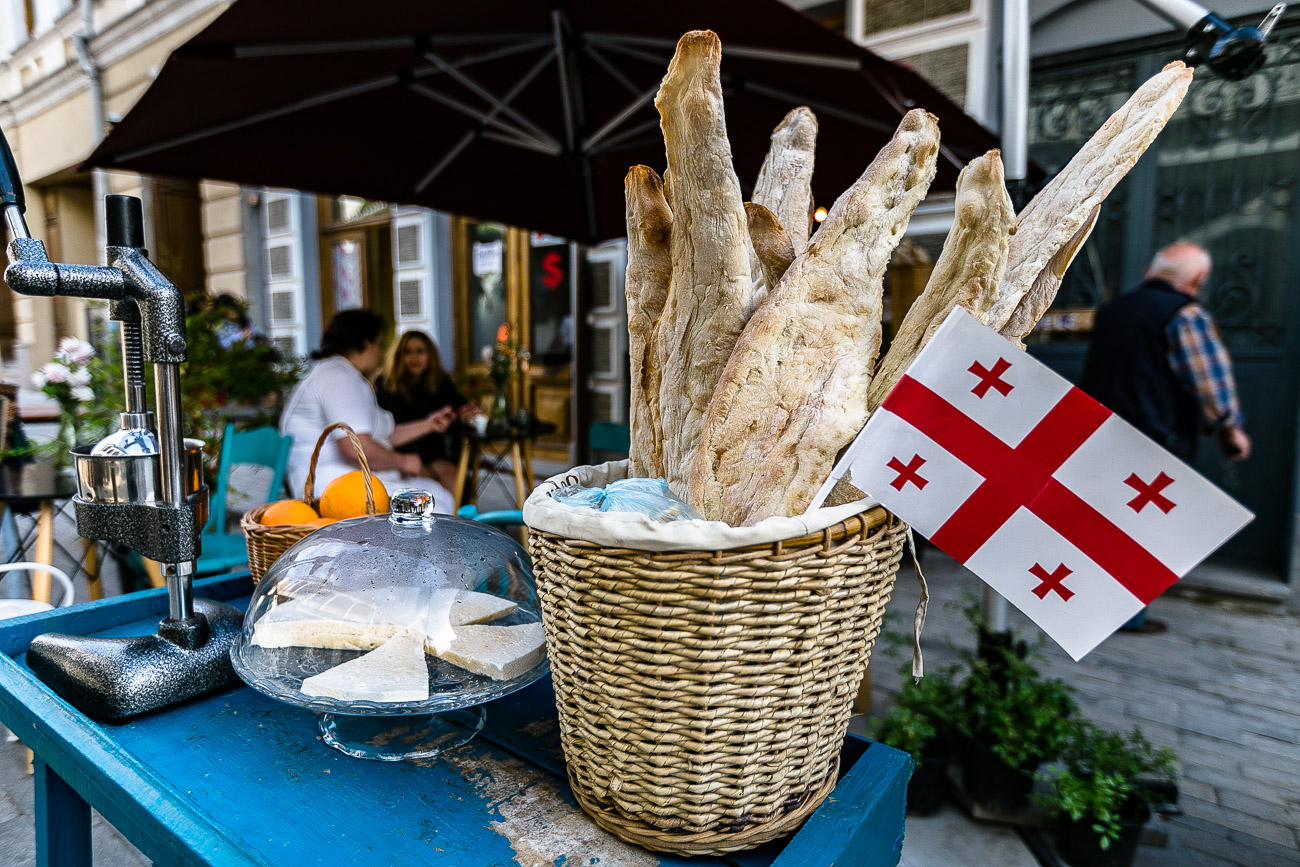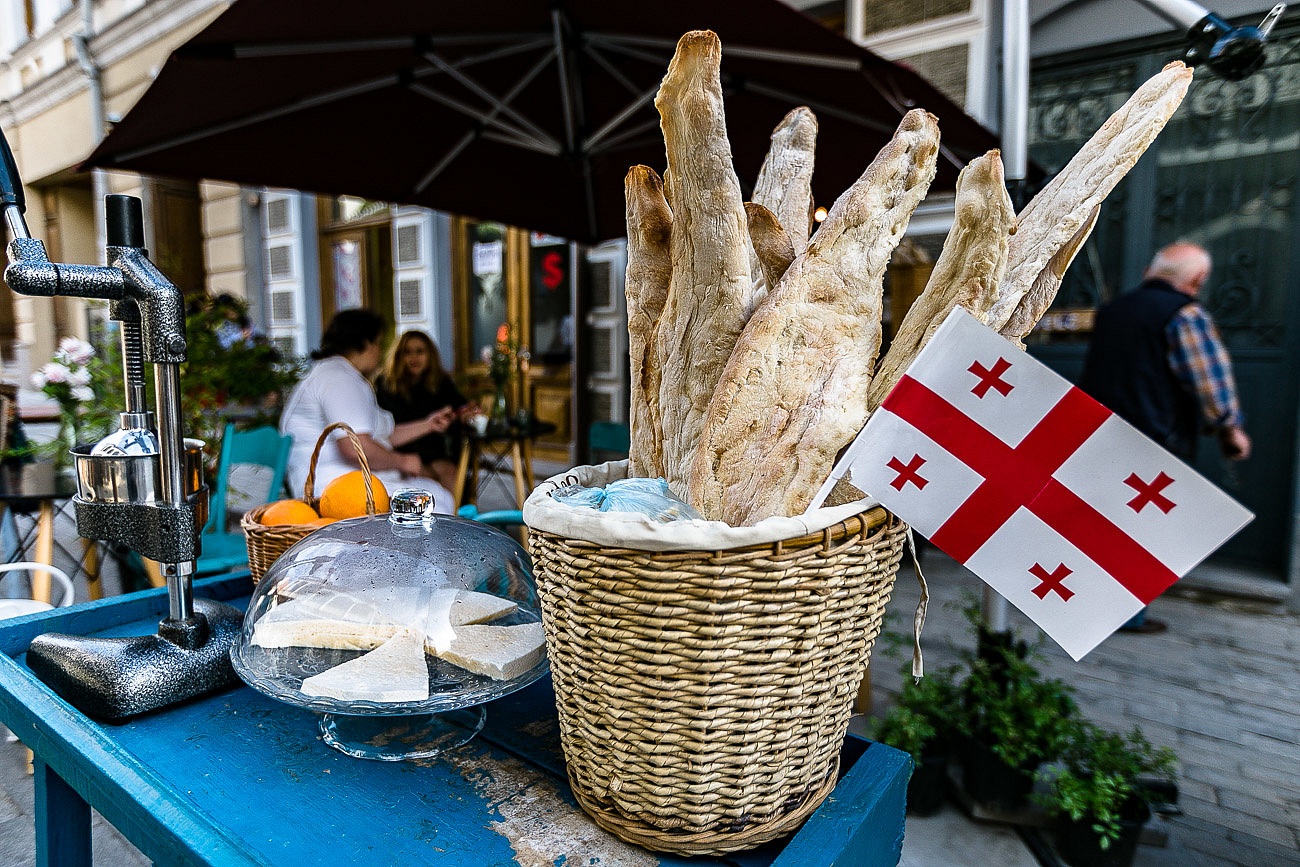 Cheese
Thick slices of cheese are also typically served at every meal. Mainly from sheep and cows' milk, there are many varieties and styles, though most of the ones that I tried were sharp and even somewhat sour.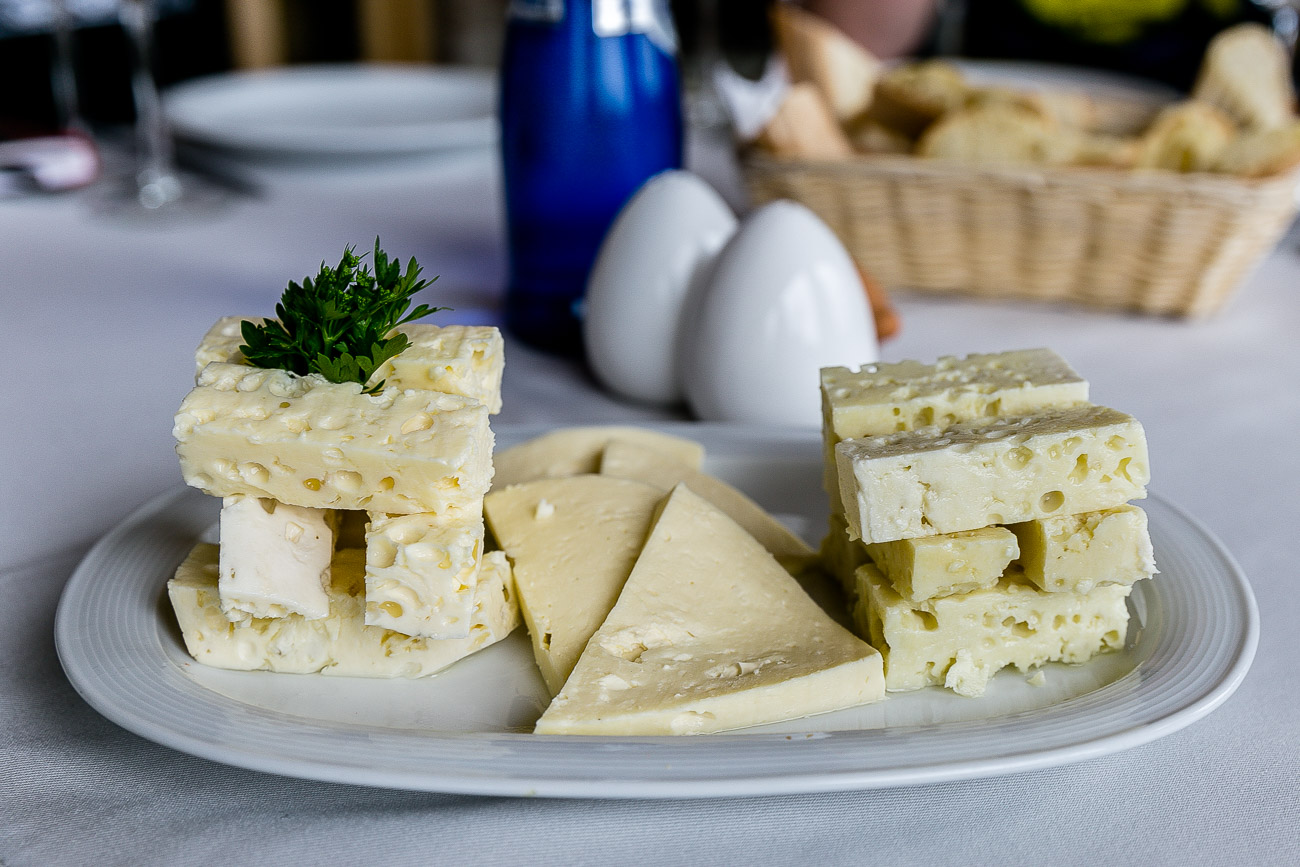 Do you have a favorite Georgian dish? Share it in the comments.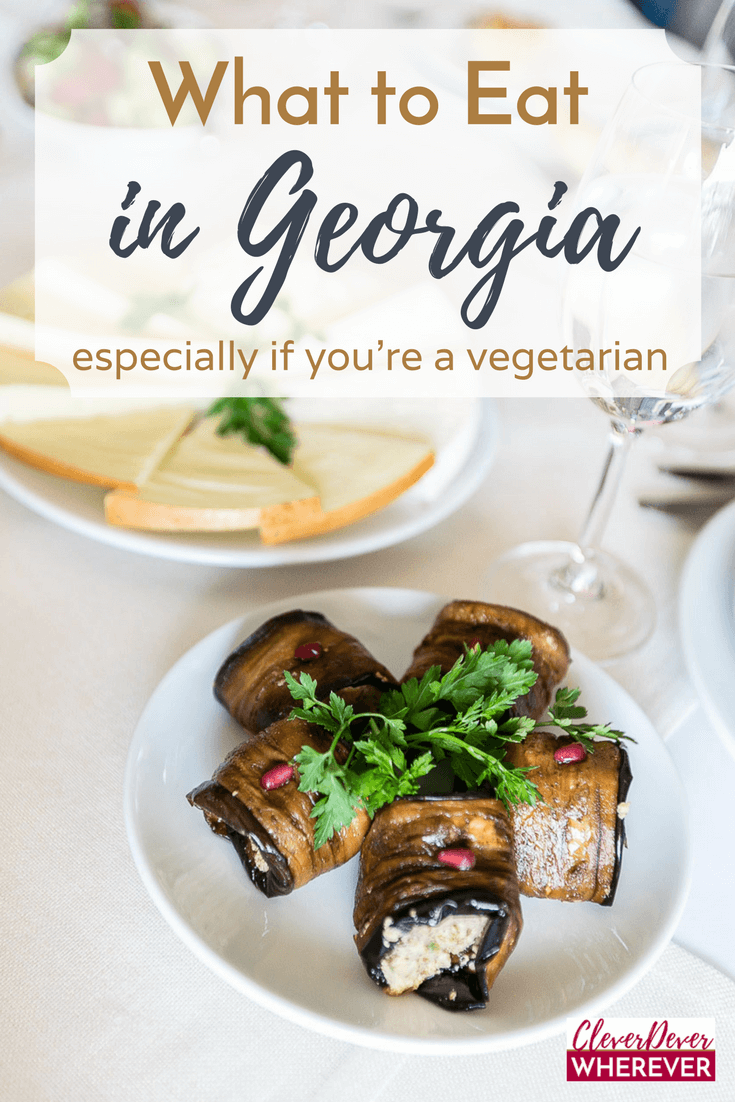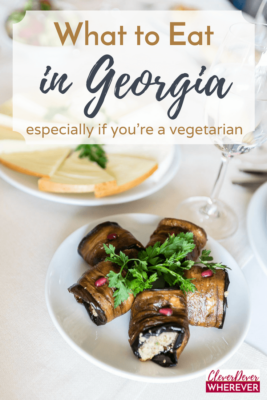 Read More About
Other Global Cuisine