Updated January 2020
I returned to Slovenia in September and October of 2019 to scout for my newest tour in 2020. I traveled Slovenia extensively and have even more opinions and recommendations. Read on for my Guide to Slovenia and all the latest lodging suggestions. 
TL;DR Lodging
Ljubljana (see each regional section for more detailed descriptions of lodging)
ALL AROUND FAV FOR LOCATION AND PRICE: Meščanka Apartments and Rooms
BEST UPSCALE AND BREAKFAST: Hotel Cubo
FAVORITE BOUTIQUE HOTEL IN THE CITY CENTER: Hotel Gallerie
ANOTHER GREAT OPTION: Hotel Mrak
Lake Bled
FAVORITE FOR CHARM AND LOCATION: Old Bled House
ANOTHER GREAT OPTION: Penzion Kaps
GUESTHOUSE WITH A SPA OPTION: Alp Pension
Vipava Valley/Postojna Cave 
BEST OPTION FOR CHECKING OUT THE CAVE: Postojna Hotel Jama
FAVORITE FOR STAYING OFF THE BEATEN PATH: Majerija
Details! Now on to My Guide to Slovenia 
Why You Should Go: Gorgeously green and filled with medieval castles, this spotless and uncrowded country is filled with relaxed folks who love to joke around and have a love of fresh food, orange wine and outdoor activities.
Bordering some European heavy-hitters like Italy, Austria, Switzerland, and Croatia, Slovenia humbly sits in the south, modestly waiting for one to take notice. With soaring mountains and aqua waters, Slovenia often seems as if it were backdrop that inspired many a Brothers Grimm story.
Between the city of Ljubljana and the surrounding rolling hills and valleys, there is no shortage of things to see and do. And luckily for anyone visiting, the country has an abundance of glorious agriculture as well as food influenced by both Eastern Europe and Italian cuisine.
Another exciting treasure of this area is the orange wine (the result of leaving the skin on white wine grapes for a short length of time during the fermentation process), the likes of which you will find in only a few countries in the world. My advice is to try it everywhere you go. You'll miss it once you no longer have access to it. I know I do.
If you have the luxury to visit Slovenia for a couple weeks, you'll get the chance to really dig into the culture and adventures – Slovenes have a huge love for sports and the outdoors. But if you only have a few days, the below guide to Slovenia is my list for must-sees in this small country.
See my Slovenian Guide at a Glance for the nitty-gritty on currency, getting around, language and other answers to the FAQs.
First-Timers Guide to Slovenia
How I spent my time: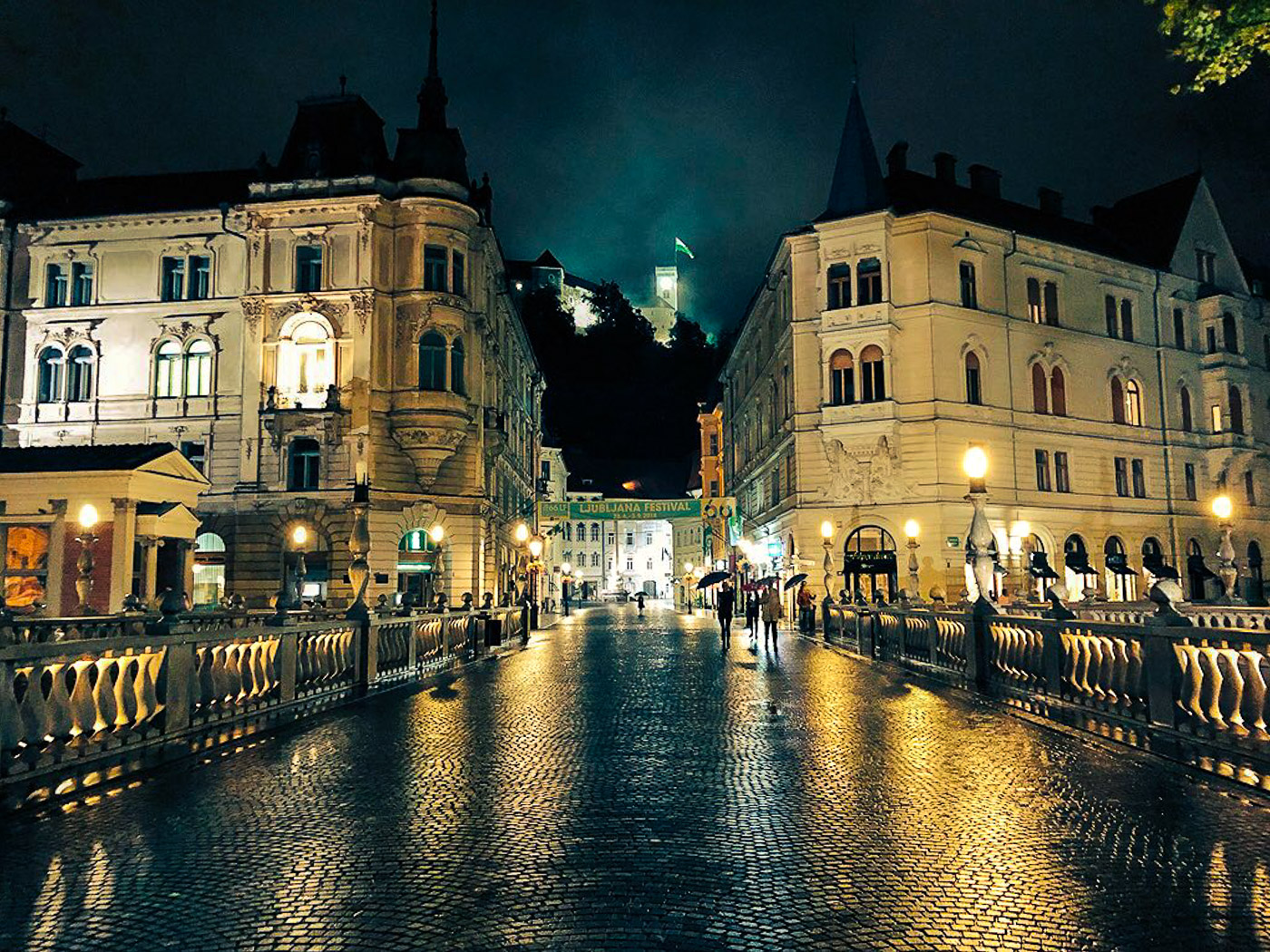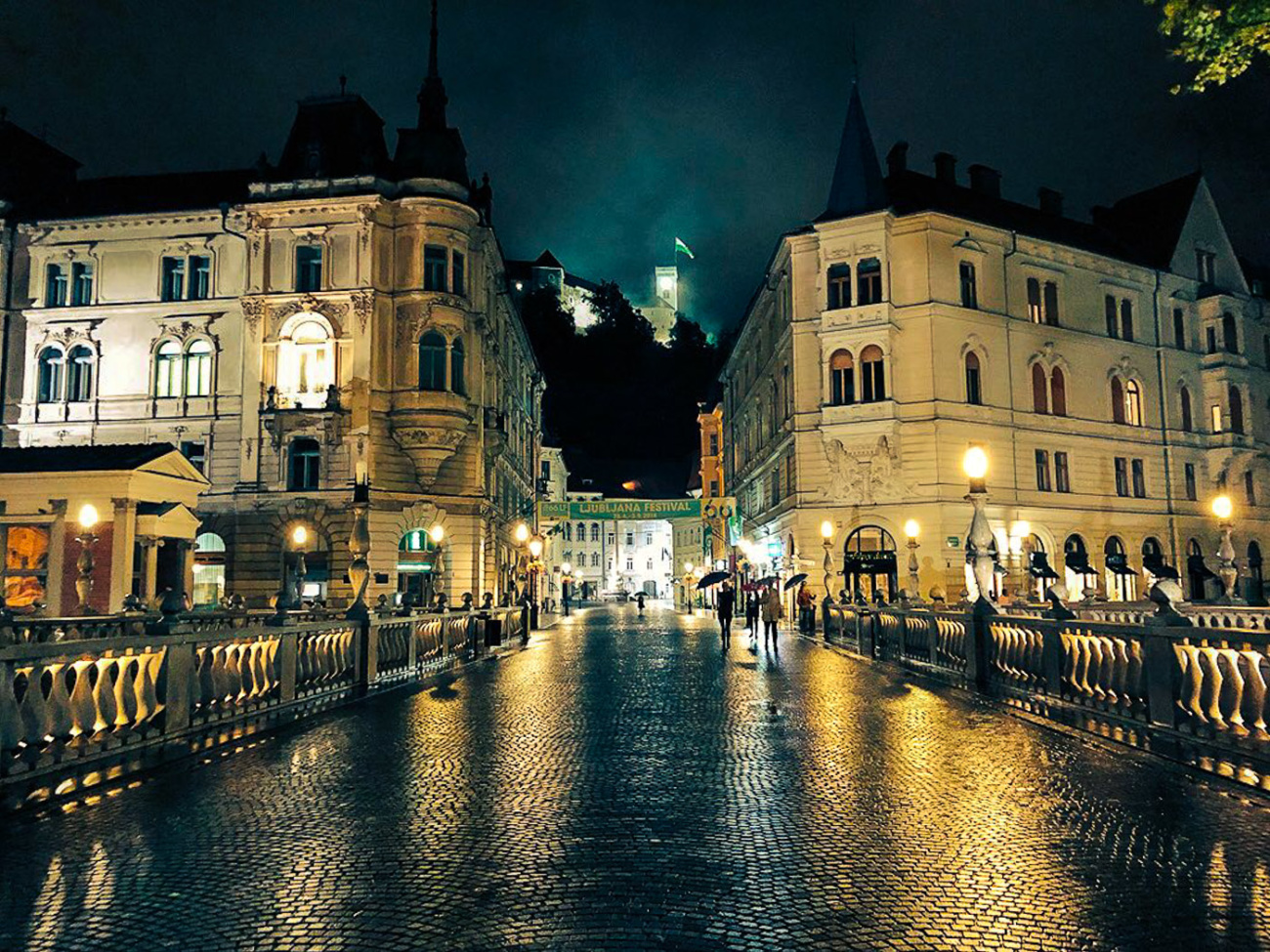 Capital City of Ljubljana
Guide to Slovenia: Where to Stay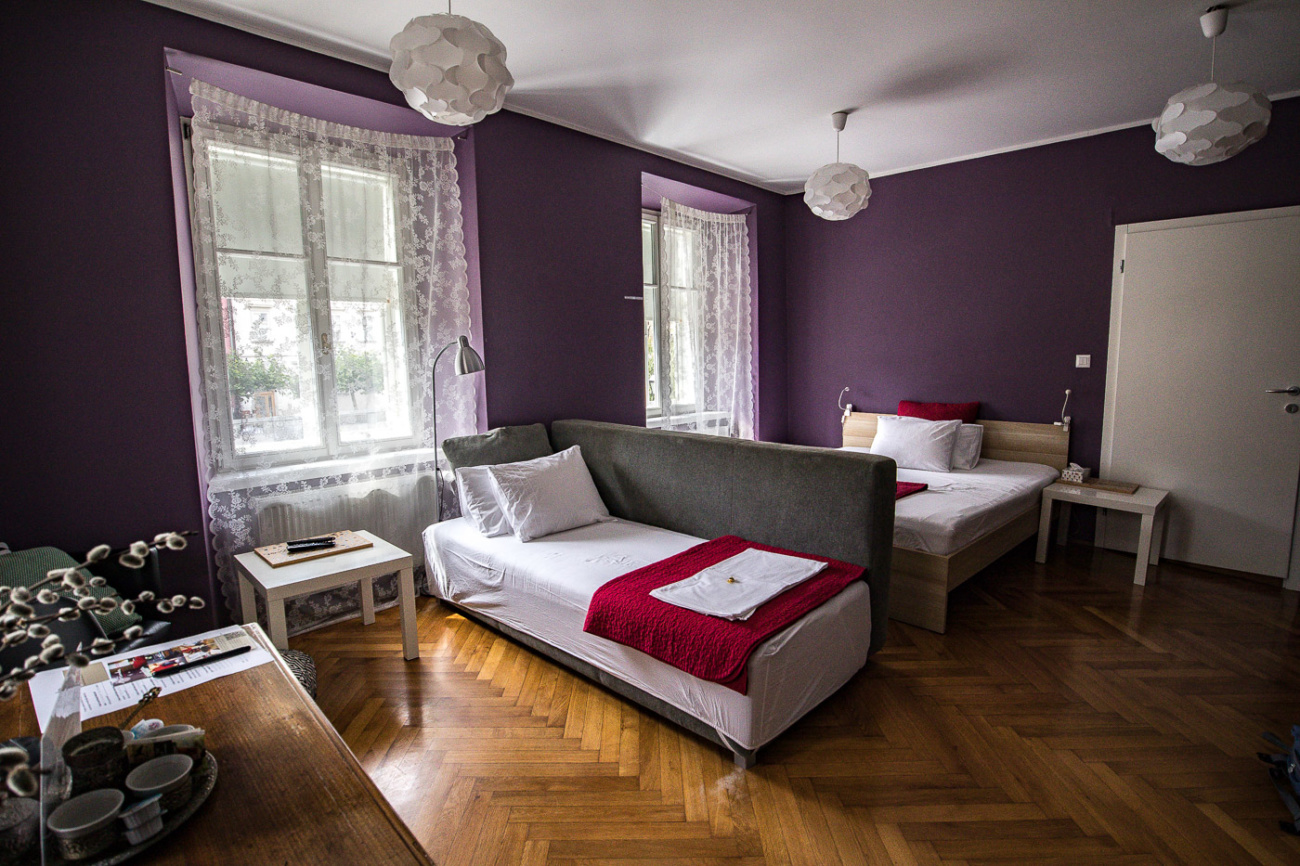 (updated January 2020): Because I returned to Slovenia in September and October to scout for my newest tour in 2020, I made an effort to stay in and/or visit every hotel in the city center. Here are my top picks:
ALL AROUND FAV FOR LOCATION AND PRICE: Meščanka Apartments and Rooms – Ljubljana's old town is almost entirely pedestrian zoned. Directly on the river and near the top sites of the city, Meščanka Apartments and Rooms is an affordable option in an excellent location. With room for at least three guests, accommodations include a mini kitchen. The staff is very friendly and full of helpful information for making your visit to the city a fun one. Breakfast is not included, but air conditioning – sometimes a rarity in Europe – is!
BEST UPSCALE AND BREAKFAST: Hotel Cubo – On the quieter side of the Ljublica river but in a great location just minutes away from the city center, Hotel Cubo is my favorite splashout hotel. It has the best breakfast, extremely helpful and friendly staff, and large, comfortable rooms.
FAVORITE BOUTIQUE HOTEL IN THE CITY CENTER: Hotel Gallerie – Adorable boutique on a quiet little offshoot right in the city center. Newly remodeled, this hotel is a great option if you are looking for boutique lodging in the middle of it all.
ANOTHER GREAT OPTION: Hotel Mrak – A clean, mid-level option with wonderful staff, nice breakfast and a quiet location about a 10-minute walk from the city center.
Guide to Slovenia: Where to Eat / Drink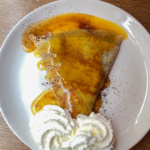 Stari trg 6

"Mexican" lunch at Romeo was not very Mexican, but it was tasty. They tried. It's more like Mexican cuisine ideas with local ingredients. I still enjoyed it. Don't miss the desert crepes here. I had an incredible one with Nutella and passion fruit sauce. OMG.
Stari trg 9

Across from Romeo's (get it?), is the popular Italian-Slovenian dinner spot, Julijas. Eat outside if you go, the cobblestoned setting is romantic and makes the food taste better. I had a Slovenian Merlot and gnocchi with truffles. Overall it was a nice experience, but the pasta did not send me over the moon.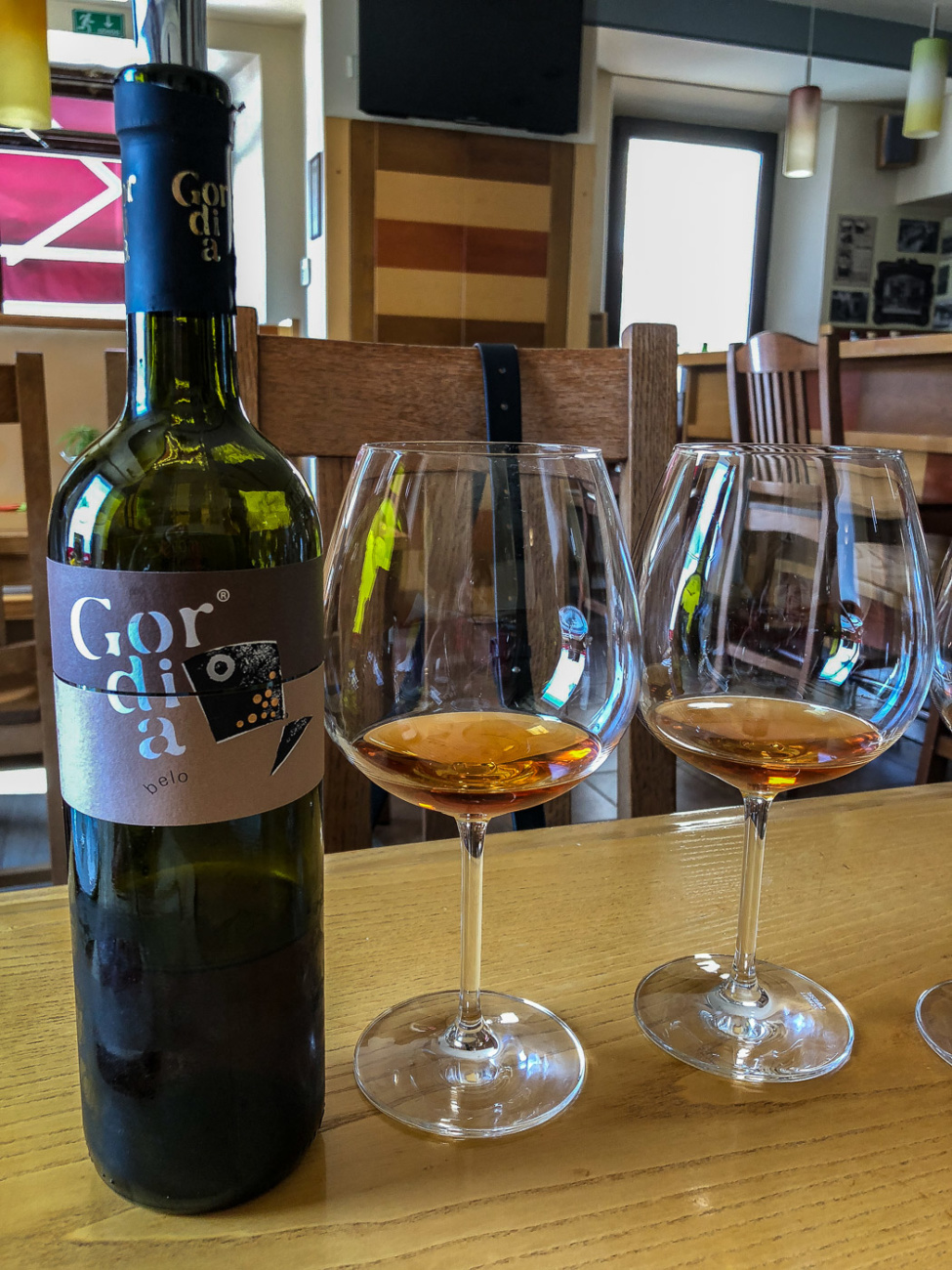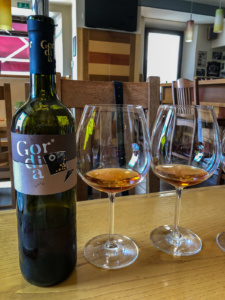 Ribji trg 6

A gastronomic foodie's dream, this was my favorite restaurant. This small-plate restaurant is inventive and affordable, with each small dish its own work of art. Beyond that, they have an orange wine by the glass menu that made my friend Simon (who's an actual orange wine expert – he just wrote a book on it) exclaim via text "Wow, that's an awesome list."
Tip: If you're looking for a recommendation, ask for Zan, the manager. He's friendly, knowledgeable and great fun. If he's not there try the 2015 Klabjan or the Škerk Ograde.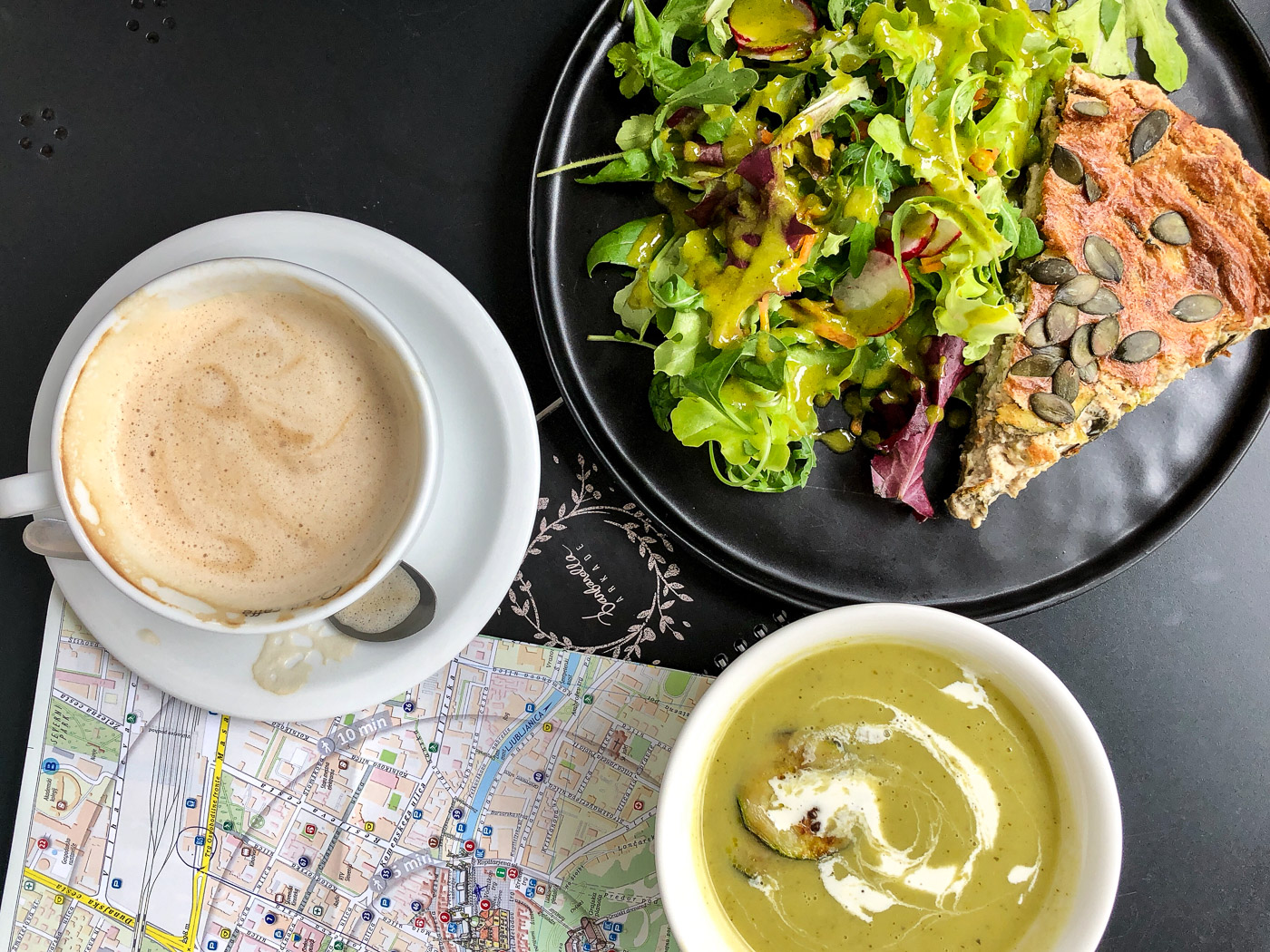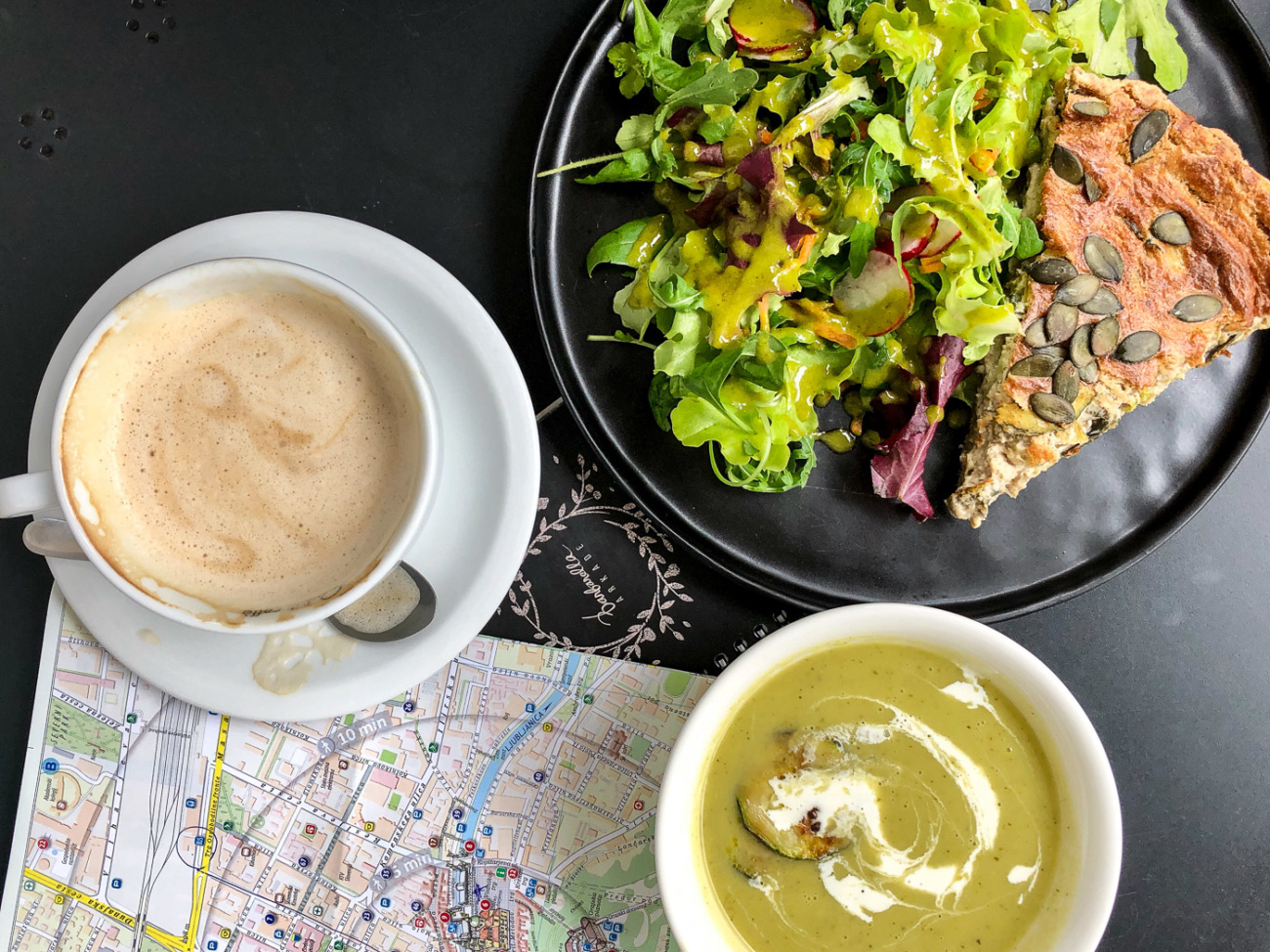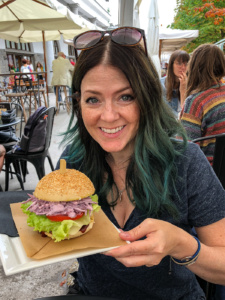 at Plečnik's arcades

Vegans/Vegetarians – you are gonna looooooooove this place. I ate here twice. Bright and airy inside, you can order there or take a seat on the plaza and a server will be right with you. The coffee here is wonderful (they also have plant-based milk options such as almond and oat milk). The soups are super, the quiches are killer and man oh man that vegan bbq cheeseburger… One of the best I've had abroad. Yummmmmm.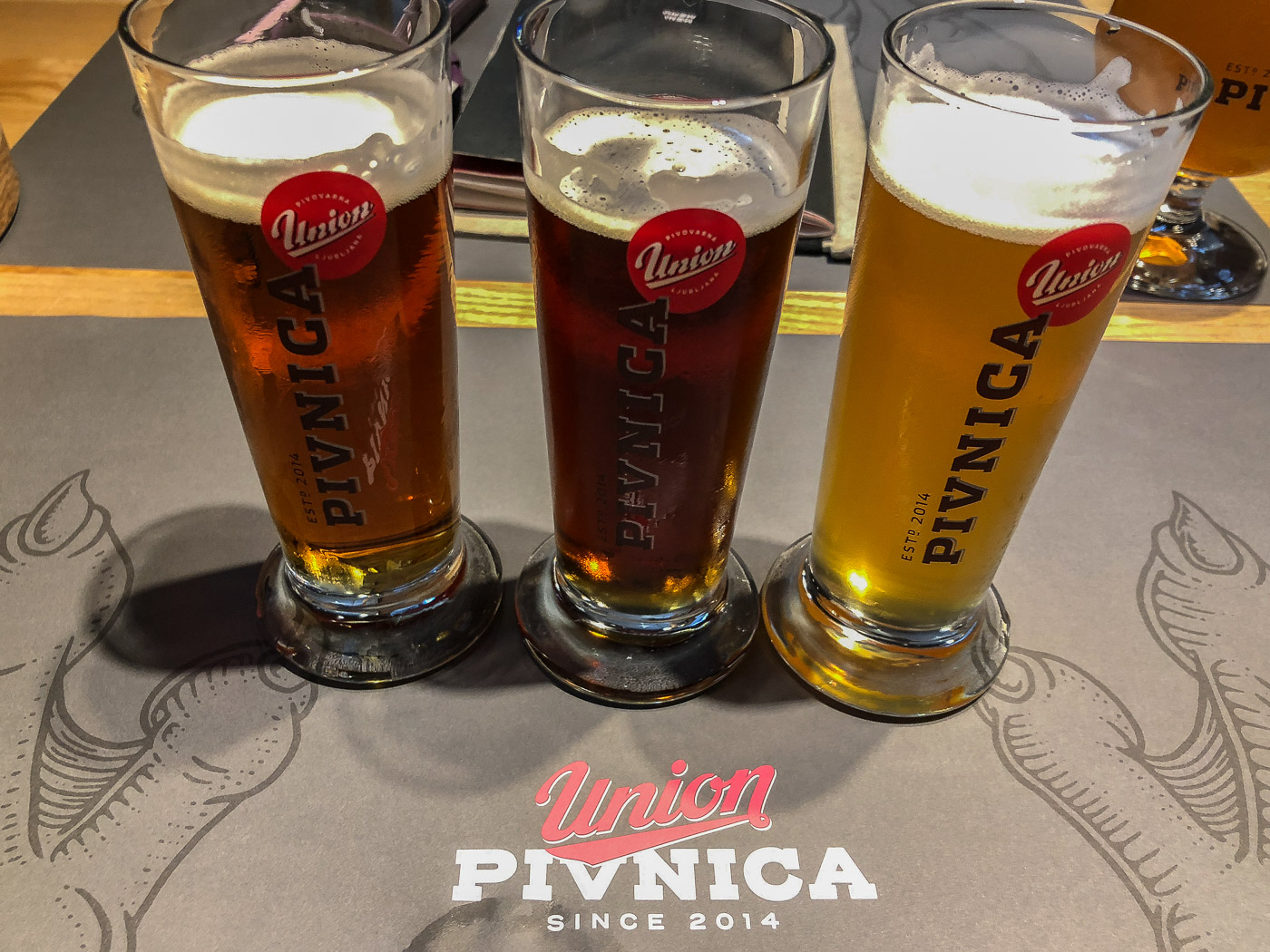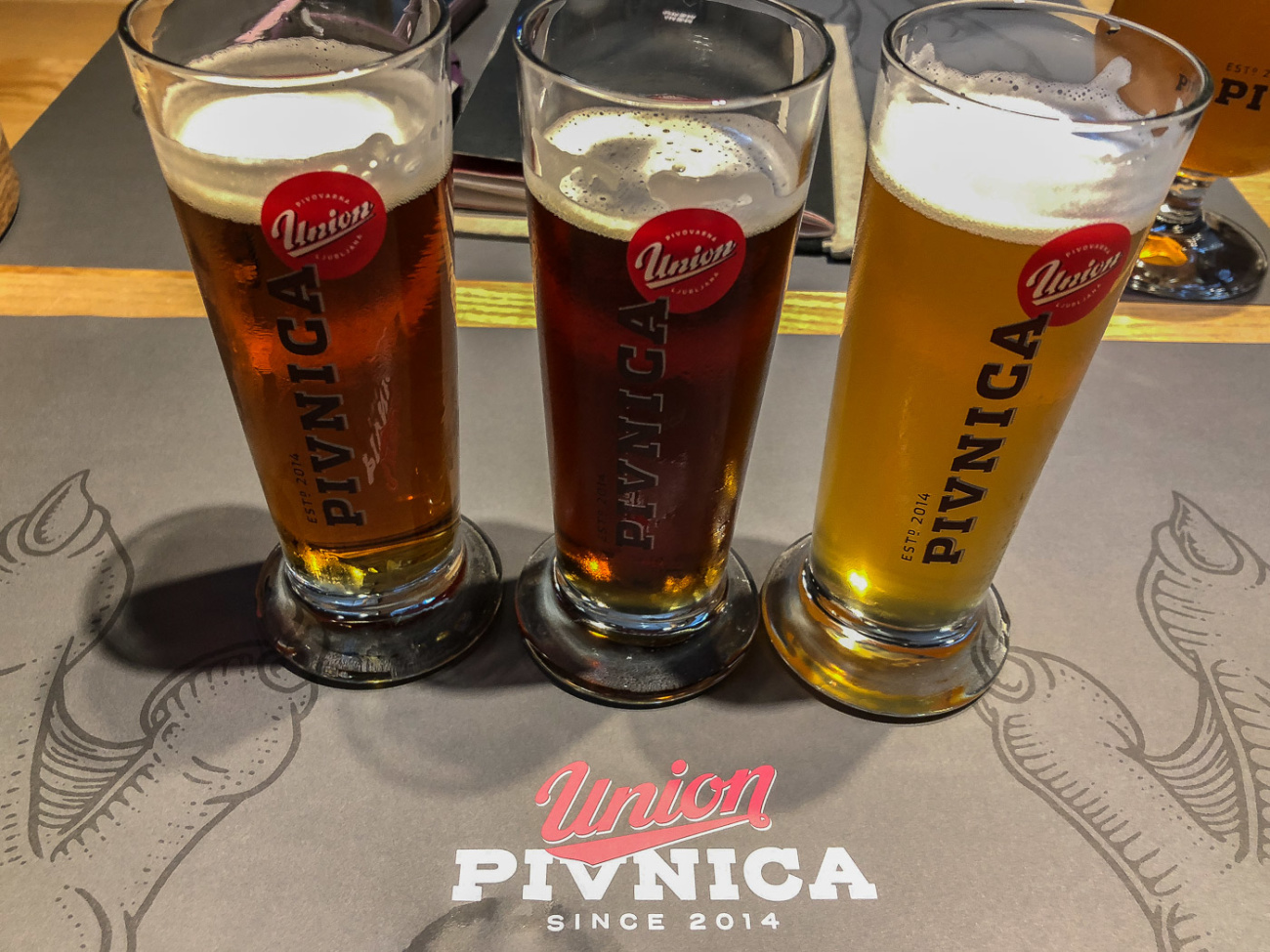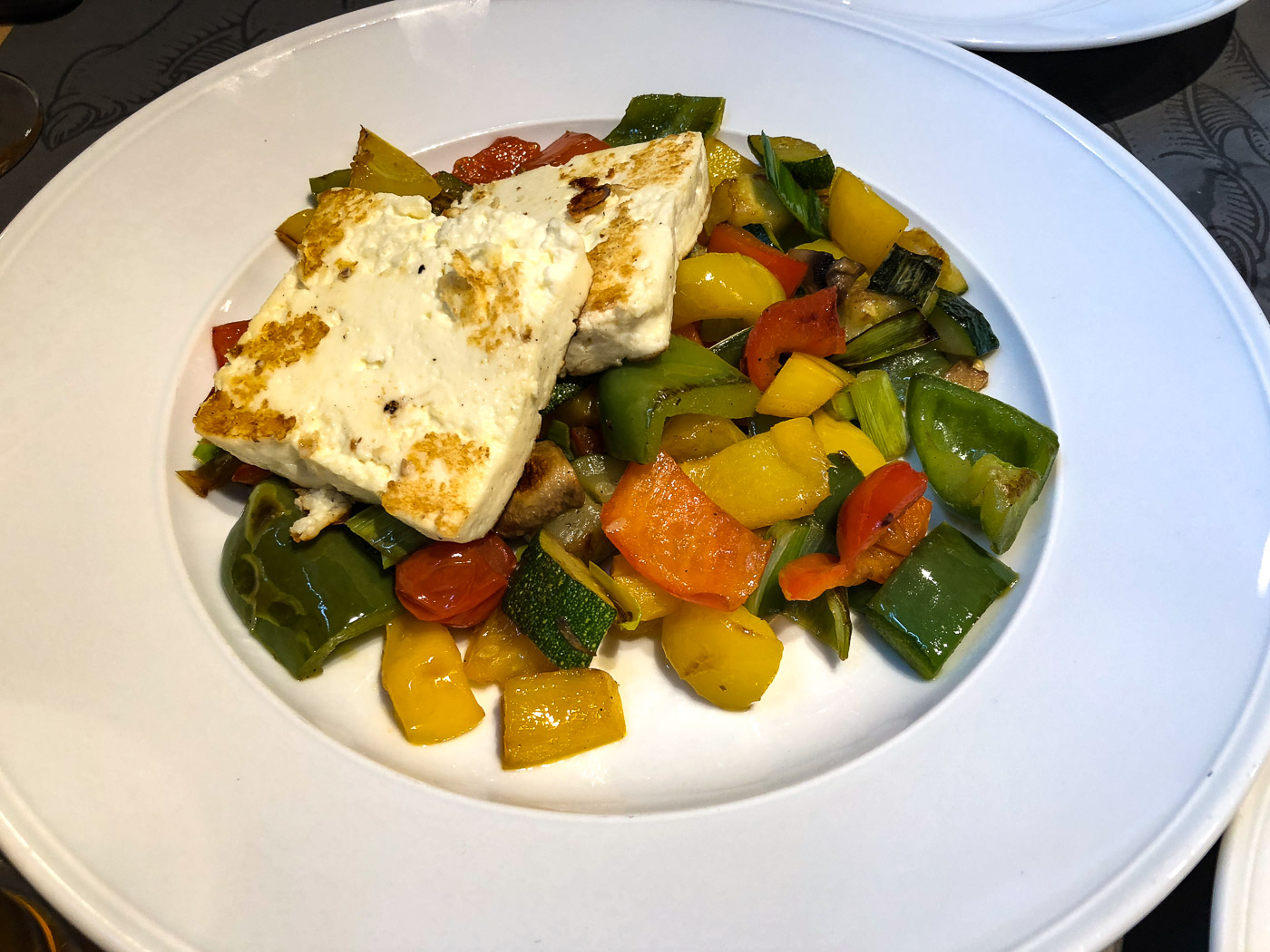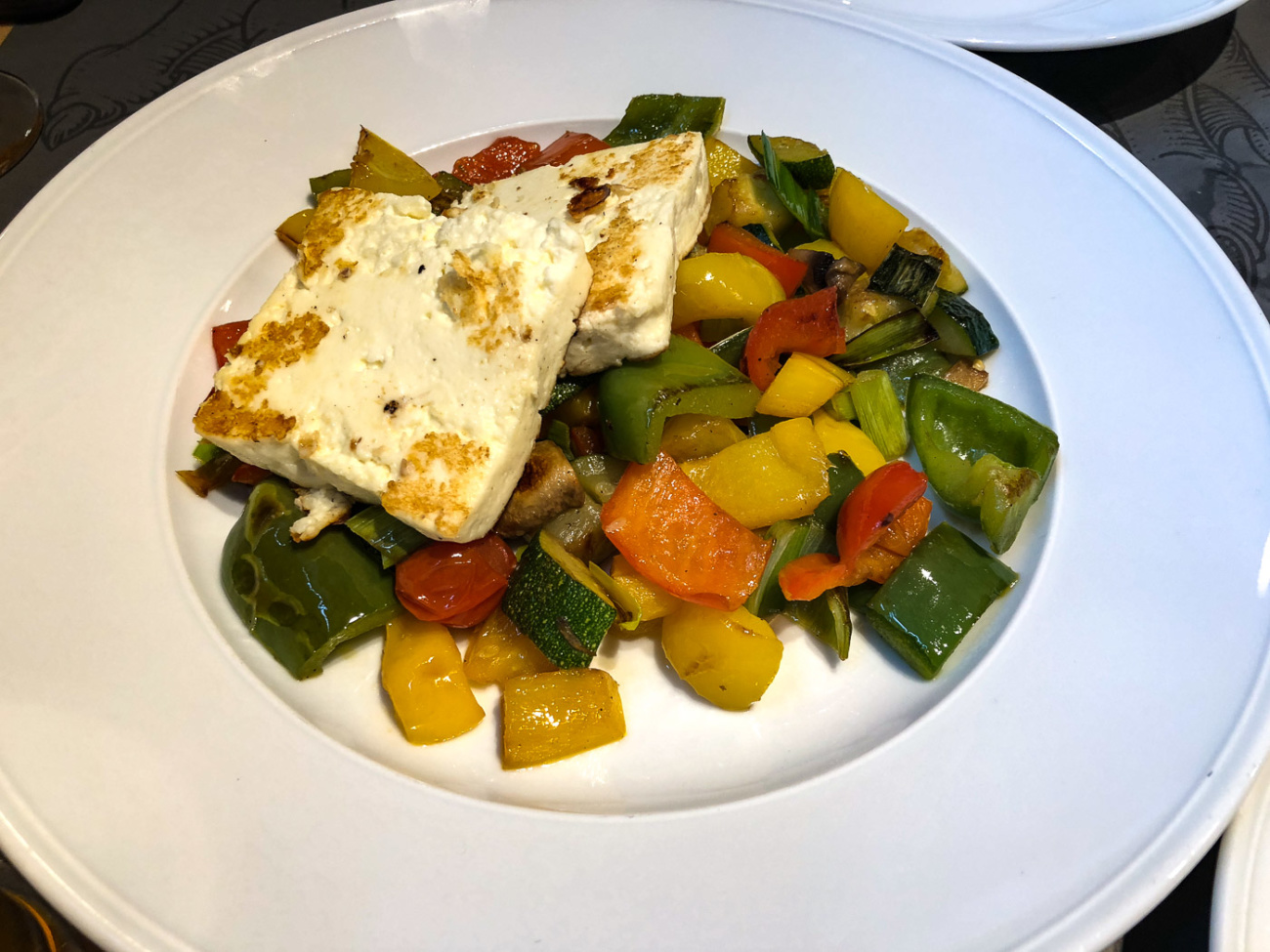 Union Brewery
Pivovarniška ulica 2

Leaning towards the corporate flavor of beer, this brewpub is still a nice place to visit. With some surprisingly great vegetarian snacks and some of the tastiest fries I had in the country, the lively atmosphere makes for a fun meal. I tried a flight of their Triglav, Bon, and Amber beers.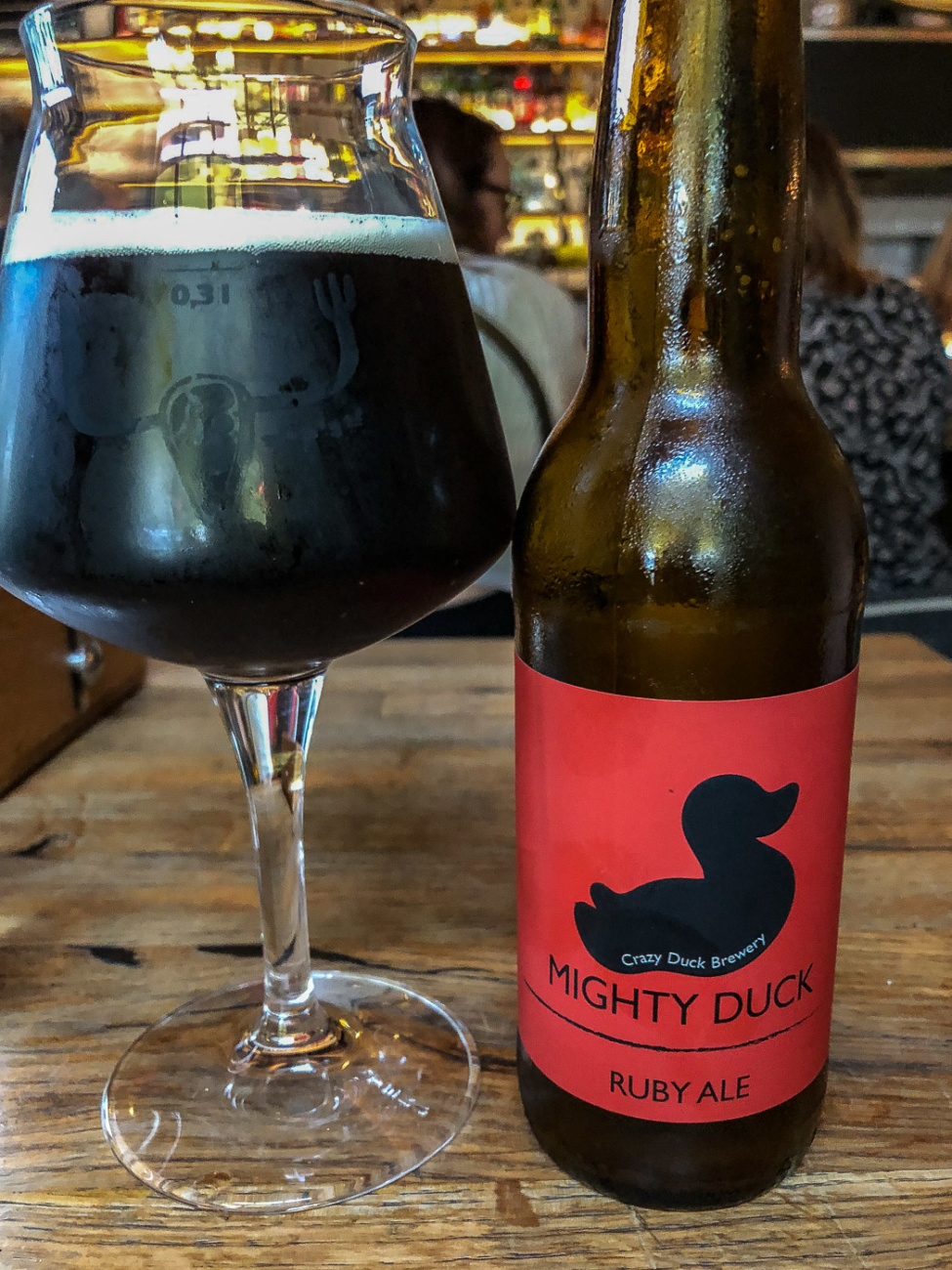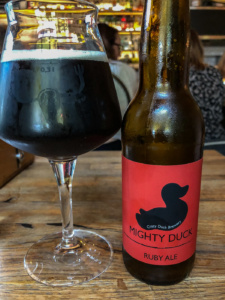 Pop's Place
Cankarjevo nabrežje 3

This craft beer and burger restaurant sits right on the Ljubljanica river. So often these places, smack in a tourist zone, wind up with lackluster offerings. Not so at Pop's. Caught-fresh daily, their fish and chips were excellent, as was their homemade tartar sauce. The craft beer menu is full of local Slovene beers. Vegetarians: they also have a veggie burger. Yay!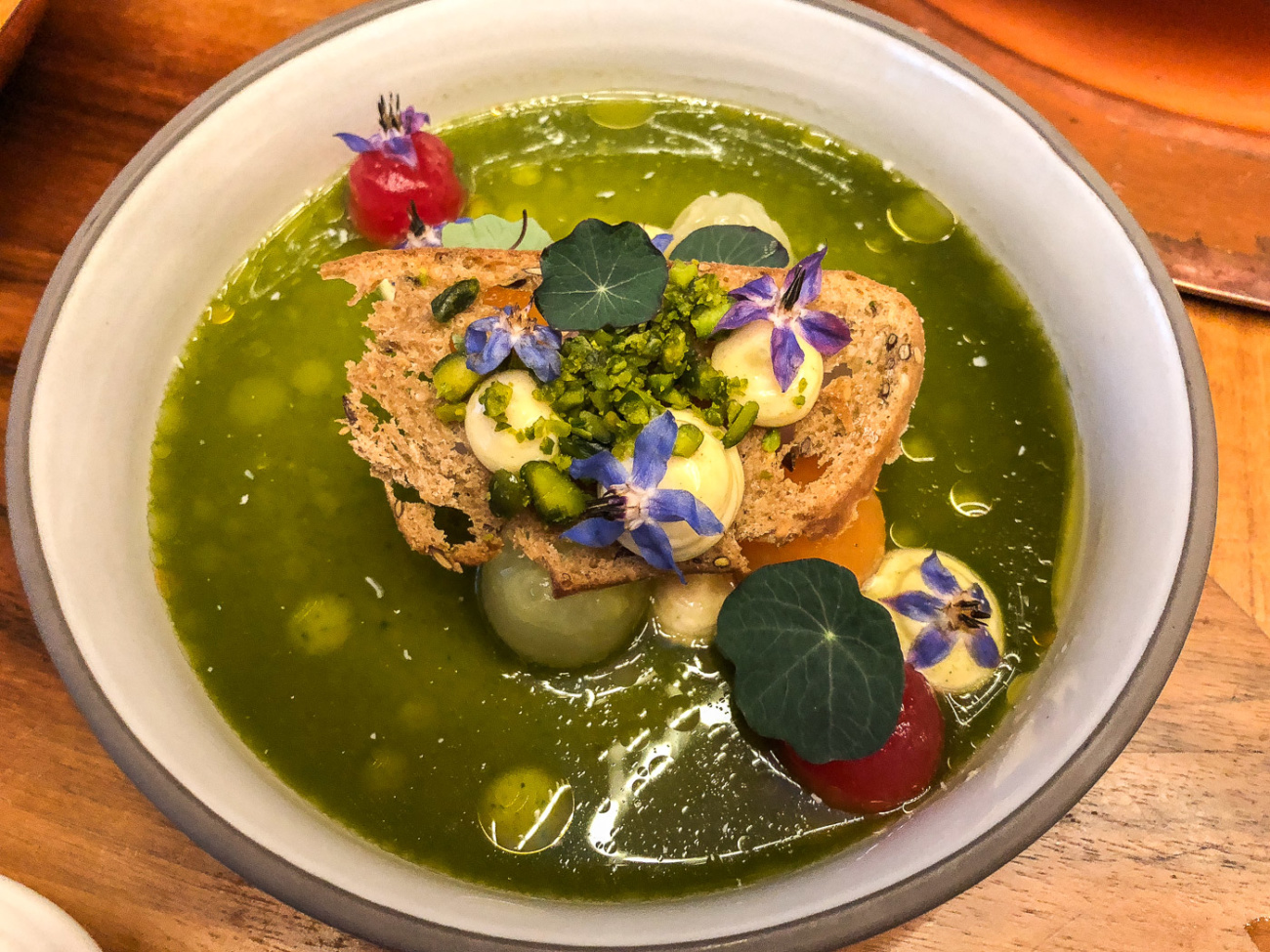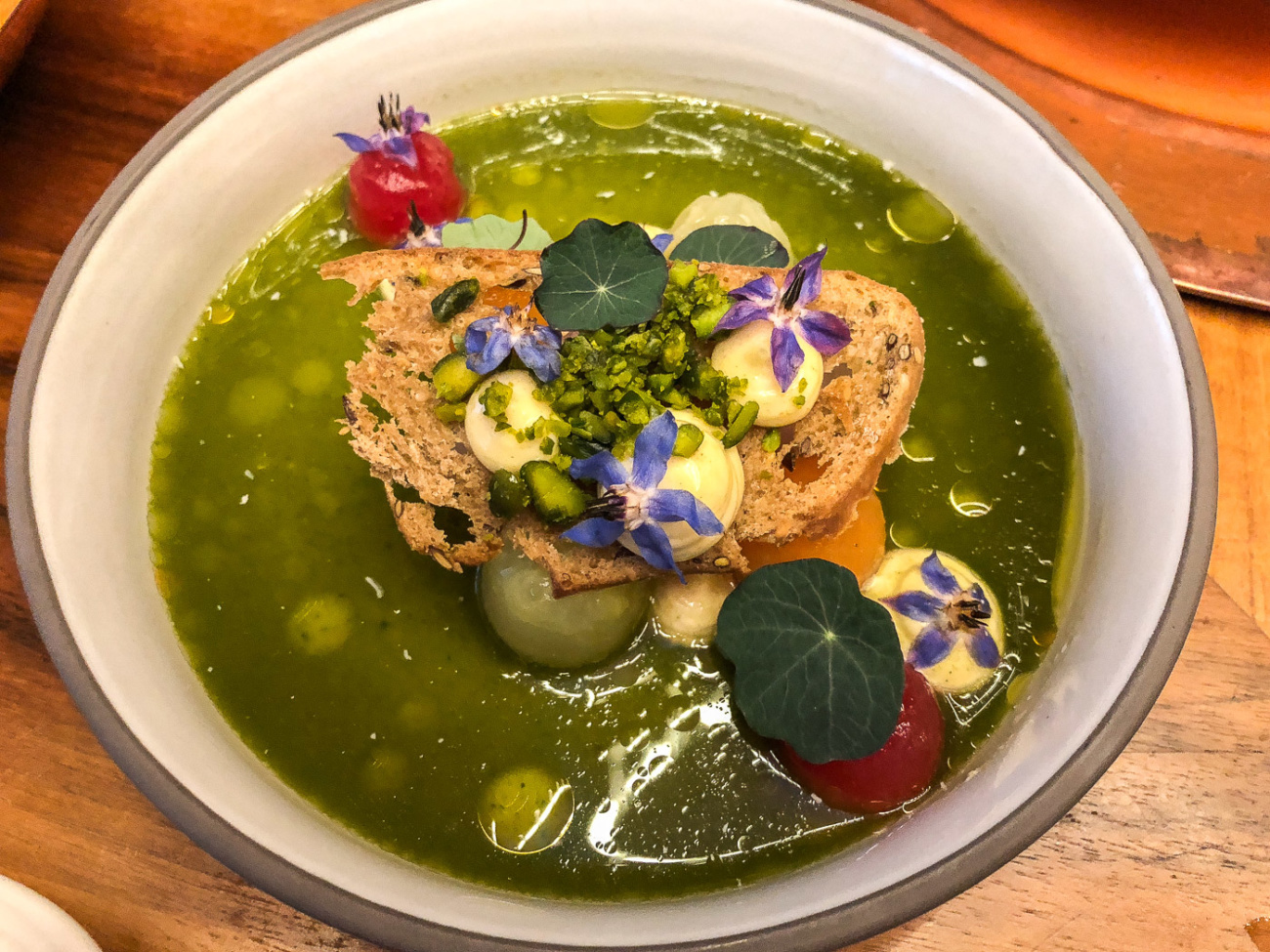 Streleč Restaurant
Inside Ljubljana Castle

If you ever wanted to know what it was like to eat inside a medieval castle, here's your chance. With an upscale setting and white-glove service, this is the type of restaurant that feels like it should set you back. But it's surprisingly affordable.
We opted for the tasting menu, gave our waiter our food restrictions and just watched the courses roll in like we were judges in a top chef competition. Wine was paired with each course and it was great fun to set a parameter (for me – orange wines) and taste what the sommelier came up with.
The entire five-course meal with wines cost us €94 / $107 for two people.
Guide to Slovenia: What to See/Do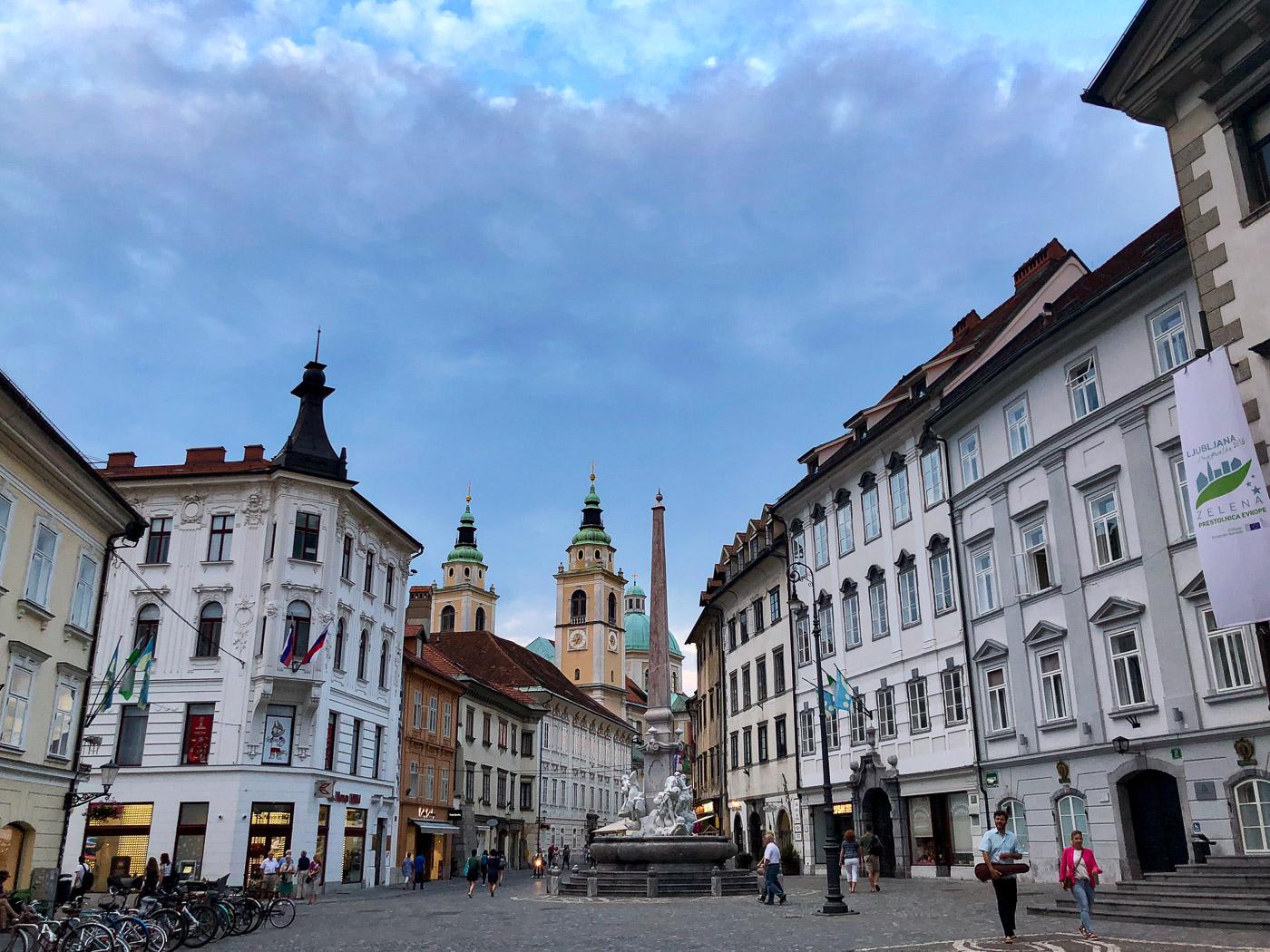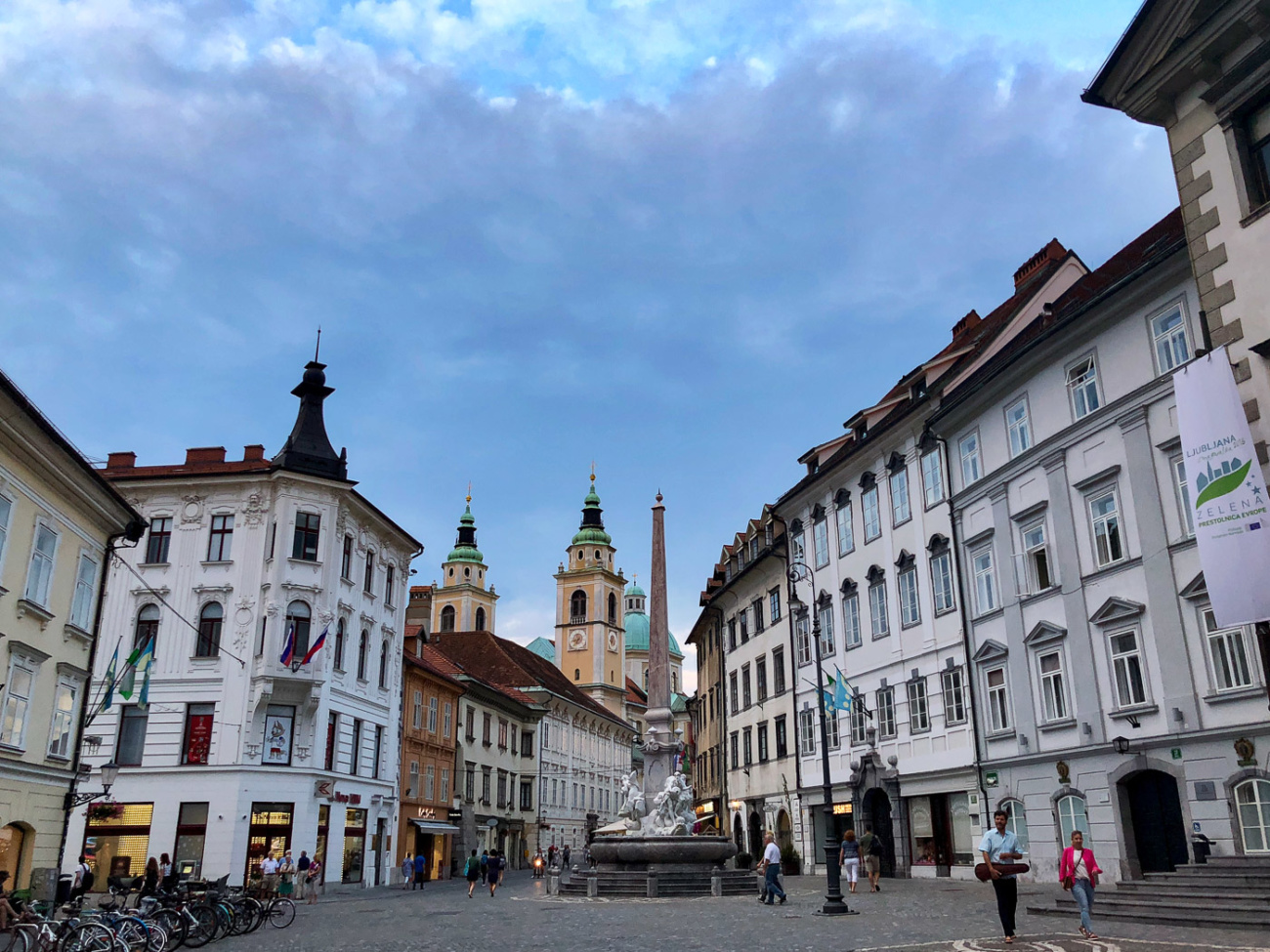 Shopping
Stroll along the main streets in the city center. There are lots of shopportunities, boutiques and local goods.
Mestni Square is a great place to take a break, grab a coffee and people watch.
Plečnik's Arcades along the river are another good spot to look for souvenirs and handicrafts among the pop-up stands.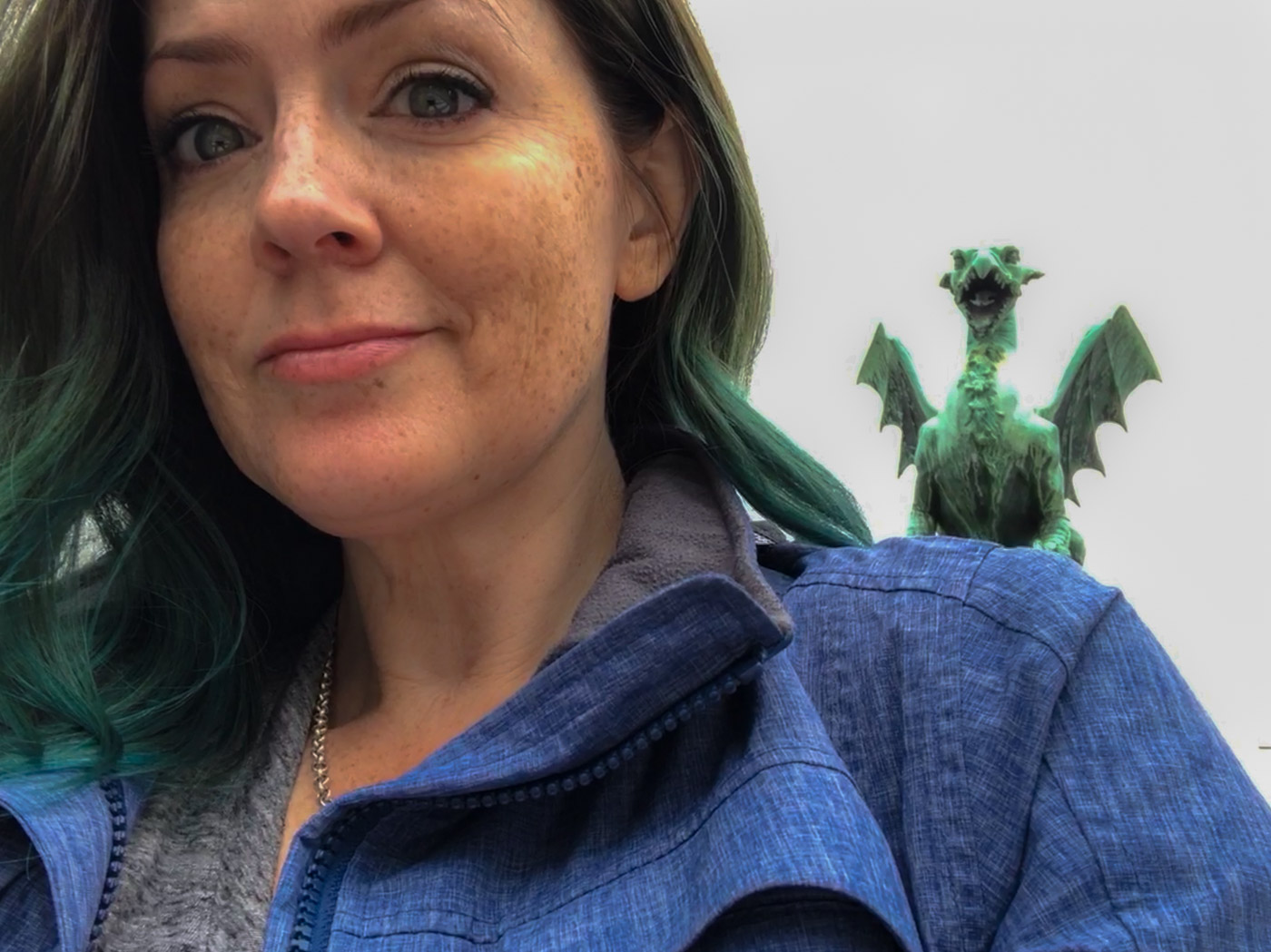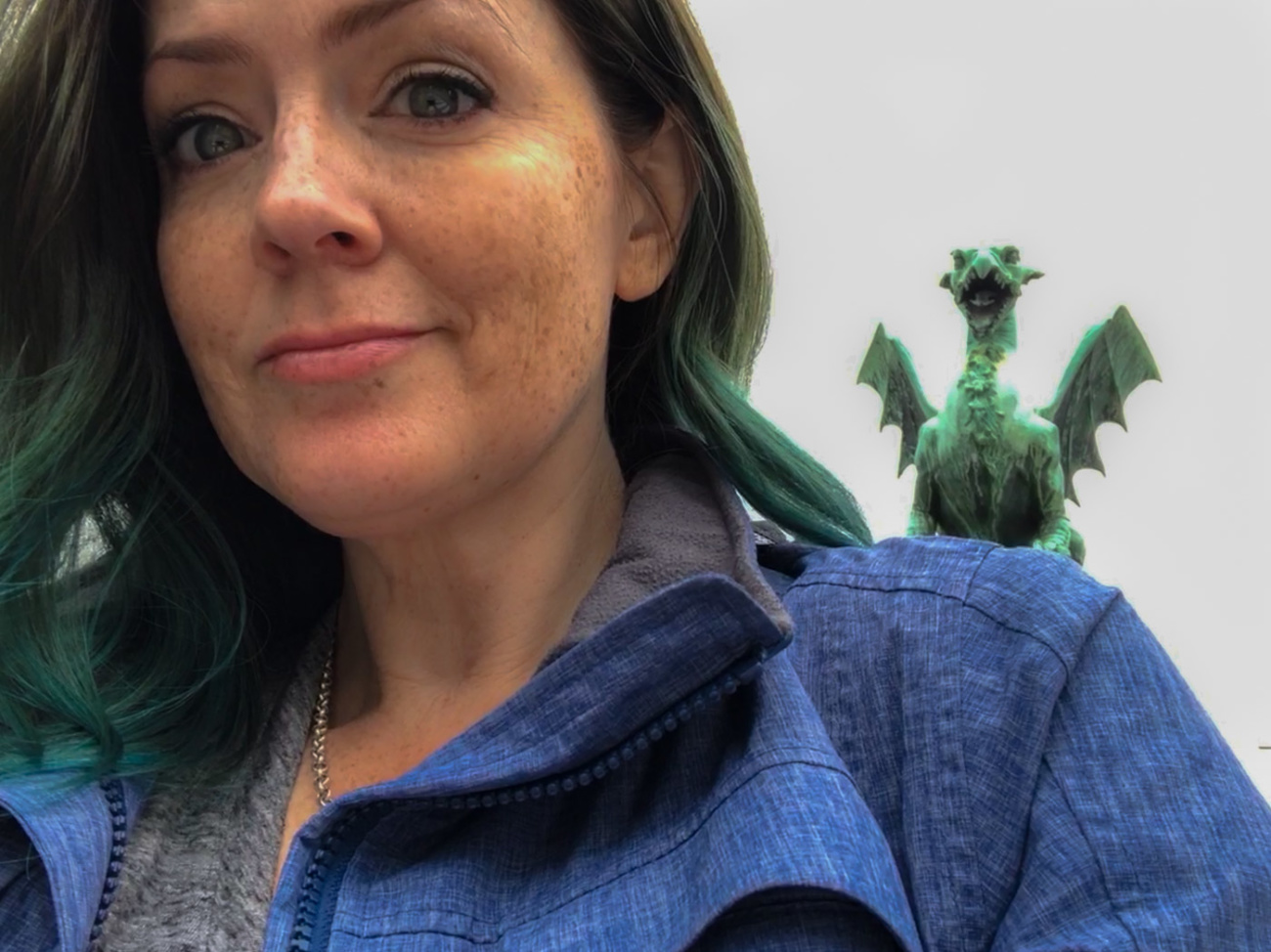 Dragon Bridge
If you follow the colonnades of the Plečniks you'll come to its eventual end. It's there that you'll reach the art nouveau bridge topped with dragons. It's a city icon and a fun photo op, so make sure to head over there for some dragon time.
On the hill above Ljubljana is an entire castle complex. It includes two restaurants, ramparts with views across the city, a puppet museum and a Slovenian history museum. The entire caboodle including the funicular ride is €10 per person.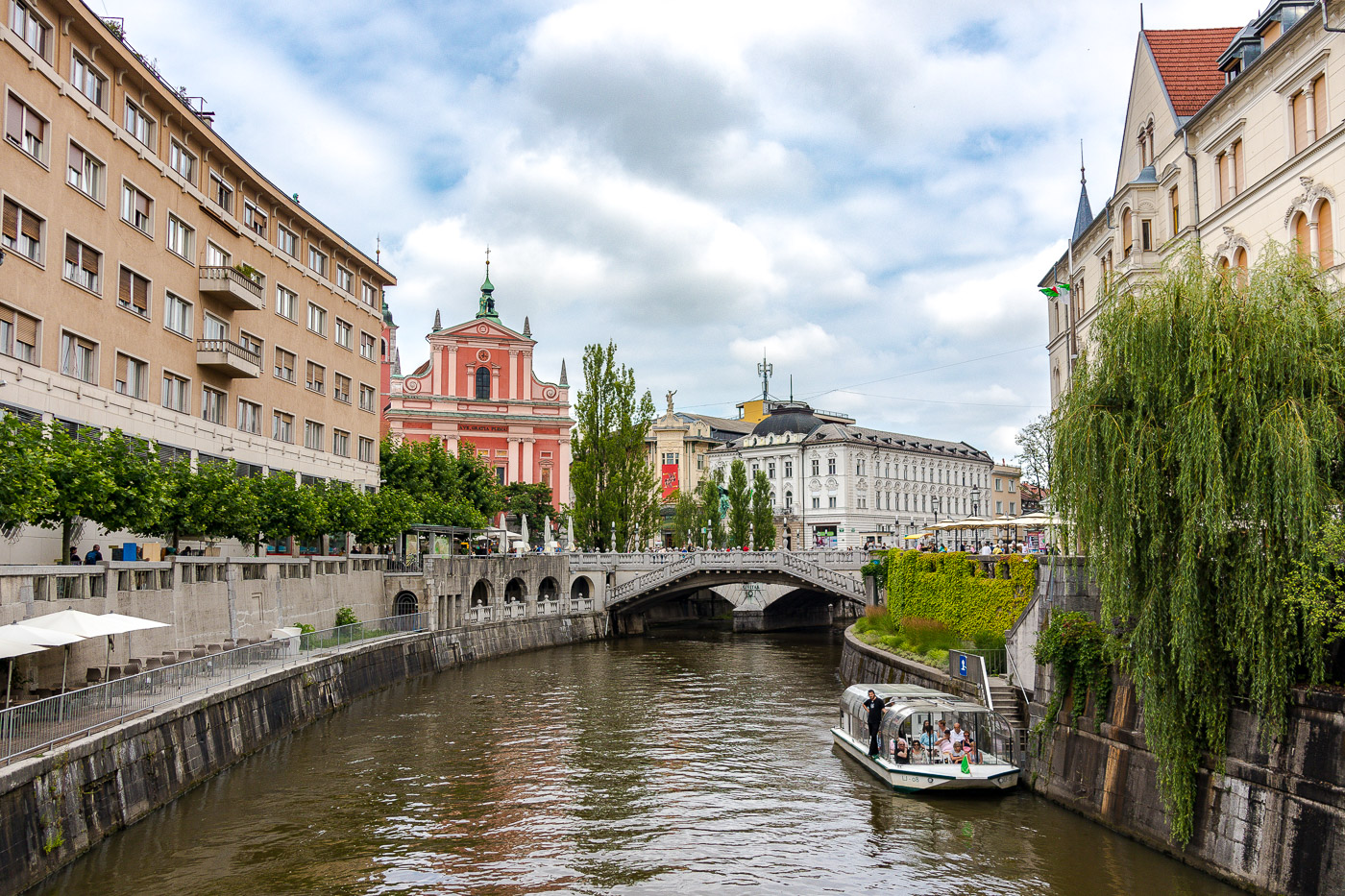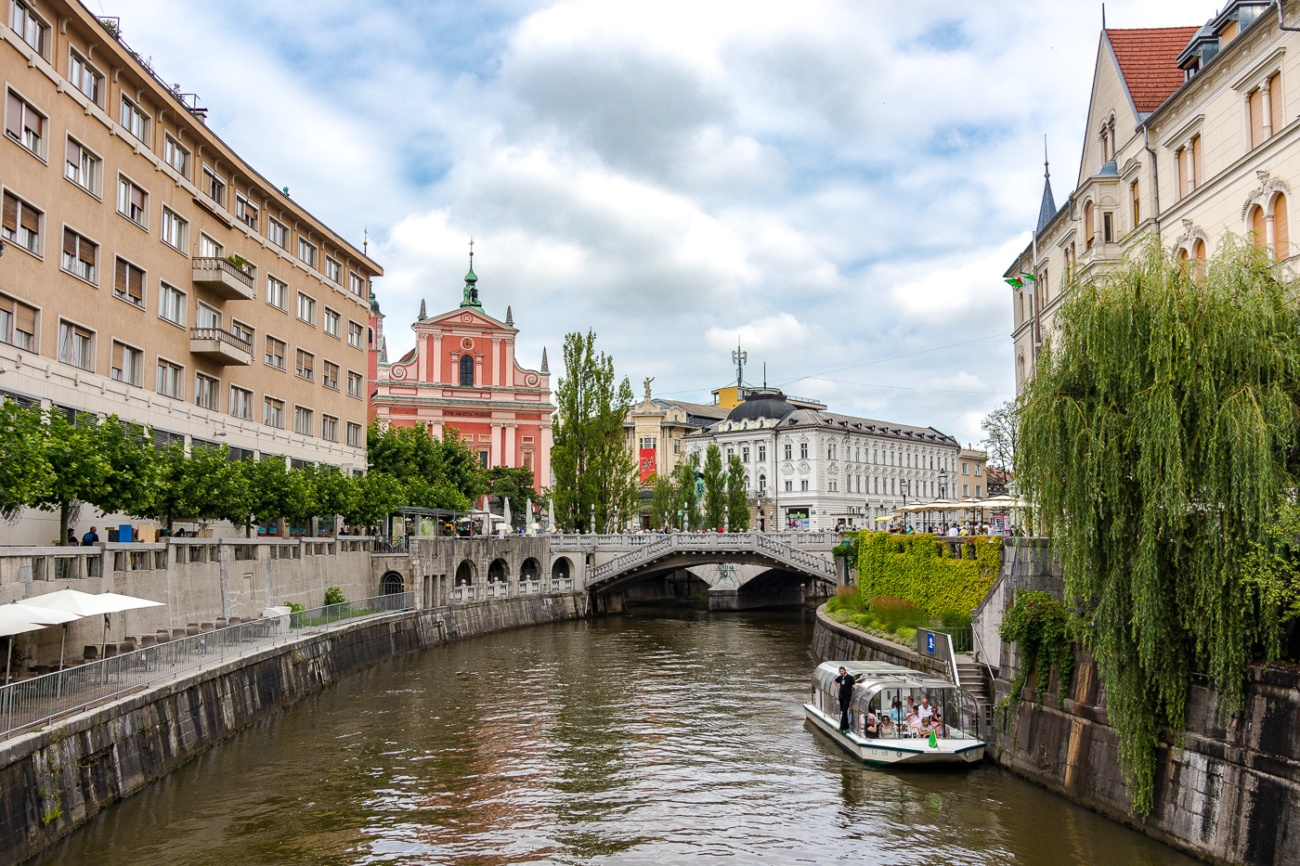 Boat ride on the Ljubljanica River
I wanted to check this out, but it was raining far too hard when I wanted to go. So what I'm saying is, I can't vouch for its fun-worthiness. I did ask my friend Tina who is a local tour guide and the time she did it with Ljubljanica she had a good time. Though she did it as a company party, so again, I can't say what it's like with a group of strangers.
Highlights:
Walking around at night, dessert crepes at Romeo, orange wine and tapas at TaBar, strolling around Mestni Square and the fish and chips at Pop's Place.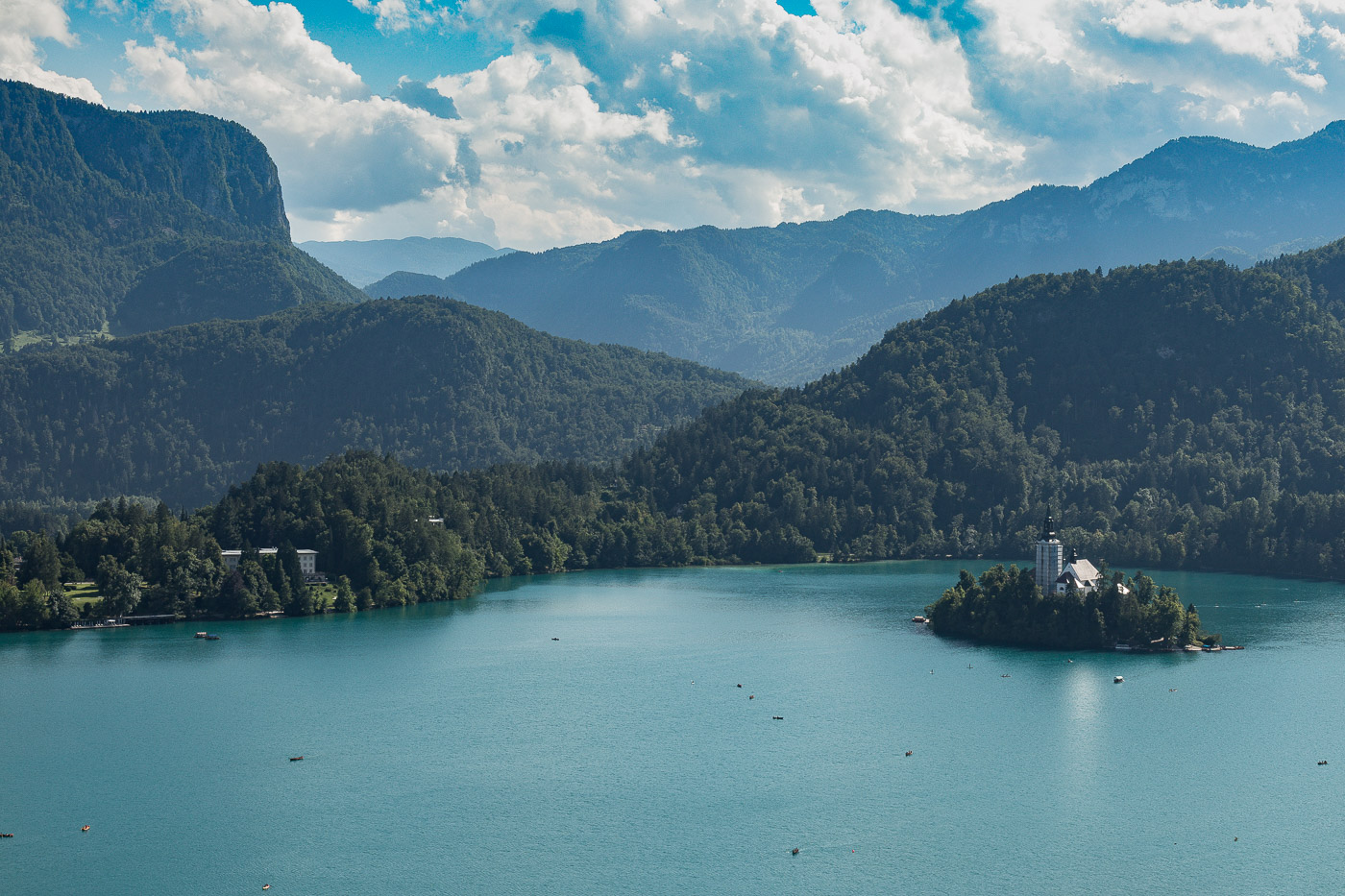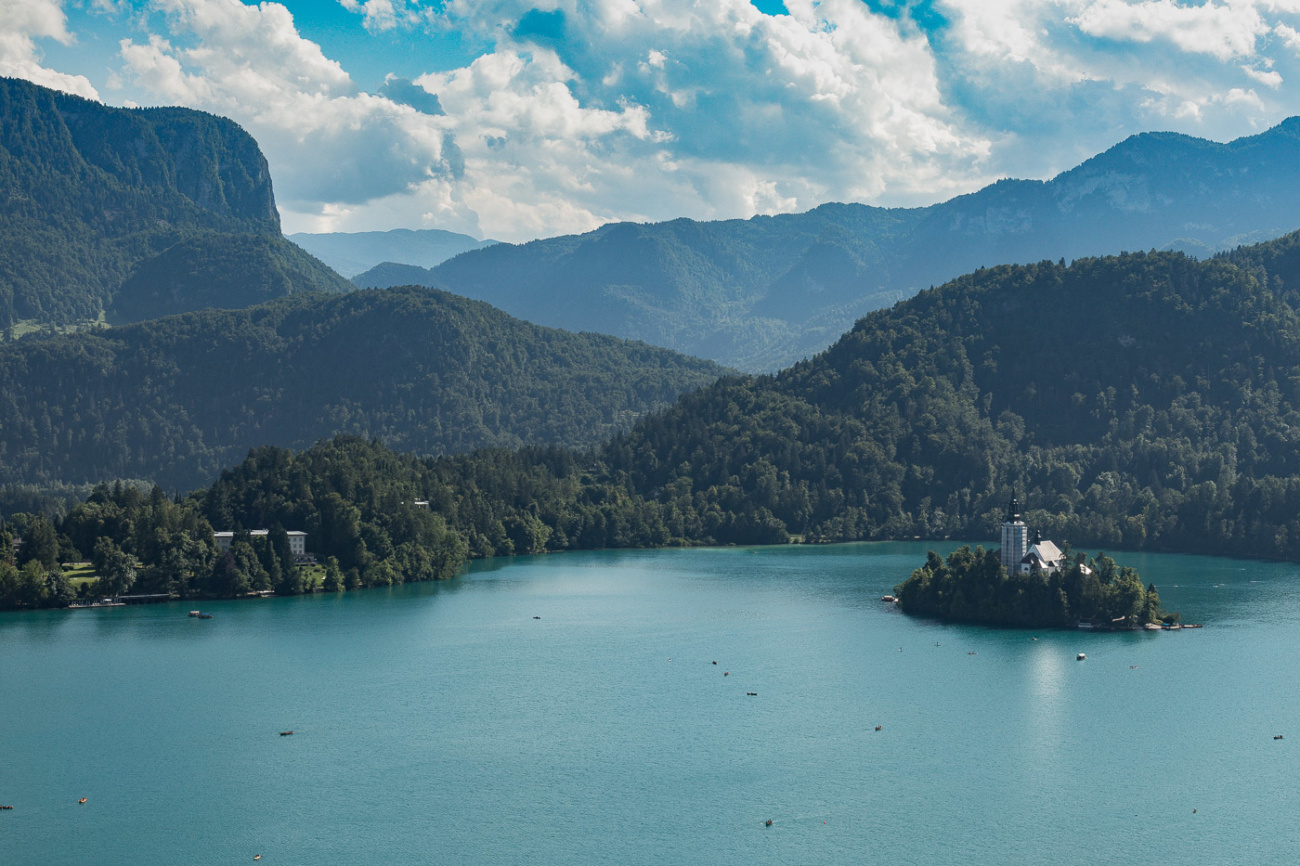 Lake Bled Region
Guide to Slovenia: Where to Stay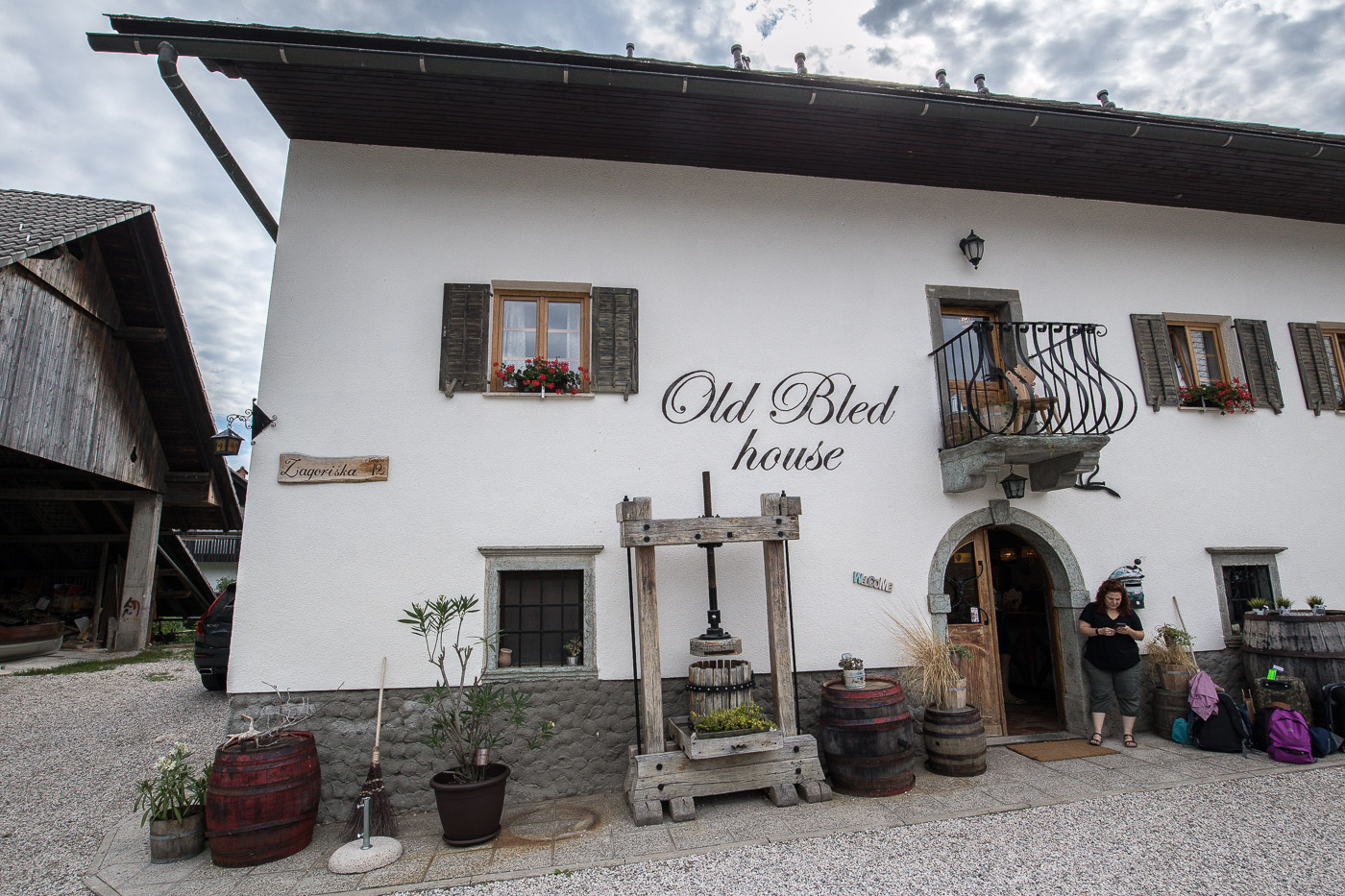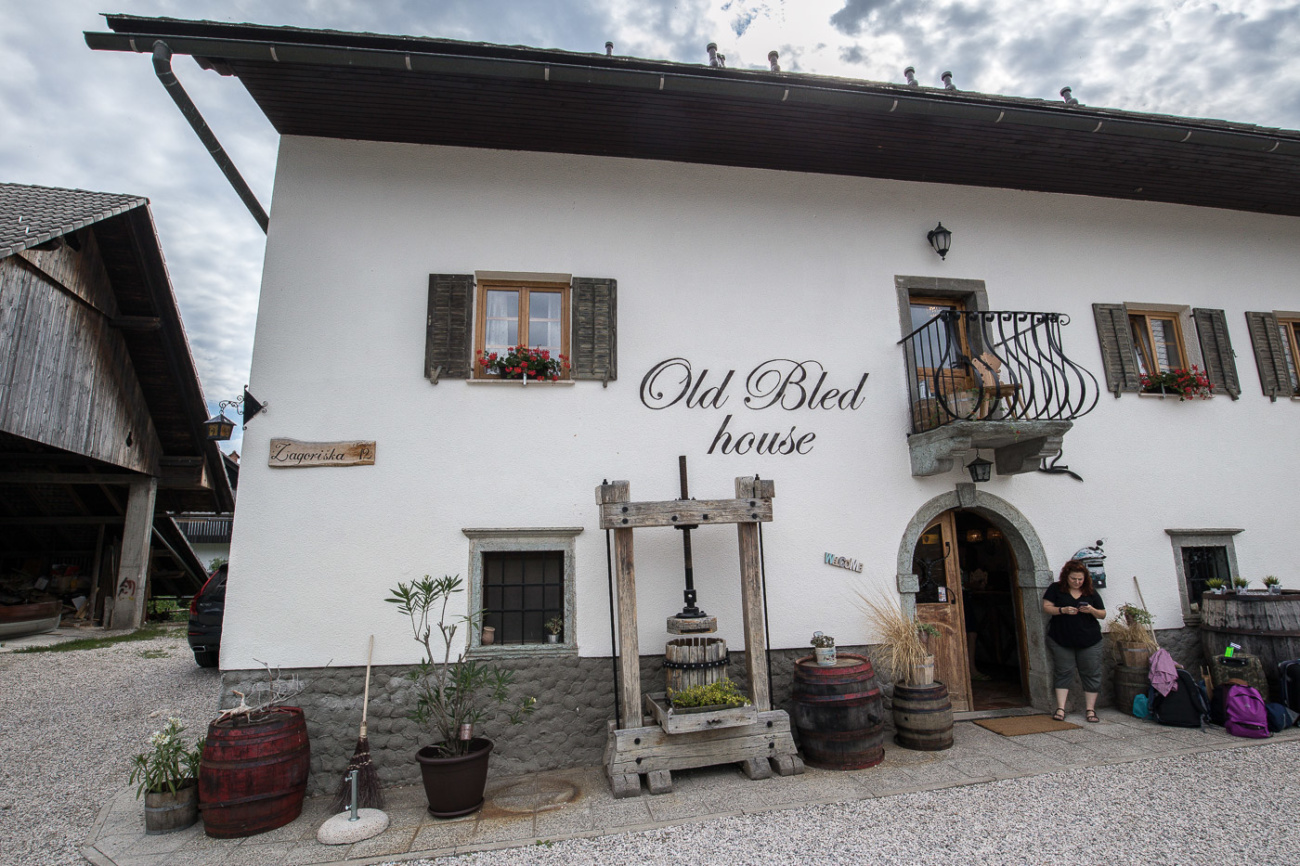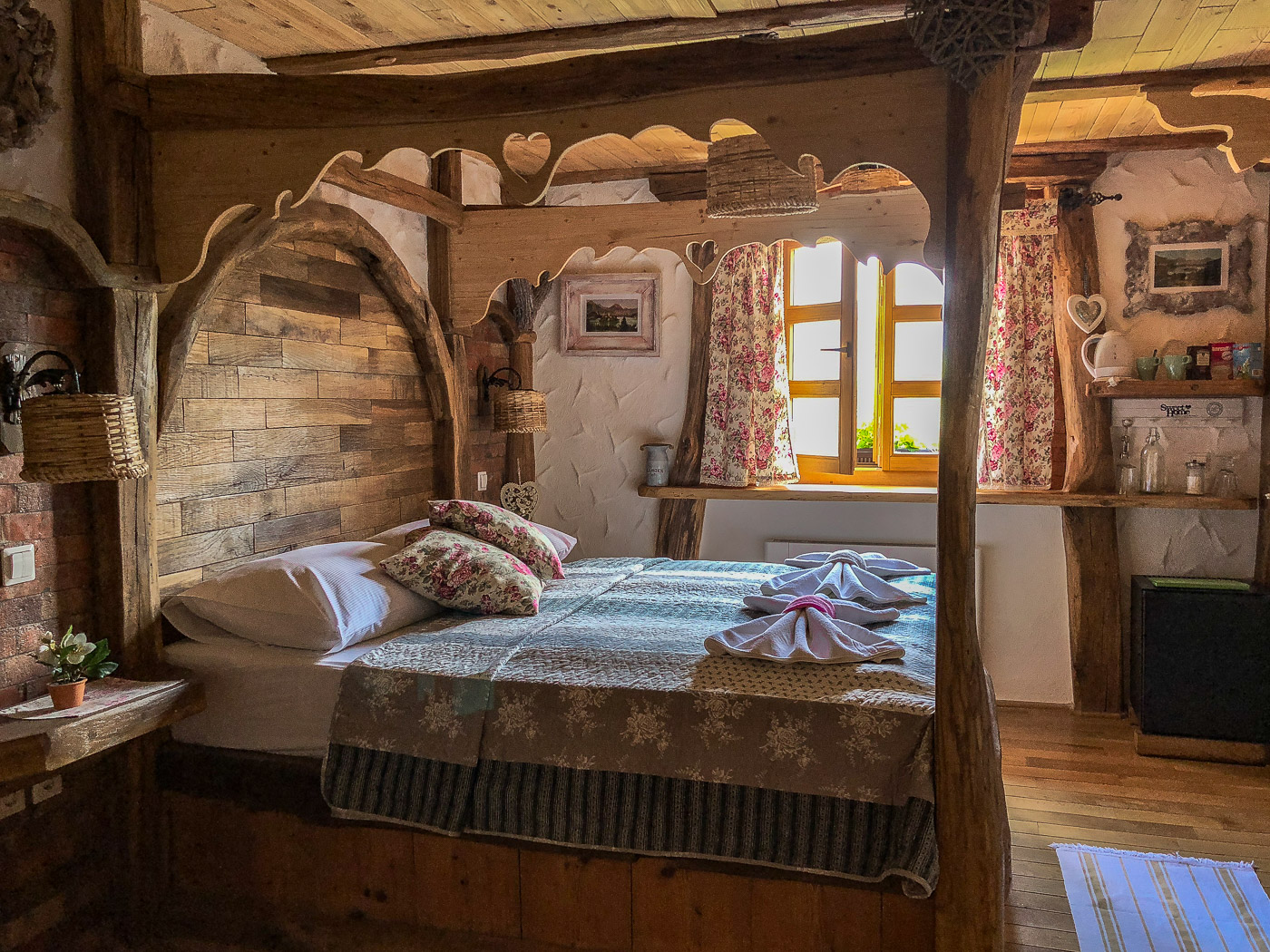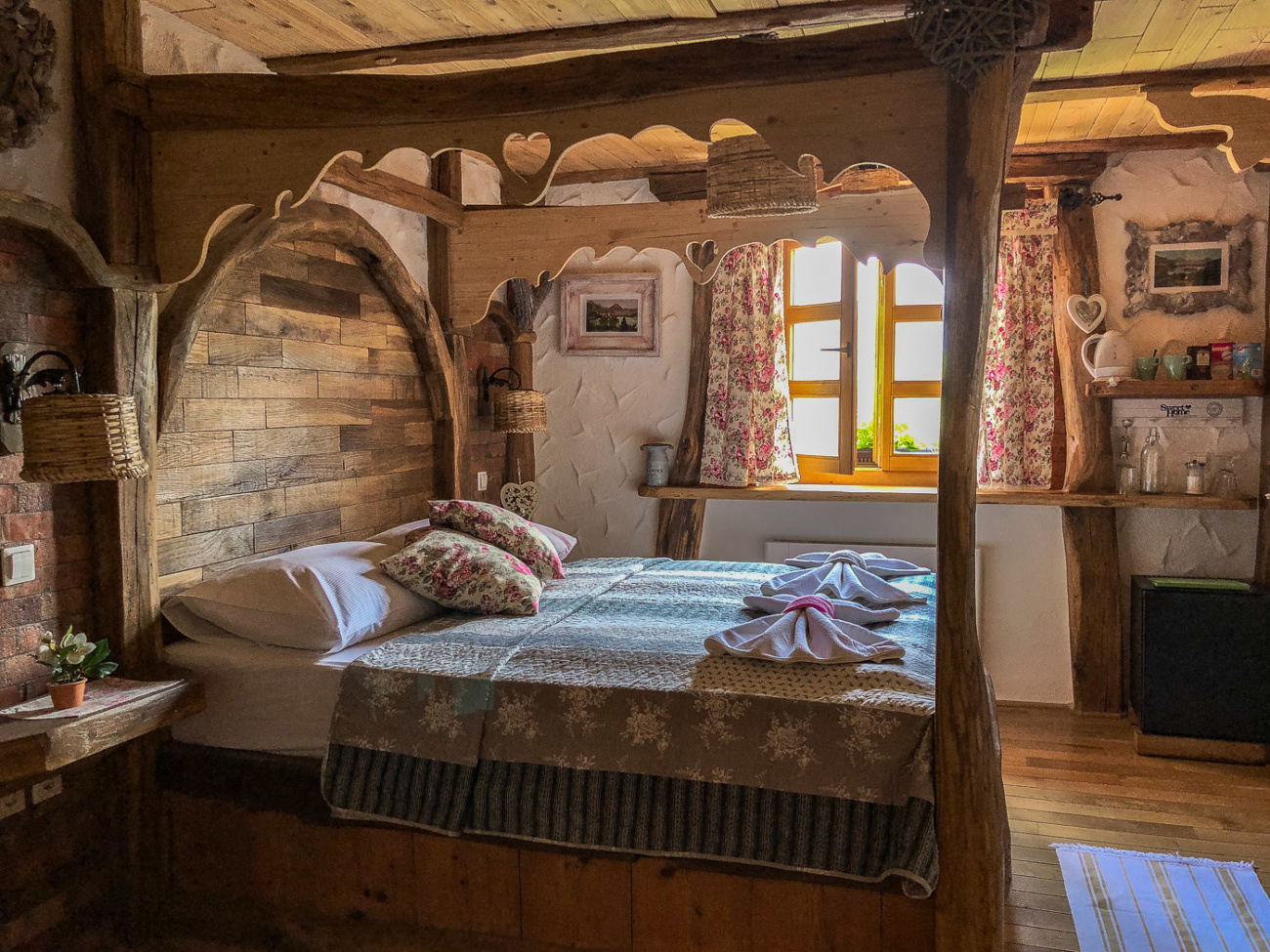 FAVORITE FOR CHARM AND LOCATION: Old Bled House
Up a gravel hill, this alpine adorable hotel is part guesthouse, part hotel. Decorated with the flair of at least six of the seven dwarves, this woodsy retreat puts you in the middle of your own fairy tale. The staff is very friendly and helpful, as all Slovenians tend to be, and were even able to help us arrange a rental car to be dropped off at the property. Breakfast is extra. It's a ten-minute walk to the waterfront.
ANOTHER GREAT OPTION: Penzion Kaps – A few minutes walk to the center, this family-run pension is a lovely place to stay in the Lake Bled region.
GUESTHOUSE WITH A SPA OPTION: Alp Pension – A little longer walk into the center, this fun guest house has a spa option. For a little extra €, you can spend some time in the spa next door. I loved it place because not only did it have multiple steam room/sauna/plunge pool options, it had some with gorgeous alpine views and an actual BREAD SAUNA. Yep, they place loaves of bread inside the sauna to cook at the same time you are. And then you eat it. You and all of the other sweaty naked people in the room. Ye-ah!
Guide to Slovenia: Where to Eat/ Drink
Sova
Cesta svobode 39

My fav restaurant in town, Sova was delicious start to finish. A homemade mixture of olive oil, balsamic, and crushed nuts with crusty warm bread will start you off and from there the menu only gets better. They had orange wine (hurrah!) the day I was there, but it wasn't on the menu so be sure to ask. The location is a short walk along the lake ring road. A reservation for dinner is a good idea.
Ostarija Peglez'n
Cesta svobode 19a, facing the water

The good here is good, but often never rises to excellent. But people go here because of the location. It's a  hotspot in the town of Lake Bled, and it's best to grab a reservation if you want to eat here or go after 9pm. This Italian restaurant is mostly patio with a lake and castle view, which does make for a perfect ambiance.
For two, our meal of fried calamari starter, truffle pasta, sea bass and a bottle of wine totaled €61 / $70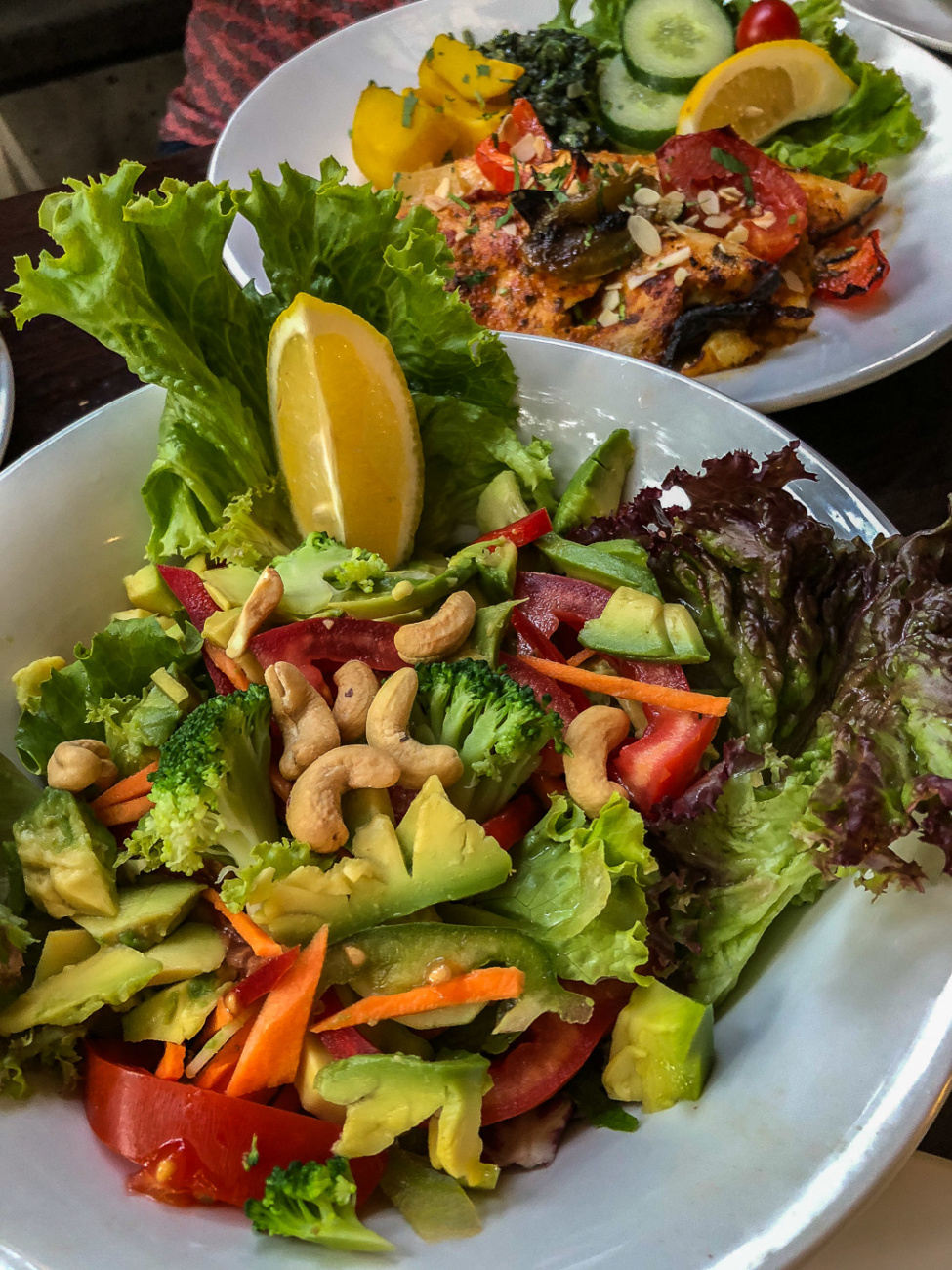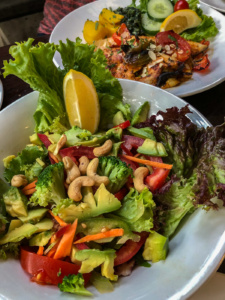 Ljubljanska cesta 8

With a menu that boasts Slovenian dishes as well as a global influence, this restaurant goes out of its way to make you feel at home wherever in the world you're from. The owner, manager and several staff took the time to welcome us as well as discuss the menu, our dietary restrictions and make recommendations. We over-ordered but everything was so tasty and healthy we still felt pretty good about ourselves.
For two, our meal of avocado toast, mushroom soup, vegan salad, trout, and a 1/2 liter wine totaled €48 / $55.
Grand Hotel Toplice
Waterfront dining at the hotel

I can neither recommend nor dissuade you from going to this grand dame of a hotel. Classic and beautiful with a large dining space right on the water, the main reason one would go here would be for the famed Bled cream cake. It's a perfect setting, and with two glasses of rosé champagne, it should be a perfect end to the evening.  However, the service here was rather blasé and super slow. You're paying fancy hotel prices for a cake that is just okay. Plus, after sunset, you're the main course for more than a few mosquitos. Plan accordingly.
Devil's Café and Bar
Cesta svobode 15, on the water

The location is everything here. At night it's pretty much THE spot for drinks. While the service is slow, the beer menu is pretty good and the café tables and lake view make up for it.
Guide to Slovenia: What to See/Do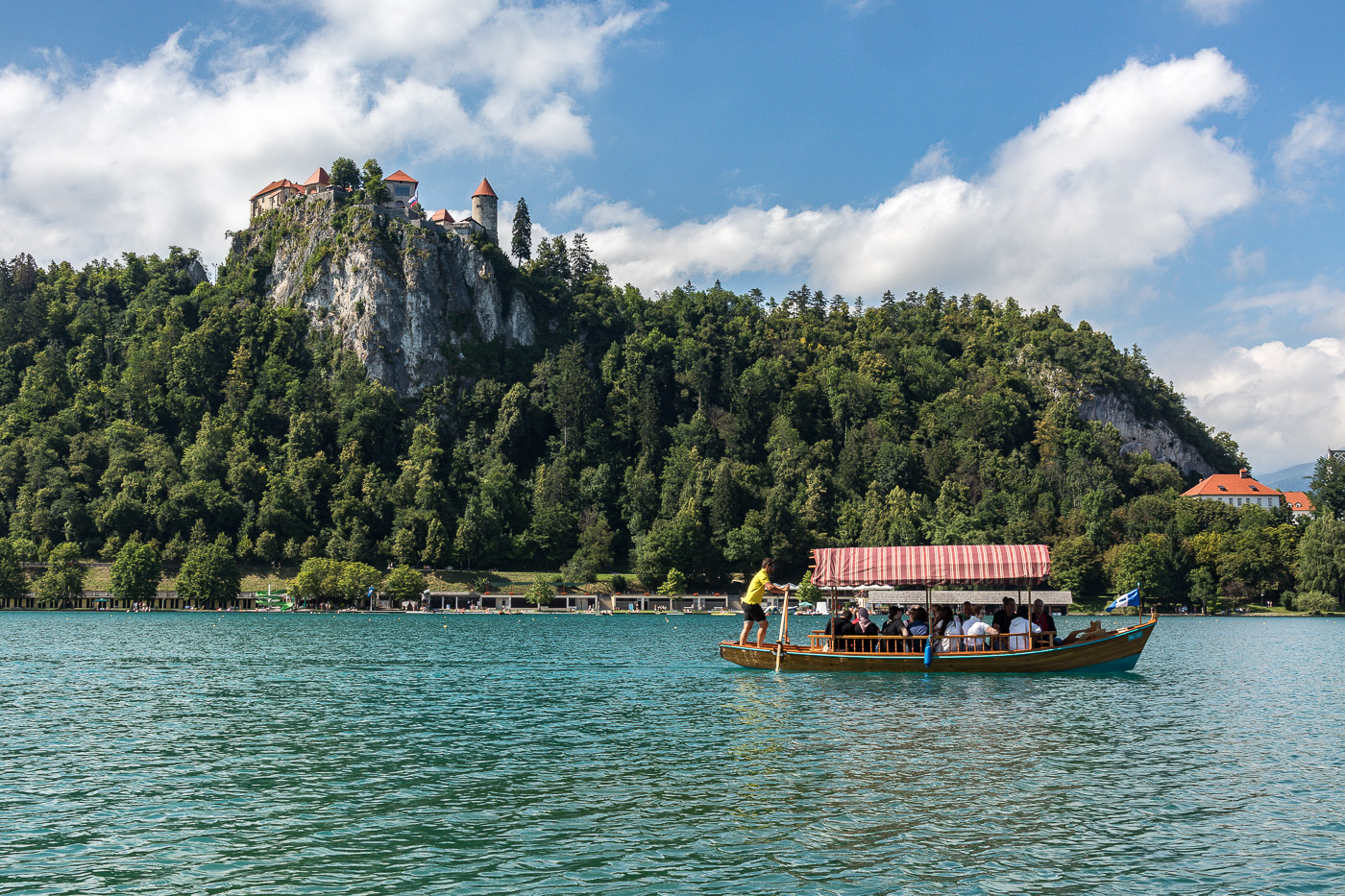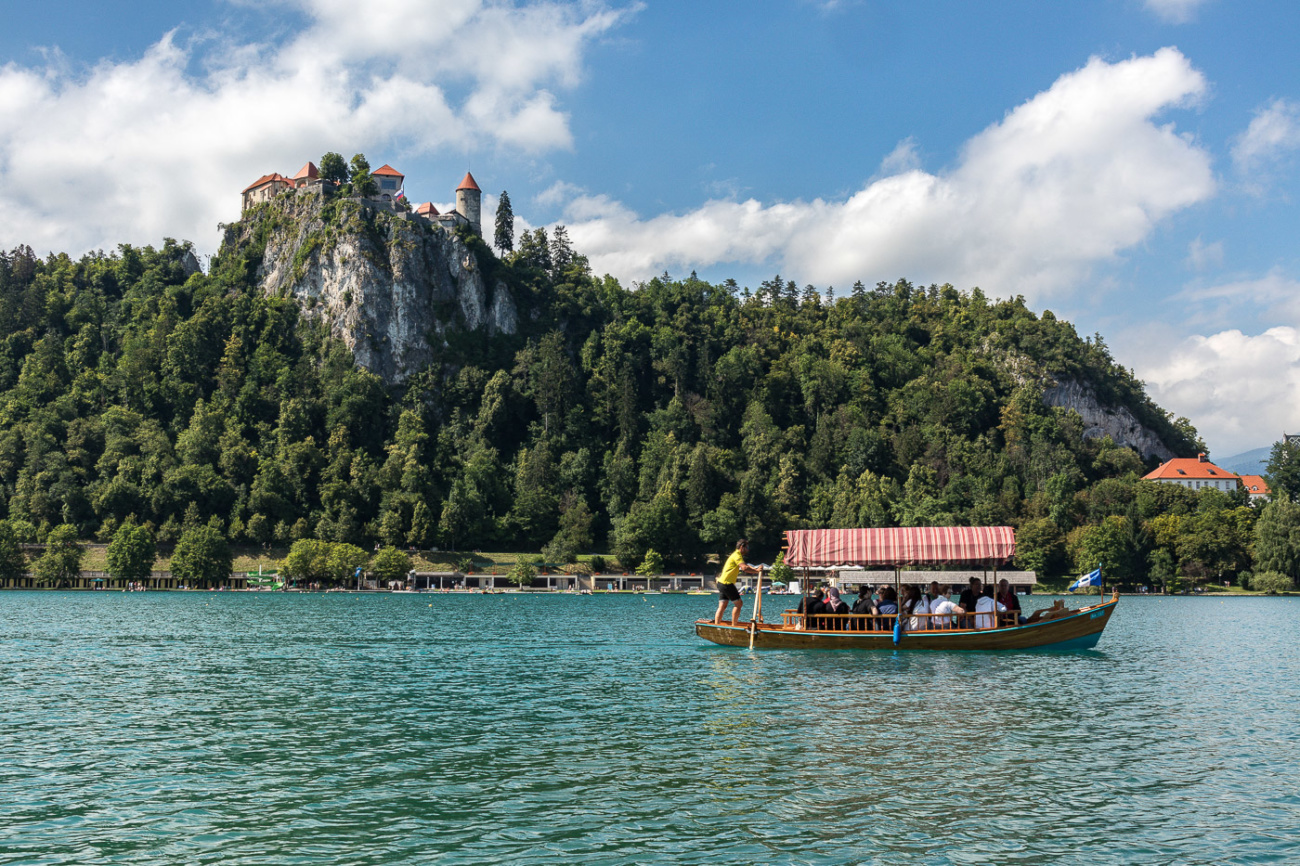 Boat Ride to the Island
Entrance right at the waterfront

Take a pletna boat to Bled island. An oarsman rows you across a flat, clear blue lake and docks you at the island. Once there you have 40 minutes to wander around, take photos, climb the bell tower or just have a beer and some cake.
For €14 / $16 it's a must-do.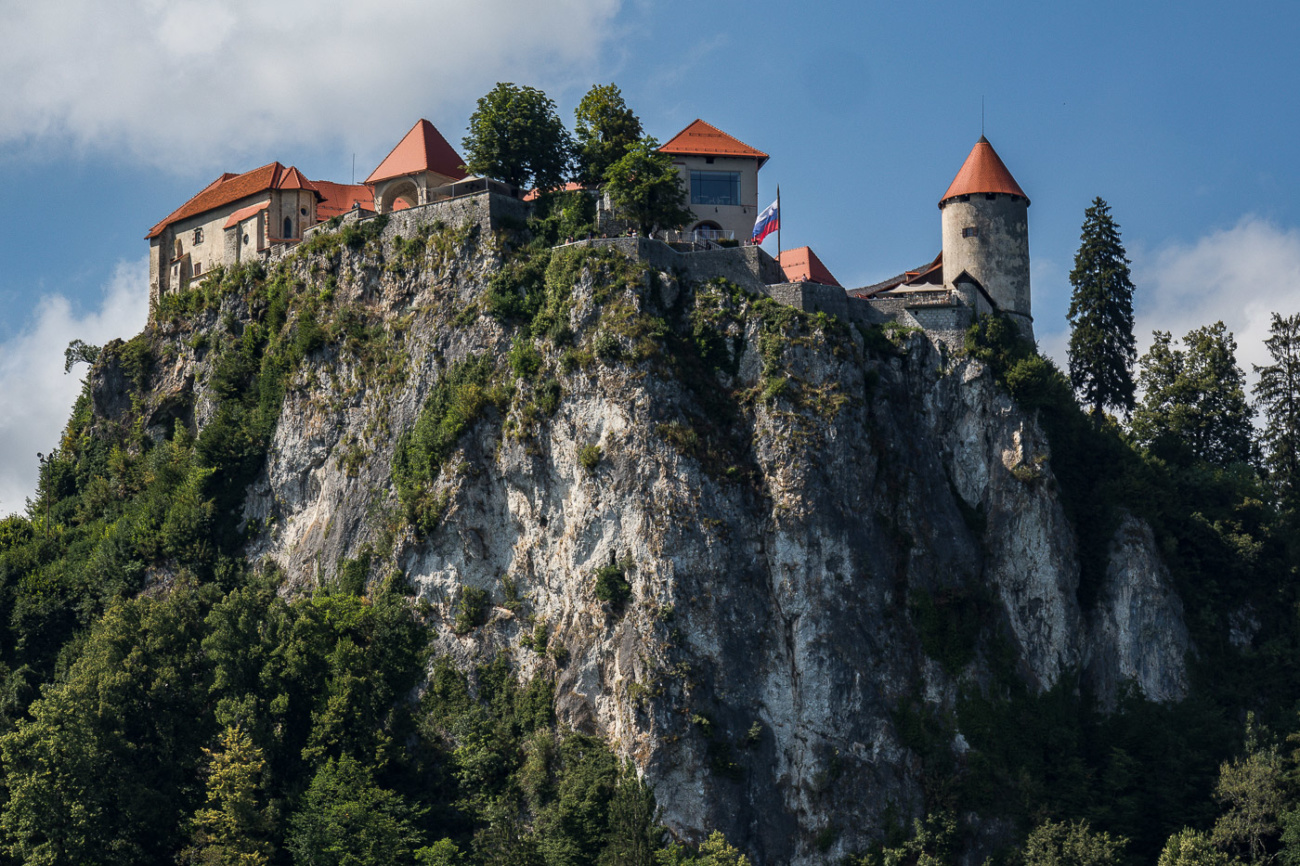 Bled Castle
Opposite side of the lake

You can't miss it seeing it. You can get up there either by driving yourself, taking a taxi, or walking uphill for 20 minutes. If you have it included as part of a tour your driver will bring you up there.
For €10 / $11.5 you're really going up there for the views of the lake, island and villages below. It's very much a tourist attraction at this point but still worth the hike to get the vantage point. There are shops, cafes and plenty of places to sit and enjoy the weather.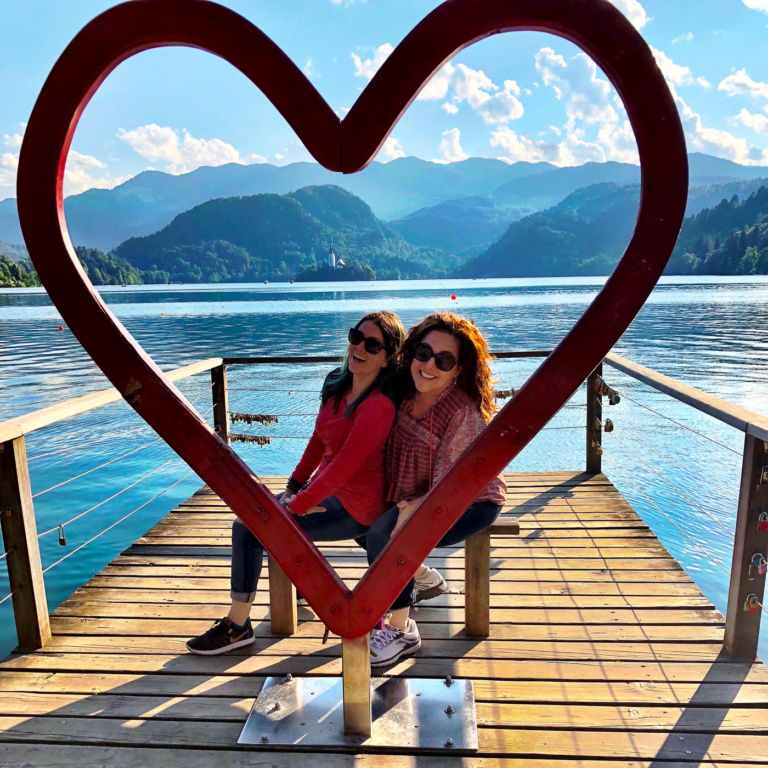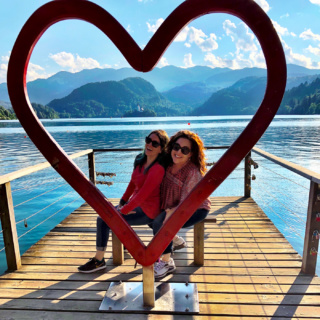 Stroll around the lake
With ample park benches, huge trees, a few beer gardens and a paved path, walking around Lake Bled is an enjoyable and free experience all on its own. Plus, you can take this cheesy heart picture!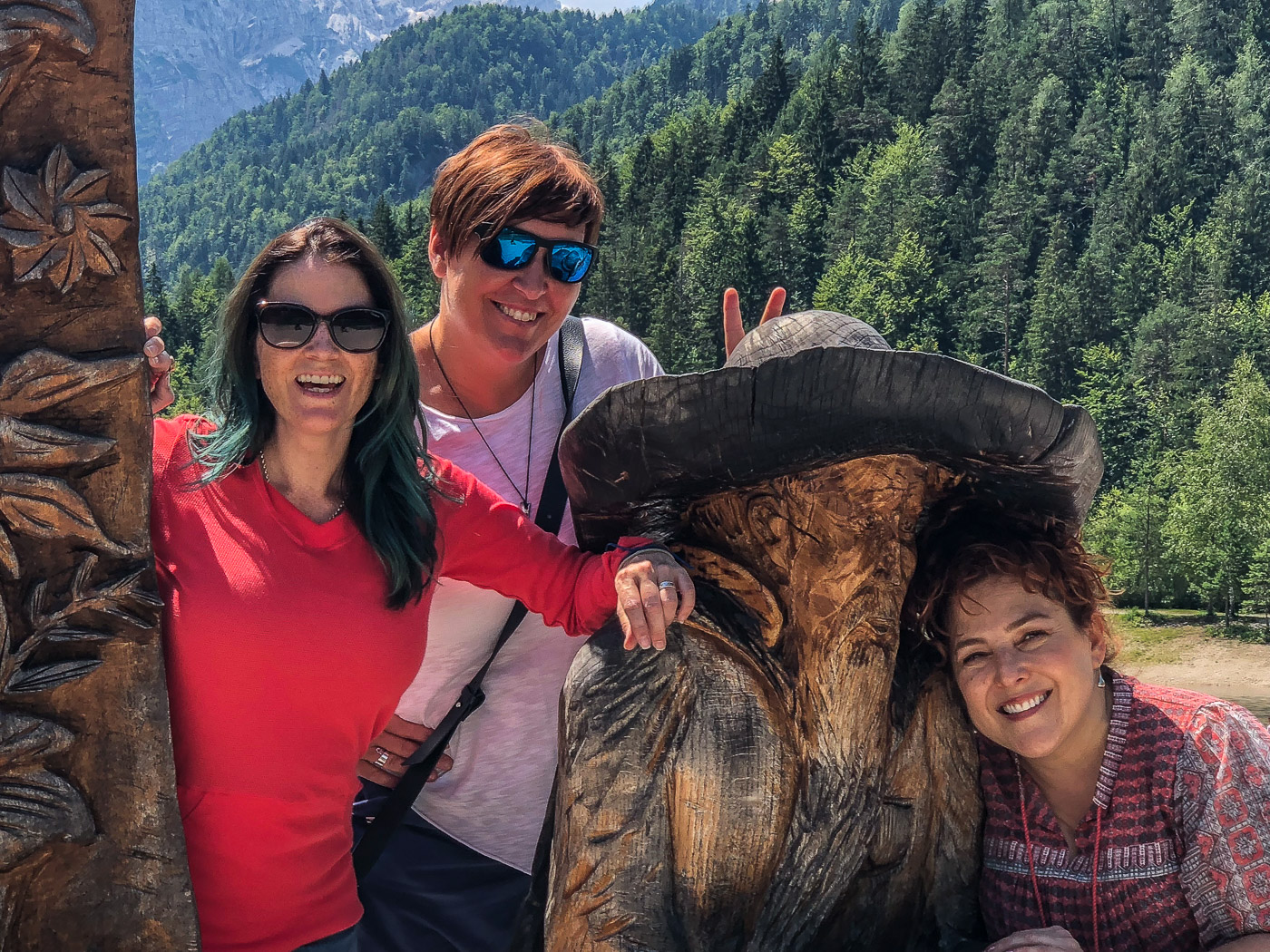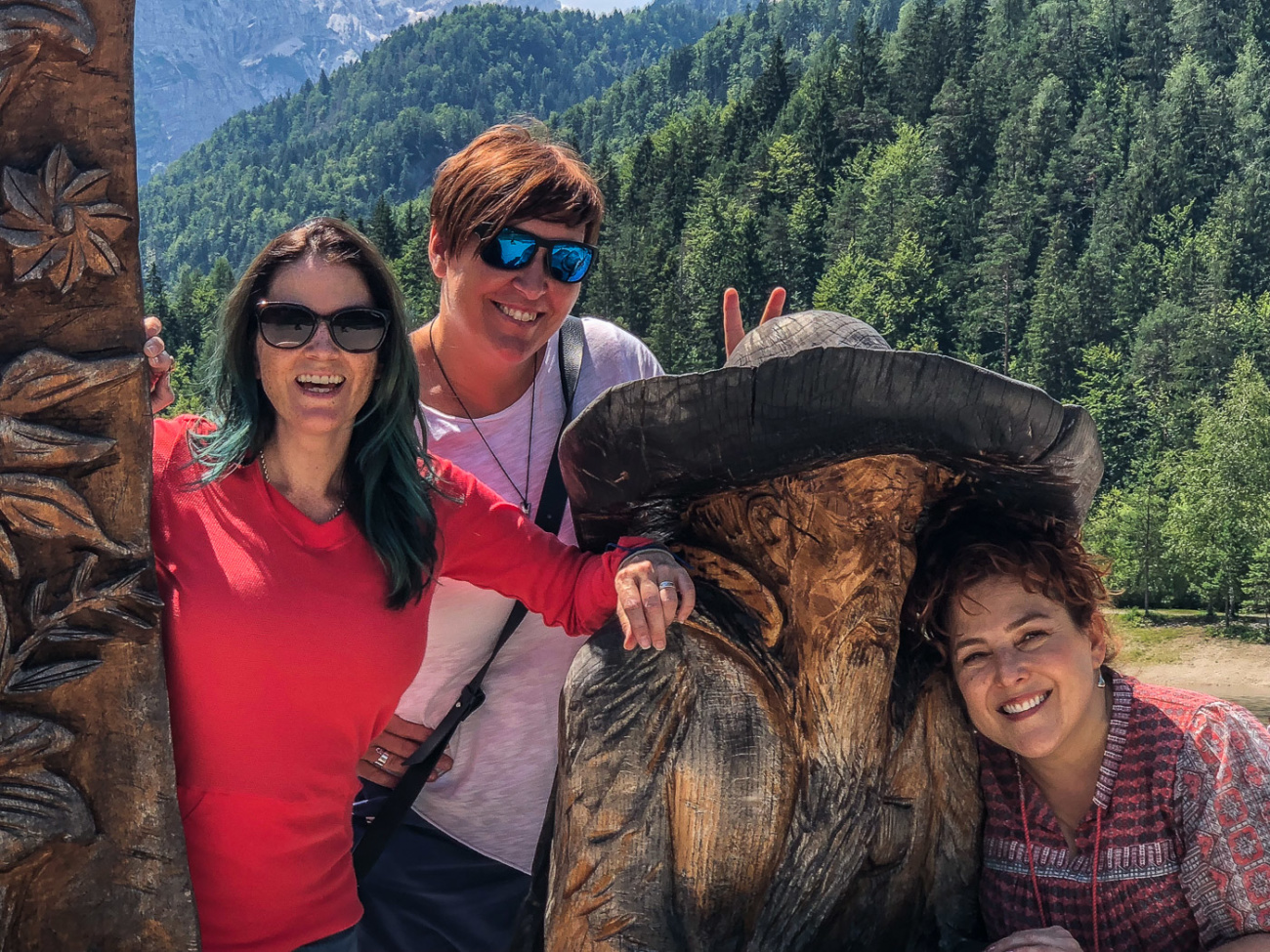 Tour Guide

If you can, hire a private local guide for the day. I got in touch with Tina Hiti from PG Slovenia (the PG is for Private Guides, but she can also be family friendly if you want her to).
Whether you want to go up into the Julian Alps, do a cultural tour of the countryside or perhaps a private food and wine tour, Tina's company will not fail you. We opted for a half-day tour and I had such an incredible time with Tina we stretched to a full day. And then I kept (keep) texting her just because I liked her so much. Tina, if you're reading this, I'm sorry but you're stuck in my world now. I'll text you later.
Guide to Slovenia: Day Trip from Lake Bled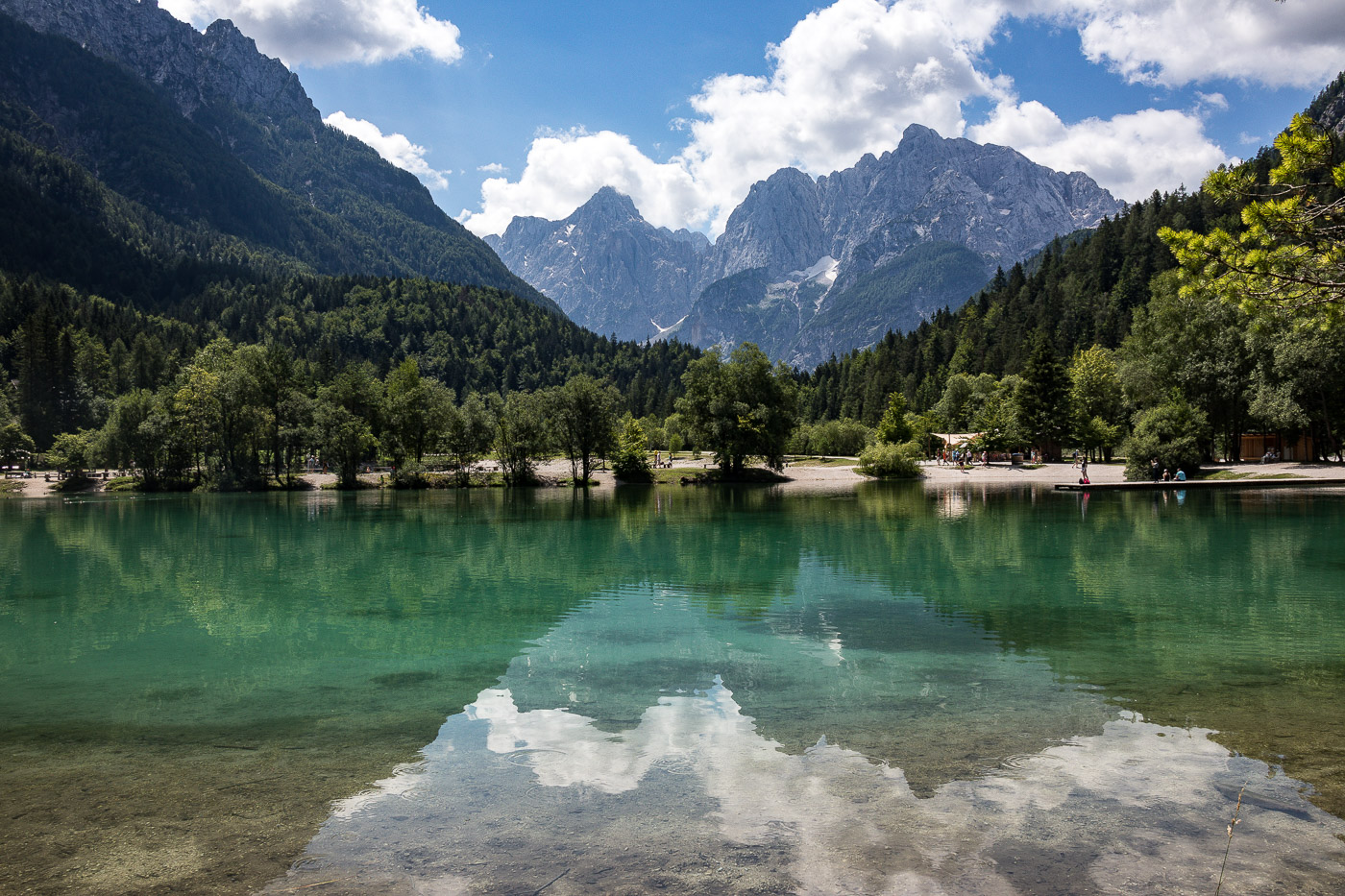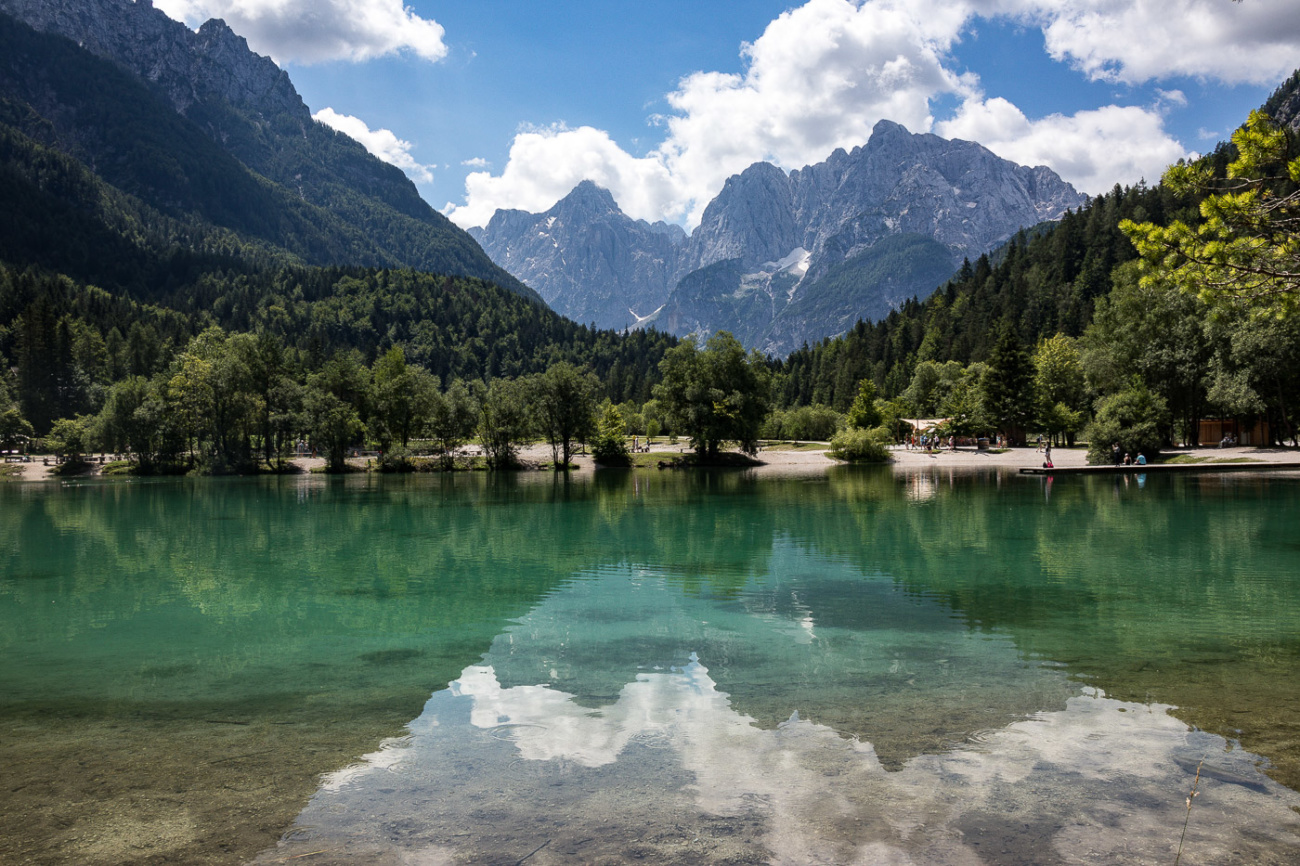 Kranjska Gora Alpine Region

If you have your own car, drive out to Jasna Lake in Kranjska Gora. It's stunning.
Oh, and do the Kneipp icy water "therapy" trail right next to the lake. Tina, our private guide lured us here with the promise of "health benefits," and then basically triple-dog dared us to walk the sharp rock-lined torture trail by saying we had "office feet." You'd think the freezing temperatures would numb your feet to the thousands of tiny rock shards slicing into your arches, but no. It'll make you feel alive or in pain. Mostly in pain.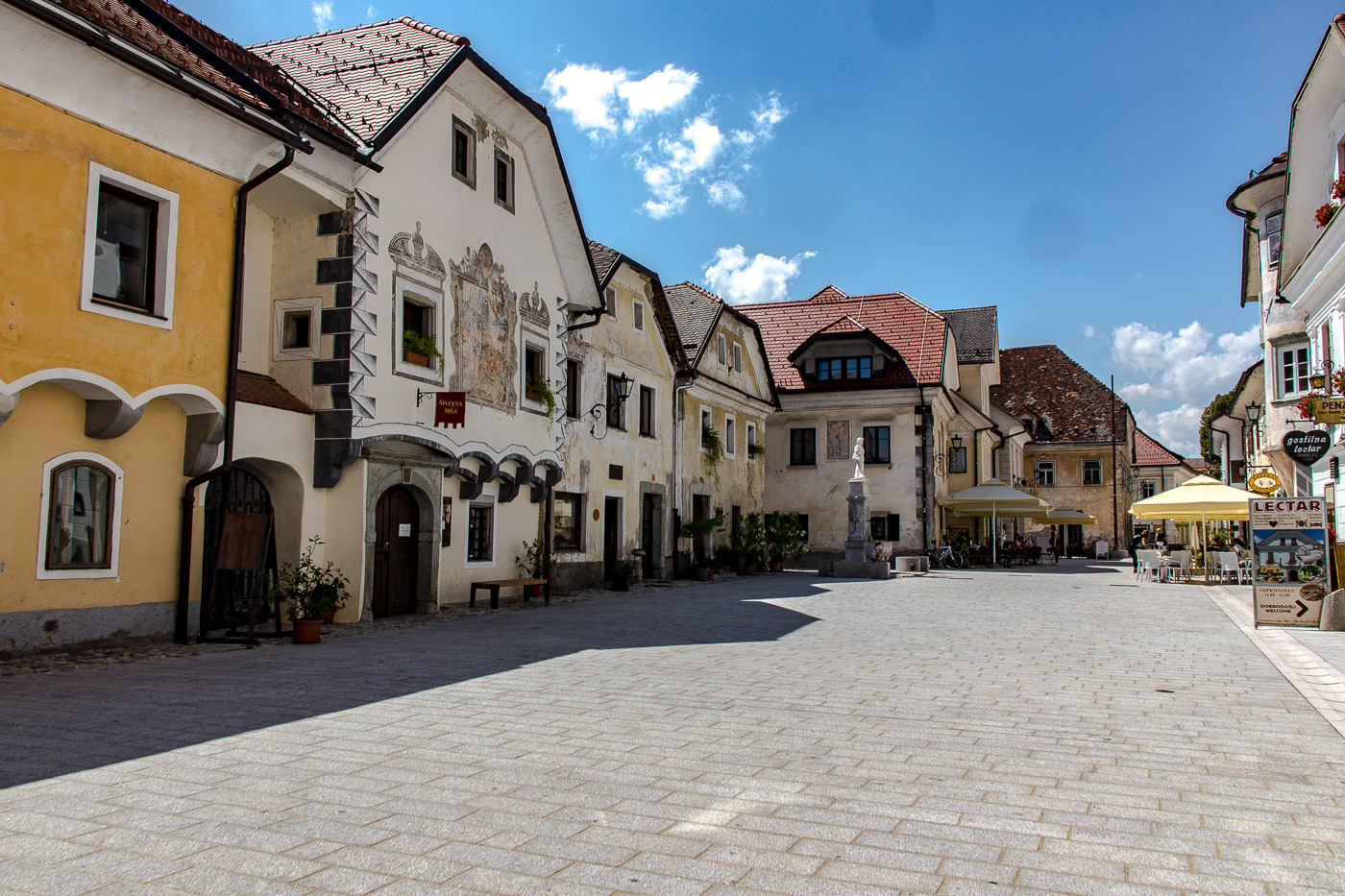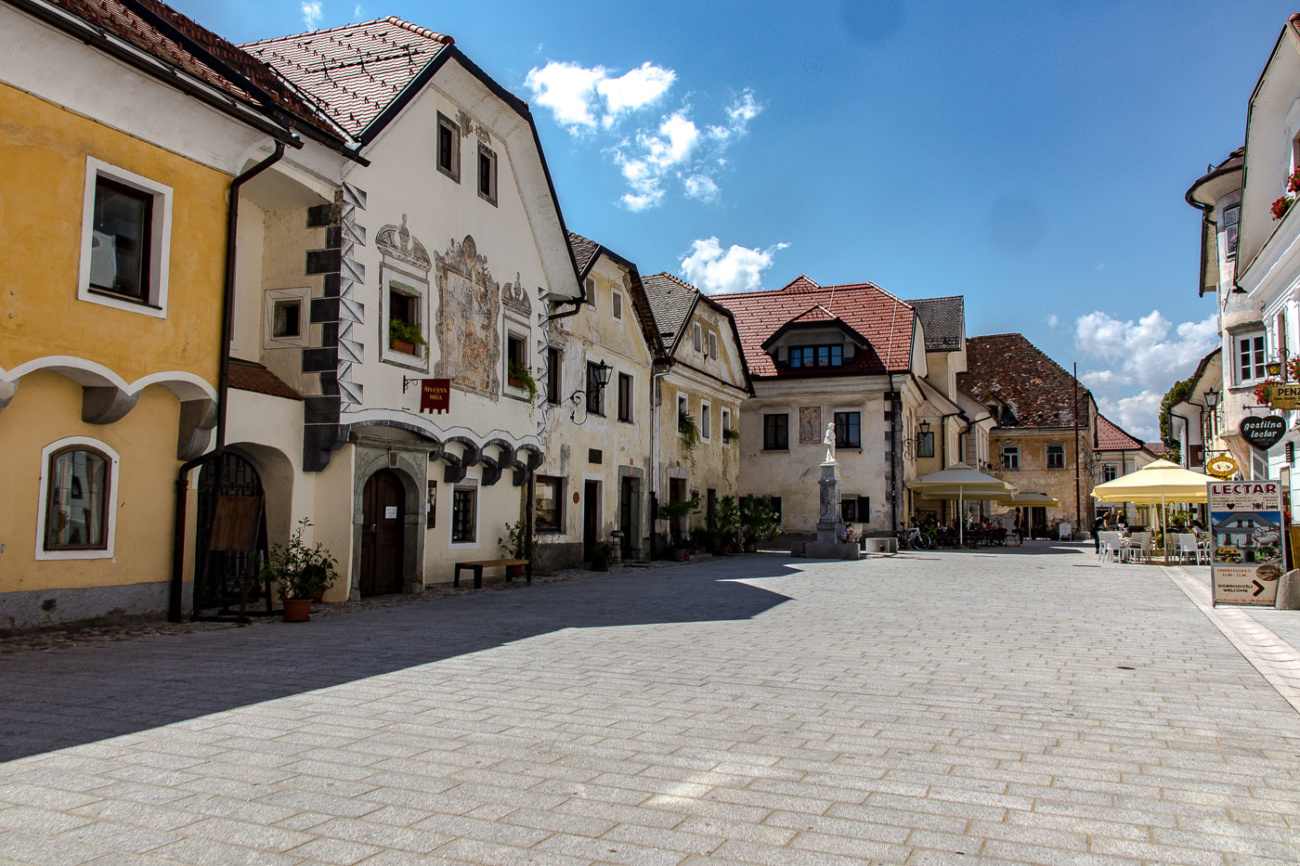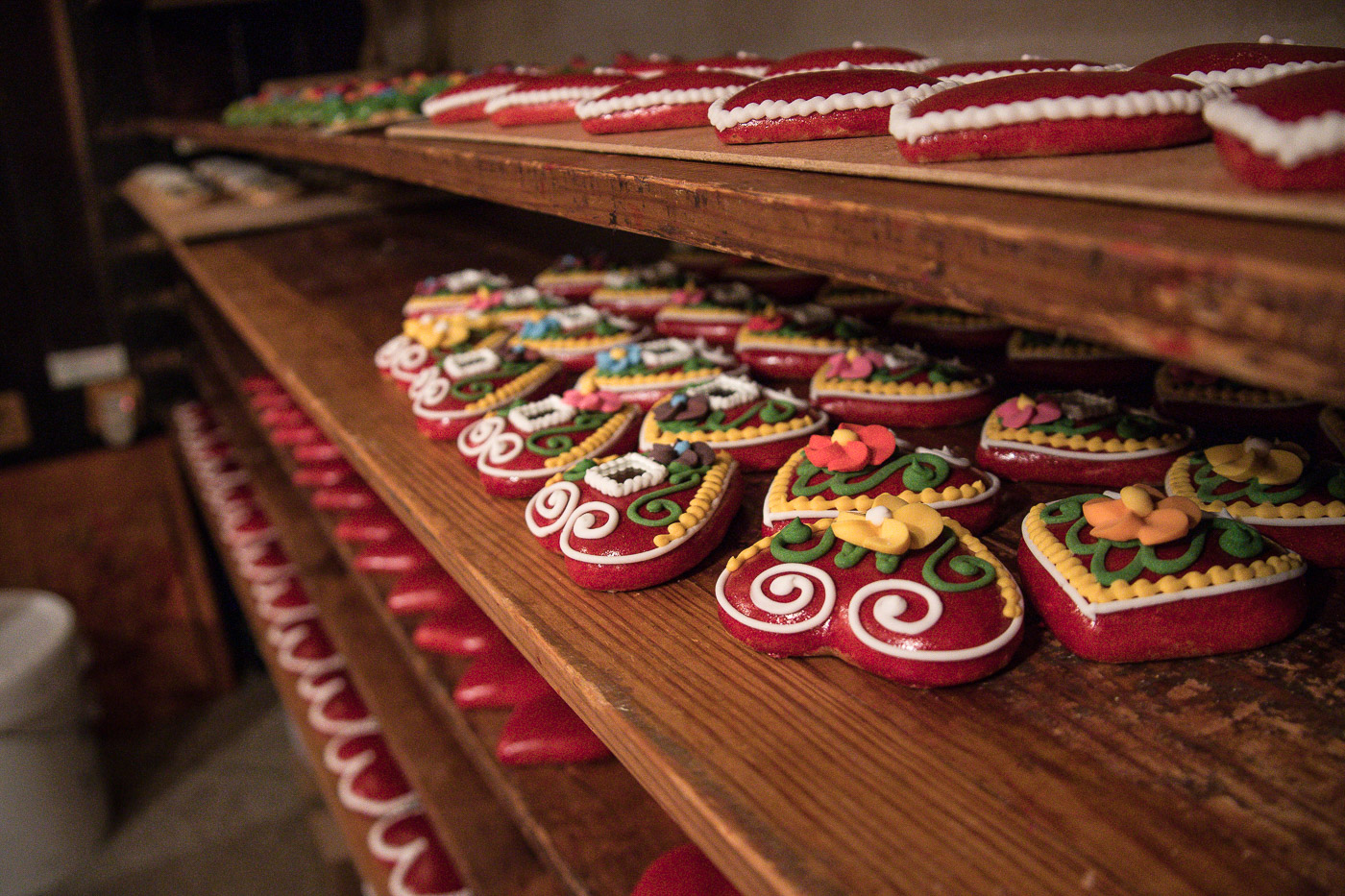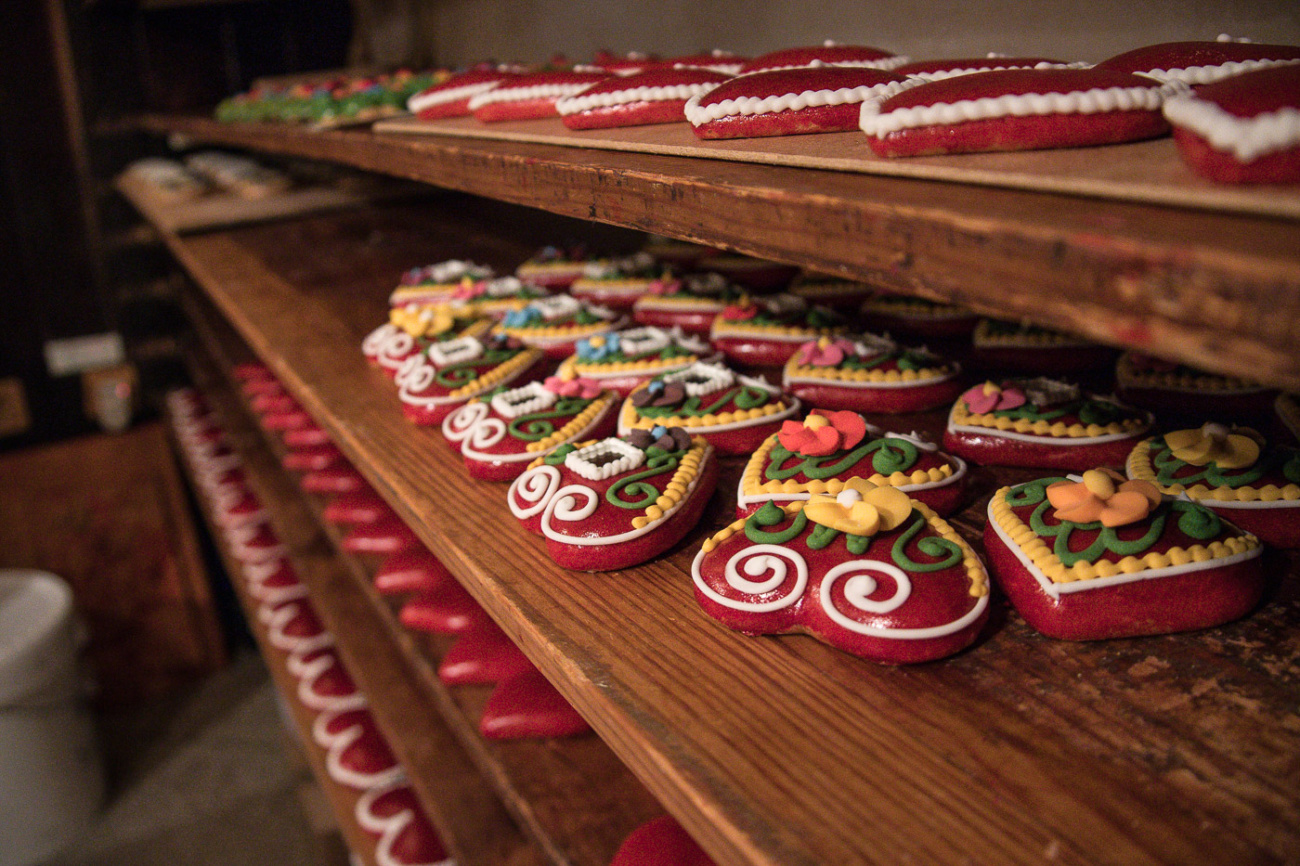 Radovljica

This medieval town is not only small and cute, but it boasts an excellent wine bar and a Gingerbread museum. Stop by Gostilna Lectar Gingerbread workshop to try their decorated honey-bread cookies. This would be an excellent place to pick up the traditional Slovenian gingerbreads for souvenirs.
While you're there, stop by Vinoteka Sodček for a wine tasting, especially the orange wines, or get some guidance and pick up a couple bottles. I fell in love with a really special wine called Uvaia, which is aged iegg-shapeded barrels.
Highlights
Jasna Lake in Kranjska Gora, the goat statue next to the lake, homemade Slovenian snacks in some secret ski valley location with our private guide Tina, and wine tasting in the gingerbread town of Radovljica.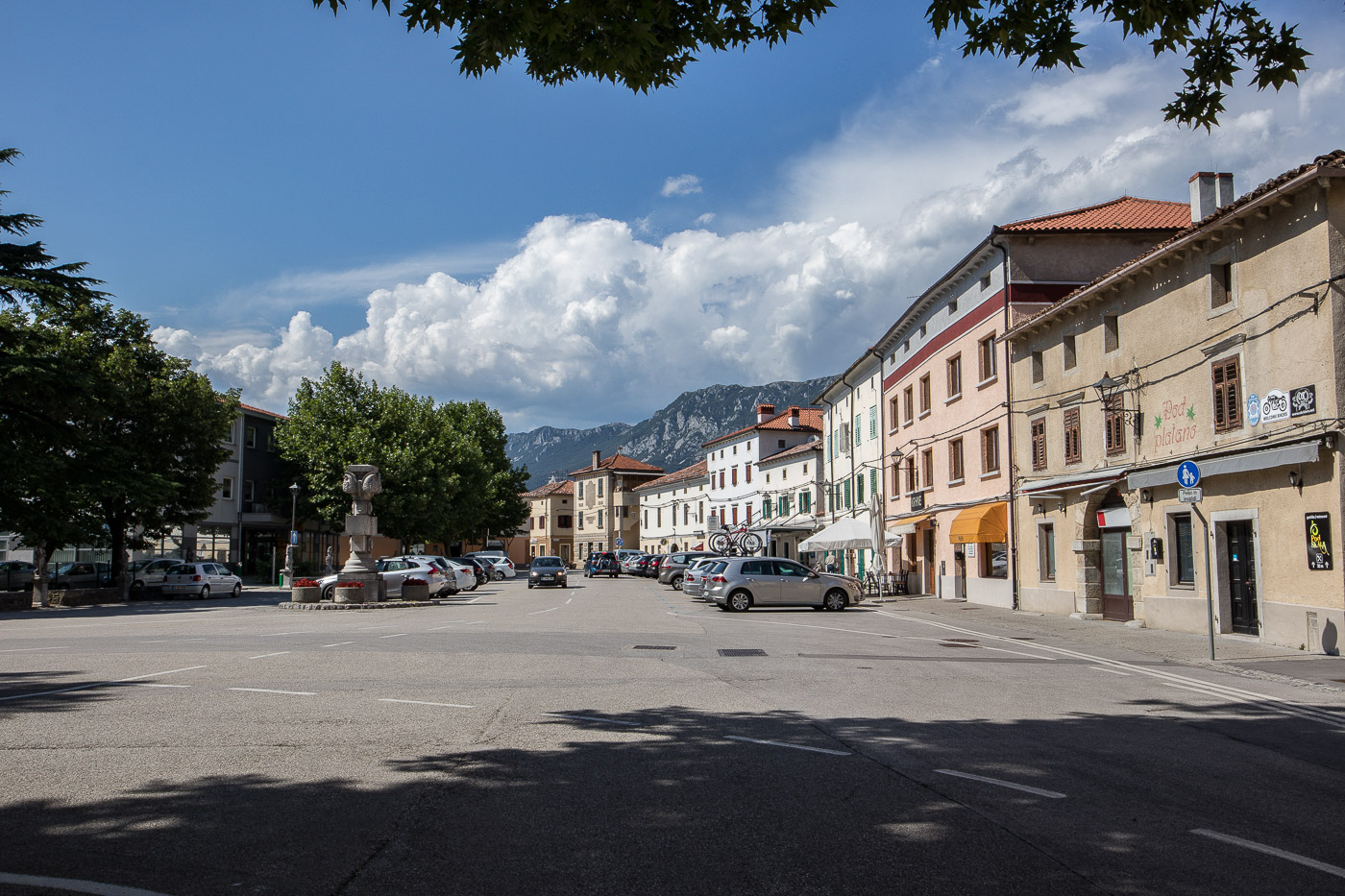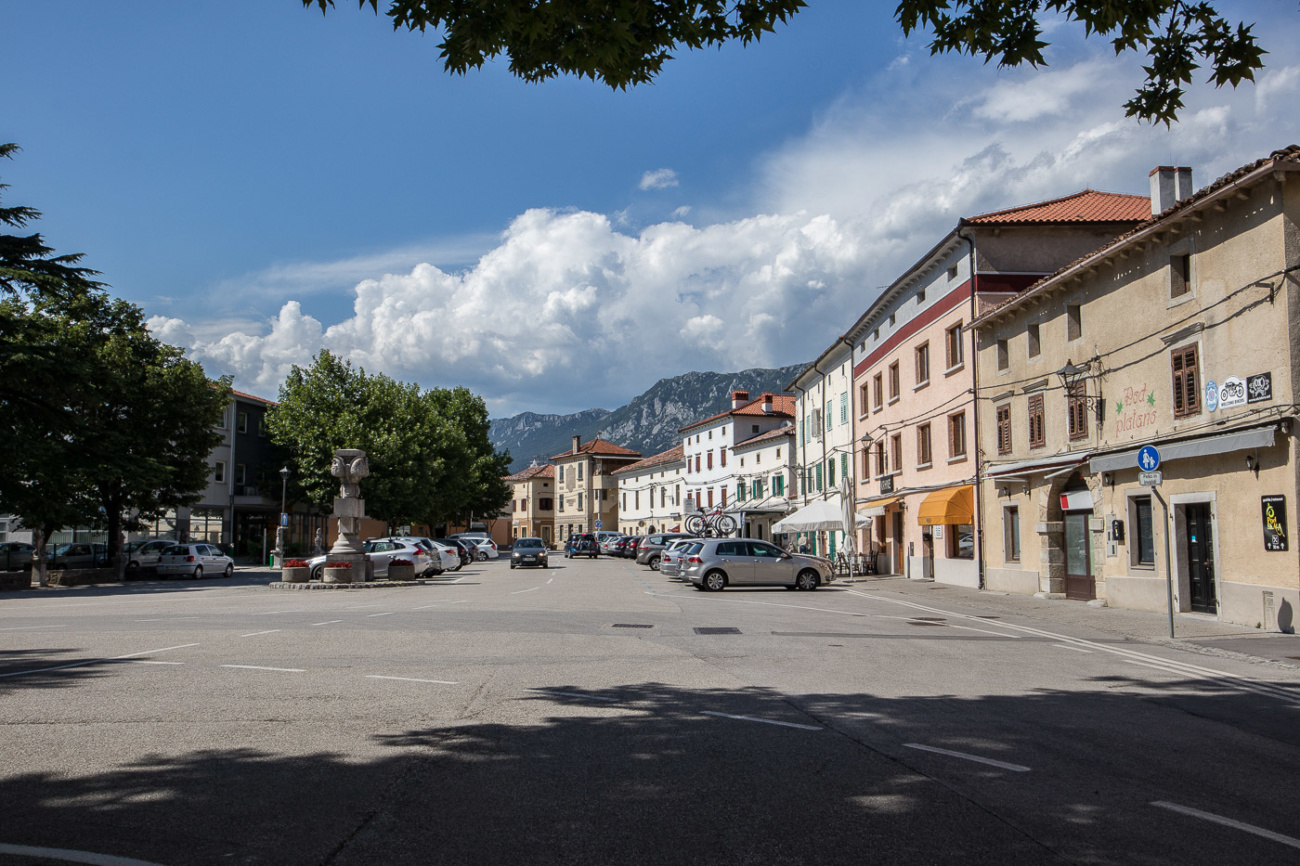 Postojna / Vipava Valley Region
Guide to Slovenia: Where to Stay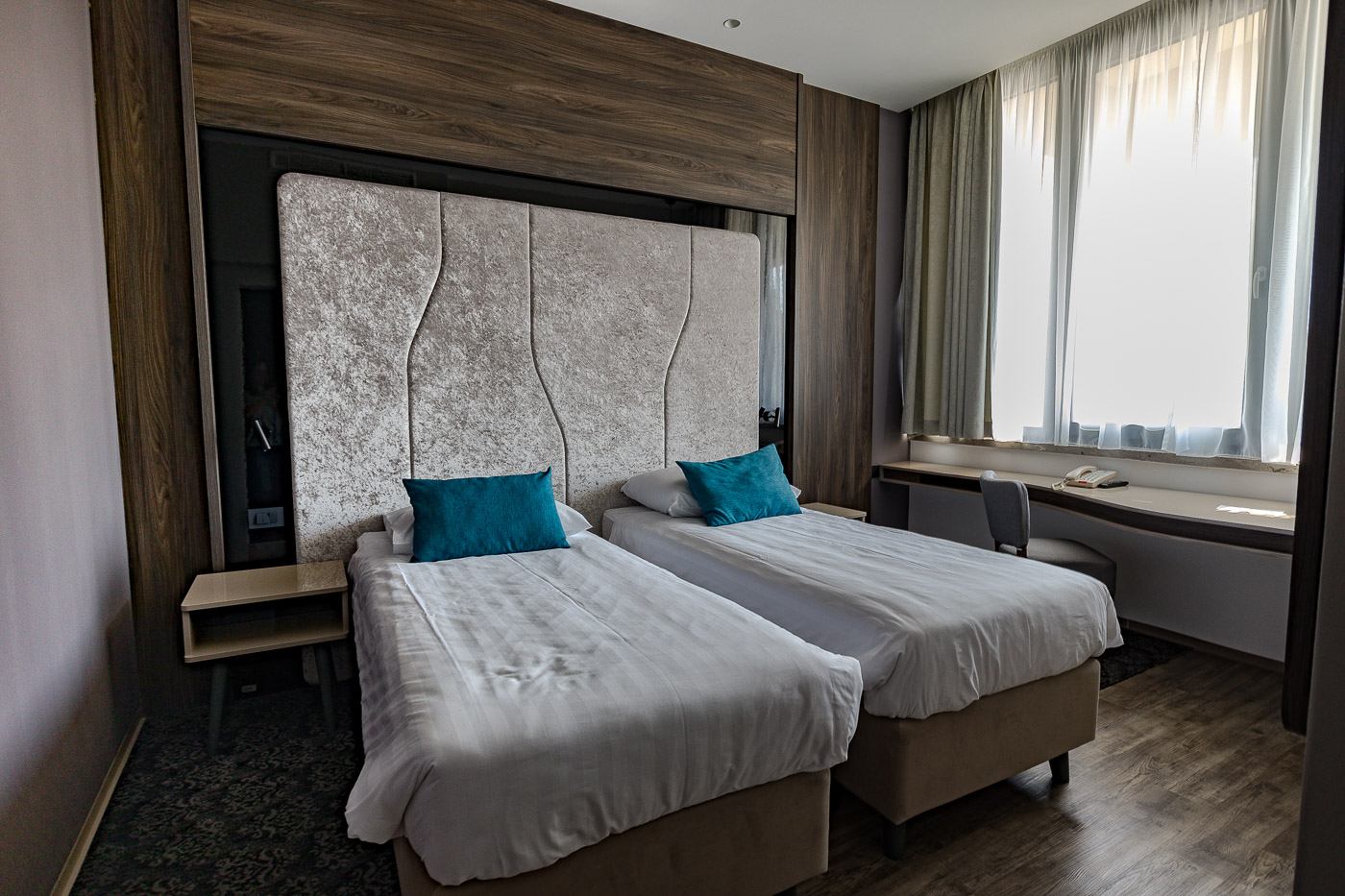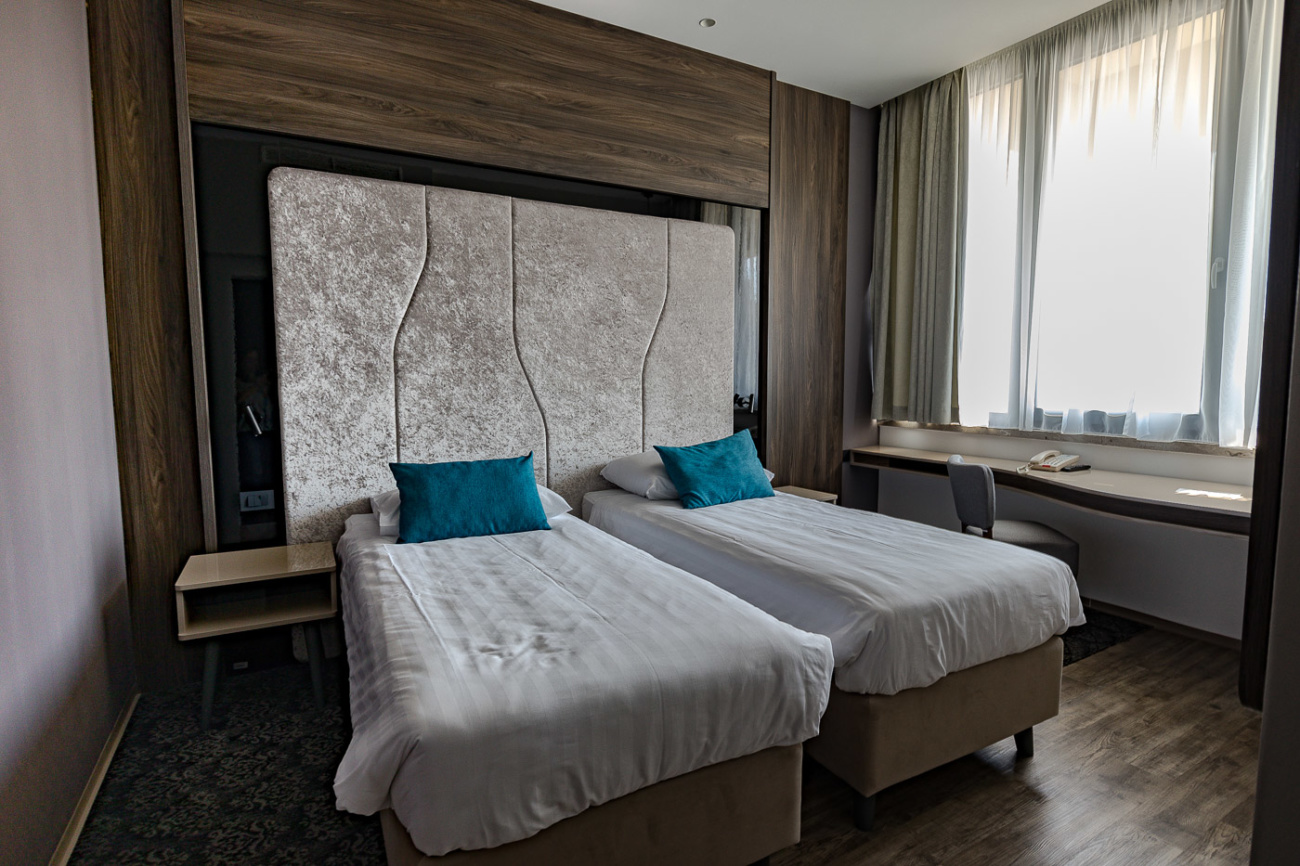 BEST OPTION FOR CHECKING OUT THE CAVE: Postojna Hotel Jama
Newly renovated, this sleek hotel is comfortable and smartly designed with modern conveniences. Though the outside can be a zoo during the day, the hotel itself maintains a quiet oasis of calmness. Breakfast is included.
Tip: Buy your castle and/or cave tickets at the hotel to receive a discount.
FAVORITE FOR STAYING OFF THE BEATEN PATH: Majerija – the restaurant here is one of my favorites in the entire country. This clean adorable little chateau is a perfect guest house if you're looking for the Slovenian village experience.
Guide to Slovenia: Where to Eat/ Drink
Postojna – Hotel Jama's Magical Garden restaurant
At night, it's really the only game in walking distance. But fortunately, it's really nice. Plus you get a 10% discount if you're a hotel guest. There is a large outdoor area, but watch out for mosquitos if you're dining after dusk.
For two, our shared meal of pea soup, salad, seared salmon and a bottle of Bâtič orange wine totaled €54 / $62
+There was also a simpler restaurant next to the castle, which is a 10-15 minute drive at night but I didn't try it. Sometimes the convenience of drinking a glass of wine and taking the elevator to bed trumps exploration.
++For lunch there are a few fast food-type shops right out front but I didn't arrive early enough to try/vouch for any of them.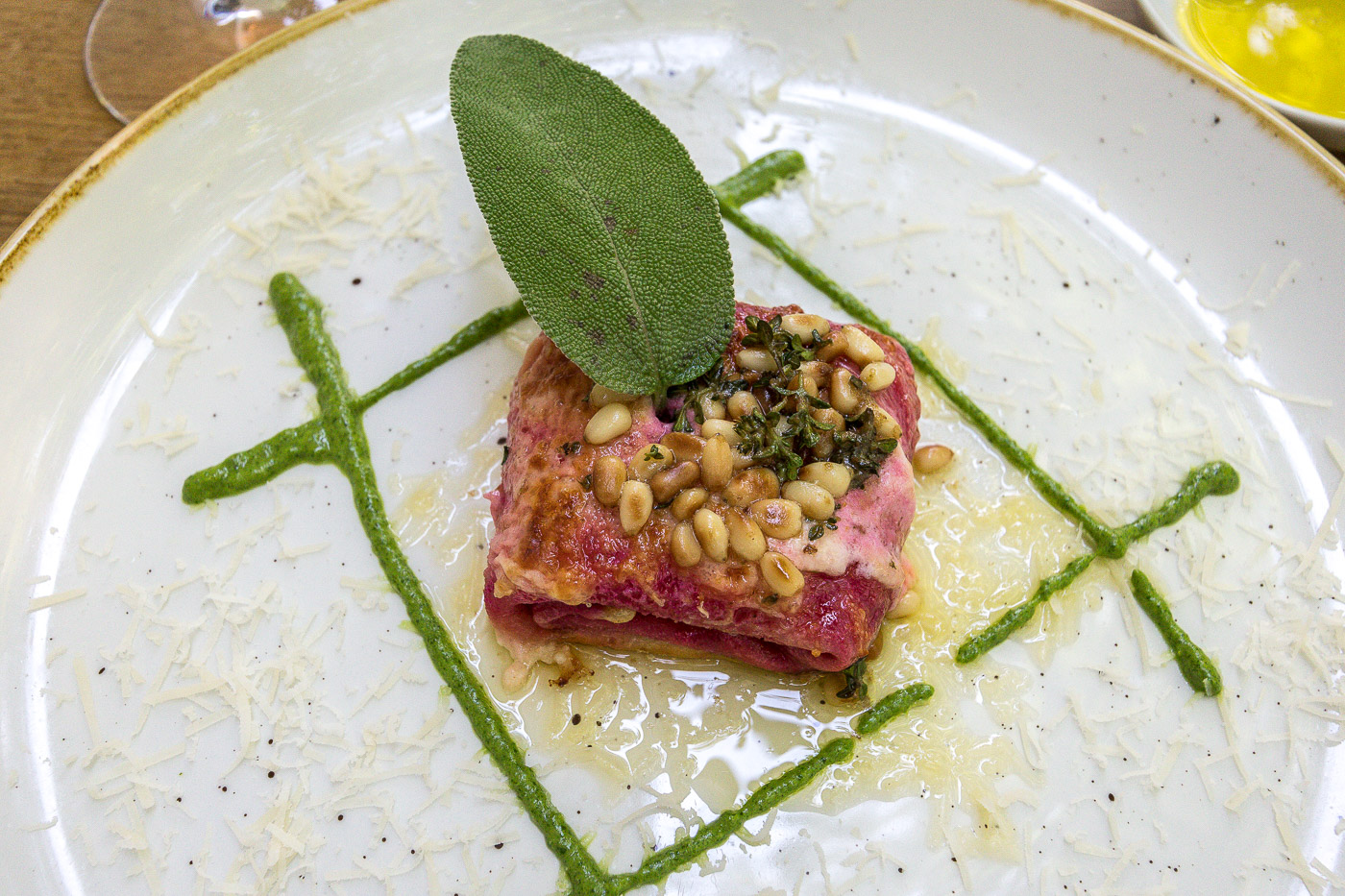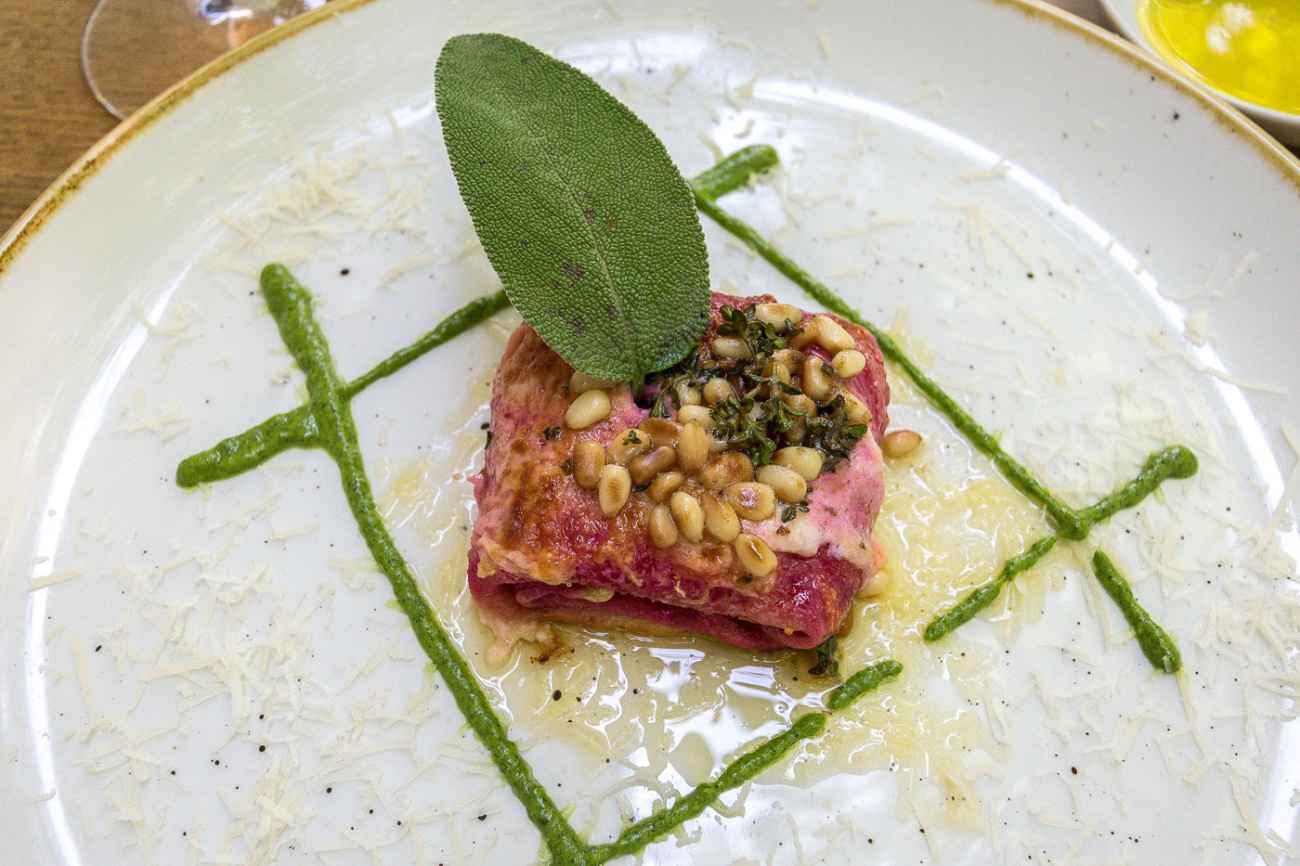 Slap 18, Vipava

This meal was everything. I couldn't love it more. Sitting in the shadow of a gorgeous chateau near the Italian border, this high-end, organic garden-from-ten-feet-away-to-table was dreamy. Throw in a couple of llamas grazing behind a hedge next to the patio and excellent local wines and honestly, I'm ready to book a ticket and go back.
We ordered six small vegetarian courses from the starter menu that included pasta, beetroot pancakes, gnocchi and more delicious, delicious carbs. We had them pair each course with their favorite sparkling or orange wine and really it was absolute heaven.
Guide to Slovenia: What to See/Do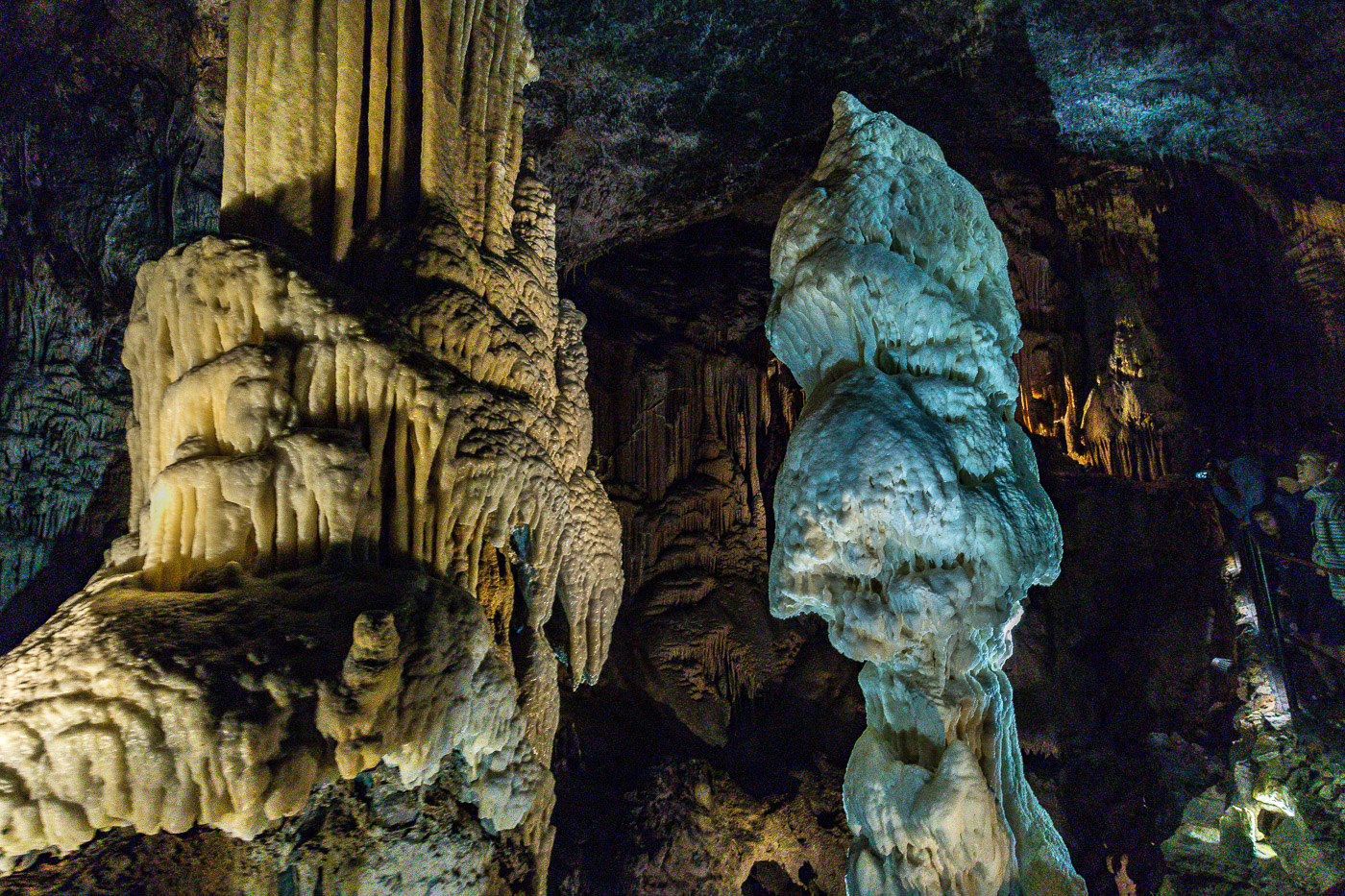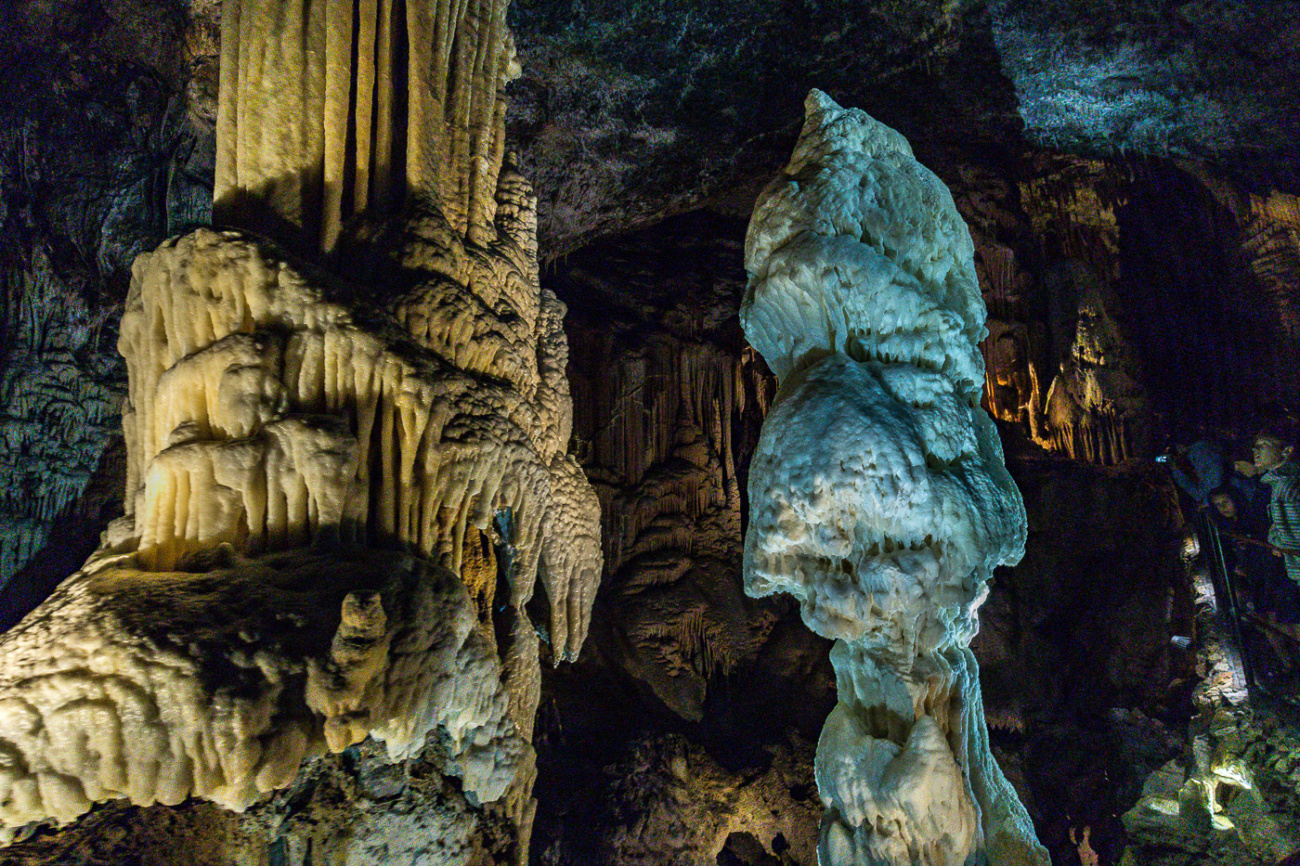 Next to the hotel

PostojnaCave is massive. It's a 90-minute tour that begins on a fairly fast train into the earth. I expected Gene Wilder to start menacing us with his "no earthly way of knowing…" spoken word poetry at any moment.
After riding 5km / 3miles into the earth, they dropped us off and had us walk really fast back. Our English-speaking tour guide was a bit testy and threw out lines like "I won't wait for you so please catch up." We also learned about some weird underground fish thing that is blind and can go for 10 years without eating. Unlike myself who has a hard time going for four hours. Our guide called it "human fish." As we passed its tank she said, "do not yell. Human fish is very sensitive."
The formations underground are really impressive and they've done a great job paving and lighting the paths. If you're a cave person, it's definitely worth a visit.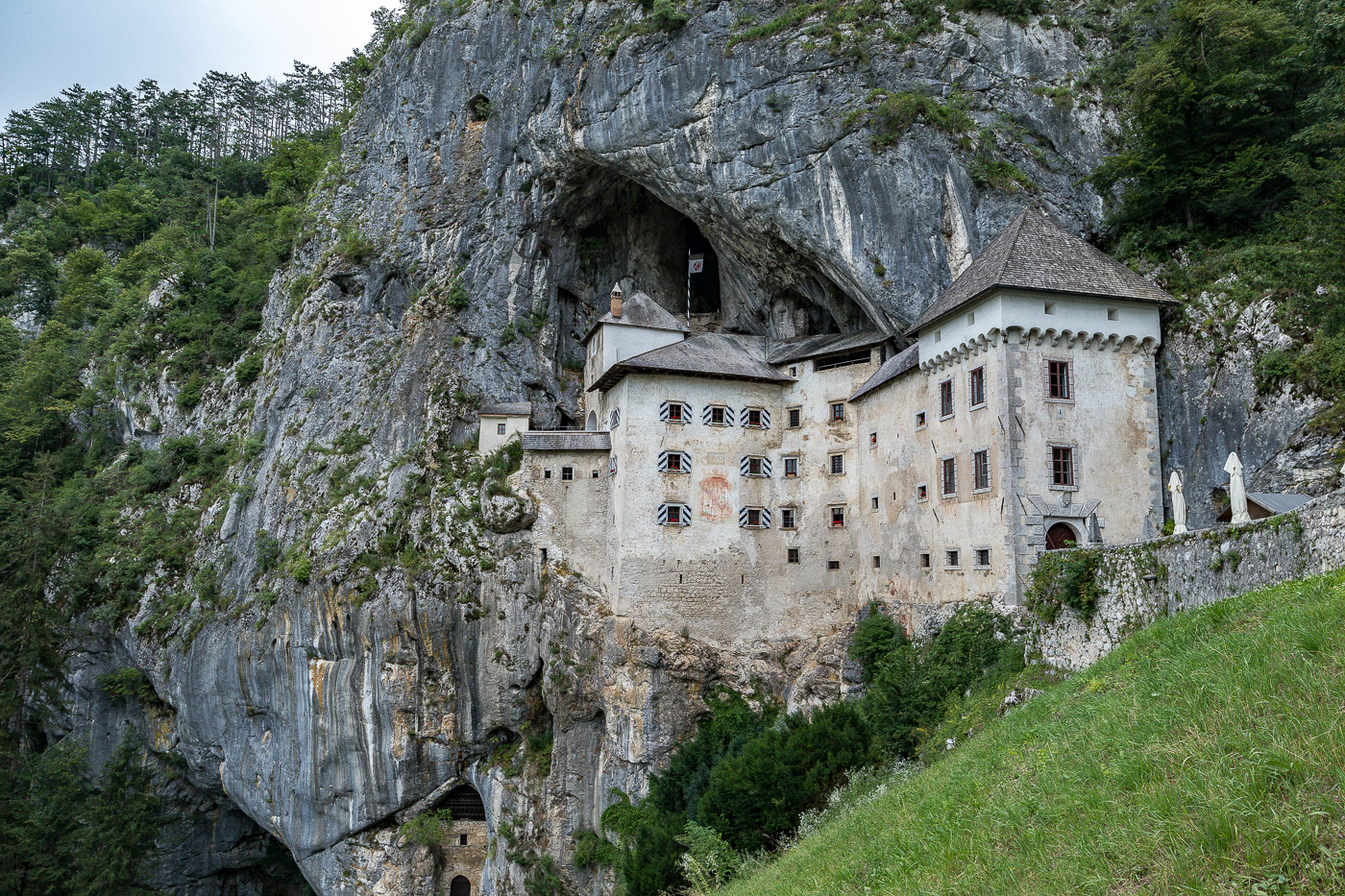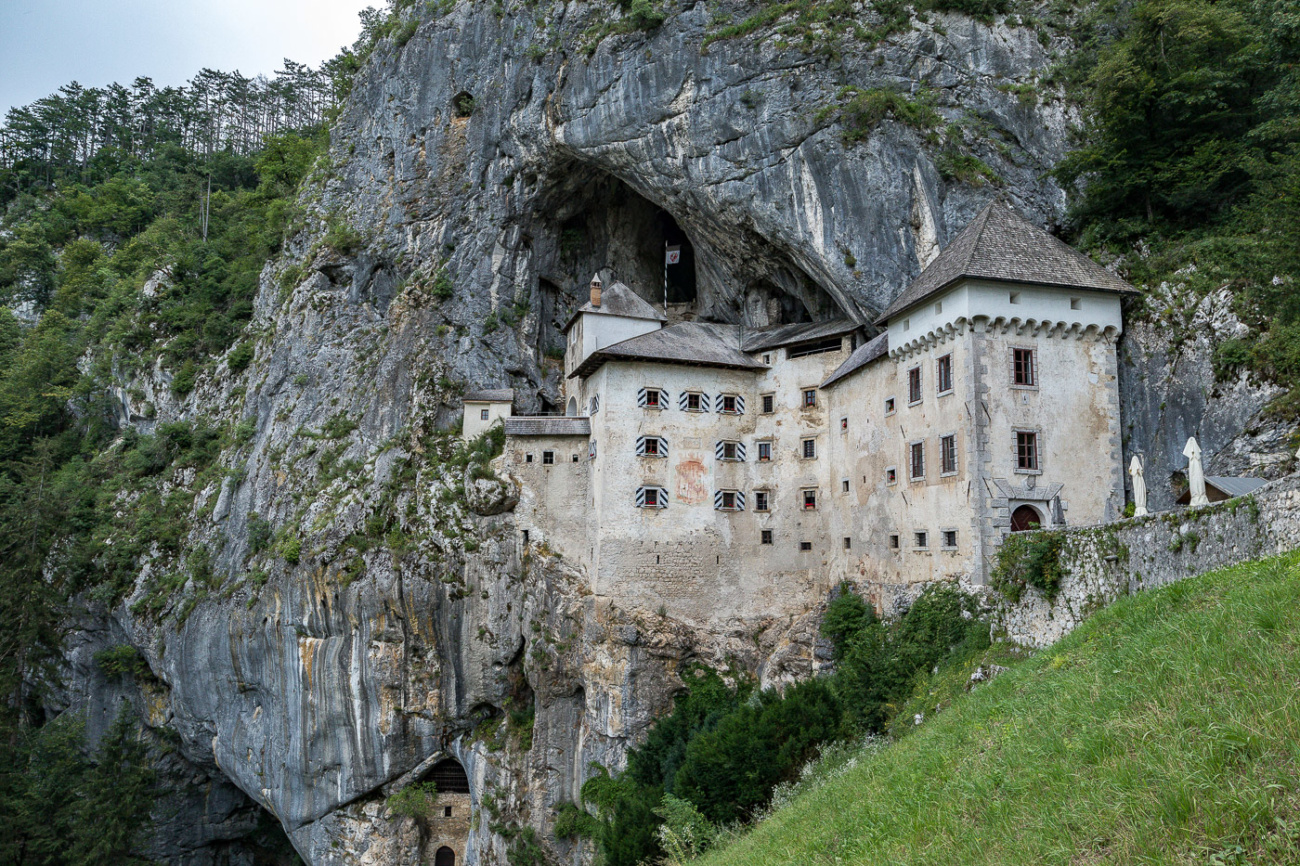 Predjama, Slovenia

The Castle in the cave – you can't miss it.
At first, my friend Rachel and I were seriously disappointed that we arrived too late to tour both the castle and the cave. In the end, we got the better deal. Because we wound up on the last cave tour of the day, it meant that we didn't make it over to the castle until after 7 or 7:30. It was a total stroke of luck.
We had the entire exterior to ourselves, in good light, for free. I mean, we pulled out a full-on photoshoot. Which leads me to:
Tip: If you have a car, drive to the castle after the tour groups are gone. Even if you get to tour it earlier in the day, if you want good photos, head back after the busloads are gone.
Highlight
Lunch at Majerija in Slap. That meal will go down as one of my all-time favorites.
Sunset photo shoot at Predjama Castle and an excellent night's sleep at Postojna Hotel.
Guide to Slovenia: Transportation
A couple of tips about transportation in Slovenia.
Buses in Slovenia are really nice and super easy to navigate. I took the bus from Ljubljana (the bus terminal is across from the train station) to Lake Bled for less than €8 / $9. It was comfortable, air-conditioned and a fast, smooth ride that stopped right in the middle of town (as opposed to the train that arrives outside of Bled).
Check out bus schedules before you hop on a train. It just might be the better deal.
Trains are also fairly easy to take in Slovenia. The main station in Ljubljana is right near the city center and is fairly small.
Tip: Make sure you head underground to the farther tracks if you're heading out of the country. I almost missed my train while I lingered near the local tracks having coffee.
Car Rental was extremely easy. I rented from a local company in Bled called IdealRent (+386 41 209 545). I tried to reach them before I left the US, but they did not respond through their website. However, I asked my guesthouse to arrange it 24 hours in advance and had no issue with availability. They not only dropped the car off at the hotel, but met me at the train station back in Ljubljana.
Tip: Dejan, who runs the company, was so super friendly that it was hard to be annoyed with him for being an hour late. Though I did try. To make sure that doesn't happen to you, be sure to follow up with a confirmation that yes, you are expecting the car at x time at x location.
Disclosure: As a Booking.com Associate, I earn a small amount from qualifying purchases. However, I don't recommend anything that I don't personally love.
So there's my 5-day first-timers guide to Slovenia. Did I miss anything? Tell me in the comments below!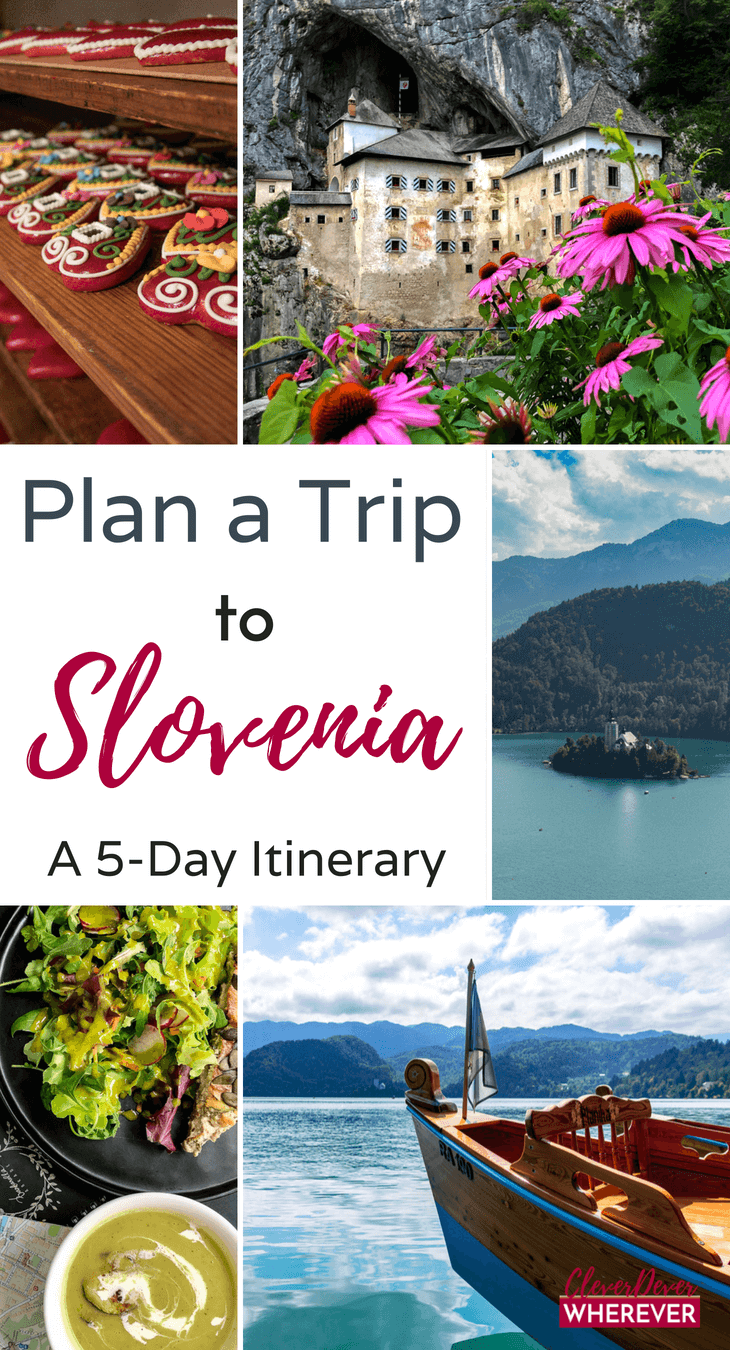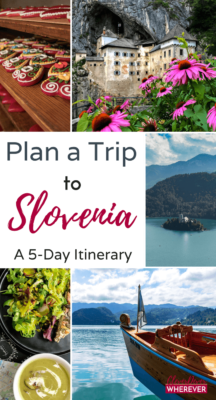 Read More
About Slovenia