"Diiiiiiii-rect from Vienna for seven days only
At popular prices these wonders of wonders
Whose dazzle and daring and fabulous feats have
Astounded the capitals of Europe!
"And confounded the orient as wellllll!"
If you watched our two Vienna episodes of From A to C with Nowhere to B, you know that Rachel and I could not stop ourselves from singing that showstopper. Sorry Vienna. We're actors, that musical theatre stuff is permanently lodged in our brains.
We had a day and a half in Vienna to soak up what we could. I've visited the city several times so this time I was really looking for local insider tips on what to do and where to eat in Vienna. I had the good fortune of getting advice from George, our pedicab driver, as he pedaled us around the city. You can read his suggestions here.
If you're looking for where to eat in Vienna, below is my list of where I ate and what I thought of it. I've also got the rundown of what I did during my 36 hours, so keep reading. If you want an overview of currency, language and customs read this.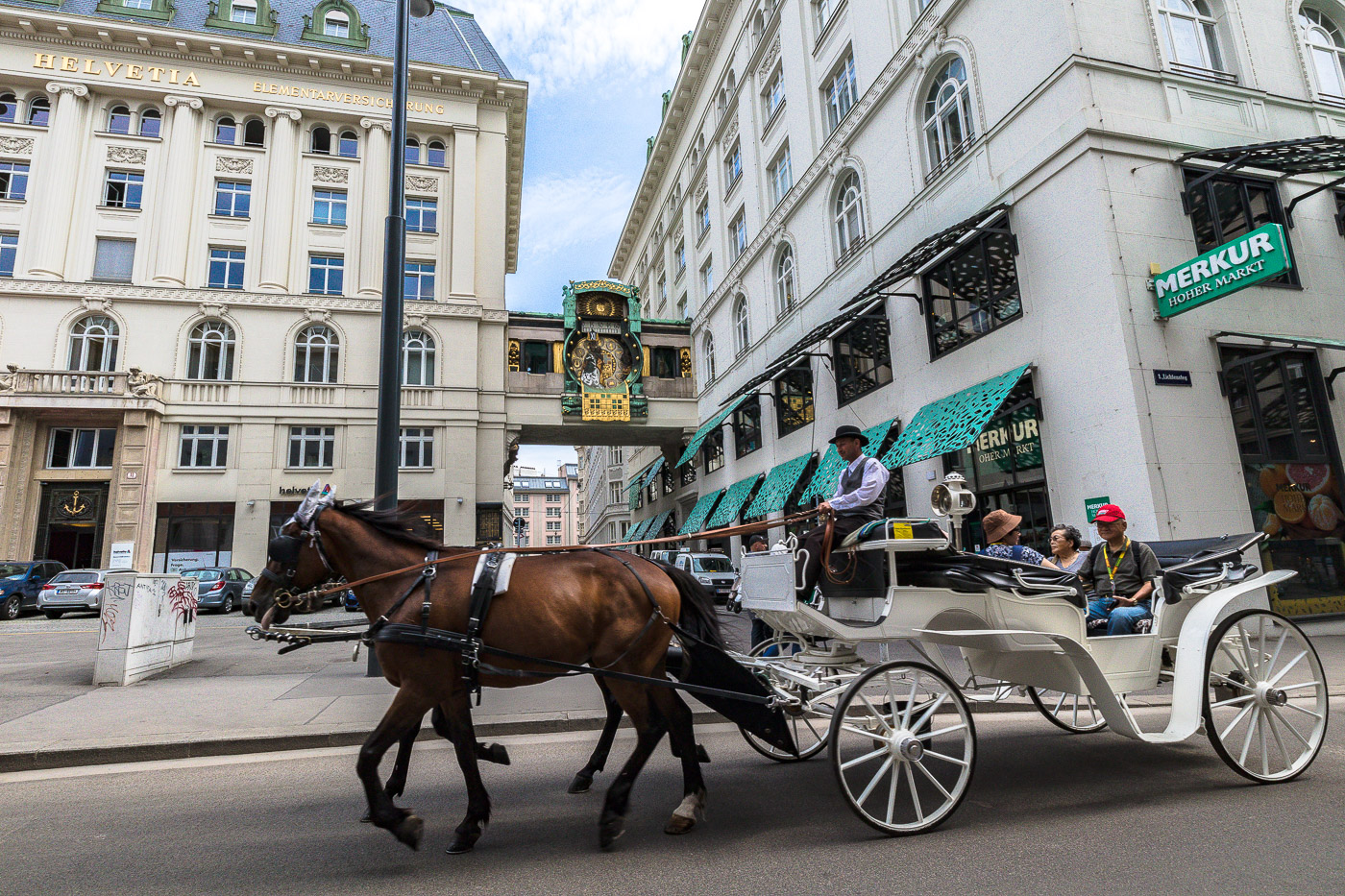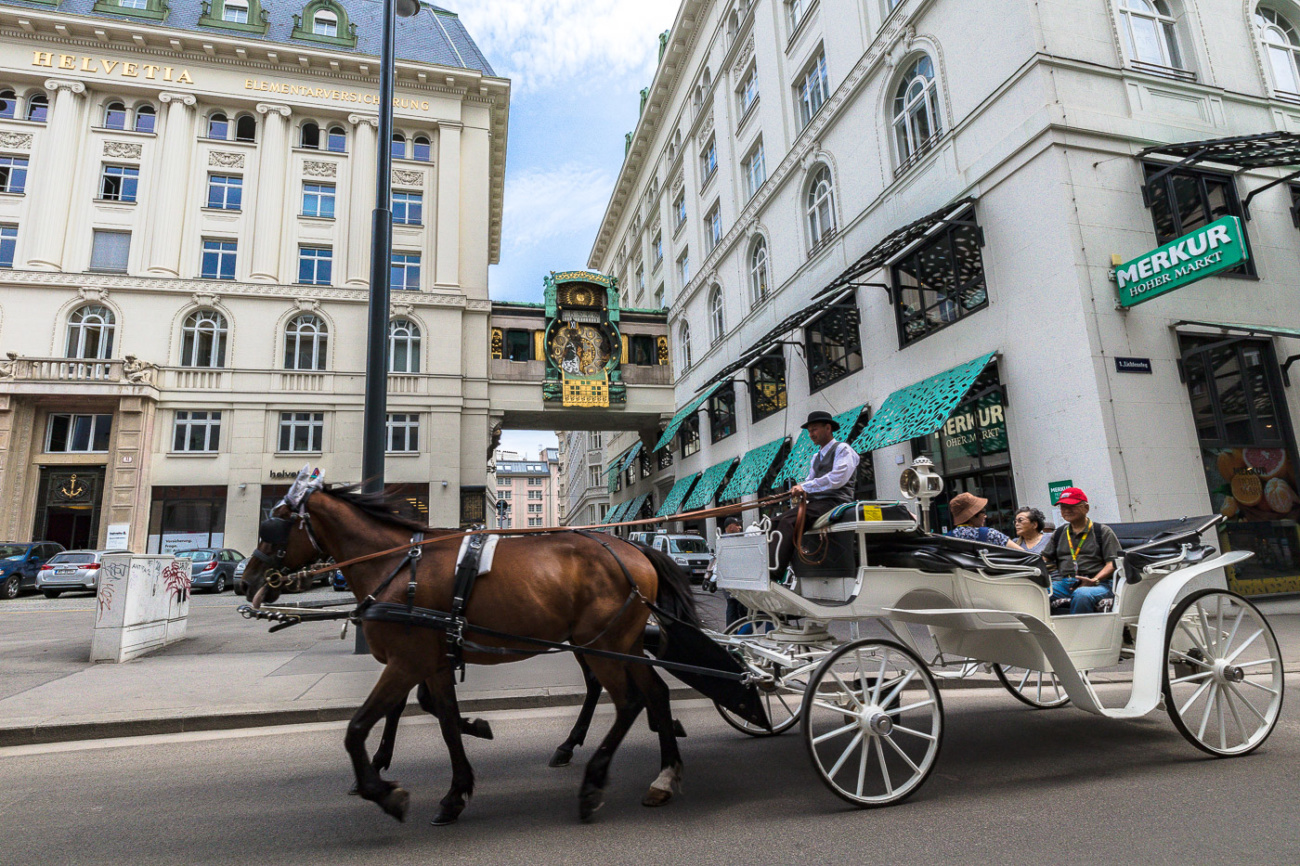 Where to Eat in Vienna (and Drink, too!)
Austrian food can be meat heavy, but there are still great dishes for the vegetarian. I'm a bread and cheese girl. And let's face it, it's one of the world's great partnerships; like peanut butter and chocolate or Instagram and floppy hats. In Bavaria, they do it spectacularly with a dish called käsespätzle, and they take it a step further by putting crunchy onions on top. Bam! It's easy to find, and as a vegetarian, it's a great treat, so look for it.
Here's the list of where I ate it in Vienna: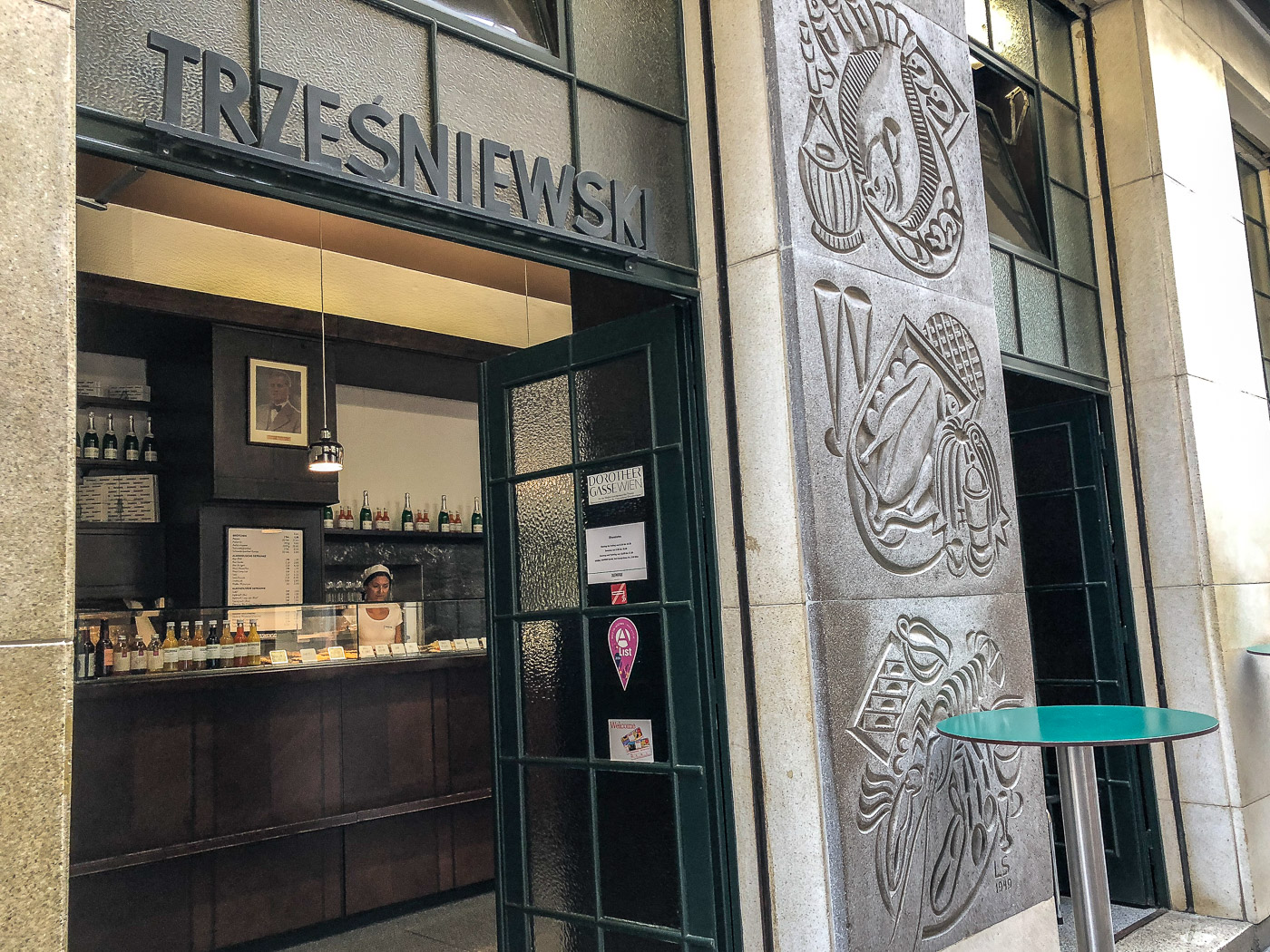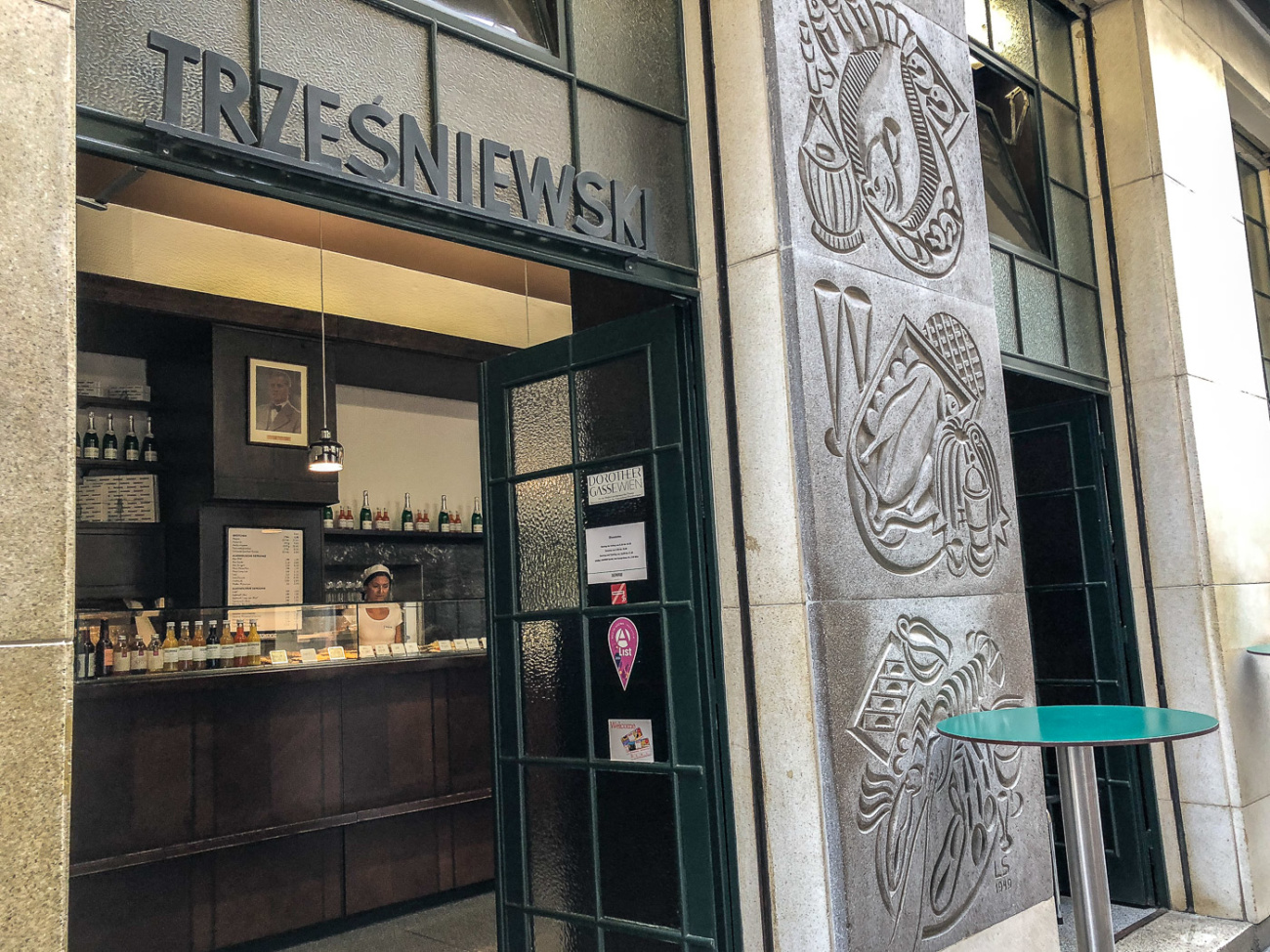 Trzesniewski

Around €1.3 / $1.5 per slice
Dorotheergasse 1, Vienna 1010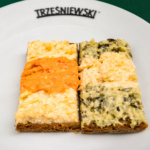 This little city gem turned out to be my favorite new find. It will definitely be a place I return to for a snack or light meal. This 120-year-old shop serves open-faced brown brötchen (small bread) with delicious fresh toppings.  Offerings range from sandwiches with egg salad to red pepper spread, tuna salad to horseradish and pickle toppings. (meat spreads are also available)
Spelunke 

Four tapas dishes and four cocktails/beers for two people = €68/$78
Taborstraße 1, Vienna 1020
Next to the Danube, this casual-chic restaurant was the perfect place for dinner. They have an EXCELLENT käsespäetzle (see description above). It's also a chill place to enjoy craft beers and cocktails, alongside other delicious dishes like truffle fries and arctic char. The ambiance is youthful and fun with a groovy indoor area and a great patio next to the street. Service was great.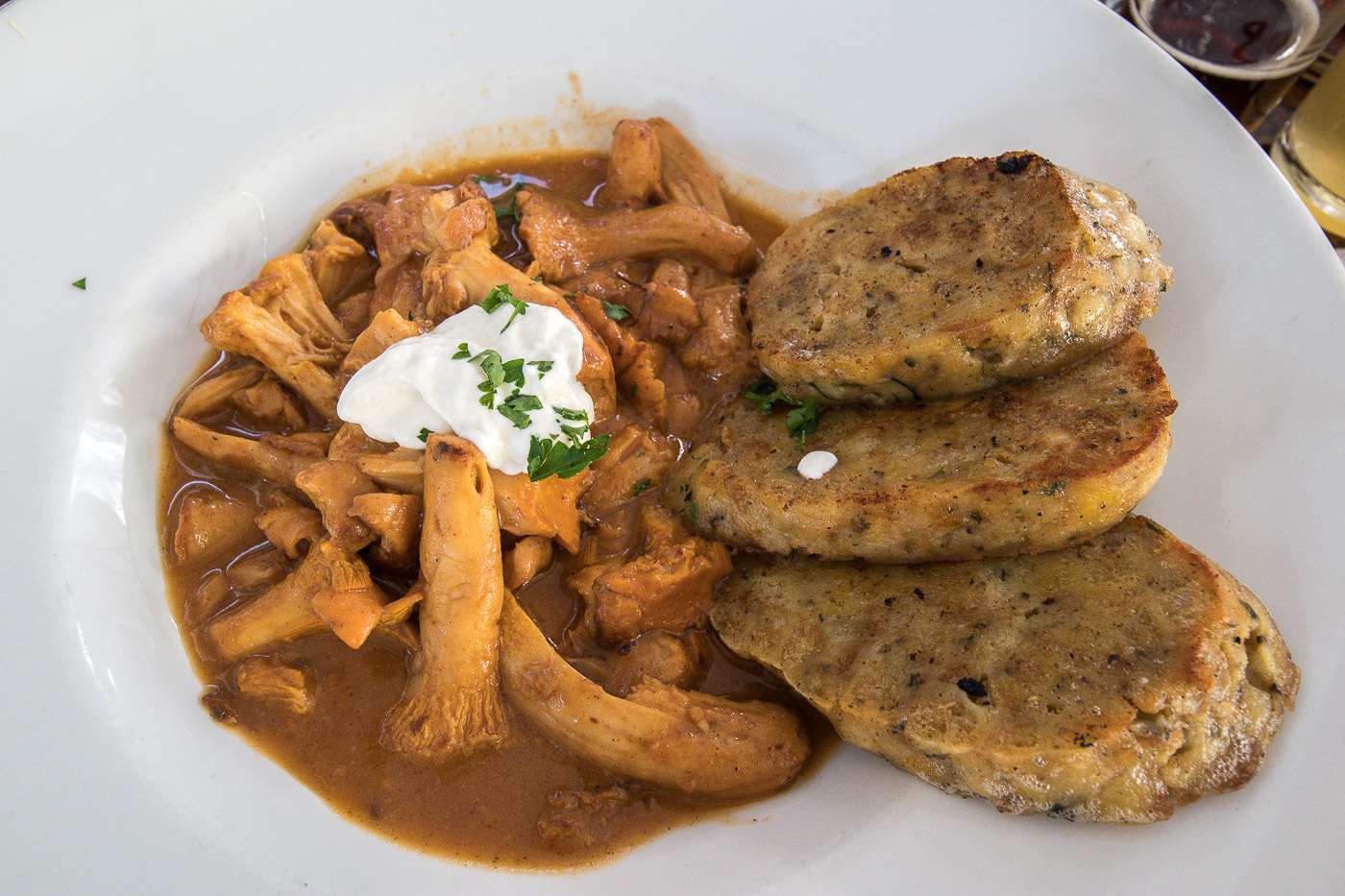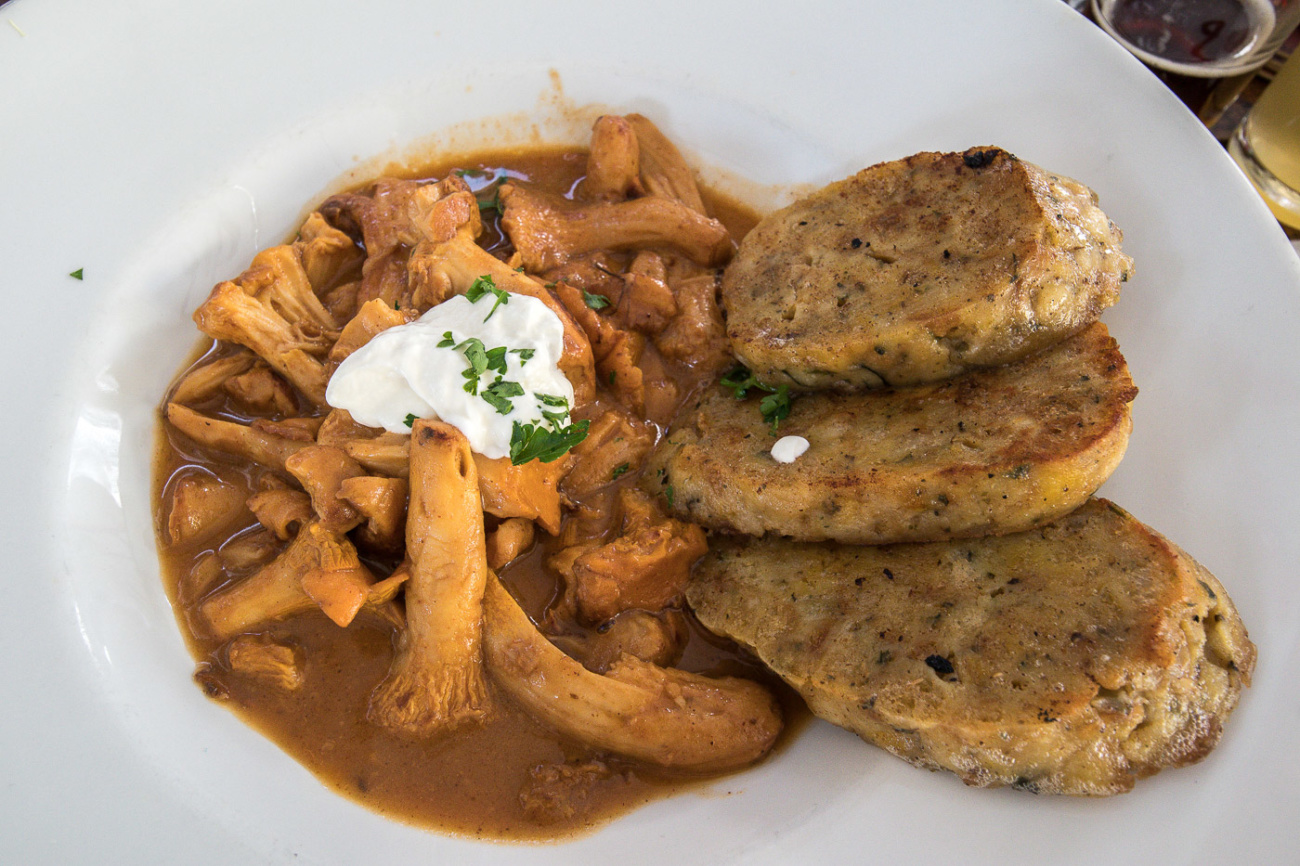 1516 Brewing Company 

Pretzel, two entrees and four beers for two people = €45 / $52
Schwarzenbergstraße 2, Vienna 1010
When I first saw the menu I was a little concerned. Austria tends to be meat-heavy, but modern restaurants are pretty good at throwing a (vegetarian) bone to plant-based eaters. This craft brewery has great pretzels and really nice beers to sample in flights or by the pint.
And while the veggie selection wasn't huge, the dish they did have was so, so good. It was a Hungarian Goulash made with a "sausage" that was actually bread and herbs soaked in vegetable broth and compressed. The goulash itself was in a divine savory sauce with earthy chanterelle mushrooms. It was incredibly good.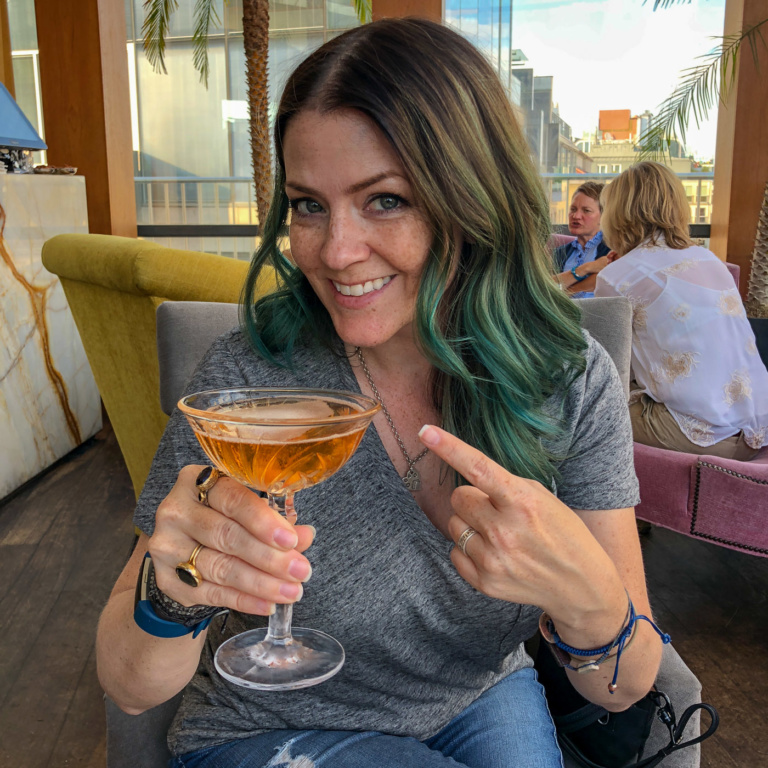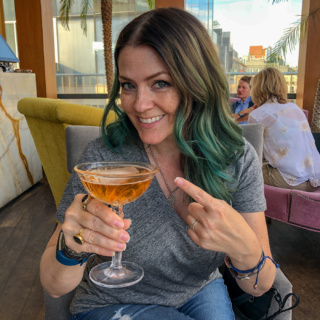 Onyx Bar

Two Champagne cocktails – €30 / $35
Stephansplatz 12, Vienna 1010
This bar is great for a splash-out. Upscale and intimate, it's on the 6th floor of the Do&Co hotel. Floor-to-ceiling windows provide a backdrop of Stephansplatz and the gorgeous St. Stephan's Cathedral rooftop. Drinks are delicious and expensive, but you're paying for the ritzy feeling of being in a chic bar with a fantastic view. (Hubs still claims it's the best champagne cocktail he's ever had.) If you're up for the splurge, it's a great choice.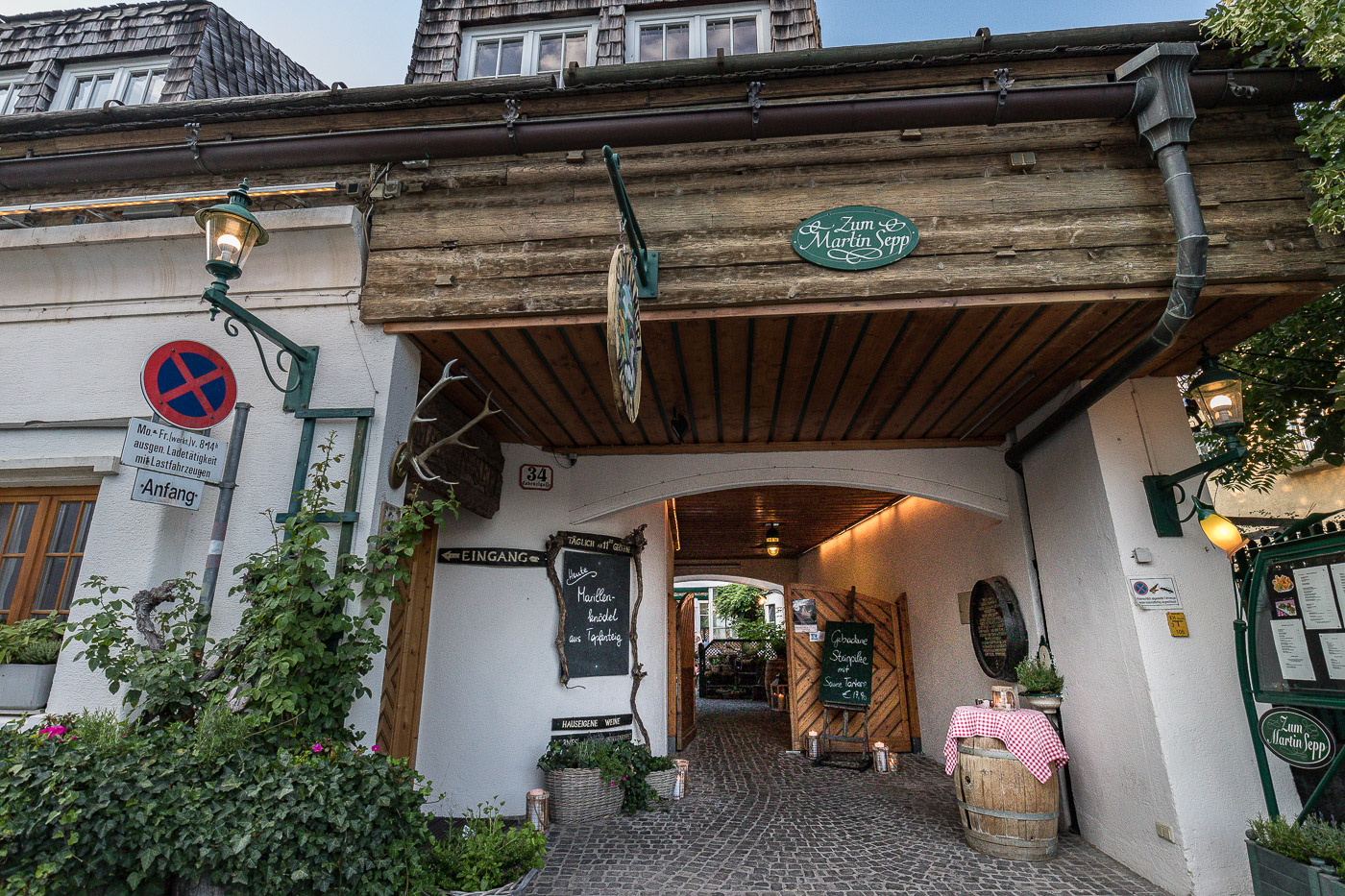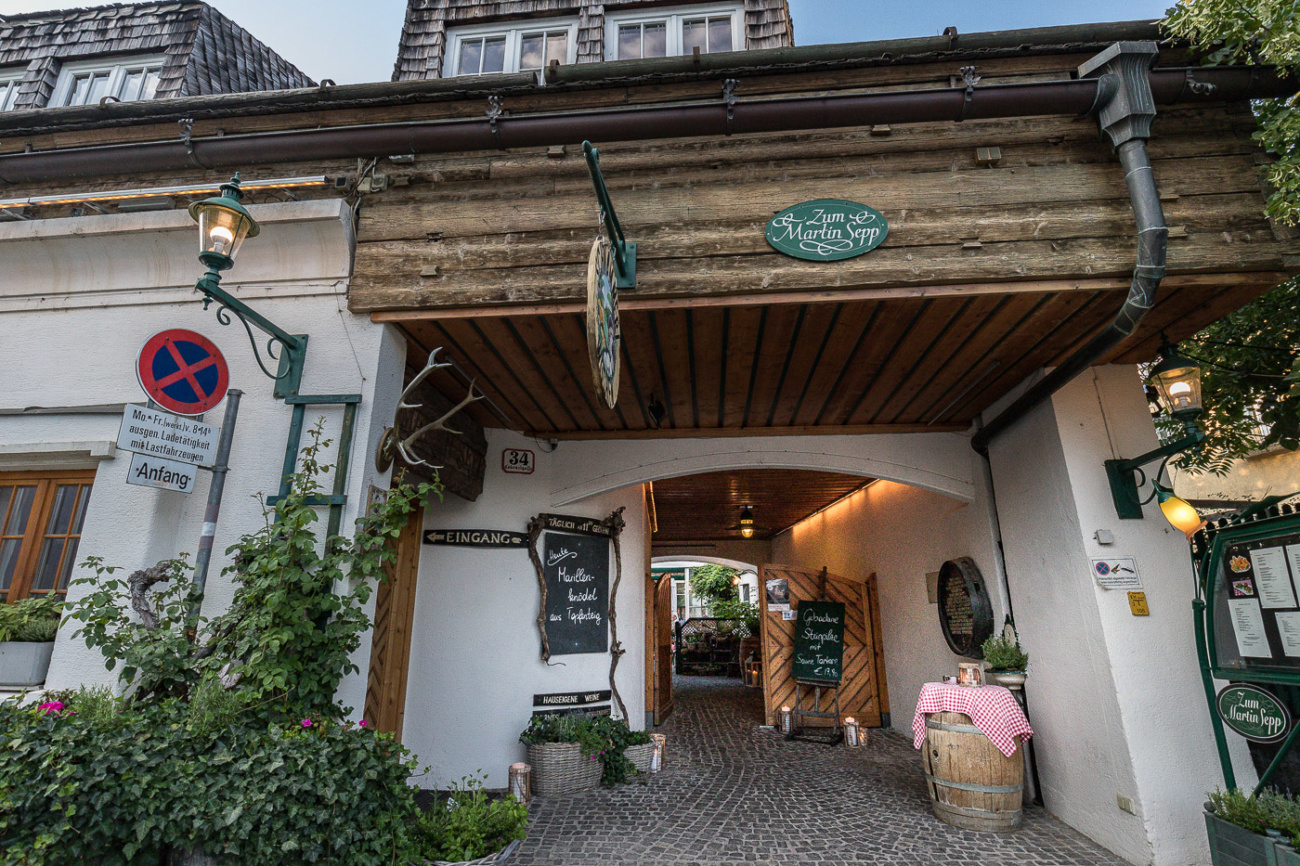 Zum Martin Sepp

Cobenzlgasse 34, Vienna 1190
Two people splitting a large salad and one fish entrée, four glasses of wine + dessert = €45 / $52
Austria has a number heurigers (which means "this year's wine") but also refers to a tavern featuring a local winemaker's new wine.
Most wine gardens are on the outskirts of town, and worth visiting just for the variation of scenery. About a 25 minute ride away by Uber (€14 /$16) this traditional restaurant hovers near peak Austrian.
With red-checked tablecloths, strolling accordion-playing musicians, and Austrian wines flowing, it feels like you're out in the countryside with the family Von Trapp. The night we went was pretty packed, so have your hotel call ahead for a reservation. Lots of big groups go there, but you'll find it full of tourists and locals alike.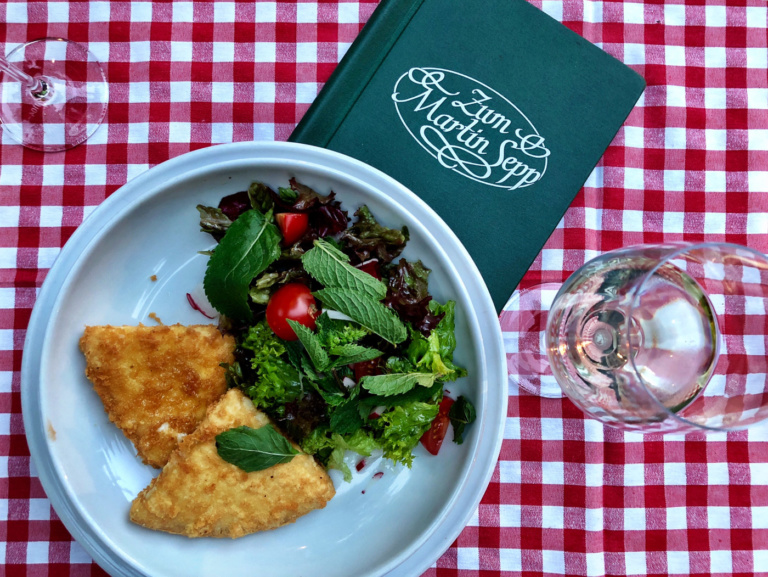 There weren't a ton of vegetarian options, this being a very traditional Austrian restaurant, but the salads with fried cheese were excellent and if you eat fish, that was nice as well. Of course, we had to finish with an apple strudel because when in Austria…
What to See / Do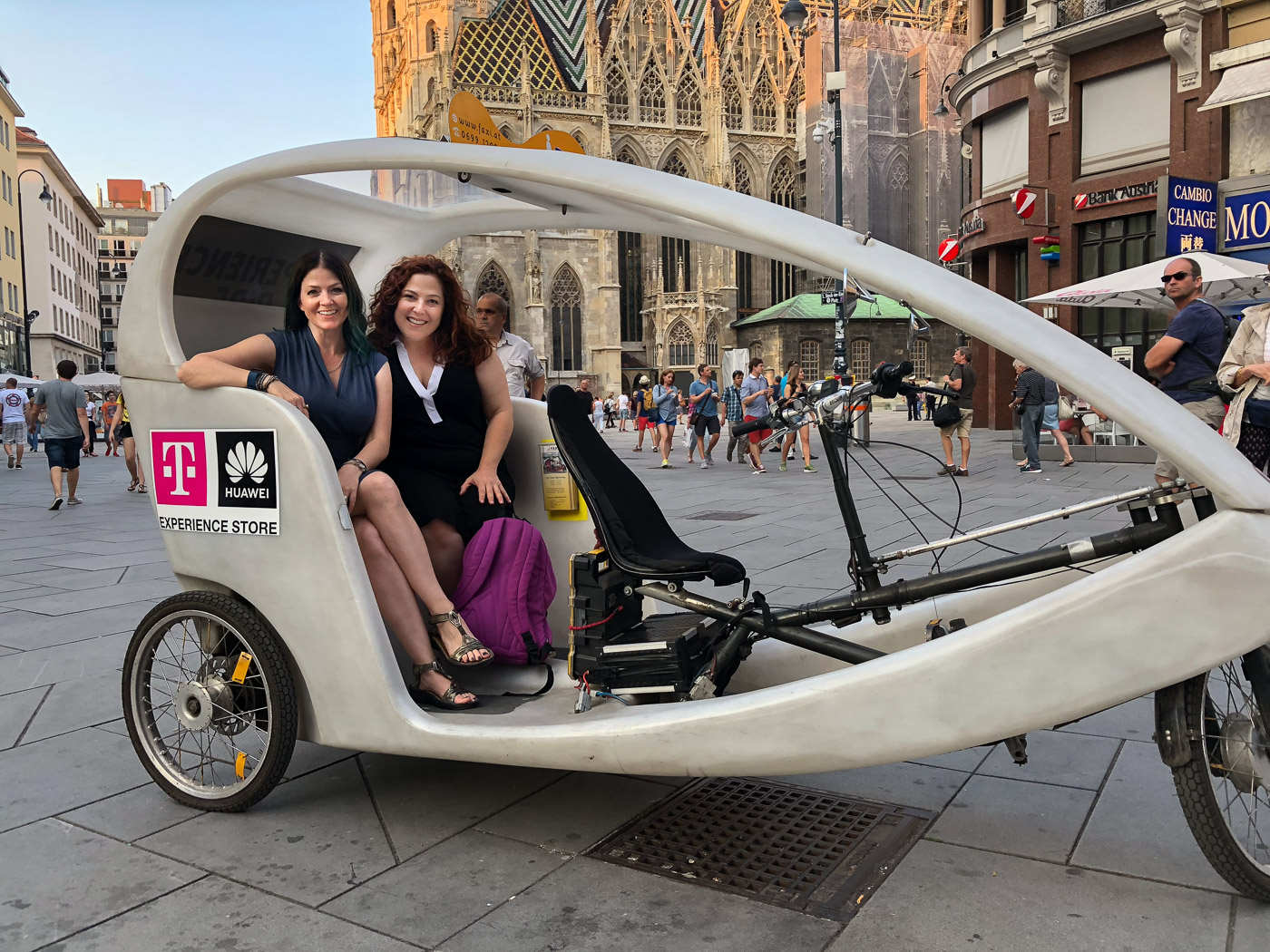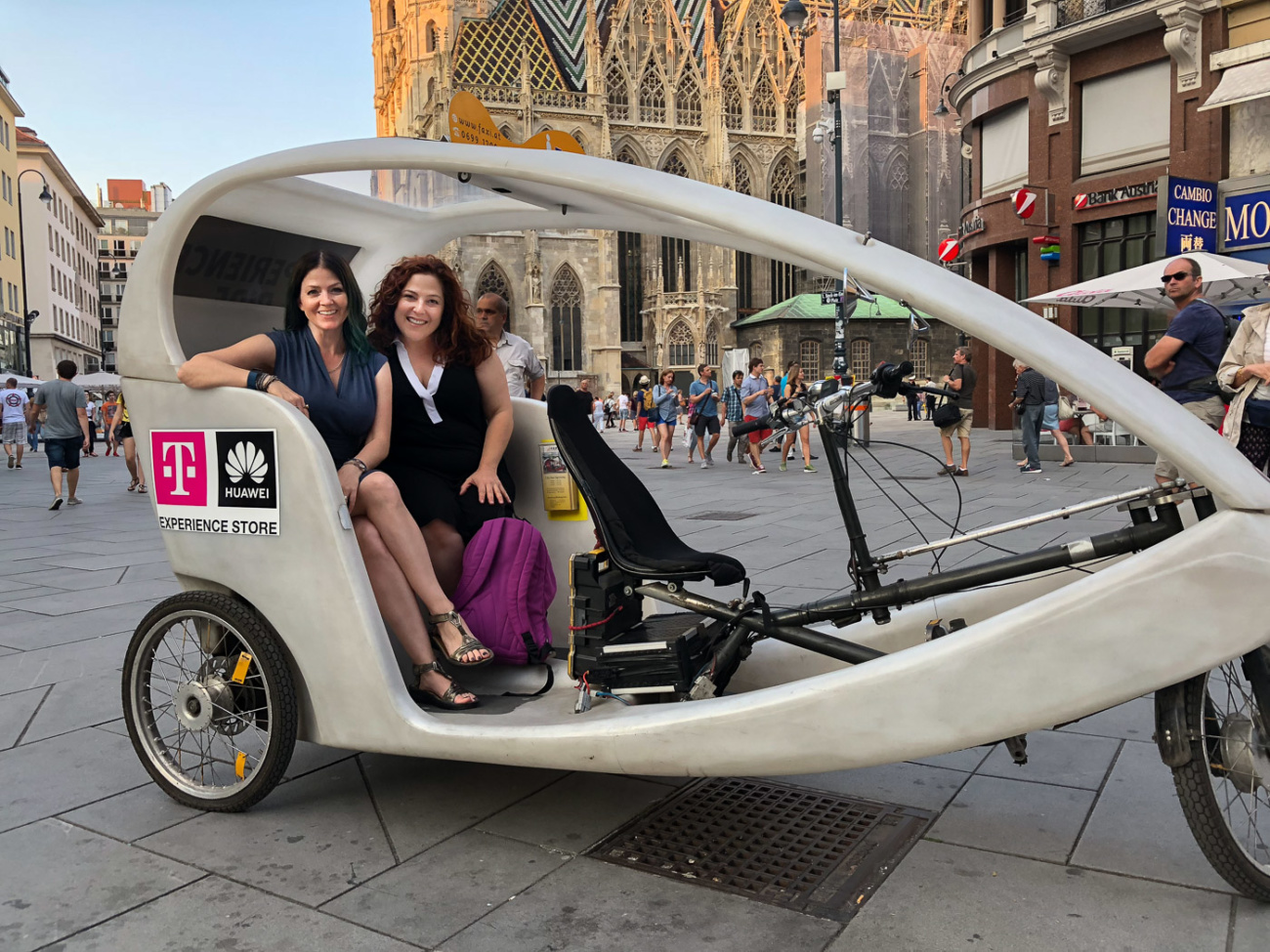 Take a pedicab tour

Meet at Stephansplatz
To book George: ++43 699 12005624
One of the highlights of my time in Vienna, our pedicab driver pedaled us around the city showing us his favorite places. Often away from the crowd, we got a local's perspective of the city as well as lots of great food recommendations.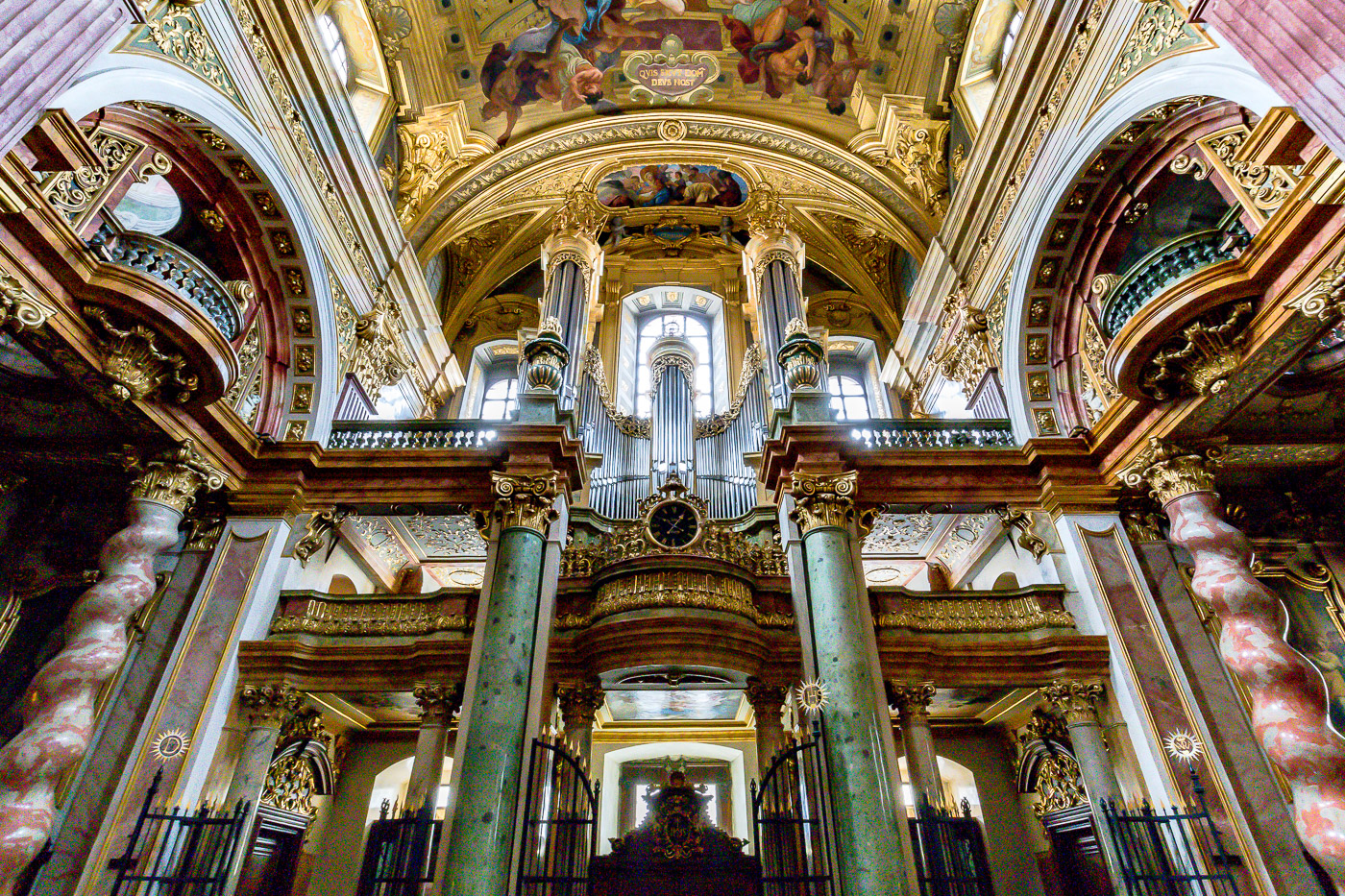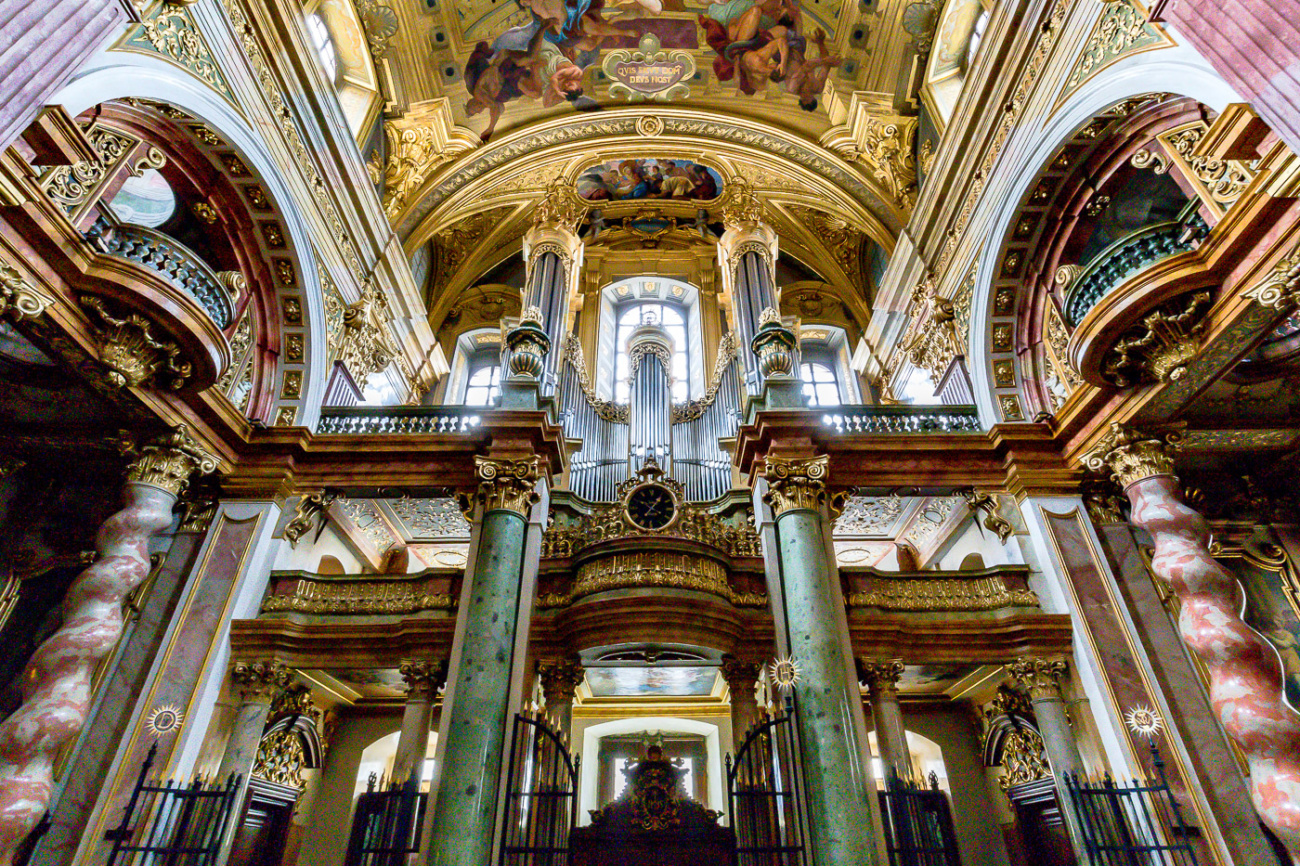 Jesuit Church

Doktor Ignaz Seipelplatz 1, 1010
Built in the 18th Century, this baroque church is a showstopper if you're into architecture, cathedrals, or the color pink. Walking up to it you have no sign of the candy-land extravagance inside. Green speckled columns, gold metal starbursts and rose undulating marble all compete for your eyeballs' attention. Bring your camera.
Mozart's statue

Josefsplatz 1, 1010
The first time I came across this statue there was a bird on Mozart's head. He sang so exuberantly, dueling with my husband's whistles that we both swore it was the spirit of Mozart himself.
Inside the Imperial Palace's Burggarten, this wildly popular statue from 1896 can be too crowded to photograph in high season. Try to arrive early if you want to take a photo empty of tourist groups.
Opera House Tour

Opernring 2, 1010
Taking the opera house tour had been on my list for years. This time I finally went. I gotta say, and perhaps this is because I've visited the Paris Palais Garnier Opera House which is extravagant and spectacular, that is was rather subdued. In my head this opera house would at least be as sumptuous and fanciful as Mozart's Magic Flute.
But touring the Vienna Opera House was an architectural showing of restraint. Still lovely and undoubtedly a nice place to attend a concert, I'd say that unless you have three or more days in Vienna, you could skip the tour and spend your time elsewhere. Or better yet, attend a performance there.
National Library – not rated
Josefsplatz 1, 1015
Aha! Another one of my wildcard what-to-dos. The largest Baroque library in Europe, this was on my list and I really, really wanted to visit. I mean, look at this place. It's like a steampunk Instagrammer's dream. Or mine. Or both. But it was closed when I was available.
There's also a map museum inside featuring some of the world's oldest maps (also closed, curses!). So if this sort of thing appeals to you, go check it out and tell me it's as awesome as it looks. Or don't because I'll be even sadder that I missed it.
But be really quiet while you take those photos, ok?
Walk around at night
Try wandering the Innere Stadt, or historic old city center of Vienna. The city is beautiful at night. Buildings are lit up and the pace slows down. Vienna doesn't come off rowdy at night like some of its youthful counterparts like Amsterdam or Prague. I love strolling, looking in windows, stopping for a beer or glass of wine and just winding down.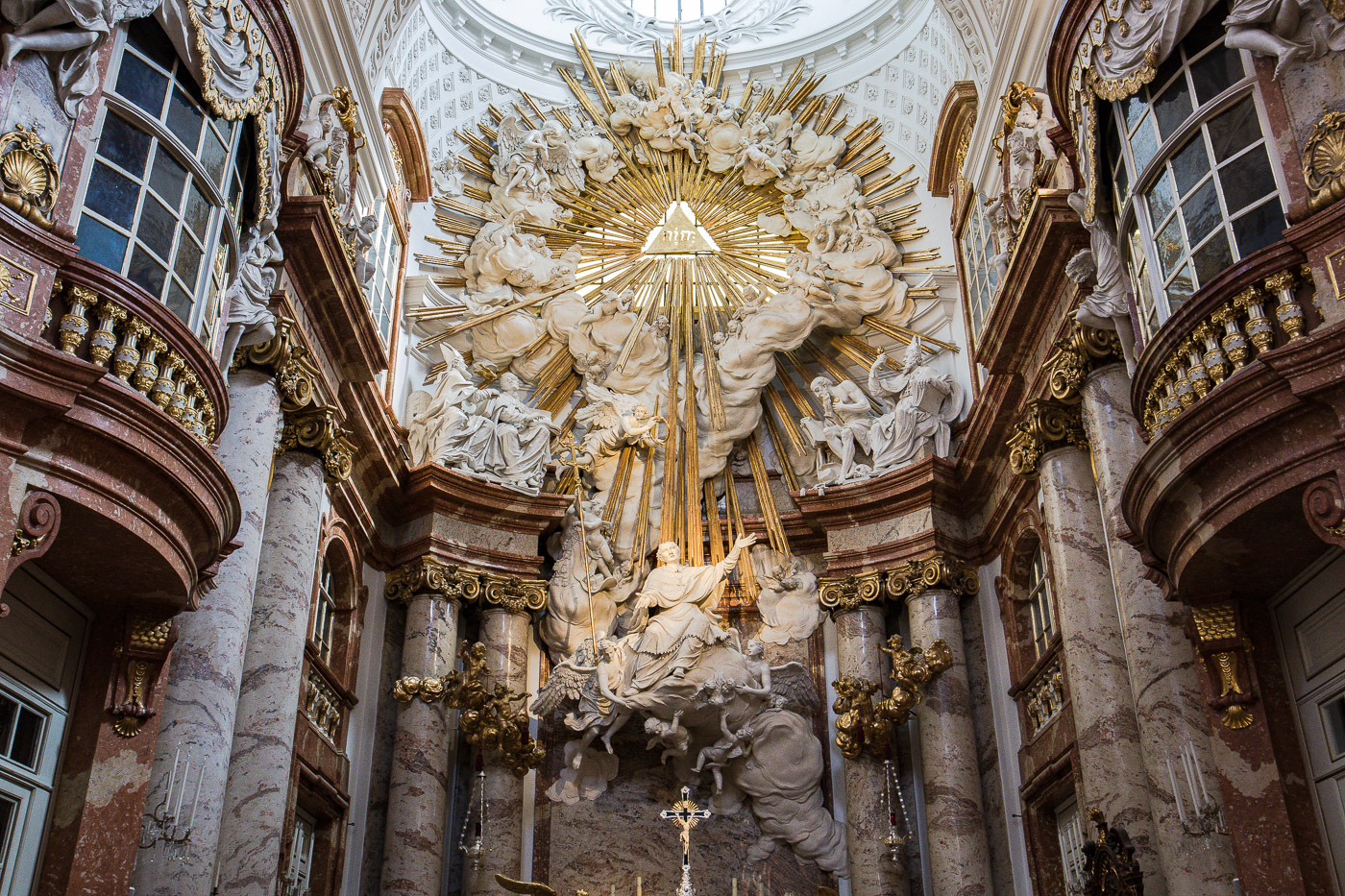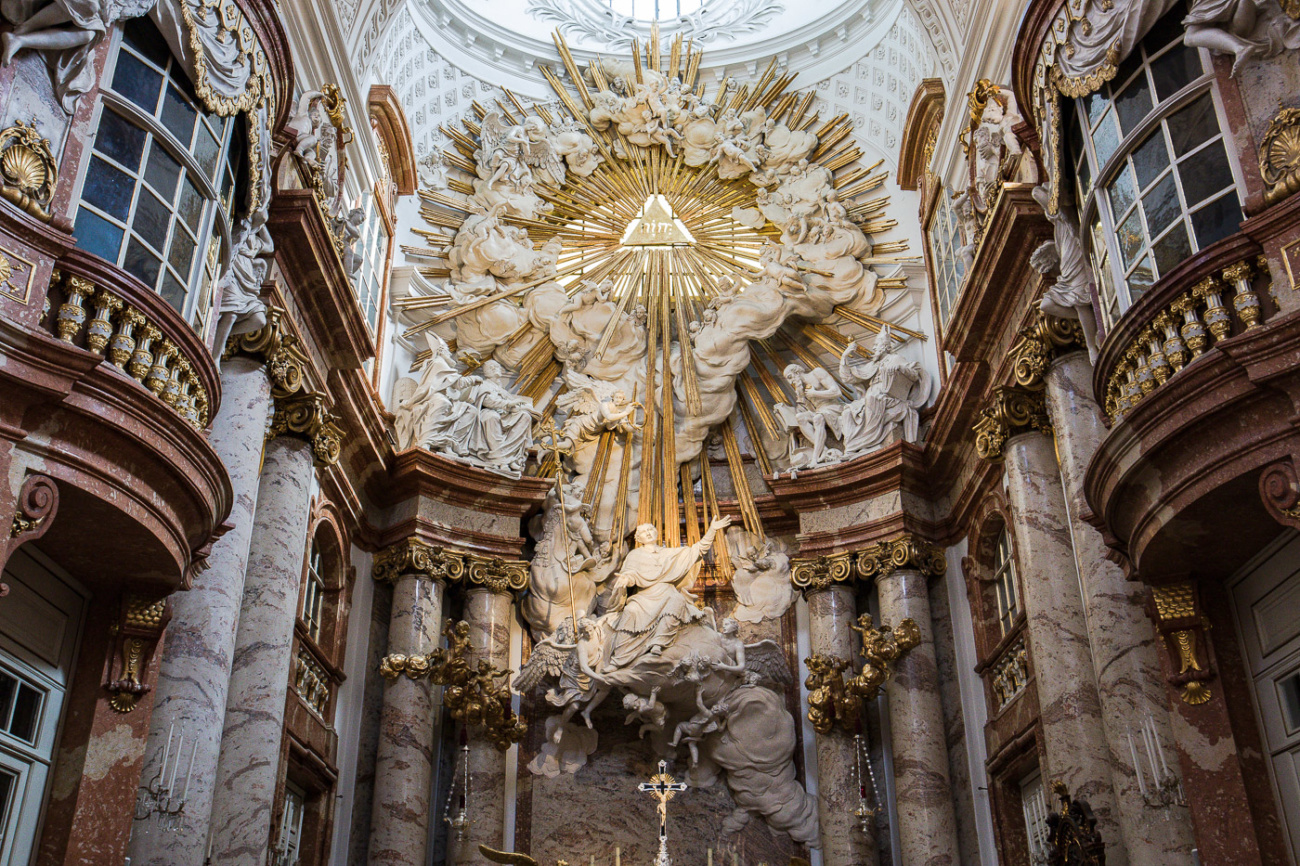 Karlskirke / St. Charles Church

Kreuzherrengasse 1, 1040
This Baroque church was built in the 1700s as a thanksgiving to the plague epidemic ending. It's absolutely gorgeous. It's worth a visit to tour and get up close to the paintings being restored on the ceilings. You can also attend a concert there and enjoy the music in the serene ambiance.
Where to Stay in Vienna
I'm a city center, historic downtown kind of girl. My recommendation is to stay in the 1st District if you like being in the middle of the action. This also allows for minimal need of transportation beyond your own two feet.
Disclosure: As a Booking.com Associate, I earn a small amount from qualifying purchases. However, I don't recommend anything that I don't personally love.
Have you spent any time around Vienna, Austria? What would you recommend?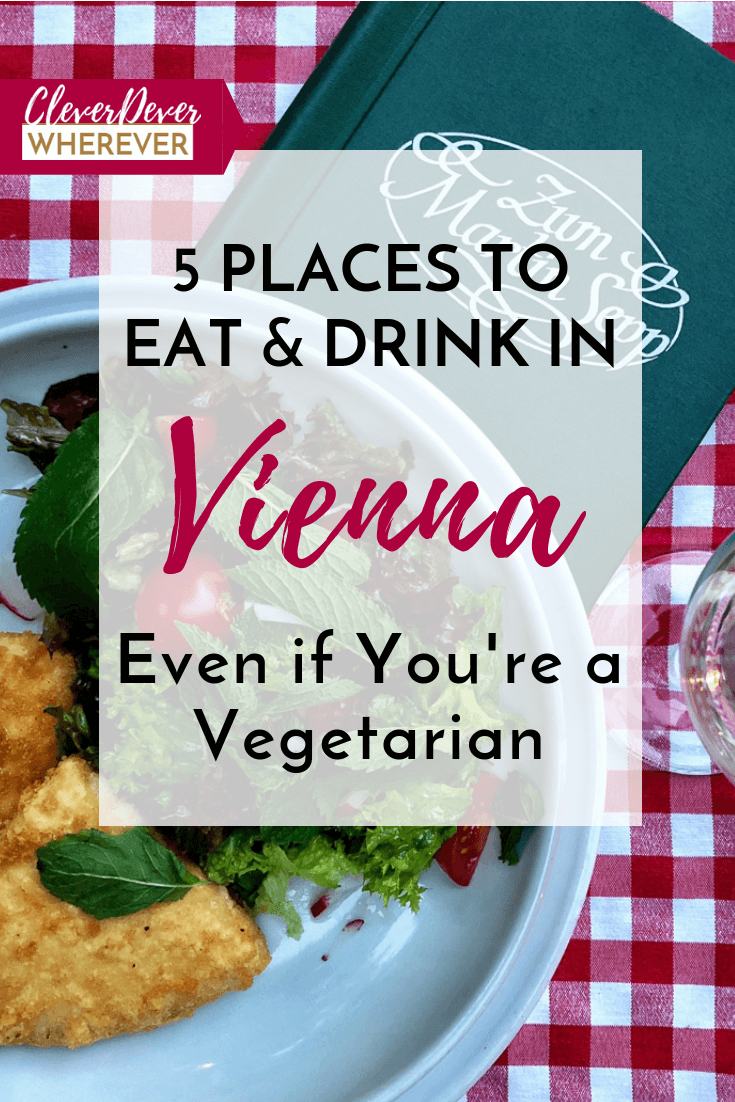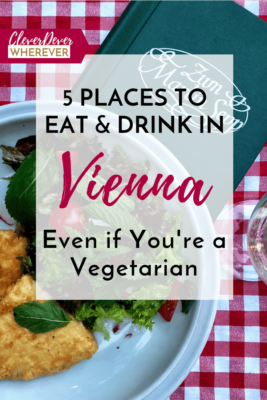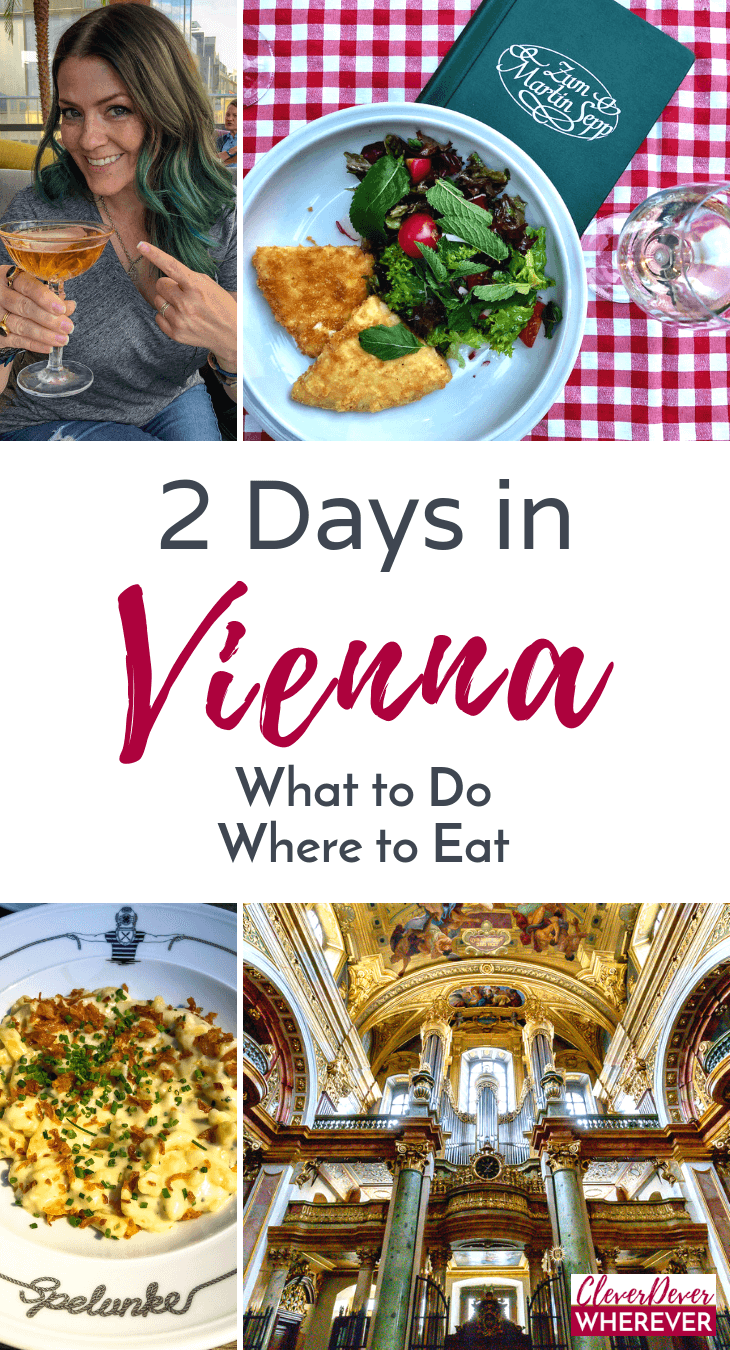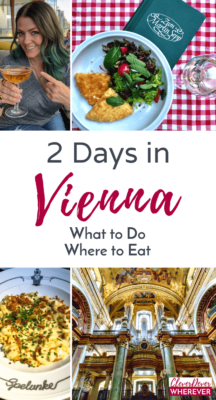 Read More
About Austria