Rarely do you see people wearing lederhosen – those leather shorts with the built-in suspenders – in the middle of Vienna. But there stood George, amongst a multitude of men hawking Pedicab rides, in his traditional Austrian dress, and I knew exactly what to do in Vienna. He seemed the most authentic. Or he knew how to dress for tourists. Either way, I gravitated straight to him.
George had an instant, warm smile. Not at all pushy, he offered Rachel and I a "student discount" which made us both laugh in some weird high-pitched giggle, as if we were trying to fit the part.
Rachel and I arrived in Vienna oh so tired and more than a little loopy. Vienna was the first filming location for our travel show and we had no idea what to do in Vienna.
We had been training it from early that morning, having started in Slovenia, and were in desperate need of some dinner and someone to transport us there. Preferably as if we were royalty, gliding in our open-air carriage, waving to the plebeians who had to walk.
A Great Way to Get Around Vienna
For €10 George pedaled us across the Danube river to a restaurant called Spelunke. He pointed out some of his favorite buildings and talked about life in and around Vienna. He grew up in the city but had since moved to the surrounding countryside with his family, teaching and playing music.
When he dropped us off for our dinner, he gave us a leaflet with his number. He did hour-long tours around the city. We booked one for the next morning.
The three of us met at Stephansplatz around 10 am and already the square was choked with visitors. I've been to Vienna several times, but I never remembered it this crowded. It's almost too much.
How does anyone live here? Like actually living and going to work and meeting friends for lunch? There are so many tourists – and let's face it I'm one too – that it's a wonder any real life-ing gets done here.
But George is unfazed. He's happy as a guy in lederhosen pedaling his bike to go pick edelweiss. He pushes our little cab away from the square and hops on, biking us down the main street of Graben.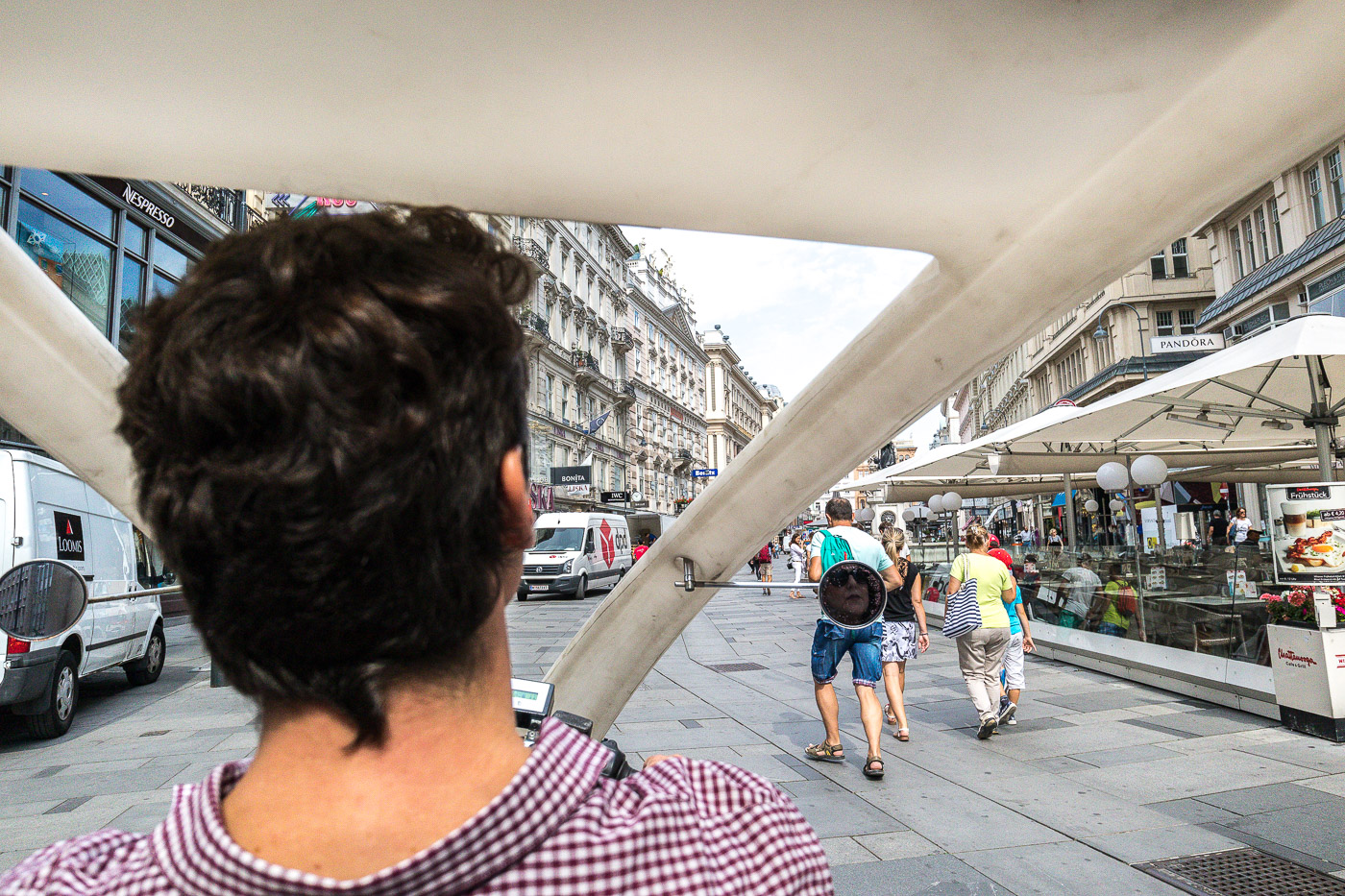 "The history of Vienna starts at Zara." He points at the clothing shop to his right. Chuckling, he continues, "Really, the center is modeled after the Coliseum." As the power of suggestion would have it, before my eyes the crumbling Roman amphitheater takes shape among the façades of stone buildings.
First Stop: My New Favorite Snack Place in Vienna
Since we hadn't eaten breakfast yet, George obligingly made our first stop at a historical brötchen shop, Trześniewski.
A family business open for over 120 years (except during world war II because the family was Jewish), this deli of sorts sells traditional sliced brown bread smeared with fresh toppings. Egg salad, red pepper spread, and squishy meat products spread across perfect rectangles filled the cases with glorious color.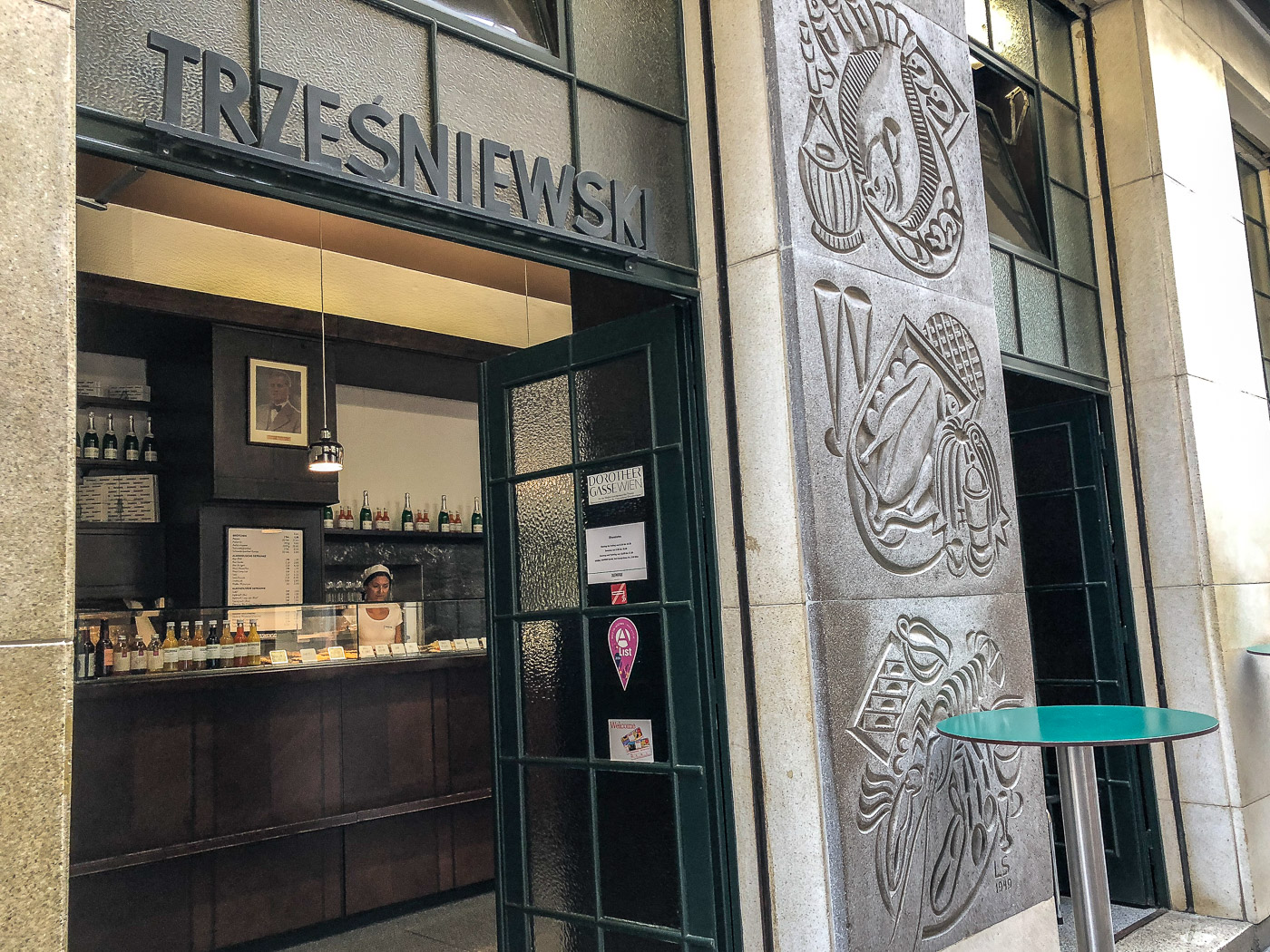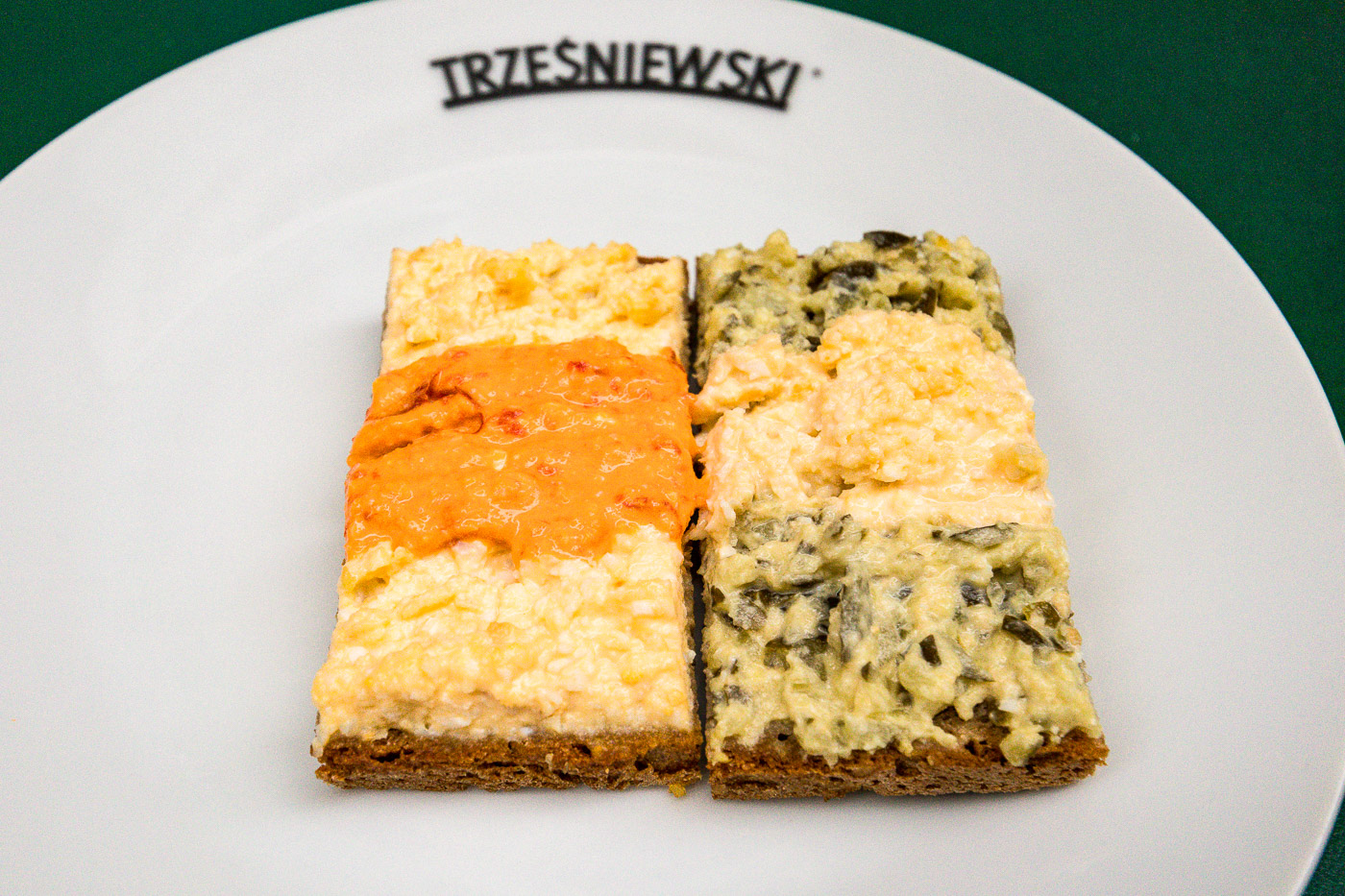 Rachel and I each bought two and stood at the tables, making happy sounds with every bite. It was perfection. We went back the next day to repeat the experience, among many other new experiences.
Satiated and ready to tour, we rode by art nouveau buildings, funky modern hotels and five or six of Mozart's twenty-odd apartments. A good breeze kicked up as George sped to 20 kph/12 mph. I ask him how long he's been doing this and why.
"Twenty years now. I'm a farmer, an ecological guy. I believe in being green. I don't like cars; I already have one car, shame on me. But this is environmentally friendly, and you meet nice people." I mean…clearly.
I'm curious what his number one recommendation for someone's first time in Vienna is. His reply: "To eat a Sachertorte."
A Viennese staple, this dark chocolate dessert is layered cake and rich chocolate ganache. It's practically mandatory, to the point that if you don't try it, you might not be able to say you visited Vienna.
But I want something more, something deeper. We can't all be checking into our hotels and making a beeline for cake. I know there's more to the city than that.
I pushed further. "What's your favorite thing about Vienna?"
"There are many. There are many. Not only one. I see everything architecturally, the first district definitely. I like older buildings: Gothic, Romanesque, and Roman. That's my favorite style.
"And also, there is the 19th district. It's famous for a special old … it's an old area. It's an old district, the buildings are from the 15th, 16th century, and they've got some special wine restaurants, old ones. And that's also my favorite area."
Now we're getting somewhere.
Have a Local Tell You What to Do in Vienna
I realize the city around us is quiet. Vienna in July has felt largely like being trapped inside a beehive but with chocolate cake. But it's calm. The streets are all but empty. We've only been on our tour for about 20 minutes. This is that "hanging with the locals" advantage. George has taken us down a street just a few minutes from the center and it's like we have the city to ourselves.
He pumps the breaks and points at a cathedral door. It's his favorite church in all of Vienna. He has no idea why it's never crowded. Rachel and I get out to explore it.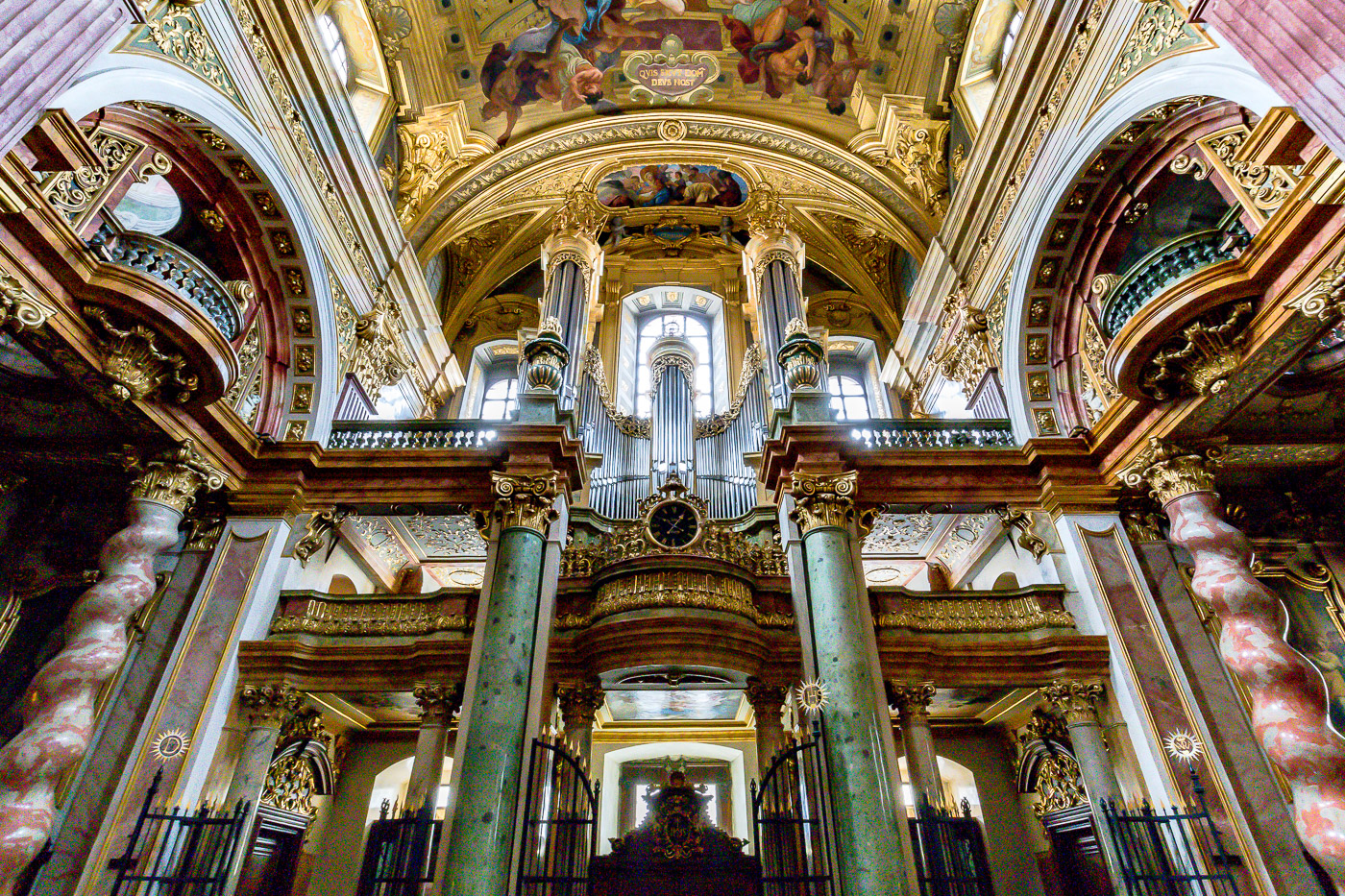 The Jesuit Church has a bizarre and beautiful interior. All pink and green with corkscrew marble columns, it's as if Willy Wonka asked Louis the XIV's architect and decorator to build him a cathedral. It's opulent and strange and fun.
"What did you think?" He's all smiles when we come out, no doubt our faces registering the appropriate amount of gob-smackedness.  He derives great joy at showing visitors his beloved city.
I asked George more about the musician side of his life. "What instruments do you play?"
"Guitar, bass guitar, violin"
He's been playing for so long he can't remember a time when he didn't play music. He tells me that he teaches every style of music, but more jazz and concert music. He reveals that he has a Latin band and plays Cuban music.
We pedal past cafés and bakeries. He's more interested in talking about Vienna than himself. He points out the Zum Figlmüller passageway and tells us we must visit the 7th district, which is an artist's neighborhood. It's also the best place to find the vegetarian schnitzel I've been asking about.
Favorite Local's Suggestion: Dinner at Wine Garden
After our Pedicab tour, the plan is to visit the Opera House so we ask George if he can bike us there. Another idea comes to him.
"You must visit a Heuriger."
"Do what?"
"Heuriger. Check it out, okay? It is called Heuriger. That's a special term. It means this year's wine. It contains really fantastic wine if you are into wine."
*IF* I'm into wine. Ha! We all know where I went that night, please.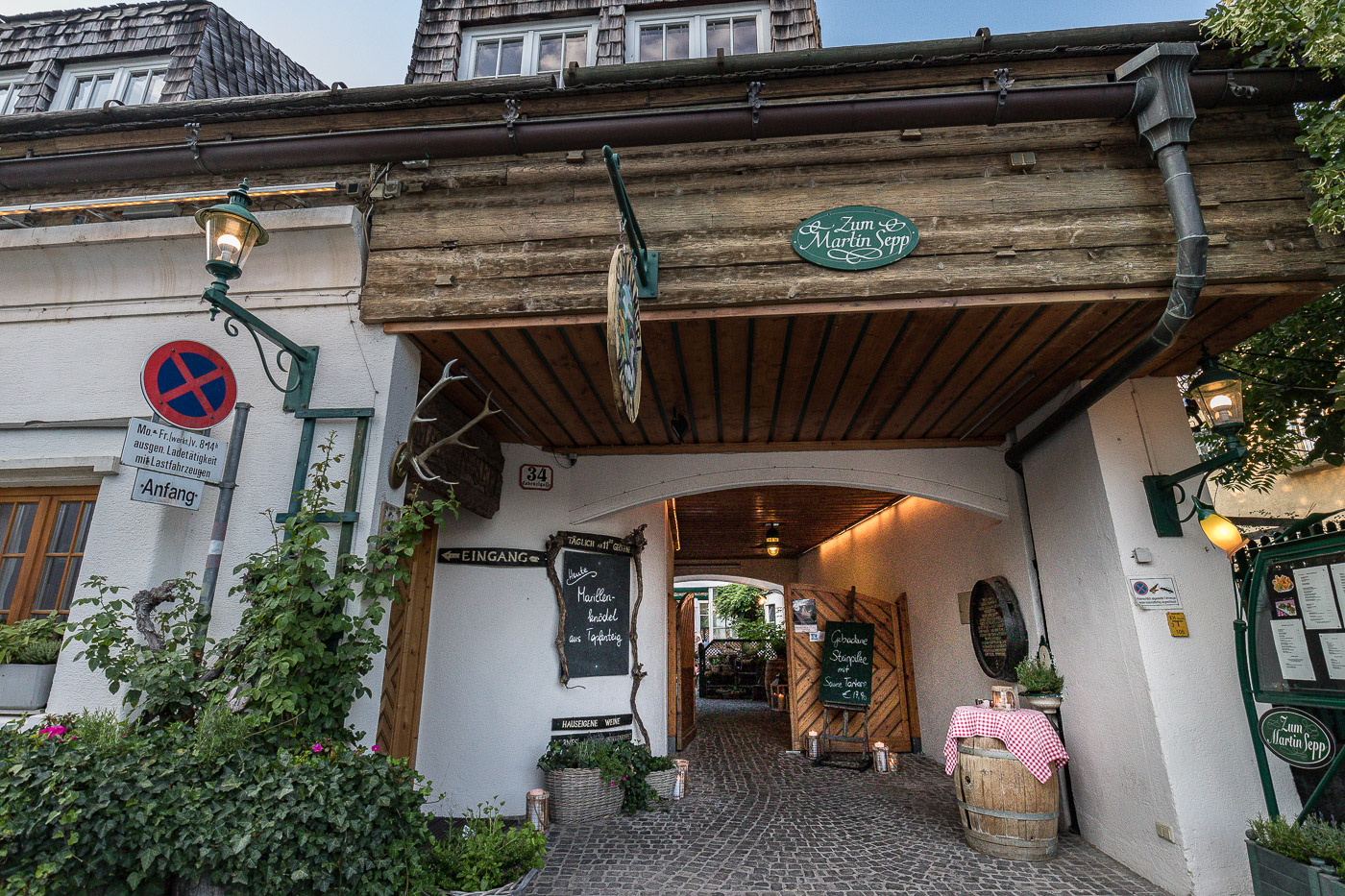 Heurigers are old Austrian wine taverns. Most are in the 16th district; the outskirts of the city. They serve traditional Viennese food while musicians play what I assume are drinking songs. But wine-drinking songs so they are more relaxing.
We Need to Be Better Tourists
Happening upon George and taking his private tour of the city was a real highlight of my trip to Vienna. I'll take any opportunity I can to ask locals a gazillion questions and see the city from their perspective.
But I'm also conscious that regardless of the money we might spend in someone else's city, we are still guests. They don't owe us anything for showing up there.  We owe them a debt of gratitude for sharing their space and their culture and for the hospitality we, as complete strangers, are so often shown.
Pulling up to the Opera House we are once again in a swarm of tourists. Some aren't paying attention to where they are walking, mistaking city streets for pedestrian zones. Others reading their phones or taking selfies while blocking sidewalks that locals are trying to use to get back to the office after lunch.
I wonder what George thinks of this. I ask him his opinion on how tourists can be good visitors?
I'm not sure he understood my question. Or maybe he wanted to be clear how the Viennese felt about foreigners flocking to their city. He once again broke into a kind smile and responded, "They are all welcome as any other people. Vienna was always a multicultural city. Everybody's welcome."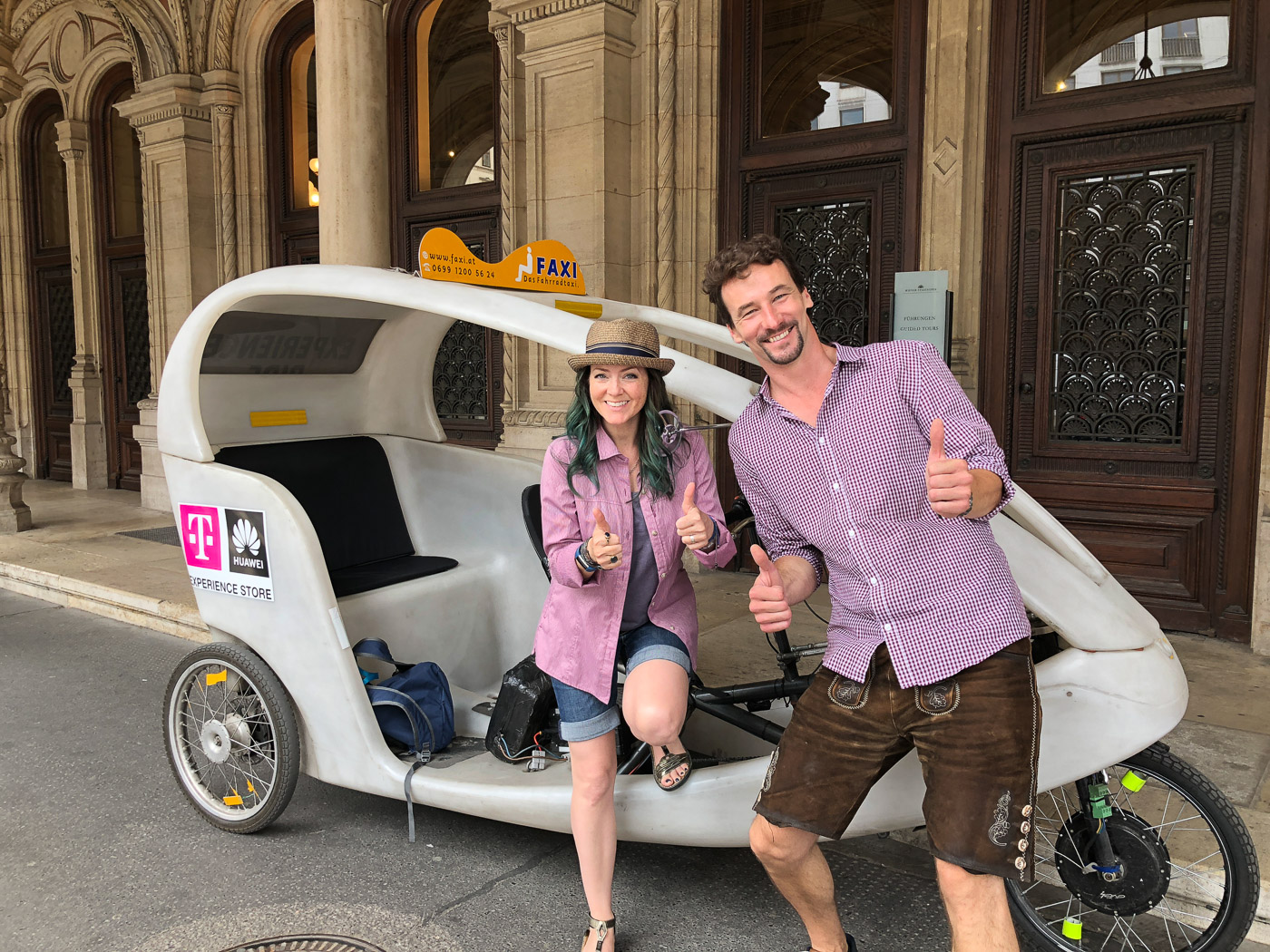 If you visit Vienna try to take a Pedicab tour. Even better if you can find George and his "faxi" which I am guessing is a portmanteau of foot and taxi. He's on WhatsApp at +43 699 1200 56 24.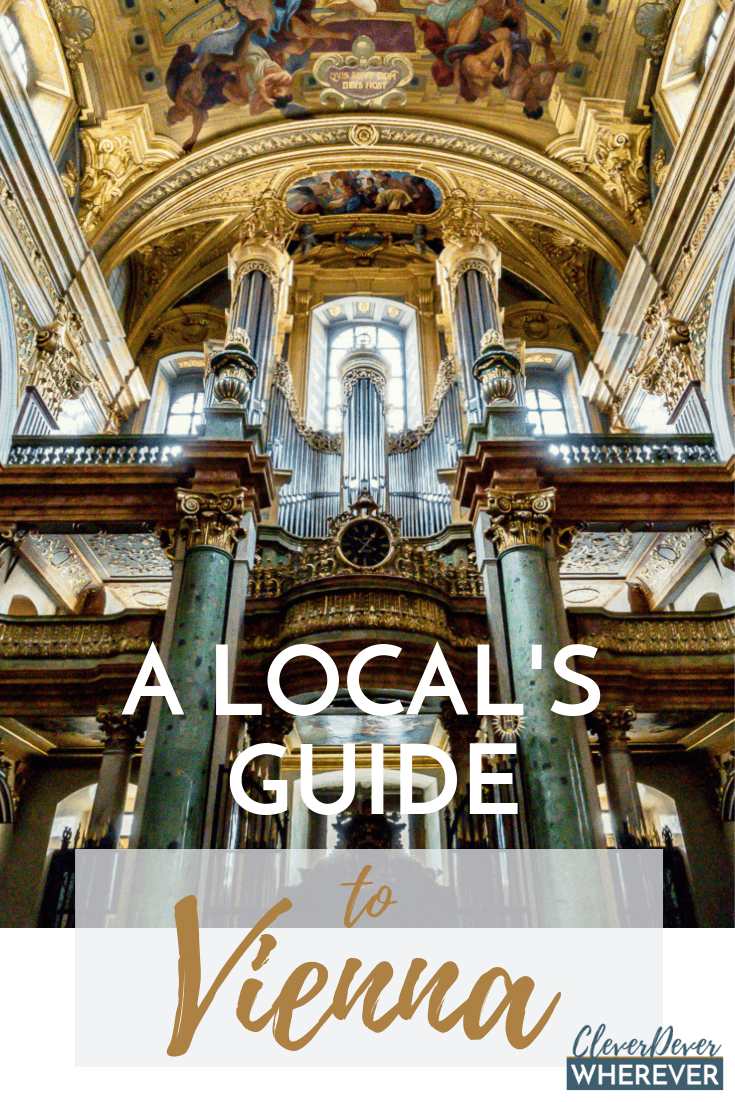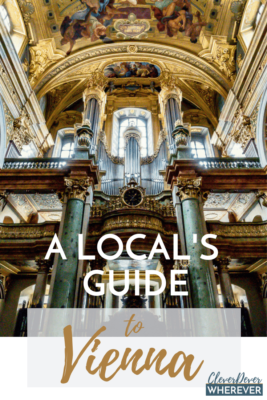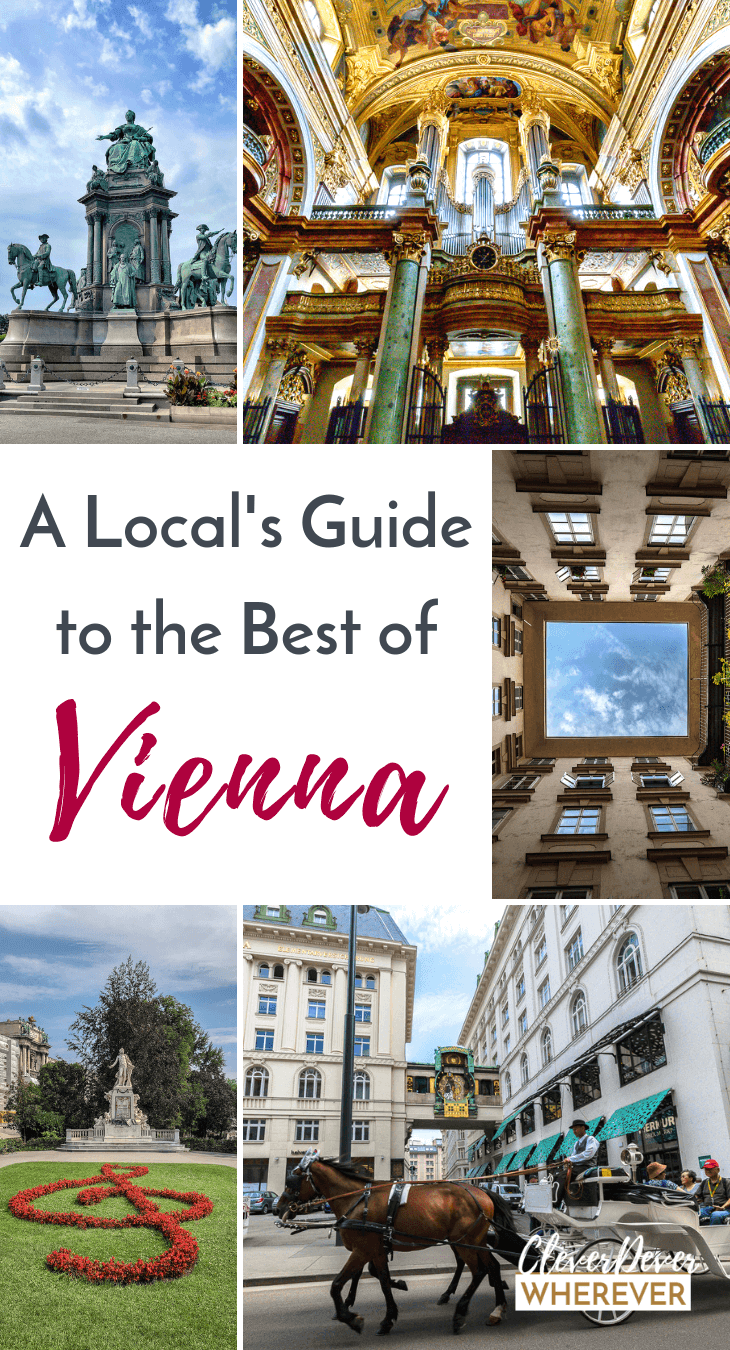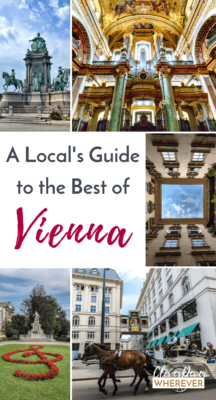 Read More
About Austria