Many people I know count countries. It's almost impossible not to. Last November's trip to Portugal makes 58 for me, but I also returned to a lot of places this past year: Georgia, Jordan, Canada, The Netherlands, Austria, Germany, Czech Republic, and Spain, as well as Paso Robles, California, and Austin, Texas.
How does one measure that?
To me, it's in the friendships I've made all over the world. It's in shared experiences with strangers and real-world moments that make us reconnect with our own humanity: Talking to locals about their favorite parts of their town, responding to the universal "photo?" gesture, stopping to watch to musicians play on the streets, or listening to someone's story as you share a meal.
Why We Need Travel
Once upon a time, I traveled to escape the confines of the small town I grew up in. Eventually, this morphed into an unquenchable need to experience the world, then into a desire to soak up as many cultures as I could.
It's still that, but more than anything else, I travel to sit with my brothers and sisters worldwide, to listen to them, and to enjoy the love, empathy, and kindness of connecting. It's my way of pushing back clouds of hate and fear and embracing the warmth of genuine experiences and honest, tangible human interaction.
That's why I believe we need travel more than ever before.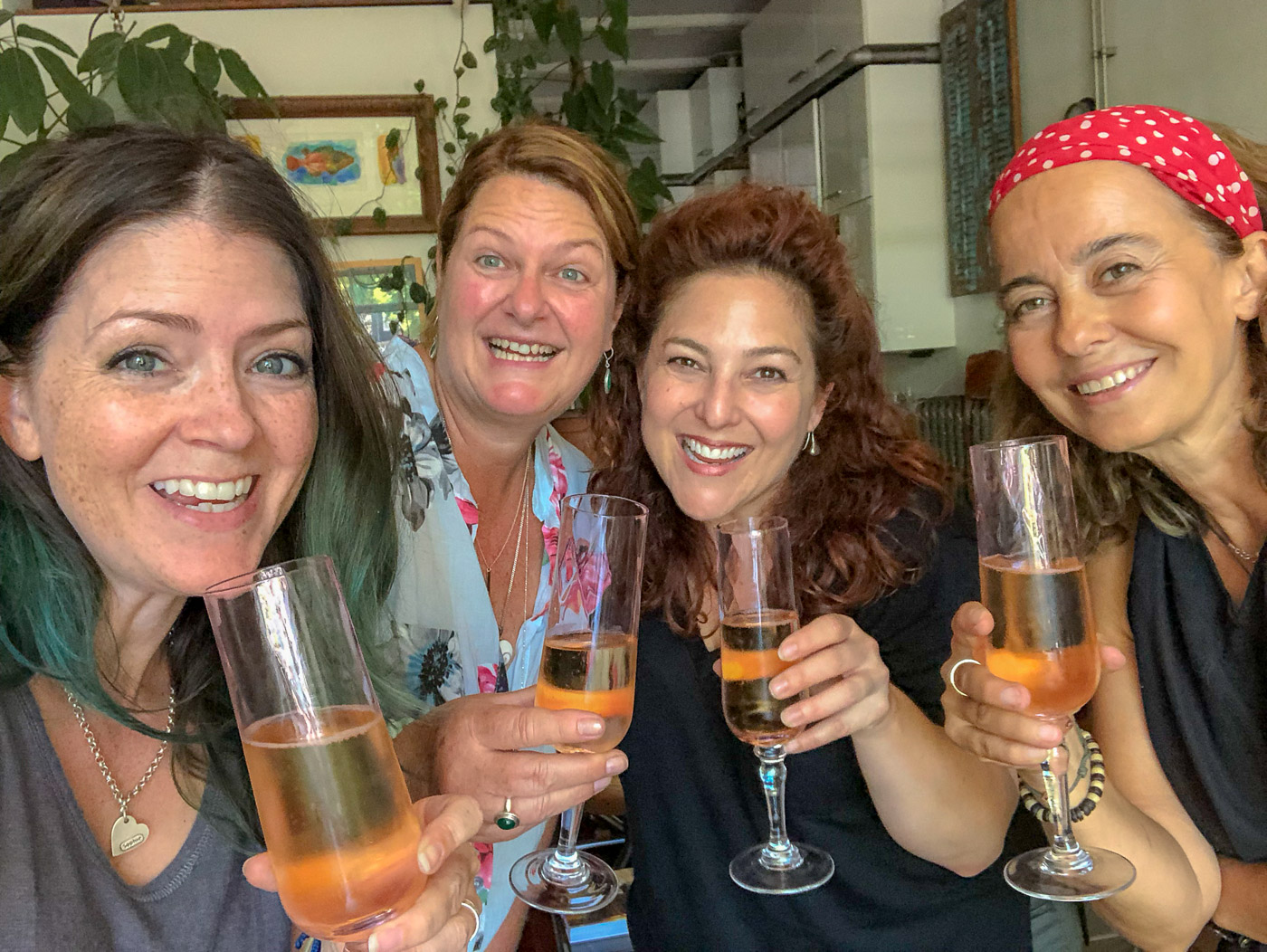 The Best of Times, the Bummer of Times in 2018
More than anything, 2018 was filled with travel highs:
Road tripping through the country of Georgia to curate a tour I can share with others
Seeing Lebanon and eating delicious Levantine dishes seaside
Spending time in Toronto with hubs while he shot a TV show there
Shooting Season 1 of my new travel show in Europe with my best friend
And that moment when I realized that I've made so many friends around the world that half of my travels involved going to see them and staying in their homes
I would be dishonest if I didn't share some travel lows (travel isn't always glamorous, guys):
I got food poisoning overseas. It was awful, but the healthcare abroad is so good that paramedics came as soon as they were called, gave me a shot, and I was on the mend for a whole $25.
I missed Seamus. We're both independent and have to accept that work will separate us quite often, but this year we missed each so much that it was harder to keep our spirits up in each other's absence.
Sitting in the extraordinarily boring Beirut airport for 13 hours. With virtually no wifi, no bars, and no luggage lockers, I had to camp out on a cafeteria floor and try not to drink so much water that I had to beg an honest-looking stranger to watch my bags while I used the restroom.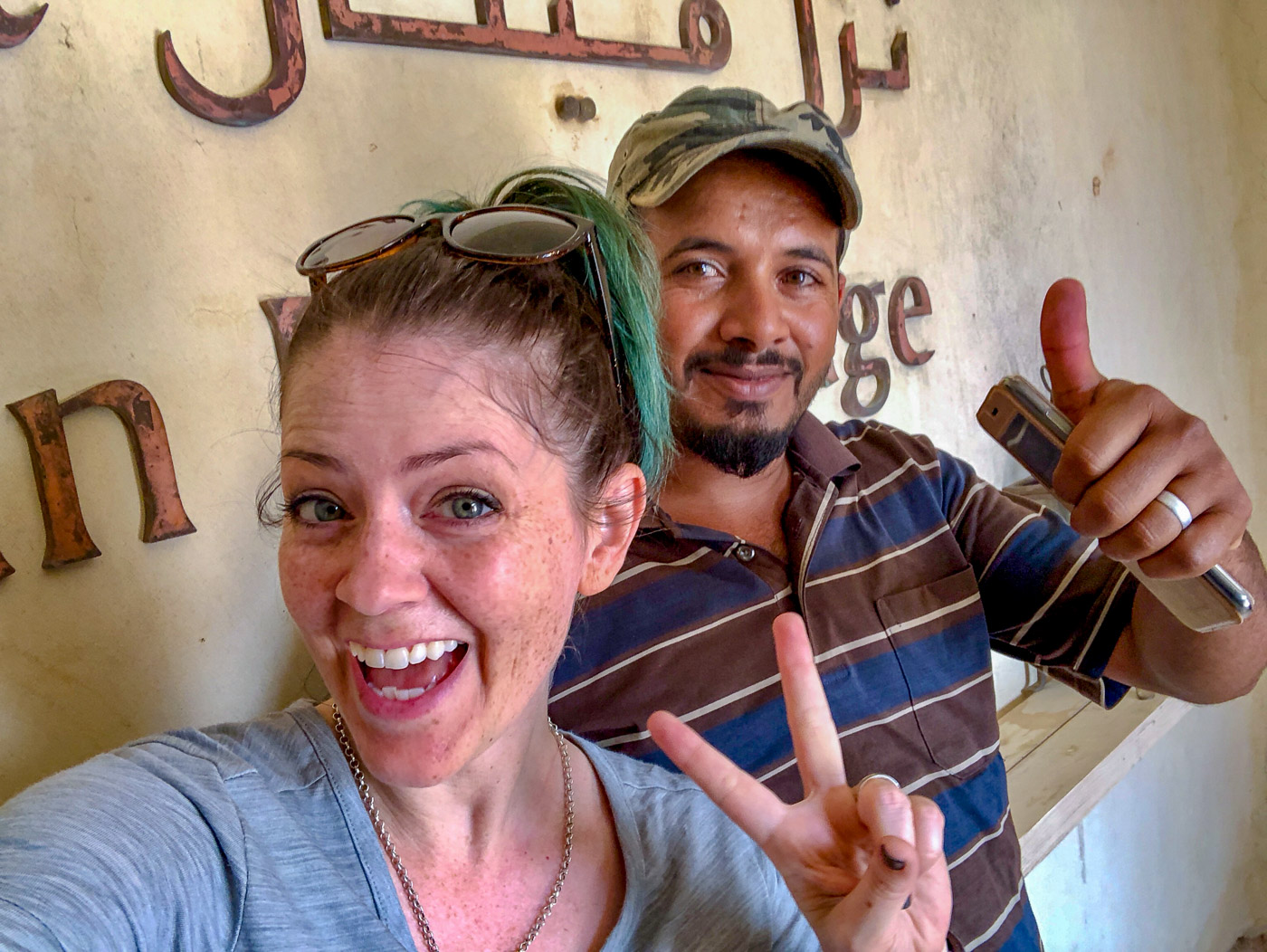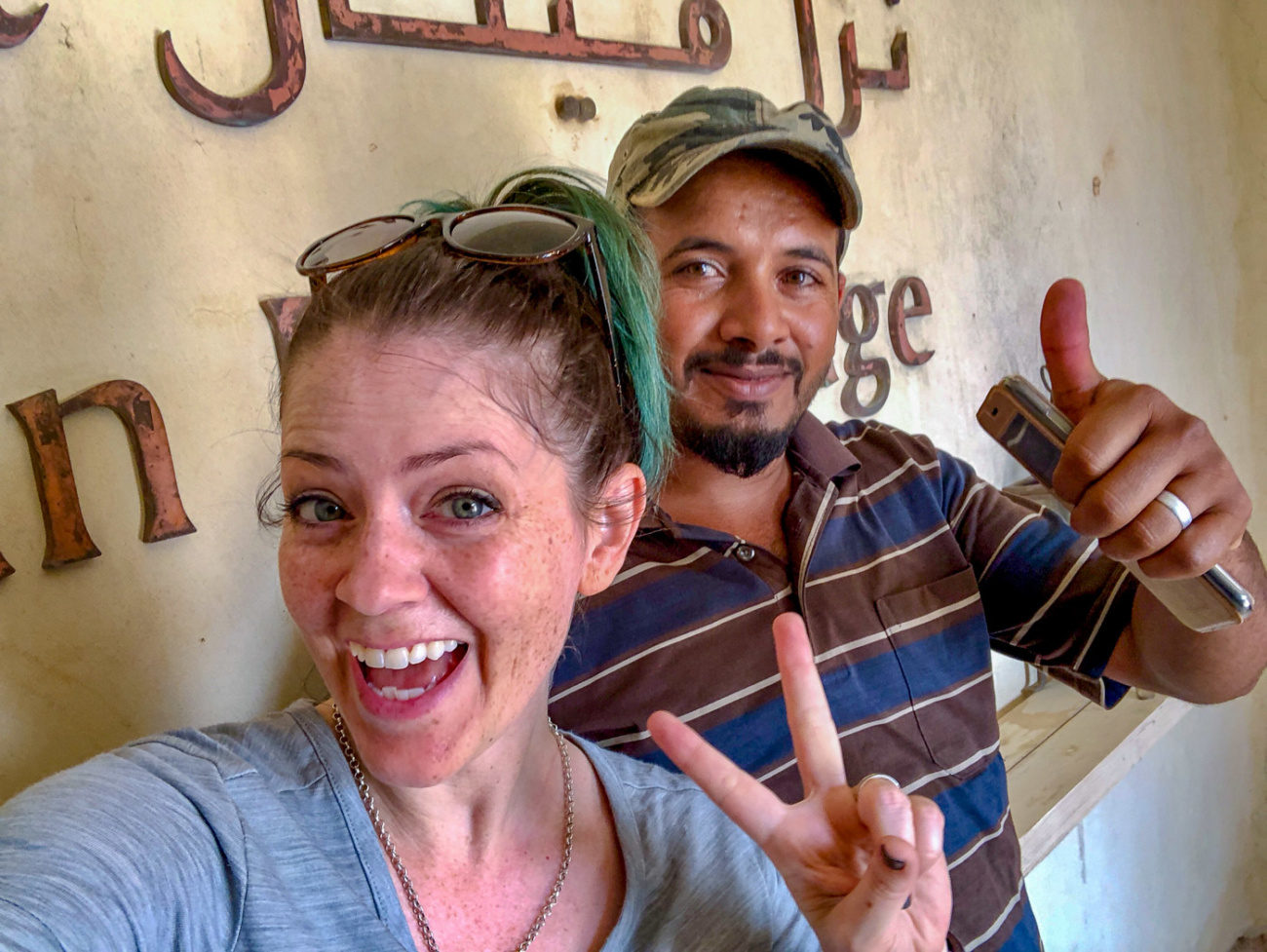 Through it all, I tried not to lose sight of what a privilege travel is. Seeing the world is a gift, and in my opinion, having those slivers of opportunity to understand the lives of others is one of the best things you can do with your time and money.
Below are my favorite experiences of 2018. These are the moments that thrilled me, moved me, made me double over in laughter or hug people in joy. I hope it helps you decide where to travel in 2019. 
The world is beautiful. Pass it on.
Notes on how I selected my favorite travel experiences for this year:
I started with a ton of categories and wonderful experiences to fill them…like 37 categories, or something just as absurd. But then I got real. Only the best of my favorites made the final list. I narrowed it down to places that could help you decide where to travel in 2019, experiences you can duplicate, and things I would 100 percent do again and again.
Another note: Of my experiences this year, one was hosted. In that case I marked it with a [*]. It's important to note that no one is paying to be included on this list, or given any special consideration whatsoever. Only my absolute favorites made the cut. There's nothing recommended here that I didn't genuinely love.
So let's review 2018 and start planning where to travel in 2019, shall we?
Destinations
Favorite Country (New)
Slovenia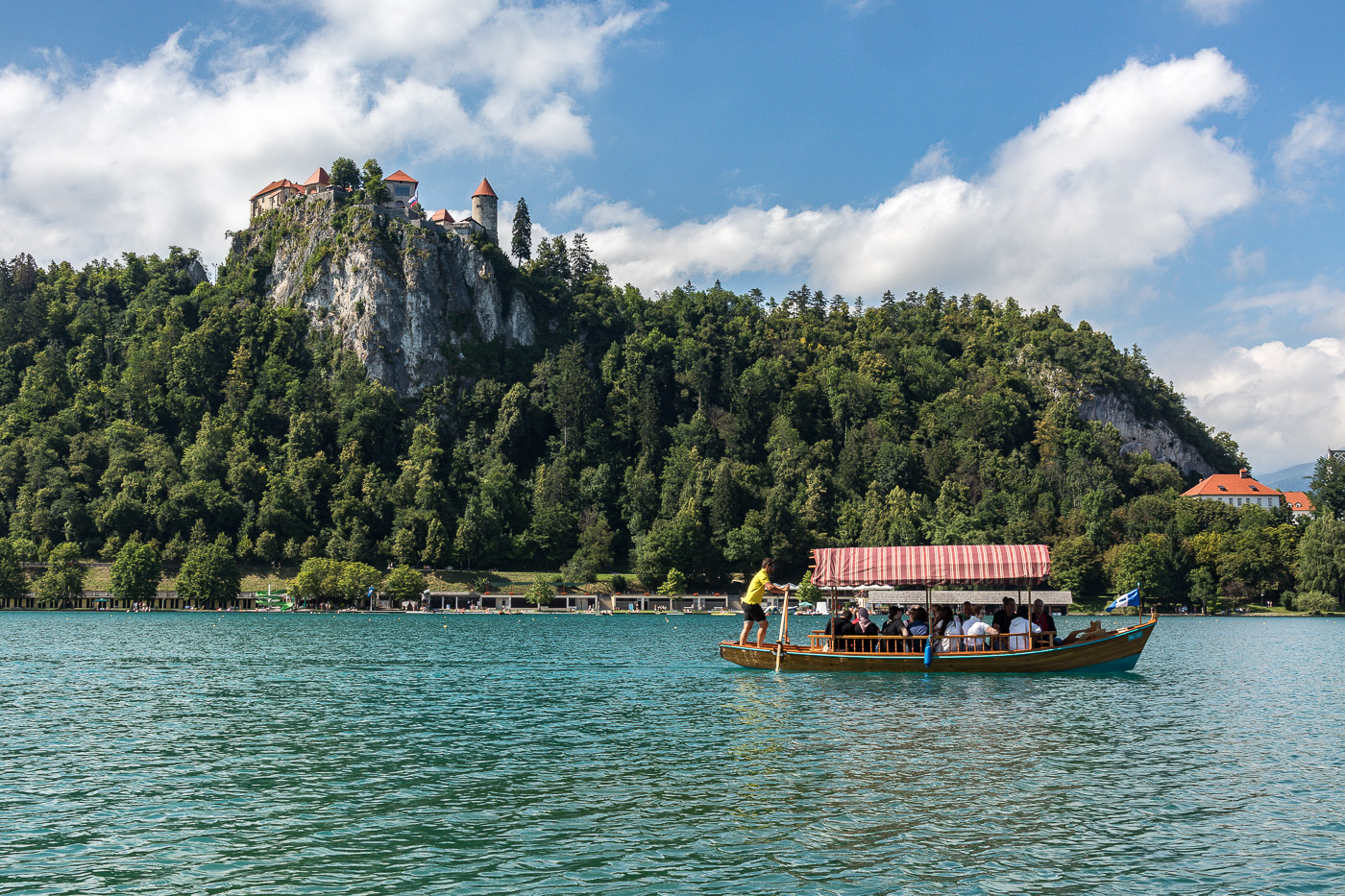 Why You Should Go: Clean air, stunning natural beauty and fairy tale towns, fewer crowds, and, of course: Slovenians themselves – they are so super fun.
Best Time to Visit: While warm temperatures entice most people to visit Slovenia in the summer, you can avoid the crowds by heading there in May/June or after August
Slovenia surprised me in all the best ways. A former state of the Socialist Federal Republic of Yugoslavia, I thought it would be a bit dour or maybe have that feeling of heaviness that sometimes hangs over countries formerly run by dictators. But no. Slovenia zips along, reveling in its very own existence, warmly sharing its culture and happy to show off it's sparkling beauty to anyone that is lucky enough to discover this central European jewel.
It's one of the safest countries in the world, and I became enamored early on. The people, most of whom speak English readily, have such a similar sense of humor as Americans that I felt immediately comfortable cracking jokes that usually get lost in cultural differences. Mountains, caves, valleys, and lakes beckon from all regions and provide so many options for exploration.
Favorite Country (Returning)
Georgia
Why You Should Go: Mountains for days, brick-oven cheesy bread, wine set to rustic backdrops and spontaneous music culture.
Best Time to Visit: April-June, September, October
Sunsets that burst into pink flames as they disappear into the Black Sea, formidable mountain ranges housing tiny villages, and a cosmopolitan European city…Georgia has so much varied landscape to offer that you can tailor a visit to whatever you desire. With a dizzying wine scene dating back 8,000 years, winemakers are entering into a renaissance as they reinvigorate the industry and play with new and very old ways to perfect their national drink.
If traversing this Caucasian country appeals to you, go now. The rest of the world is catching on – as are the Georgians – and prices are increasing. If you're the type that prefers someone to do the planning for you, you're in luck! I've curated a tour there with access to some incredible winemakers, chefs and artisans that you might not meet if you went on your own. My first group is heading there May 2019, and I'm currently working on the next one.
Sign up here to be notified when the next tour goes to Georgia!
Favorite New City
Barcelona, Spain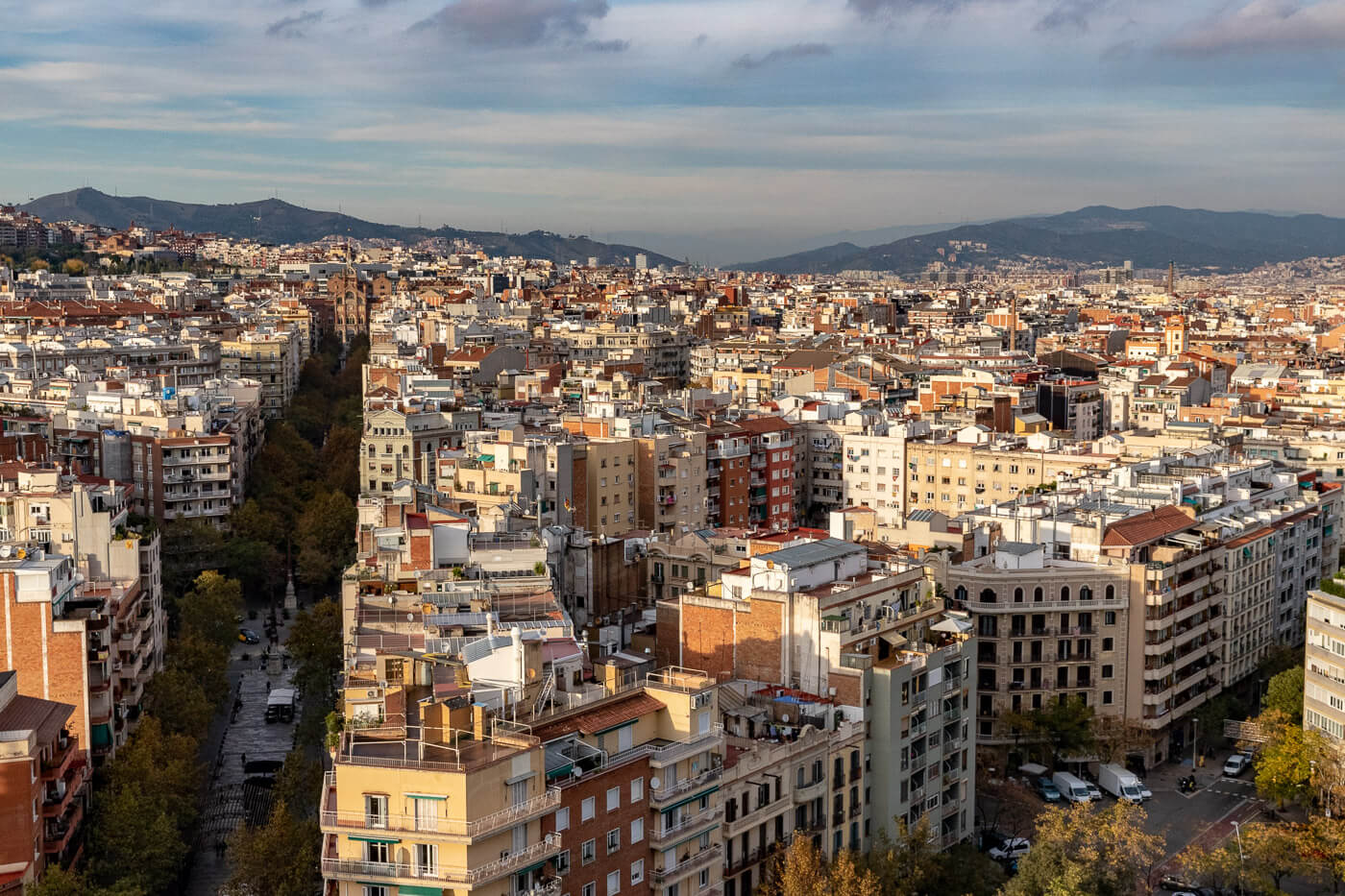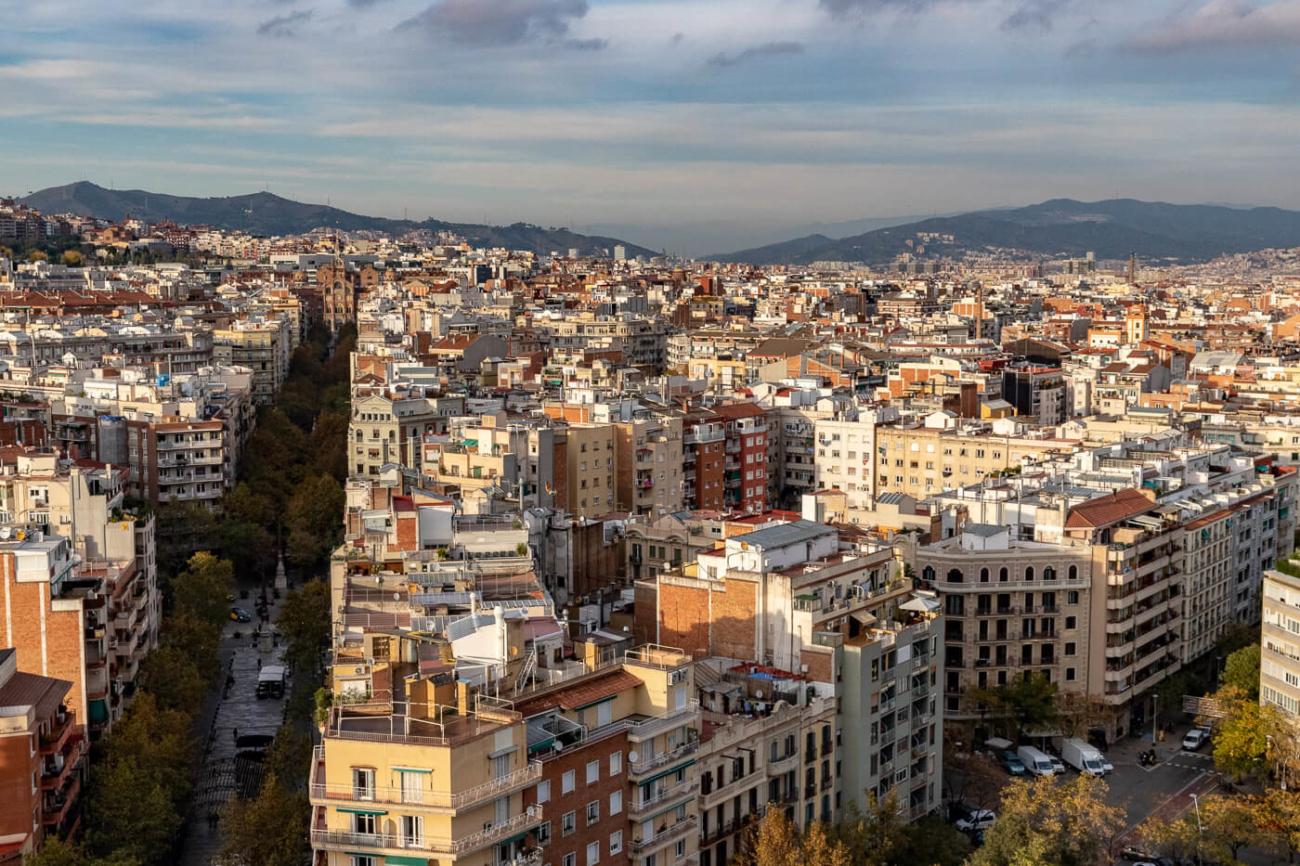 Why You Should Go: The Gothic whimsy of the architecture, sexy neighborhoods filled with cafés, history and vermouth, a modern food culture mixing Catalan, Spanish and European dishes to idle the night away.
Best Time to Visit: Shoulder seasons like May or October, or try November when the crowds lessen slightly.
I did not want to go to Barcelona. I had formed my own opinions on the city without ever going there. It's hopelessly crowded, I thought…it's turned into one big inauthentic tourist trap…there's nothing to eat but ham.
When will I learn? I went in mid-November, so not exactly the height of the travel crush, but it's a perfect example of how enjoyable a place can be in the off-season. Barcelona is beguilingly beautiful and the Raval, Bourne and Gothic neighborhoods are exciting, exotic and hip. I had no problem finding food as a pescetarian (there's even a great flexitarian restaurant!) and it's a joy to walk for hours and take it all in.
Favorite Coastal Town 
Byblos, Lebanon (a.k.a. Phoenicia)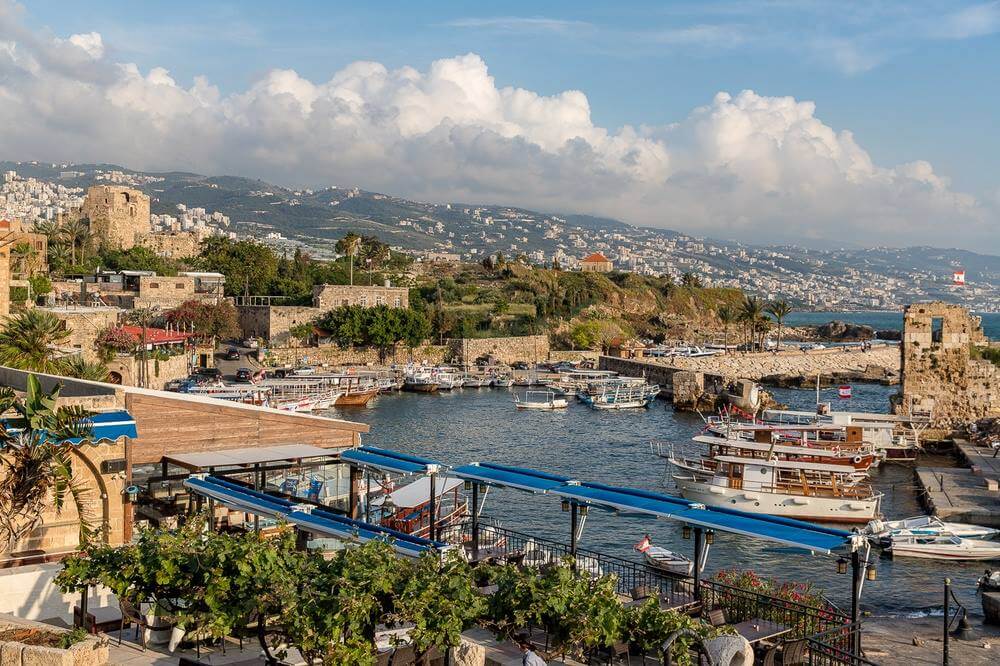 Why You Should Go: Byblos is just gorgeous with its beautiful Mediterranean oceanfront, fascinating historical ruins, and impossibly delicious food. I already want to go back!!
Best Time to Visit: The best weather is between March and May, but also consider a fall/winter trip between October and December.
Byblos is close to Beirut (about an hour or so with traffic) and a taxi ride away from the jam-packed old city. This Mediterranean village is part of the former ancient Phoenicia, which sent my history-loving imagination spinning back to my 7th grade Mesopotamian talk show project. (I have video evidence. It was ridiculously comical yet highly informative. I digress.)
Wandering through laneways filled with millennia-old storefronts now selling souvenirs is an excellent way to fill your day and night in Byblos. Lebanese restaurants are abundant in the ancient city square, as are Italian and other European offerings, craft cocktail bars and chic nightlife spots. You can also use Byblos as a home base to go check out the remains of the Phoenician sea wall in Batroun (originally built in the first century BC) or hit up wine country in the mountains, which I highly recommend.
Biggest Surprise Destination 
Sitka, Alaska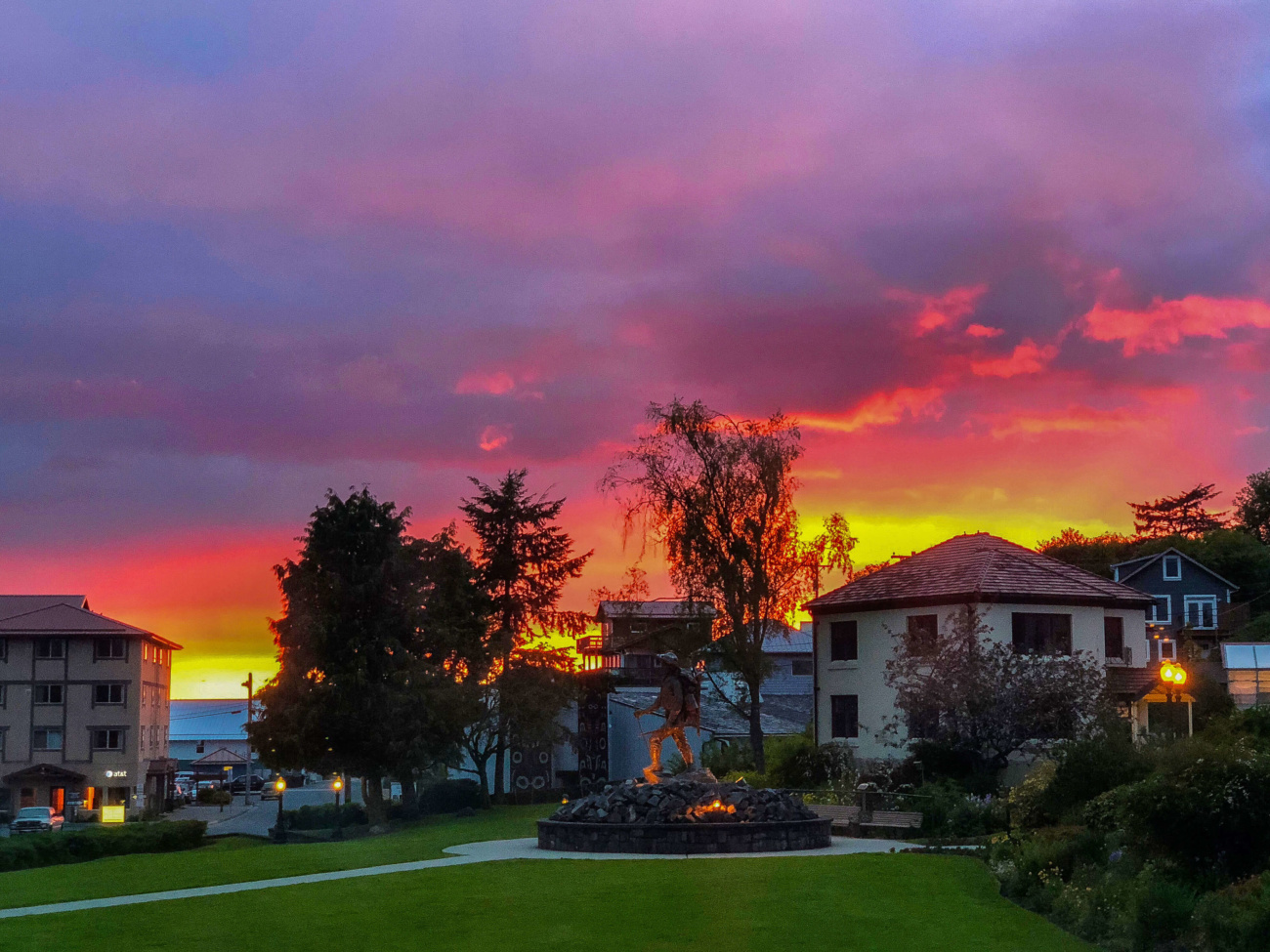 Why You Should Go: Stunning sunsets, small-town atmosphere, a wild Russian backstory and Alaskan king crab that will forever make you want to return.
Best Time to Visit: April-August
When I first started reading up on this place and how it was the original capital of Russia-America, I knew I needed to stay a few more days in this town. I'm so glad I did. Quirky little cupola covered churches, a fascinating Tlingit tribe heritage and small-town charm make this tiny town a gold mine.
Make sure to visit the Sheldon-Jackson museum to hear the story of the Inuit tribes that inhabit this land, the Russian Bishop's house to understand the Russian occupation, and stroll the waterfront for the Alaskan beauty and great restaurants. They even have a craft beer hangout – Baranof – that's worth the taxi ride up the road.
Lodging
Favorite Hotel
Six Senses – Duoro Valley, Portugal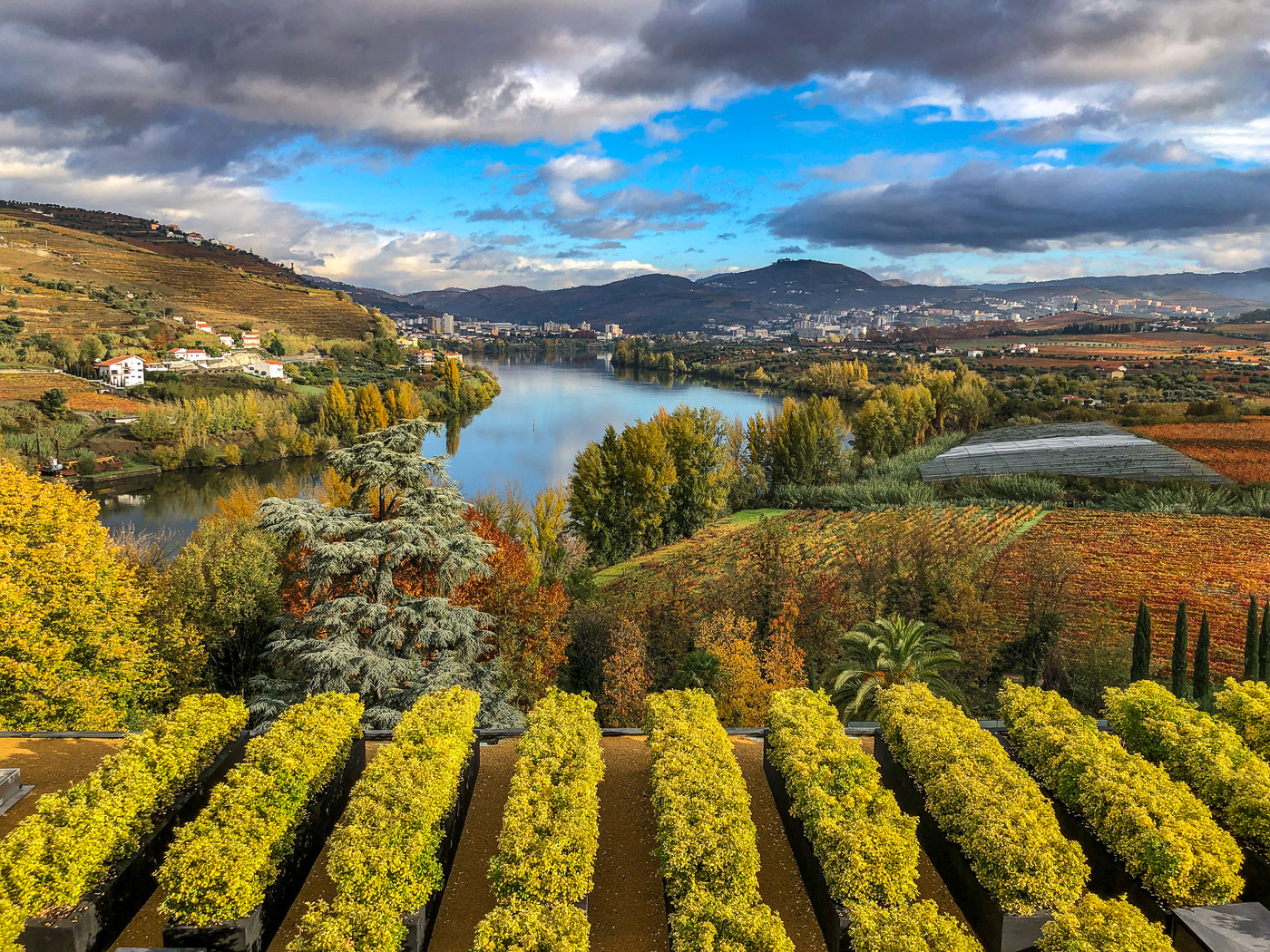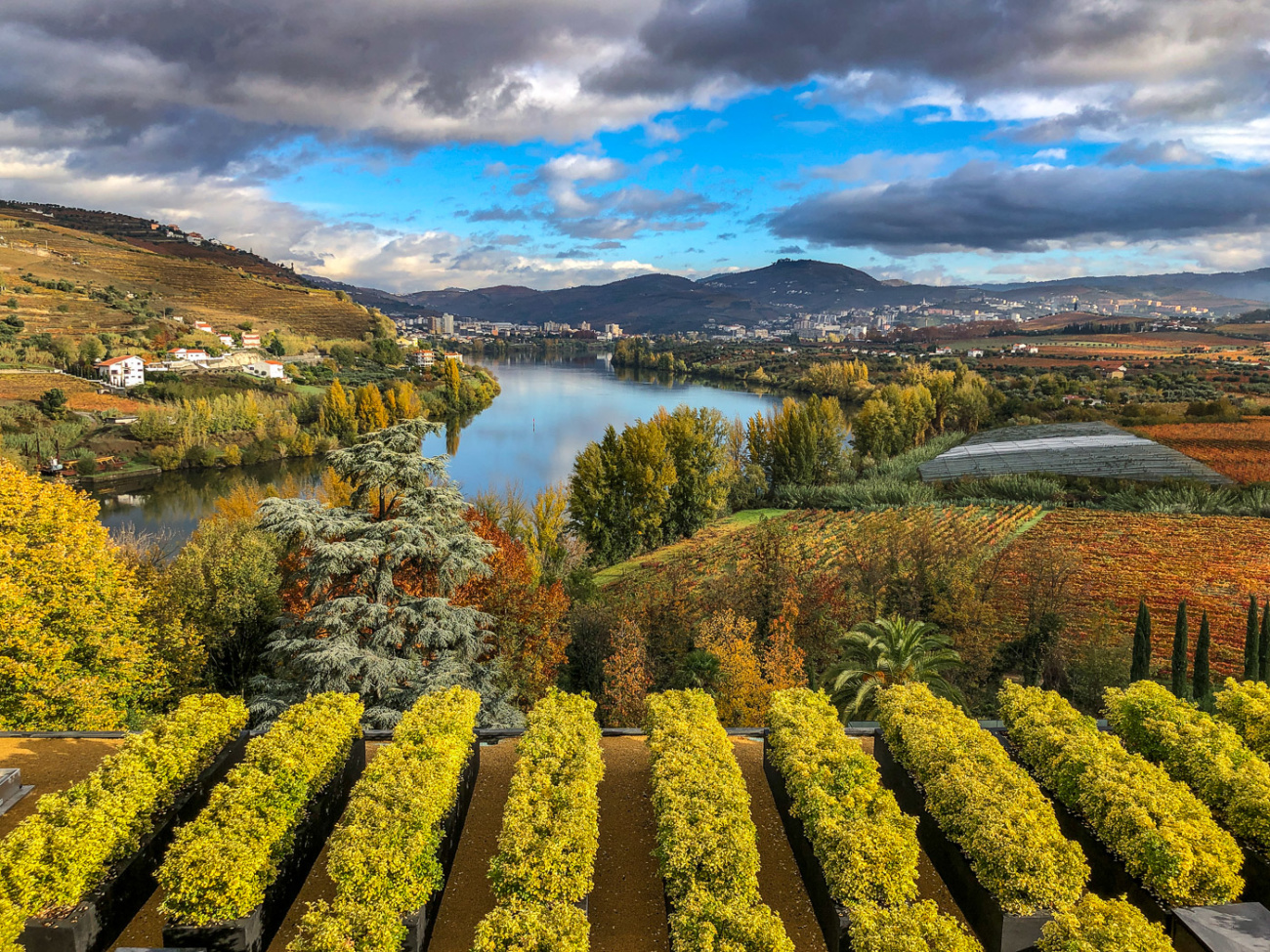 Why You Should Go: Glorious views of the Duoro Valley wine region, an all-inclusive spa you'll want to spend days at, cozy nooks and wine galore.
Best Time to Visit:  If you hit the off-season in November you get the brilliance of changing leaves and a package deal that includes massages and wine tastings for two.
One of my favorite highlights from my recent trip to Portugal, Six Senses Duoro Valley is one of those perfect hotel experiences. It truly has a sense of place: Outside it's a beautiful Portuguese estate, but inside it's a dark, cozy den of indulgence. Super comfy beds with views of the landscape, low-lit common spaces to sink into, wine tastings and craft cocktails and gourmet food…oh my.
But the pièce de résistance for me was their spa. We canceled appointments, sightseeing and events for two days in a row just to wander through infrared saunas, try vapor therapy, Kneipp (foot) therapy, aromatherapy, and more. It was exactly what we needed during that part of our trip through Portugal, and really, rest and rejuvenation is just as much a part of travel as exploration. Few hotels do it so well.
Food and Drink
Favorite Restaurant of 2018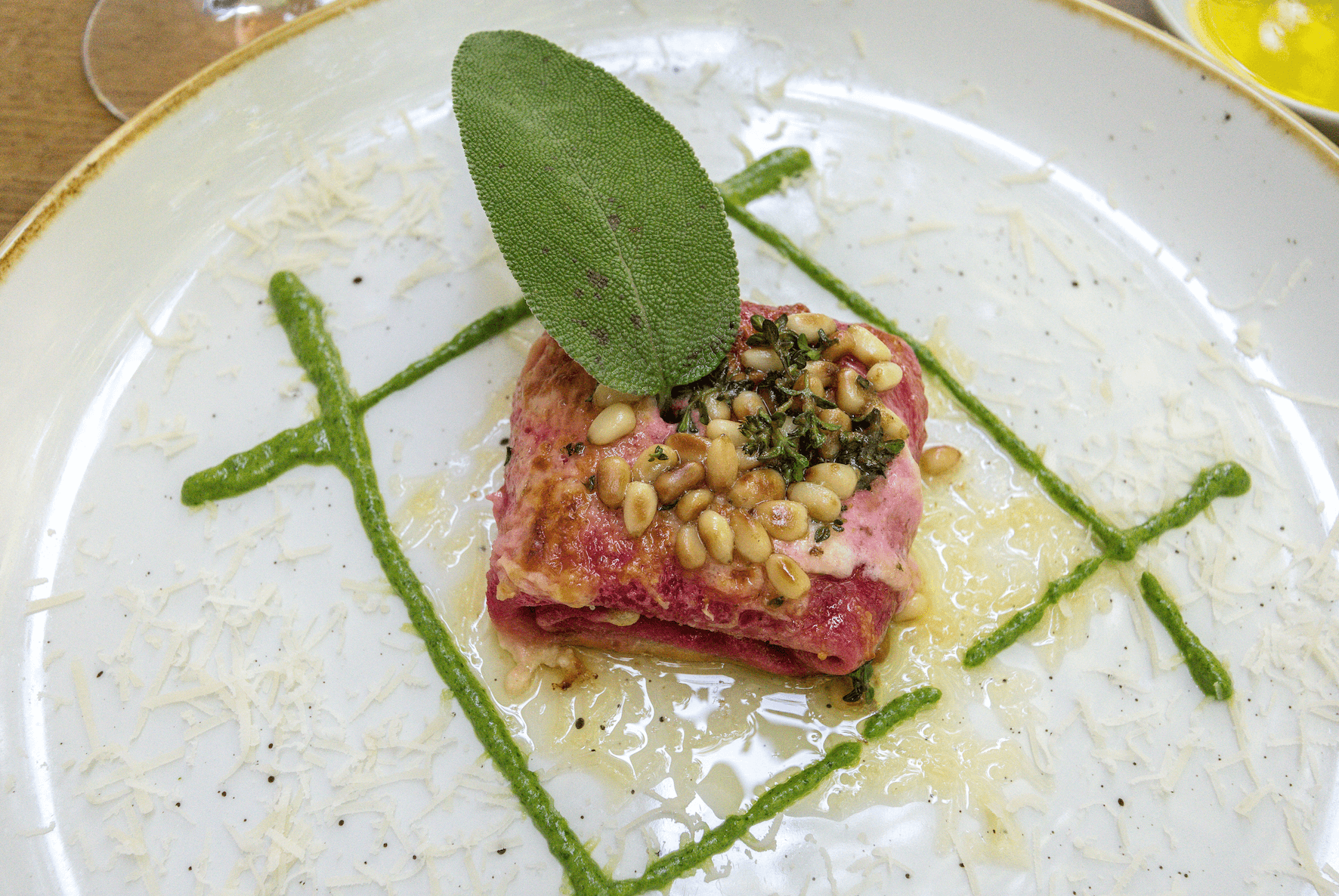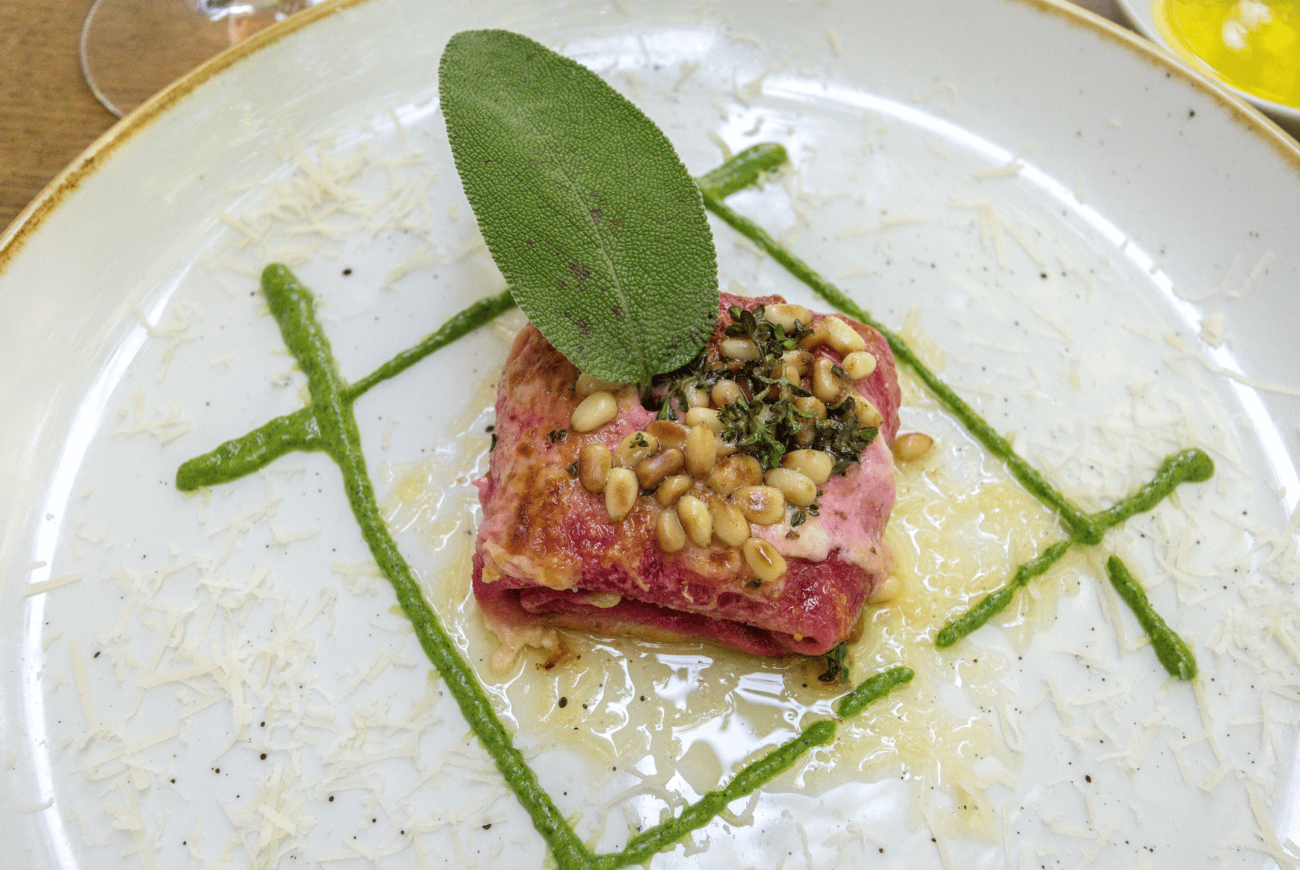 Why You Should Go: Cozy chateau with scrumptious Slovenian wines (including orange!), lovingly handcrafted regional dishes, romantic countryside setting.
Best Time to Visit: When the weather is warm and pleasant so you can sit outside. Spring – early autumn. It's not a crowded spot and even at full capacity it feels intimate.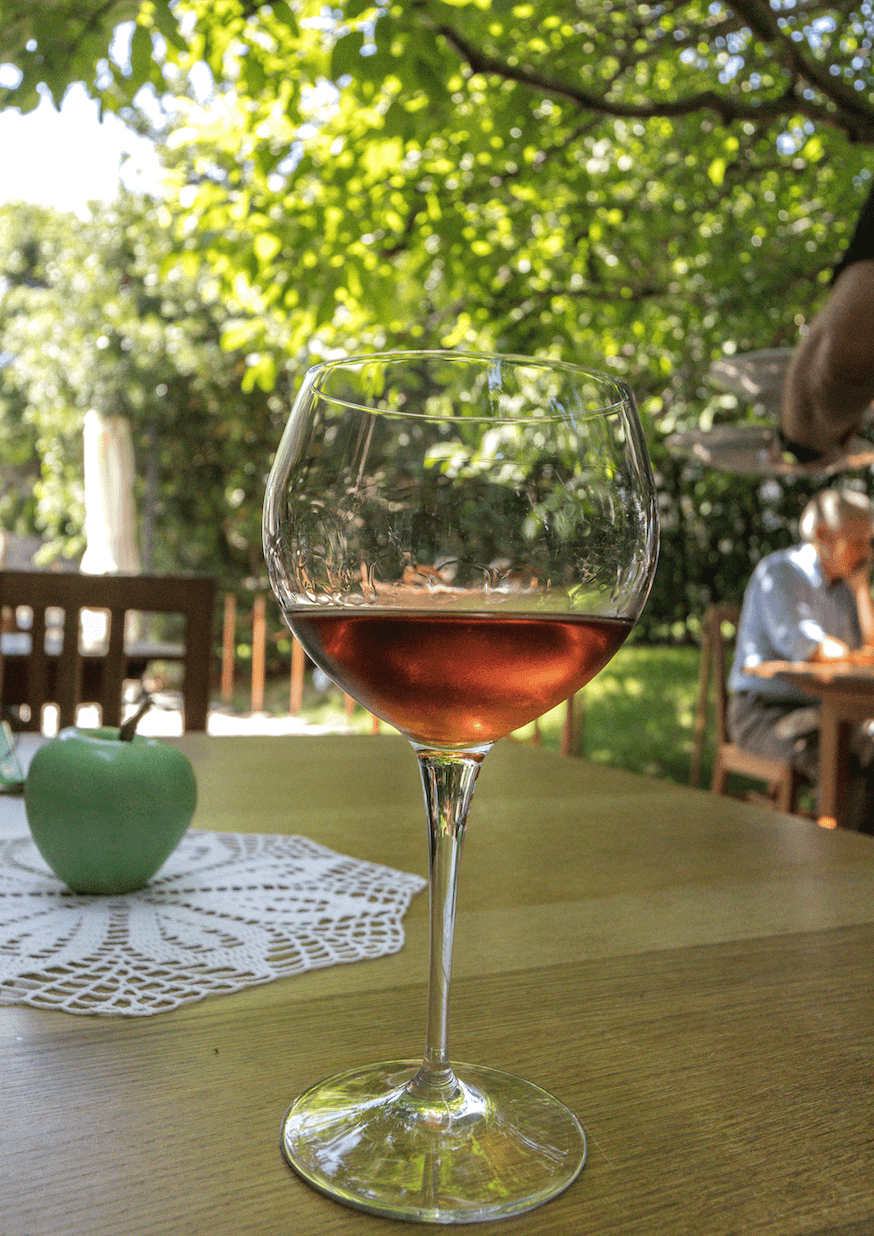 We never would've found this place if it weren't for our sensational guide Tina (read more about her here). An off-the-beaten-path find, you must drive through a tiny town to get to the chateau. Our server was so kind, and helped us navigate the menu, allowing us to create a vegetarian tasting menu of sorts. The sommelier paired the wines to suit our tastes and each course. We had beetroot pancakes, pesto gnocchi and something like six other dishes. It was a total carb and sauce fest and we were in heaven.
Pro Tip: Make a reservation if you can, if only to ensure a spot on the lovely patio.
Best Street Food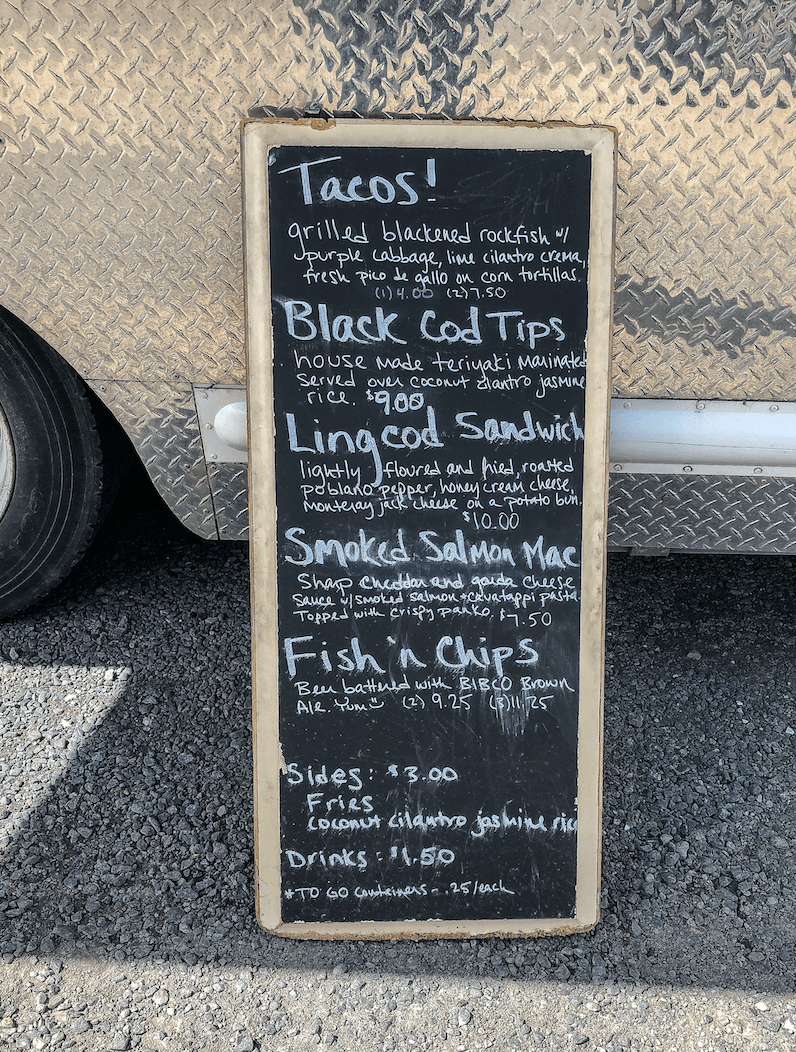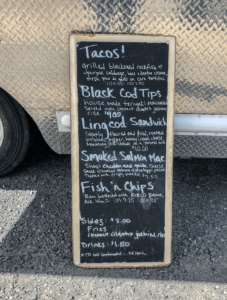 Why You Should Go: Crazy fresh fish sandwiches on potato buns, the likes of which are so warm and crunchy that you might find yourself stalking the truck around town. Probably.
Best Time to Visit: Anytime they are open, which is generally May – Labor Day-ish. Check their FB page for locations and hours.
Just another one of the reasons I fell so hard for Sitka, Alaska, Ashmo's food truck has a small but incredible menu. Fresh fish dishes like black cod tips, dory tacos, smoked mac and cheese, and the one that got me hooked: the Ling Cod Sandwich. It's a surprising mix of flaky moist fried white fish, roasted poblano peppers, honey cream cheese and Monterey Jack cheese. Holy crap now I'm desperate for it all over again.
Best New Cocktail/Spirit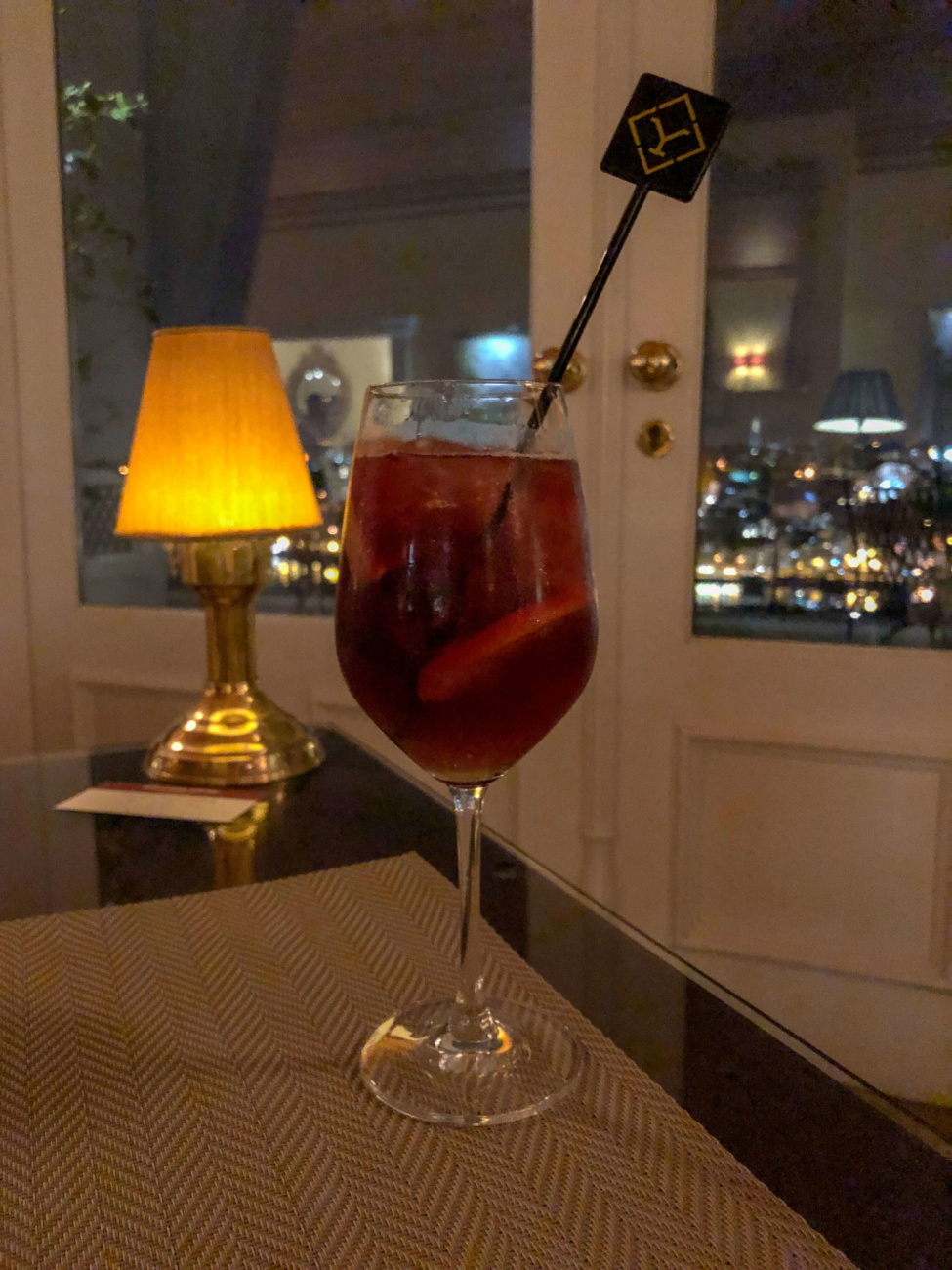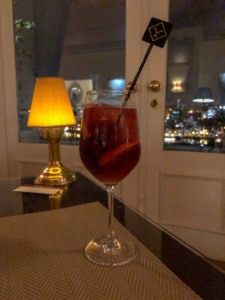 325 Port Cocktail – Long Drink
Yeatman Hotel, Porto, Portugal
Why You Should Go: Breathtaking view of Porto, Portugal, and balanced and refreshing handmade cocktails using the most famous export of the region: port wine.
Best Time to Visit: Porto is lovely anytime of year. Try sunsets to get the best light fading to nightlights on the city, or Thursdays for Fado music.
Best Craft Beer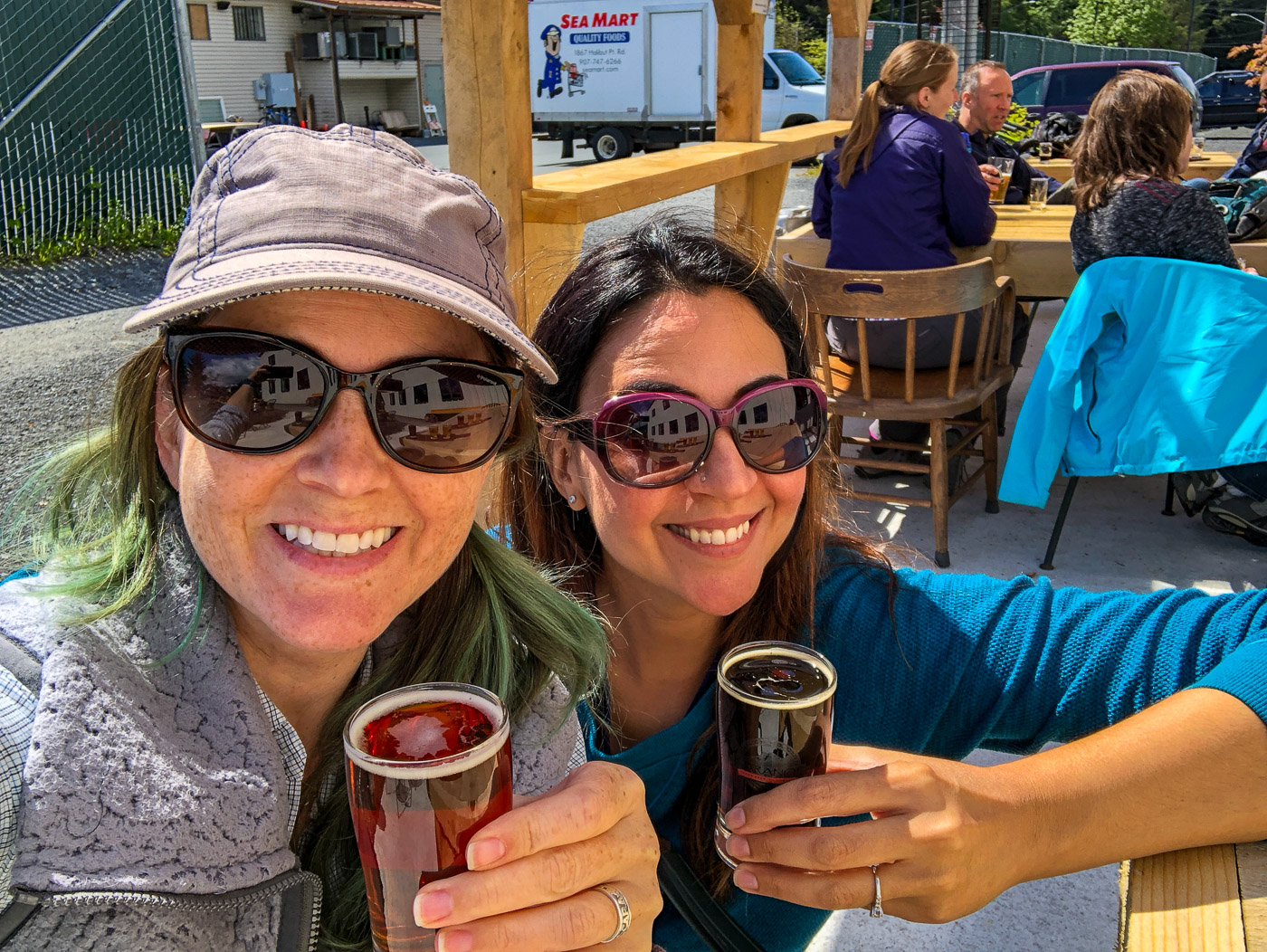 Why You Should Go: Mountain-fresh outdoorsy setting, fun, and that local taste of spruce-tip beer!
Best Time to Visit: Try spring when the weather is sunny and dry, or summertime.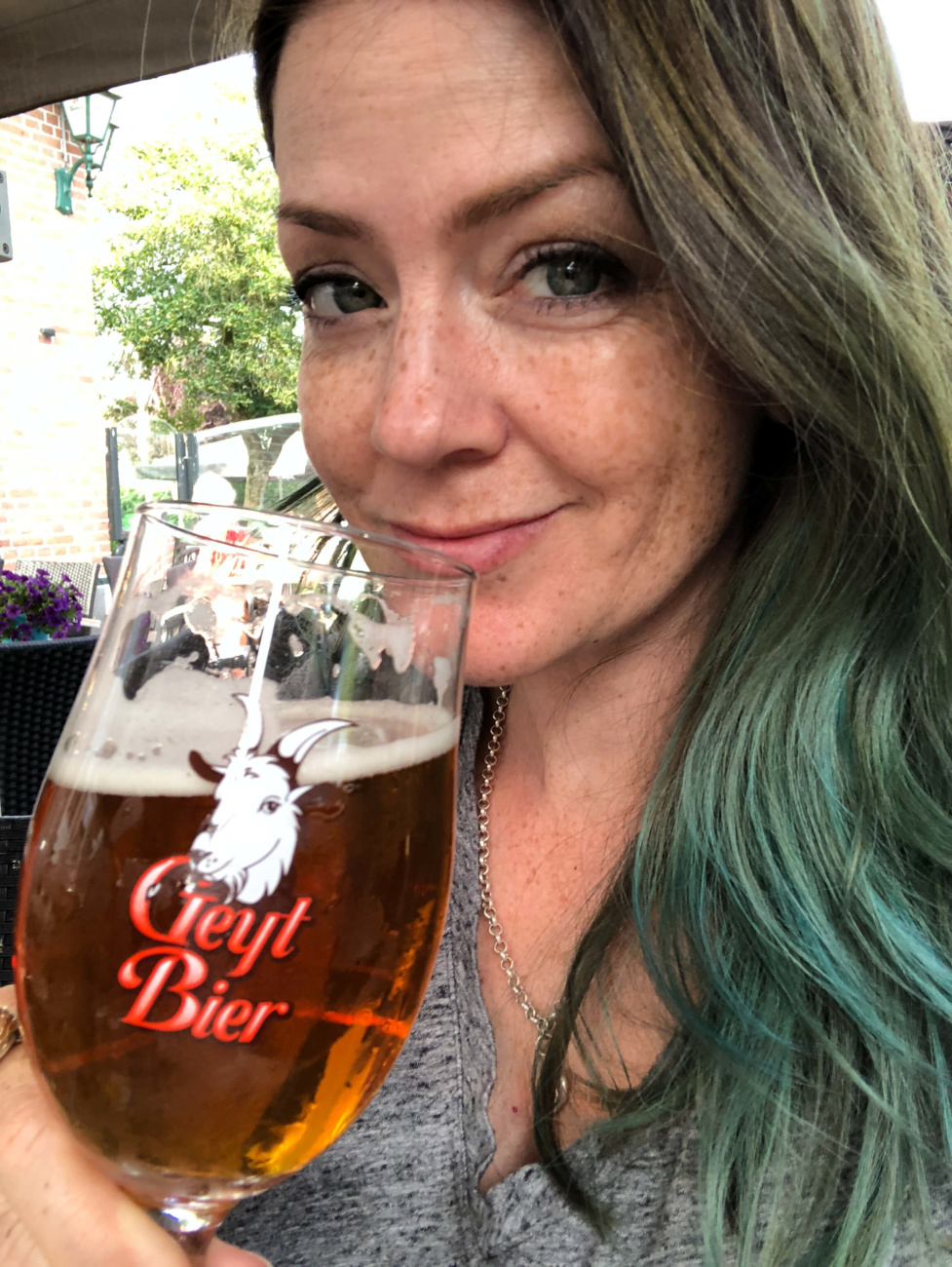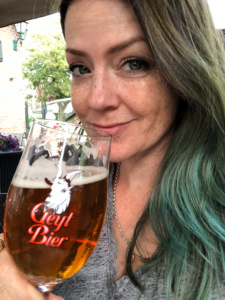 This one was sooooo hard to narrow down. I visited several really great breweries in Asheville, North Carolina that I hated not including. And of course, there was this beer in Giethoorn, Netherlands, that gets almost ALL the points for being "goat beer" and having a cartoon GOAT on their glass (which yes, I did buy and bring home).
HOWEVER.
When it came down to the final analysis, Baranof Island Brewery had not only one of my favorite beers, but it had such a convivial and truly Alaskan local feel that it won out in the end. Using spruce tips in the brewing process turned out a lively, layered beer with a real taste of place. I met several nice folks out in the beer garden and had a seriously fun afternoon getting to know the area and its people. 10/10 would do again.
Favorite Travel Activities
Favorite Animal Experience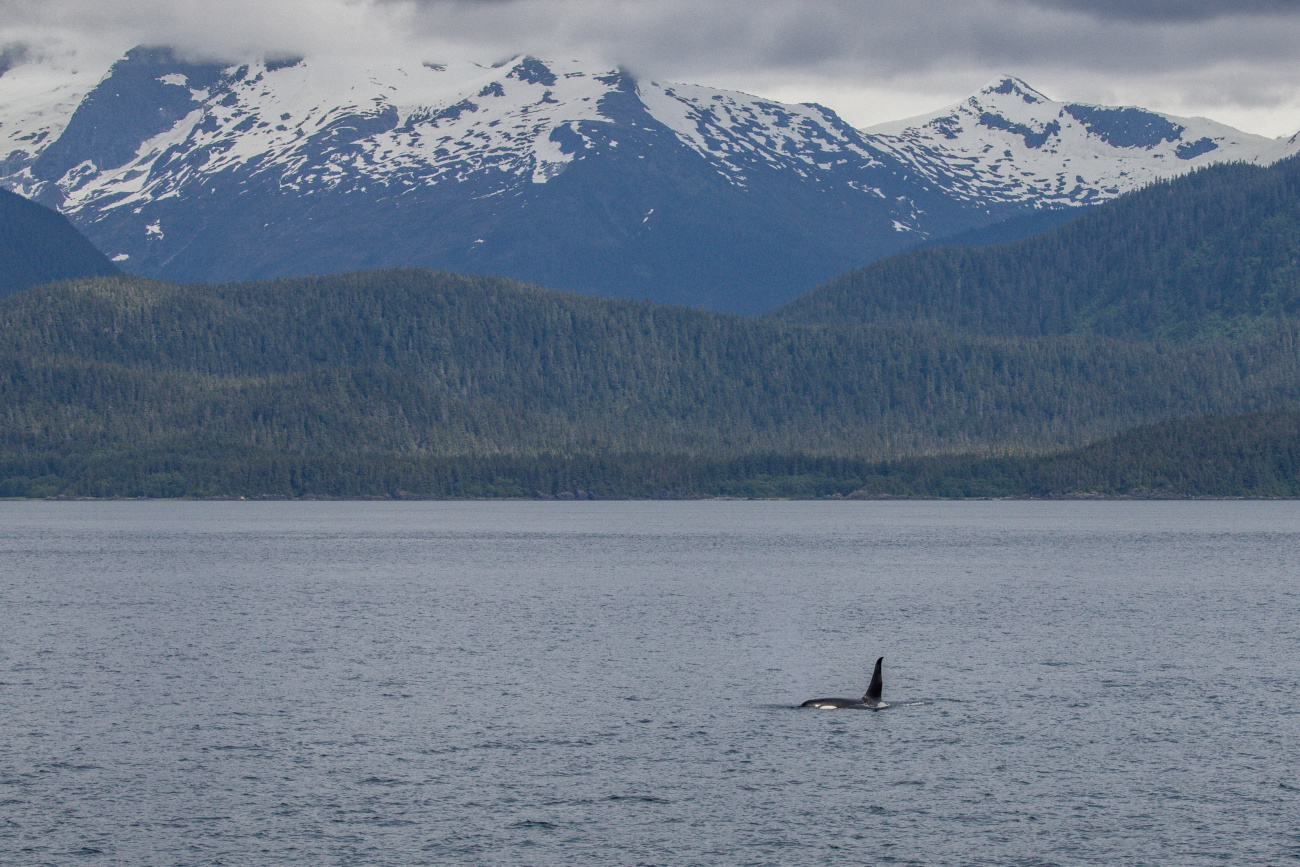 Why you should go: Orcas! Baby orcas! Plus you have the opportunity to eavesdrop on their conversations.
Best time to go: May-June
"Ladies and Gentlemen, we have black fin!" With that declaration over the speaker, the entire boatful of guests were outside, cameras and binoculars in hand. Our boat was small and had no strict schedule to keep, so the captain dropped anchor to give us the best chance at seeing the massive whales.
One of our guides dropped a hydrophone into the water and just as a momma and baby swam under us, so their chatter was broadcast for us all to hear. It was emotional. Many tears were shed (not just by me). It's hard to believe you are seeing orcas in the wild, much less hearing them. Thanks to UnCruise, it was a wild, gorgeous and somewhat rapturous encounter.
Favorite Seasonal Event 
Land of Oz
Beech Mountain, North Carolina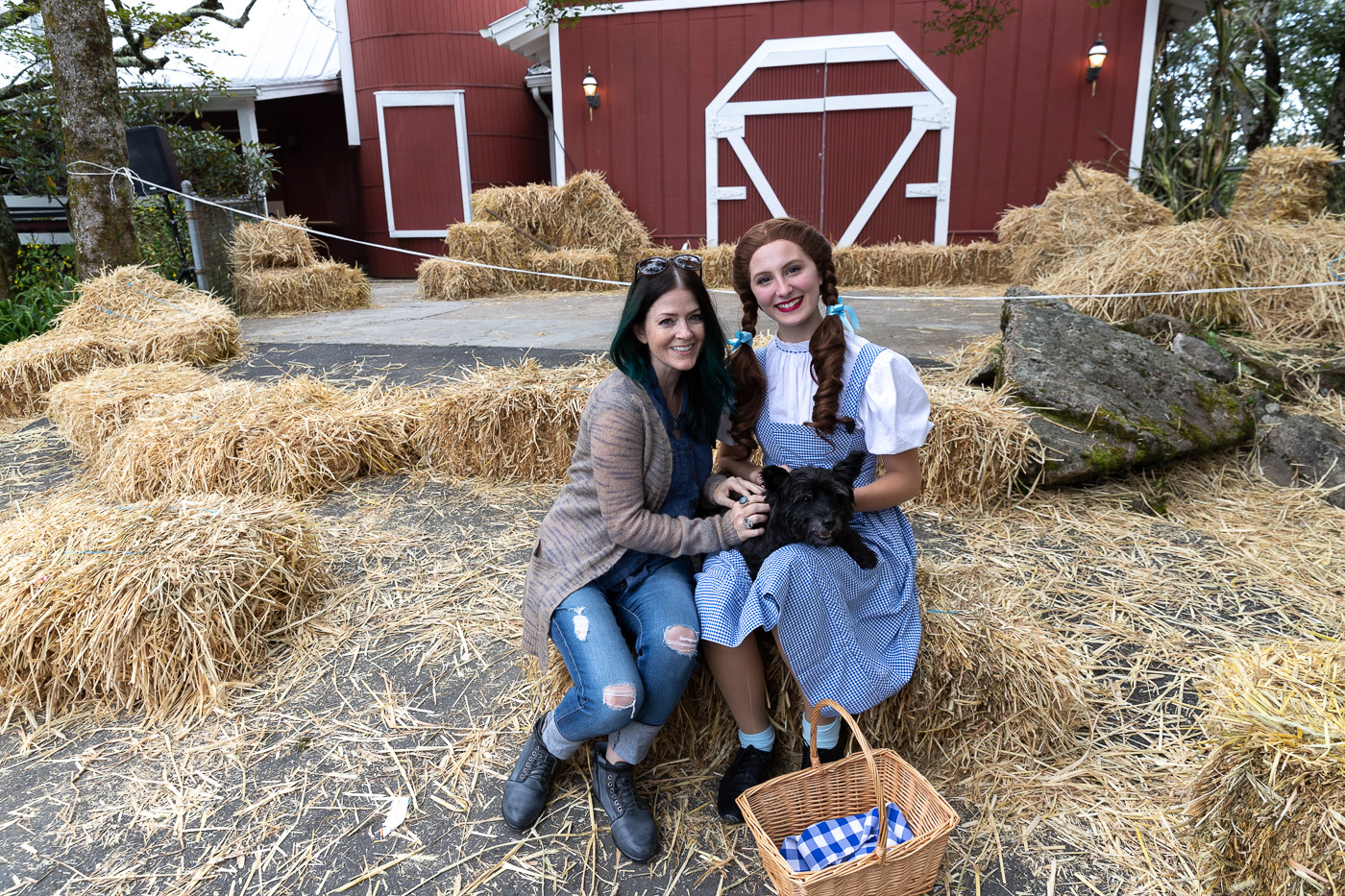 Why You Should Go: For your own opportunity to follow the yellow brick road.
Best Time to Visit: There are only two events per year: one in the summer and one in September. It sells out every year, so be sure to buy tickets ahead of time.
A theme park in the early '70s, this now private mountain wonderland is only open to the public twice a year.
Full disclosure: I was sure it would be cheap and kitschy and I'd have a good laugh. But no, it was extremely well done and within moments of showing up in "Kansas" I was fully buying into the story as if I was 8 years old all over again. The experience takes you through the entire story from Dorothy running away, the tornado, good witches, bad witches, her entire ragtag fam and an emerald city. I couldn't get enough. If you ever loved Wizard of Oz, make plans to attend this September.
Pro Tip: Tickets go on sale around July, so keep checking the website to make sure you get yours before they sell out.
Organized Tour – Small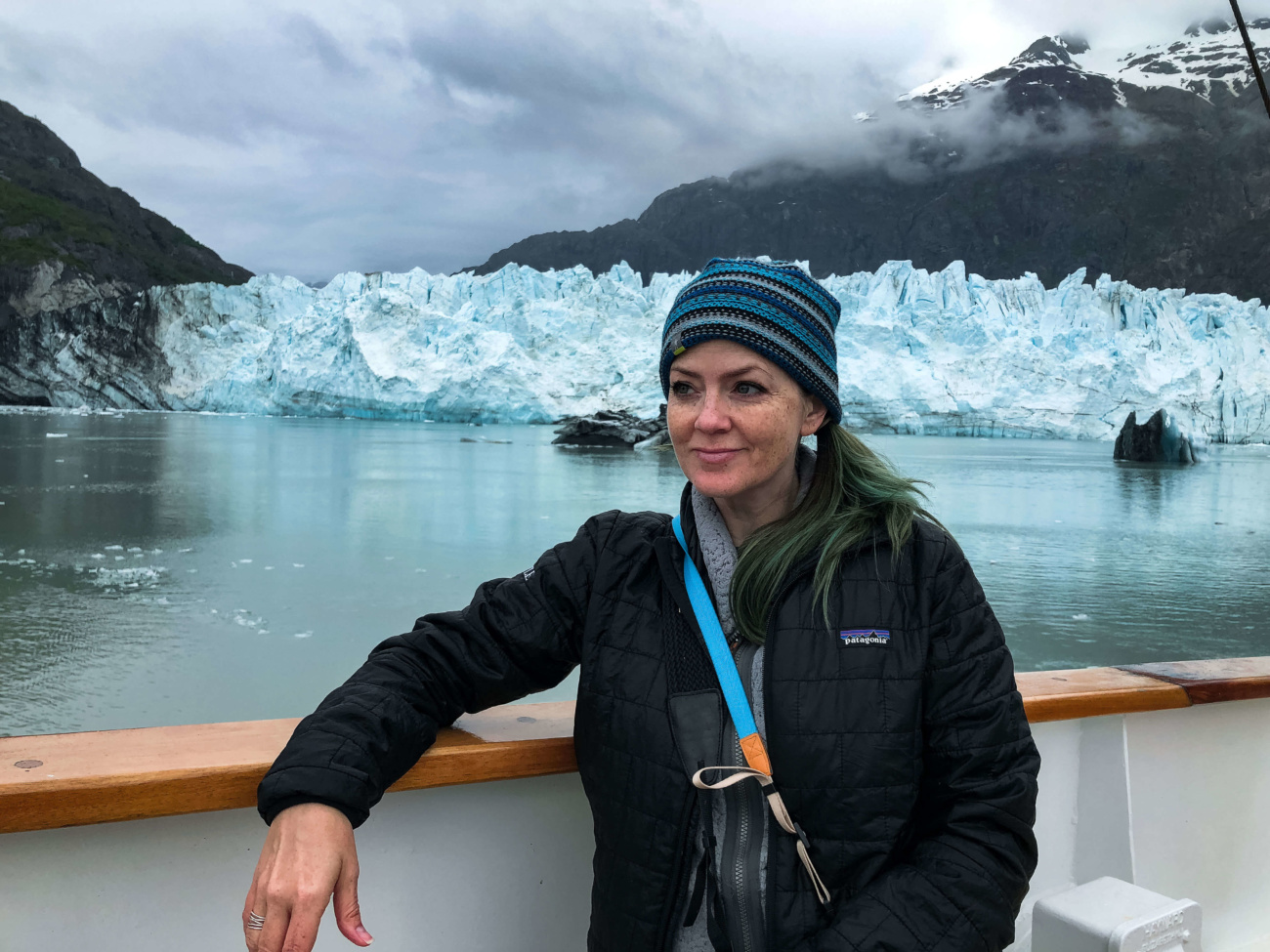 Why You Should Go: Small boat with around 50 guests and individual attention, all excursions included and there was guided exploration at each stop.
Best Time to Visit: Spring, when the animals are waking up, there's more possibility to see the northern lights and the weather is dryer with more sunshine.
Odd how I'm becoming someone who loves cruises. Until 2017, I'd never even been on one. After doing a small canal cruise through France, a huge Princess Cruise through the Panama Canal, and now a small boat tour of the islands of Alaska's inside passage, I definitely have opinions.
This tour through Alaska was the perfect size: small enough that all guests were taken care of, but big enough that you could slide into the back of a lecture or sleep in and not be noticed.
One of the things I really loved was not having to decide weeks or months in advance what day trips I wanted to do. Every night the guides would tell us where we were going the next day and which experiences were available. Only then would we sign up. Ahhhhh, it was a non-planner's dream.
Pro Tip: There's a secret menu!! Order the mac and cheese – it's really good. Also, the craft cocktails are delicious and along with local beers and wines you can imbibe from breakfast to late night.
Favorite Unexpected Experience: 
Freiderichsbad Roman-Irish Bath
Baden Baden, Germany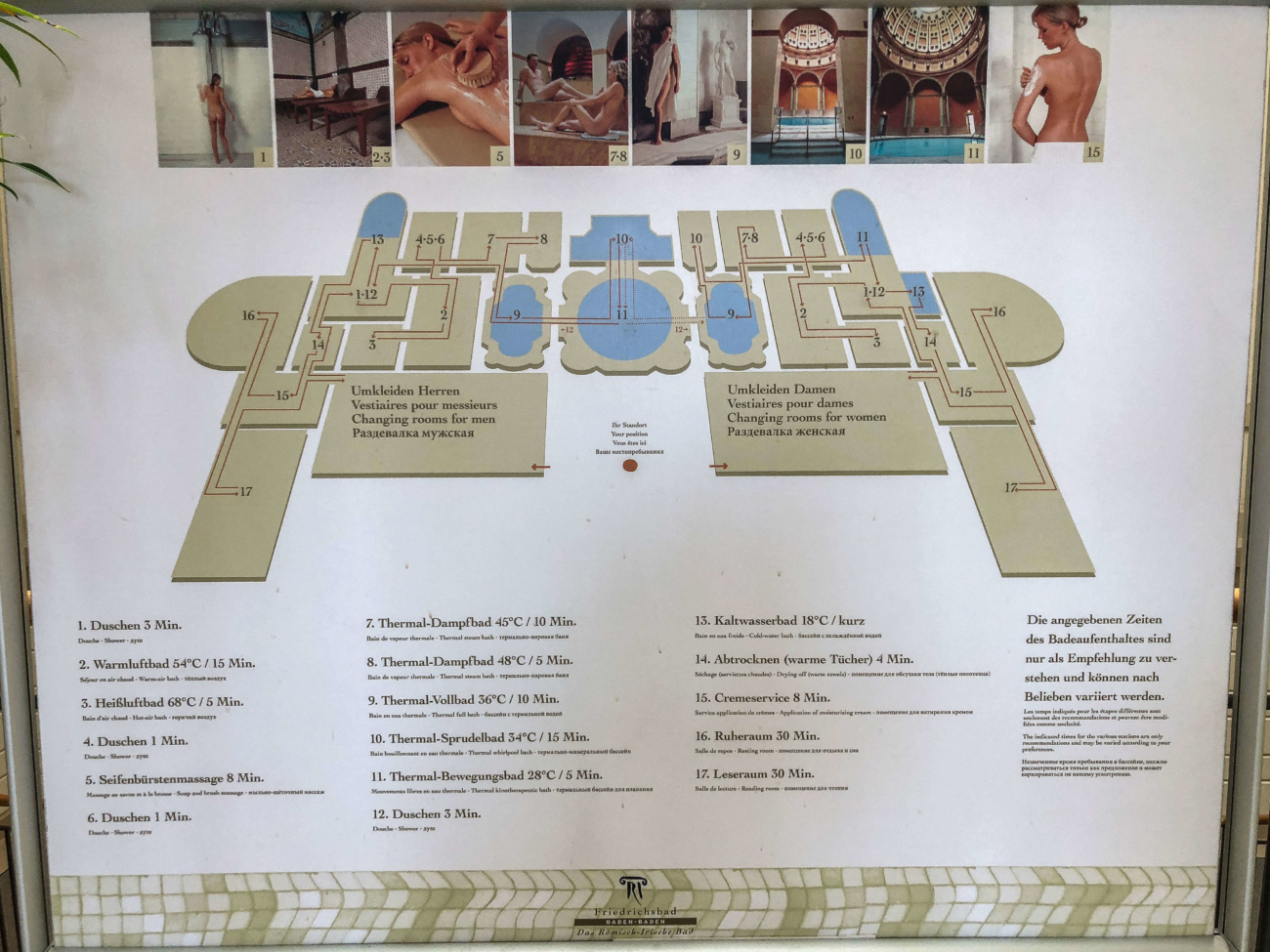 Why You Should Go:  There are 17 self-care stations, one of which is a mother freakin' NAP room.
Best Time to Visit: This fully naked sauna is co-ed, and men and women bathe together. If you'd rather go on a day when it's separate (save for the center pool) plan to go on Monday, Thursday, or Saturday.
So of course I was hesitant to go to a spa where you walk around totally naked going from hot pool to cold pool, sauna to steam room. "You'll forget after a few minutes," some of my friends said. I never forgot.
But it didn't matter. Relaxing, getting lotion rubbed on me by an efficient German woman, being wrapped up like a baby, and taking a nap in a real and actual nap room were far more important to me. I was so relaxed I wanted to stay all day.
Pro Tip: If you want the full experience, go for the "Luxury" package. For €49 you get four hours to go around as many times as you want, plus you get a soap and body scrub treatment and the cream lotion massage.
Favorite Discoveries
Travel Gear 
I don't mess around when it comes to packing. Flying every couple weeks to parts all over the world will do that to you. So it should come as no surprise that I would never dream of filling a suitcase without using packing cubes. While I've been merrily filling my durable Flight 001 cubes for years, 2018 was the dawning of the Ultralight cubes.
Originally a gift from eBags, these micro-thin, featherweight zippy bags were so perfect for my two-weeks in a carry-on trip through Europe that I would buy these again.
These are perfect for use in your carry-ons since they add virtually no weight to a bag that you have to lug around and fling overhead on planes and trains. The set also comes in sizes that fit squarely in your luggage, which makes packing a breeze.
If you don't already have my "two weeks in a carry-on" packing list, make sure to grab your copy now by clicking here.
Looking Forward to 2019
What's Next?
This year I already have confirmed:
March: Hawaii
April: Panama and Costa Rica
May: Georgia, Azerbaijan, Armenia
These are possibilities:
Sweden, New Mexico, Estonia, Latvia, and Lithuania
What do you want to see more of on CleverDever Wherever? Where do you want me to explore?
Wishing you lots of kindness and adventure in the new year!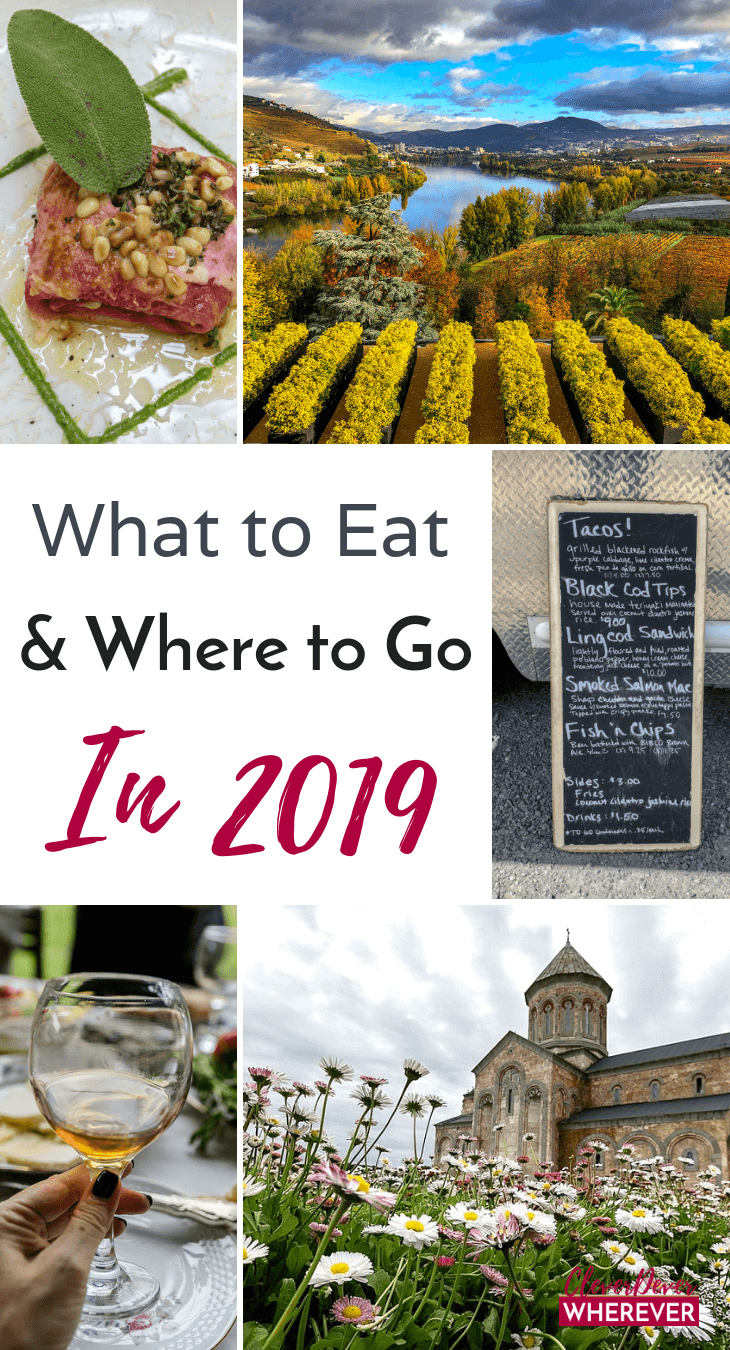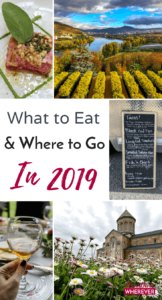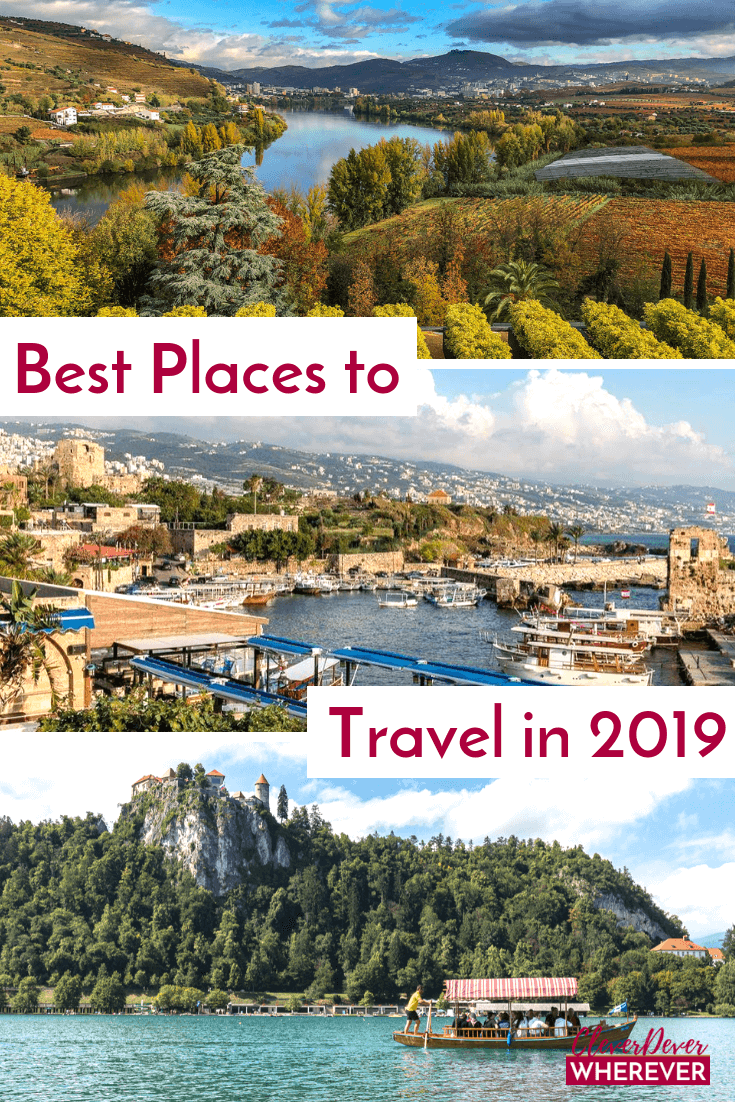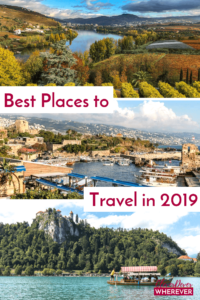 Read More About
My Favorite Experiences