Are you one of the lucky adventurers traveling to Georgia next year? Or maybe you know someone traveling to Georgia? I don't mean the state – I mean the glorious, mysterious, wine-filled country in the Caucasus. Emerging a decade ago from conflict with a whimsically diverse old town and a burgeoning tourist infrastructure, this friendly country is on its way to becoming a must-see travel spot.
If you want to get in on the excitement, we have 5 spots remaining on our 2020 tour. Reserve your spot here!
Congrats on being at the beginning of this trend. It's a bit of a journey, and for most people, one that will involve several flights and possibly half a world of time zones. But there are ways to make the trip more comfortable, so allow me to present my holiday wish list to all that are traveling to Georgia.
Even if you're not sure yet where you or family's travels will take you in the new year, there are loads of great travel gift ideas for everyone on your list (or to suggest to be added to your list!).
Or maybe you're not leaving your hometown anytime soon but want to explore other cultures through their cuisine, wine or literature. Hop down to my Prepping For Your Trip section and pick up one of the fantastic books I've listed and become a traveler in your own backyard.
Traveling to Georgia
I've been to Georgia several times, from the greater to the lesser Caucasus Mountains and out to the Black Sea. The climate can vary, even in the warm spring, so think layers. If you're traveling to Georgia with me on one of my cultural adventures, we'll be exploring the cities, countryside, and nature in equal measure, so be sure to have items that can easily support a variety of adventures, including city walks, wine tastings, and hiking. You'll probably want to bring back some of their unusual wine, so I've got some gift ideas to make sure you return with all of your bottles intact.
In any case, dear traveler – the holidays are upon us, so let's fire up your wish list, buy items for the other travelers in your life, or, you know, get yourself something fun in anticipation.
Read on and get your holiday shopping list ready!
Jump to: 
Travel Gift Ideas, Especially for Someone Traveling to Georgia
Prepping For Your Trip
Georgia is definitely a culture that loves to eat. Feasts are called supras in their culture, and they are a generous way to show hospitality and to celebrate guests. With a cuisine rich in savory options, it's easy to get carried away when cooking Georgian food. This is a great book to prep your menu reading skills, plan your eating bucket list across the Caucasus, or to make you feel like you're traveling through Georgia even when you're not.
One of the best parts of traveling through Georgia is the access to the unusual and rarer "orange wine." You can learn all about the wine, the winemakers, and the regions where it is made most, in this delightful book by Simon Woolf. I was with him back in 2017 while he worked on the Georgia chapter (I'm even thanked in the credits!), which makes me feel even warmer and fuzzier about one of my favorite wine styles in the world.
If you're into literature or epic poetry, this here's your jam. Originally written in the 12th century by one of the most lauded Georgian poets, Shota Rustaveli (for whom the main boulevard in Tbilisi is named), this national epic is beloved by the country. Telling the tales of knights, love, war, humanity and fate, it captures the soul of the Georgians.
It also has great stanzas like "The wise love learning. The dumb take it as a stabbing to the heart."
From the excerpt: "Writing Away teaches you to embrace mishaps in order to enrich your travel experience, recognize in advance what you want to remember, tap into all your senses, and connect with the physical world in an increasingly technological age."
I have this book and, in fact, know the author, Lavinia. She's a fantastic writer and a kind and generous human, and her book is filled with great exercises and tips to help you make the most of your travel journaling.
If you fly semi-frequently, especially internationally, get this. It's helped me reach connections on time, avoid passport lines entirely and skip the pain of filling out those in-flight customs forms. It's good for five years. AND, as a plus, you get TSA Pre-Check included, so you don't have to take off your shoes or pull out your laptops in the US. Bonus.
Keep your passport pristine, unbent and readable by stowing it in a passport wallet. I like ones that have slots to organize your travel cards (like Global Entry, frequent flier, and tax-free shopping) as well. If the adventurer in your life doesn't already have one, this is a great, inexpensive travel gift. 
To Help You Pack
This small, boxy bag from Flight 001 forces me to pare down to fit all my toiletries in one lightweight bag.
As with all Flight 001 products, it's durable (I've used the same one for over five years now), washable, and has a handy handle, enabling me to carry it easily to shared or remote bathrooms.
eBags Super Packer 5pc Set is the absolute lightest packing set I've ever used. I bring this one along if I'm doing an entire trip in a carryon and lightening my load is the key necessity.
While this one is on the higher price-point side, I love this packing cube for several reasons:
It's super durable. I've been overstuffing mine since 2012 and it has nary a rip, tear, or zipper problem. It's tough which means I'm not replacing it every few years.
It has a clean and dirty side. I love the "laundry" feature because it keeps dirty and/or smelly clothes away from the clean ones, plus the built-in organizing system makes it so I know exactly what needs to be washed.
Why do I suggest two different types of packing cubes? Because I pack on a trip-by-trip basis. The Flight 001 is bulkier, so I use it when I know I'm using my larger checked bag. The eBags Ultralight is good for when I am packing everything in a carryon.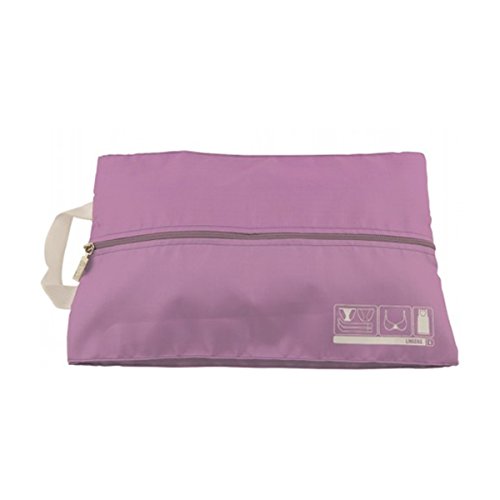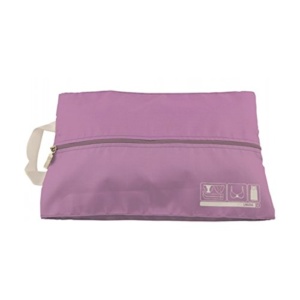 I love this undergarment packer because not only is it exceedingly durable, but it has the clean/dirty organizer as well.
Added bonus for the laundry side: it contains a detachable mesh garment bag that allows you to unsnap it from the packer and throw directly into the washing machine. You won't lose socks or underwear to machines, it's gentler on your delicates, and you've got a bit of discretion if you're sharing a laundry machine with a travel mate.

See also: Larger undergarment packer (which is what hubs uses)
I don't know about you, but I can't stand getting dirt from my shoe bottoms on the rest of the stuff inside my luggage. Enter the shoe bag. These are waterproof, have a window so you know which pair is inside, and a handy drawstring for quick packing and unpacking.
Between headphones, micro and mini USB charging cords, iPhone and aux cords, you wind up with lots of cables to keep track of when you travel. I use these Bobino cord winders to keep them from tangling.
The added benefit is that you can partially undo it if you don't need too much cord. From there, I throw all of them, including my electrical adapters, in a packing pouch.
Another super-organized electronics option is a carrying case like this one. Because you need adapters, chargers and the like, this is a great way to keep them all in one place.
If your luggage doesn't come with a lock, these TSA approved locks are the perfect way to keep your items secure. I use these on my backpack, duffle bag, wine luggage (ESPECIALLY THE WINE BAG!), and my eBags TLS Mother Lode Mini 21″ Wheeled Carry-On.
Sometimes your beauty products don't come in small enough travel sizes to keep it light. This is where these small containers come in handy. I can easily get 2-3 weeks of cleansers, night creams, moisturizers, sunscreens, etc. in these little containers. The screw tops mean no leaking and the labels help you keep the products straight. I use the .5 oz size, but the 1oz works too if you need a little extra.
For The Flight
Babies, engine noise, snoring, chatty seatmates. Drown them all out with noise-canceling earbuds. Even though their headphone counterparts may cancel out a little more overall, these still do a great job and they are ¼ the size, making packing them much easier.
I always travel with a pashmina-type wrap, no matter what the climate I'm heading to. For Georgia, you've got warm spring nights in the city that might require just a shawl, chilly glacier hiking where you'll want a scarf, and freezing plane temperature where you'll use it as an extra blanket layer. These wraps do it all.
With two or even –gasp– three flights ahead of you to get to and from Tbilisi, you are going to want to be as comfortable as possible on those flights. My go-to flight pants are these crazy cozy On the Fly pants from Lululemon. The fabric stretches four different ways so you never feel constricted, bunched, or irritated.
Yeah, I said it, get yourself an anti-stink top for travel days. When you fly for almost 24 hours through hot airports, and cold flights you start feeling a little gross. The bonus of a top like this is that not only does it resist odor so you don't arrive smelling like you ran there, but it's got the four-way stretch fabric so you can twist around in-flight and not feel like you're in a corset.
You can't always rely on your fellow passengers to keep the window shut or turn off their reading lights. If you want to get some total darkness while catching up on your transatlantic sleep, bring your own eyemask. I like this one because the wide, adjustable strap doesn't spring off your head or dig into it, and the concave design keeps your lashes from getting smashed or any makeup you may have on from being smudged.
I was a holdout on the whole Kindle revolution until about six months ago. I figured I would read from the Kindle app on my iPad or lug a paperback and read from actual paper, old-school style. But for long, multi-week trips neither were ideal. My iPad was too bright and it hurt when I fell asleep and dropped it on my face. The paperback was bulky and added weight to my backpack.
I had an Amazon gift card and finally just gave in. And I LOVE IT. The adjustable backlight is easy on the eyes, as is the option to change the font size. I'm usually reading four books and a travel guide all at once and they're all there, magically digitized into a tiny, ⅓ pound gadget. I won't travel without it now.

Between noisy flight companions, snoring roommates, and loud guests on the street or in the next hotel room, earplugs are essential travel items. I usually have a couple pairs stashed somewhere, including easy-to-access spots during the flight and in my purse. In case I need to tune out the world on a bus or train or, you know, wherever loud people talk.
During Your Trip
While traveling to Georgia is safe, I bring the same one travel purse on almost all trips. I love pacsafe for the ingenious features like locking zippers, RFID blocking technology (Radio-Frequency Identification is the use of radio waves to read and capture information stored on credit cards and passports), and slash-proof straps.
I have a couple but find I've been using the tiny Citysafe crossbody a lot. I also like the Metrosafe crossbody when I need to carry a few more things, and my mom loves the roomier Antitheft crossbody bag.
Every year, various styles of these socks appear on my Christmas Wish List. Never thought I'd say that, that I want socks for Christmas, yet here I am.
These socks resist odor so well, you can wear them for multiple days, thus packing fewer pair and taking up less space. Both lightweight and cool in summer, and warm and padded for your boots in winter, they come in so many styles you can wear them with everything.


My favorite styles are:
Secret Sleuth – for  no-shows and flats
Run Light Elite – for sneakers, with a touch of padding in the heel and ball of the foot for all day walking.
Outdoor Light Crew – for summer boots or when I want to cover my ankles
Outdoor Heavy Crew – for extra warmth, padding, and hiking
Buffs do so many things, I always throw one in my bag. This tubular, lightweight item can go from bandana to scarf to headband to dust blocker to literal sunscreen to insect shield and beyond. There are loads of designs and colors, so you'll find an option that can suit every wardrobe.
Thanks to my dental hygienist sister-in-law, I've been hooked on the sonic toothbrush for a decade. But that means when I travel and it's just up to me and my manual toothbrush to do the job, my teeth never feel as clean as they do at home.
Enter the Slim Sonic Travel toothbrush. It's compact, battery-operated, and actually makes my teeth feel sparkly. It has a built-in cap, so it's a small all-in-one toothbrush that easily drops into your toiletry kit.
I never, ever travel without a daypack. Great for everything from walking around the city and holding souvenir purchases or small grocery items to hiking with extra camera lenses or sunscreen and a lunch, my daypack gets endless, almost daily use from me. It's also a great backup if you find you bought too much stuff and need a supplemental bag for the trip back home.
I've gone through about four different travel backpacks at this point, and this one is my favorite in terms of strap comfort, style, and design.
These reusable sleeves pack flat and can protect your overseas wine purchases on their ride back to your home. When traveling to Georgia, or places like it, you'll find yourself meeting with small wine producers that don't distribute to many places outside of the country, so you're going to want to take bottles home with you.
Purchasing a bottle on the spot and packing it is the only to have a taste of that rare wine again. These sealable, bubble wraps are the perfect way to safeguard that delicious, precious cargo.
Every once in a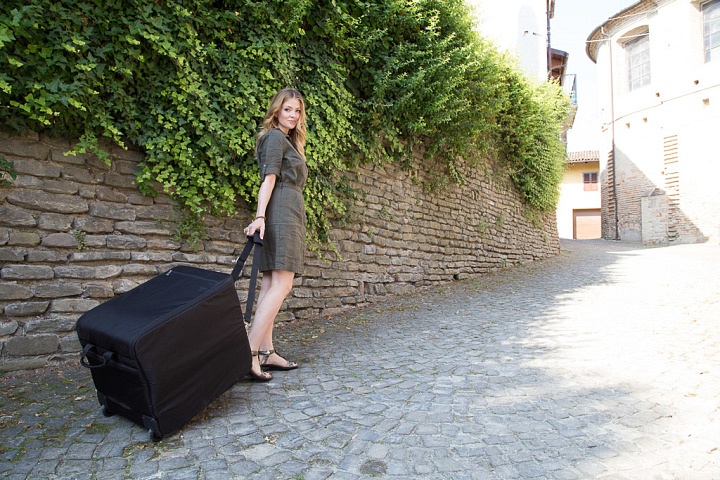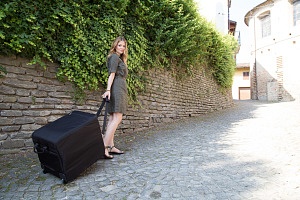 while, I visit a region that has delicious, incredible wines that I know I'm not going to be able to get back home. Sometimes it's because of scarcity, often times it's because I'm at a small producer and they don't distribute in my country (which happens a surprising amount). Georgia is one of those places where you're not going to find much of the wine back home, so if ever there was a place to stock up on unusual and exclusive boutique wines, it's there.
This is the type of place I bring my Lazenne wine suitcase. You can read all about how I packed it and brought home twelve bottles from Piemonte, Italy here.
Gadgets
This magical portable light provider has been the source of many a glowy, beautiful evening selfies and other photography. With both front and backlighting, and a variable dimmer, this phone case provides just the right amount of light on the spot without being obtrusive or obnoxious. As long as you're not rough on your smartphone (know thyself and get an OtterBox if you are that person), this has provided plenty of shock absorption and protection from basic drops.
For iPhone x, iPhone earlier generation, and Samsung
Ever since I traveled to South America and realized different parts of the same country used two different kinds of outlets, I've only traveled with the Flight 001 4-in-1 travel adapter. It's super lightweight and everything fits together like a little puzzle so you never have to be stranded with the wrong plug again.
Their newest version also includes two USB ports.
If you have apple products and you travel a lot, you might also want to look into getting the Apple World Travel Adapter Kit. I have several of the Euro-plug adapters that I've bought while in Europe and I love having exact adapters for charging my phone and laptop.
Super slim and lightweight, this portable charger hides right next to your phone and can charge it up to four times (depending on your device) before needing to be plugged back in. For those long rides from city to country or full days exploring, don't worry about your phone dying when you're out for the day.
I originally got a Fitbit to monitor my sleep because I was afraid I wasn't sleeping enough and guess what? I'm not. But enough about me. These little gadgets are so great at capturing lots of data like how many calories you've burned (so you can eat more cheesy bread), how many flights of stairs you've climbed (so you can eat more cheesy bread), and how many miles you've walked (so you can eat more cheesy bread). I mean, they might as well call it a khachapuri-ometer.
Waterproof and rechargeable with crisp and clear sound, even outdoors with the volume turned all the way up, this speaker is my favorite. There are so many instances where it has come in handy during my travels: impromptu dance party, canal-side pizza party, boat ride, white noise-everyone-go-away-I'm-trying-to-sleep player. This one weighs in at less than a pound, which means for the quality, it's not going to take up too much space in your bag or weigh it down.

Disclosure: As an Amazon Associate, I earn a small amount from qualifying purchases. However, I don't recommend anything that I don't personally love.
What can't you live without when you travel? Any gear you would add to this list?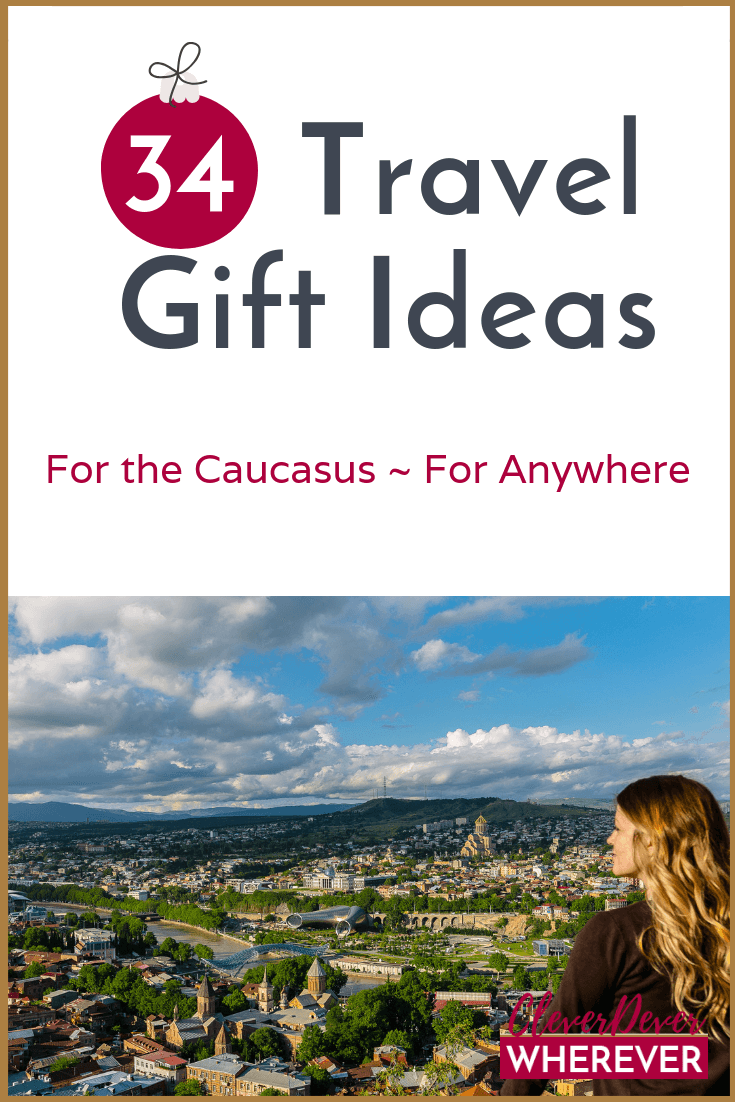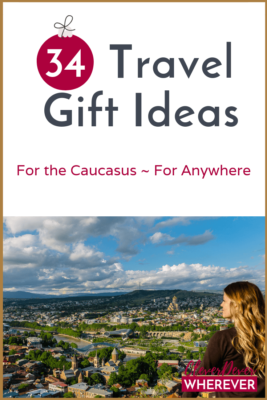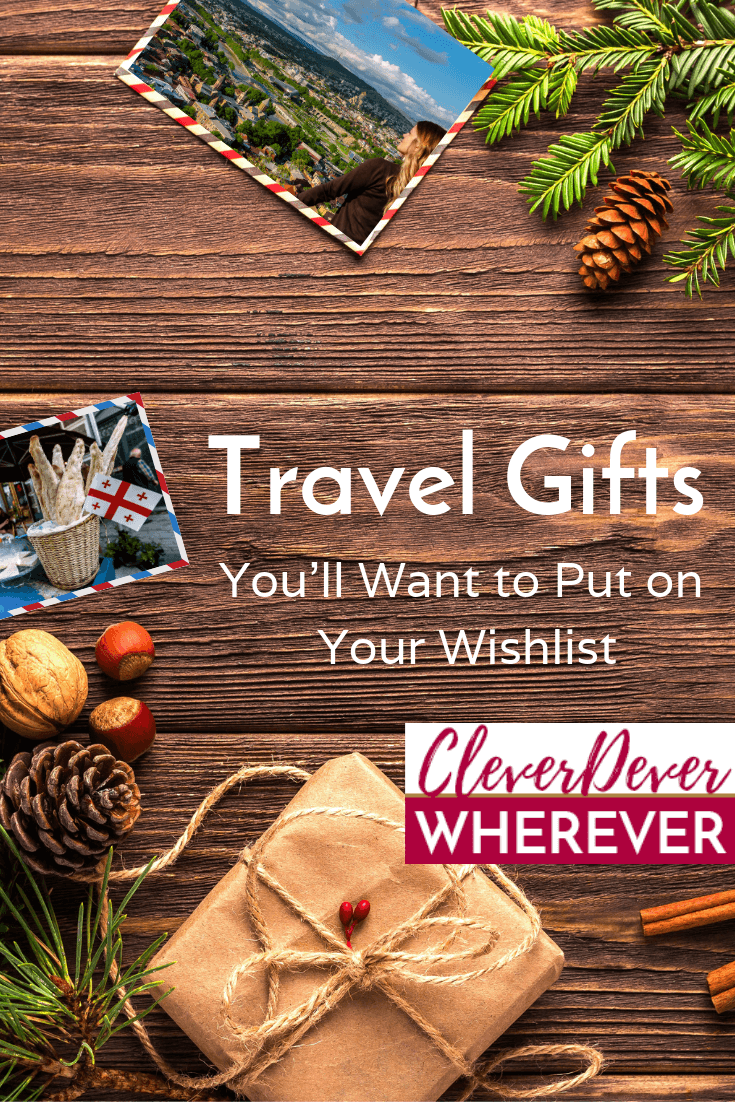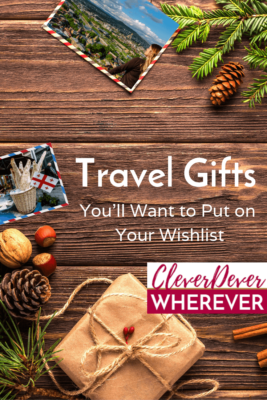 Read More About
Traveling to Georgia