Updated April 2019
Bleached white buildings and crystalline water so blue you have to pull the saturation down while editing your pictures, it's like the island of Santorini has been on volcano's edge all this time, waiting for Instagram to be invented.
But for each picturesque moment measured out in "likes," Santorini matches her beauty with another offering just as sensuous: the food.
Sizzling golden cheese bubbling under ouzo flames…juicy tomatoes as red as a stop sign and so earthy you'll remember them in dreams…purple-green oregano leaves accenting fresh goat cheese with a tart and peppery piquancy. These are the flavors of Greece. To eat it anywhere is a treat. To eat it in Santorini is the stuff of mythology.
I first visited Santorini on my honeymoon in 2006. Hubs and I loved it so much we returned to the town of Oia for our 10th wedding anniversary and it was the best place we could've celebrated. Breathtaking, romantic and delicious it was magical all over again.
Sophisticated and upscale, the northern village of Oia is home to applause-worthy sunsets (seriously, hundreds of visitors literally applaud the sunset every night). It is also the temporary home to two million tourists each year. And where there are tourists, there are restaurants with photos on the menu, ready to take advantage of it.
In the week that we stayed, I experienced culinary highs and lows and took lots of notes. While exquisite views often overshadow food, there are a handful of restaurants in Santorini that do both well here.
Careful though: restaurants in Santorini tend to lose flavor in direct proportion to how choice their location is on the main drag.
As Greece swings into high season (hey honeymooners!), I thought it a good time to share my notes with you. Because while Greek food done well is heavenly, Greek food done mediocre is a disappointment that even Zeus wouldn't forgive.
Restaurants in Santorini
If you're new to Greek food, read this first to get familiar with the dishes that you'll see on most menus at restaurants in Santorini.
This part was sooooo hard to write because all I could think about was ordering takeout from Ulysses Voyage down the street, but I'm here to do the hard stuff, so here we are. You're welcome.
Casual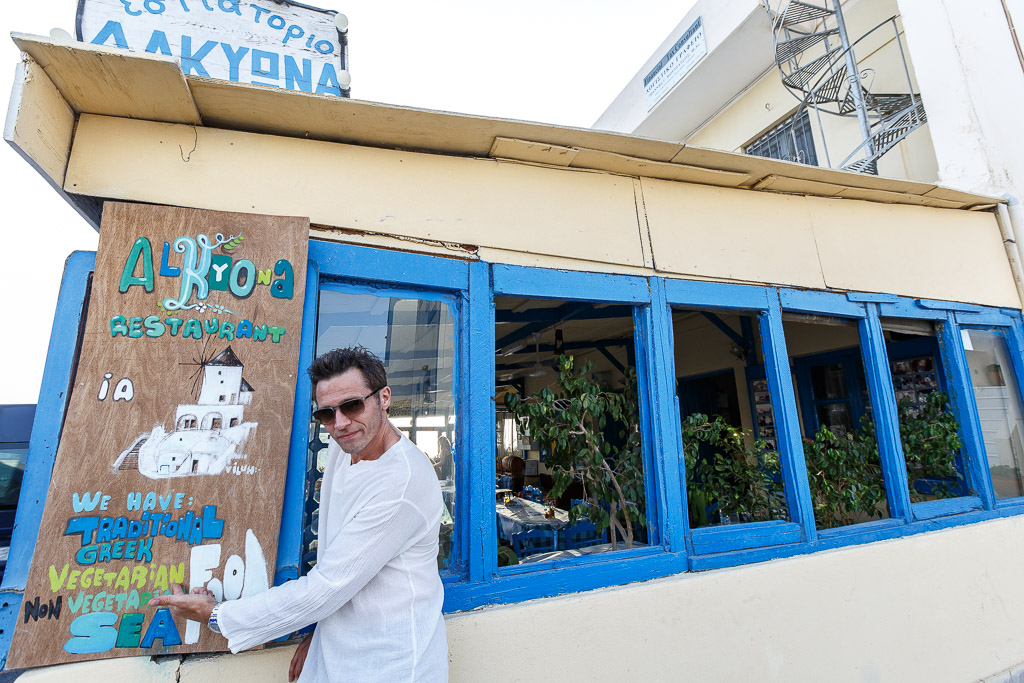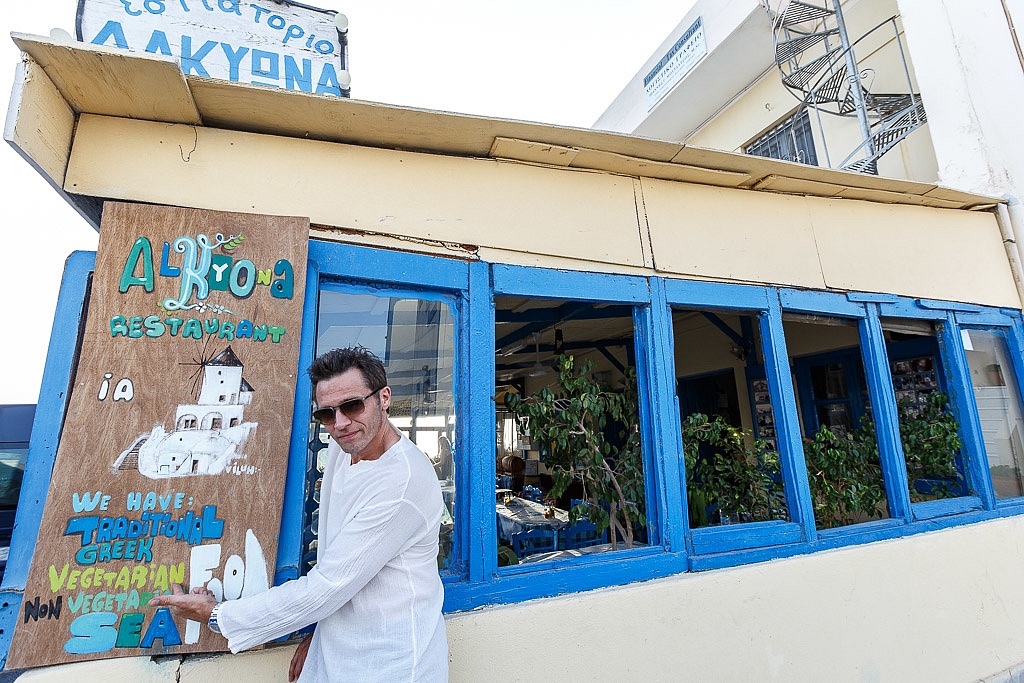 Alkyona 

Lunch for two with wine or beer €45
This little mom and pop taverna is honestly my favorite in Oia. It's kind of a hole in the wall, and the ambiance is simple, but they have authentic, delicious food for reasonable prices. They have the best taramasalata, a large variety of mezzes, fun veggie dishes like fried zucchini chips with tzatziki, and little carafes of Greek wine to help your afternoon ease into evening. It's slightly off the main drag so it usually isn't too crowded. I even went there a second time immediately after a half-eaten meal at a lackluster restaurant just to get the taste of touristy food out of my mouth.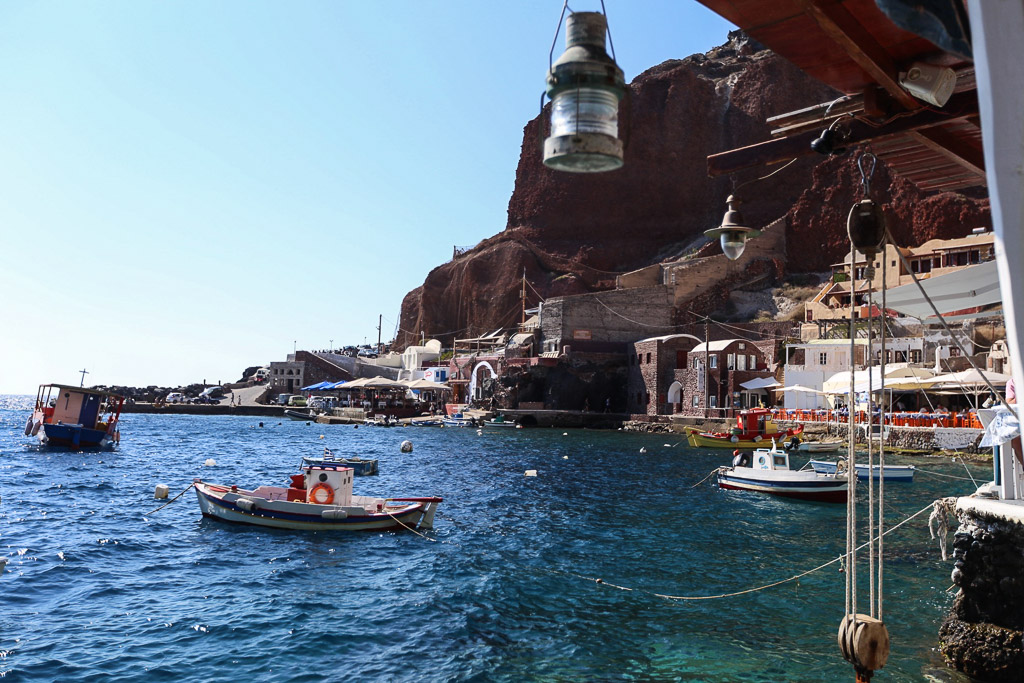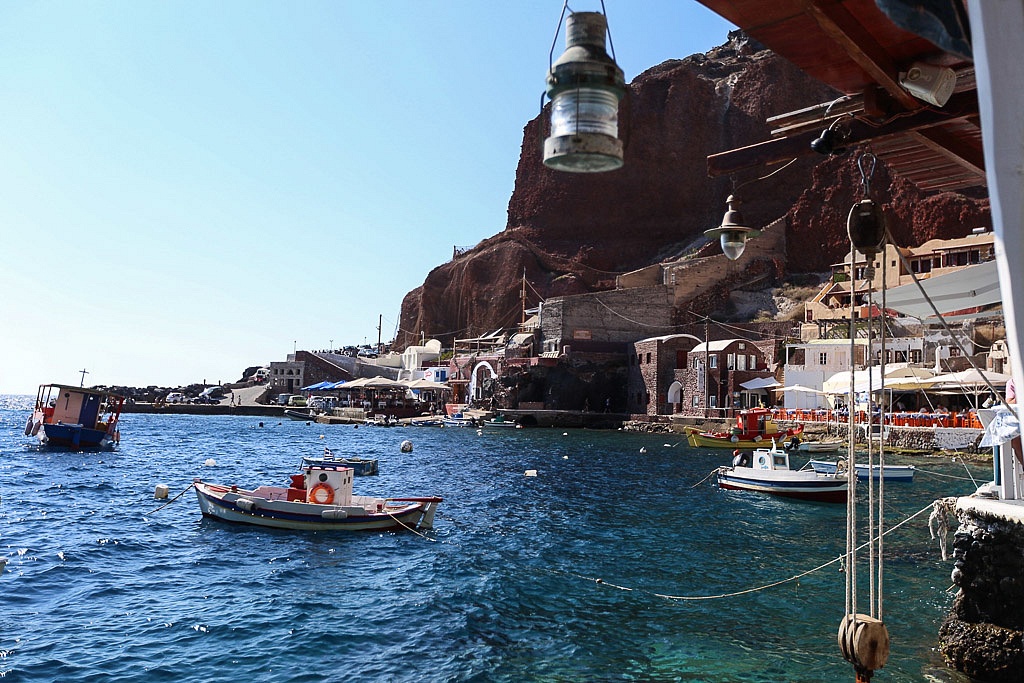 Dimitris Ammoudi Taverna

Lunch for two with beers €87
With seats so close to the water you could fall in if you lean wrong, Dmitri's Taverna location on Ammoudi Bay is stunning. Getting there is a donkey gauntlet, you either ride the testy beasts down rock-hewn uneven stairs or dodge them AND their manure down all 218+ landings. We were almost trampled at one point, and it isn't as fun as it sounds. You can also get a taxi and go the long way if you're more into the destination than the journey.
Once there, make sure to try the tomatokeftedes, which are chopped Santorini tomatoes that are battered and fried into fritters. Dmitri's were better than anyone else's that I tried. They also serve the local brewery's Yellow Donkey beer, which goes down way smoother than the walk to get there.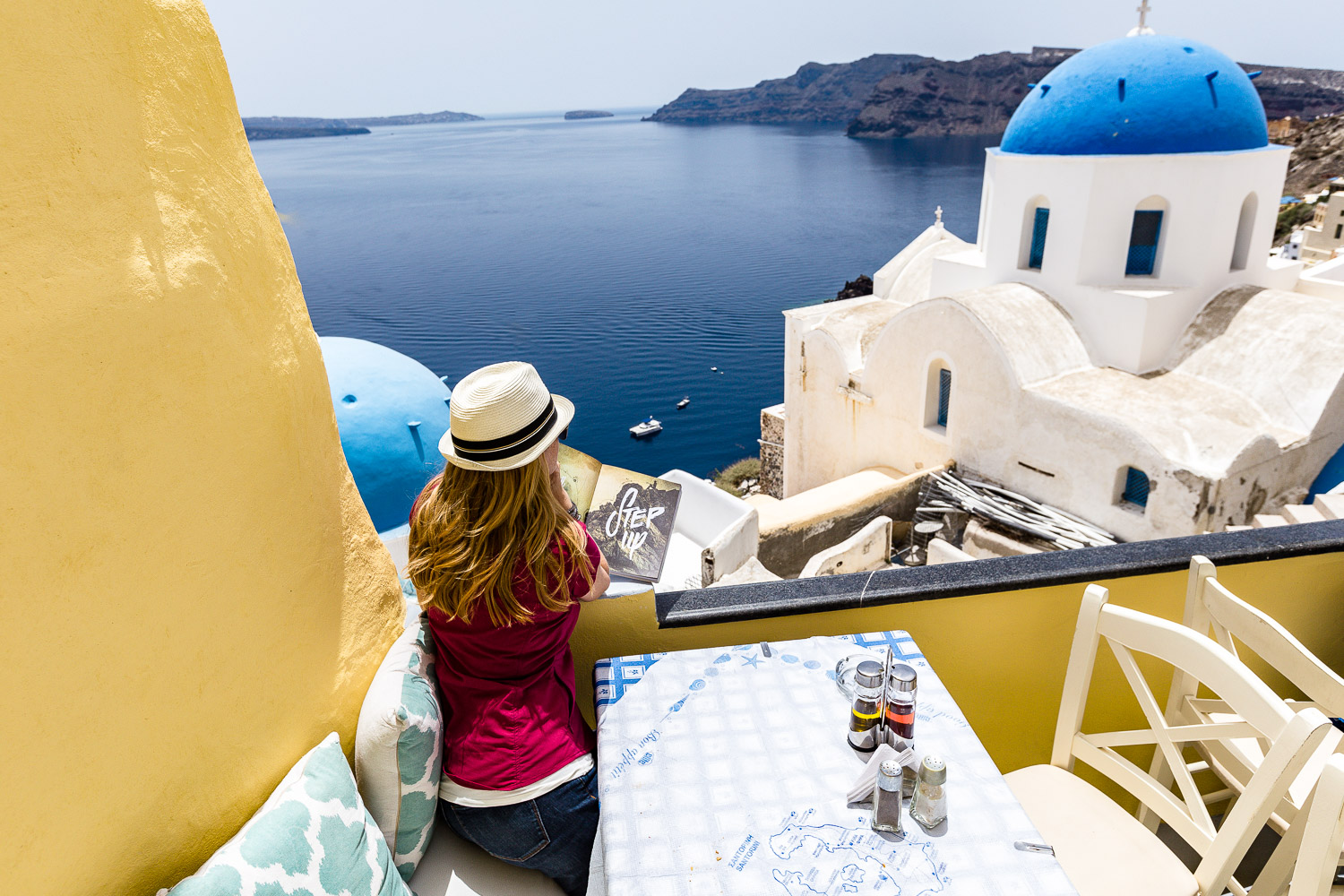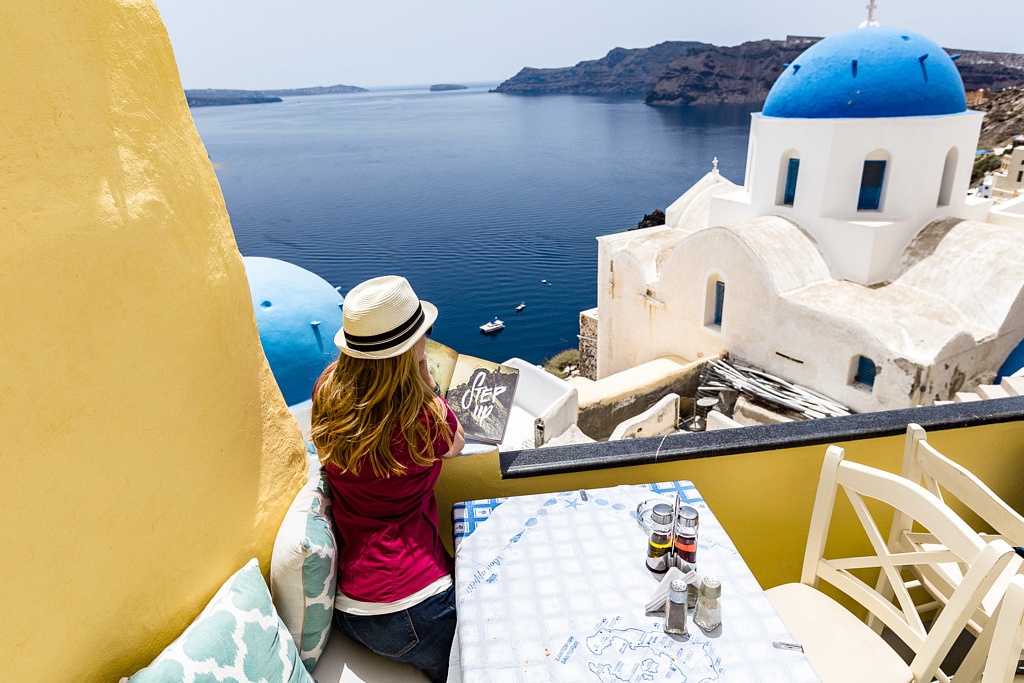 Seagull

Two large Mythos, Fanta, mezzes. €25
This restaurant is a little hard to find, but it's worth the search. This place doesn't tend to fill up with tourists, the prices are reasonable and the view is spectacular. I'm giving the food three stars (its perfectly fine), and the view five stars because of the iconic blue dome overlooking the water. It feels like your own secret lookout. It's a great break from the sun on a hot day. Plus they have lemon Fanta so you can make your own Mythos shandy while contemplating the intense cobalt of the Mediterranean.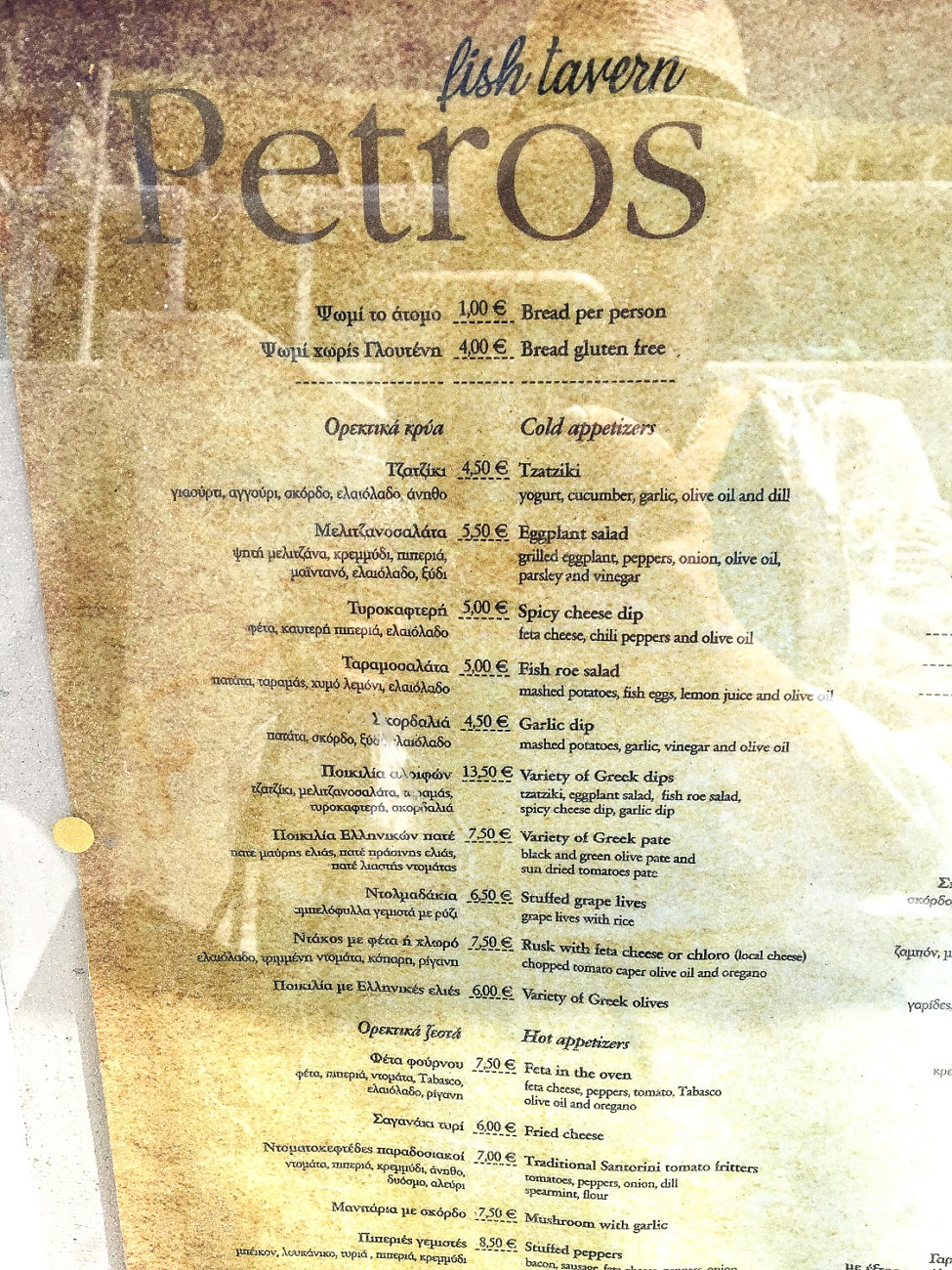 Petros

Two mezze plates, two drinks €60
Should've known better. This restaurant is right on the main drag thereby catering to tourists big time. The view is great – the restaurant is on a rooftop so you have three hundred degrees of ocean. The food, however, is a huge disappointment. The tomatokeftedes were less tomato, more flour. Dolmas tasted like they were just freed from a can. (This statement verified by my husband who is a professional canned dolmas spotter. If that were a profession.)
Dips were sub-par. The "tzatziki" dip was plain yogurt and tasted like it was scooped out of a plastic container. The skordalia was just garlic mashed potatoes. The tarama was my least favorite on the island, just fish flavored potatoes. Bleck. I feel like potatoes as filler is a theme here.
Ultimately, we gave all of our food to our friendly neighbors who wanted to try the dishes anyway. We left and went straight to Alkyona to finish on a GOOD Greek food note.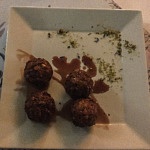 Pelekanos

Champagne + dinner for two with drinks €122
Beautiful view of both sides of the water. Great while the sun is still up. It can get windy and cool at night, but they do provide blankets so ask for one if you need it. Food was an innovative twist on Greek, but the portions are small and the overall affect is somehow still average to good. You are paying for the view, not sure it's worth the splurge.
Try the champagne and vinsanto cocktail. The manouri cheese croquettes, (local goat cheese with cherries rolled in pistachios and almonds) were my favorite thing that I ordered here.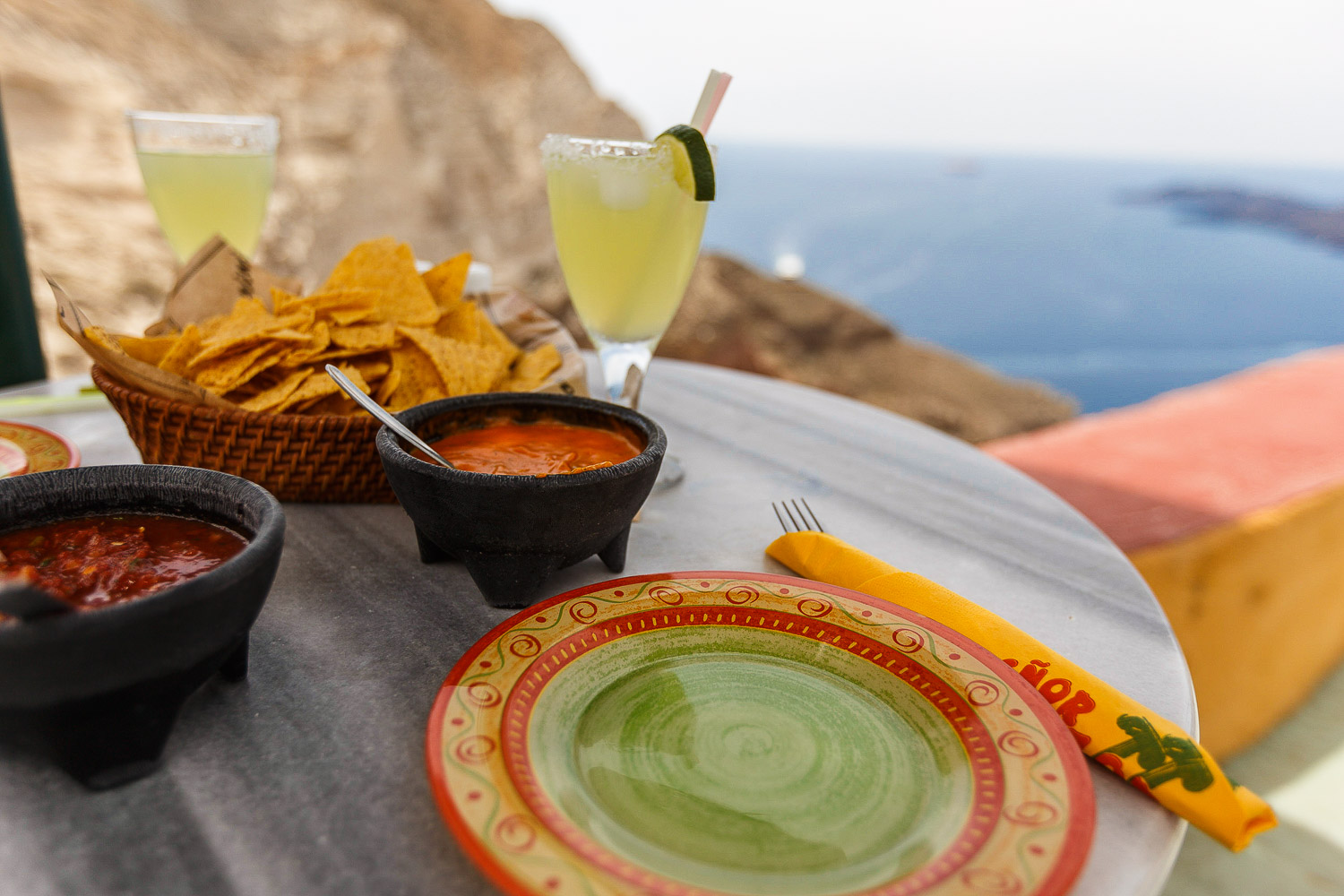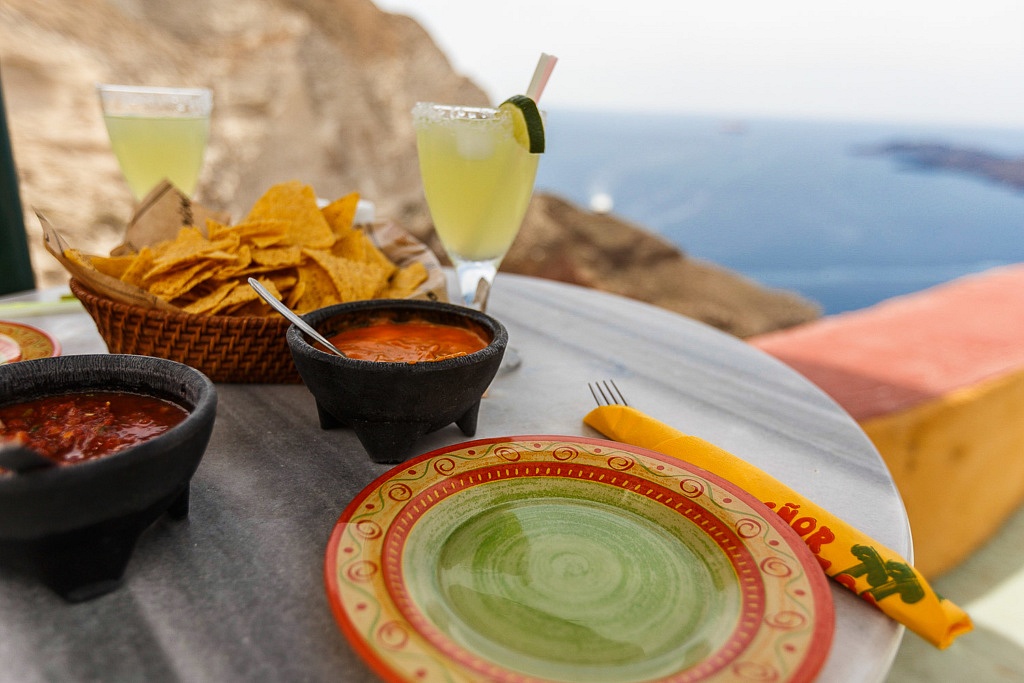 Señor Zorba's 

Lunch – appetizer, entrees and drinks for two €62
This restaurant is not in Oia, but in Pyrgos. If you rent a car for the day (which you should, it's fun to drive around the tiny island), it's a kick to stop here for lunch.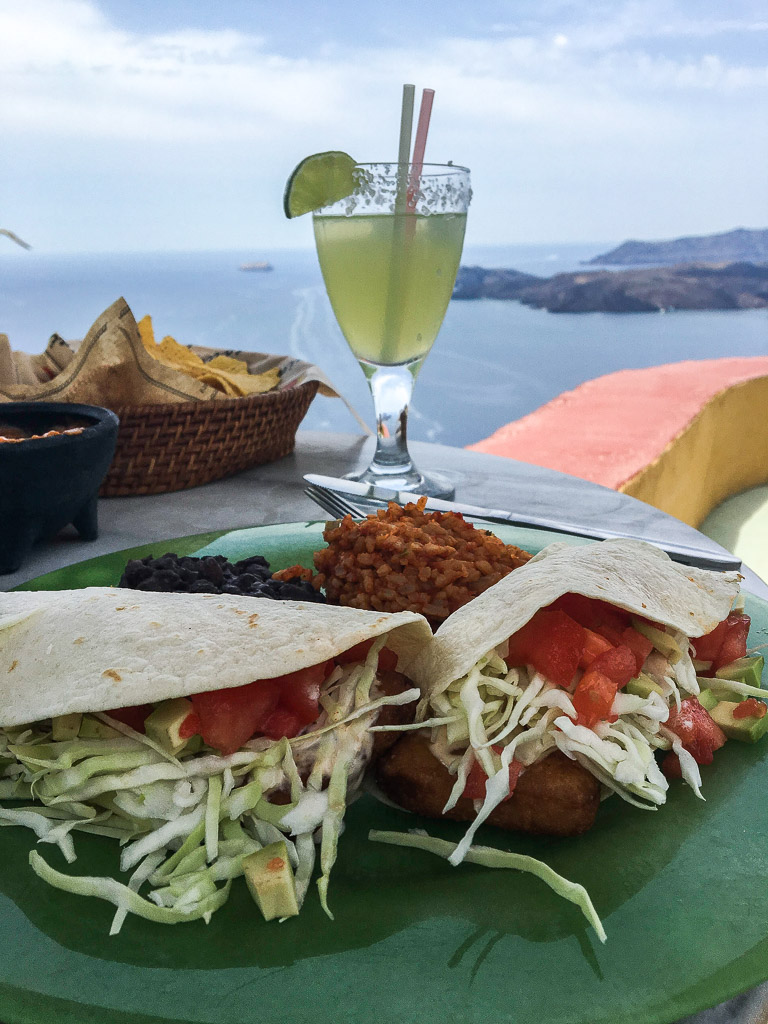 What I like about this place:
The view over the caldera is a knock-out.
I love that they venture into Mexican territory. It's one of my travel guilty pleasures.
Queso is pretty good. Salsa is very good. Hubs had the vegetarian chimichanga and I had the fish tacos. Surprisingly decent.
What I don't like:
Margaritas are terrible, it's tequlia and bright green bottled mixer that tastes like chemicals. Just get a beer.
Avocados were harder than jicama.
Loud schizophrenic music that went from show tunes, to Billy Idol to Gotan Project to Buddy Holly. It's like they had a crate of garage-sale records and a chimpanzee for a DJ. Just give me the ocean breeze punctuated by seagulls.
Romantic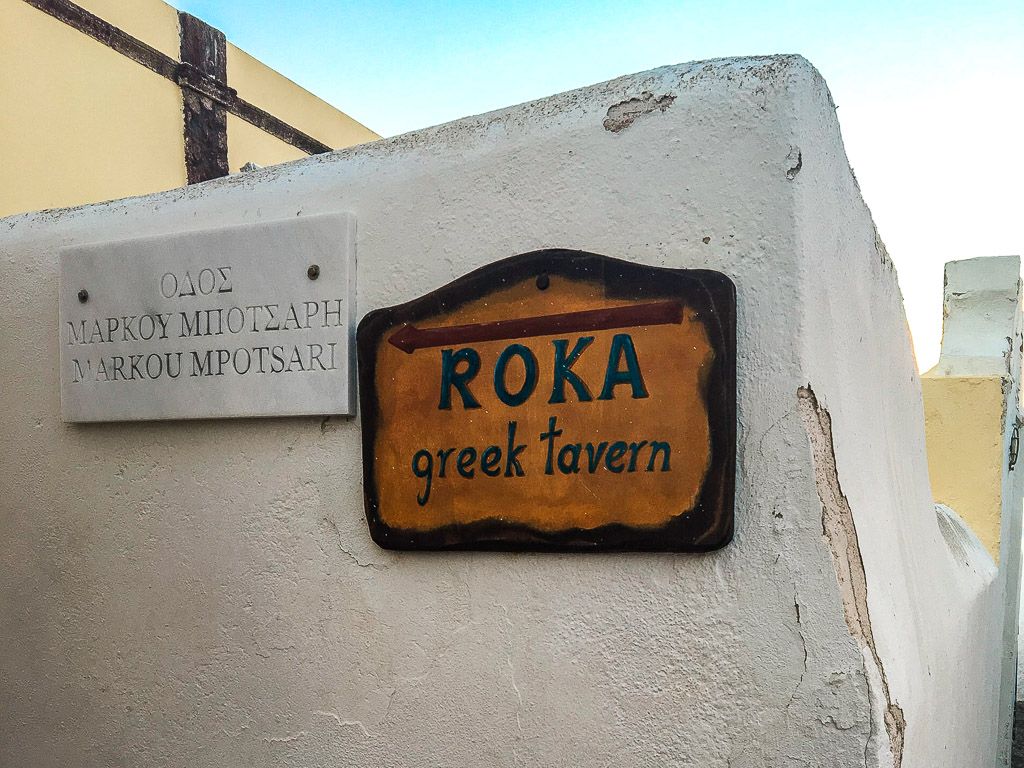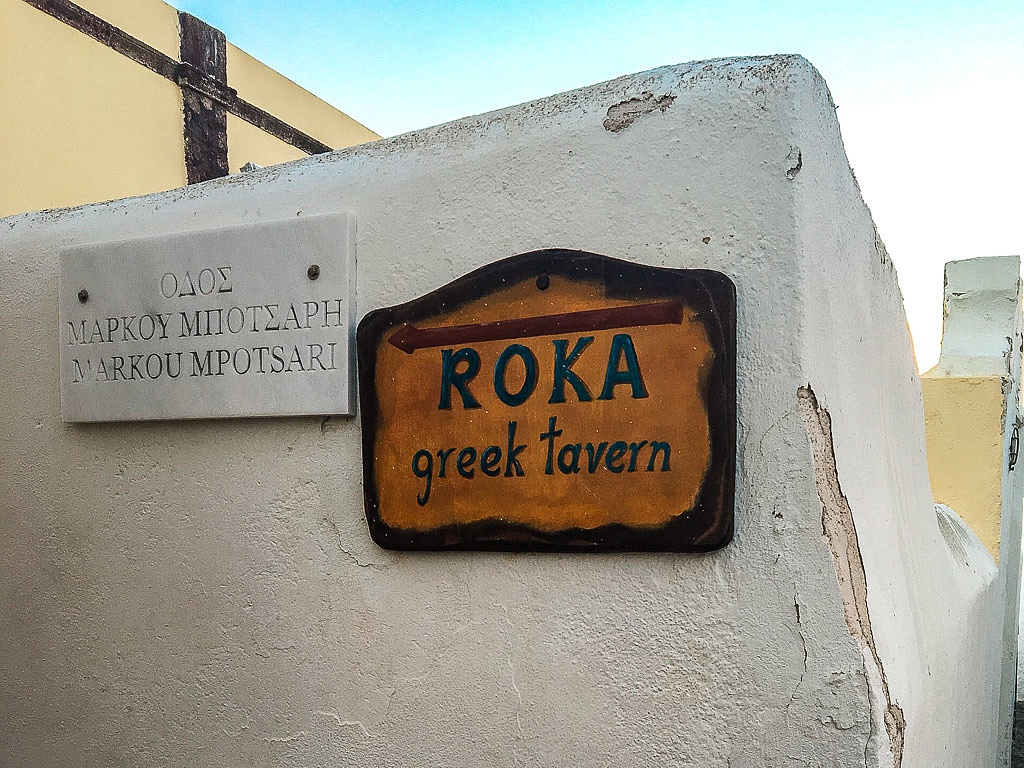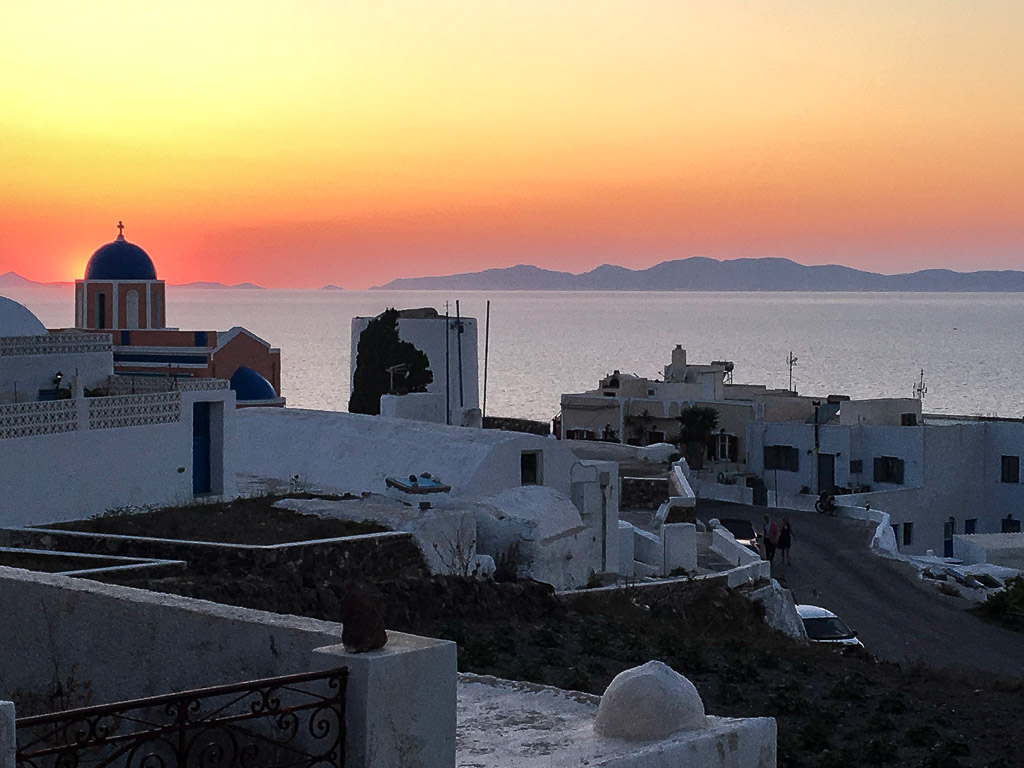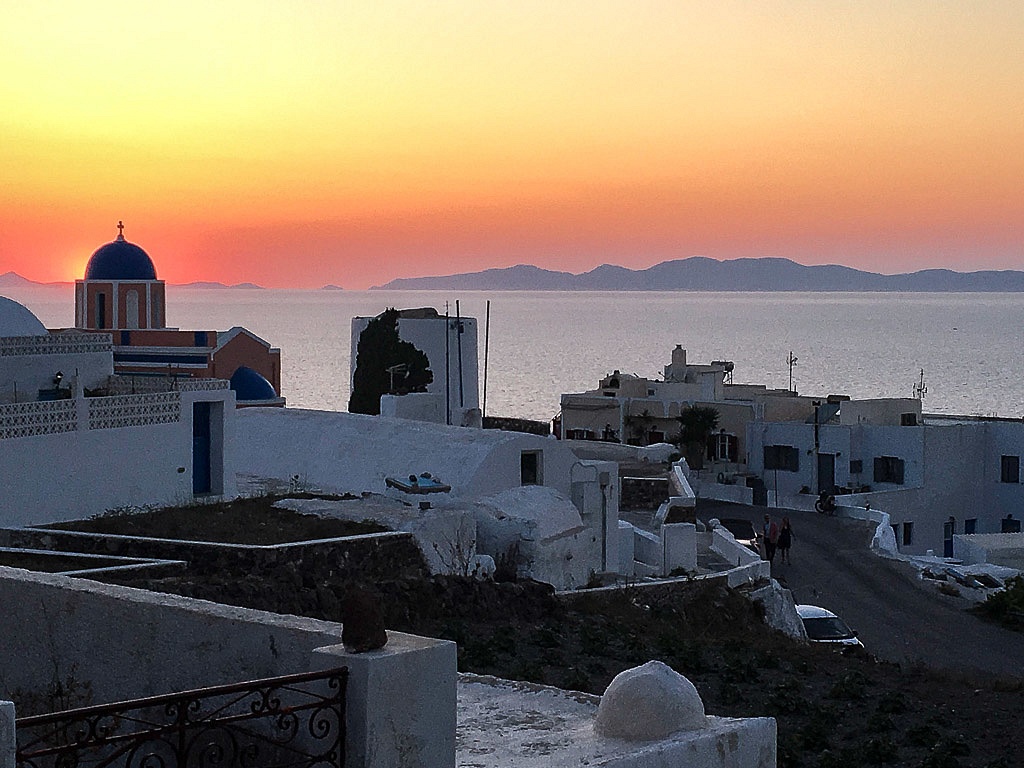 Roka Greek Tavern 

Carafe of wine and shared plates for two €46
Off the main drag, down a narrow street and around a corner, it's tucked away on the "back side" of Oia, and doesn't feel as crowded or touristy. Which is not to say it isn't, but it somehow transcends the vibe.
We had fava purée, spinach pies and htipiti (best htipiti on the island), and split a delicious salad and were totally full. The carafe of house red was fruity and simple.
Tip: Have your hotel call ahead and request a table on the balcony. It's not the caldera side, but it's a gorgeous sunset view if you sit on the balcony just right.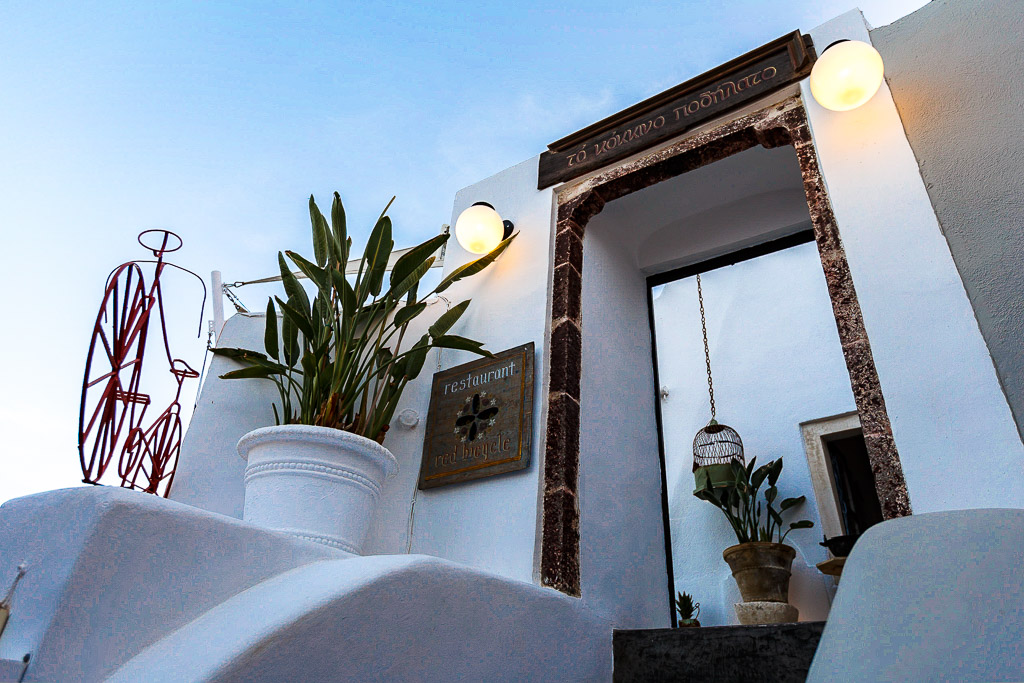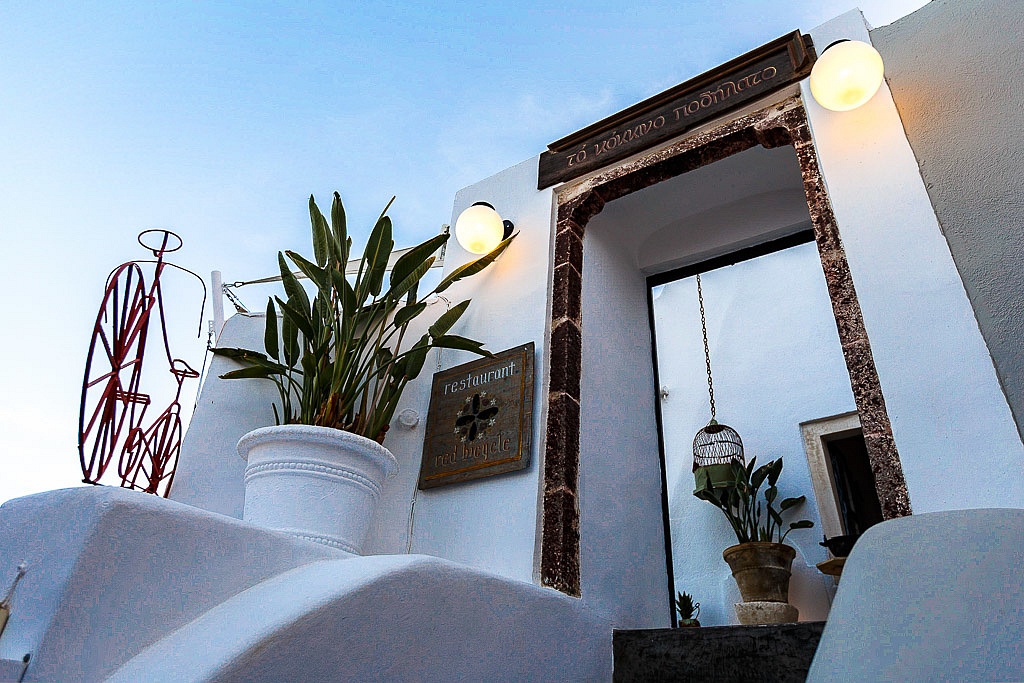 Red Bicycle

Three-course dinner for two + bottle of wine €160
Maybe this is the bottle of Greek wine talking, but this splurge was totally worth it. Red Bicycle was the best meal and definitely most romantic meal during our stay, and where we ate our anniversay dinner. High above the old village on a quaint rooftop patio, each course was inventive; mixing traditional dishes with modern techniques and gourmet twists.
Everything I had was wonderful. My oven baked squid on a bed of white tarama with raisins and basil oil was dreamy, as was my sea bass and spinach pie. Hubs had a bread rusk salad with tomato sorbet and goat cheese and he loved it.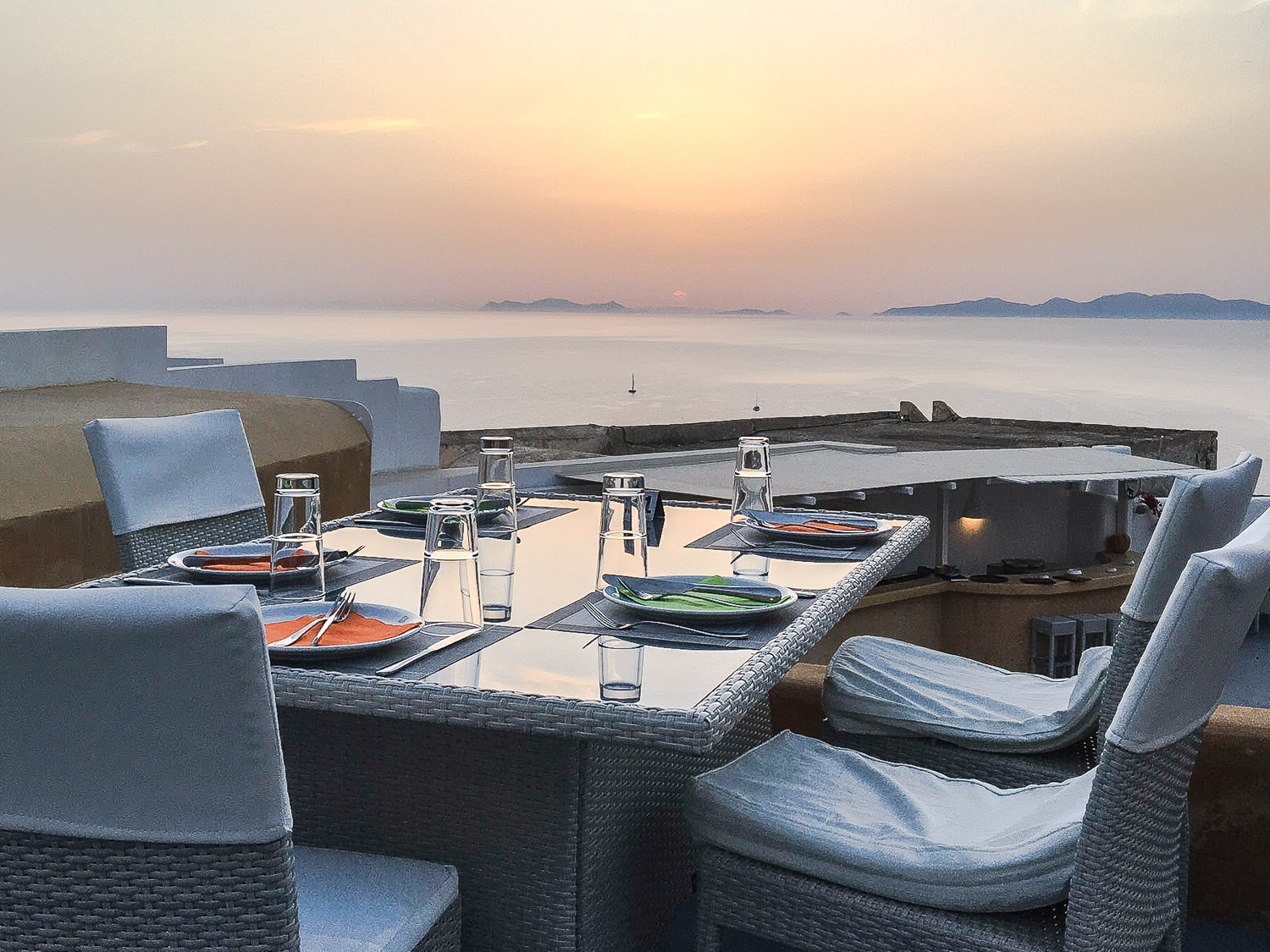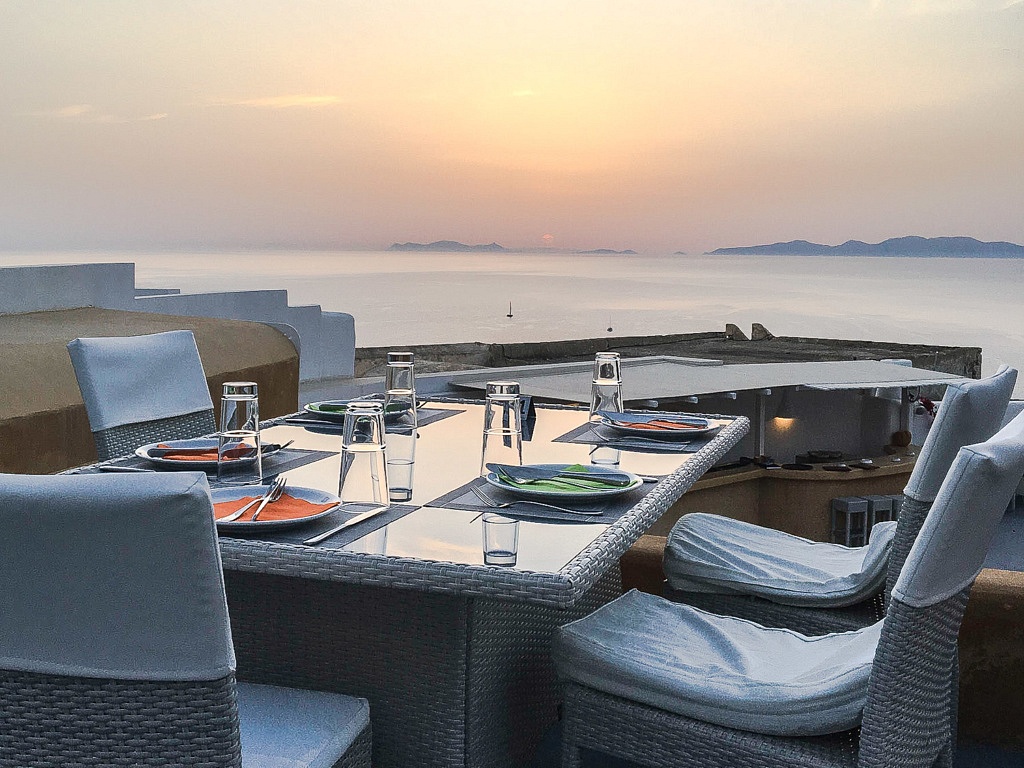 Ochre Wine Bistro

Salad, two entrees + bottle of wine €70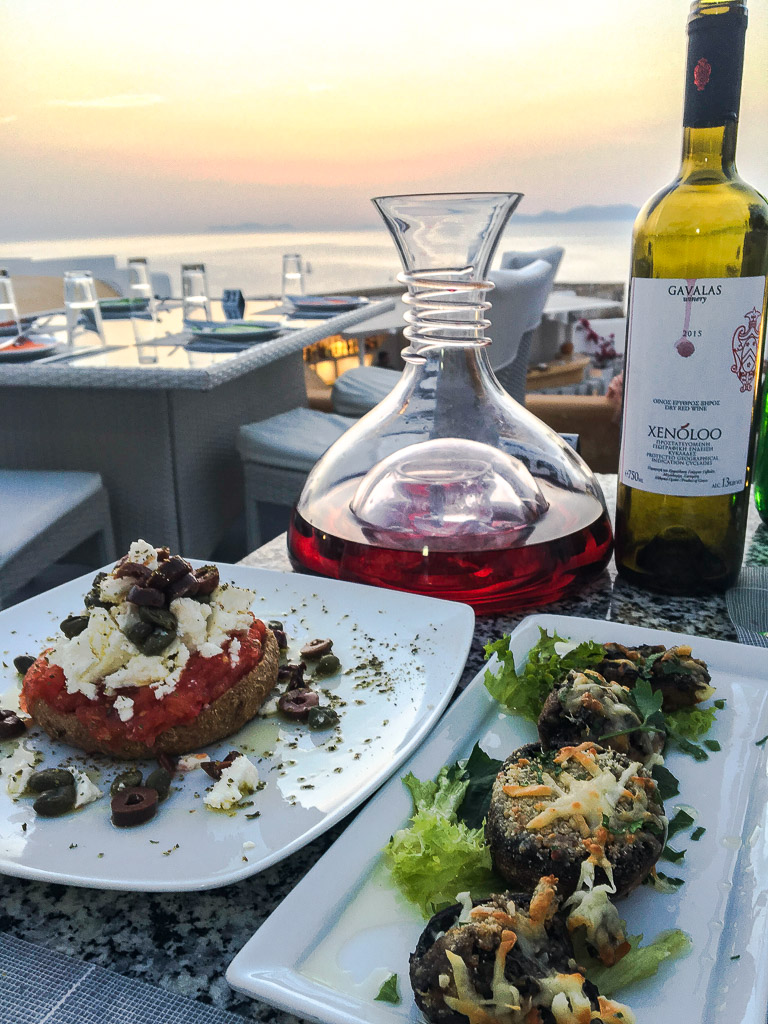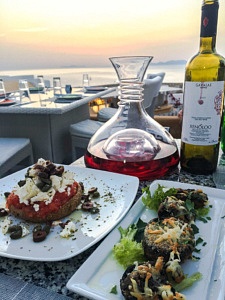 Really lovely place to head for a sunset dinner, this restaurant is terraced so that every table has a good view. Just know that depending on how you walk there you may have to squeeze through a massive crush of cruise ship visitors that block the sidewalks to catch the famed sunsets.
The service was really kind, the food was good but not amazing. Don't get the seafood spaghetti unless you enjoy chewing shell bits. Cretan tacos were good.
Inside Tip: Hit up the rooftop sangria bar.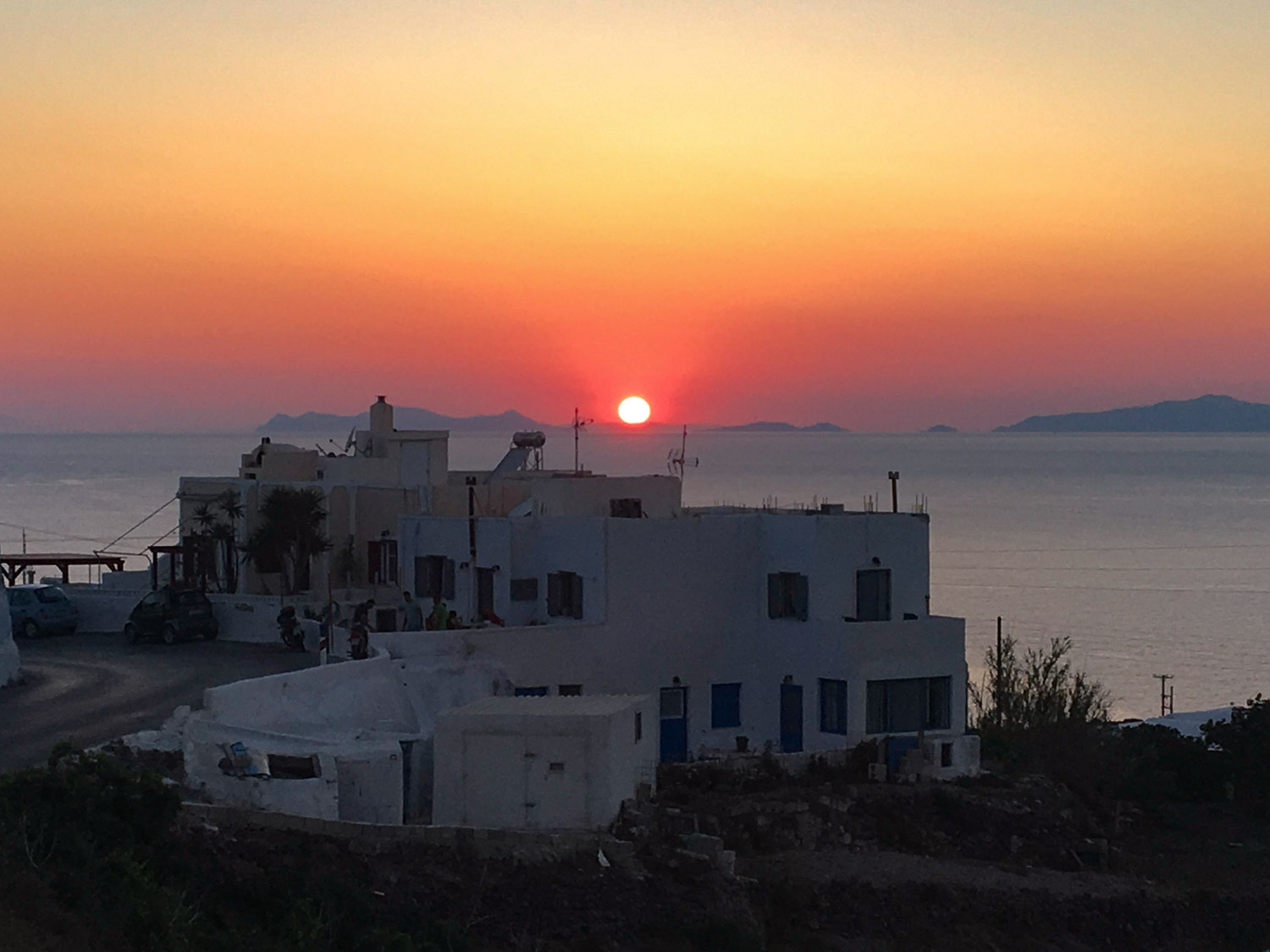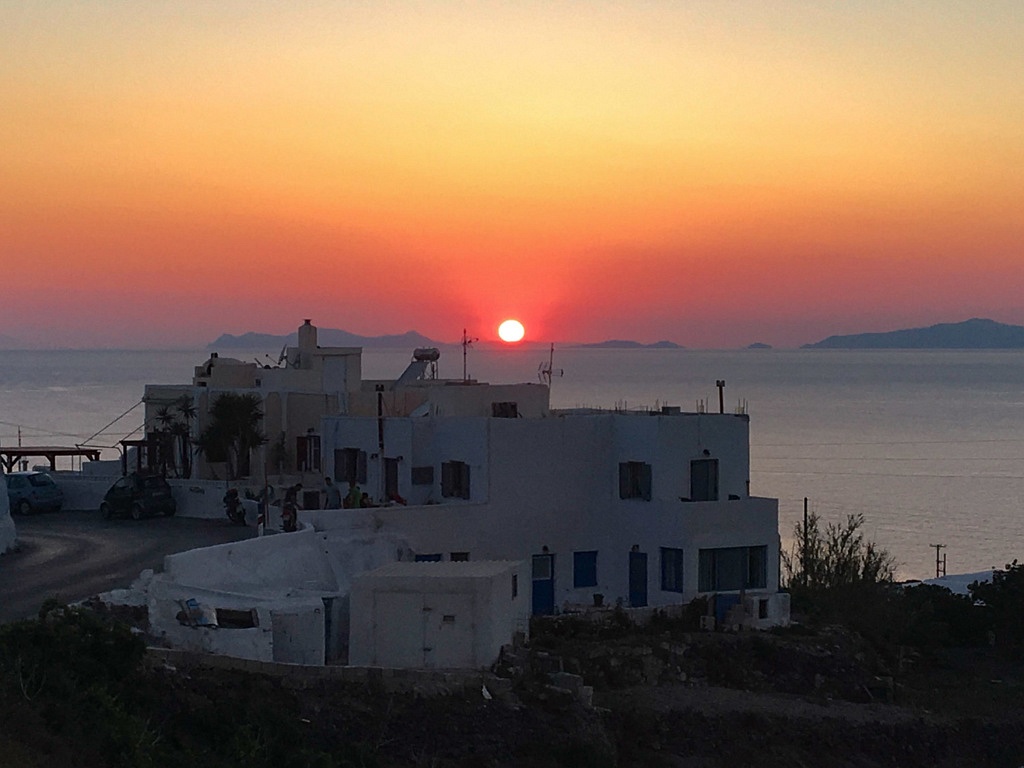 CLOSED Sunset Sangria Bar
This restaurant is currently closed, which makes me super sad. Let's all think delicious thoughts in the hopes that it will re-open.
On the "back side" of Oia, this place was never crowded, and we were easily able to find a table on two different evenings, right before the sun was setting. I liked this place because it was so chill, and there wasn't a crush of tourists, even though it was right in Oia. You can settle in, relax with a pitcher of Sangria and watch an unobstructed sunset over the Aegean with your love.
Day excursions:
Santorini Foodie Tour – We went to two different wineries (one on the ocean), while we learned about and tasted Santorini's unique wines. Our guide Iliana drove us from one end of the gorgeous island to the other, showing us beautiful lookout points and taking us to roadside stands completely off the main tourist roads. Lunch was at a seaside taverna in the south that we would have never found on our own. They served plate after overflowing plate of local island fare, washed down with wine, of course.
Have you been to Santorini? What's your favorite restaurant there?