Updated January 2020
TL;DR Lodging: Hôtel Fabric if you're looking for local, head to the 11th and stay at this chic boutique.
Two years ago I lived in Paris for the month of July while going to the Paris Writing Workshop. I rented an apartment in the 5th arrondissement (borough) because I am not a morning person and I wanted to be as close to class as possible. My friend Julie got an apartment in the 11th; on the entire other side of the Seine and it took her something like a half an hour to get to the school. I thought she was nuts.
While I loved my apartment and being able to roll out of bed and into class, when it came to food, she had the waaaaaaay better end of the deal. I only realize that now.
After my Burgundy river cruise, I spent the weekend in the city of lights to visit Julie and her husband and let her state her case for the 11th arrondissement. She made it with an eggplant Parmesan that slowed down time and took my taste buds captive.
Typically, first and second-time visitors stick to the central circle of the city. I get it; it's a good plan, especially if you're not sure whether you'll get a chance to return. I did this for probably the first six times I went.
Believe it or not, there are a lot of meh restaurants in Paris, which is somehow where I often wound up. Damn those red and beige wicker bistros with their mediocre salads and tourist fries. They looked so stereotypically inviting that I'd just sit down at the first place with outdoor tables and croissants, with a naïve belief that everything French would be delicious. I was disappointed a lot.
But not this visit. This time I listened to Julie and stayed in her neck of the capital. She's frequently touted Rue Oberkampf, a main street that cuts northeast through the 11th arrondissement, as the "last great foodie street in Paris." I don't mind saying she was right (because she usually is).
A little less polished than arrondissements like the 1st and the 6th, Paris's 11th feels lived in, local. Parisians just living their lives, one delicious meal at a time, surrounded me. It's affordable and best of all, every single meal I had in every single restaurant I tried was on point. Hot young chefs are making a name for themselves outside of the higher-priced neighborhoods and their delectable results are our gain.
Normally I don't gush about food in Paris, which is strange, I know, but mostly I've been underwhelmed. But these restaurants were so great I have to share with you guys. Maybe next time you get to Paris you can head over to the 11th. It's having a serious foodie moment right now, and that's the kind of moment you don't want to miss.
My Recommendations for Restaurants in Paris, 11th Arrondissement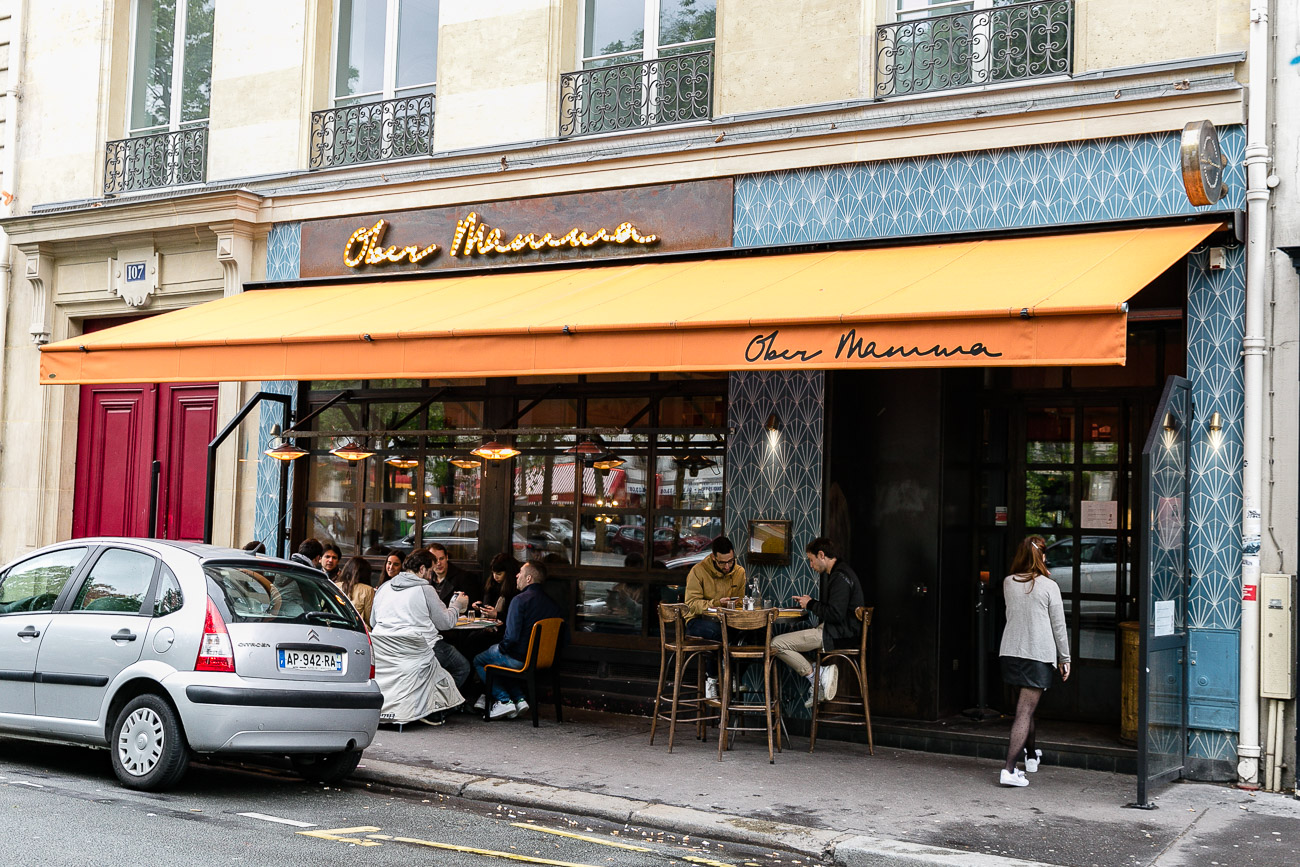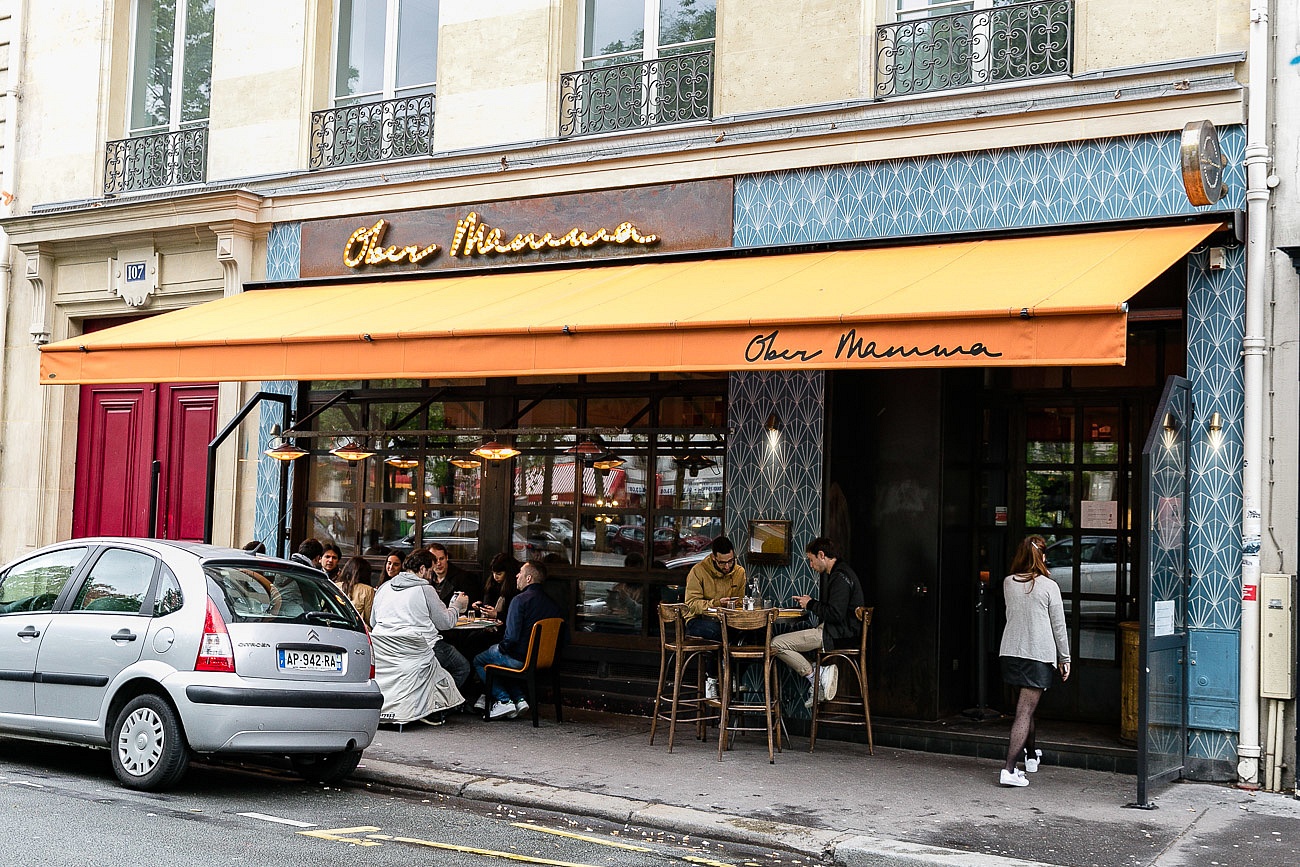 Ober Mamma

107 Boulevard Richard Lenoir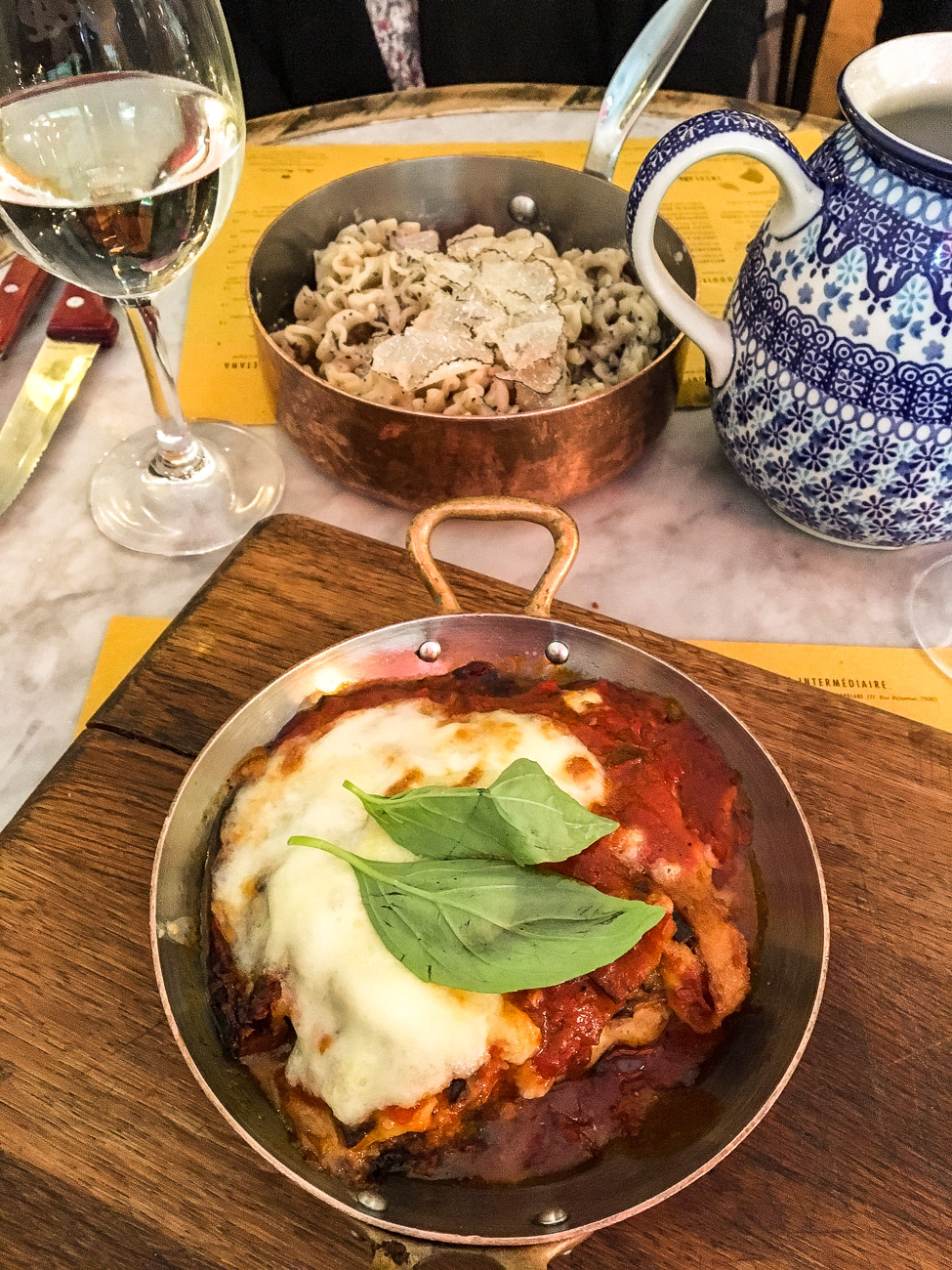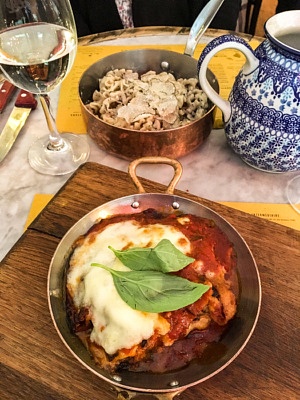 I was in Paris for two days and I ate here twice. TWICE in TWO DAYS. It's that good. It's not really a secret at this point, so you will almost always be dining at a packed restaurant. The staff is friendly and speaks English, French and Italian at the least.
The ambiance is relaxed with a chic city vibe and the bar in the center creates fresh Italy-inspired cocktails. But the real reason everyone is nuts for the place, myself included, is the food. Deep, rich, velvety tomato sauce envelops juicy, crunchy eggplant slices while mozzarella made fresh in Italy melts and bubbles across the Parmigiana di Ciro.
The second time I got crazy and tried the Paté a la Truffe – a thicker pasta with ruffles which pulled the mascarpone and black truffles sauce into every curve. I wanted to cry it was so delicious; flavors of butter, fresh cream, and the divine heady fungi mingling and showcasing each other like a synchronized acrobatic troupe.
This Italian food is worth the wait, though I have to say I never waited. If you head over around 2:00pm (they close at 2:30pm during the week for lunch) you can slide in at the counter or even grab a table fairly easily. You might try something similar and head over late for dinner if you can wait that long.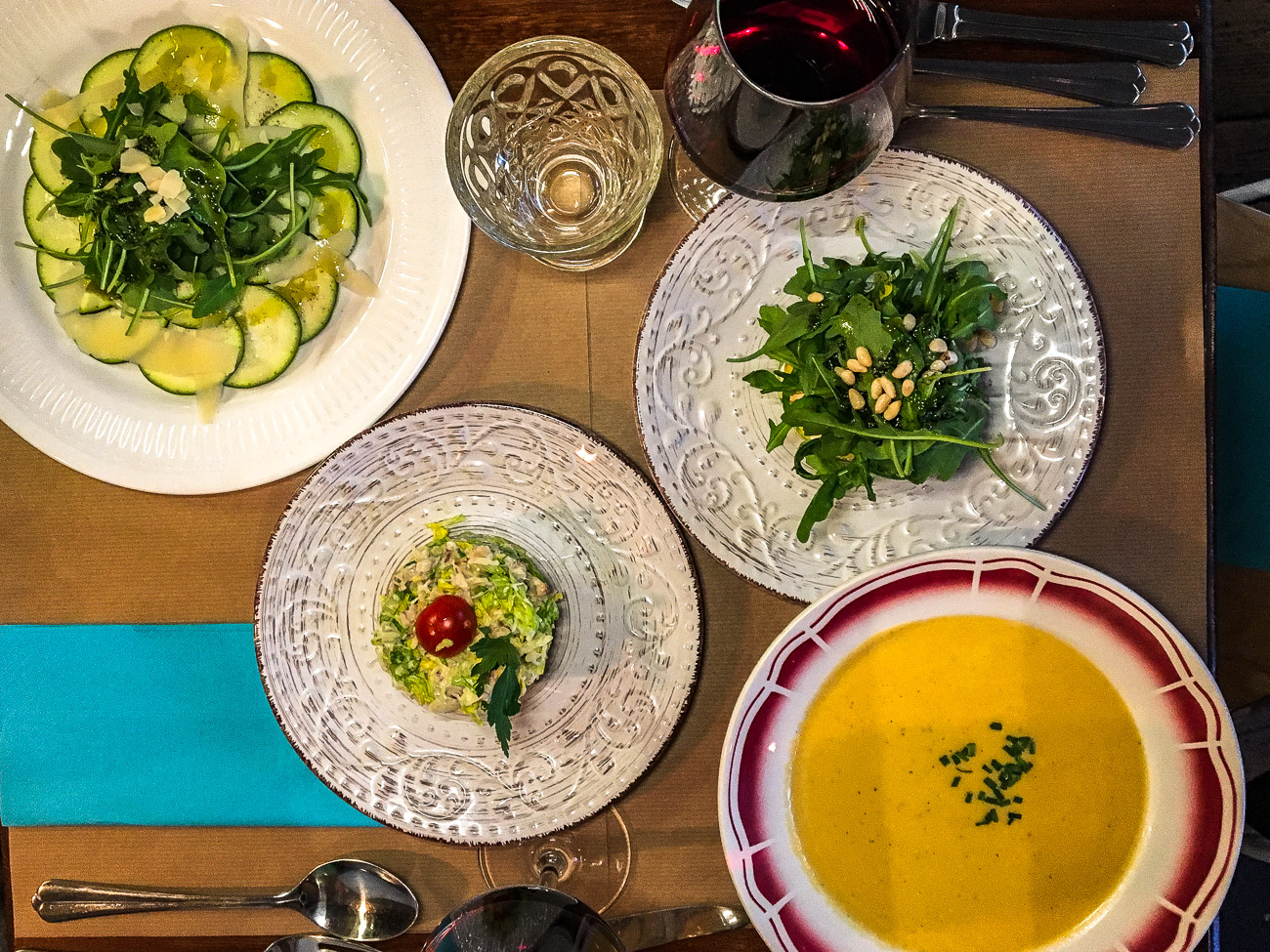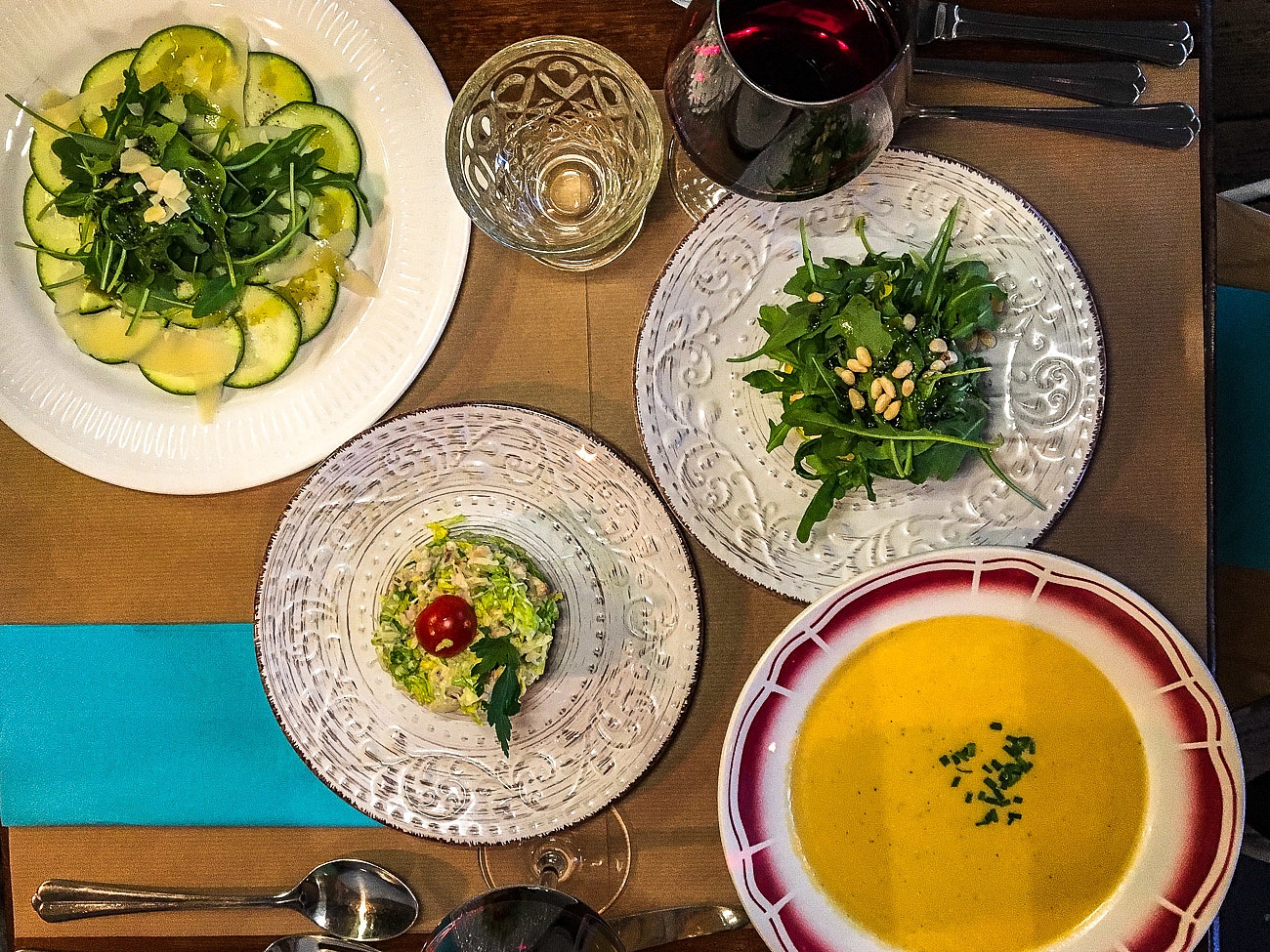 La Mere Poule

101 Rue Oberkampf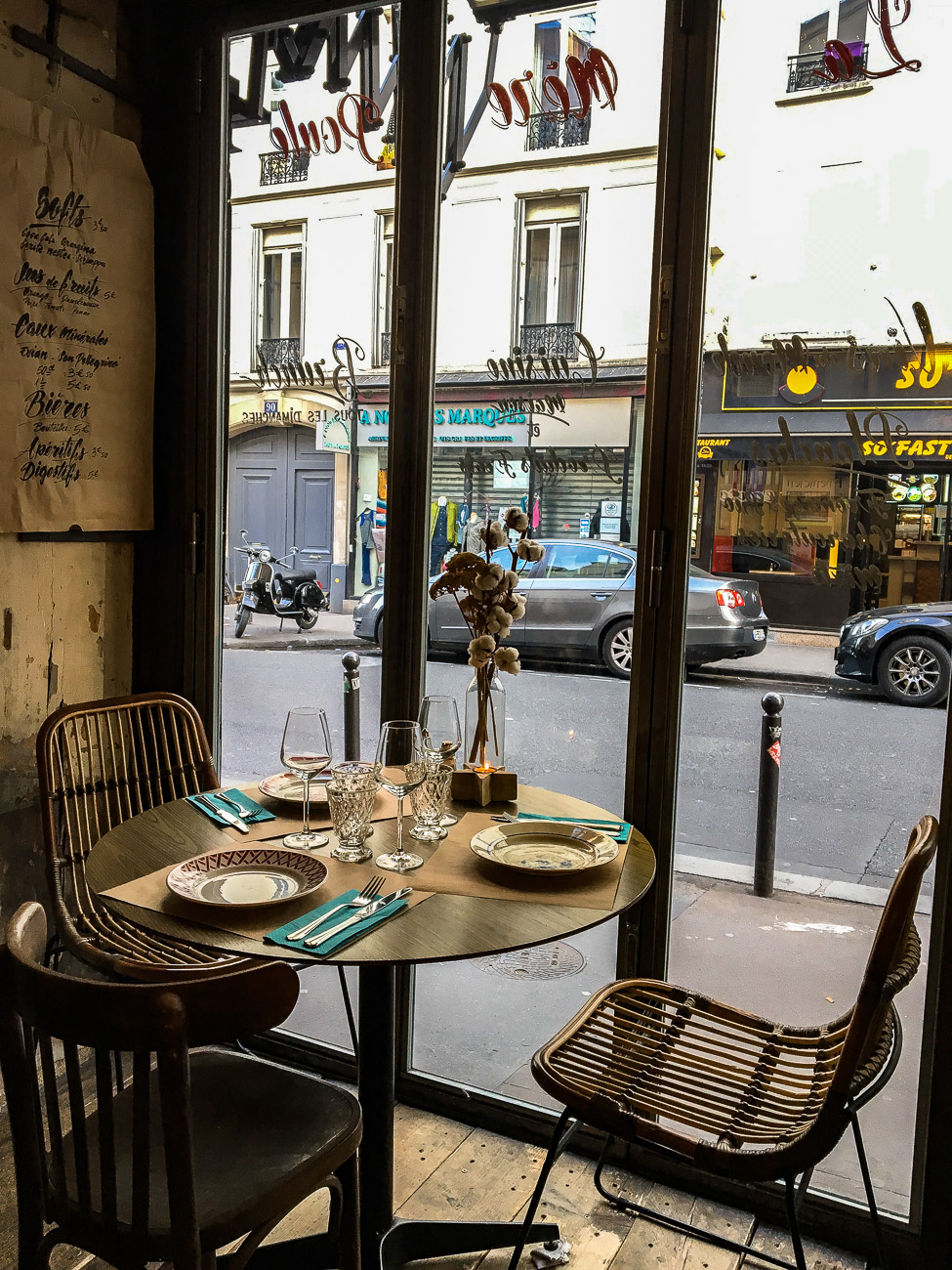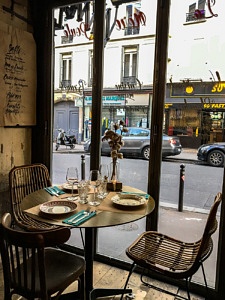 Vegetarians do not always have an easy time in France. Pescetarians can fare a little better. But at La Mere Poule, I had a fantastic dinner cobbling together several of the starter plates.
The arugula with pine nuts and burrata was perfect, as was the zucchini with Parmesan and greens. The butternut squash soup was silky and complex, and then I finished it off the meal with a cheese plate.
Decorated like in a shabby chic motif that somehow always looks better when the French do it, the small restaurant is absolutely adorable. The service is very casual. The entire bill came to around 50 euro for four dishes, a cheese plate and three glasses of wine, which is really reasonable for Paris.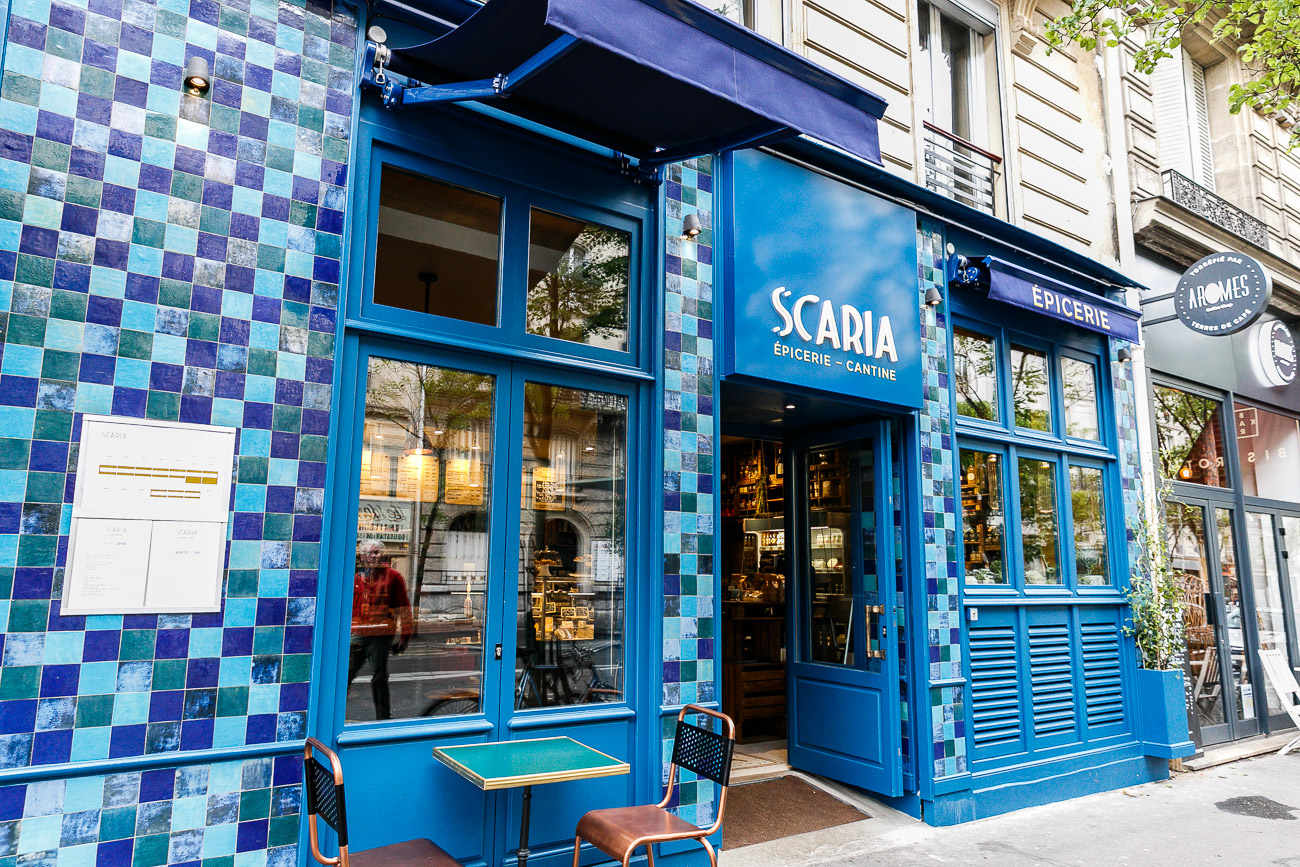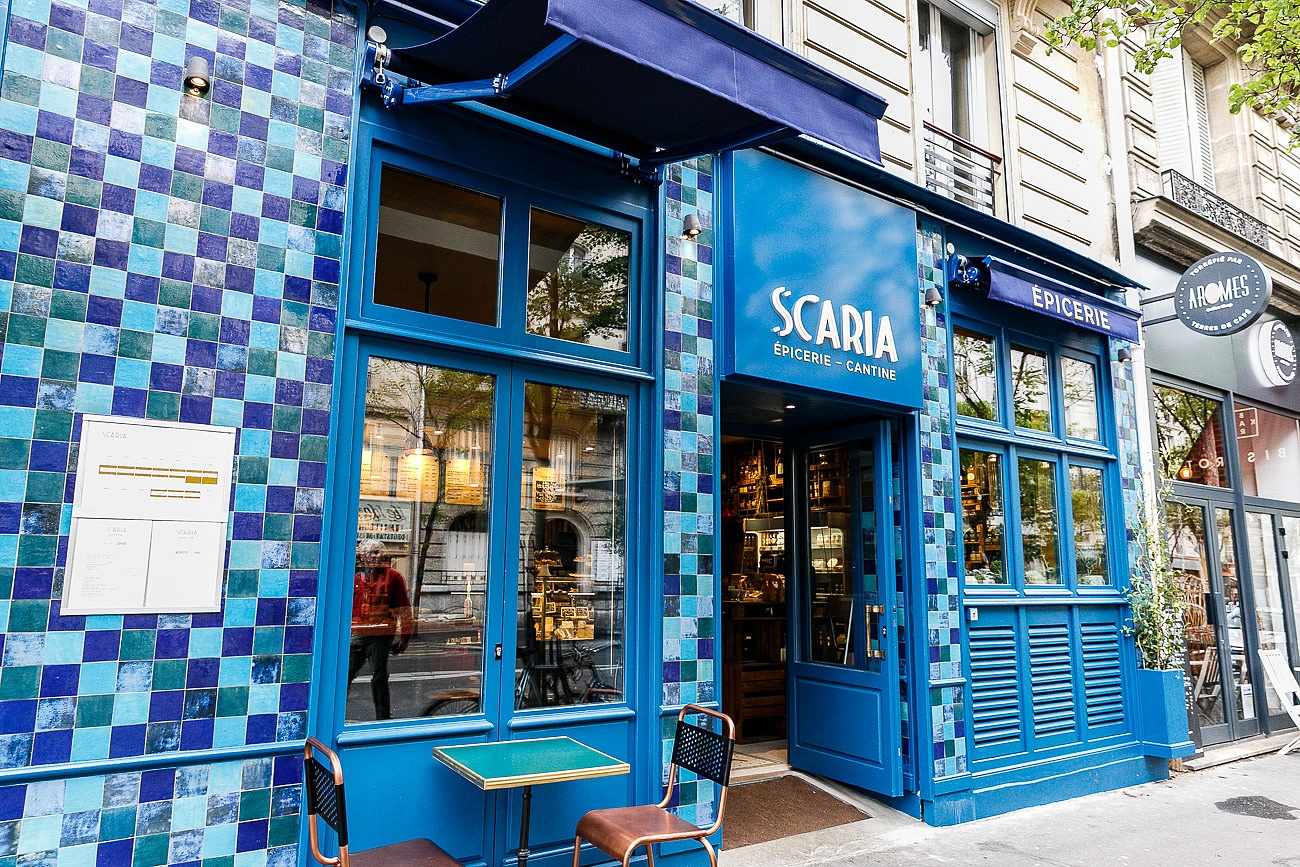 Scaria 

88 Avenue Parmentier
We found this place after wandering several of the main streets on and around Oberkampf. The front is so colorful it's impossible to pass up, if only for a duck into the gourmet market. Open only ten days when I was there, this new restaurant was already catching on – it was packed by the time my friends and I left.
Farm-to-table French with a Mediterranean twist, and a menu that changes daily, this place does tasty small plates with Instagram style. It is the kind of place where the small plates are actually small, which requires you to order more to fill up. It can add up, so maybe either don't go in starving or do go in with a good food budget. The creamy cheese with olives was one of my favorite dishes. The chocolate mousse with passion fruit dessert was incredible.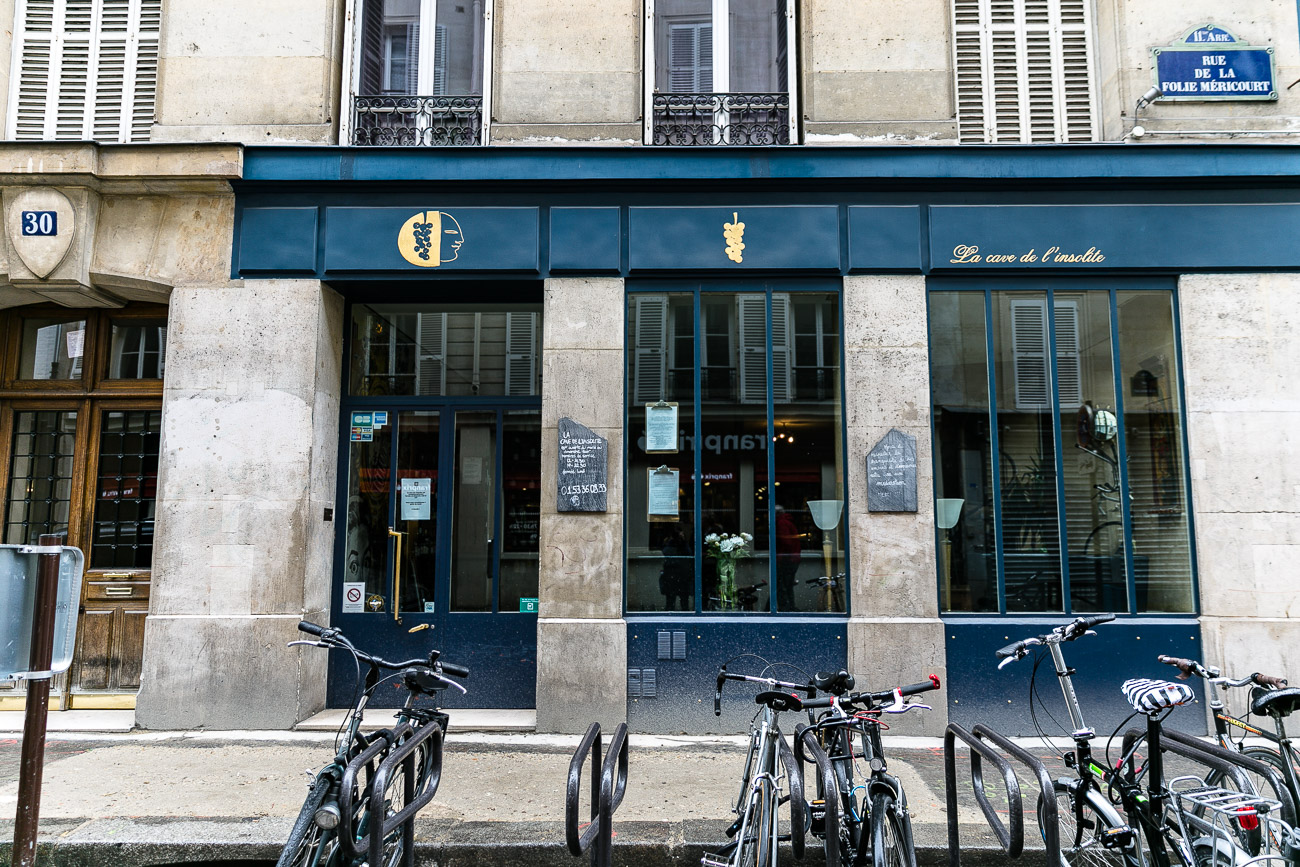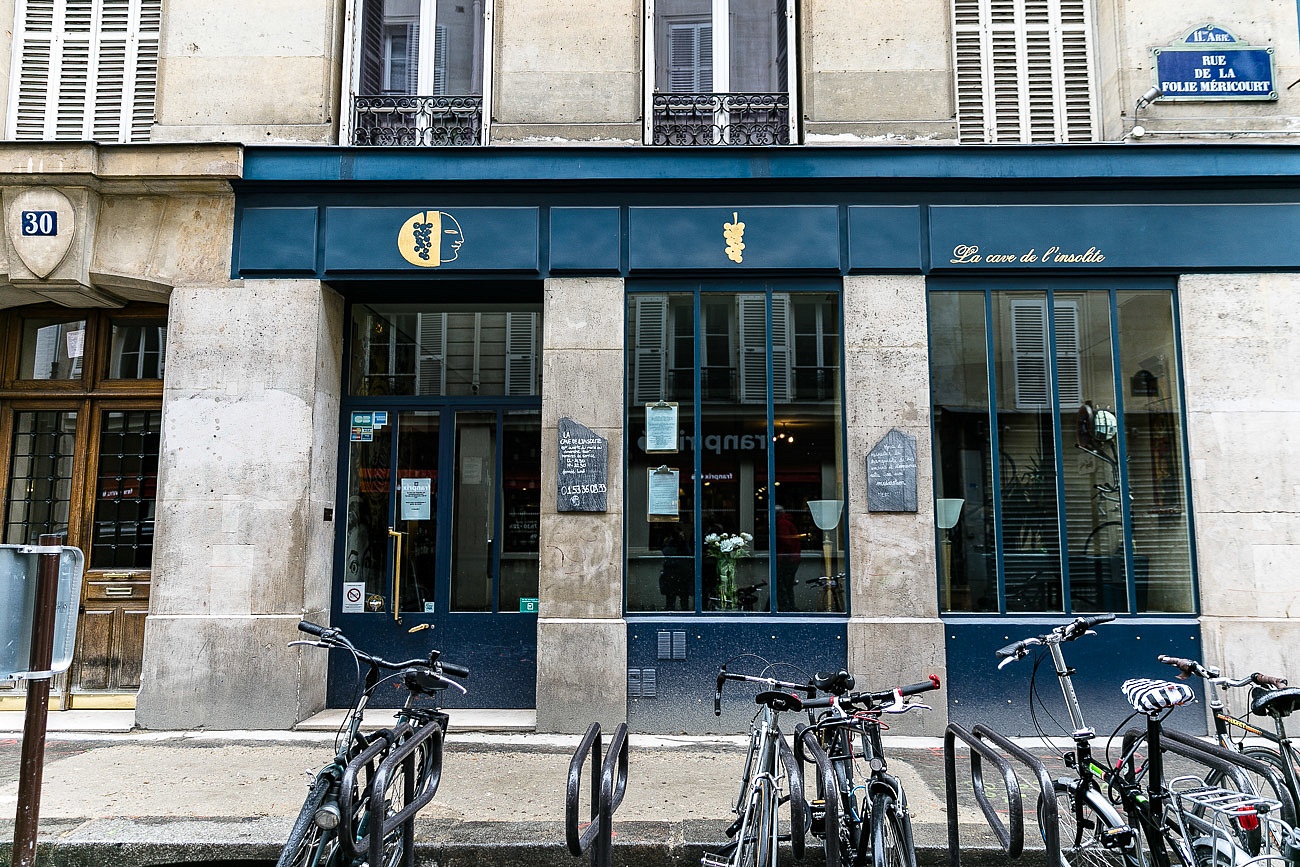 La Cave de l'Insolite

30 Rue de la Folie Méricourt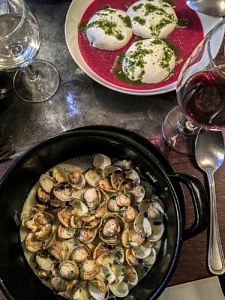 If you want to feel like you're a local at the neighborhood dining table, this is the place. Run by brothers who seem to know everyone, you'll be greeted with an exuberance that makes you feel happy to be here.
These young chefs are experimenting with modern gastronomy and traditional French flavors. I had a really earthy and bright beet puree with clouds of whipped cheese dolloped on top that was so good my friend Julie (an avowed enemy of the beet), actually admitted to liking it.
Wines are hand-picked (some made by friends), and communal tables are lively making this friendly joint a great place to eat a meal when you're in a social mood and don't mind laughter and loud conversations as the acoustic backdrop.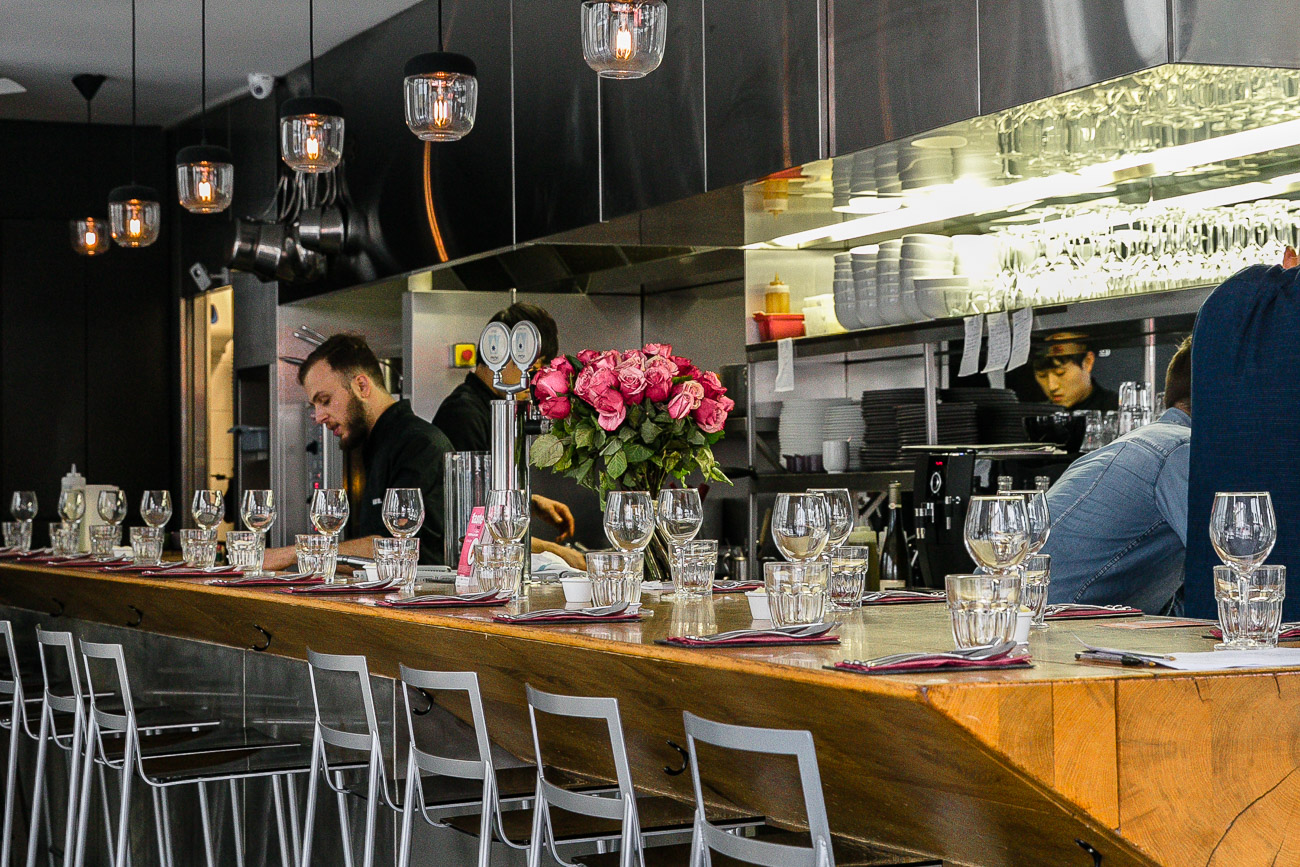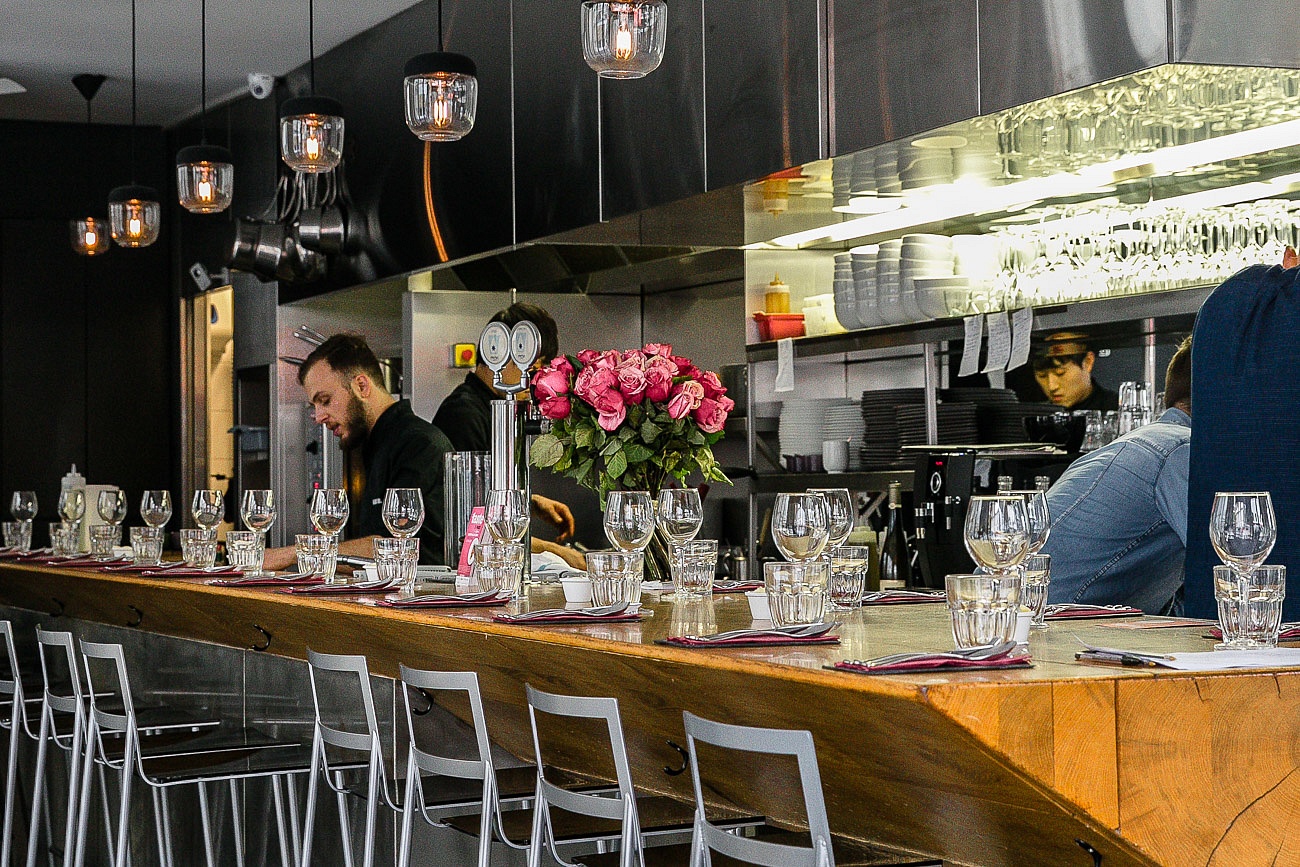 Pierre Sang

55 Rue Oberkampf
I don't watch Top Chef, but if I did I'd know who Pierre Sang was. That does not preclude me from enjoying his restaurant. A mash-up of Franco-Korean, this restaurant asks you to put your trust in the chef to make the food choices for you. At the beginning of the meal, you are given a choice of how many courses you would like and if you have any dietary restrictions. The gang at Pierre Sang takes from there.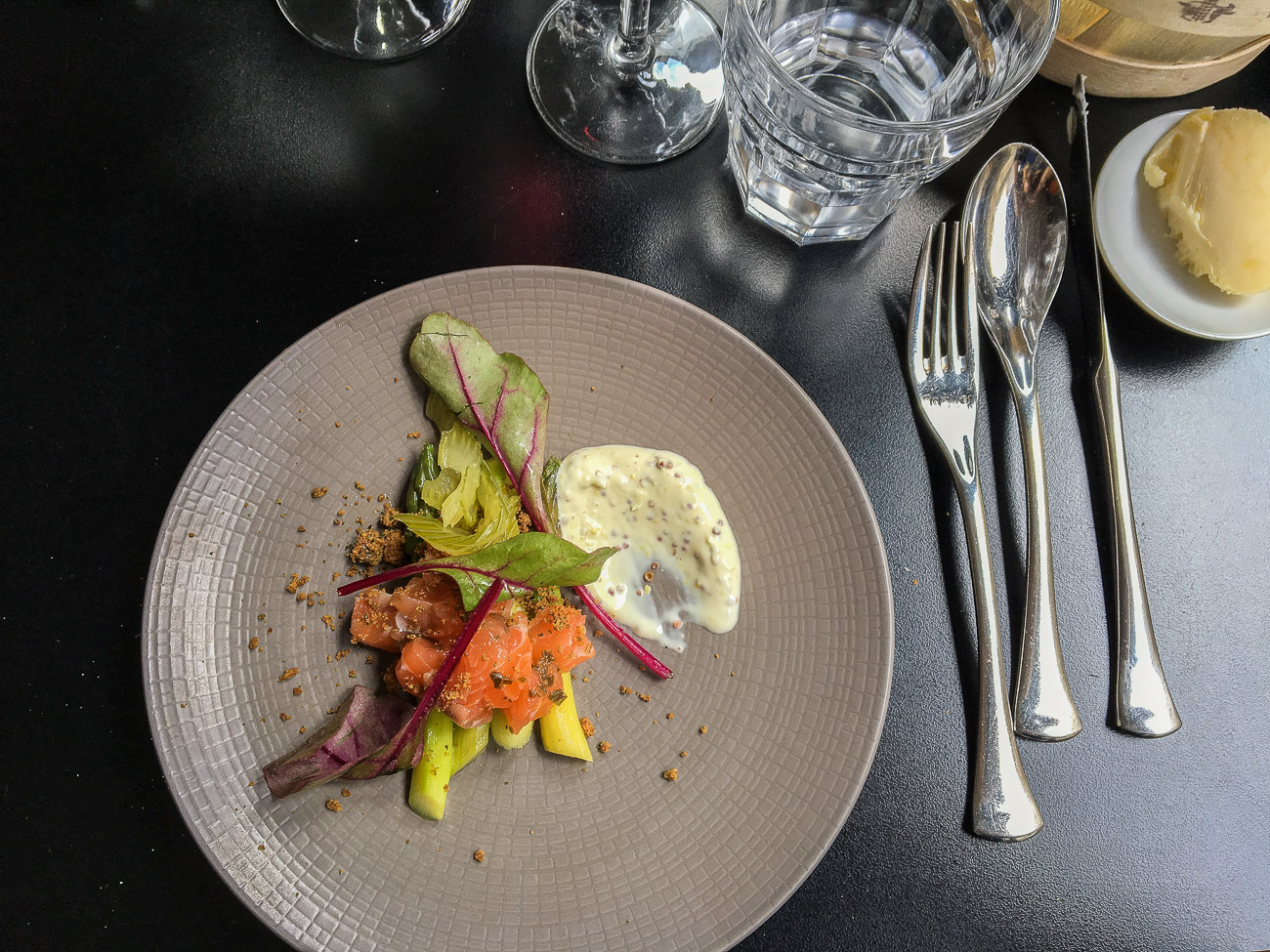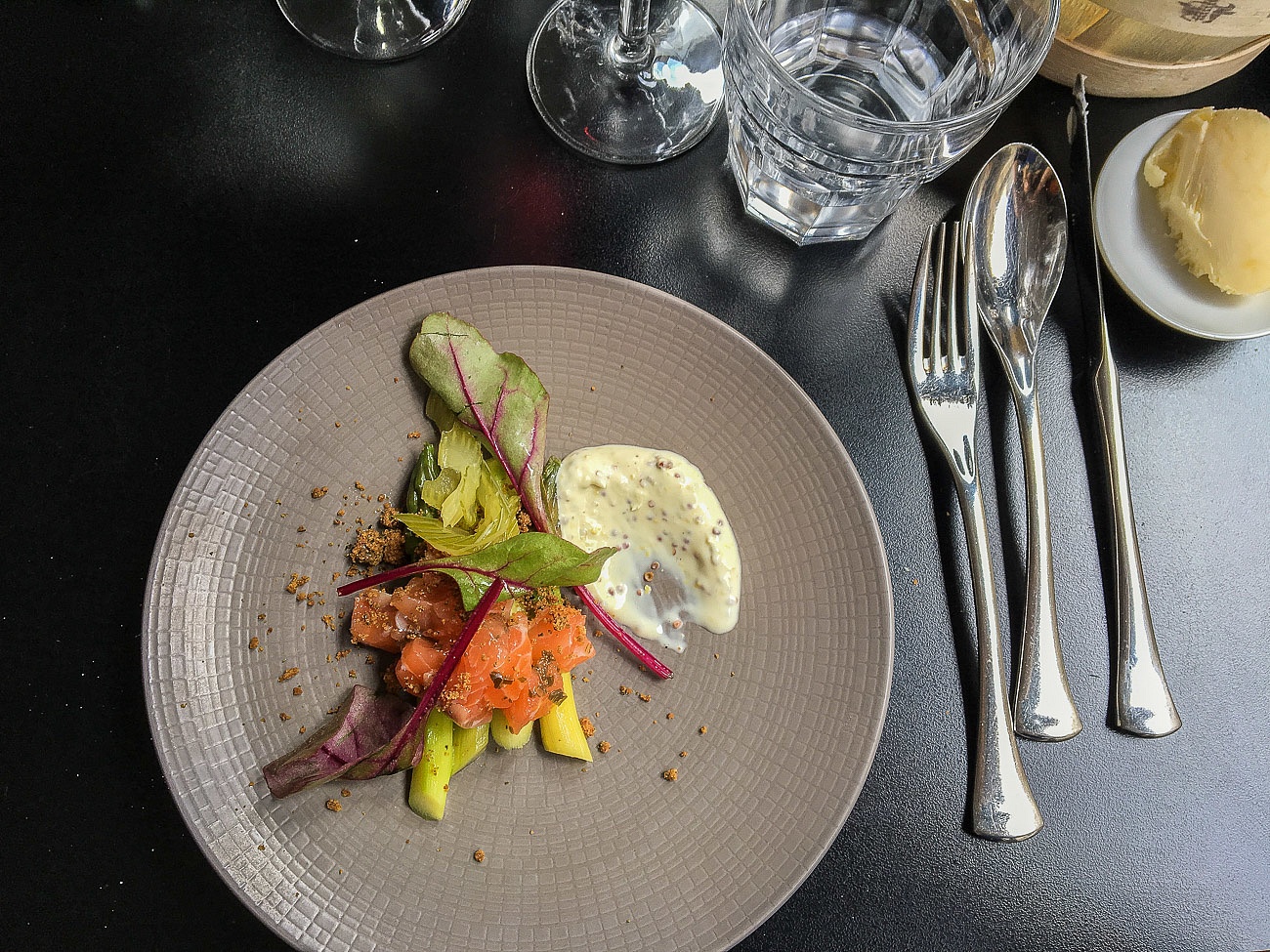 Each course is delicate, full of flavors that are a riddle to identify. After every dish the server asks if you recognize any ingredients. I had a great time figuring out what each plate contained and felt pretty proud of myself when I got them right, like I was on my own food show and I was winning. The courses were light and fresh, with obvious care and thought put into them. For the money, you may not walk out full, so know that ahead of time.
88 Rue Oberkampf
This tiny rum bar is right on the sidewalk, with about six tables total. Another neighborhood bar, this place feels comfortable, relaxed and totally local. There is no pretense or Euro-sleek décor. Just bar stools, high tables, a craft cocktail menu, and one bartender. It was the perfect place to stop in for a drink before dinner on Oberkampf.
Stay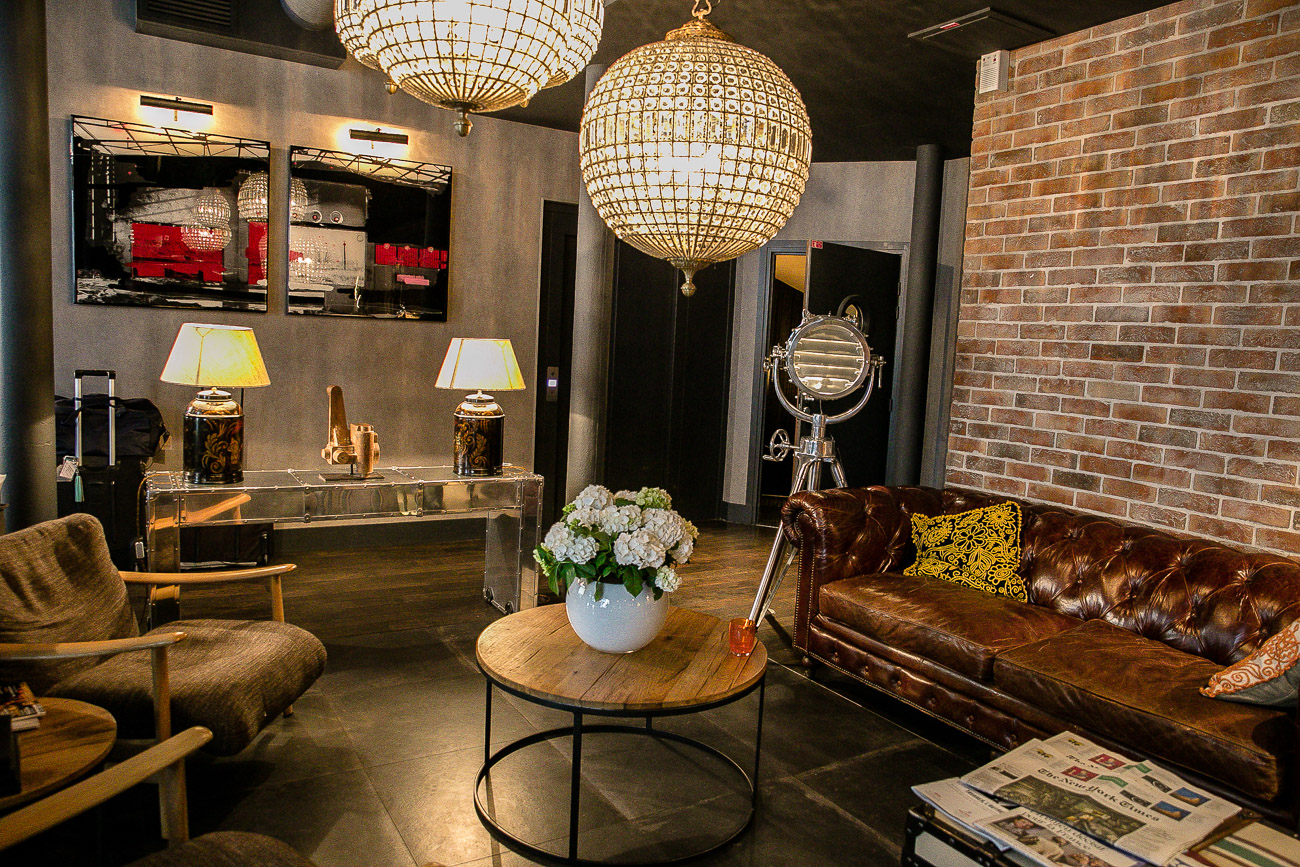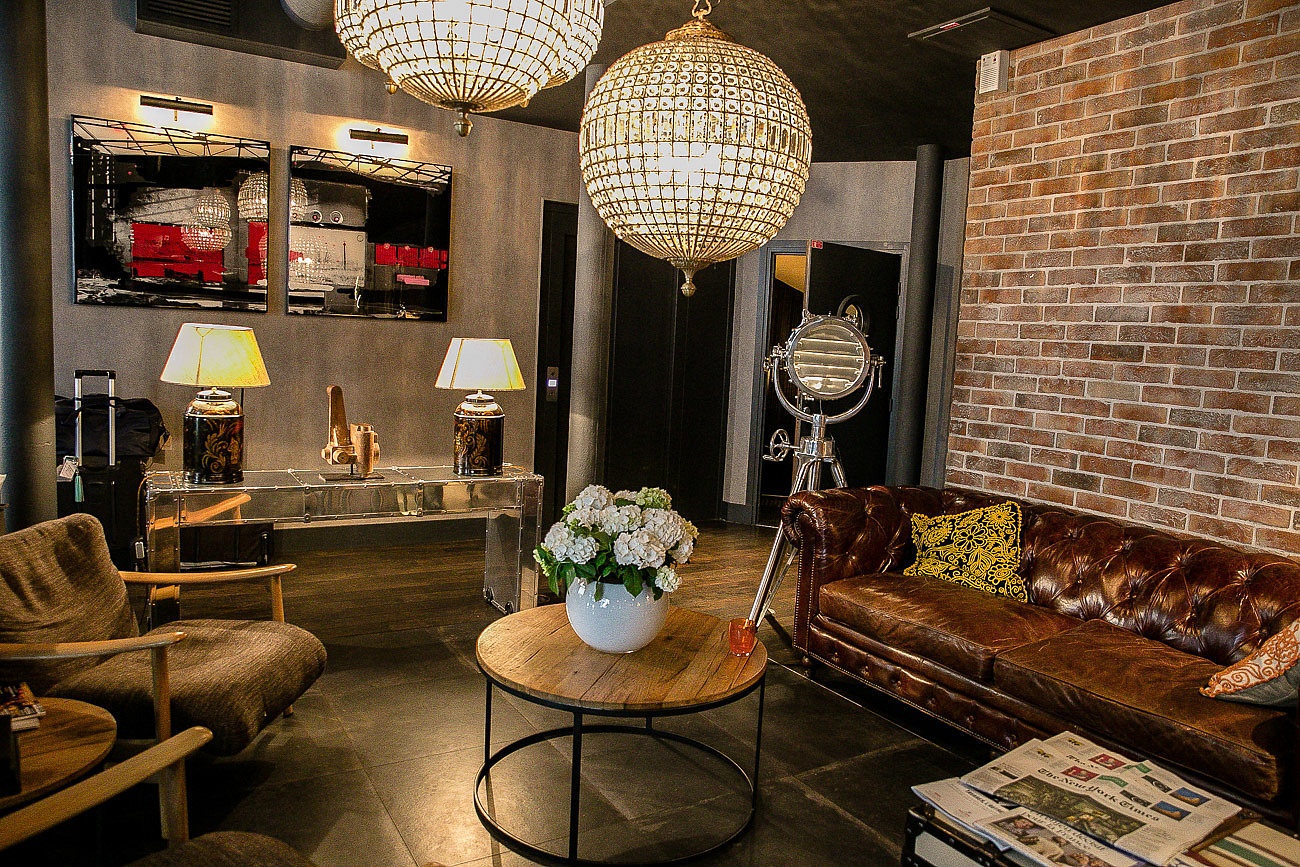 Hôtel Fabric

31 Rue de la Folie Méricourt
This gorgeously hip hotel is straight out of a Restoration Hardware catalog but with exceedingly friendly staff. Formerly a textile factory, this chic space still manages to feel cozy with an honor bar at night and a delicious breakfast in the lobby every morning. The rooms are European small, but well designed.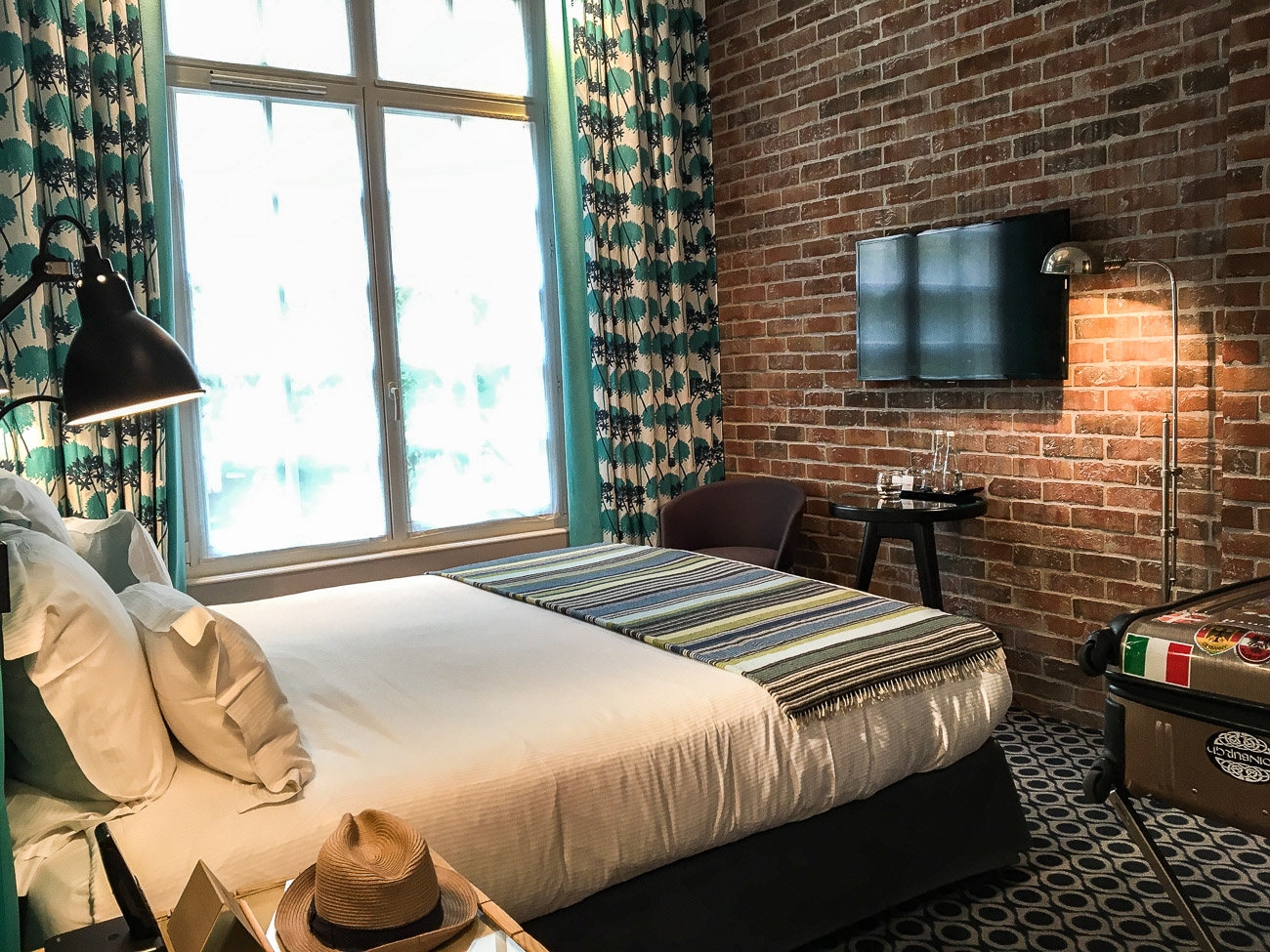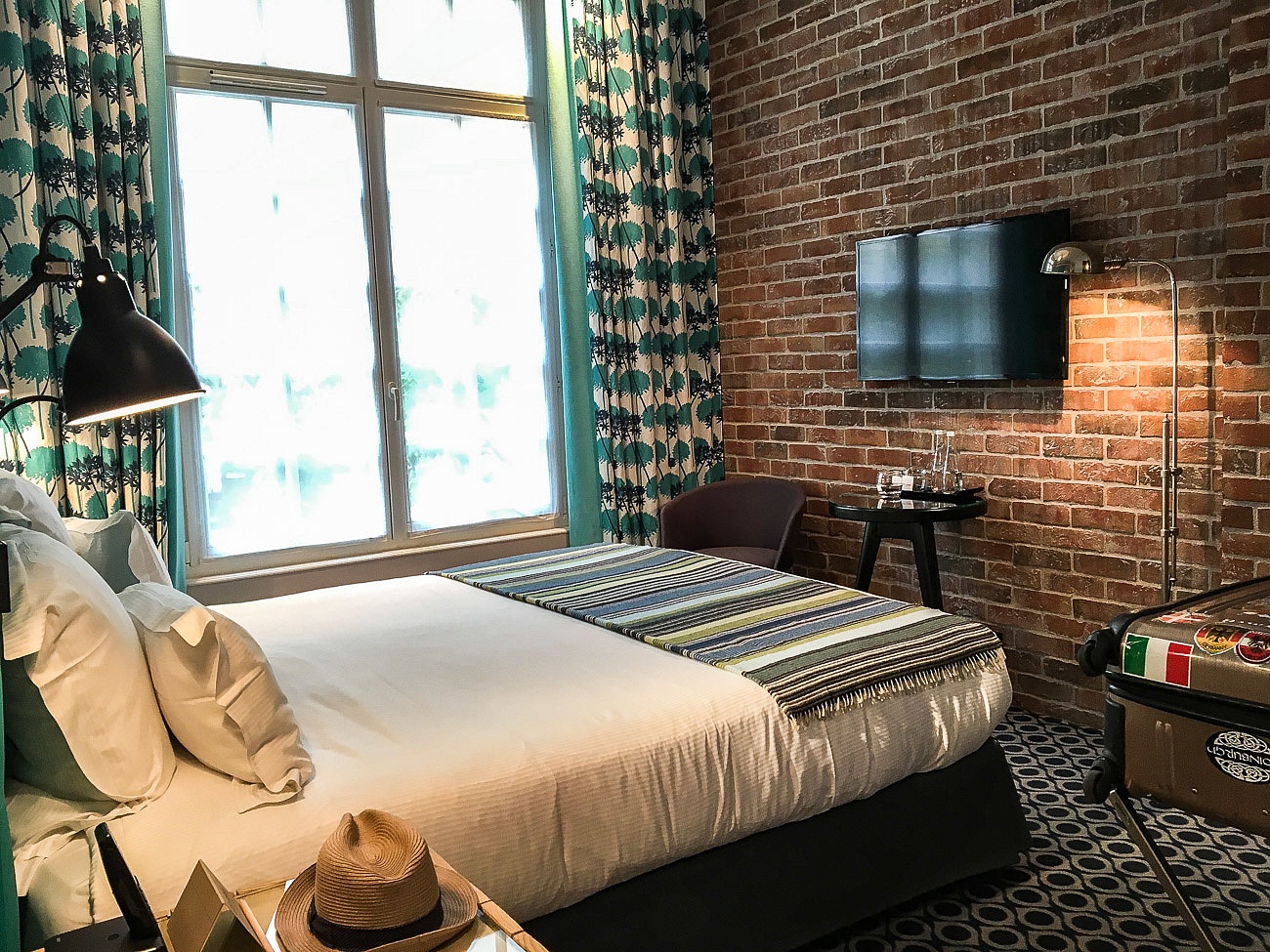 The location is excellent if you are in the 11th to eat your way up and down Oberkampf like myself. The rates are also fairly reasonable by Paris standards. The staff is at your service as if they worked at a Four Seasons and are always at the ready to suggest sights or help you book tables or entertainment.
My Recommendations for Restaurants in Paris, Other Arrondissements
Since we ARE talking where to eat in Paris, I'm going to include a few more places that I love that are outside the 11th, but definitely worth trying.
1st Arrondissement
Le Willi's Wine Bar

13 Rue des Petits Champs
Inventive dishes, tasty vegetables and a nice wine list.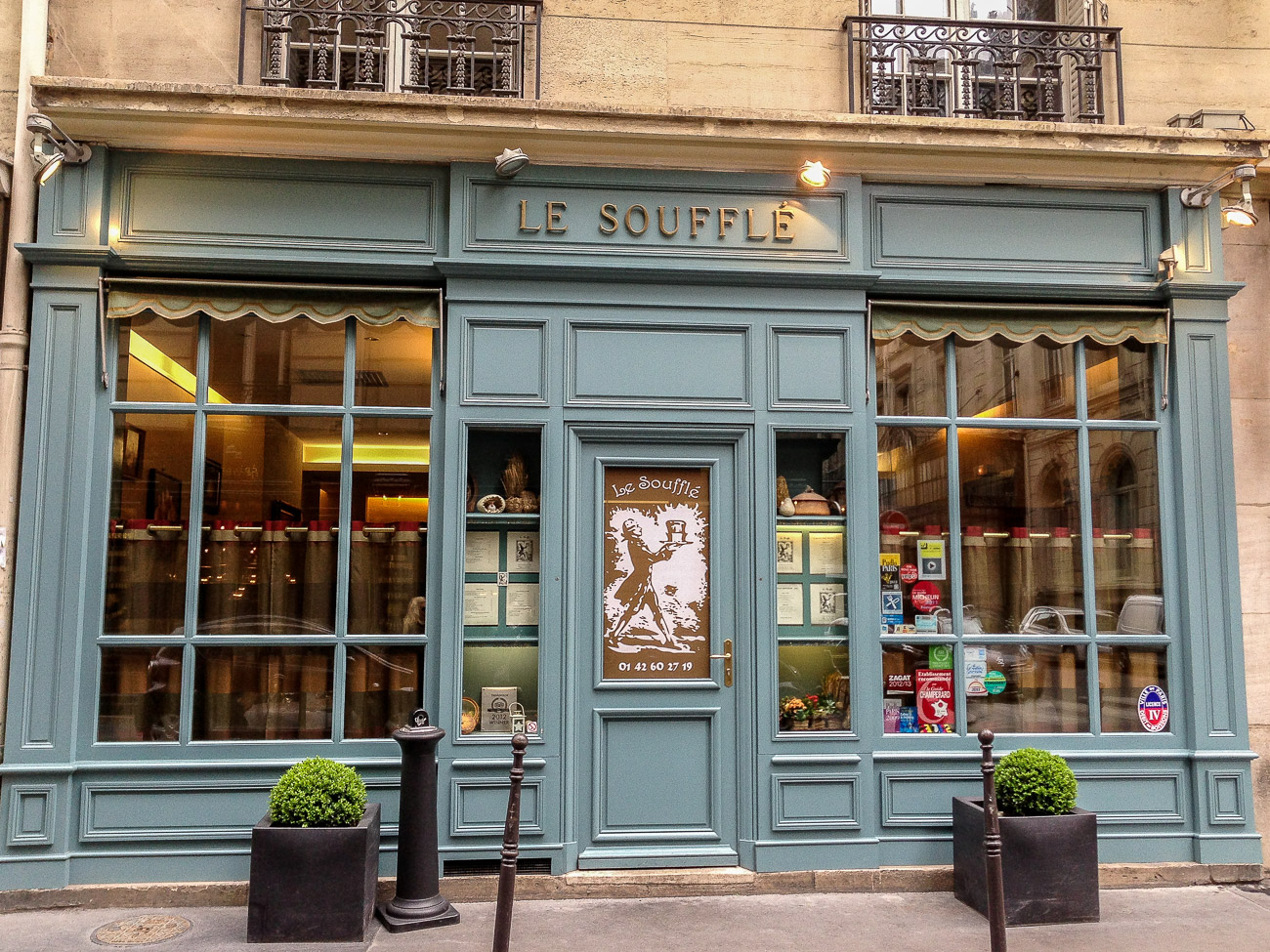 Le Souffle

36 Rue du Mont Thabor
Traditional white tablecloth French restaurant, you can get entire meals of both savory and sweet soufflés.
47 Rue de Richelieu
This little restaurant has only a few tables, a great wine list and a casual menu of fresh, delicious, seasonal dishes.
4th Arrondissement
54 Rue des Rosiers
A bustling Middle Eastern restaurant, you can either sit down or take the outdoor counter service. Their falafel sandwiches are fantastic, so spare yourself the massive line at the other place and come here.
6th Arrondissement
Le Comptoir du Relais

5-9 Carrefour de l'Odéon
Popular, so expect a line.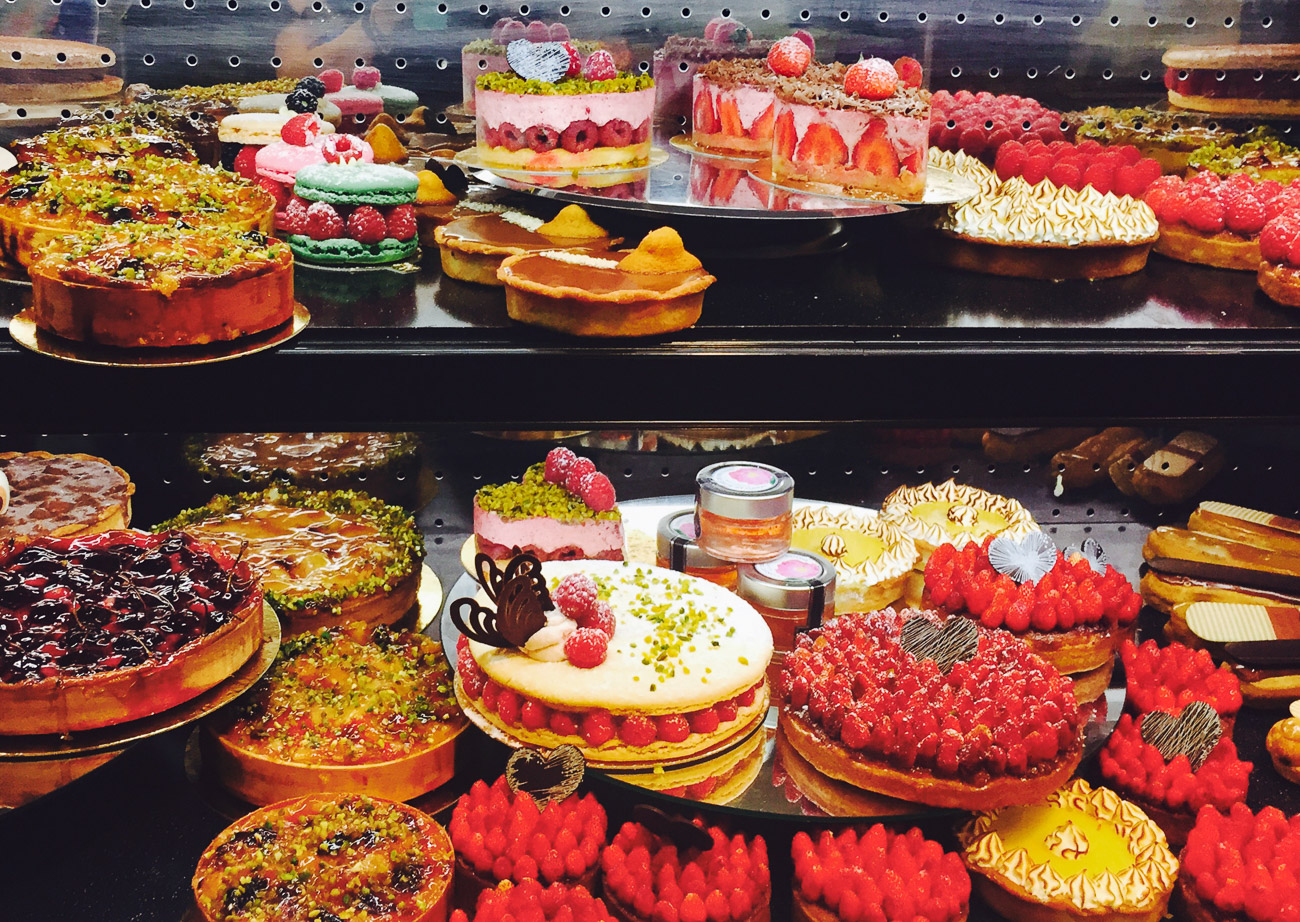 L'epicerie Oliver Piton

23 Rue des Saints-Pères
My favorite little deli, I never miss a chance to stop by and grab a baguette and some house-made side dishes to either take back to my apartment or to enjoy on the lawn of the Louvre.
7th Arrondissement
Le Récamier

4 Rue Récamier
I frequented for the soufflés and rosés. It's right off the main street, in a pedestrian zone.
8th Arrondissement
5 Rue Marbeuf
This place is a splash-out, and the food I had there was traditional but very good. But it's the Art Nouveau / Bell Époque interior that is jaw-dropping here. If you're a fan of the era, don't miss the chance to have a meal here.
Disclosure: As a Booking.com Associate, I earn a small amount from qualifying purchases. However, I don't recommend anything that I don't personally love.
Do you have a favorite restaurant in Paris? Tell me in the comments!