If you read last week's post, you'll remember I was floating through Burgundy, France on what was basically a buoyant wine-tasting room simultaneously engaged in a cheese-eating contest of one (which I was winning). Everyday my fellow cruisers and I would get off and explore the little towns and villages around the Saône River by foot or (sort of) by bicycle.
On one of the evenings, we were invited to a homemade dinner at a French Chateau turned B and B. Eating at a stranger's house is one of my all-time favorite things to do. Typically I don't just walk up and knock on someone's door and ask to have a meal with them, but if someone invites me while I'm traveling, I'm in.
The lot of us walked along a gravel trail next to the canal in the small town of Saint-Jean-de-Losne, about a mile from where we had docked our boat. The sun, which was in the early stages of setting, was casting a canary glow over the water to our left and across a field of white Charolais cows to our right.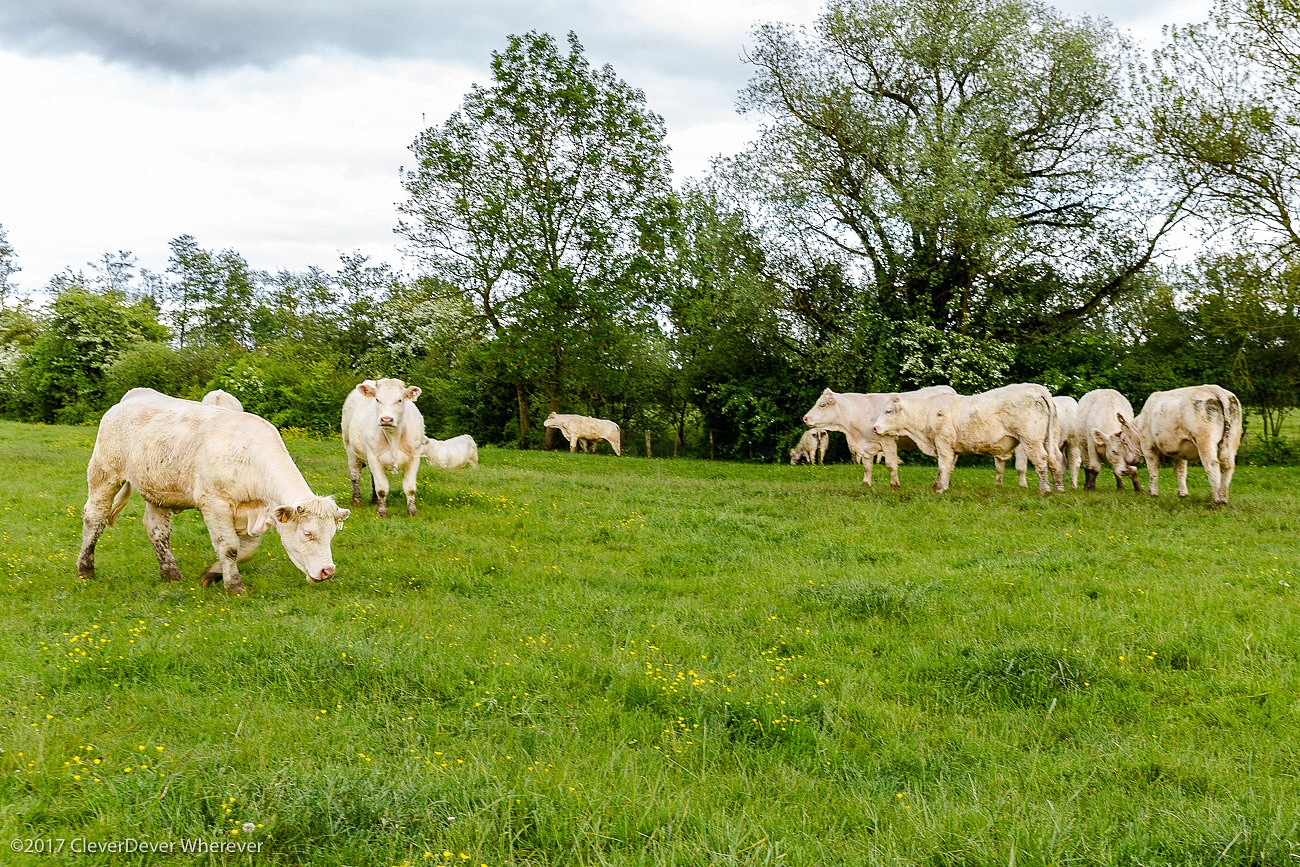 I fell behind on this part of the walk. I couldn't resist taking photos of the cows doing cow things like pushing their heads together in what I can only interpret as aggressive nuzzling. I repeatedly yelled "bonjour vaches!" at them and snapped pictures. They ignored me.
A French Chateau You Can Stay In
I had to run to catch up with the group. Everyone was gathered outside the 19th century home where Catherine Jouffrey greeted our small group on her lawn. Her stone chateau behind her, it was two-stories of windows flanked with open shutters, each accented with flower baskets. Chimneys rose up on each side like sentries keeping watch over the maison, a reminder of the heating systems of large houses so long ago.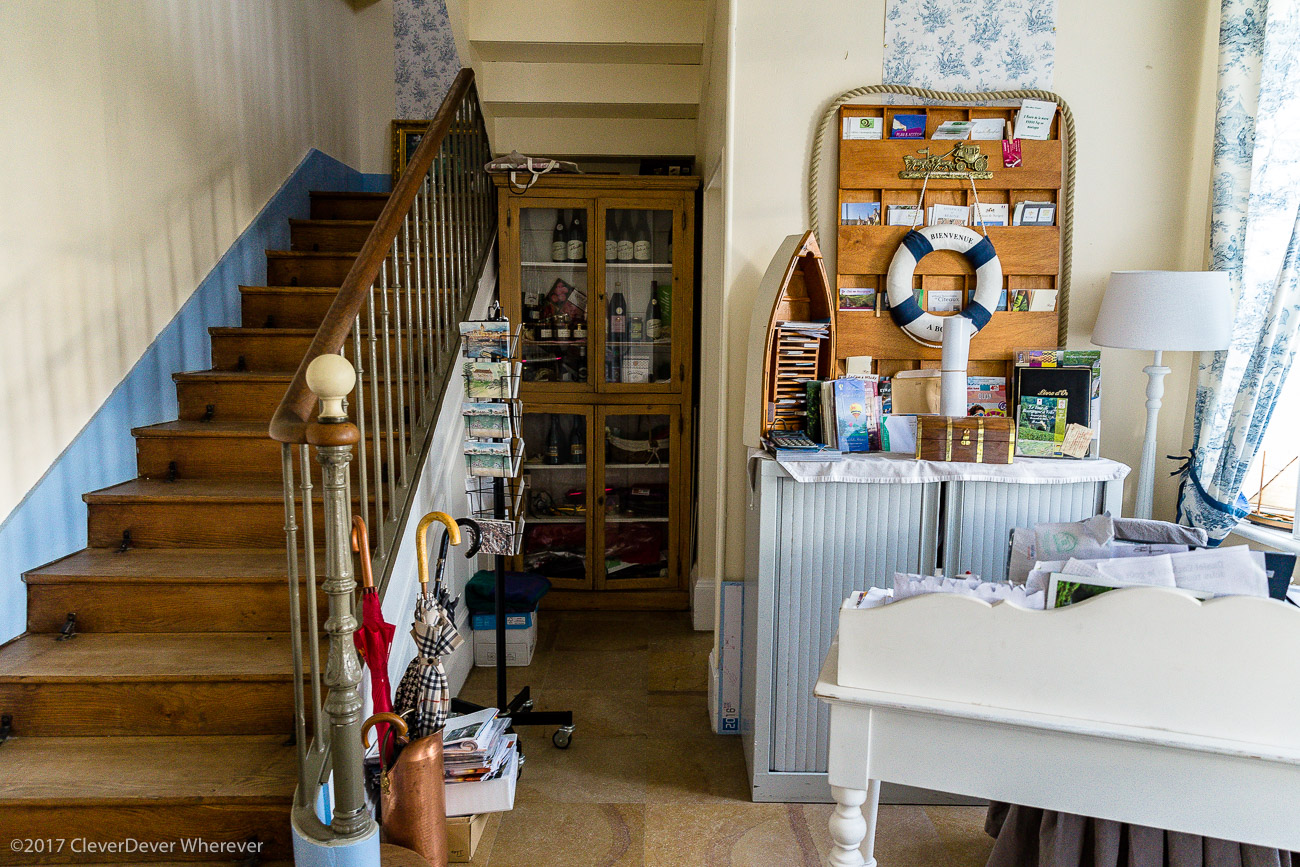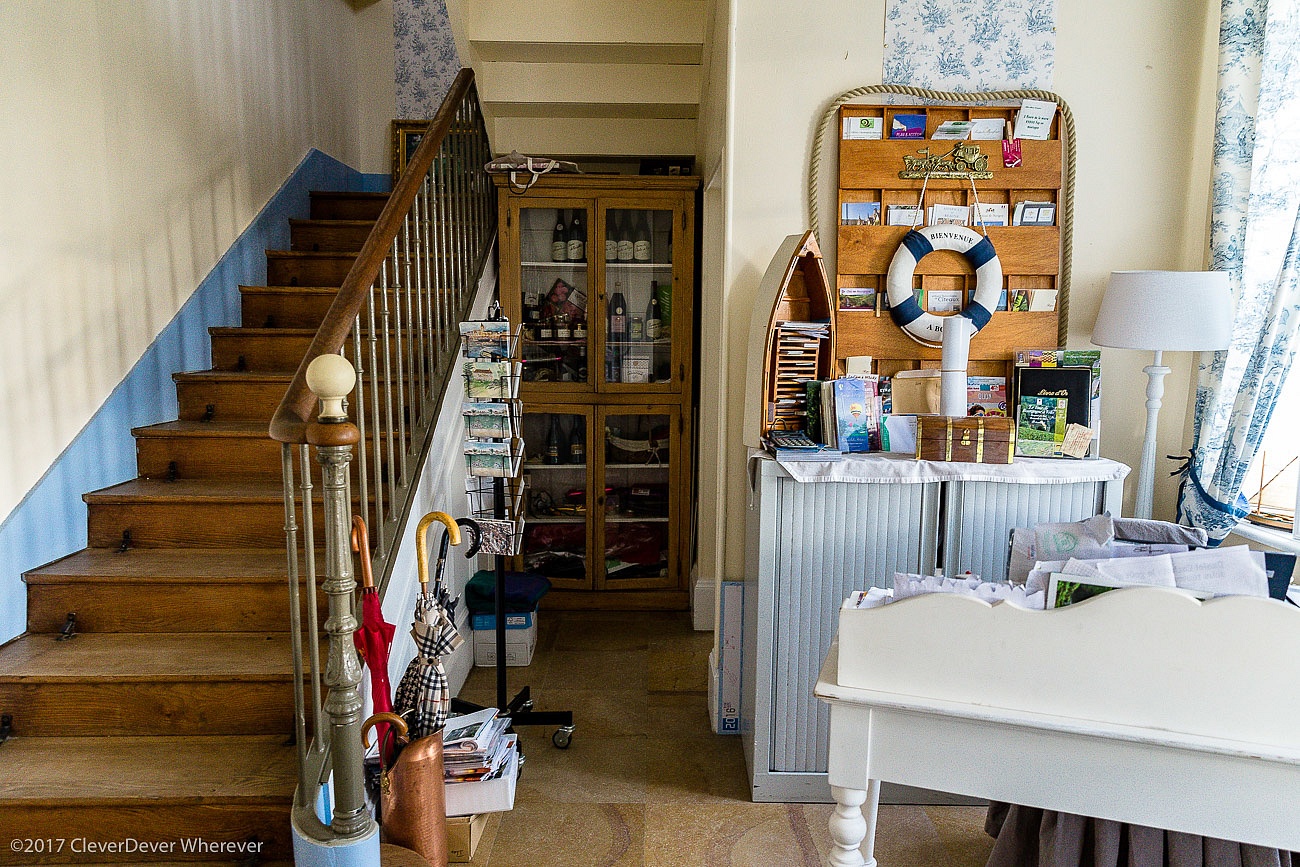 Catherine explained that she and her husband Yves bought the chateau in 2013 and spent 18 months renovating the property themselves. It was a new chapter in their lives, one that I would find out about later.
Originally built in 1837, the country mansion by the water was once owned by the Lanvin family; a famous chocolate snail making family. There were at least five minutes of confusion for me on this one because I wasn't sure to what degree actual snails were involved.
Turns out, the chocolate is simply MOLDED into the shape of a snail and no mollusks are dipped in cacao. Which would be weird, and dangerously crunchy, but hey, I'm not here to judge the French.
"So we are on an island between the two branches of the Saône River, the older ancient Saône is on the left, and this is the Saône from where you come from." Catherine gestured toward the canal, interrupting my distracting vision of snails on a conveyor belt gliding towards a shower of dark chocolate.
"This island is right in the middle of Franche-Comté/Bourgogne area, we are in its core."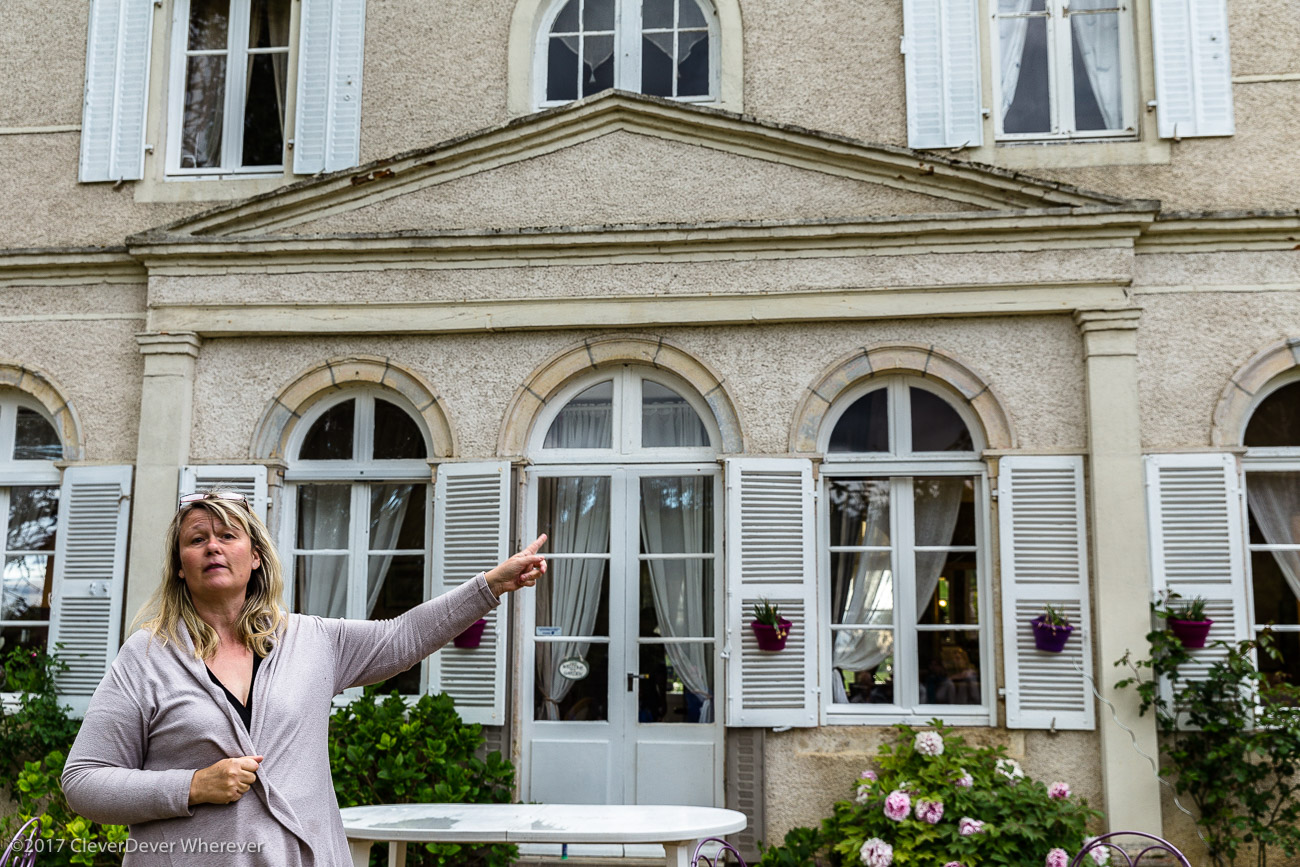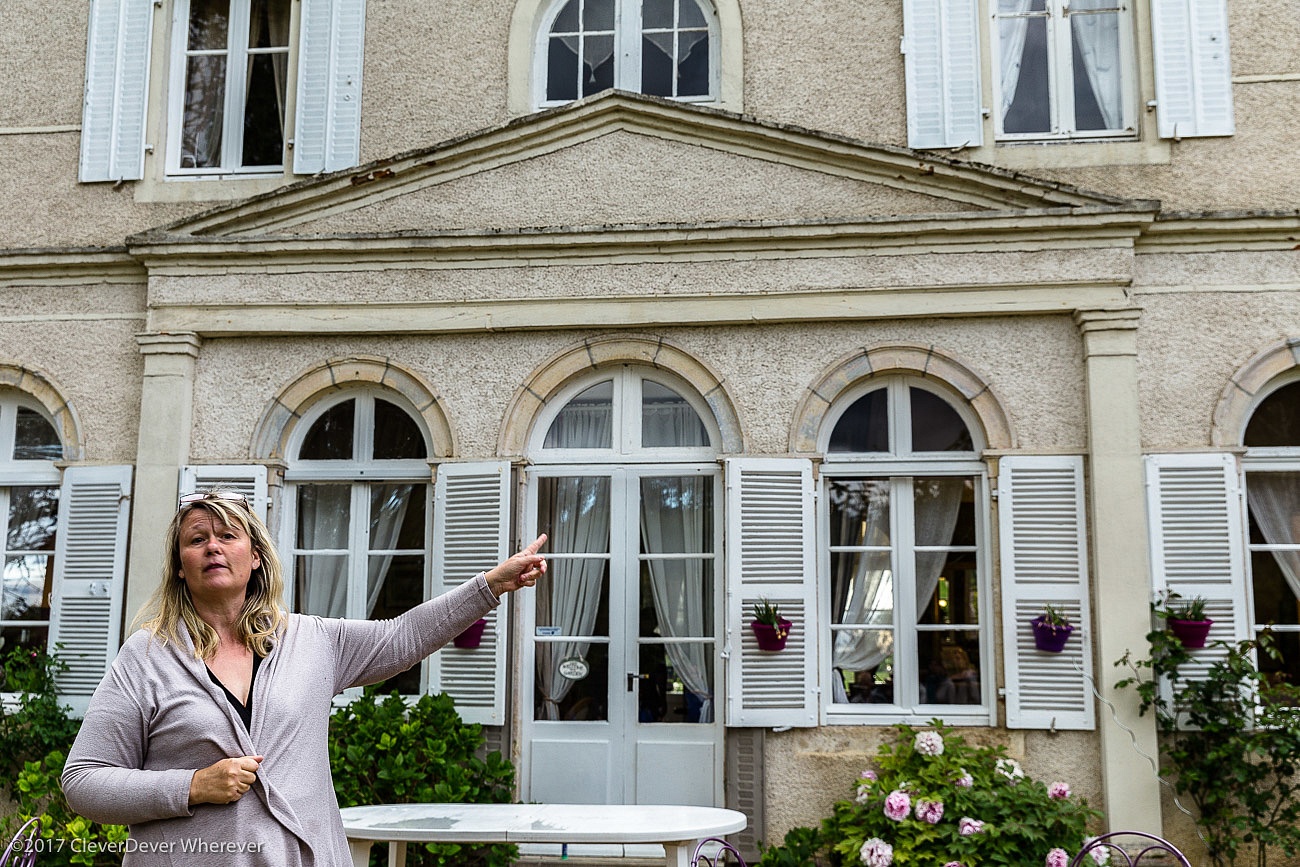 We're still outside, the sun now gone. A spring chill and several dragonflies are in the air. Madame continues.
"This house (she gestured towards a gatehouse behind her house) was previously a relay for horses where they could rest. Horses were brought here in order to pull the boats on this road."
During the canal age, the still waters provided a calm waterway for cargo to be transported. Before engines were installed on boats, the path next to the canals allowed horses to tow boats with around fifty times the weight of a cart. The roads next to many canals in Europe now are great for walking or biking.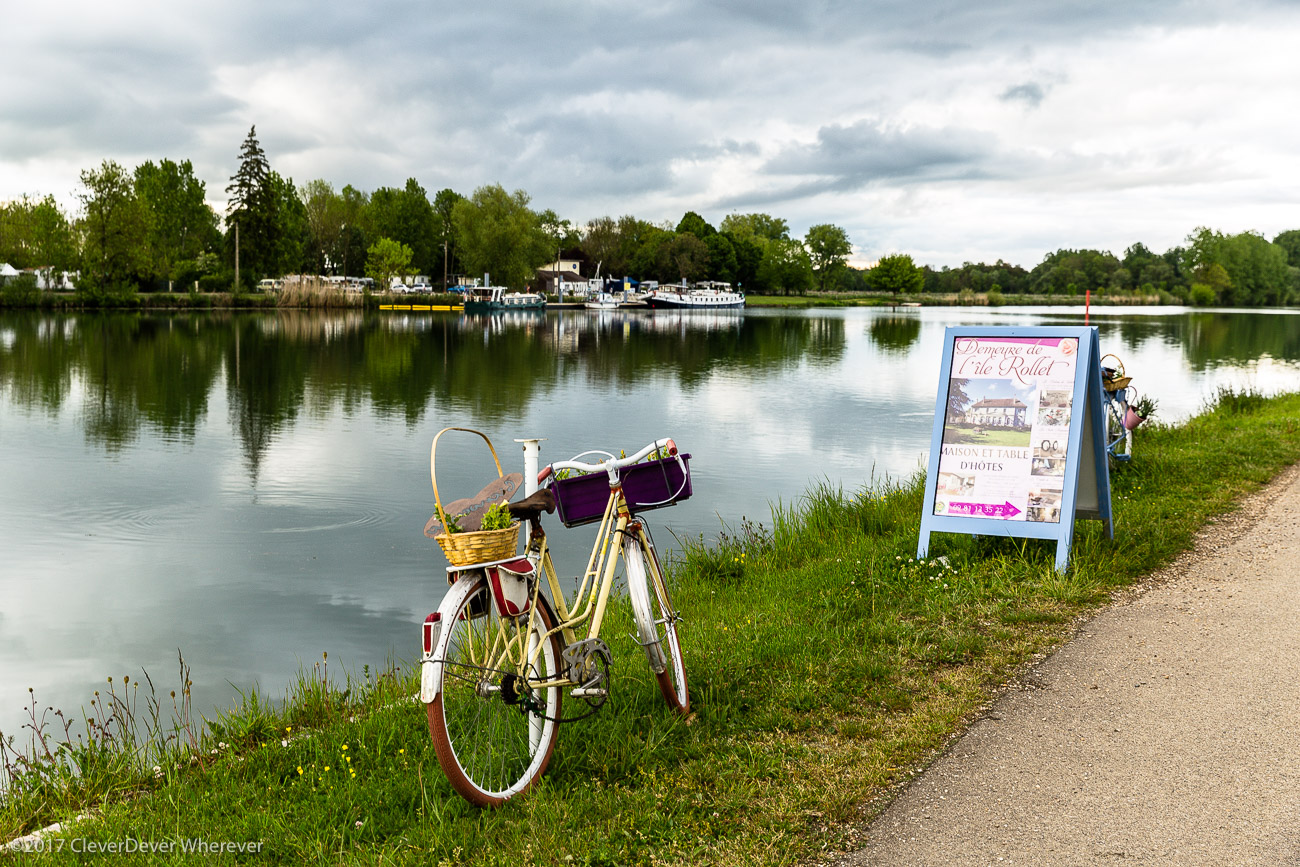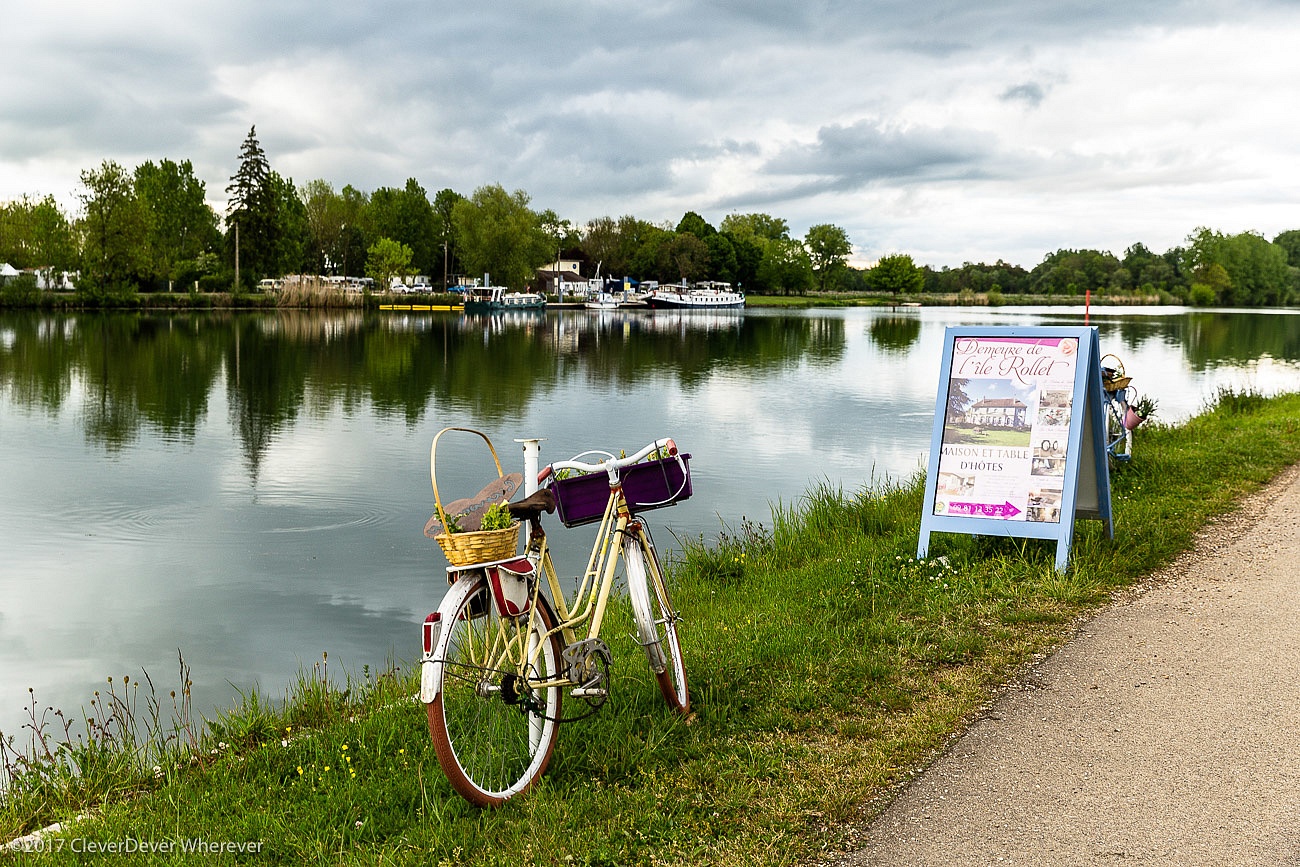 "This road is called EuroVelo 6, a bicycle road which goes from Nantes and the Atlantic Ocean, all the way down to Budapest to the Black Sea."
She explained how this area is the junction for all the major waterways of France and Europe. The Saône connects to not only Epernay canal (the Champagne region), but also the Rhone, which goes to the Mediterranean Sea and Rhine which goes to Germany.
I loved learning about someone else's corner of the world from those that live there. I'm so much more apt to remember geography if I'm standing in the middle of a place while a local explains the history. It's putting a face to the map.
My wanderlust senses are also tingling. This whole canal path from the ocean to the sea excites me. It sounds like a quest I must embark upon, the wind in my ponytails as I struggle to stay upright, pedaling across the belly of Europe. It made me want to be moderately adequate at bicycling, something that is not currently in my skillset.
And when I say "not currently in my skillset" what I mean is that just yesterday, during our first "biking" excursion through rural France, I had proudly clicked my helmet under my chin. I was immediately informed I had put it on backwards.
So yeah, biking is not yet in my skillset. But I digress.
Back to my evening eating dinner at the 200 year-old French chateau, original home of the chocolate snail.
Dinner in a Maison d'Hôtes – a French B and B
Catherine and her husband usher us inside. It's warm and inviting, with cocoa walls and gauzy curtains. The nautical connection of life along the river is present in the décor. Boats and different boaty objects (official maritime term) are everywhere, accenting the room and hanging on the walls.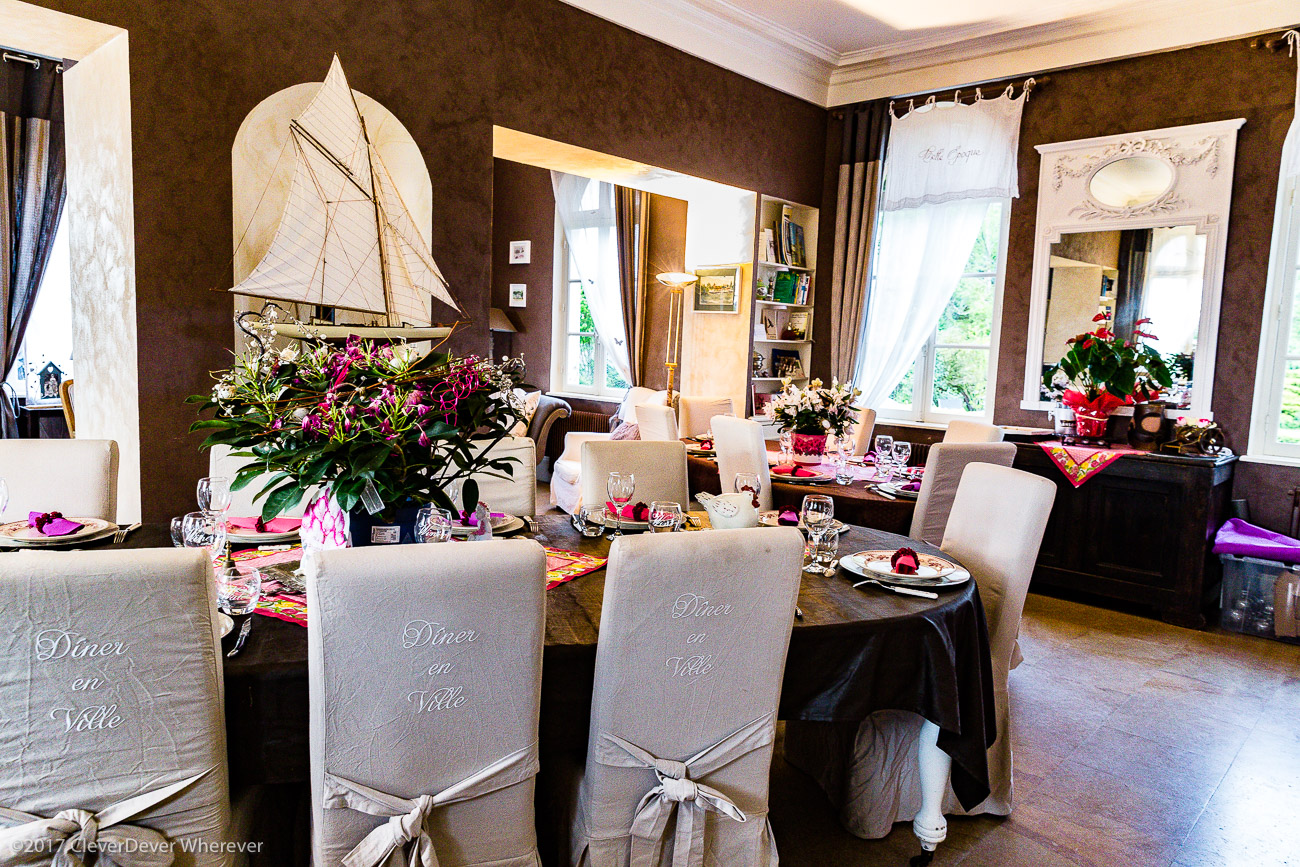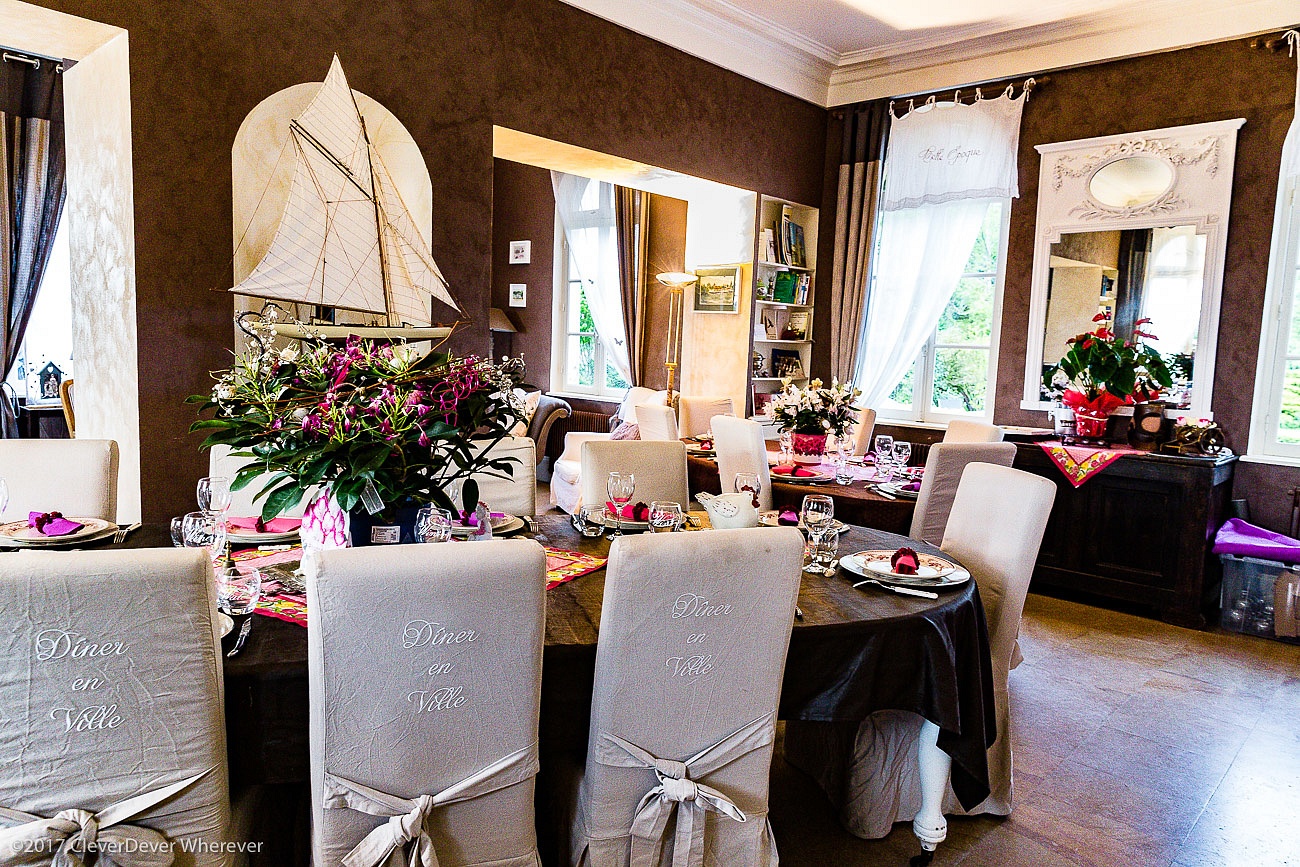 We have seated ourselves around the lovely tables in the front room. Regional products including Kir (a thick, sweet cassis liquor which is great on its own and even better in champagne), and other fruit-based liquors like raspberry and peach, are lined up on the buffet. Local meat terrines, a Comté cheese that their son had made, and some local anise candies were also ready for the tasting.
Yves moved in the background setting down mustard and tomato pies, spinach soufflés and big communal bowls filled with salad and hardboiled eggs. Catherine was flushed and glowing by an evening of cooking and speaking with guests from everywhere, one of her favorite things to do.


Catherine had previously owned a travel agency. "This is a similar job. I love welcoming people, speaking other languages, cooking for people." She smiled easily.
Guests from Belgium popped in to say hi, they were biking down the trail tomorrow. On to the Black Sea, or maybe the Mediterranean.
The inn itself was like a junction for Europe. Guests came from Italy and Luxembourg, Brazil and Canada crossing paths, making friends. I asked Catherine what her favorite part of living in Saint-Jean-de-Losne was.
"The river and the very welcoming people. And the sunset on the river. Because I lived in the mountains before and we didn't have a sunset like that."
She's originally from Jura, a mountain area on the border of France and Switzerland.
I asked her what people should do here when they visit the area.
"Go see the harbor with all the leisure boats. Also go see the butcher, very well known, Monsieur Fournier. He's very famous in France and some people come from everywhere just to taste his meats. Charolais is the name of the breed of the white cows here."
Those pale-coated cows, while not great at conversation, were beautiful. Personally, I don't eat mammals because I prefer to hug them, or at least let them live their lives. But the Charolais are also a favorite among the French, in terms of eating. A fact I'm not going to dwell on because again, I'm not here to judge someone else's culture.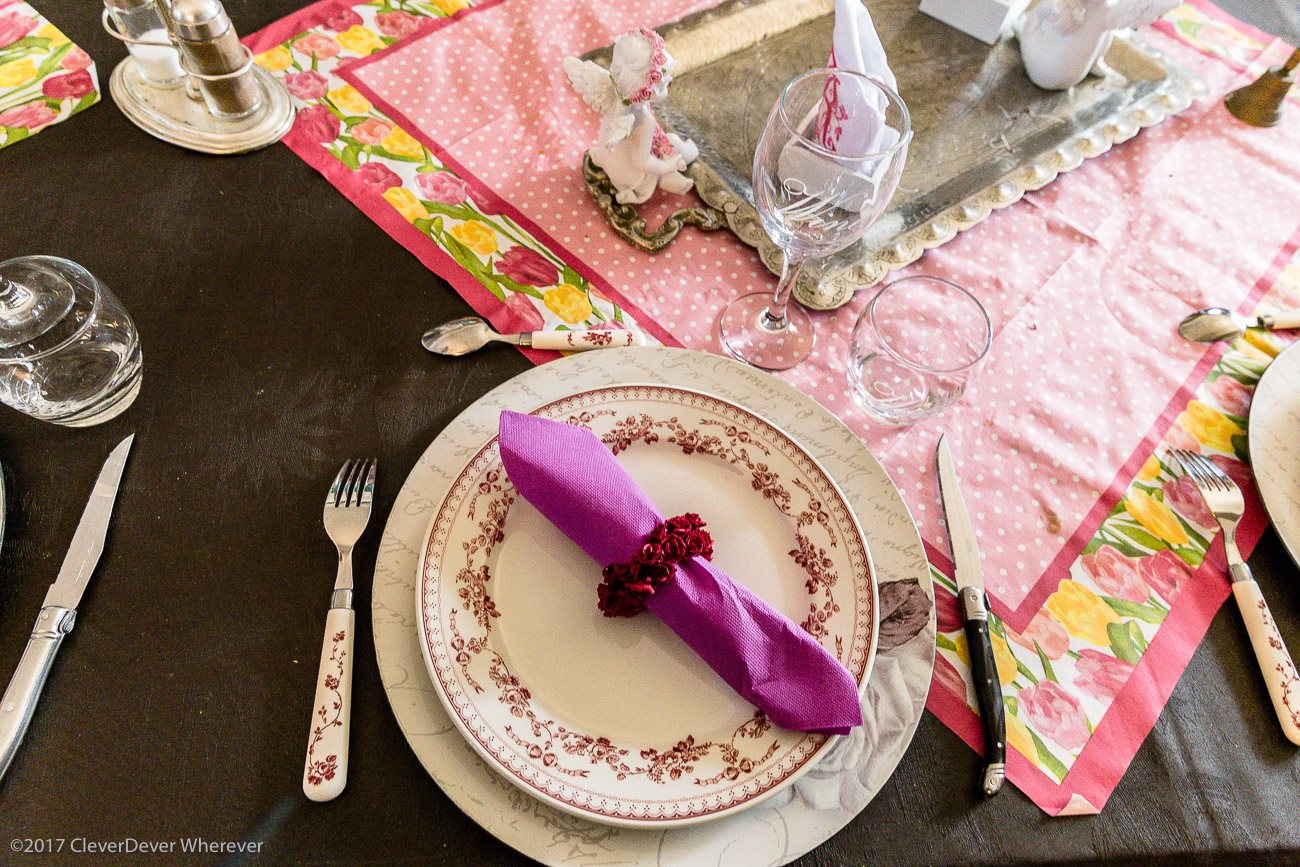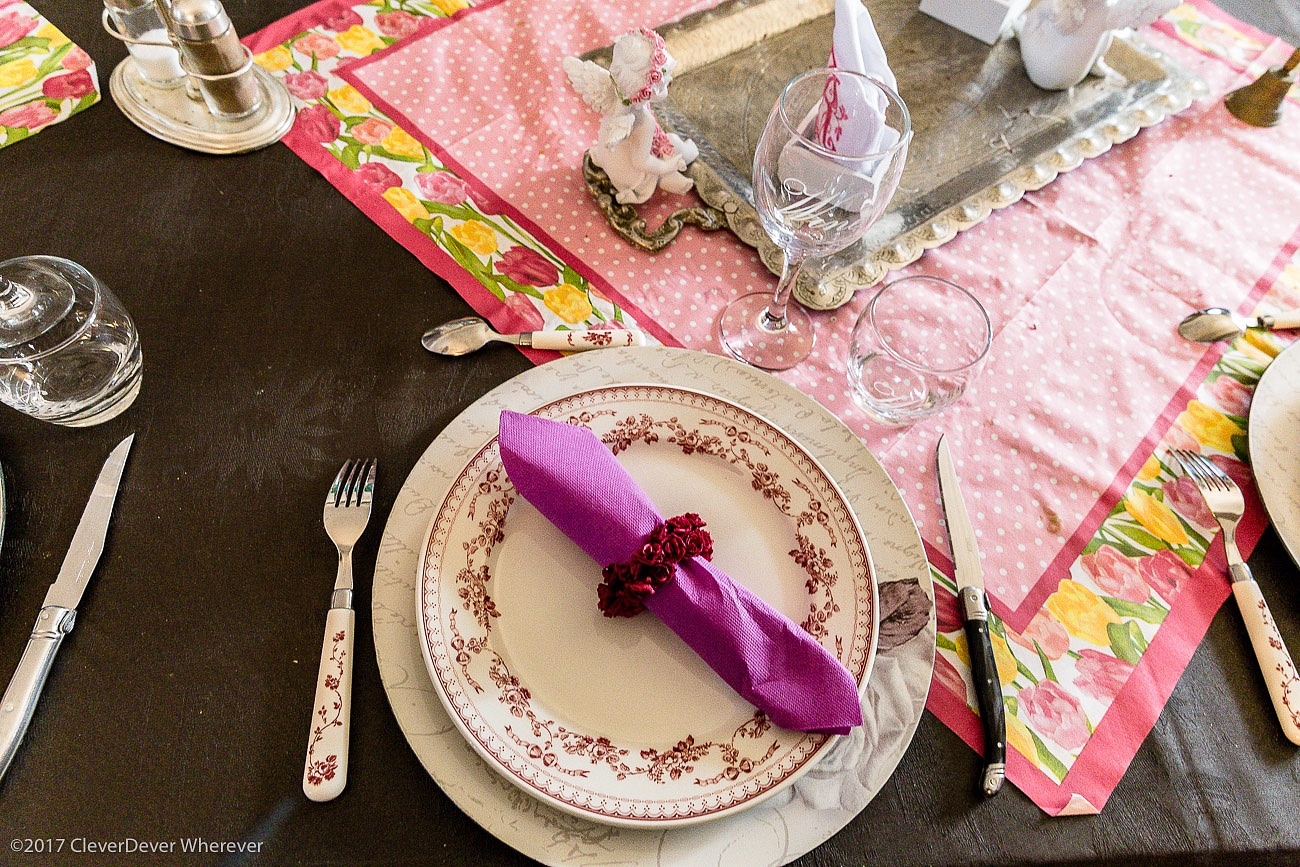 A plate of nonnettes, local gingerbread pastries filled with raspberry jam, was passed around. I was so full, I couldn't try one.
Then a platter filled with the famous chocolate snails began inching around, mounded up like a Ferrero Rocher commercial. Okay, one bite.
It tasted like…chocolate. It's not like I wanted it to taste like a snail, but I guess in the back of my mind I had built it up into something slightly funky any mythical. But here, in my moment of truth, it was just milk chocolate in a spiral shape, fine for any mortal to enjoy.
When a Traumatic Moment Brings a New Beginning
After dinner I got a chance to poke my nose into the newest room she was refurbishing in the attic.
It's filled with sailboat replicas, a fireplace, and antique French furniture that I suspect is very easy to come by in France.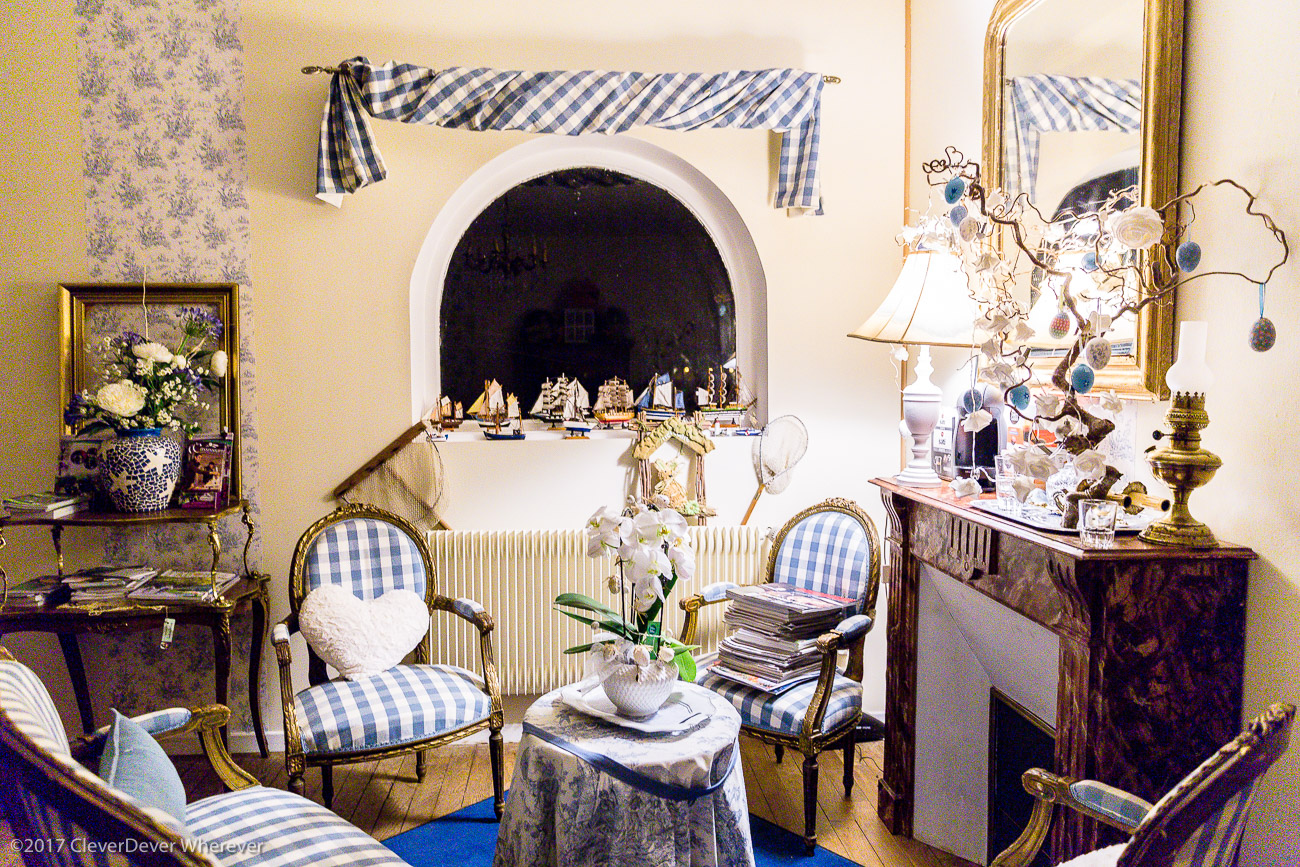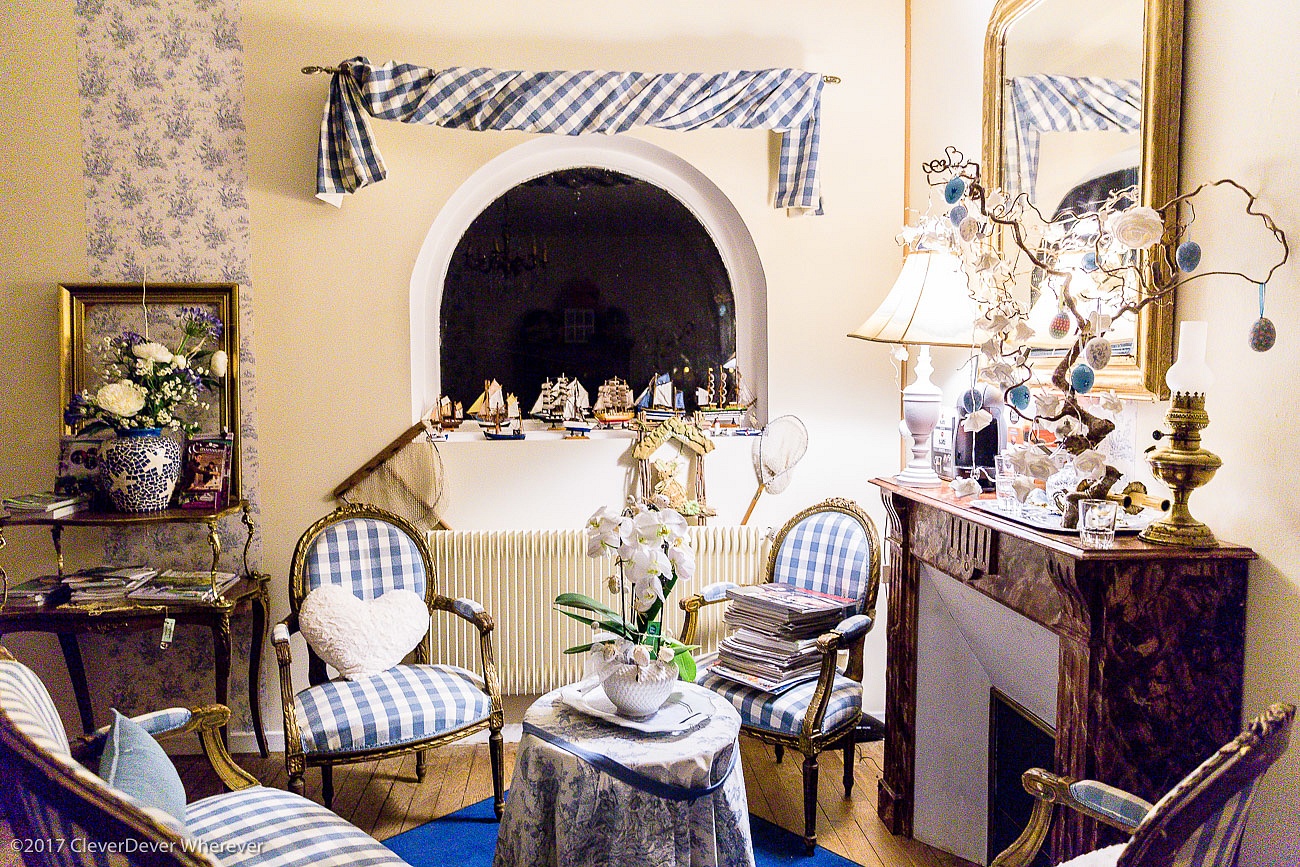 "Why did you decide to buy this home and make it a guesthouse?" I ask.
"Because my husband is from Beaune (a nearby larger city) and when he had a health problem we wanted to be closer to his family. He had a stroke, a cerebrovascular accident while driving a motorway four years ago in the South of France."
At the time of his accident, he drove busses for a living. Yves could no longer continue in that profession so they moved forward using their skills to start anew.
As a travel agent, Catherine had spent a great deal of time helping others to experience the world. Now she and her husband had found away to make the best of the next phase of their lives. They had built a home and filled it with love and boats and homemade food. Now the world was coming to them.
"They come from everywhere. People who want to buy boats, or people on bikes doing the EuroVelo 6 road, for romantic weekends, for work also, I have a guest on my table now for 6 months from Sunday to Friday, because his family lives in Lyon but he works around here."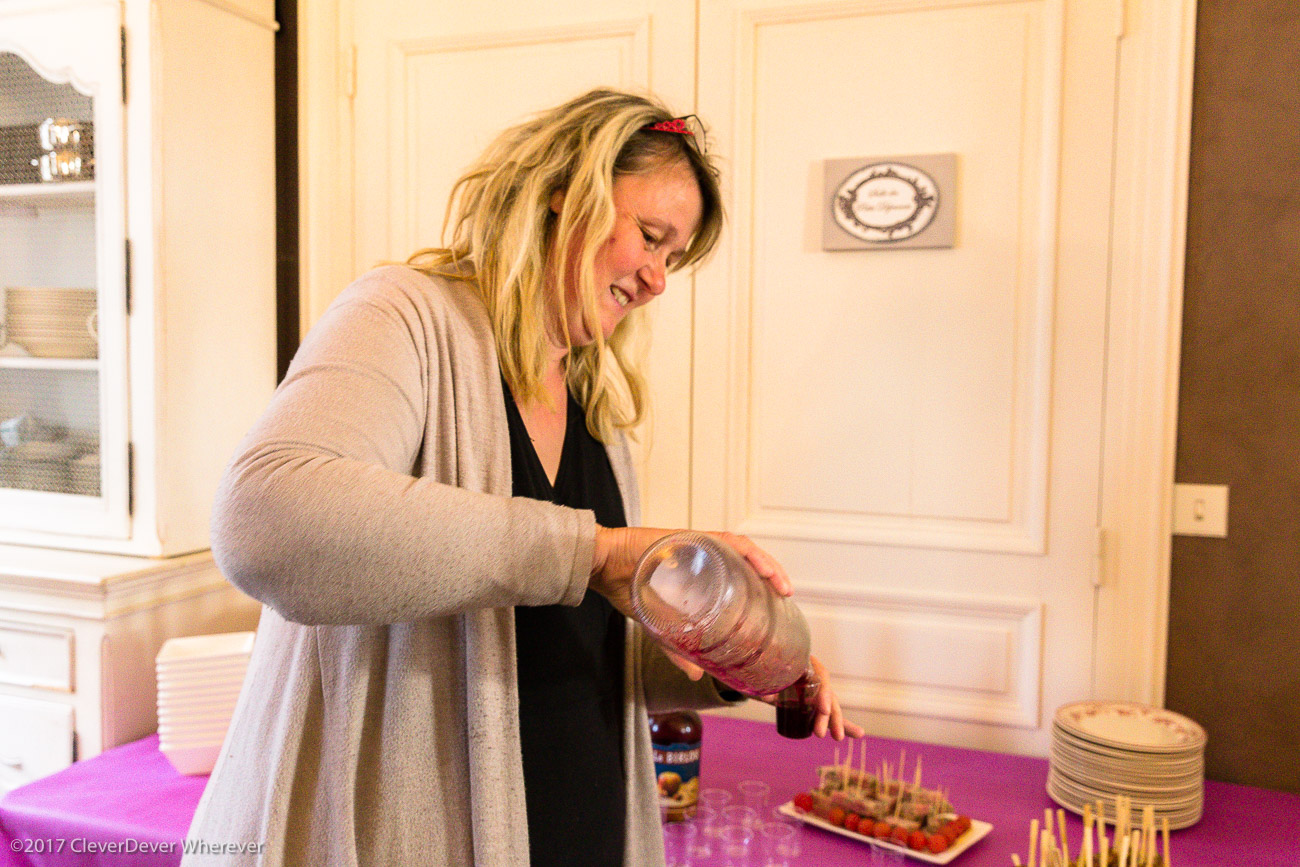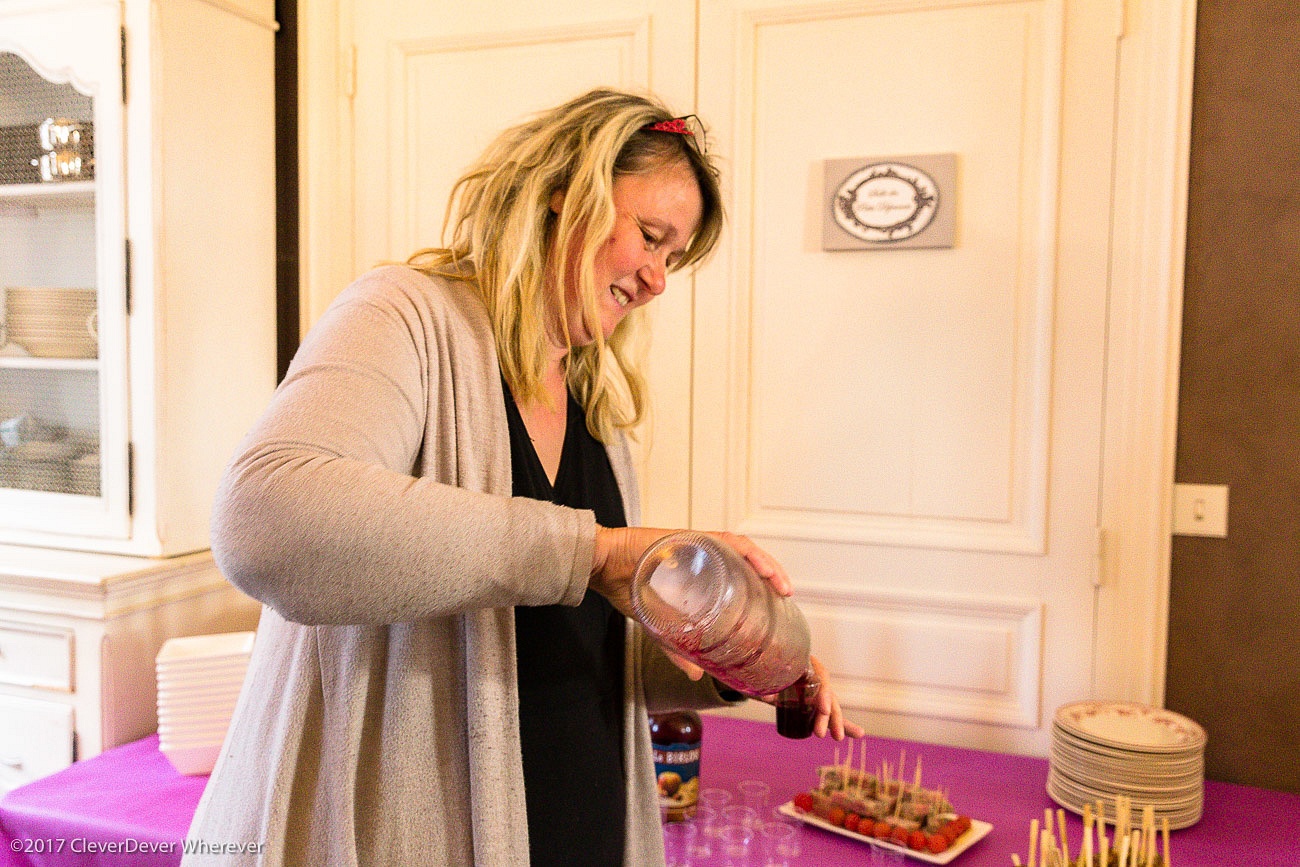 She scrunched up her face and laughed, speaking fondly of something we both loved so much. Travel, connection, humanity, kindness.
"It's a very rich experience to meet all the people."
Those are the kind of riches that no one can ever take away.
If you'd like to stay with Catherin and Yves in the Maison d'Hotes in Saint-Jean-de-Losne, you can find them at www.demeuredelilerollet.com or email them at demeuredelile@gmail.com. They are also listed on booking.com and www.gites-de-france.com.
There are five rooms, all decorated in French nautical country by the Jouffreys.
The awesome folks at GAdventures, who hosted me on my brilliant cruise through Burgundy, France, made this adventure possible. Of course, this interview and all opinions are my own.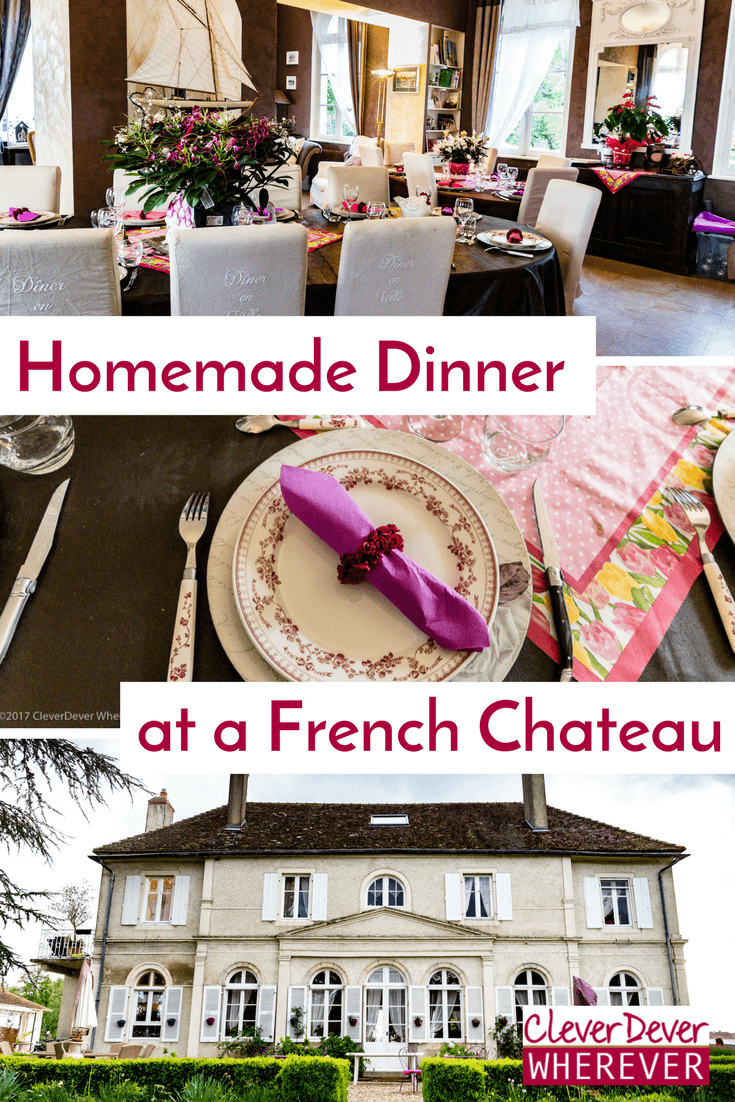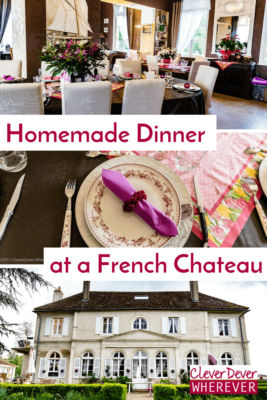 Read More About
Meeting Locals