"I feel like a Druid, searching for herbs, creating things." Nathalie Thibault puts what looks like a teeny pinecone in front of me.
We're in the packed Café du Presbytère, a cozy restaurant inside of one Chicoutimi's several repurposed churches. There are more churches than parishioners in the boroughs of Saguenay, Québec. Many have been turned into office buildings, restaurants and even skate parks.
This particular church sits across the street from the little white "survivor house" of the catastrophic Saguenay flood of 1996. It narrowly missed destruction when a Niagara Falls-like deluge swept away nearby homes and buildings. Nathalie's home, hundreds of yards away from the disastrous wall of water, was also spared. But where Mother Nature takes away, she also gives. Nathalie has the coniferous cornucopia of Northern Canada's boreal forest at her disposal, and she makes the most of it.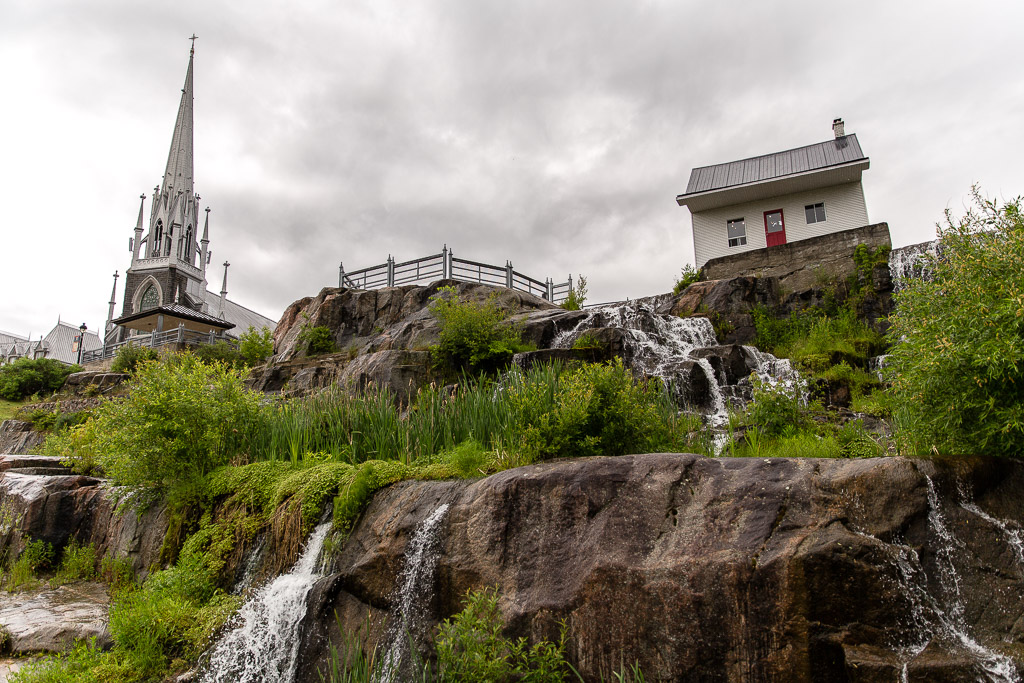 I take my first taste of this area's cuisine. Nuanced with wintergreen and sweet myrica gale that Nathalie has hand-foraged specifically for the café, she explains what first prompted her to head out into the forest to look for seasonings.
"I went to a co-op wanting to get some spices and found out that one of the things I was looking for was $600 for a kilogram. As much as I thought that was reasonable, I couldn't afford it. I took my two dogs Victor and Molly and went foraging for the items myself."
The casual atmosphere of the restaurant and the genuine quality of the surrounding diners make me quickly feel like I'm part of a community.  This is another aspect of Nathalie's mission. The café was created as a socio-economic project that allows people to integrate or reintegrate into the workforce.
"Our Café du Presbytère is more than just a restaurant. This work experience usually serves as a starting point at the social as well as professional level."
She opens a jar of her homemade jelly and shares it. My brain is confused by my taste buds, which fully expected a typical fruit flavor and instead got a burst of Christmas. "It's fir!" She smiles. I've never had tree jelly before and yet, now I don't want to live without it. I'm so grateful she brought a jar for me to take home.
My lunch is a delicately seasoned wild salmon and a heaping pile of funny green discs. As I try these fiddlehead ferns, a bright green furled frond, I ply Nathalie with more questions. She's kind and patient enough to answer them.
What do you find when you forage?
"This is a list of the items I find nearby in the woods: Labrador tea, wintergreen, daisy buds, sweet myrica gale, alder green, sweet cherry, fir, spice, fiddlehead fern, and wild mushrooms."
How helpful are Molly and Victor with that endeavor?
"I like the fact that my dogs accompany me, and I love seeing them run freely in the paths; they look so happy! I also feel safe knowing that they are there, and the rare times I got lost, Molly was able to help me find my way."
Can anyone purchase the foods you create from your herbs and spices?
"The majority of our menu is cooked fresh with ingredients that are picked regularly, so for the moment, our clients can enjoy our products only on site, at the restaurant. However, we are hoping to eventually sell the seasonings, and our homemade products such as cookies and jellies in order to help finance our café's social mission!"
What have been some of your most interesting jobs?
"I have had many interesting jobs, but the jobs I am most passionate about are the ones that have allowed me to use my creativity as well as respect my values of sharing, equality and justice. I began by working in the kitchen of a well-known Italian restaurant in Montreal and learned how to survive even though I didn't understand a word they said.
This is where I learned the importance of organizing, planning, respect, time-efficiency, and quality cuisine. When I moved to this region, I worked as a sign painter and again, worked on developing my dexterity, my creativity, my precision, and my artistic side. I finally decided to leave sign painting to head a youth organization with the objective of defending their rights and working in a field I believed in!
This finally took me to where I am today; the café is a balanced combination of my passions."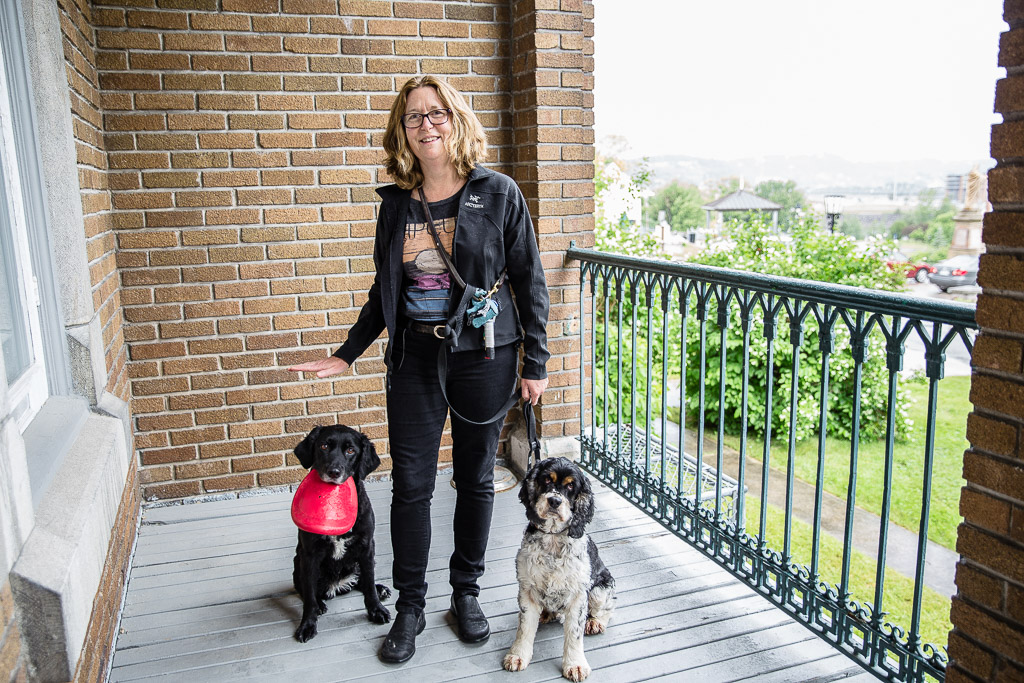 What's your favorite way to spend a day?
"Waking up early, enjoying an excellent coffee, listening to the news on radio-Canada, doing yoga, walking outdoors with the dogs, going for a quick motorcycle ride, enjoying supper in a great restaurant with my sweetheart."
If someone was visiting your region for the first time, what would you recommend they see? Do? Eat?
"Naturally, I would invite them to a boreal culinary experience at the Café du Presbytère; and to discover the other ambassadors of boreal regional flavors – to try our regional products such as our beers, cheeses, etc.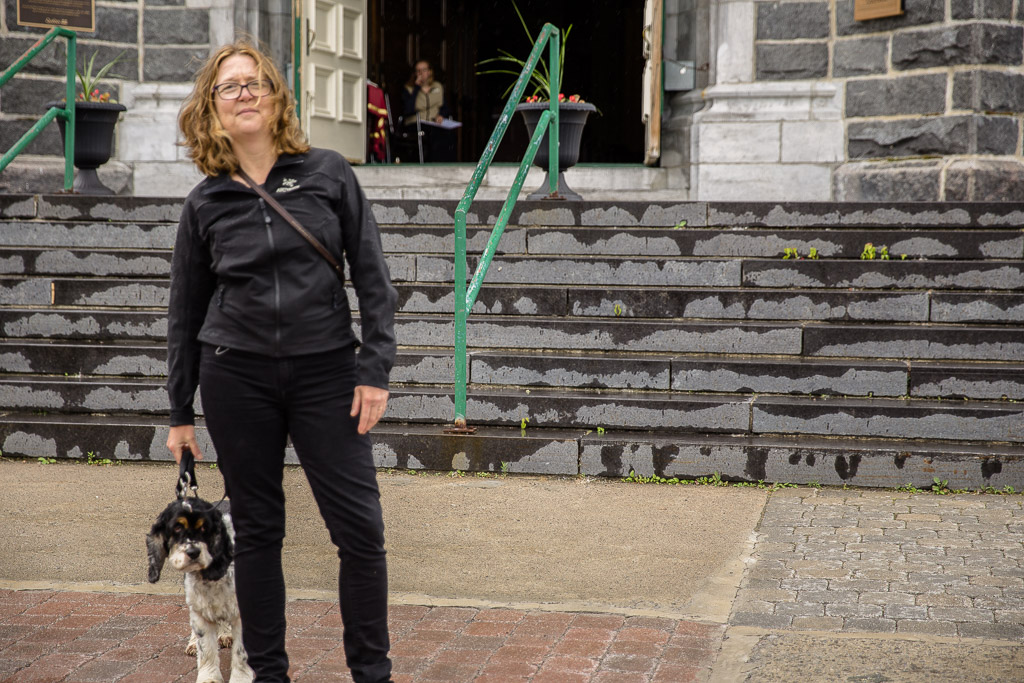 I would also encourage them to take excursions to: Parc National du Fjord du Saguenay, Parc National des Monts Valin, Parc de la Rivière du Moulin, Sentier Eucher, Sentier du Saguenay.
I love the breathtaking scenery, the proximity of the natural paths for all ages, the boreal, and above all, the people's friendliness!"
Anything else you'd like us to know?
Happiness is like chocolate fudge. If we want it, we have to make it.
If Nathalie's making it, I'll have a double portion.
The Saguenay-Lac-Saint-Jean region was my third stop on my Canadian Road Trip which started in Montreal and then Quebec City. If you are visiting the Saguenay-Lac-St. Jean region, please make sure to stop by the Café du Presbytère for a homey, authentically boreal meal and try some of Nathalie's creations!
What does Nathalie make from the items she finds?
Wintergreen: Used in adding flavour to our pumpkin jam, creme caramel, cream of vegetable soups.
Labrador tea: Used in sorbet, marinades, sauces, seasoning meat, jerk meats, fish, tofu.
Sweet myrica gale and alder green: Seasonings for meats, rubs, sauces, flavored oils.
Wild mushrooms: Sautéed in white wine, used on pizza, on pasta, mixed with local cheeses and serves on crostini.
Fir: Cookies, in jellies which are used on pâte, cheese, and brushed on meats, fish, and terrines.
Spruce: Pickles, as flavored salt and sugar, jelly, on meats and fish, used with pate, terrines and salmon gravlax.
Sweet cherry: In jellies, sauces, marinades, served with terrines, pâtés and cheese
Daisy buds: Pickled and served on smoked salmon to replace capers.
Fiddleheads: Pickled, as a mousse, sauté with white wine and served on pasta or pizza.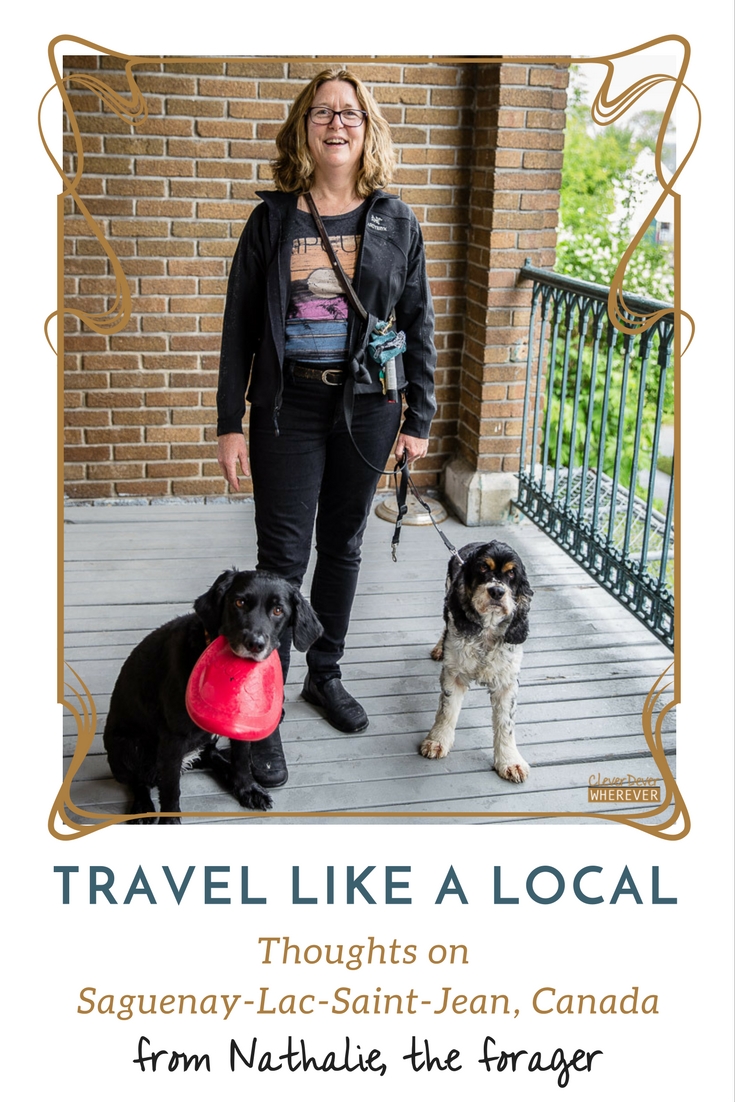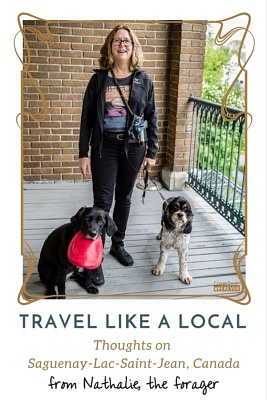 Read More About Québec