Quebec City, and more specifically Vieux-Québec (Old Town Quebec), is a portal direct to historic Europe. It's classically beautiful, poised, and beguiling. For anyone in North America who dreams of a romantic cobblestoned getaway, but doesn't want to spend the time or money to get to Europe, Quebec City is your place.
The centuries-old village, with its perch above the St. Lawrence River, radiates casual elegance in equal amounts. Comprised of both the Upper and Lower towns, Vieux-Québec is a flirtatious kind of city, like Paris, that invites you to revel in its charm.
I spent a far-too-short weekend here on my girls' Canadian road trip (with my friends Rachel and Stephanie, whom you may remember from the painful Ghost Tour experience). This was our second stop and all three of us instantly fell under her spell. We arrived by train from Montreal – a relaxing, and might I add European, way to travel.
There's something about Quebec City's Old Town that made me want to meander. Instead of being in a constant state of doing, I found myself simply strolling: a pastry here, a bit of shopping there, relaxing on a bench overlooking the water, or lingering over a glass of wine. I even slept in until 10:30am one morning.
It's truly a city to put on your "must visit" list– I can't wait to return!
If you only have a weekend in Old Town Quebec City, here are a few suggestions of how to spend it. This list is in no way comprehensive as it is only what I was able to enjoy in two days time.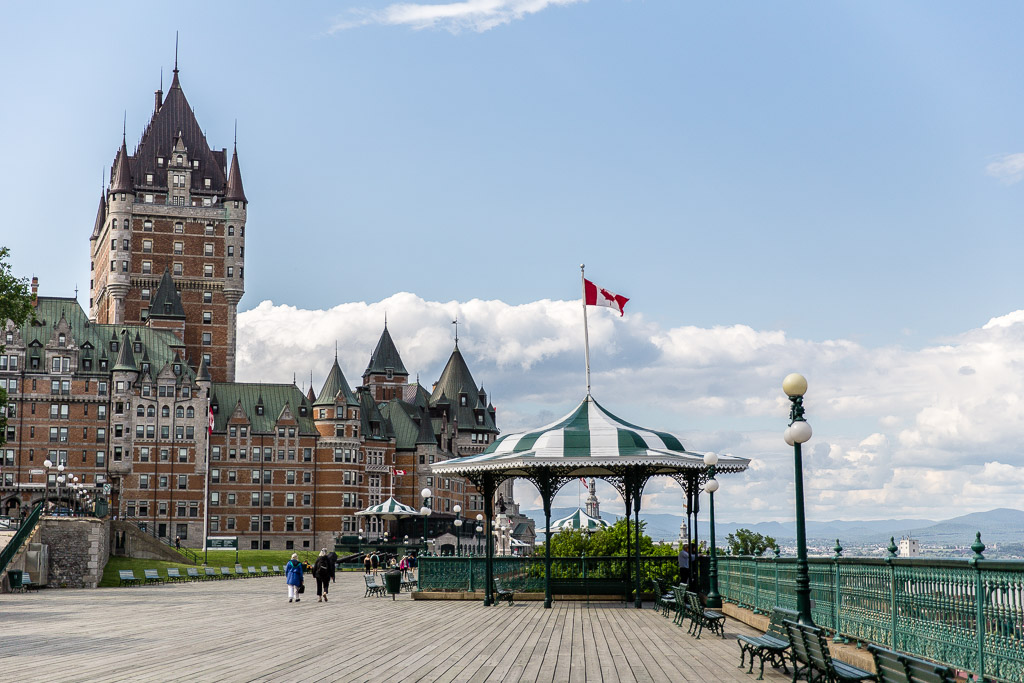 Day 1
Hotel check-in: Chateau Frontenac
Sidewalk café lunch in Upper Town (see my recs below)
Get lost in the alleyways and charming streets of Vieux-Québec
Browse the pop-up shops of the Artisans of the Cathedral
Ghost Tour (choose carefully)
Dinner in Lower Town
Ride the Funicular back up to Upper Town ($2.50 CAD)
Night cap at the Chateau Frontenac for craft cocktails revived from the turn of the century. (The Victorian century, not the Y2k one.)

Day 2
Sleep in 🙂
Breakfast European style w a coffee and pastry in Lower Town's Place-Royale (try La Maison Smith – 23, Rue Notre Dame)
Visit the shops and boutiques of Lower Town's Quartier Petit-Champlain neighborhood and pick up some mementos
Lunch at any of the lovely bistros
Walk the Terrase Dufferin for gorgeous views across the river and beyond. This connects you to the –
Plains of Abraham, a large park and historic battlefield, which connects you to the –
The fortified ramparts of the walled city
Dinner at Bistro Boulay
Tip: If you love activities try Montmorency Falls Park. I didn't get a chance to do this because I was so busy moseying around and sitting idyll at cafés. But the waterfall looked gorgeous; you can even take a boat ride up to it.
Stay: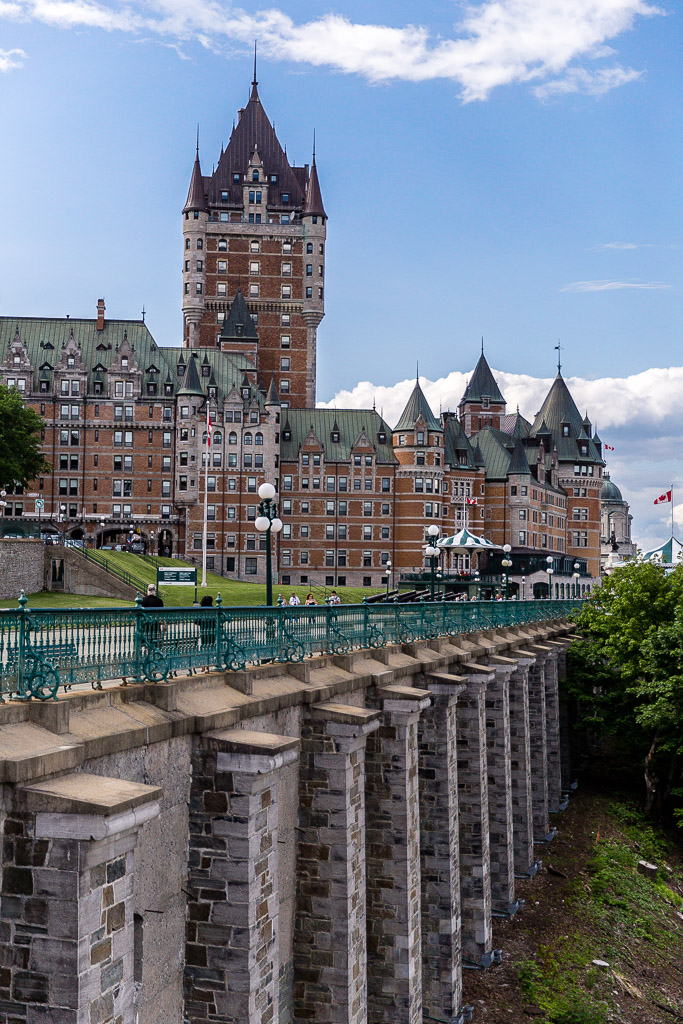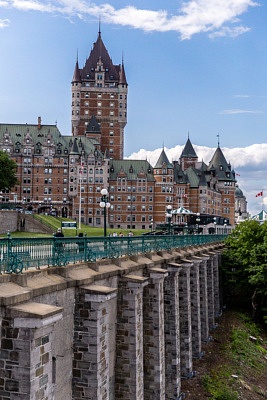 1 rue des Carrières
This National Historic Site of Canada is a wonderful luxury hotel as well. Giving the Upper Town its fairy tale skyline, it also sits on a promontory above the river, allowing guests lovely views of Quebec. The service here was over and above my expectations (and as a frequent hotel dweller, they are pretty high).
The staff were some of the kindest and most adorable people I've met. Can I say adorable? Because they were, I really just wanted to hug so many of them, but I refrained because I didn't want to come off as a weirdo. Though I probably am now, so I'll just stop right here.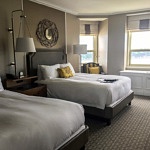 The rooms are updated, comfortable and well appointed. Which means reading lights placed so that you don't have to contort or get out of bed to turn them off, outlets in logical locations, room for luggage, convenient towel hooks, etc. Those little things drive me bananas when they are not thought out. Most rooms are on the small or "European sized" side, but I found it cozy. The location is perfect for exploring both the upper town (in which it's located) and the lower town. The funicular and the steps to the bottom are just outside.
Tip: Ask for a river view room
See/Do: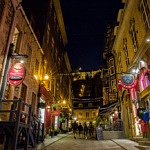 Free
Romantically European and historic, it's hours worth of fun to get lost in the alleyways and charming streets of the Upper and Lower Towns of Vieux-Québec's walled city.
Night Ghost Tour – ratings differ based on your tolerance of theatrics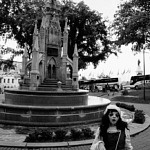 Around $20CAD per tour
I can't give up on this one! I adore walking tours for the richness of stories and the familiarization you get of the city. But they are not all created equal. Read my review here and choose the tour that's right for you.
Funicular / Funiculaire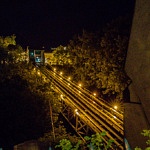 16, rue du Petit-Champlain
$2.50CAD per ride
I don't know what it is about riding trains at 45° up a cliff side, but it's FUN. Plus this is the quicker, less active way to move between old Quebec's upper and lower cities.
Terrasse Dufferin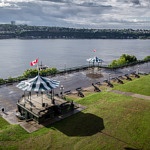 Free
This public terrace wraps around the Chateau Frontenac in the Upper Town, its wide boardwalk made for strolling. With gazebos and benches you can also just sit and enjoy the beautiful views across the river.
835, avenue Wilfrid-Laurier
Free
Once a pivotal battlefield in the 18th century, this large open park is now Québec City's urban green space and gathering point. Anyone can enjoy walking, picnicking, concerts, skating, and community events (like the month-long Halloween Haunting) here. The pathway through the park connects Terrasse Dufferin with the old walls around the city.
2 Rue d'Auteuil
Free – or take a guided tour
The only remaining walled city north of Mexico, you can walk the 300-year old walls yourself of take a guided tour. Accessed by either the Plains of Abraham Park or start at the city gate on rue d'Auteuil. Even walking a little bit of the nearly three miles of fortifications allows for great views across the city.
Eat/Drink:
Lunch in the upper town (Haute-Ville)
There are lots of touristy cafés, but part of the fun is sitting outside at bistro tables, sipping wine and people watching. The trick is to find somewhere that at least has slightly tasty food. Ask your concierge, one of your friendly hotel staff or set out on foot and take a chance.
Here were the handful that I tried: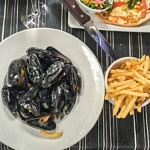 32 Rue Sainte-Anne
entrée, wine and dessert $30CAD
Great location on the main square of the Upper Town with friendly staff. I found the food utterly average, but thoroughly enjoyed being outside, sipping local rhubarb wine (it's white, tart, slightly sweet), sharing veggie pizza and some moules et frites with friends.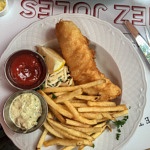 24 Rue Sainte-Anne
soup, salad, shared entrée, one side and wine $40CAD
The food here was really good. My friend and I started with the roasted carrot soup, which was velvety, and complex, a fresh tasting green salad with a nice herb dressing. We shared the fish and chips, and I carbo-loaded with the Potatoes Dauphinois which I will never pass up if I see it on a menu. Accommodating and kind staff, great location on the main square in the Upper Town.
Dinner
1110 Rue Saint-Jean
three courses plus wine $45CAD
Recommended repeatedly, this upscale bistro did not disappoint. It was my favorite meal by far. The seasonal menu blends the local ingredients of Canada's Boréal region with a Nordic influence to create inventive and super delicious dishes. Make sure you get a reservation to this hopping bistro, it was full the night I was there. My friends and I shared the cappuccino and mushroom soup (outstanding) and the Arctic Char carpaccio (excellent). My salmon in a puff pastry entrée was perfection.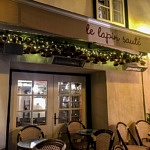 52 Rue du Petit Champlain
two courses plus wine $30CAD
We chose this adorable restaurant in the Lower Town based on ambience. It had an outdoor courtyard twinkling with string lights, and blooming with flowers and foliage. It was a perfect outdoor setting for the evening. The wine list is nice and they offer lots of carafe options. They also have a fantastic cheese fondue that we loved so much we ordered a second one before we had even finished the first. The vegetarian pasta dish with crushed cherry tomatoes and ground nuts was a light balance to all of that cheese fondue.
Shop:
Both Upper and Lower Town have lots of local goods and souvenir shops and is worth an afternoon of wandering.
7 Rue De Buade
My friends popped in here and managed to find a 90% off sale. Other items can be pricey here, but the jeans and tops they bought there were super cute. It's worth trying the upstairs sale floor just in case you can nab a bargain.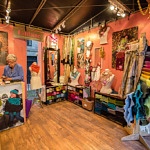 Outdoor in the courtyard of the Cathedral of St. Trinity, near the Chateau Frontenac.
The pop-up shops are seasonal, appearing in the church courtyard from June – October each year. Everything is handmade from a collective of 15 different artisans and are uniquely Québecois. My favorite was the funky little Folilaine which features boiled wool artsy cold weather accessories. I bought the neck scarf and fingerless gloves for myself, and several gifts for friends here.
Disclosure: As a Booking.com Associate, I earn a small amount from qualifying purchases. However, I don't recommend anything that I don't personally love.
Have you been to Québec's old town? What would you add to this list of recommendations?