Montreal is what I call one of those "lifestyle cities," like Los Angeles or Milan. It's not flash-bam "tourists do all of these things NOW!" out of the gate but has neighborhoods packed with art, beauty, history, delicious food, and gorgeous views.
Each borough has its own gems for you to discover and almost requires slow travel to do so. It may take a few days, but once it hits you, you're in love. It's the kind of city that you can return to again and again, newly delighted each time. I'd say it's like an onion, but I've never watched anyone peel one layer by layer, or be surprised at it having layers; but you get the reference, right?
I visited in June, which surprised me with some fairly extreme heat of 90° F / 32° C (yes, I know Canada isn't ALWAYS cold, but I was still surprised, okay?). I was there for four days and asked several locals where to go. Here is my rundown of what I did while in Montreal, and my honest reviews to help you with what to do when visiting Montreal. Enjoy!
When to visit Montreal
December – March: Winter can often go sub-zero and snow is frequent. Because visitors tend to stay away, much of old town closes down.
April – May: Winter may linger into April, but spring is in the air and crowds are not overwhelming.
June: You might experience a heat wave (like I did), but the city is alive but not crazy crowded yet.
July – August: Most popular, most crowded. Lots of festivals and outdoor activities during this time.
September – October Fall is lovely. Cool weather, gorgeous colors.
Highlights
Old Montreal
Strolling around the boutiques and restaurants of the Mile End neighborhood
Walking St. Laurent St. across the city
Jean-Talon Marché farmer's market and eat-fest location
Where to Stay in Montreal
Old Montreal Neighborhood:
I tend to head to the most densely packed areas in the most central parts of town. Though it's absolutely a tourist spot, the Old Port hood of Montreal is a slice of cobblestoned Europe and is a fun, safe place to make your home base.
I love renting apartments (from sites like Airbnb) because you can buy groceries and settle in a bit, not feeling cooped up when you want to chill. Montreal is the perfect city (remember – lifestyle city!) for renting an apartment for a few days.
If you're into hotels over vacation rentals, center your search in Old Montreal, Old Port neighborhood or Vieux-Montreal as they say in French.
What to Do and See
Stroll through Old Town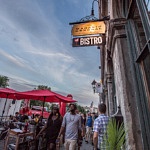 There's so much going on and it's so charming, that you can make an entire day of wandering this small part of town. Especially if you eat here and there as you go like I did. Make sure to catch St. Dizier St. at night for a special motion detection light show projected onto the cobblestones.
Head to Mont Royal Park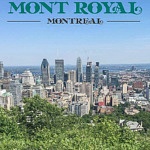 Occupying the highest point in the city, Mont Royal is lookout point, a picnic spot, a place to take walks, and chill out. In the winter you can enjoy snowy activities like tobogganing and cross-country skiing, and if you're there in the summer, head to the eastern edge (Fletcher's Field) for Tam-Tams, an informal gathering of thousands of drum players, dancers, vendors and visitors that gather from around 10:30am until sunset.
Jean-Talon Market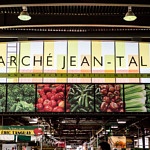 7070 Henri-Julien Avenue
If wandering through stall after stall filled with fresh fruits, vegetables and specialty shops is your thing, you have to head over to the Jean-Talon Market in Little Italy. You can easily make a morning of a visit to this lively public market, starting with coffee and pastries, grab a fresh-made asparagus flatbread for a snack, then load up on fun snacks for a takeaway picnic on your way out.
There is a walking tour available, but you don't need one. Just pop into the market and start exploring and nibbling your way around. There are cheese shops, artisanal bakeries, maple stores, foraged herbs and mushrooms and gorgeous produce in every direction. There is also a food court in the center surrounded by offerings as varied as juice bars, creperies, Belgian waffles and a Greek deli.
Walk down St. Laurent St.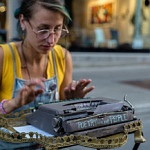 Starting in the Mile End neighborhood and ending at Old Town, the walk from St. Laurent gives you a real feel for the makeup of the city. From hipster to boutiques to street art to cinema, walking St. Laurent will make you feel like a local.
Where to Eat and Drink
Old Town Neighborhood:
Verses at Hotel Nelligan

Three courses and a bottle of wine (shared) 60USD
106 Rue Saint Paul W
David the manager and Martin our server were fantastic, accommodating and kind. They gave us lots of recommendations for things to do all over the city, as well as serve a great walnut ravioli. We visited him several times over the course of our stay in Montreal. Portions are small.
**There is also a great rooftop bar here, though I never got to try it out since it was always so crowded.
Eggspectation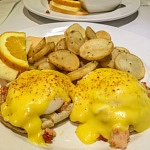 Lobster Benny, pancakes and coffee 24USD
12 Rue Notre-Dame E
Canadian diner chain with an embarrassment of options. Friendly, easy to navigate and perfect for a simple meal. Our breakfasts were good, especially if you don't set your eggspectations too high. See what I did there?
Philemon

Three appetizers and cocktails for two 50USD
111 St. Paul W
Stopped here for happy hour. Their craft cocktails are well done and their snacks were fresh and delicious. I had the mushroom and cheese toast, the mint and green pea tapenade and olives.
Pink Flamingo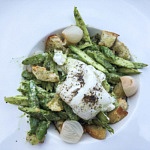 One appetizer and two cocktails 33USD
438 Place Jacques Cartier
Right on the main cobblestoned square, this cool spot has wonderful small plates and lots of farm to table dishes to share. Grab a seat outside and enjoy the homemade sangria or any one of their fun handcrafted cocktails. I really enjoyed the burrata and asparagus salad.
Beavertail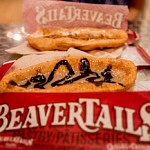 Two Beavertails 6USD
123 de la Commune St. W
Another Canadian staple like poutine or maple flavored everything, you can't get out of Quebec without trying this flat fried donut-type dessert. I begged them to do half and half toppings so I wouldn't have to order 16 different beavertails, but they don't roll that way. I narrowed it down to Skor bar cheesecake and maple. Pretty good, very sticky.
James Rooster Esquire Raw Bar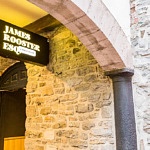 Three oysters and a Bloody Caesar 18USD
3 Rue de la Commune St. W
Another Canadian "must" is the Caesars, a delicious twist on the Bloody Mary. I stopped in here to chill out in the courtyard. I like the ambiance here and the oysters were fantastic.
Le Magasin Général du Vieux-Montréal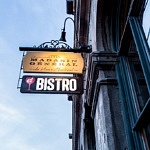 Nachos to split and a drink 12USD
3 Rue de la Commune E
Their pizza looked so very good. I wanted to have one but I was getting full from eating at the four other restaurants I'd already stuffed myself at that day. So, of course, I ordered deluxe nachos with mozzarella and blue cheese. I loved sitting next to the waterfront, which made for great people watching. The nachos were not the best, but that pizza…I want to go back for the pizza.
Kyo Bar Japonais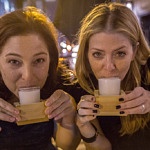 Miso soup and a sake 12USD
711 Côte de la Place d'Armes
This was stop number five in my attempt to deplete Montreal of food. The inside looked like a lot of fun, but I opted for a table on the sidewalk, which was perfect at night. I loved how we drank our sake out of little boxes. The food was wonderful and the service was super friendly.
Délices Érable et Cie

Maple cappuccino and a Maple crumble muffin 12USD
84 Rue Saint Paul E
This place is maple central. Not only do they have cakes, muffins, ice creams and coffees for there or take away, but they also have delicious maple delicacies such as salts, mustards and vinegar balls. Great for souvenir shopping as well.
Maison Christian Faure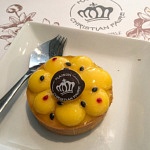 Two-course lunch menu du jour + drink 22USD
355 Place Royale
This was one of my absolute favorite spots for lunch. With a whimsical café and bakery befitting Amélie, the food was as delicious as it was beautiful. My ratatouille tart with mozzarella and pesto was flaky and light and I'm still dreaming of that passion fruit and raspberry tart dessert. On the day we visited Msr. Faure, M.O.F. himself stopped by our table and gave us chocolate mousse cigars and extra macarons.
Mile-End Neighborhood:
M.Mme Wine Bar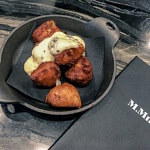 Shared three small plates + glass of wine 33USD
240 Laurier W
There's only three words that matter here: truffle potato balls. Or, as they say in French: Pommes Dauphines avec mayonnaise à la truffe. Which maybe sounds prettier, but whatever. You need these fluffy, creamy, golden crunchy little dream puffs in your mouth. Go now. Bring me back some. Okay, thanks.
Fairmount Bagels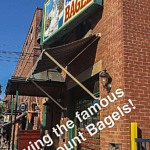 One bagel – less than 1USD
74 Avenue Fairmount W
The minute you get near this place, you're pulled in by your nose on a warm waft of bread, garlic and onions. Don't fight it, you can go carb-free tomorrow. Fresh samples spread with cream cheese sit atop the counter confusing your decision further. The everything bagel was a favorite flavor of mine.
Henrietta Bar 

Aperol Spritz 10USD
115 Avenue Laurier W
Newly reopened in the Mile End neighborhood, this fun bar with cocktails and picky bits has an updated '60s vibe. There's both indoor and sidewalk seating. I only stopped in for a spritz to cool down mid-day, but the small plates looked interesting, with a Portuguese twist.
Where to Drink
Le 4e Mur Speakeasy 

(in my mind)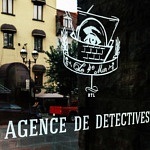 2021 Rue St Denis (but shhh, you didn't hear it from me)
This hidden bar asks you to sign up to get more information about how to get in through the façade's brick wall. Some of us were not so lucky to gain entrance because some of us are lame. A local restaurateur recommended this to me. I still regret that I missed out. Let me know if you go.
Other bars to try according to David, the manager at Verses at the Nelligan Hotel:
Mimi la Nuit
Flyjin
Bevo
Champagnerie
Where to Shop
Mile End Neighborhood
Lots of trendy boutiques.
Underground City
Away from the inclement weather you can shop all day at these connected malls.
St. Catherine St.
Montreal's main shopping area.
Marché Bonsecours in Old Montreal
If you're looking for local crafts from Canada or First Nations, this is the place to stop. Just know that it's mostly maple stuff and sweaters with moose on them.
How to Get Around
Taxis are easy to hail. Uber is a bit of a contentious point, though still available with the caveat that you should hop in front to appear like you're NOT ubering. Cabbies are not taking it well and have caused problems for individual drivers.
Metro is super easy to navigate, clean and safe. Fares are $3.25 each ride, includes transfers.
Notes
Time Zone: Eastern, or GMT -5:00
Mobile service: Typically I buy a local SIM card when I visit a new city, but here I took advantage of my provider's Canada plan. For $2US per day I had full access to my regular service, including calls, texts and data. I could also receive calls from home like I never left. For better or worse.
Tipping: It's customary to leave 15%
Disclosure: As a Booking.com Associate, I earn a small amount from qualifying purchases. However, I don't recommend anything that I don't personally love.
Have you been to Montreal? Live there? What's your favorite thing to do or eat?