We were sinking. I'd never been on a canal cruise and had no idea what to expect, certainly not this. It got dark as a concrete wall crept up my cabin window. I could feel the river barge dropping. I left my cabin, heading straight for whatever the front of the ship is called.
We had approached our first of 170 locks in the canals of Burgundy, France. Our boat was facing big metal gates that rose over us as the water underneath us drained away. Once we were snugly at the bottom of the narrow waterway, the heavy, hinged metal walls opened, granting us access to the next part of the adventure as if we had correctly guessed a password.
This event, this hydro-powered rising and falling, became a favorite time of day for me. It was so simple, yet powerful. I'd stop whatever I was doing to watch the barge rise or sink then glide through thick black portals that allowed us to continue our journey.
"I could get used to this!" I turned toward the voice. It was Lois, a 71-year-old woman from Saskatchewan sitting in the hot tub, watching the waterway through her second glass of Chardonnay.
I was in new travel territory.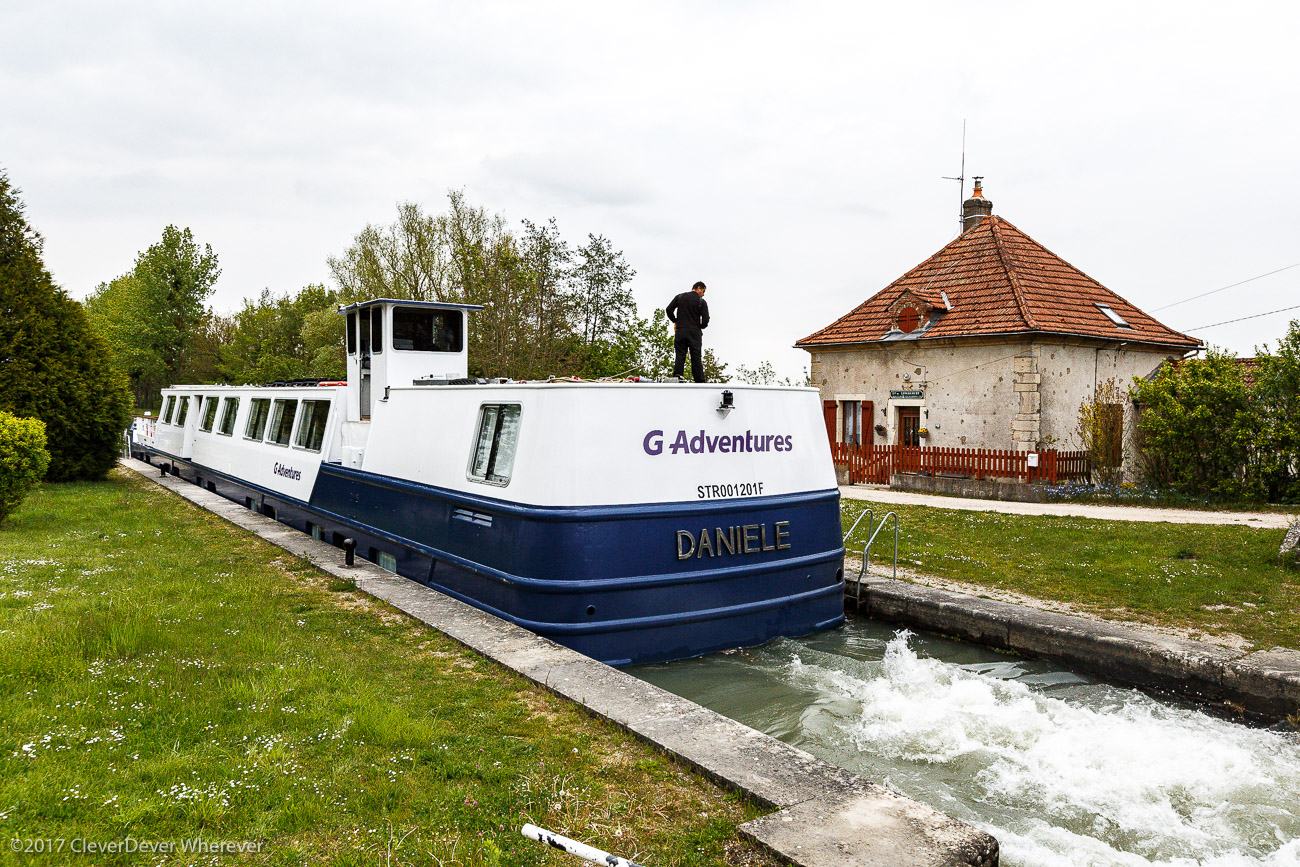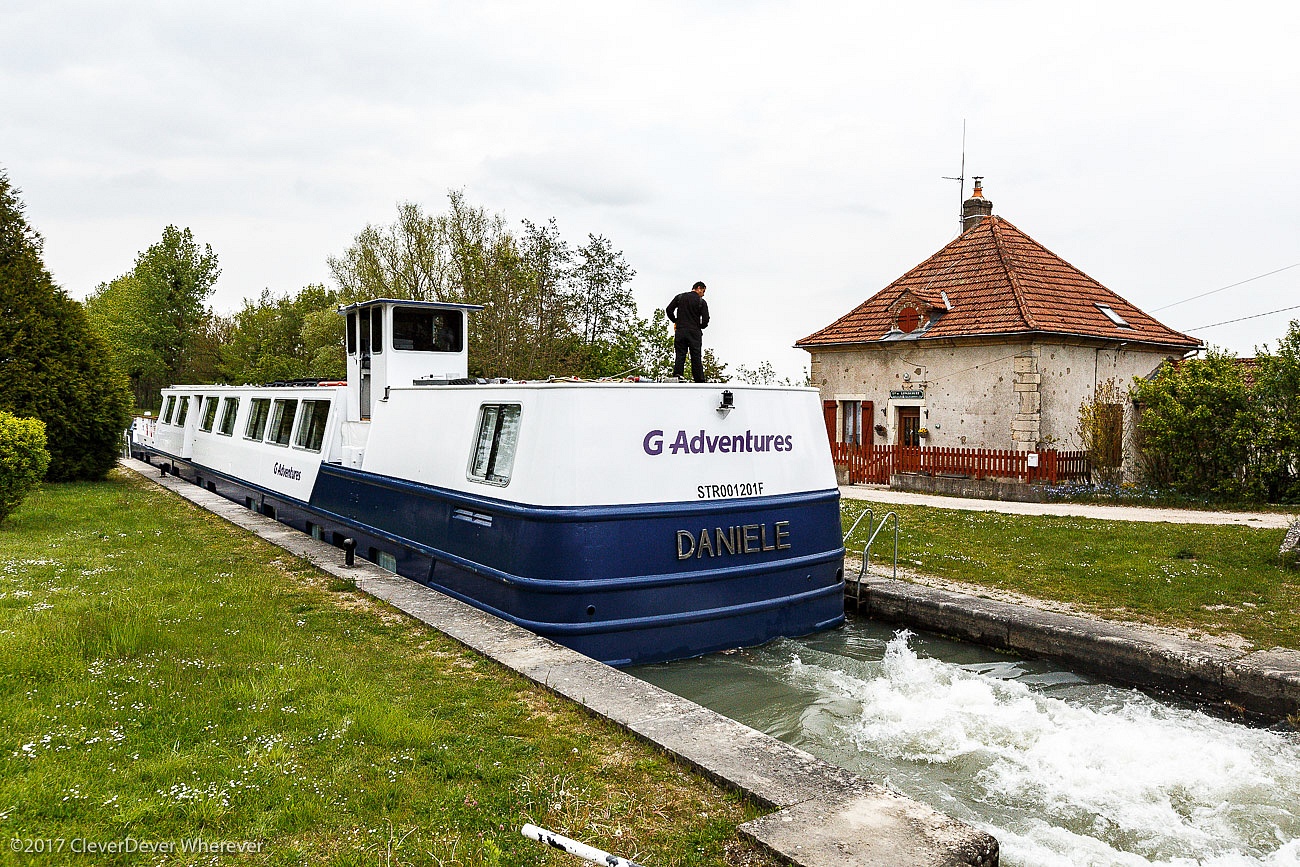 The Surprising Cultural Adventures of a Canal Cruise
How do you measure travel experiences? For me, the value of travel is never in quantifying how many countries I've visited, but how well I've come to understand a culture. Meeting locals, learning about their world, and eating as much of their food as possible always left more of a lasting impact on my life and clothing size.
So, when G Adventures invited me to take a canal cruise on a river barge down the Saône, I wasn't sure what to expect. I've had a reluctance to cruise for fear that traveling with a boatful of people just like me would insulate me from a genuine experience.
Except, nobody was just like me. On a small barge of 21 guests, we had six Germans, one other American, a Kiwi, an Aussie, and the rest Canadians. Delivery truck drivers, retirees, librarians, and diplomats, no one else was just like me.
And so, we drank wine, ate high-fat content French cheese, and floated together through narrow waterways, learning about witchcraft, knitting, and Rammstein.
Over the seven days we spent together in our luxurious little floating community, we joked about bad relationships, ate each other's food, and mourned the loss of Don's cat, who had unexpectedly died back home. Well, all of us except for the Germans, who admitted they had no pets.
Every day, we'd hop off the boat and walk around tiny villages that fronted the waterways, something I might've missed if I'd driven or taken a train though the region. We walked eight miles, canal to our left, fluorescent yellow canola fields to our right.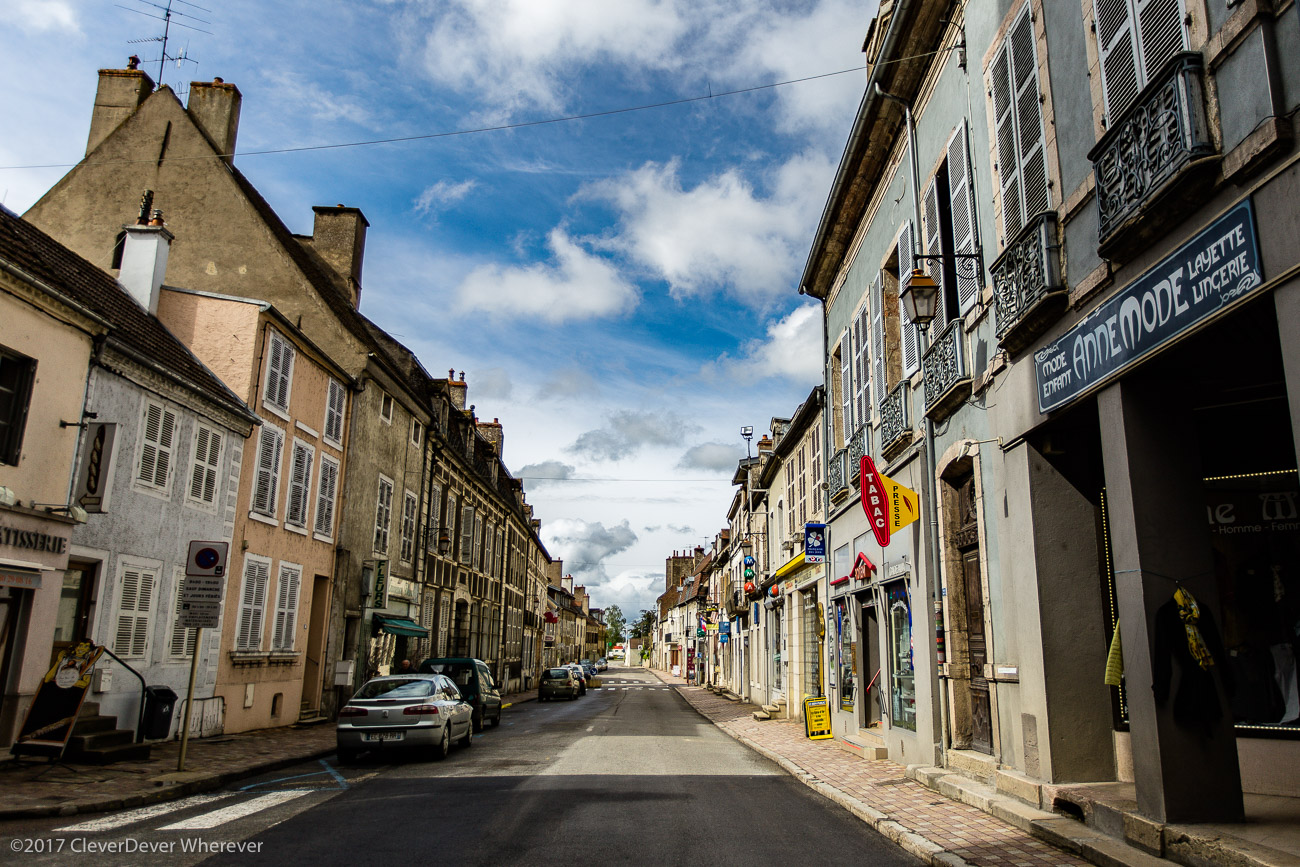 We visited French folks in their homes and heard fascinating stories about American soldiers hiding out in World War II. We learned about "eunuch" wines and "hairball" tea (which I later realized was "unique" and "herbal" with a thick French accent). We cruised past 16th century castles on bikes.
One night, docked beside the small countryside village of Saint-Jean-de-Losne, we had dinner with Catherine, a woman who, because of traumatic family circumstances, bought a small, canal side B and B to support her family.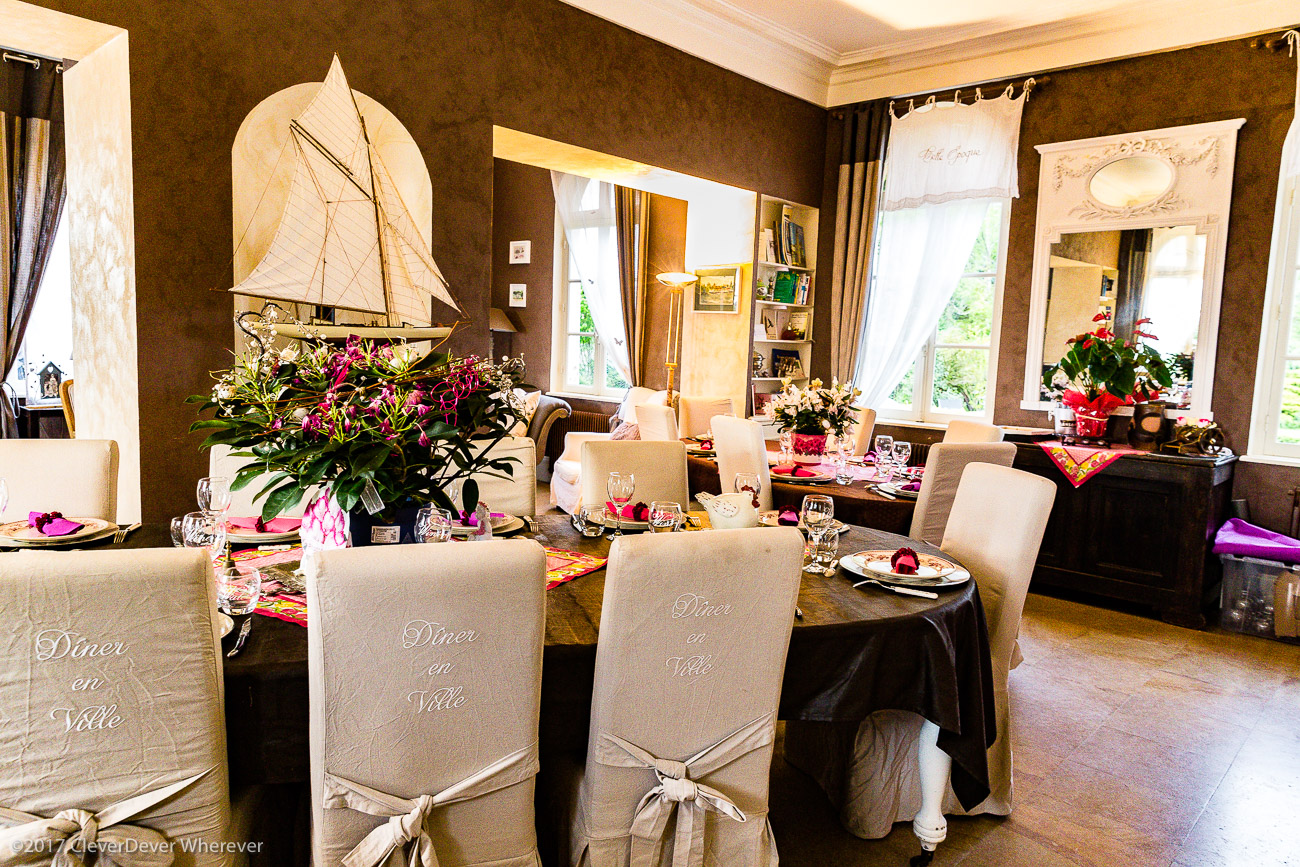 We sat around beautifully decorated tables in her salon. She set out a huge spread of regional French dishes she had made herself and explained each dish as we helped ourselves. Rick, our Aussie, played 'Ode to Joy' on her piano.
The Germans, who were often busy speaking German to each other, suddenly perked up and sang along to the Beethoven song as if a homing device had suddenly been tripped. It was as if the words were deeply imprinted in their psyches. When Lois asked them to play a song next, they declined.
"We don't know how to play piano," Hans stated.
"No pets, no piano lessons, what kind of childhood did you have?" She lobbed back at their table. I loved her.
People who travel tend to have limitless conversation topics and are often younger of spirit than those that don't. And some people have an energy for life that is inspirational to watch.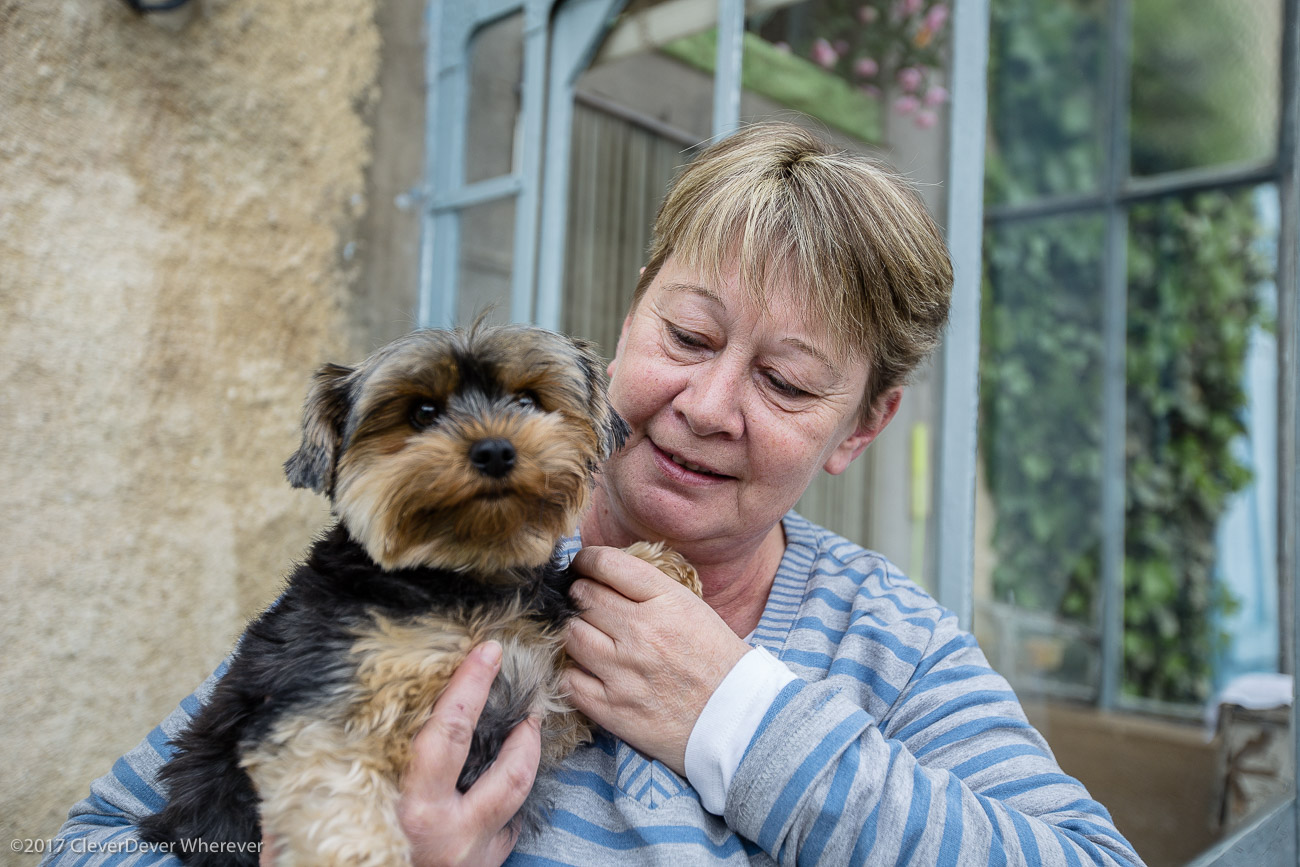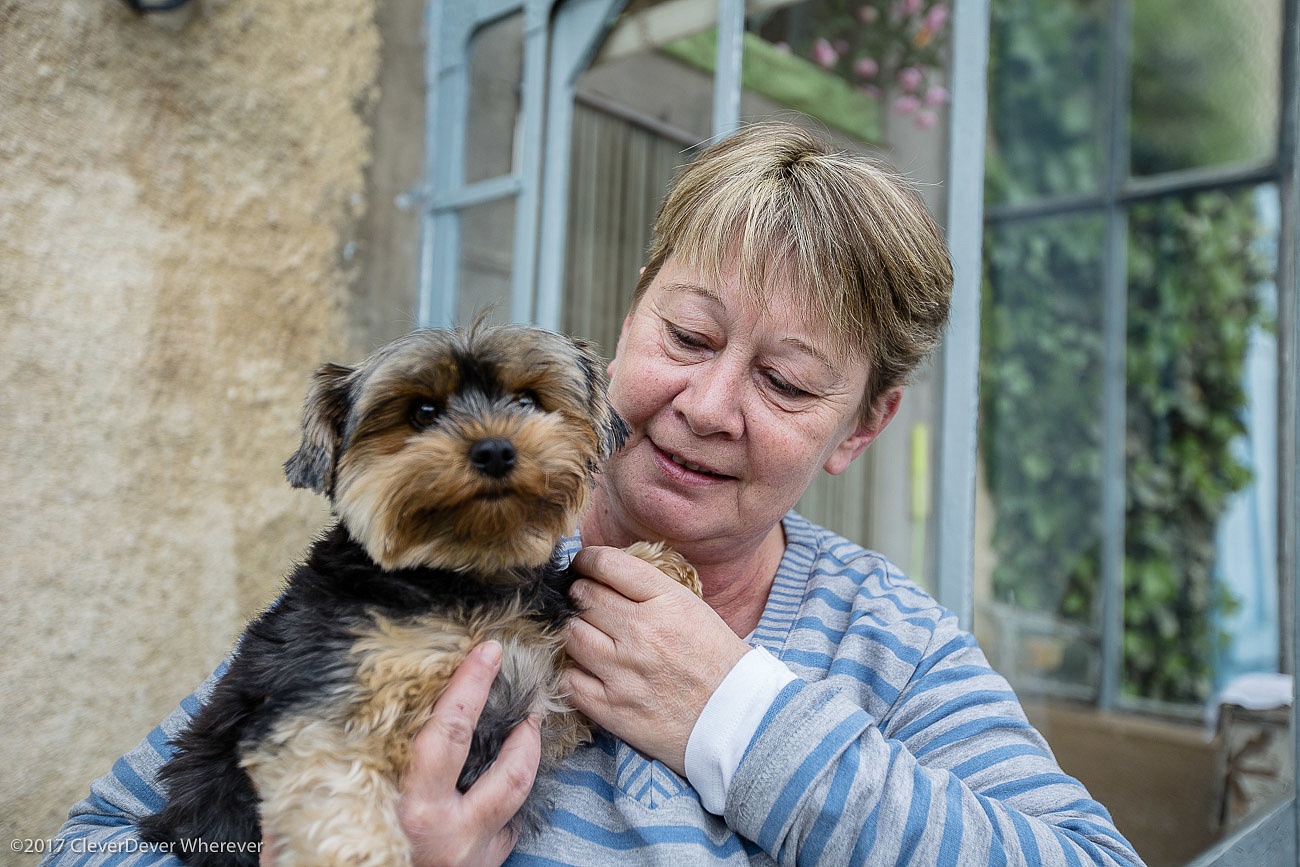 Lois, whose husband had passed away a few years ago, was quickly becoming my spirit animal. She was sassy, genuine, hilarious, and never seemed to get tired. She ate everything offered, no matter how full she was, exclaiming "You don't pass up a chance like this!"
She was also far better at day drinking than me. The cruise's daily open bar policy ensured she, and really, most everyone, had a drink in their hand throughout all waking hours. I couldn't keep up.
What was happening to me? So far, my greatest accomplishments on this trip were watching the barge rise and fall in a canal, eating 13 platefuls of cheese, and laying on my cabin bed, staring at fields of cows drifting by. I needed to get out there and live like Lois!
The day came for us to bike 20 miles. Yes! This is where I lead the pack and show everyone what youth looks like. Flourian, our guide and owner of the bike excursion company, Active Tours, set us up with our bikes.
We followed him through small towns and rows of vineyards, stopping at wineries to drink Pinot Noir. Afterwards, we'd all get back on our bikes and pedal through the villages, enjoying a chemically altered bicycle ride through Burgundy or, as some call it, the Tour de France.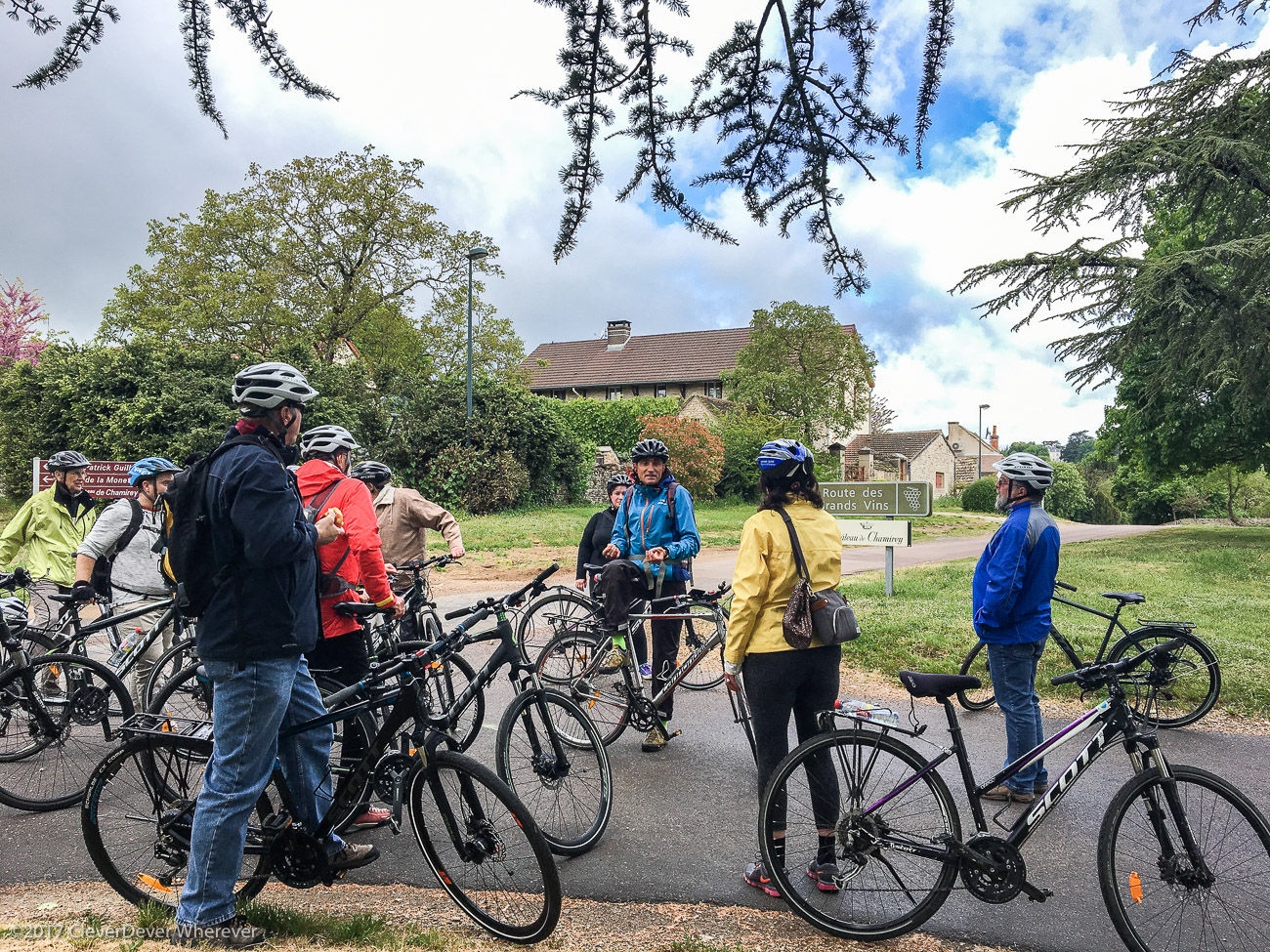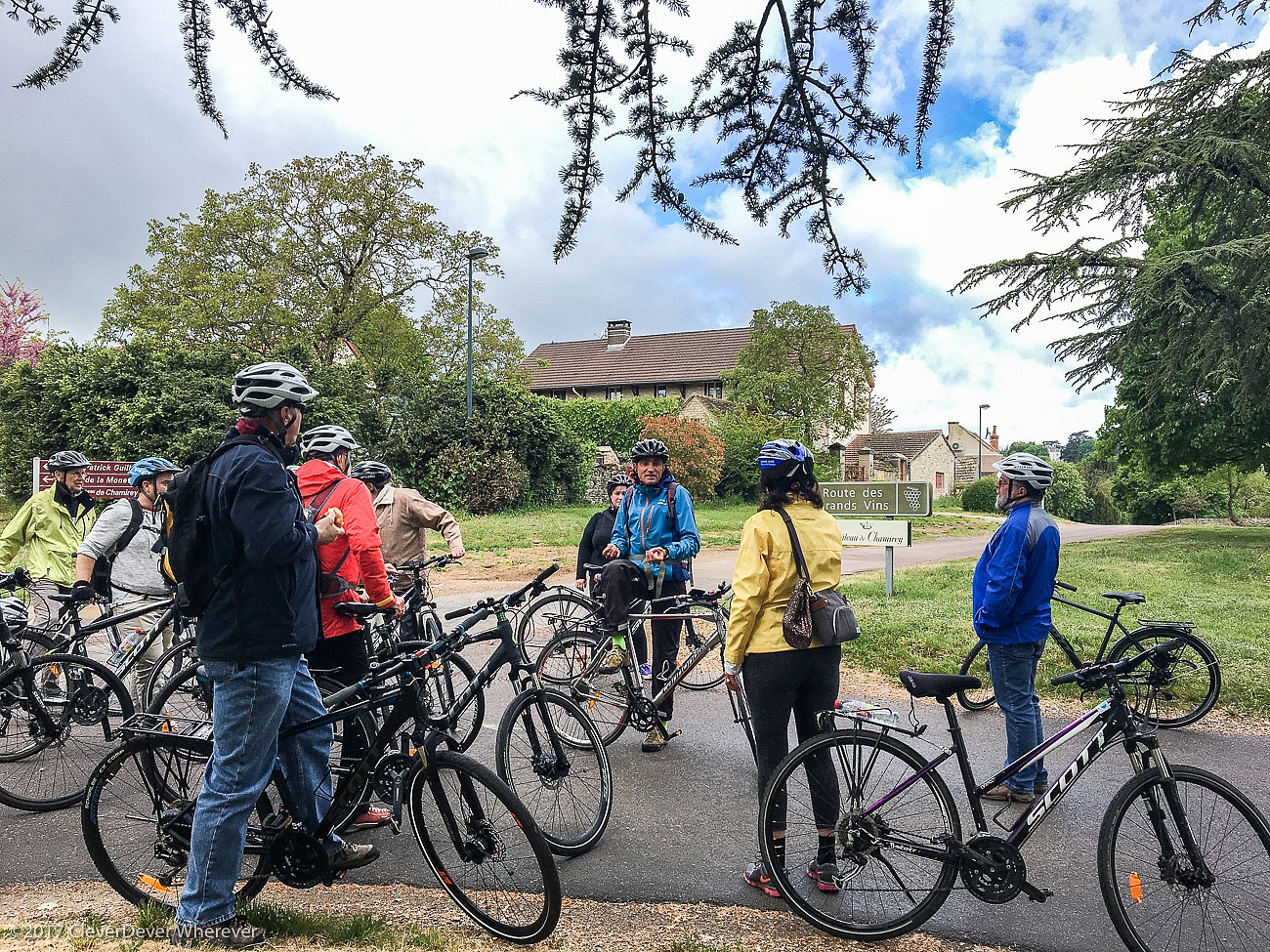 One problem: I'm so seriously bad at bicycling. I've only done it one other time in my adult life. It's sounds so perfectly docile, so languorously romantic. Fields of wine grapes, stone homes rising up built from earth-hewn rocks 500 years old. And then I crash. Like, every damn time.
Because I'm so bad at pedaling, balancing, and slowing down, I keep the seat at the lowest setting (also known as "no setting"), so I can stop the bike Fred Flintstone-style. This is killing my hip flexors and my knees. I also have trouble steering and turning. I have to do it either very wide or put my feet down and inch around.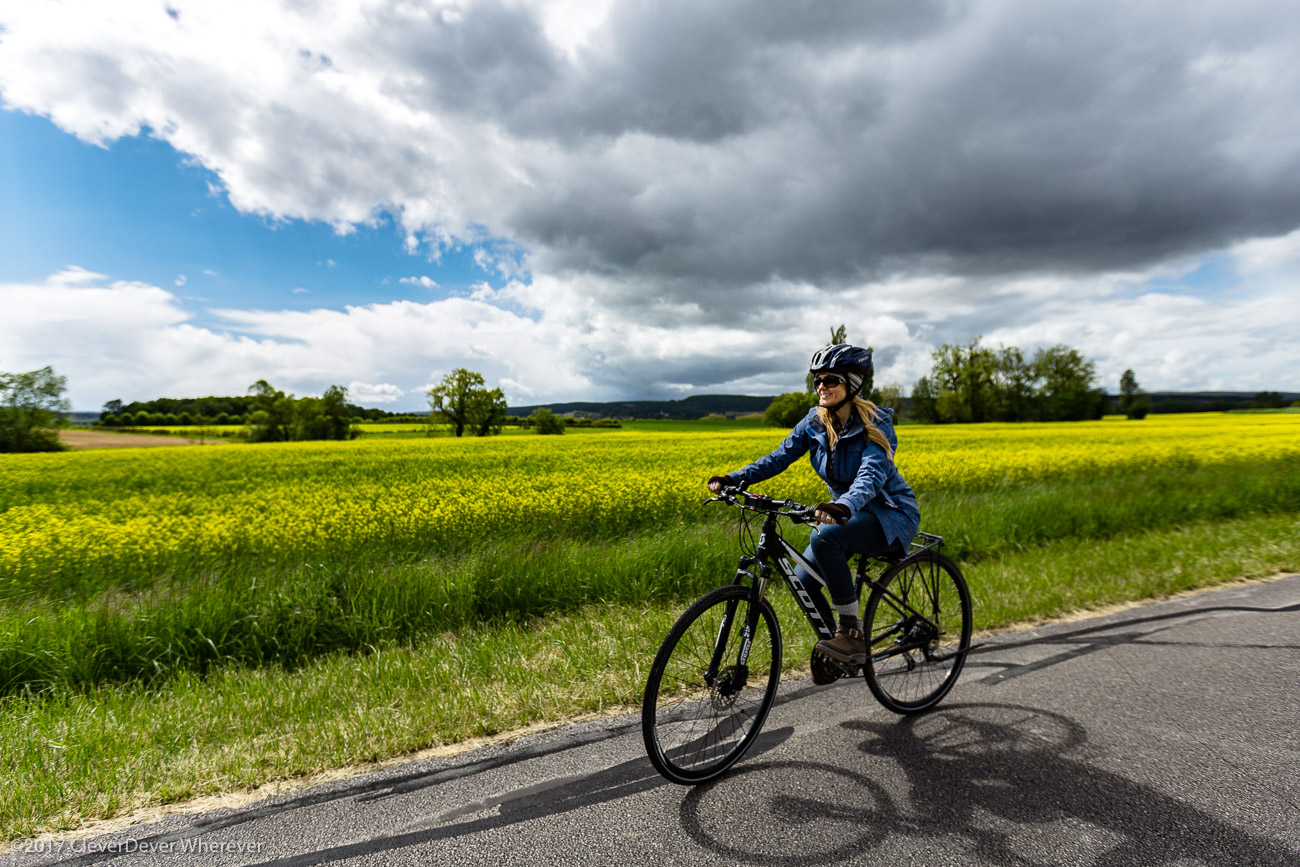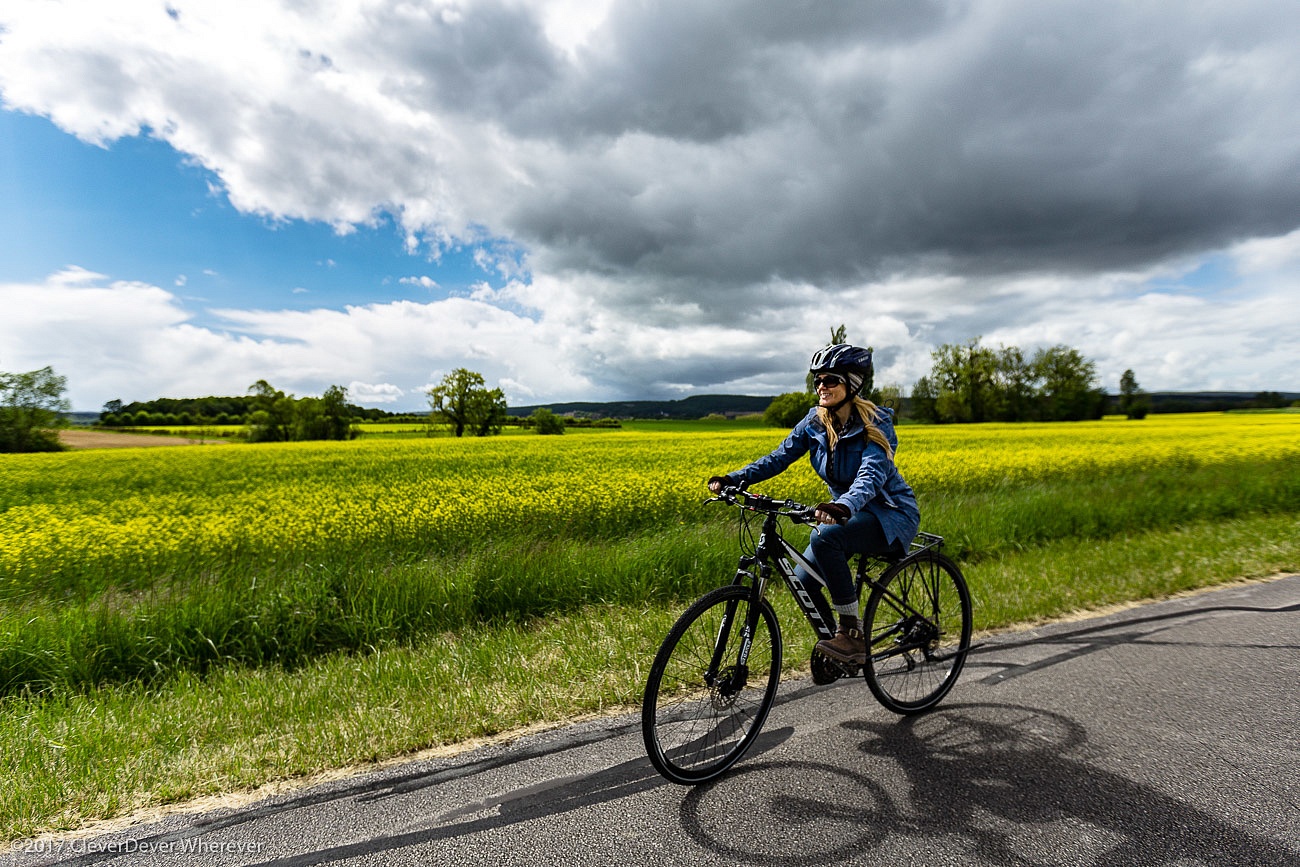 We biked until we got to a busy road. A Ferrari sped by, veering quickly to avoid a lorry, coming within inches of me. I popped up onto the sidewalk and threw my heels onto the ground, employing my rudimentary foot brake system, and promptly fell over.
I'm out.
I am not coordinated enough to pedal, steer, change gears, and make rational decisions for my own safety near speeding cars. I also seem to have trouble dismounting.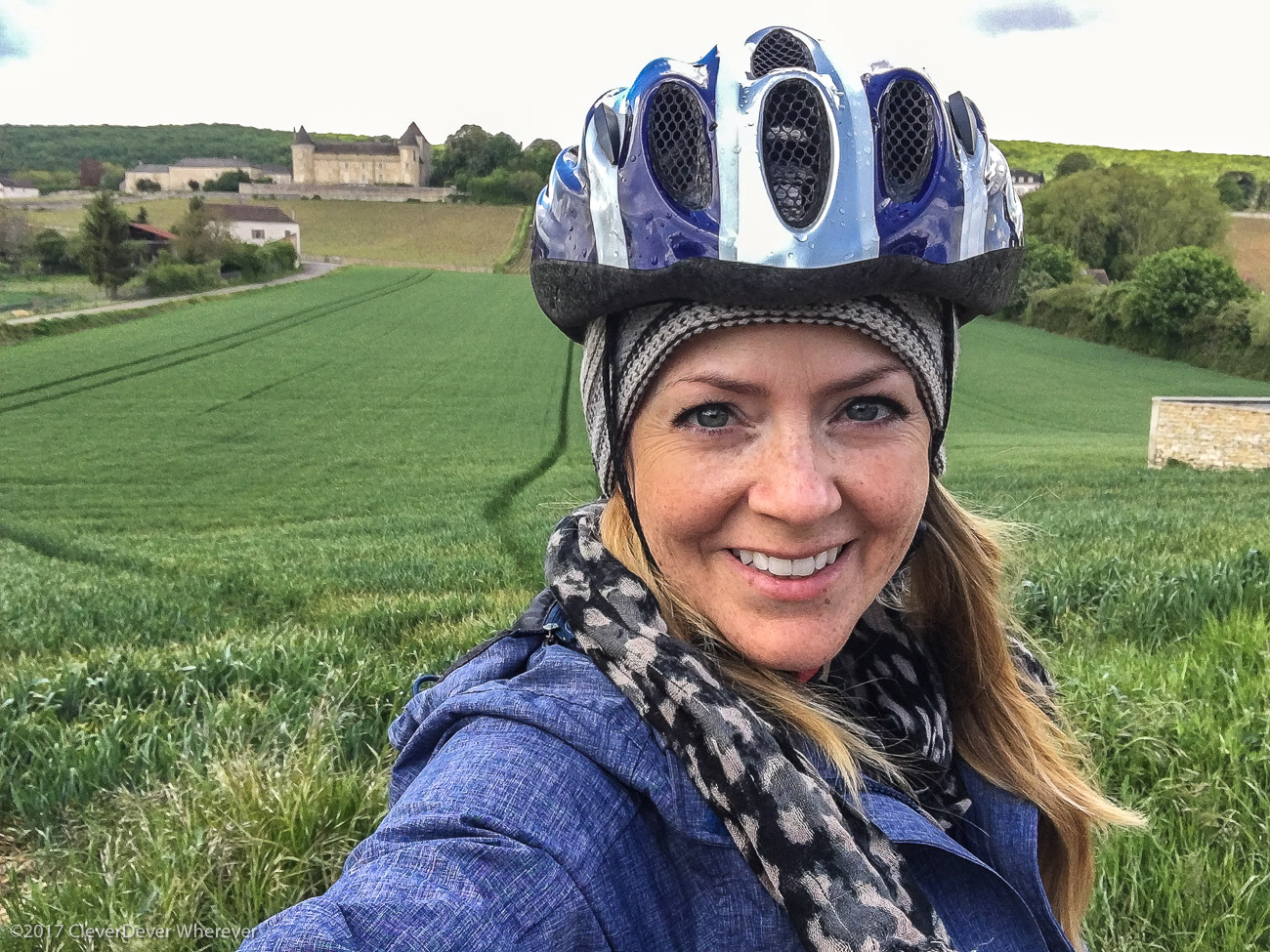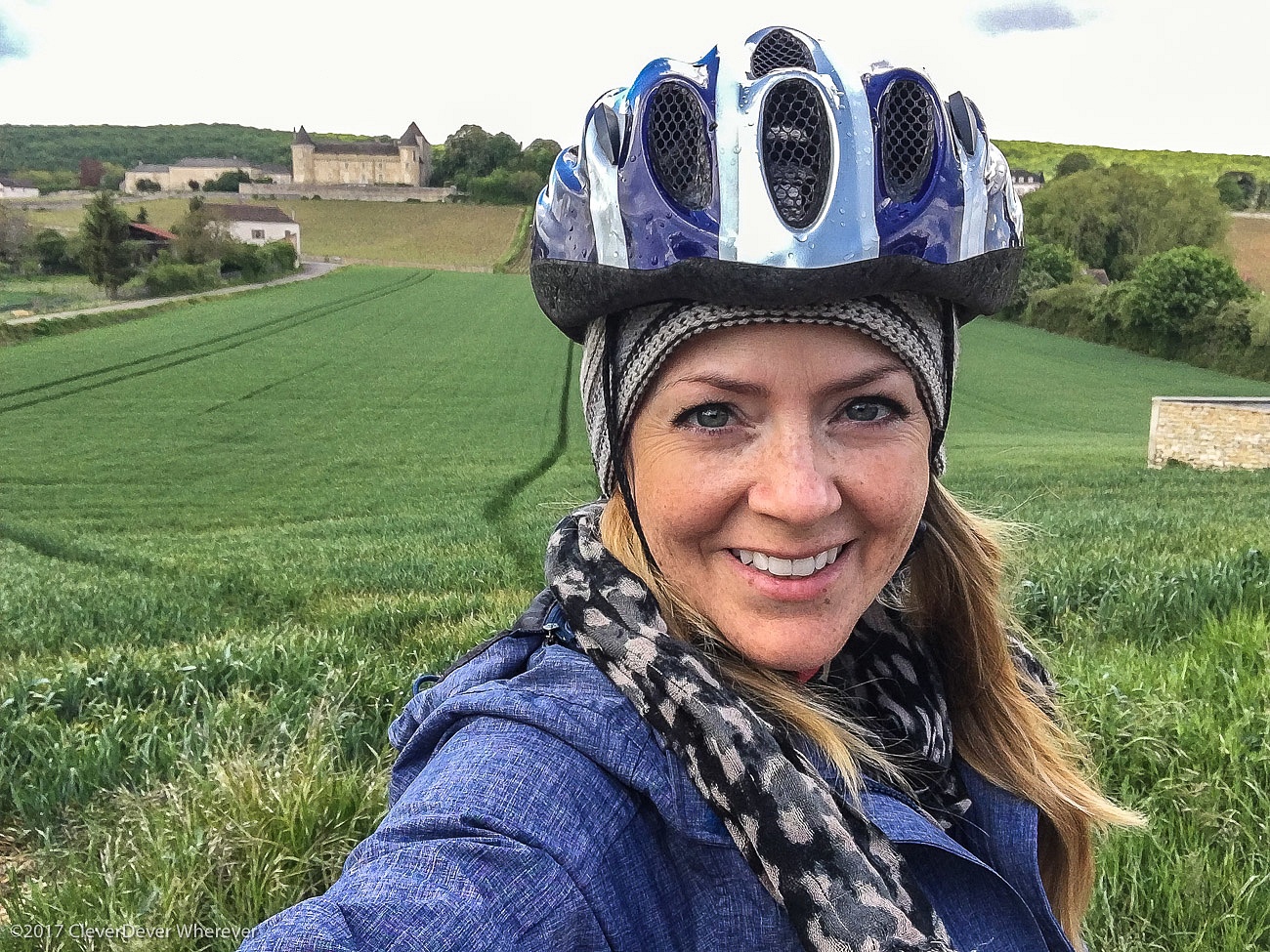 Lois, of course, is in the front of the pack.
Later that night, I bring out my speakers and instigate an impromptu dance party. I try to get dance parties started wherever I travel. Anyone who's ever traveled with me or met me along the way can attest to this.
Lois connects her iPhone to my speaker, turns up AC/DC "Shook Me All Night Long", and rocks out.
I don't know who thinks cruises are for senior citizens, because I didn't meet any on my trip.
If you're thinking about a riverboat canal cruise, I'm sure you have a few questions, so here's my little FAQ section to address them. Remember this only applies to G Adventures, and I found them to be exceptional in all areas.
What is the boat like?
Our boat, the Daniele, was new, modern, and sleek. It is two stories, rooms downstairs, and upstairs, there's a dining room, lounge, bar, and deck with a hot tub. There's also an additional deck on the roof with lounge chairs for when you're on the river.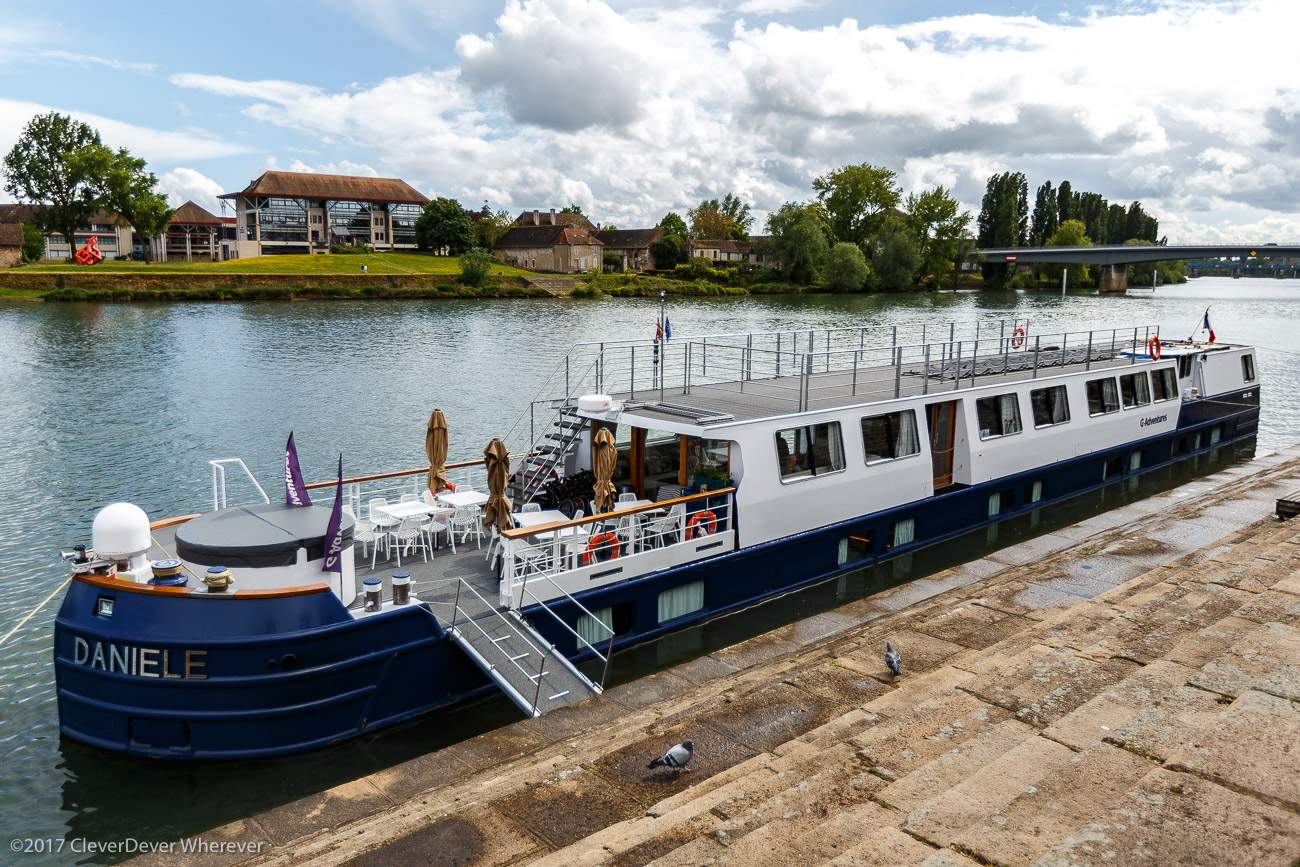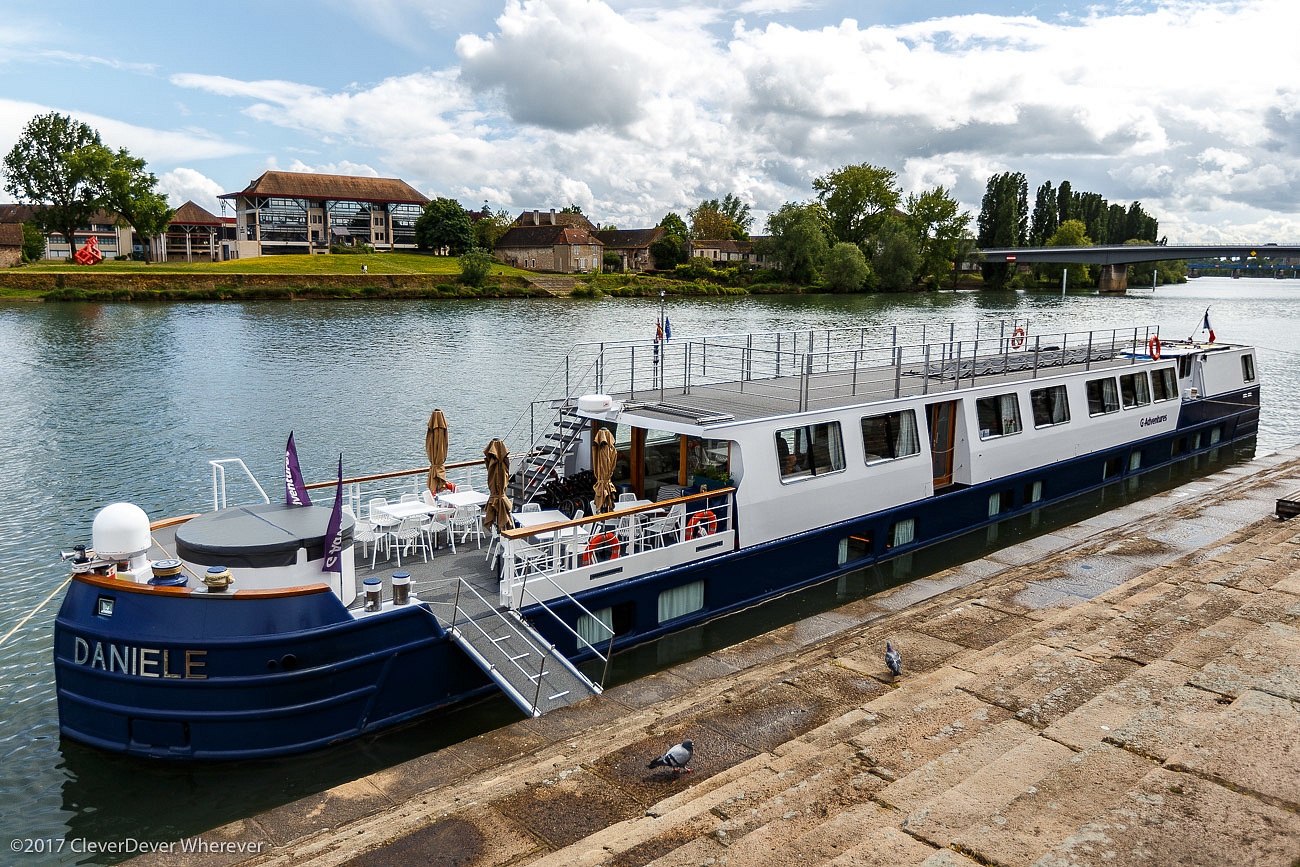 Is there Wi-Fi?
Yes, but since the boat is moving, sometimes, you are at the mercy of signal strength when you are on the move. "I don't know how I'm going to last without being able to play words with friends!" – Lois, concerned about an announced potential Wi-Fi outage.

What are the sleeping arrangements?
The new, clean, and well-designed cabins are shared. If you are on your own, you will be assigned a roommate. Sometimes, if there are no other solo travelers on your cruise, you get the cabin to yourself.
What's the shower situation?
Again, this boat was sparkling clean, and the showers were gleaming. Everyone has a private shower in their cabin, which is cleaned every day by the housekeeping staff.
What do you eat?
What DIDN'T I eat is a better question. Except, we know meat is the answer to that one. But Chef Philippe is very accommodating to all food restrictions. The best meals I had on this trip were the ones on the boat. Zucchini tarts, Chanterelle mushroom casserole, salmon marinated in Keffir lime, hand toasted lemon meringue, and cheese…oh, the cheese.



Every day, with these indulgent cheese platters. It was freaking fantastic. And as if that wasn't enough, there was a point where I started asking my new friends, "You gonna eat that?" I snagged at least three extra pieces of Delice de Bourgogne (a mustard seed crusted miracle of a cheese) for myself and my table.
Do you pay a separate tab for alcohol?
No. I paid nothing for alcohol. One utterly fantastic feature of the G Adventures canal cruise is there was an open bar from morning until night. There were premium alcohols you could opt to buy up to, but honestly, everything I needed was available at no additional charge.
All lunch and dinner meals on the boat, which was usually once a day, included non-stop, free-flowing, fabulously delicious wines. Put on the breaks if you don't want Oliver to keep pouring, because if he sees an empty glass, you're getting it filled. It's the oath of the region, so get that "non, merci" ready if you're done.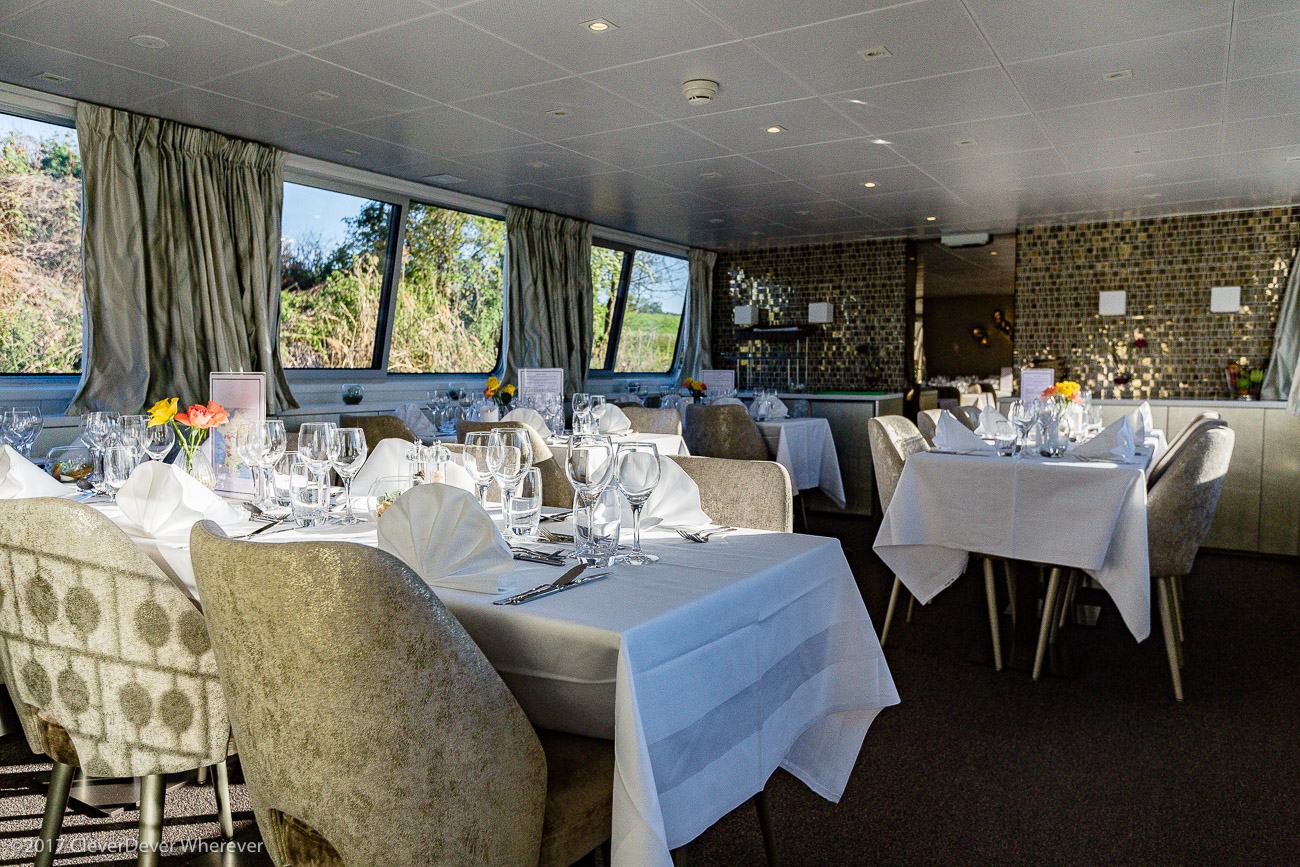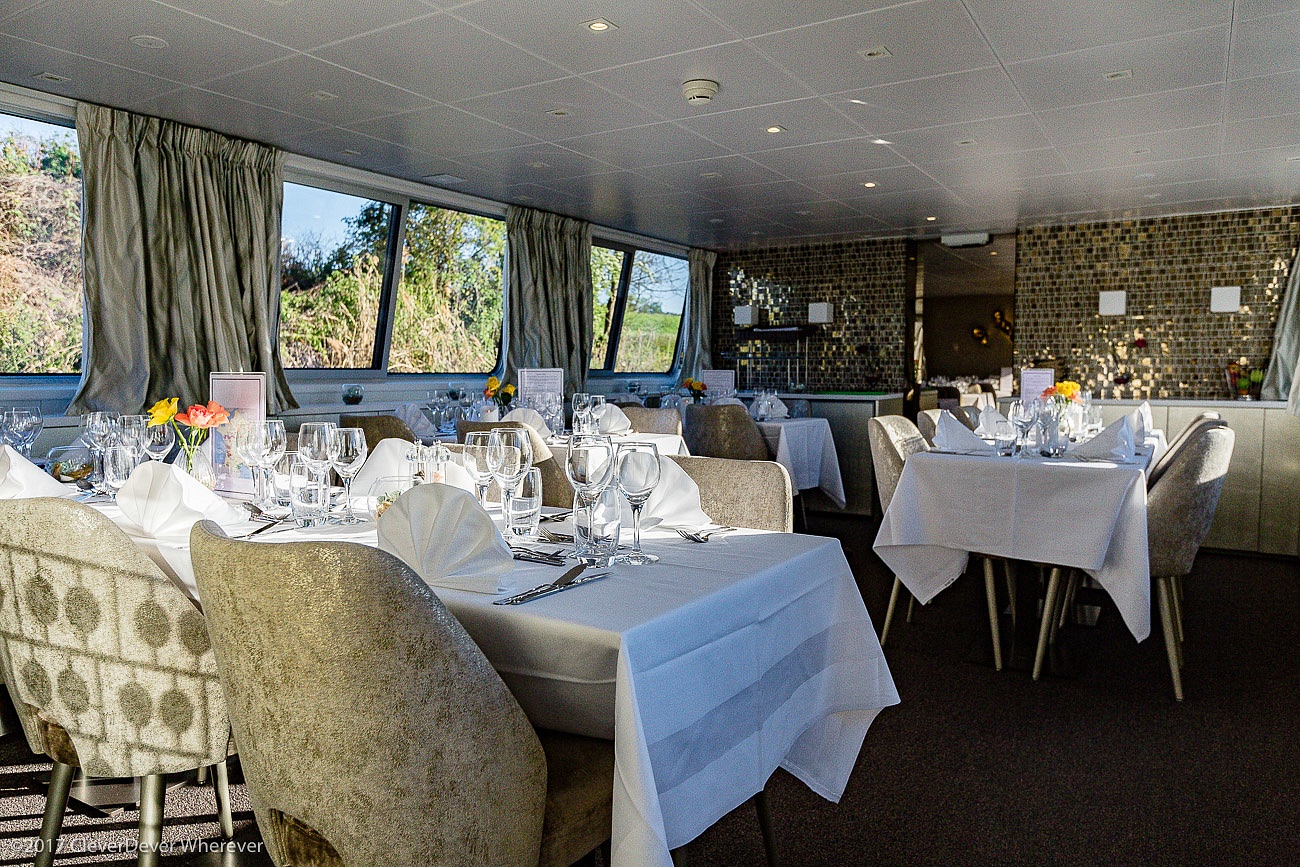 What was the itinerary?
Day 1: Fly into Paris, train to Dijon, night in Dijon hotel
Day 2: Free time in Dijon, bus to the south, and embark at Saint-Léger-sur-Dheune
Day 3: Saint-Léger-sur-Dheune / Santenay (wine tasting)/ Chagny
Day 4: Chagny / Chalon-sur-Saône (bike ride)
Day 5: Chalon-sur-Saône / Saint-Jean-de-Losne
Day 6: Saint-Jean-de-Losne / Petit Ouges
Day 7: Petit Ouges / Dijon (bike ride)
Day 8: Dijon, disembark, train to Paris (for me, but hey, strike and see more!)
You can check it out here.
What do you do with your time, every day?
Eat cheese
Relax and read a book
Wish I was Lois
Drink wine
Pretend to bike 20 miles
Drink wine
Eat dinner at a local's home
Sleep
Watch the boat go through the locks for the 100th time
Eat cheese
Visit a Marquis and hear ghost stories
Walk 8 miles
Drink wine
Eat Cheese
What are the daytime excursions like?
It's a great time to learn about the towns and little villages that line the Saône. You can also wander on your own or grab a bike from the boat deck and explore the forests and canals. Really, the time is yours to do what you wish. I liked taking the guided tours with Elisabetta, our guide, because you got more inside info on the locations.
Between bike rides and long-ass walks, we got plenty of physical activity to keep us from feeling like complete dairy-consuming sloths. The visits to local family's homes added yet another layer of authentic travel experience to the trip.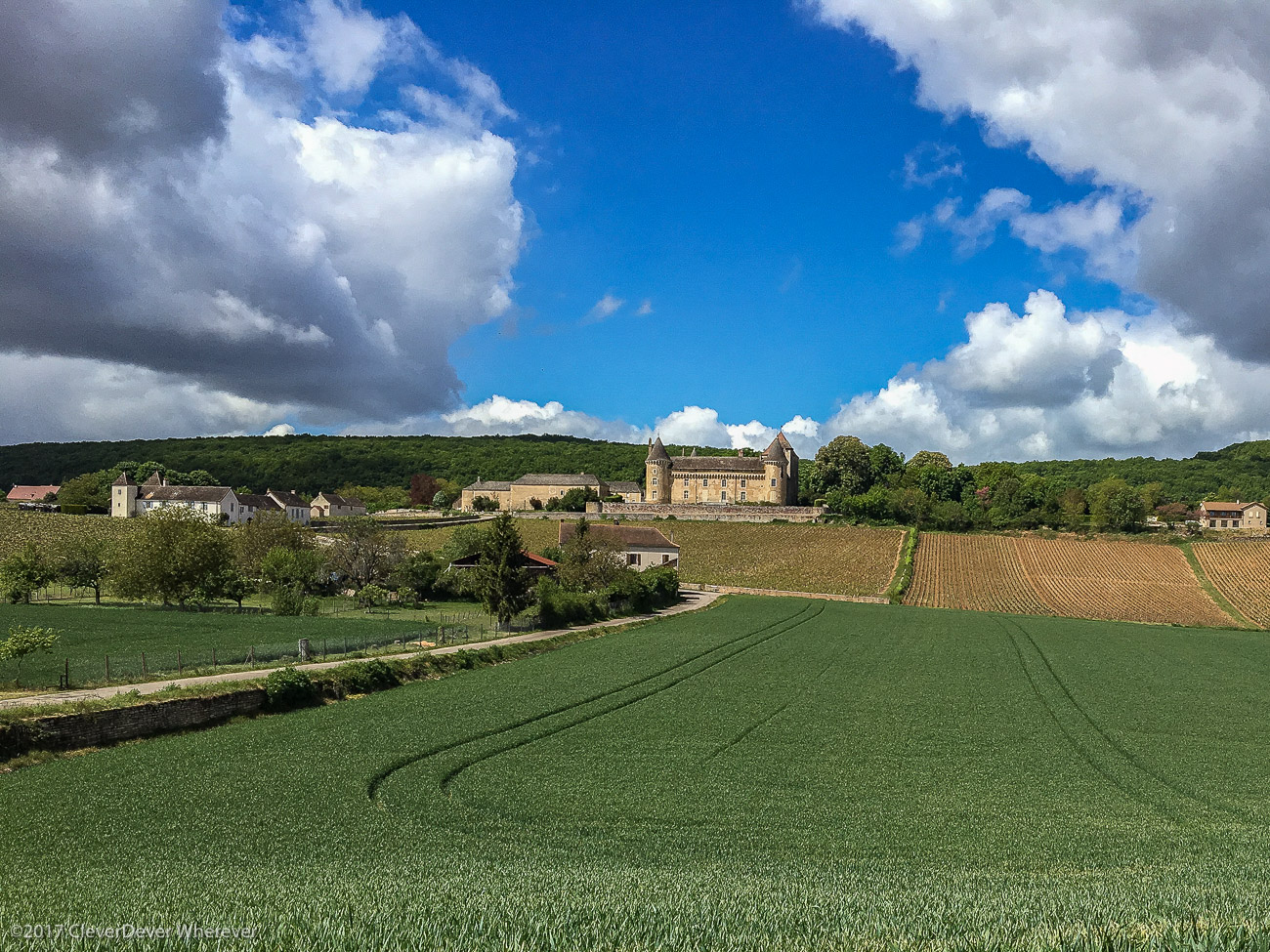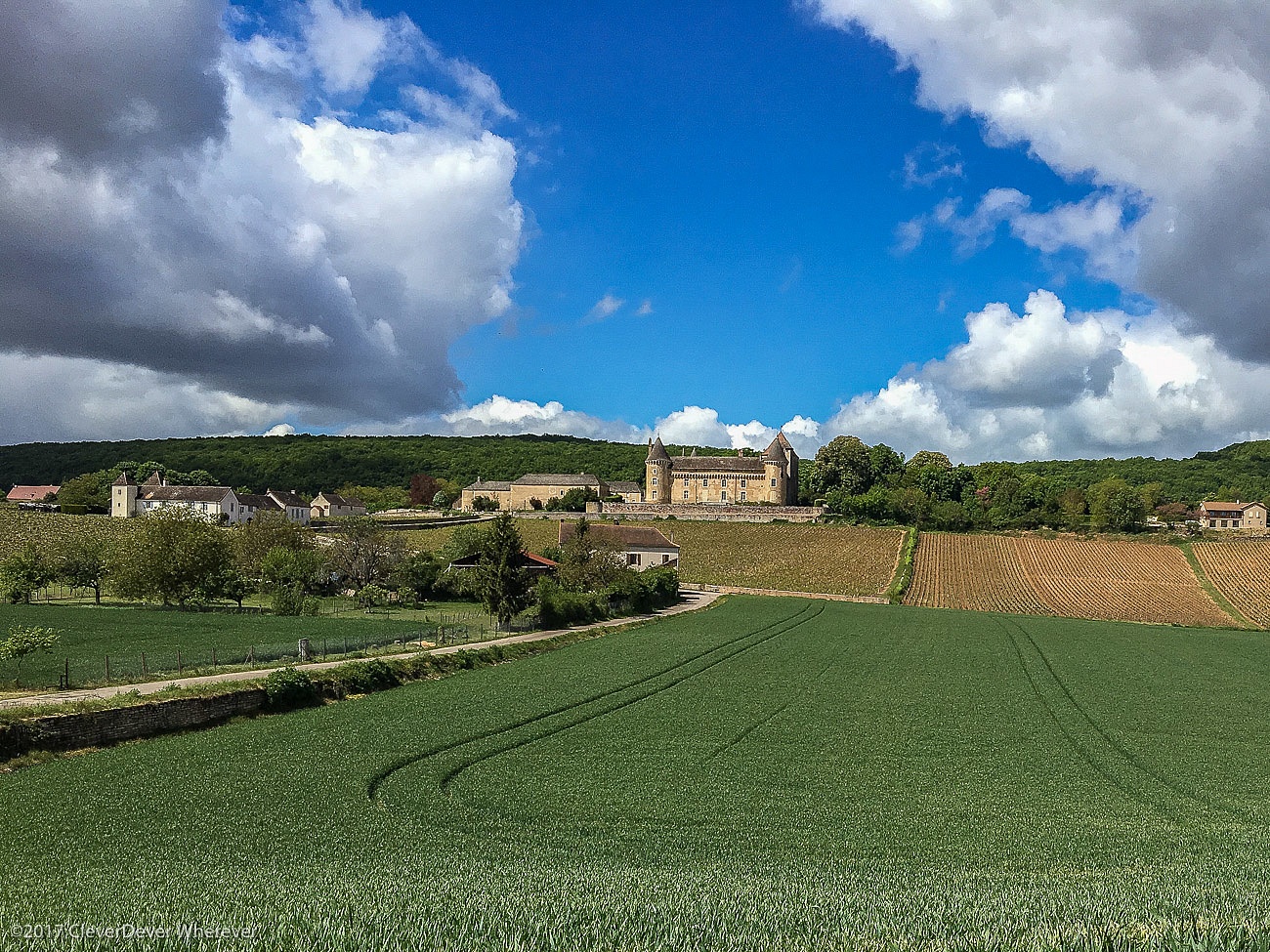 What photography gear should I bring?
For this one, I opted for my standard camera (Canon 6D) and almost exclusively shot with wide angle. But this really is more a "city trip", meaning you could easily get by with a small format camera or your phone if you're not the photography enthusiasm.
How should I pack for a trip like this?
Spring in France means spontaneous rain showers, gorgeous sunny days, and an average temperature of about 60 °F / 16 °C. Bring lightweight layers and some springtime rain gear.
Was it worth it?
Totally. The ship is comfortable, gorgeous, and upscale, cruising through the locks is fascinating, the staff is hilarious, the countryside was sumptuous, and the meals and wine were better than most French restaurants. Plus, if you're lucky, you might meet your very own Lois.
Did I miss any questions? Let me know in the comments section what else you'd like to know.
This canal cruise was made possible by G Adventures, though all opinions are entirely my own. All fellow passengers names were changed to protect the innocent. 😉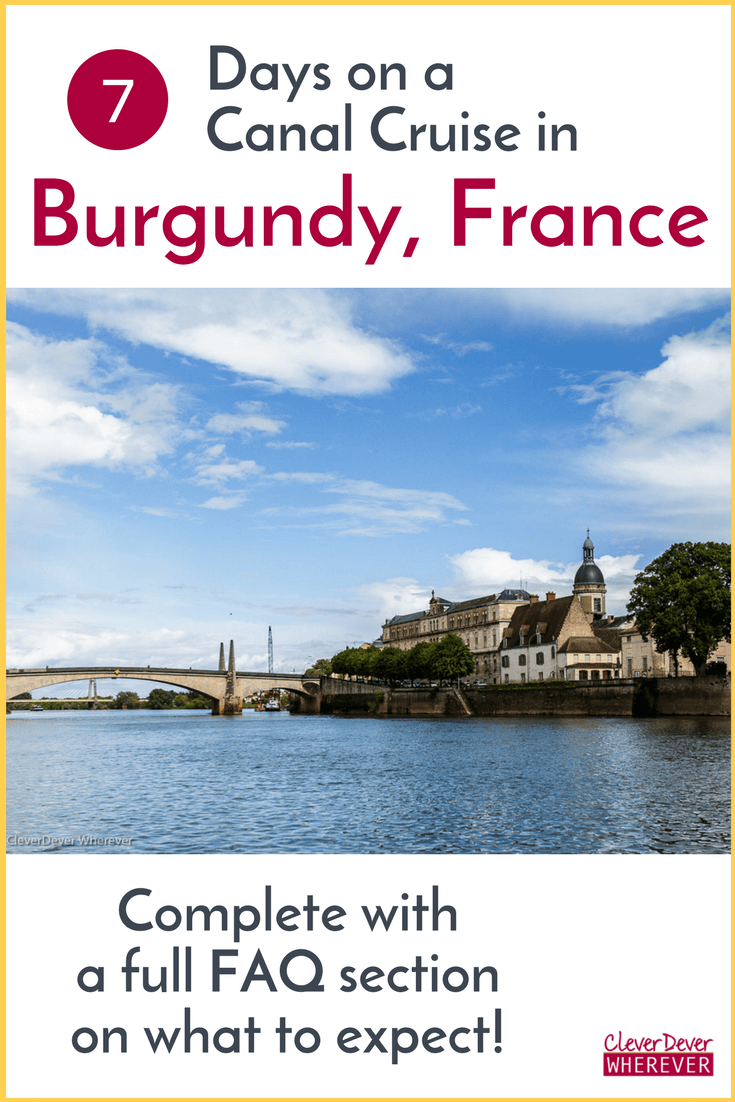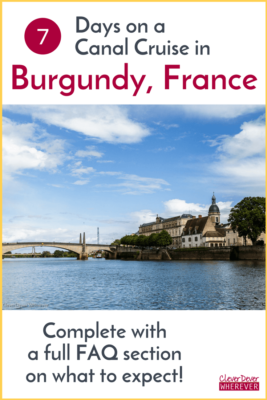 Read More
About France