"You know why it was called the Dark Ages don't you? Because there were so many knights." A bearded magician in a doublet continues his routine from the small stage.
"He really wears on you after awhile." The woman at my table in a Ren Faire blue velvet gown gives the illusionist a long look. She speaks to no one in particular.
Lothar's beard blooms so big it's impossible to tell where it stops and his hair begins. He stands on stage twisting and cutting a rope for the audience's entertainment. His eyes sparkle with each dad joke he tells, clearly delighting in his own act.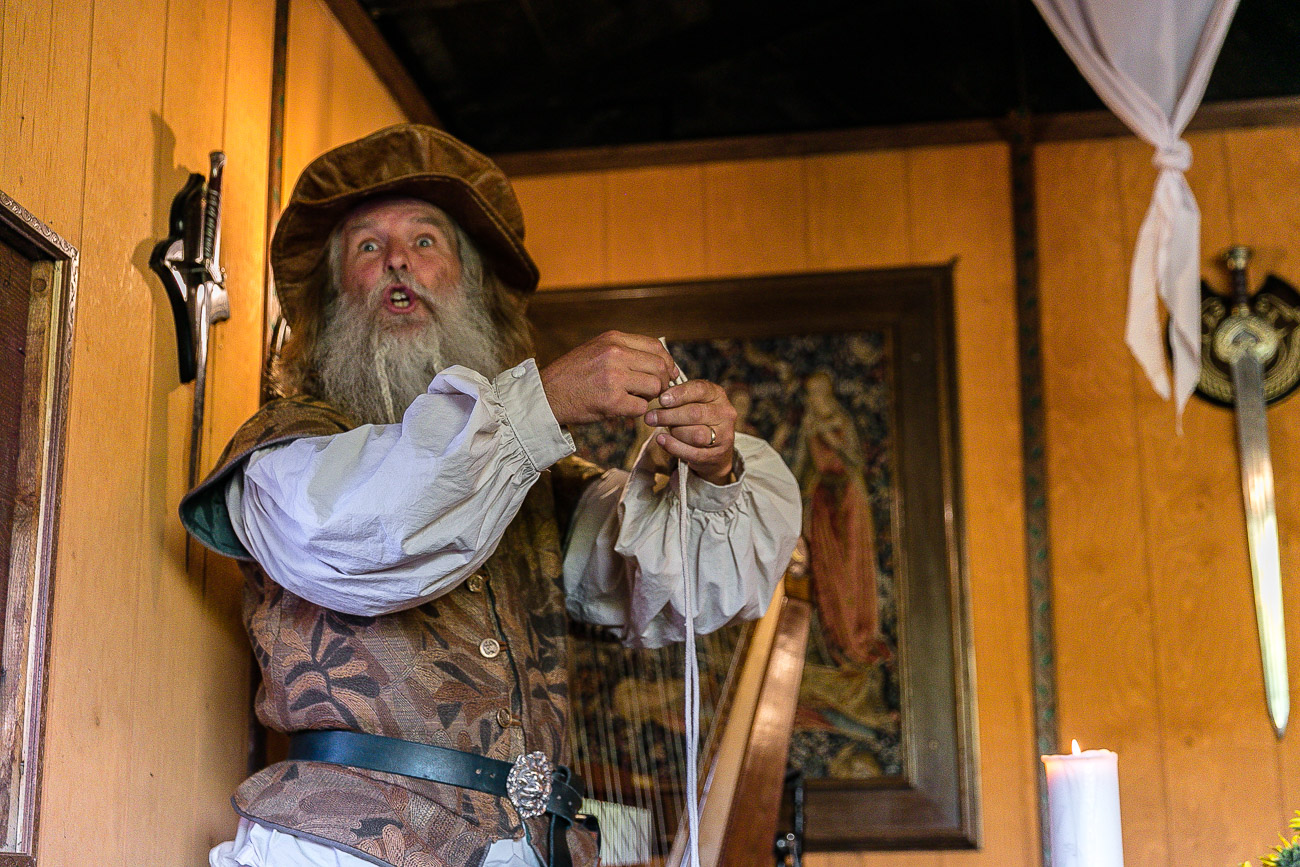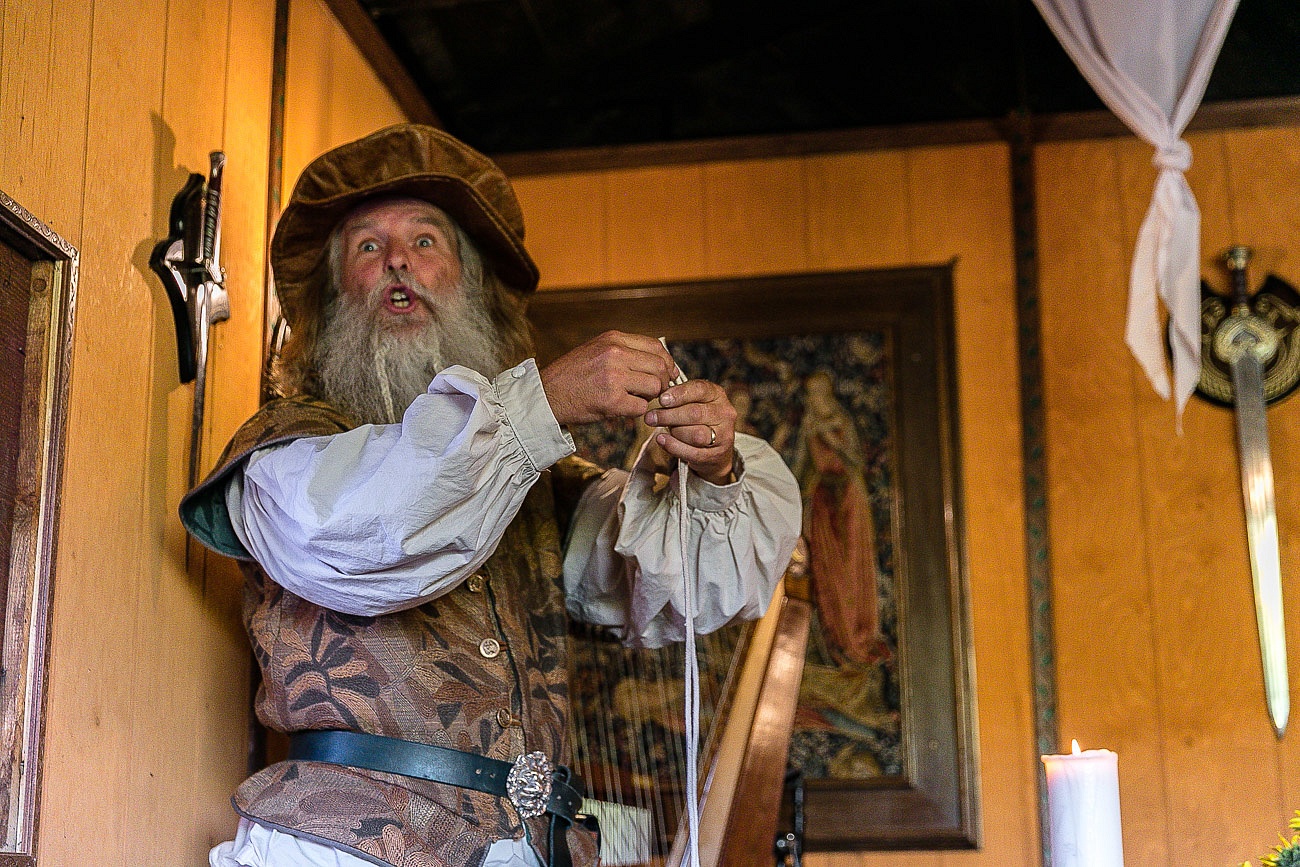 Harp music floats through the room as we enjoy cheddar cheese cubes and bread. I'm corseted into a purple dress with puffy sleeves that is doing nothing for my complexion. How did people live through medieval times?
Lothar cuts his rope into three pieces then magically unites them into one long piece. I wonder if he's a hit at hardware stores. We clap and his eyes twinkle. Another great performance in the books.
"If you thought that was amazing you'll enjoy the salad!" Lord Daniel Huntington (or so we've been introduced) booms from the head table on the elevated stage. He has a massive gold chain around his neck and is gesturing with a thick wine goblet.
This is his kingdom.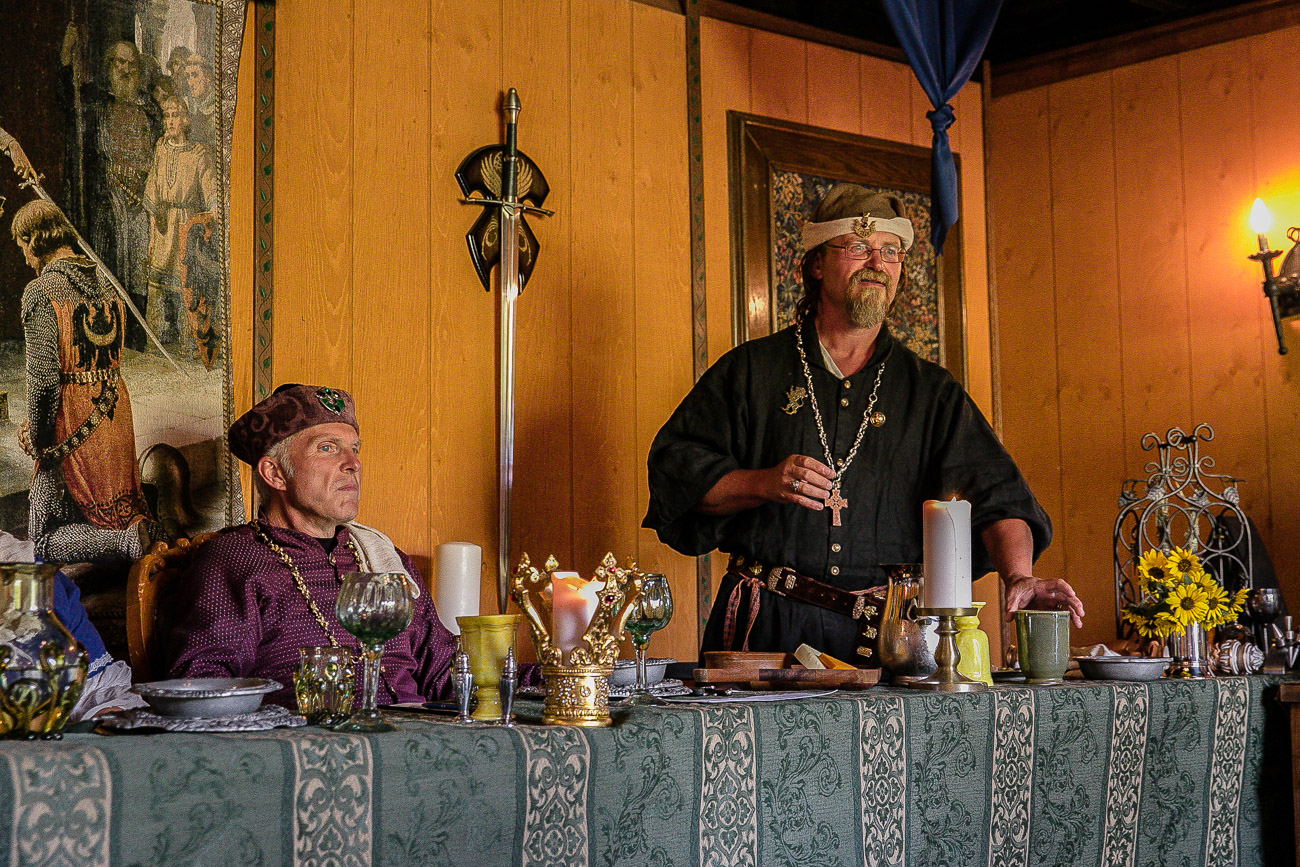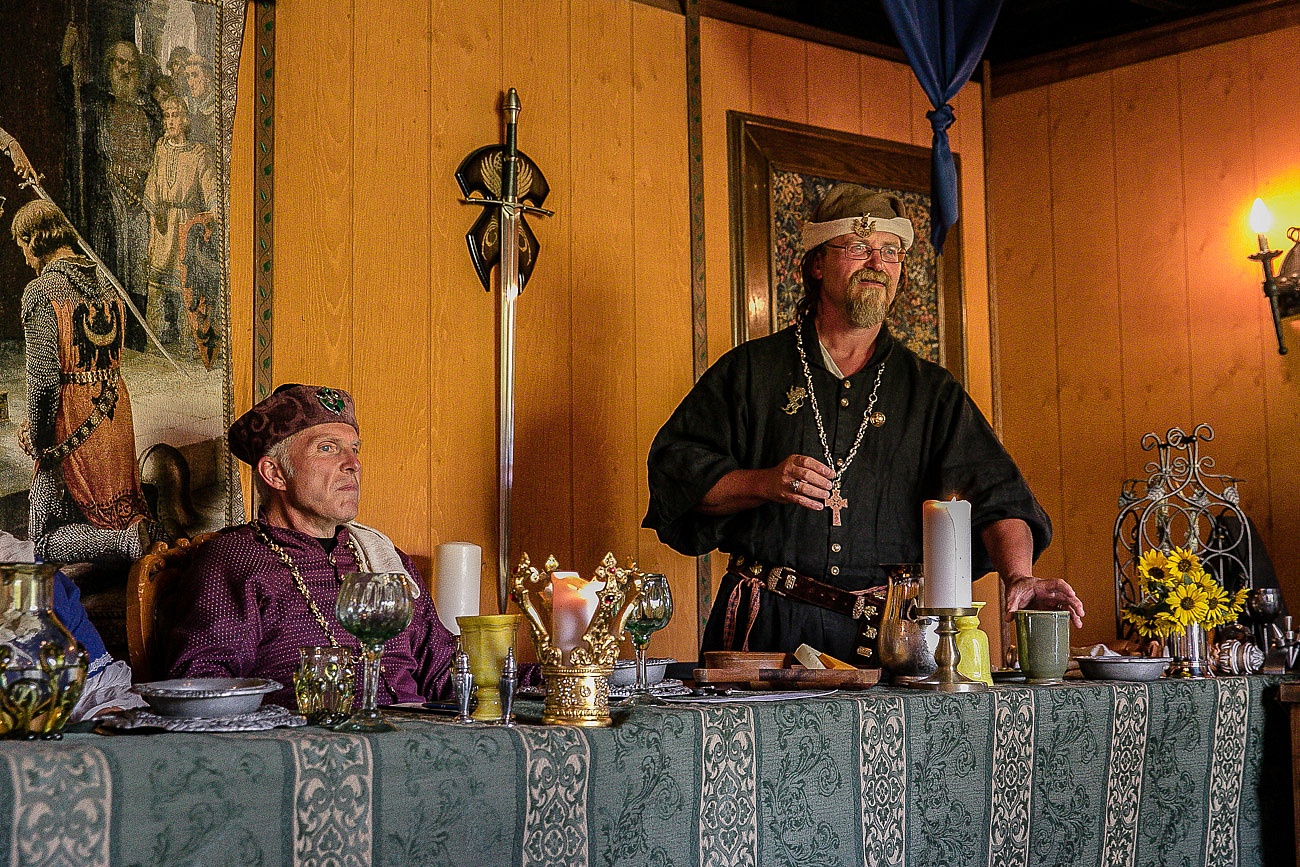 Glamping in Medieval Times
Good Knights Medieval Encampment was a dream of Daniel's, and this past summer it became a reality. Fairy tale tents circle the open property as if a royal army had set up camp for the night…or am I supposed to say 'knight?' (Sorry.)
Glamping in the Middle Ages is my first stop on my road trip through the Canadian Badlands. I drove directly from the plane to the plains to sleep in a tent. In a costume.
Normally I'm not much of a cosplayer, but this entire immersive medieval times encampment experience and the people who flock here intrigue me.
I arrive to the campgrounds just outside of Three Hills, Alberta, in the late afternoon. There is a wooden fence probably 16 feet tall with a crow's nest lookout built into it. A large maple leaf flag waves in the wind signifying this area has been claimed for Canada.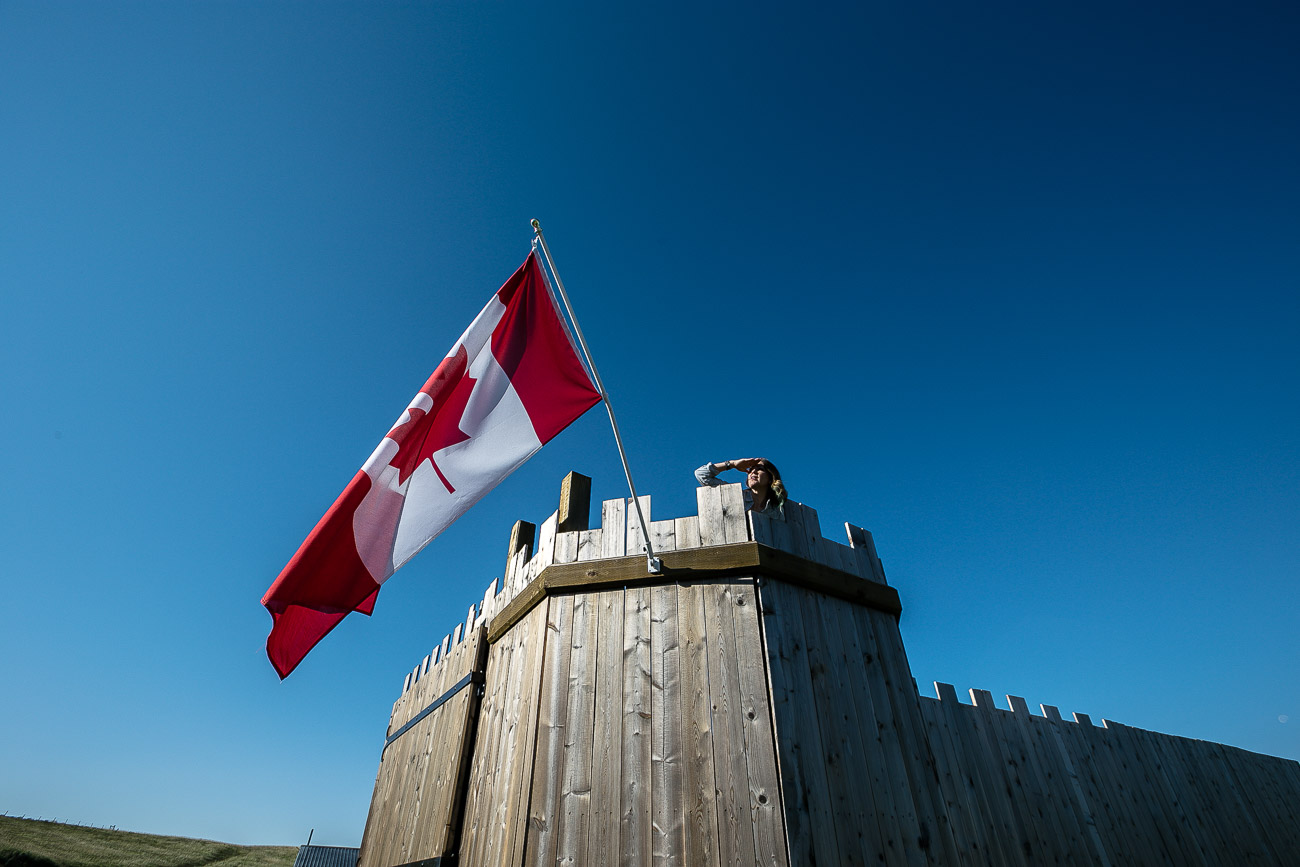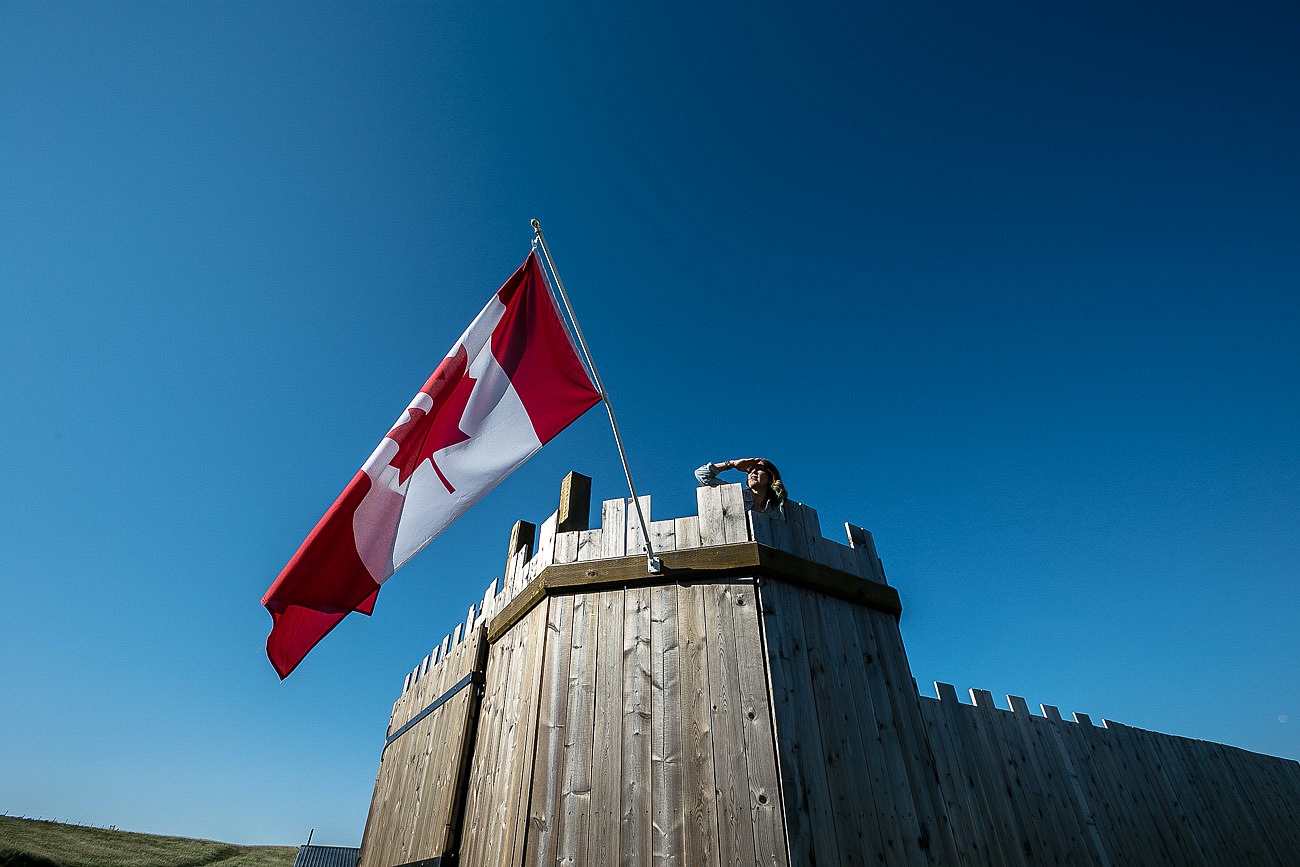 I heave my bag onto a wooden cart and Lord Daniel himself pushes the wheelbarrow of luggage through the huge, Monty Python-style gates to the tents. I'm kind of surprised he doesn't have a squire for this, but I suppose some kingdoms start small.
The tents themselves are really lovely. Most have red and black stripes, scalloped detailing and an awning to shade the entrance. Once we're inside mine, Daniel—I mean, Lord Daniel—gives me a quick orientation. He points to a space heater with a faux fire. "That's your heat if it gets cold later. Over there are your outlets, and out here is your throne room." He pulls back the curtain to reveal a small toilet and sink with running water. Fluffy towels flank the pedestal. It's nice.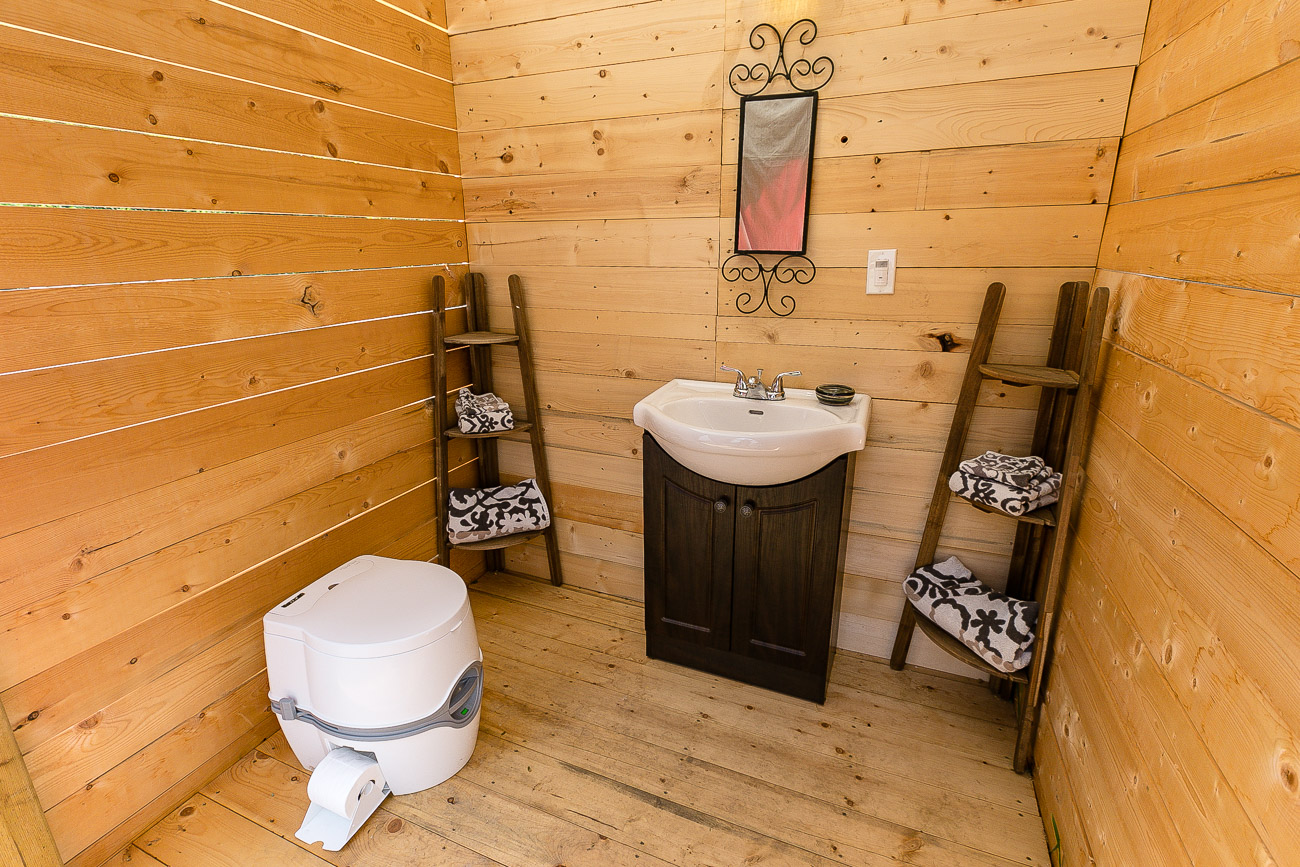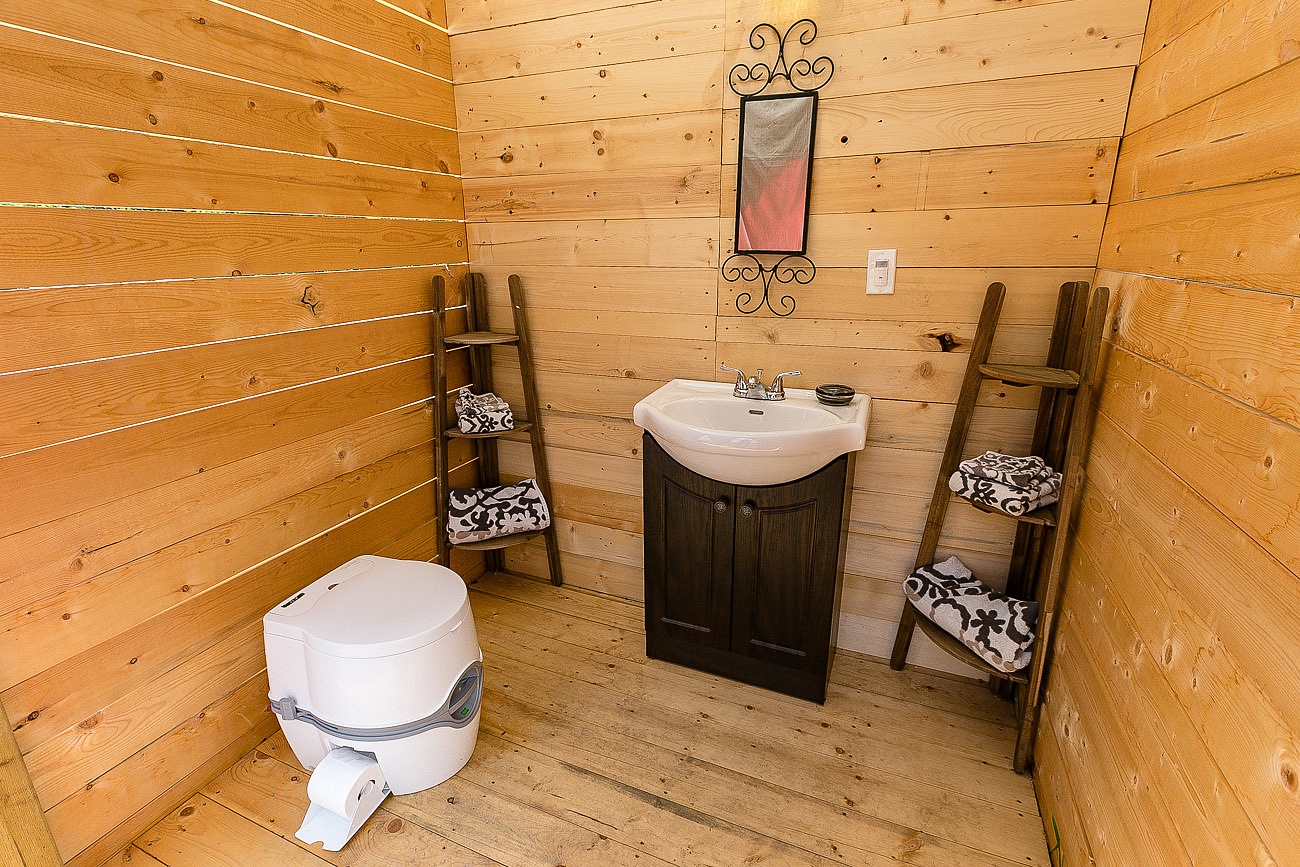 More Than Camping
Unplugging is encouraged here at Good Knights. After all, mobile devices won't be invented for hundreds of years. A quick tour of the grounds confirms that there are all kinds of activities to occupy my time away from my phone.
My first discovery is the trebuchet, which is not (as I thought) just a font family, but actually a type of catapult. I'm already eyeing the area for things I can launch into the nearby field. This desire distracts me through most of the tour, but I also note areas designated for candle making, archery, and even pewter casting.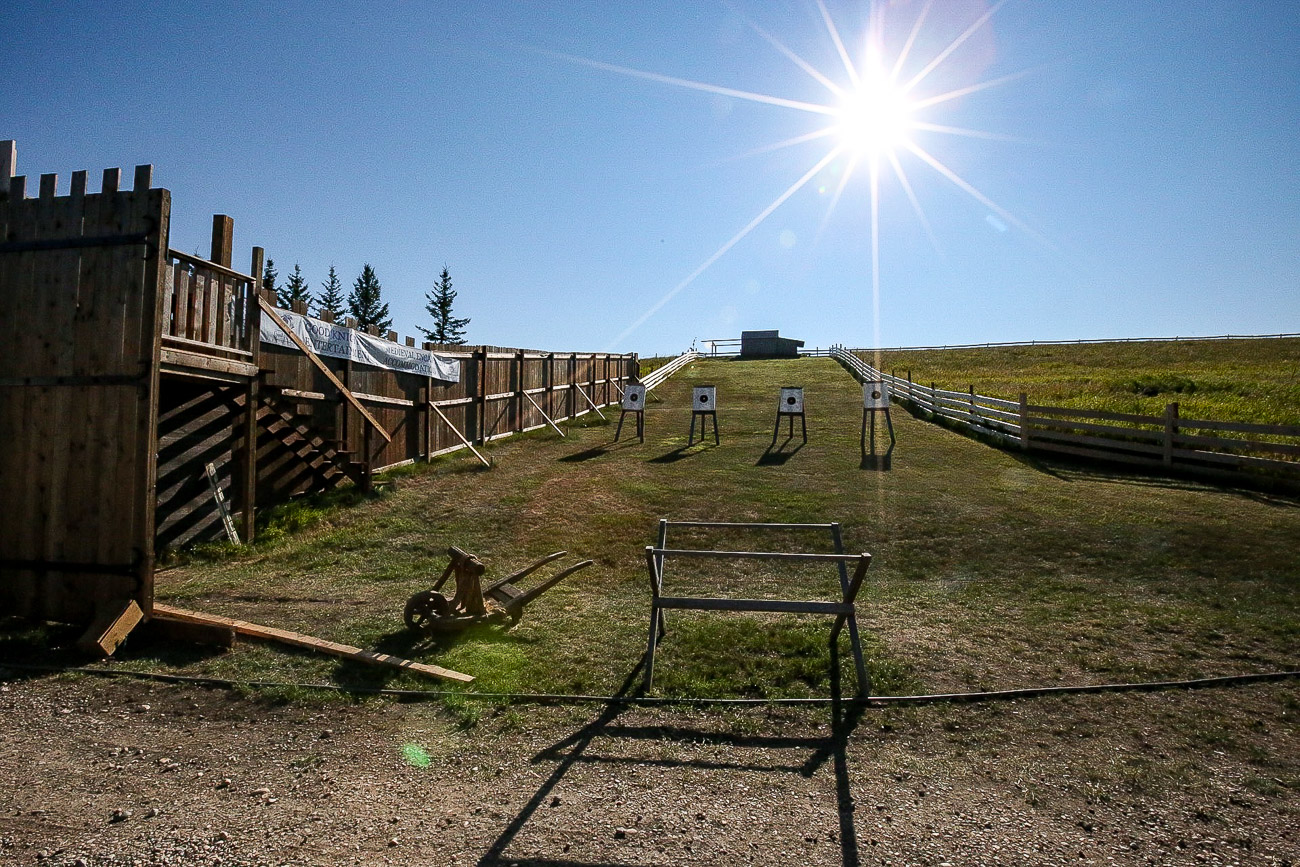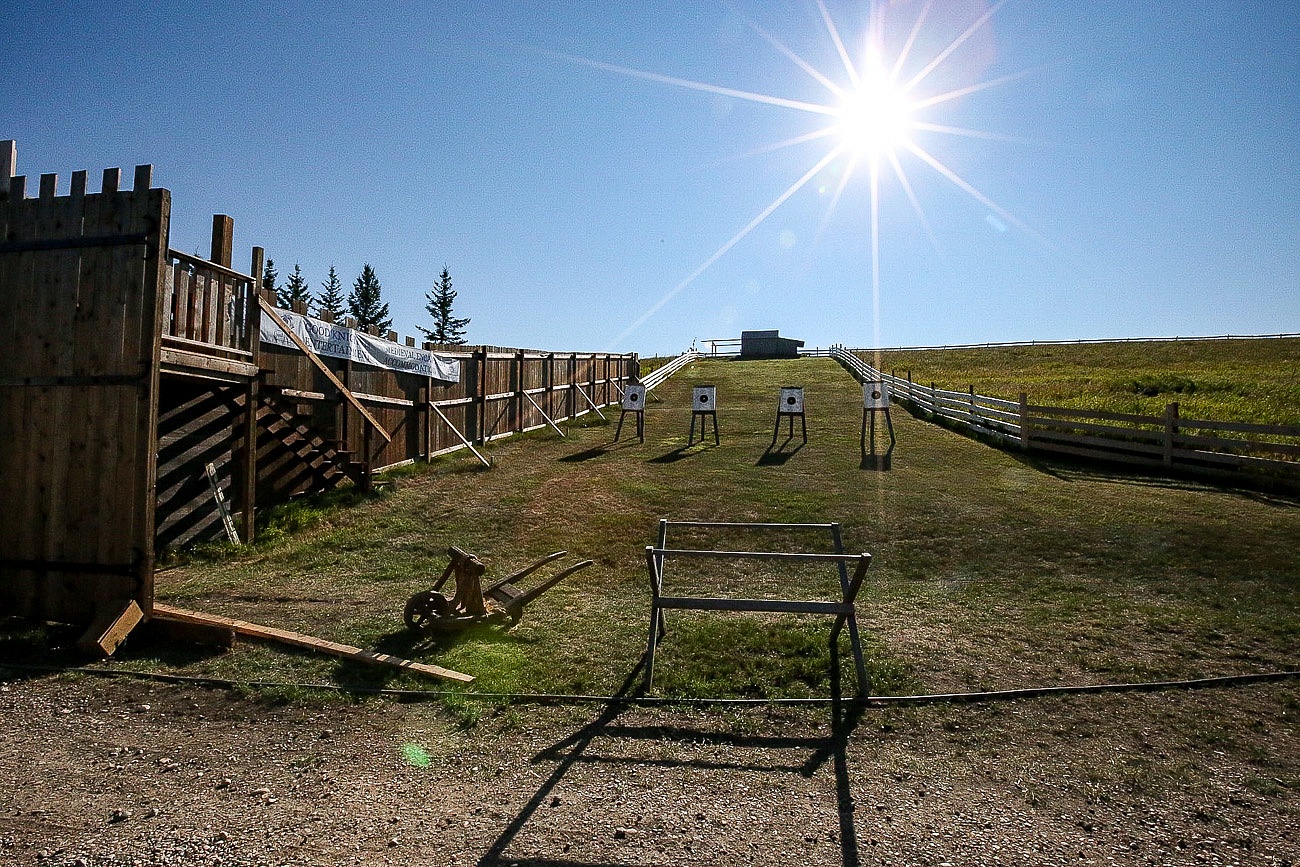 By the time I make it to the dress barn to pick out my gown for the rest of my stay, all of the cool costumes are taken. A massive purple princess dress is one of my only options, so I put it on. I feel like season one Arya Stark, which consoles me when I realize I still have potential for being a badass.
At the feast that night, I forget my outfit quickly. The strangers at my table are becoming friends, thanks to a second bottle of red wine. Plus, Lord Daniel ordered us all to play a guessing game, and it's erasing all lingering traces of self-consciousness.
The thing that makes this work is that everyone is in on it. Every person that works at or visits the encampment wears a costume, so even if you were inclined to feel silly, you don't. It's a collective agreement that we've all time traveled together.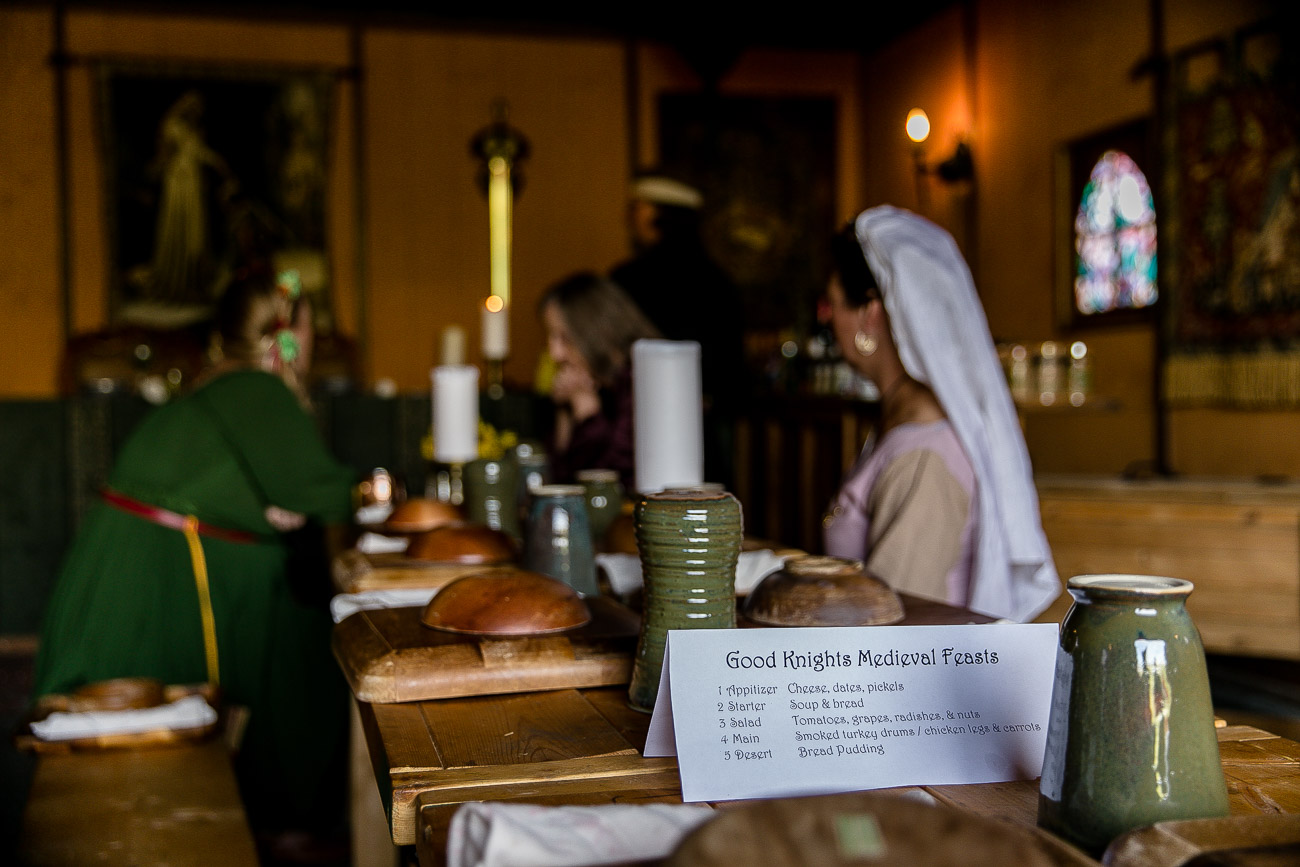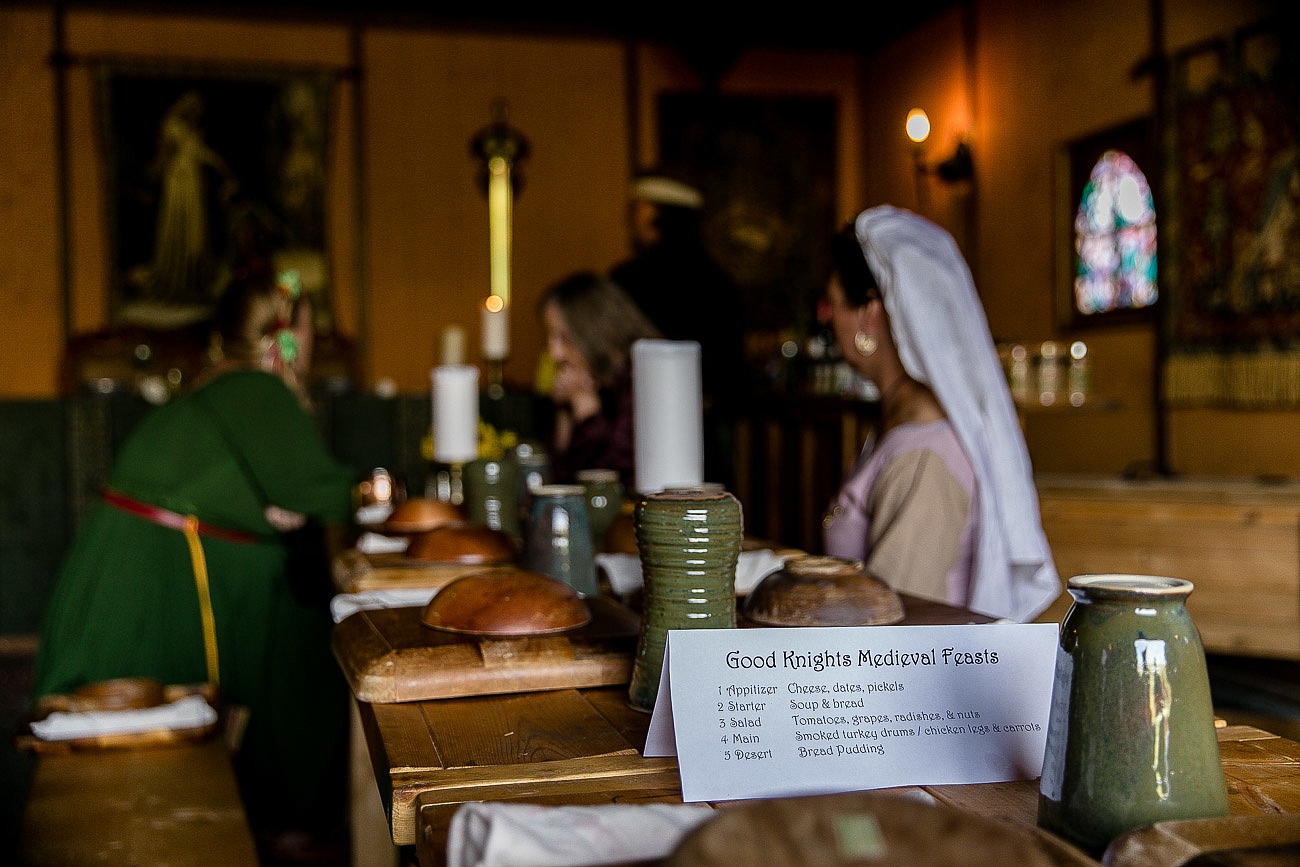 Dinner turns into a medieval dance lesson and I take the opportunity to duck out with my camera to capture the gorgeous prairie sunset. The breeze blows my dress as I stand in the clearing, trying to catch the perfect blaze of scarlet in the sky. I feel guilty at my instruments of anachronism, but damn it, this Canadian Badlands sky is a showstopper.
I hear laughter rising above the lute music coming from the tent. The level of commitment to a theme is really something, and I probably should've stayed to join the dancing. But I like being outside taking photos—it's one step closer to what I really want to be doing, which is catapulting leftover turkey legs across the field.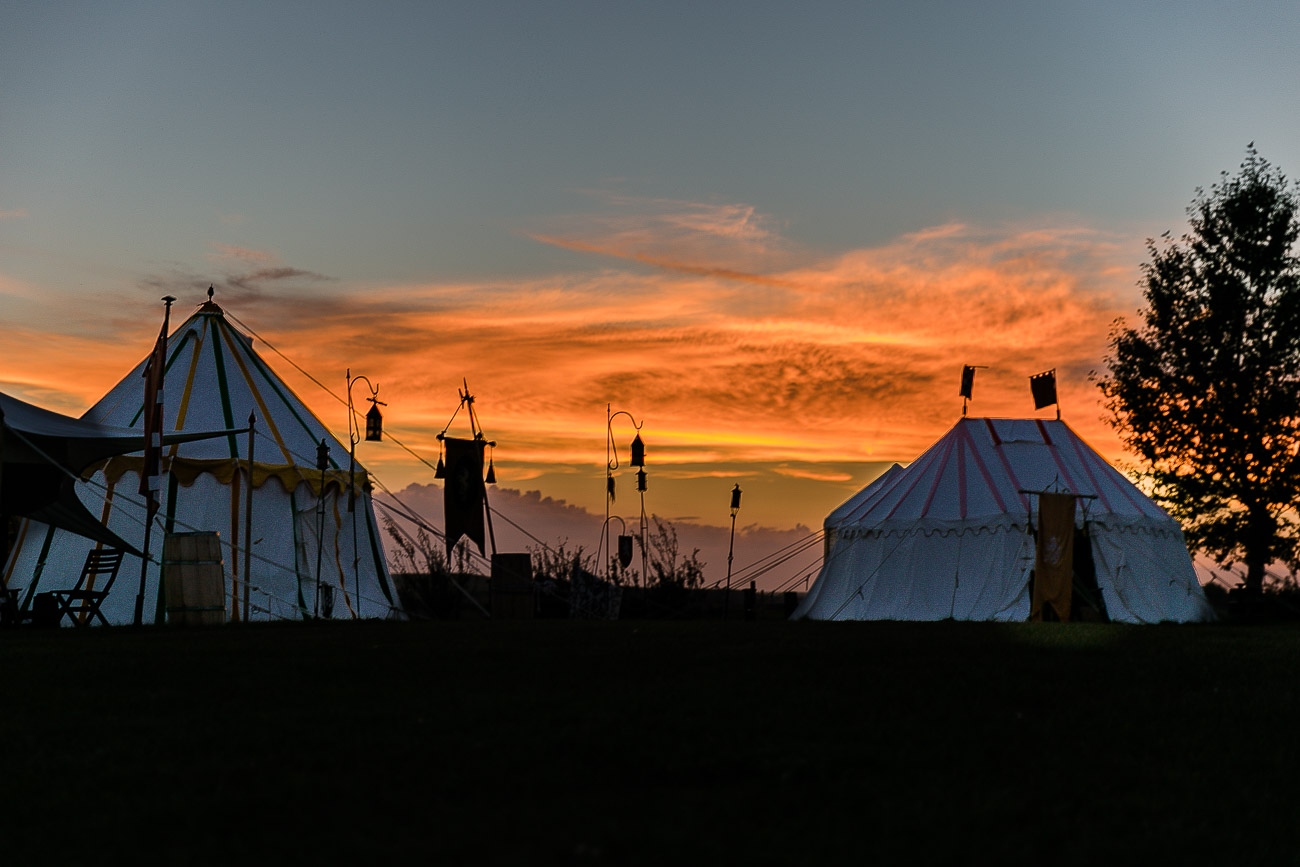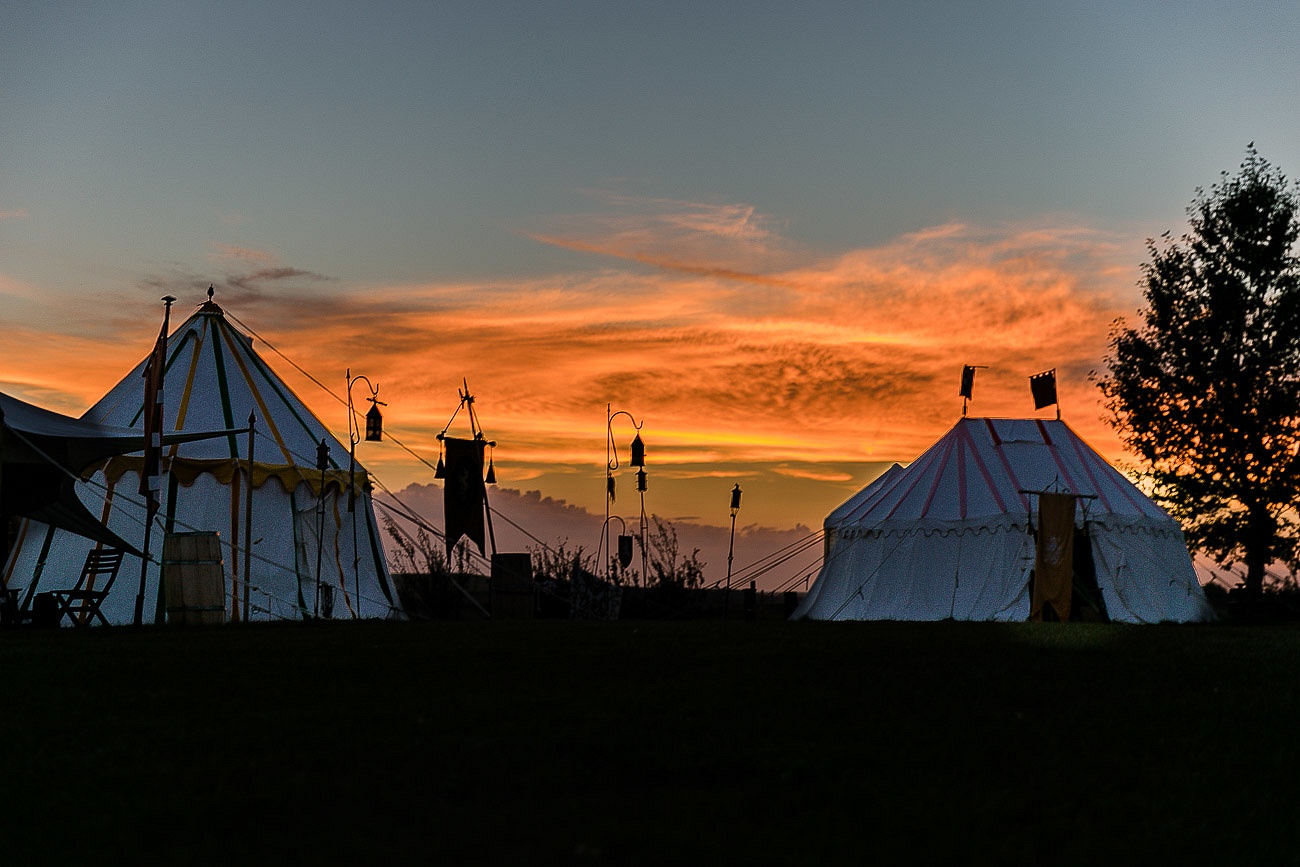 After the sun sets, I return to take a final gander at the leftover dinner plates. Alas, they are empty save for a gherkin or two. Those tiny pickles will never make it over the fence.
Lord Daniel offers me a lantern to help me back to my tent. Once the sun goes down, it gets dark and cold very quickly. Let me tell you, chiffon is not a great insulator. Lord Daniel anticipates that as well and hands me a cape. He really is a kind and benevolent leader.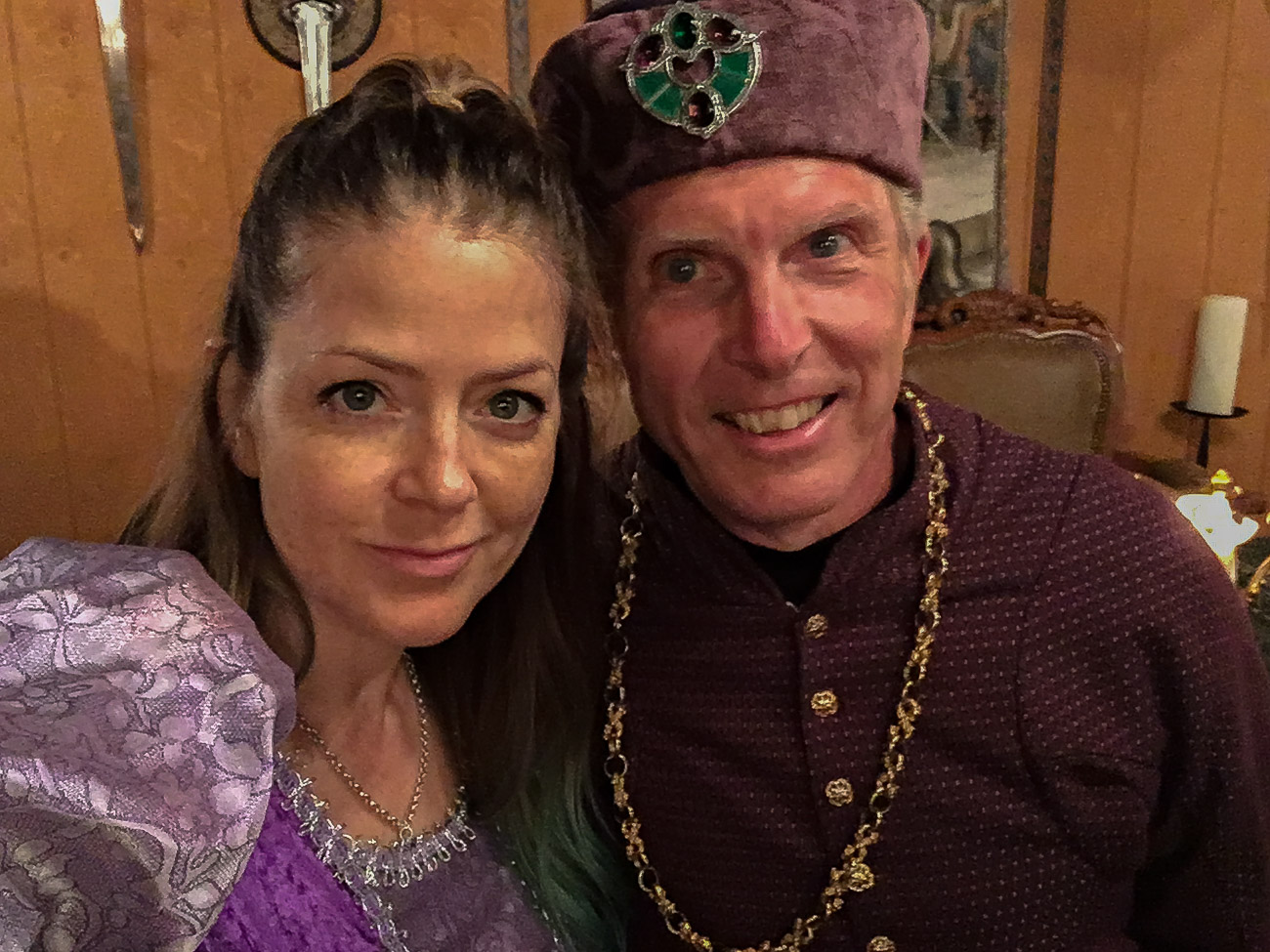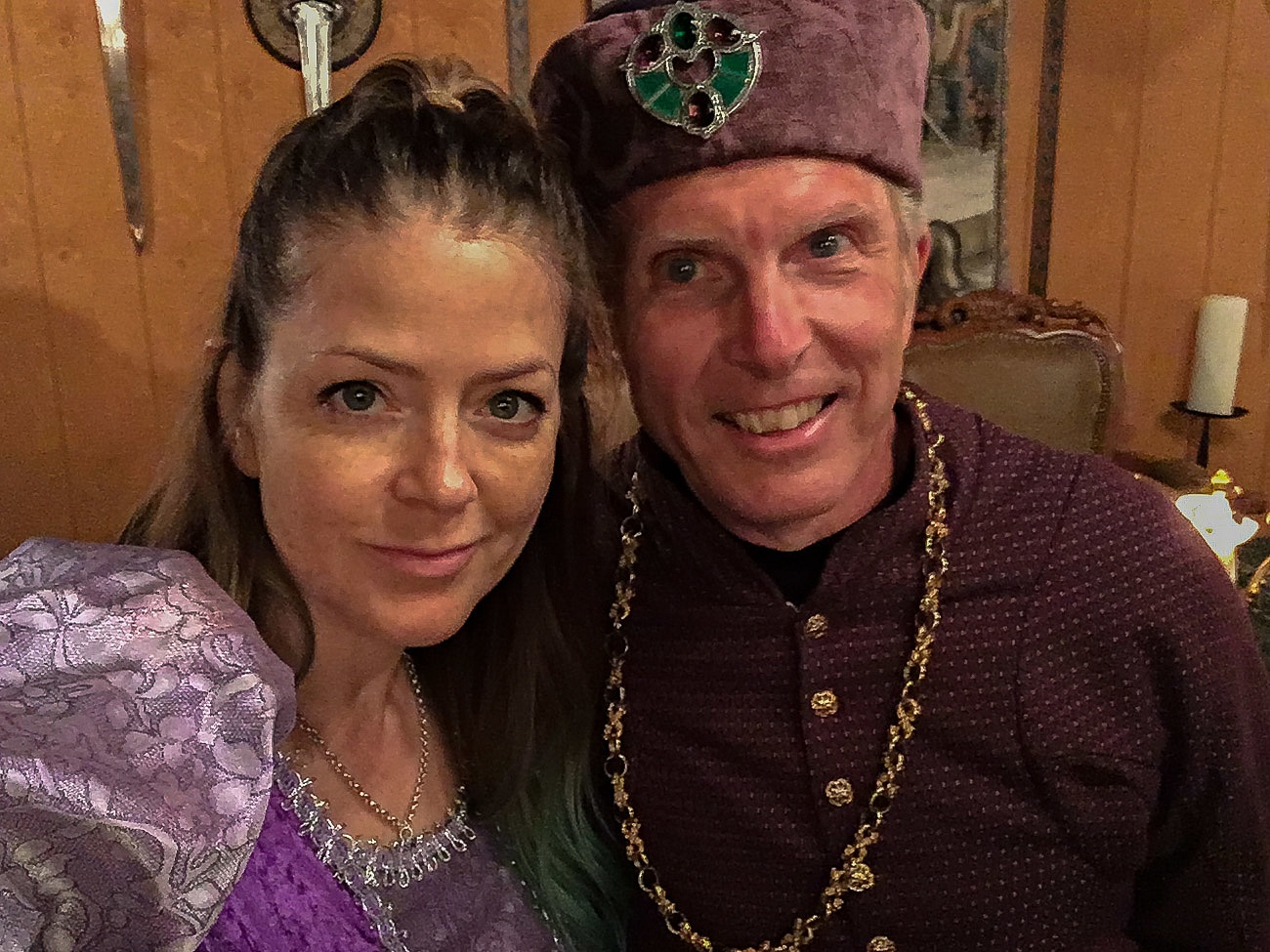 Turns Out Glamping is Still in Nature
My black cape swirls around my legs as I navigate the grass-tufted dirt back to my tent and I feel like a secret badass. I feel like I could hide a sword in the folds of my extra black fabric, strike an enemy and disappear into the night before anyone knew what hit them.
I channel this feeling when I see my throne room, which is filled with bugs. Of course, it was the only light on and it makes sense they would congregate here, but I'm just not used to camping in any capacity. But it's all good. I'm a secret badass.
I shed my purple dress and slide under the fuzzy animal print blankets on my bed. It's actually super comfy and warm. A small erratic pelting sound hits the exterior tent walls in what I first take to be fat raindrops. As I lay there enjoying the idea of rain, I realize it's actually large bugs dive-bombing the canvas. Which, while less romantic, is still a peculiarly pleasant sound nonetheless.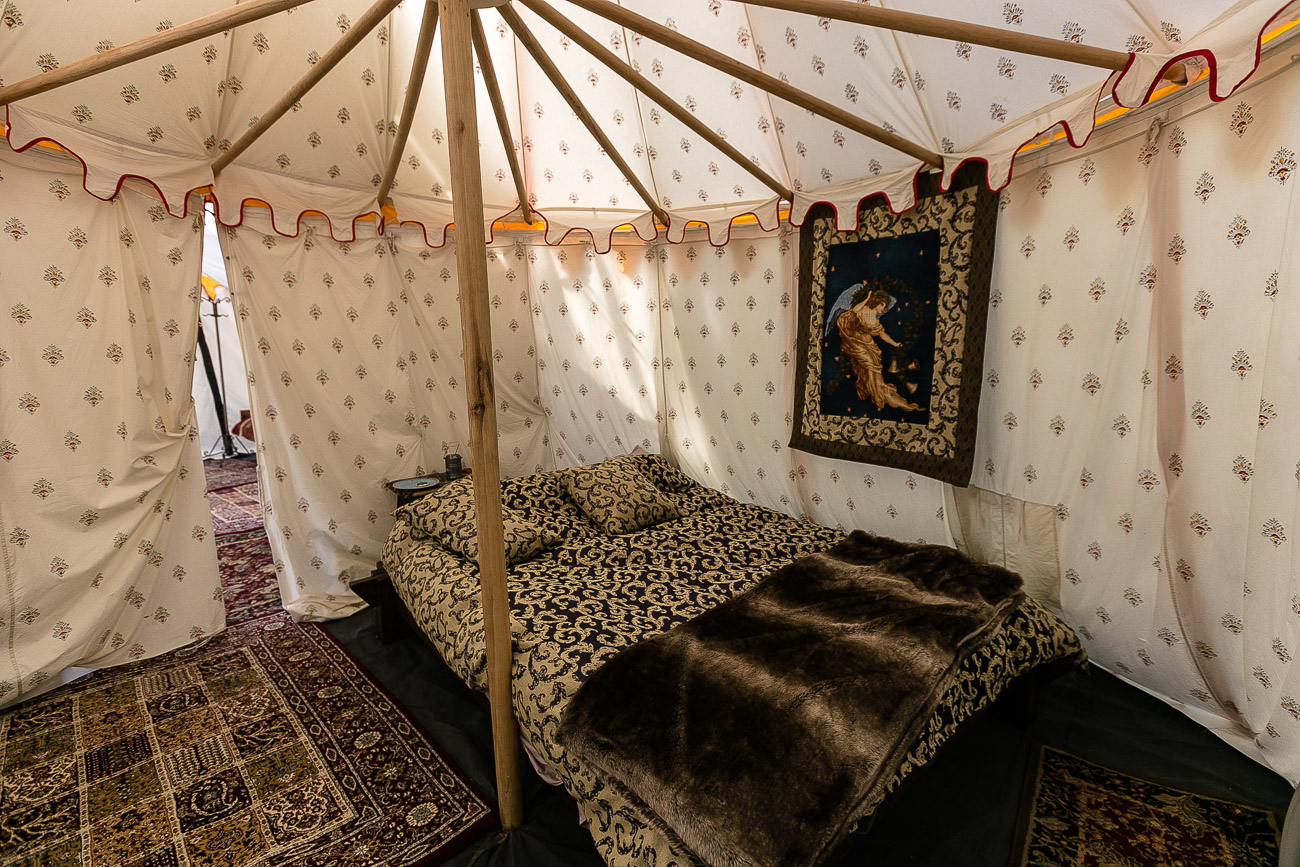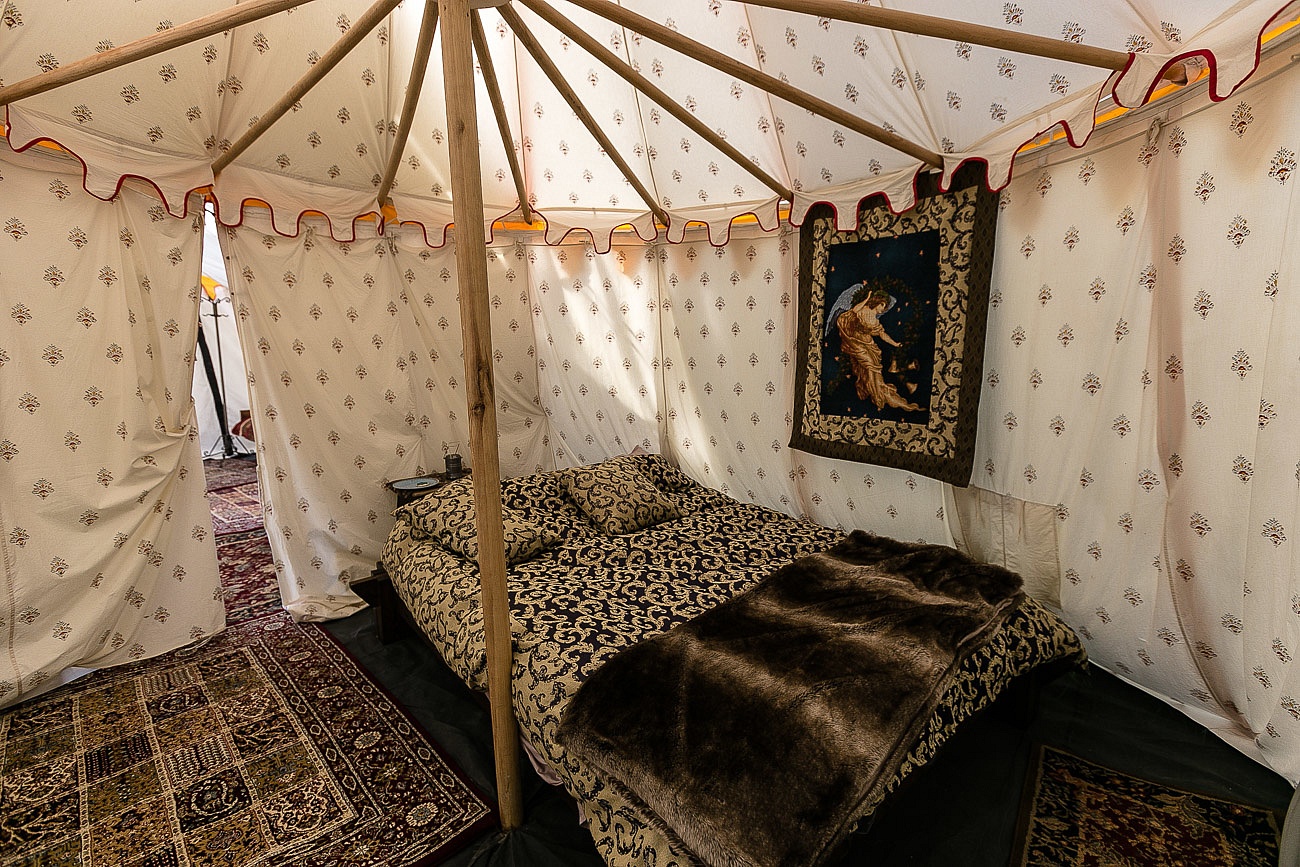 Less pleasant is the distant, high-pitched yips and barks. Coyotes. A sustained howl is offered up into the night and the response sounded even closer. I think for a moment about how I did NOT, in fact, toss any turkey bait into the nearby field, so this cannot be my fault.
I'm fairly certain that coyotes aren't interested in humans, so I fall asleep. Even in a fancy tent with a fancy private toilet, glamping is very much about being in nature.
Planning Your Time at the Medieval Encampment
The next morning we were greeted with freshly baked chocolate pastries and an impressive continental breakfast in the communal kitchen area. Lord Daniel had once again provided for us all.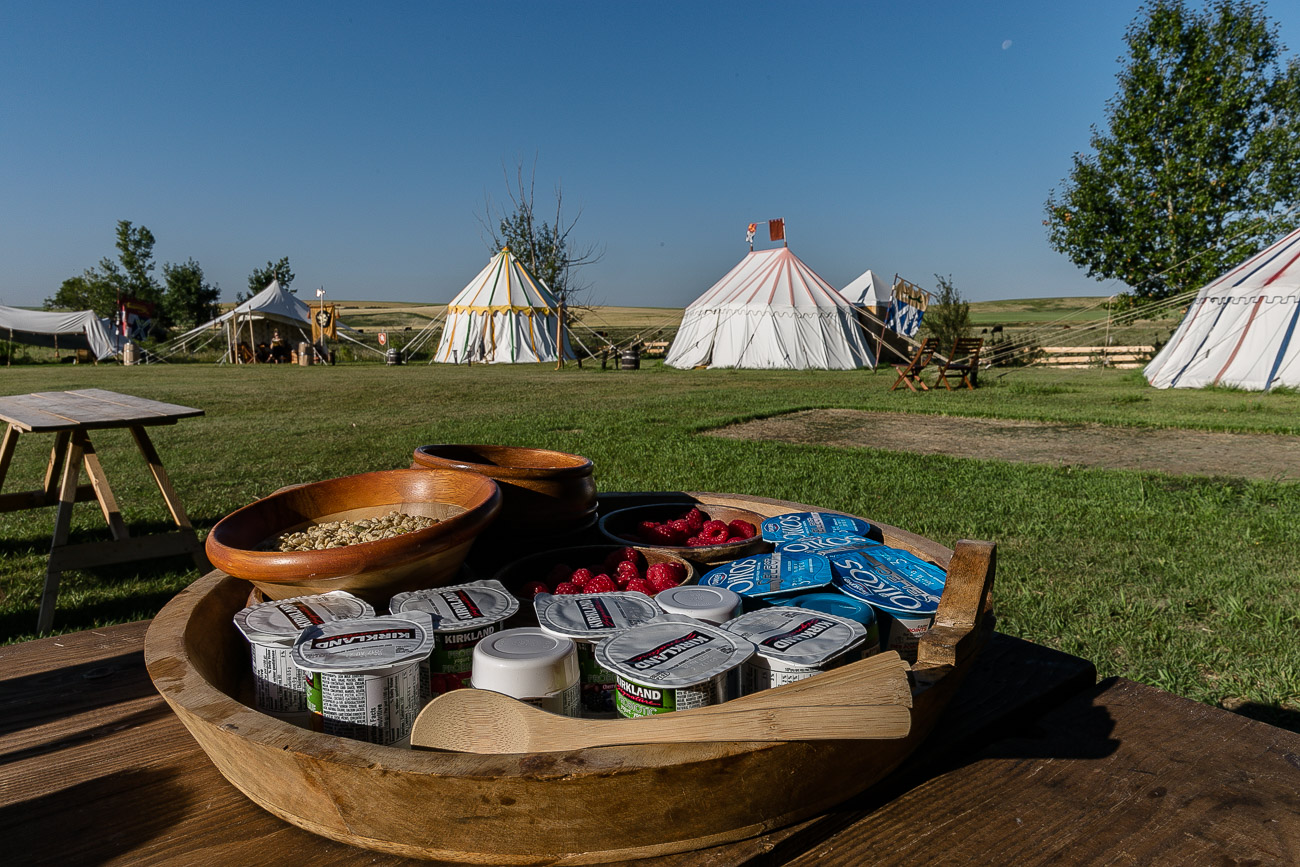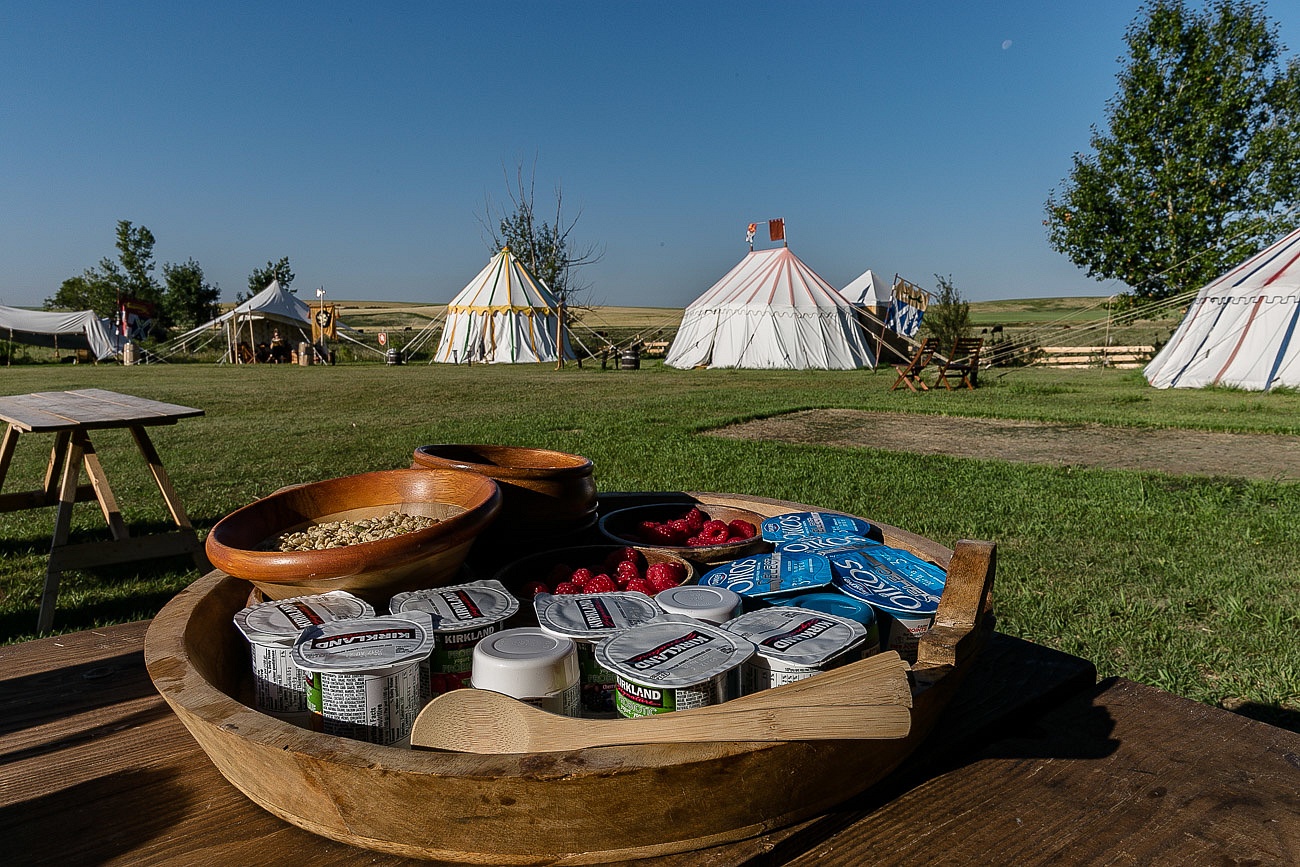 With the bright sunlight filling the campgrounds it's easier to see the game area across the way; a large open-sided tent where board and card games are well stocked. There's quite a bit to do on the grounds.
Good Knights is well thought-out and much more than just a place to camp—it's a fun, activity-filled medieval time that anyone can learn to love. But if you love dressing up and pretending to live in a very liberal feudal system, you'll have an especially good experience.
My recommendation is to either get there early in the day (I got there at around 5:30 p.m.) or spend a couple days on the campground so you can take advantage of the workshops. I really would've liked to try archery, candle-making, or melting little pewter soldiers into pools of silver liquid. (Though maybe that last one is supposed to happen in the opposite order.)
Unfortunately, though, I have to hit the road for my next adventure so I can't linger. Before I leave, I gave my trebuchet a final look. Next time, I catapult.
The Canadian Badlands Board of Tourism hosted me during my stay at Good Knights Medieval Encampment. All opinions are my own, because seriously, how else could I tell this story?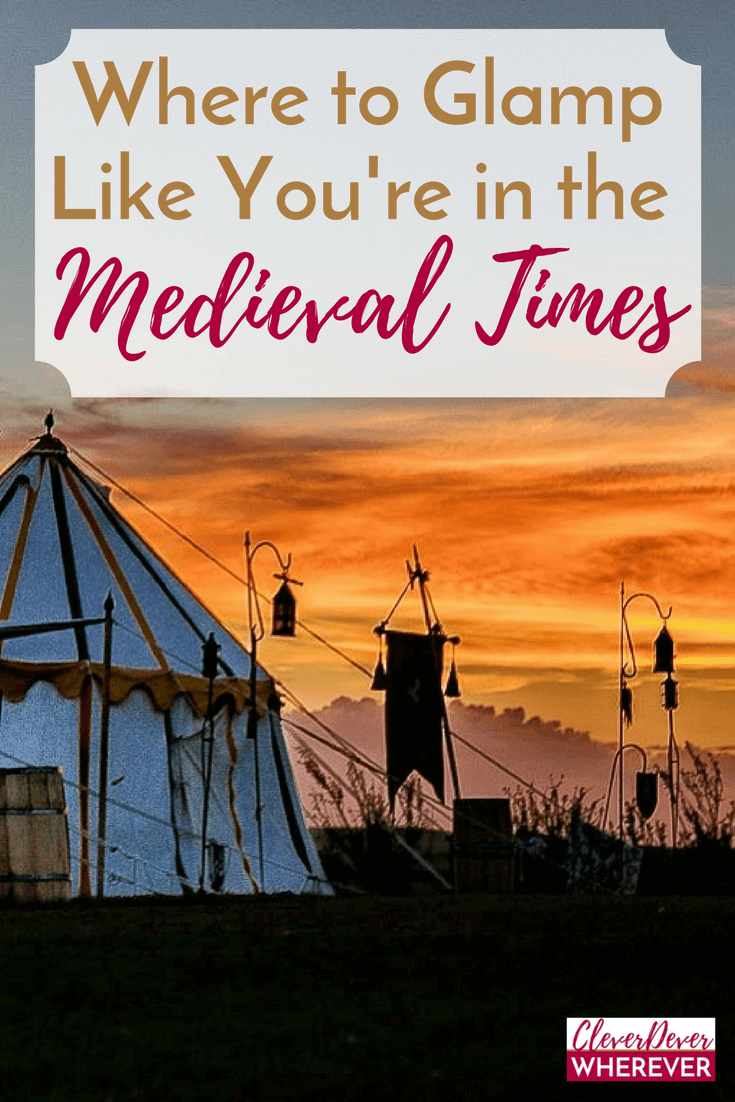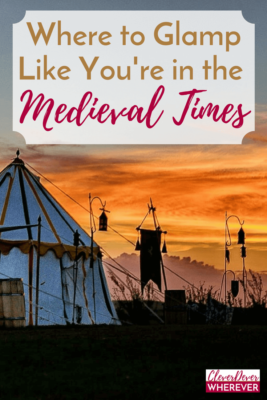 Read More About
the Canadian Badlands