r
"I just called a guy to put on his bear suit." Such is the sense of humor of Derek, our guide tonight to watch black bears in their natural Canadian habitat.
We'd been briefed about how this bear viewing was going to go down during our yellow school bus ride to the forest:
Bears like sunset (how romantic)
Bears are scared off by sound, so whisper if you must talk
Don't stomp on your way to the bear observation box. Stomping, by the way, is exactly what I'd like to do while walking in a woods full of bears, but okay.
The observation area faces an open break in the forest. There are hollowed-out trees filled with food propped up to paw level. It looks like the set of "Bear Country Jamboree" minus the bicycles. Silently, we sit and wait for the show to begin. One by one, the players slowly arrive, as if the animals know it's show time. Black crows, ground squirrels all cross the area as if it's part of the opening act.
The first bear appears cautiously, knocks the top off the log and begins to eat. She digs into the bear buffet. I wonder if she'll save anything for the other bears. "She is aware of us," Derek whispers. "It's the reason she faces toward us." She takes her time, as if she knows she's the star of the show. She continues to chew the scenery. Literally.
Finally, the 6-year-old female bear stands around posing a little longer and then saunters off stage. She must've known her performance was great.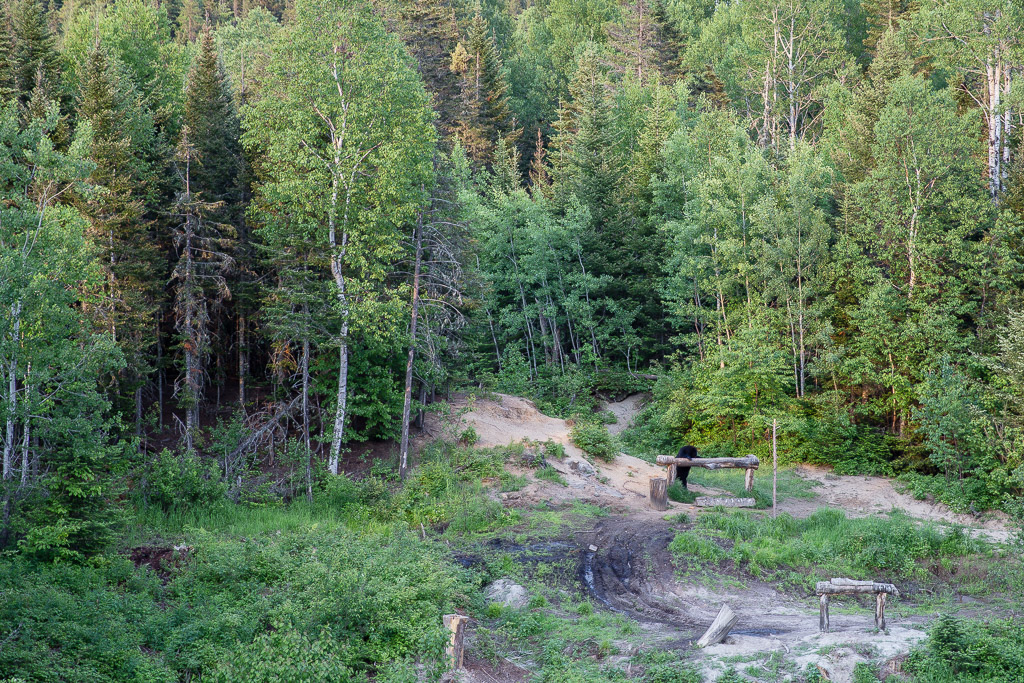 Another hour passes as we silently watch nature play out in the dusky light. No other bears show up (possibly because the first one is a food hog). We walk back to our bus.
I ask what's inside those logs and how they get filled.
"The logs are filled minutes before with donuts, fruit, jams, jellies. But we are trying to avoid building up a club med of bears waiting to be fed. We want them to move on and not be dependent."
Seriously, who has that job of walking through the woods carrying a bucket full of donuts and jam? Canadians are crazy.
This is daily life at Ferme 5 Etoiles in Quebec's Saguenay-Lac-Saint-Jean region. Now an animal shelter, this family farm allows visitors the opportunity to get close to, sometimes even snuggle, wild animals that have been rescued. The property includes comfortable, rustic rooms in which to spend the night, a spa and a restaurant.
It was a perfect stop during my Canadian road trip with my friends Rachel and Stephanie. I think our hearts melted approximately 27 times over the course of the weekend and if you are an animal lover, you need to go there and snorgle up on those adorable rescued animals. You're welcome.
Why else should you visit Ferme 5 Etoiles? Allow me to present 11 more reasons:
1.  This 1-week old baby deer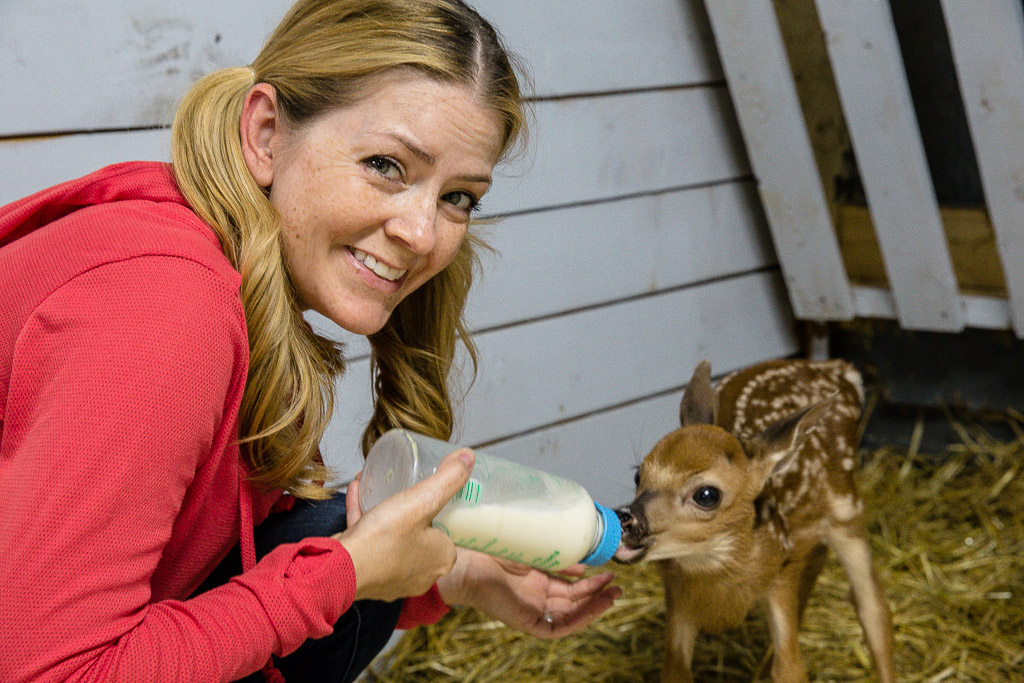 Okay, I know she will be older by the time you visit, but orphans like this arrive at the shelter periodically and if you're lucky, you might even get to bottle feed them. <GAH>
2.  Litters of sled dog puppies!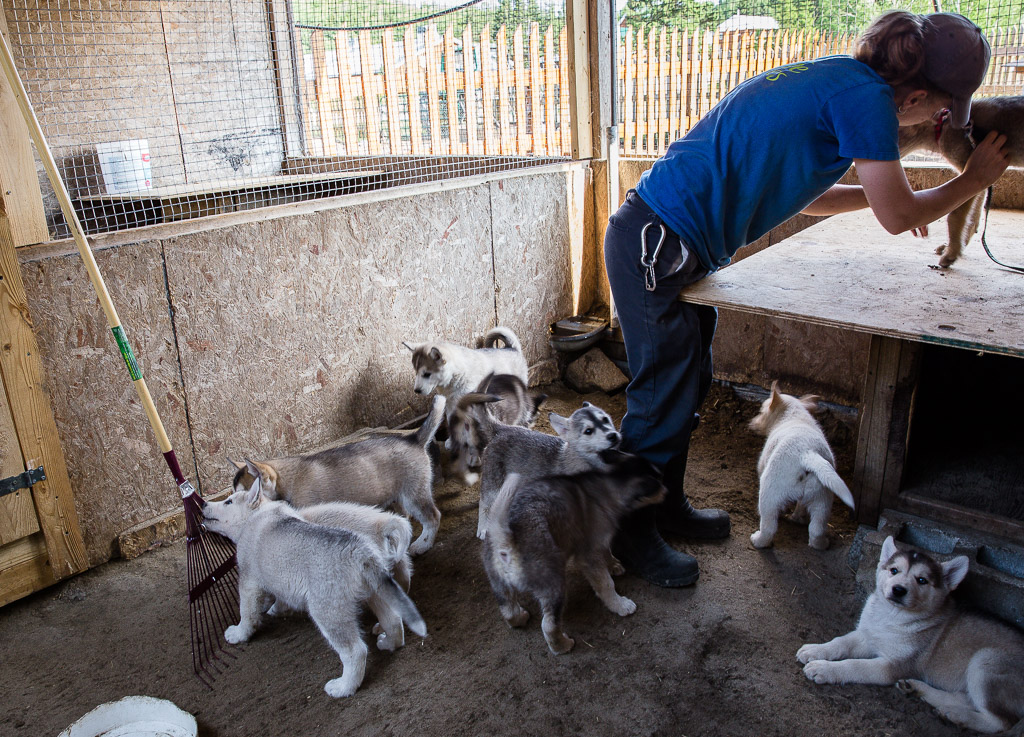 Once again, yes, these tykes will be older when you visit, but you never know when the next bundle of bouncy working canines will arrive.
3.  Comfortable rooms right on the farm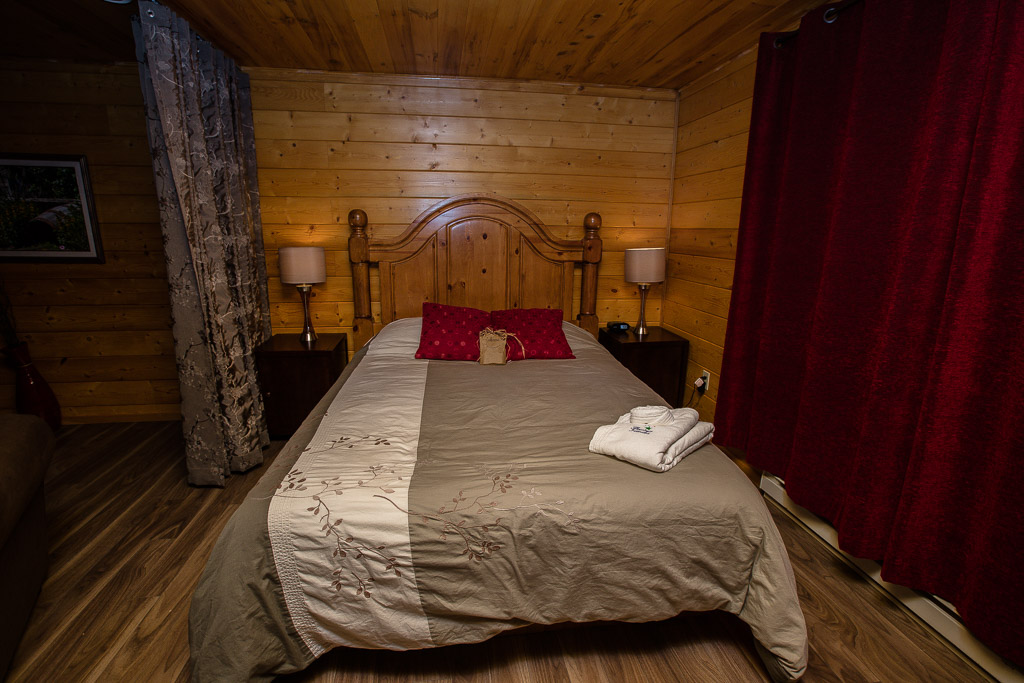 You can make Ferme 5 Etoiles your home base for not only animal time, but its situation in fjord country also puts a cornucopia of outdoor activities within a short drive. Kayaking, hiking, whale watching in summer, and dog sledding, snowmobiling, and all winter sports you can strap to your feet in winter.
The farm also has night activities like bonfires and star-gazing – just ask!
4. Helping with the fox relocation program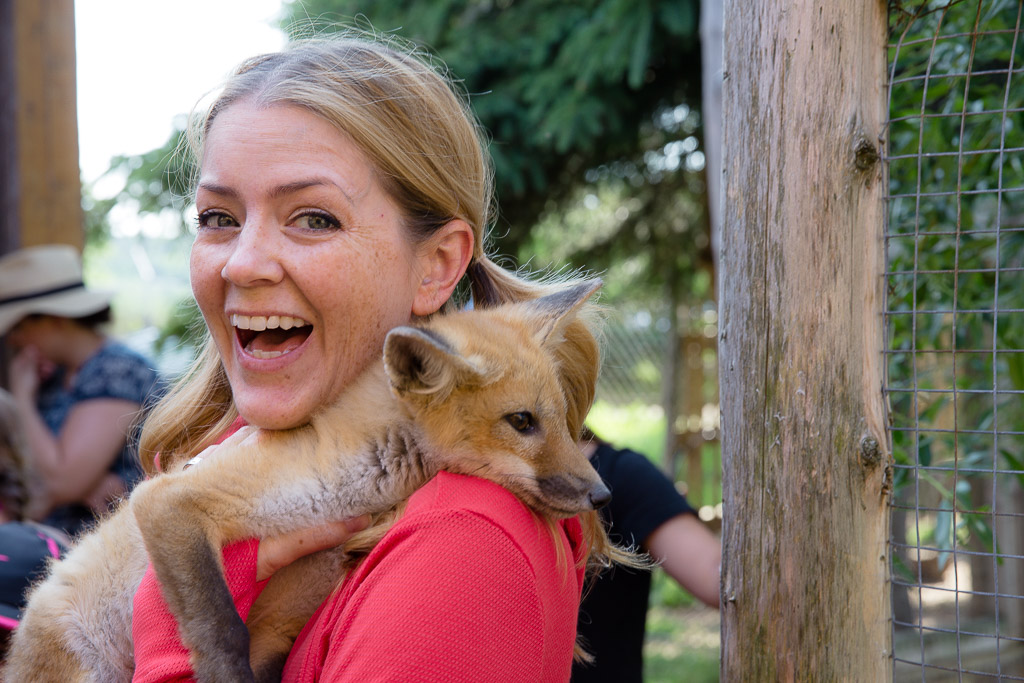 That's not a real program, I made it up. But I was super lucky to be there the morning that this little rascal and his brother were moving into a larger pen. I might have dragged out that experience a bit, but hey, how often do you get to cuddle a baby fox?
5. Hanging out INSIDE a wolf's den with wolves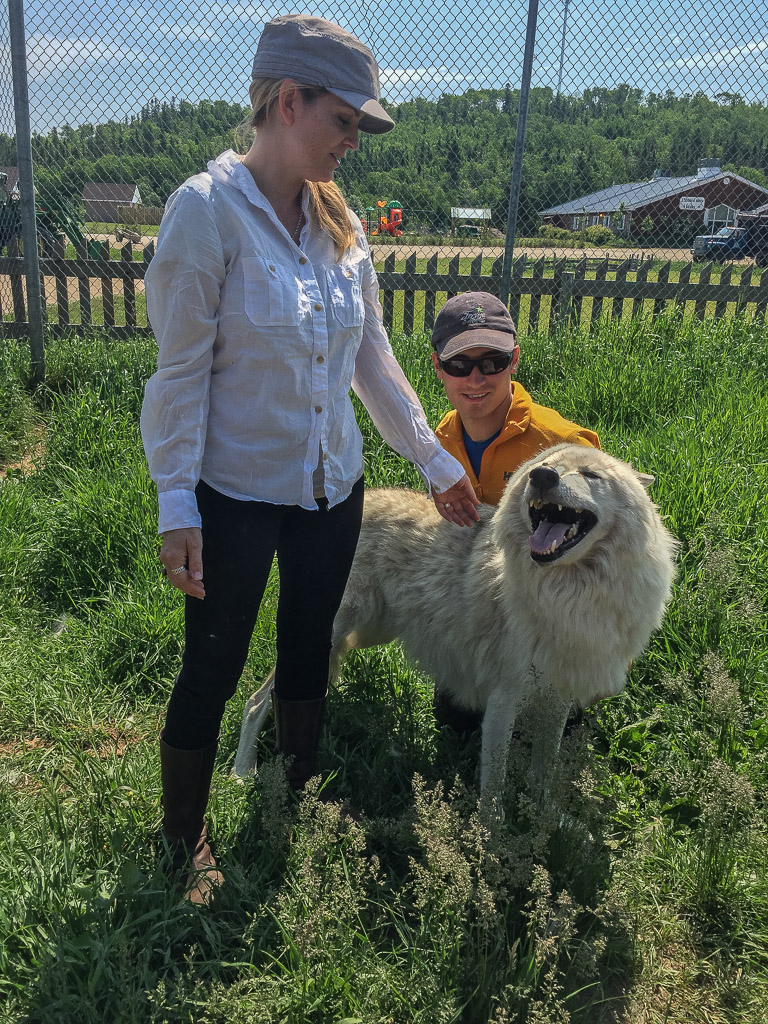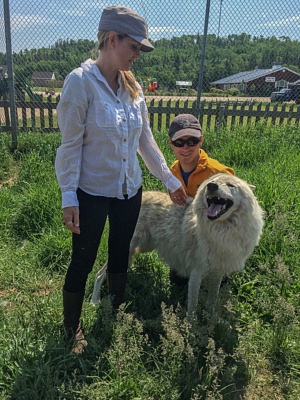 This was a massive highlight. Anyone can sign up for this, however do be prepared for the signing of waivers and a lengthy lesson on wolf behavior. They're not dogs, even though they can be goofy and adorable. I gained a huge sense of respect for the wild being so close to these gorgeous beasts.
6. Total amusement by a pair of silly raccoons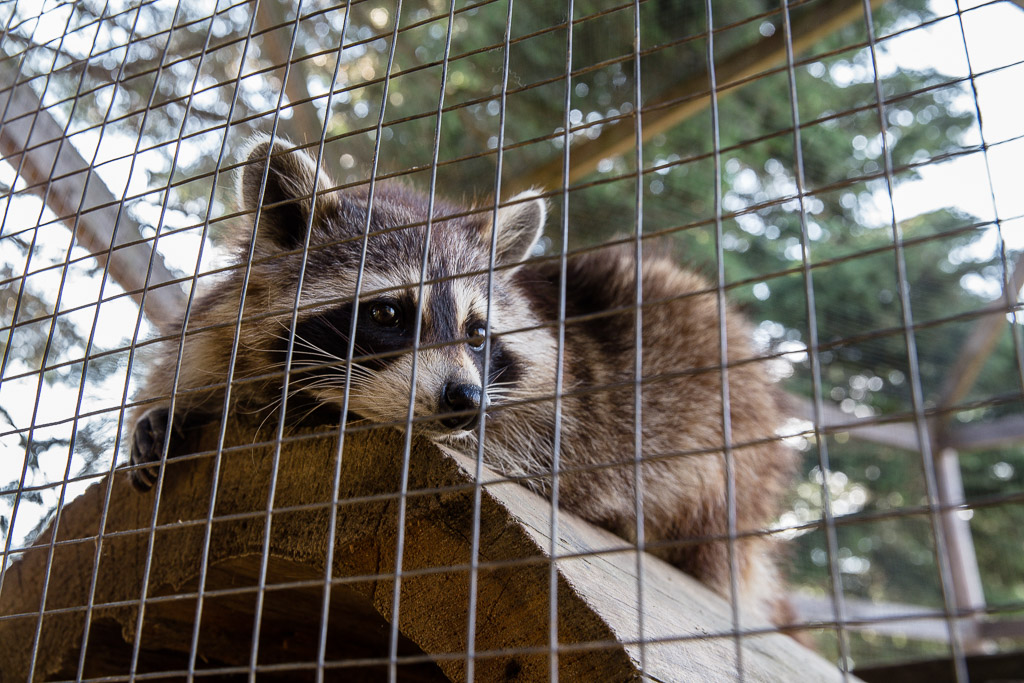 Watching these adorable little bandits running around inside their wheels is always good for a laugh.
7. Feeding a moose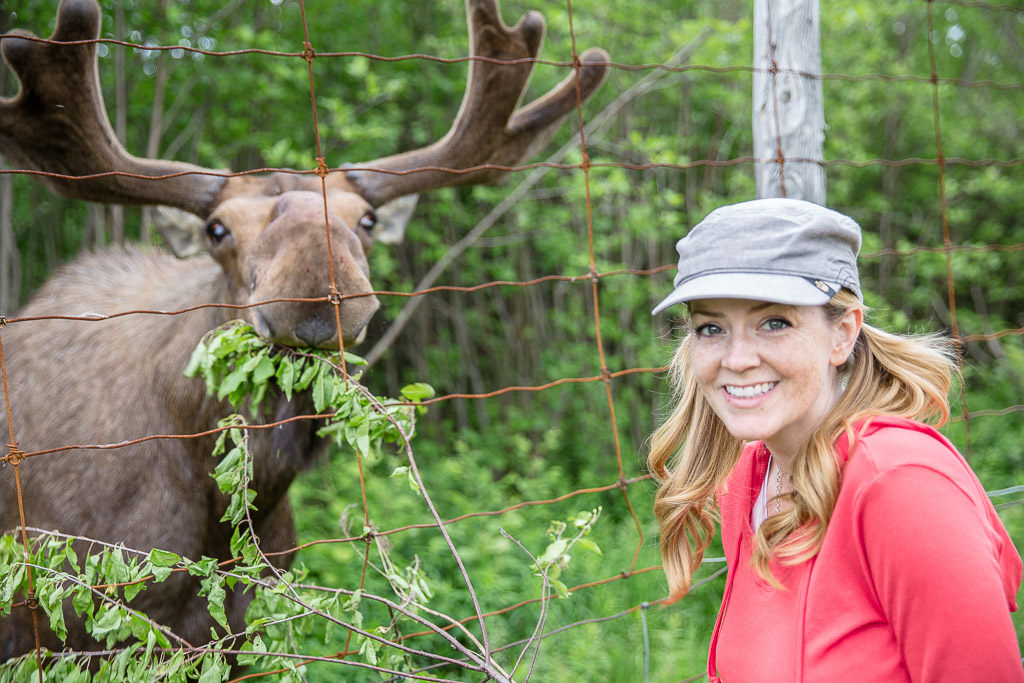 I was never entirely certain if his name was Bob or Asu, but seeing this massive animal so close up was thrilling. The farm is on approximately 700 acres, so we took a ride out to the woods nearby to call for Bob/Asu. When he emerged from the green foliage I was in awe. We fed him cherry and willow branches and took loads of photos. I call that a win-win.
8. Maple butter
You'll see this in different shops around Canada, but here on the farm they hand whip the syrup until it is emulsified and magical. There's no sugar or anything else added. Just straight, pharmaceutical grade maple. It can get addictive. Just ask my friend Rachel.
9. Local craft beers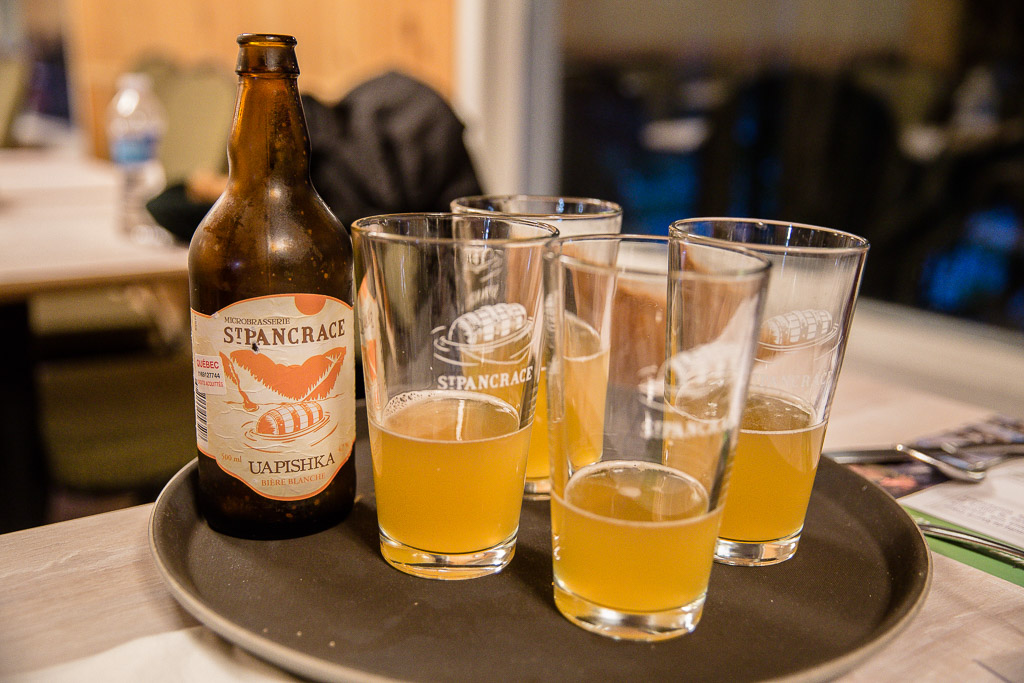 Cold and filled with Boreal forest goodness and clear mountain water, they have several styles available in the restaurant. I love all things local, and trying these beers was a perfect complement after a long night bear watching.
10. Coyote walking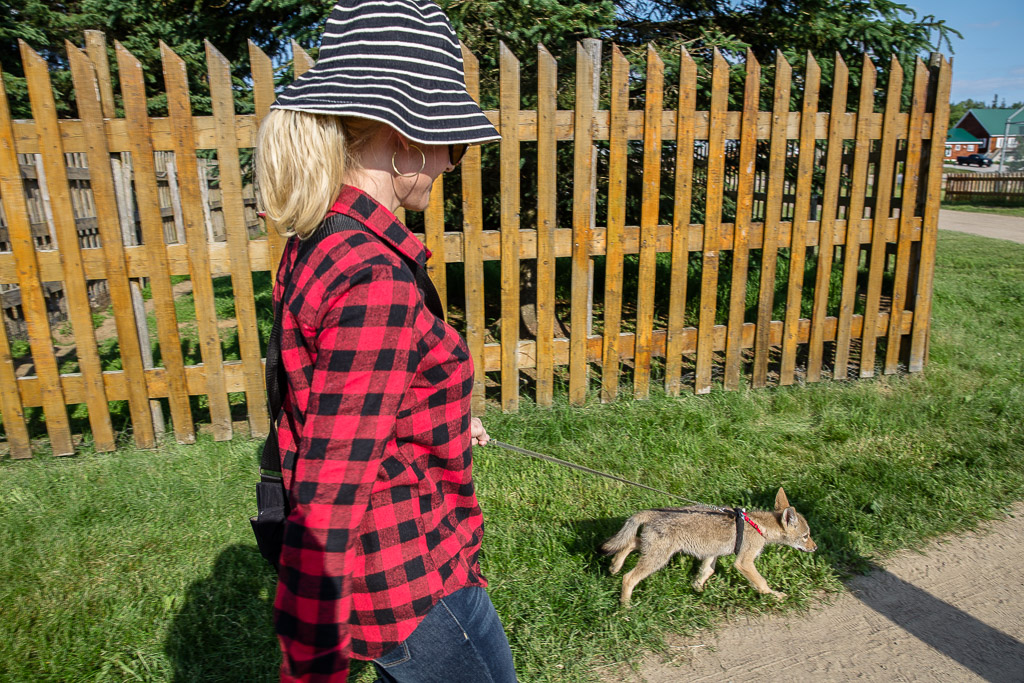 This little two-month old punk was a handful. He loved visiting with the wolves and hated being on a leash. I mean, of course he would, but still, you just want to grab them at this age and say "Hey, don't be such a wise-ass, coyote. You're gonna irritate a lot of people later in life with that attitude."
11. Goofball sled dogs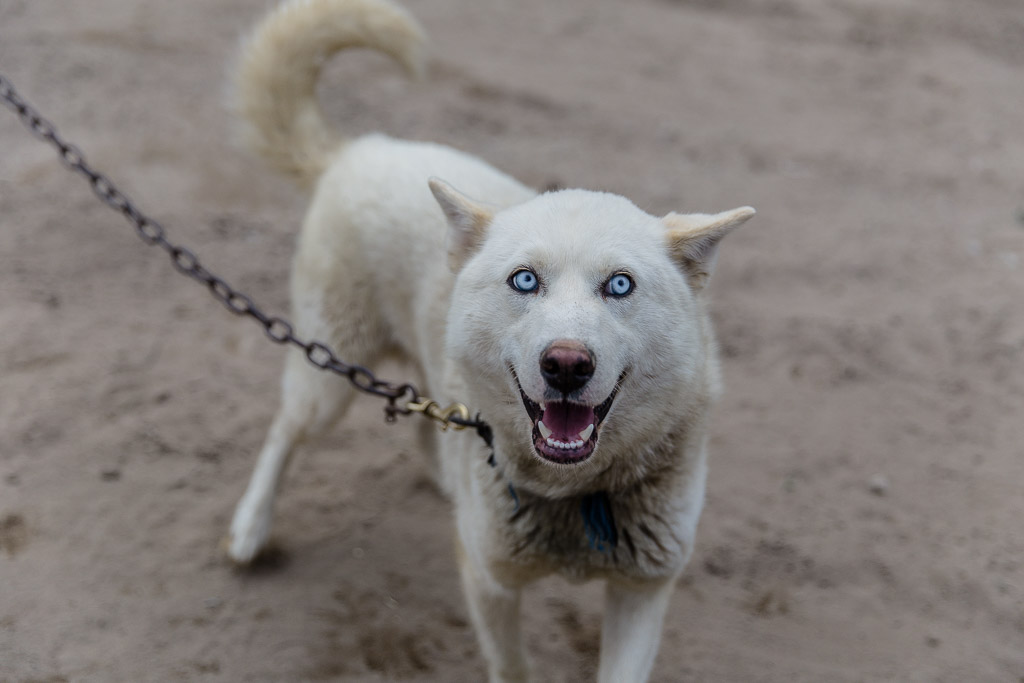 When you arrive at the sled dog habitat, the air explodes into howls of excitement and every dog starts going bonkers with the thought of going out on a run. In the winter you can assemble your own team, so these barkers have gotten used to trying to get your attention, all with the hopes of being picked first. They'll take belly rubs if you're not going sledding, so be cool, and hook a dog up, okay?
Staying at Ferme 5 Etoiles was really a highlight for all of three of us, and a perfect stop during our girls' getaway vacation. For more information on visiting or staying on the farm, check out their website here.
Pro tip: The forest can attract mosquitos and angry black flies. These little suckers draw actual blood. Wear lots of bug spray, but more importantly cover as much of your skin as possible.
This stay was hosted by the farm, but all opinions are mine, because it's my blog. 🙂 My heart was in a puddle all weekend and I would never steer you wrong about that.