"I wish it was winter already" Molly, who works at the Iceberg Inn says, throwing off her coat to reveal a tank top. "It's like spring out there."
Bundled in various layers of wool long-sleeved shirts and sweaters, I look at her. My beanie creeps over my eyebrows again. I can't get warm.
"Do you actually like winter?" I ask.
"Eh, It's okay. I'm just tired of this slush. It needs to freeze already." This is a sentiment she shares with the more famous inhabitants of this tundra region in Manitoba, Canada: the polar bears.
Molly is originally from Sanikiluaq, an Inuit community located on a small island in the Hudson Bay in Canada's Nunavut territory, even further north. It's like Canada just keeps going.
We stand in the lobby of the inn, which is also a Sears catalog outpost. We're surrounded by decorative antlers; with empty fifty-pound brown bags that read "Frozen Whale Meat," and a framed, signed Sears catalog cover from 1997 on the wall. If I didn't know any better, I'd say the set designer was trying too hard to approximate a frozen frontier town. Except maybe for that Sears cover.
For those with Canadian blood, I can see how 34°F/1°C might feel warm. For me, a Southern Californian on a Churchill Manitoba trip, these sustained cold temperatures were actually chilling the marrow of my bones. I felt as if my skeletal system was made of icicles.
I needed to understand the people who lived here. How did they feel about sharing the town with polar bears? With waves of tourists that continuously flood in? How did they endure the cold?
Population 1,000, there are no roads that lead in and out of town. It's like living on an island surrounded by land. When locals get stir crazy they need to BUY A TICKET to leave their town via railway or air.
"I've never left Canada. I always wished that I was born in Hawaii." Molly laughed. "When my
children are older, I'll travel. Until then, visiting with tourists and learning about where they come from is like traveling."
We talked about the many times she has come face to face with polar bears as they sauntered through town.
"One time I was walking home and I didn't really pay attention, I put my head down. I look up, there's a polar bear staring at me. He's not attacking me, so I move slowly."
She explains residents leave their doors unlocked in such instances. "I didn't know who lived in this house, so I knocked on the door. There's this lady, she opened the door 'Hi, how can I help you?' and I said 'Okay, there's a polar bear over there.' She grabbed me on my shoulder and dragged me in."
First, I wondered how the two women didn't know each other in a town of 1,000 people who are somewhat sequestered. But second, I loved that everyone looks out for one another. And I loved how unlocked doors are for polar bear protection, not a vulnerability.
I have an hour to myself and decide to visit the few shops in town. Uneven ice slicks the ground in little peaks and ruts, desperately in need of a layer of crunchy snow. I walk mechanically, like a battery operated toy robot, to avoid falling.
Kelsey Boulevard, Churchill's main drag, was the place to cruise. I slid in front of the Arctic Trading Post, which features "Eskimo Carvings," "Outfits for Explorers" and "Old Fashion Candy." It's unclear what they will take in trade for any of these items.
There's a black dog tied up next to a small wooden crate in the ice-covered lot. "She doesn't have a name. Eskimo dogs don't have names."
As if materializing from the trading post itself, or maybe from a Grizzly Adams novel, Mike comes over to me with a smile and a handshake (why isn't he wearing gloves?). He walks with a gait that reveals he has zero issues negotiating the slippery ground.
He wants to know about where I'm from. Mike shares that he's a retired trapper originally from New Brunswick but is now 40 years a local in Churchill.
"Her littermate was eaten by a polar bear." He continues. There was no one around to verify this story, but it sounded plausible. Honestly though, I didn't want to think about polar bears doing anything but sitting upright in the snow, wearing handsome wool scarves and waving at folks.
I waddle away, concentrating on staying upright and looking for reprieves amongst the undervalued slush. On the other hand, I'm so bundled up that even if I do fall, I'd likely bounce right back up like I was filming it in boomerang effect.
It's the zenith of tourist season, but there was no traffic gumming up the daily commute, which really amounted to a snowplow scraping by and the occasional snowmobile buzzing past.
Lunch is at Gypsy's, a popular local's spot. This café goes from quiet to bursting like a jiffy pop explosion in just two tour groups. The chaos is well organized though and everyone is so cheerful. Our quick-moving line centers me on the dessert case. I'm instantly in need of one of the passion fruit tarts.
"Have you ever had passion fruit?" Helen, the owner of Gypsy's, scans me for worthiness. Please. I love it so much I've learned to pronounce it in five languages.
"Most people don't know this fruit, so I explain first the taste." We hold up the line plumbing the depths of our passion for the fruit de la passion (French!).
She imports the fruit because it's her favorite, because it reminds her of growing up in Portugal. Getting produce up here is no easy task. Deliveries by plane only happen once a week. To acquire that tart little maracujá (Portuguese!) must be a challenge. That's love.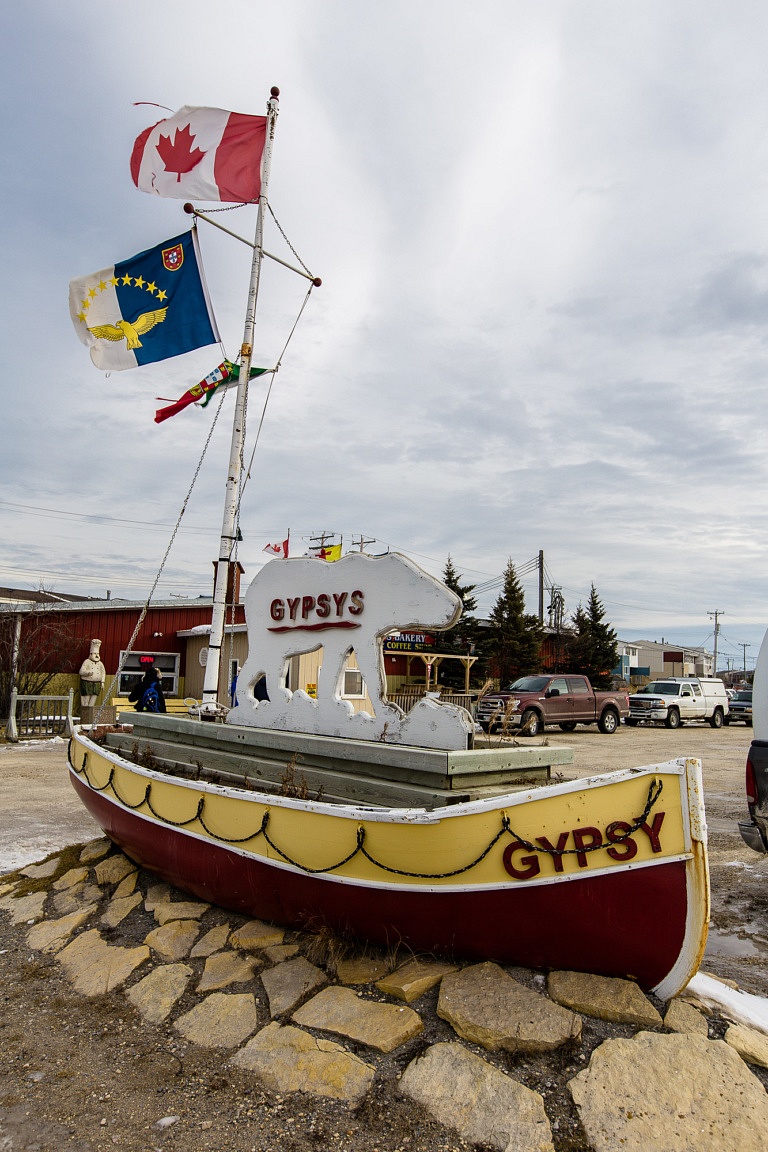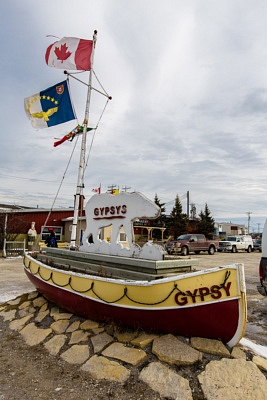 Helen and her husband Tony bought the place 25 years ago and have lived in Churchill ever since. The rest of their fifty family members, she tells me, live in Montréal.
"Mama! We got other customers!" Her son shouts over the crowd. I wish I could stay and talk to her all day, but there are other tourists that need polar bear shaped donuts behind me.
Our last authentically Churchillian adventure is outside of town. Our bus driver Bill doles out tales of polar bear encounters like one of those friendly animatronic prospectors at an amusement park.
As the gray re-purposed school bus pulled up to Wapusk Adventures, a traditional teepee comes into view. The owner, Dave Daley, is a member of the First Nations' Métis people and a third generation resident of Churchill. He runs this dog sledding kennel on the edge of the arctic as a hobby, for the love of dogs.
We piled into a cabin next to his 37 dogs, who know why we're here. They howl and bark, hoping to get picked to pull us around while they run madly, tongues gleefully lolling in the freezing air.
Founder of the annual 220-mile wilderness sled run the Hudson Bay Quest, Dave explains what in the world he's doing up here.
"It's all about being out there with your dogs. It's all about the human-dog spirituality of running it. You haven't lived unless you've been out on a 50-mile run, just you and the dogs. The northern lights are screaming in the sky, you can shut your headlamp off, the steam is coming off your dogs, you call them by name and they look back, big smile on their face and they're all frosty.
"You know what I mean? That's livin'. That's my passion, just runnin' out there."
There's so much warm and fuzzy at this point you'd think I'd be toasty. But the afternoon is slipping away and taking any warmth in the air with it. My toes are losing consciousness. I ask Dave how he deals with the cold.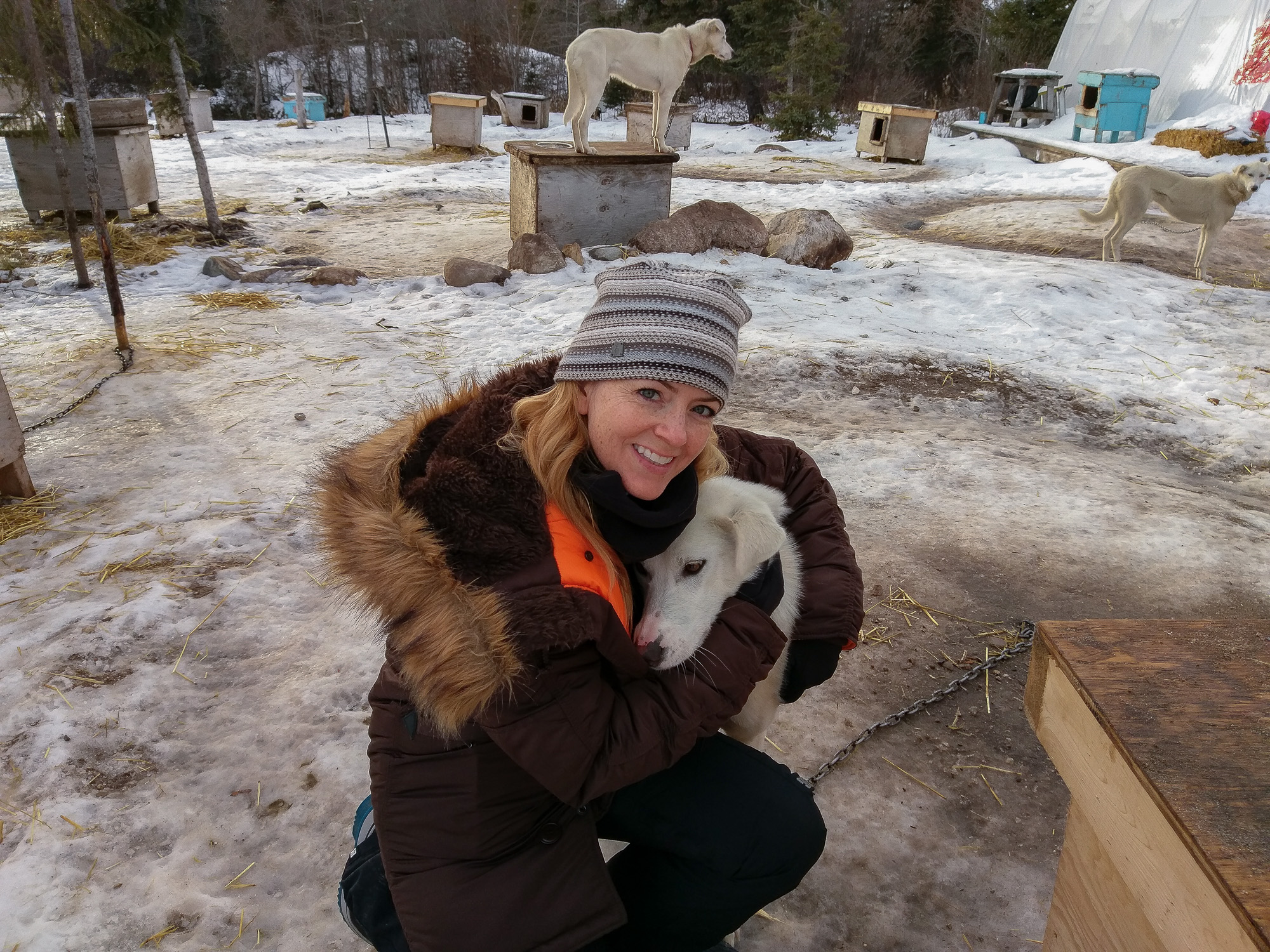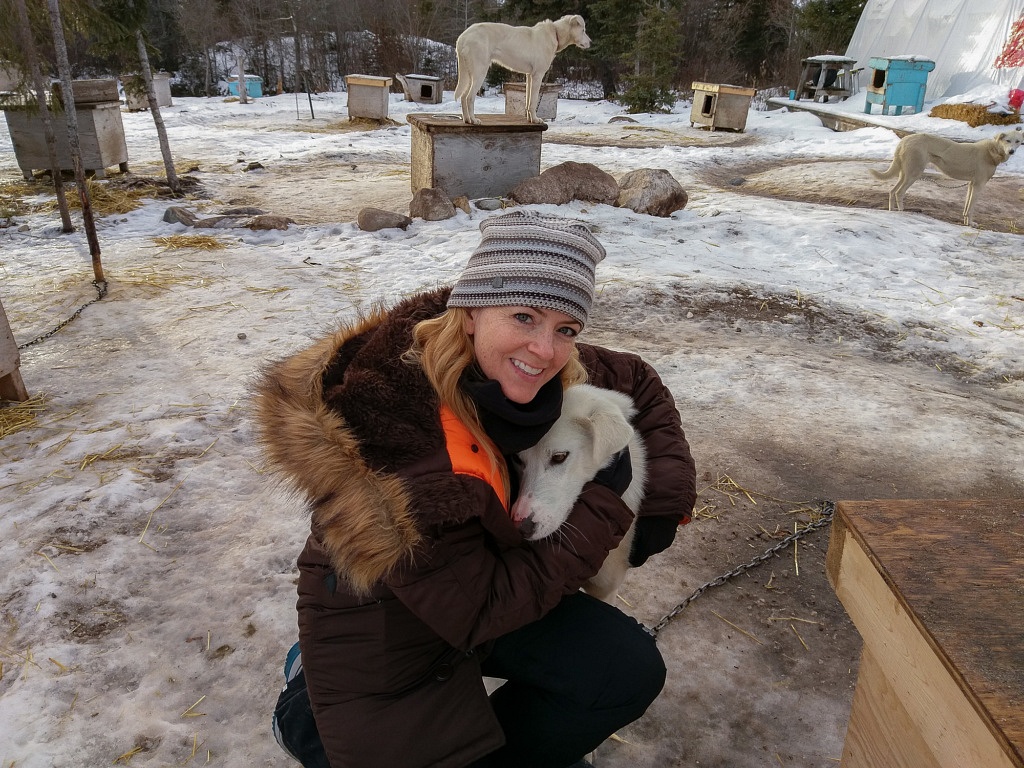 "You can't let it psychologically get you. If it's -20° I tell people to think of their favorite song and dance in spot. The minute you stop moving is the minute you're gonna freeze to death." Fair point. But he also has three dozen dogs to snuggle with at any given time.
We board our sled in pairs for Dave's "Ididamile" run. Cheekily named for the mile he and his dogs pull us across, we lurched forward, racing through the Boreal forest. We speed into a wilderness glazed with ice and sparkling with a light layer of snow. The overcast sky is heavy with a sunset blue.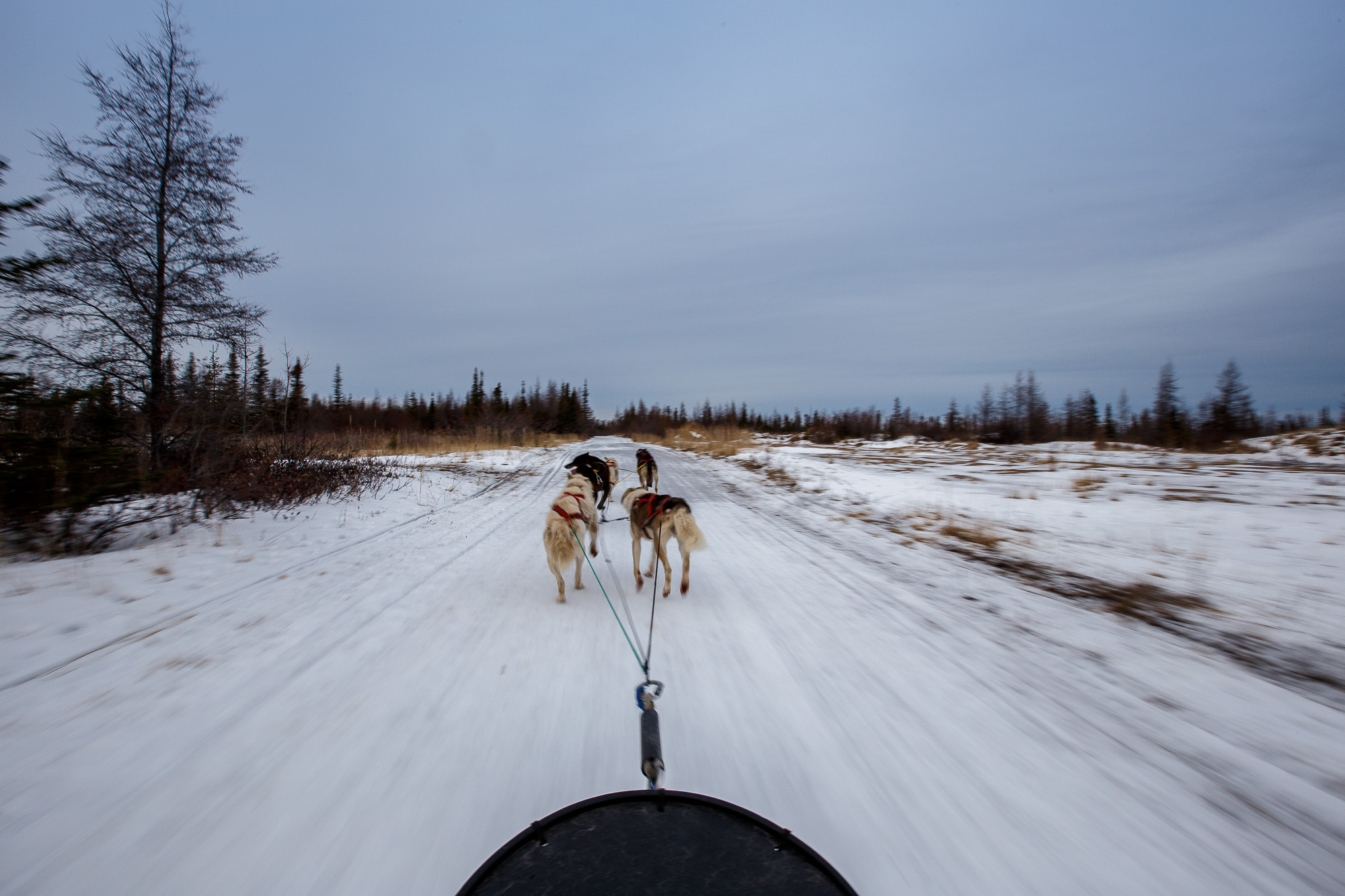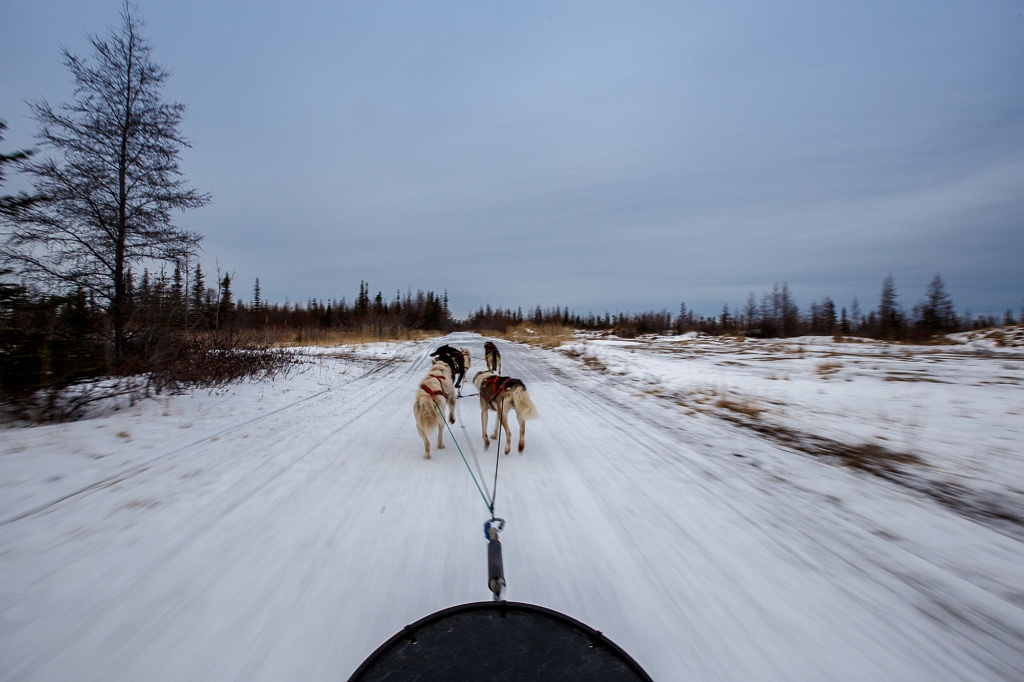 The serenity of being up so far north grounds my soul back into my body. We slid back to the end of the track, and I'm grinning ear-to-ear, filled with a joy and peacefulness that only nature can consign.
Dave stops me as I'm heading back to my school bus. "I read a saying a long time ago: 'I don't want to live my life knowing I hadn't lived.' That's one of the most profound sayings I've ever heard."
It's so fascinating how everyone here takes the polar weather in stride. After a few days, I realize that in this small tundra town, the cold is no match for the people of Churchill. The fire of their spirit creates enough warmth for everyone who visits.
How to Plan a Visit to Churchill, Manitoba
Where to Sleep in Churchill
Iceberg Inn
Clean, comfortable and kind, plus it doubles as a Sears.
Tundra Inn
Right near the restaurant and pub, so less ice-walking.
Polar Inn
They have standard rooms and one-bedroom apartments.
Where to Eat in Churchill
Tundra Inn Pub
My favorite! Their Spicy African peanut soup was incredible. AND they have an open mic / jam session on Tuesdays. It actually says to bring your bongos. Come on!
Gypsy's Bakery and Café
If you're worthy, Helen might let you have a passion fruit tart.
Seaport Hotel
Great sun-dried tomato pasta. I think they have karaoke here too, which I WISH I could've done. Right?
Things to Do in Churchill
Parks Canada Visitors Centre will give you insight into the flora and fauna of the region.
Eskimo Museum holds a comprehensive amount of history and artifacts from the founding nations of Canada
58° North Gift Shop has great gifts and souvenirs including jewelry from local artists, warm weather gear and adorable stuffed arctic toys.
Miss Piggy Plane Wreck
If you're not on a tour that takes you to this site, grab a taxi or ask a local, they'll probably be happy to swing by the wreckage near the airport.
See polar bears!
The safest way is with a guide. No doubt your hotel can connect you with someone, but I really favor heading out onto the tundra near Hudson Bay where they congregate. Frontiers North has some of the best tour options available.
How to Get to Churchill, Manitoba
Fly from Winnipeg
Take the Via Rail Canada train
Special thanks to Travel Manitoba and Frontiers North Adventures for making this trip possible. All opinions are my own.