There is a beloved book; a book about a talkative and dramatic young girl named Anne that was written in the early 20th century. This classic novel, set on a grassy green chunk of land in Atlantic Canada compels hundreds of thousands of tourists globally to plan a Prince Edward Island vacation.
I have a confession: I never read the book. Please don't tell anyone.
When I was planning my Canadian road trip with my two girlfriends, PEI seemed like the natural end point.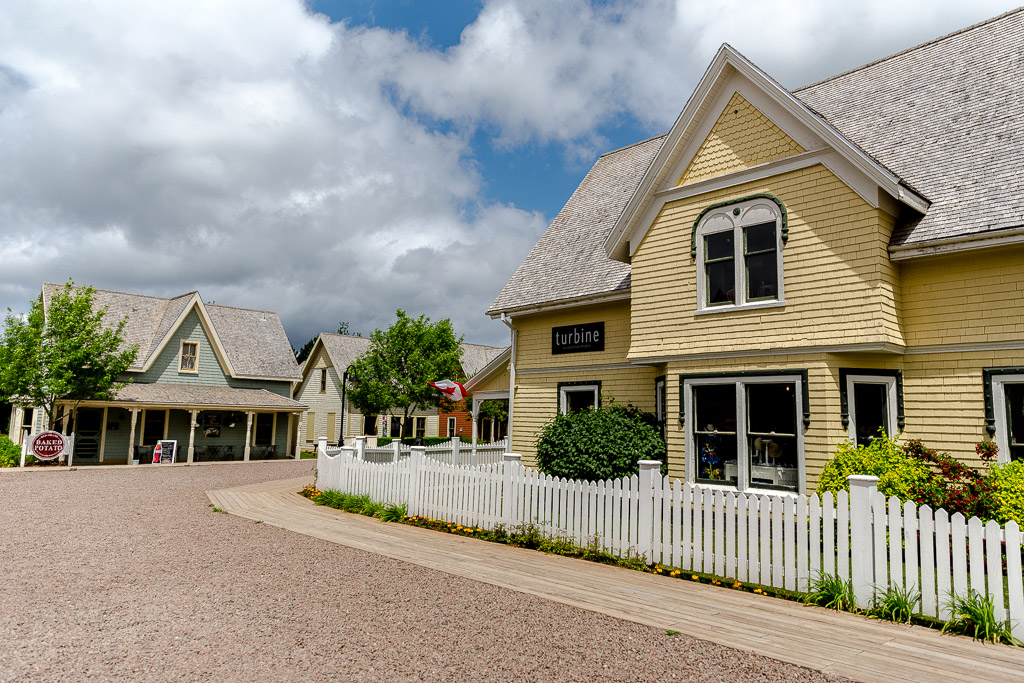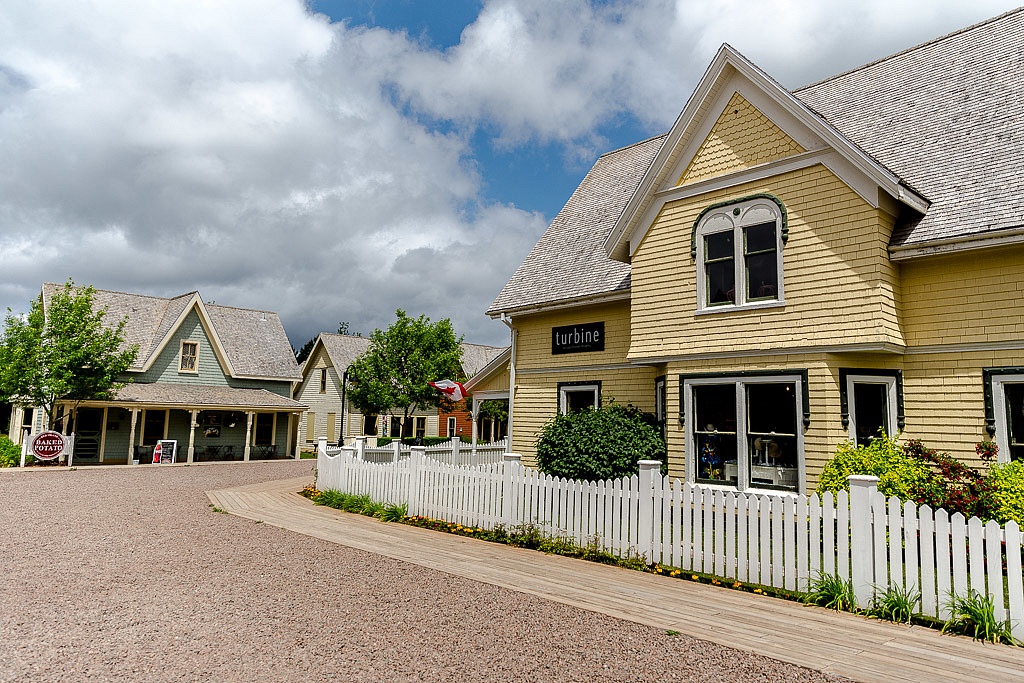 I was enticed to visit by the photos I saw which made the entire island seem too idyllic to be real. It appeared as an island with cool ocean breezes, flowers blooming on roadsides as if cars weren't a thing, and friendly ice-cream eating Canadians walking around waiting to give strangers directions.
Being a fastidious trip planner, I am that dork that actually sends out a reading list so that everyone can immerse themselves in the world we're about to visit.. A reading list.
So of course once I booked this vacation, I told my friends to read Anne of Green Gables to set the mood for our adventure. Stephanie said she already had. Rachel got on it right away. I asked hubs to grab me a copy while he was at the bookstore.
I never got around to reading it.
This book was a foundational cornerstone for most Canadians' childhoods. This book was smuggled into Asia by a missionary and became the first western literature in Japan. The gravity of this is not lost on me. It only adds to my embarrassment that I haven't read it. I actually feel shame.
I don't want anyone in PEI to know that I have not read this book.
I hauled my hardback copy from Montreal to Nova Scotia like a millstone of penitence. (Yes, my husband bought me a hardback, which is adorable and entirely impractical for travel.) I still had every intention of reading this book.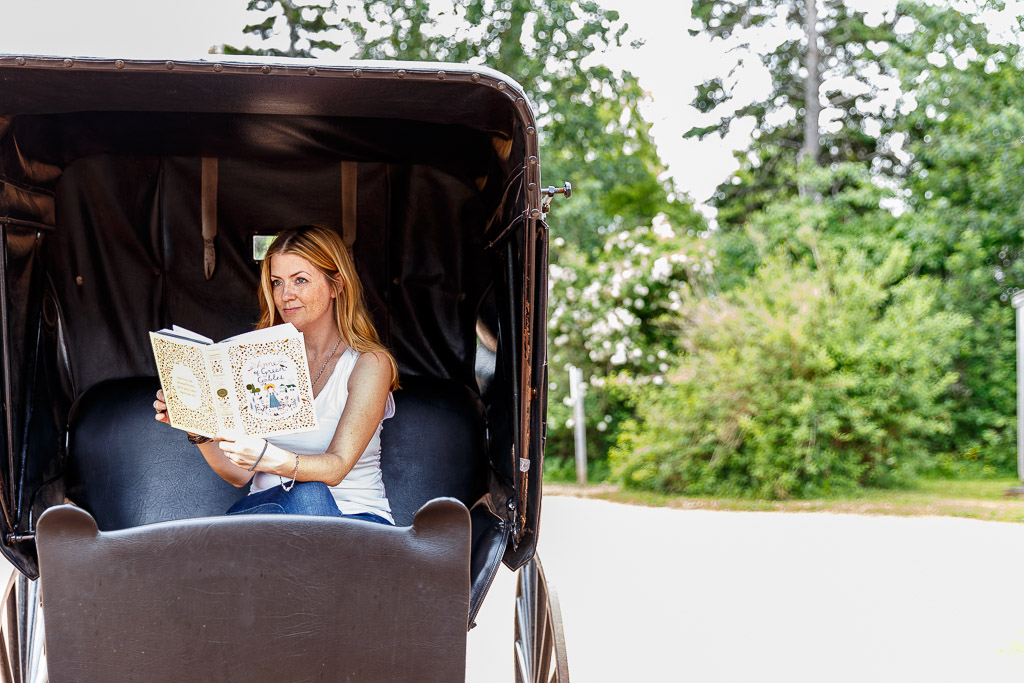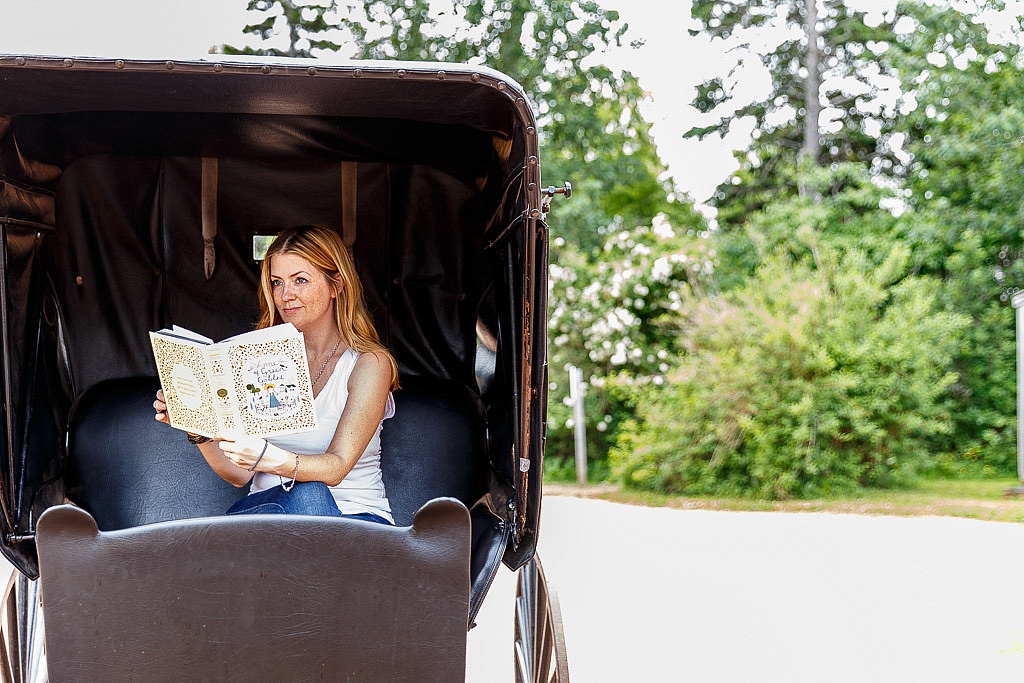 Once we arrived in PEI, we stopped in Cavendish. This town looks like it's straight out of a Thomas Kinkade Victorian garden painting. I'm told it's the inspiration for the story. It's also where Green Gables Heritage Place (and gift shop) is located.
In an effort to cover my shame and also look like I read the book, I carried it around the grounds. When the tour guide spoke about the home we toured, and another girl named Diana, I instinctively tapped the book and nodded knowingly.
We walked out to a deep wood behind the house. I had no idea what the significance was, but I slid my finger inside the book as if to mark the precipitous passages regarding the woods. But the woods didn't out me. Instead I felt safe; understood in this bosom of leaves and bark.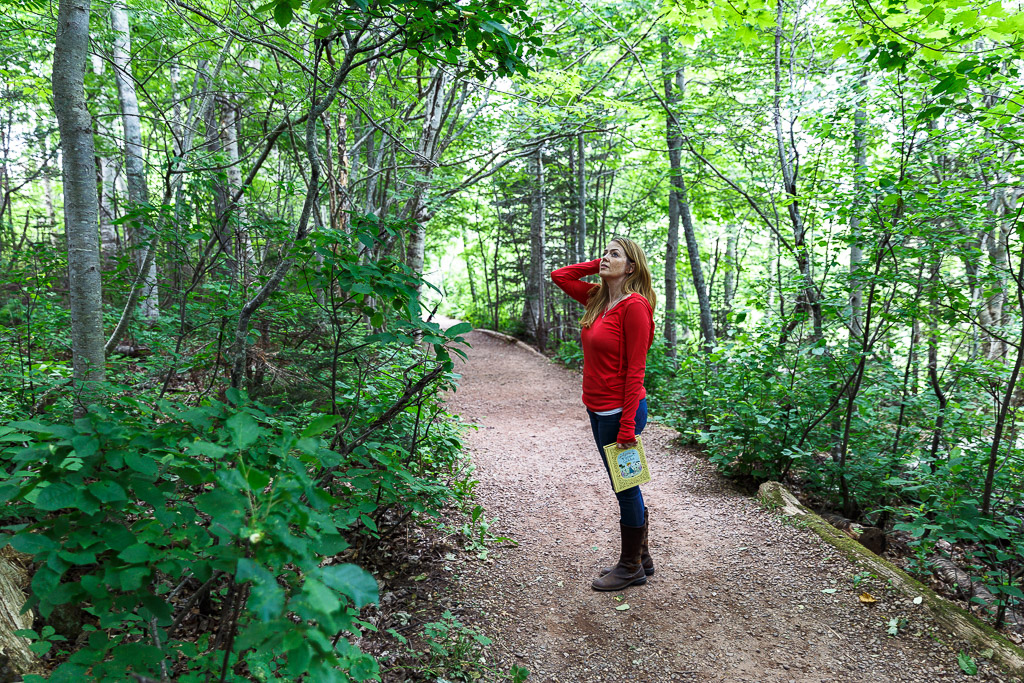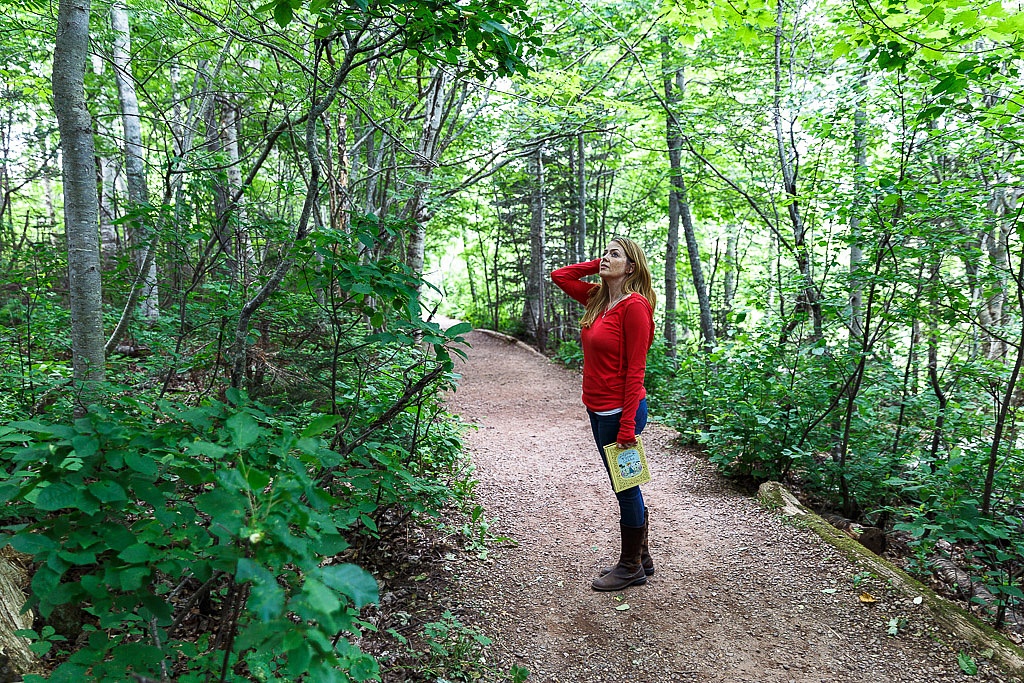 Pockets of tourists wandered the grounds, matching the sites to their memories as they ooohed and ahhhhed at the stables and the carriage.
Rachel, who had finished the book, gushed while talking to "Anne," a fellow redhead in an aproned dress, their words tumbling over one another like a fast-moving creek. I was an outsider, watching from the proverbial banks.
Whatever, I was the one carrying the book around. I had read it. Obviously. I laughed along. "Ha ha ha ha! Oh, that Gilbert!"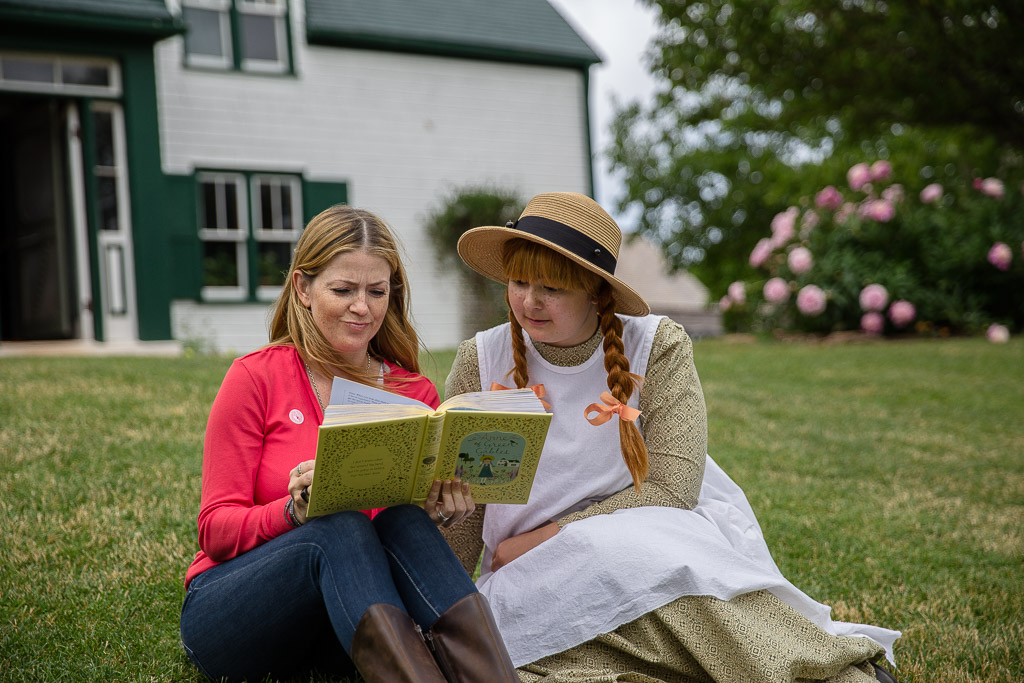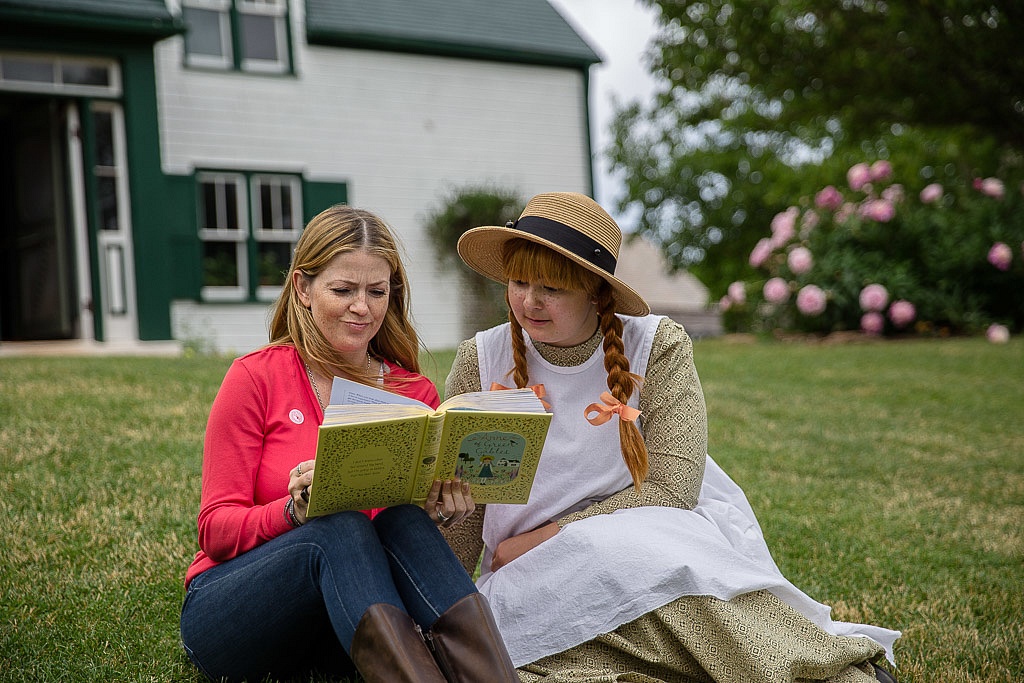 Feeling removed, my book and I took a stroll down something called "Lover's Lane," flowers blooming all around us. A cool breeze brushed salt and violets across my cheek. PEI has a tranquility that surrounds you so quickly. I felt grounded, a part of nature; more like myself with the digital world light years away within hours of setting foot there.
I wandered further down the lane, no clue what pivotal literary moment might have transpired here among this beautiful countryside. I really wish I had read the book.
Inhale, exhale…it's so easy to breathe deeply here.
"Do you need directions?" A woman stops and smiles at me, eating ice cream.
I thump the hard back of my Anne of Green Gables book.
"No, I'm exactly where I should be."
Prince Edward Island truly is that idyllic, but it's real.
Prince Edward Island is easy to enjoy, even if you've never read Anne of Green Gables. Filled with kindness and fresh seafood, it's the kind of place you go to when you want to surround yourself with natural beauty, delicious food and a slower pace.
My biggest recommendation is to rent a car so you can explore the island at your own pace. You can stay in Cavendish for a seaside getaway, or Charlottetown if you want to enjoy a vibrant town atmosphere.
Below are my recommendations for a 48-hour Prince Edward Island vacation. I'm including a couple of places that I didn't personally make it to, but were recommended to me by locals. It's by no means definitive, but it is totally fun.
Plan your 48-Hour Prince Edward Island Vacation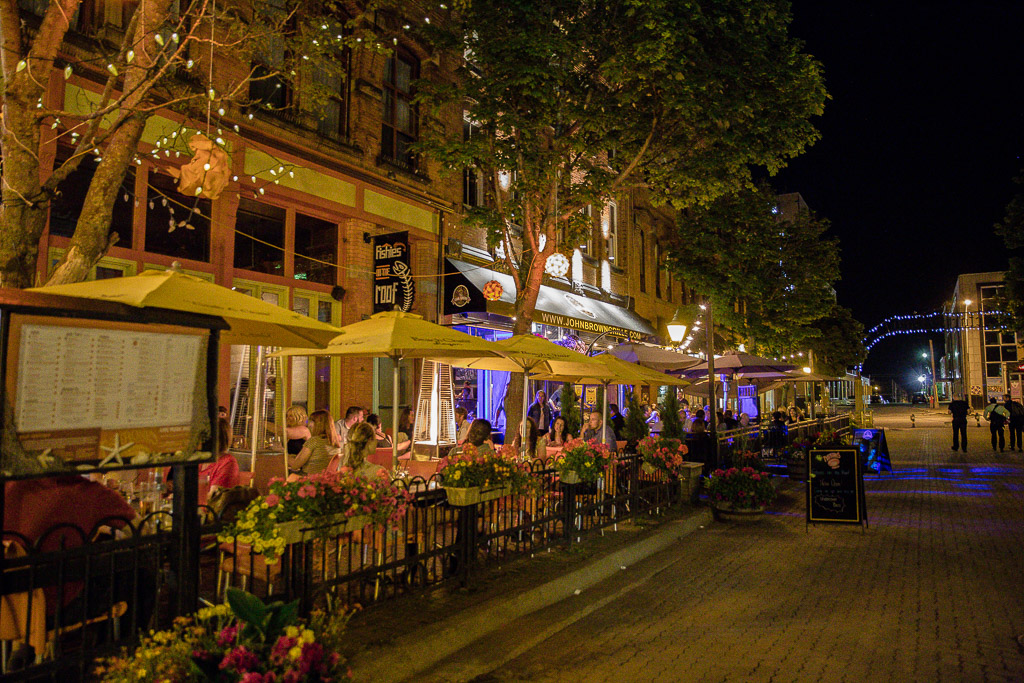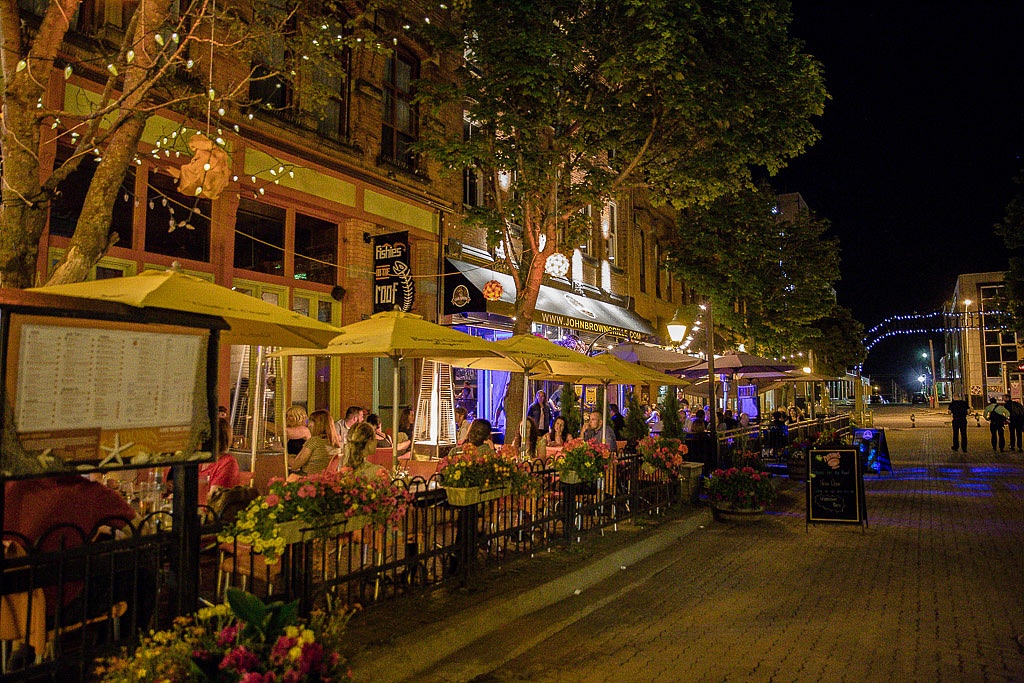 Day 1
Stop in at Glasgow Glen Farms for cheese, bread and other nibbles
Spend the morning connecting with Anne at the Green Gables Heritage Site
Wander the beautiful little streets of Avonlea Village in Cavendish
Lunch at Red Door Oyster Café
Drive the Green Gables Shore
Shop handcrafted pottery at Village Pottery
Relax along the French River and try to spot Anne and Diana
Check into the Holman Grand Hotel in Charlottetown
OMG put your feet up for a few minutes
Dinner at Terre Rouge
Day 2
Charlottetown Farmers' Market (Saturdays year-round, Wednesdays June 22 – October 5)
Explore Charlottetown on foot:

Walk down Great George Street to the waterfront
Lunch at Water-Prince Corner Shop or Local 343
Check out Confederation Landing Park on the harbor
Walk Peake's Wharf
Get COWS ice cream "Canada's best"
Write on the "Before I Die" wall (Queen and Richmond St.)
Walk Victoria Row

Visit Victoria Park
Go Lighthouse hunting near North Rustico: Cape Tryon and New London
Dinner at Blue Mussel Café in North Rustico
Drinks at Hopyard in Charlottetown
Getting There
Air Canada has flights into Charlottetown from Halifax, Montreal, Ottawa, and Toronto.
Drive or shuttle across the Confederation Bridge from New Brunswick. A ten-minute drive across a very tall, curving bridge in open water, Transport Canada charges an "apprehensive driver fee" if you need the staff to operate your vehicle across the sometimes swaying bridge. Other tolls vary and the bridge is sometimes closed in inclement weather. More information here.
Ferry service from Nova Scotia May – December, more info here.
Stay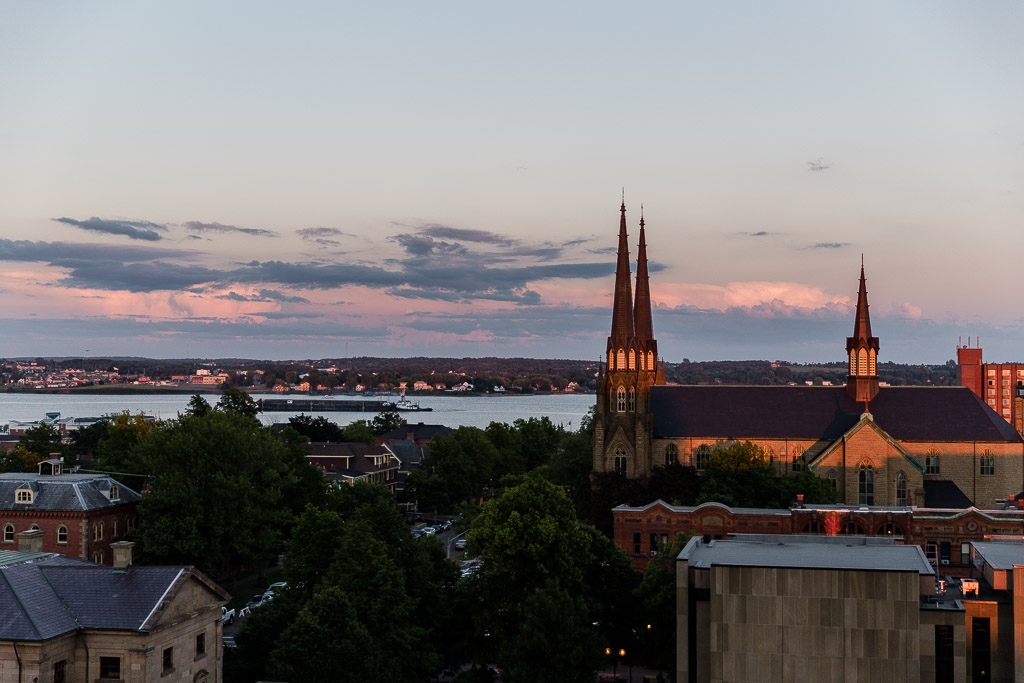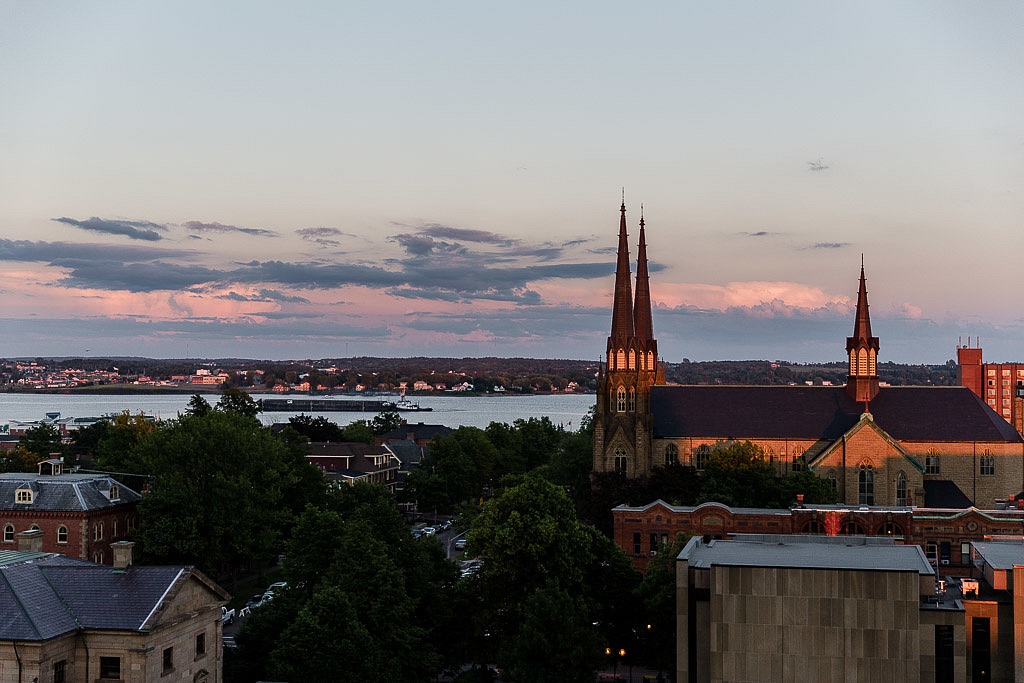 Holman Grand Hotel

123 Grafton St., Charlottetown
This hotel is in a great location in the middle of Charlottetown. The rooms are comfortable, modern and clean with lovely views if you get a higher floor. The staff is what elevates this place to the next level. Everyone was super friendly, funny, and helpful about all things PEI.
See/Do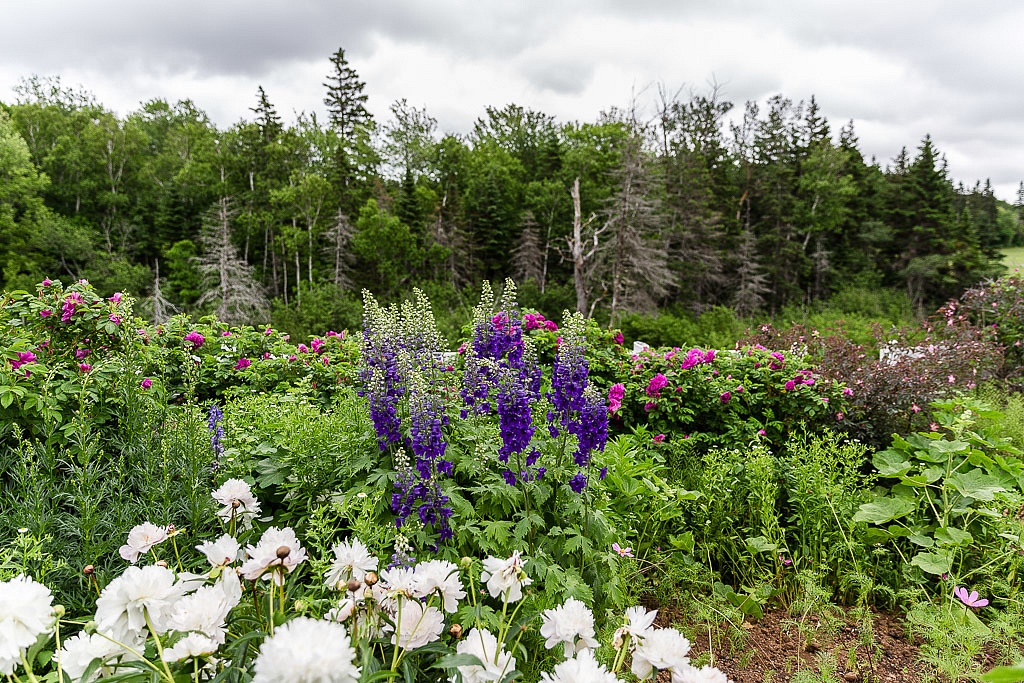 Green Gables Heritage Site

8619 Route 6, Cavendish
Fans of the book will no doubt adore coming to this national park. Even people who haven't read the book will enjoy a stroll around the grounds to see the Victorian era home that inspired Lucy Maud Montgomery to write Anne's story, and the beautiful gardens and woods.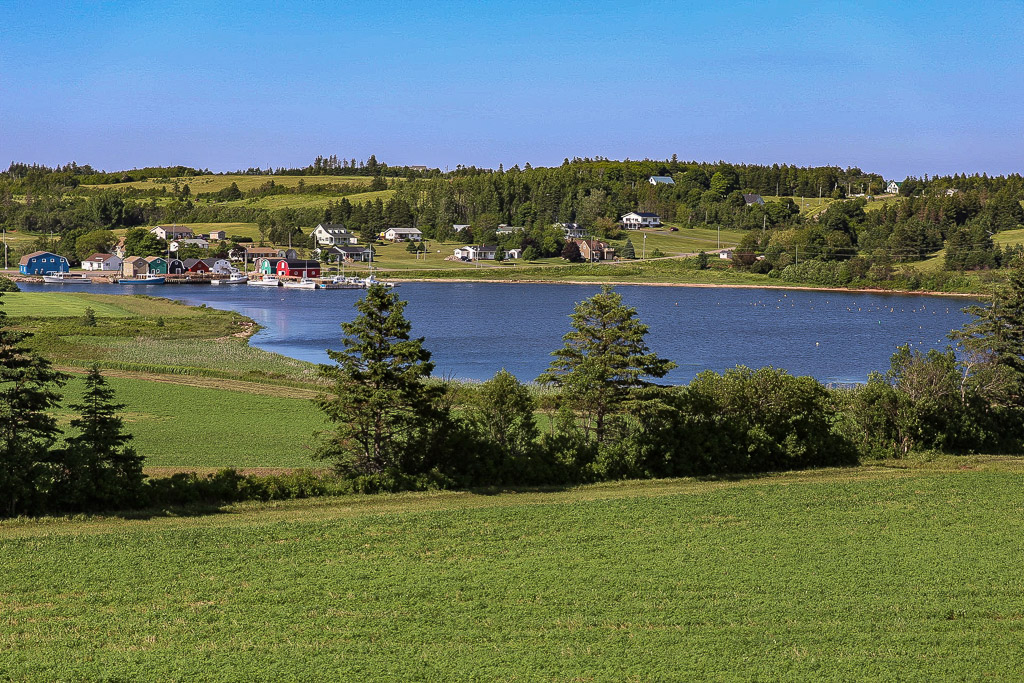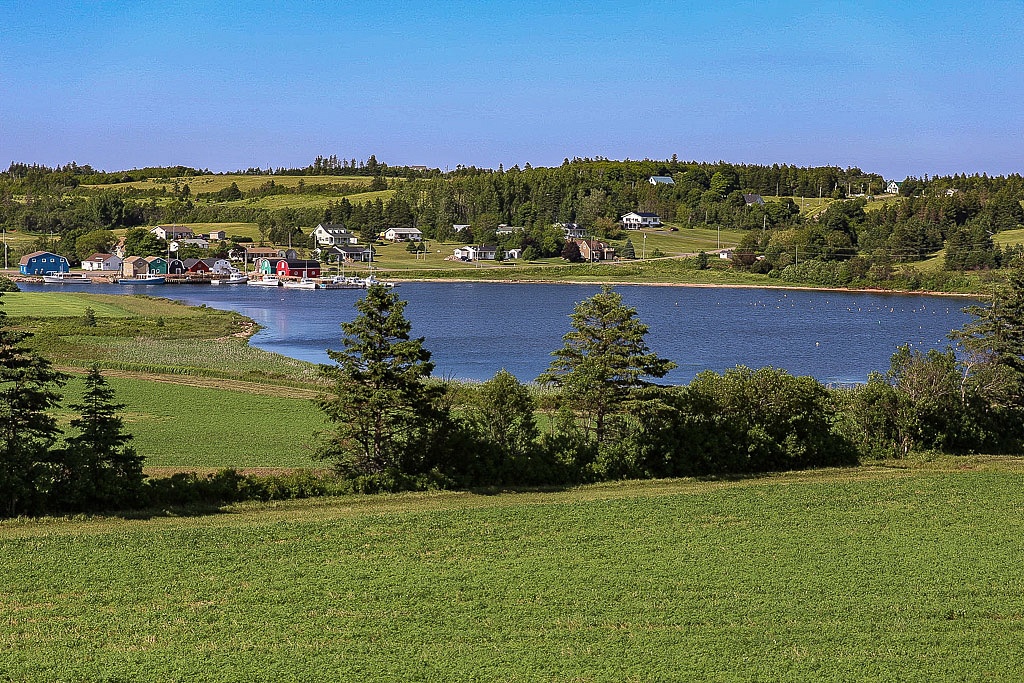 Green Gables Shore – French River

Sometimes it's hard to get a grip on what century it is on PEI. Driving around the island and stopping to enjoy the brightly colored wooden houses, lighthouses and beaches feels timeless. Take off driving and stop whenever the landscape begs for a closer look, like the beautiful panoramic bay at the mouth of French River.
After that I suggest you also go lighthouse hunting, the island is filled with them…
Lighthouses

If classic wooden towers captivate you, you're in luck – PEI has plenty. Often they are on open grassy areas next to the water so they're also safe to explore up close.
Near North Rustico try:
Cape Tryon Lighthouse
(park your car on Cape Road and walk Cape Tryon Road to the lighthouse)
New London Lighthouse
Also part of the Green Gables touring region, this little town is the birthplace of author Lucy Maud Montgomery. With a few antique and gift stores and B&Bs, it's a charming place to slow way down and spend the night.
If you're driving south head out to: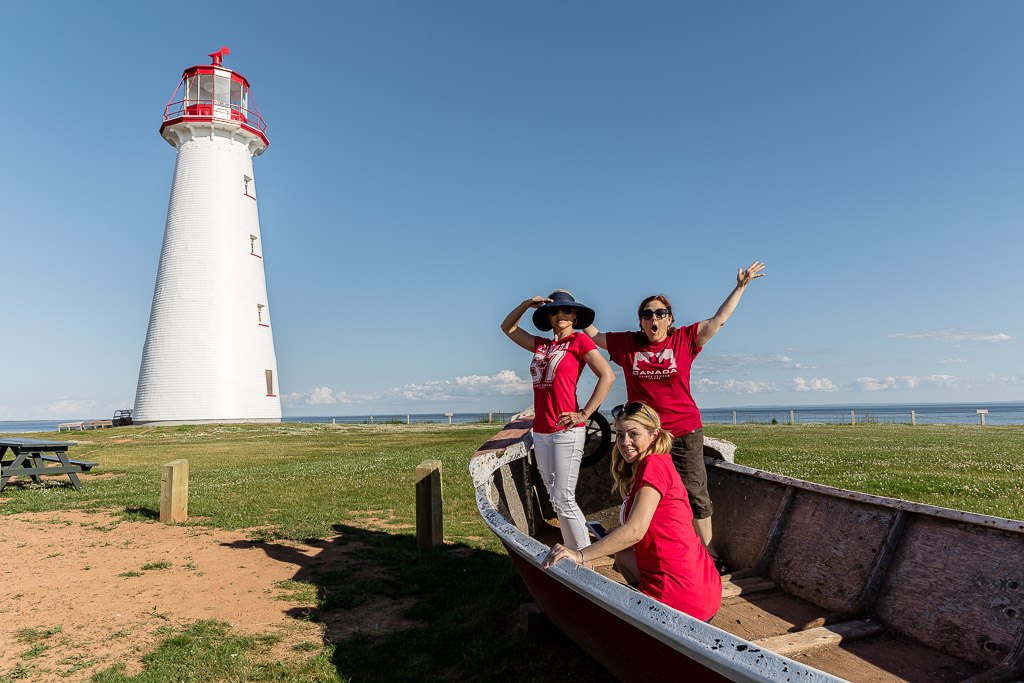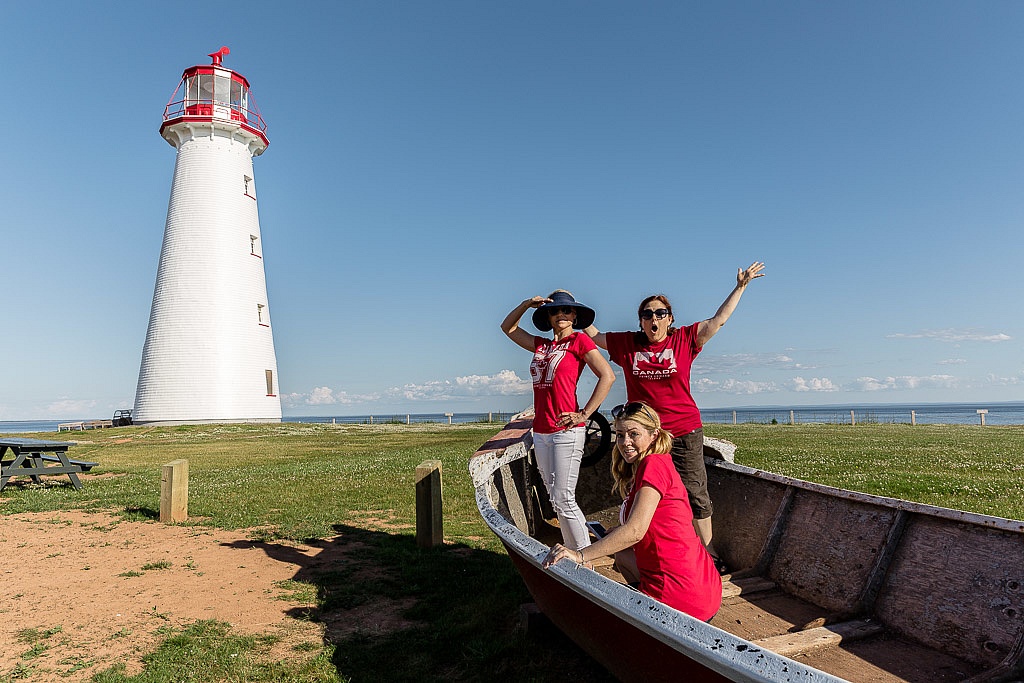 Prim Point

1417 Lighthouse Rd, Digby
This gleaming conical lighthouse has a huge lawn perfect for cartwheels, awkward ballet leaps and ridiculous photo shoots with friends.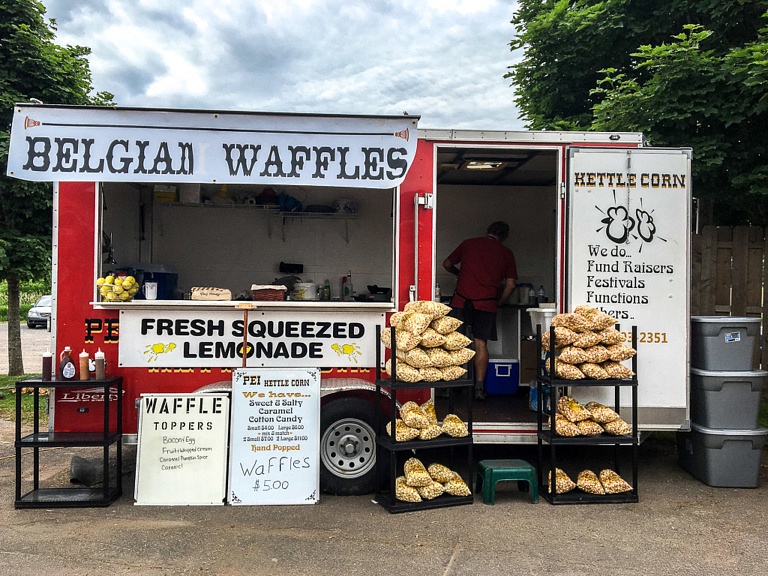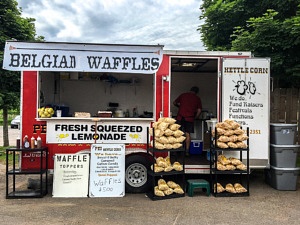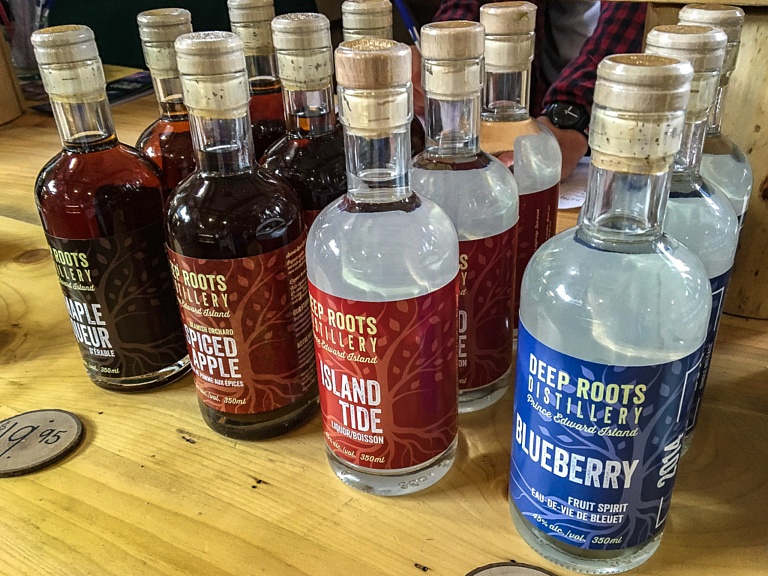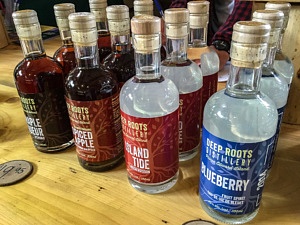 Charlottetown Farmer's Market

100 Belvedere Avenue, Charlottetown
This compact farmer's market was filled with so much fun stuff, it's definitely worth the visit. Especially if you like grazing and grabbing picnic items for later and maybe a handmade souvenir or two. Lots of organic veggies, fresh seafood, cheeses, local distilled spirits and woolen goods crowd the stands. You can also stuff yourself with hot-of-the-griddle crab cakes or waffles.
Eat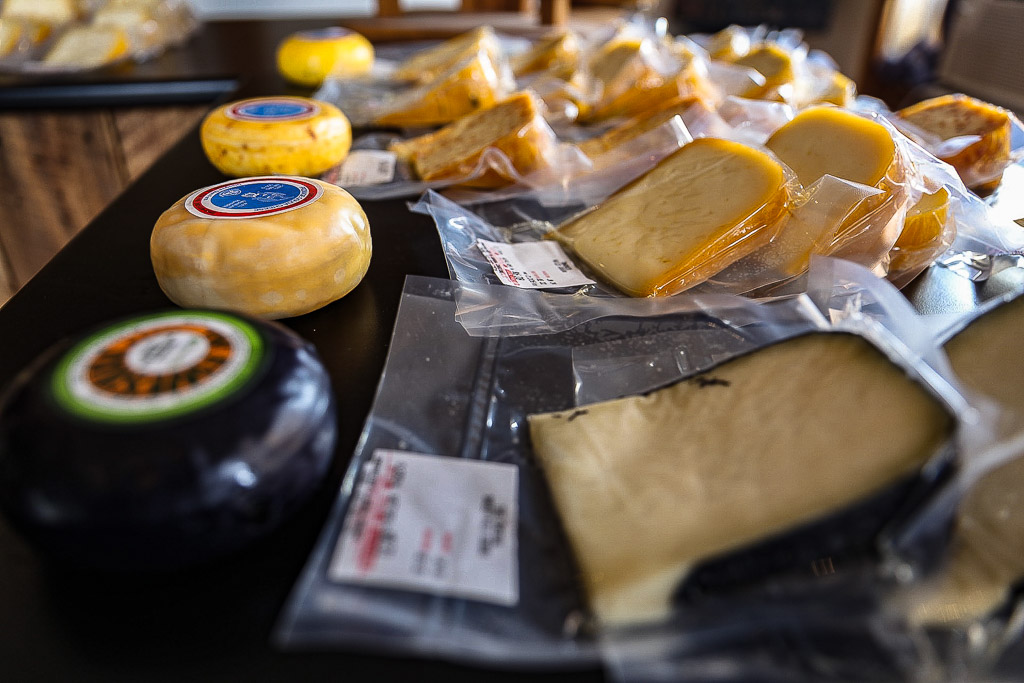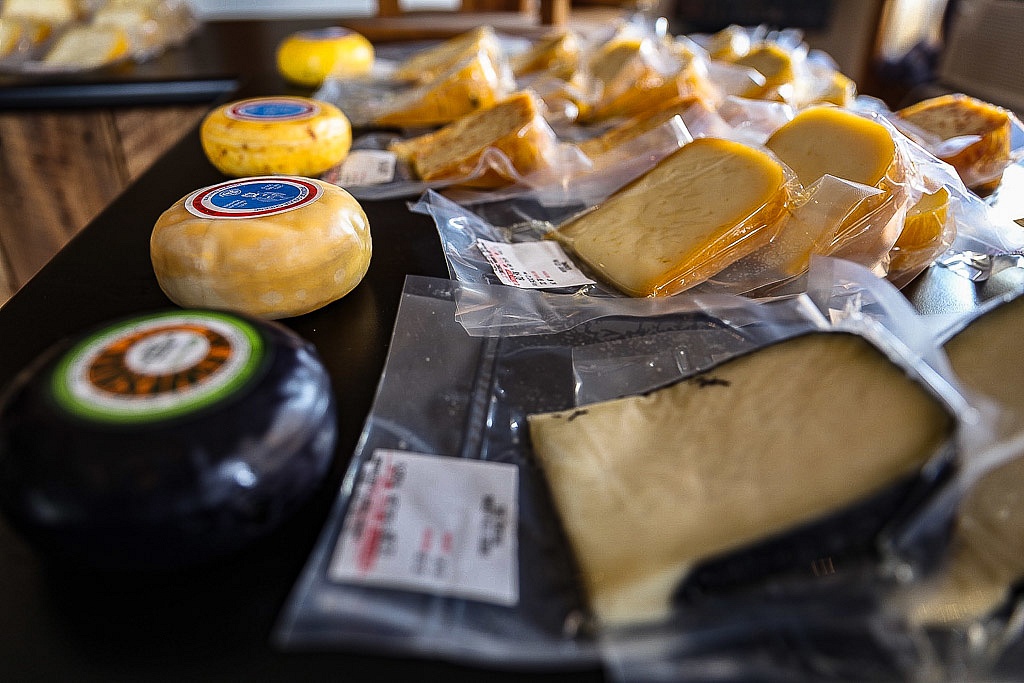 Glasgow Glen Farms

190 Lower New Glasgow Road (route 258), New Glasgow
I loved this little cheese farm, and from the constant traffic, the locals do too. The only thing that could've made it better were goats. You can taste and buy wheels of all kinds of flavored cheeses, fresh loaves of farmhouse bread, spreads, wood fired pizzas or just drool over their shelves upon shelves of cheese.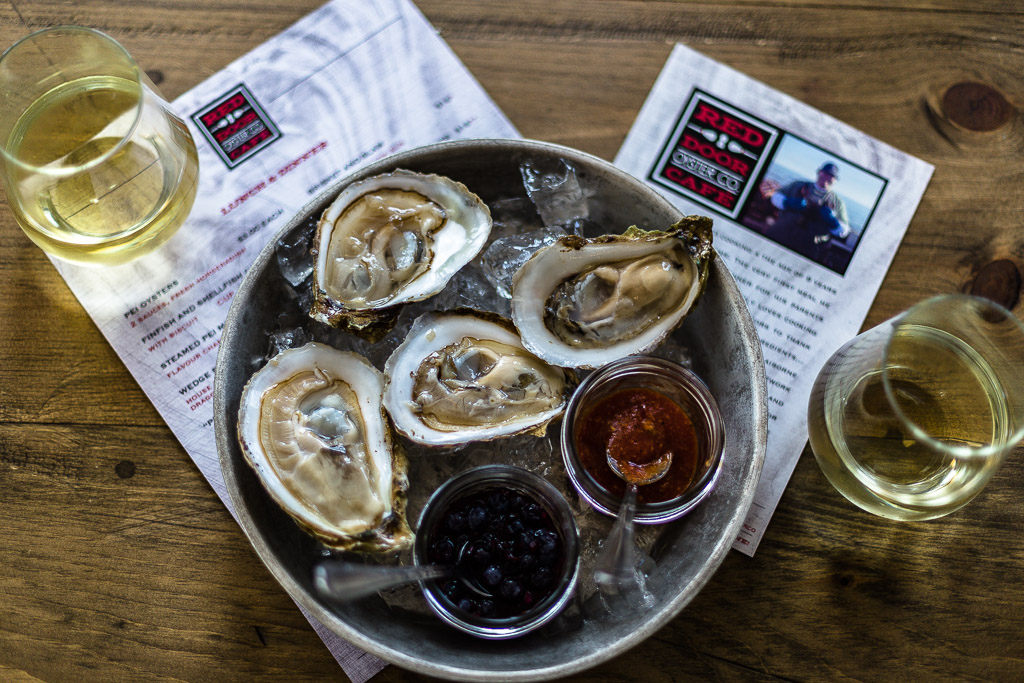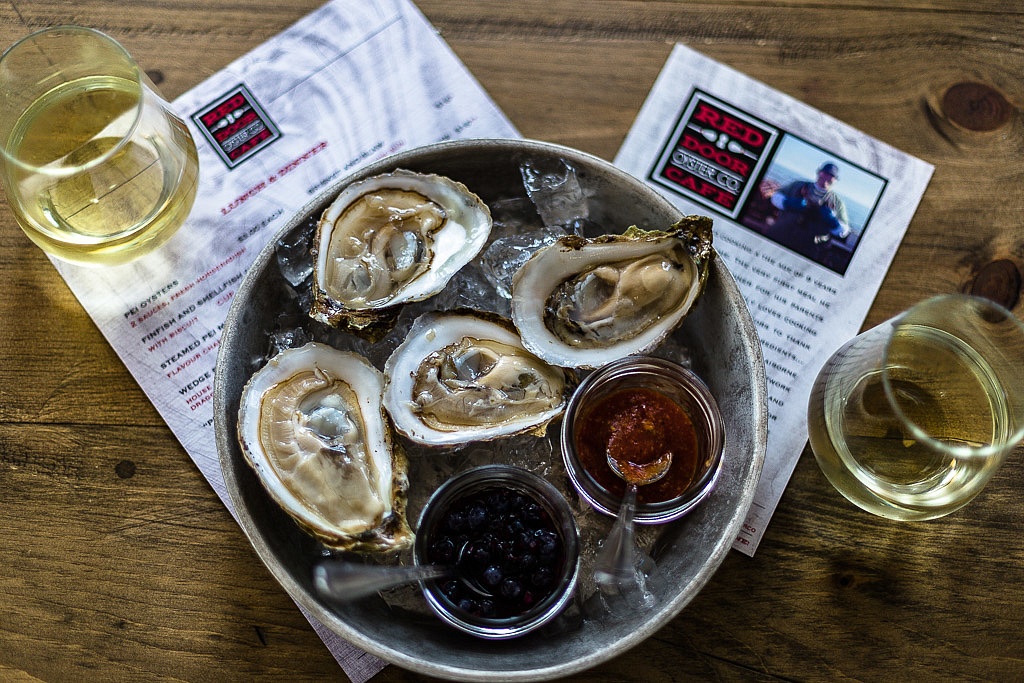 Red Door Oyster Café

10 Schoolhouse Lane, Stanley Bridge
The chefs here are not phoning it in. This casual restaurant occupies what was once a schoolhouse and has an immediate homey feeling. The food was some of the best I had on the island. Let the chef follow his inspiration of the day, and you will be richly rewarded with some incredible local and exotic flavor combinations. We were absolutely wowed by our chai tea mussels with cheddar chive biscuits, oysters with blueberry mignonette, lobster mac and cheese (there were HUGE chunks of lobster, made to order with parmesan, cheddar and gouda from the local Glasgow Glen Farms).
Fishbones

136 Richmond St., Charlottetown
One of the few places open when we were searching for late night munchies, this restaurant with outdoor café seating serves pub food with an Atlantic twist. We had potato chip lobster nachos and a stone fruit salad with locally brewed Gahan beer. I tried the Red Gahan, which was great.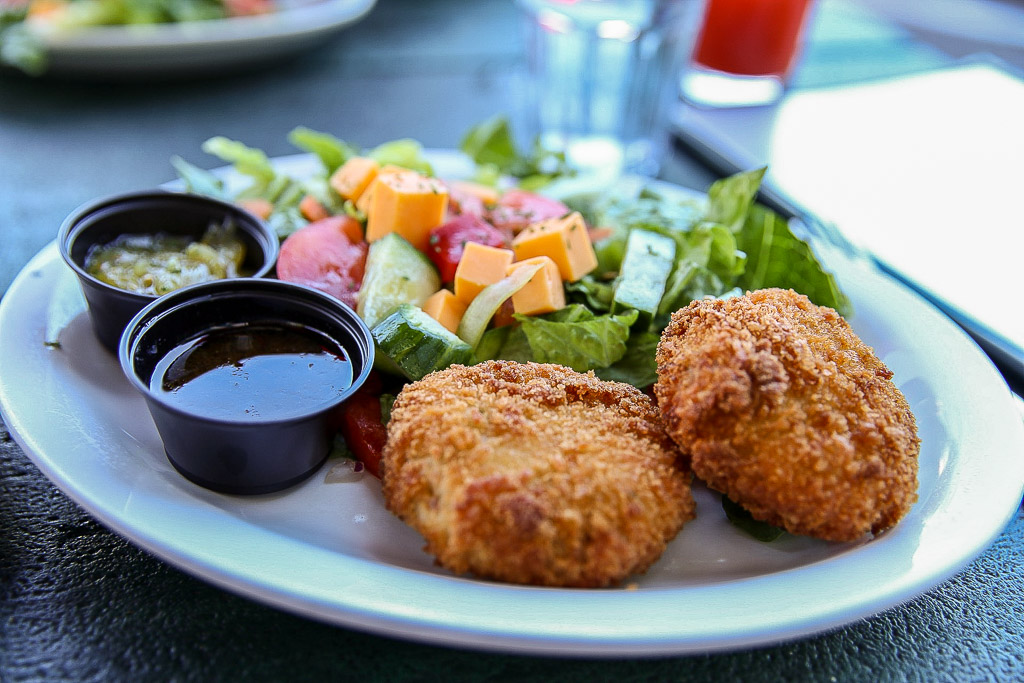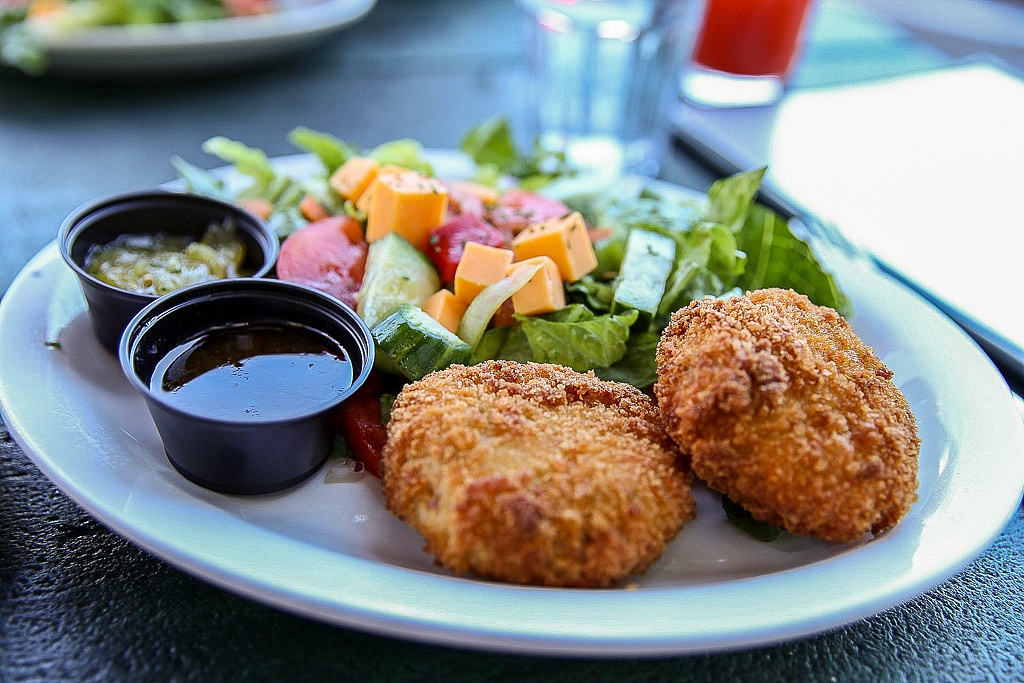 Water-Prince Corner Shop

141 Water Street, Charlottetown
A local's favorite, this place can get crowded. In a wooden house on a corner lot, this place has outdoor seating and the fun feeling of being at a picnic in the park. There are a lot of fried fish options on the menu. We had the Malpeque oysters, a lobster roll that was pretty good, but the bread was a steak roll, which was too heavy for the delicate seafood mix. The fried fish cakes weren't bad, but they also had the air of being previously made and defrosted.
98 Water St, Charlottetown
I'm including this one since locals recommended it. Touted as the newest "hot spot" this bistro serves both local and international dishes including vegetarian options and of course seafood.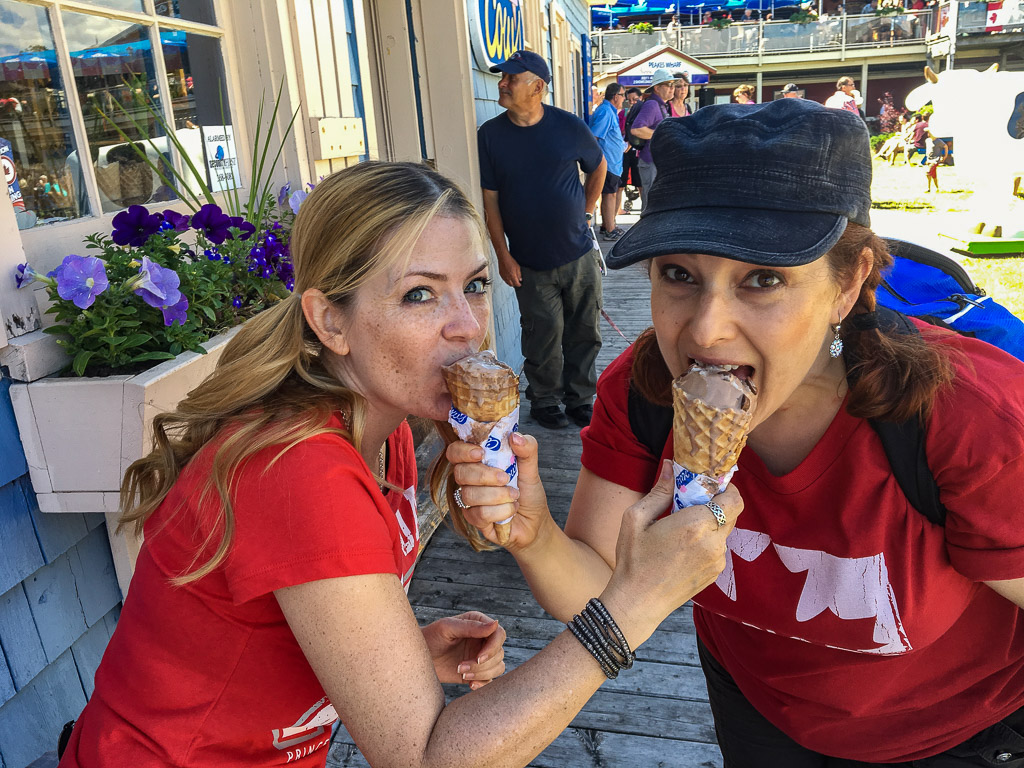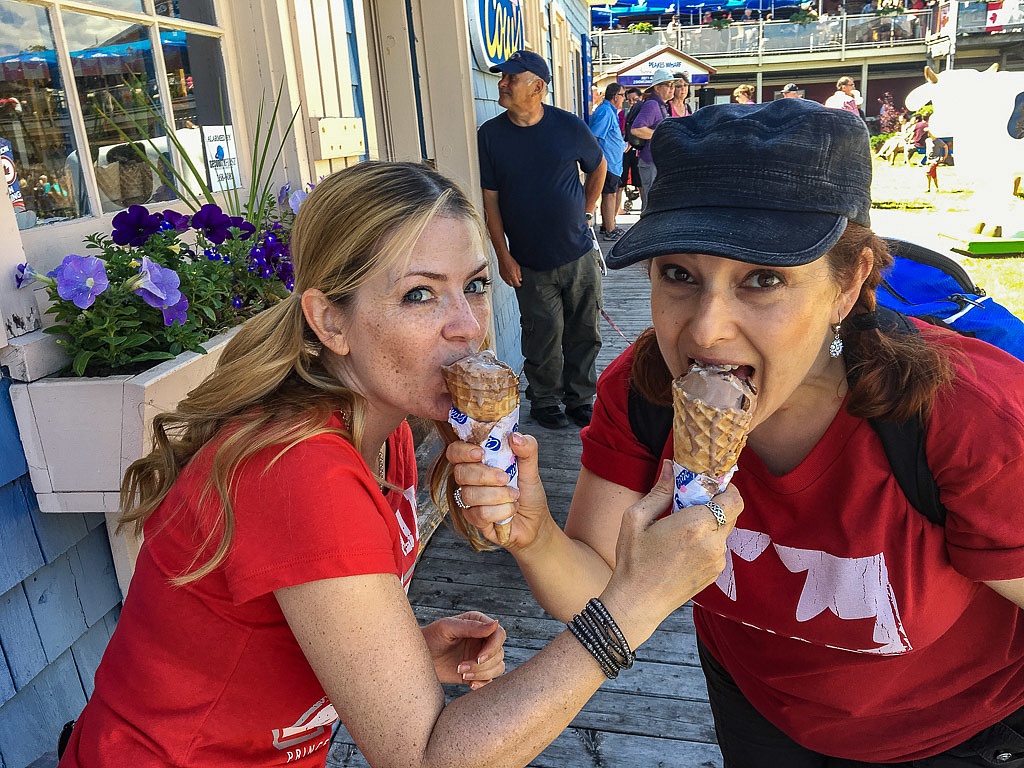 COWS ice cream

Several locations
Everyone's favorite ice cream. With flavors like Fluff 'n Udder (my fav: chocolate ice cream, marshmallow swirl and peanut butter cups) and Caramel Moochiato (caramel coffee ice cream, English toffee and chocolate marble swirl), this is a deeply indulgent treat that really is as good as everyone in the Maritimes claims. Even if you're lactose intolerant, you have to go in for their t-shirt game alone.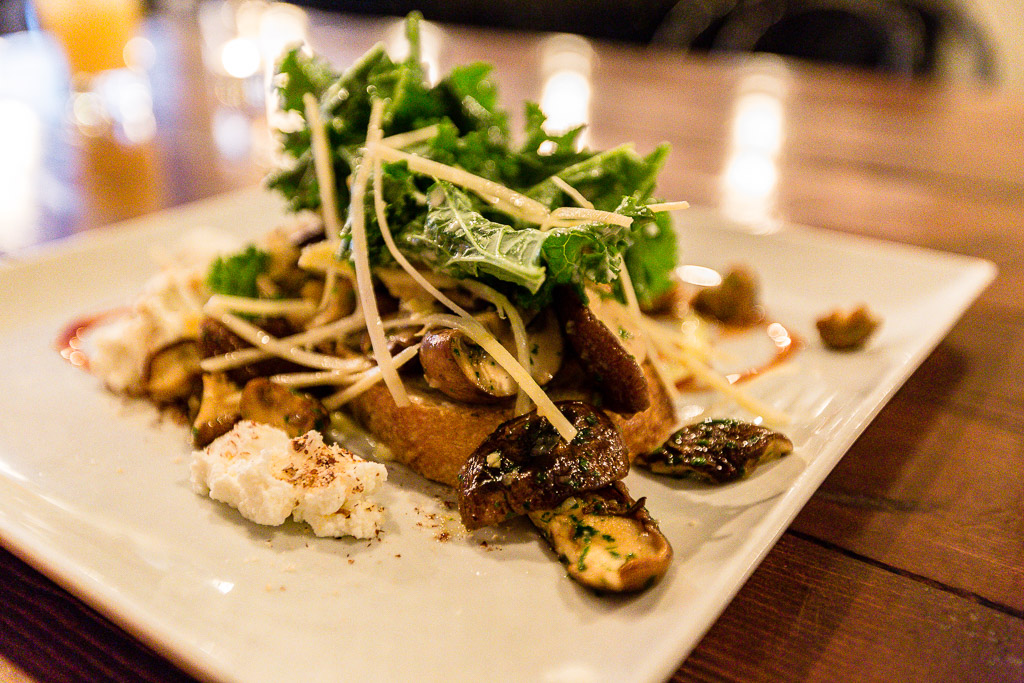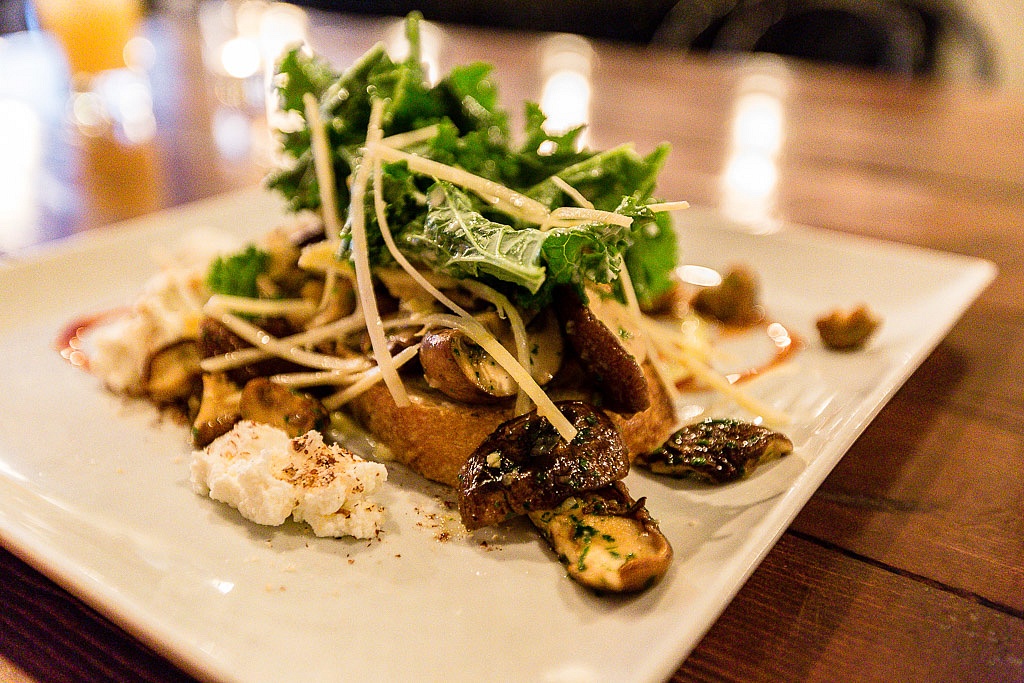 Terre Rouge

72 Queen Street, Charlottetown
This comfy industrial chic restaurant is casual but the food is top-notch (try the mushroom toast). The local-producer-to-table concept shines with dishes that are ocean and farm fresh, with inventive platings of regional classics. Add on that the staff is so kind and fun I actually HUGGED them when I left. What more can you ask for?
312 Harbourview Dr., North Rustico Harbour
Though I didn't get to try Blue Mussel Café, I'm adding it since locals recommended it. Featuring fresh mussels, oysters, sandwiches and a seafood bake that looks delicious, this café on the North Rustico harbor is only a thirty minute drive from downtown Charlottetown.
Drink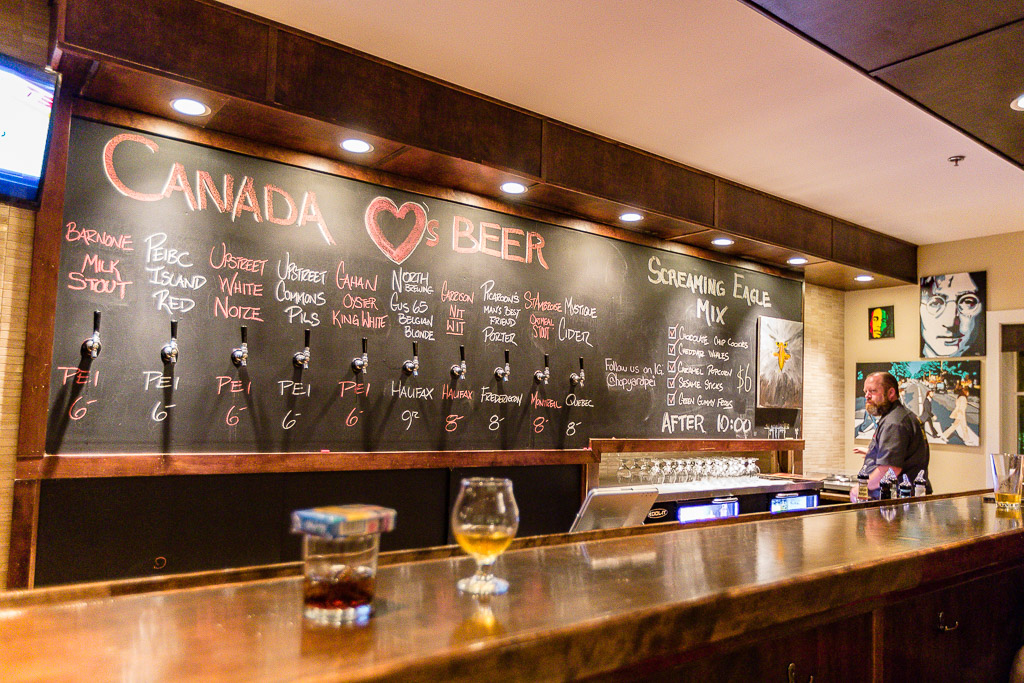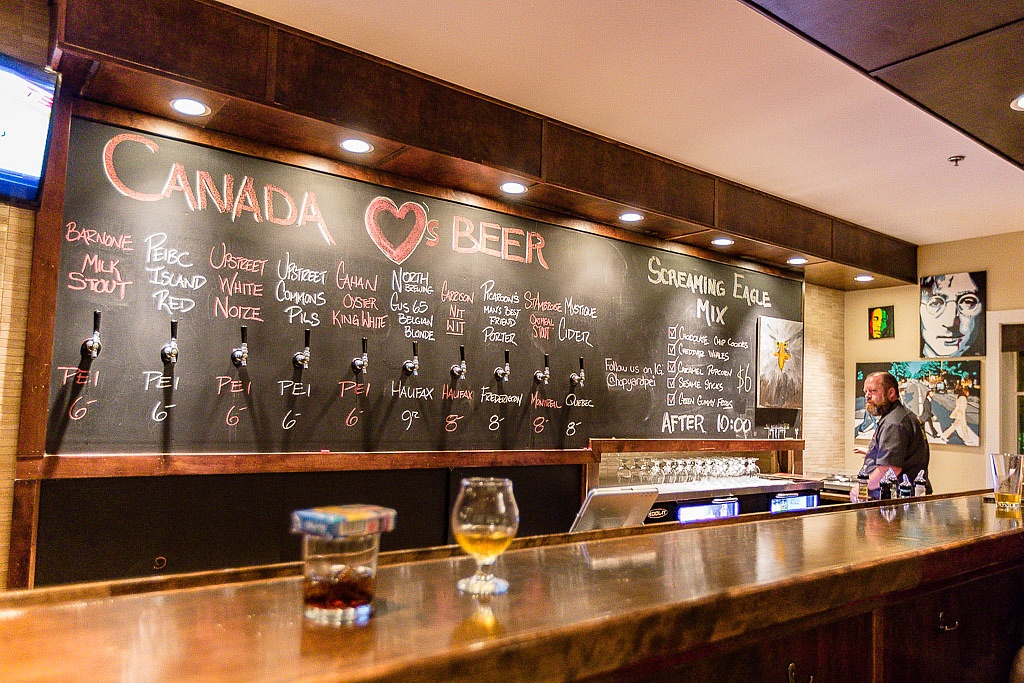 Hopyard

151 Kent Street, Charlottetown
This place is a can't miss in my opinion. Rotating taps of North American craft beers line the walls, and the bar serves an ever-changing menu of small plates if you want snacks. The real draw here, though, is the center bin of vinyl LPs. From the Beastie Boys to Frank Sinatra to the Monkees, you can select anything from the stacks and they'll play one side for you. Rachel and I couldn't stop dancing. The art hanging on the walls and even the record albums are for sale.
Fishies On The Roof

136 Richmond St., Charlottetown
This rooftop bar has a younger more college town vibe. You can enjoy a drink and watch the sky turn from blue to purple to indigo but you might want to move downstairs or somewhere else on Victoria Row as the night goes on if college is not your scene.
I visited PEI because I it looked too beautiful to miss. The Prince Edward Island Tourism Board hosted some of my activities, but all my opinions are my own.
Have you been to PEI? What would you add?