Midnight sun and temperate weather are excellent reasons to visit Iceland during its summers. Though I would like to offer that there's magic in this Nordic country's winter weather. Swirls of snowflakes flurry around you in determined spirals as if whipped by mischievous elves. Icy surfaces force you into a hyper-present state that fire up your senses as you traverse frozen lakes, roadways and sidewalks. And if you're lucky enough to see them, the electric green glow of the capricious northern lights energize you as if you were plugged into them.
Millions are catching on to this moon-scaped country and traveling by the millions each year, causing the tourist board to consider caps on visitors. This acknowledgment that throngs of crowds are detracting from the experience of visiting popular sites, say Gullfoss waterfall or Geysir, are additional arguments to consider visiting in the off periods of winter.
Your Guide to Visiting Iceland in Winter
My visit to Iceland was during Christmas / New Year's 2014-2015 and admittedly, that's a busy time, but it was all we had. You might want to consider avoiding that period not only for the crowds but also for the fact that the country all but shuts down for many days around both holidays, which can be challenging unless you have an apartment and food already stocked.
Caveats aside, I'm telling you: consider visiting Iceland in winter. It's not as cold as say, Buffalo, NY and as long you as you have warm clothes (check out my packing list here), you're good. The temperature while I was there in December varied between 14° – 46°F.
Many of you who follow my travels have repeatedly asked me to write a post with my recommendations for Iceland, so here it is. I also know that if you are interested in going during that time you need to start booking NOW.
Do:
There are SO MANY things to do in Iceland that I simply couldn't do them all.  There will be a lot of driving, so you'll find that you will spend hours each day just getting to the activity.
If you're staying in Reykjavik, some fantastic things can be far away, but a lot of tour companies provide transportation and therefore you can hopefully sleep on the coach.  Beware that some of my favorite stuff is about a four-hour drive from Reykjavik.
Time and weather forced me to limit my exploration to Reykjavik and the southern expanse east of the city where I knew roads would be reasonably clear regardless of the weather. Driving north in the winter can sometimes be tricky with road conditions, so note that this list is focused on the regions of Reykjavik city and the southeast of the country.
Dogsledding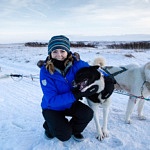 This was a dream come true for me. Sledding across a bluish, snow blanketed landscape while a herd of dogs barked for joy while pulling my sled. Especially adorable was the 11-month-old rescue puppy Tyga who was a complete maniac. She couldn't contain her thrill at being including in the mush team and constantly looked back at me the driver, while getting tangled in the line. Book this immediately! Includes tour only and tour + transportation rates.
Ice Caving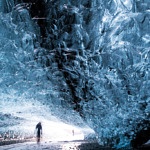 At first, my overactive, worst case scenario imagination had me concerned at how deep we'd have to climb into a cave to get to the ice formations. After experiencing it, however, I would rate the activity level at easy. Yes, you must wear crampons to prevent slipping during the frozen lake crossing to get to it, but the cave itself is such that you hardly have to enter in to witness absolutely stunning walls of ice. It looks like a wave froze in place before crashing right above your head. Take a tripod for the best photos. Safety note: walk carefully on the ice, even with the spikes on. My friend took one wrong side step and fell and broke her ankle, which kept us from participating in the…
Glacier Hiking (unrated)
After we lost a fellow companion due to an ice slippage injury the day before, we had to cancel this trip. I'm including it here as I did book it and the folks were easy to work with. I would've loved to try it out, though truthfully we were all exhausted after a long day's activities on the Vatnajökull glacier the day before.
Blue Lagoon Geothermal Spa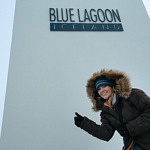 I was simultaneously excited and reticent about this activity due to its tourist trap feel. I mean, if everyone goes here, will it still be great? The answer is yes.
It can be quite crowded, especially inside the locker rooms. Yet, the pool itself is so large that you can still move about with a large crowd and not feel too restricted. On the day we went it was quite cold (maybe 18° F), but the water can be up to a cauldron cooking 110°F in bursts.
Be sure to book ahead of time online so that you don't miss out. There are also different packages available that include spa treatments or lunch, which I would've done if it weren't unavailable that day due to the proximity to Christmas.
Your wristband does everything from lock your locker to adding up drink purchases at the outdoor bar, which is perfect for staying unfettered in the water.
Insider tips:
1) If you're going in the winter, bring earmuffs. No matter how cold it is outside your body will stay super warm underwater, but your ears… if you have any sensitivity like me, your ears will be aching. Plus it's super hard to hold your cocktail and your ears at the same time.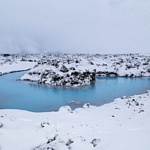 2) Don't get your hair wet. It's not worth it. There is no amount of hot oil treatments that will snap your locks back to glossy quickly if the water's high content of bright blue silica strips your hair of its natural moisture. Grab a shower cap, or at the very least don't go all the way under.
3) Bring a waterproof case for your camera. Of course you're going to want to take pictures. The place is gorgeous and unusual. Plan ahead and bring a waterproof case.
See:
The Golden Circle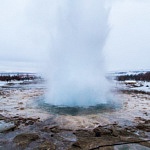 The Golden Circle, which includes Geysir, Gullfoss, Kerid Crater and the rift in the tectonic plates at Thingvillr Park. We rented a 4WD and drove to these ourselves, but you can also book a tour, it's only 45 minutes out of Reykjavik.
Dyrhólaey Black Beach – Vík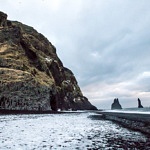 Beguiling and remote, this black sand beach is at the southern most tip of Iceland. The basalt columns and other wind-worn volcanic formations are great for photos, just be careful of the unpredictable tides. There's also a little cafeteria for soup and sandwiches at the top of the beach if you want to make an afternoon stop of it.
Jökulsárlón Glacier Lagoon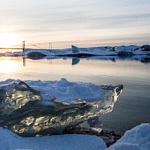 Yet another wild Icelandic sight, chunks of ice regularly break off of the glacier Breiðamerkurjökull and those baby bergs float in this ice lagoon on their way out to sea. The site is 4 hours east of Reykjavik. I stayed about 90 minutes west of the lagoon and drove here, but you could book a tour that makes the round trip all in one day.
Stay:
In Reykjavik-
Radisson Blu 1919

Scandinavian minimalist, great location, decent breakfast. The communal area is stark.
IcelandAir Marina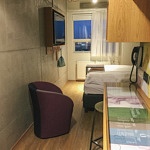 Some rooms are so tiny there's barely room for your luggage. The location is on the water. The restaurant is delicious but typical Iceland pricey. The bar was the best we went to with creative craft cocktails. The communal area was cozy.
Try also: Black Pearl Reykjavik

I didn't stay here, but researched it and recommended it to a friend who subsequently booked it. Here is her review: "The Black Pearl rocks!!!! They have everything: Nespresso machine with all the flavors, fancy kitchen, two flat screens, sweet helpful concierge, and dining room. Great recommendation."
Outside the city-
Priest House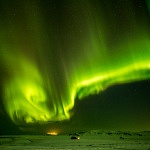 In Vík, our party of four stayed at this modern house, which is a short walk to Dyrhólaey black sand beach. At the southernmost tip of Iceland, this area is quiet with very little light pollution, and the entire south side of the house is a wall of windows overlooking the sea. This is where I was able to get magnificent photos of the Northern Lights.
Holiday House Selfoss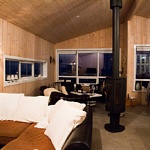 In the Golden Circle area, this home has plenty of room for two couples, a nice kitchen, a big roomy living room to play games and relax, an indoor sauna and an outdoor hot tub which is great for checking out the northern lights should they occur.
Eat:
The Laundromat Café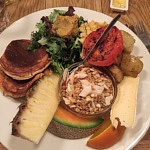 Casual Dining
Austurstræti 9 9, 101 Reykjavík, Iceland
+354 587 7555
Fun atmosphere, fresh food that is delicious and super filling without being too expensive, this was my favorite breakfast place.
Paris Café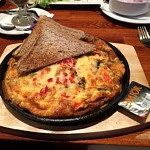 Casual Dining
Austurstræti 14, 101 Reykjavík, Iceland
+354 551-1020
Another great breakfast spot (they also serve dinner) that is often open when other places are not. Smaller portions for the price, the food is still good, though the service is slow.
Ramen Momo

Budget Option
Tryggvagata 16, Reykjavík, Iceland
+354 571 0646
Ramen and udon are excellent here and the fresh veggie gyoza is wonderful. Vegetarian options available.
Gamla Smidjan Pizza

Budget Option
Lækjargötu 8, 101 Reykjavík, Iceland
+354 578 8555
Open late and on holidays, this fresh hot pizza by the slice and whole pie was a savior a number of times. It's just a little takeout joint with a counter that lines two walls, but when the pizza is straight from the oven, it's heavenly. Especially when you're starving.
Slippbarinn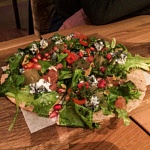 Trendy
Mýrargata 2, 101 Reykjavík, Iceland
+354 560 8080
With a small, focused menu, this restaurant and craft cocktail bar serves creative and delicious food. It's on the pricier side, but the atmosphere is cheeky and fun and everything we ate and drank was truly well done. It's also a fun place to hang with live bands and a DJ on some nights.
Laekjarbrekka

High-End Option
Lækjarbrekka Bankastræti 2, 101 Reykjavik
+354 551 4430
This was our New Year's meal. Occupying a historical home built in the 1830s by a Danish ship builder, this white tablecloth restaurant was great for a splurge. Serving a mix of authentic traditional Icelandic dishes and cooked to perfection vegetarian options, it was a lovely place to celebrate a special holiday meal.
**The below restaurant recs are from my Icelandic friend who lives in Reykjavik, I didn't get a chance to try them all, but am including since they are from a local.
Favorites in fish and seafood
Fiskmarkaðurinn (Fish Market) – The best fish in town
Aðalstræti 12, 101 Reykjavík, Iceland
+354 578 8877
Fjöruborðinu – Great seafood
Eyrarbraut 3a, 825 Stokkseyri, Iceland
+354 483 1550
Fun Places (music, fun and great food)
Sushi Samba  – Sushi, meet and fun
Þingholtsstræti 5, 101 Reykjavík, Iceland
+354 568 6600
K-bar – Korean food
Laugavegur 74, Reykjavík, Iceland
+354 571 6666
Best Vegetarian
Laugavegur 20b, 101 Reykjavík, Iceland
+354 553 1111
Drink:
Big Lebowski Bar

Laugavegur 20b, 101 Reykjavík, Iceland
+354 552 2300
Kitschy and full of film references including 21 different kinds of White Russians, this bar is just plain fun. Whether or not you've seen the movie 14 times, you'll still find the bartenders friendly, the drinks reasonable and Jeff Bridges' face in large supply.
Slippbarinn 

Mýrargata 2, 101 Reykjavík, Iceland
+354 560 8080
I'm putting this here again because the craft cocktails are great, and it's a fun night out even if you're simply looking for drinks.
Shop:
Handknitting Association of Iceland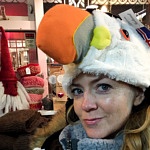 Skólavörðustígur 19, 101 Reykjavík, Iceland
Formed in 1977 by hundreds of Icelandic locals, mostly women, their slogan "buy directly from the people who make it" is also their biggest selling point. Everything in the store from yarn to jumper is made in Iceland. Buying here ensures you are getting local products direct from the knitter. Also? It's THE place to grab that puffin hat you were wanting.
Geysir 

Multiple locations
If you're looking for high fashion Icelandic clothing which not many people knew was a genre, head over to Geysir. With several locations across Iceland, it has a lot of upscale fashion you won't find anywhere but Iceland.  Head to the flagship on Skólavördusíg, one of the main shopping streets near HallgrimskÍrkja church. I obsessed over a deep blue wool collar from there the day after holiday closure day. Fortunately for me, a friend was able to bring me one from this fabulous store a month or so later.
66°North 

Multiple locations
If you are looking for smart, high quality cold-weather gear when visiting Iceland in winter I totally recommend 66°North which is also on the main shopping streets. In fact, if you have some extra coin, bring it here and buy something super stylish to get you through that cold winter vacation. It's chic winter wear done well.
Tips:
Best place to buy alcohol in Iceland: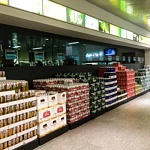 If you want to have wine/beer/liquor at your apartment, the hands down best place to buy is at the airport.  No tax, plus prices are far more reasonable than at any place in town.
Otherwise, real alcohol (as opposed to cheap, lesser quality beers) must be purchased by a state-run store called a Vinbudin, which have limited hours and locations and higher prices.
How much alcohol can I bring into Iceland?
We actually brought our own wine with us, wrapped carefully in our checked baggage. No way was I gonna pay $30 for Yellowtail. We brought two bottles each. You are allowed to bring wine or spirits into the country, but there is a limit. Read here for those amounts.
Can I use my cell phone in Iceland?
If you want data, texting and local phone call access while away from wi-fi (which is everywhere in Reykjavik, but not so much outside of the city), and you have an unlocked smartphone (iPhones have been unlocked since 5), purchase a pay-as-you-go SIM card. Here's a great breakdown on service providers from IheartReykjavik.
If you're flying IcelandAir by chance, you can purchase a Síminn 4G LTE SIM card from the flight attendant when she wheels her duty-free cart by. Couldn't be easier. Just remember to bring a paperclip with you to pop out the little tray that holds your current SIM card (and put your current SIM card in a safe place).
There you have it! My round-up of things to see and do when visiting Iceland in winter. This list is in no way comprehensive, but it's a start. Please feel free to add your recommendations, too!
Disclosure: As a Booking.com Associate, I earn a small amount from qualifying purchases. However, I don't recommend anything that I don't personally love.
Have you been to Iceland in the winter? What are your favorite things there?