My trip to Philly was short and mostly work-filled. I was lucky enough to be part of BlogHouse, a yearly travel blogging workshop, which was hosted by Visit Philly among other sponsors. These lovely folks provided several sponsored experiences and just enough of a taste to ensure that Philly is my new favorite American city.
Not all of the listings below were sponsored, but all are my own opinion since this is my blog. 🙂
Where I Ate: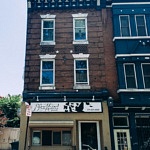 Blackbird Pizzeria

Vegan Paradise
Sandwich and a lemonade – 14USD
507 S 6th St., Philadelphia, PA 19147
215-625-6660
I was able to try two veggie cheesesteaks in Philly and this one was not only superior but also dreamy. Simple atmosphere, come here for the food. Every day, if you can. Gah.
M Restaurant

Excellent for Foodies
Three courses and a cocktail for one – 60USD
231 S 8th St., Philadelphia, PA, 19106
215-625-6666
Occupying the courtyard and part of the ground floor of the Morris House Hotel, this cozy new American restaurant had so many delicious offerings I had a terrible time deciding. After agonizing for at least twenty minutes, rosemary infused gin drink in hand, I settled on roasted asparagus with feta and pomegranate, creamy polenta and seared scallops.
2nd Story Brewing Company

Check it out
117 Chestnut St., Philadelphia, PA 19106
267-314-5770
I tried several micro-brewed beers here and they were great. I didn't get to eat much beyond a cheese plate, so I can't comment on the food, but a cruise of the menu suggests a step up from typical pub fare. The atmosphere is lively and fun. Plus it's in a fantastic colonial neighborhood.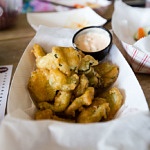 Independence Beer Garden

Recommended
Snacks, tacos and a beer – 25USD
100 S Independence Mall W, Philadelphia, PA 19106
(215) 922-7100
I loved the food here. Okay fine, I ate too many pickle chips, but I chased them with the kale salad so I think they cancel each other out, right? I enjoyed the fresh mahi mahi tacos and the veggie focaccia sandwich. They had a really large selection of beers on tap and in bottle. The space is large, providing both an outdoor beer garden and a covered area.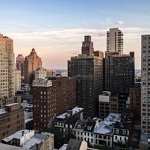 Liberté Lounge at the Sofitel

Drop by for a cocktail
120 South 17th Street, Philadelphia, PA 19103
(215) 569-8300
We had a cocktail hour sponsored by this lovely hotel. The drinks were great, the cheeseboard was great, but I found the risotto a little too creamy (I know, I can't believe I'm saying that either). My favorite part by far about this location was the sustainable rooftop garden. Chef Luke took us on a tour of his thriving herb garden and beehive which he uses daily in his creations.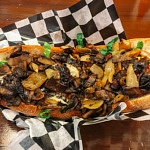 Cleavers

Good for late-night
Sandwich and fries wit whiz – 15USD
108 S. 18th St., Philadelphia, PA 19103
215-515-3828
This was the second place I tried the vegetarian cheesesteak during my Philadelphia trip. This one is made with shaved, marinated Portobello mushrooms. The mushrooms had a great flavor, but as the main ingredient, there was probably more than a pound there, which got monotonous, especially in light of the fact that there were no onions or peppers. I wasn't a fan of the lettuce and tomato, either. The sweet potato waffle fries with cheez whiz on the other hand – YUM! Though truthfully I can only eat about 1/8 of a serving, so plan on sharing if you get 'em.
Where I Stayed: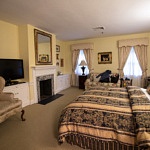 Morris House Hotel

Loved it
225 S 8th St, Philadelphia, PA 19106
215-922-2446
This boutique hotel is near Washington Square Park and within walking distance to Liberty Bell Center. It was a perfect mix of the colonial history the city is built on and the modern comforts of a small, independent luxury hotel. The hotel has a B&B feel, which adds to the coziness.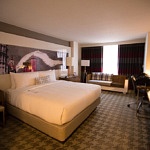 Sonesta


1800 Market Street, Philadelphia, PA 19103 USA
215-561-7500
This city hotel recently underwent a huge renovation. Rooms are chicly updated and of a good size with updated amenities. Some of the staff are excellent and kind, working to ensure that our stay was enjoyable. Not everyone at this hotel seems to be on the same page with the type of service they are aiming to provide, but the management is quick to engage if needed.
What I did:
Old City

I got a small taste of this neighborhood when the board of tourism, Visit Philly, whisked us away from work and on a tour past Ben Franklin's house and into the Old City district. On our drive, glass skyscrapers reflected colonial landmarks off of their mirrored sides in a stunning mix of old and new until we were in the Old City District, standing in front of Revolutionary-era buildings that Betsy Ross must've walked by on her way to the general store to buy more thread.
This part of town, lined with micro-breweries, theatres, galleries and restaurants all wearing the facades built during the birth of our nation was a fantastic slice of Americana and one of my favorite parts of the city. While I only got to explore Chestnut Street – there is so much more to this area and one that I will definitely go straight to when I return.
Spruce Street Harbor Park

This pop-up park on the Delaware River waterfront is relaxing during the day, lined with hammocks and Adirondack chairs; and vibrant and beautiful at night. Glowing lights and picnic tables fill the food-truck lined park, while the outdoor space provides an expansive place to visit with friends.
Lovingly preserved or restored, the birthplace of so much of our nation's history shines in Philadelphia. Walking through Independence Mall for the first time was a wonder, so many things I had read about or seen in my schoolbooks leapt to life in front of my eyes.
Highlights of this area include the Liberty Bell Center and the excavated foundations of the "President's House," a once three-and-a-half story brick home occupied by George Washington and then John Adams. I have to say that I was thoroughly charmed by the storytelling benches around the mall manned by bell-wielding docents vividly recounting moments in time in the actual areas that the history happened.
Read more: Why I Was So Wrong About Philadelphia
What are your favorite places in Philadelphia?