My trip to New Orleans at the end of January was totally food-related. I mean, WORK related.
Rachel and I were there to get the next season of our travel show From A to C with Nowhere to B  off the ground and had a week of meetings to take. But, come on, nobody goes there without thinking morning noon and night about where to eat in New Orleans. Heck, I was thinking about where to eat WHILE I was eating.
I have several friends that are locals and got lots of recommendations on where to eat in New Orleans. I even stumbled on a few gems myself. Truth be told, I had no intention of writing about it (that's why a lot of the photos are quick smartphone shots or fair use), but I just can't keep all this goodness to myself. It runs counter to my nature of sharing food and travel with you.
So here you go, a quick rundown of every restaurant I went to and what I thought of it. I also stayed at a great little hotel and listened to an incredible band on Bourbon that I loved, so keep reading to get that info as well.
Where to Eat in New Orleans
Price Rance Guide:
$ =    $1-$10 USD
$$ =   $11- $20 USD
$$$ =  $21-$30 USD
$$$$ = $30+ USD
GW Fins

808 Bienville St, New Orleans, LA 70112
Price Range $$$$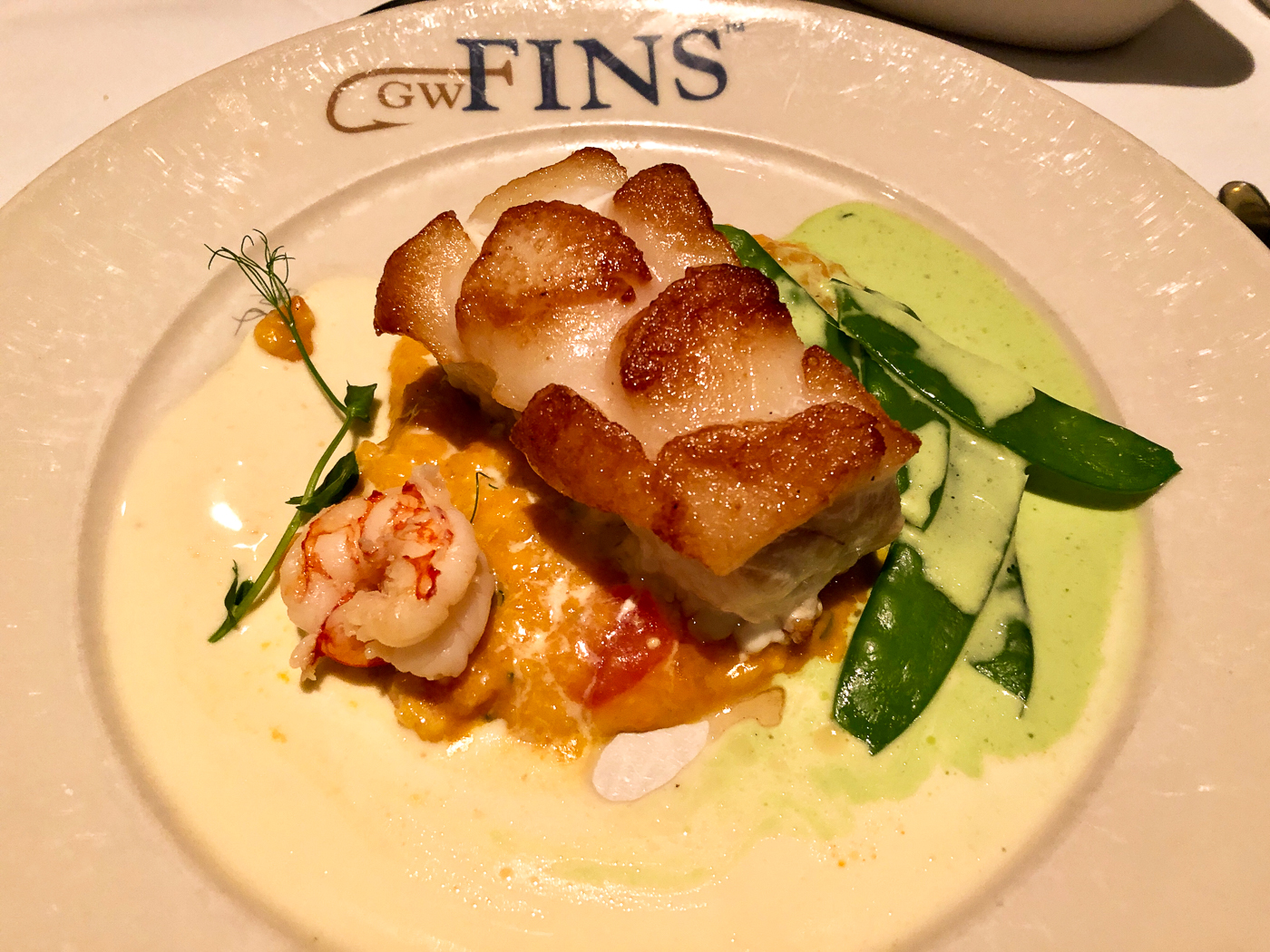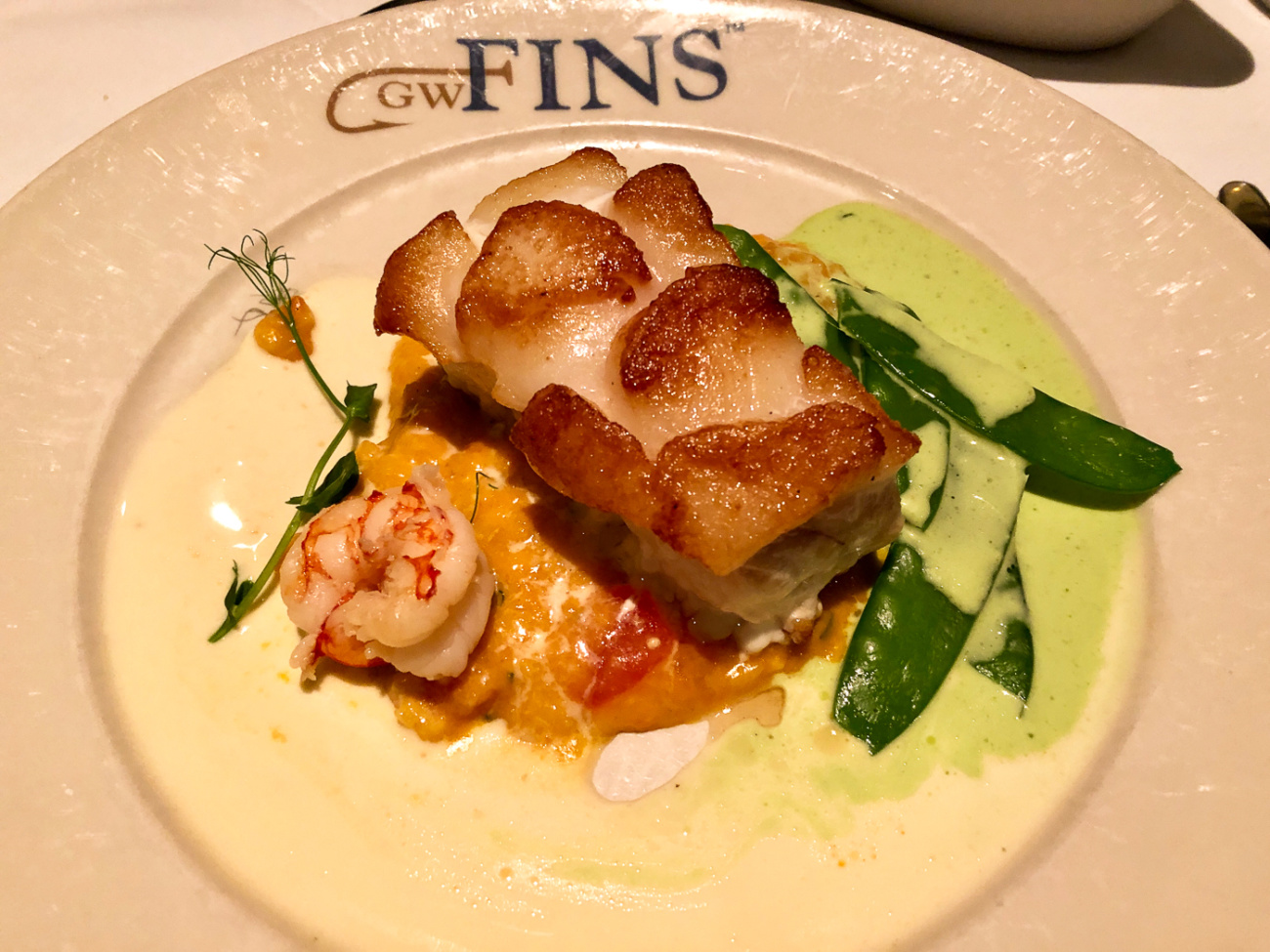 This upscale restaurant feels like a supper club. Admittedly I have no exact idea what a supper club is, but I think this is what one would feel like. You need to at least wear a collared shirt here. As I entered a buzzed belligerent dude in an undershirt was berating the staff for refusing him service. Please don't ever be that guy.
This is a white tablecloth and waiters with waistcoats kind of place. My shrimp and goat cheese grits were the best I had in NOLA. Rachel had what I referred to as "fish in a chicken suit" – a fillet of white fish covered in chicken skin and cooked until golden. She says it was one of her Top Ten meals. I ordered the halibut topped with scallops which I really enjoyed. Make reservations.
Josephine Estelle

at the Ace Hotel in the CBD, just out of the French Quarter
Price Range (with cocktails) $$$$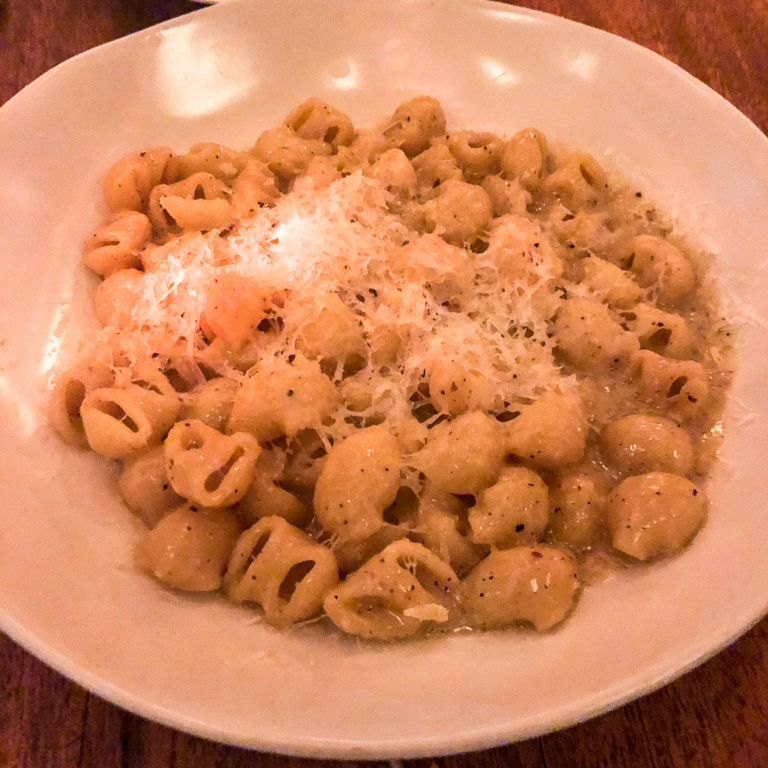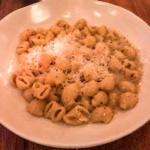 The intention here was to get a couple small plates and keep the price down. Then we tried their craft cocktails (Nine of Pentacles was dee-lish), subsequently realized we were hungrier than we thought, and ordered five small plates to share. Next we got a text from a friend that their cacio e pepe was killer. Well OF COURSE we had to try it. IT WAS AMAZING.
511 Marigny St, New Orleans, LA 70117
Price Range (without cocktails) $$
Their weekend brunch is great. It's a farm-to-table kind of place that puts an updated spin on local favorites. We split the lemon ricotta pancakes (which were heavenly), and I ordered the eggs benedict over cornbread with crabmeat, remoulade and jalapenos. Stop it.
The vibe is trendy industrial and the service was friendly and quick.
Peche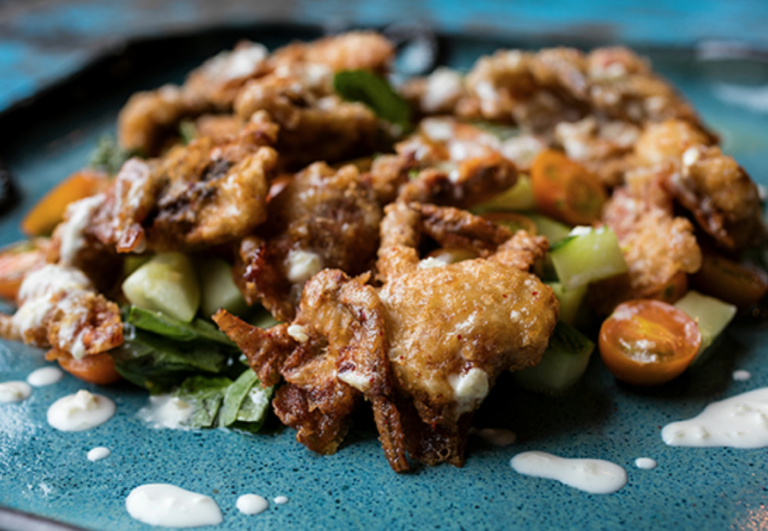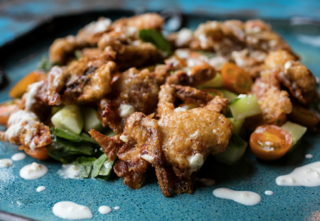 800 Magazine St, New Orleans, LA 70130- in the CBD
Price Range (without cocktails) $$$
Recommended several times, this unfussy gastro chic spot focuses on seafood caught sustainably. Most of the dishes are a modern take on the beloved cuisine of New Orleans and the south.
Even though they had the appearance of staying a minute too long in the dryer, their herb-y hush puppies are great. I had the fish sticks in beer batter, which if you're into fried food is a good choice. The kale was a little over-sauced. The craft cocktails and local beers were a perfect complement.
Muriel's Jackson Square

801 Chartres St – French Quarter
Price Range for Brunch $$$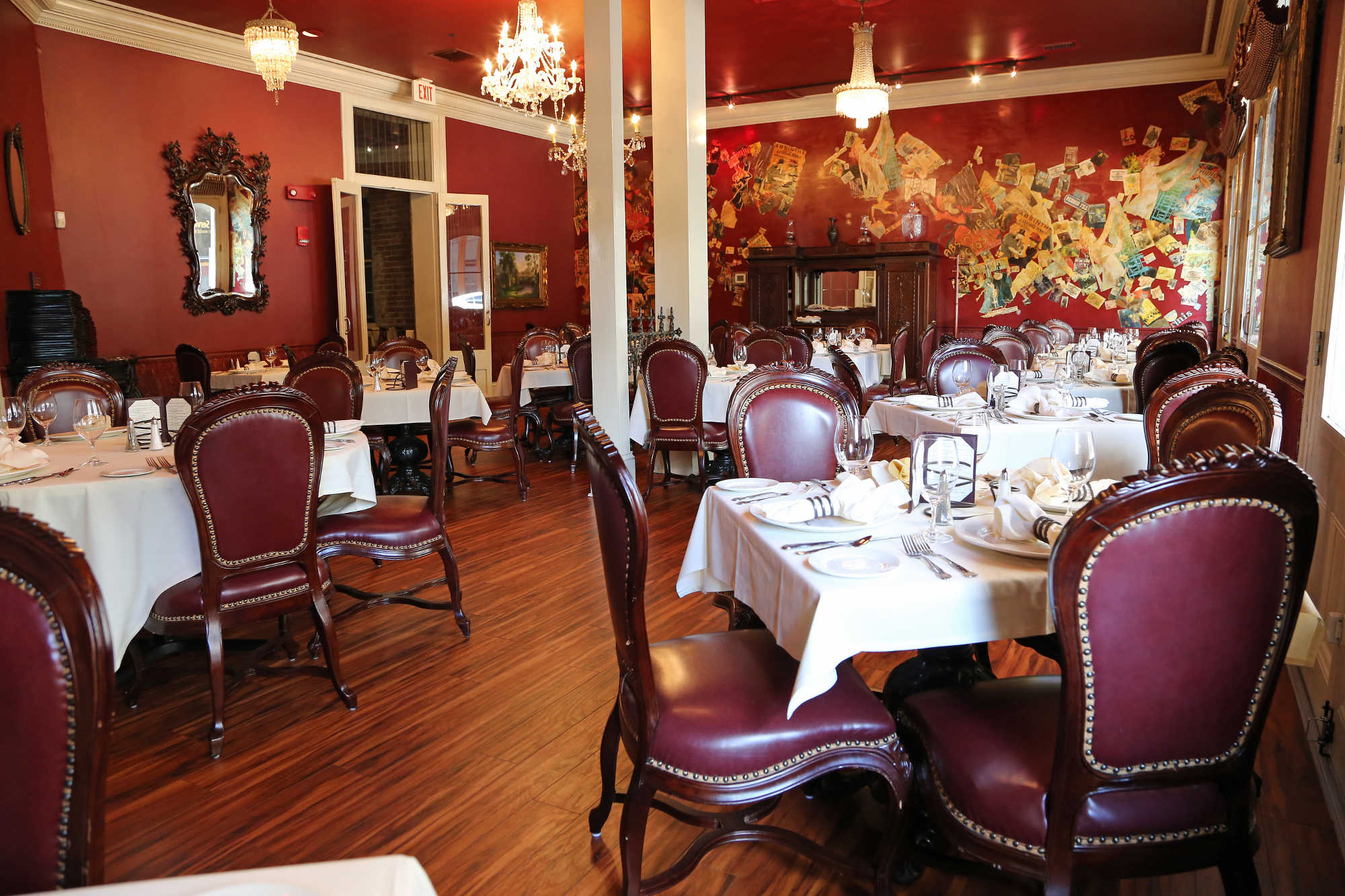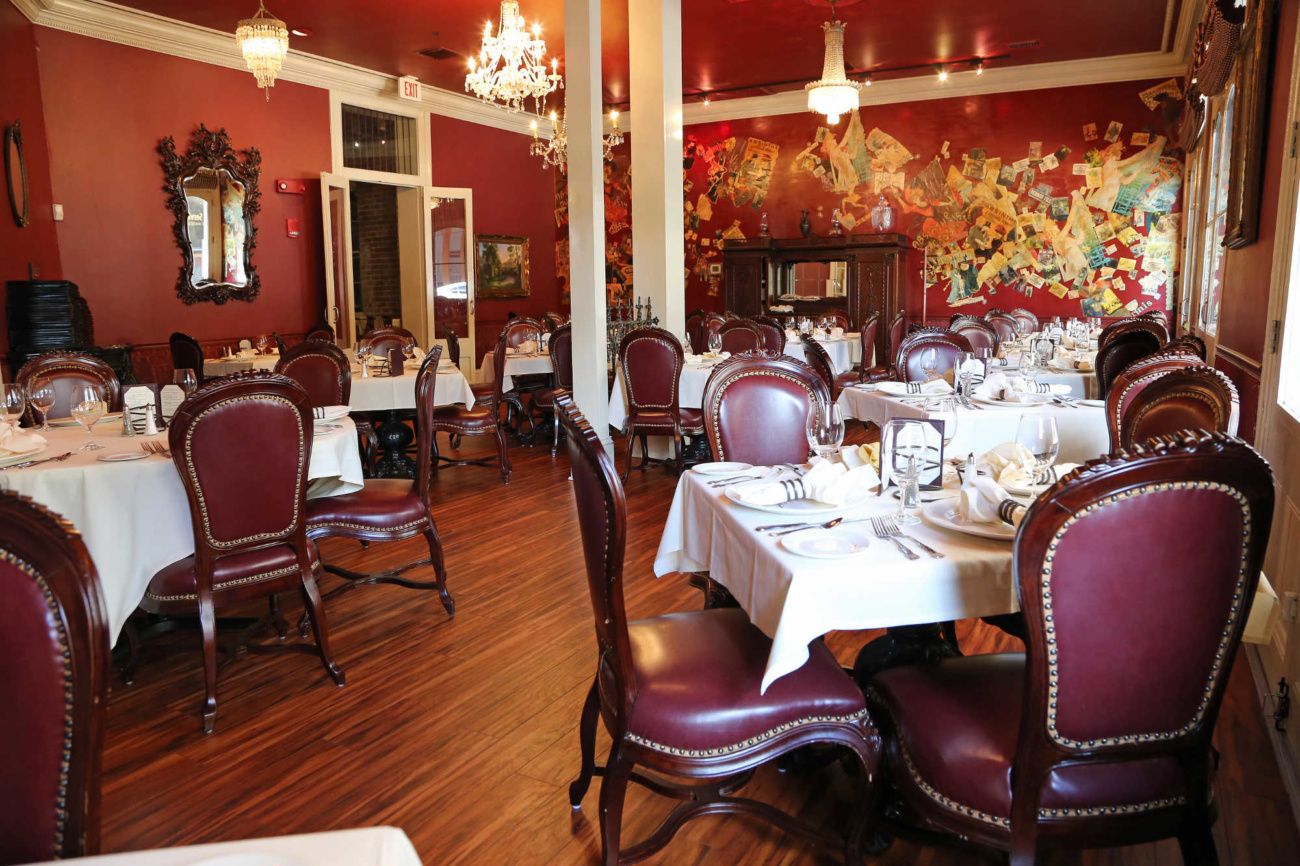 We were looking for a quintessential jazz brunch experience and wound up here at Muriel's in the quarter. I have mixed feelings about this place. The ambiance is a classic southern sort of antebellum beauty. It's pretty inside, but stuffy.
I remember having such great jazz experiences in New Orleans in the past, notably a certain brunch where my grandma felt the music so hard she got up and started dancing around the room, waving her white napkin above her head. It could've also been the Brandy Milk Punch, but hey, it was a joyous, fun time nevertheless.
In any case, the jazz here was good, but treated by all like it was wallpaper. The servers were awkwardly stiff. My dish, an oyster cake benedict was good, but I expected it to be incredible. Rachel ordered the pecan crusted drum with crabmeat hash (which she gave to me). I had a bite of her fish with the sauce and spicy hash and realized I had ordered wrong. That dish was amazing. Live and learn.
Palace Café

– but for my dish alone. ????
605 Canal St
Price Range for an appetizer and a drink $$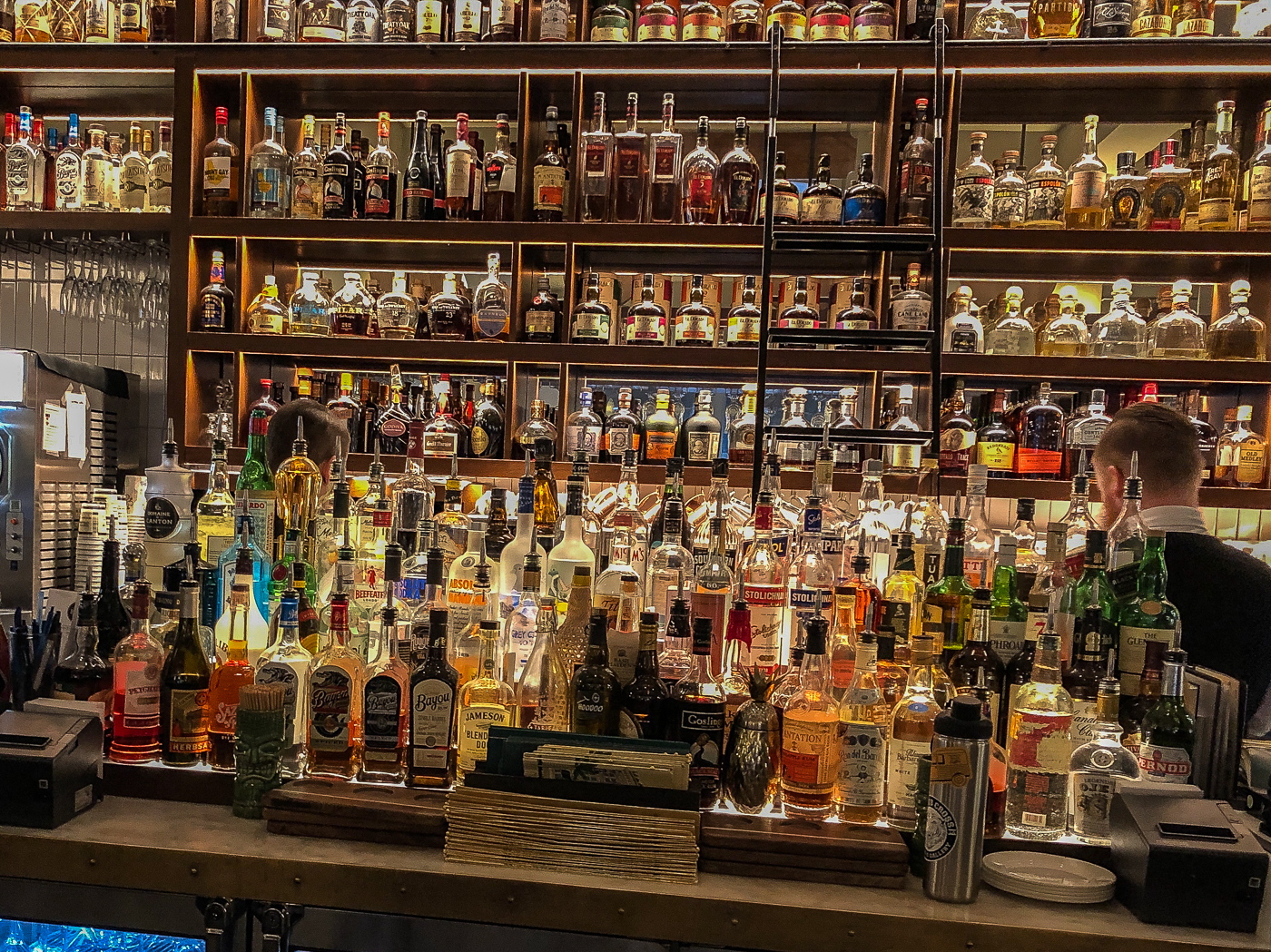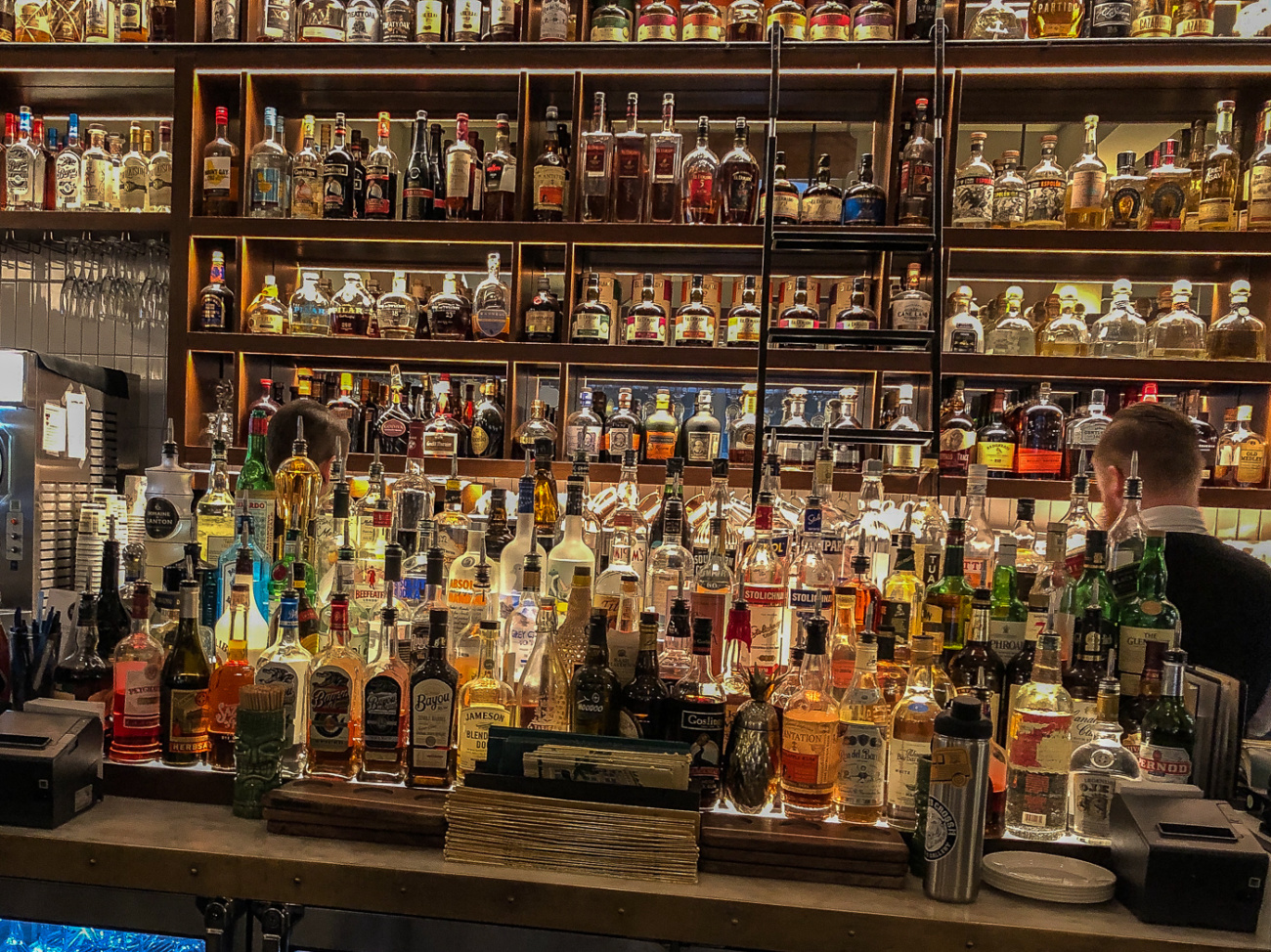 My stop here was purely for a snack. You know that moment where you're suddenly afraid you might not make it the two hours until dinner? Yeah. So we cozied up at the upstairs bar (it's the nicer one) and I ordered this crabmeat cheesecake.
Ummmm. You guys. If you like crabmeat and cheesecakes, please go get this. With a pecan crust, sautéed mushrooms and a savory brown creole meunière sauce it was rich and delicious and one of those dishes I now dream of having again.
Our bartender was great and it was a perfect dish to hold me over until the next time I ate, which was happening in three-hour intervals in New Orleans.
Mr. B's Bistro

201 Royal St, New Orleans, LA 70130
Price Range for starters, drinks and entrees $$$$
This place felt so southern to me I thought I might be on the set of Gone With the Wind. The service was super friendly and even though it was a white tablecloth place, it was relaxed and fun. I had French fries and a crab cake that were both pretty good. Oh and a salad. Because you still need your greens, even in NOLA.
Cafe du Monde

800 Decatur St Jackson Square, French Quarter
Price Range $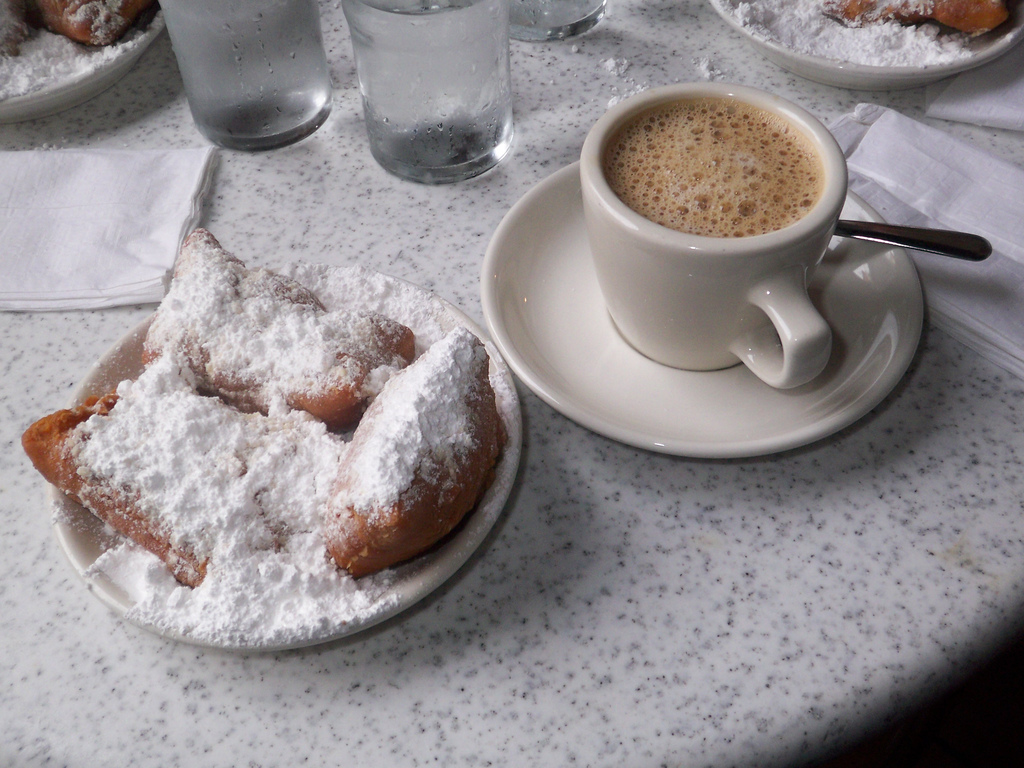 This is an institution. If you're looking good food in New Orleans, this is it. One must simply go. The menu has only a couple of things: beignets and coffee or café au lait. These flash fried donut pastries are cooked seconds before they come to your table and piled high with powdered sugar. It's next to impossible to eat one without having the white powder cling to some part of you, so dress appropriately.
Pro Tip:  It's open 24 hours, so try to head over at an off time (like early morning) for no wait.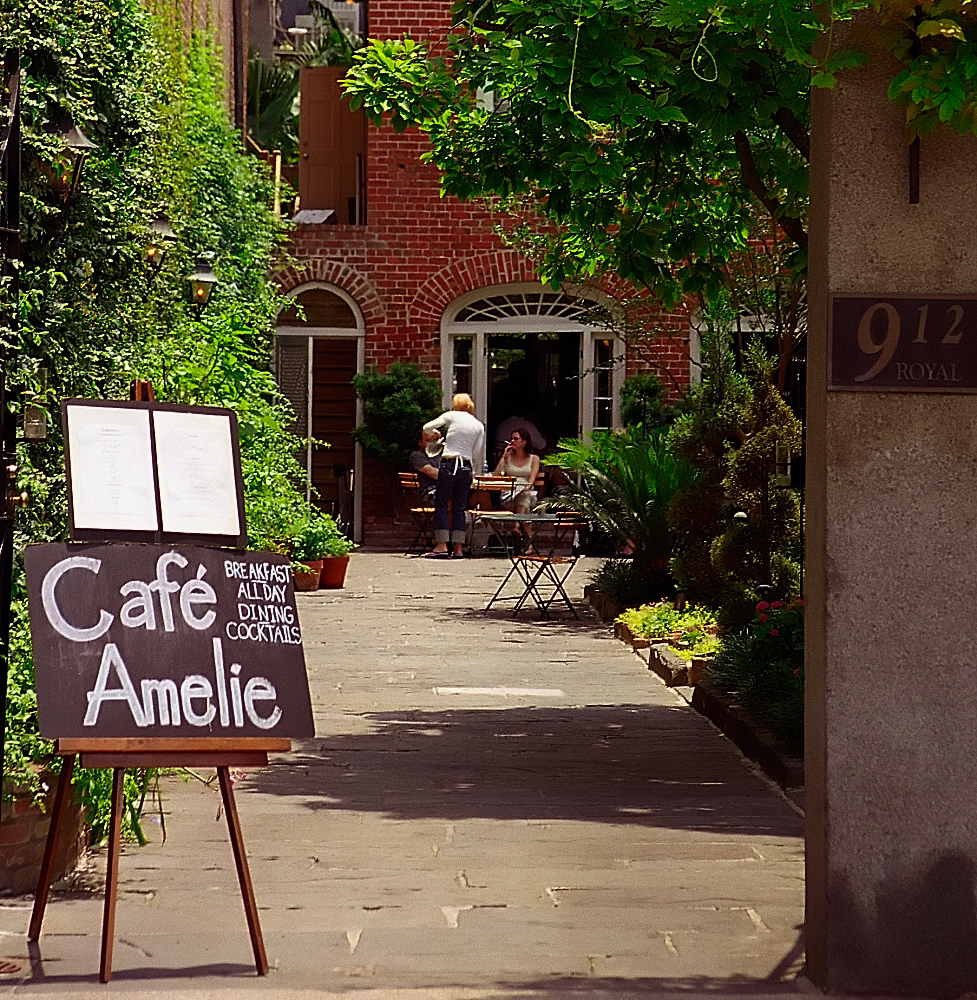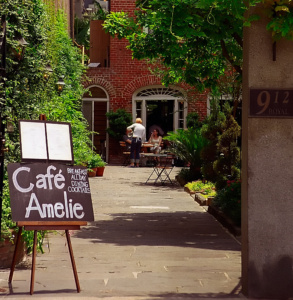 Cafe Amelie

912 Royal St, New Orleans, LA 70116- French Quarter
Price Range for a small plate and drink $$
I stopped here for a light lunch. The courtyard itself is the draw, all French and romantic, it's a great place to slow down and visit. The cocktails were great as well, I had the Nieux Carre with cognac and rye and it was the perfect drink to take the chill out of the air.
I had the baked gulf oysters with spinach, artichokes and cheese. It's a rich dish, but overall it lacked a complexity of flavor. I would still return and try something else, or hang out here for the ambiance alone.
Felix's

For the Po-Boy only
739 Iberville St, New Orleans, LA 70130- French Quarter
Price Range for a Po-Boy and beer $$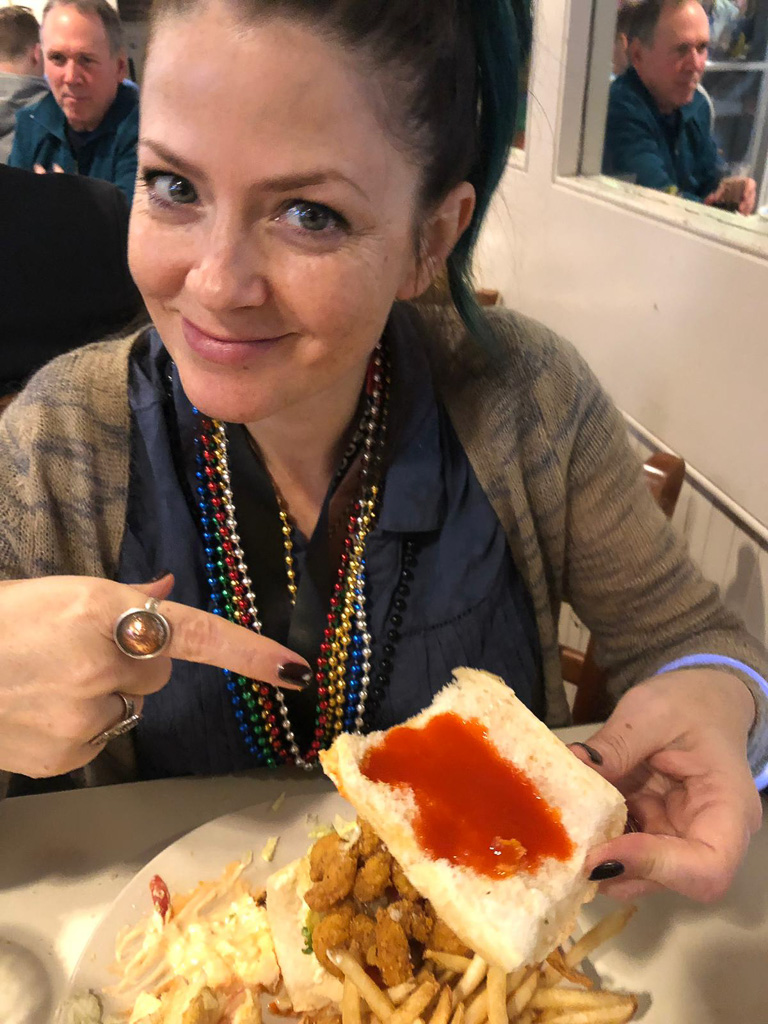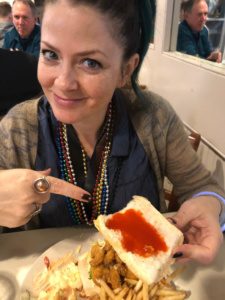 I love Po-Boys. Also I love hot sauce. I have a hot sauce problem if I'm being honest. I need it on everything.
When I was looking for where to eat in New Orleans, having a great po-boy experience was high on the list, and yet I never quite achieved it. Felix's was fine. There was barely a wait and I really enjoyed the diner atmosphere.
I ordered Felix's Special Po-Boy, which is deep-fried shrimp and oysters together. This was a very simple, straightforward version: fried seafood, white bun, lettuce, tomato. That's it. I put about a half a bottle of hot sauce on it and mayo in an attempt to impart more flavor. It sorta worked.
My quest continues. If you have a fav place to get po-boys, please put it in the comments!!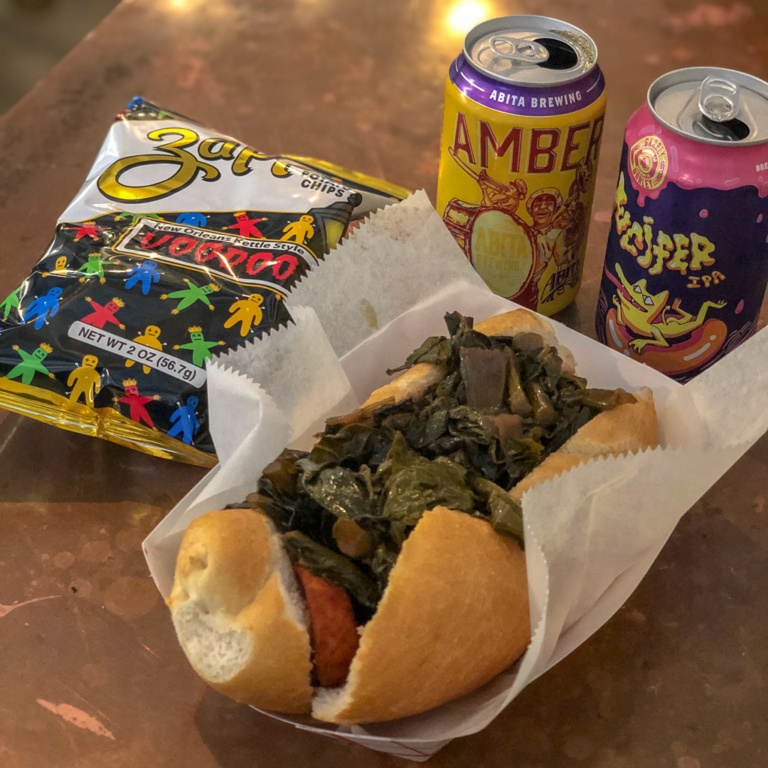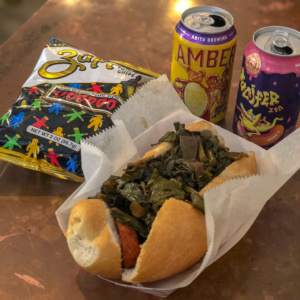 Killer Po-Boys

based solely on the sweet potato Po-Boy
219 Dauphine St- French Quarter
Price Range for a sandwich, chips and a beer – $$
Still on a po-boy quest, I tried Killer's sweet potato po-boy. I applaud the effort – it's not always easy to find non-meat options in this town. But I would've loved for this to have a different texture. It's a bun with cooked greens and sweet potato chunks. It was mushy.
There was the contrast of the bitter greens and the sweet of the potato, but overall, it wasn't what I expect from a po-boy. I mean we know this isn't health food, so maybe let's see what happens if we batter that potato and fry it; give it some crunch, you know?
Coterie NOLA

135 Decatur St, New Orleans, LA 70130- French Quarter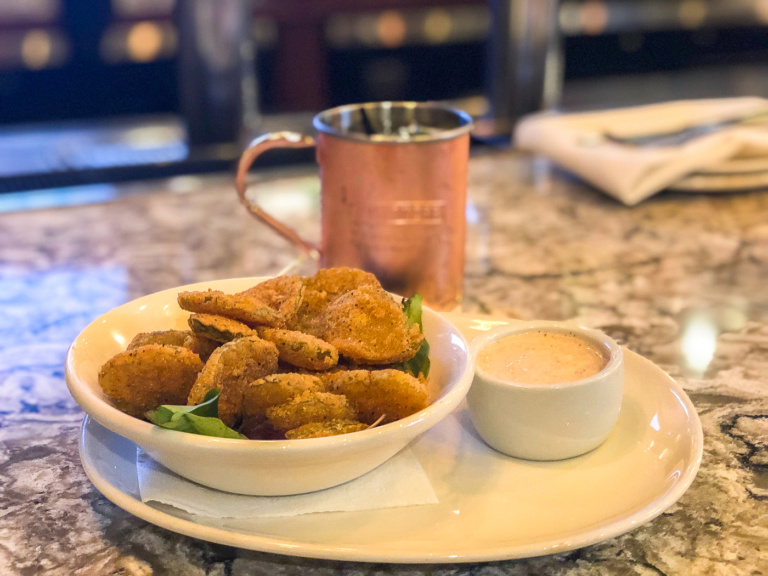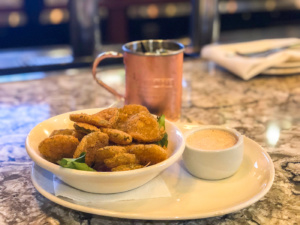 Price Range $$
This spot was attached to our hotel making it extremely convenient. We had the fried green pickles and a crab cake. It was fine. Nothing mind-blowing and that's the problem. In a town like New Orleans where the food is so incredible, it's hard to want to spend your calories on the merely good.
But if you want a snack and you're staying at the La Galerie Hotel, it's an easy stop.
Which leads me to…
Where to Stay in New Orleans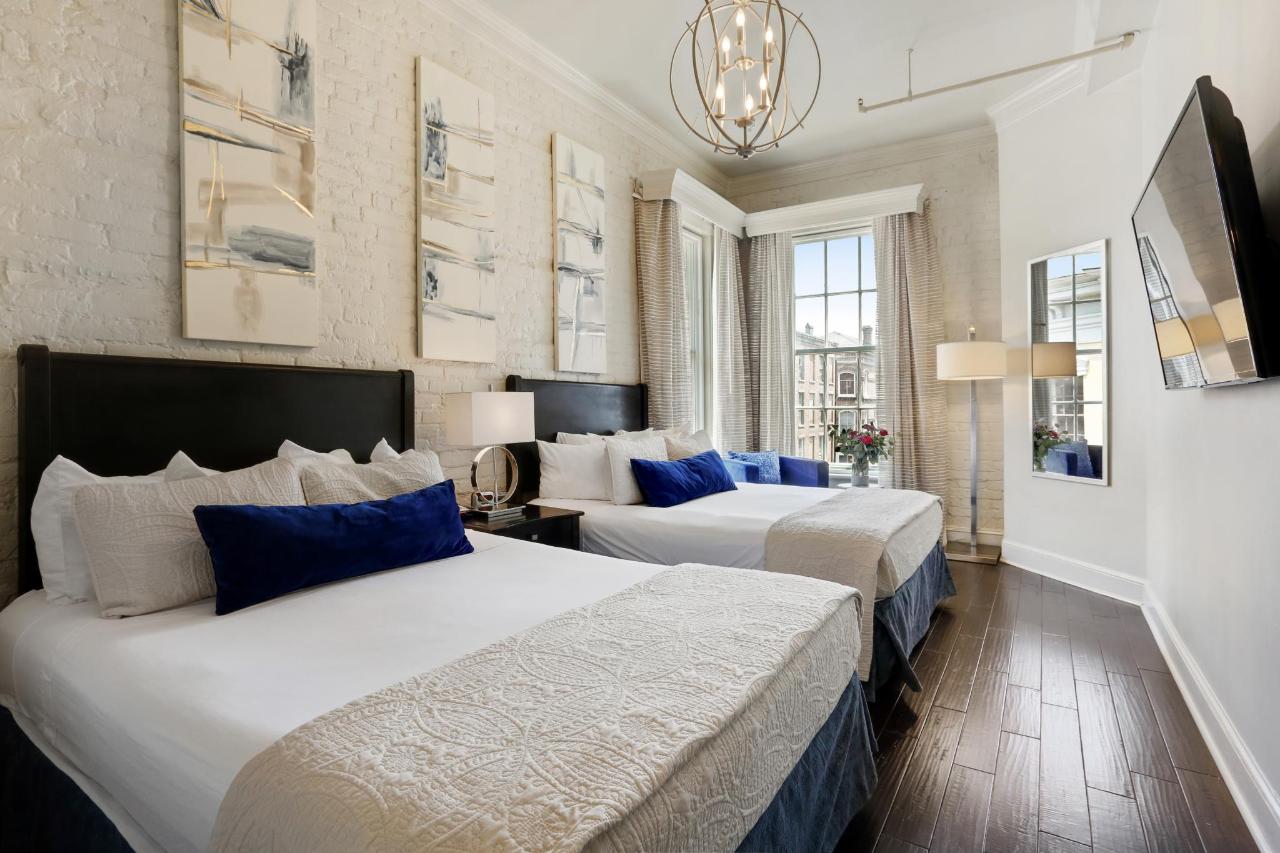 La Galerie Hotel

131 Decatur St – French Quarter
Located on the western edge of the French Quarter this adorable hotel is still a convenient walk to the center of it all, but with an extremely affordable price tag. The décor is chic and elegant; and the staff is so very kind and accommodating (shout out to Mae!). We stayed for six days and it was so comfortable.
This new boutique hotel is in an old restored building, so expect that rooms will be the size of some of the older hotels in New York, San Francisco or Europe. Some of the bathrooms are the size of a coat closet, so you may want to splurge and upgrade to a slightly larger room – you'll still come out ahead compared to nearby places like the Sheraton.
Where to Drink in New Orleans
There is NO shortage of places to imbibe in New Orleans. However, there is one place that is close to my ghost-story loving heart:
Lafitte's Blacksmith Shop Bar

941 Bourbon St – French Quarter
Price Range $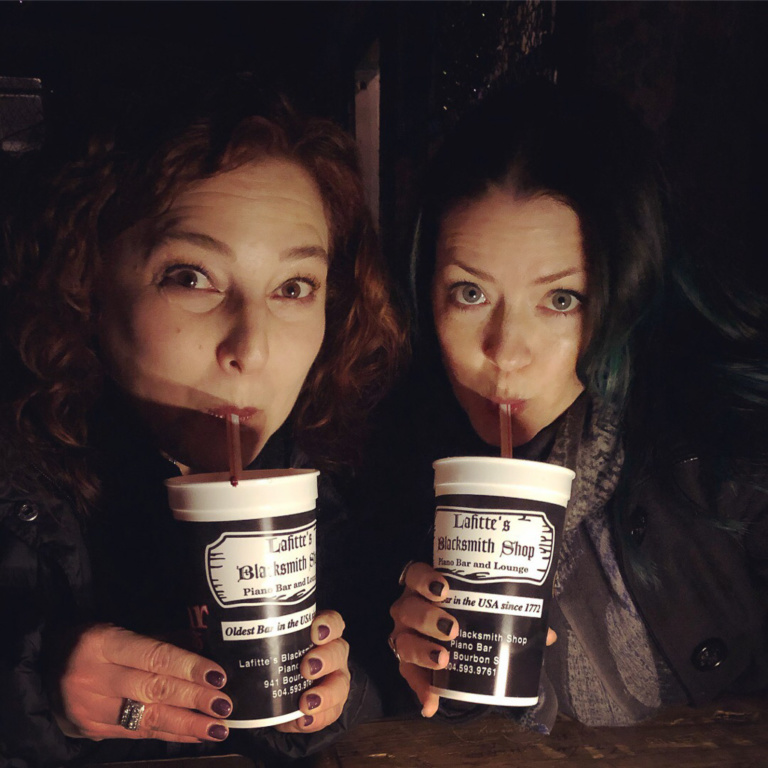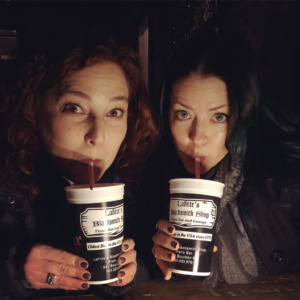 Built in the early 1700s, this dark, stone and brick bar is full of legends of pirates, ghosts of pirates and a gothic pirate vibe. Appealing in its historic roots – they claim to be the oldest structures being used as a bar – Lafitte's still manages to not feel touristy. And I say this as someone who sat there drinking a hurricane out of a plastic cup.
Speaking of, the establishment makes a pretty great hurricane as well. If you're only going to have one hurricane in New Orleans make sure it's one made with fresh juices and not over-sugared or worse – powdered mixes.
Live Music Bonus Recommendation
If you can catch this band, DO IT. They are extraordinarily talented musicians and there's no way you can just stand there and listen. We were lucky to catch them at Fat Catz (440 Bourbon St) and were blown away.
Pro Tip: If you head to Fat Catz for music, go on the earlier side before the place gets too crowded and drunky-drunk.
So there you go, there's my report on where to eat in New Orleans. It's quite a roundup, huh? Now I'm hungry all over again.
Disclosure: As a Booking.com Associate, I earn a small amount from qualifying purchases. However, I don't recommend anything that I don't personally love.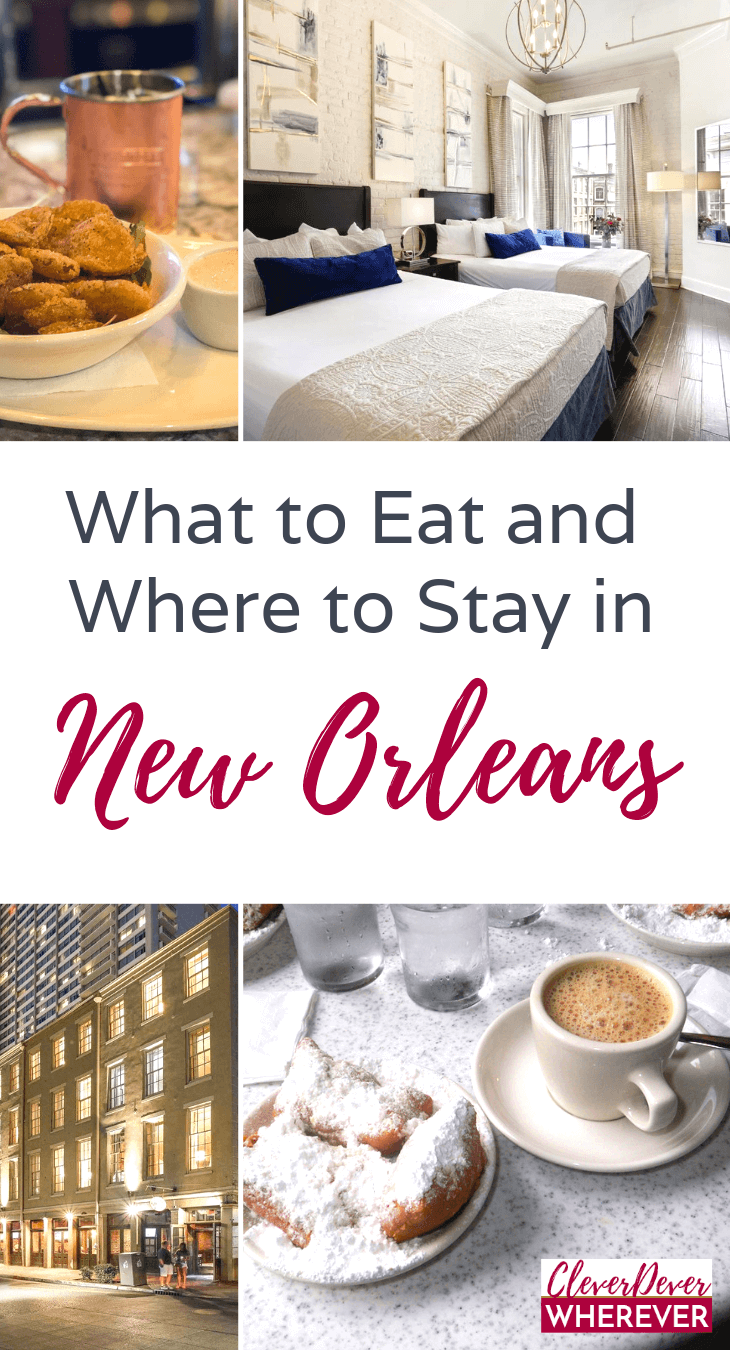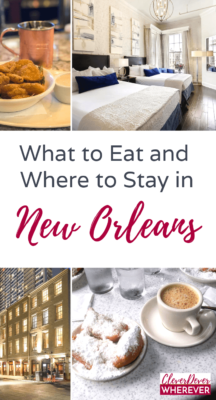 Do you have a favorite spot to eat in New Orleans (especially a Po-Boy)? Tell me below in the comments.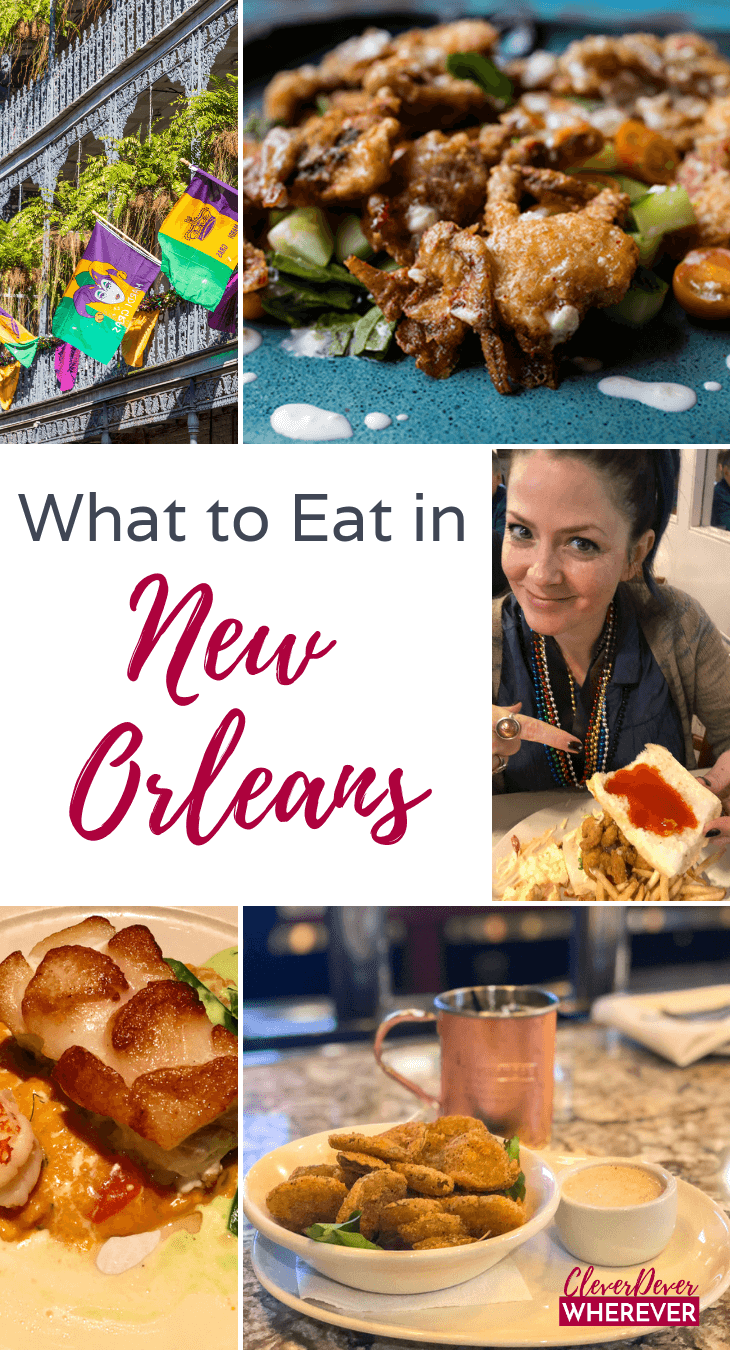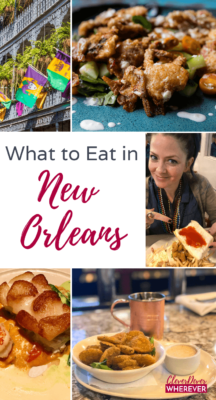 Get More
Recommendations