"I love this flight!" Doug, our guide, pats his pocket. "I don't have to check my Swiss Army knife AND we get to drive right up to the plane."
Even though I'm not sure what defense a Swiss Army knife will be against a polar bear, the fact that we can carry it on does feel like we're getting away with something.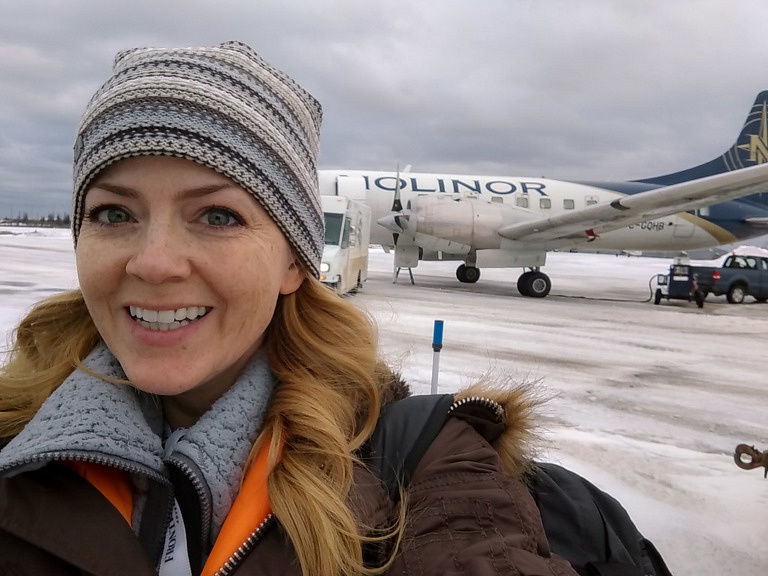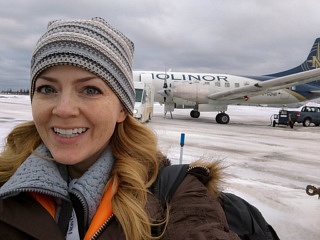 I'm on a chartered flight from Winnipeg to Churchill in Manitoba, Canada. I've come to see polar bears in Churchill, one of the most accessible polar bear areas in the world.
Doug has briefed us thoroughly on our upcoming adventures and already, I'm managing expectations. My one objective, to spoon (inside spoon, obviously) with a polar bear, is, I'm told, unobtainable. I'm going to have to settle for waving at them.  Nonetheless, the thrill of seeing these beautiful bears up close is causing a rush of adrenaline for me. I can't believe I'm doing this.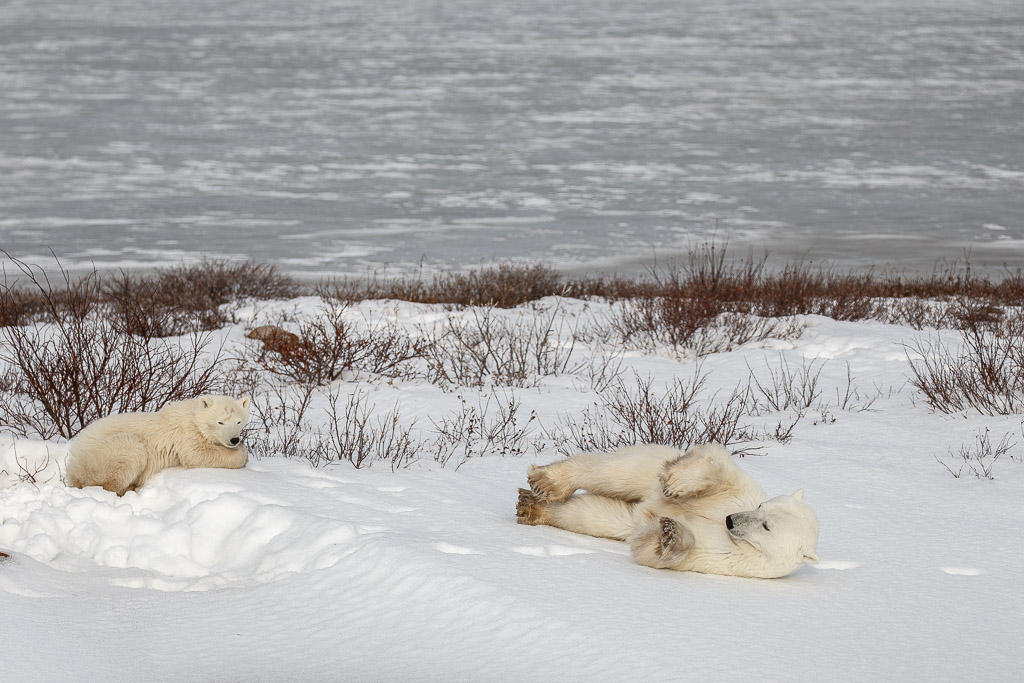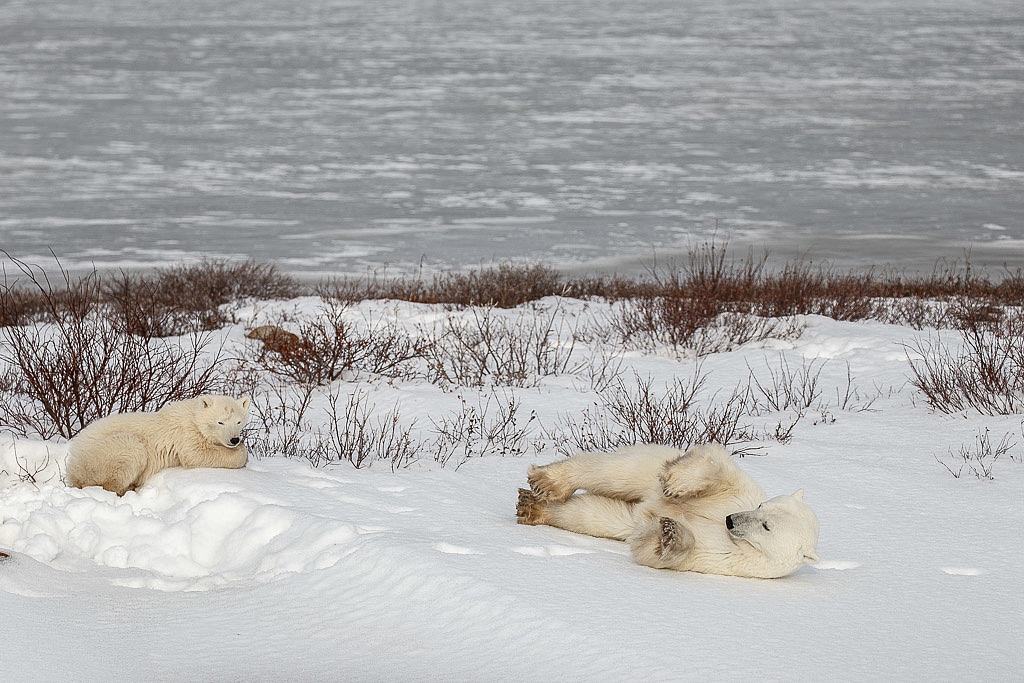 Have you ever wanted to see polar bears in their natural habitat?
Spending time with real, live, wild polar bears is surprisingly attainable and absolutely stunning. But how do you go about deciding which tour to take? What can you expect out on the tundra? Based on my recent trip, I've included answers to the top FAQs below.
One note – because packing is its own big bundle of laundry, I've written a separate, specific post (complete with a downloadable checklist!) about packing for a sub-arctic winter adventure.
How do I see polar bears in Churchill?
Churchill, coined the "Polar Bear Capital of the World," is a small town about two hours from what is called Polar Bear Point. Near the banks of the Hudson Bay, the point is where the bears roam until the lake freezes over, enabling them to hunt for food. Scores of bears are most easily seen during the time of year known as polar bear season (roughly October and November).
To access this region, you must first get out to the launch area (a 30-minute bus ride) and then board the Tundra Buggy™ for what is an extremely bumpy 90-minute ride.  Tundra buggies are kind of like a cross between a Mars rover and a school bus on steroids. They scale all manner of obstacles including ice mounds, snow, slushy streams, small boulders and anything else that dare gets in its way.  Check out my video below to see what it's like.
Even though I get carsick easily, I was fine, but you may want to grab some anti-nausea medication just in case you are an inner-ear wuss like me.
What kind of tours are available?
There are several tour companies that provide a couple of options to get you up to see the bears on the tundra.
You can:
1) Stay in Churchill and take the two-hour trip out every day (each way!).
Ride in a packed buggy of up to 40 people (more crowded, and challenging to see at times or take photos).
2) Stay in Churchill and take the two-hour trip out every day.
Choose the maximum 20 people on your buggy. (Everyone gets their own window to watch the bear activity.)
3) Stay out on the Tundra Buggy Lodge.
Wake up with bears outside your window; have dinner and a show with bears sleeping or sparring right outside while you eat. Added benefit of spending the early morning light on the tundra (no travel time!) with only a few buggies searching for bears. As the day progresses and the city buggies come in, you can have an arctic traffic jam at times with sometimes four or six buggies crawling across the landscape.
I did #3 and stayed out on the Tundra Buggy Lodge and I LOVED it. Best choice for sure. You can check out both in town and lodge tour packages with Frontiers North Adventures here.
You have questions about staying out a remote lodge on the tundra? I have answers:
How big is the lodge? Is it a lodge?
The Frontiers North Tundra Buggy Lodge is like a space station. It's several buggies, all on huge five-foot tires, assembled together. It's mobile, and only stays out there during polar bear season.
Much like a train, its main cars are connected together and the pass between them is outside. There are five passenger cars: dining, wifi lounge, two sleeping cars with 20 upper and lower bunks, and a final lounge which hosts happy hours, lectures, and has an observation deck on top.
Is there wifi?
Yes! And it's pretty good for being so remote. You'll only get it if you're staying at the lodge, and it's strongest in the lounge.
What are the sleeping arrangements?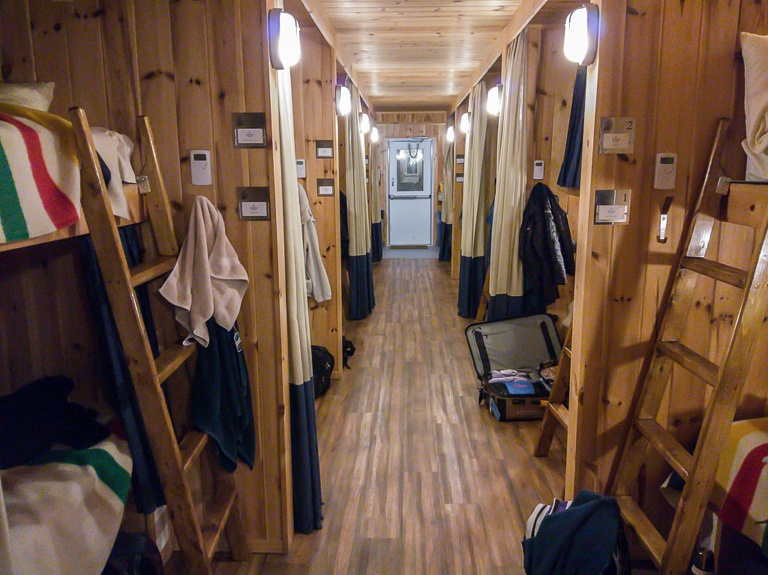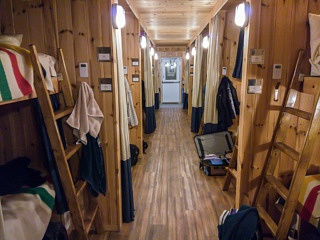 Everyone has a comfortable bunk with a shelf for personal items, and a four-outlet plug. Your luggage gets stowed underneath the bottom bunk. There's a small curtain for privacy, which closes across each own bunk, and then a larger curtain for both the upper and lower bunks which keeps out light and keeps in warmth. Each upper/lower combo has a shared thermostat. You also have a hook for your towels, which are supplied, as are the warm wool blankets and bedding on each bed.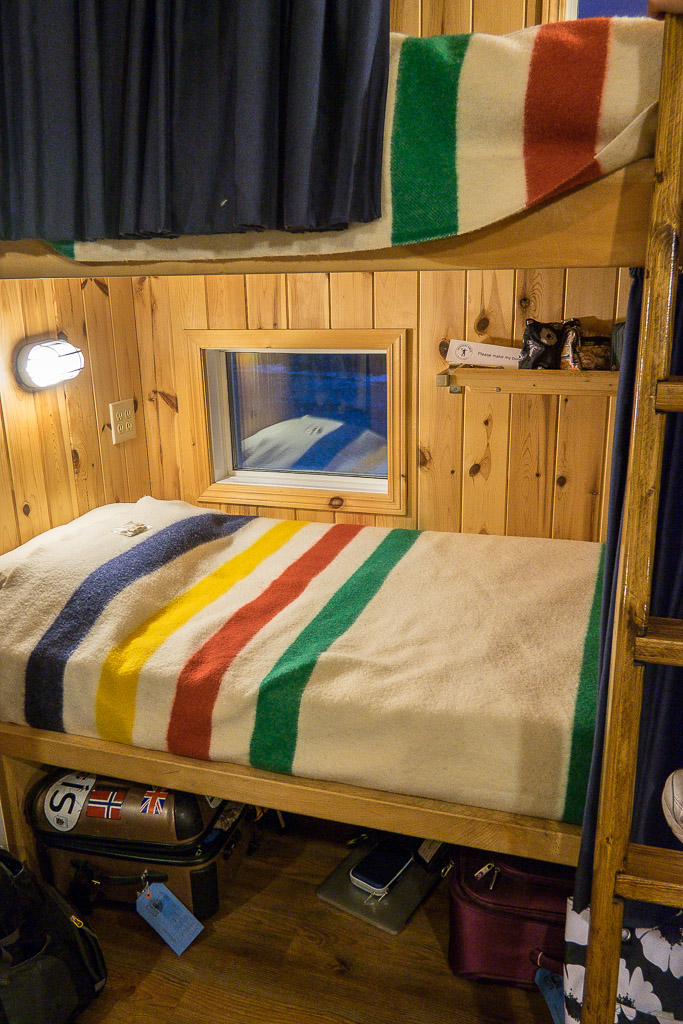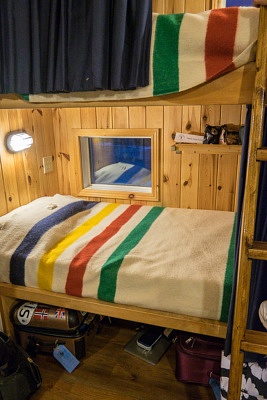 Tip: If you are less than agile or afraid of heights, make sure to ask ahead of time for the lower bunk. I didn't notice that one set of bunks was better than another in the sleeping car. I was closer to the showers, but I never heard them.
Tip: Bring your vitamins on this trip for sure. You are in very close quarters with at least 20 people all day every day, so if one person has a cold it's easy for that to spread.
What's the shower situation?
For conservation purposes, showers are on a two-minute timer and they are hot pretty much right away, so showering is quick. One morning I got it all done in two minutes, the next four – this is actually something that can be accomplished! Even with 20 people in your sleeping car, it seems to work out, so don't worry.
What do you eat out there on the tundra?
If you are with Frontiers North, all meals will be included.
If you're on your own and staying in Churchill, check out this post.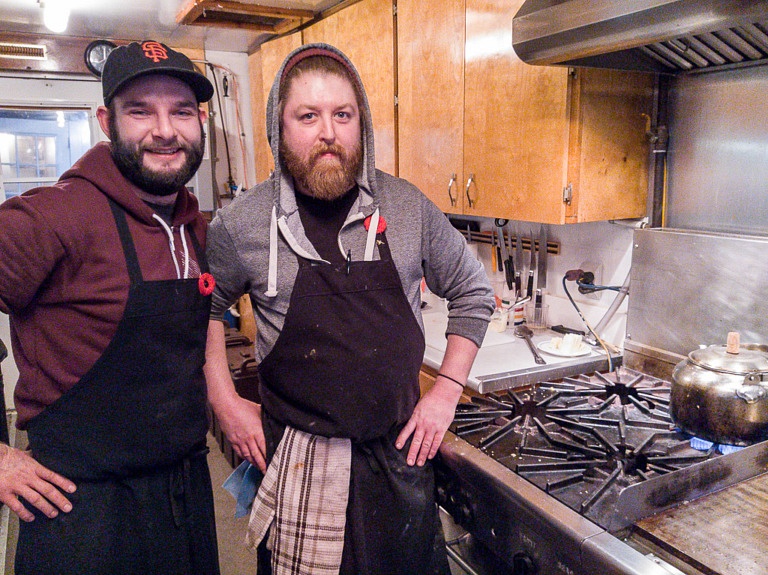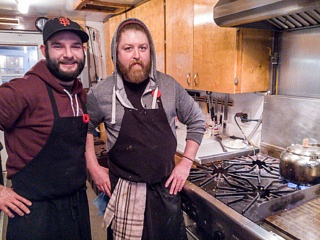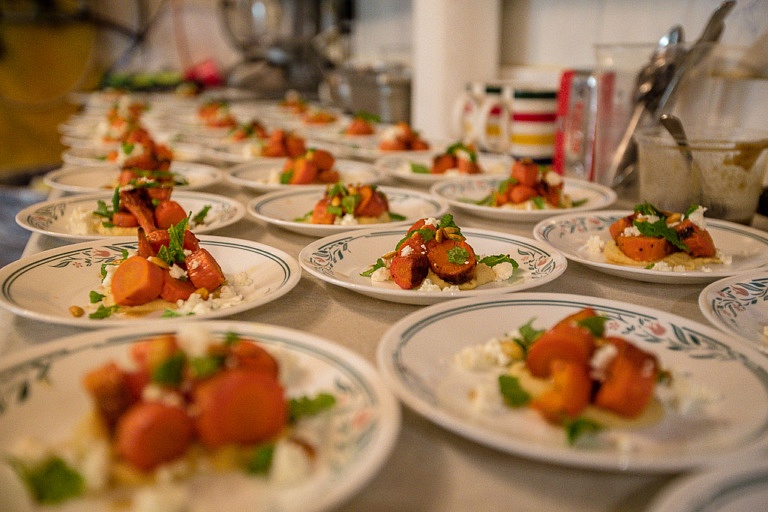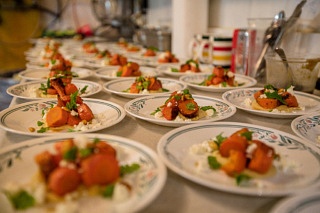 If you are staying up at the Tundra Buggy Lodge, you're in for a real treat. Jared, the chef, and Paul, his sous chef, are fantastic. We had creative, delicious meals every day. Jared is also very accommodating (and nice/Canadian) so dietary restrictions are no problem. Be sure to let them know ahead of time. I had some truly wonderful vegetarian meals morning, noon and night.
The lodge also features a happy hour after a hard day of polar bear watching. Once you return, head down to the new lounge for snacks and drinks and conversation before dinner.
What do you do with your time way out there?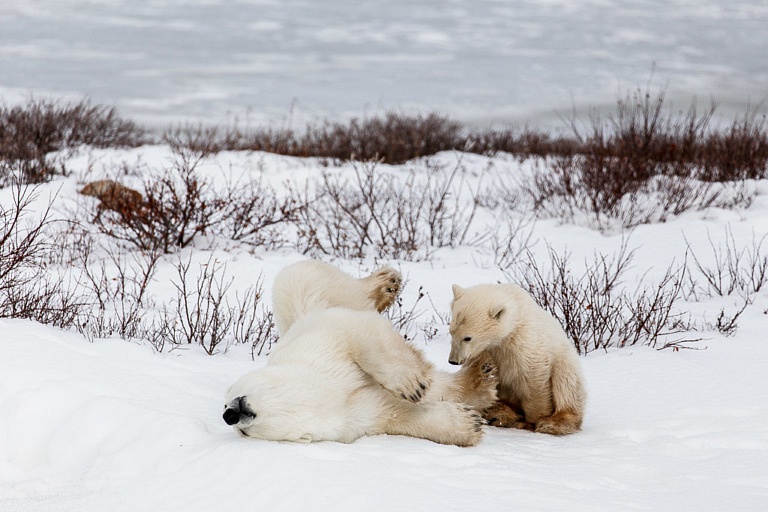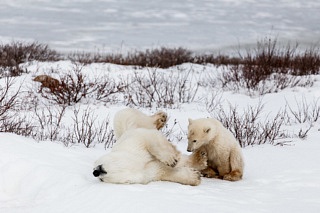 Polar Bears
Eat
Polar Bears
Polar Bears
Polar Bears
Eat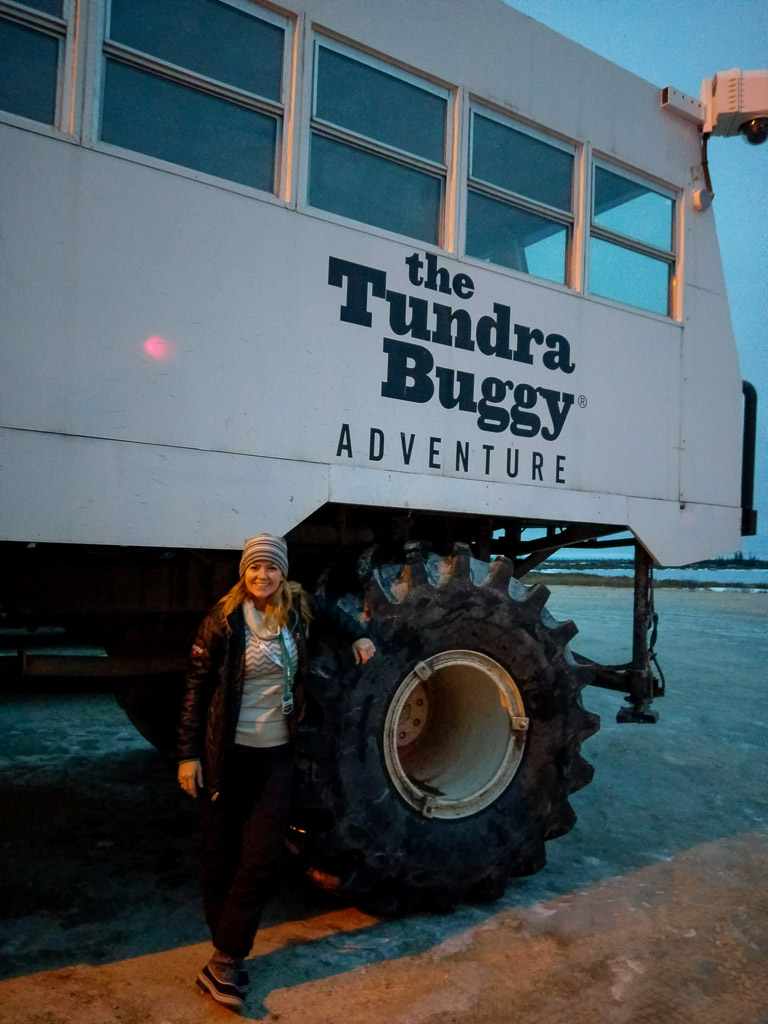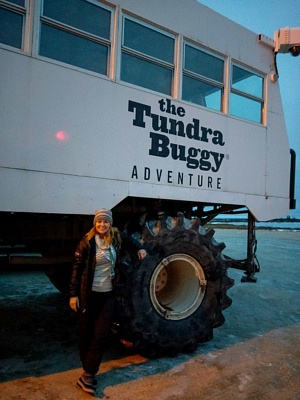 Polar Bears
Baby Polar Bears
Sleeping Polar Bears
Cocktails
Journaling/Look at photos
Polar Bears
Eat
Sparring Polar Bears
Arctic Fox!
Sleep
Was it scary or did you ever feel in danger?
No, never. You are always elevated at least 7-8 feet up in buggies both mobile and stationary. In fact, if you are staying up at the lodge, you'll notice you don't touch terra firma for three days. You're not in any danger whatsoever, except maybe of an overdose of polar cuteness.
Did I get to touch a polar bear?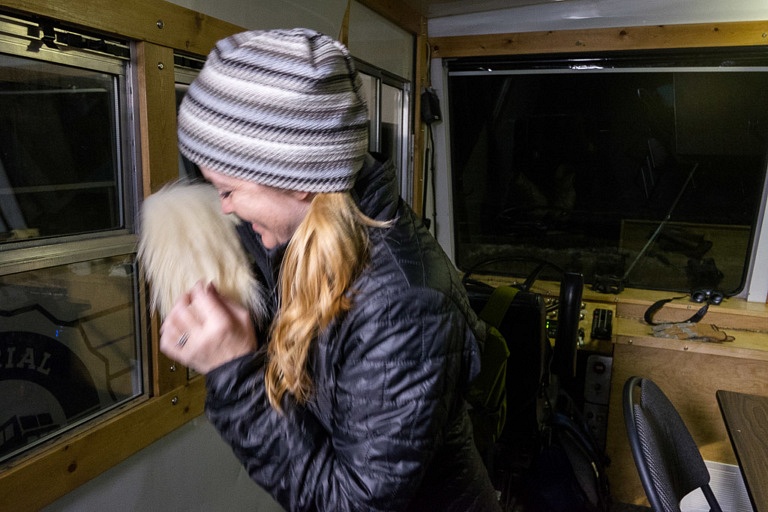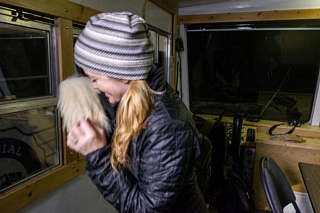 The closest you'll get is if you're lucky enough to take the Conservation Journey. On this particular tour you spend time with the scientists of Polar Bears International, who have a dedicated research buggy at the lodge. They have a square of polar bear fur you can pet. They may have to take it away from you if you become too possessive of the patch. Or maybe that was just me.
What are the daytime excursions like?
You go out and watch those bears like it's your job. You leave the lodge at 8am and roll across the rocky landscape for the next 8 hours. Snacks and really nice lunches (thanks again Jared and Paul!) are provided on board. Oddly, it really doesn't get tiring, except maybe during that 3pm slump, but generally you are so juiced up by every twitch, yawn, barrel roll and antic of the polar bears that the day flies by. There is a toilet on board as well, in case you were about to ask me that.
How cold is it?
My trip was the beginning of November and it was cold, but not unbearable. The tundra has quickly changing weather, so you do have to be prepared for a variety of situations ranging from sunny to blizzard. Temps fluctuated from 12-39°F/-11-4°C. Read about how to pack for arctic adventures.
What photography gear should I bring?
I brought two camera bodies so that I didn't have to change lenses between long and short focal lengths when the bears came close. You don't want to be fumbling with taking lenses off and on as the bears are walking towards you.
My list:
1 DSLR with a zoom lens. I rented a 100mm-400m lens, which I was very happy with. I was able to grab some of the distance shots that others could not. Plus it doubled as a telescope of sorts and I could watch the bears easier even if I wasn't taking pictures.
1 mirrorless camera with a wide-angle lens. I kept the lightweight camera around my neck for moments when the bears would walk right up the buggy. The wide angle is also good if you are trying to capture the northern lights.
1 smartphone. I used my phone's camera for quick shots, polar bear selfies and video when the bears were close. These are easy to post online as well for friends and relatives to see what the area is like. For me, it also provided proof of life that I hadn't been eaten by a bear as they all feared after I announced that spooning idea.
A travel tripod. I kept this on my big heavy lens all day to stabilize the camera. It's also needed for longer exposure (5-30 seconds) northern lights photography.
Tip: Since I rarely have cause to use a super telephoto lens, I rent them. I do it locally at Samy's camera shop here in Los Angeles, but I've also had great experiences with Lens Rentals.com.
How should I pack for a trip like this?
I wrote an entire post about packing specifically for these kinds of adventures, and included a checklist for you! Read it here.
Tip: If you don't have, or don't want to pack heavy coats, snow pants and boots, you can rent them directly from Frontiers North.
Was it worth it?
Absolutely. A trip like this, learning about and seeing these gorgeous land mammals saunter across ice and snow, sometimes with babies, is something you will never, ever forget.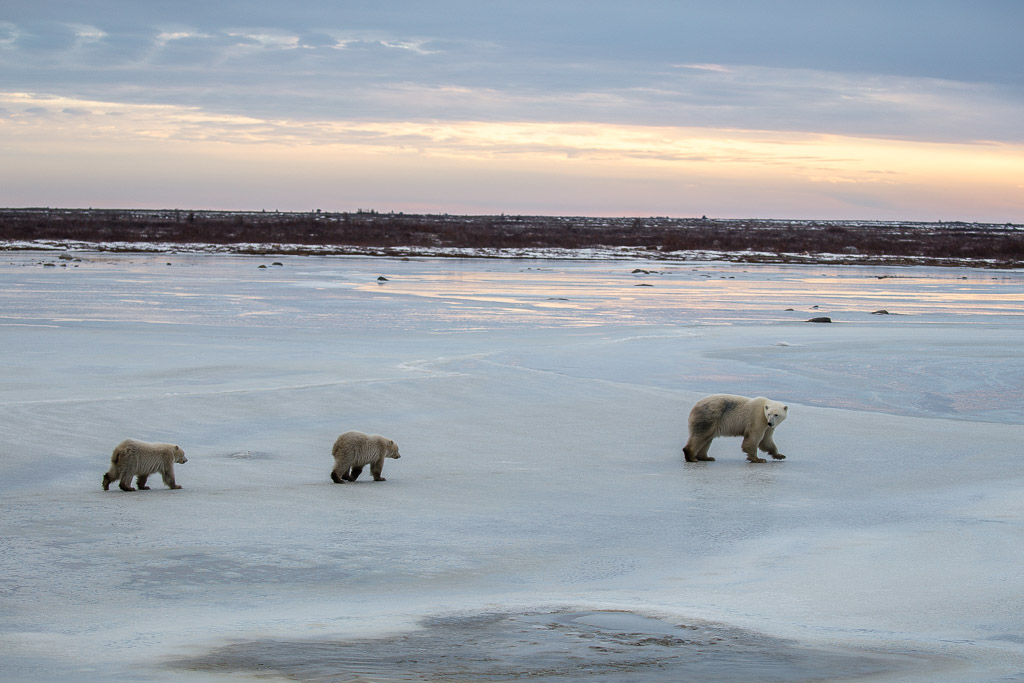 It is so haunting and it is truly something special that changes how you see the world. For me, I gained a deeper understanding of people who choose to live in extreme climates, more respect for nature, and a larger sense of responsibility to do my part to take care of this planet.
If this is on your travel list, don't hesitate – do it!! And if you can stay out at the lodge, go all in. Waking up every morning in a remote part of our planet to see 800-pound ice bears provides serenity like nothing else. I already miss the solitude of nature, but now I can imagine myself there when I need to. It's an absolute gift.
This trip was made possible by Frontiers North Adventures and Travel Manitoba, but all opinions are my own.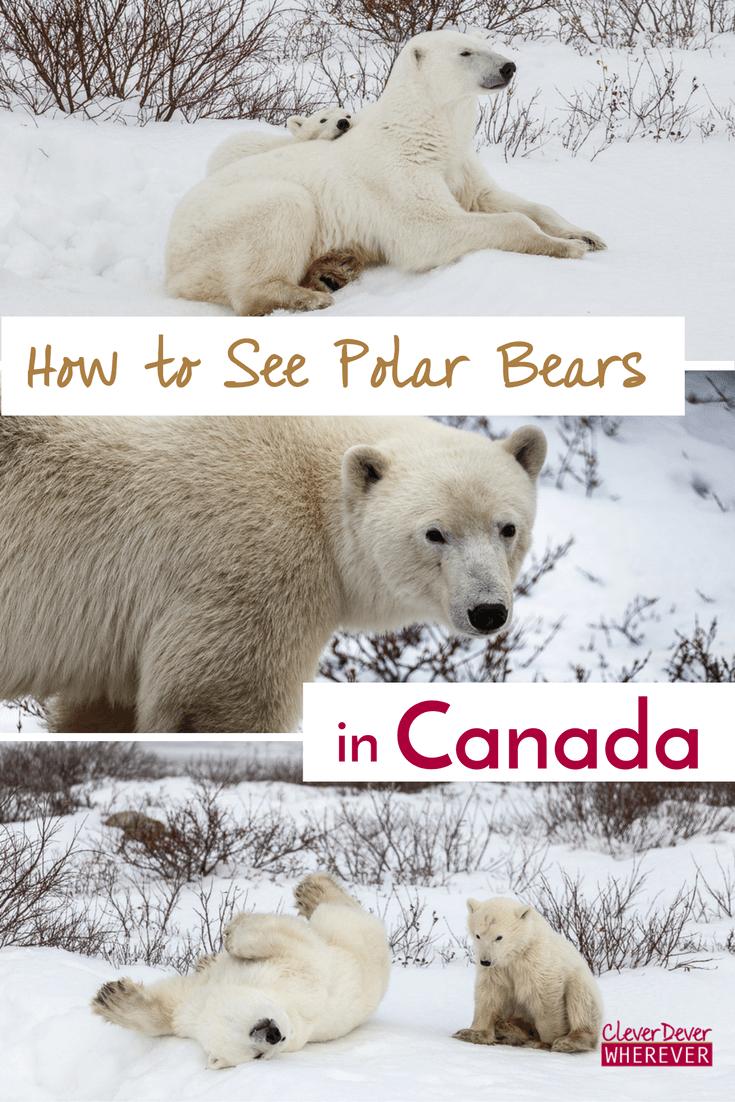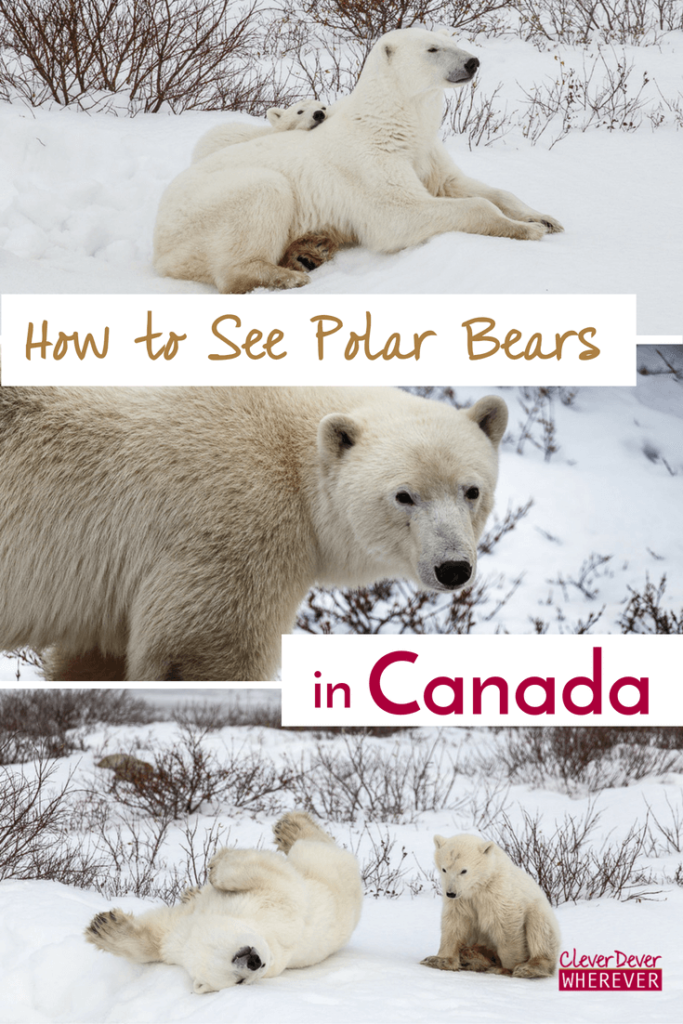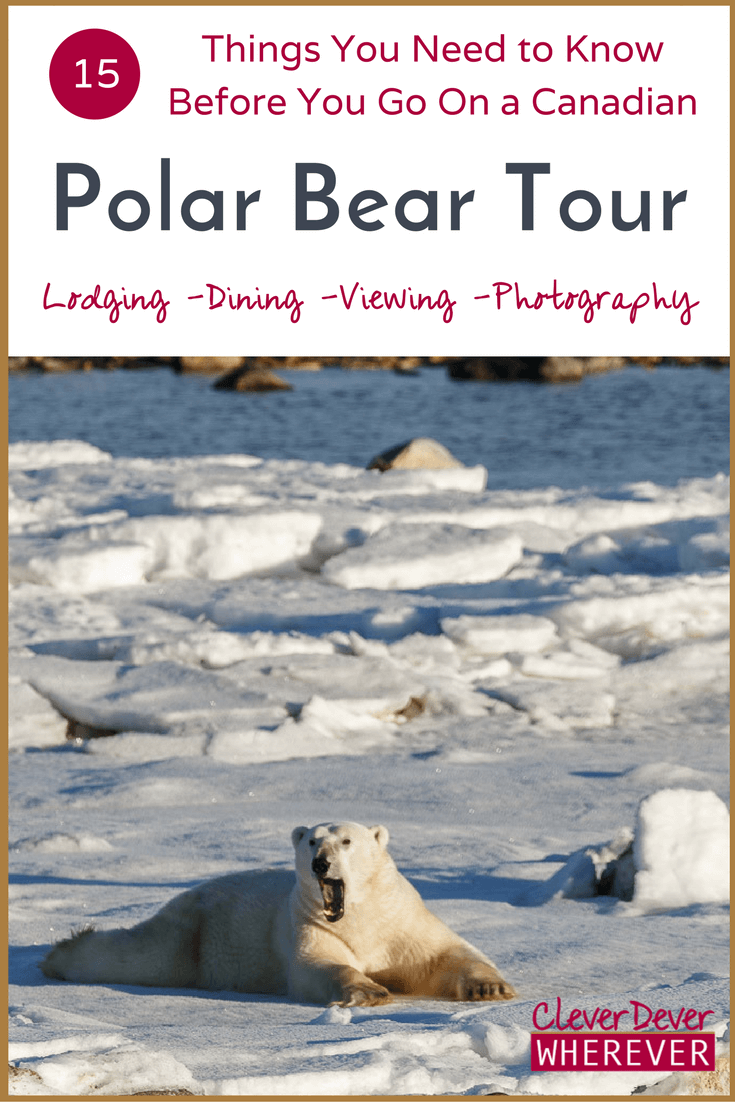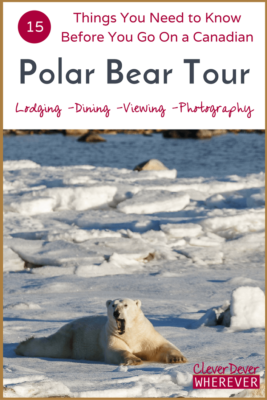 Read More
Canadian Adventures