Boat drinks. I'm holding a fruity cocktail aboard a cruise ship as we motor south along the west coast of Central America. This is the second time I've done this in two years. It's like I'm a cruiser now. I need a hat or a t-shirt with some nautical symbols on them or something. Now that I'm an official expert on this, allow me to share my travel tips on cruising Costa Rica and Panama because I know this is what you came for.
My first time cruising Costa Rica and Panama was on a huge cruise line. (For those of you that remember, it was the one my BFF Rachel Leah Cohen won on the Price is Right). We played bingo, slept till noon and piled plastic plates high with pilfered pizza and sat in our room watching I, Tonya.
This second – and let's say far more active – time, I'm exploring Costa Rica and Panama on an intimate, 62-person ship with UnCruise Adventures.
If you're not sure what type of cruise to choose, I've been on both, so here's how you can decide:
You are looking for:
Daily active adventures, cultural deep dives, and authentic experiences–> go right now and book a small boat. It's thrilling and uncrowded and you'll be out on the water every day like you're a fish, except the kind of fish that also hikes.
An all-you-can-eat fried chicken buffet, jewelry store discounts decided at the pop of a balloon, and singers trying to keep their balance during musical reviews–> you'll want to go on the larger ship. You can bid on "art" with no intention of buying it, line up to take ridiculous-themed pictures, and walk the catwalk during the gift shop fashion show. Or at least that's what I did. ¯\_(ツ)_/¯
Got your cruising style nailed down? Let's chat about what you can do OFF the boat.
Filled with volcanoes, jungles, and golden beaches, Costa Rica and Panama both offer rich experiences in nature. In a week and a half, I hiked a dry forest, a wet forest, had several monkey run-ins, snorkeled, dodged two crocodiles (that I know of), drank piña coladas out of hollowed-out fruit husks, kayaked, and journeyed up a river via canoe into the heart of a tribal village.
Now that I've convinced you to cruise the coast of these diverse countries, you need to plan. Start here:
Best travel tips for cruising Costa Rica and Panama at a Glance
Best Time To Go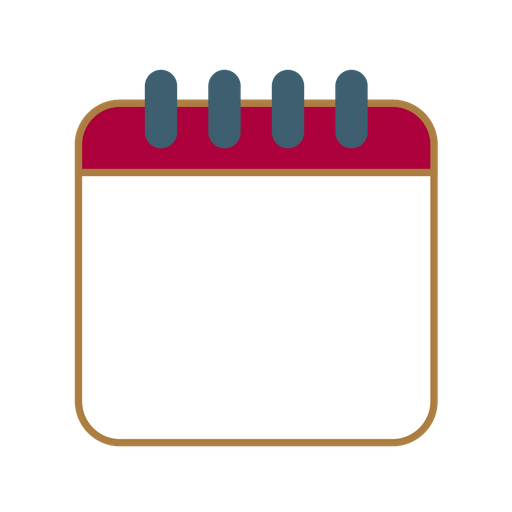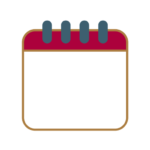 April: 86-96 °F/ 30-37 °C
June: 70- 90 °F/ 25-32 °C
Costa Rica and Panama have two tropical seasons: dry season and green season. December through April is their dry season while May through November is the green season.
The dry season is a very popular time to travel, but there is a lot of beauty in the green season even with the rains. Just bring a poncho and rain shoes.
Time Zones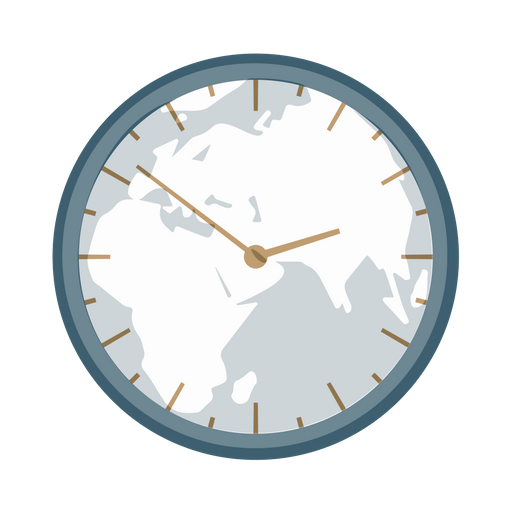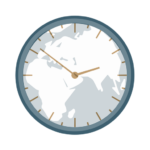 Time zone in Costa Rica (GMT-6)
Time zone in Panama (GMT-5)
Though once we boarded our ship in Costa Rica, we stayed on ship's time which was GMT-5.
Money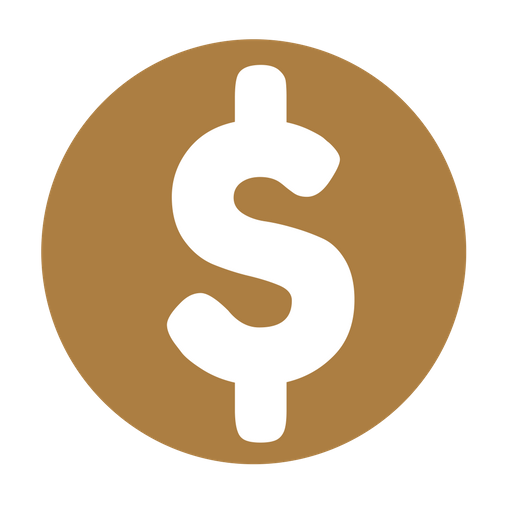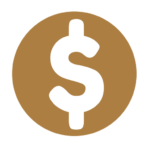 The Currency of Costa Rica is the colon (₡)
The exchange rate fluctuates daily but usually works out to between ₡500-550 per US dollar. You can get colons from any ATM – make sure it's a chip card.
Most shops in towns also take credit cards but have cash with you because some shops will take small US dollars and give back local change. You can always change your money at any local bank.
The Currency of Panama is the balboa
Officially, Panama's currency is called the balboa which has always been equal to a US dollar. However, they don't print their own paper money and commonly use the US dollar as regular currency.
While many places in Panama only take cash, if you're in Panama City, you'll find many places that take credit cards. ATMs do take credit cards but make sure that you have cards with chips as they do not accept credit cards with strips on the back.
Safety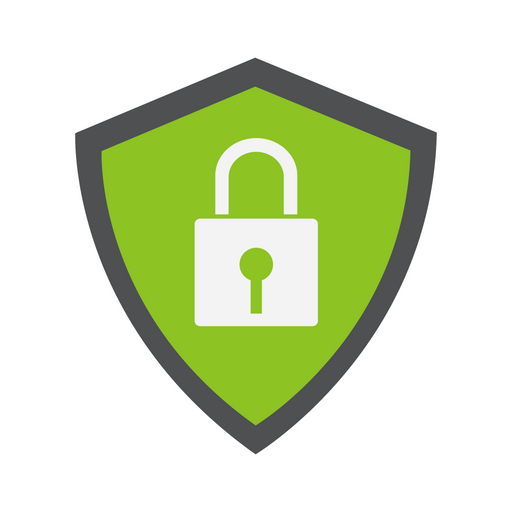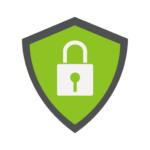 While Costa Rica and Panama have some issues with crime, most of the time you are relatively safe. Scoring a 70 and 72, respectively, on the Gallup 2018 Global Law and Order Report (the USA scores an 84, Canada a 90 for comparison), it's best to stick to well-touristed areas if you are alone.
Be aware of your surroundings – which includes looking out for pickpockets. If you're spending time at port cities on your own before or after a cruise consider having a buddy when walking longer distances and stay near the better areas at night.
Tipping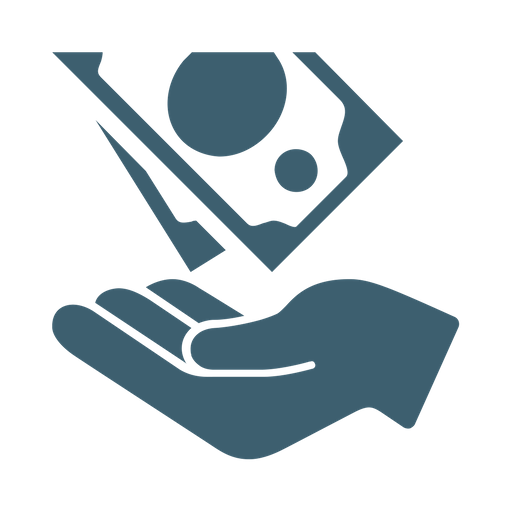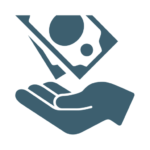 Restaurants – 10% is the accepted amount in both Panama and Costa Rica. It will sometimes be added directly to the bill.
Taxi drivers do not expect to be tipped in Panama, but in Costa Rica, it is customary to tip equal to $1-$5 depending on the trip.
Bellman – $1-$2 per bag
Housekeeping – $3 per day
On the boat: This depends on the type of cruise (large boats with hundreds or thousands of passengers vs. small boats with less than 100 passengers) and whether a tip is added automatically to your onboard account.
A general rule on a small boat is $25 – $35 per day to be split amongst the crew, and guides, with additional tip, handed directly to the server or steward that provides exceptional service.
For larger boats check your cruise information for suggested or added fees.
 
Phone Service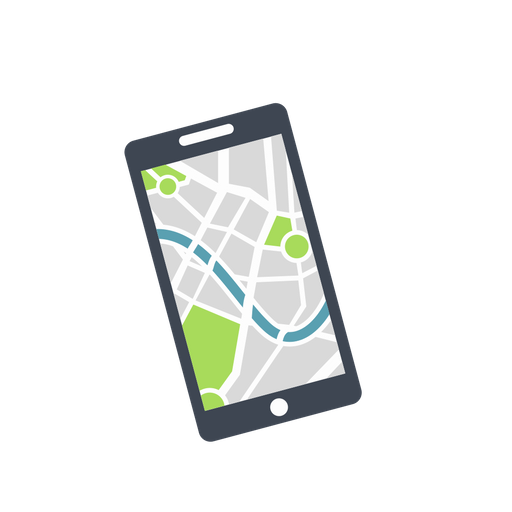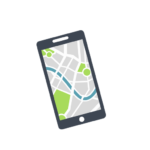 WiFi is available at most hotels and some restaurants on land, but don't expect any signal once you're afloat unless your boat has special Internet services available (usually at steep prices).
AT&T, Verizon, and T-Mobile also have international plans which can be used in Costa Rica now. I have T-Mobile and my international plan (which is USD $10 per month for anywhere in the world) worked fine on land in both countries.
Quick travel tip: Panama does experience more dead zones than Costa Rica so be aware.
If you are staying longer in either country you can also pick up a prepaid SIM card for internet-based messaging and data usage. Make sure your phone is unlocked (check with your carrier.) Movistar and Claro cards seem to work best. You can also buy a simple phone from any of the carriers for around $25, and add a prepaid SIM card for texting, calling and internet use.
Adapter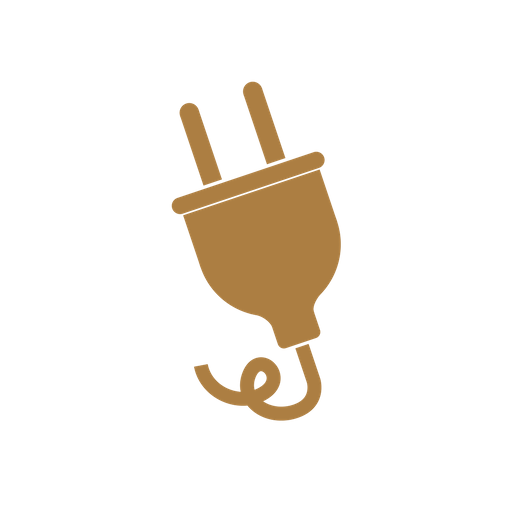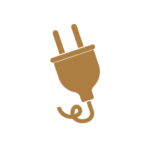 Type A and B: North American flat prongs
Voltage: 120 V
Frequency: 60 Hz
Transportation

Air
Most major airlines fly into the port cities of Costa Rica and Panama but check major US carriers if you're flying into smaller ports; most may only service larger cities.


Auto
Uber – Uber is available in both Costa Rica and Panama.
Taxis – Taxis are abundant in both Costa Rica and Panama.
On Foot
The main streets and city centers are walkable but it is advised to use caution and the buddy system when walking in both Costa Rica and Panama.
Costa Rica and Panama Cruising Tips

Do
• Bring your best camera and long lenses – you'll likely see colorful birds, monkeys and gorgeous islands from a distance and want to zoom in for that great shot.
• Bring a long-sleeve rash guard and swim leggings for snorkeling. No sunscreen is reef-safe, regardless of what they claim. Chemicals don't belong in the water, period. Plus, the sun is intense in this part of the world and so are the sea lice which can lash and bite you if your skin is unprotected.
• Go on as many excursions as you can! Especially if you're traveling with UnCruise. Not only because the bio-diversity is so fascinating and beautiful, but also because guides in these countries are local, rigorously trained and certified. Every day with them is like a super fun science class, so don't miss your chance to geek out in nature.

Don't
• Just go to shops that are cruise company-owned. Look for shops owned by locals with authentic regional products. Ask on the ship, the staff will know where to go.
• Overpack. Cabins are typically compact so don't bring too many things. NOTE: You will wind up sweating like crazy every day, so be prepared to wash your clothes out in your sink and put outside to dry. Bring clothespins to secure them.
• Book a return flight to close to your arrival time at your final destination. Port arrivals, immigration, roads, and traffic are extremely unpredictable and even if you think you've left enough time, give yourself more.
Food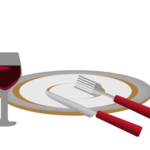 Try
Both Costa Rica and Panama have rich and delicious foods.
• Gallo pinto is a popular rich and beans dish that is often considered the national dish of Costa Rica. It is served in almost all restaurants and usually comes as a breakfast dish with scrambled or fried eggs.
• Sancocho de gallina Panameno is the accepted national dish of Panama. It is a delicious, lightweight chicken soup with potatoes, corn on the cob, and various spices.
• For vegetarians, sopa negra is a delicious, traditional Costa Rican soup. Made with black beans, onions, peppers, and cilantro, it is often served with a splash of tabasco for a nice culinary kick.
•  Panamanian tortillas are thick, round and made from corn dough. They are a popular breakfast dish in Panama, usually served with melted cheese or eggs.
• Costa Rica has its take on ceviche, the popular marinated raw fish dish that's served chilled. They use a flavorful blend of ingredients, such as tilapia, finely diced vegetables, lime juice, and cilantro.
• Carimañolas is a breakfast dish in Panama. It is a torpedo-shaped yuca fritter stuffed with cheese, seasoned ground beef and fried.
• Tres leches (three milks: evaporated, condensed and heavy cream) is a rich cake to follow any Costa Rican meal. If you want something sweet and I'll say it – juicy, this dessert is a must-have.
• PRO TIP: Be sure to enquire about the ingredients before eating if you're a vegetarian! Lots of meals in both Costa Rica and Panama contain beef or pork.
Shopping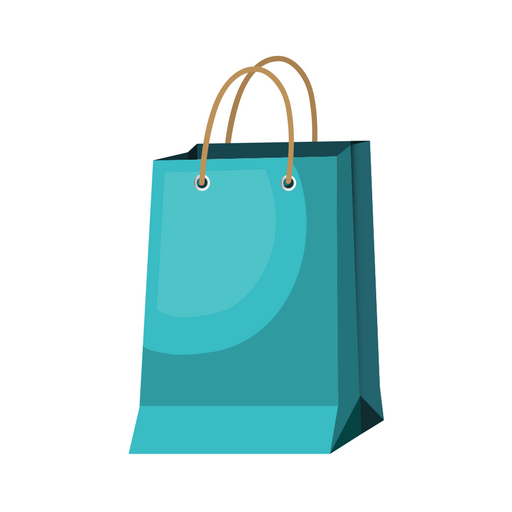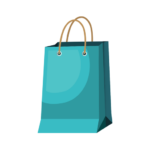 • Coffee, coffee and more coffee. With high-quality coffee plantations and local roasters throughout the country, you'll easily be able to get your hands on some of the world's best coffee. If you are at a larger shop meant for tourists, be discriminating – some of the bags have been on the shelves for a while or sat in the sun too long and might be past their freshness dates.
• Chocolate from regional cacao is also a great gift to take back (if you don't eat it all first).
Costa Rica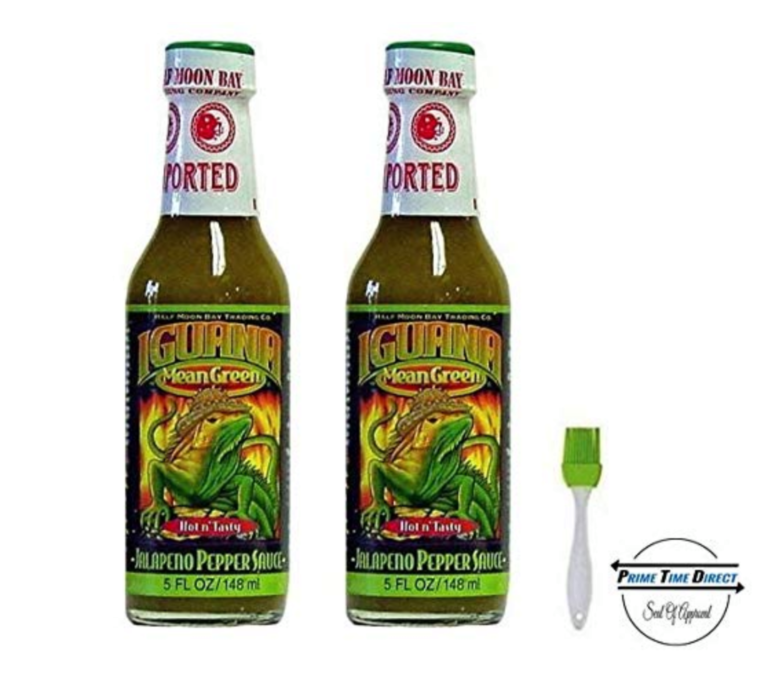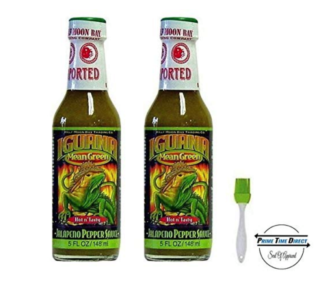 If you love hot sauce, you've got to get your hands on some Iguana Sauce. The jalapeño is my favorite – it's juicy and tangy with considerable heat and is delicious on everything, according to me. Granted, you can get it on Amazon, but if you can buy it straight from the source you're not only bringing back an authentic gift from Costa Rica, you're positively impacting the local economy instead of Jeff Bezos. Who probably hasn't even experienced the mouth-blazing magic of Iguana Sauce on his chips.
Also look for handmade jewelry, wooden handicrafts, Cacique Guaro (the national liquor made from sugar cane), and organic beauty products.
Panama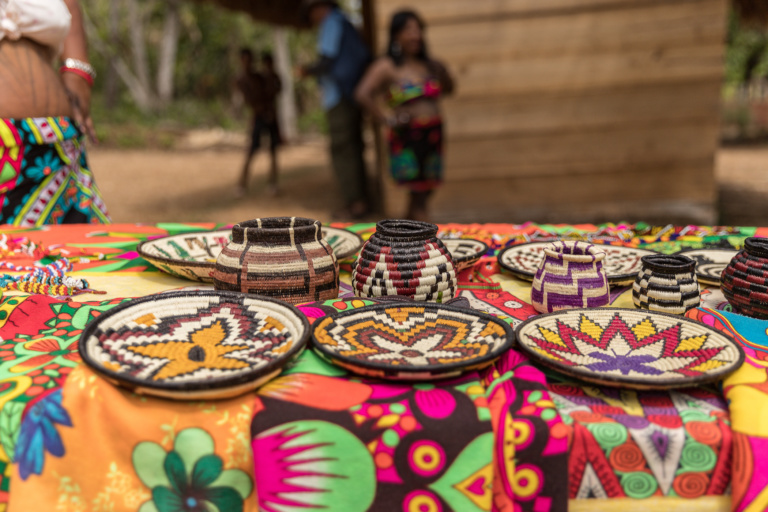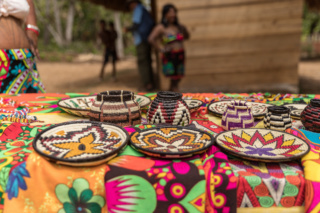 Embera beaded jewelry, woven bowls, and masks. If you're lucky enough to be on an UnCruise adventure that includes the Mogue River on the itinerary, you'll have the opportunity to buy some of these handmade items directly from the artisans. A protected tribe of the Darien Jungle, this village invites about ten to twelve visits a year from outsiders. Bring cash and please – PLEASE – do not haggle. What is a one or two dollar savings to you is a day or two of work they are not being paid for.
If you don't make it to the village you will see the same colorful, watertight bowls, plates and masks at markets and hotels around Panama City. The prices are overinflated at hotels (sometimes 10-20x), so look at markets if you can.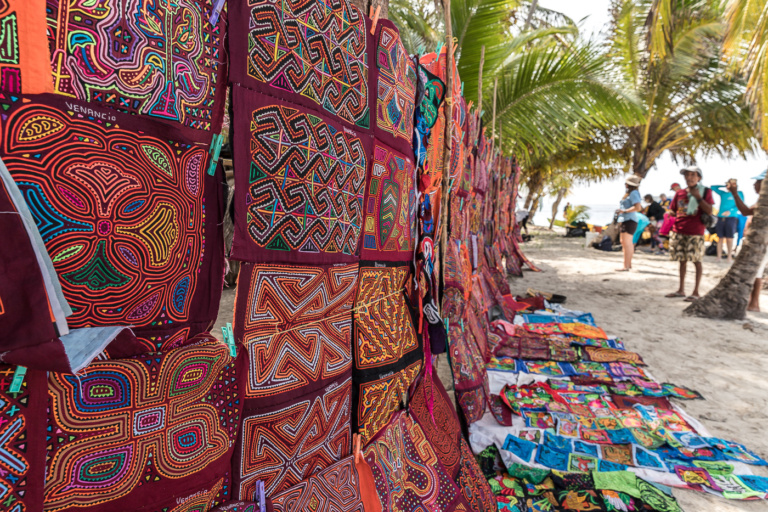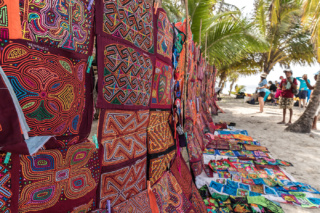 Molas. These beautiful layered fabrics are intricately cut and sewn to reveal layers underneath. Many of the oral histories of the people are told on these colorful panels and can be used to create pillows, added to dresses or shirts, framed, or as part of dining decor. Again, if you are on an UnCruise itinerary that takes to the Guna Yala (formerly the San Blas Islands) you can purchase straight from one the finest creators of the mola himself, Vanencio. He will give you a price break if you buy in volume, but let him offer. Otherwise, look for them in the outdoor market (Avenida 5 de Mayo) in Panama City.
Oh, and yes, Panama hats. If you must.
Toilet Info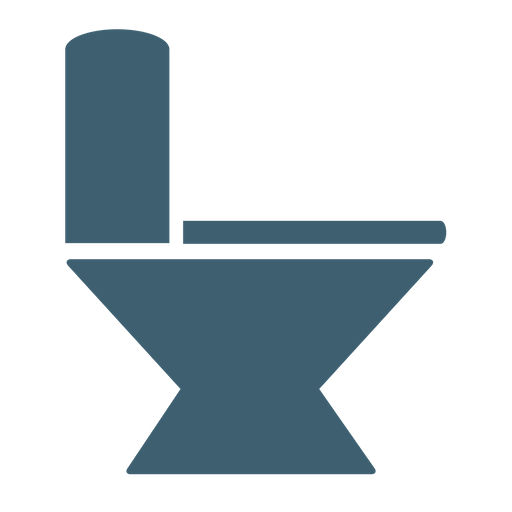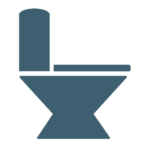 Most toilets are available to the public and free or about 50¢ in port towns. Always carry tissue with you since it's not always available. Also, note that they do ask that you put toilet paper in the trash as often there are septic systems or even cases of flushing going straight out to sea.
*For the cruise portion of my trip to Costa Rica and Panama UnCruise Adventures hosted me, but all opinions are my own.
Did I miss anything? If you have a travel question or your own tips about cruising Costa Rica and Panama, put it in the comments section!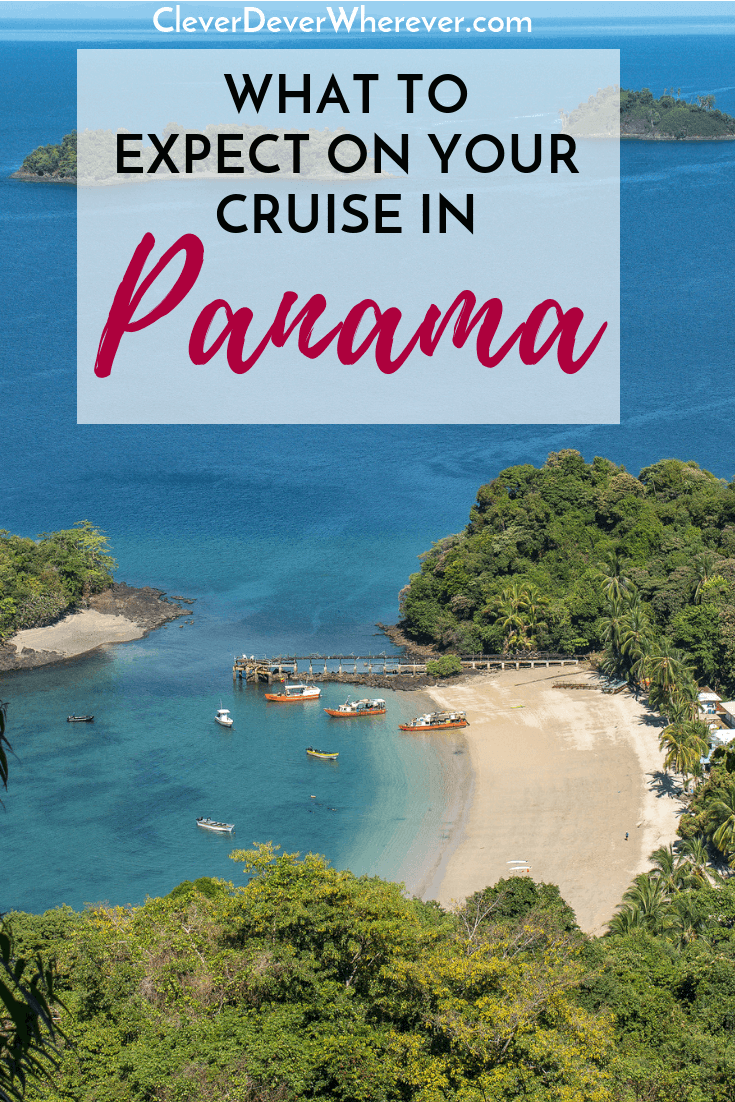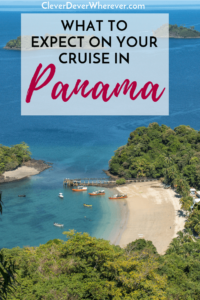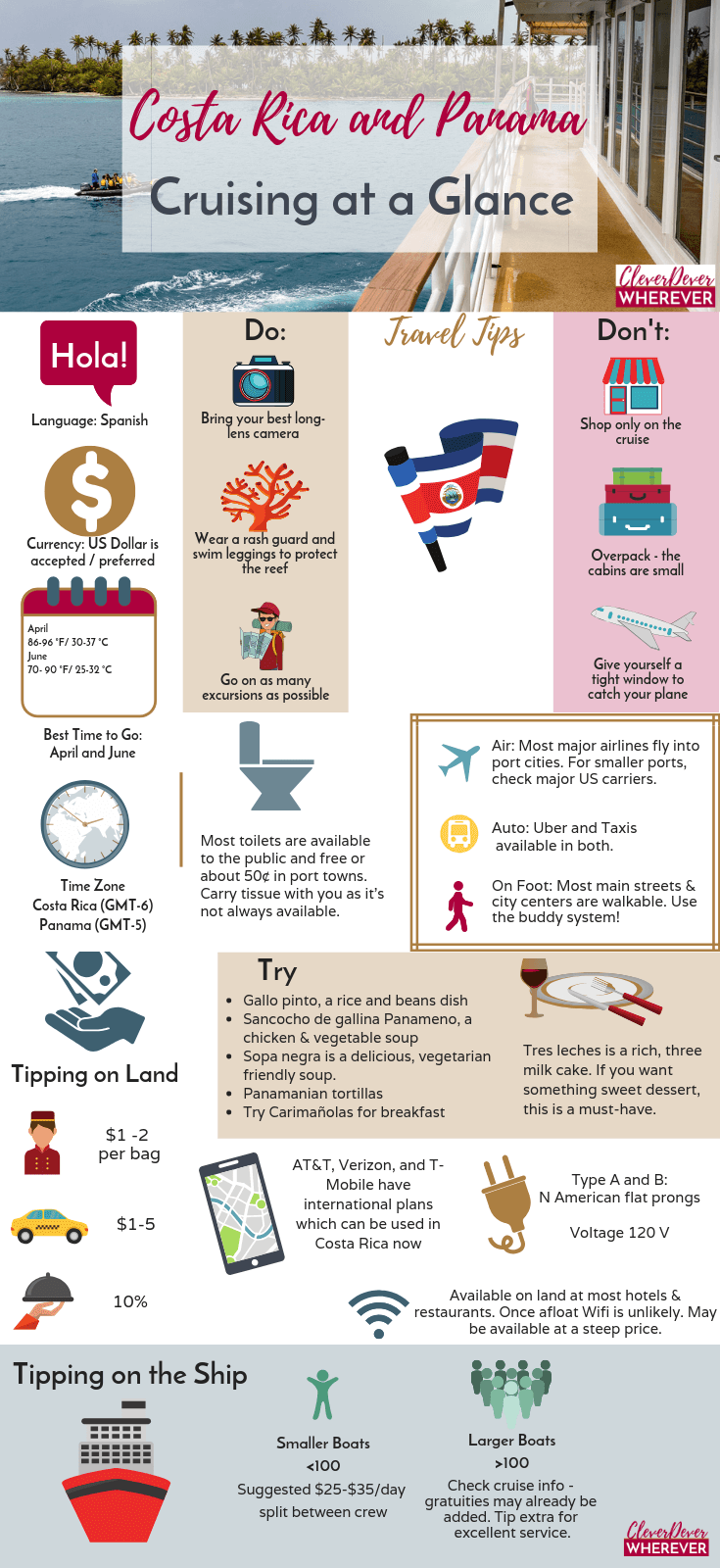 Read More
About Small Boat Cruising