Have an international flight in your future? How do you make sure you're as comfortable on a long haul flight as possible? Four words: Upgrade to business class.
Ha! Wouldn't that be dreamy if we could all do that every time? But for real, it takes time to accrue those miles and that upcharge is often cost-prohibitive. (Though I will totally support you if you make the splash-out.)
In the meantime, there's so much you can do to make yourself comfortable on a long haul flight. You just have to know how to prepare yourself for the eight, ten, TWELVE hours in the sky. I fly long haul distances around four to six or more times a year and have gotten it down to a science.
First, if you can in any way get a row to yourself, that's the next best, lie-flat golden ticket. Second, set yourself up like you're already in the front of the plane with my following travel tips.

Read on and get yourself ready to be as comfortable as possible on that long haul flight.

How to be Comfortable on a Long Haul Flight

Set Up Your Carry-On
The minute I get on the plane I like to grab what I'll need and claim either my overhead space or put my stuff under the seat. I need the items that I'll want during flight as accessible as possible. So I employ a little strategic packing.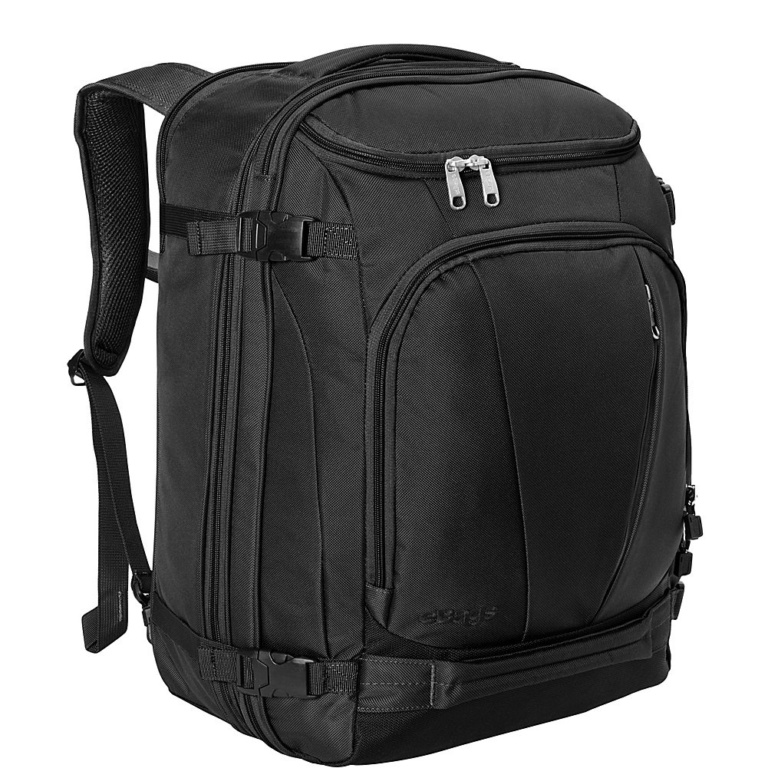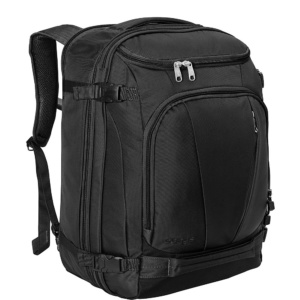 I usually carry on a backpack and often a camera bag. My camera bag gets immediately stowed. From here I pull out my personalized amenity kit, charger (more planes have plugs now), kindle, and scarf or blanket and put my bag away and settle.
So what do I pack in my carry-on? Among other things, here's my list that pertains to inflight comfort.
Cord Wrap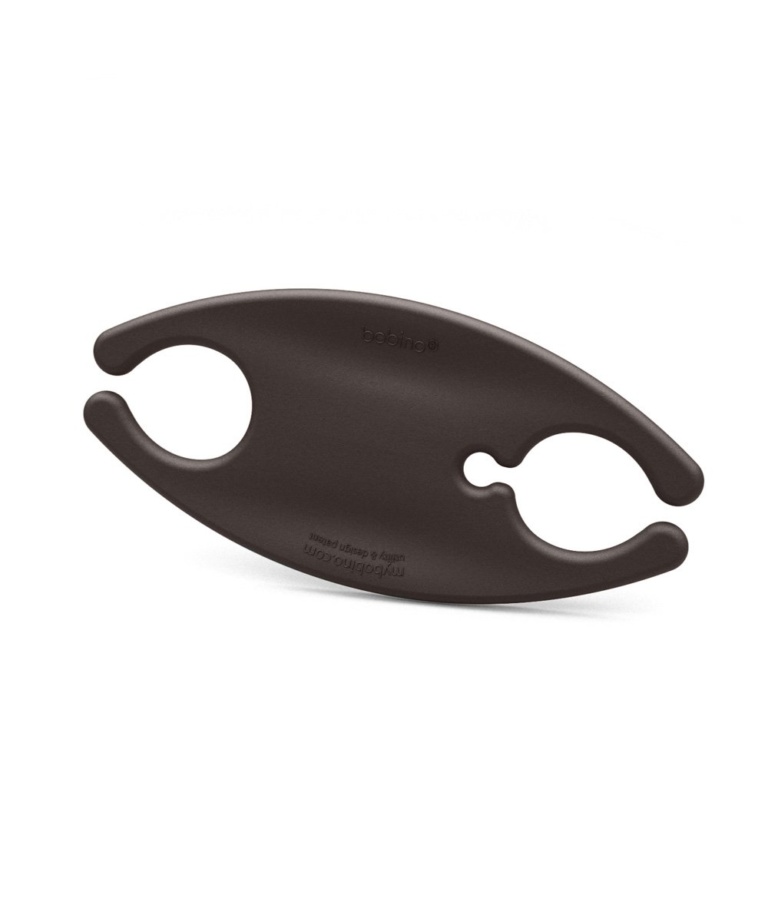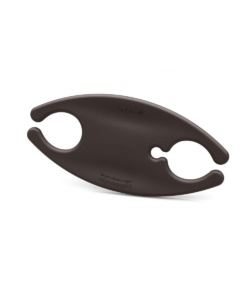 Between headphones, micro and mini USB charging cords, iPhone and aux cords, you wind up with lots of cables to keep track of when you travel. I use these Bobino cord winders to keep them from tangling. The added benefit is that you can partially undo it if you don't need too much cord. From there, I throw all of them, including my electrical adapters, in a packing pouch.
Travel Electronics Organizer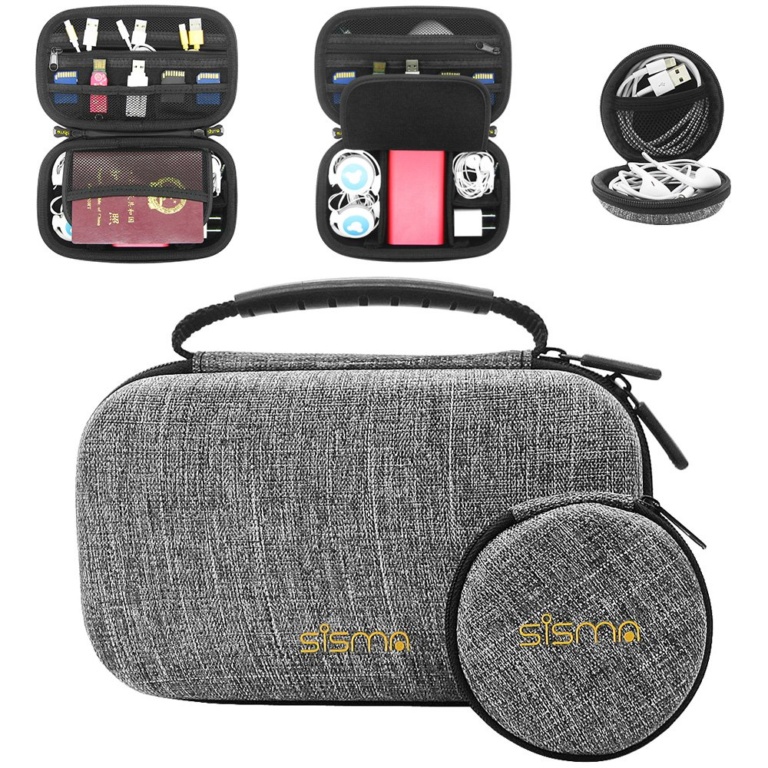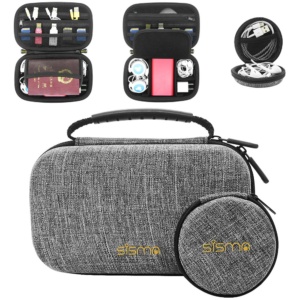 Another super-organized electronics option if you have the room, is a carrying case like this one. Because you need adapters, chargers and the like, this is a great way to keep them all in one place and find things quickly.

Kindle Paperwhite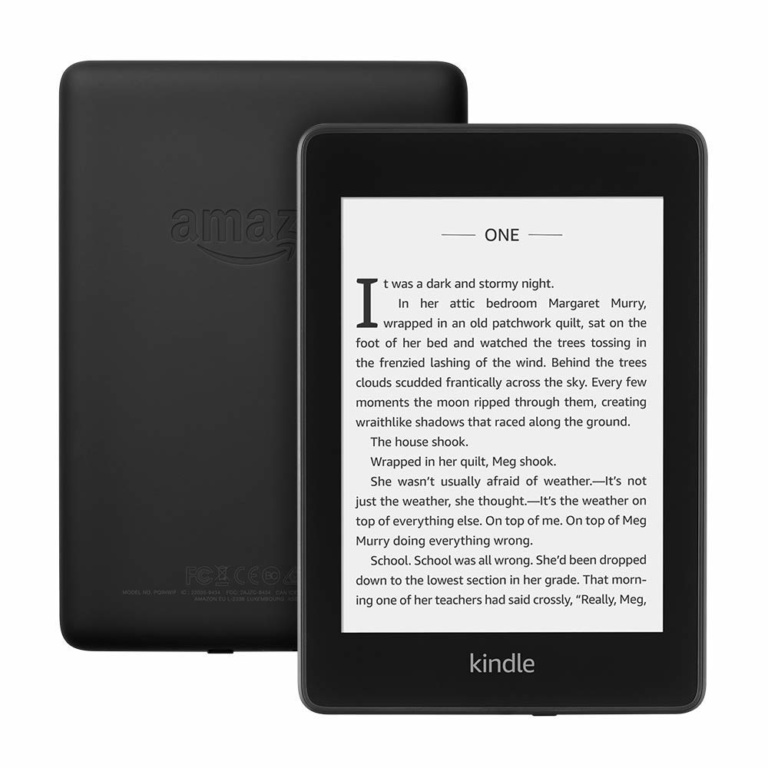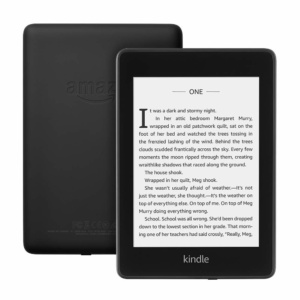 I was a holdout on the whole Kindle revolution until about eight months ago. I figured I would read from the Kindle app on my iPad or lug a paperback and read from actual paper, old-school style. But for long, multi-week trips, neither option was ideal. My iPad was too bright and it hurt when I fell asleep and dropped it on my face. The paperback was bulky and added weight to my backpack.
I had an Amazon gift card and finally just gave in. And I LOVE IT. The adjustable backlight is easy on the eyes, as is the option to change the font size. I'm usually reading four books and a travel guide all at once and they're all there, magically digitized into a tiny, ⅓ pound gadget. I won't travel without it now.
Create Your Own Amenity Kit for a Long Haul Flight
The Perfect Bag
I never fly anywhere without my SeatPak. This little bag has multiple zippered sections to fit everything you'd want at your fingertips to be comfortable during a long haul flight. I use it to create my own amenity kit.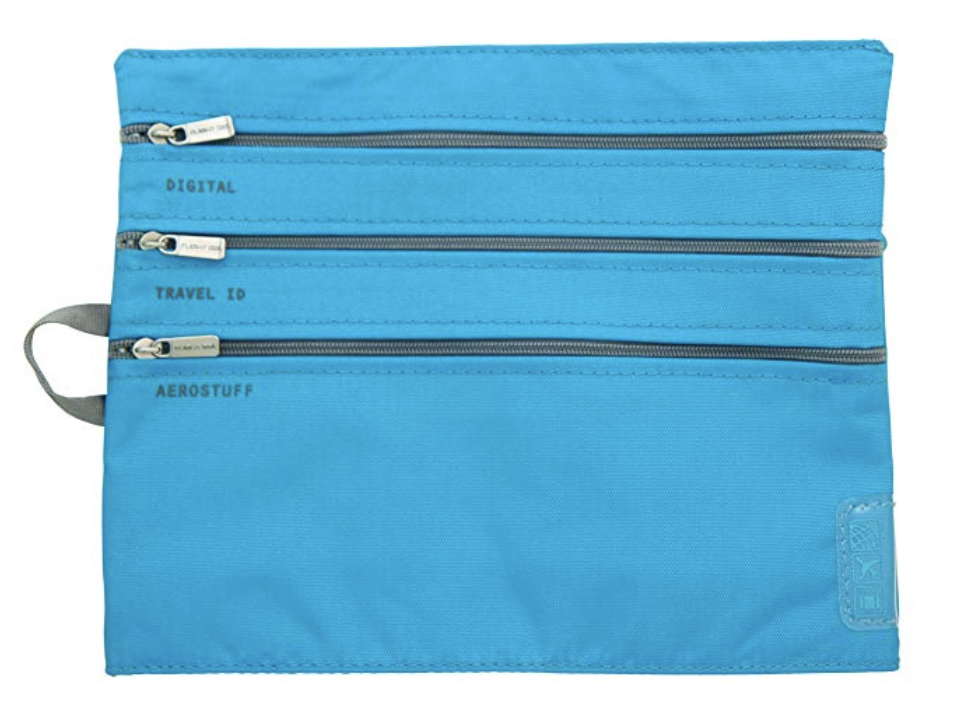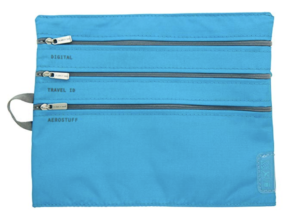 It has a little loop to hang from the seat hook in front of you, or you can fit its slim profile in the seat pocket. They do have a larger one but I am a huge believer in keeping it small and light as possible. So I for go for this one.
Here's what I fill mine with:
Lower front zipper pouch
Gum
Moisturizers: face and hand (I use sample size tubes)
Travel toothpaste
Hand sanitizer  
Eye Refresh if you tend towards dry eyes or as backup in case you get something in them. 
Under eye treatment – I'm starting my journey into under eye patches. If you have a brand you love, let me know. I'm looking at these.
Travel size pack of disinfecting wipes
Middle Front Zipper Pouch
This one I keep open so that I can stuff my passport and sometimes even my phone in it. I keep my passport accessible so that I have all necessary info to fill out any required  landing cards. I also put two pens (little travel ones if I can find them) in this compartment so that I can fill out said card. AND one for my neighbor who is usually just waiting for me to finish so they can politely ask if they can borrow my pen.
Top Front Zipper Pouch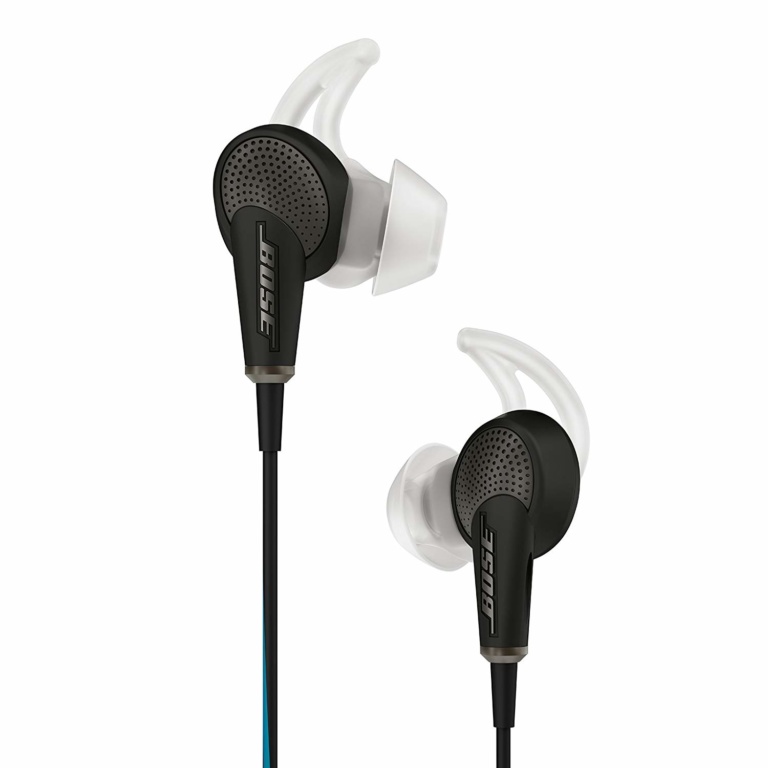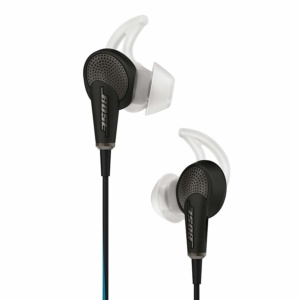 This is where I keep my Bose noise-canceling earbuds and my iPod shuffle loaded with music. I also keep a retractable multi function with a USB charger with a 30 pin, a lightning plug, a micro and a mini USB cord. Mine was a promotional item, so I can't vouch for a specific one, but it looks a little like this one.
This is also where I stash my iPhone so that I don't forget it or have it fall in the seats when I'm not using it or fall asleep.
Back Zipper Pouch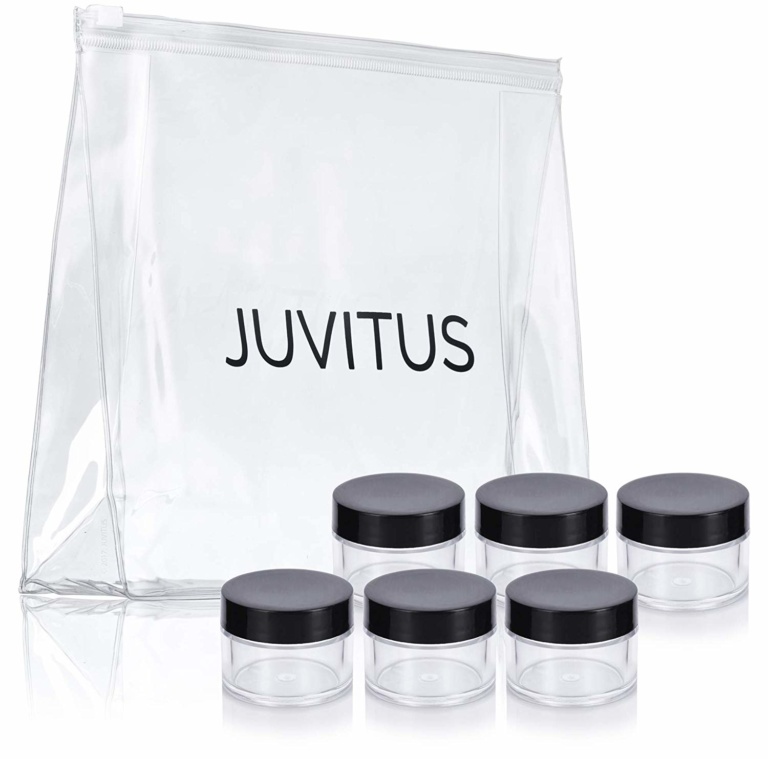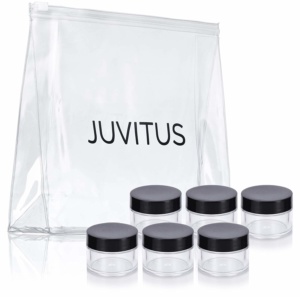 The large pocket in the back is where I keep all of my sleeping comfort items. Because I like to keep everything as small and lightweight as possible, there are some items that I will either put into smaller containers with screw-top lids  or tiny reusable ziplocks.
Moisturizing facial mask – I use this as a barrier on my skin to protect against drying, recycled plane air. But also to keep the moisture in. I reapply every 6-8 hours or so (this is one that goes in a smaller container, or see if you can't get a sample packet or two).
Socks – Sometimes I use regular lightweight socks and sometimes compression socks depending on the length of the flight. Here's the thing: I like to take my shoes off because oh my god my feet would go crazy inside shoes for eight, ten, twelve hours. But also I don't want to touch the airplane floor, so I put the socks over my real socks, which also maybe that keeps them from smelling. Not that my feet smell. But just in case.
Eye mask – I like one that is soft with contoured space for your eyelashes to flutter when you are in REM.
Lavender oil rollerball to put on my temples and wrists to help me relax.
Disposable, medical face mask in case people around me are coughing.
I also keep a tiny little screw top container of sleeping aids and calming medications.
Tampon


Getting as Cozy as Possible on a Long Haul Flight
On the Fly Pant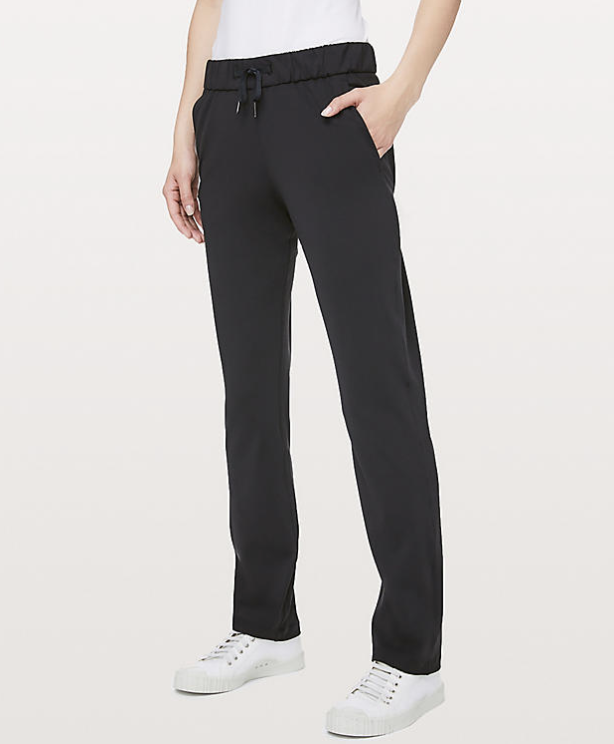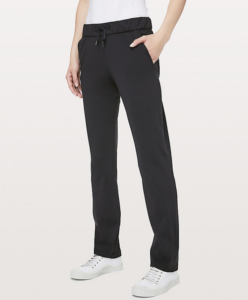 With two or even -gasp- three flights ahead of you to get to and from some more remote destinations, you are going to want to be as comfortable as possible on those flights. My go-to flight pants are these crazy cozy On the Fly pants from Lululemon. The fabric stretches four different ways so you never feel constricted, bunched, or irritated.
Align Leggings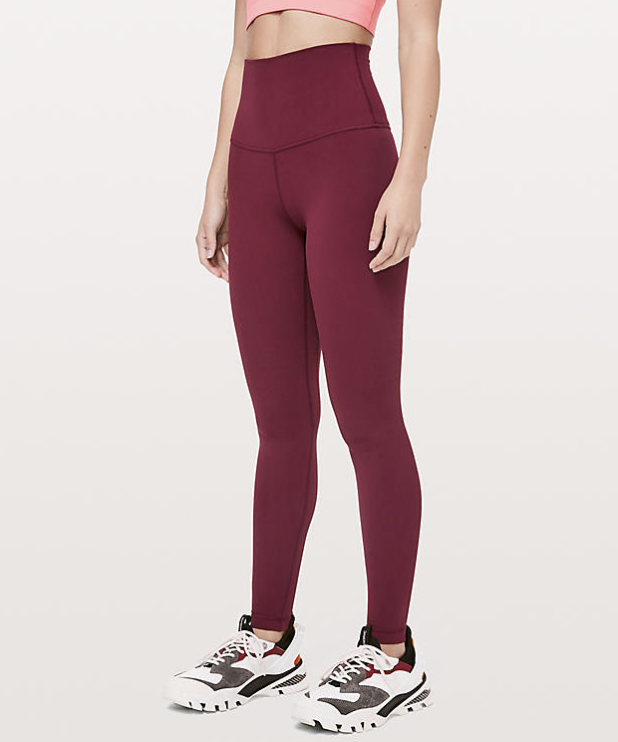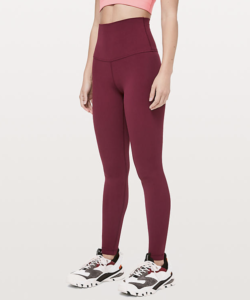 For those of you that love flying in leggings, these are the softest of the bunch, the ones that don't start to make you feel crazy and constricted a few hours in. Just wear a long cozy top to avoid any cultural issues. You don't need your flight being held up because someone is offended by leggings.



Anti-Stink Top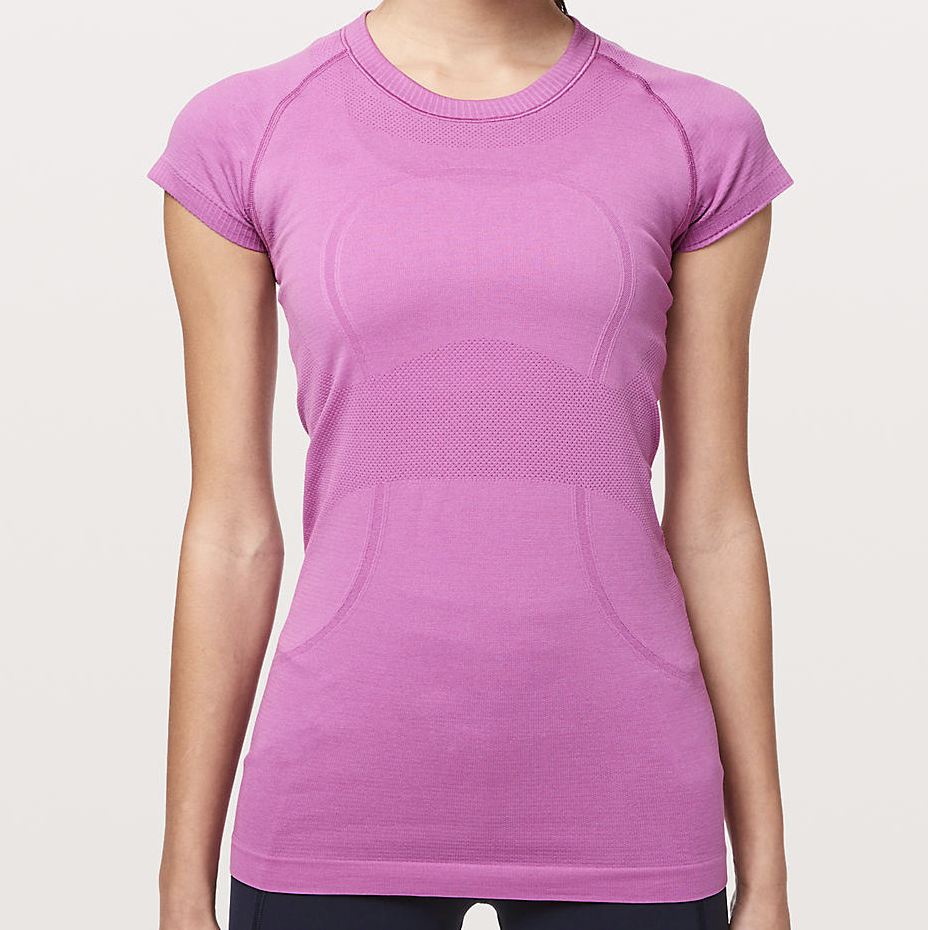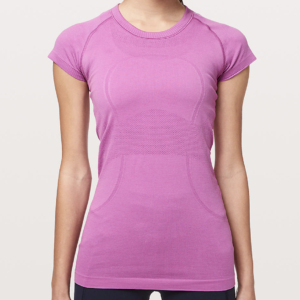 Having been through this a time or two, it's good to get yourself a top with anti-stink threading for travel days. Something along the lines of the Swiftly Tech short sleeve, relaxed fit  or long sleeve, or any other brand you like. When you fly for almost 24 hours through hot airports and cold flights, you start feeling a little gross. The bonus of a top like this is that not only does it resist odor so you don't arrive smelling like you ran there, but it's got the four-way stretch fabric so you can twist around in-flight and not feel like you're in a corset.
Can't do without that Shawl-Wrap-Scarf combo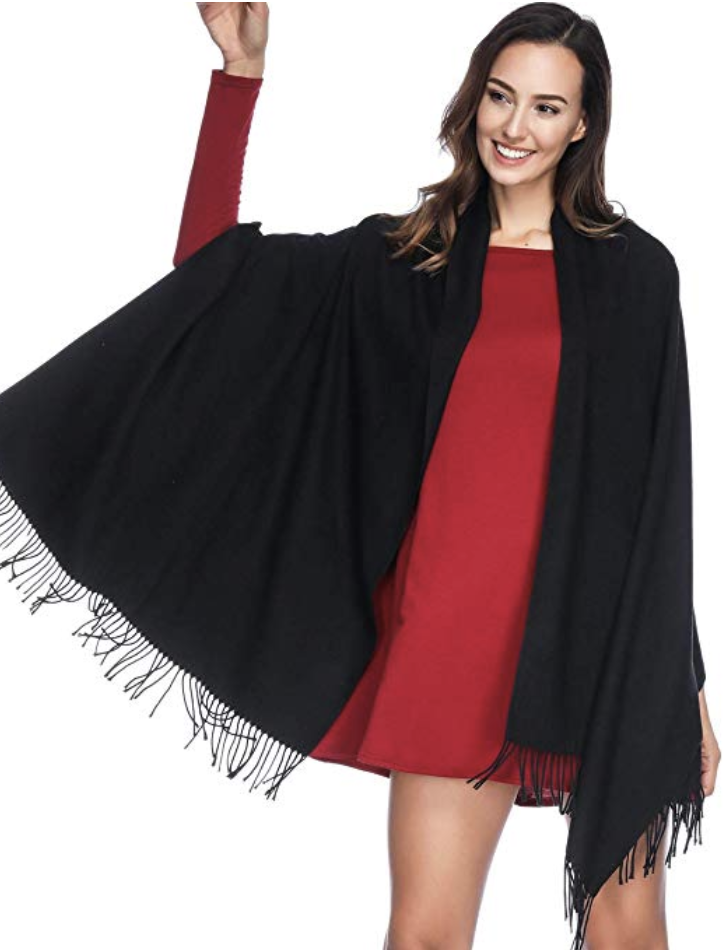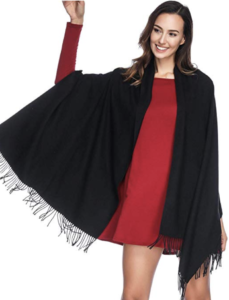 I always travel with a pashmina-type wrap, no matter what the climate I'm heading to. You might have warm spring nights in the city that might require just a shawl, chilly glacier hiking where you'll want a scarf, and freezing plane temperature where you'll use it as an extra blanket layer.
Happy Luxe Wrap / Travel Blanket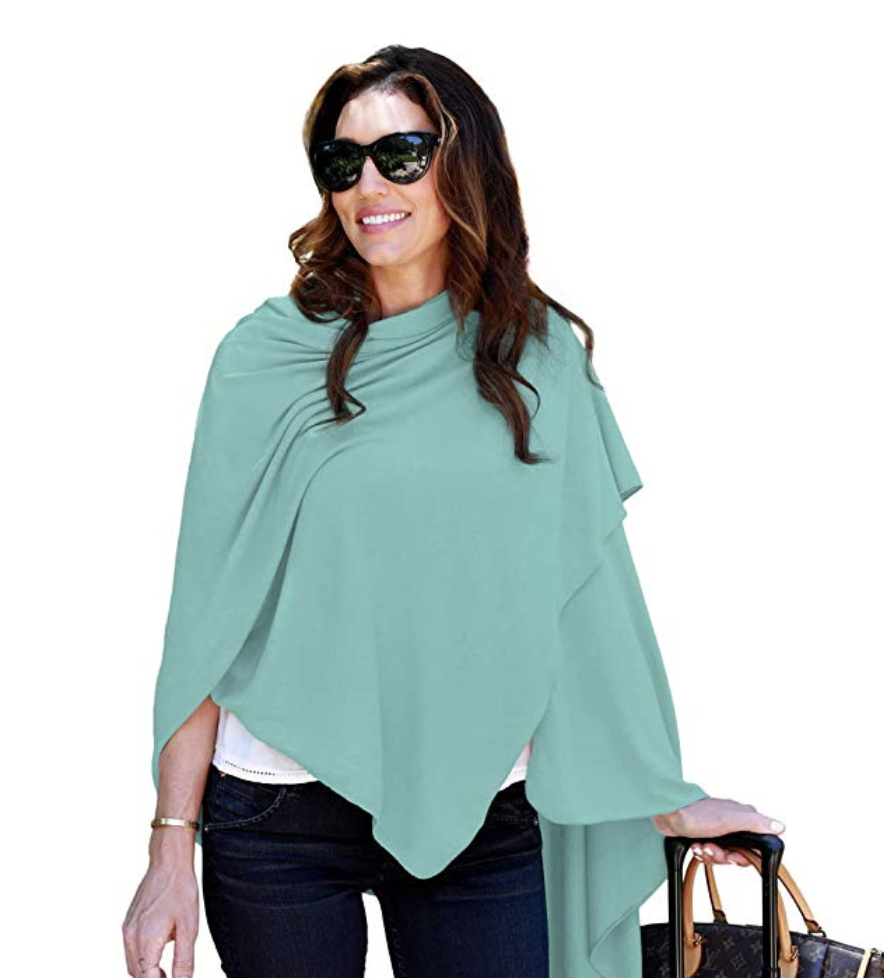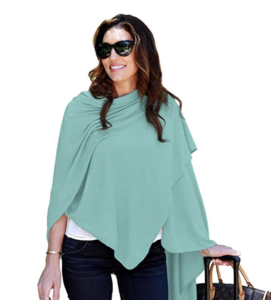 I just started using this product and I'm really liking it. It's lightweight, can wrap up super small, be an elegant shawl, scarf or blanket. It even has a hidden pocket by your neck for you to put air activated warmers (it comes with two) to keep you even cozier on an extra chilly flight or night.
Travel Blanket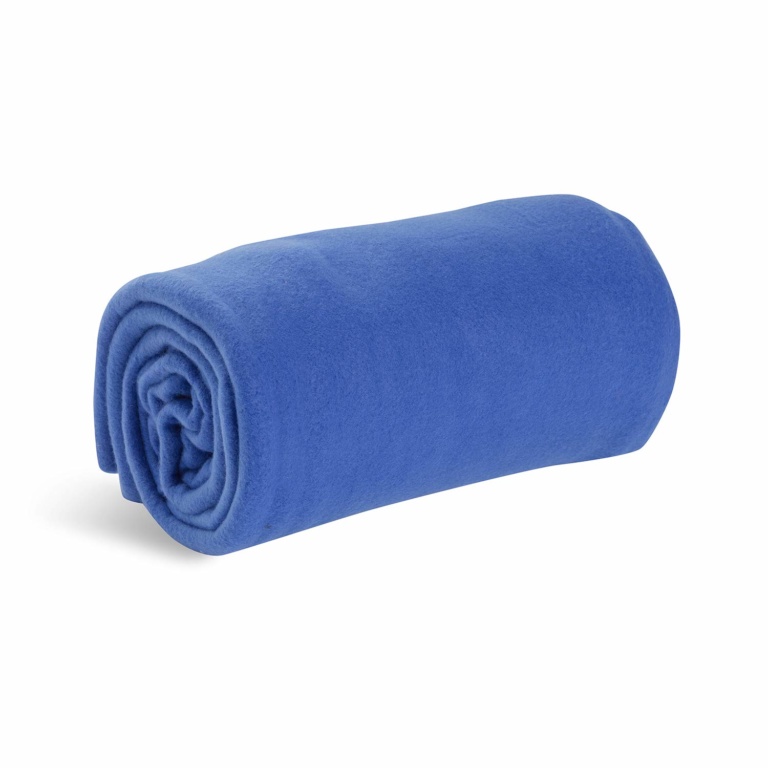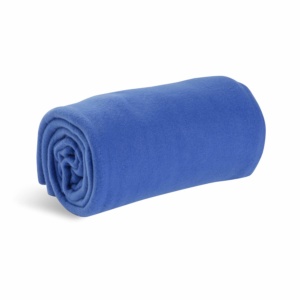 This fleece blanket is a great find if you just want a yummy warm blanket for the plane, train or anywhere else you want a little extra warmth.

Disclosure: As an Amazon Associate, I earn a small amount from qualifying purchases. However, I don't recommend anything that I don't personally love.



What can't you live without when you need to be comfortable on a long haul flight? Any gear you would add to this list?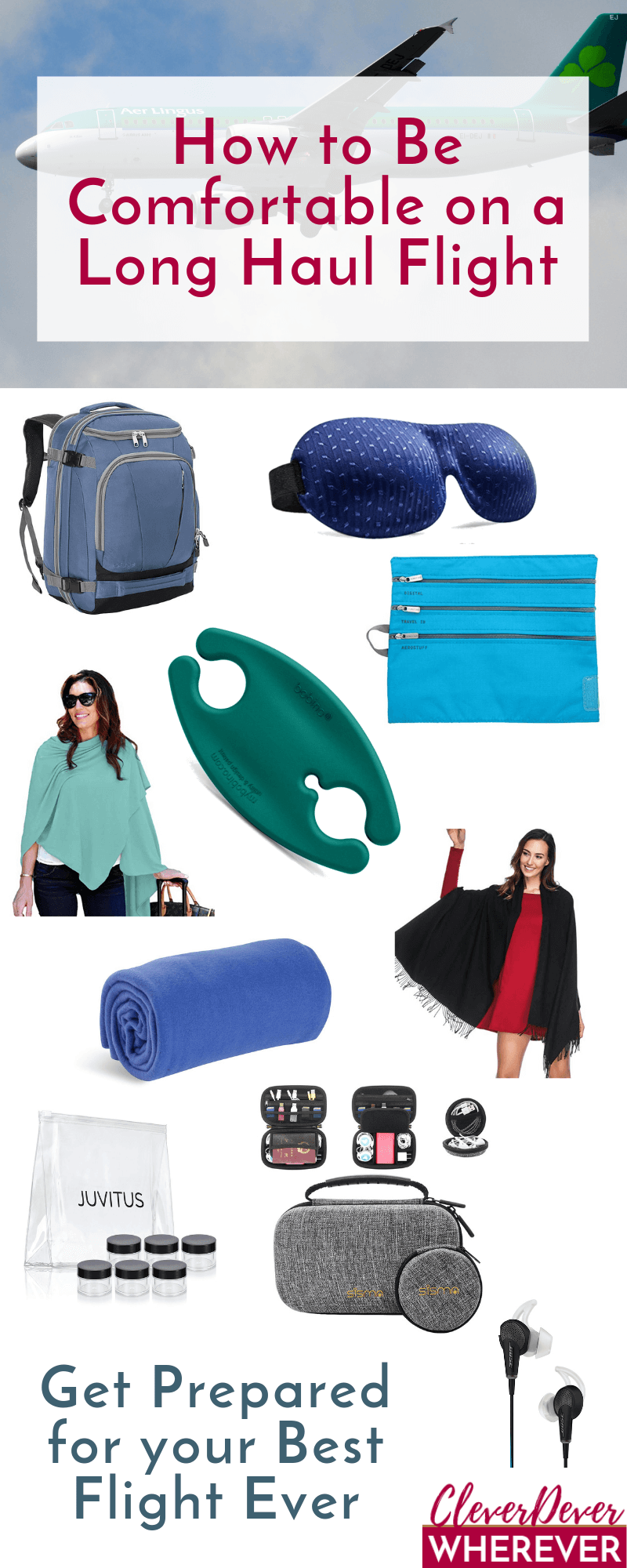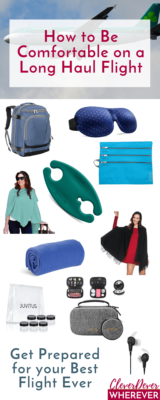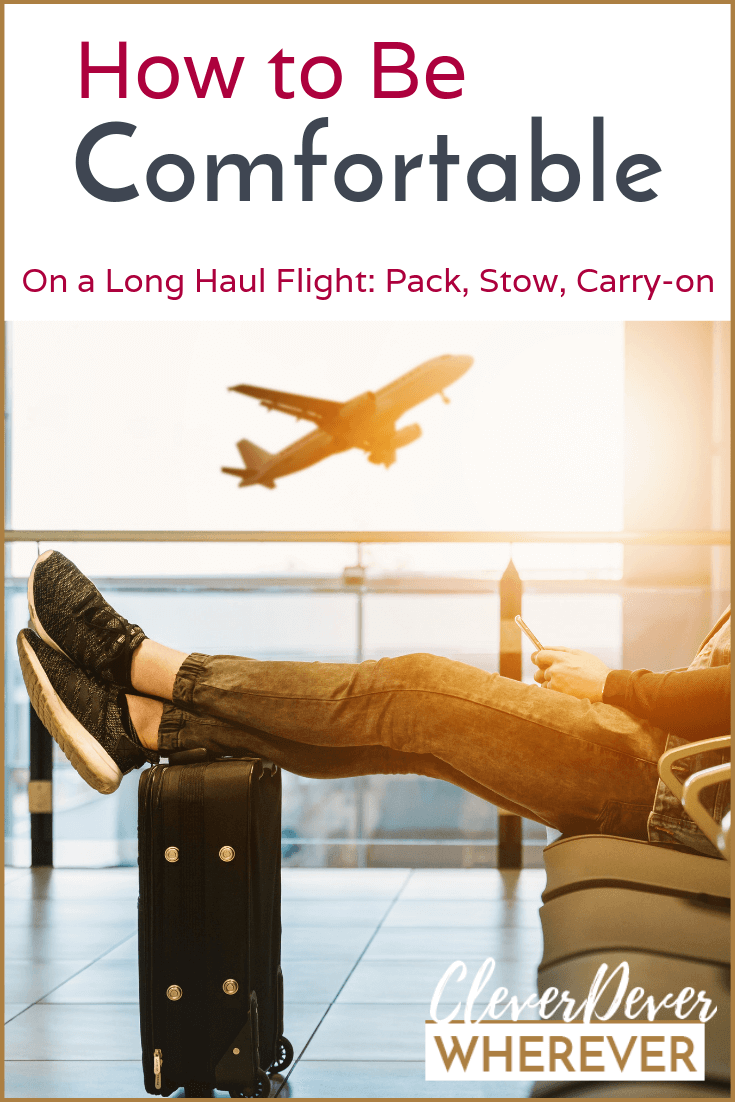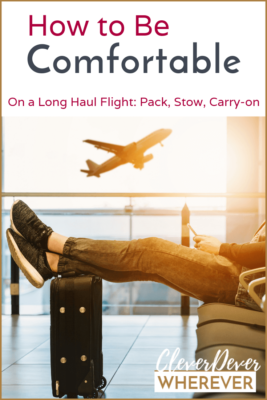 <div style="display: none;" >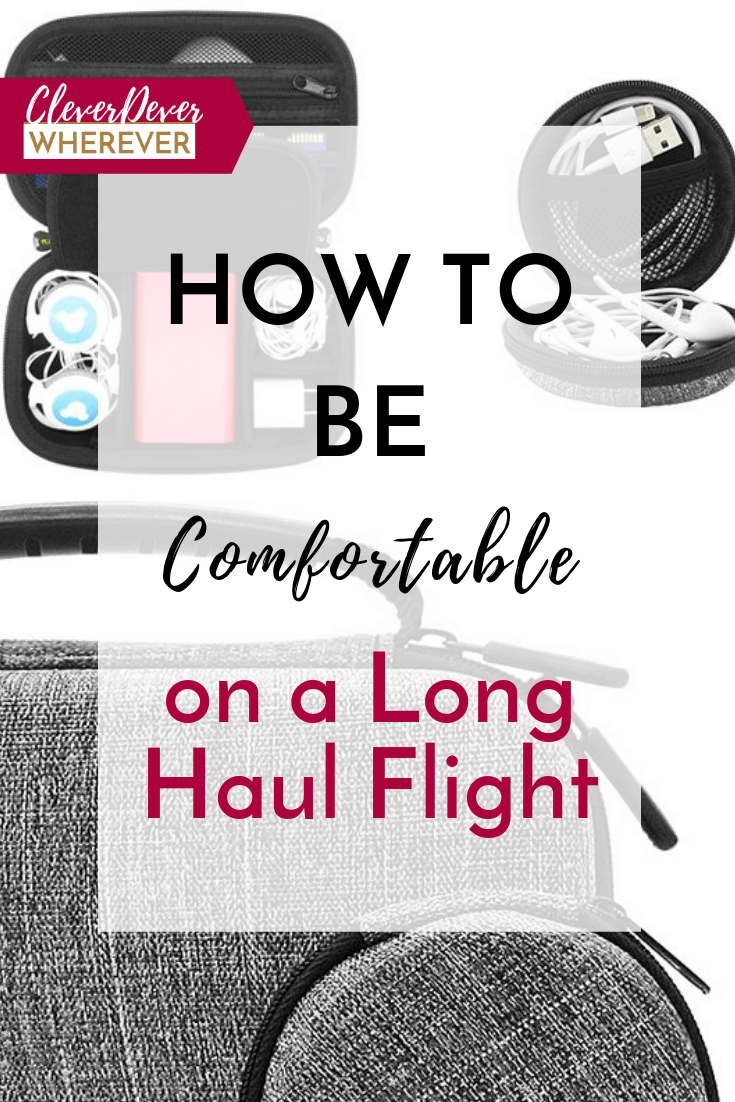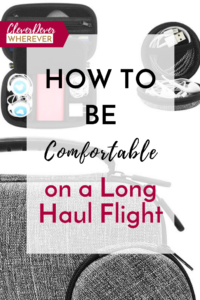 </div>
Read More About Travel Planning