You've saved up. You've picked your dream destination. Now it's time to get yourself organized. As someone who travels around the world every year, I know how important it is to have logistical things on a physical checklist. You don't need that stuff floating in and out of your head like a gauze curtain blowing through an open window every other day.
But so many little details CAN slip through the cracks. That is why, my friends, I've made you a super awesome VACATION CHECKLIST! (I really want a theme song to play here.)
This is not a packing list, oh no. This is the list BEFORE the list. This ultimate countdown vacation checklist that will help you plan your big trip without the stress of worrying whether or not you remembered to ask Aunt Beth to feed your cat.
I've broken this vacation checklist first into a countdown of months and weeks ahead of your departure date. Next, you'll see extra subcategories like shopping lists, packing reminders, money matters, etc.
I want your trip planning to be as fun and exciting as possible. I want you to be able to clear your mind of the pesky details. So I've put them all here on this vacation checklist for you to use. Now, get on with planning the fun stuff like where is the best viewpoint to what the sunset. Cheers!

Let's Go! Here's Your Vacation Checklist
One Year – Six Months Before
Shopping List
Decide what kind of luggage you'll need for this trip. Will you be on trains? Then bring a carry-on and a backpack. Do you want to check your luggage? Get a larger bag. Do your research and purchase your bag if you don't yet have one that works for this trip.

Money Matters
Create a budget for your trip and put aside money for it. There are lots of templates you can also use online to set this up for you (I use the "wedding planner" template in Microsoft excel and switch the headings to transportation, lodging, meals, activities, but you can also find planners online).
Get a no foreign transaction fee credit card, preferably one that gives bonus miles for signing up.

Travel Reminders
Check your passport expiration date. Many countries require at least six months validity on your passport PAST your planned departure of the country and can refuse entry. Read more about the country you're visiting here at the US Department of State.
Make arrangements for any visas or other travel documents you may need. If you need a visa procured for you for any country, or need it (or passport services) expedited, check out Travel Visa Pro, I've used them many times and they are professional, fast and kind.
Check any travel advisories or warnings on the US Department of State website. You can also register with the Smart Traveler Enrollment Program (STEP), which lets the embassy know where US citizens are around the world. It's just another layer of security should any trouble break out.
Research your route and airline rates. Use an incognito window when browsing so your searches aren't tracked. When they're recorded, your rates may appear higher each time you look. (Command+Shift+N on a mac with Chrome or Safari. Google if you have a PC – or use a different browser – for instructions).
Check sites like Skyscanner or Momondo for lowest rates if you are not part of an airline loyalty program.
Once you nail down where you're going, research transportation to and from the airport to your destination. Some countries have their own taxi apps, or you can use Uber, shuttles, buses, metros, or trains from the airport.
Search for the best deals on rental cars if you're picking one up. In Europe, Europcar usually has better deals to smaller towns than a national US brand.
You can purchase rail tickets ahead of time if you're doing a multi-day pass. If you're traveling with a friend you can get a great discount online at Eurail. Otherwise, it might be less expensive to buy them as you go.
Check carry-on policies for all your flights and any/all airlines you are flying.
Book lodging ahead of time if you are going in peak season. Otherwise, if you like flying by the seat of your pants, book on the go. I use Booking.com as well as other hotel loyalty apps for last minute deals. If it covers the town you're heading to, you can also try HotelsTonight.
Put your feelers out – talk to friends, ask on your fb, does anyone you know have connections, friends or relatives you can visit with where you're going? Book some (but not all) accommodations.
Join a few online traveler's communities like She's Wanderful. You can homeshare or meet up with a local in the city you're visiting.

Wellness
Make sure you're up to date on your travel vaccines, including the flu shot. Check the CDC Traveler's Website for additional information

30 Days Out
Shopping List
Packing
Look over your Packing List. Are there any items you still need? Shop for them now.
Getting Your Home Ready
Make arrangements for someone to care for your pets.
Arrange for your place to be looked after, or at least have someone water the plants and grab the mail.
Double-check your calendar and reschedule standing appointments including home services such as cleaners or lawn service.
Money Matters
Make sure you know your 4-digit PIN for your ATM card. You'll want to use it in to get cash when you arrive in your new country.
If you forgot your PIN or need a new one, have your bank mail it to you.
Travel Reminders
Check out your favorite travel blogs (hellllllo!) or other online resources for recommendations on where to eat, and what to see and do. Book any additional reservations where applicable (local sights, restaurants, guides, excursions, etc.).
Reconfirm your flights – there are often small changes in times so double check that you're still good.
Contact your mobile service provider to double check that your phone is unlocked if you are going to use a foreign SIM card.
Find out what your plan is for international rates in case you don't want a local SIM card.
Sign up for frequent flier programs; make sure your number is in the reservation.
If you have Global Entry, make sure that number is in your flight reservation.
Get Travel Insurance
Make sure your camera set up the way you want. Spend a little time with it by taking pictures at home.
Decide if you want to rent any lenses or photography equipment.
Make a reservation at BorrowLenses.com or at your local photography store.
Learn a few common words and phrases in the language of the country you are visiting. Look for words such as:

Hello =
My name is… =
Goodbye =
Please =
Thank you =
Yes =
No =
Ok =
Cheers =
1, 2, 3 =
Wellness
Obtain prescription refills and any other medications that you will need during the trip.
Be sure to get all contact lens prescriptions filled, spare glasses and cleaning solutions.
If you're changing out of contact lenses in-flight, have a travel case and travel-sized solution for your carry-on.
Walk / exercise as often as possible.
Build up your immunity system and gut health with your favorite vitamins, wellness drops, and/or probiotics. Drink kombucha.

Two Weeks Before
Shopping List
Memory cards for your camera and/or GoPro
Travel size containers for lotions, shampoos, etc
Travel size versions of items you can't do without
Travel toothbrush and toothpaste
Snack-sized Ziplocs for liquid toiletry / wellness items
Packing
Check the weather and review your packing list – are you missing any items? Now's the time to shop for it!
Getting Your Home Ready
If you're not having someone pick up your mail, put a hold on it. In the US you can do it online at USPS.com.
Money Matters
Pay your bills or set up auto-pay.
Travel Reminders
Set one travel goal for yourself: Make a new friend, try a new food, do something kind for a stranger abroad. Anything that makes you feel excited to expand into this new country.
Download useful apps such as:

Google translator
Transportation apps like Rome2Rio, Uber, Trainline EU, local rail apps
Currency conversion
Restaurant apps like TheFork or Zomato
WhatsApp (wifi-based communication app, allows you to text everyone around the world regardless of their mobile provider), make sure those you want to stay in touch with are also signed up and know how to use it.

Decide how you'll document your trip: hand-written journal? Notes on your phone? (I use Day One app).
Wellness

One Week Before
Packing 
Go through your travel outerwear and bags – did you find any bonus cash?? Make sure you're starting fresh and not bringing anything old and weird on your trip.
Go over travel checklist a final time – do you have everything you need? Fire up the Amazon prime!
Set out your clothing options. Pare it down.
Getting Your Home Ready
Do all of your laundry so you can set your wardrobe options out, and so that you don't have dirty clothes piled up when you return.
Clean the house
Chip away at that perishable food in your refrigerator.
Travel Reminders
Print out any documentation you may need for the trip and put in a travel folder.
Send your itinerary and contact info while traveling to close friends and family.
Download:

books/magazines to your kindle
movies to your tablet
songs, audiobooks, podcasts, and games to your phone/ iPod

Make sure you know how you're getting to the airport.
Clear old photos from your smartphone if necessary. Backup your phone and computer and any hard drives that you travel with.
Take a photo of your passport. Send it to at least one other trusted friend/family member in case you need it.
Three Days Before You Leave
Packing
Start packing, take out anything you really really don't need.
Get out your packing cubes and decide which ones you're using.
Money Matters
Alert credit card companies about travel
Wellness
Get a mani/ pedi if that's your thing
One Day Before You Leave
Packing
Pack it up, pack it in: Is too heavy? You still have time to lighten the load.
Refill your toiletry kit and pack it as you get ready today. Refill all travel size bottles as needed (shampoo, soap, makeup remover, etc.) make sure you put everything spillable in its own Ziplock so you don't have any messy liquid explosions in your bags.
Get your carry-on bag ready to go with your long-haul amenity kit, entertainment, snacks, charger and cord, travel scarf, sweater or blanket, travel pillow, etc.
Wellness
Getting Your Home Ready
Empty the fridge of anything that will be disgusting when you get back.
Get your pets situated. Tell them you love them and give them a t-shirt that smells like you if that makes them feel better.
Confirm your travel dates with your house caretakers.
Travel Reminders
Confirm your airport ride situation.
Check in with the airline and make sure you have your preferred seat assignment.
Charge up all electronics (camera batteries, portable charger, kindle, phone, tablet, Fitbit, noise canceling earbuds, etc.).
Put an "out of office" reply on your email account.
Change your outgoing message on your phone, tell folks to send you an email or expect not to hear back from you.

Travel Day – Yippee!
Final packing of the things you were still using (travel toiletries, makeup, kindle, laptop if you're bringing one).
You got everything? Make a mental note of how many bags you have and remember to check for them every time you move throughout the airport (security, lounge, restaurant, layover nap space).
Double-check that you have your passport and your phone handy.
Hug everyone goodbye.
Get thyself to the airport with plenty of time to get through lines and take several deep breaths.
[optin-monster-shortcode id="ylep8m9hhvodufjgayye"]
Did I miss anything? What's your favorite preparation tip? Leave it below in the comments.
As an Amazon Affiliate, I do receive commission on anything your purchase from these links.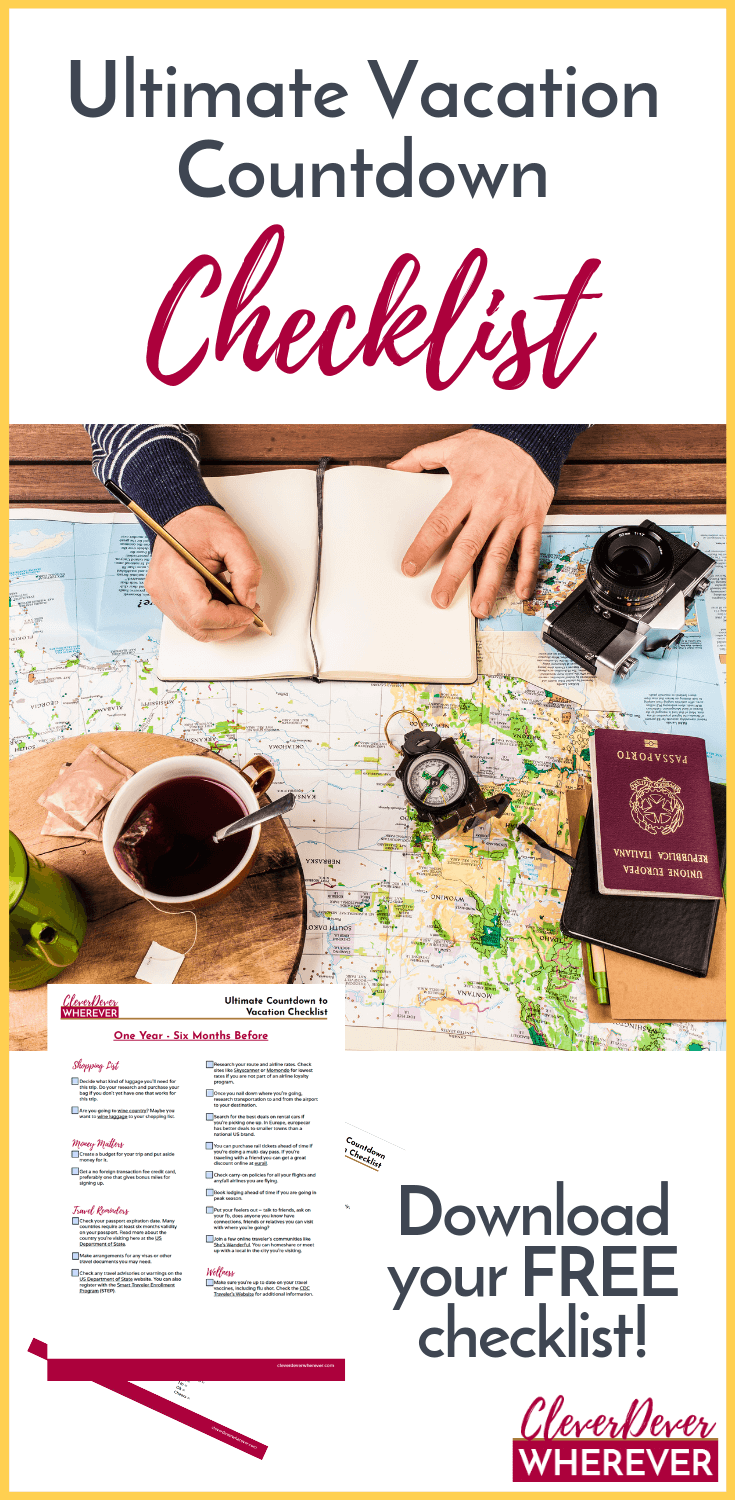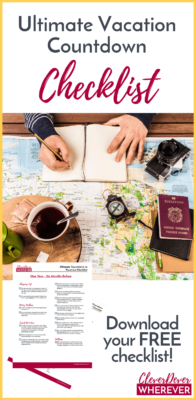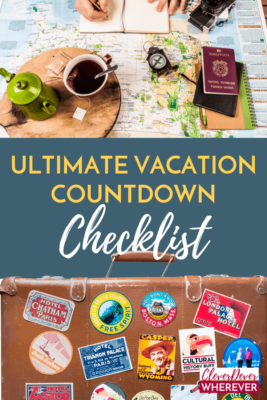 Read More About Packing