Gliding past jungles and cliffs, forests and glaciers, I realize what an awesome opportunity cruising is. More often than not, we stand on dry land as rivers and oceans move away from us, bound for adventures unknown. But cruising – especially an adventure cruise – reverses that perspective, sweeping us along to watch the shore go by. It's a chance to observe our world from the outside looking in.
Maybe you've already taken a cruise on a large ship. While entertaining, they have a tendency to keep the focus inward. If you really want a fisheye perspective on the world, you need to take a small boat adventure cruise.
If you're curious what taking a small boat cruise is like, I've got some insight. I have two (TWO!) adventure cruises under my belt now, so I can answer most of your FAQs about the lesser-known cruising option.
So…
Got Small Boat Adventure Cruise Questions? 
Here's What You Need to Know Before You Take an Adventure Cruise.
Note: This applies to my experiences in both Costa Rica/Panama as well as Alaska.
What are the boats like?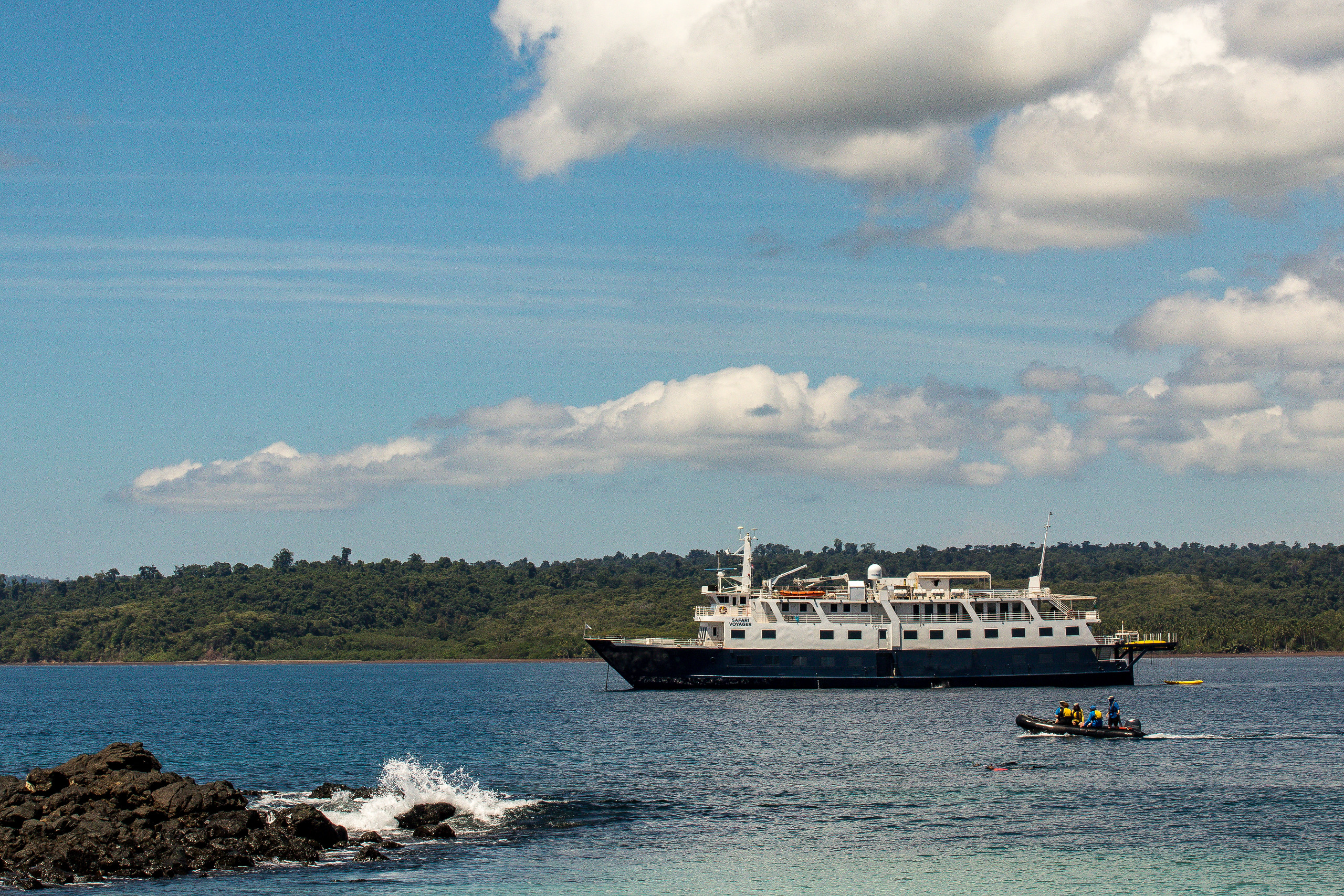 The smaller boats of an adventure cruise usually have four decks of passenger space. UnCruise Adventures is more activity-focused, so the boats are tricked out to accommodate kayaks, SUP boards, hiking gear, snorkeling accoutrements, etc. Think: more expedition, less straight-up luxury.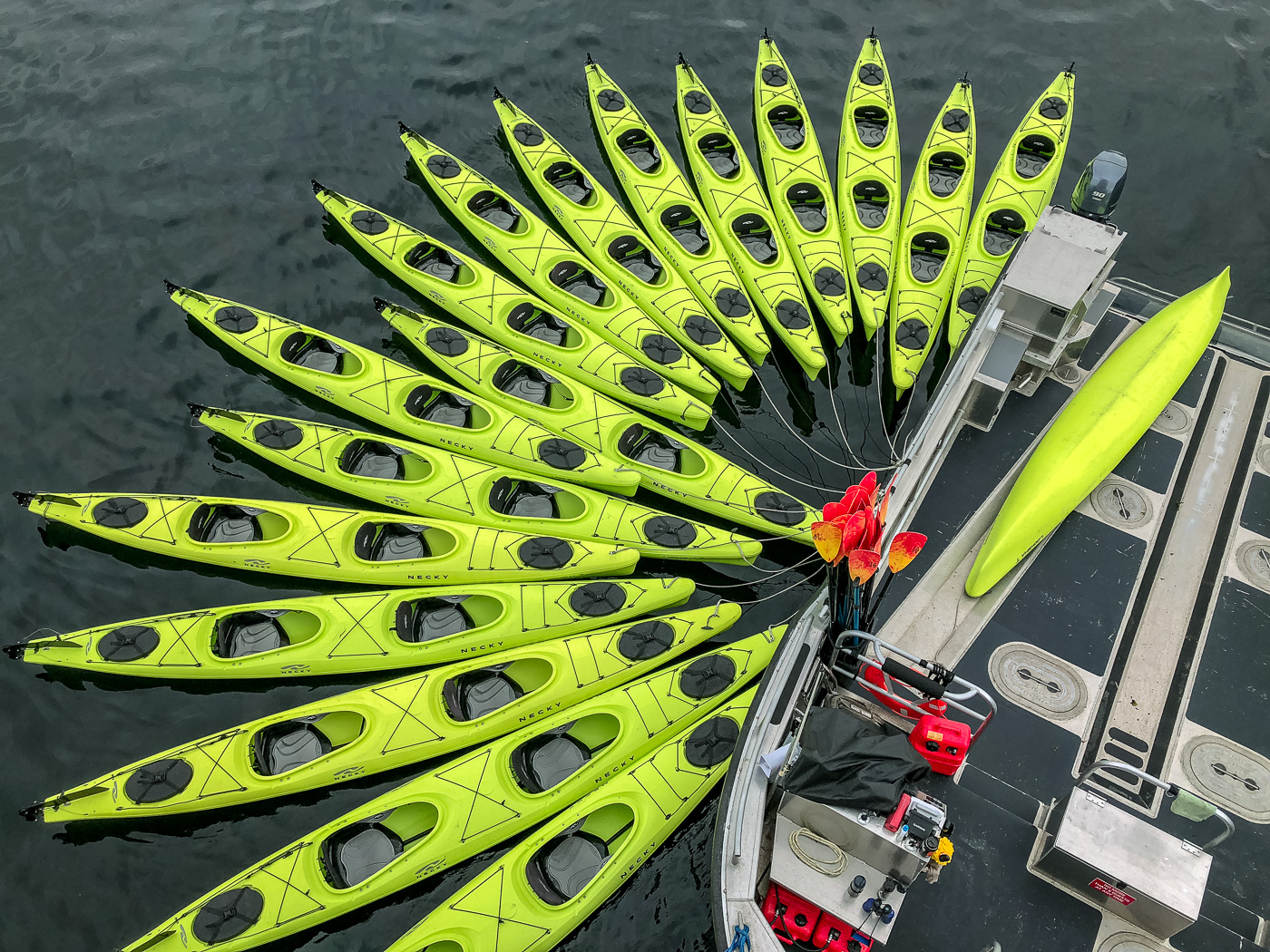 That's not to say we didn't have our creature comforts—the exceedingly well-stocked bars have some real gems so you can enjoy your favorite craft cocktails. And the comfy lounges, which have floor-to-ceiling windows, are perfect for sunset sipping.
Then there are the outdoor decks for catching the sea spray or filming nearby whales and porpoising dolphins (which we saw A LOT of). There's also a small area for morning yoga outside. For my Alaska cruise, there was a hot tub on the top deck for watching the stars on those chilly northern nights.
Is there Wi-Fi?
Not on board the ship. However, since the boat is moving, you can sometimes catch a drift of service from shore. Check your local carrier to be sure you have an international plan before turning on that phone. You can also buy a local SIM card (check which ones work in Central America here) to tap into that service from the ship.
There were days on end without a signal, and those days were heaven. Why is it we obsessively scroll and refresh unless we're forced off the grid? Whyyyyyyyy brain why?
What are the rooms like?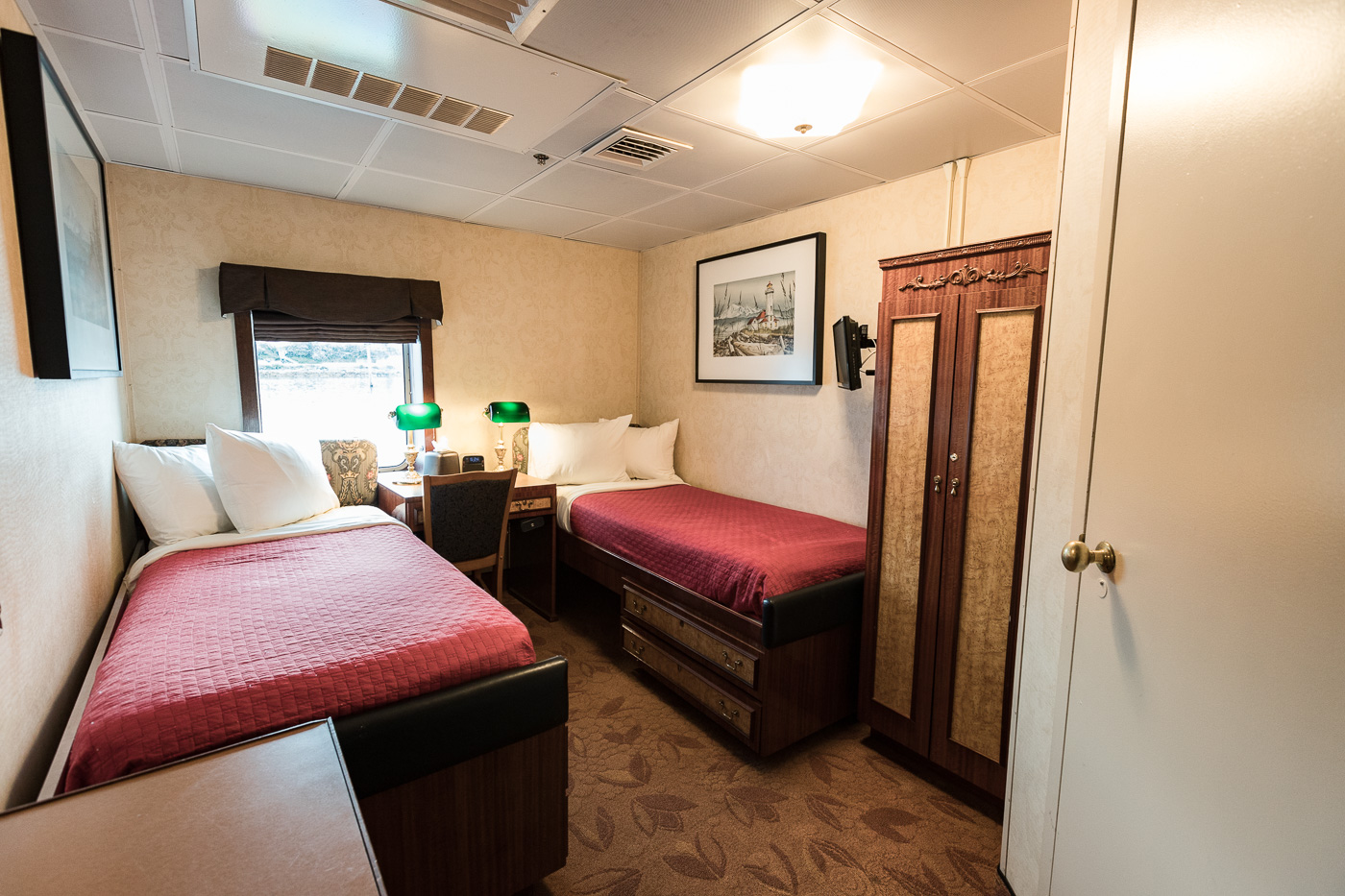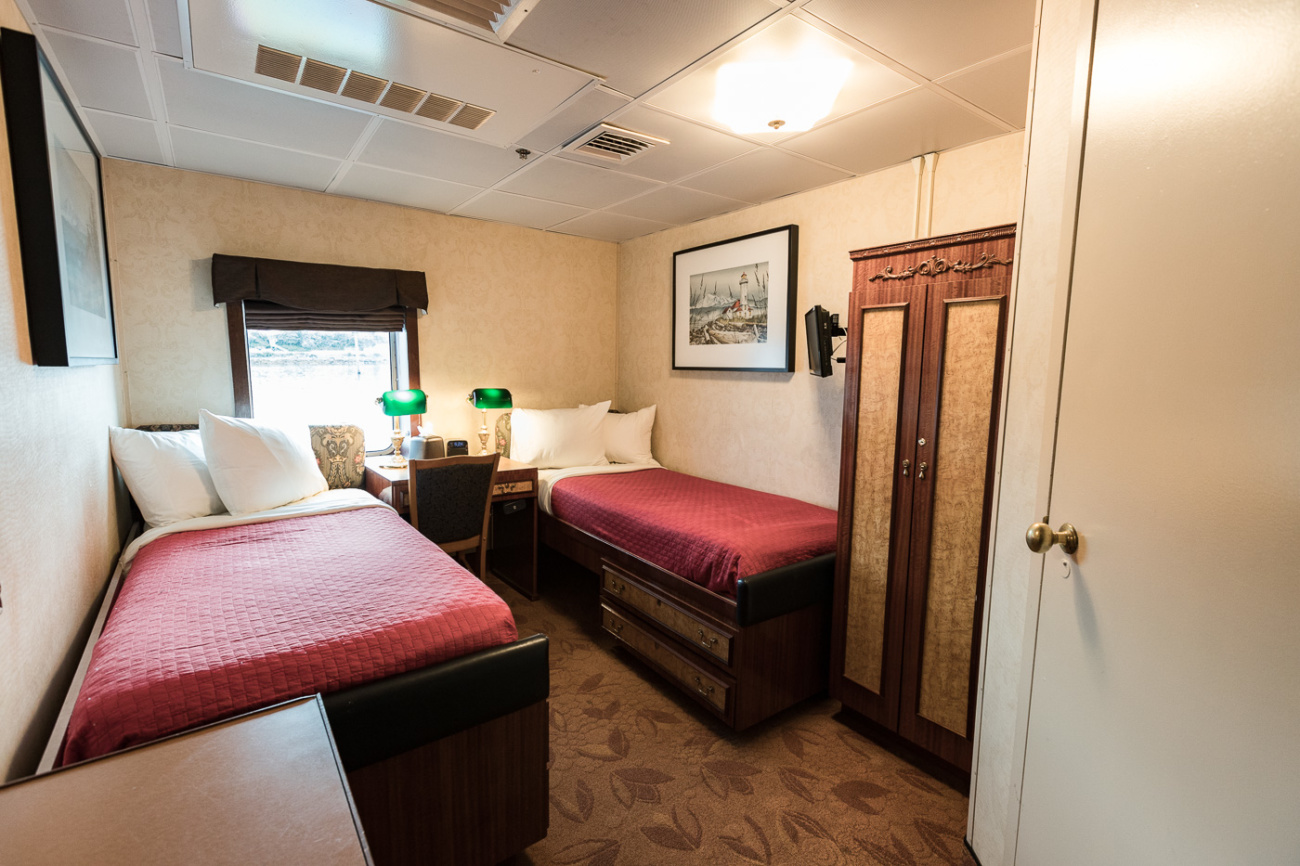 Each cabin sleeps either one double or two twin beds, and you can request the configuration you prefer. Both bed options are comfy.
There is a closet with drawers where you can unpack your belongings. You'll be stowing your luggage under your bed, so opt for a soft side suitcase that can fit under about 10" space. If you only have a hard side bag, you should be able to make it work by unzipping it and storing it butterflied open.
Depending on the vessel, you might even have a small desk to place things. There's also a TV/DVD combo in every room. You can follow your course on the moving map, watch a new documentary every other day, or grab a DVD from the library and veg out while watching She's the Man, like I did.
Keep in mind the adventure cruise boats are expedition-style, so these aren't the rooms you'll find on a big cruise liner. The cabins are comfortable but small. Translation: DON'T OVERPACK. If you're looking for more space, you might want to consider upgrading to one of the few larger rooms, or even the Captain's Suite.
What are the bathrooms like?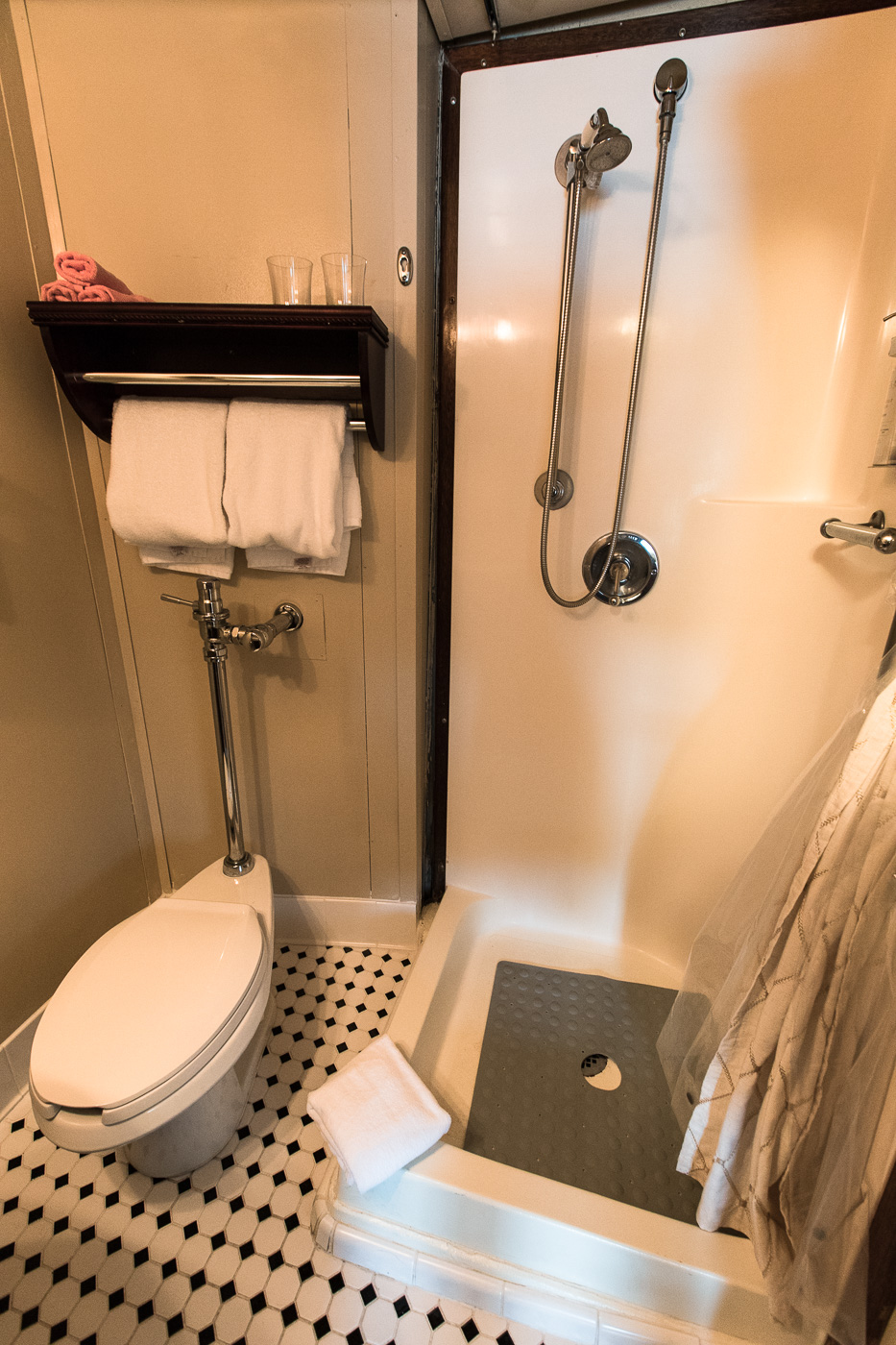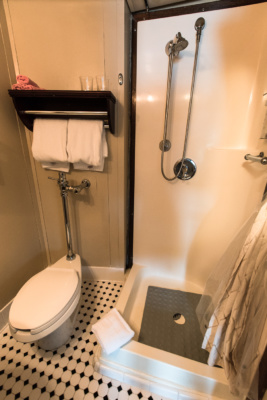 Each room has a private bathroom with a toilet (or "head," I think, if I'm being nautical) and a shower.
These vary in size depending on the boat, but plan for a small space regardless. UnCruise does provide really nice organic and local products so you don't have to pack shampoo, conditioner or bath gel.
Is there laundry on the boat?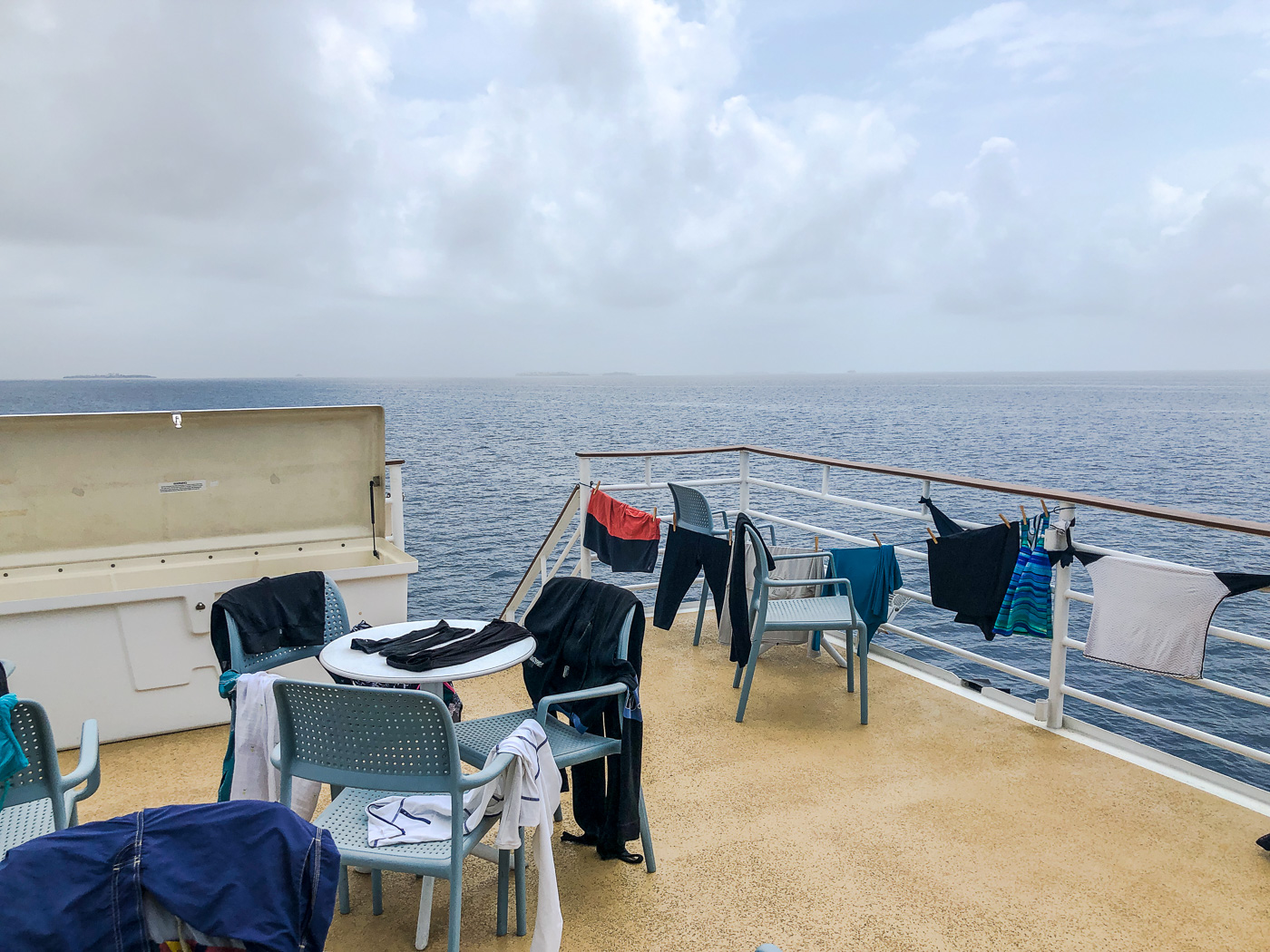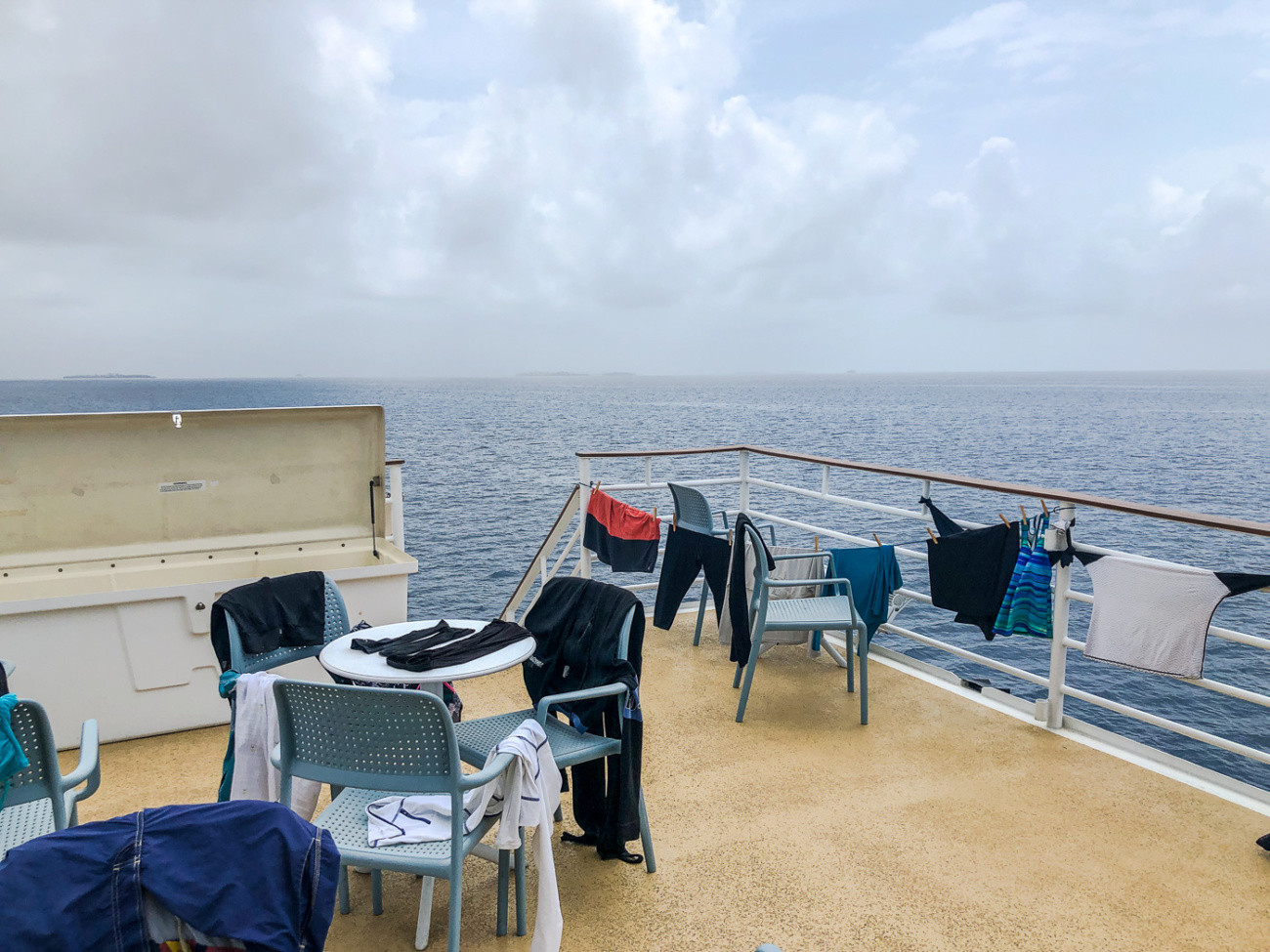 No, at least not on any of the ships that I sailed on. In Alaska, it didn't matter because we never really got that sweaty and could re-wear our wool layers multiple times.
On the Costa Rica/Panama itinerary, however, the equator-adjacent temperatures and high humidity resulted in an unavoidable daily drench—and rendered most deodorants all but useless. Expect to sweat. Expect to smell.
Packing tip: Bring a bar of laundry soap or use the liquid soap provided to wash your clothes in the sink. As long as you're not motoring, you can dry everything in minutes on the top deck. Bringing a clothesline with attached pins will keep items from blowing away.
What do you eat on an adventure cruise?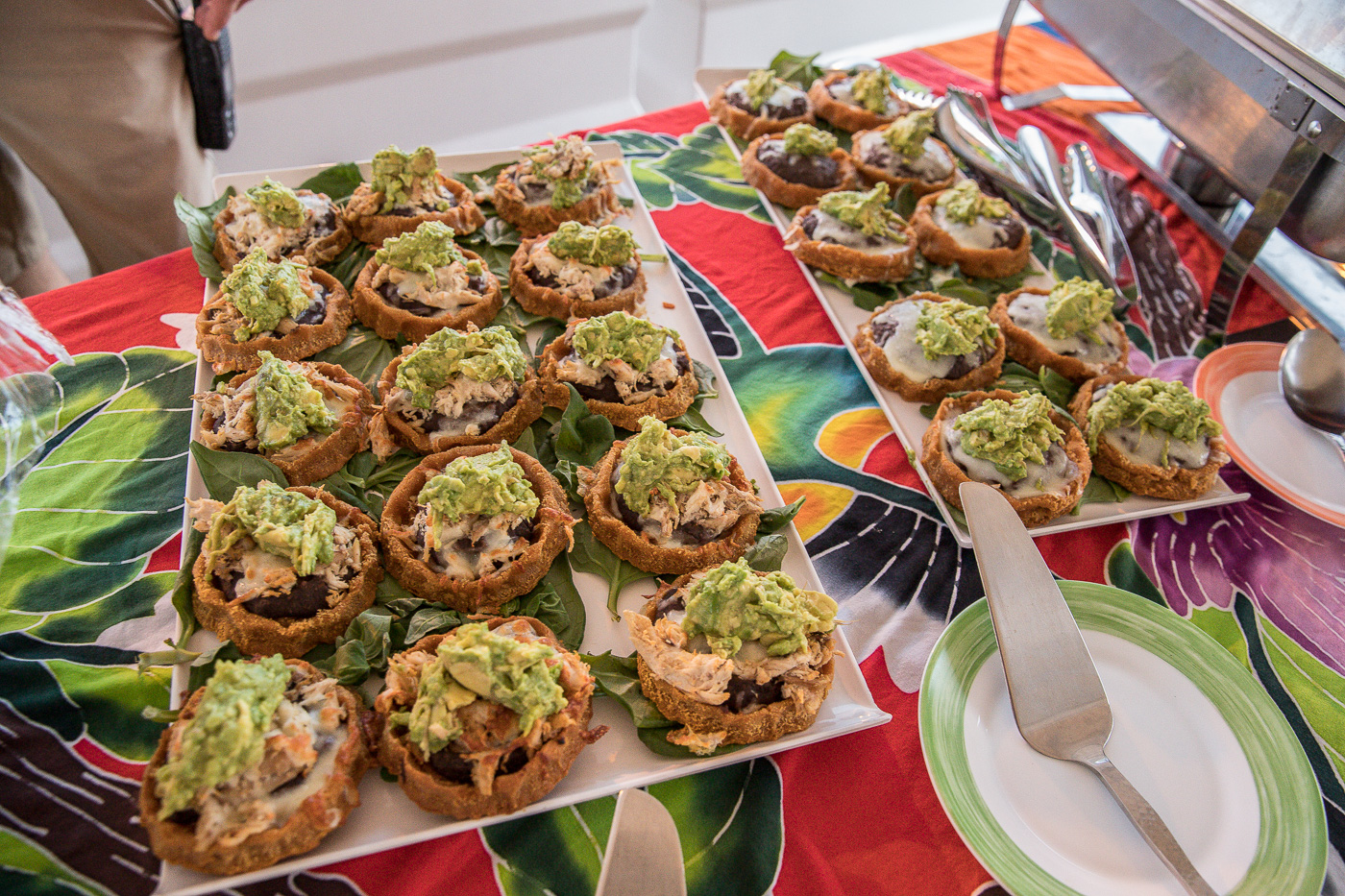 Ahhhhh…this is one of the things I love most about UnCruise. They are so flexible and FUN about meals. Before you ever leave terra firma you give them your dietary restrictions. Then, once you're on board, you get to decide what you eat every meal.
Breakfast is always a delicious buffet of hot and cold dishes. Lunch was all over the place. Literally. Sometimes it was on the beach, sometimes in the dining room, sometimes on the outdoor deck.
This is where I also first learned about the magical Iguana sauce which I proceeded to put on everything. Even on an otherwise empty spoon. What? Don't judge.
There's usually a veggie, meat and fish option for dinner. You can either pick one or go half and half on the options to do a tasting. You can also venture off-menu and order stuff like grilled cheese, macaroni and cheese, spaghetti and cheese…
I'm realizing now I might have a cheese problem. Except is that really a problem? Just give the chef a heads up in the morning and you'll be feasting off-piste with a bowlful of cheese by lunch.
Oh! And lest I forget, there are fresh-baked cookies every afternoon and a daily happy hour with all kinds of dips, snacks and other appetizers.
Do you pay a separate tab for alcohol?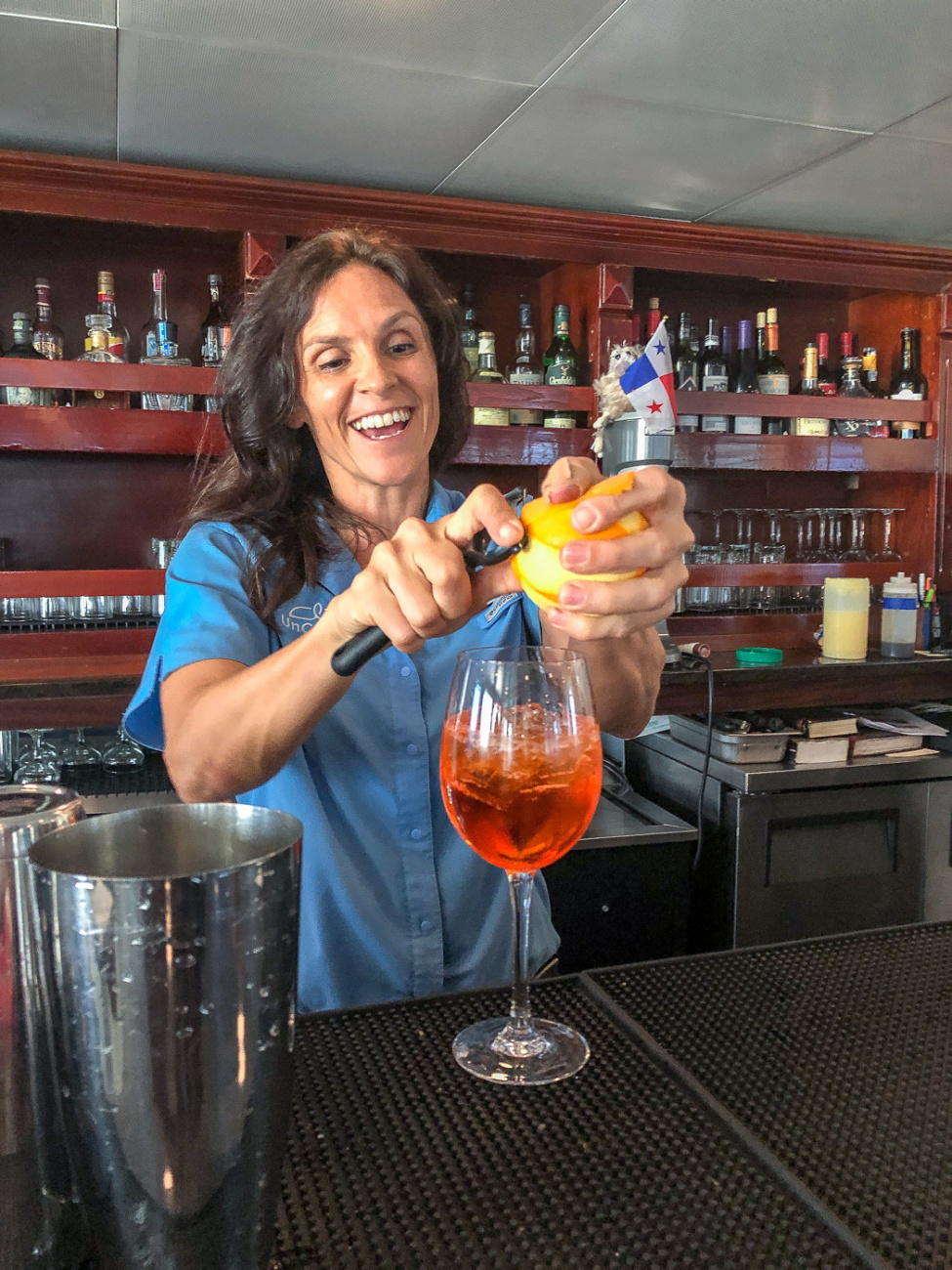 No. It's included! One utterly fantastic feature of UnCruise cruises is there's an open bar from morning until night (no, YOU had a Moscow mule for breakfast).
The lesser-known alcohols they had on board continually surprised me. The bartenders are first class and easily made everything from an Aperol Spritz to a Paper Plane to a Black Manhattan. There's also a craft cocktail of the day created especially for happy hour.
If you need a break from cocktails, you can always choose from their local beers or wonderful selection of wines instead.
What was the itinerary like?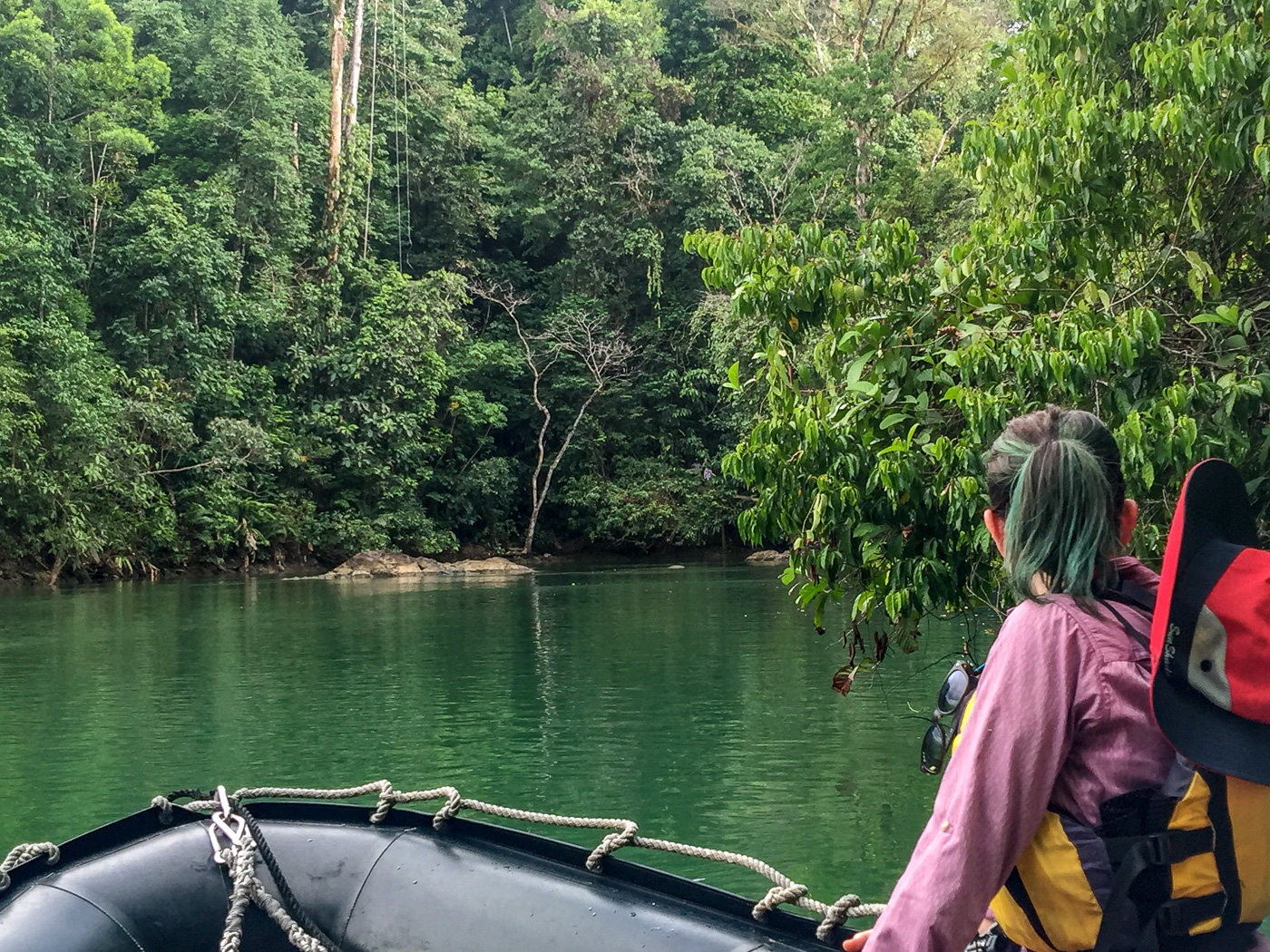 Because UnCruise spends each day at a new location where you anchor and explore (it IS an adventure cruise, after all), you'll find yourself at far fewer port towns than you normally would on a cruise. Instead, you'll be hiking deep into uninhabited islands, paddling around quiet waters, and skiffing right around the shore (or glacier if you're in Alaska) to check out the wildlife.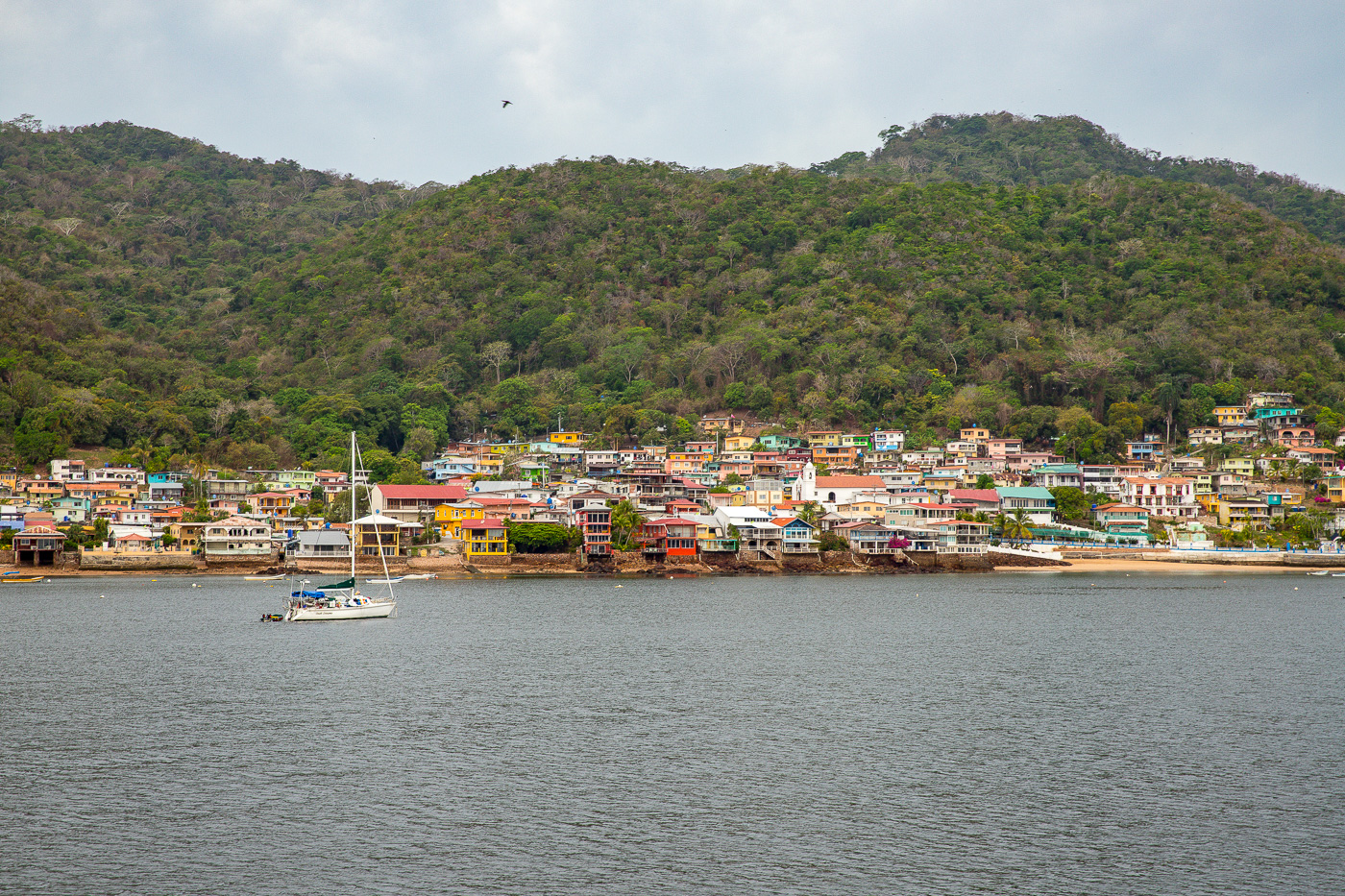 Which is not to say you don't make a few stops in civilization. But the towns are smaller and you're spending far more time checking out places that locals are frequenting.
What photography gear should I bring?
On both my Alaskan and Central American voyages, there was much wildlife to capture.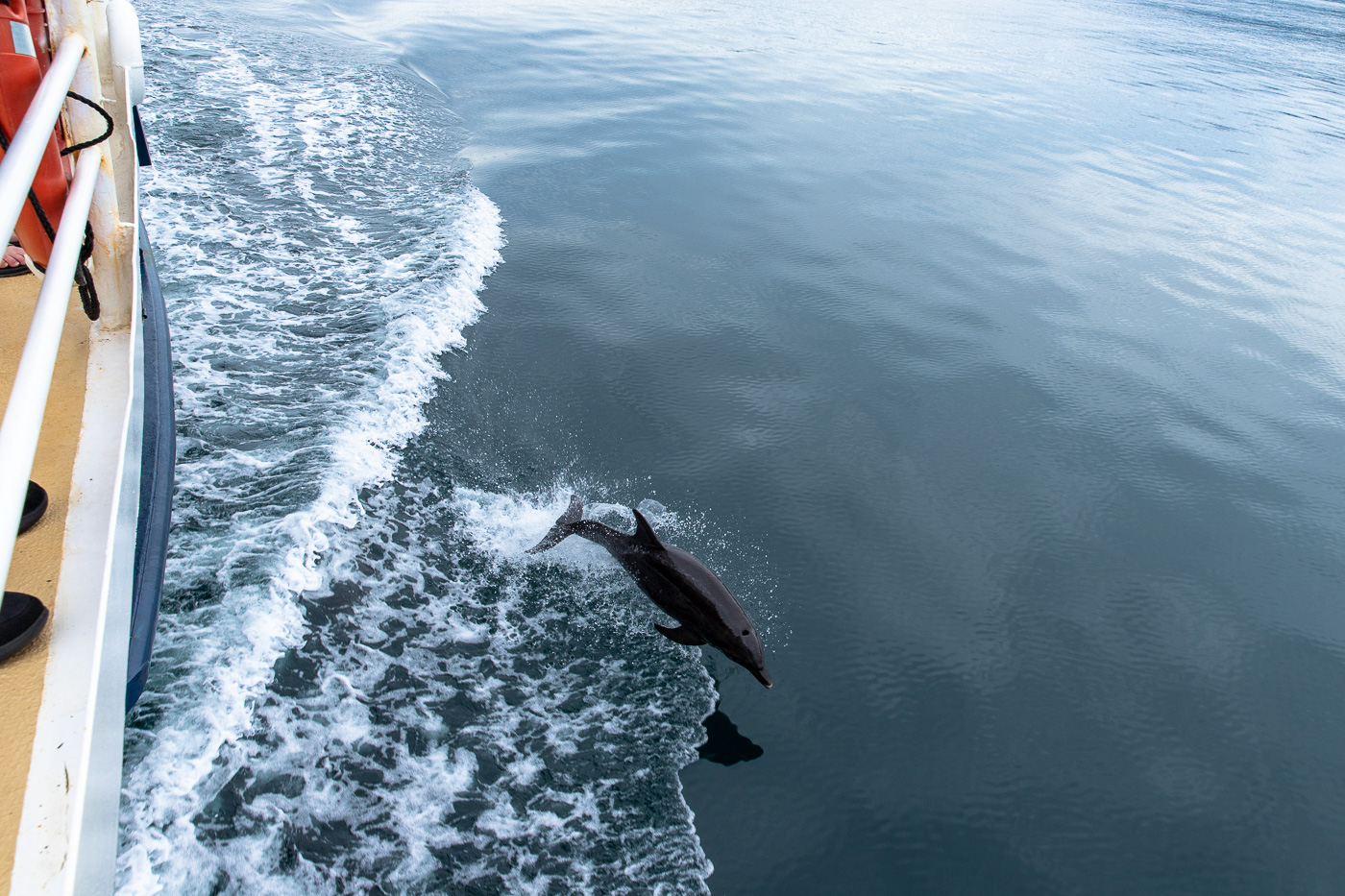 If you are a photo enthusiast, I would definitely recommend bringing a long lens- at least 400mm-to snap monkeys, dolphins and far away islands.
A standard lens like a 24mm-70mm, and maybe one good fixed option, will do the trick if that's your thing. Though I usually shoot wide, I found I almost never reached for my 16-35mm.
One other thing: if you like the shots you get on your phone, use that or a point-and-shoot for hikes, especially in Central America. You've got to really love your DSLR to take it hiking with you in the jungle. (Though if you choose to bring it with you, you may witness the unique phenomenon in which your gear triples in weight and somehow also starts sweating within minutes of starting your journey.)
Packing tip: GoPros are great for capturing water sports and snorkeling, but waterproof housing for your smartphone also does the job nicely. 
How should I pack for a trip like this?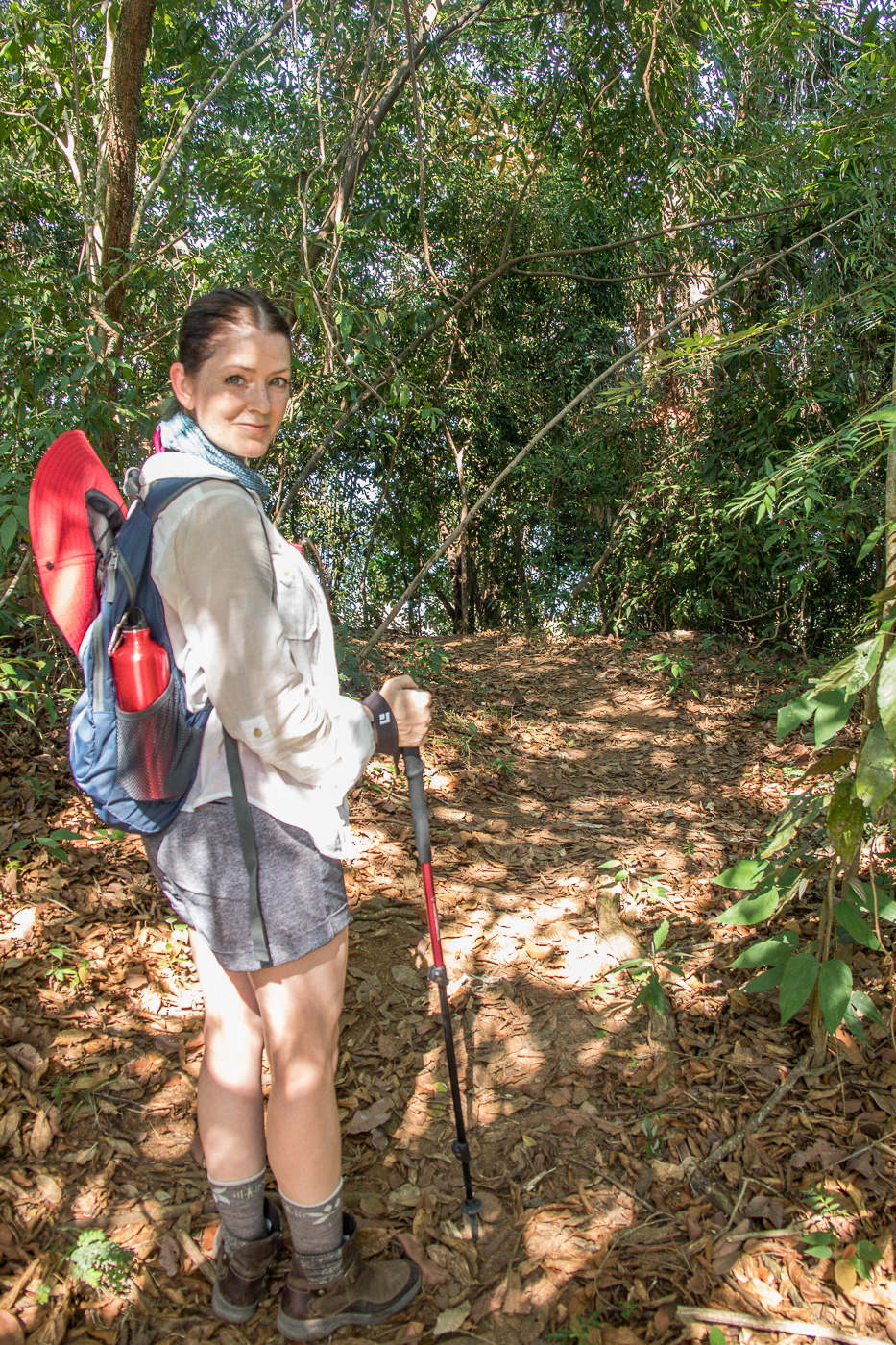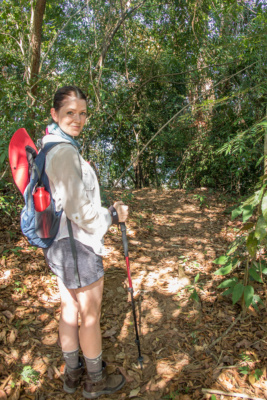 If you do spring in Alaska, expect temperatures around 50°F/10°C and for the weather to be mostly dry. You'll want layers so you're covered for sun and rain. Summer in Alaska can be rainier, so pack waterproof gear accordingly.
Central America is hot and humid. Think 90° F / 32° C with 90% humidity. Pack shorts, loose breathable layers, long lightweight pants for hiking (because bugs and grabby foliage will find you), and moisture-wicking shirts and sundresses.
I thought I made a major mistake by not bringing a jacket for cool nights but I never needed it. It was always warm outside. I would suggest a light hoodie or something similar in case air conditioning makes you chilly. I've got a packing list for Central America coming soon, so stay tuned for specifics.
Was the adventure cruise worth it?
Because there are 60 people instead of 3,000, the pricing structure is totally different on UnCruise than on a major cruise ship.
Everything is included with UnCruise, even snorkeling gear, sunscreen and top-shelf wines. What you pay is what you pay—except for tips, you won't spend anything on the ship in addition to the original cost. That means there's no walloping bill at the end where you realize exactly how many piña coladas you downed on your trip.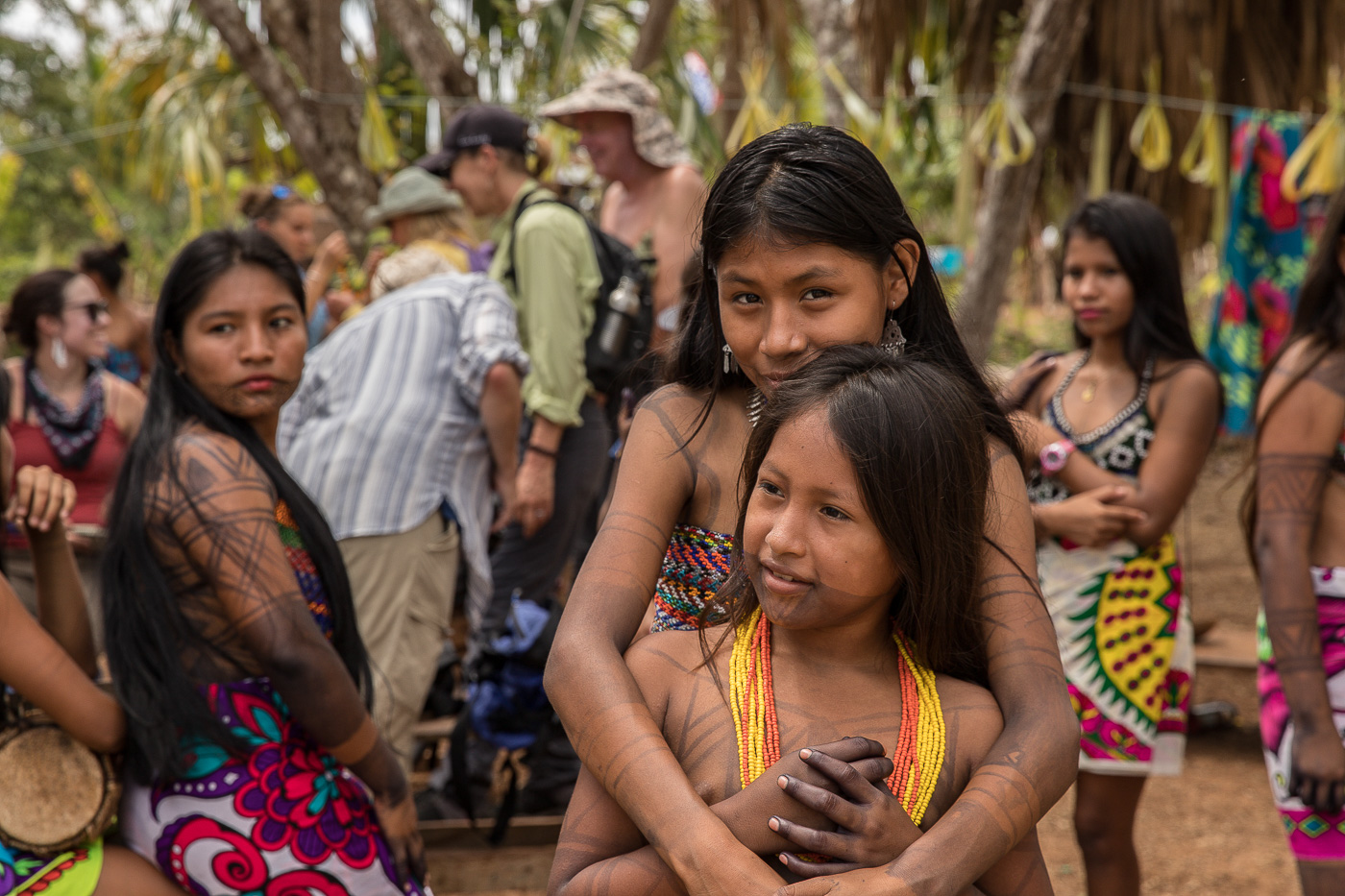 Beyond that, you'll have unique cultural experiences, like being one of the few fortunate souls to visit the Embera tribe (above pic). You'll get closer to bears, whales, and glaciers than you ever thought possible. Adventure cruising also affords you access to knowledgeable guides that stay with you the entire trip. Add on the warm personal service that only a small expedition boat can provide, and I say yes, it's worth it.

From that perspective, it's definitely an adventure I'd recommend getting swept away with.
Did I miss any questions about going on an adventure cruise? Let me know in the comments section what else you'd like to know.
This cruise was made possible by UnCruise Adventures, though all opinions are entirely my own.