If you've been considering travel to Nicaragua, or are looking for ideas about what to do in Nicaragua, here is my rundown of exactly how I chose this destination, all of the planning details and my opinions about where I ate, visited, stayed and what I did while I was there. Some of it, I loved, others, I could leave it. I hope you enjoy my Nicaragua Travel Guide!
Why Nicaragua? This was a Christmastime trip and those are often tricky. Over the last few years especially, winter destinations have been booked up by July. Perhaps because I travel so much, I typically have 4-5 trips planned prior to the end of the year that I need to focus on and frankly, I'm not sure what I'll be in the mood for by December. Most destinations that still have winter availability by July or August have also raised their rates to gouge-y heights and while I understand supply and demand, I'm annoyed to pay twice the normal amount for something that in one week will be reasonably priced.
Other criteria this year: Nicaragua is warm. Since I dragged my husband to Iceland last year, it was time to go somewhere tropical.
Nicaragua is very affordable and is often billed as "The next Costa Rica" and the "original Costa Rica." Even though I've never been to Costa Rica, I understand the implication that the country has become too "Americanized" and therefore devoid of its Central American soul. I'm not sure if this true, but I did like the idea of being somewhere before it was something else.
Where in Nicaragua: After convincing Seamus that it was going to be amazing and that we'd hang out with monkeys I had to determine what was worth seeing and how to put it into an order that would best suit us.
I came up with:
Day 1: Fly into Managua. Immediately leave Managua.
Day 1-3: Stay in León, which was touted as the "cool" town, the artsy college town, home of the Sandinistas and "romantically crumbling" buildings. We'd get acclimated to Nicaragua, do a little touring and then move on to the relaxation portion of the trip near the beach.
Day 3-8: Stay in Tola, on a protected bay. These 5 days were to be the 'do-nothing' part of the trip where we recover from the rigors of a busy year and 14-hour workdays.
Days 8-10: Stay in Granada, which I had read was home to even more "romantically crumbling buildings" and food so cheap you could buy entire dinners from whatever coins you found next to the smashed granola bars in your backpack.
How I got there:
Flight: United Airlines from Los Angeles-Houston-Managua and back.
1) León
Ground Transportation:
Jose Cordoba Private Taxi Service
70USD from Managua airport to León
From the US: 011-505-8888-8077
Drive time is two hours.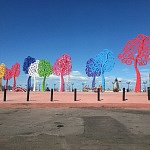 Jose picked us up from the Managua airport. He was super kind, very friendly and very happy to welcome us to Nicaragua. He even made a couple quick stops on the way to León to show us a few historical highlights in Managua, and a beautiful view of Momotumbo volcano. He operates out of León and provides taxi service to "all areas." I found him through my hotel, so if you can't call Nicaragua, you might try emailing flordesartaleon@gmail.com and asking them to help you locate him.
Where I stayed:
Hotel Flor de Sarta ***Recommended
70USD per night – Booked online at booking.com
Del Parque San Juan 2 cuadras al Oeste 1/2 cuadra al Norte
León, 050-088-4
011-505-2311-1042
flordesartaleon@gmail.com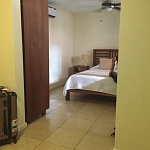 Simple, somewhat rustic accommodations. Owned by a French couple, Sandrine and Benjamin, everyone from the owners to the staff is extremely friendly, helpful and talkative.  It's in a good location, and the rooms are clean, the bed was very comfortable and we slept very soundly. Most rooms face the inside courtyard and pool. Thankfully the rooms are air-conditioned, as temperatures typically reach 95°F during the day. Breakfast is included and it's quite good. Refrigerated beverages including waters, sodas, beer and wine are available for the asking. Benjamin has a pet chicken named Coq au vin who wanders around the property all day, looking for insects and an occasional pat on the back.
What I did:



Cathedral of León *****Don't Miss
2 Adults – 4USD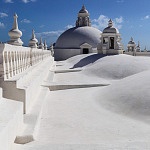 Absolutely the highlight of my time in León, perhaps even of Nicaragua. The Cathedral of León is on the UNESCO world heritage site and truly is fantastic from above. The rooftop and all of its undulating architecture are washed in brilliant white and one must take off their shoes in order to experience it. Even in the heat of a 95°F day, it was not too hot to step out onto, but I'd still advise to go in the morning or closer to closing time. It's a dreamy, photo-taking bonanza of a setting so bring some kind of camera, and don't forget your sunglasses; unless you love viewing this stunning experience through watering squinting eyes.
Where I ate:



El Bodegon (Cuban) ****Recommended
Dinner for two with two drinks – 20USD
Vegetarian options
Parque de Los Poetas 275 Metros Al Norte (next to Pizza Antonini)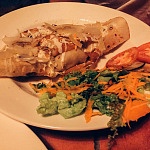 Definitely the best drinks I had in León (or Tola, for that matter). The frozen mojito was perfect on the hot, airless night.  Our food was pretty good, but not overly delicious. On a curve, though, it was the best meal we had in León. Head for the back patio if it's available, you'll have a fighting chance at a breeze and the ambiance is nice. The clientele is widely backpackers and foreigners. The staff is friendly and if you can't muster any Spanish, the owner speaks English and can help you with your order.
Pizzeria Antonini (Pizza, obviously) ***Not bad
Two pizzas, Four cans of beer – 16USD
Vegetarian options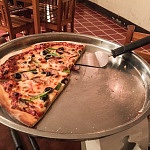 I'm always curious to taste the translation of one culture's food through another's culture's lens. Pizza is generally difficult to mess up, because how hard is it to layer bread, cheese and tomato sauce? While Pizzeria Antonini is basic, it was a fun little evening of working on our Spanish (I even managed to order ranch dressing for dipping!), enjoying a few cans of Nicaraguan beer and scarfing down hot fresh pizzas, all while watching 1980s dubbed American television on a hot winter's night.
Casa del Café (chain-type coffee house) ***Not bad
Two coffees – 5USD
De la catedral 50mts al Norte, junto al hotel Best Western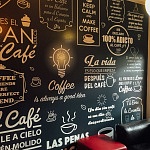 While it was recommended by several locals as one of the best places to get coffee, it wasn't necessarily exceptional, especially given what Nicaraguan beans are capable of. What one does come here for is the air conditioned refuge of a 100° day, the free wifi, the familiarity of a chain coffee house and, if you prefer, the English that is spoken. Try El Sesteo for more atmosphere on the square or Pan & Paz French Bakery for more food selections.
CocinArte (Vegetarian)****Recommended
Lunch for two – One Starter, two mains, two drinks – 15USD
North side of the Laborio Church 50 meters east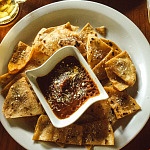 Finding the place is a bit of a challenge. There aren't many street signs and everything looks closed even when it's open. You will find yourself moving further outside of the main square, and possibly tripping on parts of broken cement curbs (if you are me), romantically placed in the middle of a sidewalk, but this is just the charm of León and it's safety-flouting personality. You might think you're lost, but you're almost to CocinArte. There are a few meat selections for non-vegetarians if this concerns anyone in your party, and there are LOADS of options for vegetarians. The menu is a curious assortment of Nicaraguan spins on Middle Eastern, Indian and Latin American dishes, but everything we tried was really quite tasty. The restaurant itself is a thankfully shady courtyard on the inside, which allowed for a mili-breeze now and then. A very friendly Dutch woman who is happy to speak Spanish or English, and probably even Dutch with you runs the establishment.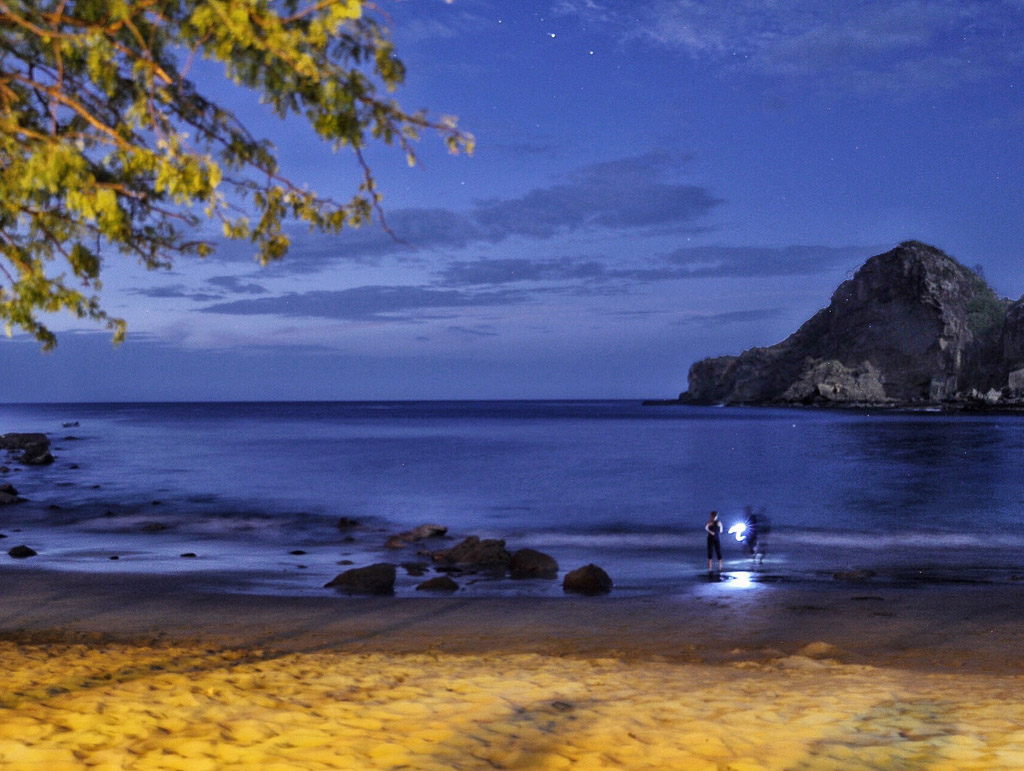 2) Tola
Ground Transportation:



Aqua Wellness Resort arranged it
240USD from León to Tola
Drive time is four and a half hours including a stop for lunch in Masaya.
This is going to be a do as I say, not a do as I do sort of post. When you sometimes get exceptionally lazy on the research or do not have any extra minutes left, you wind up paying more for things. In retrospect, I would have at least hired José to drive us or found another recommended service, which might have been less expensive. Make no mistake, our driver Edwin was extremely nice, helpful and a good driver with a generous dash of Dale Earnhardt Jr. thrown in (bring your Nauzene tablets if you get car sick easily), so if you feel crunched for planning time, use them. Just know there are cheaper options out there. And before you suggest a chicken-bus option, I'm going to stop you right there, that's not my thing.
Where I stayed:



Aqua Wellness Resort ***With caveats – read on.
455USD per night (high season) for the Ocean View Deluxe Tree House suite – Booked directly
1 Redonda Bay, Tola
Reservations (US Line): +1 917 338 2116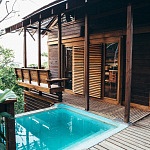 Treehouses, monkeys, a secluded bay. This is what Aqua Wellness has going for it. Our treehouse "suite" had a lovely plunge pool, and technically a "view" of the ocean. Watch out for that description, though. Four out of five times resorts throw that word around as liberally as "luxury." We could see the ocean, but it was mostly obscured by trees and was more of a concept that an ambience (We had a suite that began with a "D" so it was at the very top, which was the furthest away from the water, the beach and the restaurant).
The bed was very comfortable and the 350sq ft. room was lovely, but not truly in a way that elevates it to luxury status or in justification of the price. Details like a safe that was pointlessly not bolted to anything, one set of towels despite repeated requests and reminders that there were two people staying here, no promised phone in the room in order to make required dinner reservations, spa appointments, activity reservations or housekeeping needs…keep Aqua firmly planted at a three-star hotel status.
Your best course of action is to stop and get a few snacks and drinks before getting to the resort. A windy 20-minute drive through a forest sucks the will to leave the resort out of you and you'll regret be beholden for EVERY SINGLE MEAL and NIBBLE to one of the most disorganized restaurant staffs in the business, right up to the management. The food is mediocre at best, overpriced, and no one seems to understand meal service in any capacity. You will find yourself begging for coffee after the fourth ask, thirty-minutes into your breakfast or wondering if you will in fact ever get that drink long after your dinner is consumed (answer: no. They've probably run out of it).
My caveats are these: don't get a kitchen suite. It's an entire other building near your tree house, so you likely you won't use it. It's not worth the money. Don't go during a holiday or high season. It's not worth the upcharge and the staff can't handle full occupancy. Request a room closer to the bay so that you can enjoy the beautiful scenery – it's why you're here anyway. Oh, and when you first hear that god-awful low bellow reminiscent of a soul-sucking portal to hell opening up, relax, it's just the sound of howler monkeys in the trees, or maybe your wallet emptying.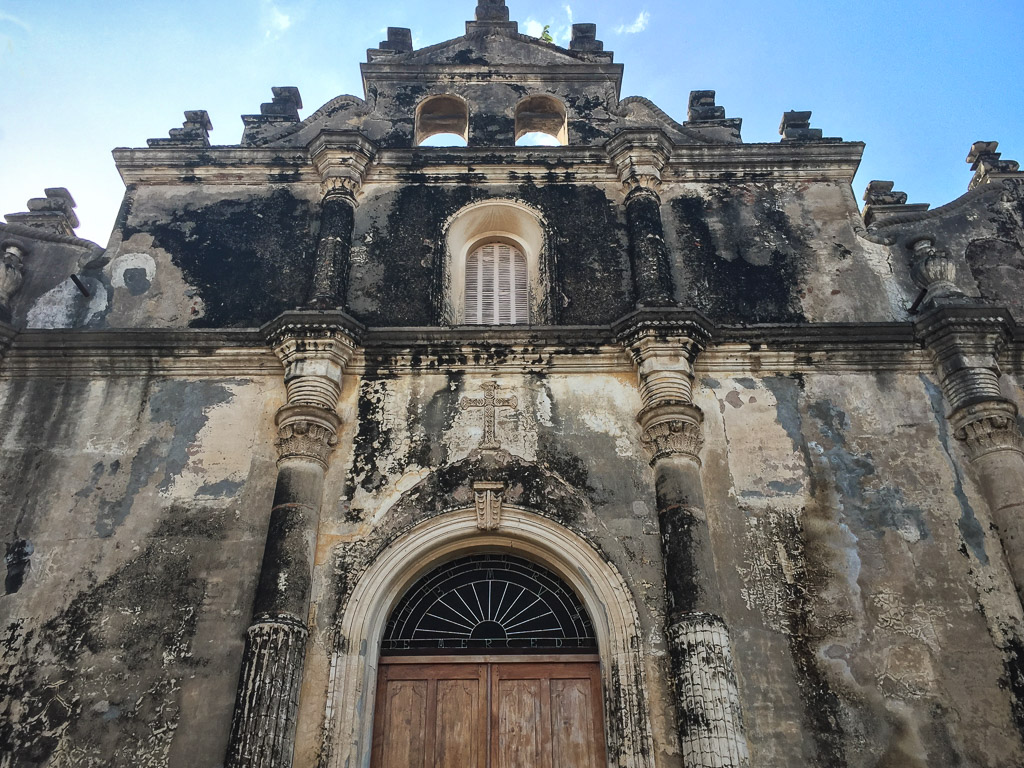 3) Granada
Ground Transportation:



Aqua Wellness Resort arranged it
170USD from Tola to Granada
Drive time is less than two hours. Again, I would advise you to check in with your next destination to find out what they might be able to arrange for a better rate. That being said, we were in a brand new SUV with air conditioning and a fairly smooth ride around those curvy narrow roads as opposed to a rough pick-up truck, which we took to the airport. Oh it was a bargain, though both Seamus and I were carsick from fumes and no suspension for at least the next 30 minutes after our drop off onto terra firma. So, you know, trade-offs.
Where I stayed:
Hotel Bubu *****Loved it
195USD per night for the balcony suite – booked online at booking.com
Calle La Libertad, del edificio BAC 2 1/2 cuadras al Oeste
+50525523432
contact@hotelbubu.com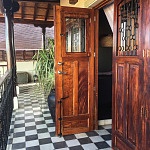 Chic, upscale and very private. Owned by the French (again) this hotel is a dreamy design-lover's oasis. They mix beautiful cement art tiles with rattan furniture, sleek fixtures, lush foliage and old maps, and it creates a modern Casablanca feel. There are only five rooms, which only allows for a maximum of ten guests at any time. Electricity rates are astronomical, and Bubu saves energy by having a rather dark property most of the time, but the inner courtyard still allows for an expansive feel while adding light during the day. At night it becomes and sexy and mysterious.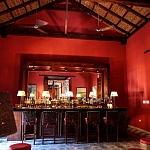 The bar, with its artisanal handcrafted-by-Kenny cocktails, is only open to the 10 guests exclusively, so you're not fighting any crowds, unless you can convince your fellow Bubu-ites to a spontaneous dance party (which I did) and then bam! There's six entire people barefoot jumping around the deep red-hued lounge and you might run the danger of sweating on someone.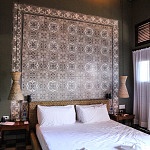 The bedrooms are dark so keep track of your belongings. I lost my iPad for two hours, not realizing the black case had blended into the shelving and acted as camouflage. Beds were honestly not as comfortable as one would hope, but the top-notch private breakfasts on the terrace with nary a soul in sight and the handmade Bloody Marys by the polished blue glass pool made up for it.
What I did:
World's Saddest Horse and Carriage Ride **Didn't Prefer
2 Adults, 1 hour – 25USD
Anyone of many lining Parque Central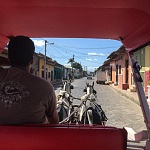 Taking a jaunt around town via horse and carriage is recommended by nearly every guidebook, and on the surface, I can see why. You get to talk to a local, and you see the city from his perspective while also not melting into the hot, hot pavement. In theory it seems perfect. In execution I regretted this activity. For one, I began to feel really bad for the horses. I'm not sure what else they would be doing in Nicaragua that would be better, but they were not the healthiest or well-fed pair and did I mention it was extremely hot? Also, I've never been on a carriage ride that tore ass around town like that. I'm not kidding when I tell you we were going so fast I had to look back a couple times to make sure bandits weren't on our tails.
Second, our guide's stories were shady at best. He was laying down some seriously tall tales that even WE knew were wrong. Plus he seemed to think some of the more dubious characters in Nicaraguan history were heroes. The balance of what he said was either incoherent or a word salad of his favorite phrases.
Café Las Flores Coffee Plantation Visit *****Loved it
2 Adults, Ride to Mombacho Volcano and tour – 44USD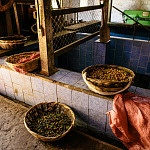 There are many activities to do up on Mombacho mountain including a coffee tour, bird watching and jungle canopy zip lining. I chose the coffee plantation tour because I love coffee and I hate being hooked onto a guy-wire and pushed out over great heights with nothing but hard earth and skewering branches reaching up for me from below.
On this tour we wandered through foliage-heavy hillsides, and were surprised by the sweet-tart beginnings of the green and red coffee berries. We followed our guide through the steps that some visionary genius came up with to turn the inner seed of these fruit from a roasted, ground-up scoop of bits into a magical, velvety cup of wake-up juice. My appreciation runneth over to these vanguards.
Where I ate:
Expressionista (Organic, Modern Nica) *****Loved it
Dinner for two with two appetizers, two mains, two desserts, four drinks – 60USD
Vegetarian options
Calle Real Xalteva 609
Opposite Xalteva Church on Real Xalteva street
Tel: +505- 2552- 4325
Mobile: + 505- 8170- 0840
espressonistacoffee@gmail.com (closed Monday and Tuesdays)
My favorite place to eat in Granada. By day it's an eclectic little coffee shop with homemade pastries and private label beans, by night it's a sultry courtyard restaurant with four starters and four mains on a hand-chalked board – all sounding so good it took me 10 full minutes to make up my mind. I settled on a mackerel ceviche with coconut and plantain chips, and lobster bisque. Seamus had porcini mushrooms with goat ricotta on a blue corn pancake and veggie lasagna with lentils instead of pasta. The passion fruit cheesecake was light and fluffy and I tried to hold back the tears with each bite realizing I may never have anything this passion fruity-creamy-amazing in a good long while. Local craft beers and French wines completed our meal.
Reilly's Irish Tavern (Pub food with a Nica twist) ***Average, but fun
Lunch for two, two beers – 13USD
Vegetarian Options
Calle la Libertad, Central Park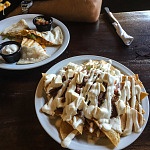 Clean, friendly bar on Central Park. We stopped by after the world's saddest horse and carriage ride for some nachos and good cheer. The courtyard is slightly cooler than the dark wood interior during the day. Though, it was so hot, my beer bottle spent just as much time on my head as up to my mouth. Food was a fascinating amalgamation of Mexican-(Irish?)-Nicaraguan dishes like nachos topped with that cubey-Nica cheese that never melts and gallo beans and salsa. They had already run out of guacamole. Clientele is almost all ex-pats.
Bistro Estrada (International, Gastropub)****Recommended
Dinner for two, one starters, two mains, two drinks – 45USD
Vegetarian Options
Calle El Arsenal
Great Location, imaginative dishes, friendly service. This place was recommended by our hotel. The food was very good and was an interesting mix of International flavors. By Nicaraguan standards, this is an "expensive" restaurant. I enjoyed my meal enough and it seems to be one of the few reliable places for a nice dinner in town if that's what you're looking for.
While the service is friendly, there seemed to be an overall air of confusion that hung lightly over each server and affected their interactions between themselves and patrons and themselves and the kitchen. Our meal (and those of the other tables around us) took a solid hour+ from the time the order was placed until the time our meals were received. You can only drink so many mojitos during the wait. Though not a sports bar, TVs perplexingly hang around the lovely colonial dining room airing some of the saddest reality programming the United States has to offer. I can't un-see that hour of "Gypsy Sisters," but worst of all I'm now faced with the knowledge that it exists. And for that, people of Nicaragua, I'm sorry.
Nectar (Central American/Mexican) ***Average
Dinner for two – two entrees, four beers 18USD
Vegetarian Options
Calle Calzada | 1 1/2 Blocks East of Parque Central
On the popular and lively Calle la Calzada, this restaurant has both indoor courtyard seating and lots of tables lining the pedestrian zone. The food here takes time. Not because of an attention to detail (they got my husband's order 100% backwards) or the slow cooking care of a passionate chef (we had mediocre bean burritos), it just takes time. At least an entire hour or more of it. So sit back and enjoy the San Juan Del Sur made craft beers, the walking vendors selling jewelry, candies or hammocks, and if you're lucky, the roving break-dancing troupe, which really deserves a dollar or two tip for all of those backflips on hard pavement. Small note – if you are sensitive and want to help out the rib-bone-baring stray dog population, order a side of chicken or beef when you make your dinner order. As hungry as these sweet dogs are, they are still freakin' picky and refused to eat the squash we tried to feed them, no doubt cursing our vegetarian ways.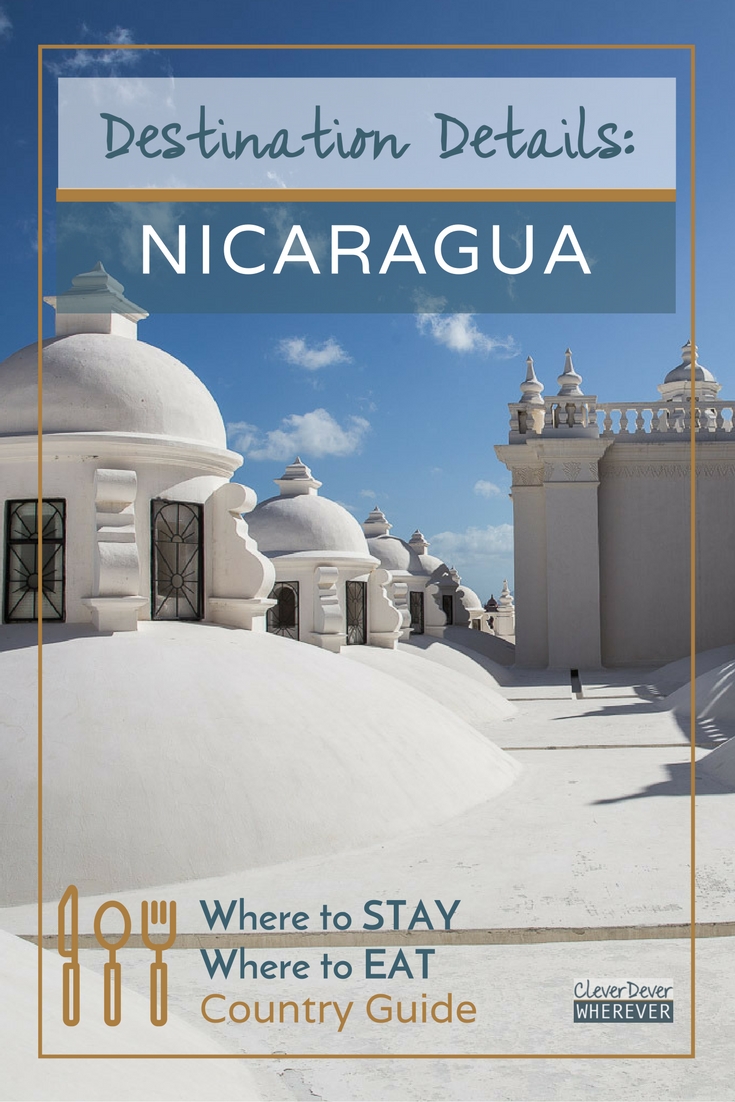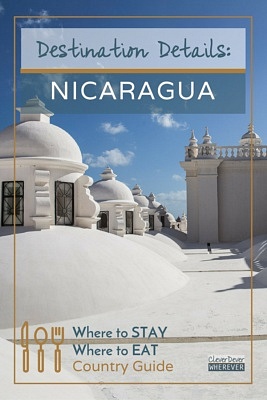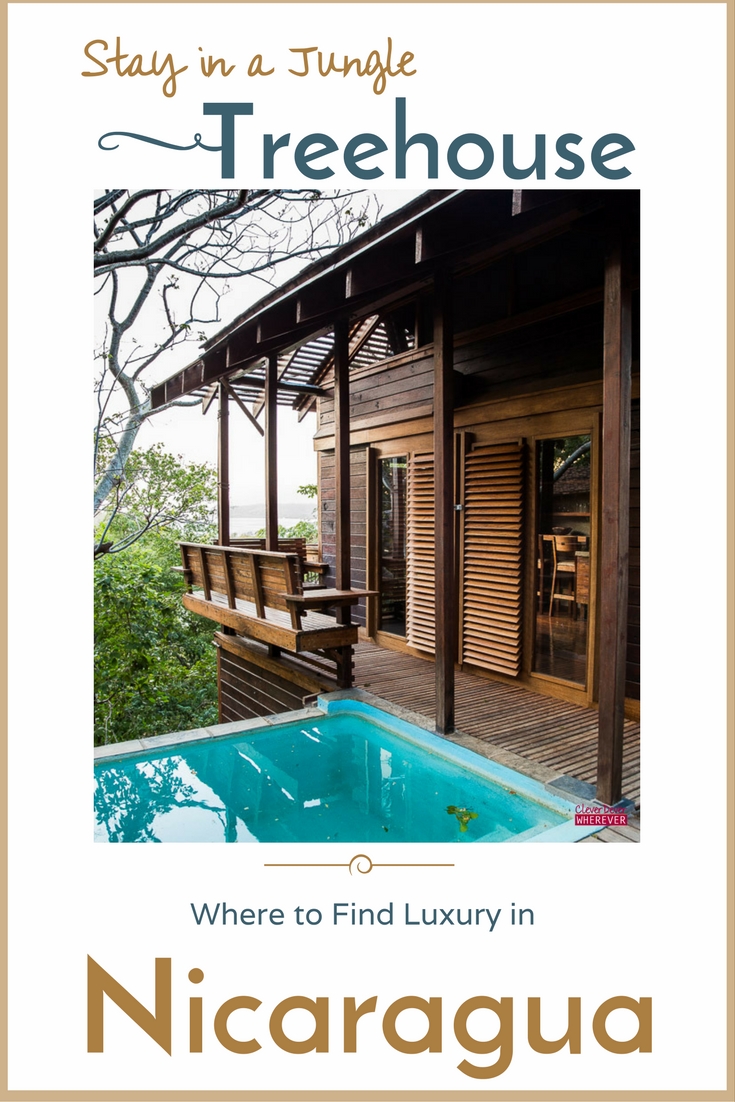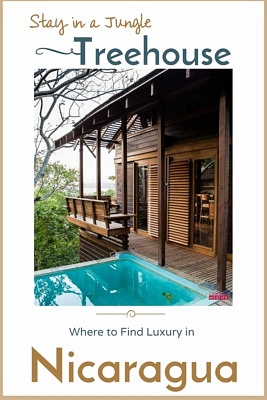 Disclosure: As a Booking.com Associate, I earn a small amount from qualifying purchases. However, I don't recommend anything that I don't personally love.