How to Visit Slovenia Like a Local [FB Live SHOW NOTES] What you need to see and do there before everyone else figures it out!
Hello travel lovers!
You're here today because:
-You've already been to Slovenia and you're in love and you want to go back and experience more
-Slovenia has popped up on your radar and you want tips from a local on how to plan a trip there
OR
-You're looking for a unique travel destination that's still off the beaten path.
Slovenia is definitely that destination. So many people haven't considered (or don't even know about) visiting Slovenia, but that's changing fast.
Who am I? I'm Juliana Dever, an experiential travel expert. I've been traveling the world for 25 years, connecting with people everywhere I go and learning about their cultures. I've been returning to Slovenia for months at a time every year for almost 5 years now.
In 2022 you can travel WITH me to Slovenia. There are SO MANY fun people already going with me this summer and we want YOU to join us! The only thing you have to do is show up, the planning's already been done for you.
Today's Guest Expert
Now it's time to add the Slovenian sparkle to this show by introducing you to my most special guest!
Everyone Meet Tina!
A native Slovenian, For the last 25 years Tina has guided privately, for Rick Steves, and now also with CleverDever Adventures.
With a master's degree in tourism management, Tina occasionally teaches at the University. She speaks Slovenian, English, Italian, German, and Croatian fluently and can get by with some French, Czech, and Slovak.
TOGETHER we have created some of the most comprehensive, in-depth, and culturally connected trips to Slovenia. Tina's deep knowledge of her country, coupled with her adventurous spirit means she brings lots of secret nooks and locals-only gems to our itinerary.
So How do you Visit Slovenia like a local? What must you see and do that most visitors don't know about?
Why visit Slovenia
In the last year ALONE this little Balkan country has
✨Received 7 Michelin stars
✨Made it to the Top 5 of Lonely Planet's Best in Travel list,
✨Been the star of countless articles in the New York Times, Conde Nast Traveler, Nat Geo, etc…
✨And now the capital city of Ljubljana has just been awarded the Best European Destination for 2022.
Tina, Guest Expert
"We're very happy because for years we have been trying to position Slovenia where it belongs. And I think it's really a wonderful country, which leaves visitors pleasantly surprised because there's not much known about Slovenia.
And when they come, they're in for a treat with beautiful nature, our cleanliness, the amazing food and wine that we have, and just the hospitality and friendliness of the people.
Plus the language is not a barrier at all because we all speak quite good English, but also a few other languages on the side because nobody speaks our own.
You know when I travel, my best recommendation is always to talk with the locals. That is so easy because we all speak English, and just ask them, what restaurant would you go to if you would go for a nice meal or if you would go for something traditional? We love to talk with tourists and with foreigners, with visitors.
FIRST: Let's talk about how a first-timer should approach their visit to Slovenia.
1) How much time should you allot?
Tina: I would say probably four or five days, is a good taste.
Highlights: the capital Ljubljana and then Lake Bled. But there's so much more if you just go a little bit off the beaten path, even in the town itself.
2) What are the can't miss stops?
In Lake Bled there is a beekeeping family that has a hive where they actually also do the apitherapy. You can try all the varieties of honey. You can try their liquors made out of honey as well. Also, vinegar made out of honey, and you can learn all about this great activity
3) How can you create a trip that goes beyond the guidebooks? Ie: Where do you recommend stopping on a shorter trip?
Juliana: Talk to locals! The locals I met on my very first trip gave me suggestions of their favorite spots or places they take their guests when they visit Slovenia
In Ljubljana
– Urban beekeeper on the rooftop with a wonderful view (bring your own wine)
– Visit Tivoli Park
– Check out the Autonomous Metelkova art park with graffiti art
In Lake Bled
-Visit Daniela and her husband Blas and their apiary. Kralov Med
SECOND: Let's level up – what should you do if you have more time or are coming back for a second visit to Slovenia?
1) Which regions do you layer on?
Tina: Mediterranean Slovenia, which is the coastal cities, especially the town of Piran, there's one of the oldest salt-making areas in the salt pans of Piran. 
And it's really unbelievable to watch where salt has been made from the 13th century on. You can even go to the outdoor Lepa Vida Thalasso at the Piran Salt Pans, if the weather cooperates.
Where to visit Slovenia off the beaten path:
Wine Country of Goriska Brda
Medieval Town of Šmartno – sit on the terraces overlooking vineyards with a view all the way out to the Adriatic. Stroll in the village itself and visit the little shops and artisans
Vipava Valley – a lot of rolling Hills with beautiful agritourism and glamping places, or look for small family-run hotels with amazing food and delicious wine from whites to reds, to amber.
Velika Planina
Ptuj – Roman ruins and crafts
Styria – Land of Pumpkin oils. Stop and taste Pumpkin oils and goods at Kocbek Mill
2) The essence of Slovenia: What are three major personality traits of Slovenian culture and where can you visit to incorporate that into your trip? 
Juliana: Let's talk about the essence of Slovenia and how you can incorporate that into your travel. As an experiential travel expert, this means not seeing things or observing them from a distance, but being part of it. It means connecting with the culture itself: the traditions, the people, the cuisine, history, and landscape. That's what makes a trip so unforgettable and special.
Tina: When you visit Slovenia, be sure you bring good hiking boots. That's the only time when Slovenes are unfriendly to you, if you don't have the proper shoes on. Especially when you go hiking in the mountains and on the mountain paths, it's very important for us.
Big nature lovers – come and go hiking, rafting, skiing, biking, 
2. Sportsman – visit Planica Nordic Centre and see the ski jumps and the observation deck in the mountains
3. Foodies – Foods to try will also depend if you are in an Alpine area, by the Italian or Croatian seaside borders, or in the east in Styria.
Try:
žlikrofi: ravioli of squeezed potatoes and a little bit of onions and a little bit of spices.
frika: that comes from the Alpine part of the country. And it's actually a potato pancake, with bits of bacon and cheese from the area is just wonderful.
Then of course air-dried Proscuitto: thinly slice, it just melts in your mouth.
You have all the delicious desserts from the cream cake in Lake Bled to Gibinica in the Eastern Slovenian region to pumpkin gelato because we are in love with pumpkin oil. 
Klobasarna: a sausage (there is a stand by this name in the center of Ljubljana at Ciril-Metodov trg 15) The astronaut Sunita Williams, who also has Slovenian roots, brought it to space. So it is the only sausage that has traveled into space.
3) The food scene – getting reservations or finding great restaurants that aren't tourist traps
Tina: Check out a local grocery store –  Michelin star chefs actually started creating their own brands of food that you can buy at a grocery store or supermarket. 
Open Kitchen – all throughout Slovenia beginning around the 15th of March, open air kitchens start which is actually a superb event. It started off in Ljubljana. It goes usually between 10:00 AM to 10:00 PM every Friday. And that's where a lot of the city restaurants bring food that they prepare at their restaurants for a fraction of a price. 
Lunch and mid-week Deals: If you would like to taste some of the Michelin star places, you know, sometimes they have some good deals during the week where they offer the menu that usually costs around 70, 80 euros for a fraction of that for about 30. Or sometimes they offer "lunches for locals," which, you know, we say locals just in brackets. 
A few of Juliana's favorite restaurant recommendations in/near Ljubljana:
THIRD: Slovenia expert level unlocked! If you're staying several weeks or coming back for more
1) Let's get deeper into a cultural visit: What suggestions do you have for visitors that want to plan hikes? 
Tina: Hike the Juliana Trail: it's about 270 kilometers long in 16 stages. And it circles on the lower edges of the Julian Alps. And it is done in a way that on an ordinary day, you walk about six maximum seven hours. You hike from hut to hut – start in a place that has accommodations and then finish in a place that has accommodations as well.
Biking: There are numerous biking trails. If you're spending longer time in Slovenia a lot of great apps for biking in Slovenia
2) What festivals or cultural celebrations could they plan to take part in?
Everywhere in February: Carnival celebrations to kick winter away. Go to Ptuj in the northeast to see the UNESCO Heritage Kurenti beasts.
Ljubljana:  Classical musical concerts on different venues, including on the squares in the city. 
Radovljica: Phenomenal jazz festival every July. 
Bohinj: September Traditional festival happens every year is the time when the cows are coming down from the pastures in order to prepare for the winter. They throw a big party for the shepherds and for the cows. And that is where they would also choose the best cow.
3) What are your favorite lodging recommendations for anyone who simply wants to unwind and spend downtime in Slovenia? 
1) Try some of the thermal spas in the central and eastern regions. You can check out some recommendations here.
2) Like Chocolate? Try the Chocolate Village by the River, a glamping resort
3) Retreat into the woods near Lake Bled at Garden Village
Juliana: I want to encourage you to do these things maybe in a little different way than just the highlights. Go beyond bucket lists your trip will be richer.
Tina and I have created a Slovenian cultural immersion deep dive tour and you can travel with us!
If you are interested in coming along with us, July 3rd – 9th, it's seven days and we take you to some pretty amazing off the beaten path places that we haven't mentioned here.
Experiences that Tina and I have found and created together. Some of them include Tina's friends. So you will definitely not do this if you go on your own. They've graciously opened up their homes, their businesses, their shops, and we get to spend time with them.
If you've already got a trip planned, but you want a local guide, then you can also hire Tina directly. She has her own company: Private Guide Slovenia. Email her at info@pg-slovenia.com
Review: How to Visit Slovenia Like a Local
Today we talked about How to Visit Slovenia like a local and What must you see and do that most visitors don't know about?
1) How a first-timer should approach their visit
How much time to allot

Can't miss stops

Going beyond the guidebook and finding special experiences
2) If you're returning for a second visit to Slovenia or have more time
What other regions you should visit

What the essence of Slovenian culture is, and how to incorporate those activities into your trip

Transportation recommendations: public vs private car

How to have an authentic food experience
3) What to do if you are now a Slovenian travel addict or have weeks to visit
How to plan a hike and other outdoor sports

What festivals and cultural events to seek out

Favorite lodging for unwinding
I'll be back next Thursday, March 3rd at 12noon PT to talk about the 5 best travel apps and platforms to help you plan an insider tour wherever you're going!
Ready to travel somewhere so fun you'll never ever need to bail on your travel plans?
Book your 2022 adventure with me OR book a call with me and I'll answer any and all of your travel questions! 
Get all the details below…
Next year I have FOUR amazing trips – all insider, authentic experiences. You can go to Poland, Slovenia or the country of Georgia with me. You can find all the details below.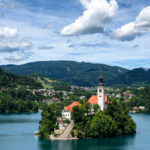 Slovenia (gourmet foodie + stunning nature)
7-Day Alps to Adriatic July 3 – 9th, 2022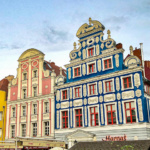 Poland (history + sea-faring Baltic coast)
11-Day Windswept Coast to Cobblestones
August 29th – September 8th, 2022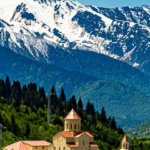 Georgia (800-year-old wine history + monasteries, mountains and CHEESY BREAD)