How to Pick a Travel Buddy AND Have a Successful Trip [FB Live SHOW NOTES]
5 Things to look for in a Travel Buddy, 3 red flags, and the 4 Rules of Traveling with Others
Today I'm sharing with you how to pick a travel buddy – what you need to look for, and what are the signs that it might not work out. Let's gooooo!
Sometimes you don't feel like solo traveling, but you're not sure who to take with you. You're in luck! I know who to take with you and I'm going to tell you today with the help of Kenny Rogers and my best travel buddy, my BFF Rachel Leah Cohen. You'll remember her if you watched our travel show From A to C with Nowhere to B.
Who am I? I'm Juliana Dever, an experiential travel expert. I've been traveling the world for 25 years, connecting with people everywhere I go and learning about their cultures. I've been returning to Slovenia for months at a time every year for almost 5 years now.
In 2022 you can travel WITH me to Poland, Georgia and Slovenia. There are SO MANY fun people already going with me this summer and we want YOU to join us! The only thing you have to do is show up, the planning's already been done for you.
Now it's time to add the sparkle to this show by introducing you to my most special guest! Boisterous and irrepressible, Rachel makes a situation funnier just by being there. With a disarming ebullience of spirit, she attracts strangers into her orbit all the while giving straight talk without self-censoring.
Rachel has been on more game shows than dates; a single woman comfortable in her own skin while constantly looking for her soulmate. Who knows? She may find the love of her life dancing the tango in Argentina.
Traveling with someone else can bring huge benefits:
Safety

Fun
Someone to share both the great moments and the planning
But, no matter how good of friends you are, it doesn't make you a great pair out on the road. 
Let's discuss how to pick a travel buddy, what the red flags are, and the 4 Rules of Traveling with Others to ensure your trip is ah-mazing (and so no one gets "accidentally" left behind at a, I don't know…train station?)
First: How to Pick a Travel Buddy – 5 Things to Look for in a Travel Partner
Similar Budgets
Similar Travel Styles: (relaxed vs active) and Travel Wants (destinations and how to explore them. Ex: scheduled vs spontaneous)
Flexibility: Is open to suggestions, is good with going with the flow, is present when you need them to be (not glued to their phone), not a fussy eater
Adaptable: Is okay with bailing – see the episode "How to Know When to Bail on Your Travel Plans" Ex: Albuquerque – watch the replay for the full story!
Attitude: do they make the best of things, see the bright side, they don't shut down or make you feel bad when you are enjoying something they don't like.
3 Red Flags
Selfish: If you're not sure, try a short trip first
Drama Queen: habitually responds in a melodramatic way, defensive. Drama Queens can be fun at brunch, but on a longer trip or traveling together abroad…it's exhausting
Lack of Awareness: inability to read the room or look for others
Third: Rules of Traveling with Others
[watch the replay for the full explanation of the below rules]
1. You gotta know when to fold 'em: How to compromise and blend itineraries and budgets
2. Know when to walk away (when you have different interests)
-Do separate things including staying in vs going sightseeing
3. Know when to run
-Take turns running the trip, share the burden
-My big pet peeve: "whatever you want" – Have an opinion and don't transfer the burden of every decision to one person, it's fatiguing!
4. You never count your money
When you're sittin' at the table
There'll be time enough for countin'
When the dealin's done
-How to handle splitting the bill. Use the Splitwise App and take turns paying – makes it easier!
Today we talked about How to Pick a Travel Buddy and the 4 Rules of Traveling with others
1) When to Hold 'em
5 things to look for in a travel buddy

3 red flags
2) When to Fold 'em: How to compromise and blend itineraries and budgets
3) When to walk away: Do separate things including staying in vs going sightseeing
4) When to run: Take turns running the trip – don't let the burden of decisions and on-the-spot research continually fall on one person.
5) Never count your money when you're sitting at the table: Use Splitwise!
Ever dream of living in another country? Join me (and Hubs) in the next video: Looking for a Home Abroad? Watch this First.
Ready to travel but don't have any travel buddies? Don't worry – the best people go on my tours. You'll make new friends immediately!
Book your 2022 adventure with me OR book a call with me and I'll answer any and all of your travel questions! 
Get all the details below…
Next year I have FOUR amazing trips – all insider, authentic experiences. You can go to Poland, Slovenia or the country of Georgia with me. You can find all the details below.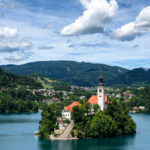 Slovenia (gourmet foodie + stunning nature)
7-Day Alps to Adriatic July 3 – 9th, 2022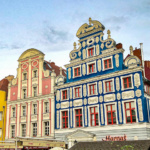 Poland (history + sea-faring Baltic coast)
11-Day Windswept Coast to Cobblestones
August 29th – September 8th, 2022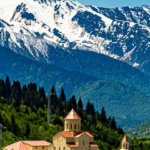 Georgia (800-year-old wine history + monasteries, mountains and CHEESY BREAD)