How You Can Travel Abroad During Covid – 2022 [FB Live SHOW NOTES]
As someone who loves travel and cultural experiences, you know how life-changing travel is. But is it a good idea to plan an international trip right now? Should you travel abroad during covid?
I'm going to share how I traveled through 5 European countries and ran 2 cultural immersion tours abroad in the time of covid (in 2021) without a single person getting sick, stuck or quarantined.
Who am I? I'm Juliana Dever, an experiential travel expert. I've been traveling the world for over 20 years.
I create off-the-beaten-path adventures for awesome, fun people who enjoy connecting with other cultures, supporting women-owned businesses, and traveling somewhere a little less obvious.
In 2022 you can travel WITH me to Poland, Georgia, or Slovenia. There are SO MANY fun people already going with me this summer and we want YOU to join us! The only thing you have to do is show up, the planning's already been done for you.
With the constantly changing rules and requirements, border closures, and unknown nature of covid, I know you may feel hesitant to travel abroad this year.
Or maybe you're concerned about the restrictions or the ever-changing paperwork that has surrounded international travel for the last few years.
I totally understand you. All of your concerns are 100% valid. So let's talk about it.
–> I also want to say that if you've lost a loved one due to covid, I'm so sorry. I lost a family member, and almost everyone I know has experienced it in some form.
I'm not here to make light of covid or dismiss it but to discuss how to move forward. We need to put our mental health back together. We also need, as humans, to be together in person. Lastly, it's so important to bring income back to those who have businesses affected by travel who are in dire need of support to keep their families fed, clothed, and warm.
How You Can Travel Abroad During 2022, in the Time of Covid.
To me, there are THREE main hesitancy issues:
Health and Safety of self and others you may come into contact with
Money loss
All of the regulations
Health and safety of self and others you may come into contact with
Covid has been a beast with unpredictable outcomes for everyone
2020
Before the vaccines and boosters were available, I would NOT recommend thinking about traveling abroad.
I personally canceled all of my tours in 2020 for obvious reasons. But also, even if the borders were open, the culturally immersive nature of my trips included going into local's homes, which could put the hosts at risk.
Don't forget that vaccine inequity is real, and in 2021 I once again canceled my Georgia tour because only about 5% of the population was vaccinated at that point.
BUT in 2021 and beyond, we need to look at BALANCE when considering travel abroad during covid.
The tourism industry and everyone that relied on it was devastated: Everyone from airlines, and hotels to restaurants, to activities, sights, and everything ancillary to that was affected. It was reported that globally about 100 million people LOST their jobs and livelihoods due to the loss of tourism.
2021
I made the decision to carry through with my tours. We spend our time in one country only, which eliminated border-crossing issues for my guests.
Because we frequent small, women and family-owned businesses we were able to drive tourism dollars back to the local economy. And because we follow all safety protocols and vaccination requirements we were able to spend lots of time at local's homes without a single person getting sick, stuck or quarantined.
Another benefit? We had far more local experiences and dealt with fewer crowds.
2022
Where do we go from here? Should we travel abroad during covid in 2022?
According to epidemiologists, Covid is here to stay, but it is heading towards endemicity, meaning it will always be with us, like the flu. How you may react, whether you have other underlying issues or sensitivities that may put you at more risk, is something you must take into consideration.
Of course, we don't know about future variants, but historically we know cases go down in the summer. At this point, we're just as likely – or more likely – to catch covid in our hometown.
So…do we plan trips abroad during covid?
I say a calculated yes.
We need travel and travel needs us.
If you are in good health and comfortable with getting back out into the world, there are ways to mitigate your exposure. Choose your destinations with safety factors in mind. Are the hotels and transportation you're choosing following strict guidelines to keep people safe?
If you're booking a tour – are the groups small? Are the covid guidelines published? Have they made arrangements to spend more time outdoors?
For yourself: Follow health protocols: Vaccination, booster shots, mask-wearing, social distance, hygiene. You know the drill by now.
Mitigating Money Loss When You Travel Abroad During Covid
Another big hesitancy to booking travel abroad during covid is the potential loss of funds. You do have to be flexible, but you can book with confidence if you follow some guidelines.
Hotel Bookings: Pick the fully refundable rates. Your best bet is to book direct, but I've also had a lot of luck with being able to cancel on booking [.] com as long as it was BEFORE the required cancellation date.
If you're booking a tour: Carefully read the refund policy – can you move to another tour without change fees if you need to switch?
When booking your flights: Book with reputable airlines that have clear refund or no change fee policies. I have personally had good experiences with United and Lufthansa in the last two years.
Do NOT book through third parties for flights, you won't get your money back.
Final Challenge to planning travel abroad during covid: All of the changing regulations
How do you even find out about them? Will you know about changing regulations ahead of time? You can't. Not always.
Case in point: In June 2021 I was in Portugal. On July 1, I needed to get to Ljubljana, Slovenia. On June 28 I got an email from Lufthansa that my flight was canceled with no option to rebook (they refunded me).
I still needed to get to Ljubljana. After talking to friends in Portugal, Germany, Slovenia, and Croatia, I made the decision to get a flight non-stop from Lisbon to Zagreb, stay one night to fulfill their tourism requirement for US citizens, then I hired a car and driver to take me over the land border and into Ljubljana.
The name of the game is FLEXIBILITY…maybe nerves of steel.
Where to Start
With your country's Embassy website.
Google "Entry rules for X (the country you are going to) for X (your home country) citizens"
For US Citizens: Example – https://pt.usembassy.gov/covid-19-information/
2. With the country of entry's websites (default to this if there is a conflict of information between your home country and your entry country).
Google "Entry rules for X (the country you are going to)"
This can include their official tourism board website, the official police website, their Ministry of Foreign Affairs website, or their customs and immigration government website. Each country has their own rules, and it may change based on your country of origin, so make sure to look for your own country of citizenship.
Though it will continue to evolve, many countries still require the following information from visitors that travel abroad during covid:
-a negative test (antigen is becoming more widely acceptable)
-Proof of vaccination + booster
-Passenger entry or location form
NOTE→ The airline often handles most of this prior to boarding, but some will check in customs and immigration when you enter the country.
*IGNORE THIS TIP AT YOUR PERIL: DO NOT mess around on a layover – go straight to your gate. You may enjoy relaxing at the lounge, stopping for a snack or beverage, or shopping at the stores in the airport, but just don't. Not if you have an average-timed layover.
All of your paperwork will be re-checked before you board your next flight and some of those lines are an hour PLUS. Head straight to your gate or terminal and find the line. Get your paperwork signed off on before you head out to peruse the airport snack options.
Additional things to look out for when reading up on travel requirements:
1. Tourism requirements, ie: do you need to have proof of a hotel reservation before entering?
2. Additional tests or quarantines after arrival
Returning Home
for US Americans:
Google "Entry rules for returning to X (your home country)"
For US: Check the US Department of State website and/or the CDC International Travel Requirements and Travel Recommendations web page.
For the last year, US Citizens have been allowed to present a negative rapid antigen test. I used the BinaxNOW Rapid Antigen Test all throughout 2021 with no issues. When you buy them, make sure you get the ones specifically marked for travel abroad. This will include a telehealth call.
I prefer having the tests with me so I don't have to look for a testing site, but if your home country requires a PCR test or if you don't bring the testing kit, lots of places have affordable, fast and easy testing sites. Just ask your hotel or tour guide for recommendations if you don't see a clinic on your walking journeys.
One last thing to consider, if you should catch covid, how do you deal with it? What about quarantining abroad or back home? This is a whole other topic that I will try to tackle in the coming months. But for now, I'll say that if you are planning on traveling, this may come up for you. You can research the country protocols ahead of time, or follow the advice of local doctors once it comes up.
Review: How to Travel Abroad in 2022, During the time of Covid
Today we talked about why (if you meet country requirements and you're comfortable with it) 2022 is a good year to travel and why we need it.
We need it for:
Our mental health (the happiness report states we are 86% happier when we have travel to look forward to)
Our deep-seated need as humans for connection with each other and our need for new experiences
To help support locals and families in the travel industry – so many cannot survive another year without customers
We also talked about the three biggest challenges to travel and how to navigate them:
Health and safety of oneself and others
Minimizing loss of money
Dealing with the ever-changing rules and regulations and getting the requirements right (adventurer level unlocked!)
REMEMBER: Be kind to yourself, you're doing amazing during a particularly hard time in history. You matter, your dreams matter and the world needs you!
If you are itching to get back out there, and travel with confidence that you have a team looking out for your health and safety, you can always come with me!
There are so many amazing people that are already signed up! You'll have an instant new travel bubble of BFFs that are all ready to travel safely.
We've done all of the planning – all you have to do is show up and have fun. There is limited space available on my trips this summer. Click here to check them out.
So now the only question is where are you going with me in 2022?
What's your next step?
Book your 2022 adventure with me OR book a call with me and I'll answer any and all of your travel questions! 
If you're ready to book that trip now…
Next year I have FOUR amazing trips – all insider, authentic experiences. You can go to Poland, Slovenia or the country of Georgia with me. You can find all the details below.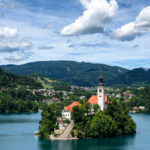 Slovenia (gourmet foodie + stunning nature)
7-Day Alps to Adriatic July 3 – 9th, 2022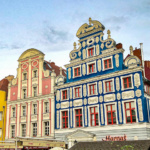 Poland (history + sea-faring Baltic coast)
11-Day Windswept Coast to Cobblestones
August 29th – September 8th, 2022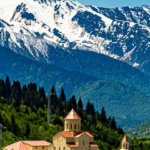 Georgia (800-year-old wine history + monasteries, mountains and CHEESY BREAD)