How to Plan a Trip Part 1: Discovery and Editing your Must List Using These Free Tools [FB Live SHOW NOTES]
As a professional trip planner, I've planned hundreds of trips. If you're looking for ways to figure out how to plan a trip, I've got some simple and fun tips to help you plan your next trip easily.
In this series "How to Plan a Trip" series, I've already shared how to pick a destination you love. If you don't know where you're going yet, watch this episode to help you figure it out before going to the next step. And if you need help figuring out your budget, watch this episode.
If you already know exactly where you're going, let's move to the next step.
How to Plan a Trip: The Discovery and Edit Phases
Once you pick a country, region, or city, how do plot what you're going to experience?
What do you keep on your "must" list (the final list of things that you simply MUST do) and what do you let go of?
That's what we're going to talk about today, including how I use these free tools to help me figure out the trip.
Who am I? I'm Juliana Dever, an experiential travel expert.
I've been traveling the world for 25 years, I've visited over 60 countries, lived in 4, and spend about 4 months abroad every year traveling deeper into my favorite countries so I can bring you all the insider information and help you take off-the-beaten-path adventures!
I also work with women in Eastern Europe to create and curate small group Cultural Immersion Trips to their countries which directly support local female and family-owned businesses. Come with me this summer – we're going to Poland, Georgia and Slovenia.
These tools will be really helpful for you if you like planning your own travel, and especially if you're a visual learner like I am.
Discovery Phase
You don't want to miss out on anything cool or of particular interest when you travel. But how can you find all that a city, region, state, or country has to offer? So how do you figure out what's possible?
Start somewhere that you probably already go every day. You'd be surprised how deep you can dig if you know how to search for things.
Use Instagram as a search engine. How?

Follow the tourism board of the destination you're interested in. They typically do an amazing job of featuring the best of their region. You'll get an insight into what to see and do and even off-the-beaten-path activities.
Search hashtags on any new places or ideas that pop up from your research or that the tourism board uses. You can also follow specific hashtags so that anyone that adds content to the area will pop up in your feed.
This is the time to go down a rabbit hole. Try clicking IG handles that are tagged to see where that leads you. I've found cool hotels, restaurants, and experiences that way.
Geo locators (directly above photos) are another great resource. Click these to see an entire page of content for everyone who has tagged that specific location. Don't forget to bookmark the stuff you love or add things to your list to help you plan!
             2. Reach out to friends that travel or ask friends of friends for local's recommendations
             3. Join specific travel forums on FB ie: Slovenia Travel Forum
             4. Find great travel blogs that give practical information about an area.
CAVEAT Be diligent with your research and go beyond face value.  Once you have your list of places of interest, Google them for reviews. Look at ratings and learn to read reviews with a skeptic's eye (IG v Reality).
Edit Phase
Here's one of my favorite free tools that I use to plan my trip.
You can use this to help you decide what on your list you'll be able to see and do, and what's too out of the way to keep.
PRO-TIP→ USE google my maps
[*For a full tutorial watch video to see how to create your own maps]
Go to Google My Maps (NOT google maps): mymaps.google.com
Add every spot you're interested in visiting. You can even change the icon to reflect what type of stop it is, ie: restaurant, hotel, hiking, shopping, etc.

Zoom out and look at how far apart everything is. These distances will help you determine what's feasible.

What are you okay with editing out? What are your must-visits? Is your must-visit far from everything else? Get creative and look for more stuff near your must-visits using step one.
Today, in this part of my trip planning series we talked about:
How to plan your trip recap
DISCOVERY: 
4 ways you can use Instagram as a search engine
3 additional ways to get ideas on what to see, do and experience on your next trip.
2. EDIT:
How to use the free platform Google My Maps to decide how to spend your time during your trip. It's a great overview tool to help you visually determine what to keep on your itinerary and what to edit.
Did you know? I can do all of this for you! I've started travel planning consulting for a select few clients. If this is something you'd be interested in, email me at hello [at] cleverdeverwherever.com. 
I ALSO curate cultural immersion trips. I've already done ALL of this work for you. All you have to do is show up!
In 2022 you can travel WITH me to Poland, Georgia, or Slovenia. 
Email me for more information.
What's Next?
I'll be back next week to drill down into the next part in my "How to Plan a Trip" series: How to build your day-by-day itinerary. 
Want to start exploring new places and connect with other people and cultures?
Book your 2022 adventure with me OR book a call with me and I'll answer any and all of your travel questions! 
Get all the details below…
Next year I have FOUR amazing trips – all insider, authentic experiences with amazing people. You can go to Poland, Slovenia or the country of Georgia with me. You can find all the details below.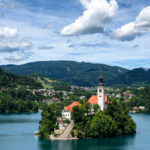 Slovenia (gourmet foodie + stunning nature)
7-Day Alps to Adriatic July 3 – 9th, 2022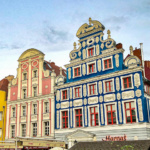 Poland (history + sea-faring Baltic coast)
11-Day Windswept Coast to Cobblestones
August 29th – September 8th, 2022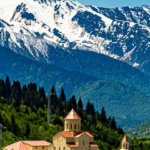 Georgia (800-year-old wine history + monasteries, mountains and CHEESY BREAD)