Salta is in the far northeast of Argentina. An old colonial town, it has a relaxed, safe vibe that feels surprisingly homey. I walked most places and felt as welcomed as a family friend at shops, restaurants and bars. A family friend that somehow only speaks twenty-some-odd words of Spanish.
While the town is friendly and the square charming, the real allure of the area are the day trips from Salta. Between mountains and salt flats, dusty Andean towns and llamas (oh those adorable llamas!), and even a lovely wine country, there's something to fit your mood for every day of the week.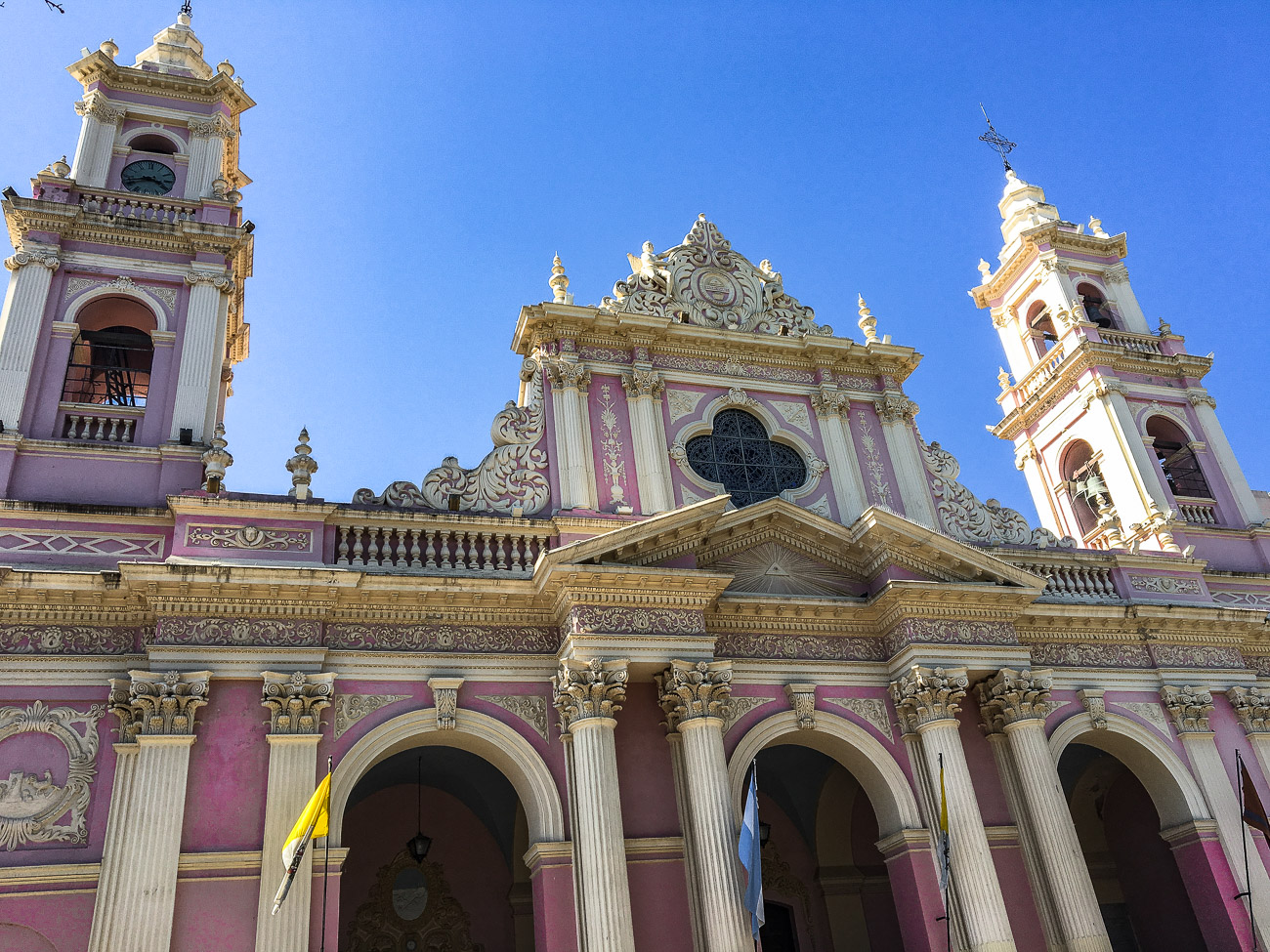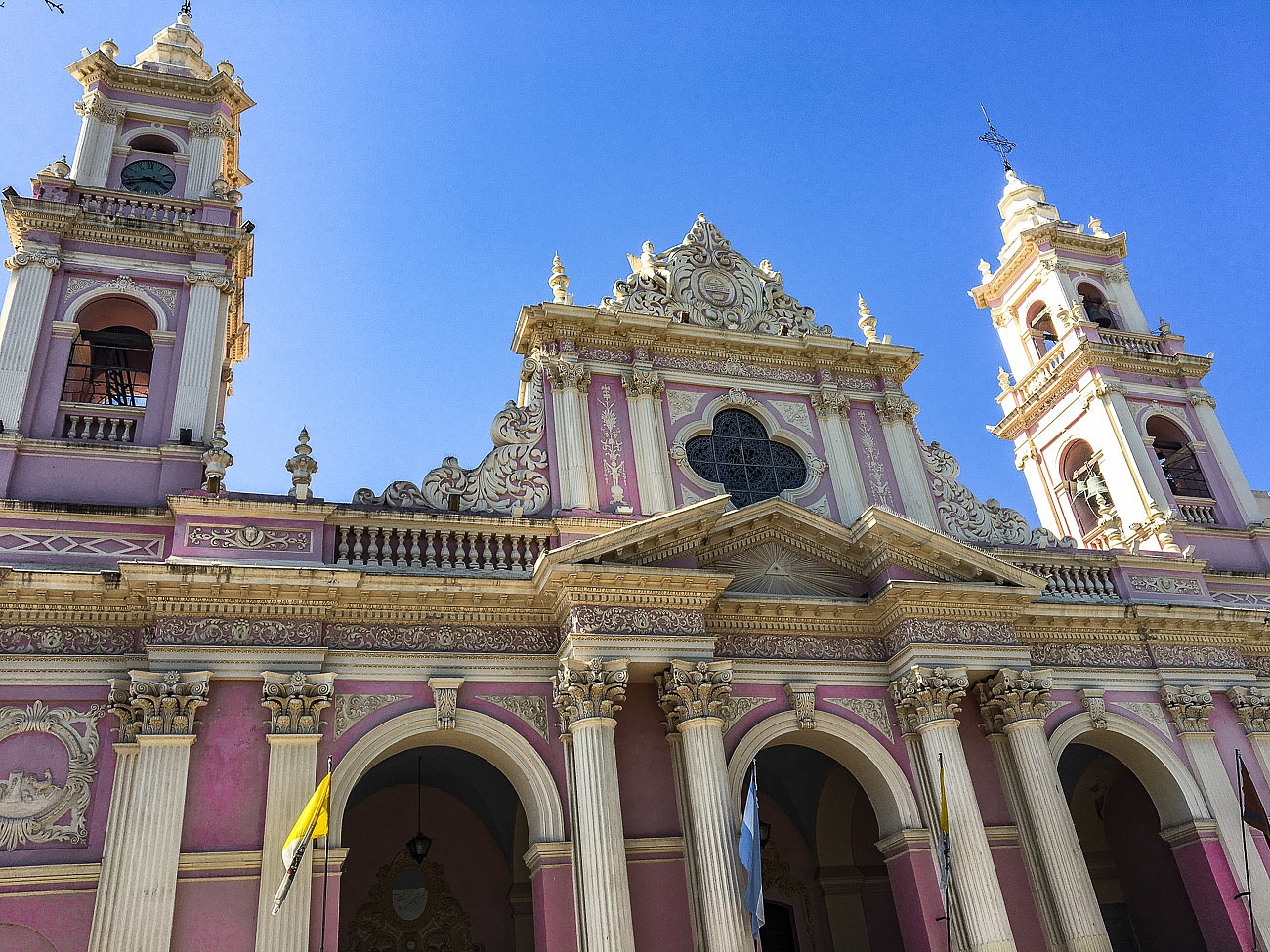 I went on three different day trips from Salta while I was there. So, let's run down some of the ways you can explore the area around the Northern Argentina.
Using Salta as a Home Base
Where to Stay
I was in Salta for two weeks overall. There for the Adventure Travel World Summit, I spent a portion at a conference. But that was bookended by three excursions around Northern Argentina. It also meant that I stayed in three different places in town.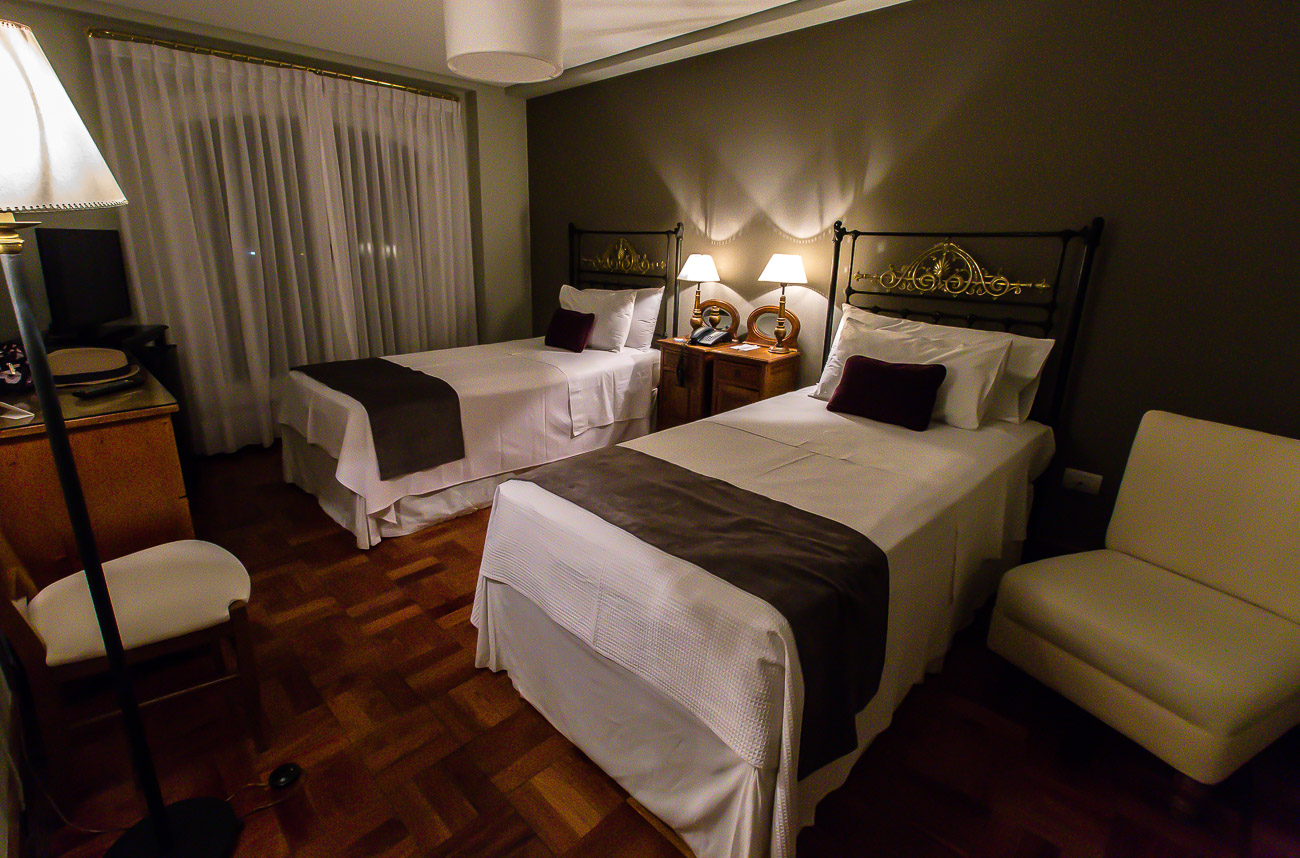 Hotel in the City Centre
As far as location, Solar de la Plaza was the best. It was close to restaurants and the town square. With a faded elegance it was affordable and comfortable with a nice lobby, wine bar and pretty good little restaurant. Biggest negative here would be the Wi-Fi, which was frustratingly spotty at best.
Apartment Rental
For a week's stay with a friend, I split a two-bedroom rental. About 15 minutes from the city center, it was newly remodeled and very clean. The owner was always a Whatsapp away and exceedingly kind and helpful.
Tip: Establish how you will pay ahead of time. US Dollars are preferred, but if you pay in Argentine Pesos, agree beforehand which exchange rate you will use. The peso is volatile and it can get confusing.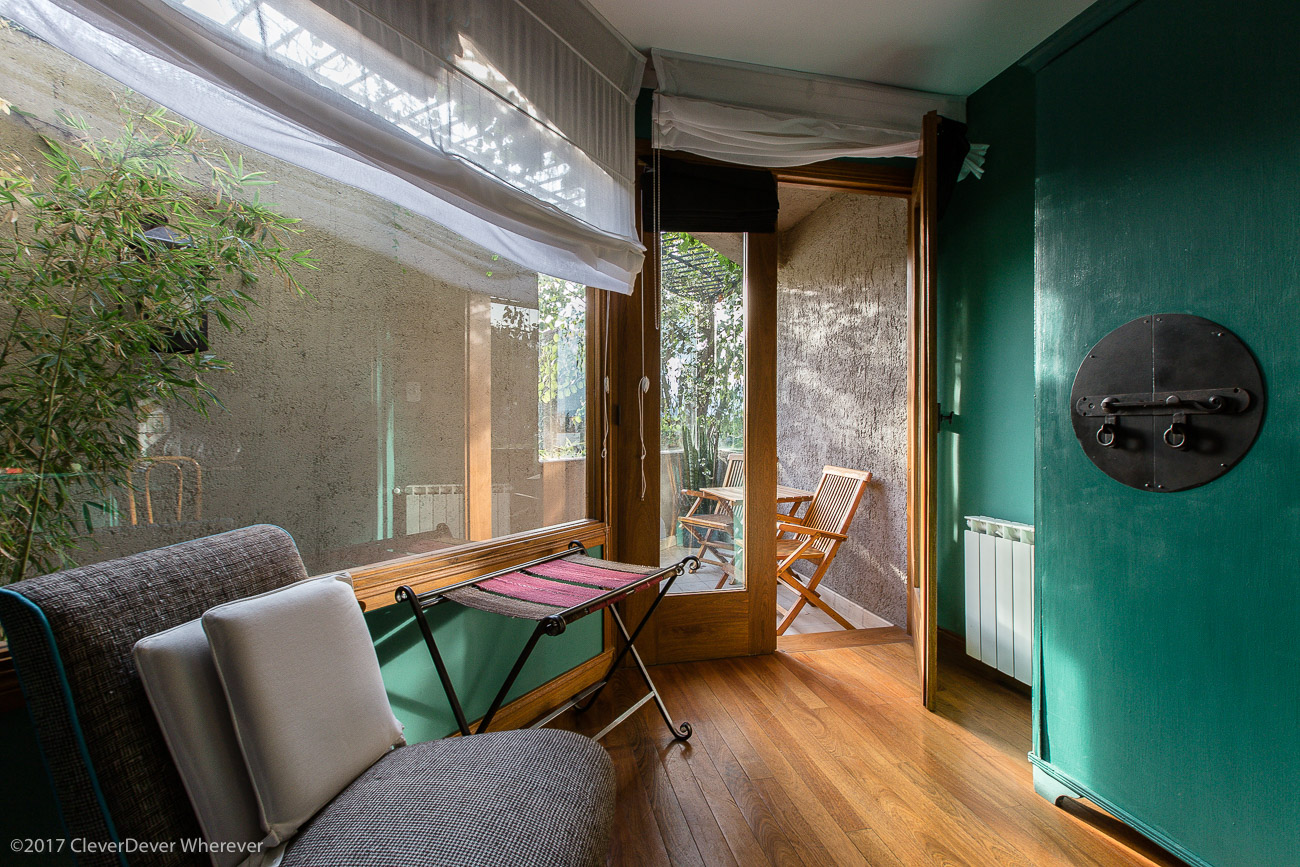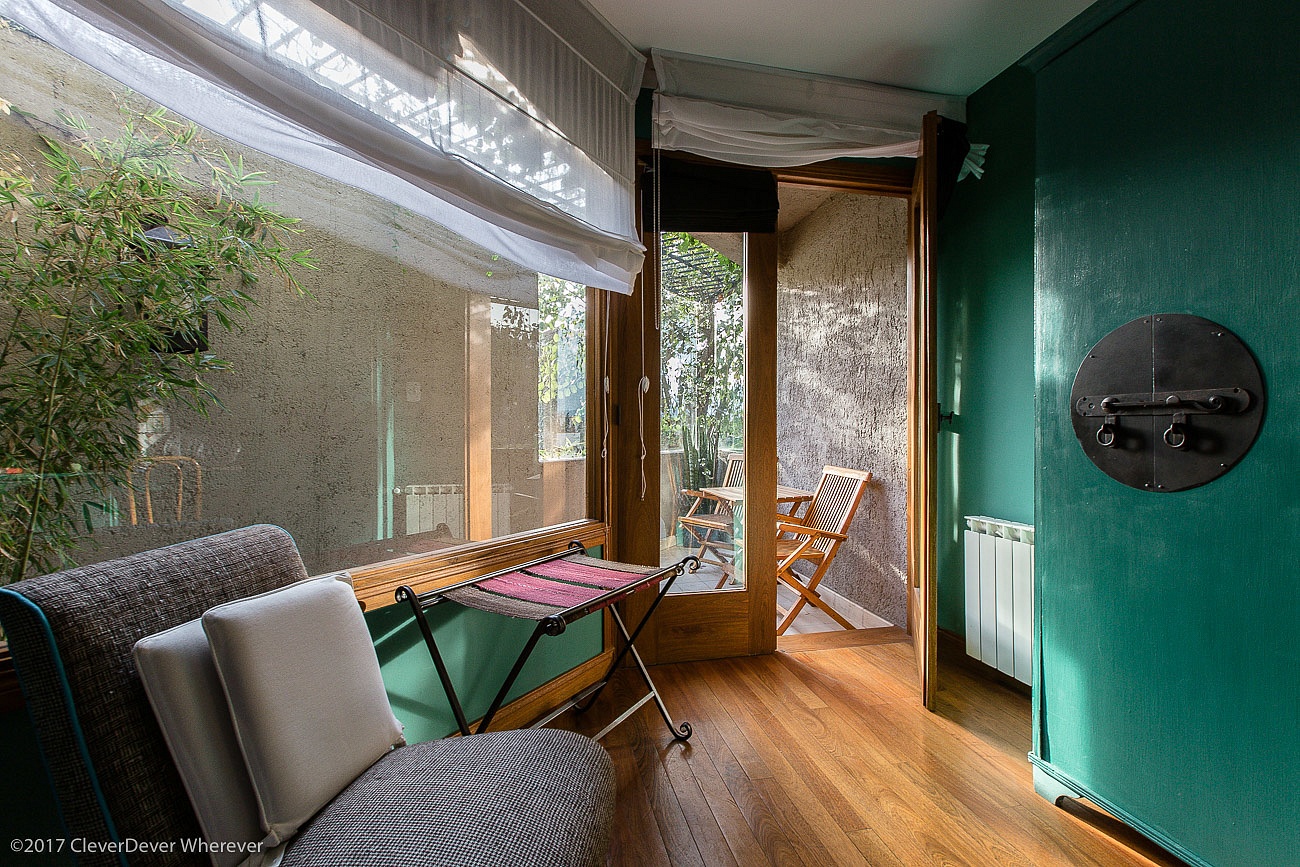 Boutique Hotel
My favorite place by far was the boutique hotel Kkala. In a hillside neighborhood, I did need a taxi to go to most restaurants and sights, but Salta is small and taxis are cheap.
This hotel had simple but fresh room service, excellent breakfast, gorgeous common areas and a lovely style that brought the outdoors and indoors together in harmonious ways.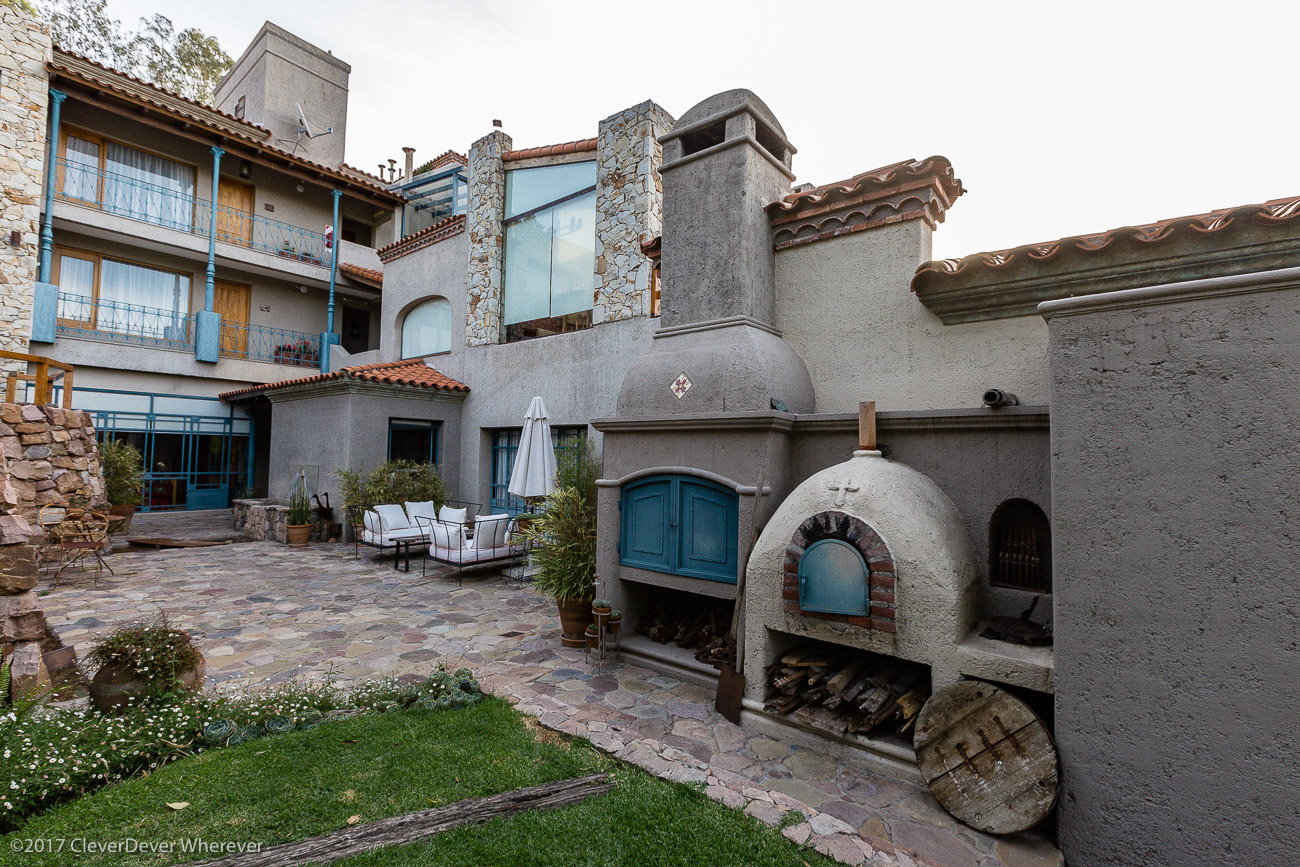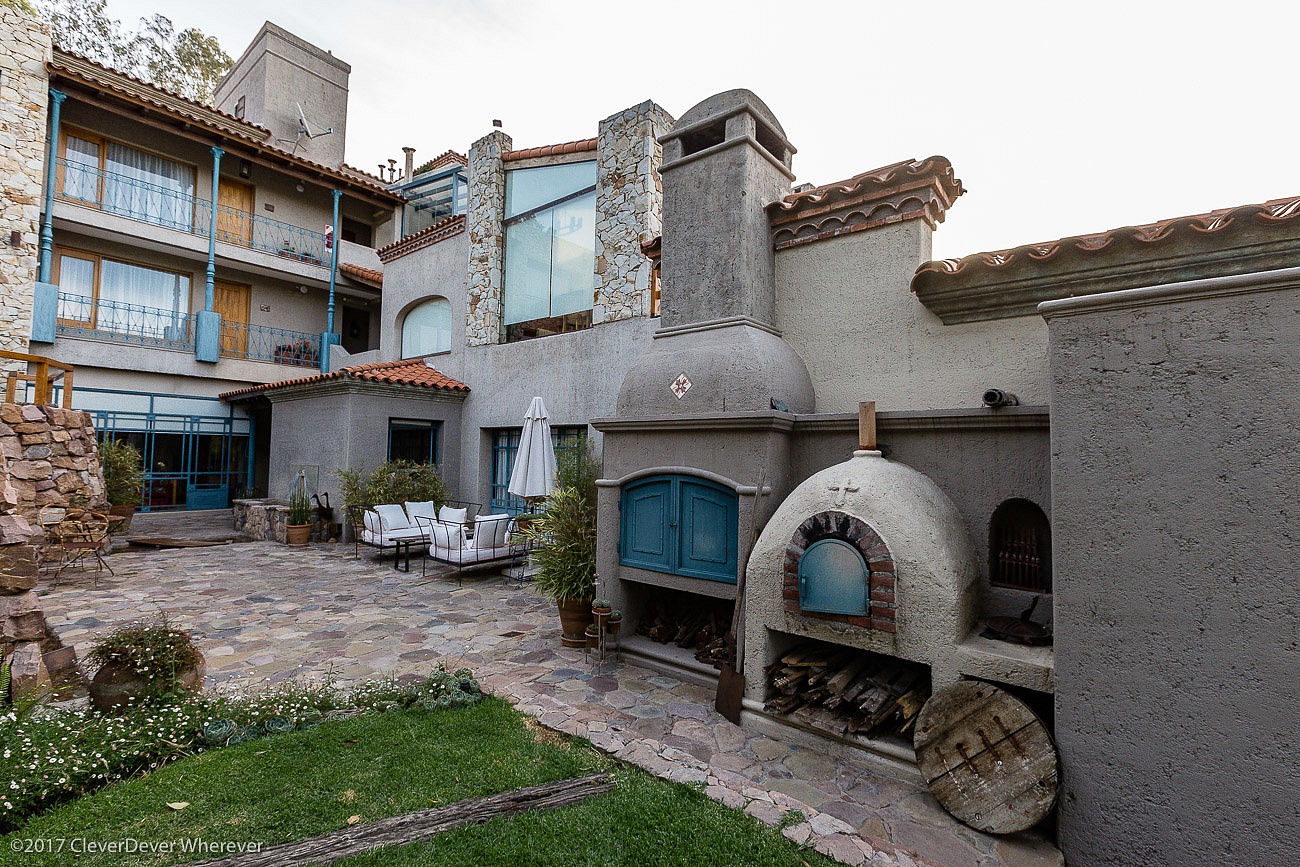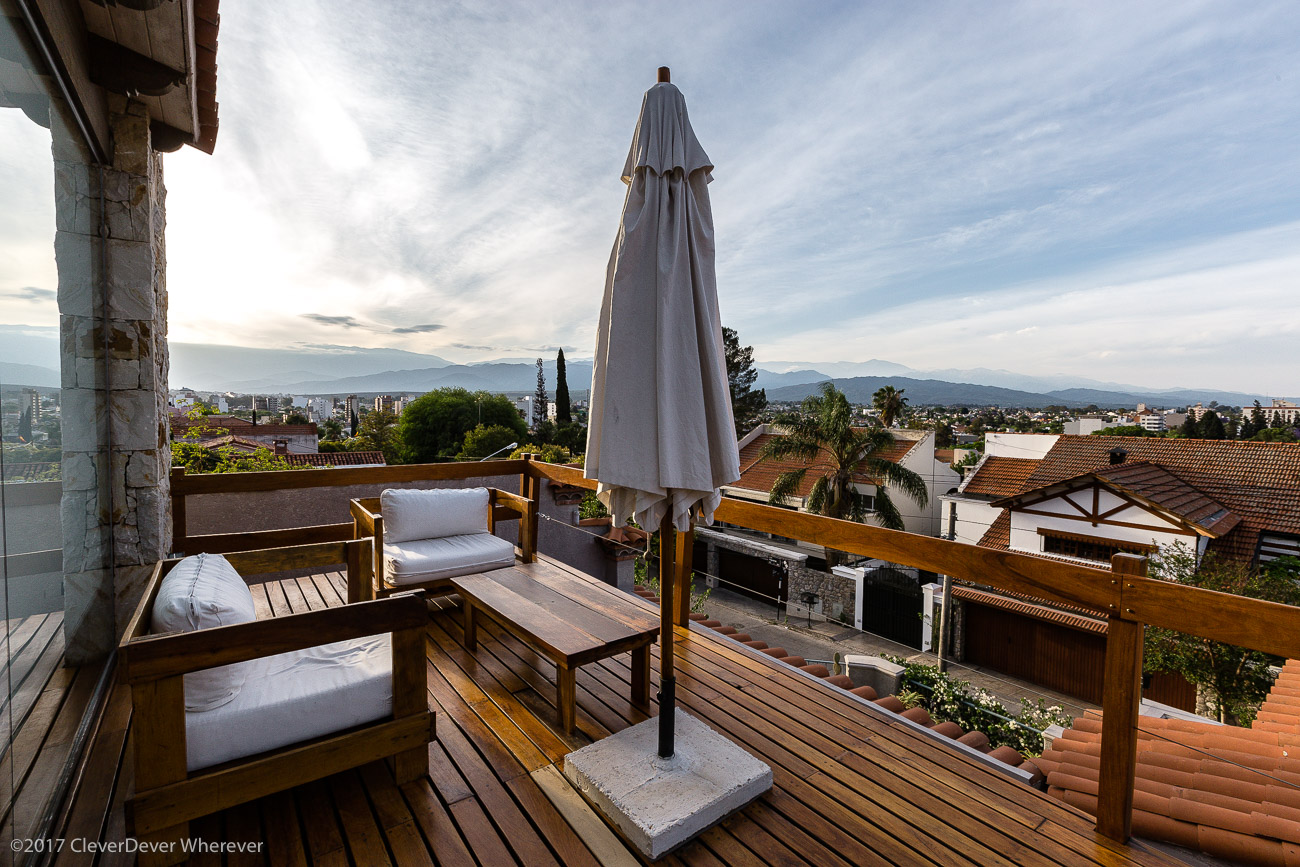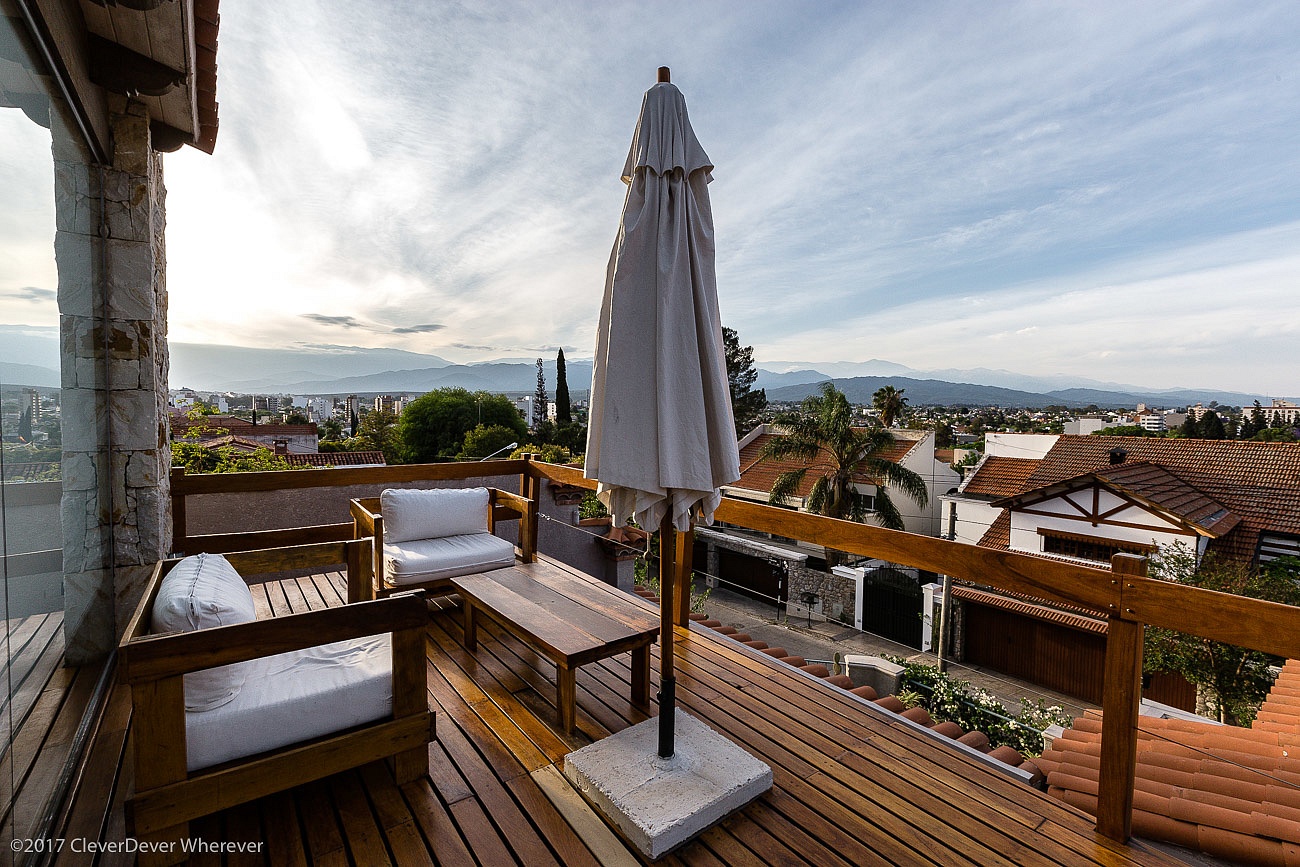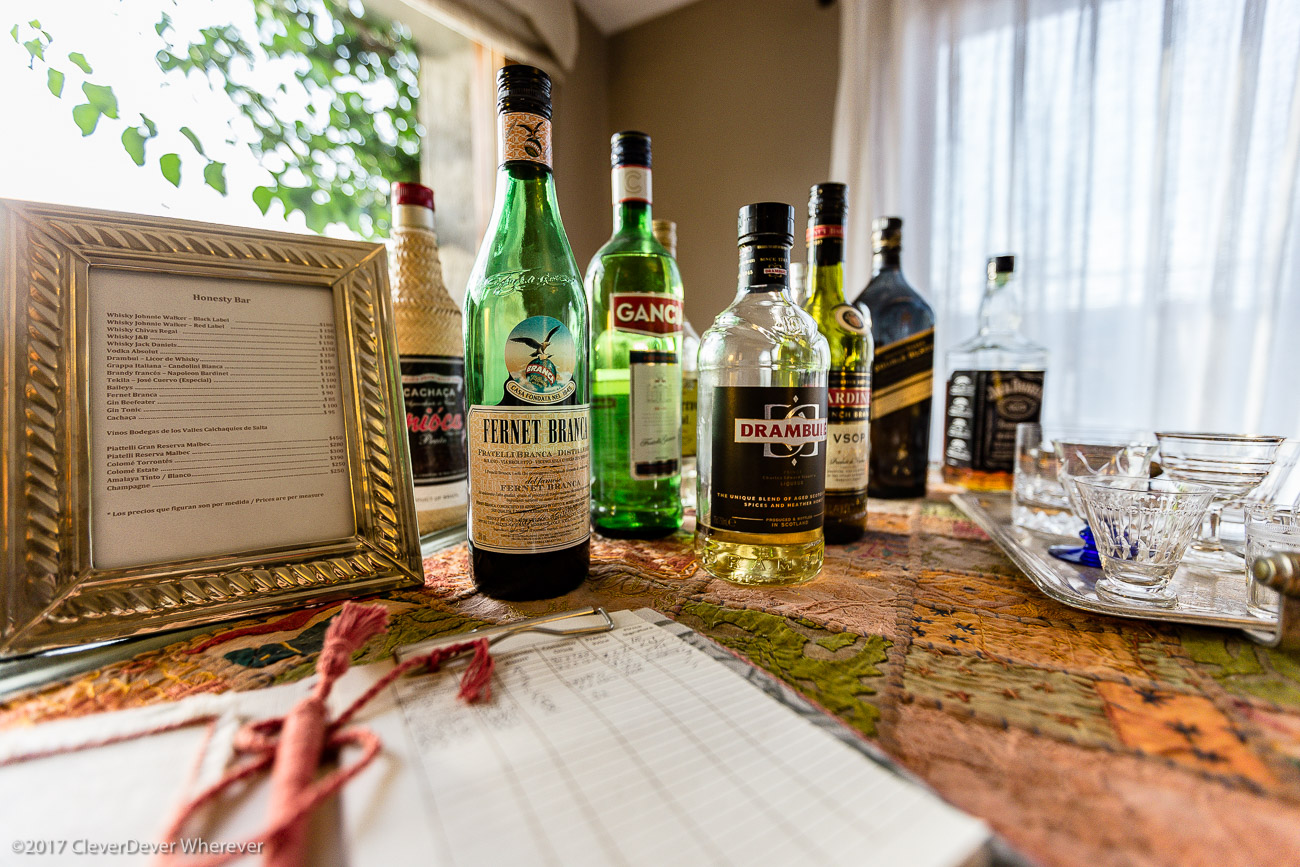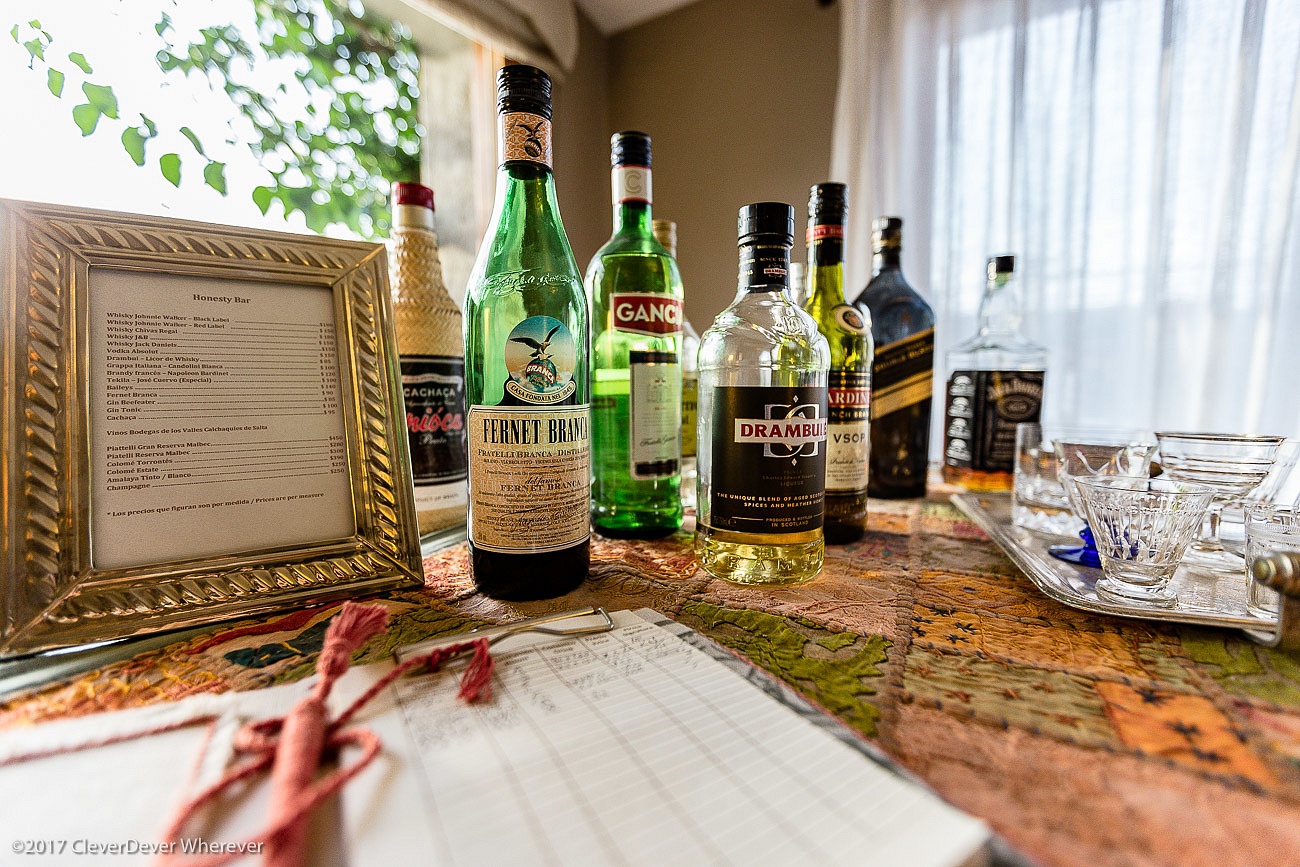 Where to Eat / Drink
Because so much of my time was spent doing day trips around Salta, I didn't get to spend a lot of time eating IN Salta. But I really enjoyed the following places:
Restaurant Adelina
Calle Balcarce 802
With one big open dining room, it feels a little bit like the whole family is gathered for a party. Live music most nights and friendly waiters that speak English. Argentina is a super meaty-meat place, but Adelina had quite a few options for the non-meat eater. Check out their pasta, ample salads, humitas (a local dish which is like a tamale with cheese and red peppers), and an excellent river fish entrée. I went there twice. So…yeah.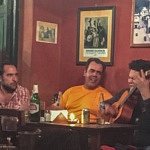 La Casona del Molino
Calle Cnel Luis Burela 1
If you're looking to eat your body weight in 42 different kinds of grilled meats, La Casona del Molino is your place. I'm not saying eat meat, but if you are a carnivore looking to experience the traditional asado, this here's your place.
A converted house, this restaurant is all ambiance. It overflows with Salteños, music and a neighborhood atmosphere that makes you feel like a local. Cheese pizza and grilled vegetables are available, so if you're a veggie hanging with carnies, you're covered.
Bier Cerveceria Artesanal Brew Bar
Alvarado Street 96 | Esquina Lavalle
This craft beer bar has great local beers and a relaxed but lively atmosphere. They also serve food, which I did not get to sample, but it looked good. Great place to hang with friends or make new ones.
What to See / Do
Museum of High Altitude Archaeology
Mitre 77
Okay, full confession. I didn't go here. But I WANTED to. So bad. You see, they have these frozen children on display and I know it sounds gruesome but this stuff fascinates me. Found at an altitude of 22,100ft/6,739m in 1999, these three were given alcohol, coca leaves and put in a cave as a sacrifice 500 years ago. Who does that? The Incans. The museum displays them one at a time, so you never know which one you'll see. Please go there for me and tell me all about it.
Shopping
Start in the main square – the tree-lined Plaza 9 de Julio – and wander down the side streets that spoke out from there. Look for silver, colorful Incan textiles and wraps, cold weather clothing made from alpaca or llama's wool. Other great gifts are the wine from Calchaquí Valley or Dulce de Leche (don't call it caramel).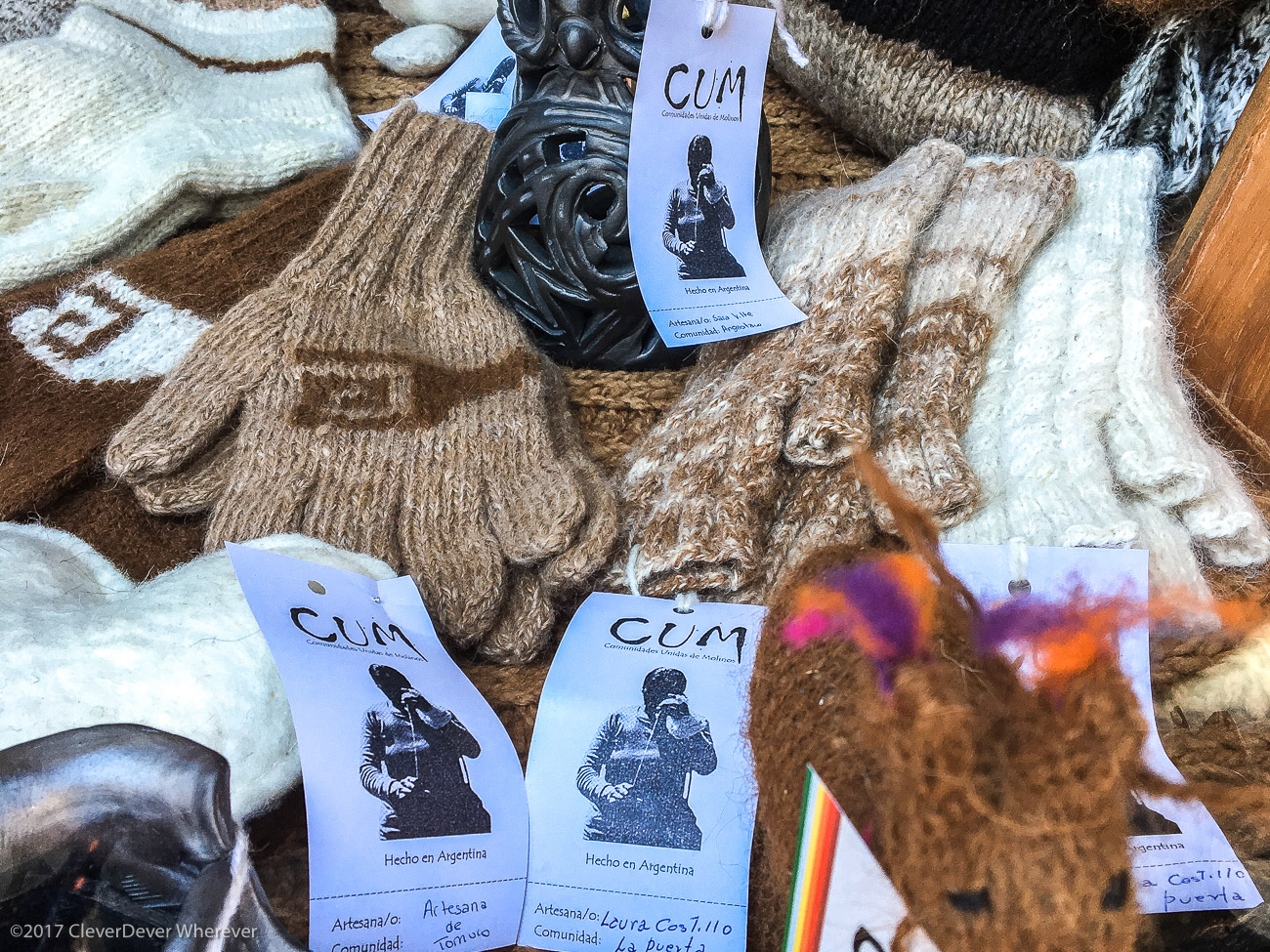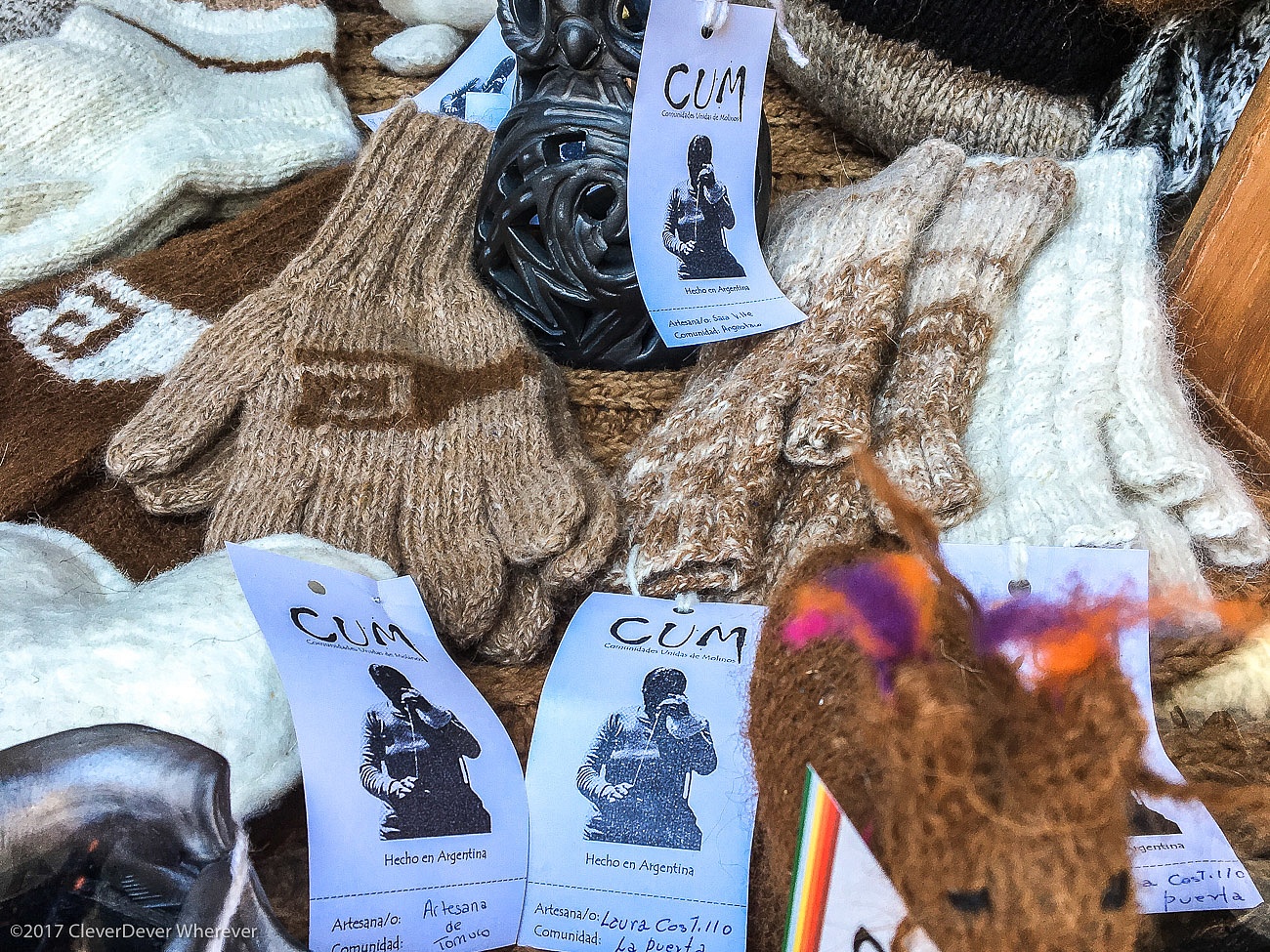 CUM
España 262
I found an adorable artist's collective with a distractingly unfortunate name, CUM, which stands for Comunidades Unidas de Molinos. Bringing 16 communities together, they sell handmade sweaters, blankets, pillows, etc. Just be careful when you Google that.
Day Trips From Salta
Click in the upper right of the map to enlarge, get more info or download and print.
3 Excursions Around Northern Argentina
For my three excursions around Northern Argentina I used two different tour companies. Both are excellent with friendly, English-speaking guides.
Guide: Sebastian del Val
SayHueque Argentina & Chile Journeys
Guide: Martín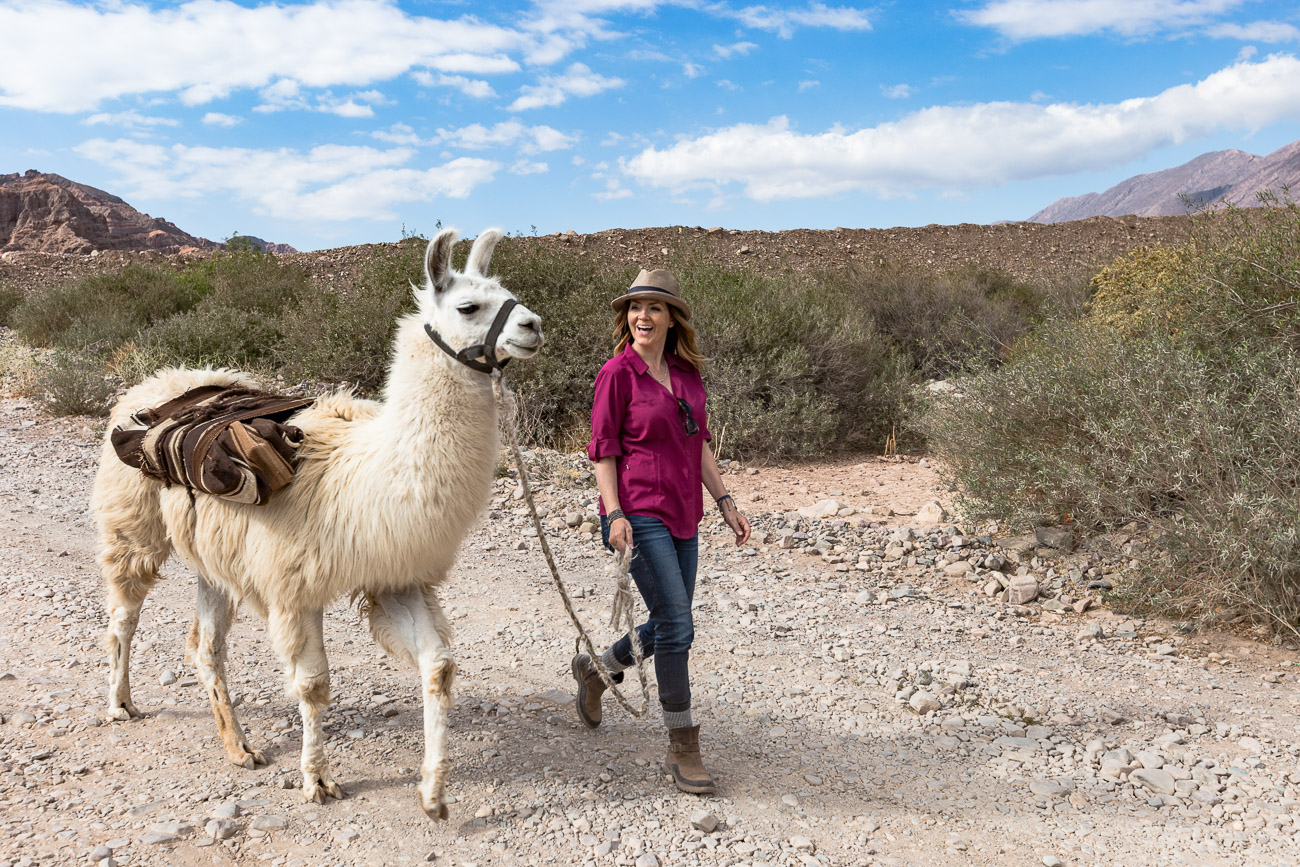 Humahuaca Day Tour (in red on the map)
Itinerary:
Stroll through town of PURMAMARCA
Take in the painted mountains at MAIMARA
Walk llamas in TILCARA
Try to figure out science at the TROPIC OF CAPRICORN
Highlights: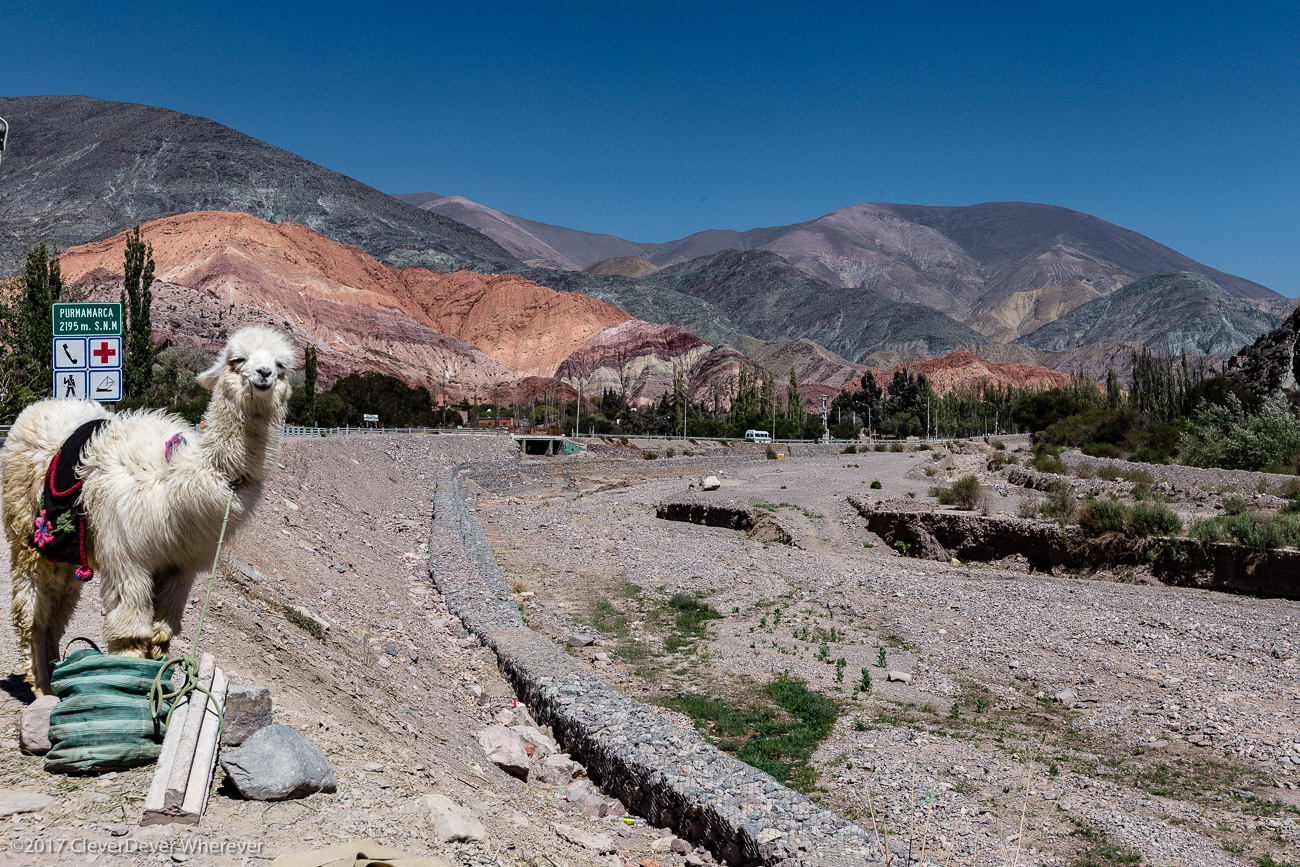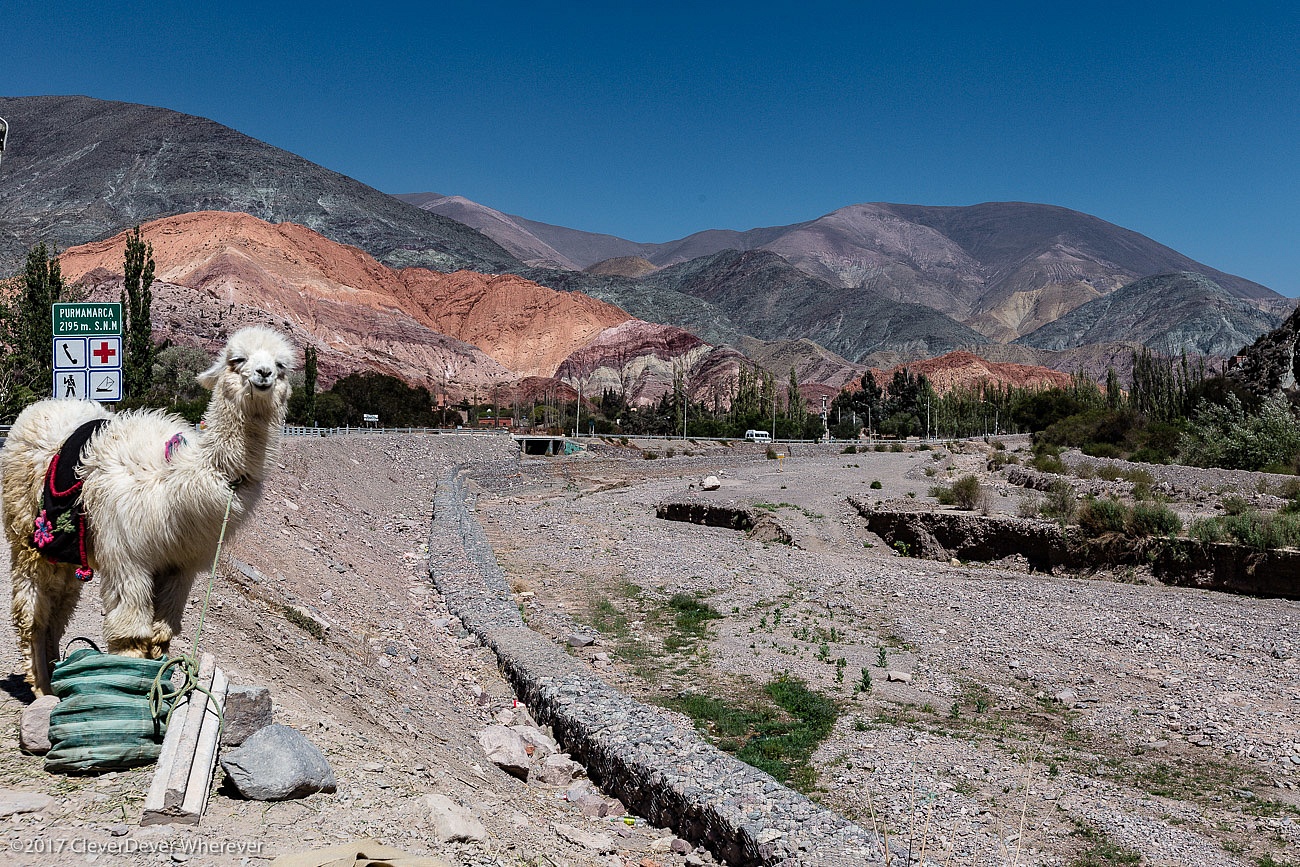 The town of Purmamarca is so perfect I'm almost convinced that a Hollywood set designer created it. Surrounded by rainbow-colored foothills, Purmamarca has new-looking beautiful Andean buildings accented with the perfect amount of red dust and a smiling baby llama by the entrance. Inside, there are a myriad of tables covered in multi-colored craftwork (which may or may not have been made in China).
But please, if you do no other day tours in Salta, go walk them llamas. Adorable, soft, gorgeous and serene, my llama Jura and I wandered the hills of Tilcara for an hour having the best time. Major ups to SayHueque tours for suggesting and making this happen.
Tour Company used:
SayHueque Argentina & Chile Journeys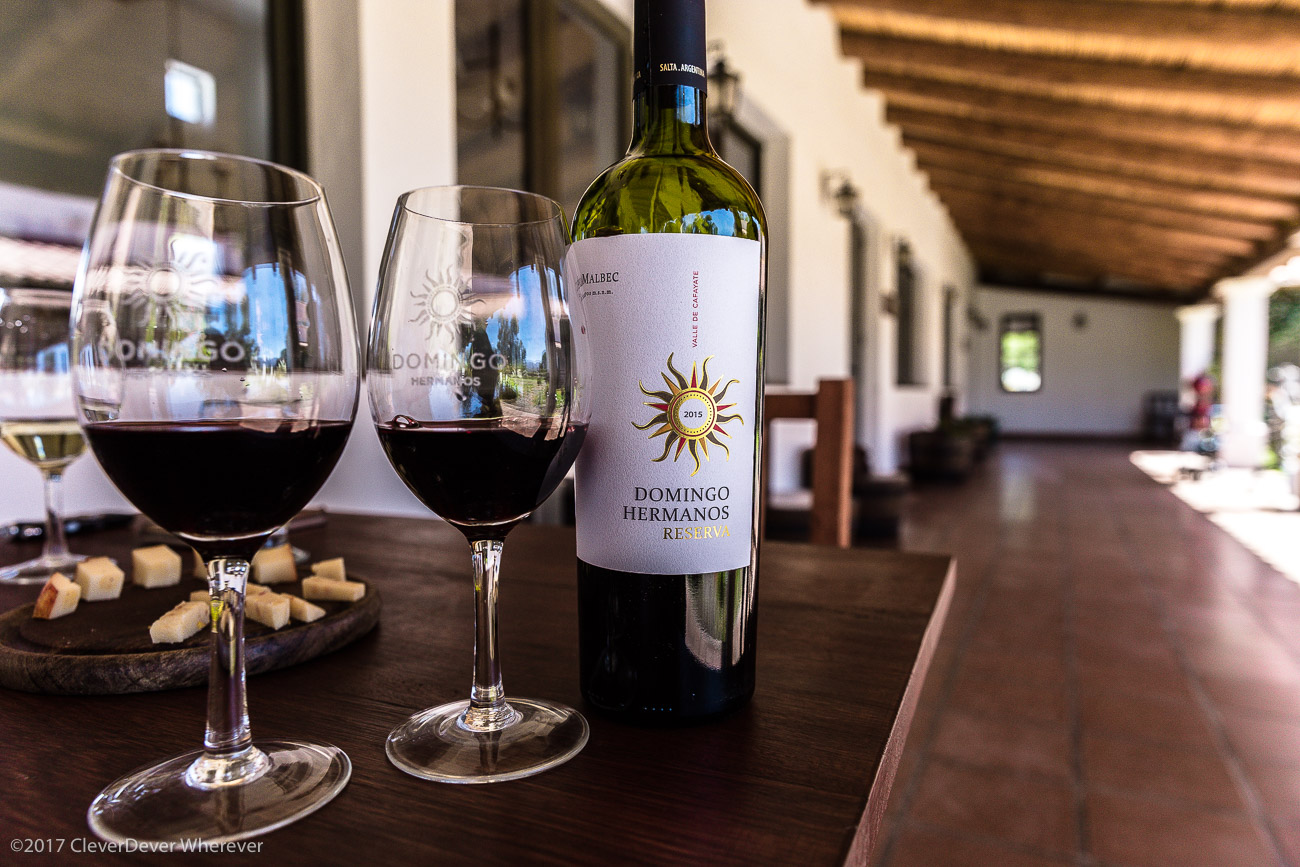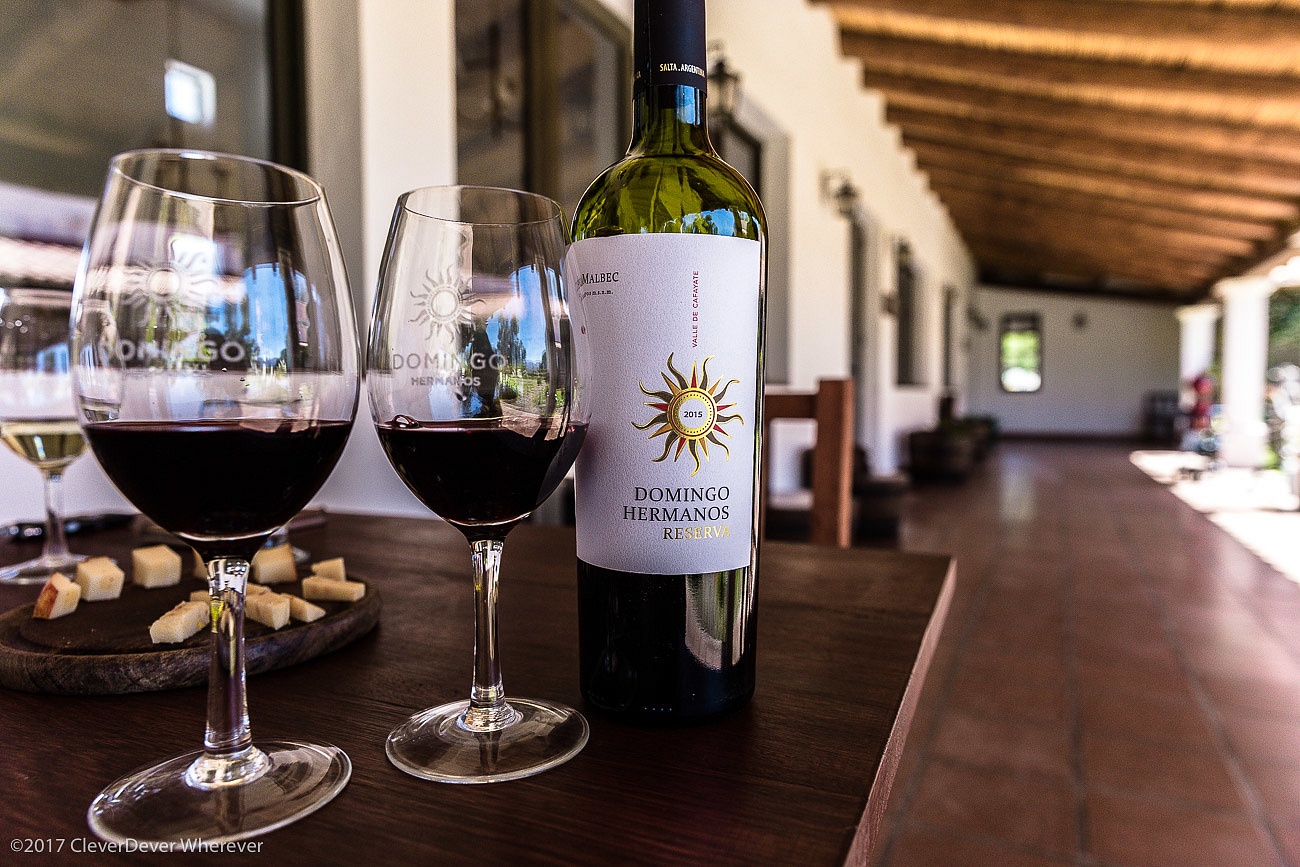 Calchaiquí Valley 2-Day Tour

(in green on the map)
Itinerary:
Wander through LOS CARDONES (the cacti) National Park
Visit the town of CACHI
Be stunned by LAS FLECHAS GORGE
Overnight in CAFAYATE
Wine tasting in CAFAYATE
Hike around the eroded landscape of DEVIL'S THROAT, and more off ROAD 68
Highlights: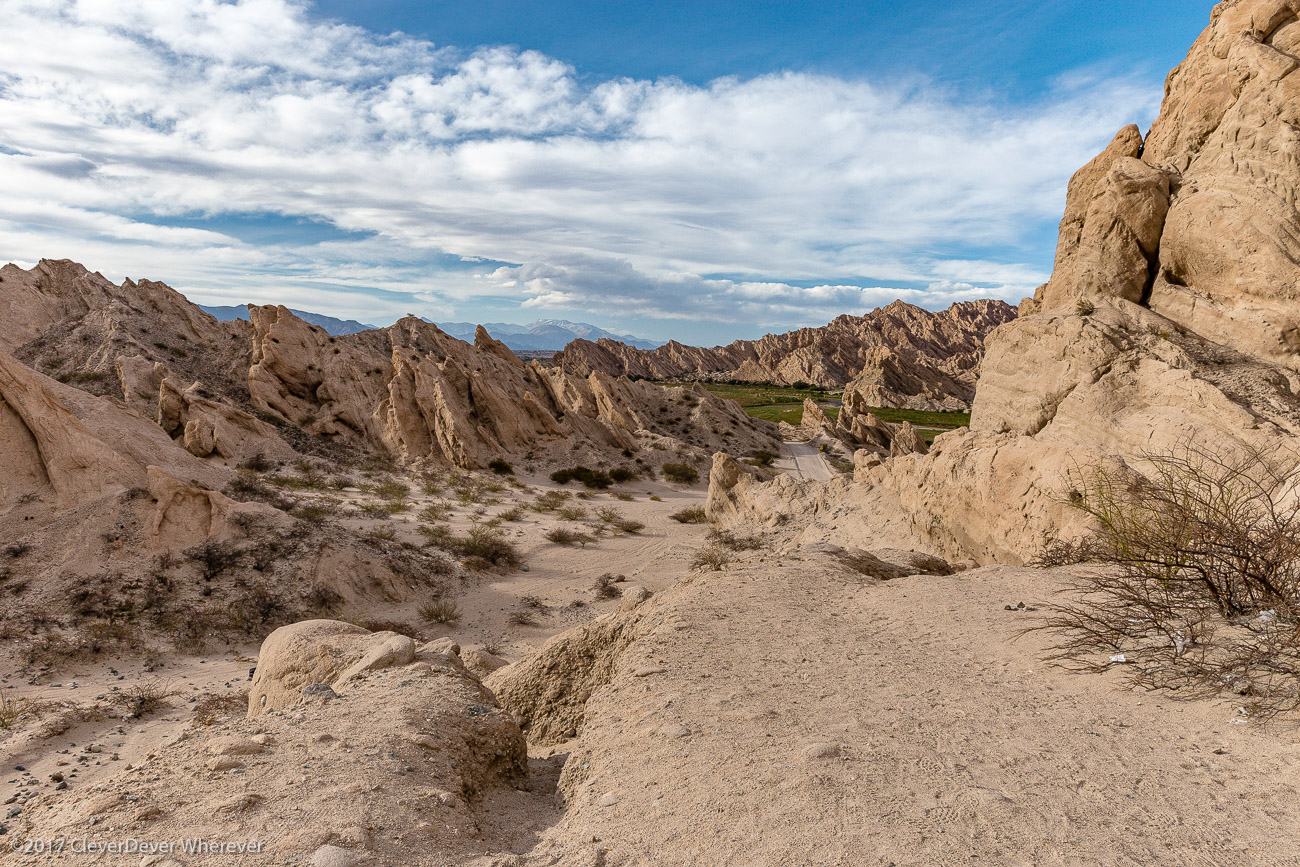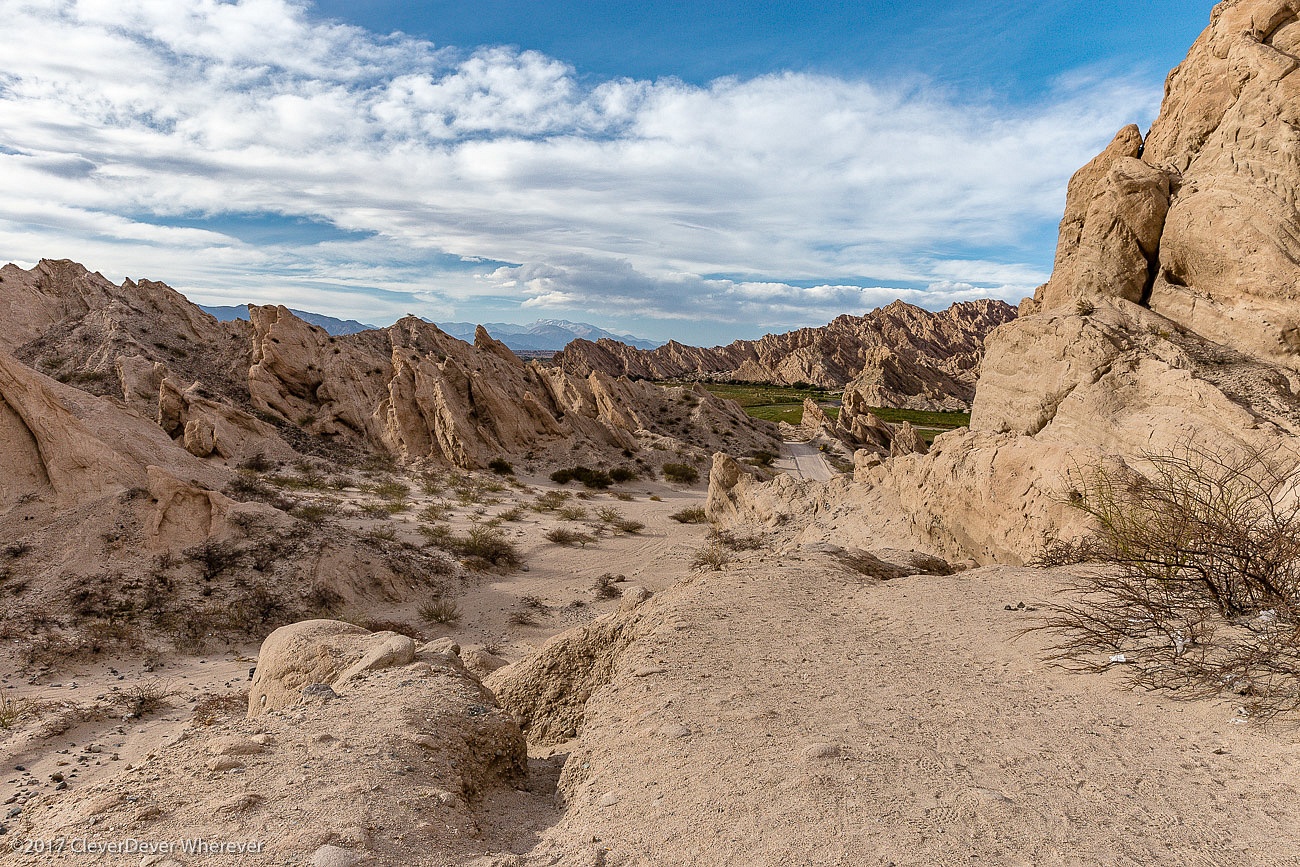 The towering cacti groups of Los Cardones were a really cool sight. Also, the Las Flechas Gorge, striking in its jagged beauty, was definitely worth the drive. Rising up like arrows, the rock formations point skyward at a 45-degree angle.
The tranquil town of Cafayate is a perfect place to linger over a nice meal and a bottle of Malbec. Definitely go wine tasting in the area.
Tour Company used:
SayHueque Argentina & Chile Journeys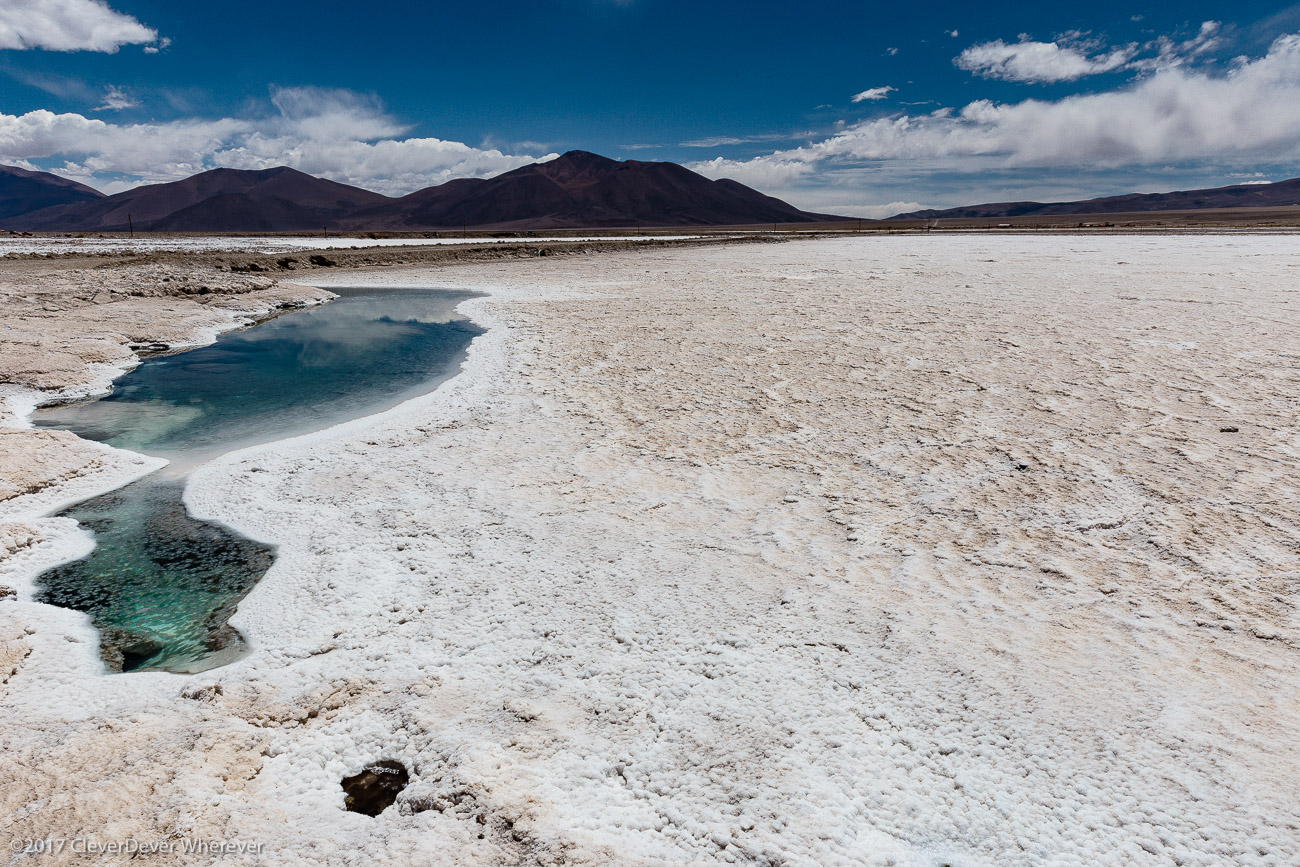 Tolar Grande 3-Day Tour

(blue on the map)
Itinerary:
Catch your breath in the HIGH DESERT (from 12-15K ft/3650-4572m)
Take forced perspective photos on a massive SALT FLAT
StarE into a crystal clear gaping hole of a lagoon called the SEA EYES
Swoon over beautiful VICUÑAS and florescent FLAMINGOS
Highlights: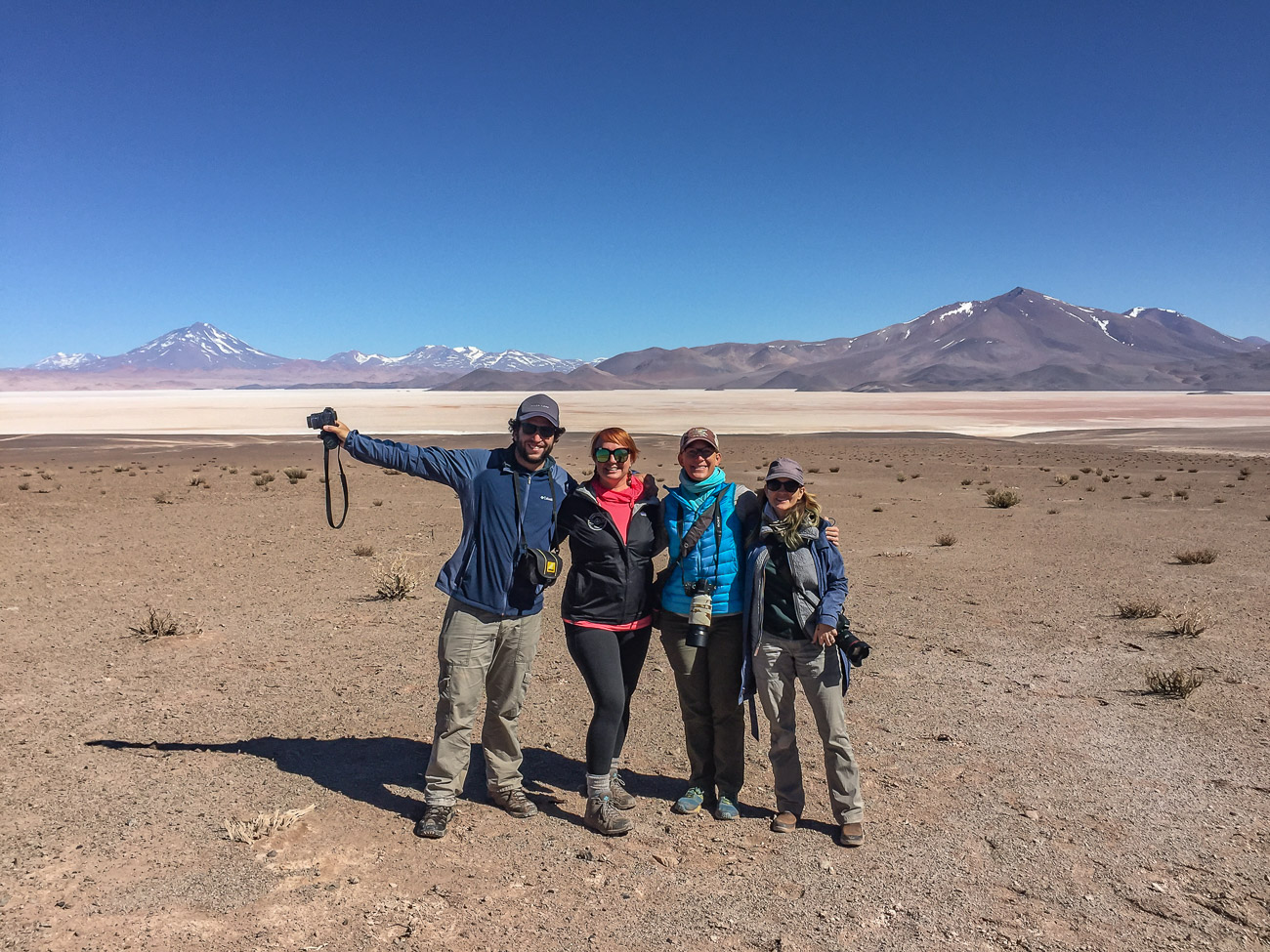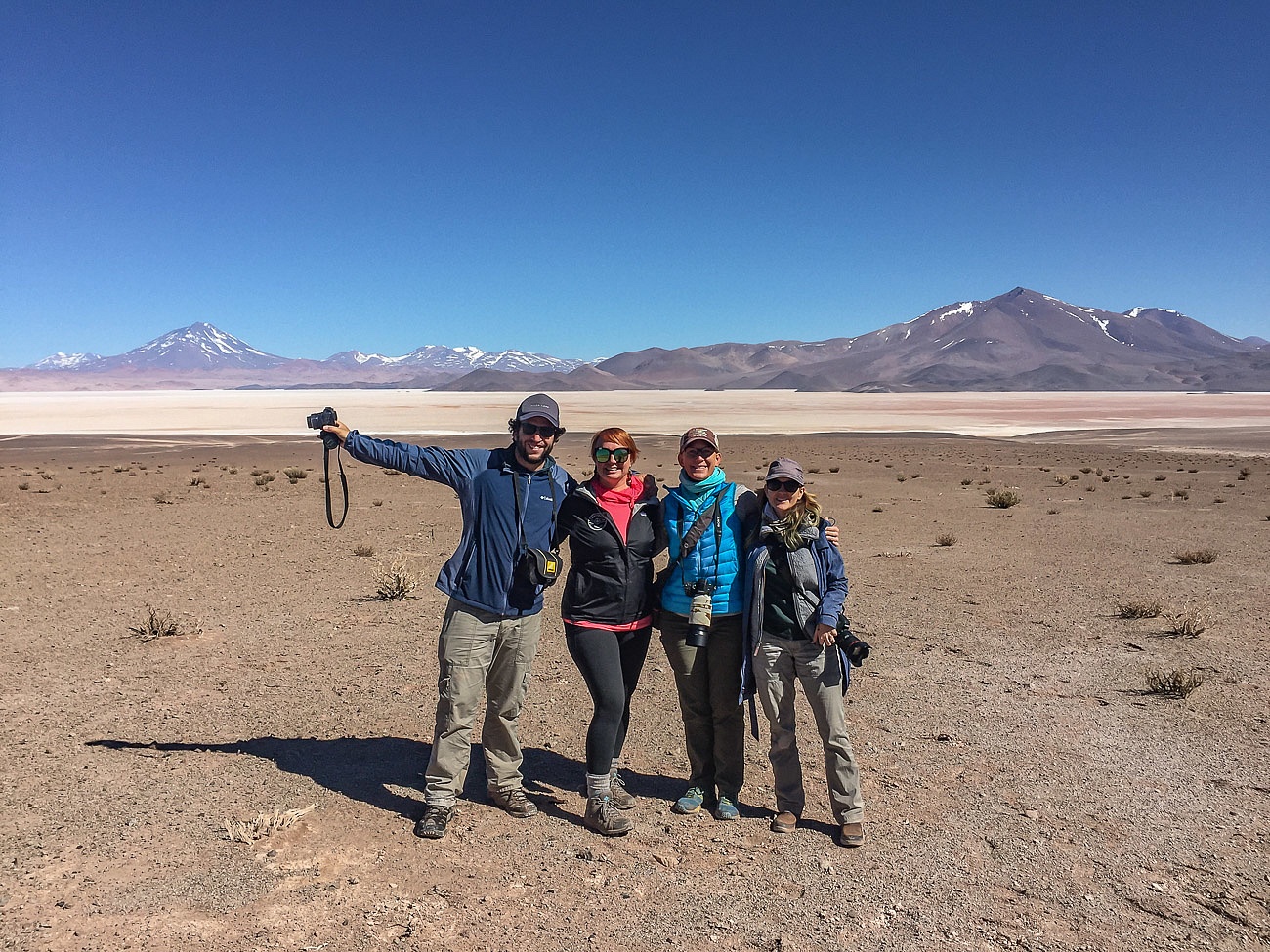 Okay but really THIS WHOLE TRIP WAS A HIGHLIGHT. I wrote about it in all of its delicious detail and panicked glory here. Please go read that.
Tour Company used:
De Alturas Viajes y Tourismo
The individual tour companies hosted all three of my day trips around Salta, but all of my opinions are my own. I loved my experiences and recommend these guides and these companies without reservation. Let me know if you have any questions.
Disclosure: As a Booking.com Associate, I earn a small amount from qualifying purchases. However, I don't recommend anything that I don't personally love.
Have you spent any time around Salta, Argentina? What would you recommend?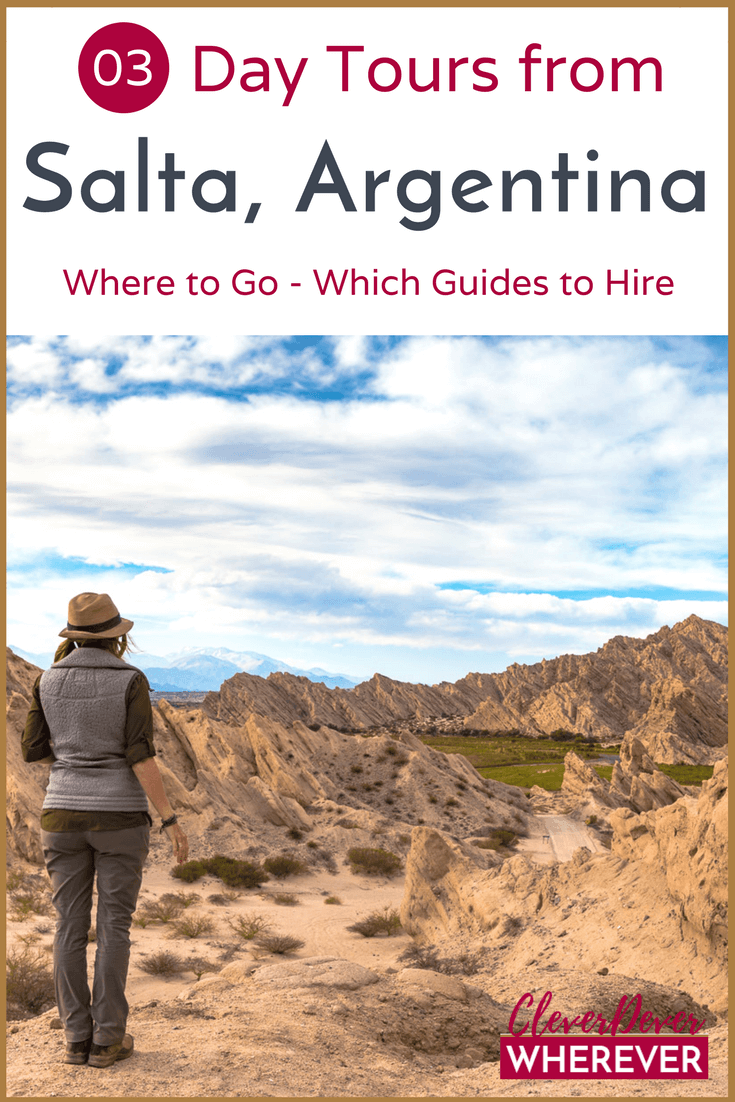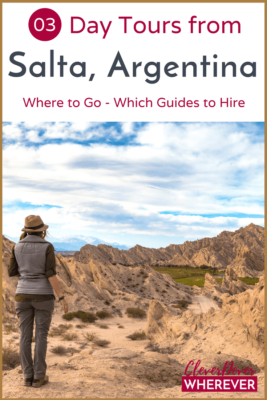 Read More
About Argentina