How to Pack for Multiple Climates and Keep Your Luggage Light [FB Live SHOW NOTES]
You've made your travel plans but the weather is all over the place. Or maybe YOU are – maybe you're starting in Croatia where it's hot and ending in the Austrian Alps as the weather is changing to rainy and chilly.
How do you pack (and keep your suitcase under a manageable weight) for so many weather variables?
I've got some tips to help you pack for multiple climates and avoid heavy luggage and excess baggage fees.
Let's get into this week's topic: How to Pack for Multiple Climates and Activities.
At some point in your travel life, you have to deal with packing for several different kinds of weather or activities in one trip.
One of my biggest challenges: Packing for a Mexican beach wedding then heading straight to Copenhagen, Denmark in the rainy cool springtime to attend Eurovision!
You might also pack for multiple climates if you're visiting somewhere warm and then climbing a mountain while you're there. Maybe you're going to Maui and then seeing the sunrise on Haleakala. Or visiting Georgia, the country when it's hot, and heading up to hike the glacier in Ushguli (you can do that with me, on my 2022 tour).
Let's start with one of my big rules on how to pack for multiple climates:
1. Start with the shoes
I *try* to limit myself to no more than 3 pairs of shoes. They take up space, and they're heavy. This is the first thing you work around.
To determine which ones make it, I ask myself these questions:
What events am I attending (style)
What activities am doing (comfort)
What weather am I dealing with (function)
For my Mexico to Denmark trip, I knew I needed
Cute beach shoes: shimmery beach sandals that also worked around the pool
Funky but warm shoes for Eurovision
Comfortable walking shoes for exploring Copenhagen that were also rain resistant
One of my biggest scores was a pair of boots from Jambu that had a bit of a platform. They were so comfortable I could wear them with jeans and walk around all day, and funky enough to pair with a dress for the event. They were also lightly water-resistant (and I scotch-guarded them too).
This past summer on my Slovenia tour I knew I needed
sandals for our fancy dinners but also something I could walk around in. Versatility is KEY.
walking shoes that were comfortable for all-day exploration, and something with good tread to handle hikes
waterproof shoes – Slovenia tends to get surprise rain showers frequently
MAJOR SCORE: I found these sneakers by Vessi which are super comfortable, stylish, and 100% waterproof. I was able to combine my needs for the second and third shoes and had room to bring a pair of water sandals to boot!
Here's a list (in no particular order) of my favorite footwear brands to pack for multiple climates. These brands are versatile, can be dressed up or down, and comfortable enough to walk for hours in:
Jambu
Keen
Merrell
Earth Shoes
NAOT
Vessi
Do you have any favorite shoe brands for travel? Add them to the comments below so we can all check them out!
2. Next up: color scheme
Once you've selected the right shoes for the trip, you've got an idea of what color schemes are emerging. Of course, you can always *buy* some brand new versatile shoes in some fun colors if it's time for a refresh.
But starting with the right shoes will guarantee your feet are more comfortable AND you now have the foundation with which to pick out your clothing options.
TIP: Keep everything in complementary colors so that all of your clothes can easily mix and match.
Like rose, blue and white or brown, olive and black…This really makes me think I should do a photoshoot of all the ways my clothes piece together during a trip to make different outfits. I really just need a photographer to follow me around, is that so much to ask??
Here's the thing: You cut down on the clothing that you pack for multiple climates when you can mix and match them. Don't bring something that is only going to be worn once, but can be worn several different ways with several different pieces.
The versatility of a garment is key when packing. How can you dress up or dress down each piece if necessary? This does take a little bit of coordinating. It's like a capsule wardrobe for travel. I know the temptation to just throw it all in is strong, but your shoulders and back will thank you when you're lugging that suitcase up stairs and across train platforms. Trust me.
3. Layers – the fabric type is the secret
And again, to determine what you need go back to these three questions:
What events am I attending (style)
What activities am doing (comfort)
What weather am I dealing with (function)
If you need a dress and you'll be wearing it during warm and cool weather, pick a lightweight, breathable fabric. I love seersucker for traveling because it never really shows wrinkles. Jersey and cotton can also work depending on the style. Stuff that looks crinkly as a matter of style is a great way to hide wrinkles as well.
Now about how to make it versatile. Can you layer it with a cardigan or a cute jacket? Is the dress something that might look good with tights and boots and a sweater over it? Or even leggings underneath?
Getting warm: For hot to cool activities like hiking in different climates, look for merino wool – it's soft, temperature regulating, and you can wear it again and again without washing because it's odor resistant. It makes a fabulous layer because it's so thin. When you layer several merino wool layers you're actually warmer because the heat builds up between the layers. As opposed to one big thick sweater.
If you're allergic to wool, do a little research as to whether you're also allergic to merino wool. I've read conflicting info about this. Some say it has to do with
4. Outerwear – look for lightweight items that can pack small and provide a lot of warmth.
For my raincoat, I have a lightweight shell that layers beautifully on top of other pieces and turns into a warmer weather coat. This is great to pack for multiple climates because even warm places can be rainy.
You can also look for a cute jacket in a water-resistant material that can double as a fashionable layer with your dress or outfit on a cool night. I have one from Athleta that I really like.
Look for puffy jackets that squish into a tiny package. My Patagonia jacket is key for this (and fits under my rain shell). Long live coats and jackets that fold into their own pouches! They also double as pillows on the plane.
Annnnnnd I personally can't live without a zipper vest as a layer.
TIP: Never ever go anywhere without your pashmina or scarf. This can be tied in so many ways to accessorize or keep you warm or even be an extra blanket on the plane. This is great no matter what climate you're going to because even the hottest of destinations can have over-air-conditioned. Or maybe you're one of those people that are great at tying your scarf into a skirt. How's it feel to be good at witchcraft?
Review: How to pack for multiple climates and events on your trip
Always start with three questions framework that applies to all four packing tips today:
a) What events am I attending (style)
b) What activities am doing (comfort)
c) What weather am I dealing with (function)
SHOES: Start from the bottom up. Which shoes fit the above prerequisites? How can I combine form and function into ONE shoe?
COLOR SCHEME: Narrow down your wardrobe color scheme to 3-4 main colors based on the shoes you're bringing.
LAYERS: It's about the fabric here. Look for fast-drying fabrics, temperature-regulating fabrics like merino wool, and items that can be worn with multiple outfits
OUTERWEAR: Look for pieces that squish and pack small, provide warmth and can be worn in different ways. Always bring a scarf/shawl/pasmina
Now let's talk about my super exciting BIG ANNOUNCEMENT!
We've been talking about packing, so let me show you a brand-new fantastic suitcase to put it all in:
The Delsey Paris Cruise 3.0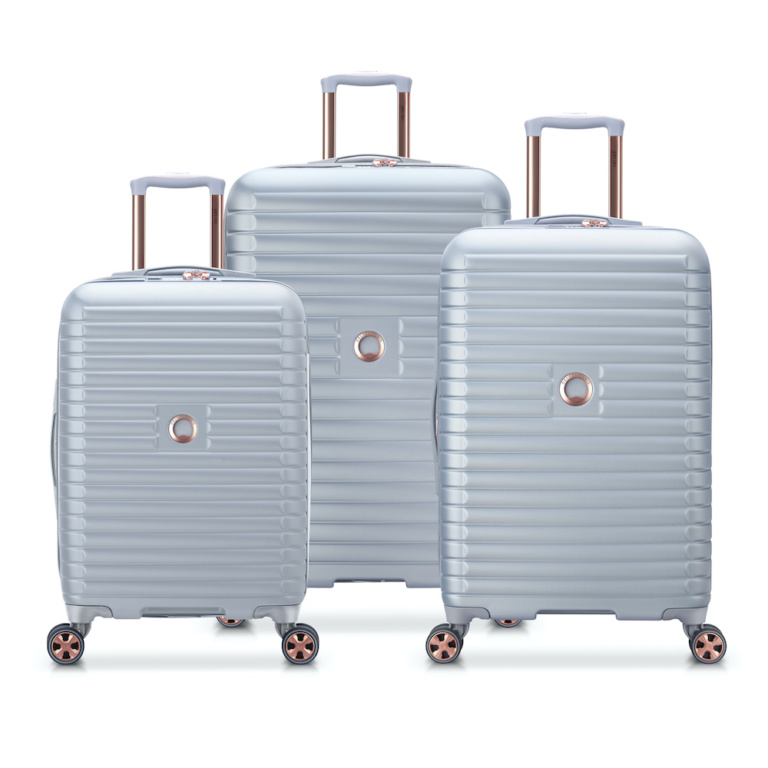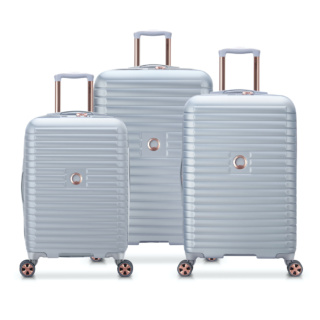 Around mid-November, I got very excited about doing a holiday promotion. I brainstormed for two days, writing down every possible travel-related item that you might want or need.
It needed to be functional, beautiful, and most importantly something that you would LOVE.
I wrote my list, checked it twice…it really could only be ONE THING in my mind.
Gorgeous, brand new, luggage!
But it had to be ingeniously functional luggage, perfect for multi-week travel to new and fascinating destinations across the world.
Once I decided on the holiday gift I wanted to give to you, I got tenacious and contacted one of my favorite luggage companies.
And let me tell you, I not only struck up a partnership with one of my favorite luggage companies (Delsey Paris), but we worked out a deal so amazing I'm still completely gobsmacked.
From now until 11:59pm ET on December 31, 2021:
When you buy a spot on ANY of my 2022 tours

Delsey Paris and CleverDever Adventures

will GIFT you the beautiful new Cruise 3.0 set!!
And not just one piece of luggage, oh no – ALL THREE hard side, 360-spinner wheel, silver and rose gold pieces! That's a $630USD value!
That's a large checked bag, a medium checked bag, and a carry-on size.
ALL OF THEM ARE YOURS when you book (and take) one of my 2022 tours.
What makes this luggage so special aside from its dashing good looks?
DELSEY exclusive removable and washable lining

Smooth easy glide zippers with large zipper pulls that secure into a TSA approved lock

An expandable section to fit all of those irresistible keepsakes you'll pick up during your travels

USB port and power bank sleeve on the carry-on size

And my favorite:

DELSEY patented built-in overweight Indicator on the check-in sizes 
So now the only question is where are you going with me in 2022?
What's your next step?
Book your 2022 adventure with me OR book a call with me and I'll answer any and all of your travel questions! 
If you're ready to book that trip now…
Next year I have FIVE amazing trips – all insider, authentic experiences. You can go to Poland, Slovenia or the country of Georgia with me – I've already done all of the planning. You can find all the details below.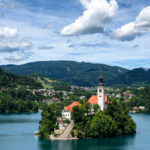 Slovenia (gourmet foodie + stunning nature)
7-Day Alps to Adriatic July 3 – 9th, 2022
11-Day Ancient Rome to Istria August 15th – 25th, 2022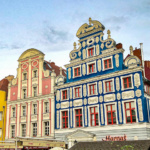 Poland (history + sea-faring Baltic coast)
11-Day Windswept Coast to Cobblestones
August 29th – September 8th, 2022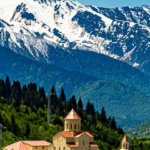 Georgia (800-year-old wine history + monasteries, mountains and CHEESY BREAD)
NEXT WEEK: I'll be back live next Thursday, December 23th at 11 am PT. I'll be on my Facebook page CleverDever Wherever with my special guest Maggie who is my Polish friend and guide.
We're going to share THE MAKING of a CULTURAL IMMERSION TOUR and some of the crazy things that happened on our epic road trip through Poland.
Delsey Paris and CleverDever Adventures Holiday Promotion fine print:
US Residents Only
Luggage will be gifted to you for booking AND taking the tour. It will be sent out within 44 days of departure.
One 3-piece set per person, regardless of amount of tours purchased.
New purchases only between December 15th and December 31st, 2021 9pm PT
Carry-on luggage is measured to standard US airline overhead restrictions. Please check with individual carriers, especially when traveling on international airlines.