Why You Should Go: With its Russian architecture, Tlingit tribe heritage, islands, waterways, and gorgeous parks, Sitka, Alaska is crowded with things to see and do.
"Sorry I smell like salmon." I'd only just set food in the Sitka airport, and already the place was gearing up towards peak Alaska. It happens so fast around here.
Though Sitka was the starting point for my small boat trip with UnCruise Adventures through the inside passage, it really is more than an embarkation point. It's a destination unto itself.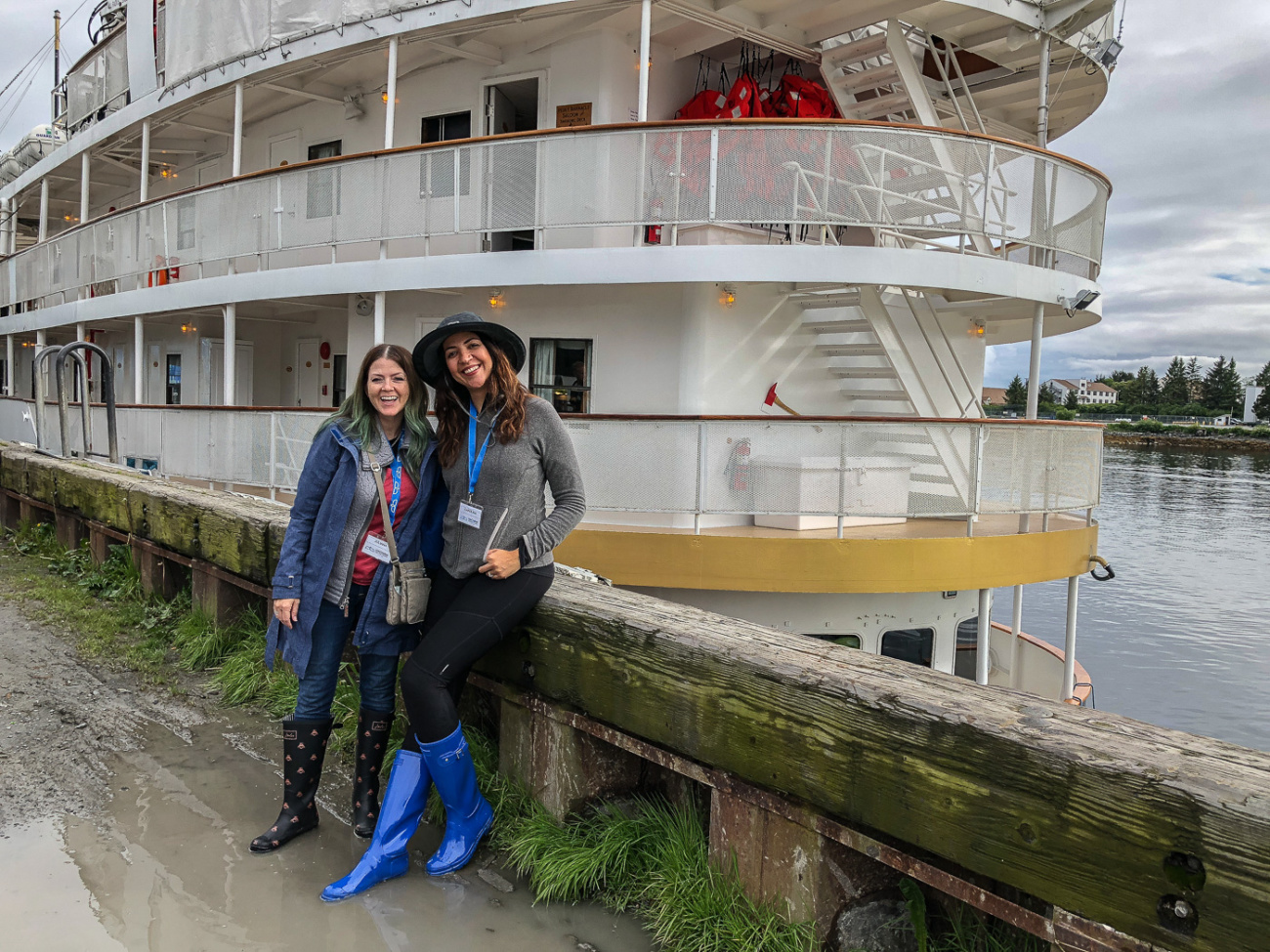 Sitka, Alaska is the original capital of Russia-America. If you're lucky enough to be heading to this part of the world, plan to spend a few extra days in this town. With its quirky cupola-covered churches, fascinating Tlingit tribe heritage, islands, waterways, landmarks, and parks, this small town is crowded with things to see and do.
Even the taxi drivers are characters. For example, there was Sig the burly Santa-looking guy who picked me up at the airport, pulled out a rusted musket ball from his console to show me – a leftover from the Tlingit/Russian war of 1804. After that, was Jeff Budd, who does private checkered taxi tours. He took me on a nature walk and helped me identify trees by comparing them to side dishes.
My days in Sitka, Alaska, sped by with nary a dull moment. Between stalking a food truck and being asked to feel bear guts it's impossible to get bored here. It's also the kind of place where authenticity reigns despite it being a stop on a cruise adventure.
The locals are chatty, fun and diverse with a capacity for comical and offbeat conversation. The architecture is a mix of Native, Russian and wild wilderness, making it a charming combination of rustic and refined. And of course, the shockingly fiery sunsets only make the architecture look more dramatic.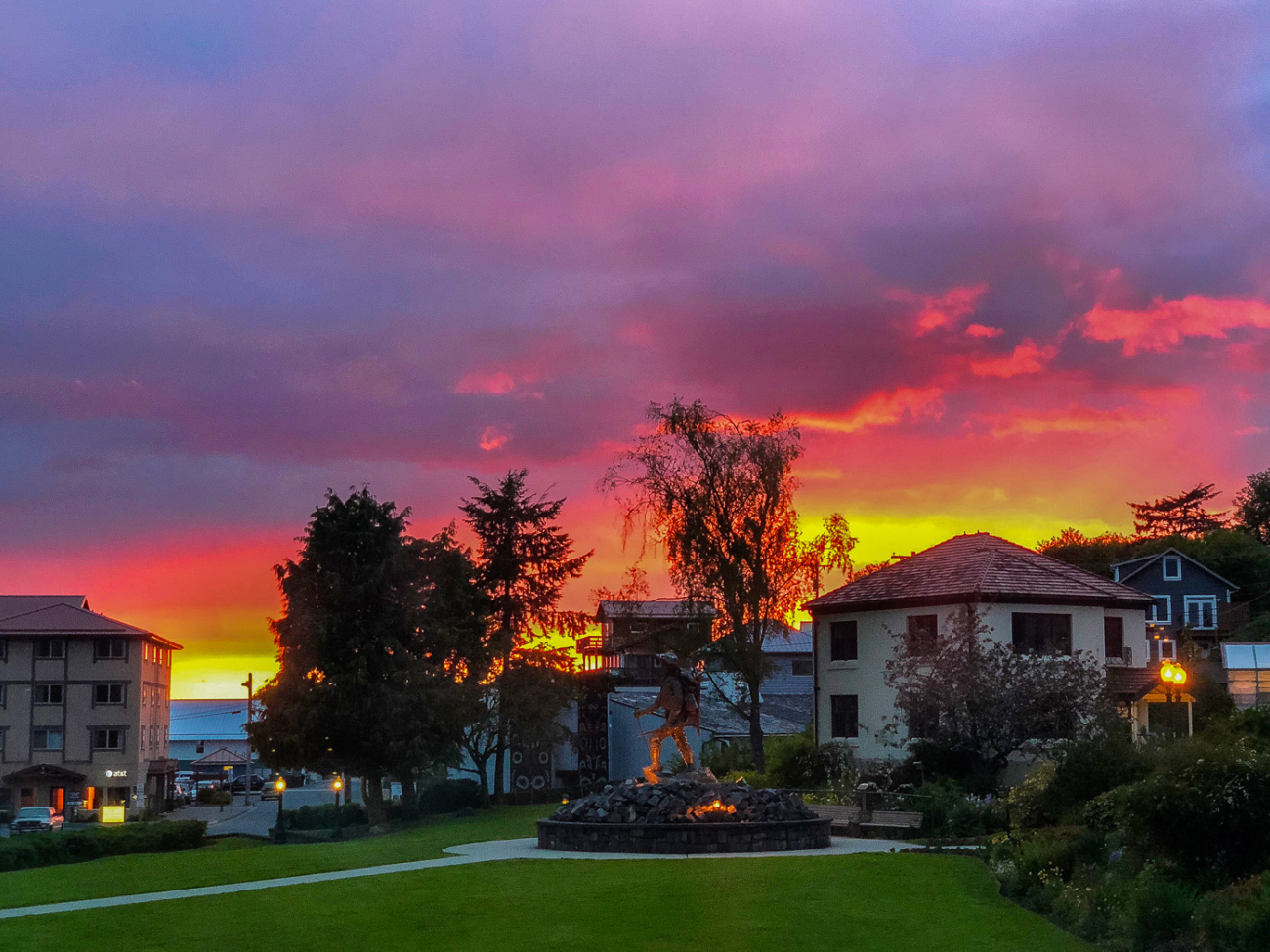 So, here's my rundown of where to eat, what to see and do, and where to stay in Sitka, Alaska. If you do it right, you should smell like salmon.
Best time to go: April-August
Price Rance Guide:
$ =    $1-$10 USD
$$ =   $11- $20 USD
$$$ =  $21-$30 USD
$$$$ = $30+ USD
Where to Eat in Sitka, Alaska
Baranof Fish Market

201 Katlian St #110, Sitka, Alaska
Price Range: $$$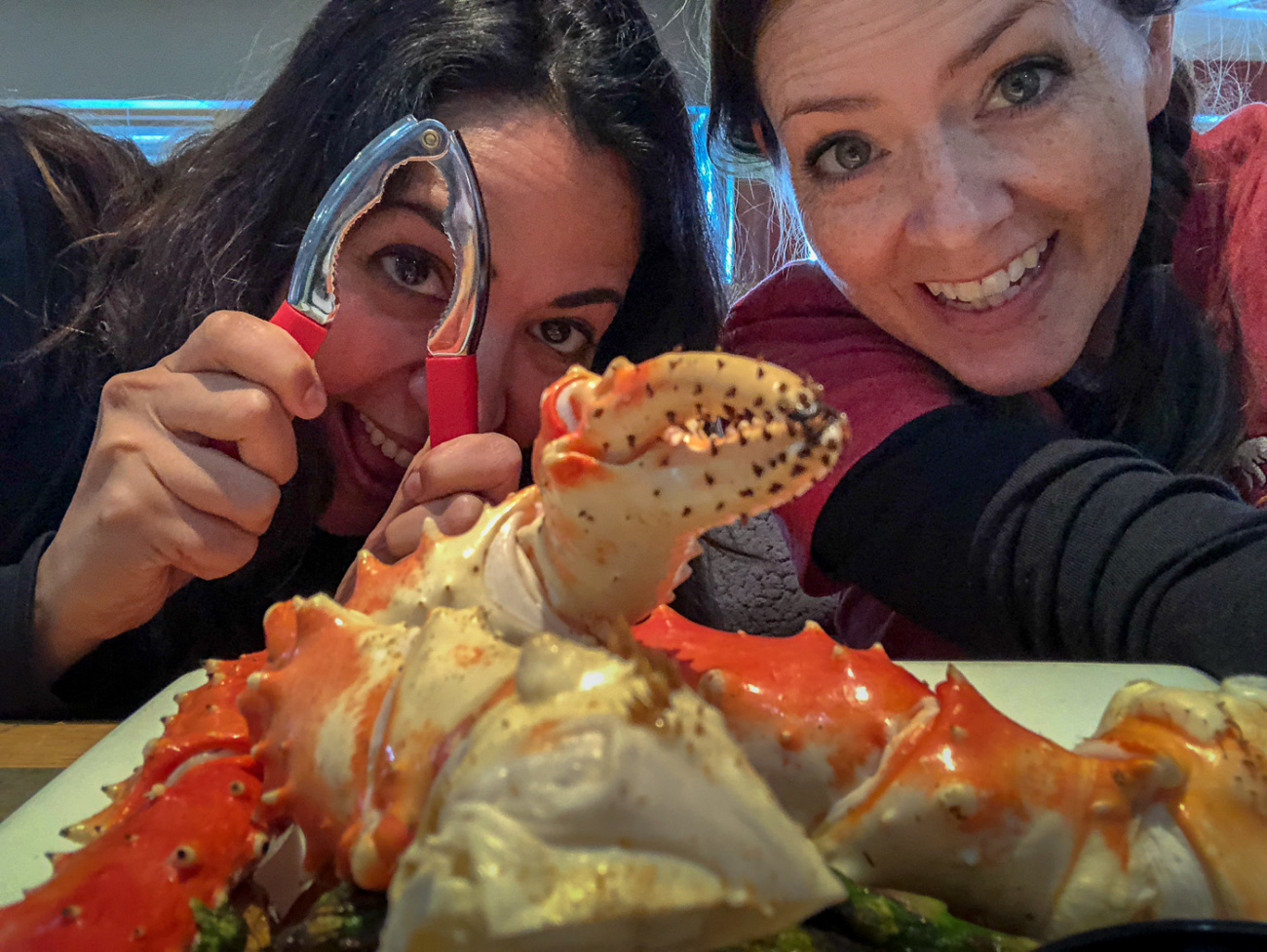 "Can't you stay just one more day?" Josh, my bartender at the Baranof Fish Market, and I were already BFFs by day one of my trip to Sitka. I don't know exactly when this waterfront restaurant became my hangout in Sitka, but I found myself spending several afternoons at this nautically-themed dining spot as if I'd become Norm on Cheers.
The aforementioned Josh is a colorful character. Literally. He has rainbows, devils and the aurora borealis artistically enshrined on his arms. His acumen at making drinks – like the cilantro jalapeño pineapple tequila cocktail – is artisanal, and his menu suggestions fantastic.
Bob, the owner, and I were already hugging out our greetings the first day. By day two, he was calling me outside to spot bald eagles with him. By the time I left for my cruise a few days later, we all were saying goodbye like I'd booked passage on a year-long cruise around the world.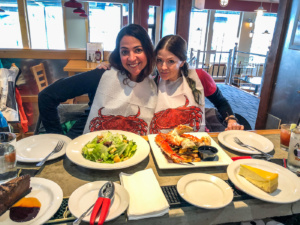 Friendliness aside, their Alaskan king crab legs were the best I had during my entire trip. The passion fruit cheesecake was killer, too. And if you get the calamari salad, ask for the calamari crunchy with extra anchovies. The spicy dressing is yes please.
Pro Tip: Try their herb-steamed Alaska king crab legs. And if Josh is there, let him craft a cocktail for you.
Ludvigs Bistro  

256 Katlian St, Sitka, Alaska
Price Range: $$$$
Dinner at Ludvigs is not to be missed. This restaurant was amazing. Hands-down the best restaurant in Sitka, and its Mediterranean vibe transports you to Europe.
The menu had lots of great tapas options, so my friend and I split a bunch of dishes in order to try as many things as possible. Every one of them was stellar. I had one of the best Caesar salads ever, a prawn arrabiata, and scallops with truffle oil, mushrooms, and garlic that made me weak.
The coup de grâce was the chocolate cake with wild Alaskan blueberry salt. Oof. We literally walked two miles after dinner just to stop feeling so stuffed.
Note: Someone told me to go upstairs at this restaurant. I got so excited about eating that I forgot to ask about it, and I didn't complete that quest. So I'm passing it on to you. Let me know what you find out.

Mean Queen (Pizza)

205 Harbor Drive, Sitka, Alaska
Price Range: $$
Mean Queen goes off at night. With pretty good pizza and lots of great beers, this crowded joint stays open late. It is THE place to hang out with friends, make new ones or watch the sun glow up the islands from the second-story picture windows.
Highliner Café

327 Seward St, Sitka, Alaska
Price Range: $
This super local coffee shop is tucked away up a side street. It's an excellent place to head in the morning if you're looking for a light breakfast, fresh baked goods and great fresh coffee drinks.
Sitka Hotel Restaurant

118 Lincoln St, Sitka, Alaska
Price Range: $$$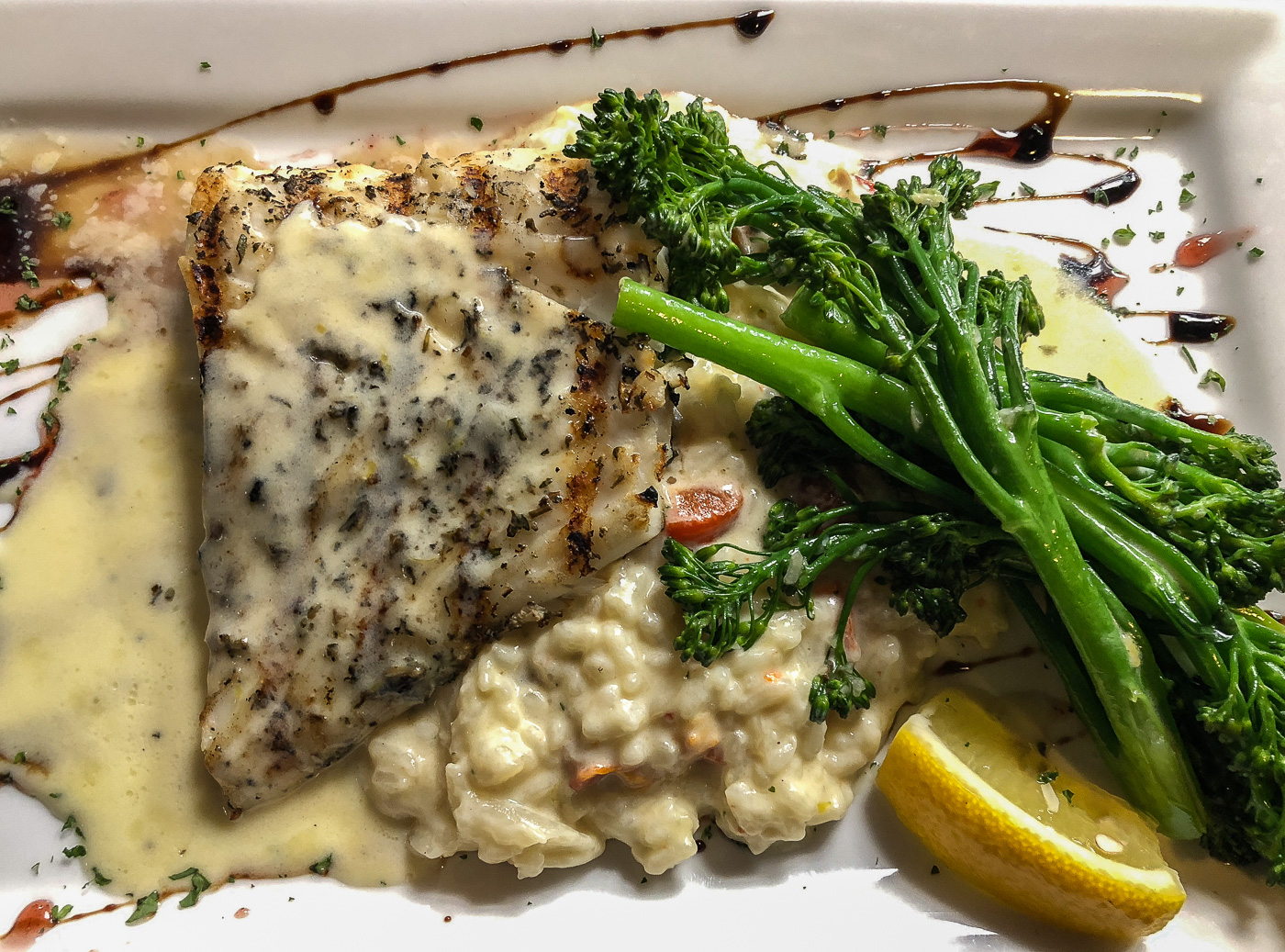 My first day in Sitka I was on my own, taking the entire town in, open for any adventure that might present itself. When I eat alone, I appreciate restaurants that have bar seating so you can chat with other diners and learn more about the people and the area. Sitka Hotel Restaurant is one of those places.
First, my meal of grilled halibut with red pepper risotto and broccolini was perfection. It was exactly what I wanted before I even knew I wanted it.
Second, I had a blast talking to everyone around me as well as my chef. Though I regret not asking him why he and everyone in the kitchen were Jamaican. Like, I'm from only as far south as Missouri and I can't be in the cold for more than maybe a week. How did these guys come to pick Alaska?? Aren't they freezing 78% of the time?
Ashmo's Food Truck

Check FB link for weekly locations – Sitka, Alaska
Price Range: $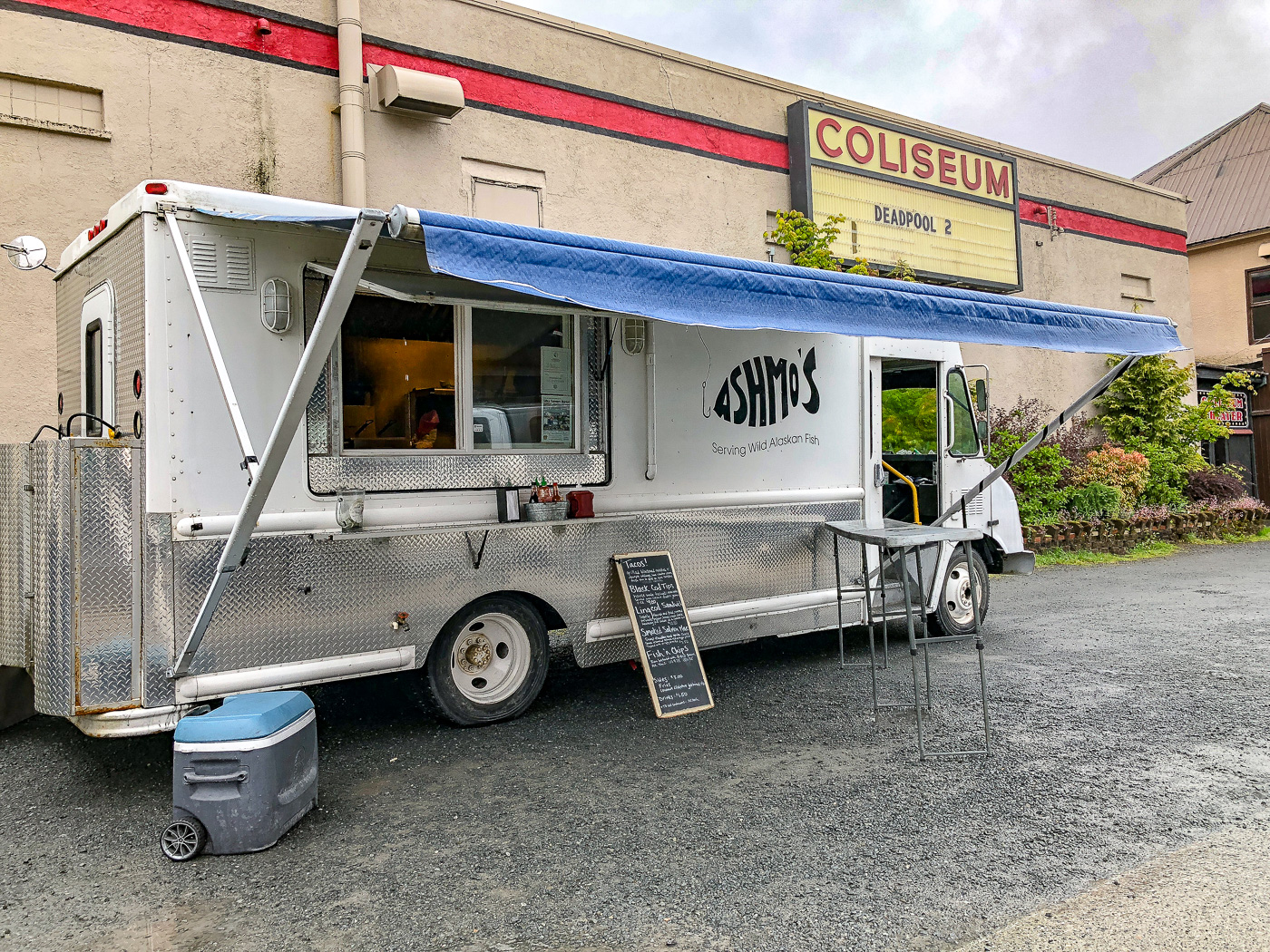 Just another one of the reasons I fell so hard for Sitka, Alaska. Ashmo's food truck has a small but incredible menu. Fresh fish dishes like black cod tips, dory tacos, smoked mac and cheese, and the one that got me hooked: the Ling Cod Sandwich.
It's a genuis mix of crunchy-battered flaky white fish, with roasted Poblano peppers, honey cream cheese and Monterey Jack on a soft potato bun. Holy crap now I'm desperate to stalk that truck all over again.
Pro Tip:  Being on wheels, the food truck moves around. Check their Facebook page for locations and hours. They are typically open May – Labor Day-ish.
What to See/Do in Sitka, Alaska
Sheldon Jackson Museum

104 College Dr, Sitka, Alaska
Price Range: $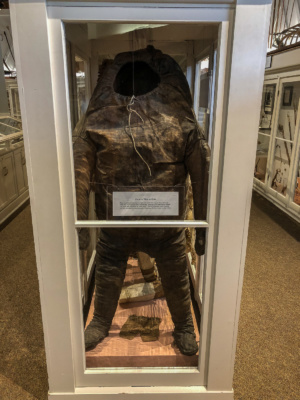 As I wandered the outer ring of the museum, I overheard a woman talking to a friend. "At Christmas, I started making earrings out of halibut skins and my friends really seemed to like those."
Like I said, reaching peak Alaska happens so quickly here in Sitka.
With a large collection of Native Alaskan items, you have an opportunity to deep dive into their cultural history in one museum. From diving suits made from seal skins to Inuit games, jewelry, and tools, the Sheldon Jackson Museum is an intriguing place to learn about people who have lived off the land and mastered winter.
Plus, in the summer there is a Native people's artist-in-residence program where you get to talk to people like Karen, who was from the Inupiaq tribe. She showed me a map of the lands of the different Inuit peoples with great joy and we talked non-stop about the differences and similarities between the regions and tribes like the Haida, Tlingit and her own. Before long, she was enthusiastically asking me, "Hey you wanna feel some bear gut?" How do you not love Sitka?
Fortress of the Bear

4639 Sawmill Creek Rd, Sitka, Alaska
Price Range: $
A "safe haven for orphaned bears," this privately owned sanctuary gives a home to bears that might otherwise not make it in the wild. Not far from the Baranof Island Brewing Company (see below), so pair the two together for a quick trip outside of town.
There's a viewing deck up above the habitat where you can watch the bears do stuff like posture to one another or fall over on their back and roll around. It's adorable and a good place to learn more about local wildlife. You can talk to folks that run the place to get more information on how the bears have to come to live at the fortress.
Pro Tip: This place is run on donations, so be sure to contribute a bit to help the bears live their best life.
Baranof Island Brewing Company

1209 Sawmill Creek Rd, Sitka, Alaska
Price Range: $
Since it's up the road a piece from town, you'll need a car or taxi to get here. But it's worth it—this place is a real joy, offered some of the best craft beer I tried in Alaska, and had a homey beer garden to enjoy it in. I liked it so much it made my best of list of the year. 
Baranof Island Brewery had one of my favorite beers—Alaskan Spruce Tip—and a convivial and mountain-fresh outdoorsy setting. I wound up sitting here all afternoon having conversation after conversation. Meanwhile, the owners are using a massive blow torch to light up the outdoor fire pit. Which seemed like a very Alaskan thing to do.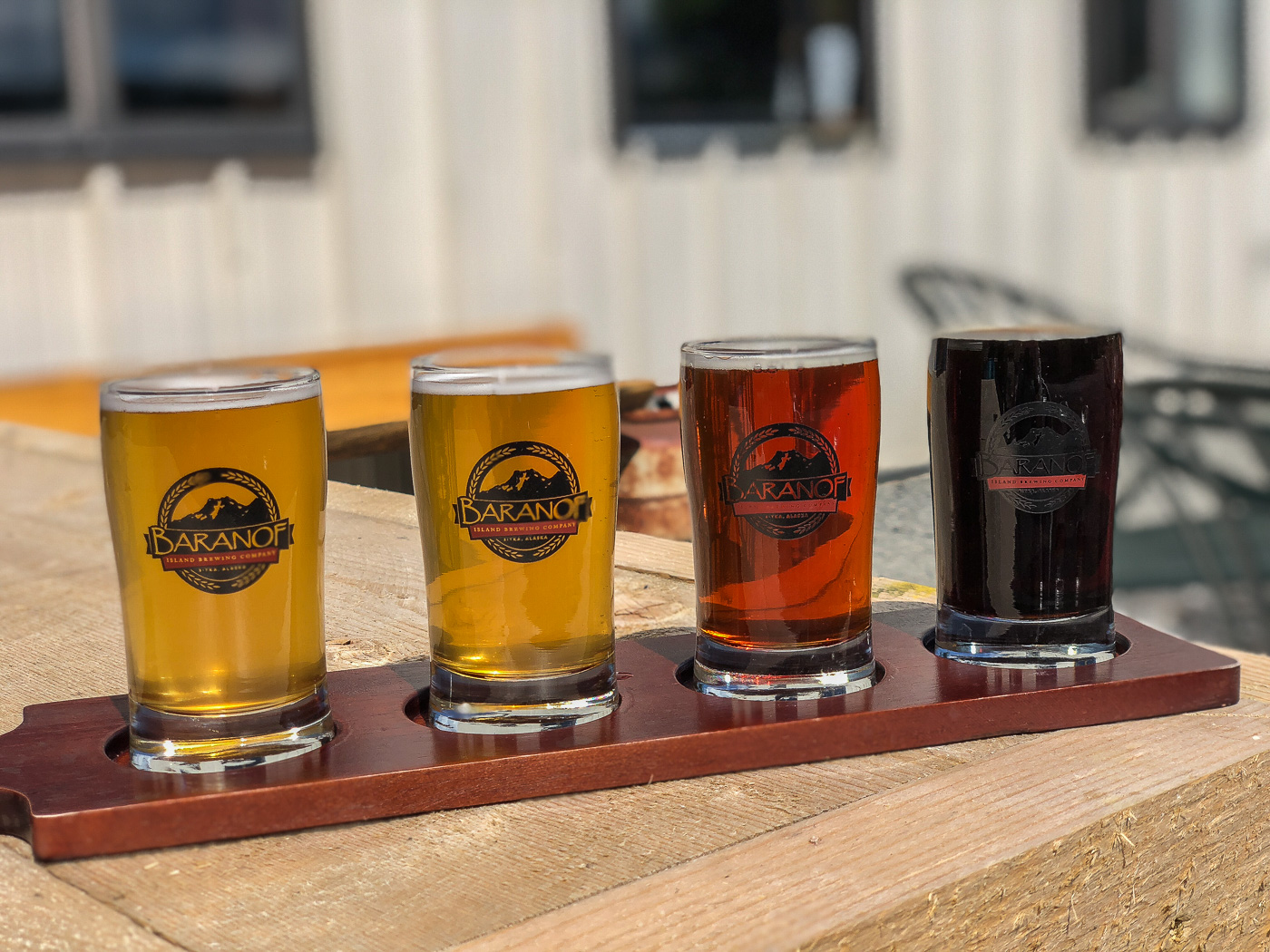 Go hang out there and grab a flight. Before you know it you'll have 12 new friends and won't be able to stop saying stupid stuff like "just the spruce tip!" and giggling like a dork.  
Pro Tip: You can call an Uber, Lyft or a taxi to bring you back. Or make such good friends with the locals that they volunteer to drive you back to town, which is my favorite method.
Private Tour Guide – Jeff Budd

(907) 747-4821
Price Range: Call for hourly tour rates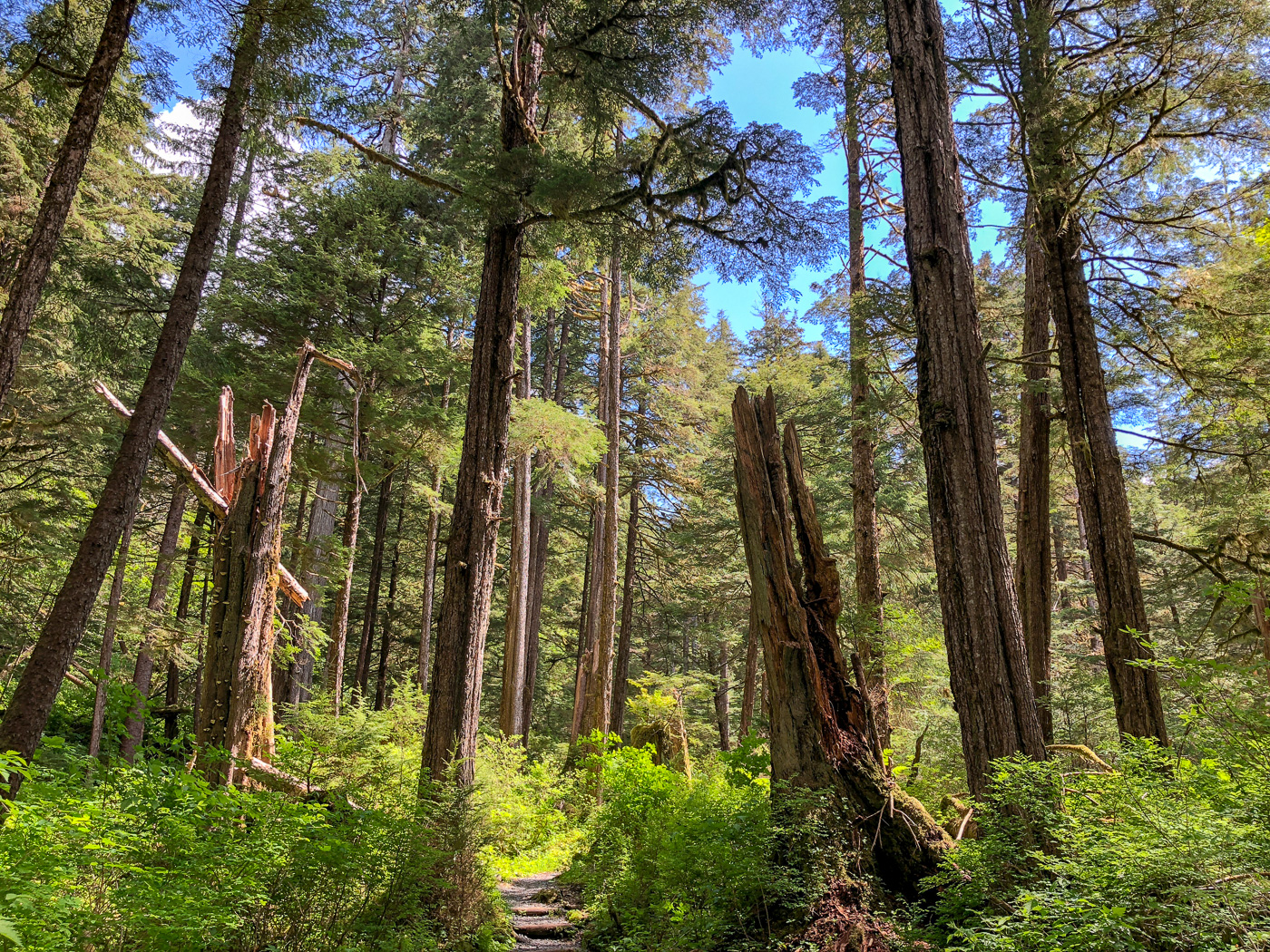 Tour guide and probably unofficial Mayor of Sitka, Jeff Budd is a friendly guy with a deep love of the area he's called home for over 30 years now. A certified SE Alaska Naturalist who describes trees by comparing their bark to food ("that one's potato chips, and this one's a bacon tree…"), above all, you will be endlessly entertained all while learning about the landscape, history, and traditions of Sitka, Alaska.
Jeff can tailor a tour to your preferences. You can either ride in his checkered cab and get familiar with the entirety of the 15 paved miles of Sitka proper. You can also head out along the coast and walk Mosquito Cove trail where he'll teach you more about nature and snack foods.
Pro Tip: You can also have Jeff give you a tour that swings by the Fortress of the Bear and ends at the Brewery if you don't have a car.
Russian Bishops House

501 Lincoln St, Sitka, Alaska
Price Range: $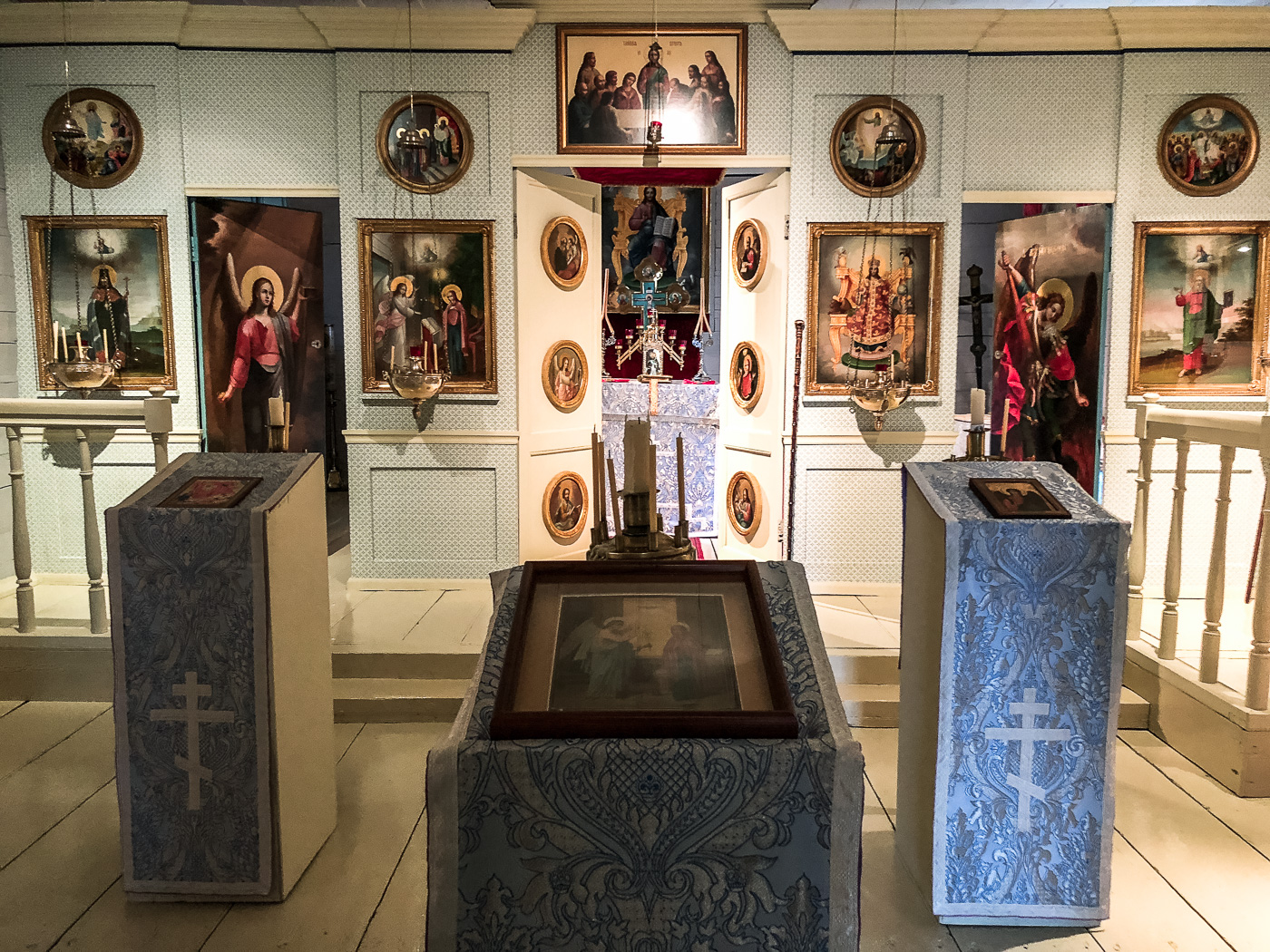 This National Historic Landmark was built in 1842 as a home for the bishop of the Russian Orthodox Church, Bishop Innocent. Which, by the way, is an awesome name if you're aiming to look like you never do anything wrong.
I personally found it fascinating to see so many of the traditional Russian finery and décor in an area that otherwise seems so rugged and remote. There was even an old Cossack uniform from the Caucasus that absolutely tickled me because you know my love of all things Georgian. 
It's definitely worth a visit to put the developing history of Sitka into context.
Sitka National Historical Park

103 Monastery St, Sitka, Alaska
Price Range: Free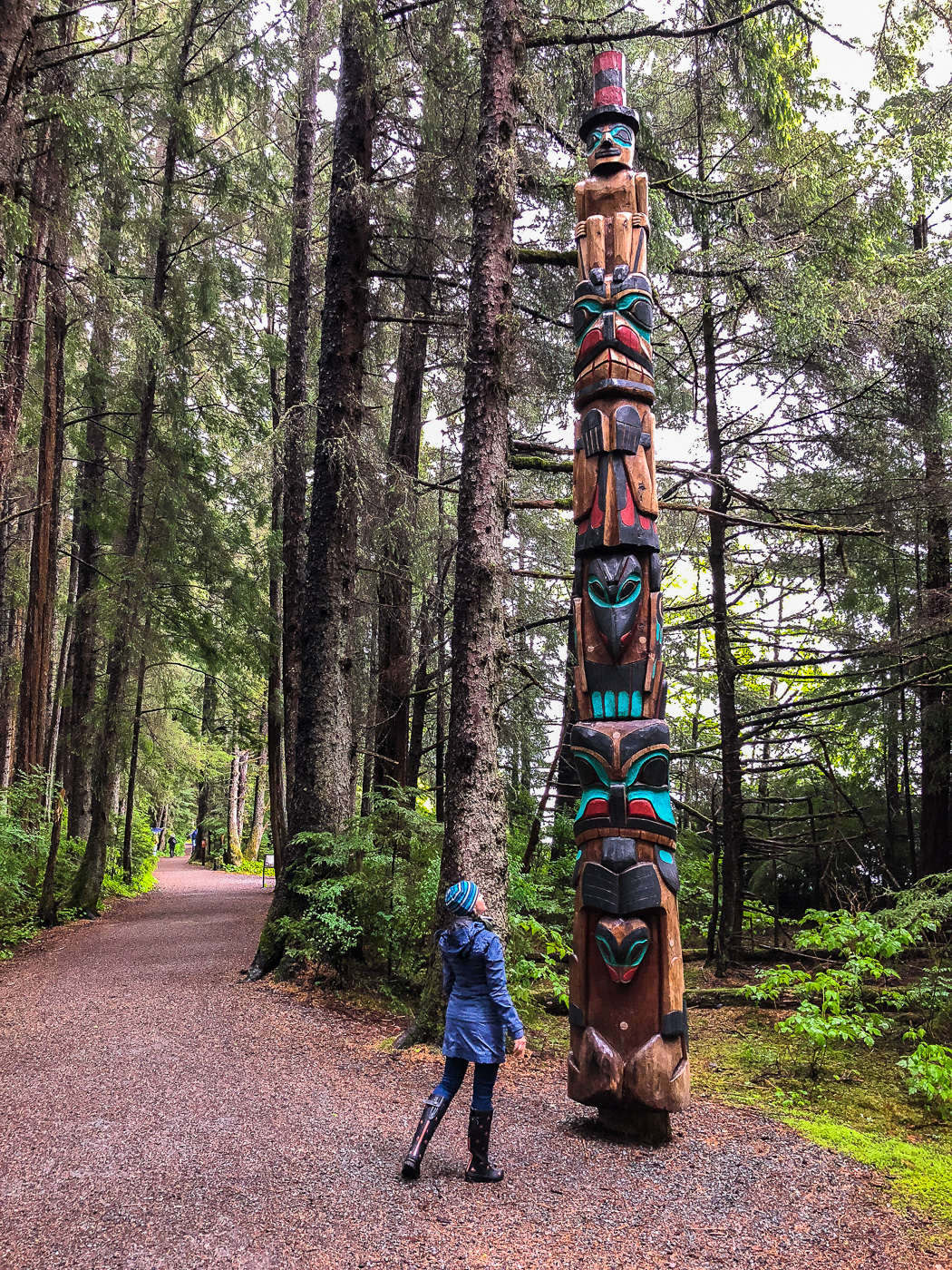 This free national park preserves some of the history of the Tlingit people. Situated on a site where they battled Russians back in 1804, this large park is within walking distance of the town and right on the ocean. Stop by the cultural center first if you want more info on totem poles, trail walking and bathrooms.
My friend and I set out on the Totem Trail, a wooded, one-mile trail intermittently lined with totem poles. If you stop into the auditorium at the beginning of your walk, you'll get a general understanding of what each figure up and down the pole symbolize. If you don't, you'll just see stacks of birds and foxes sticking their tongues out at you. Take it how you will.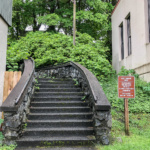 Climb Castle Hill

Off Lincoln St
Price Range: Free
This historically significant hilltop is easily accessed by a staircase right on Lincoln Street. With a couple of markers to help you understand its significance, the area now serves as a gathering and viewing point.
Once occupied by Russia, Castle Hill used to be home to Baranof Castle, which burned down in the late 19th century. Back in 1867, it also served as the location for the handoff of Alaska from Russia to the United States.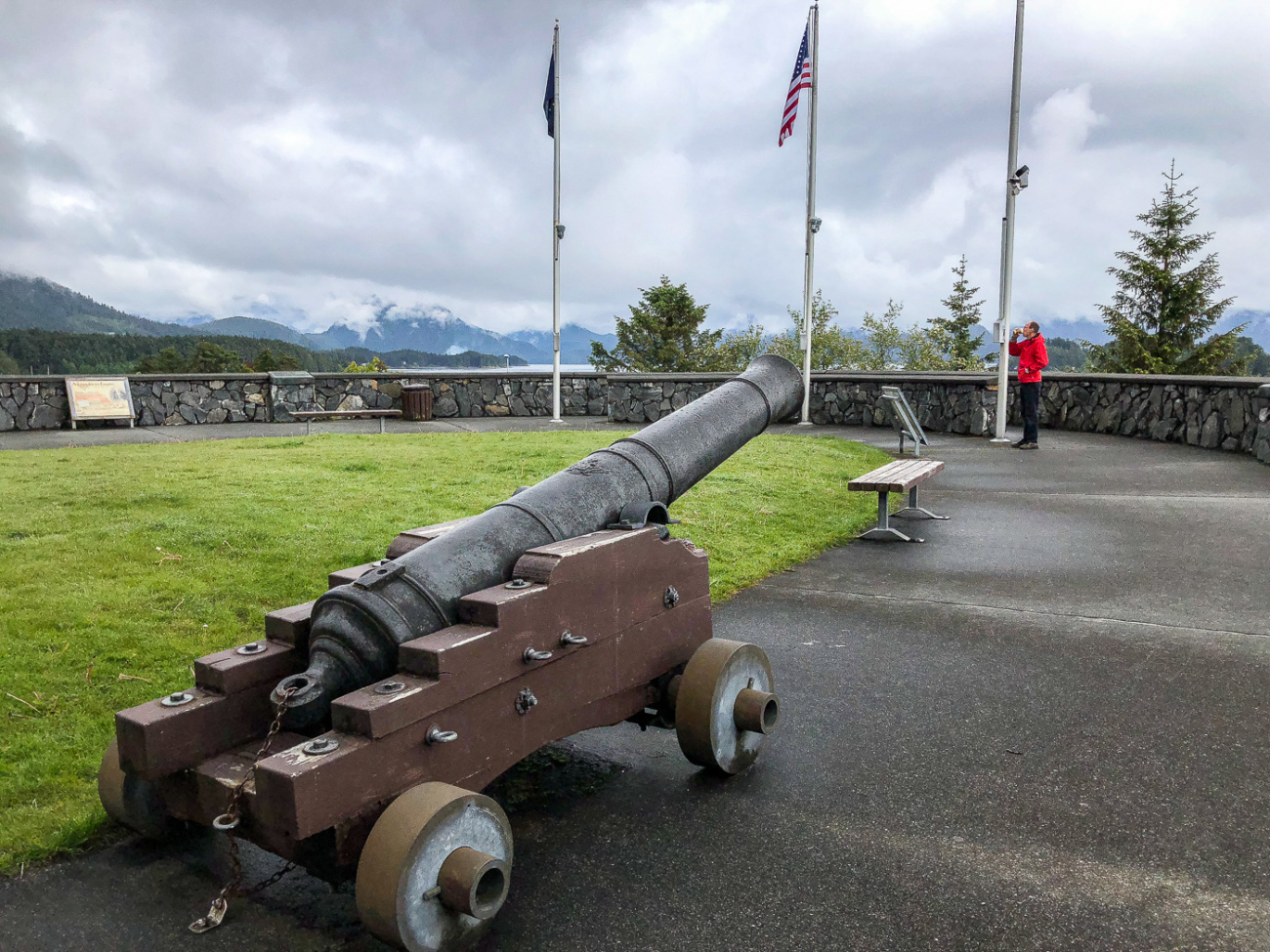 Shopping
Lincoln Street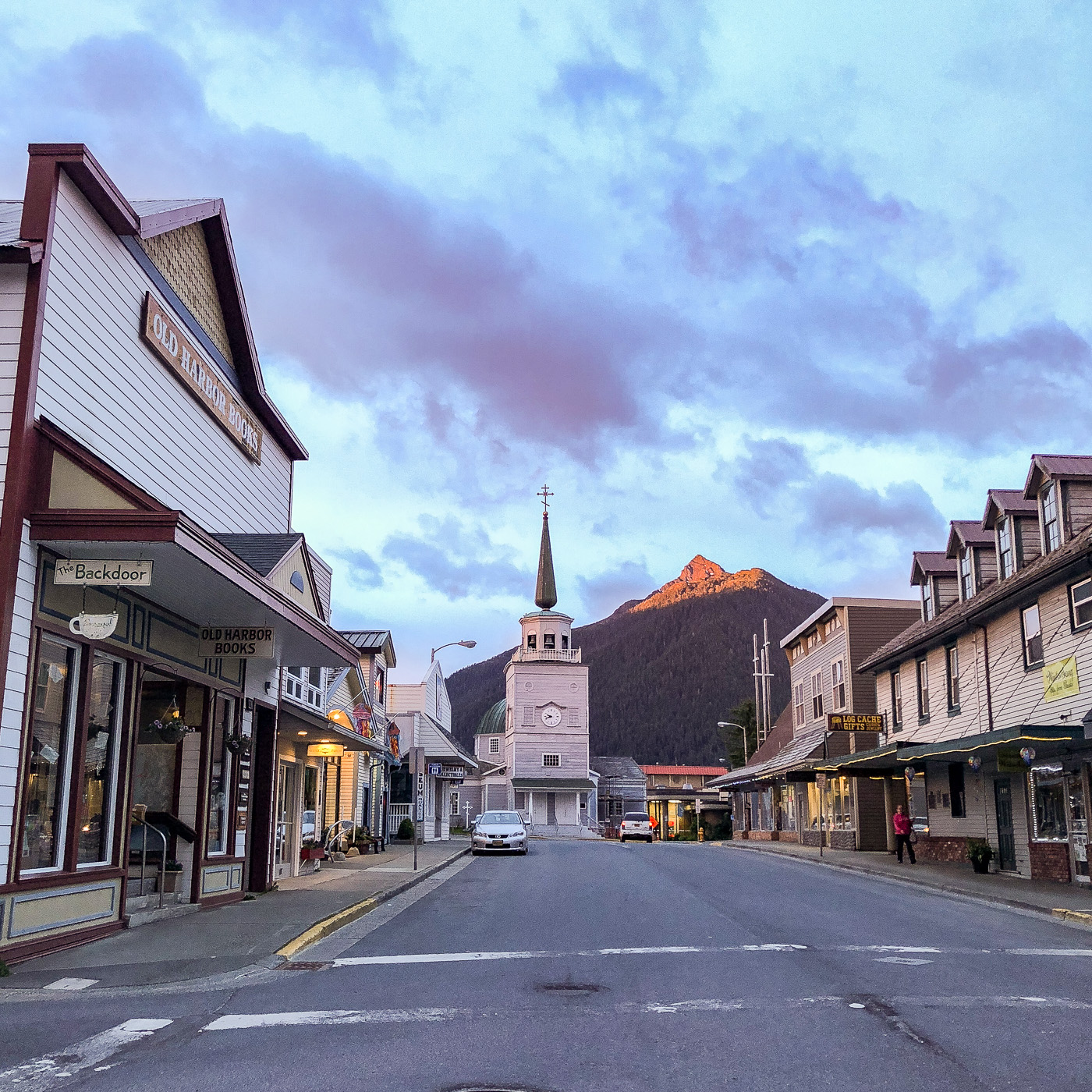 Filled with old-timey drugstores, sporting goods boutiques and Russian and Alaskan souvenir shops, Lincoln is the main shopping street. I purchased an all-weather hat for my trip and enjoyed browsing the dolls-within-dolls displays as if I were back in Moscow.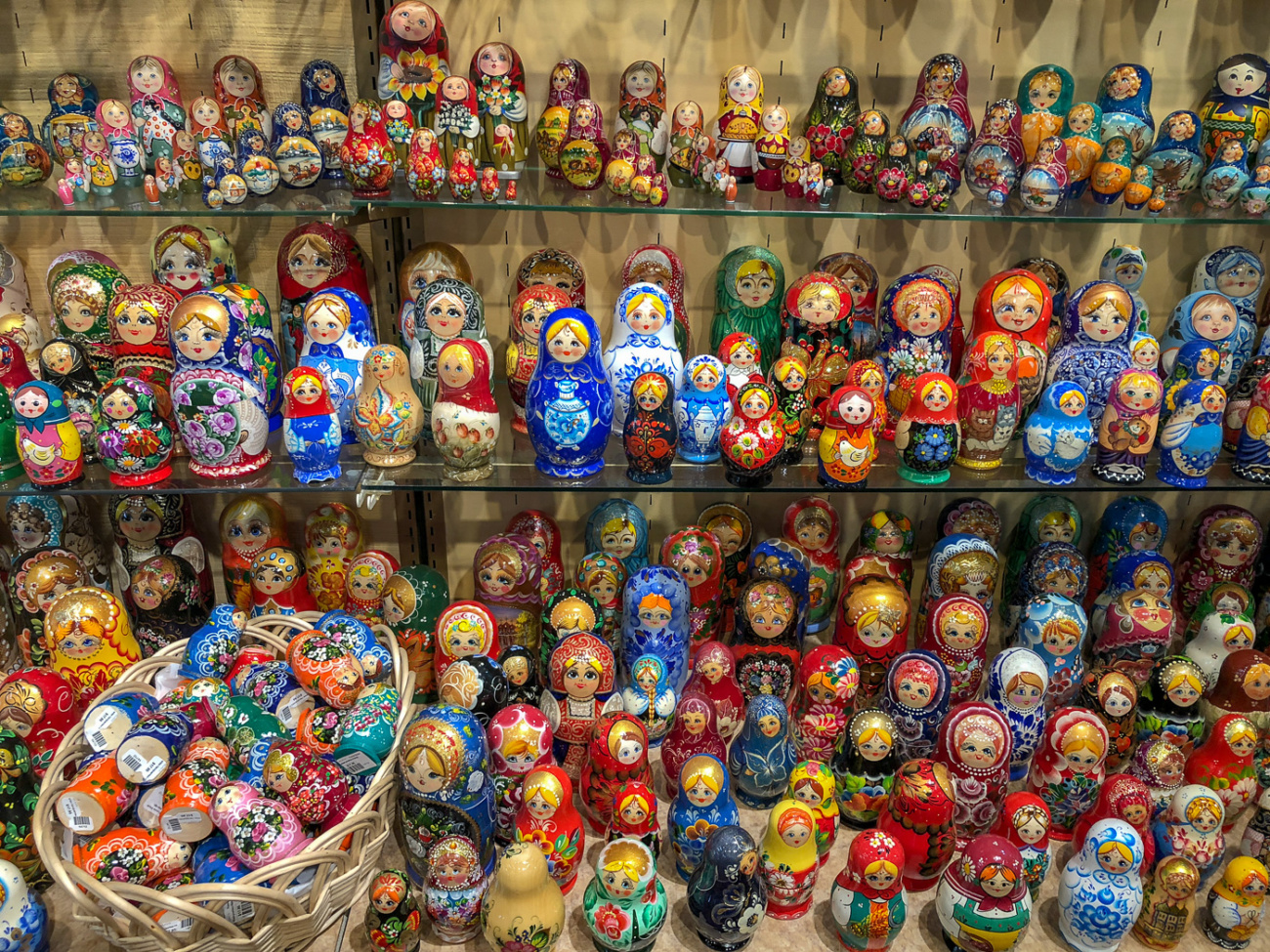 What to Buy: If you're looking to buy Sitka- and Alaska-specific items, look for traditional Tlingit designs in silver and other jewelry, carvings and baskets, Alaskan Ulu knives, Russian gifts such as the aforementioned nesting (matryoshka) dolls, local vacuum-packed smoked fishes and wild berry products.
Where to Stay in Sitka, Alaska
Sitka Hotel 

118 Lincoln St, Sitka, Alaska
Price Range: Around $180 a night for two over the weekend in peak season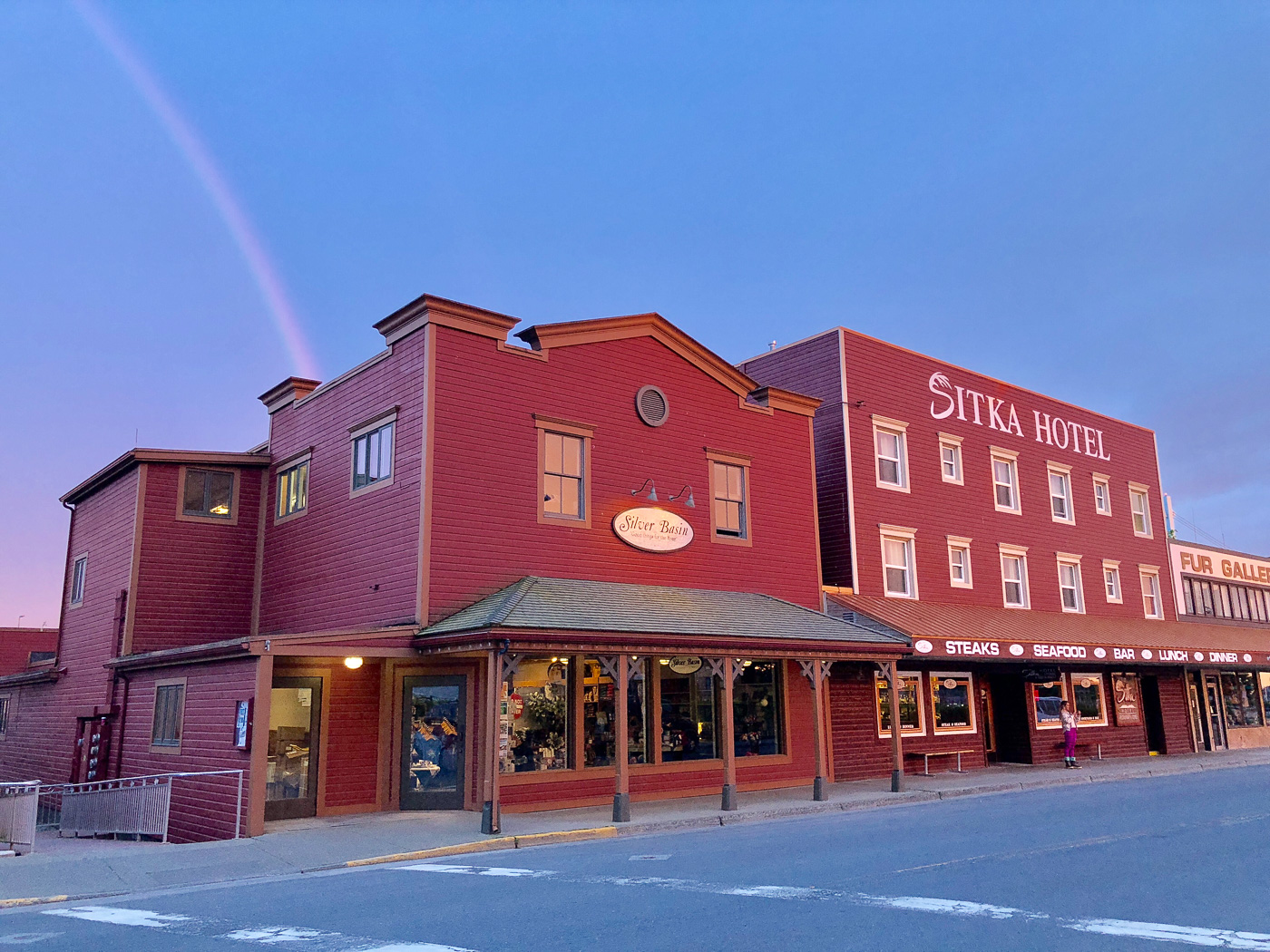 Hotels in Sitka are on the older side and a bit rustic. Now that I've set your expectation, I have to say that the Sitka Hotel and Restaurant was perfect for what it was, and probably the best choice in the area.
The room itself was a good size and included a kitchenette. There was a couch in the front room for spreading out and double-checking your gear, and a table and chairs for a quick snack or a spot of work. The bed was comfortable, the amenities updated and the bedroom was clean.
The location is excellent – it's right on the main shopping road and next to the marina. PLUS, the restaurant was great (see my review of meal above under where to eat).
Pro Tip: Most importantly, don't confuse the Sitka Hotel with the Hotel Westmark Sitka. To sum up, I booked the right one, but asked the taxi driver to take me to the wrong one. #travelfail. Had to pay a second taxi driver to get back over to the place where I had the actual reservation.
Have You Been to Sitka?
What's Your Favorite Travel Tip?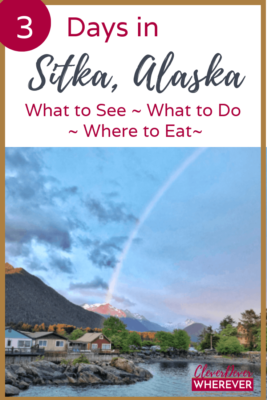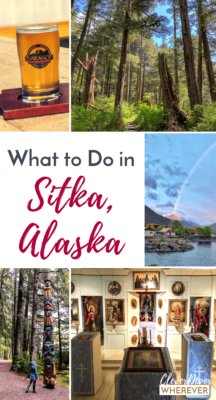 Read More About Alaska